Farmhouse living rooms are one of the most homey types of family rooms you can decorate. If you love Joanna Gaines' signature style, then a farmhouse home is perfect for you. From tufted sofas to shiplap walls to rustic wood coffee tables, there are lots of elements that are key to the perfect farmhouse style living room.
Decorating the living room is a difficult task. Many people consider it one of the most important rooms in the home, especially if you have guests over often. It's a room for enjoying the company of friends and family, relaxing at the end of a long day, watching a new film, playing games, and having important discussions. Comfort and practicality are two primary concerns when decorating the family room.
Modern Farmhouse Living Rooms
So what does a farmhouse-style living room feature? That's what we're going to share. Modern farmhouse decor is loved by so many people because it's approachable, family-friendly, and best of all – affordable! It combines old country comfort with modern appeal.
Most pieces of farmhouse furniture are generally affordable, but you might want to invest a bit more if you're looking for a high-quality piece that will last you generations to come. Pay attention to customer reviews, customer photos, material quality, and country of origin if you're looking for farmhouse furniture and decor that will last!
Tufted Ottoman
Our very first modern farmhouse living room decorating idea is the ever classic beige tufted ottoman. I see ottomans popping up in living rooms everywhere. Their versatility is what makes them so attractive. They work as a comfortable footrest (beats wood, for sure), extra seating, and a typical low surface (with a tray on top). I don't see this trend going away any time soon!
Check out our recommendation for the best Farmhouse ottomans, too!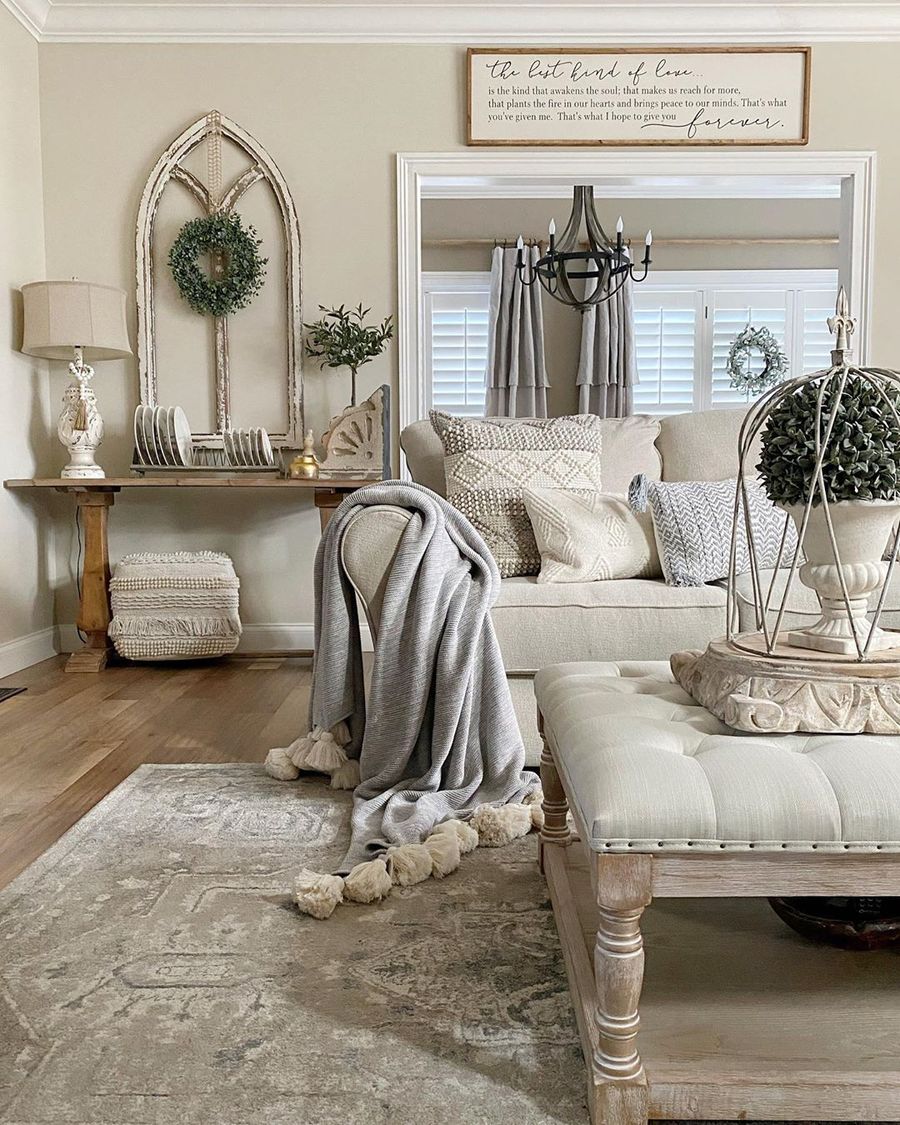 This living room space features a carved wood tray with a caged urn on top for decor. The base of the ottoman is made from distressed wood. The rest of the space was decorated in beige and gray tones. A beige sofa, faded gray rug and gray throw blanket are some of the key pieces. In the background, a rustic wood console table sits in the corner with a distressed window frame for decor, a small wreath, a distressed painted white table lamp, a set of plates, and a small floor cushion. A framed quote sits above the double doorway into the dining room.
Eucalyptus
Eucalyptus is a favorite plant for farmhouse-style decorating. Here, several eucalyptus branches flow out of a large glass vase on the coffee table. A rustic wood tray sits on the beige coffee table along with a few gold glass candles and a set of books.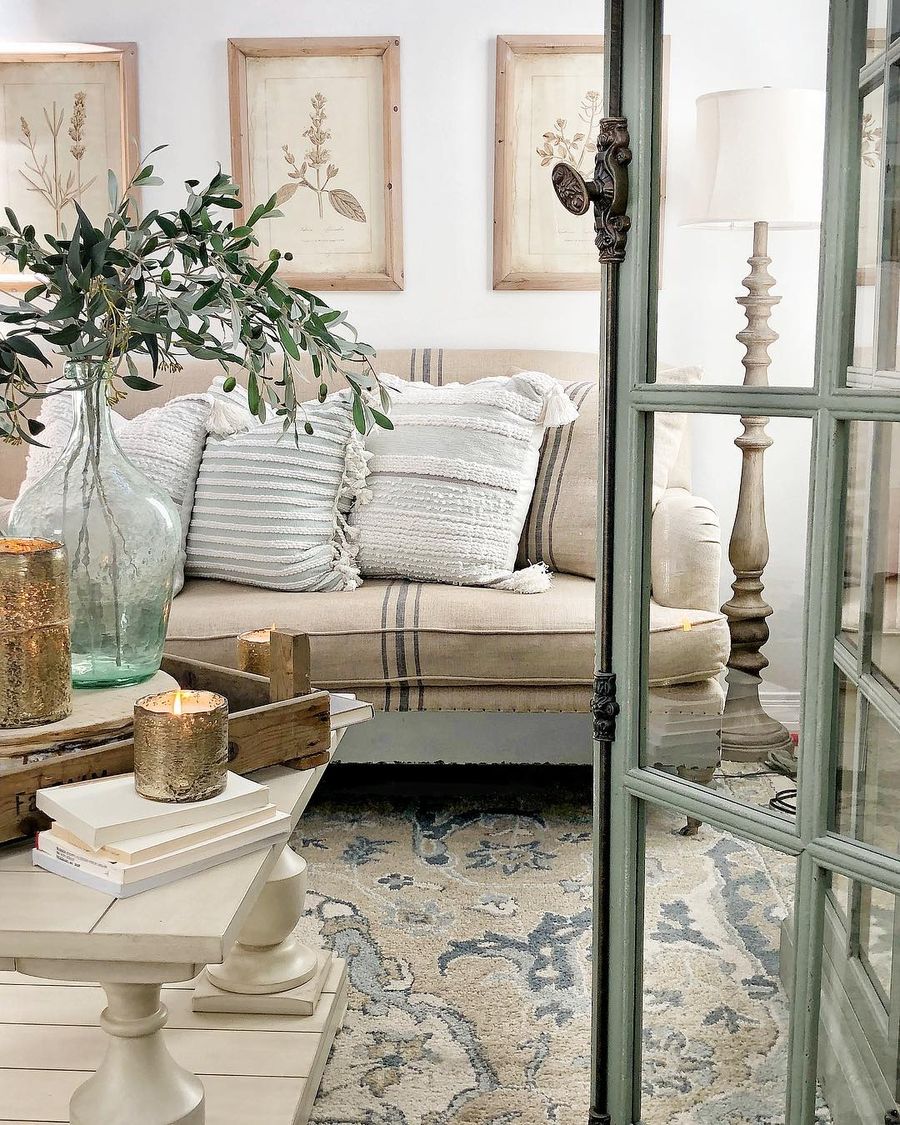 Behind the table, we see the linen roll arm sofa, which has three French stripes across the center of the upholstery fabric – a very French look! Three plant art prints hang above the sofa, framed in natural wood. To the side, a tall farmhouse floor lamp with a turned wood base illuminates the area.
Rustic Wood Furniture
Even in modern farmhouse homes, it's all about bringing back the rustic charm of furniture from centuries past. The trick is to do it modestly – a touch of antique charm here and there. In this living room, a rustic reclaimed wood coffee table sits in front of a new white couch.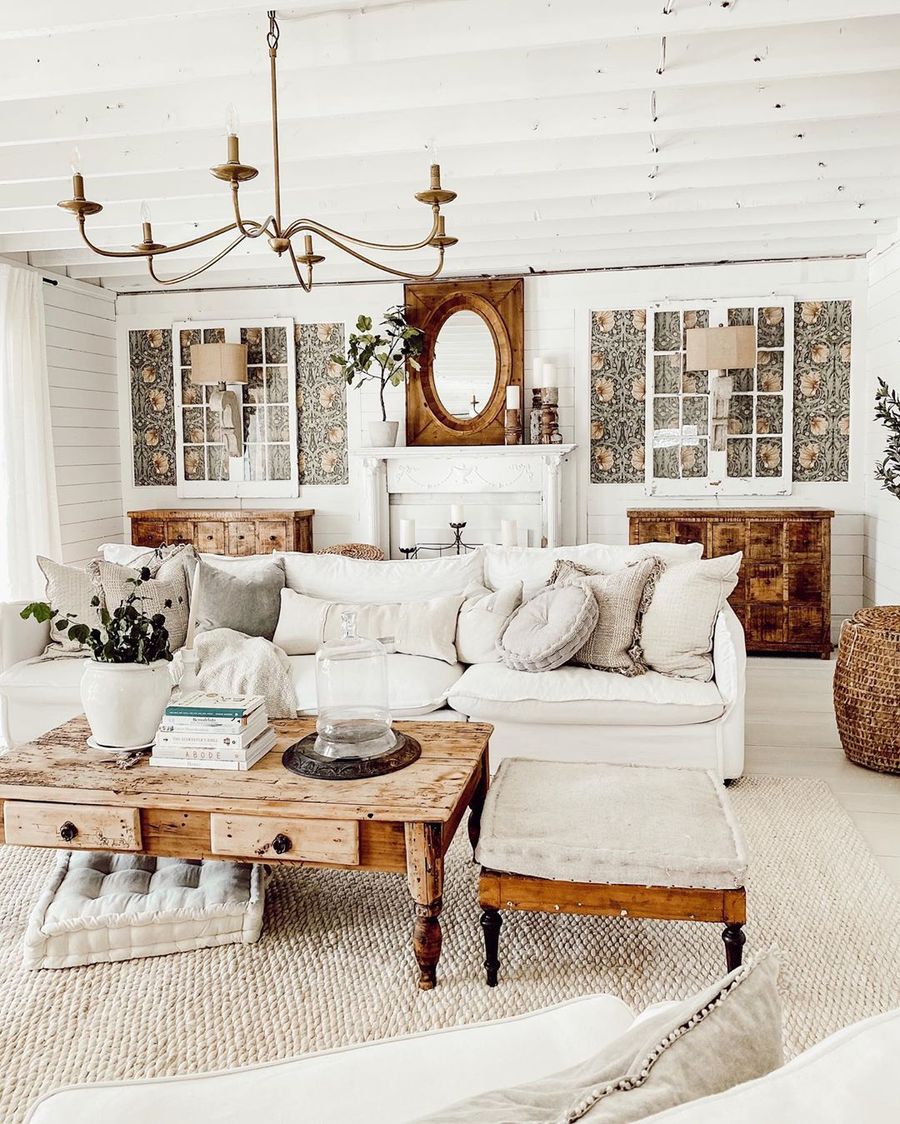 An antique ottoman is also available as a footrest, it appears. The space has a woven cotton rug, two wood accent cabinets in the background, and a wood frame mirror on the fireplace mantel. Each of these adds to the rustic charm of the space.
Sliding Barn Doors
This interior door is on the expensive side but can really bring out that farmhouse charm you crave in a space. The living room is the perfect place to install sliding barn doors like these. If you're going to invest in some, it might as well be in the main family room of the home! These white sliding barn doors with black metal tracking separate the living space from other rooms in the home. Jute baskets with eucalyptus stems are centered on each door.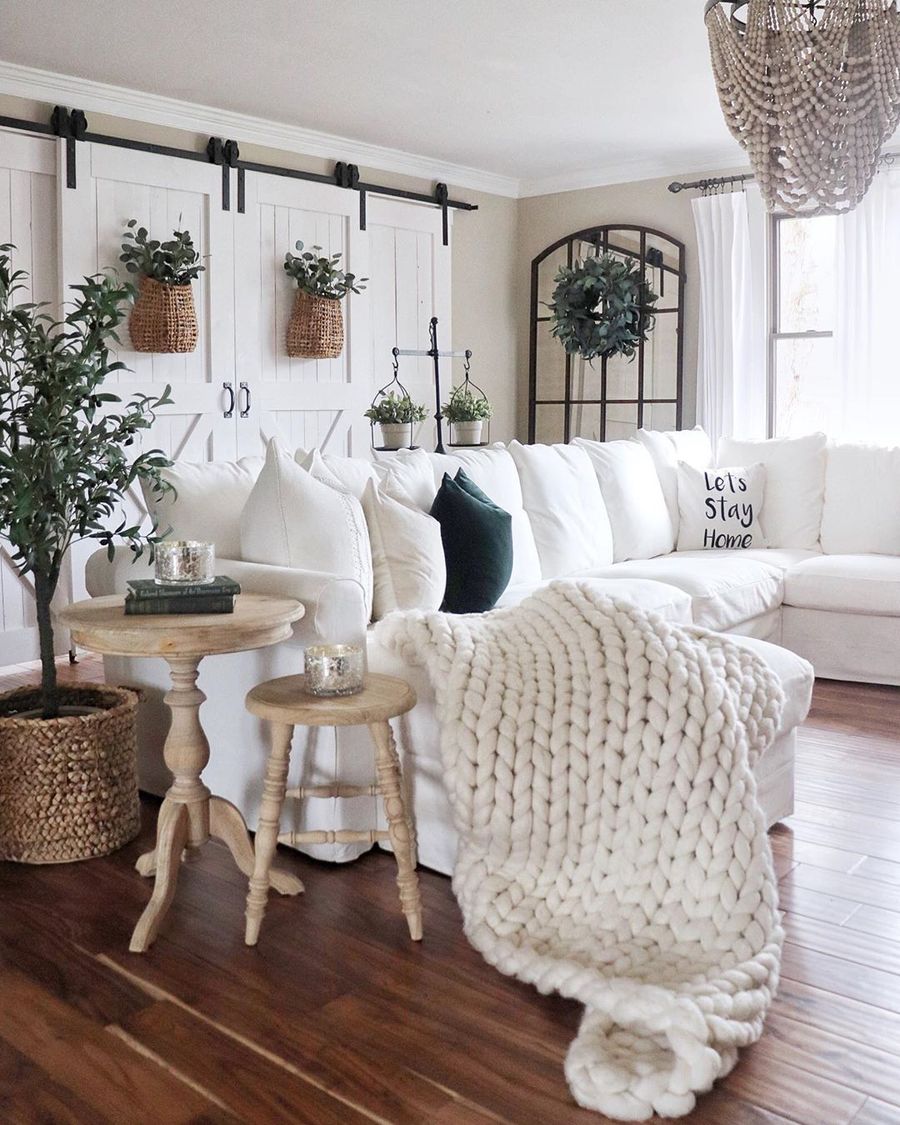 An iron frame mirror sits off to the side, flanked with a pretty eucalyptus wreath. The sectional white sofa with a chaise lounge offers lots of seating for guests and family. A natural wood side table and stool hold books and candles. Another eye-catching element is the giant cream chunky knit throw gently tossed on the edge of the couch. The walls are painted beige and the hardwood floors are a chestnut brown finish.
Woven Coffee Table Tray and Books
A jute coffee table tray is a great option for decorating the top of the coffee table in your Farmhouse living room. The woven tray can hold flowers, books, candles, and more as seen here. I love the birchwood candle, the white tulips, and the books by Liz Marie and Joanna Gaines to browse!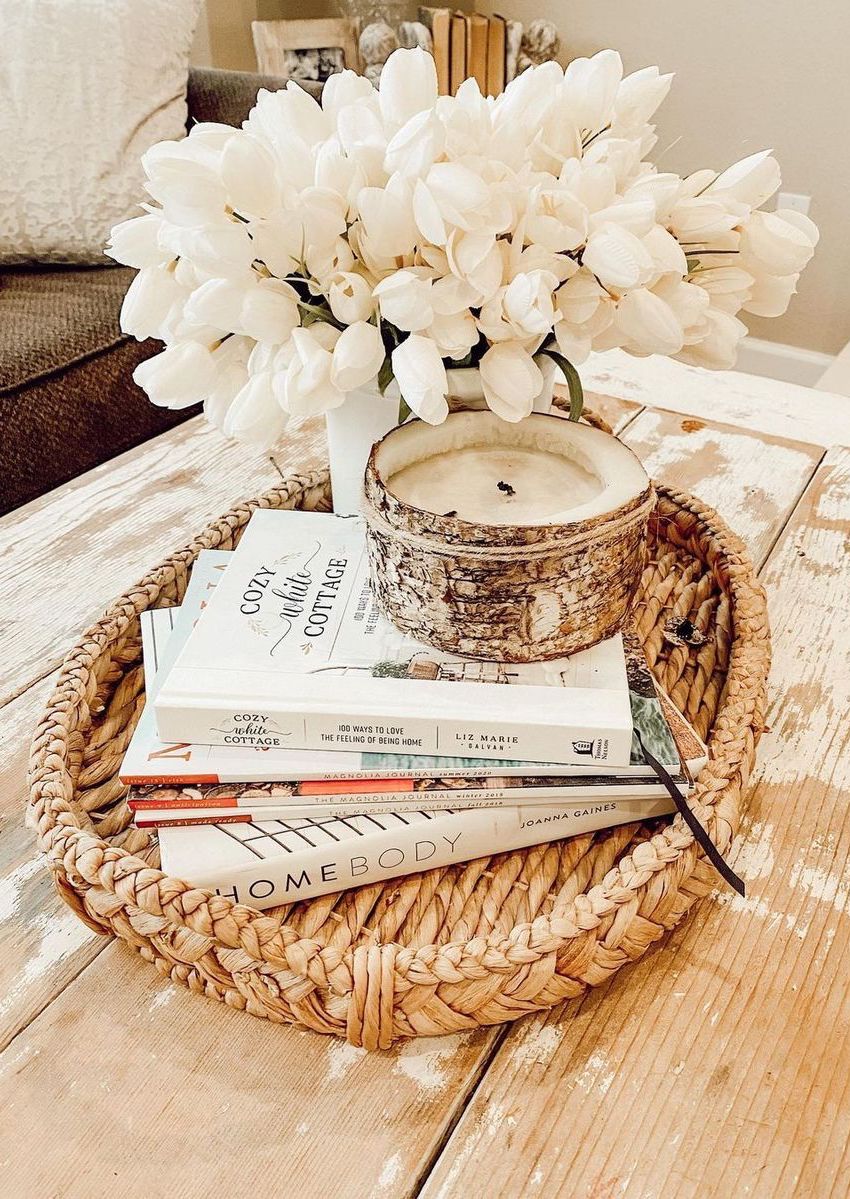 Beige Sectional Sofa
A lot of farmhouse living rooms have white sofas in them, but if this is too risky a design choice for you, then opt for a beige sectional sofa instead. It will give you that light and airy look, without staining as easily as white will. In any case, an abundance of throw pillows will help hide any sofa blemishes with the right placement!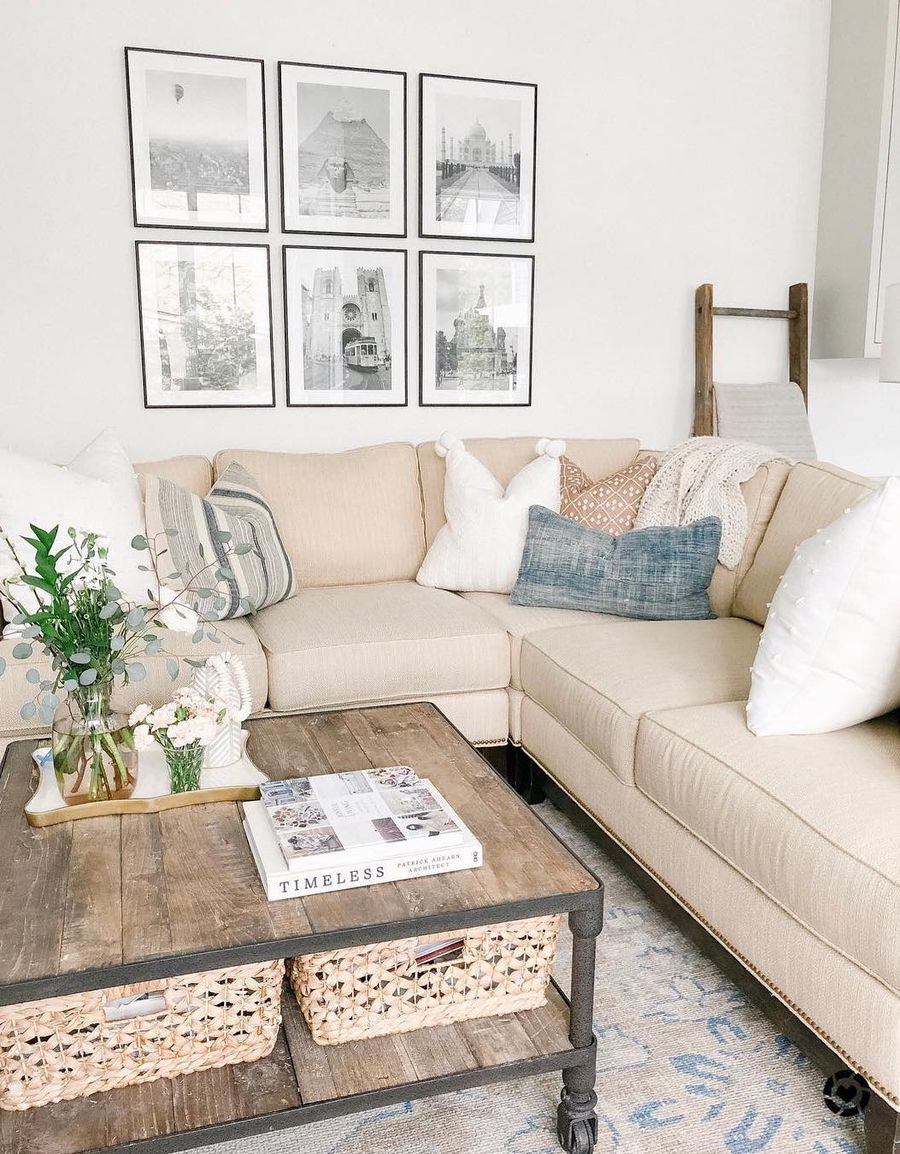 Farmhouse family rooms always feature ample seating so sectionals are definitely the way to go if you have the square feet to fit one! This sofa is paired with an industrial-style wood and metal coffee table on wheels, some jute storage baskets, coffee table books, and a brass rimmed tray. Rustic, yet modern!
White Slipcovered Sofa
The slipcovered sofa is another popular seating choice for the living room. This one is particularly country in style. The room has a burlap-covered ottoman, a white metal tray, white metal pitchers, a distressed birdcage, empty vintage frames, and a distressed white wood shutter for decorations. It's vintage, rustic, and oozes farmhouse charm!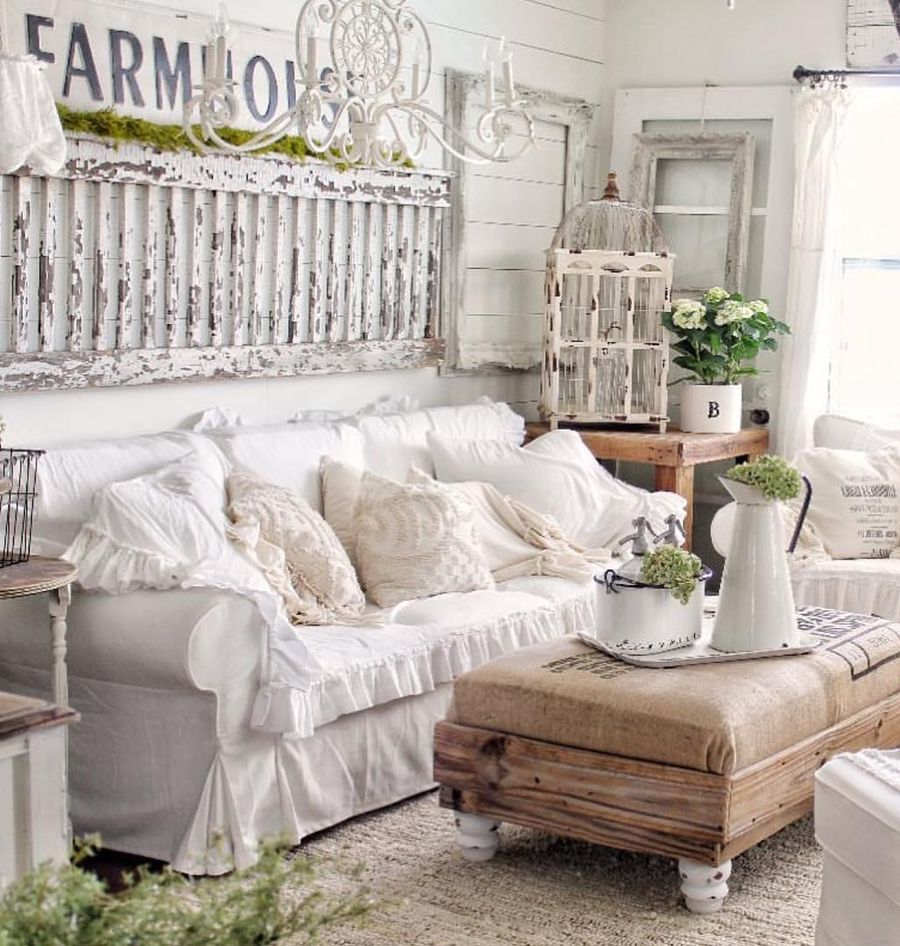 Industrial Coffee Tables
This modern farmhouse living room has smartly incorporated an industrial-style coffee table into the mix. Industrial style decor and furniture are occasionally integrated into modern farmhouse homes – a trend I think works very well.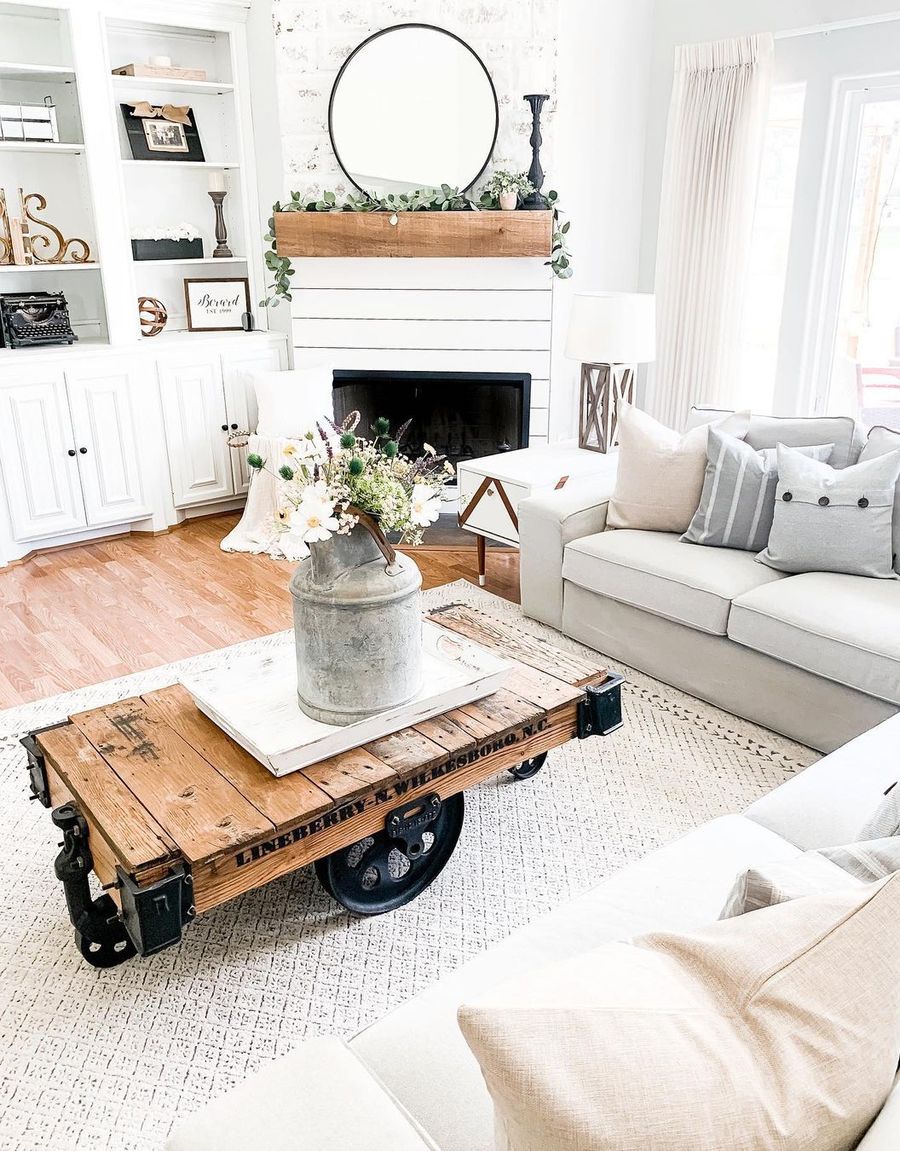 This chic coffee table features a wood pallet top, metal corners, and giant iron wheels at the base. It's surrounded by mostly modern furniture and decorations like a gray sectional sofa, round black mirror, galvanized flower bucket, and wood candlesticks. It's definitely the statement piece of the room!
Painted White Wood Coffee Table
Another trend in farmhouse decorating for the home is painted furniture. Here, a small coffee table with drawers has been painted chalk white. Along with a white skirted sofa and a fluffy white rug, the space is airy and light. These pieces contrast well with the black frame windows and black iron curtain rods on the walls.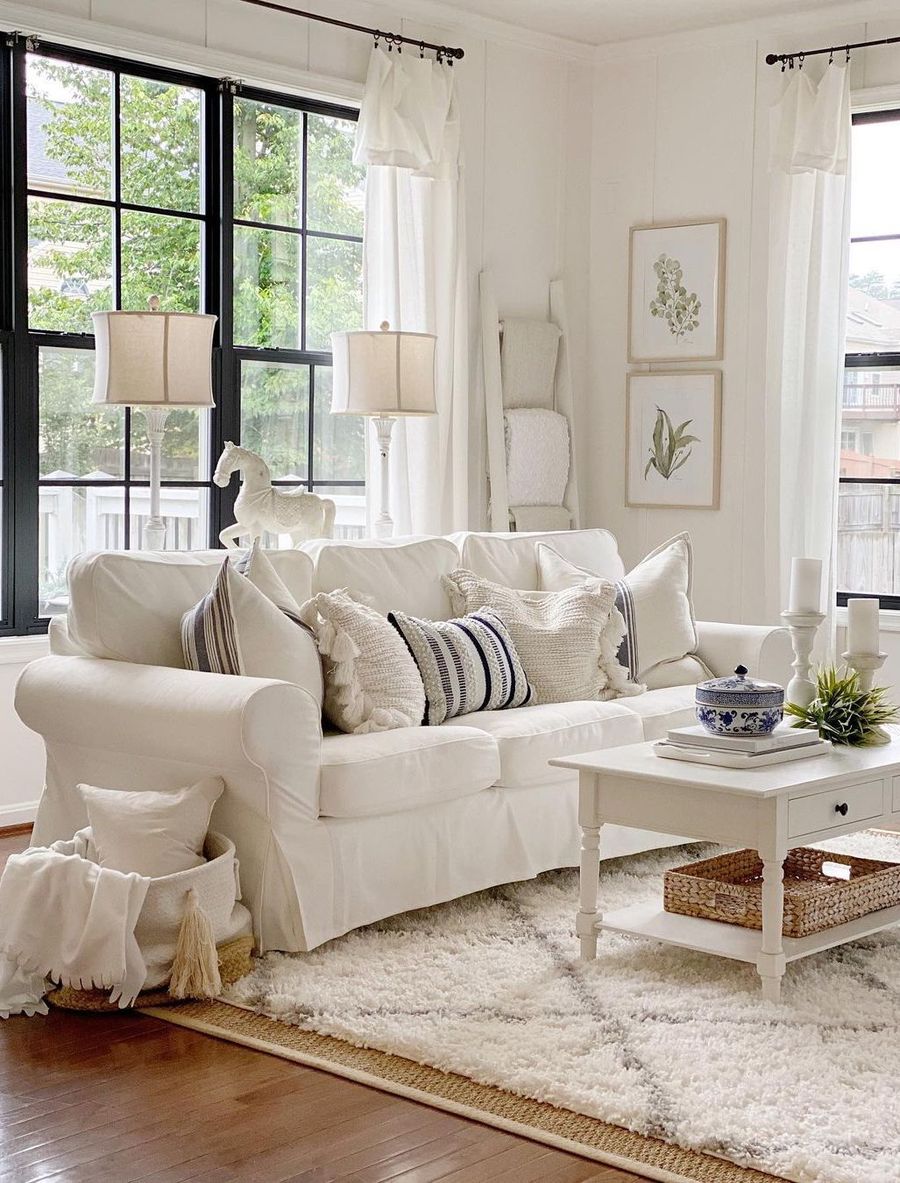 Oversized Wall Clock
The large wooden wall clocks found on so many walls in farmhouse homes are a great decorating choice for your farmhouse living room walls. You can find them with roman numerals, French style, and classic. This one is white with a light beige frame. It has two galvanized flower buckets on either side.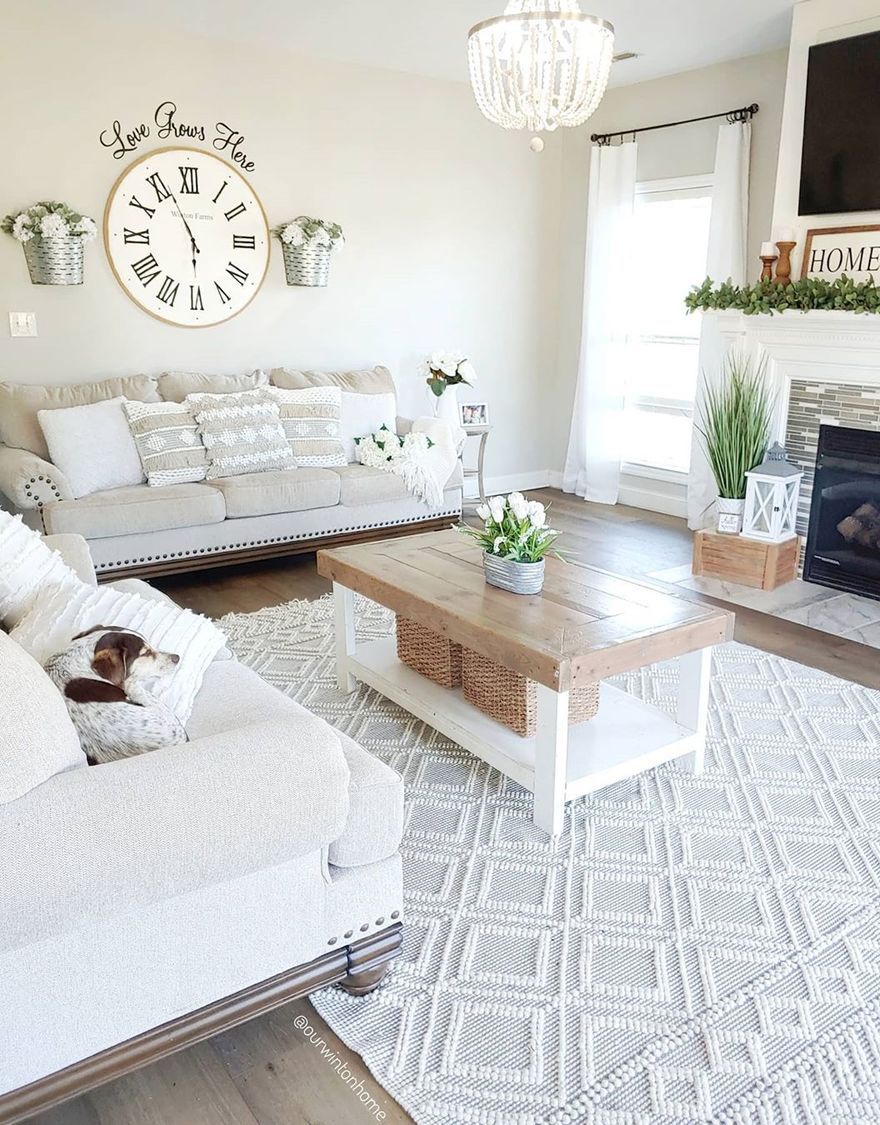 The two beige sofas and the natural wood coffee table reflect the room's neutral color scheme. A beaded chandelier hangs down from the ceiling. There are quite a few great farmhouse living room decor ideas in this room, alone!
Lots of Fluffy Throw Pillows
The easiest way to decorate your farmhouse sofa is to put lots and lots of fluffy throw pillows all over it! Comfort is one of the primary tenets of farmhouse decorating so this one is a must. Square pillows can be used for back support, head support, and all other types of body-relaxing support! There are even a few more farmhouse pillows in a basket near the coffee table! This window-lined living room really has a lot going for it. The red barn outside the window is the dreamiest view!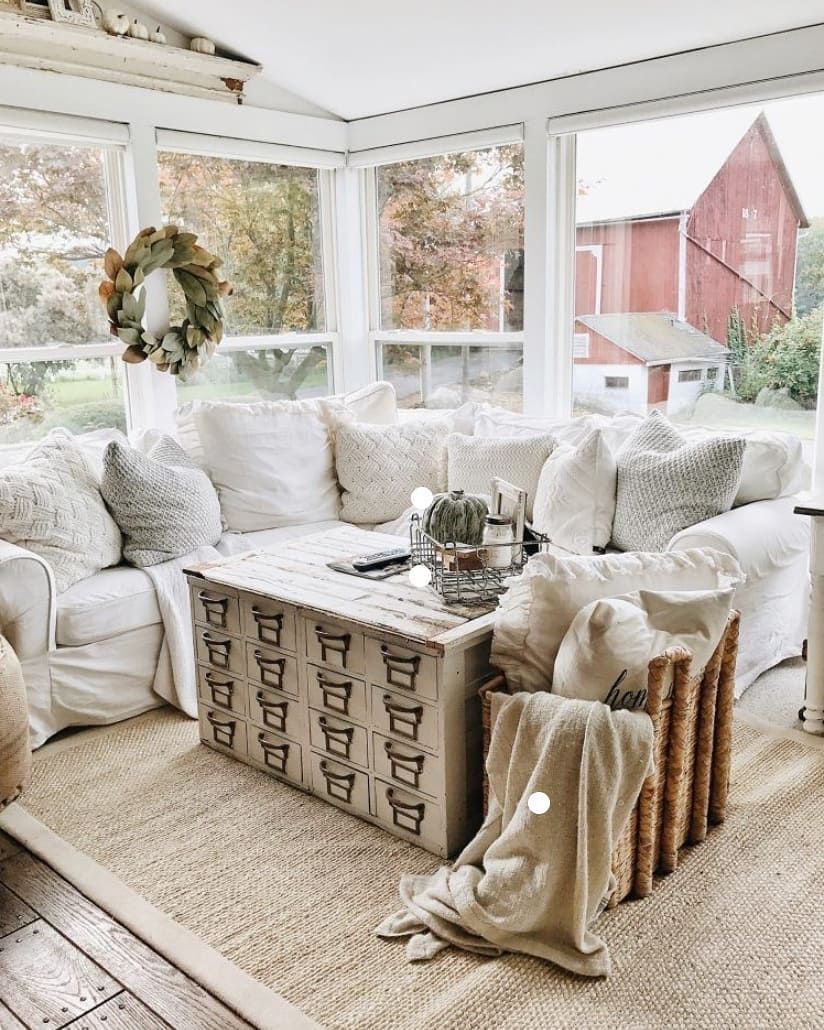 Sheer White Curtains
While filtering light is important, you want to keep the room as light and airy as possible. That's why sheer white curtains are a great choice for keeping your privacy while allowing light to enter your space. This living room has gold curtain rods and simple white curtains. The house plant nearby gets plenty of sunlight, I'm sure! The rolling metal cart, vintage style sofa, and chunky knit throw pillow are great farmhouse decorations, too.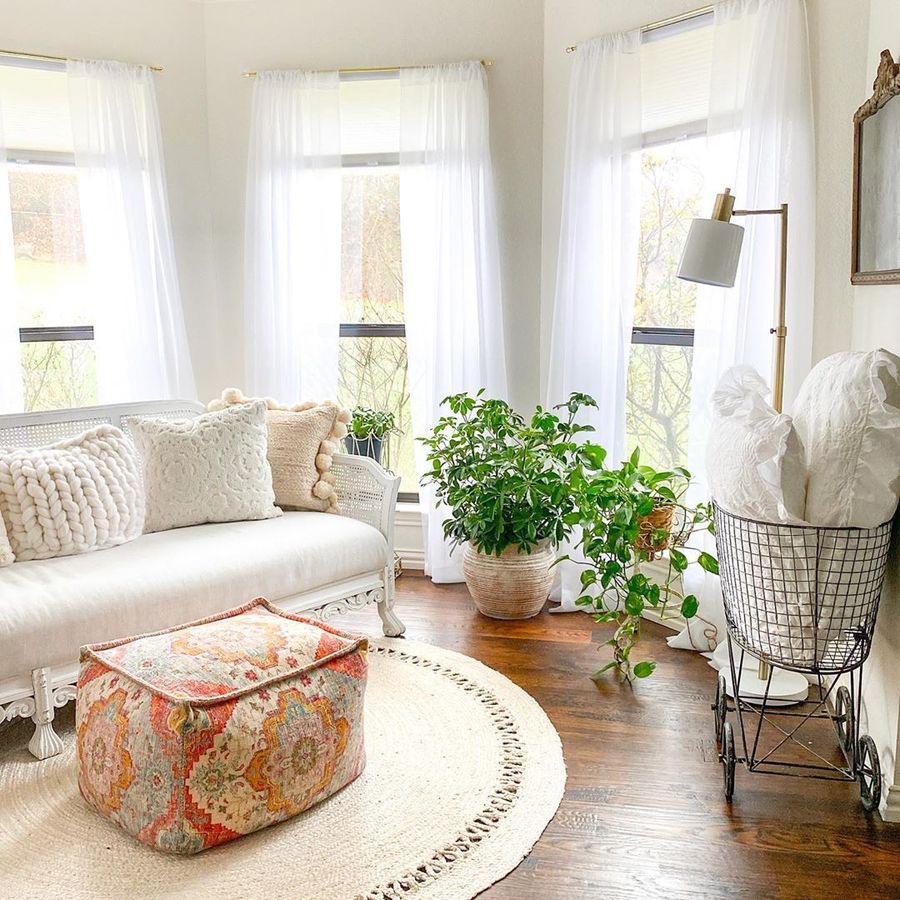 Wagon Wheel Chandelier
The chandelier is centered above the farmhouse coffee table in this room. There's also a beautiful wood ceiling beam visible, a classic element of Farmhouse living rooms!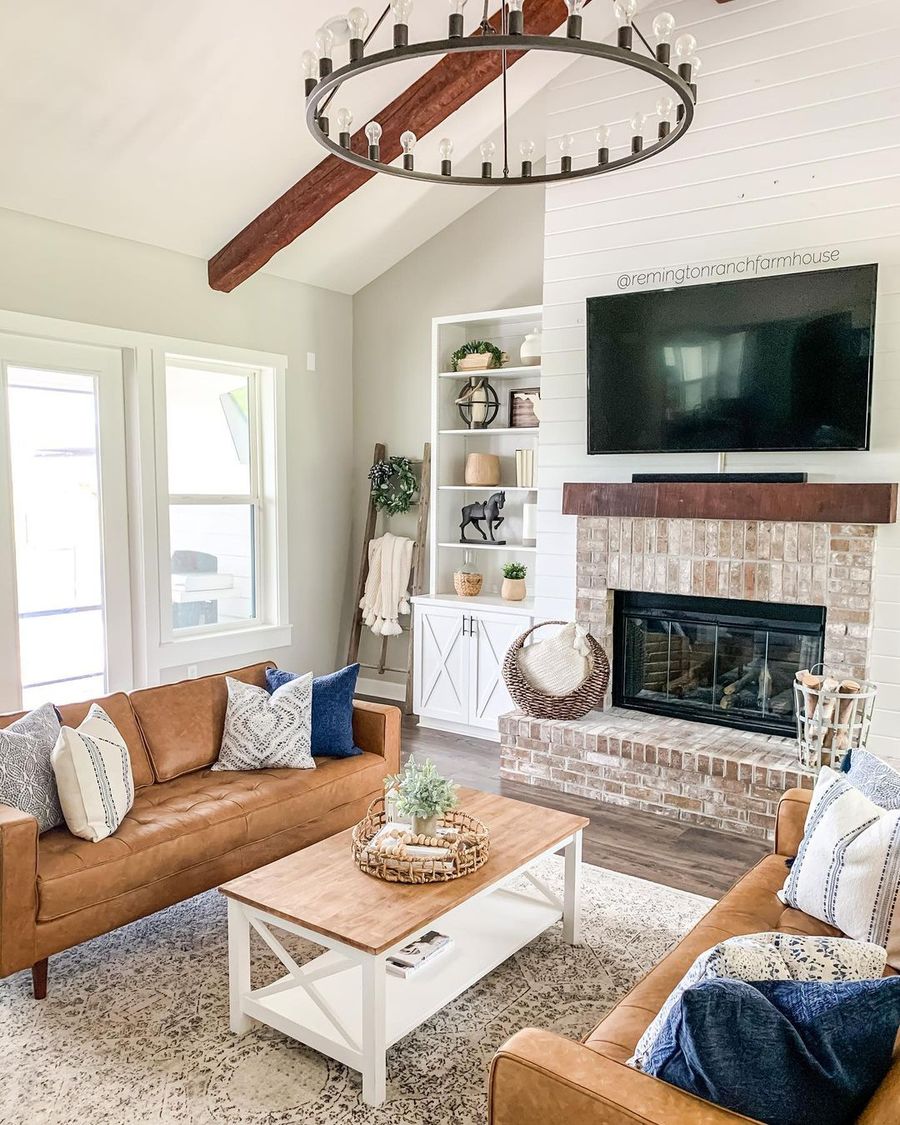 The wagon wheel chandelier is without a doubt the most popular farmhouse living room pendant lighting fixture that I see. This ring-shaped fixture features a hoop lined with small light bulbs dotted around the perimeter. It's held together by a few long bands which meet at the center. I often see it in a dark metal color, but you can also find wood ones and gold ones, too. You do need a bit of a higher ceiling in your living room to make this work.
Farm Animals Wall Art
This living room has a beautiful portrait of a horse on the wall. If you can incorporate farm animals into your space, that will really bring out the "farm" aspect of the style! Farms are known for their many different animals from sheep to horses to chickens to goats! Any type of farm animal decoration you can find – be it sculpture, painting, or books – would be a great addition to your home.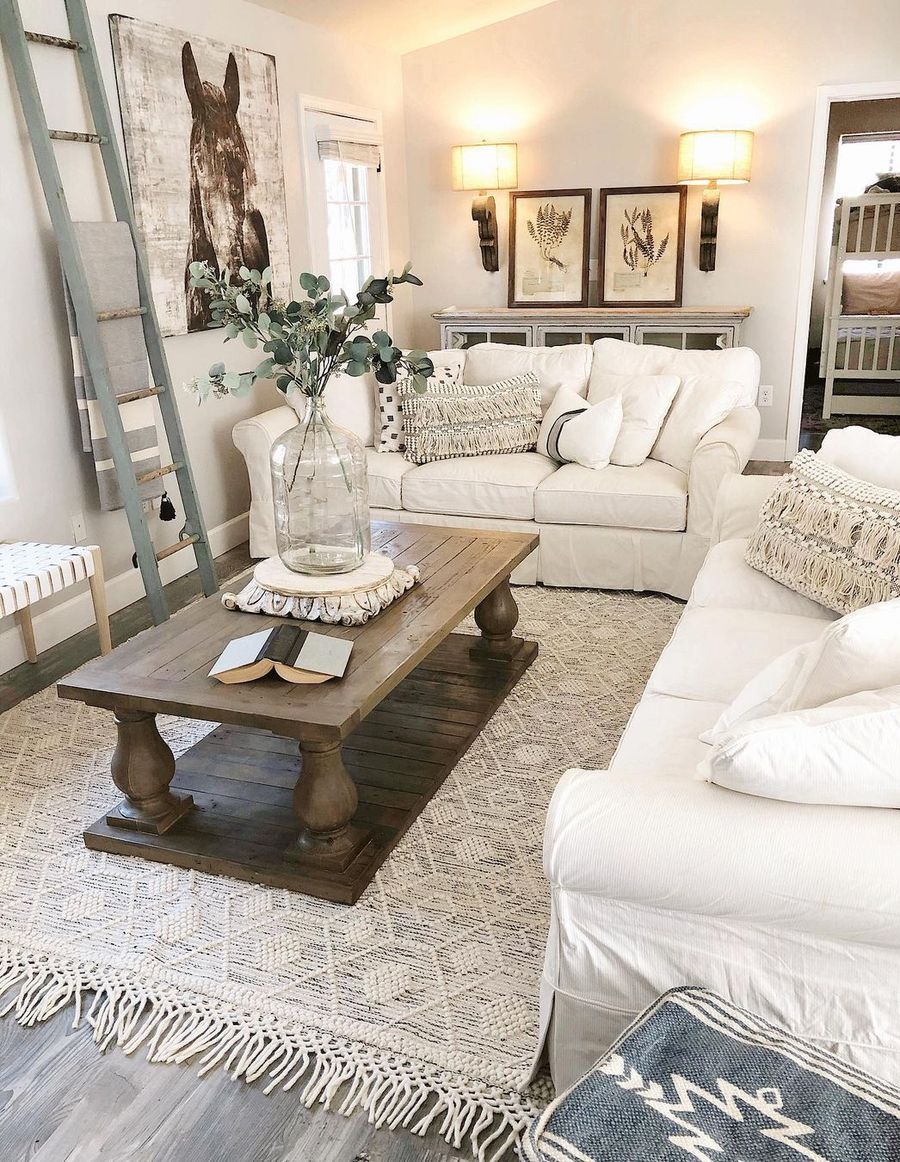 Find more Farmhouse art ideas for the home right here.
Shiplap Walls
We couldn't write an article about farmhouse decor trends without including shiplap – the famous wall style that Joanna Gaines absolutely adores! Shiplap walls are created by placing long panels of wood horizontally along the walls. The strips are typically around 7" wide, but you can play around with the thickness. Shiplap walls get their name from ships – as this is how ships are constructed, using horizontal panels of wood.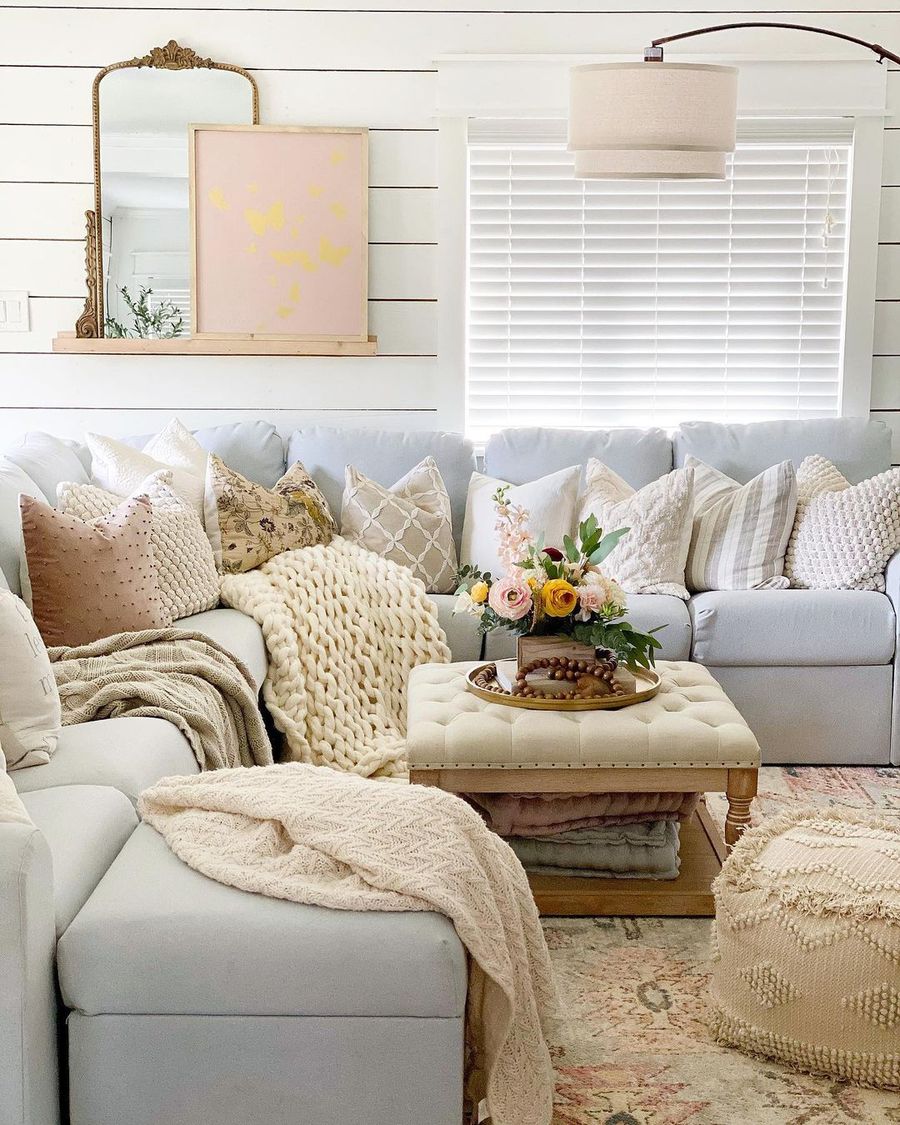 They are almost always painted white in farmhouse homes giving the room a charming architectural element. You can still decorate the walls as you normally would with shelves, art, and more! This farmhouse-style living room has a gray sectional sofa in front of white shiplap walls. This is probably one of the most quintessential farmhouse living room decor ideas out there. It is certainly HGTV and Gaines family-approved!
Jute Rug
These honey hardwood floors were given an upgrade with a jute rug placed on top. The rugs help to gather each piece of furniture in the room from the white slipcovered sofa to the dark wood coffee table with turned legs. It centers the room and makes it feel very cozy and put together. Jute rugs are a great choice if you want a durable, natural rug for your farmhouse home! We wrote about some farmhouse rug recommendations recently, too.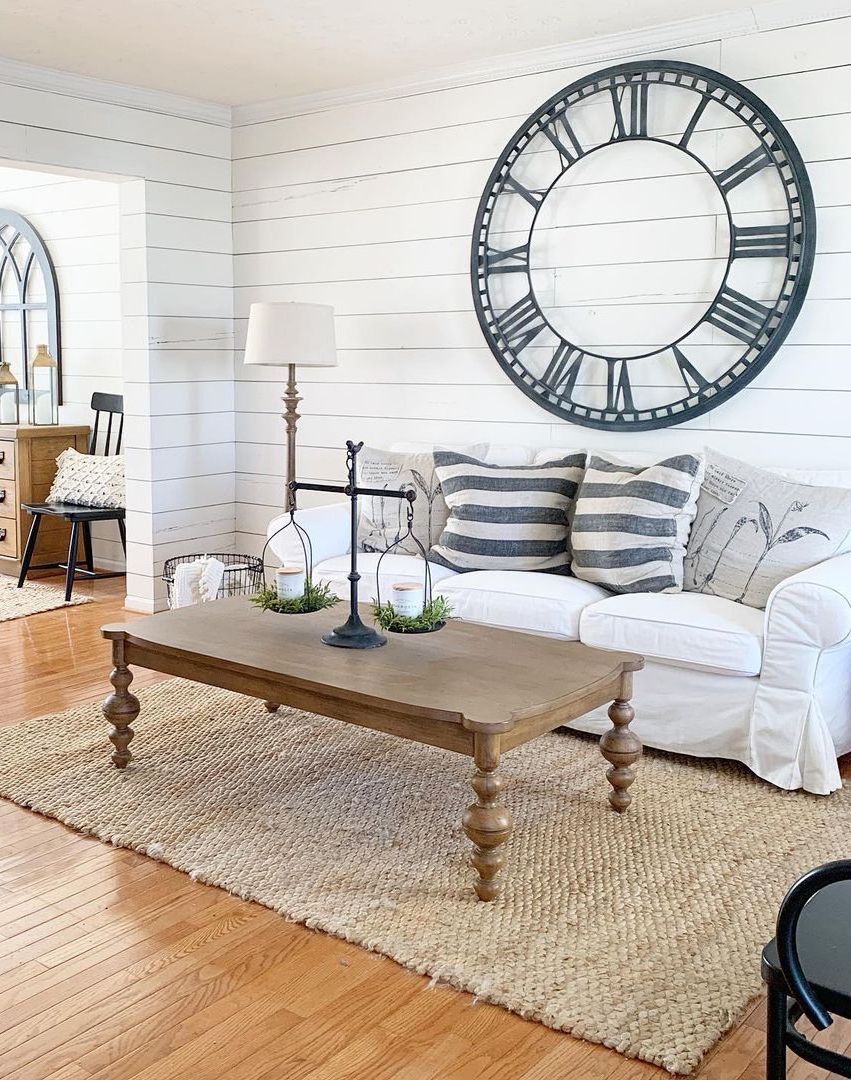 TV Above Mantel
Every good family room has a television in it. The problem is how do you decorate around a big black box? Well, here's a great idea. Paint your living room mantel black, and attach it just above, against a white brick wall, as seen here! On either side, add some open shelving with lots of country decorations like family photos, indoor plants, clocks, glass jars, vases, and word blocks.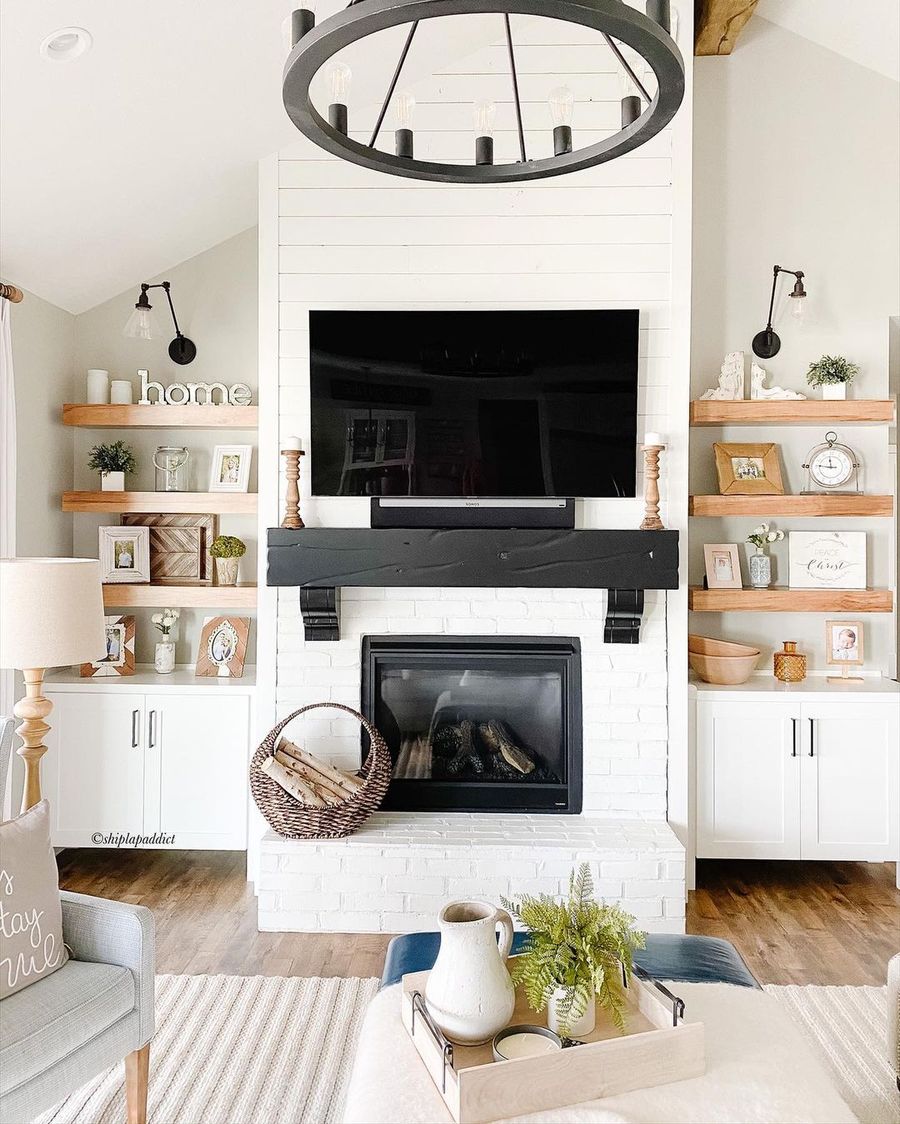 Paint the walls a beige color so that your fireplace mantel really stands out in the room. Looks great, right? There are also very often other black metal elements in farmhouse living rooms that help a black TV blend in more!
Exposed Wood Ceiling Beams
This is an architectural element that you don't always have control over, but how beautiful are exposed wood ceiling beams in living rooms? They give height to the space, make it feel warm and cozy, and contrast nicely against a white wood ceiling.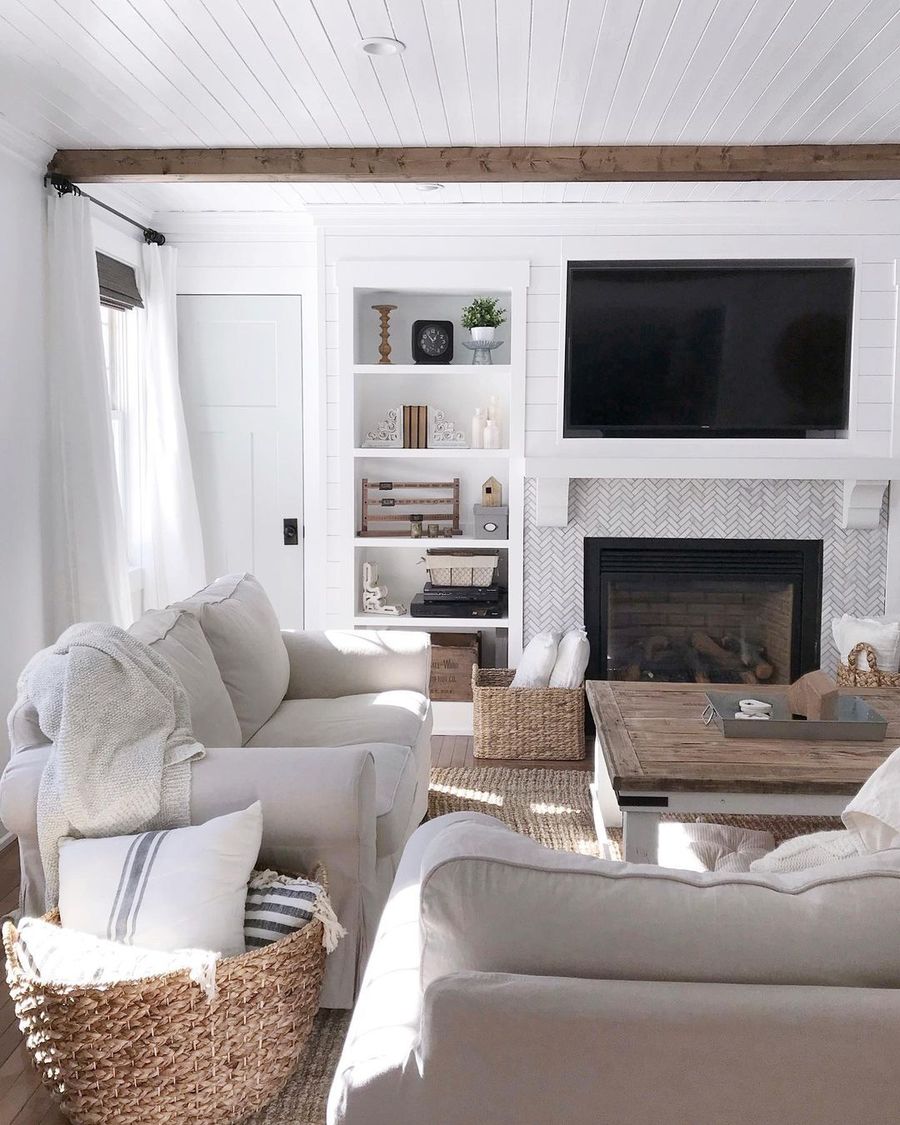 This living room has a rustic wood coffee table below which adds to the warmth of the space. Two cozy beige linen sofas sit perpendicular to each other.
Built-in bookshelves show off the family's tastes and a warm fireplace with a TV above it keeps the room cozy.
Window Wreaths
Window wreaths are a charming farmhouse decoration for the living room that is affordable and easy to install! Here, three matching eucalyptus wreaths hang centered over the window's white shutters. A console table sits nearby with wood lanterns and a farmhouse-tiered tray. In front, a slipcovered gray sofa has a few white throw pillows on it. A black and white buffalo check rug and a natural wood coffee table flesh out the space.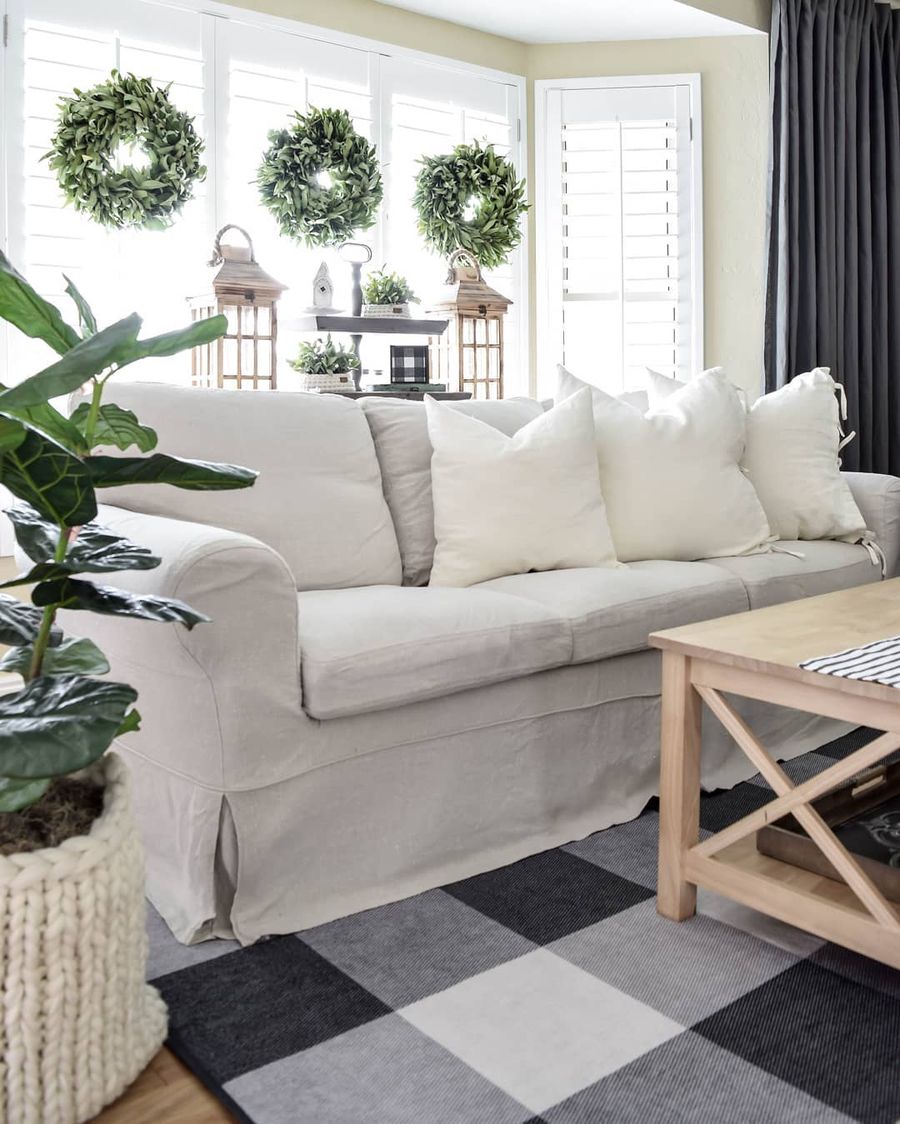 Leaning Wall Ladder
Another common decoration found in farmhouse living rooms is the leaning wooden wall ladder. I think this design element was borrowed from Scandi style, but I could be wrong. In any case, it's a super charming addition to any wall in your home, but it works especially well in the living room because you can drape a throw blanket over it casually. Here a wood ladder leans against the wall next to a French-style accent chair and small silver side table.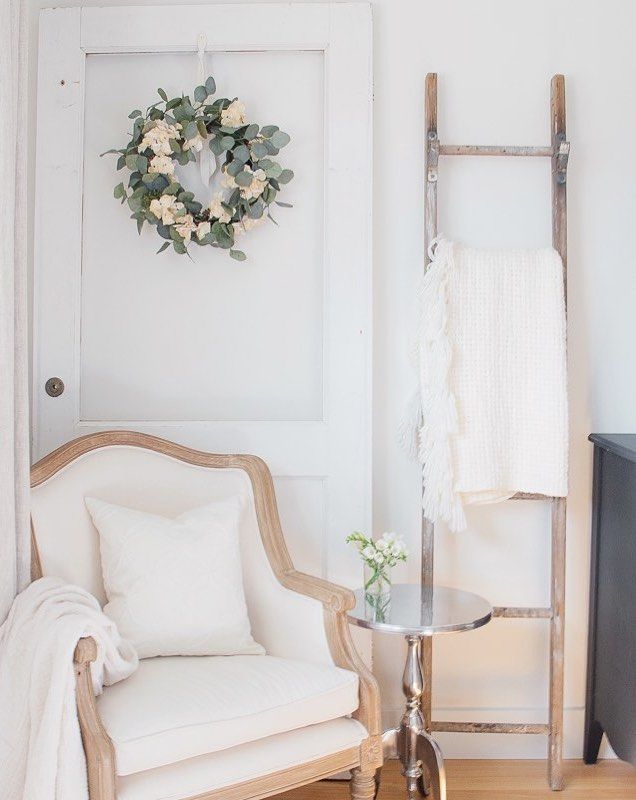 Vintage Accents
No matter how "modern" your farmhouse home is, you should consider adding vintage accents here and there. Vintage-style farmhouse living rooms have a unique charm to them. In this living room, an aged vintage coffee table that has been somewhat distressed holds a group of old books and a ceramic vase. A gray vintage cabriole sofa also gives this room extra charm. I think there's something unique and your own about vintage decor that works so well in a farmhouse country home!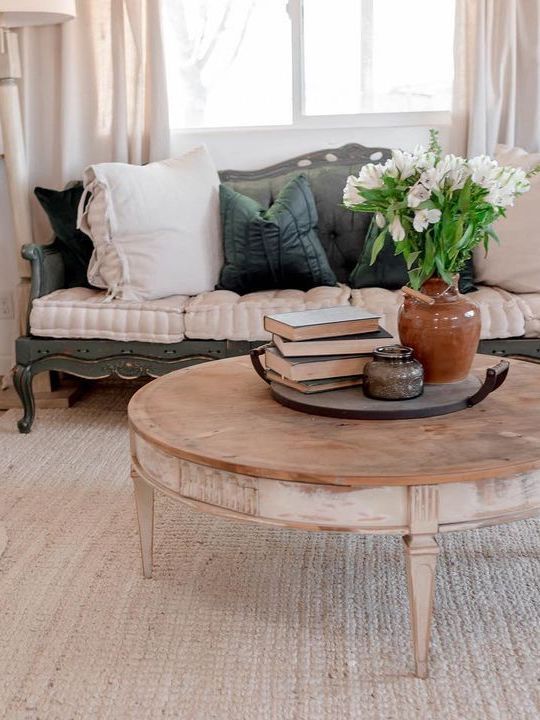 ---
Those are the major farmhouse living room decor ideas and trends we found multiple times during our research. We hope you found this article useful and interesting as you go about decorating your own farmhouse living room. Please do let us know your thoughts in the comments below! It's always a pleasure to hear from our readers on what they agree with or disagree with.
More Farmhouse Decor Ideas
If you're looking for even more farmhouse style decor guides and trends, then don't miss our other related articles on getting the Fixer Upper look in your home!
Happy curating! What did you think of these farmhouse living rooms?