Ready to learn about the best farmhouse dining room decor ideas?
The farmhouse decor style is one of the most beloved styles in the world of interior design. People across the country love to incorporate this family-friendly decorating style into their homes, especially those who reside in the countryside. Even if you don't live on a rural piece of land, you can still appreciate this decorating style from the center of a big city or the suburbs. It can give your home that cozy, countryside feeling when you want to create an oasis at home.
Farmhouse decor is known as the decor style which gives you a rustic look inspired by old rural farmhouses deep in the countryside. It's very welcoming, warm, and family-friendly. Joanna Gaines, a Waco, Texas realtor, and interior designer popularized this style many years ago on her HGTV show, Fixer Upper. Since then, many women across the country have been dying to get this fresh and charming look in their own homes.
Farmhouse Dining Room Ideas
Since the dining room is where we enjoy our meals, it's important to really consider the purpose and practicality of a space like this. While you may be tempted to buy some really whimsical pieces of furniture or decorations, this isn't the room to play around with frivolous things! Save your imaginative decorations for other less important casual rooms like the bedroom or the living room. Here, it should be all about serving food, and making sure everyone is comfortable while they eat.
You can decorate your dining room in the farmhouse way by using traditional furniture, industrial metallic tables or chairs, a fireplace mantle, comfy seating, vintage silverware, dining hutches and much more! These accessories, furniture, and earthy colors blend so well with each other to create the farmhouse vibe that is perfect for the communal spaces of our homes such as the dining room and living room.
Here are some ideas that will get your dining room looking like it's on Joanna's farm!
Rustic Dining Table
Every farmhouse dining room must have a rustic dining table centered in the room. You can choose a rectangular table or a round one, but wood is often the best choice. After all, a farmhouse home is incomplete without a wooden touch! Be it a rolling chair, a sofa, a wooden dining table, or just a wooden photo frame. Getting a rustic vibe at home is necessary. You can also install a wooden floor in your dining room to align it with the country decor. This is definitely one of our very best farmhouse dining room decor ideas!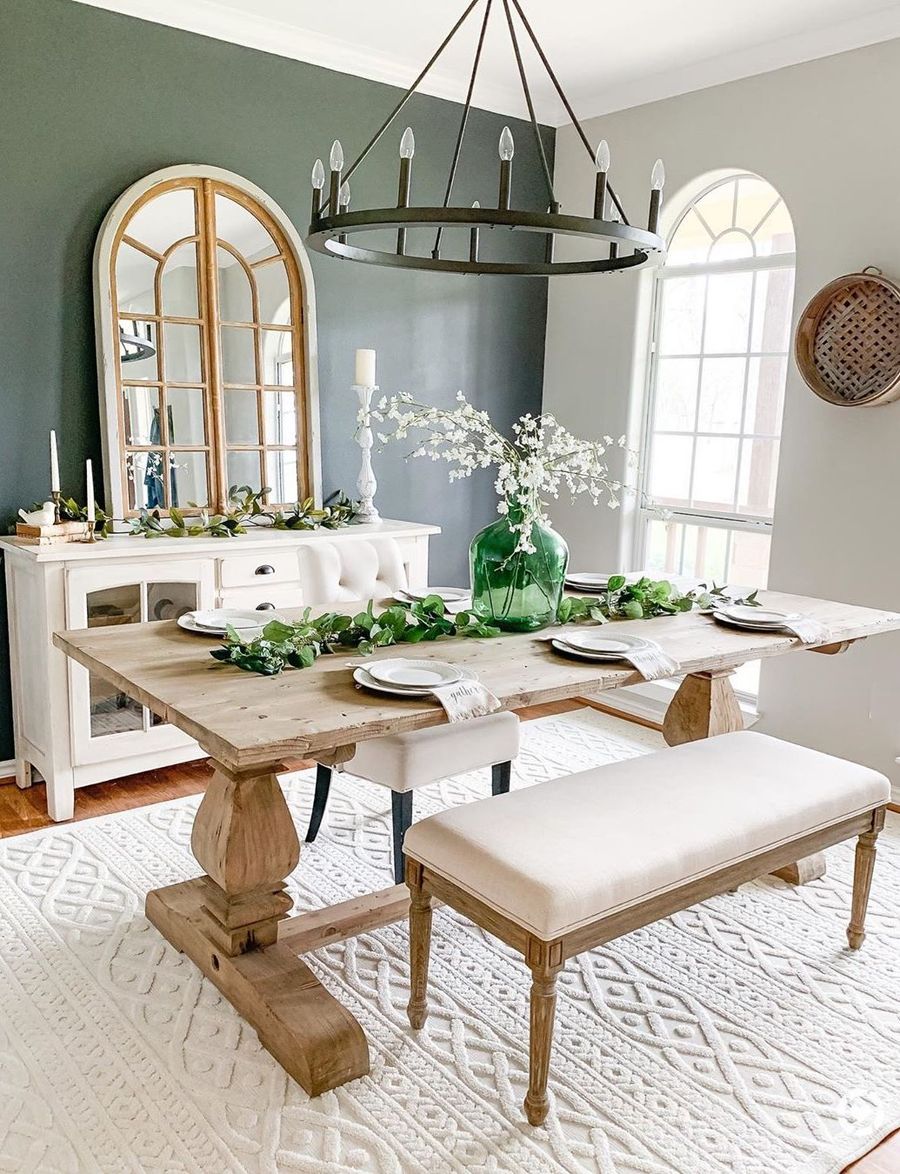 Country Dining Chairs
Next up, you'll want to pick out some country style dining chairs to sit around your table. Some people like to have side chairs on two sides, and then two separate head of table chairs for either end of the table. I think that even if you go with one set of identical chairs, it's so important to choose them for their design and comfort. Can you sit in these for a long time? Are they easy to move around? Do they have armrests if you prefer? These are all things to consider as you think about what is best for your space.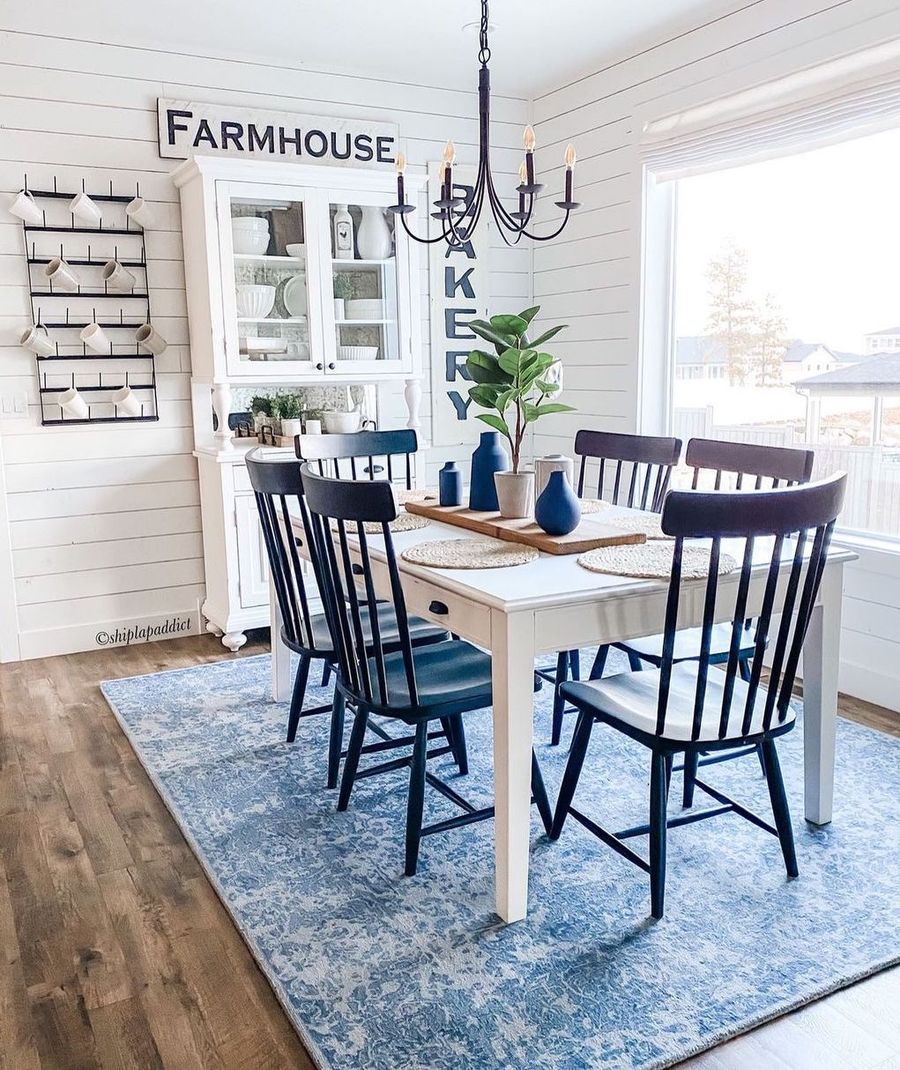 Farmhouse Chandelier
Overhead lighting is so important in the dining room so people can see the food that is available and eat without making a mess! Most people like to go with a farmhouse style chandelier for their dining room which could be made of metal or wood. Sometimes industrial style lighting is used in farmhouse homes, as this decorative style is often associated with the country vibe.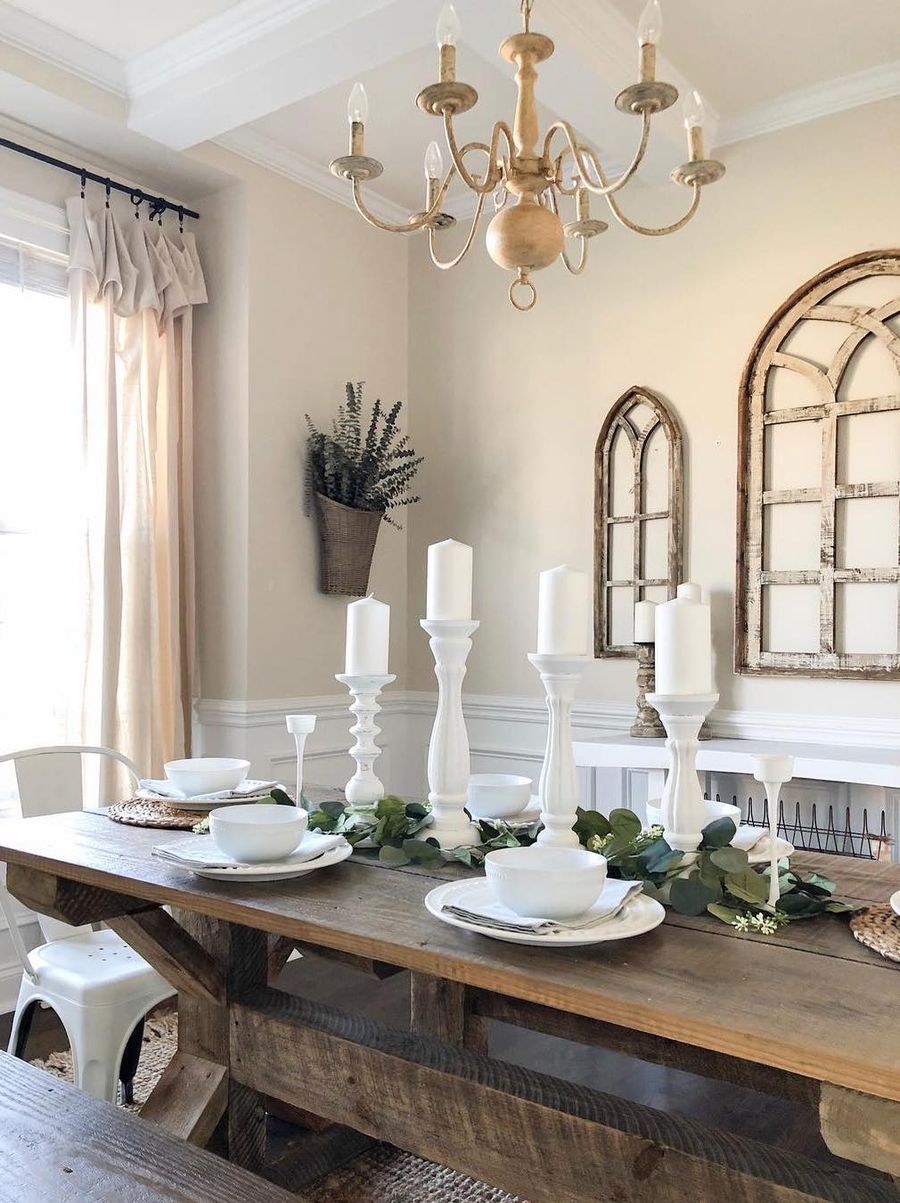 Sliding Barn Doors
Sliding barn doors are a huge interior trend in farmhouse homes. The dining room is a great place to install a sliding barn door so you can seal off this part of the room from the rest of the house. You may want to have a way to seal off the dining room from the kitchen so people don't see you cooking. You may want to separate the dining room from your living room while one group of people watches TV and the other finishes up eating. There are many reasons to separate different rooms in your house, and the sliding barn door is a great piece to accomplish this!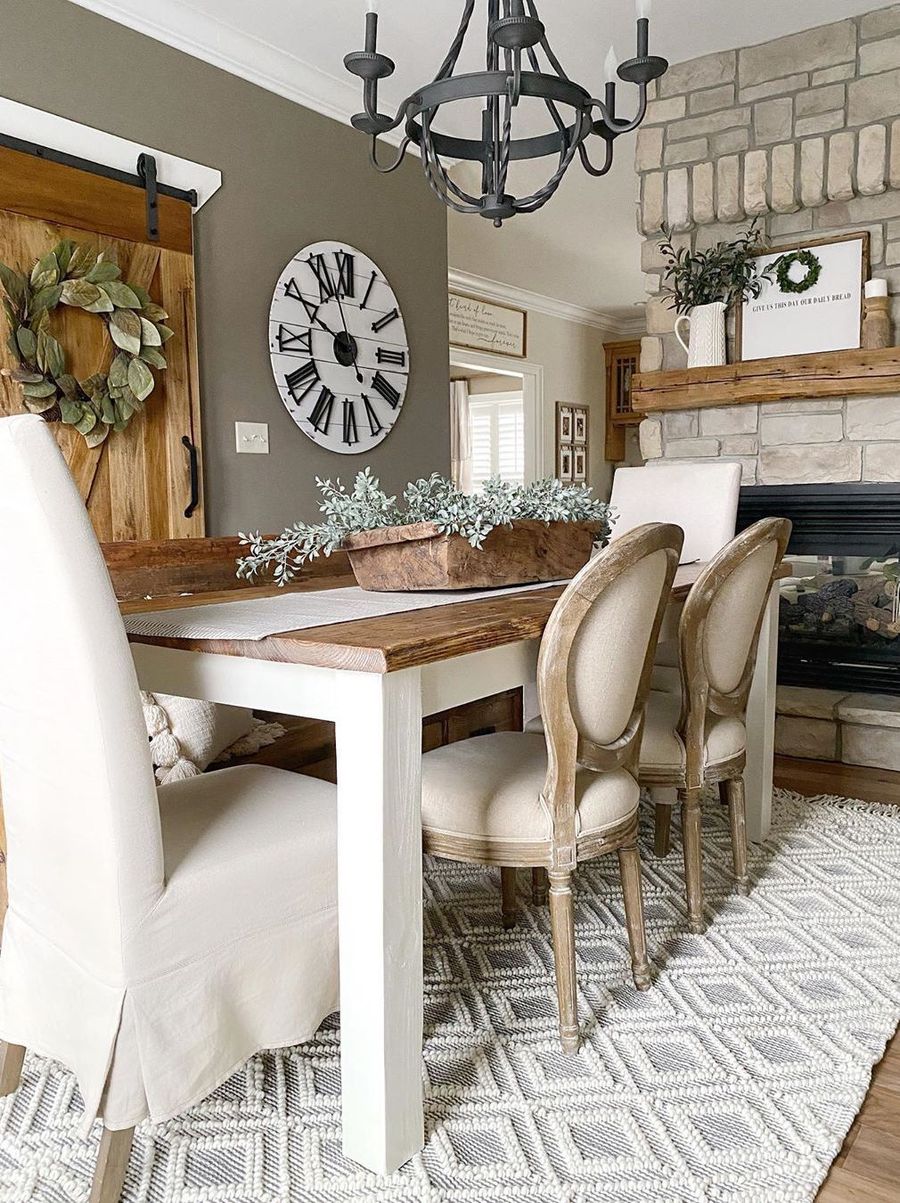 Earthy Tones
Farmhouse design always features an earthy color scheme. Muted colors like sage green, faded blue, dark brown, light beige, and creamy white ivory are very popular. This color theme makes you feel close to nature with its earthy tones. You should definitely find a way to incorporate these colors and shades into your dining room to make it calming.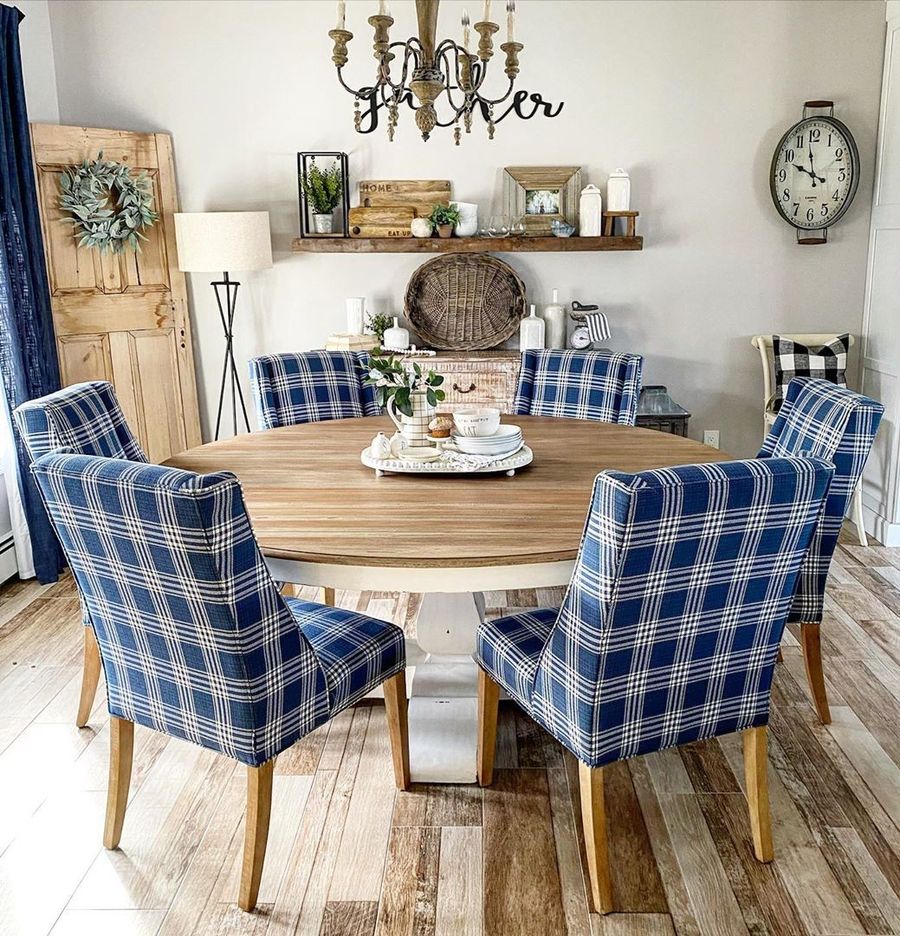 Dining Hutch
Dining hutches are amazing pieces of storage that you should absolutely incorporate into your home if you have the space. Hutches can be used to store your expensive china, large serving platters, white pitchers, and much more. You can store silverware, plates, wine glasses and any type of serving materials you might need in your dining room. These pieces are quite bulky and expensive but they really do serve a great purpose. I would absolutely invest in one if I had the money and space in my home!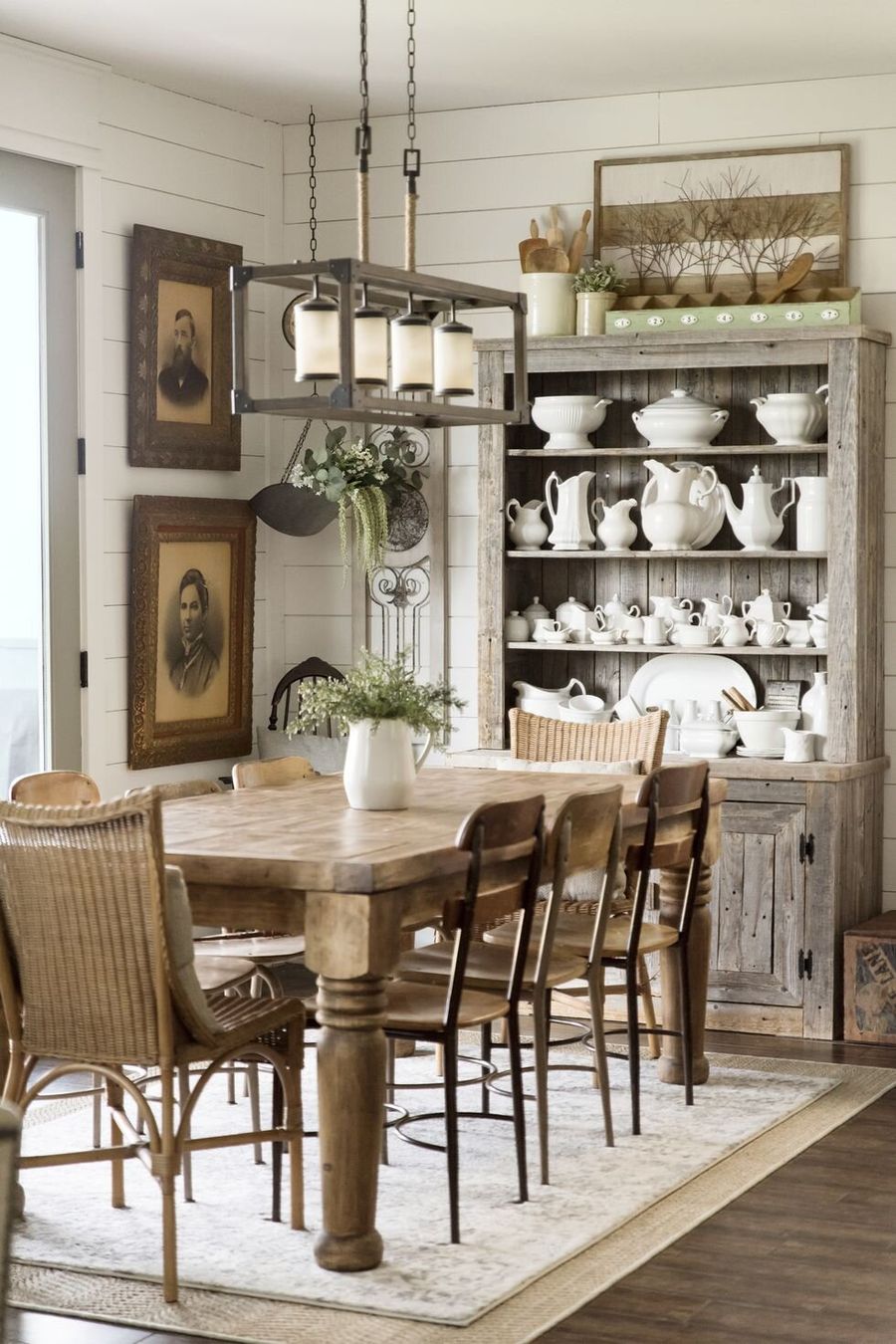 Cozy Rugs
Stepping on a cozy area rug is an important feature of most rooms in a farmhouse home. Keeping the space friendly and welcoming is always a good idea. Rugs help ensure that furniture is centered around a space. They also feel great to walk on with bare feet. Go with a gray, beige or neutral colored rug in your dining room to stay on trend. This is one of the best farmhouse dining room decor ideas we have!
Dining Bench
Another common farmhouse dining room trend is the dining bench. Instead of having chairs on one side of your dining table, consider buying a bench – cushioned or not – for extra seating. Now, keep in mind, most adults don't want to sit on a bench for a long time so this isn't a good choice if you live in a house of seniors and adults. On the other hand, if you have kids, a dining bench could be very useful for you. Kids love benches and you can fit quite a few of them on there!
Natural Materials
We love the natural materials often found in farmhouse decor but don't forget to offset woods, steel, and metals with textiles. Use full curtains, fluffy pillows on the seats, a soft and cozy rug, and overhead lighting to make the space feel more inviting.
Table Centerpiece
The dining room centerpiece is a necessary decorative element to any dining room. Centerpieces are decorations that sit on the dining table when it is not in use. They keep the space from looking too empty when no one is there. When it comes to farmhouse centerpieces, you'll want to pick one that involves flowers, nature, mason jars, plants, wood, or candles.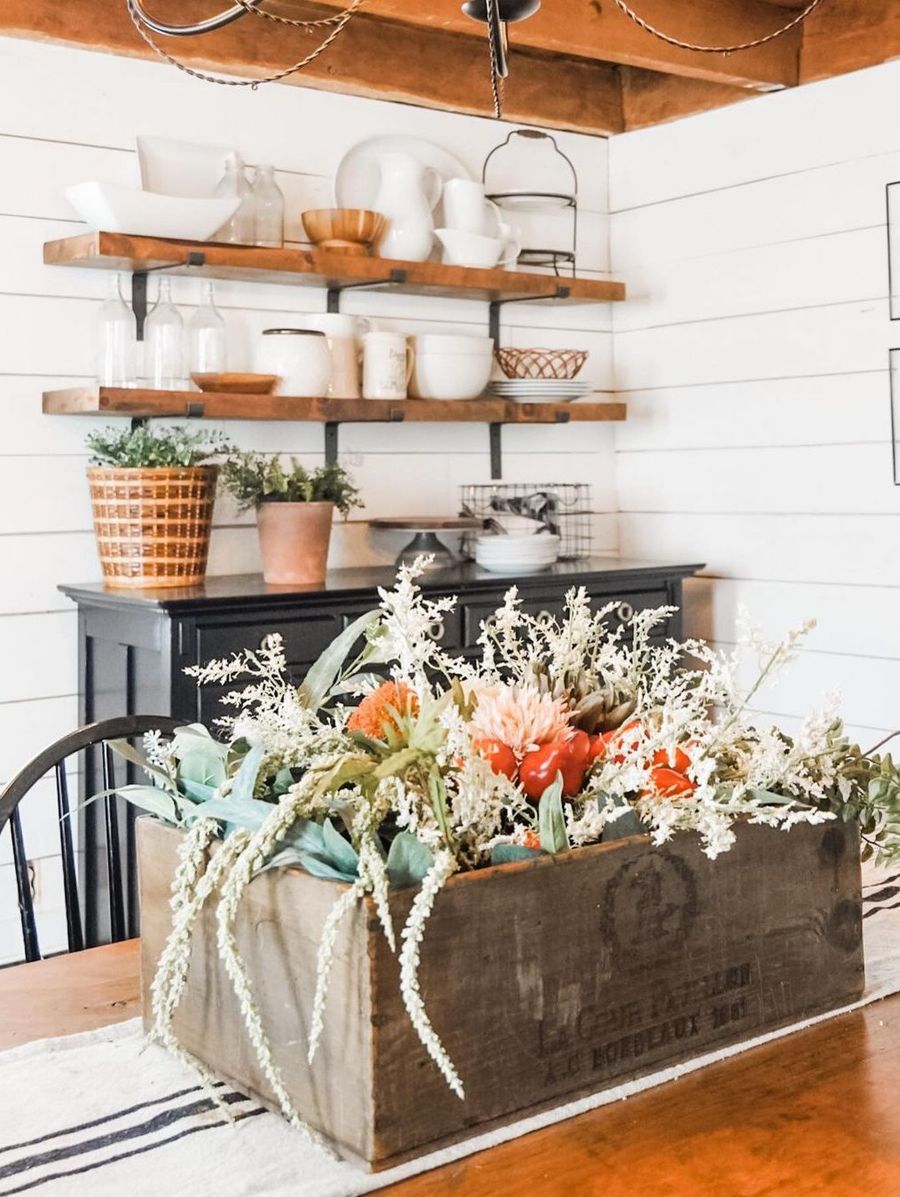 Bright and Airy
A dull and stuffy dining room should be avoided at all costs. Instead, you should make your farmhouse dining room bright and airy by enabling the flow of air and natural sunlight from the windows. No one wants to feel like they're eating in a dark corner, so don't put too many curtains in the dining room and let the sun freely flow inside. You also want to prevent the room from feeling too cluttered, so avoid over-decorating the space. Only put the essentials inside!
White Serving Platters and Pitchers
White serving platters and farmhouse pitchers are common elements in many farmhouse dining rooms. You can serve food on vintage platters and display flowers in lovely white pitchers. You can also display them in a hutch when not in use.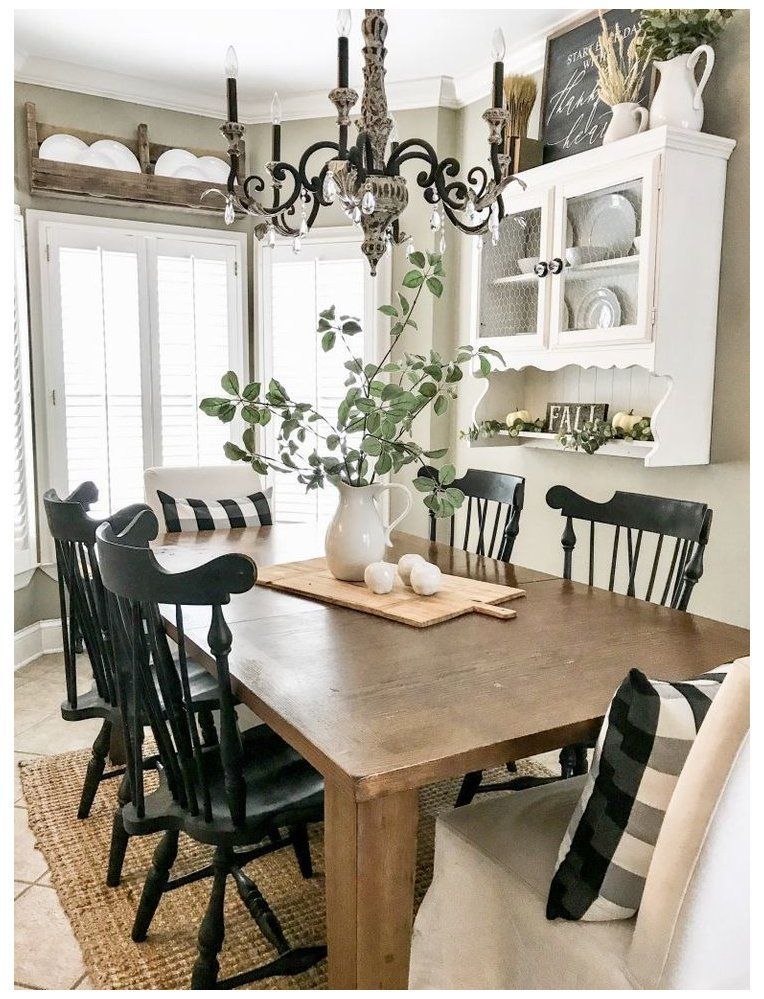 Farmhouse Wall Art
It's important to consider your walls when decorating a farmhouse dining room. A mirror can help open up the space and make it feel larger than it is. A cow artwork, vintage wood sign, or a quote will show off your family's personality. Farmhouse wall decor and art is a very personal choice and reflects the style of your family members so choose wisely!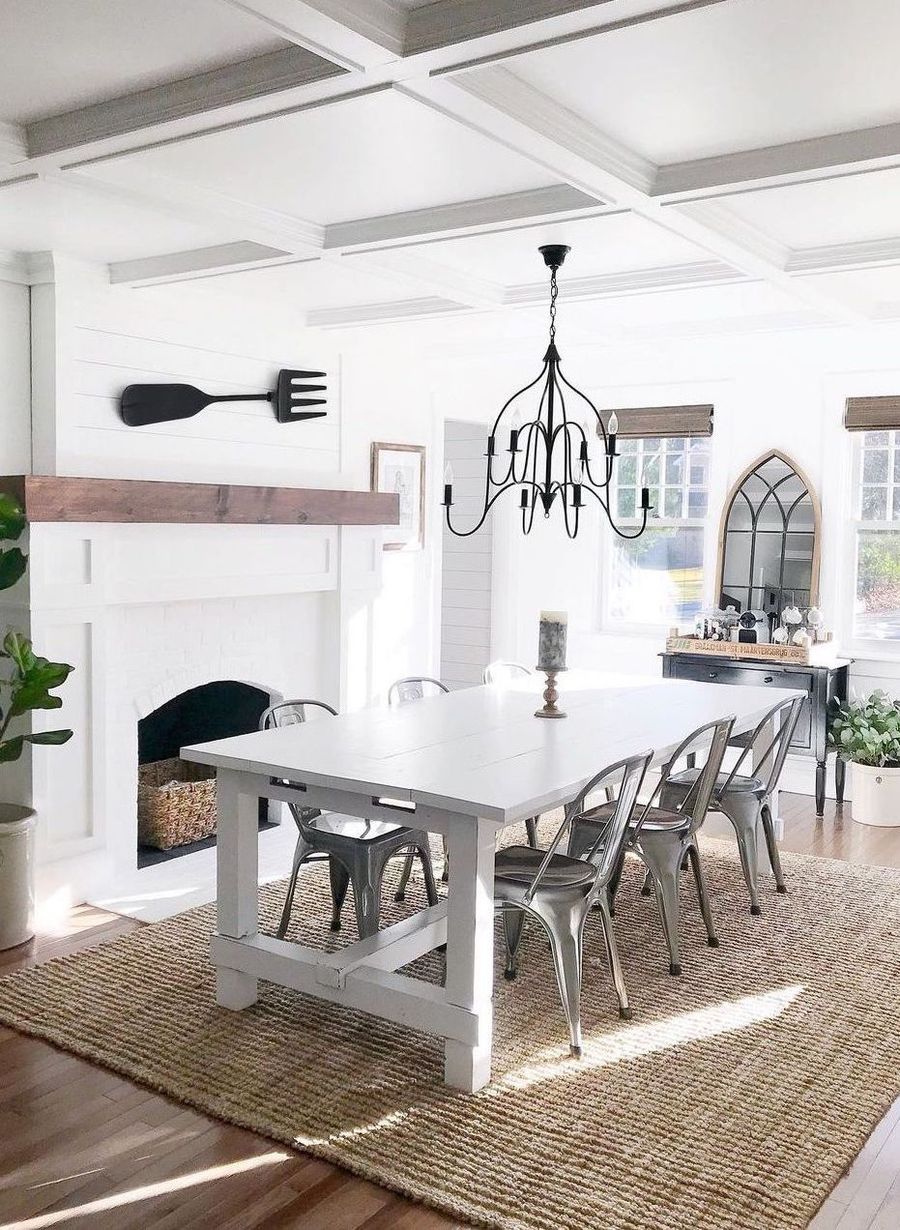 Shiplap Walls
Shiplap is all the rage when it comes to farmhouse wall decorating. Shiplap consists of horizontal wall panels that decorate the walls of a space. They are often painted white. You can use them as an accent wall, or cover all your walls with shiplap!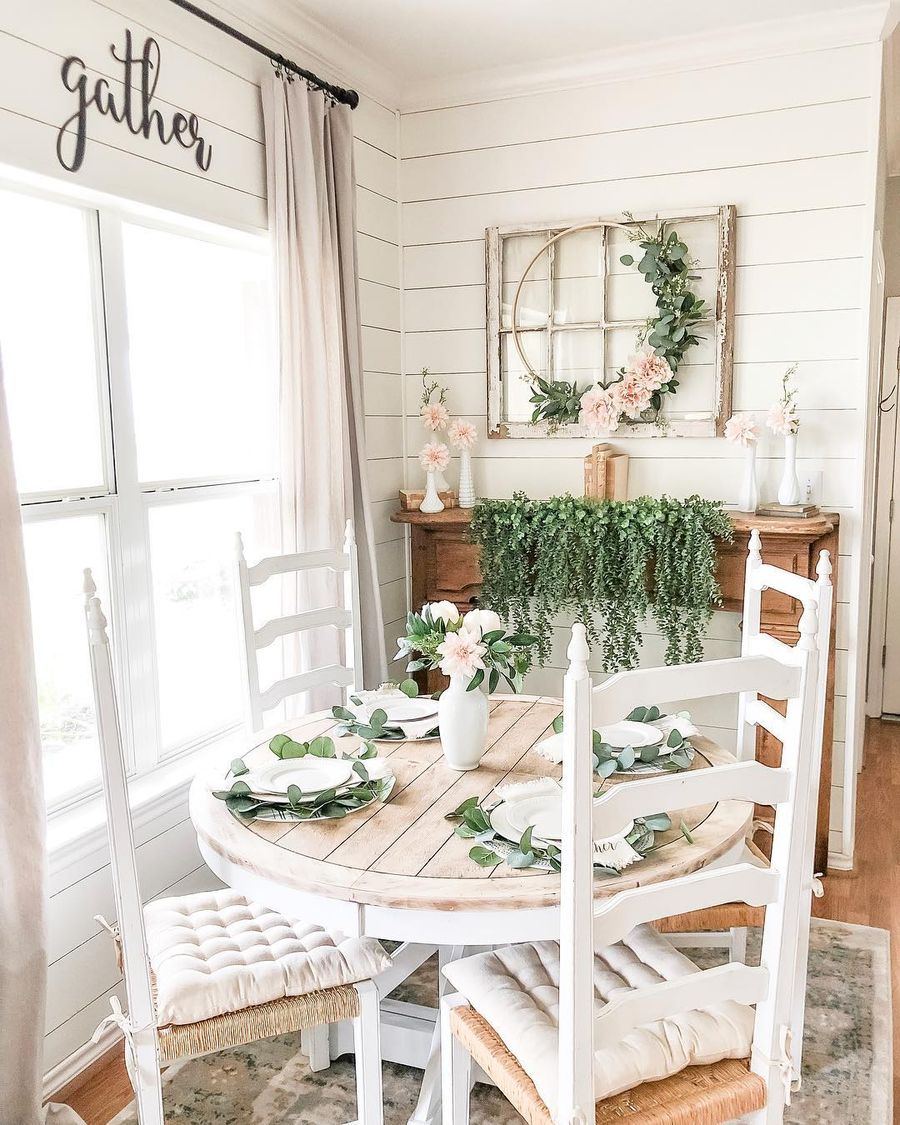 Mismatched Dining Chairs
A farmhouse dining room theme doesn't restrict you to choosing from only the most traditional furniture and decorative accents. You can be creative here by mixing contemporary furniture and accessories with traditional ones. Add mismatched chairs to the dining table to increase the casual chicness of the space. You could mix modern chairs with traditional chairs to give the space an eclectic vibe.
Lastly, you should also add a few planter pots to your farmhouse dining room to give a touch of nature to the space. Greenery helps us breathe better and creates a sense of tranquility in the dining room. It's also very relaxing to look at!
Farmhouse Dining Room Design Tips
How do you make a traditional dining room look farmhouse? To create a farmhouse look in a traditional dining room, start by incorporating natural wood furniture, such as a rustic dining table and chairs, which will add warmth and a sense of history. Consider using a weathered or reclaimed wood sideboard or hutch to display vintage china or farmhouse-inspired decorations.
Textiles like linen tablecloths or curtains in soft, neutral colors can enhance the cozy ambiance. Light fixtures made of materials like wrought iron or distressed metal, perhaps in lantern or chandelier styles, can lend a farmhouse touch.
Finally, decorative accents like vintage artwork, antique clocks, or fresh flowers in simple vases can tie together the overall farmhouse aesthetic, creating a space that feels both comfortable and charming.
Farmhouse Dining Room Furniture
Farmhouse style furniture embodies a rustic and timeless charm, often using natural, sturdy materials that evoke a sense of simplicity and warmth.
Farmhouse dining tables are usually made from solid wood, like oak or pine, and may feature weathered finishes, large turned legs, or trestle bases that add to the rustic appeal.
Farmhouse dining chairs often match the table's style, sometimes with ladder-back or slat-back designs, and might include cushioning in neutral or plaid fabrics.
Sideboards, buffets, or hutches in coordinating wood tones provide storage and display space and often showcase traditional hardware or glass-fronted cabinets.
Farmhouse dining room furniture exudes a welcoming, down-to-earth aesthetic, seamlessly blending function with a casual and inviting style that recalls a pastoral and homely setting.
Farmhouse Dining Room Rugs
Farmhouse dining room rugs often feature natural materials like jute, sisal, or wool, aligning with the rustic and warm aesthetic of the style. Popular farmhouse rug designs include simple patterns like stripes or geometric shapes, and softer colors such as beige, cream, or soft blues and greens, to complement the overall farmhouse decor.
Farmhouse Dining Room Lighting
Farmhouse dining room lighting often involves fixtures made from rustic materials like wrought iron, distressed metal, or wood, enhancing the room's traditional charm. Popular farmhouse lighting choices include chandeliers with vintage-style Edison bulbs, lantern-style pendants, or simple sconces with shades that resemble antique glass. These lighting elements should be chosen to complement other farmhouse features in the room.
---
As you can see, you can create an amazing farmhouse dining room using our top Farmhouse dining room decor ideas. Decorating any room in your home can feel overwhelming but our hope is that this article gave you a bit more clarity when you think about the direction you'd like your dining room decor process to go towards. Please let us know your thoughts in the comments below!