At first glance, it may feel as if barn doors are something that belongs exclusively to rustic abodes such as modern-day farmhouses. Because of this, it can be hard to imagine barn doors being anywhere else. However, there's more to these interior doors than what initially meets the eye.
Barn doors prove to be a lot more flexible than traditional doors, especially in smaller homes. Sliding barn doors maximize space more than traditional doors due to their slide-and-shut mechanism. Apart from being space-efficient, they also make for an eye-catching aesthetic.
Most barn doors are typically made of wood that's either finished, rendered, or painted in unique patterns and colors. Even if your home's aesthetic isn't rustic-inspired, barn doors are usually striking enough to serve as on-trend modern decor.
Barn doors are now considered among the most sought-after home features. Whether you're looking for a space-saving solution or an attention-grabbing entry, many barn door options are available. That being said, we've rounded up some of the best barn door ideas you can incorporate into your own home design below!
Bathroom Barn Door
When it comes to bathrooms, you usually want to save as much space as possible. Because of this, using a barn door for your bathroom is an excellent idea if you want a practical space-saving solution for it.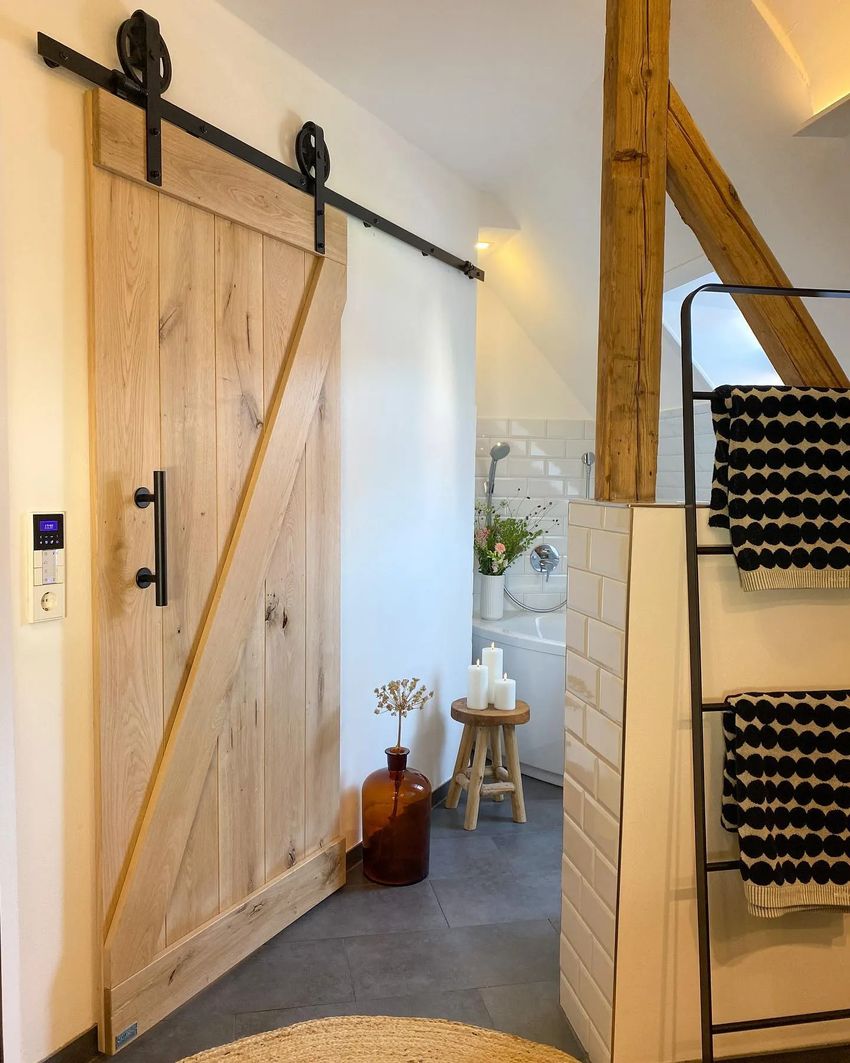 Hide the Laundry Machines
One of the best things that barn doors can do to your home is efficiently hide appliances that otherwise make your space look like a cluttered mess. Less aesthetically pleasing appliances or bulky washers and dryers can cause an indoor space to appear messy. If you feel like your laundry machines just stand out too much in the room, you can consider hiding them behind a beautiful barn door. This sliding door provides you convenient access to your home's laundry room while still staying faithful to your space's interior aesthetic and curated look.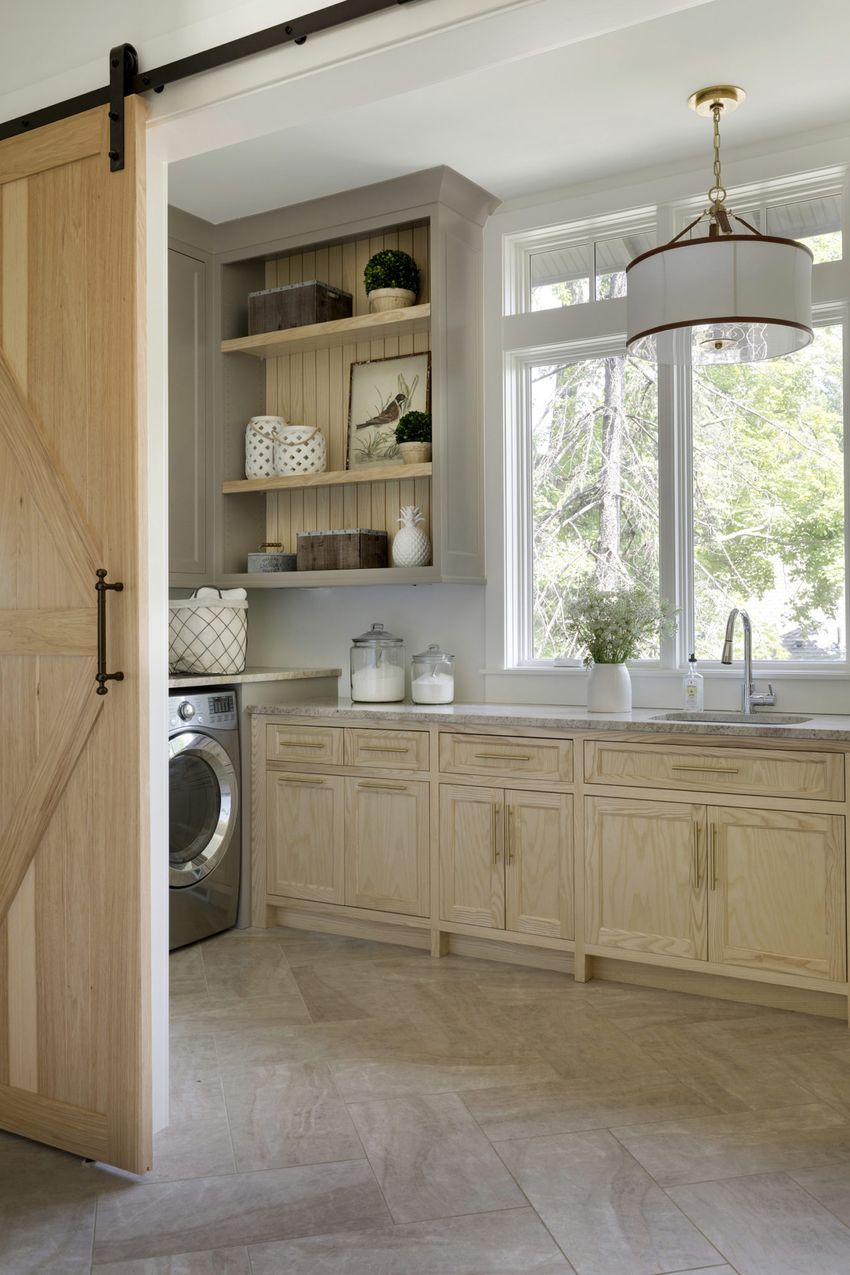 Space-Saving Bedroom Door
Do you think that your bedroom feels a little too cramped for a typical door? Replace it with a barn door instead. With barn doors as an alternative, you can simultaneously maintain the privacy of your bedroom without adding unnecessary bulk. If a sliding door doesn't work with the existing space, consider both sides of your bedroom entrance and let your creativity run freely. Perhaps you can choose to incorporate a barn door that otherwise covers a wall art when opened.
Mirrored Barn Door
Having a mirrored barn door helps brighten up your space significantly. They also function as a space-saving solution since they can segregate one room from the other with a full-length mirror. Mirrored barn doors are perfect for incorporating openings between your bedroom and bathroom, serving functionality on either side of the doors.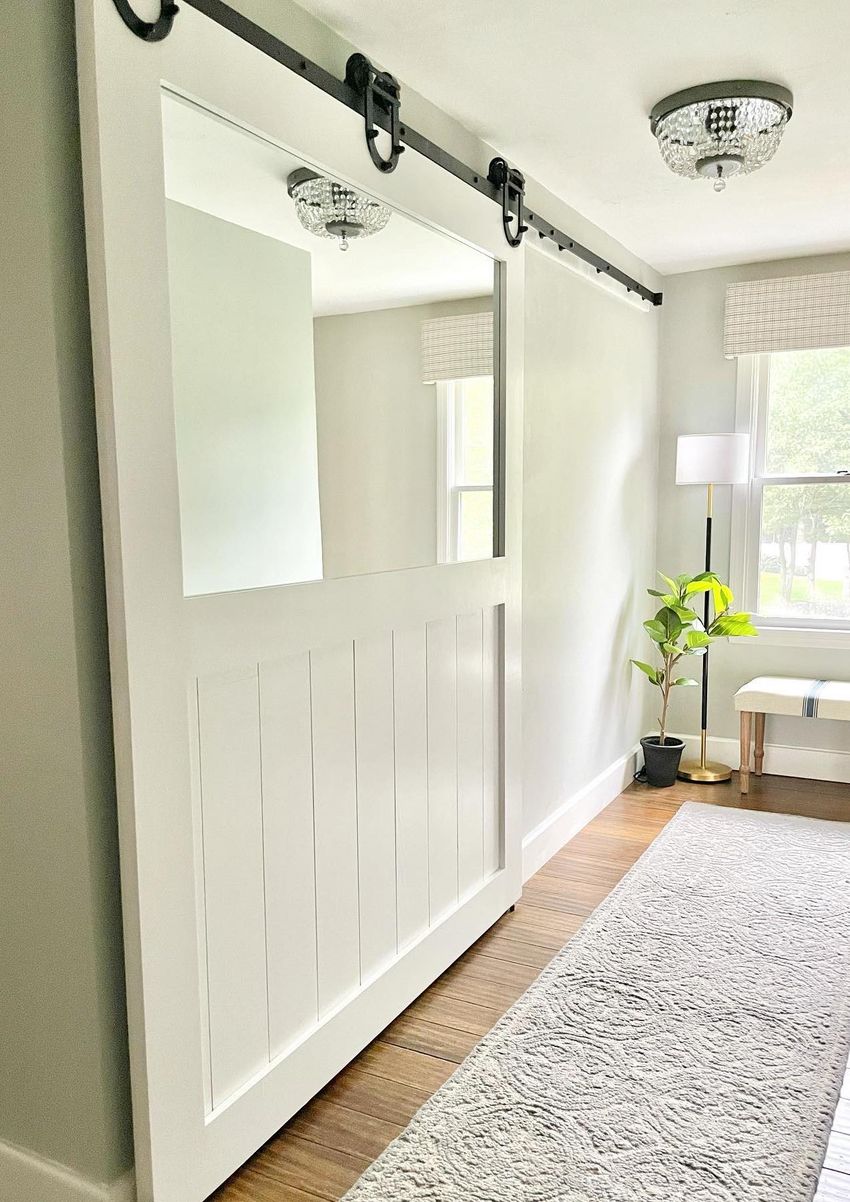 Colorful Barn Door
Liven up any room with colorful barn doors. No matter the style of your interior and aesthetic, the addition of a bright and vibrant barn door will surely add to your home's overall appeal. Depending on your preference, you can pattern the color of your barn doors to blend in with your home's design. Doing this will add a nice pop of hue to your room and make it more unique than ever.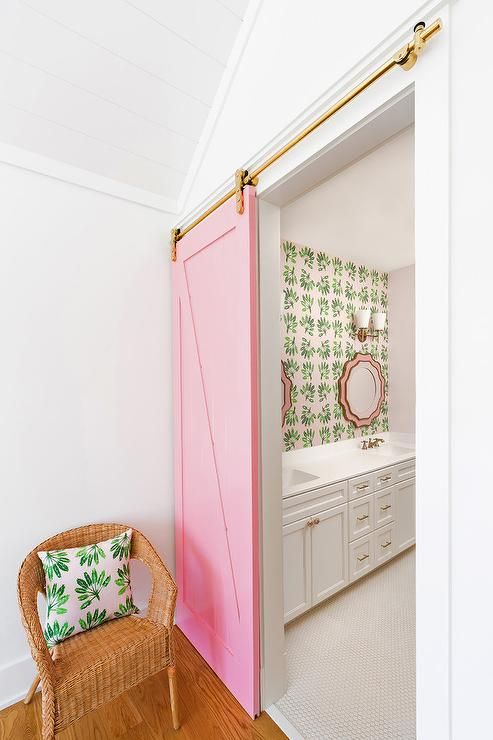 Rustic Barn Door
Rustic barn doors make for an excellent and captivating focal point, especially within living spaces. You can opt to use these as an entrance to your office room, and they are great aesthetics for a down-to-earth yet classy appeal.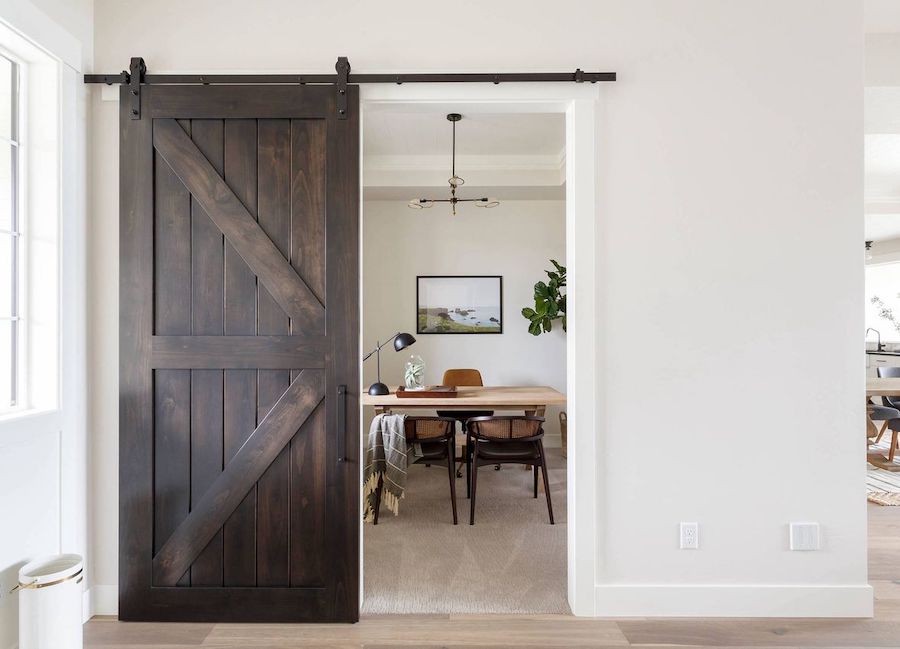 Double Barn Doors
Savvy double barn doors help you achieve that attention-grabbing entrance at any time. They're also a practical way of dividing your room temporarily to make way for a more intimate and cozier atmosphere. They also add unique style to your room while enhancing accessibility whenever you prefer.
Front Entrance Barn Doors
While barn doors are most commonly used for interior design, barn doors for your home entrance further accentuate its unique charm and vibe. If you want to add more to its overall appeal, you can also consider layering these with another set of barn doors.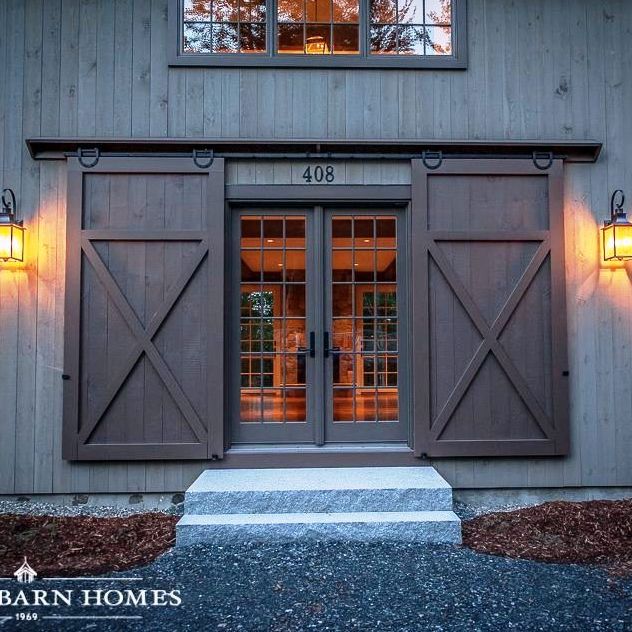 Kitchen Pantry Barn Doors
Add a hint of country charm to your kitchen pantry through these kitchen barn doors. Apart from their unique aesthetic, barn doors also help save space while concealing the contents of your pantry when not in use. This way, your kitchen will look more organized and free from clutter.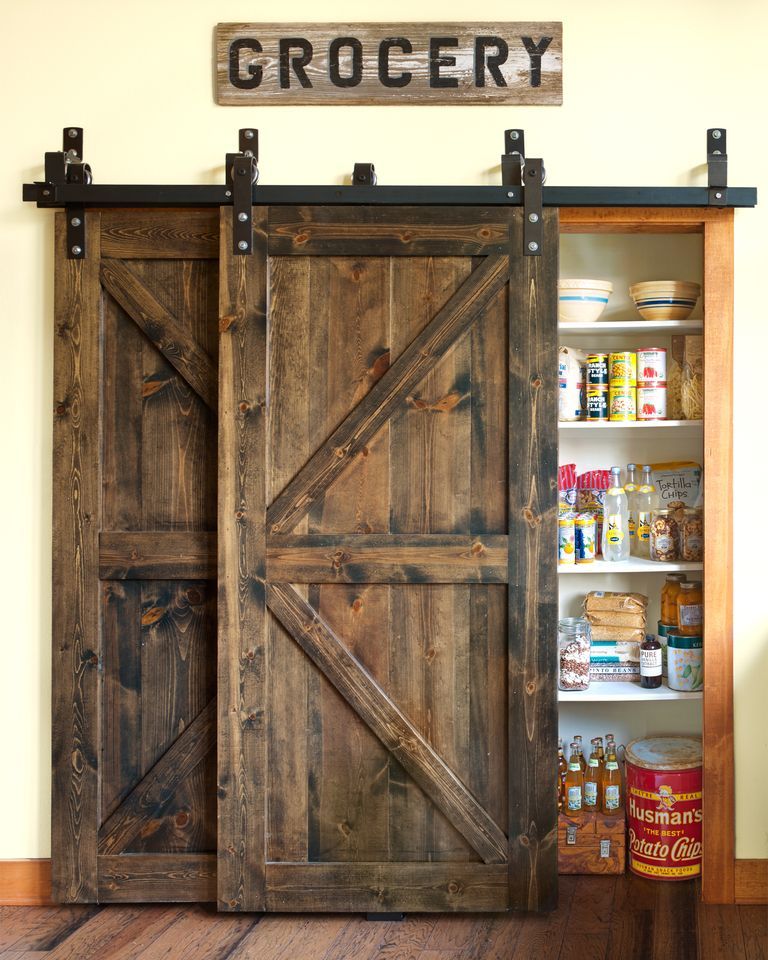 Windowpane Barn Door
Windowpane barn doors allow people to see what's inside the room without entering. They also allow in more natural light through the windows.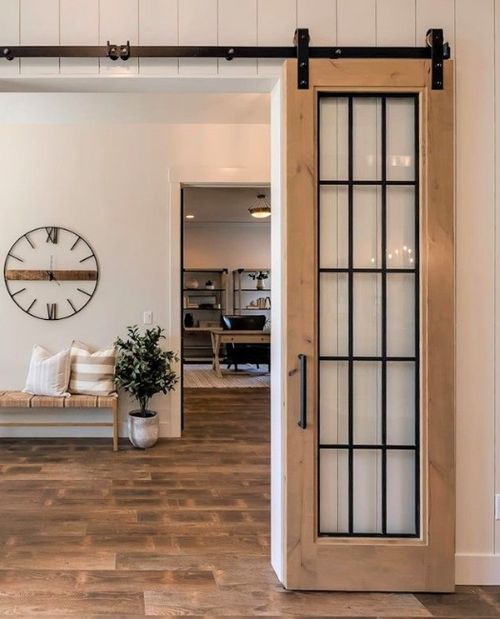 Chalkboard Barn Door
Many people like to use chalkboard barn doors in their kitchens to keep a list of groceries they need, upcoming plans for the week, a to-do list, a chores list, or a dinner menu for the week! You can also use this type of door in a fun kid's room or playroom.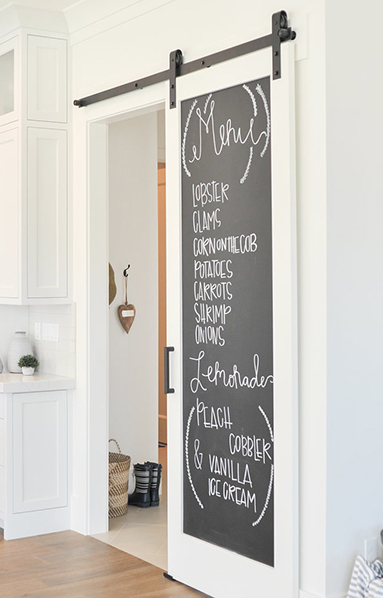 Chevron Wood Barn Door
Chevron wood barn doors are an excellent addition for homeowners who love a more crisp and cleaner style. The wood panels are designed in a V-shape to give the door a sophisticated look. Chevron wood barn doors also add a contemporary rustic vibe to the home, making it feel like a comfortable and cozy oasis.
Vintage Barn Doors
If you lean towards a more vintage interior aesthetic, you can incorporate vintage barn doors in your home. Vintage or antique barn doors are a lovely decor element if you want a specific space to have a vintage feel, and make visitors feel like there's something special waiting on the other side of the door.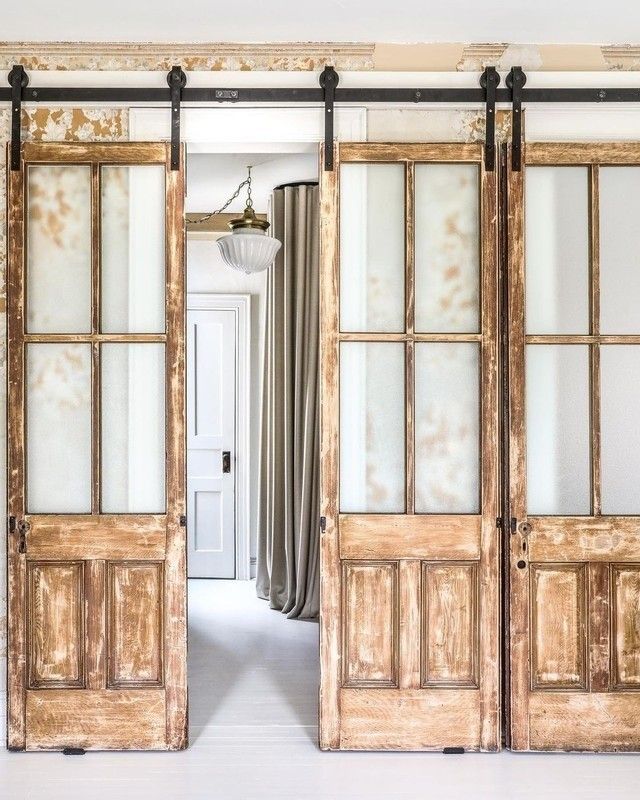 Room Divider Barn Door
A sliding barn door also functions as an efficient room divider without exerting too much effort. This way, you won't have to build a wall to divide a room; a room divider barn door helps you segregate one space from the other while still maintaining a unique charm.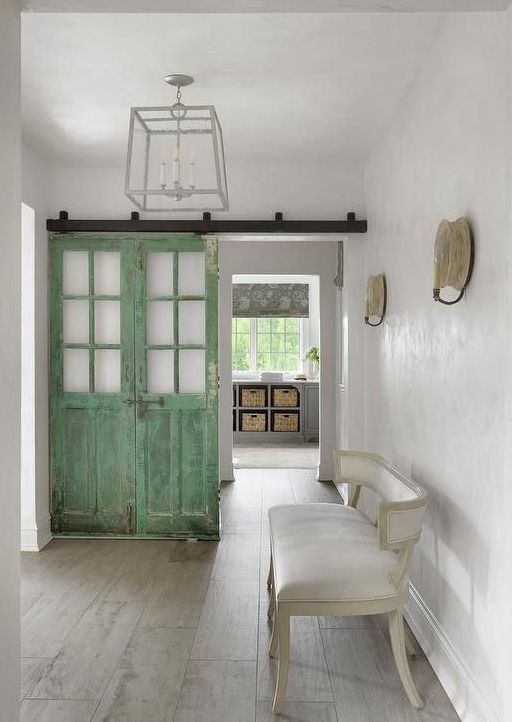 Closet Barn Slider Door
Closet barn slider doors keep the messy clothing, shoes, and handbags in your closet hidden from view while in the bedroom! You can use closet barn doors to conceal your clutter which might otherwise be visible. Here is a DIY for closet barn doors!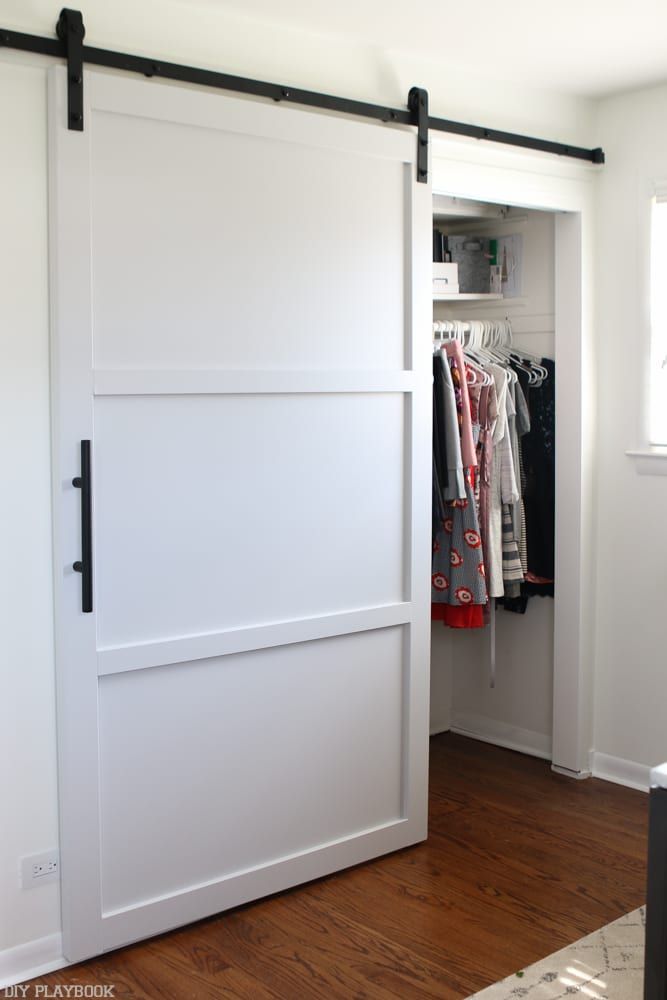 Staircase Barn Door
This fun and practical barn door idea is ideal for keeping your staircase hidden when you want everyone on one level. Staircase barn doors provide added privacy and closure to your space when you need it!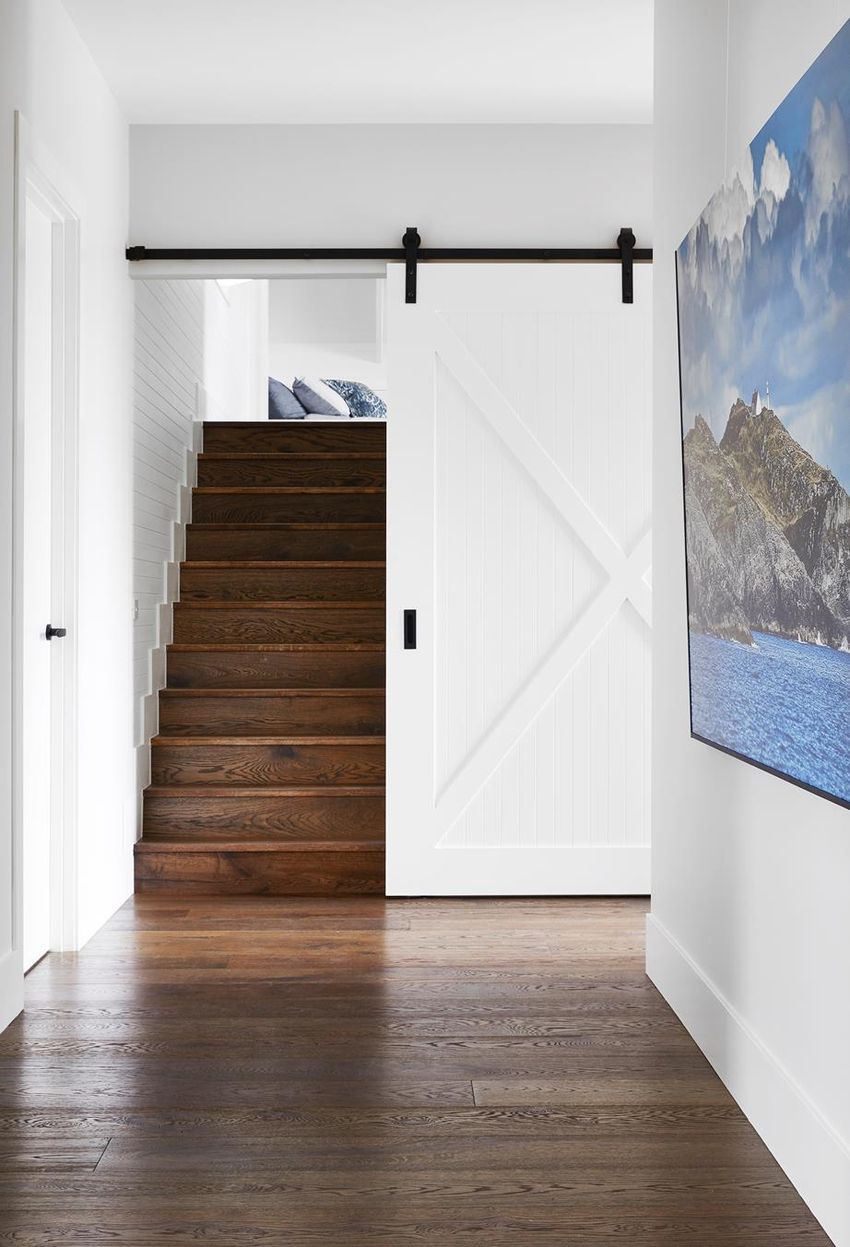 Painted Blue Sliding Barn Doors
These doors maintain a minimalistic yet charming aesthetic to the modern coastal living room of this house. Not only that, but they also go well with any kind of interior without compromising any of its functionality.