The living room is probably the most exciting yet challenging space you'll have to design and decorate in your home. Creating a functional, yet enjoyable space for you, your family, and any guests to enjoy can take time, energy, and serious planning!
The process of designing your living room can be really fun, too. Picking out comfortable seating can mean visiting your favorite home decor stores and testing out different chairs and sofas. Some people may get excited at the electronics that go in a living room! The possibilities are endless but the living room should absolutely be a reflection of your tastes, interests, and experiences!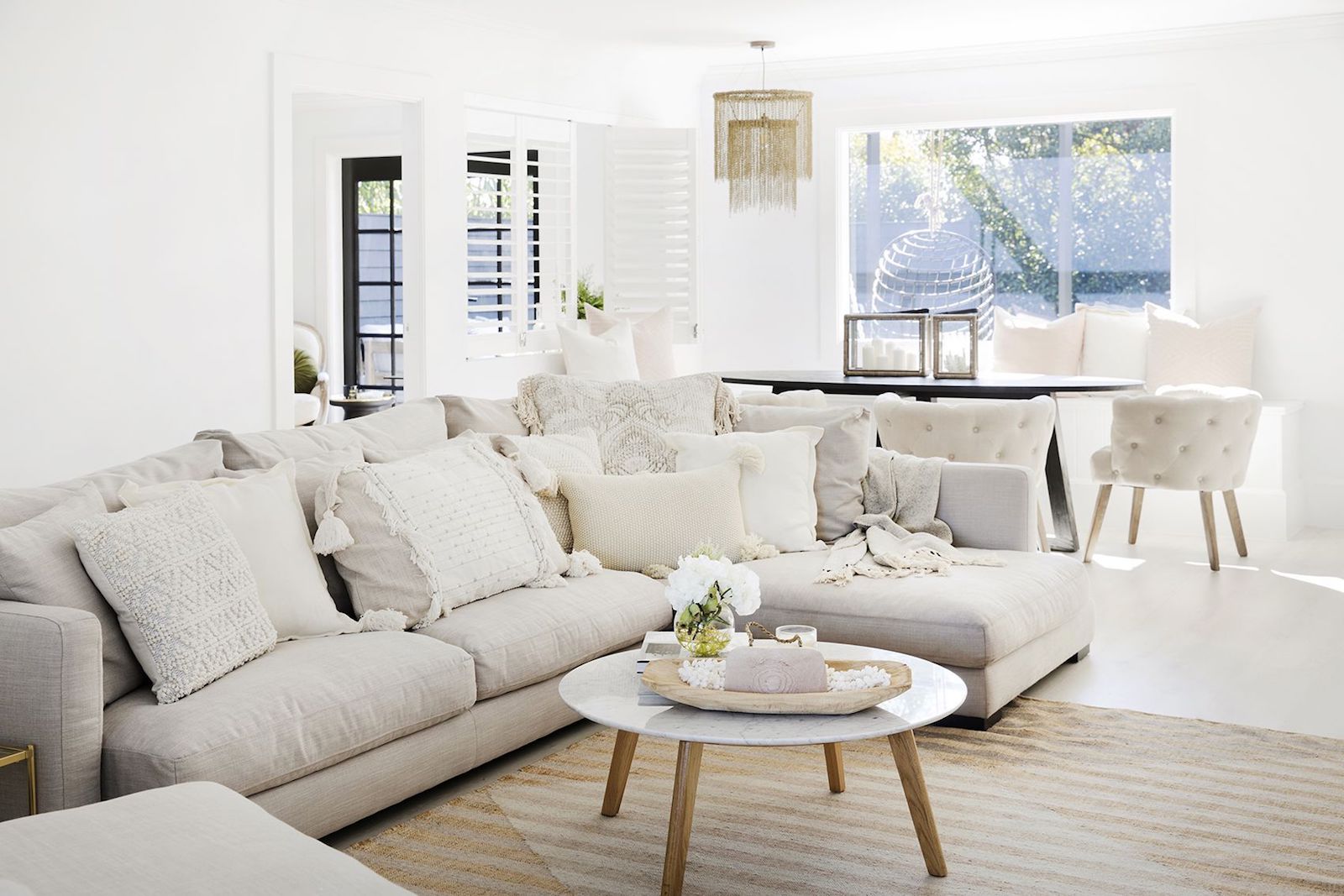 Living Room Purpose
The first step to designing your living room is to determine its purpose. Will this be a formal living room for hosting guests and events, or will it be a casual family room for lounging? Having a clear purpose for the living room from the get-go will help you may key decor decisions when you need to.
Style and Inspiration
I can't imagine I'm sharing a secret with you when I say that Pinterest is a great place to start saving ideas for your living room decor plans. If you haven't already, then sign up for Pinterest and create a board specifically for this room so you can start narrowing down your style. Having a source of inspiration for your living room will make the decorating process a ton easier!
Decor Style
What is your decorating style? What are you most drawn to? The farmhouse style is very popular these days. Other popular decorating styles include Modern, Mid-Century Modern, Scandinavian, French Country, and Modern Coastal.
Color Scheme
The color scheme of your living room will often be determined by your decor style, but don't be afraid to experiment with different color schemes that you are drawn to.
Farmhouse style decor is often colored with neutral browns, vintage whites, and faded blues. Mid-century modern decorating colors include dark browns, rich greens, and mustard yellows. Scandinavian decor features gray tones, sharp blacks, and stark whites.
French Country themed living rooms are often medium brown and white, with pale blue or pink accents mixed in. Coastal themed rooms unsurprisingly feature lots of turquoise, navy blue, and sea green.
Whatever colors you are drawn to, it's good to have a palette in mind!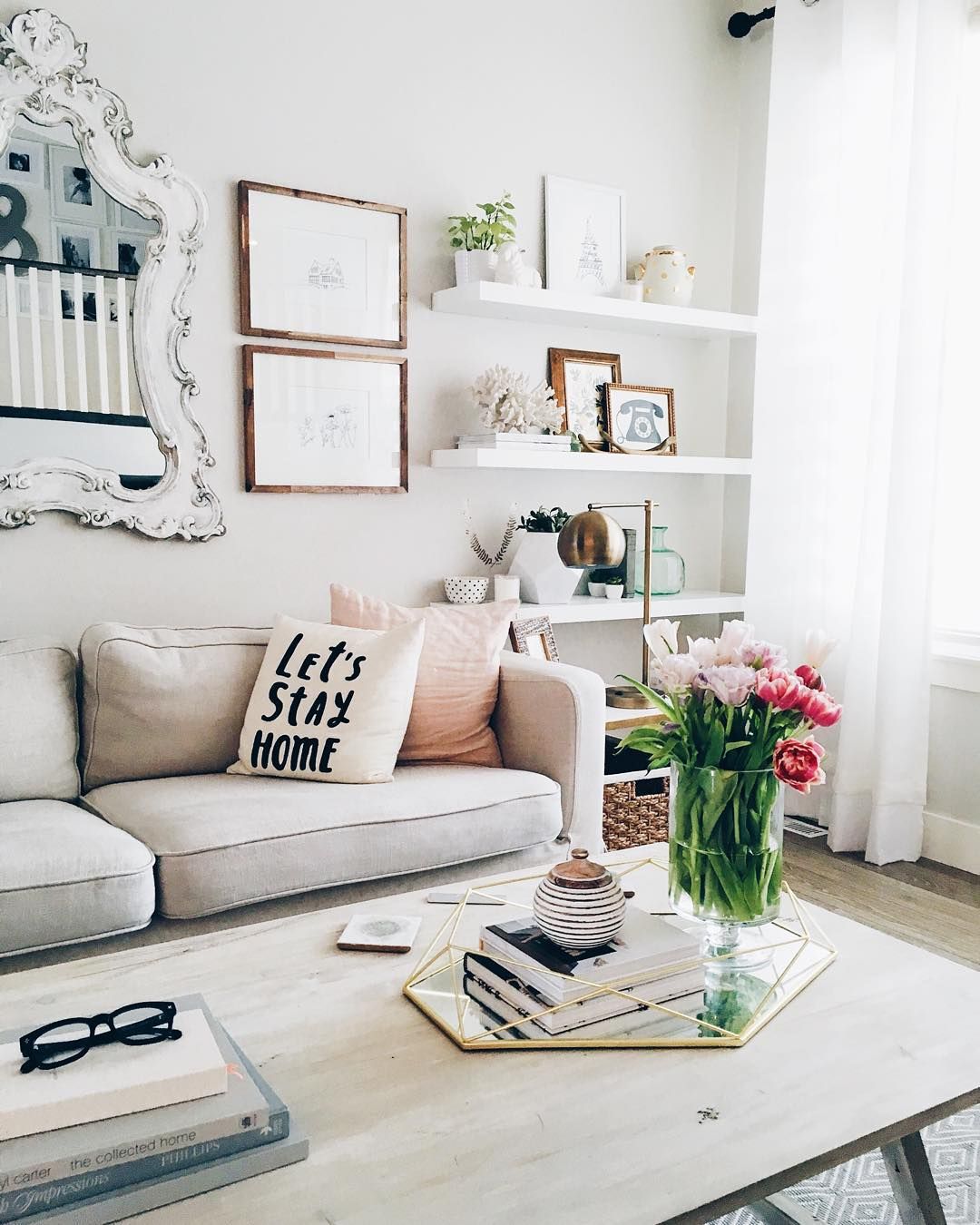 Room Measurements
You may have found the perfect sofa, but if it sits awkwardly in your living room, then it will be distracting and uncomfortable. Break out the measuring tape and measure your living room to prevent any ill-fitting furniture decisions.
You'll want to measure not just the length and width of your living room, but also any doorways and windows. How far is each window and doorway from the corner? How much space is there between the windows? A good rule is to measure not just the glass part of the window, but including any molding surrounding it.
Know Your Budget
Unless you're a millionaire, it's likely that you'll need to create a living room design budget. While you may not be able to plan out exactly how much your design space will cost, having a budget set aside can help you plan financially for your living room.
You don't have to purchase everything for your living room at once unless you really need to. Personally, I have a Bookmark folder where I store links to furniture that I'd like to purchase. About once a week, I go through and visit the links to see if the item is on sale. Lyst.com is a great website that can email you when a piece you like goes on sale.
You can generate some extra cash for your living room redesign by selling your old furniture on Craigslist or eBay. You'd be shocked to learn what sells so don't be afraid to snap a few shots and see what you can sell!
Living Room Furniture
Once you have the purpose, style, measurements, and budget of your living room in mind, then it's time for the fun part – picking out the furniture and decor! Here are some living room essentials to consider.
Start with the Sofa
I recommend starting your living room design by picking out a sofa. The sofa is often the largest and most expensive piece that will go in your living room, so deciding on a sofa is often the best place to start. From there, you can select accent chairs and a coffee table that will complement the space.
There is a diverse range of sofa types available for living rooms, catering to various styles and needs.
Sectional sofas are known for their versatility, offering multiple seating sections that can be arranged to fit various room layouts. They come in L-shaped or U-shaped configurations, providing ample seating space and making them ideal for larger living rooms or open-concept spaces.
Loveseats are compact two-seater sofas that are perfect for smaller living rooms or as an addition to larger seating arrangements. They offer a cozy and intimate seating option for couples or small gatherings, and they come in a variety of styles to suit different aesthetics.
L-shaped sofas feature a distinctive L-shaped design, with one longer section and one shorter section forming an "L" shape. They maximize seating while optimizing corner spaces, making them a popular choice for both small and large living rooms, providing a balance of comfort and functionality.
Classic couch choices like the Chesterfield sofa with its button-tufted leather upholstery exude timeless elegance, while mid-century modern sofas with clean lines and tapered legs offer a sleek, retro look.
For versatility, sectional sofas come in various configurations, allowing you to customize seating arrangements to suit your space, and sofa beds provide a practical solution for accommodating overnight guests. Whether you prefer traditional, contemporary, or multifunctional designs, there's a sofa type to complement your living room's decor and functionality.
Accent Chairs
From there, you should select any additional seating you may need like a loveseat or accent chairs. A common approach to accent chairs is to purchase two matching ones.
The Coffee Table
The coffee table is often a central element to your living room design. Marble coffee tables are very much in style these days, but rustic farmhouse wooden coffee tables are also popular. Round tables are chic and promote movement within the space, while rectangular coffee tables offer more surface space making them practical for larger families to use.
Accent Tables
It's common to place accent tables next to the sofa or between two accent chairs. Accent tables are great for giving you extra space to place a table lamp, a book, or a drink.
Furniture Arrangement
Once you have an idea of what kind of seating and table space you'd like in your living room, it's time to start arranging the furniture. Often times an arrangement appears immediately, but if you're stuck, then try to create a focal point in your living room around which you can arrange the furniture. This could be a large bay window against one wall, perhaps a fireplace mantel, or a television set.
The size of your living room will determine your ability to place furniture away from the walls, which you should if you want to give the room an airy feel. Many people opt for a symmetrical furniture arrangement whereby two sofas sit opposite each other, centered by a mantel or a coffee table.
More important than symmetry, however, is thinking about movement in your space. Ensure that your room has ample space to move around and that the furniture doesn't impede the flow of traffic between rooms.
Sofa Placement
Where should a couch be placed in a living room? In larger living rooms or open-concept spaces, you can "float" the couch away from the walls. This arrangement can create a sense of spaciousness and allow for a more dynamic furniture layout. Use a rug to anchor the seating area and define the space.
Should a sofa be against the wall? The placement of a sofa against the wall is a common practice, but it's not a strict rule that must be followed. Placing a sofa against the wall is a traditional and space-efficient arrangement. It can create a clear focal point and open up the central area of the room. This arrangement is suitable for smaller spaces or when you want to maximize floor space.
Depending on the room layout and available space, you can explore alternative sofa placements. Placing a sofa away from the wall can create a more intimate and cozy seating area. It can also help define zones within an open floor plan or allow for better traffic flow. Consider the overall flow and functionality of the space when deciding on the placement.
L-shaped or sectional sofas can be placed in a corner or along two walls to create a dedicated seating area. This layout is great for maximizing seating capacity and creating a cozy atmosphere.
Achieve visual balance by arranging the couch and other furniture symmetrically, if desired. This can create a harmonious and pleasing look, especially in more formal settings.
The size of the room is an important factor to consider. In smaller spaces, placing the sofa against the wall can help create an illusion of more space. However, in larger rooms, the sofa placement can be more flexible, and you may have the option to experiment with different arrangements.
Living Room Decor
Once you have a general sense of the furniture that will go in your living room, and how it will be arranged, it's time to start thinking about the decorations that will give it character.
Lighting
Selecting a light fixture for your living room is often one of the most daunting tasks of the design process. Most people opt for one central ceiling light fixture to illuminate their living room.
Depending on your ceiling height, you could opt for a flush mount, a hanging chandelier, or something in between like a pendant light!
What is a good height to hang a pendant light? The answer to this common question depends on where your light will be hung. If people need to pass beneath it, then 7 feet is probably the minimum amount of space you'll need beneath it. If the pendant light will be centrally located above a coffee table for example, then you could get away with hanging it at least 5 feet above the ground.
Paint
Don't fall into the trap of choosing a living room paint color before you choose the furniture! Paint should work around your decor scheme, not the other way around.
When it comes to paint, lighter colors like off-white and pale blue can give your living room a light-hearted, comfortable feel. They work best in a casual family room. Heavy, dark colors are a bold choice typically found in traditional living rooms and interior design magazines.
Decorations
Once you've got the basics of your living room design down like the furniture, lighting, and paint, it's time to start decorating it with fun accents that will make your living room feel like home.
Here are a few decorations you'll need to consider for your living room:
Rugs: Area rugs are commonly placed on hardwood floors underneath the furniture. A good rule of thumb is that an area rug should be large enough to fit under the sofa and accent chairs' front feet, but small enough to not reach the back feet.
Console Table: A console table behind the sofa or against a wall is a great way to put the finishing touch on your living room.
Ottomans: An ottoman can function as extra seating or a coffee table depending on your needs!
Bookshelf: A bookshelf unit is a great way to display decorative accents and family photos.
Table Lamps: Table lamps are a great way to add dimension to your living room. They also provide extra lighting for reading.
Wall Decor: You have several options when it comes to decorating the walls of your living room. Many people choose to hang art, but you could also hang a mirror, floating wall shelves, or display framed family photos.
Curtains: Don't forget to add curtains to your living room to give you privacy.
Decor Accents: One of the most enjoyable parts of decorating a living room is selecting the decorative accents that will make your house a home. Many people pick out coffee table books, serving trays, decorative sculptures, or candles to give their living room a personality!
Living Room Decor By Style
Do you already have a particular decor theme in mind for your living room? Don't miss our living room decorating guides by style here:
There will be more interior guides coming so be sure to subscribe to the newsletter below!
Other Rooms in the House
Now that you know how to design and decorate a living room, why not continue with the other rooms in your house? Check out our guides room by room below!
---
Those are the basics when it comes to living room design. I hope you've found this guide useful and are well on your way to designing the living room of your dreams!