Farmhouse furniture is a great way to add a warm, welcoming touch to your home. The style makes you feel calm, laid back, and relaxed. Farmhouse decor is the perfect combination of rustic, vintage, and industrial, and it gives you that fresh, DIY, farmhouse-living feel.
Today I want to share the most common types of farmhouse furniture found in countryside homes. These are the quintessential pieces you need to curate a beautiful modern farmhouse home. These pieces include:
Beige Slipcovered Sofas
Tolix Chairs
Sliding Barn Door TV Stands
Distressed Wood Console Table
Rustic Wood Dining Table
DIY Farmhouse Furniture
If you are thinking of bringing this beautiful country style into your home, you've come to the right place! I'll share different furniture pieces that you can implement in your home to achieve the ultimate rustic farmhouse look.
Farmhouse Decor Style
The farmhouse decorating style is cozy, warm, and relaxing, and has plenty of charm and character with a central notion of practicality. Farmhouse decor introduces a warm rustic element and usually has a vintage-chic feel.
The reason why farmhouse furniture has a shabby-chic, rustic look is that the style comes from hand-me-down or heirloom furniture items from parents and grandparents. The old is made new again in the same style but with a modern-day twist.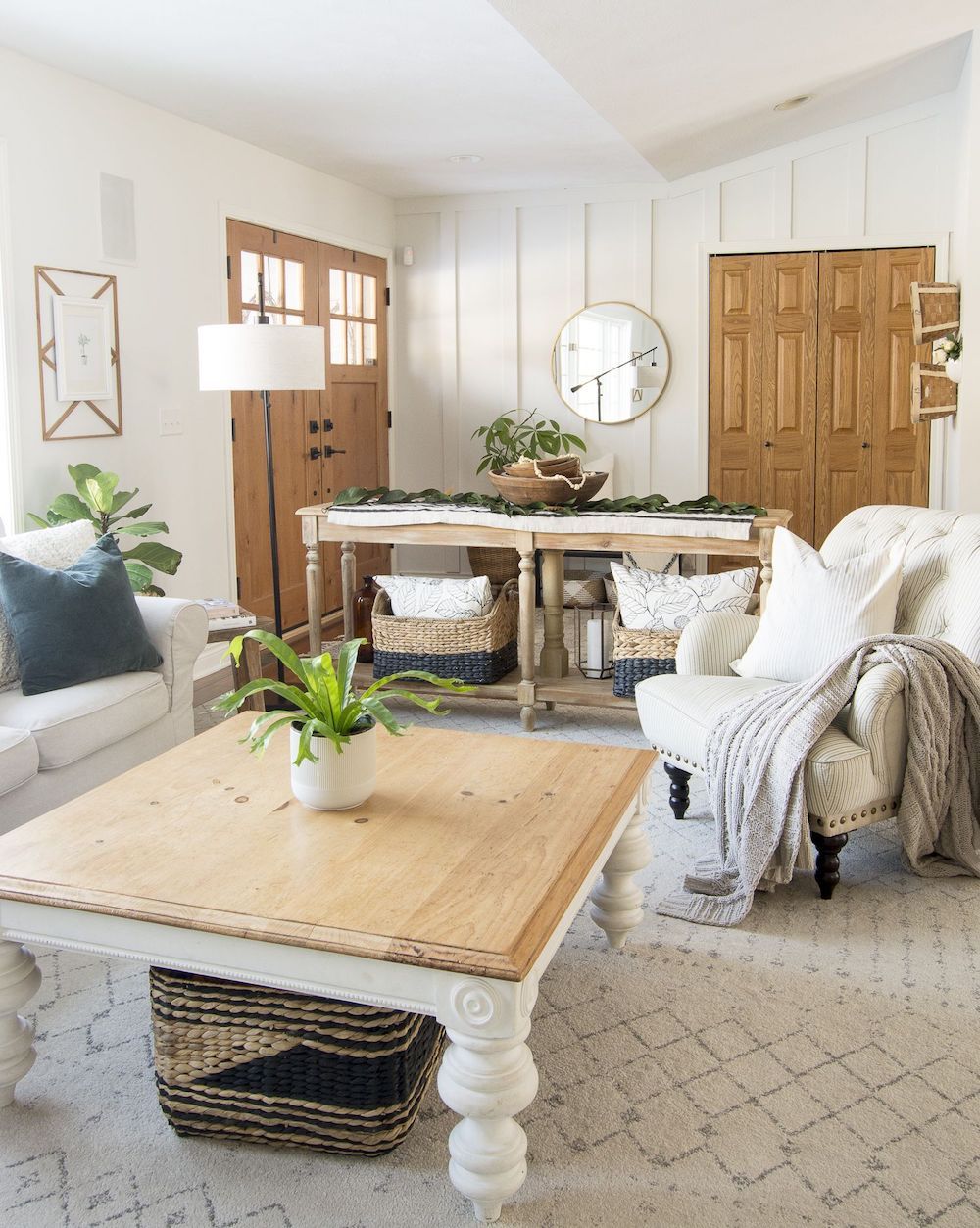 Farmhouse style furniture pieces are everywhere. You can find them at flea markets or thrift shops in Texas, or on Etsy if you don't have a furniture fair in town. This furniture style is inspired by simpler times and the furniture feels like it was built with functionality in mind. Farmhouse-style furniture usually consists of durable materials such as natural, reclaimed wood, and metal and is finished in a neutral color to provide a friendly, lived-in, down-to-earth look and feel.
Farmhouse furniture and decor look absolutely gorgeous when combined with modern-day elements such as stainless-steel appliances and fancy electronics such as large flat-screen TVs. Don't hesitate to mix the old and the new when it comes to farmhouse furnishings.
Common Farmhouse Furniture Ideas
Here are a few furniture items that you will find in every farmhouse. These are the essential pieces of the farmhouse-style design.
Beige Slipcovered Sofas
Rarely will you find a standard farmhouse home that doesn't have slipcovered couches. This is a trademark element of the style and they were originally beige. Slipcovers aren't only easy to remove and clean, but they protect the couch underneath.

Many slipcovers are stain-resistant, and they come in a wide variety of colors and patterns. Beige is a great neutral color for a slipcover sofa because you can combine it with any other pops of color to create contrast.
These are great couches for busy family homes! They promote gathering the family together for long conversations and movie nights. An oversized, plush sofa is a must in any farmhouse home.
Rustic Wood Coffee Table
The coffee tables that feature in farmhouse living rooms have reclaimed or distressed wood surfaces and some of them have metal accents such as the legs or the edges of the tabletop. The two-tone look with the table legs painted white and the tabletop with natural wood stain is also a very popular farmhouse look.

Another rustic finish, perhaps the most popularly used, is the distressed look. This is a fun way to bring in a bright color such as turquoise applied in a distressed, washed technique.
To create even more depth, paint the table in two or three layers: black for the first layer, white for the second, and the color of your choice for the third and final layer. When the paint is completely dry, use sandpaper to create a distressed look by exposing some of the black and white underneath the color layer.
Tolix Chairs
Made of sheet metal with low slung backs, sleek lines, and robust gal finish, tolix chairs are the perfect farmhouse chair to pair with a rustic wooden dining table. Tolix chairs add an industrial feel and are perfect for indoor and outdoor use. These retro chairs are durable, lightweight, and stackable. They add a rough edge to the classic Farmhouse style.

Sliding Barn Door TV Stand
Sliding barn door TV stands have become so popular in the farmhouse-style furniture and interior decorating world, and they feature in many modern-style houses. The sliding doors add a charming and rustic appeal, and it allows you to store items you don't necessarily want to see and display the ones you do.

The doors can convert open spaces into closed storage, and you can change the look by having the doors slid to the center or the left and right sides of the unit.
Distressed Wood Console Table
Console tables are usually the first things you see when you enter the front door. They create a visual impact if they are decorated with plants, a beautiful lamp to light the entryway or hallway, and other welcoming elements.
Rustic console tables can be of various shapes, sizes, and styles, but the distressed wood look, in particular, is a trademark farmhouse-style console table. It tells whoever enters that "we live in adventure in this house!"

Rustic Wood Dining Table
Every farmhouse or farmhouse-style home must have a sturdy rustic wood dining table as the main feature. If you think of the farmhouse lifestyle, picture a large family seated around a beautiful wooden table for a farmhouse family breakfast.
Something about a rustic wood dining table invites you in and puts you in a mood for good food and conversation. These tables can be round or rectangular and are usually exceptionally well built, hence why they can be passed on for generations to come. You can extend most of the rectangular tables to accommodate larger groups of people.

Where to Buy Farmhouse Furniture
There are plenty of in-store or online stores where you can shop for farmhouse style furniture. If you want to know where to buy farmhouse furniture, check out these home furniture stores:
Amazon
Ashley Home Store
Joss & Main
Magnolia
One Kings Lane
Target
Walmart
Wayfair
World Market
DIY Farmhouse Furniture
If you would like to try your hand at creating your own farmhouse furniture, many online tutorials are available for ideas and inspiration. The DIY farmhouse look is cheap and easy to achieve, and you get to recycle wood into a gorgeous yet functional work of art. You can sand down old furniture, use different painting techniques, and add farmhouse elements to create new, fresh DIY masterpieces on a budget! Check out our favorite DIY Farmhouse furniture ideas for inspiration.