Farmhouse chaise lounges are a pretty common selection among homeowners as they can be matched with both indoor furnishings as well as patio furnishings. The truth is that every room will look fabulous when adding farmhouse-style furniture items to it. This is true not only for the living room but also for your bedroom or other areas of your home.
Farmhouse Living Room Style
The most important factor when decorating your living room in the farmhouse style is to make sure that the overall look and feel of the room is ultra cozy and inviting. One way to do this is by adding the right furniture to your home.
Farmhouse chaise lounges are a fantastic option for relaxed seating at home. Chaise lounges can be used both indoors and outdoors, making them versatile and stylish. You can put one in the living room to keep your feet up while watching TV or create a cozy reading nook using a chaise lounge. Many people like to use chaise lounges in their bedroom for putting on shoes and relaxing while enjoying the window view.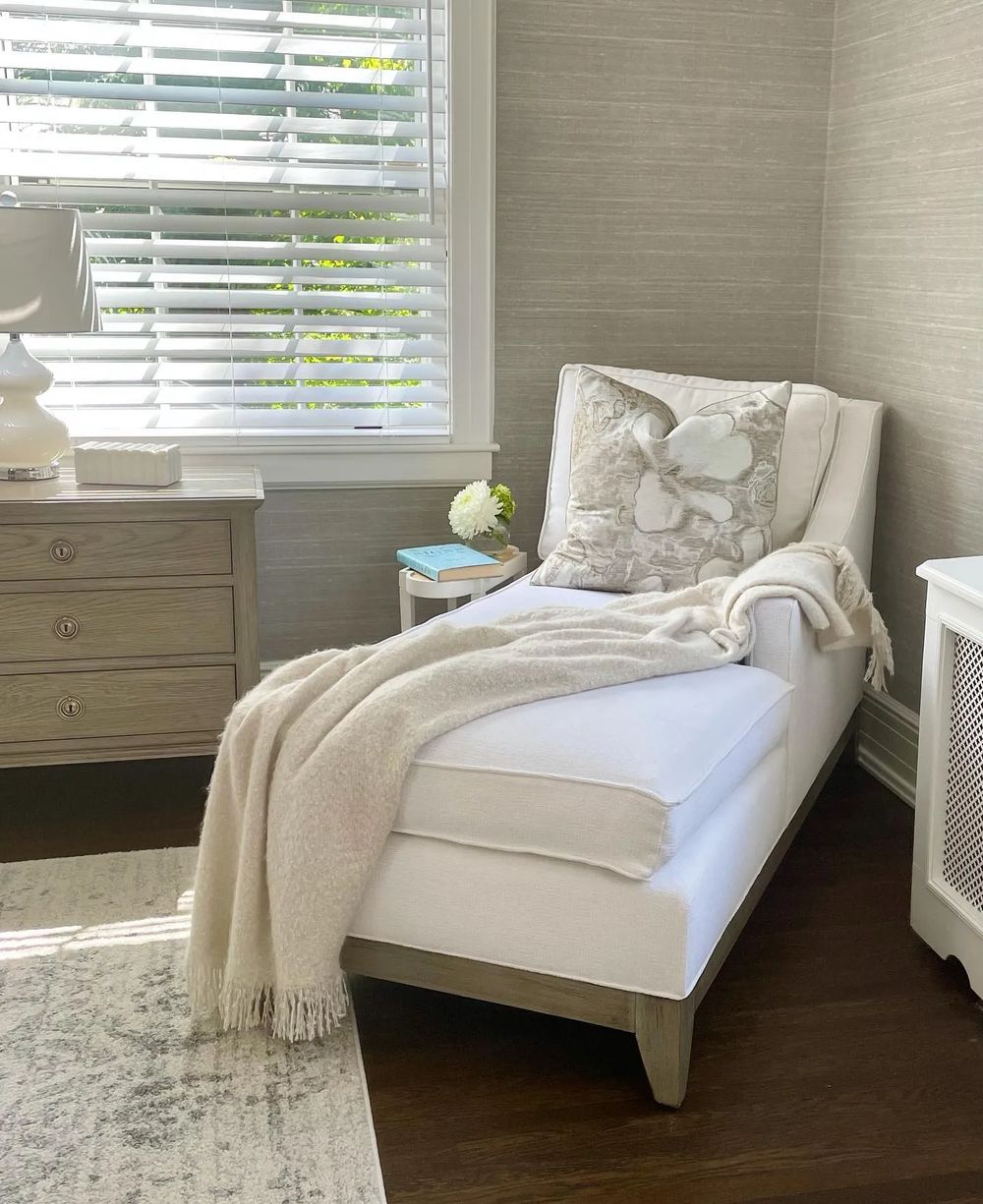 Farmhouse Chaise Lounge Ideas
Here are the best Farmhouse chaise lounges to shop today.

White Slipcovered Chaise Lounge
A white slipcovered chaise lounge is a modern farmhouse furniture style that can be used in a variety of rooms in the home, such as the living room or bedroom. This particular modern farmhouse chaise lounge features an upholstered seat and backrest for extra comfort, with a wood frame for durability.
With a white slipcovered chaise lounge, you can create a clean and serene space for relaxing or reading. Get one that features an upholstered seat and backrest for extra comfort, with a wood frame for durability. A footrest makes it easy to stretch out your legs when you're lounging on this piece of farmhouse furniture.
Beige Linen Chaise Lounge
Chaise lounges are a great addition to any home because they provide comfort and style. This particular furniture design is an excellent choice because it is inexpensive, comfortable, and stylish. It would be a great addition to any room in your home where you want to create a relaxed atmosphere.
There are many different styles of beige linen chaise lounge available, but you should choose one that is comfortable for you. It should have a soft cushion, high backrest, and wide armrests so that your body can relax properly while using it. This piece of furniture is perfect for reading, napping, or just relaxing in general.
Vintage Distressed Chaise Lounge
A vintage distressed chaise lounge is a perfect addition to any farmhouse living room. This is a great furniture piece for anyone who wants to relax in style. The rustic chestnut brown finish and beige linen fabric give the chaise lounge an elegant yet comfortable look that will complement any home decor.
Farmhouse chaise lounges are often made of solid wood which has been distressed and finished in a rustic chestnut brown. The upholstery is done in beige linen fabric that adds comfort while maintaining an airy, light feel.
Where to Put Chaise Lounges in the House
Chaise lounges are a great addition to any home because they provide an extra level of comfort and style. When deciding where to put chaise lounges in the house, it is important to consider their purpose and how they will be used. For example, if you want a place to relax and read or take naps, then placing your chaise lounge in the living room near a window would be ideal.
However, if you entertain guests often or have young children running around the house, then it might be better to put your chaise lounge in a more formal area such as the den or office so that it doesn't get damaged easily. Regardless of where you ultimately decide to put your chaise lounge, adding one or more to your home is sure to add a touch of elegance and comfort!