If you are looking for modern farmhouse bedroom decor ideas, we hope this article will inspire you today! From master bedrooms to small bedrooms, we are sure that at least one of these gorgeous farmhouse style bedrooms will spark your creativity.
Decorating the bedroom involves lots of consideration about how to make this room as peaceful as possible. Since one-third of our lives are spent sleeping, the bedroom is quite an important place! Setting a calm and serene atmosphere requires the utmost attention.
Farmhouse decor has become very popular in homes across America. It is family-friendly, warm, and welcoming. Farmhouse interiors are inspired by cottage and country style homes, and are sometimes mixed in with vintage or industrial design elements.
Farmhouse Bedroom Design Tips
How do I make my bedroom look farmhouse? The elements of a farmhouse bedroom include rustic and natural materials like weathered wood and wrought iron, a color palette of warm neutrals and soft pastels, vintage or antique furnishings, cozy textiles like quilts and linen, and decorative accents that evoke the countryside, such as lantern-style lighting and earthy rugs. The general effect is a comfortable, inviting space that balances traditional style and contemporary comfort.
If you want to decorate your bedroom in the farmhouse style, these ideas will inspire you. From iron headboards to rustic nightstands to shiplap walls, there are many different design ideas that work together to create cozy farmhouse bedrooms.
Let's start with furniture.
Farmhouse Bedroom Furniture
Here are some popular Farmhouse bedroom furniture pieces you'll typically see inside a modern farmhouse bedroom design.
Black Iron Bed
Black iron bed frames are very common in farmhouse guest rooms and bedrooms. This is the most common type of farmhouse style bed you will see in most homes.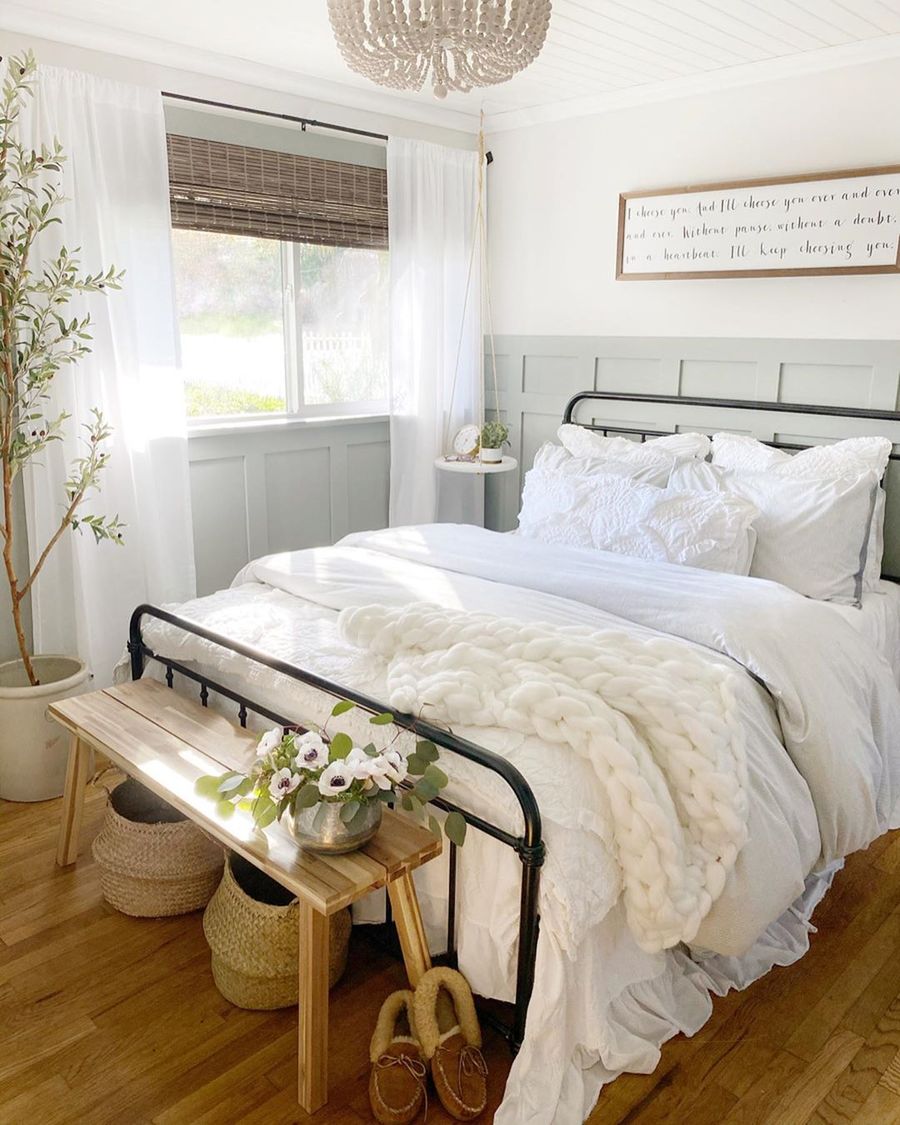 Beige Tufted Bed Frame
Tufted furniture is a common feature in farmhouse homes.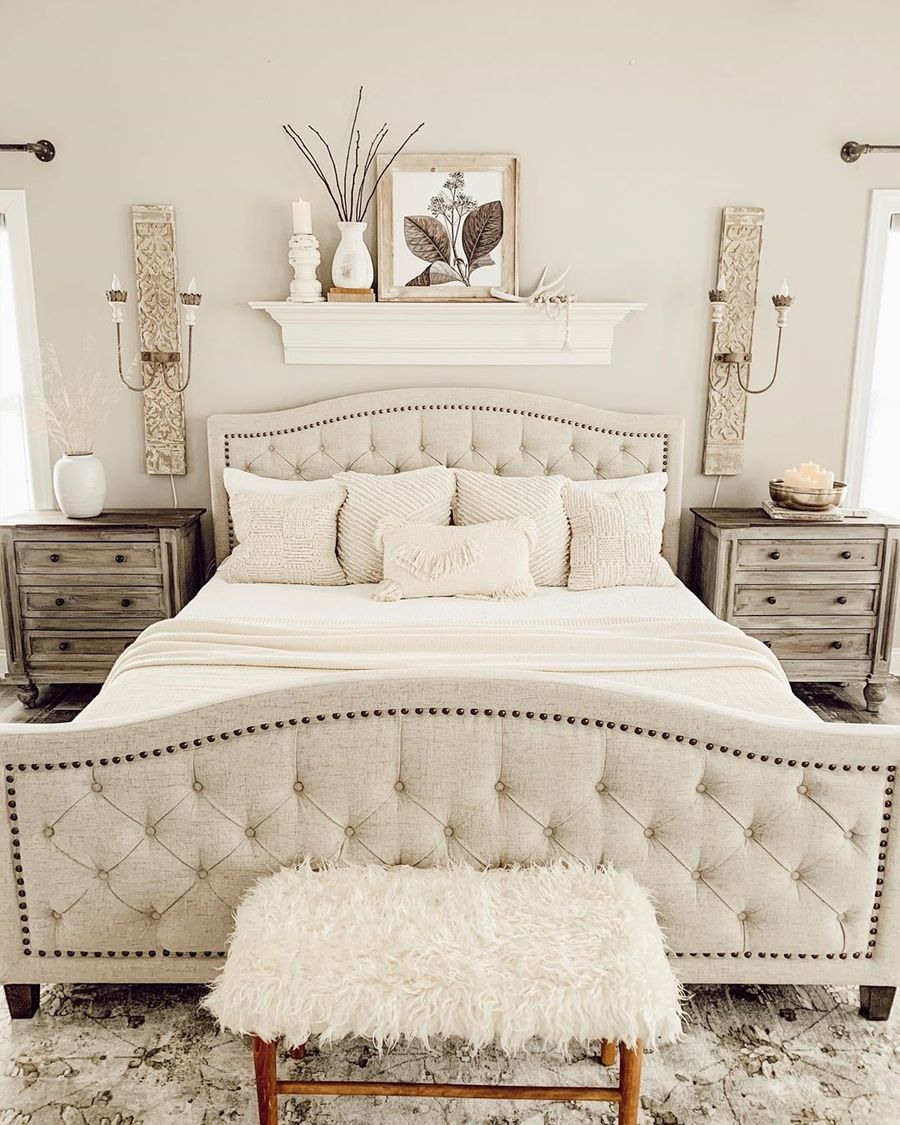 Barn Door Headboard
Barn doors are always in style when it comes to farmhouse interior design! This bedroom creatively employs a barn door and repurposes it as a headboard.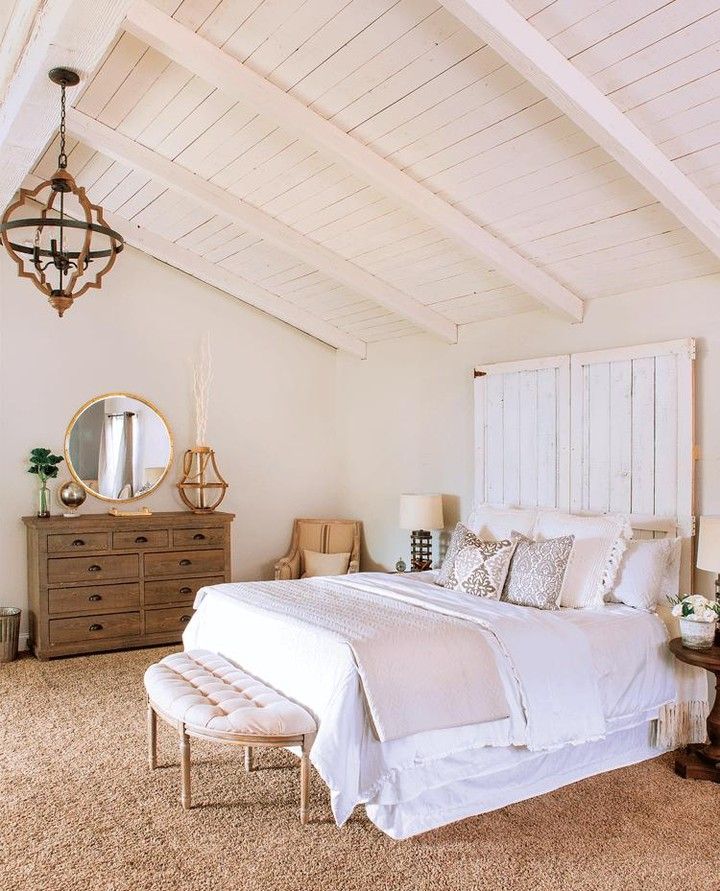 Farmhouse Dressers
Every bedroom needs ample storage and that's where Farmhouse dressers come in. These bulky furniture pieces are needed for storing extra clothes and linens. Here's an example of a typical rustic wood dresser in a Farmhouse bedroom.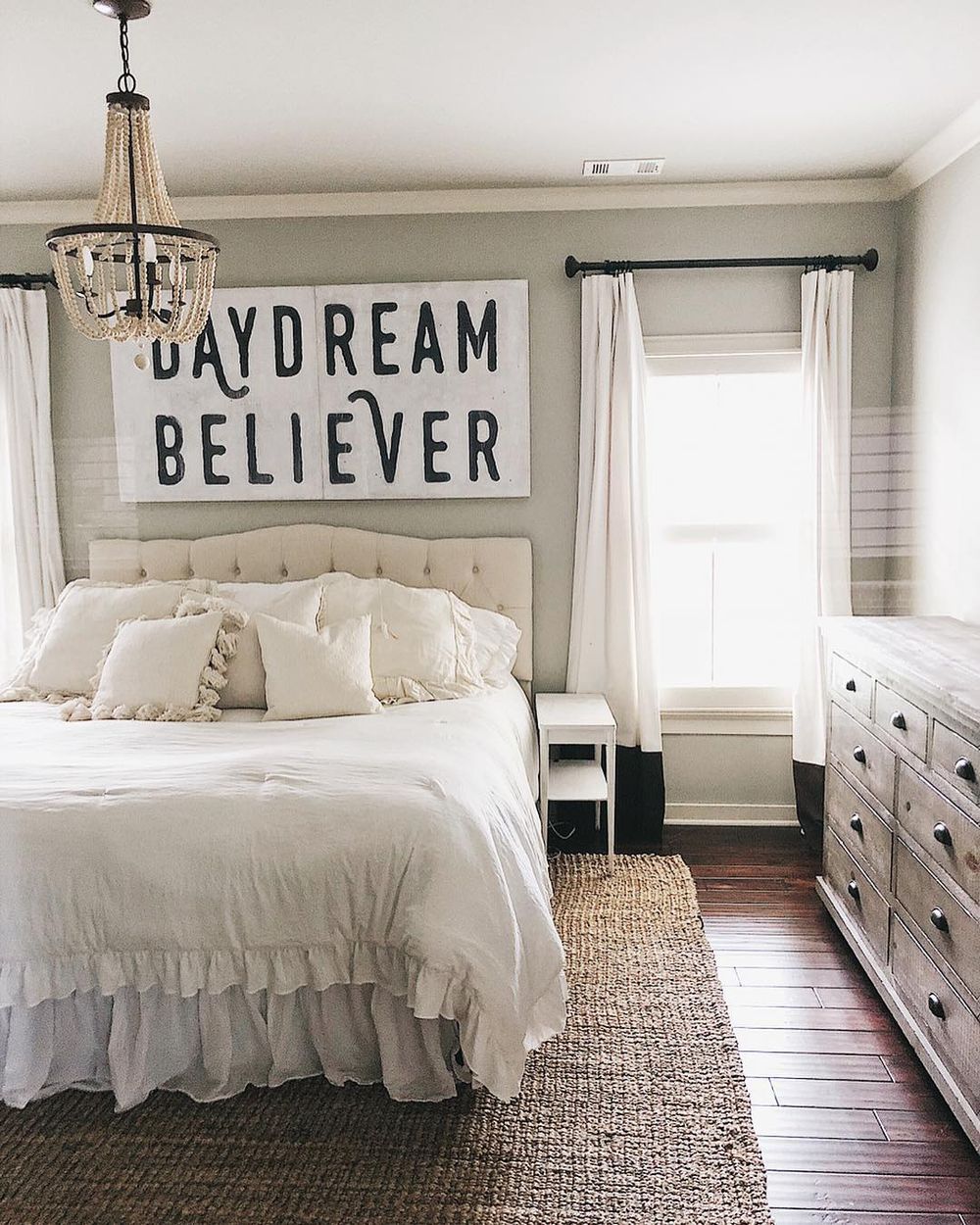 Industrial Bench
Mixing in industrial furniture pieces is a great way to make your farmhouse space more unique. This industrial bench with wheels adds a factory vibe to this modern farmhouse bedroom.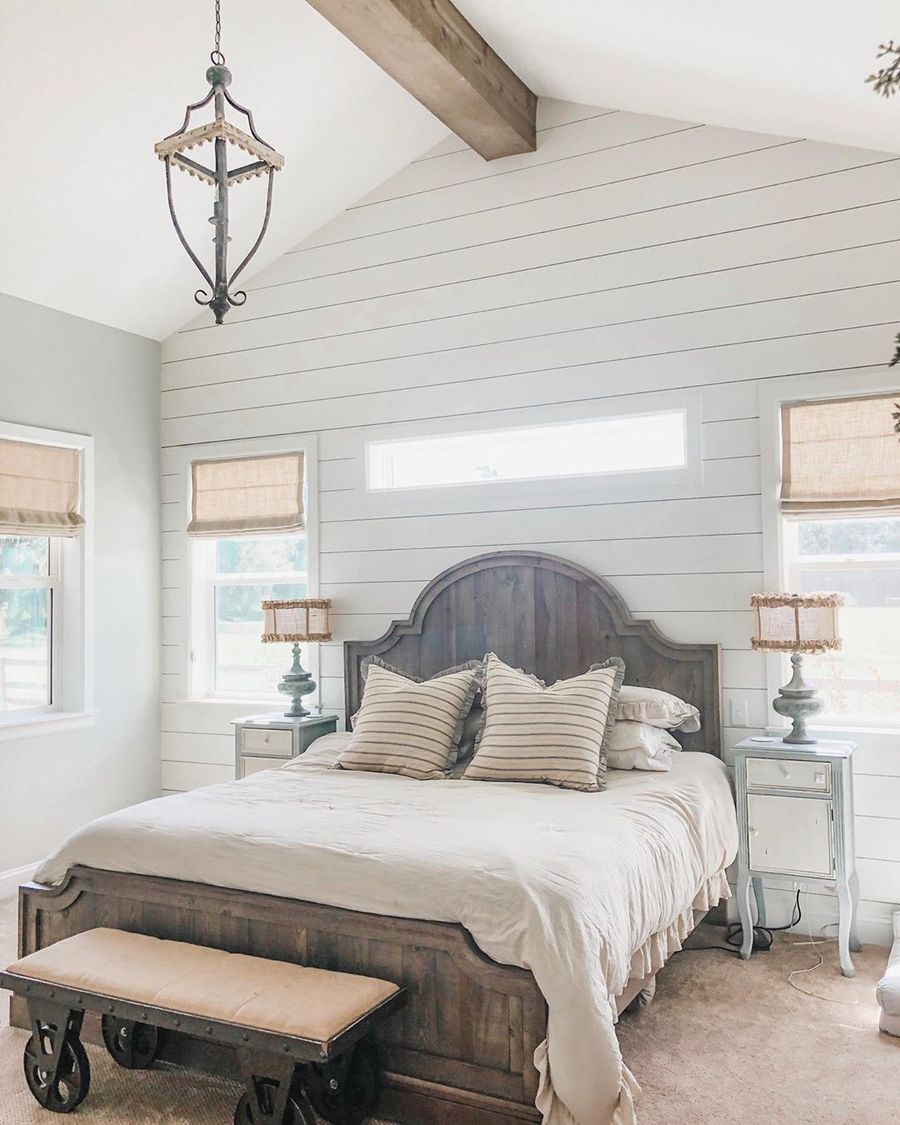 Tufted End of Bed Bench
It's very common to put a bench at the end of the bed in a farmhouse bedroom.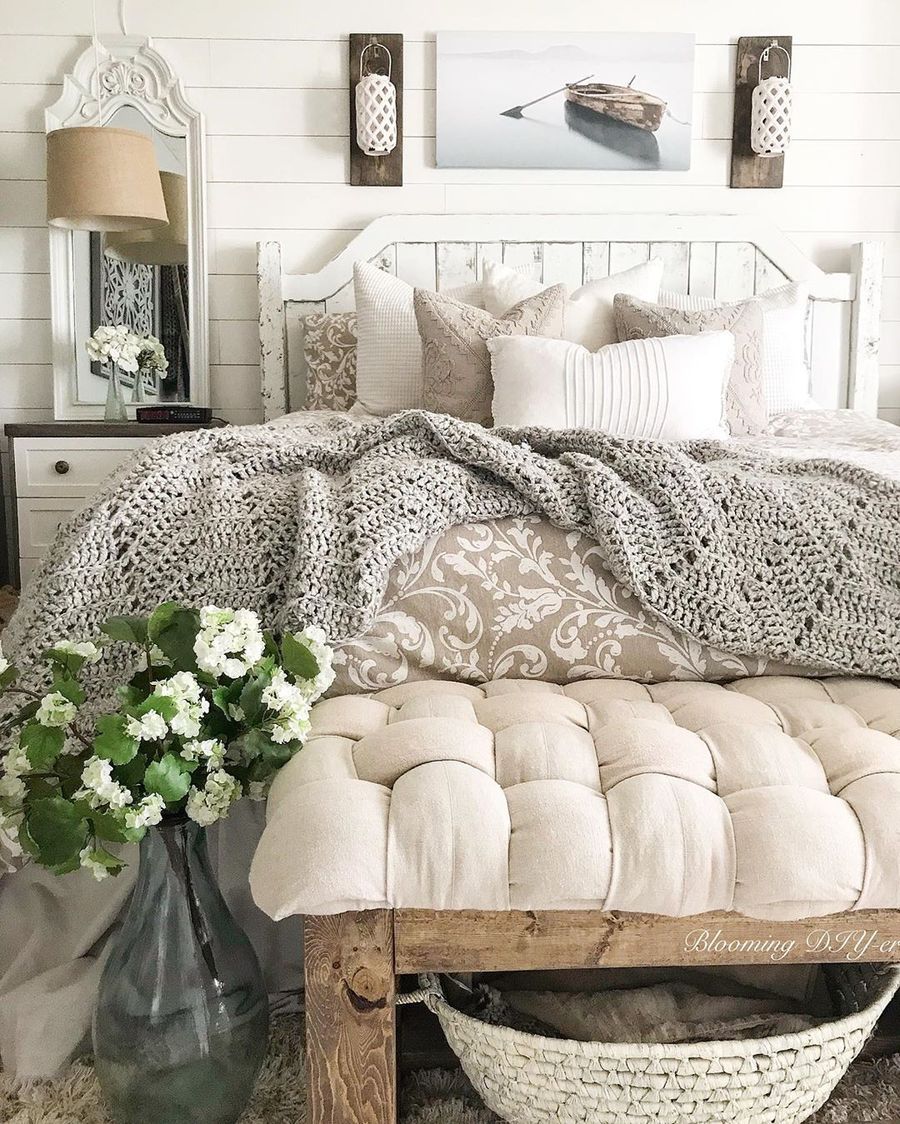 Farmhouse Nightstands
A rustic wood nightstand chest is the perfect bedside companion for extra storage in a farmhouse bedroom. Farmhouse nightstands are often made of wood.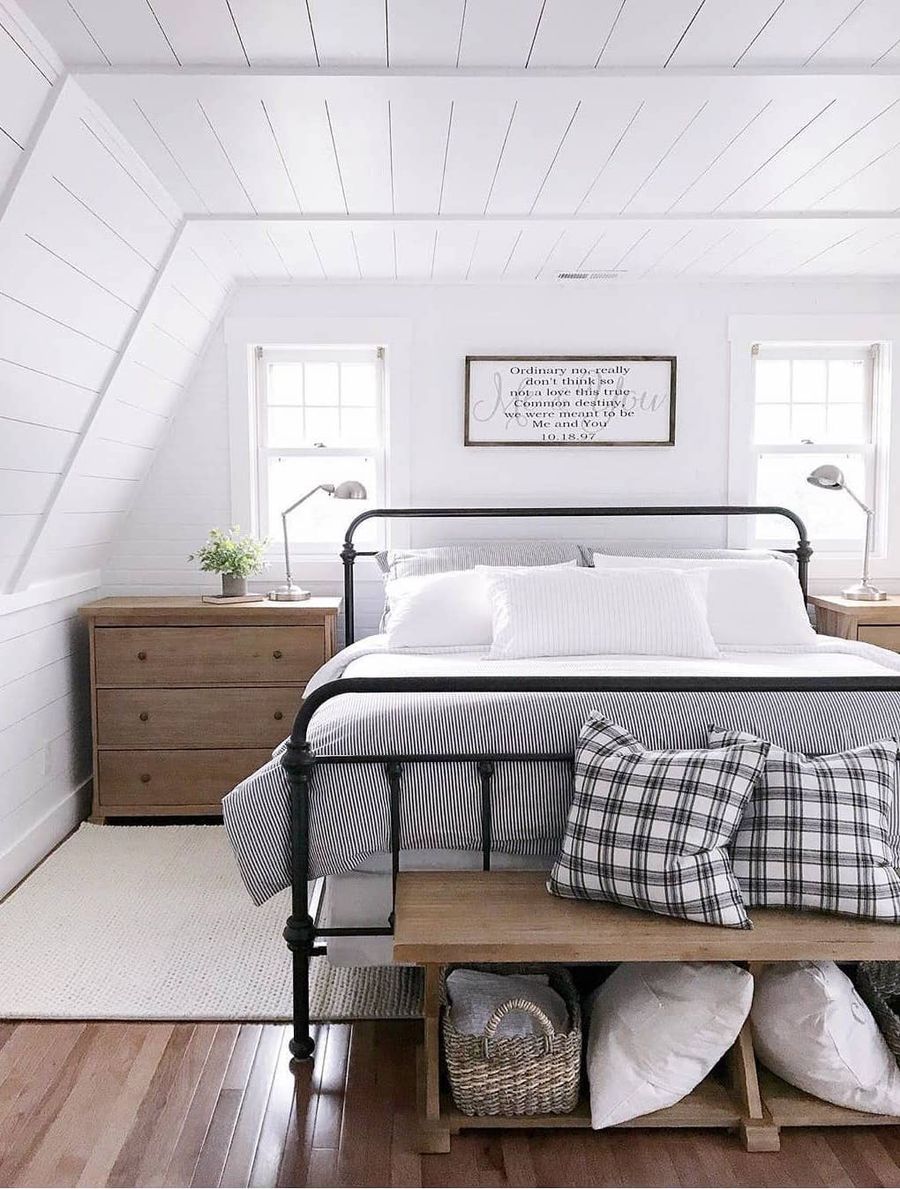 Farmhouse Bedroom Decorating
How can you decorate a farmhouse bedroom? Here are some common country bedroom decorating elements.
Farmhouse Color Palette
The Farmhouse bedroom color palette often leans towards a mix of warm, natural, and rustic colors that evoke a sense of coziness and connection to nature.
Creamy whites and soft beige or taupe shades often form the backdrop of the Farmhouse color scheme. These colors bring a feeling of airiness and calmness that's perfect for a bedroom.
To add warmth and texture, rich browns, greys, and other earth tones can be included. These hues often find their place in furniture, flooring, or decorative elements and create a connection to natural materials like wood and stone.
To add depth and contrast, elements of black or dark metal may be included in small details such as picture frames, lamp bases, or hardware. These touches create visual interest without overwhelming the soothing quality of the room.
Colors like pale blues, gentle pinks, and muted greens can complement the neutral tones. These soft shades add a touch of femininity and tranquility to the space.
This bedroom has lots of layered beige tones!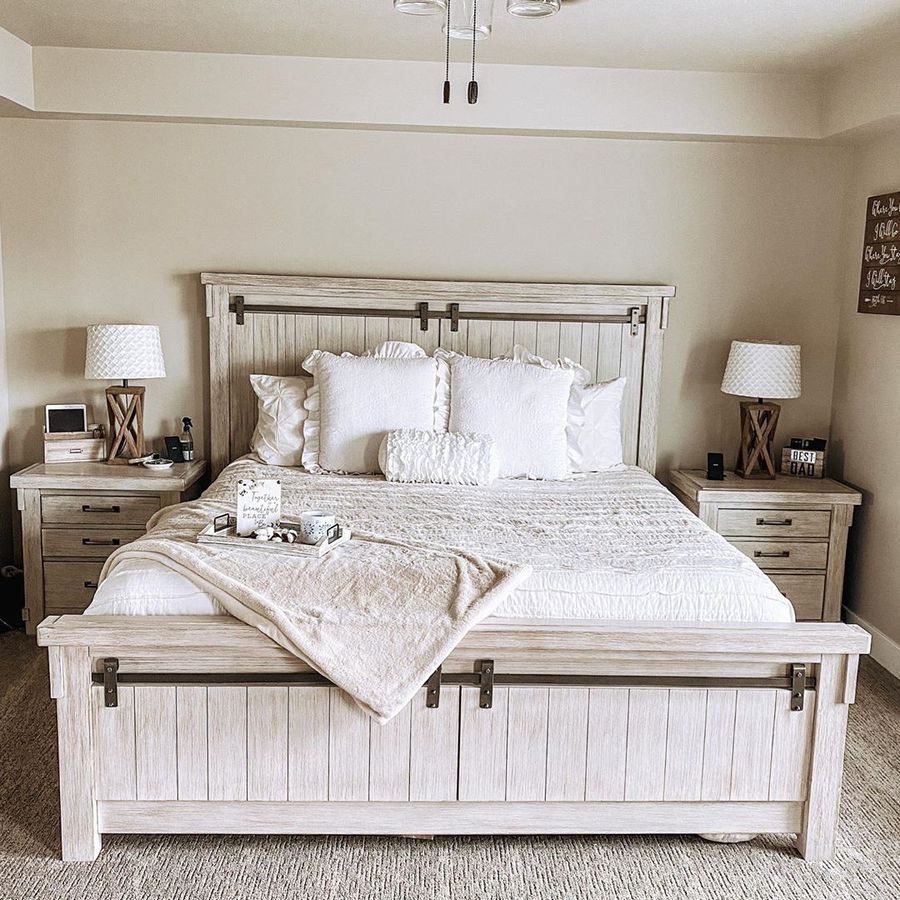 Farmhouse Bedding
Gray is a popular color in farmhouse decorating. Layer the linens on your bed to create a cozy environment for sleeping and relaxing.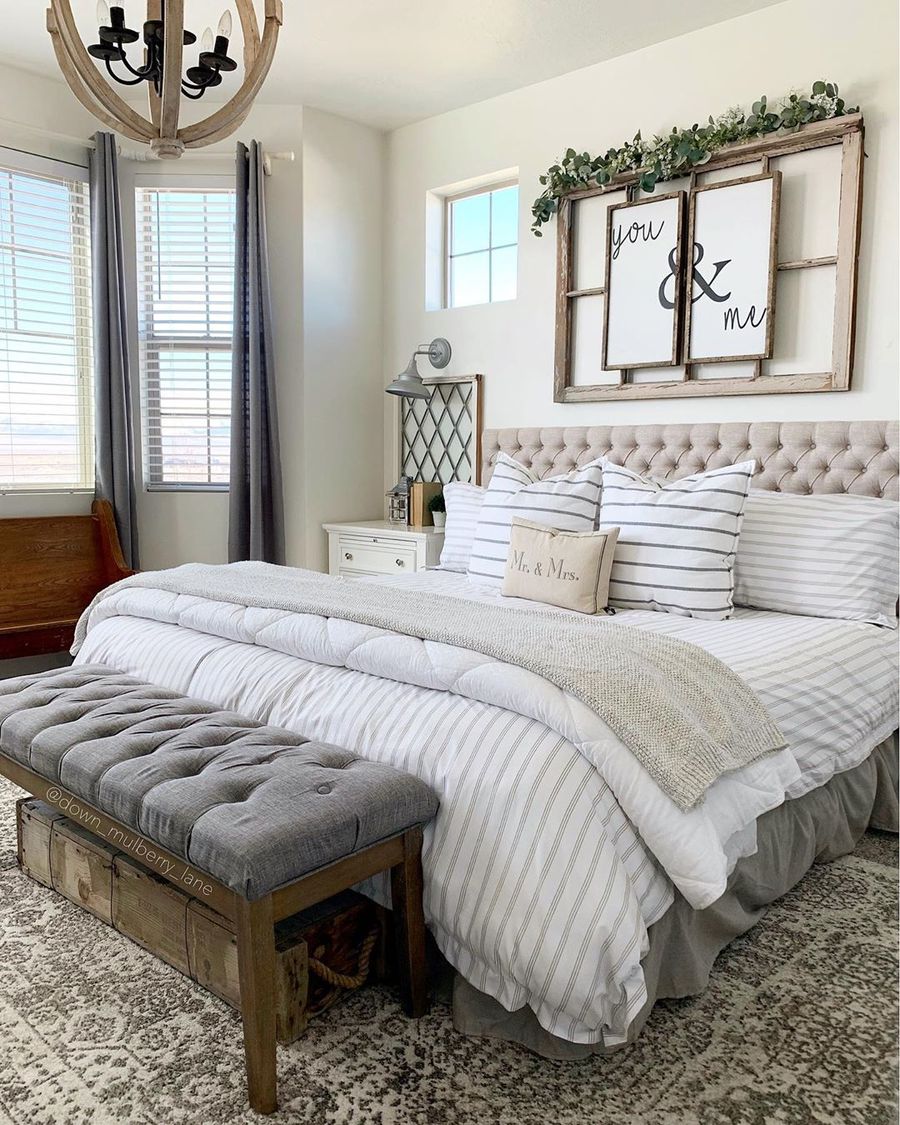 Farmhouse Bedroom Curtains
Farmhouse bedroom curtains are typically made of beige linen or white cotton. They could be free-flowing curtains hanging from a rod, or they might be roman shades. The options are plentiful!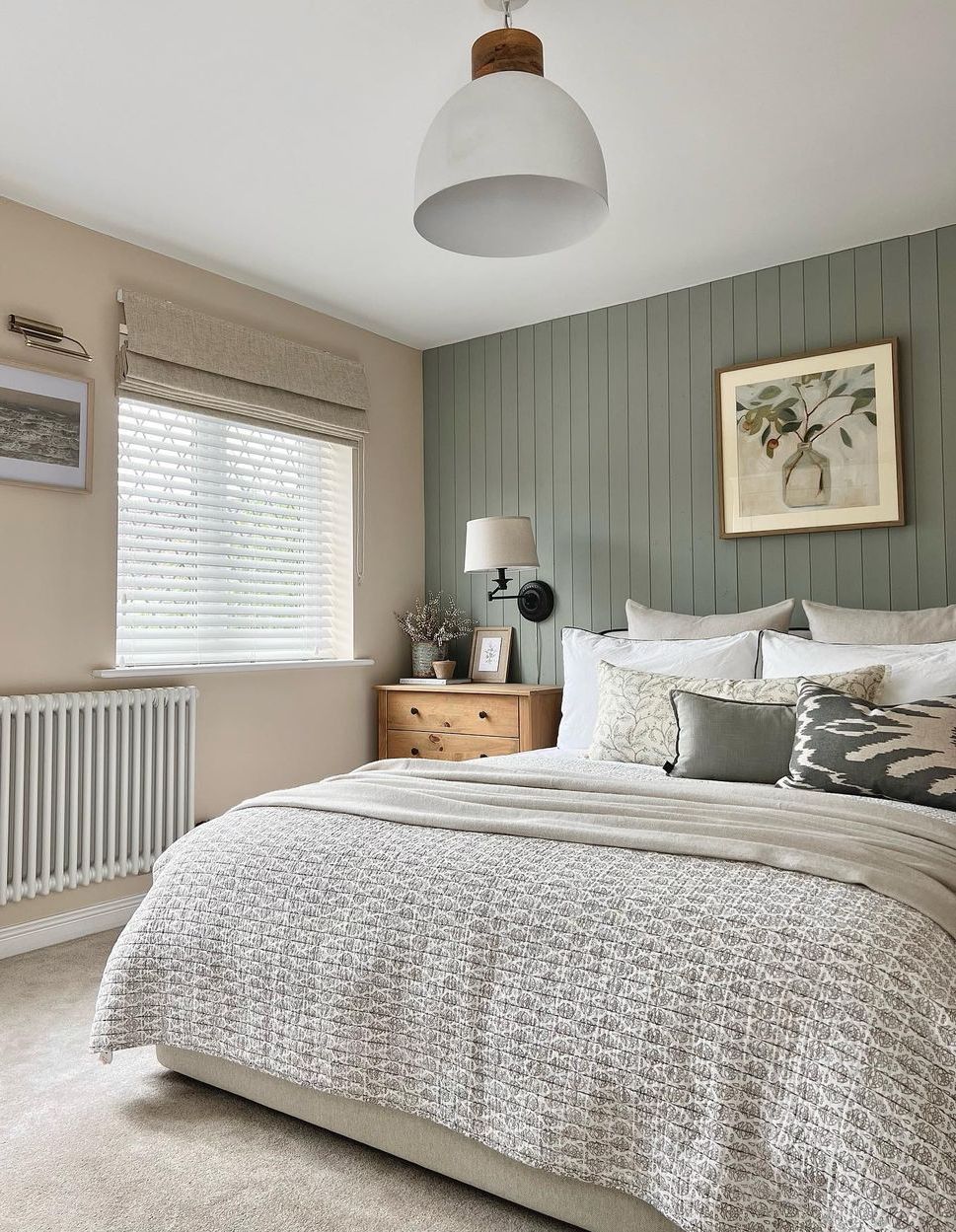 Farmhouse Bedroom Rugs
A rug is a popular choice for decorating the floor of a bedroom. Farmhouse bedroom rugs often feature natural textures and muted tones, such as jute, sisal, or wool, with simple patterns like stripes or subtle geometrics. These rustic and earthy farmhouse rug designs create warmth and coziness.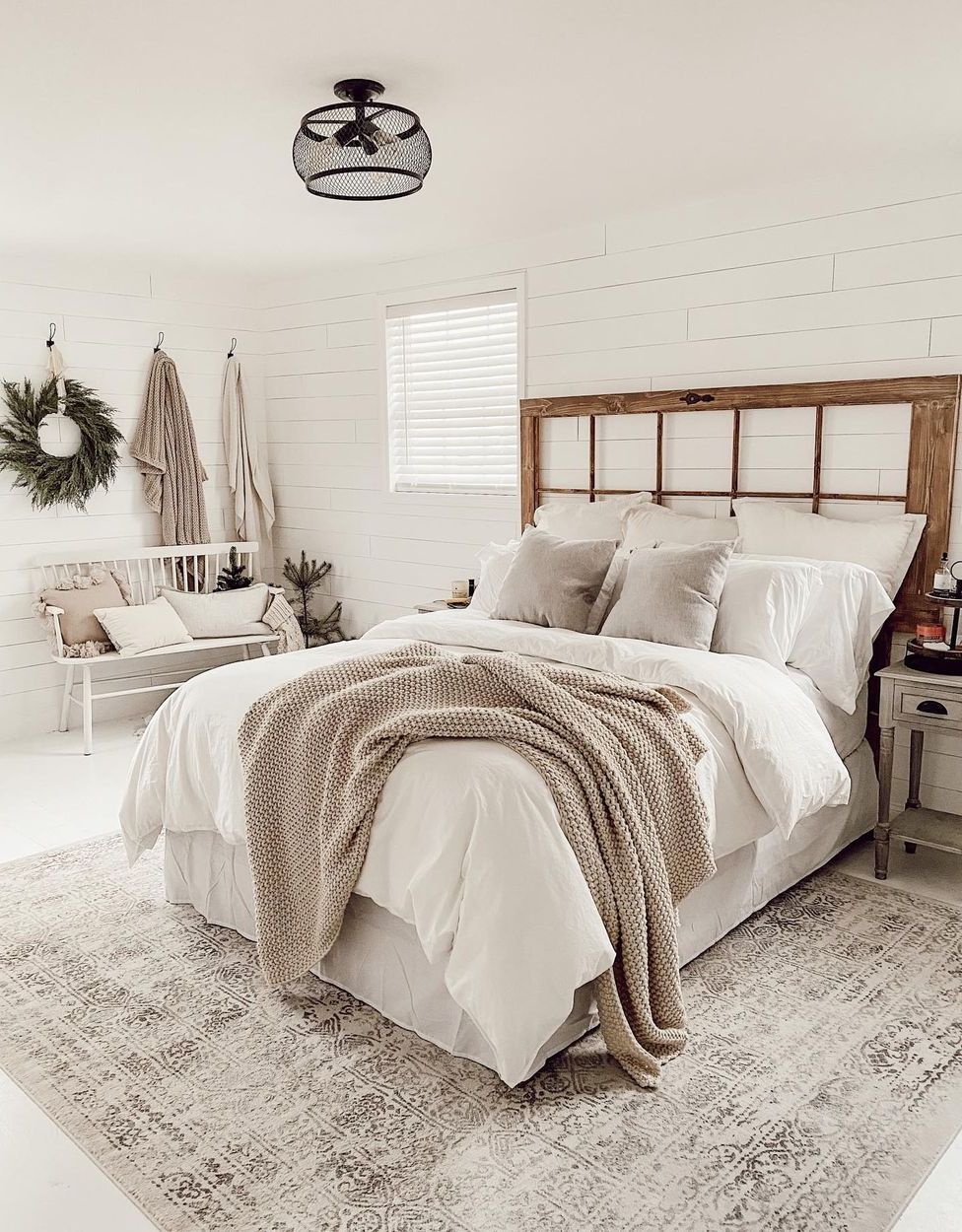 Family Portraits Gallery Wall
Farmhouse style is all about celebrating family and friends. Finding a unique way to display photos of your family is a great idea! I love this gallery wall of family portraits in this farmhouse style bedroom design. So heartwarming!
Shiplap Accent Wall
Shiplap is a popular choice for farmhouse home walls. I remember so many times when Joanna Gaines added a shiplap wall to her clients' Texas homes on Fixer Upper!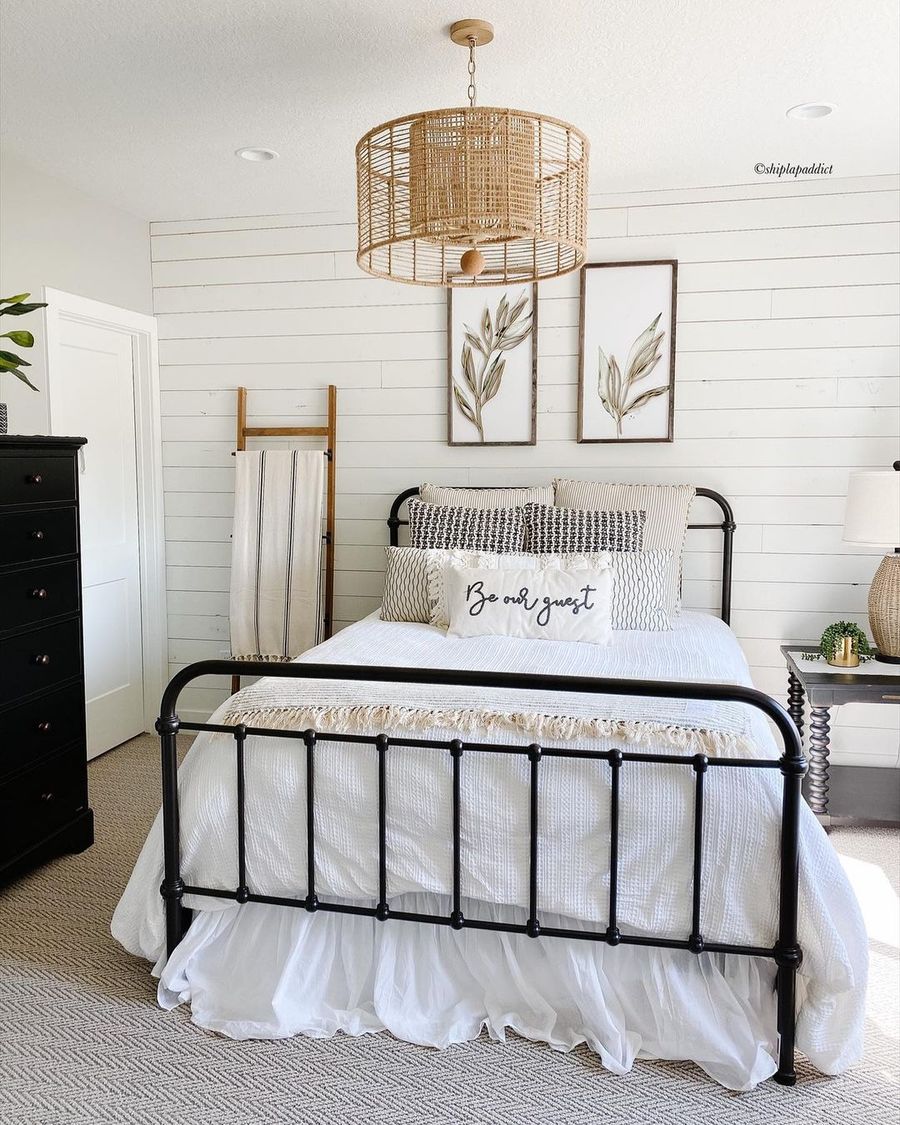 Wood Herringbone Accent Wall
This is such a unique Farmhouse bedroom decorating idea that I have not seen before! A wood herringbone accent wall behind the bed makes for a beautiful master bedroom.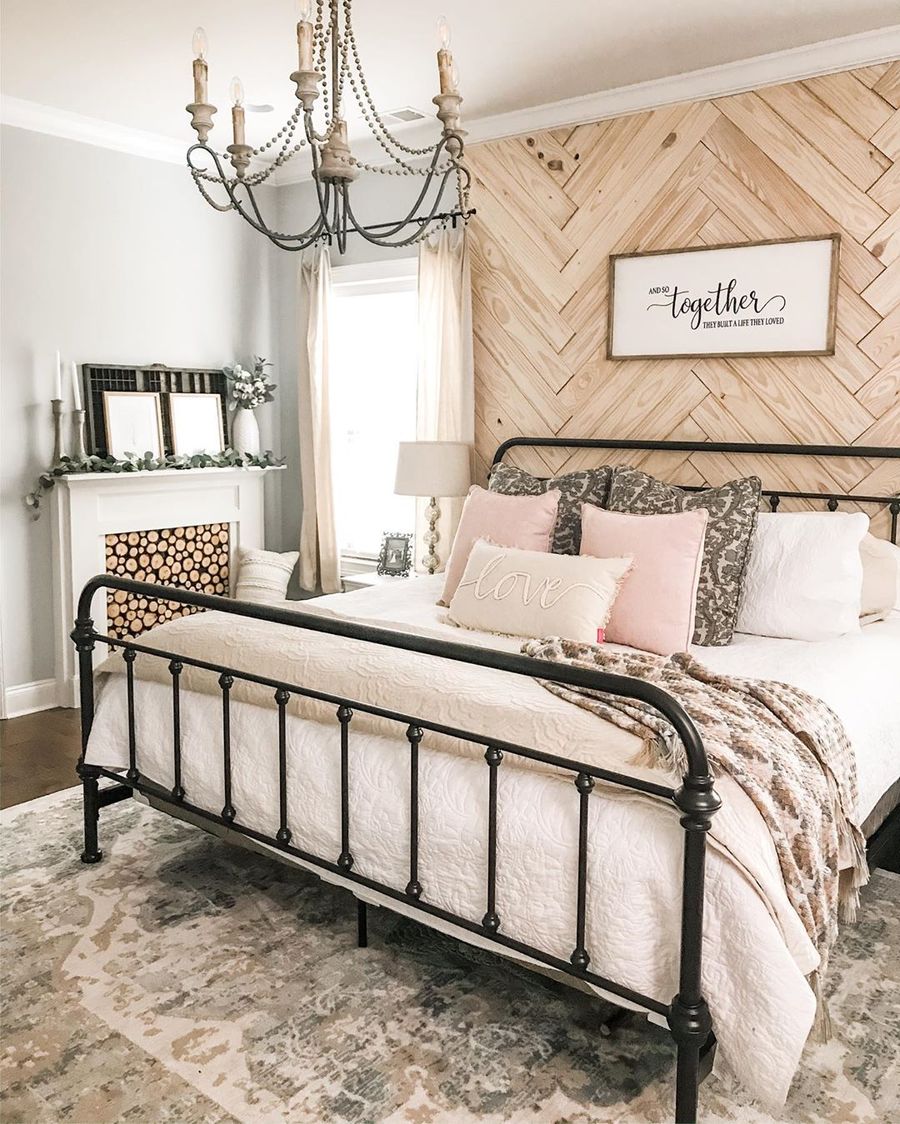 Cursive Wall Sign Decor
Wall signs are the perfect wall decoration for farmhouse rooms.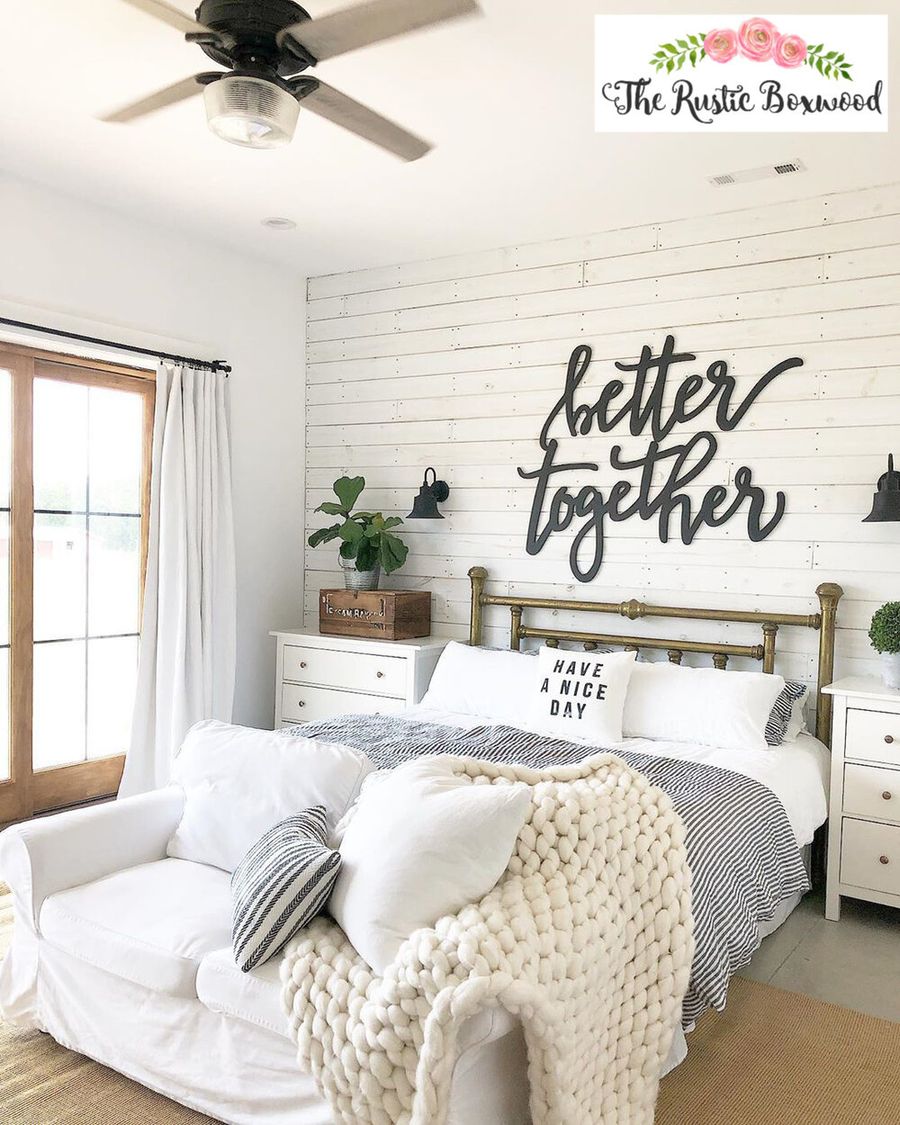 Wooden Crates
A couple of wood crates at the end of the bed add the right touch of country charm to this space.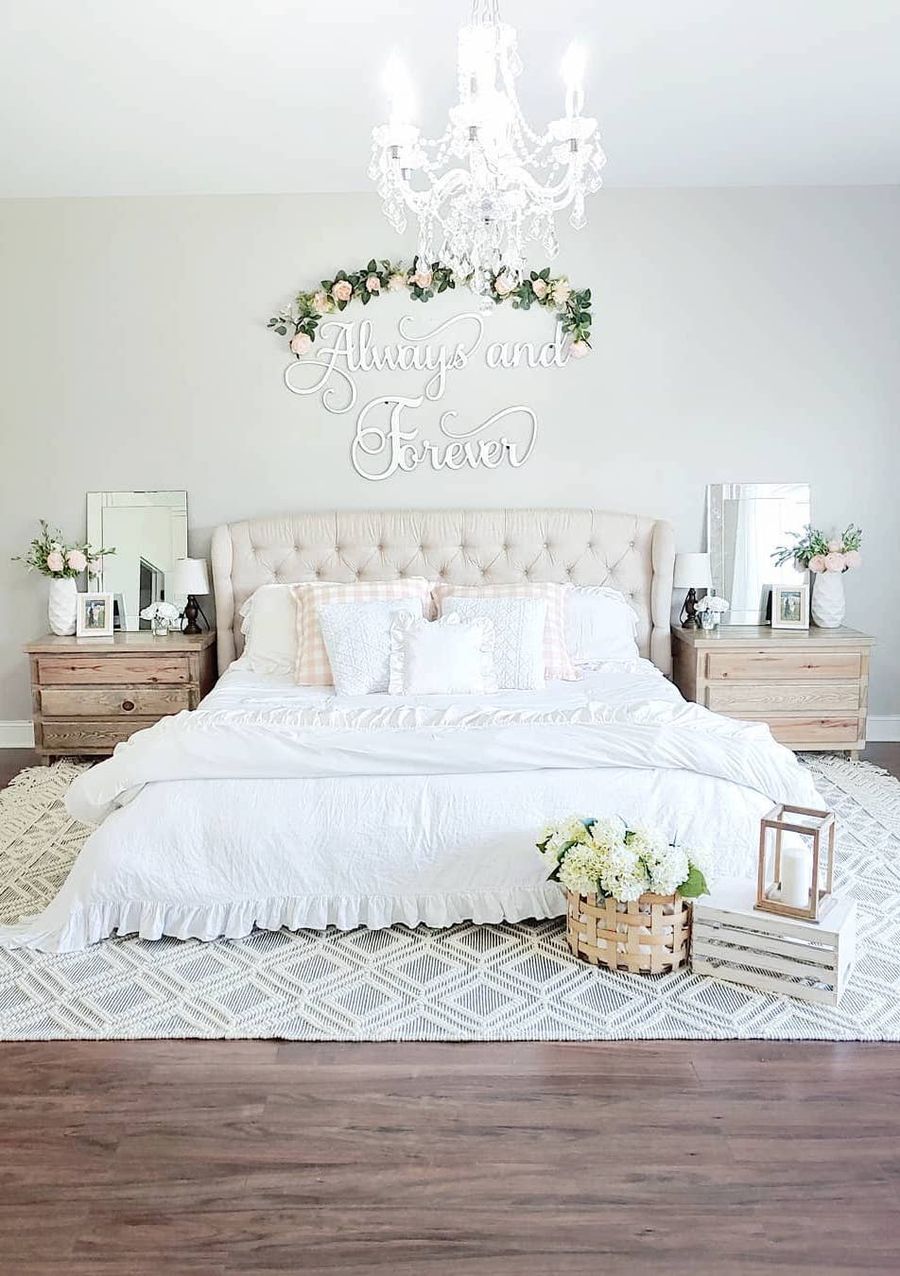 Farmhouse Bedroom Lighting Ideas
Farmhouse bedroom lighting emphasizes a warm and inviting ambiance, often incorporating rustic fixtures like lanterns, chandeliers with distressed finishes, or pendant lights with exposed Edison bulbs. Dimmable lights or lamps with warm-toned bulbs can help to create a cozy and relaxing atmosphere, echoing the Farmhouse aesthetic. Materials like wood, wrought iron, or textured glass in farmhouse lighting fixtures add texture and character to the room, enhancing the rustic charm typical of Farmhouse design.
Black Chandelier
A great way to add contrast to your farmhouse bedroom is to install a wide black chandelier on the ceiling, as seen here.
Rustic Wood Table Lamp
A vintage style wood table lamp is the perfect way to add a reading light to your bedroom.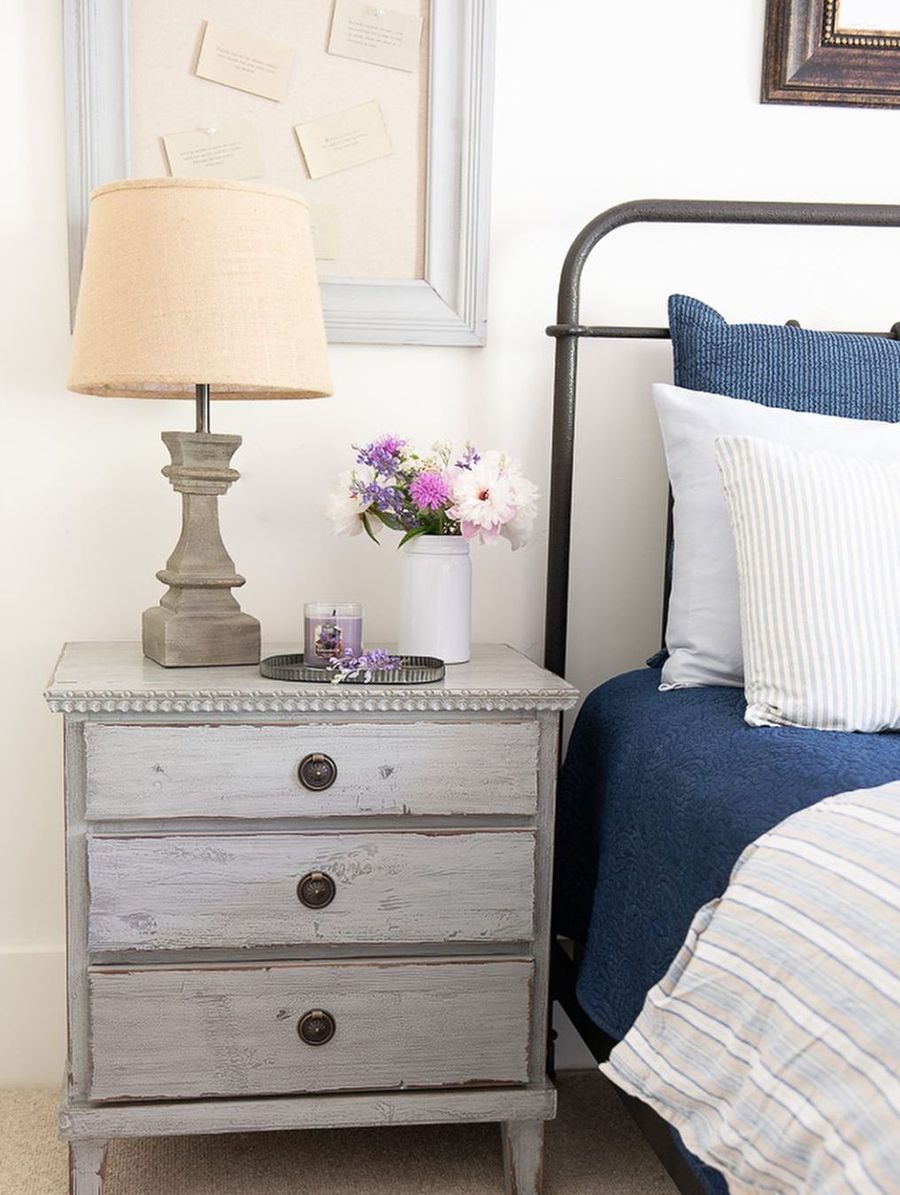 Vintage Table Lamp and Alarm Clock
You need at least one vintage decoration in your bedroom design! Vintage accents are often found in farmhouse bedrooms. Whether it's distressed furniture or old alarm clocks, the vintage touch is a great way to mix in other styles into the Farmhouse vibe!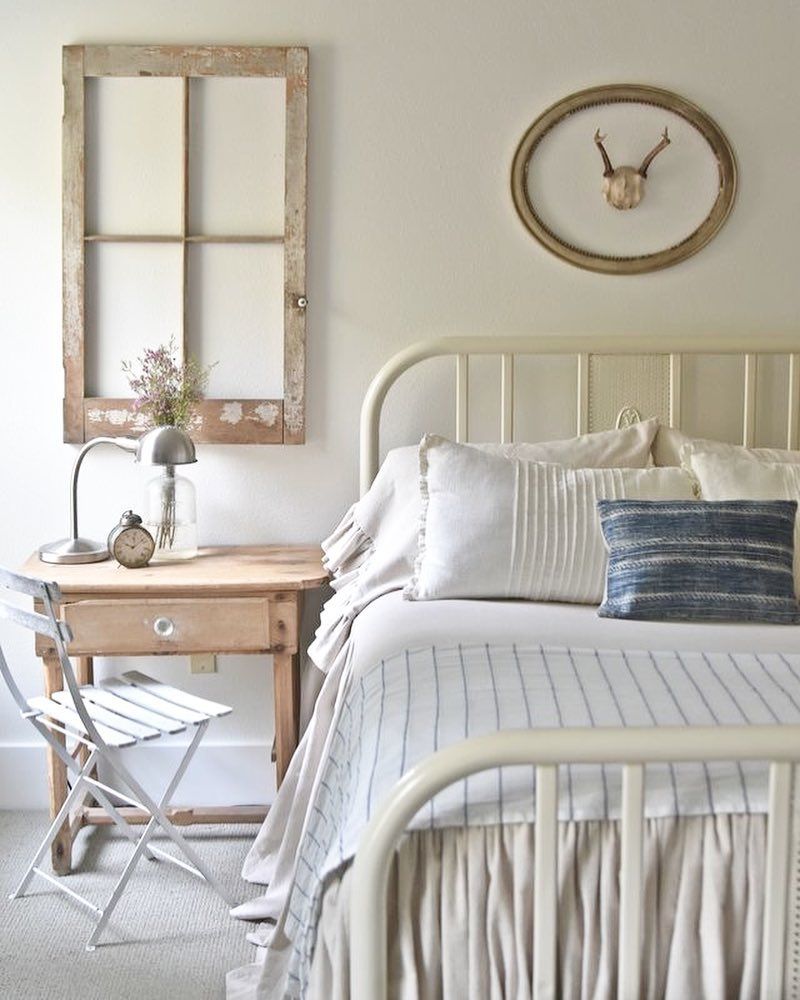 ---
We love sharing the best modern farmhouse bedroom decor ideas, and you can find even more inspiration on our Pinterest account!
I hope this post gave you a better idea of how to decorate a Farmhouse style bedroom! Farmhouse bedroom design doesn't have to be complicated. Get yourself an iron bed, some tufted furniture, and a rustic side table and you're good to go! Add some cursive wall decorations or maybe some family photos to make the space your own.
There are lots of ways to get the Fixer Upper look in your home!
Happy curating!