As you renovate your home, you may be searching for the most inspiring modern farmhouse bathroom decor ideas. While we don't spend a lot of time in the bathroom on a daily basis, nevertheless, this is a room in our home that deserves special consideration and thought.
The bathroom is where we do our business, shower, brush our teeth, and maybe do our makeup too. It's where we get ready to start the day first thing in the morning, and it's where we end our night before hopping into bed. It's a very practical room that must not only serve our needs but make us feel comfortable at home.
Instead of viewing this room as purely practical, the best farmhouse bathroom designs have a personal touch that makes us laugh, or just relax in a warm bath. You could have family photos on the wall, for example, display a funny quote sign, or add candles and bath salts to create a home spa. There are many different directions you can take a farmhouse bathroom design.
We love modern farmhouse decor for its approachable design, family-friendly nature, and country home style. Here are the best farmhouse bathroom decor ideas we found online!
Wooden Storage Hutch
An antique wooden storage hutch is great for storing linens, bath products, and any bath accessories you have in your home. You could also use it as a medicine cabinet.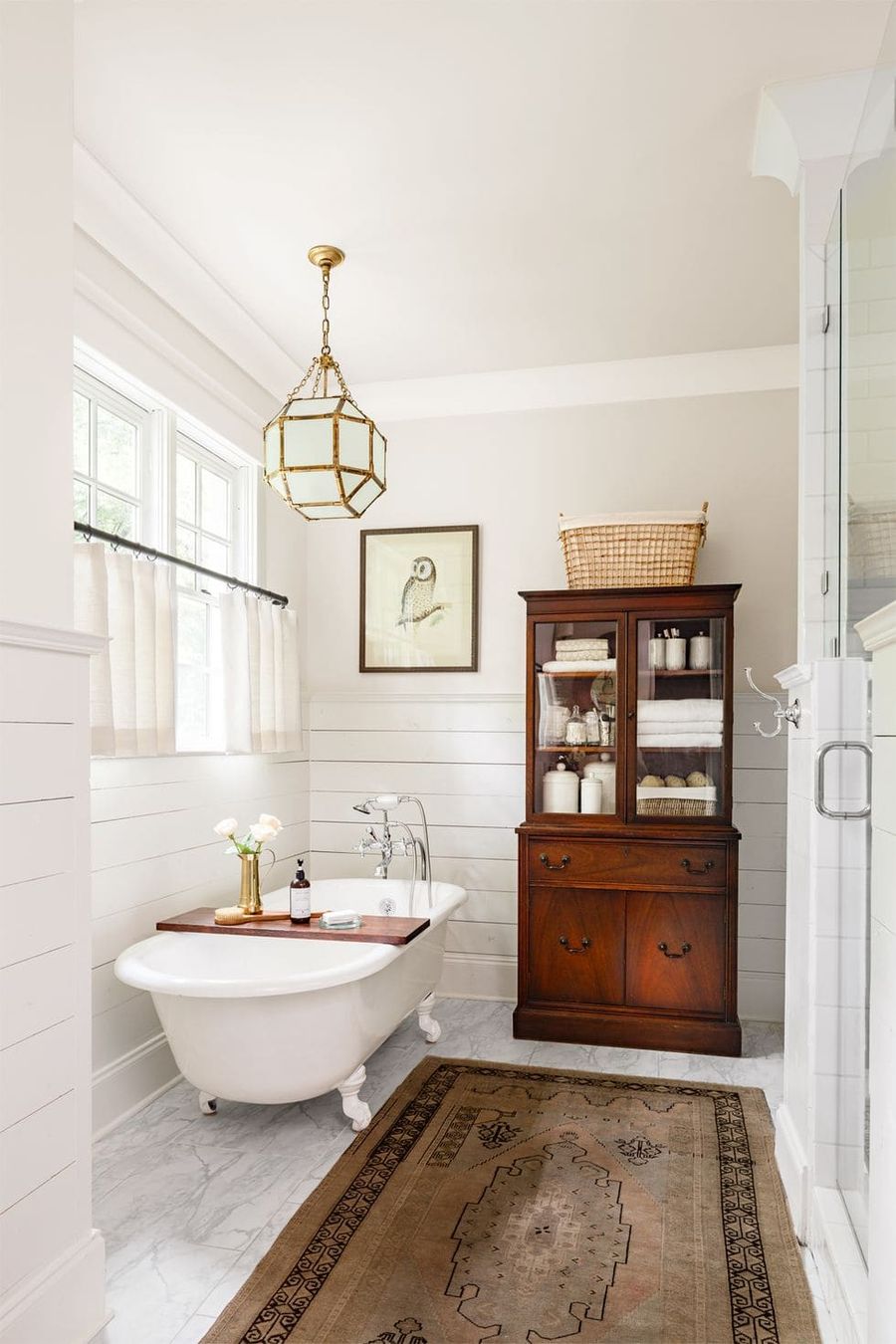 Vintage Sink Vanity
This bathroom has been outfitted with a vintage writing desk repurposed as a bathroom vanity. This is a very Farmhouse way to decorate the bathroom: using old furniture pieces and giving them new life. A white vessel sink has been installed on top of the vanity in addition to a brass faucet.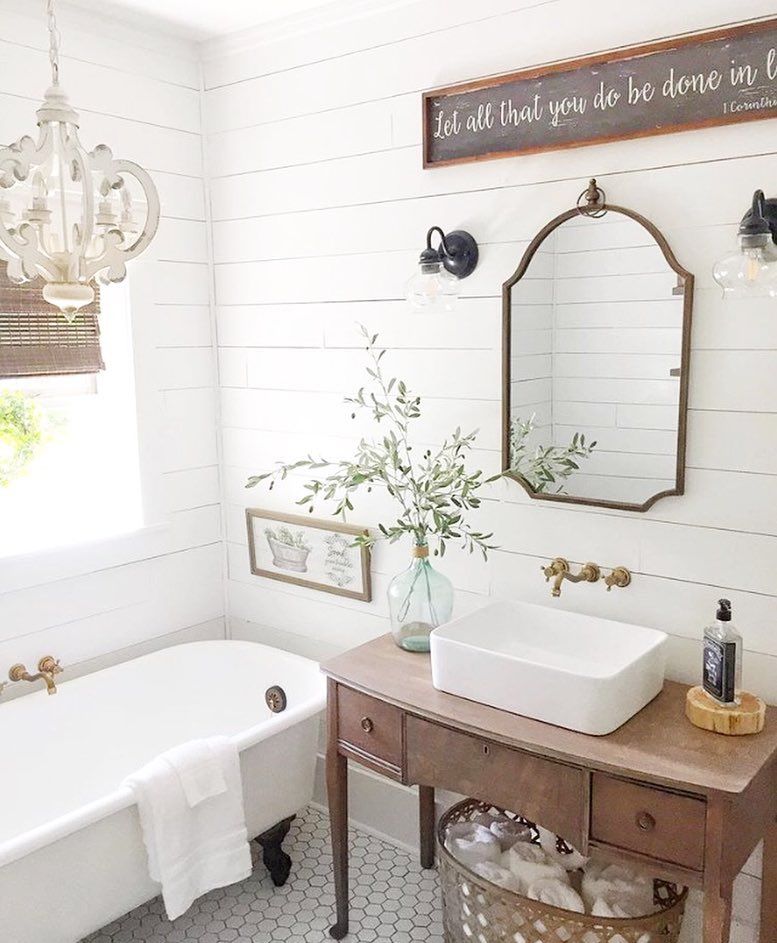 Shiplap Walls
Farmhouse homes often feature shiplap walls – those long horizontal wood panels – painted in white! Joanna Gaines was famous for decorating her clients' home with shiplap walls. This style works great in the bathroom, too!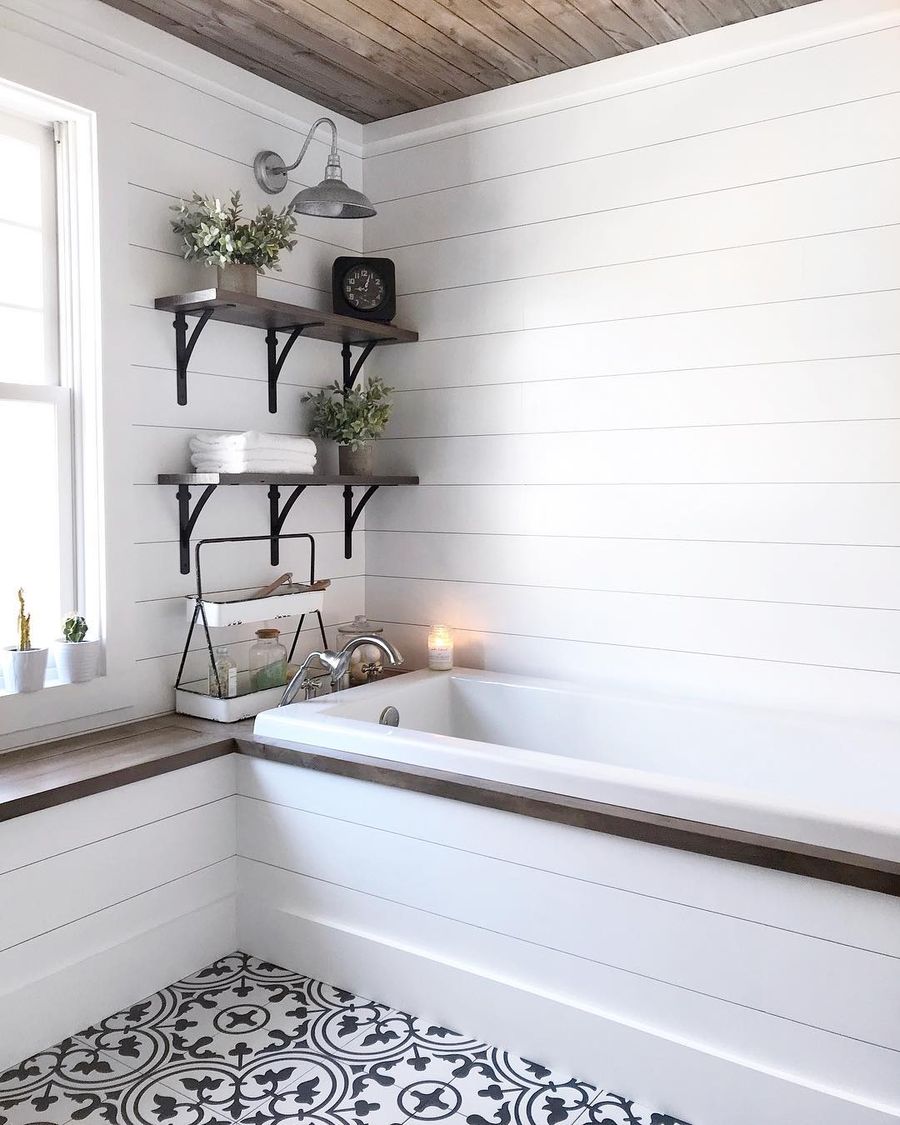 Rustic Wooden Stool
Having a rustic wood stool nearby your bathtub is great for storing small items you may need during or after your bath. I keep a hand towel on mine, in addition to body wash, and sometimes a little stand for my phone.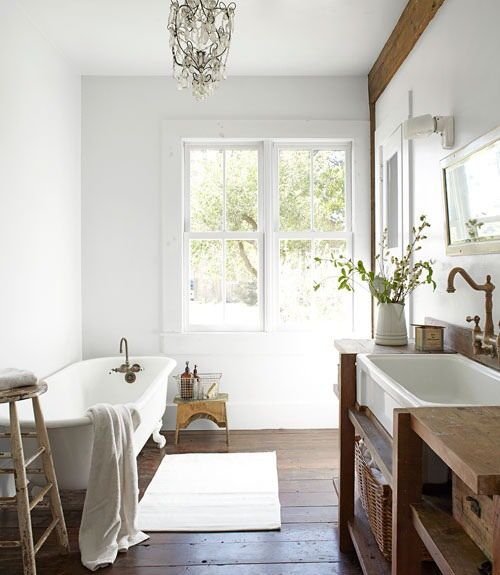 Aged Brass Hardware
For a vintage farmhouse look, go with aged brass bathroom hardware in your bathroom. Things like the sink faucet, the shower rod, the shower faucet, the doorknobs and more can be finished in aged brass to give it a rustic, distressed look. This kind of hardware is discreet enough to work well in a modern farmhouse bathroom as well, if the rest of your furniture and decor is more contemporary.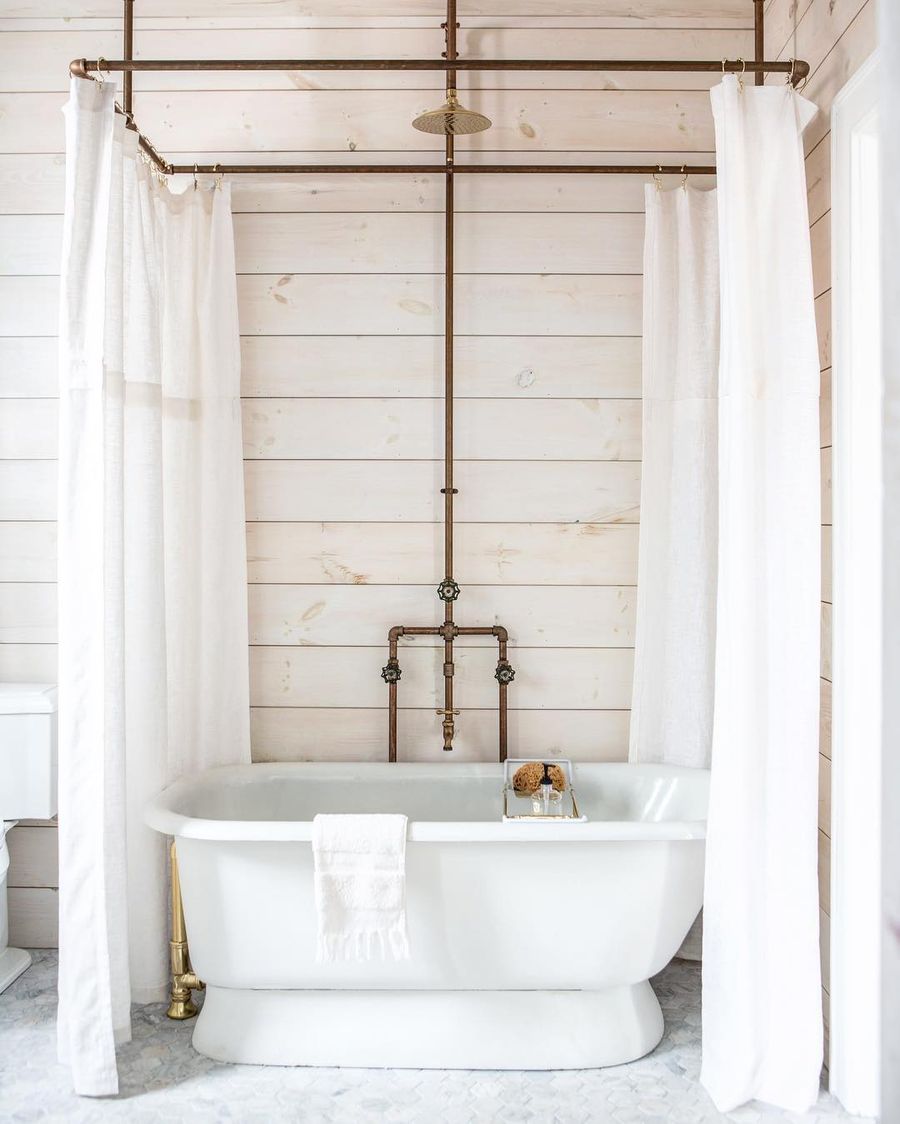 Black Gooseneck Wall Lights
Gooseneck wall lights are popular lighting choices for many areas of a Farmhouse home. Here, two small gooseneck sconces have been installed on the wall above the bathroom vanity providing downward light on the sink.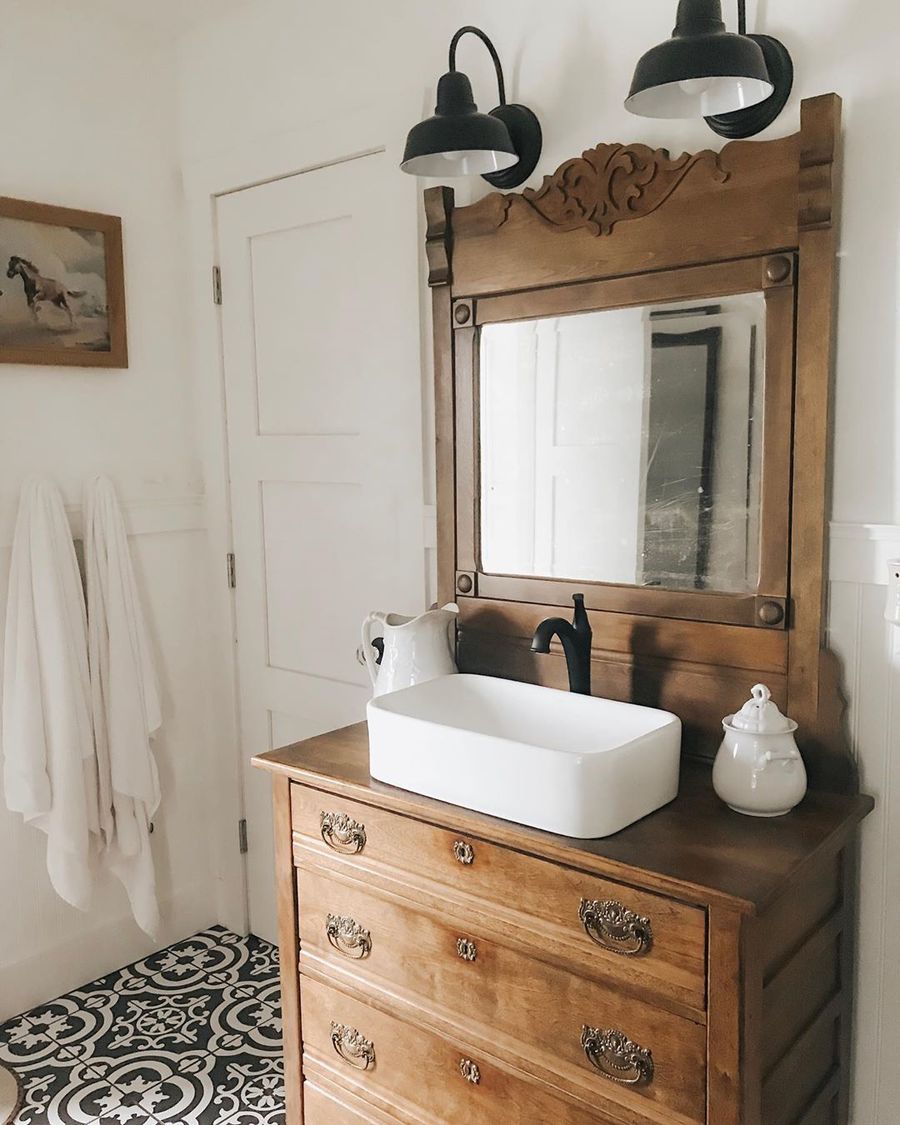 Freestanding Bathtub
If you have the space, it's a great idea to install a freestanding vintage bathtub in your home. This clawfoot tub has been painted pink on the outside and matches the vintage floral wallpaper on the wall.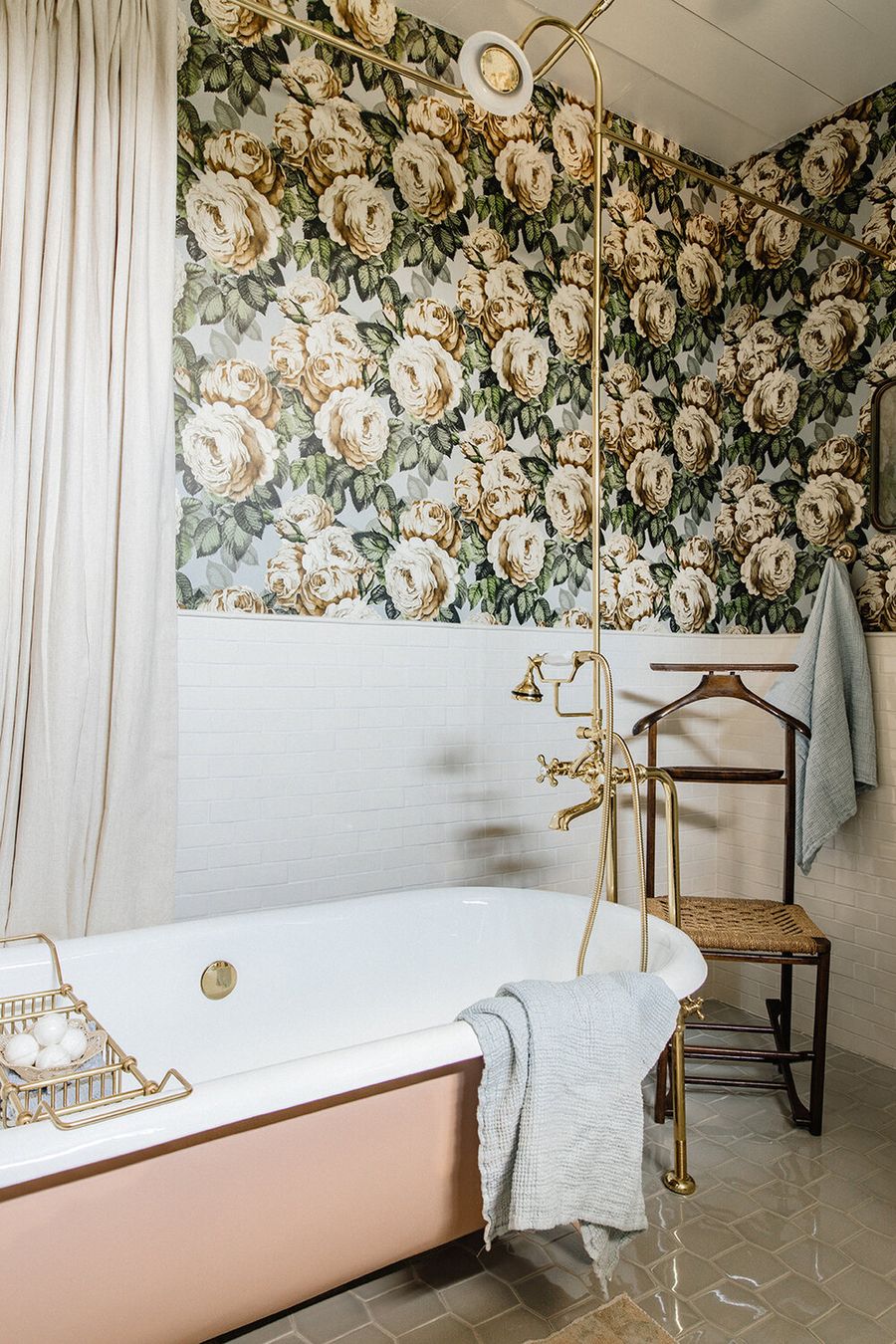 Jute Storage Baskets
Neutral jute storage baskets are a popular choice for storage in a farmhouse bathroom. You can use these handy baskets to hide away hand towels, toilet paper, soap, bathroom accessories, your hair dryer, and other small bathroom products.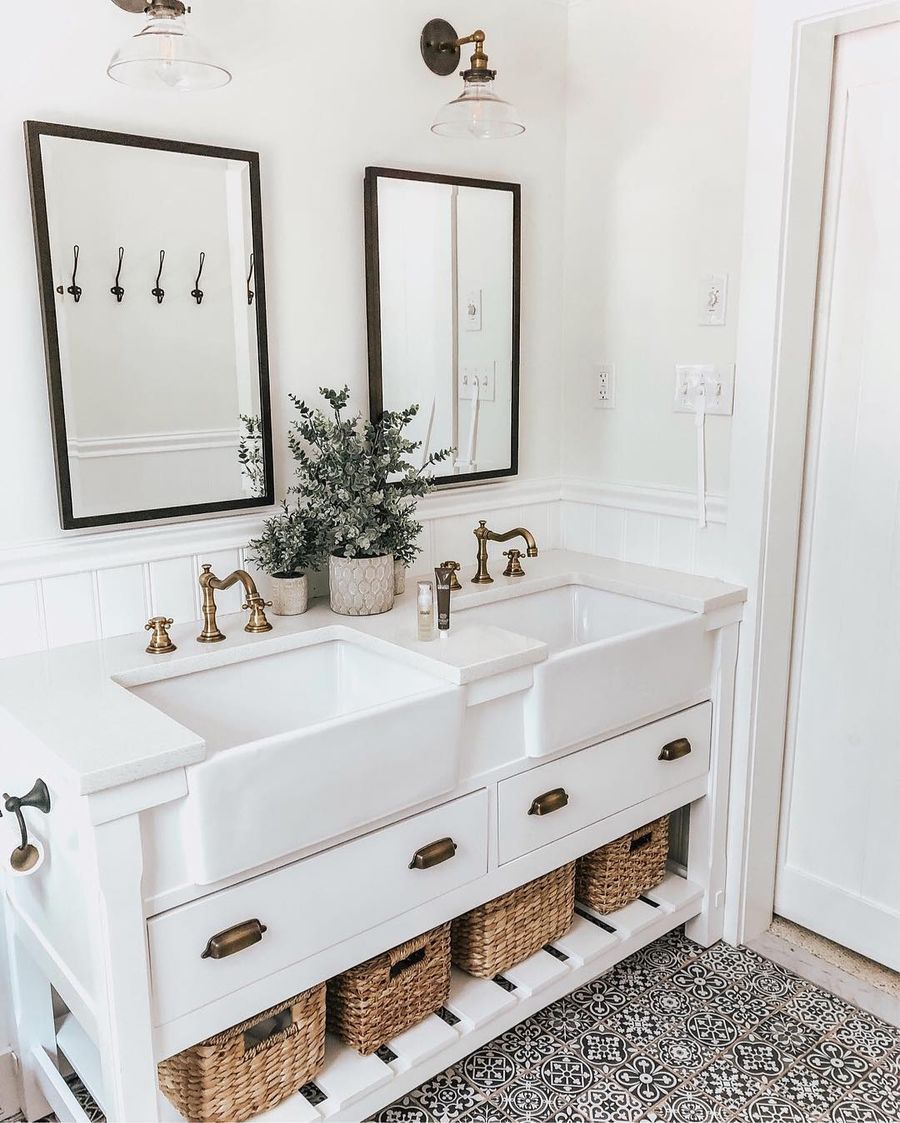 Ruffled Shower Curtain
This ruffled white shower curtain is a great addition to this country farmhouse bathroom design. It gives the space a bit of a feminine, cottage vibe. The jute basket of white hydrangeas is a sweet touch!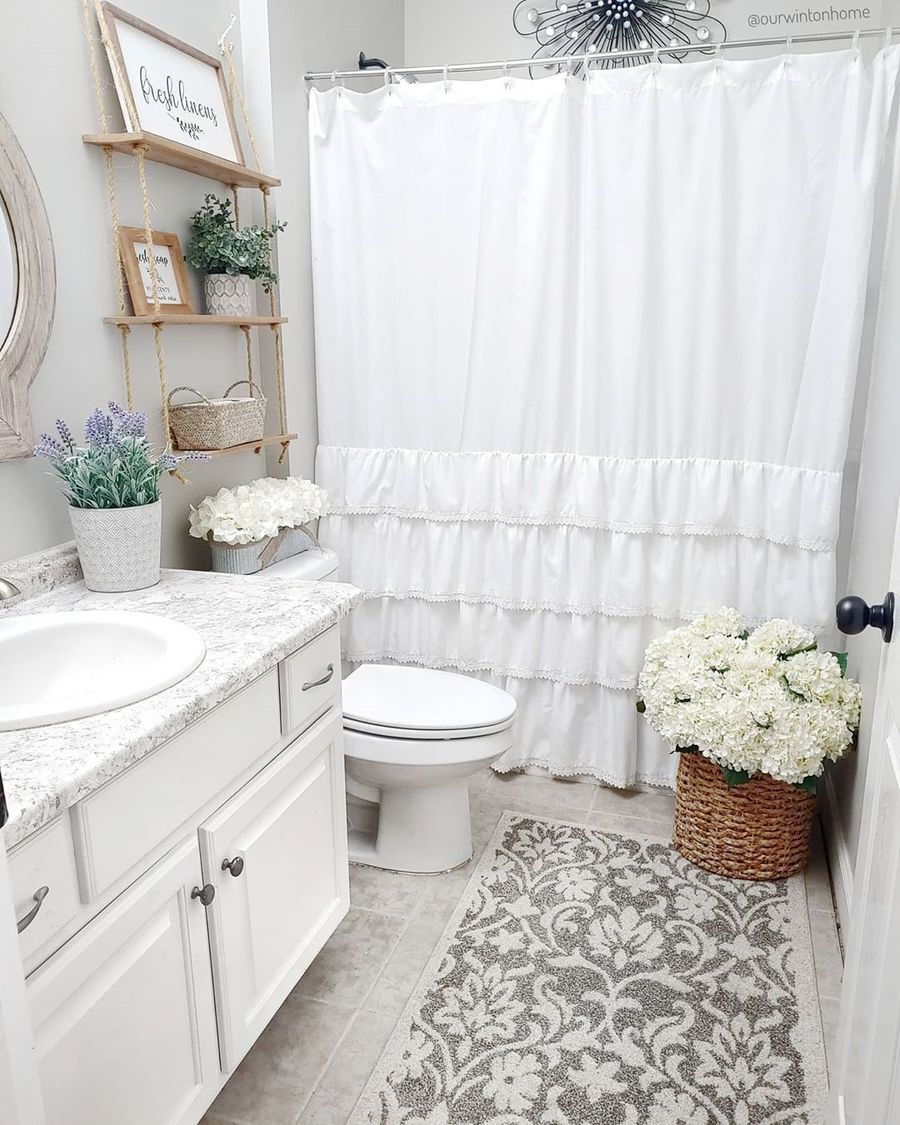 Country Pendant Lighting
Another great lighting idea is to install these thin wood chandeliers which give this bathroom a really rustic country vibe! These small chandeliers have only four bulbs making them great for the bathroom where you don't need too much light, especially with a large window nearby letting in a ton of natural light!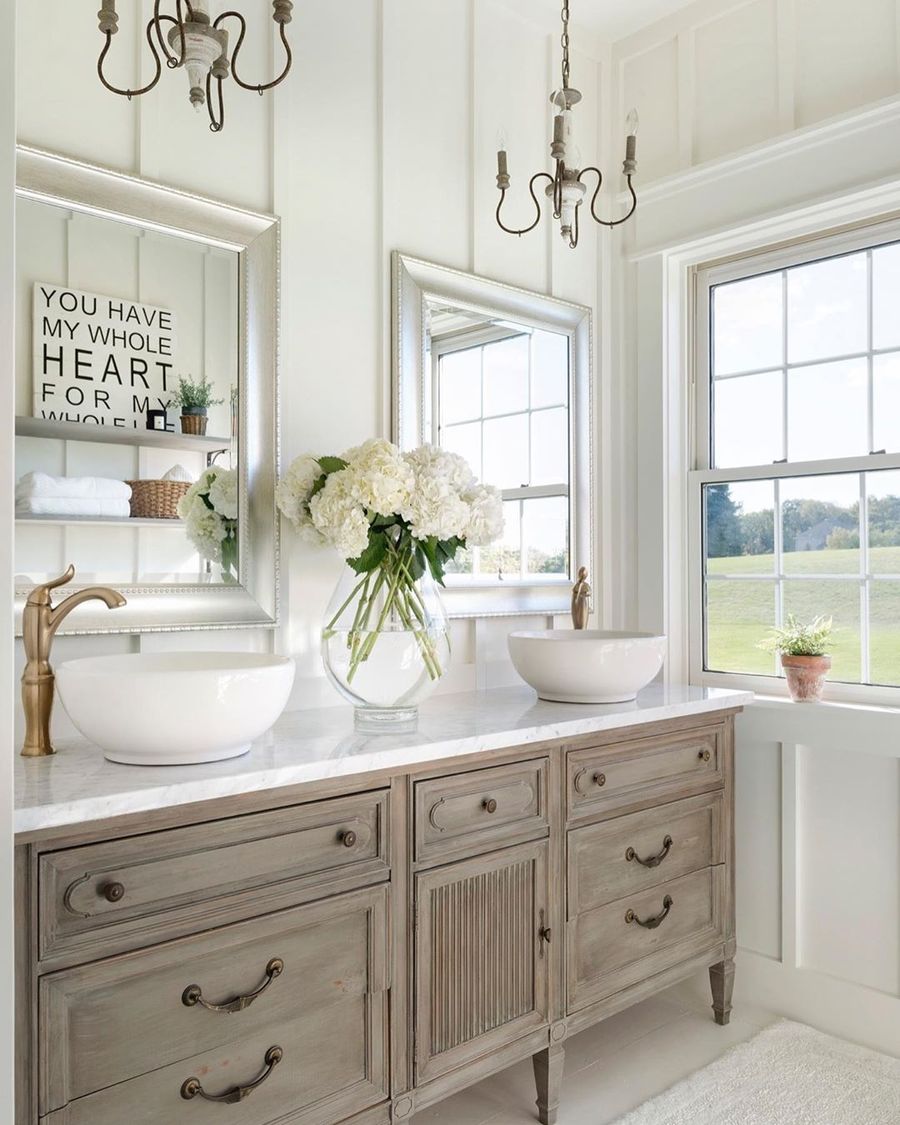 So, what did you think of our farmhouse bathroom decor ideas? We hope you felt inspired by these designs. You can make your house unique by choosing decorations you know that your family will like, even if they are a bit off style. What's most important is that everyone feels happy and welcome at home.
If you love Fixer Upper style decor, then don't miss our other guides to modern farmhouse interior design!