Once you've got your Farmhouse furniture picked out, it's time to start thinking about the modern Farmhouse decorations that will complete your home! Today I want to share the essential Farmhouse decorating ideas that are found in typical modern Farmhouse style homes.
Many of these decorations come from real objects used on farms, but they have been repurposed into modern Farmhouse decorative accents. If you didn't grow up on a farm, then some of these ideas will be very new to you!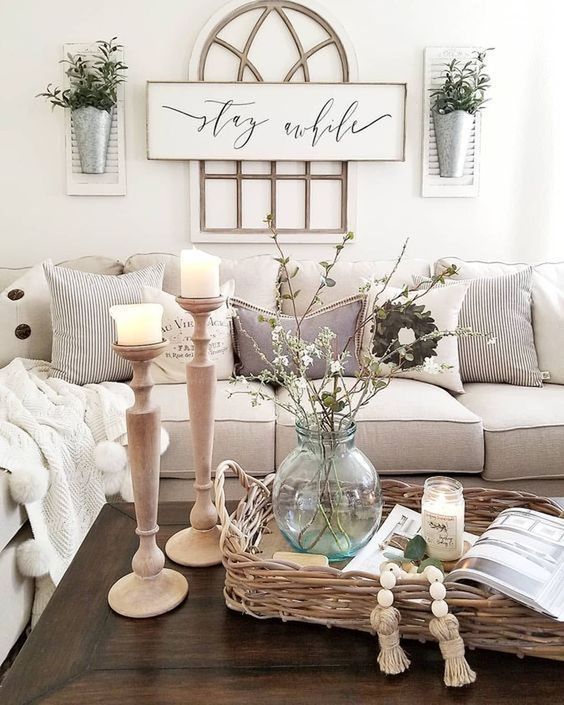 Here are the best decorative accents for Fixer Upper style home decor.
Galvanized Buckets
Galvanized buckets are used on farms to transport materials like animal feed. They've become quite popular for decorative use in farmhouse-style homes, too! Galvanization simply means that a zinc coating has been applied to a metal surface to prevent rusting. You can use galvanized buckets to chill wine and beer, store small items, or even plant flowers!
Windmills
Windmills are a common Farmhouse home theme. Windmills were used on farms to convert wind energy to mill grain or pump water. Today, you can buy decorative versions of windmills to accent your home!
Chalkboards
Chalkboards give a personalized touch to your Farmhouse home. You can list out the family chores for the week, write a dinner menu, or keep a simple to-do list with a family chalkboard decoration.
Rustic Picture Frames
Rustic accents like wood picture frames help keep your Farmhouse a family-centered home! Family is so important and why not show off your family portraits in these rustic frames?
Large Wall Clocks
Oversized wall clocks are the perfect wall decoration for a Farmhouse style home. If you watch the early seasons of Fixer Upper, Joanna Gaines almost always added an oversized wall clock to her projects!
Pillar Candle Holders
Pillar candlesticks and candle holders are the perfect way to add height to any decorative vignette you may have at home.
Jute Rugs
A neutral jute rug is a perfect way to decorate the floor of your Farmhouse home. It is a natural fiber rug and it's actually used to make burlap!
Window Pane Mirrors
Old window panes and other found objects are commonly used in Farmhouse decorated homes. Today, many people convert them into mirrors, bringing a rustic charm into your space!
Chicken Wire Bins
Chicken wire is often used to keep chickens in the coop on farms, but it's also used for many different decorative accents in Farmhouse style homes.
Vintage Metal Signs
Vintage metal signs can be used to welcome people into your home or label the purpose of certain rooms. Lots of vintage accents like signs can give a Farmhouse feel to any home.
Burlap Table Runners
Burlap is another common material used in Farmhouse home decorations. I love when I see a burlap table runner on the dining room table of a Farmhouse home. It's an easy way to get the Farmhouse look in your home!
Blanket Ladders
Wooden ladders that were used on farms to reach upper shelves or even upper levels in barns now make a great decorative accent to hang your blankets!
Cotton Ball Decor
Cotton is a motif found in many Farmhouse homes. Since cotton grows in the southern US, many country homes will feature cotton decor.
Iron Lanterns
An iron lantern was necessary on farms before we had electricity! People would carry them around with a candle inside to light their path. Today you can use these beautiful vintage accents to light up your home in a decorative way.
Iron Wall Sconces
Another vintage lighting idea, iron wall sconces date back to when candles had to line the walls before electricity. You can find iron wall sconces in a variety of styles to suit your taste.
Farm Animals
What better way to celebrate the Farmhouse style than by adding cute little farm animal figures to your home?
Wood Coffee Table Trays
As with many Farmhouse decorations, wood is a very popular material for coffee table trays in Farmhouse homes.
Washed Wood Table Lamps
Whitewashed wood is a common material to use in Farmhouse style decorations. Whether you opt for a white, gray, or brown wash, washed wood table lamps are an essential element of any Farmhouse home!
Pitchers
I see pitchers just about everywhere in Farmhouse homes! You can use them on the mantle or in the kitchen. Put some flowers or wheat inside them and use them as a makeshift farm-style vase!
Throw Pillows
Perhaps one of the easiest ways to decorate in the Farmhouse style, cute throw pillows are essential to any Farmhouse living room or bedroom!
Tiered Stands
Farmhouse tiered stands are the perfect kitchen accent for your home. You can display cookies or freshly baked goods on them, or just accent them with spices and candles.
More Farmhouse Decorating Ideas
I hope these decorations inspired you when curating your perfect Farmhouse style home!