If you're looking for a way to get the cottage farmhouse look in your home, these Fixer Upper decor ideas are a great place to start. From rustic wood accents to shiplap walls, there are plenty of ways to bring Joanna Gaines' signature style into your own space. The best part is that you don't have to spend a fortune to get the look. With a little bit of creativity, you can easily recreate the Fixer Upper aesthetic in your own home on a budget.
Fixer Upper Home Decorating Style
What is the Fixer Upper decor style? Well, it's named after the hit HGTV show Fixer Upper, starring Chip and Joanna Gaines, a Waco, Texas couple who renovates and upgrades homes for a living. Chip handles the demolition and structural building, while Joanna tackles the interior design. Her signature style is a mix of rustic, modern farmhouse, and country cottage design, which became known as the "Fixer Upper" look.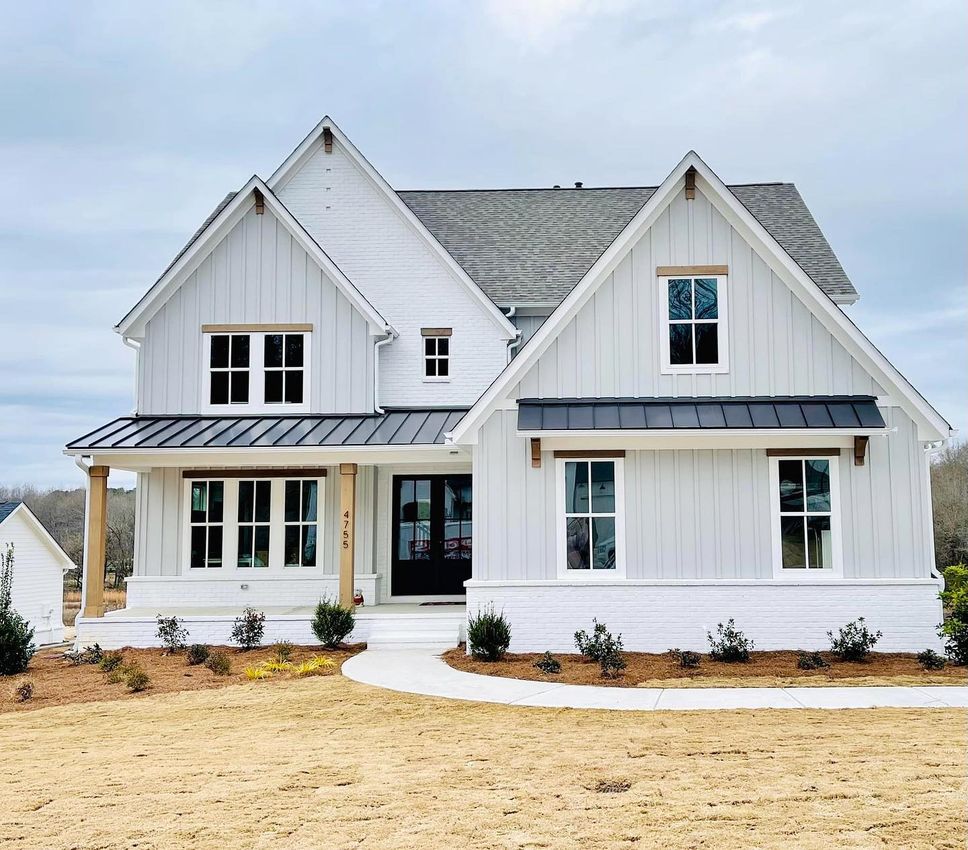 Here are some of the best Fixer Upper home decor ideas to get you started:
1. Open Layout
The first thing to know about the Fixer Upper decorating style is that most Fixer Upper homes have open layouts to promote conviviality, ease of movement, and everyday family life. Moving from the kitchen to the living room should be easy and free-flowing.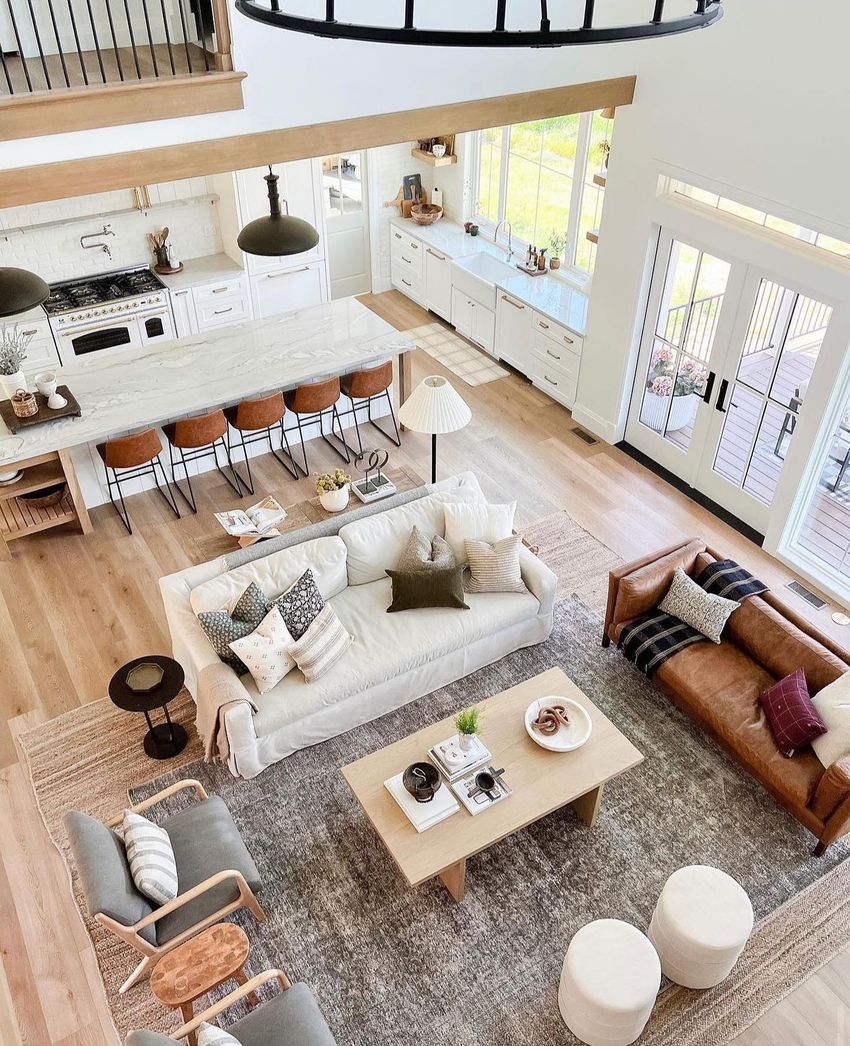 2. Shiplap Walls
Another hallmark of Fixer Upper style is shiplap walls. This type of wood paneling adds rustic texture and character to any space. If you don't want to commit to adding shiplap throughout your entire home, try using it in just one room as an accent wall. It's a great way to add a touch of Fixer Upper style without breaking the bank.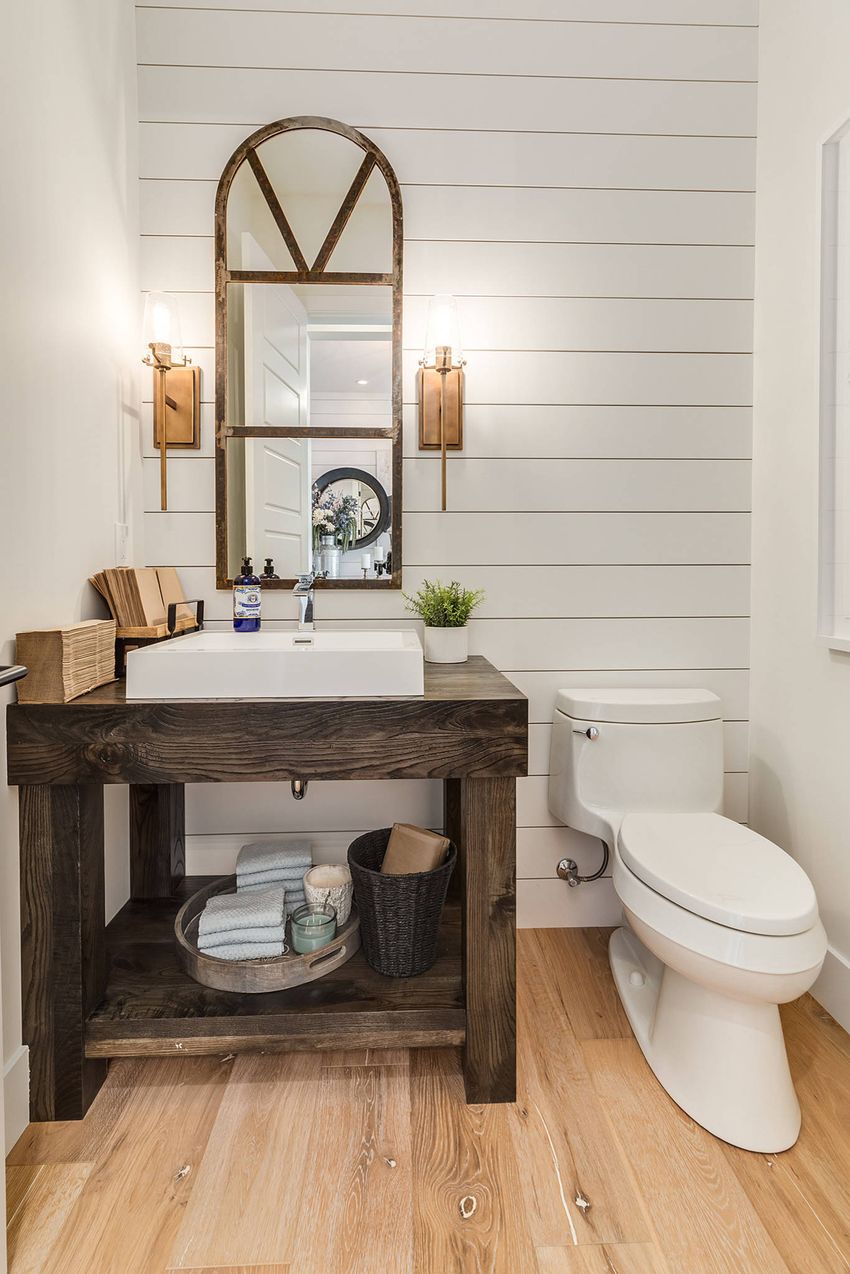 3. Distressed Farmhouse Furniture
Farmhouse furniture is another key element of Fixer Upper home decor style. Joanna Gaines often uses antique pieces or vintage reproductions in her designs. This type of furniture adds a sense of history and character to any space. If you're on a budget, try shopping for vintage pieces at flea markets or thrift stores. You can also find affordable farmhouse furniture at many online furniture retailers. Don't hesitate to refurbish old furniture and give it a distressed look!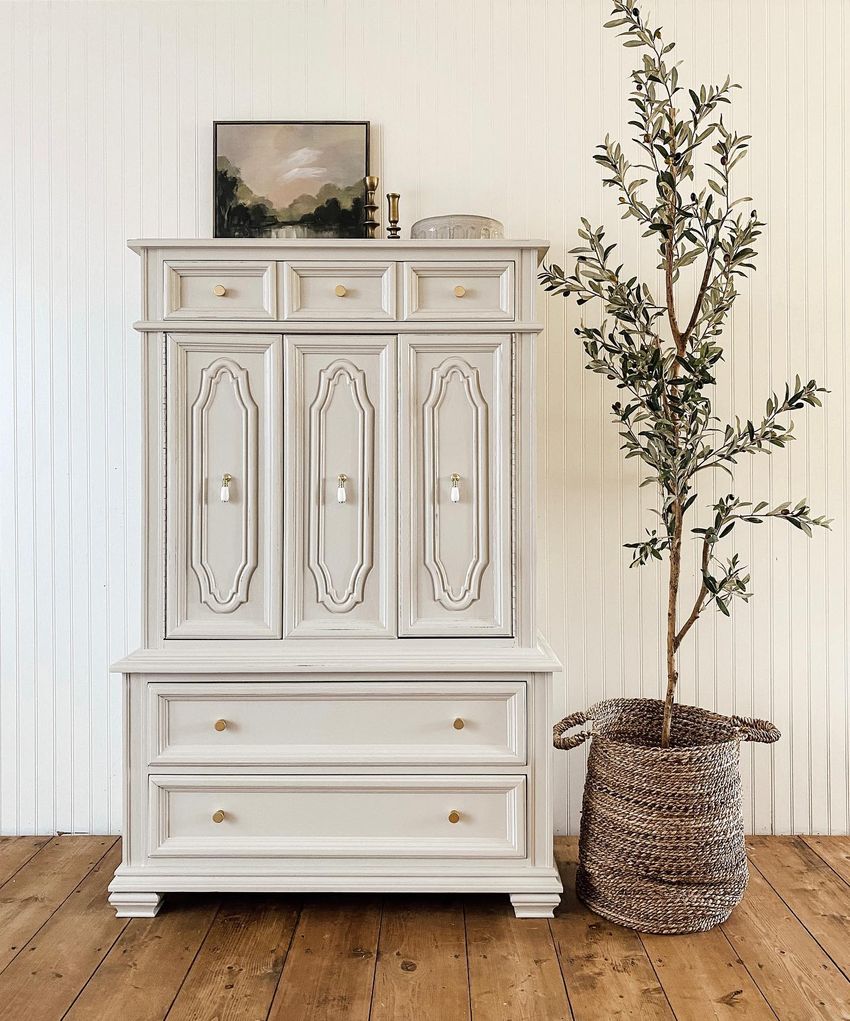 4. Industrial Lighting
Fixer Upper style is also known for its use of industrial lighting fixtures. Exposed bulbs and metal shades are common features in Joanna Gaines' designs. This type of lighting can add a touch of whimsy and charm to any space. It's also a great way to add a bit of Fixer Upper style without spending a lot of money.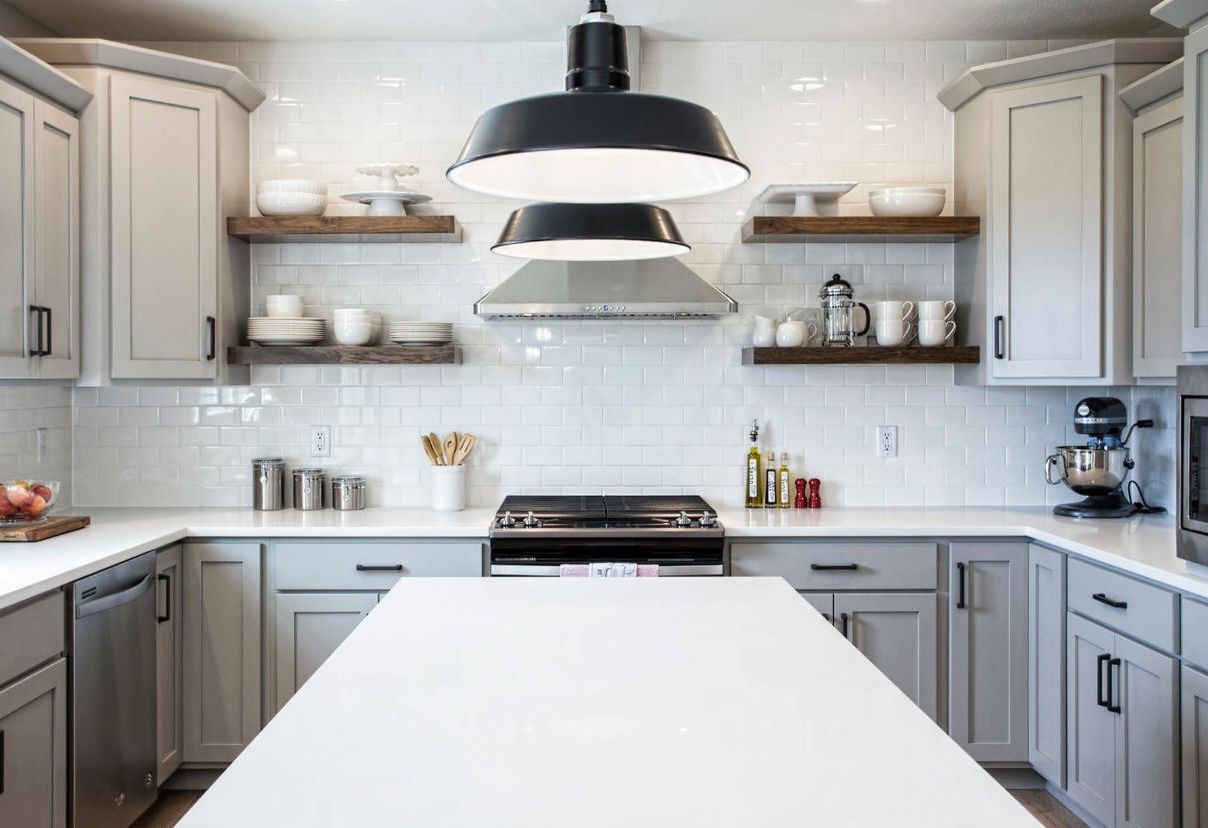 5. DIY Decor & Furniture
One of the best things about Fixer Upper style is that it doesn't require a lot of expensive decoration. Joanna Gaines' designs are often quite simple and understated. Fixer Upper decor is easy to recreate in your own home, and it won't cost a lot of money. Try using simple DIY pieces like chicken wire, mason jars, and burlap to make crafts that add Fixer Upper vibes to your space.
These DIY Fixer Upper style decorations can help you decorate your home in the style without renovating. Here are more DIY decorating ideas to replicate the Gaines' aesthetic:
6. Oversized Vintage Wall Clocks
Another great way to add Fixer Upper design to your home is with oversized vintage wall clocks. These are easy to find at flea markets and thrift stores, and they make a great statement piece in any space.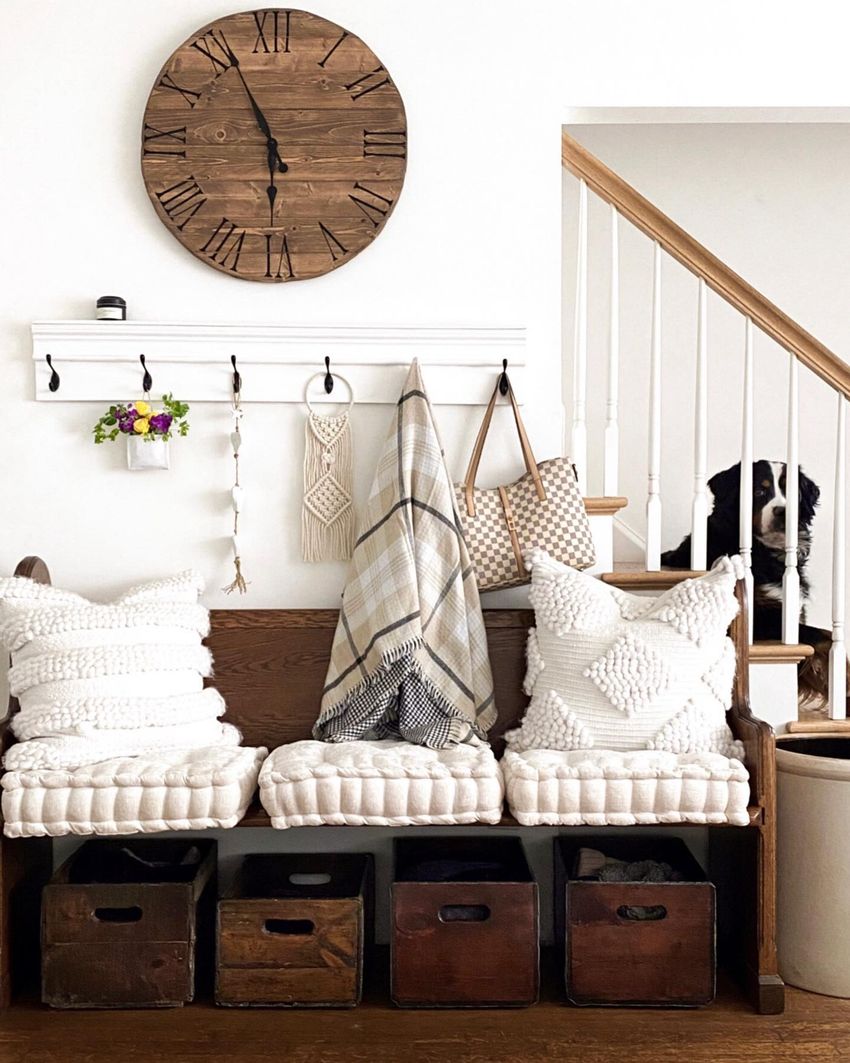 7. Rustic Wood Accents
One of the most distinctive features of Joanna Gaines' style is her use of rustic wood elements. Exposed beams, reclaimed lumber, and distressed furniture are all key components of the Fixer Upper look. To get this look in your own home, try adding some rustic wood accents. A few simple pieces can make a big impact and help to create a warm and inviting space.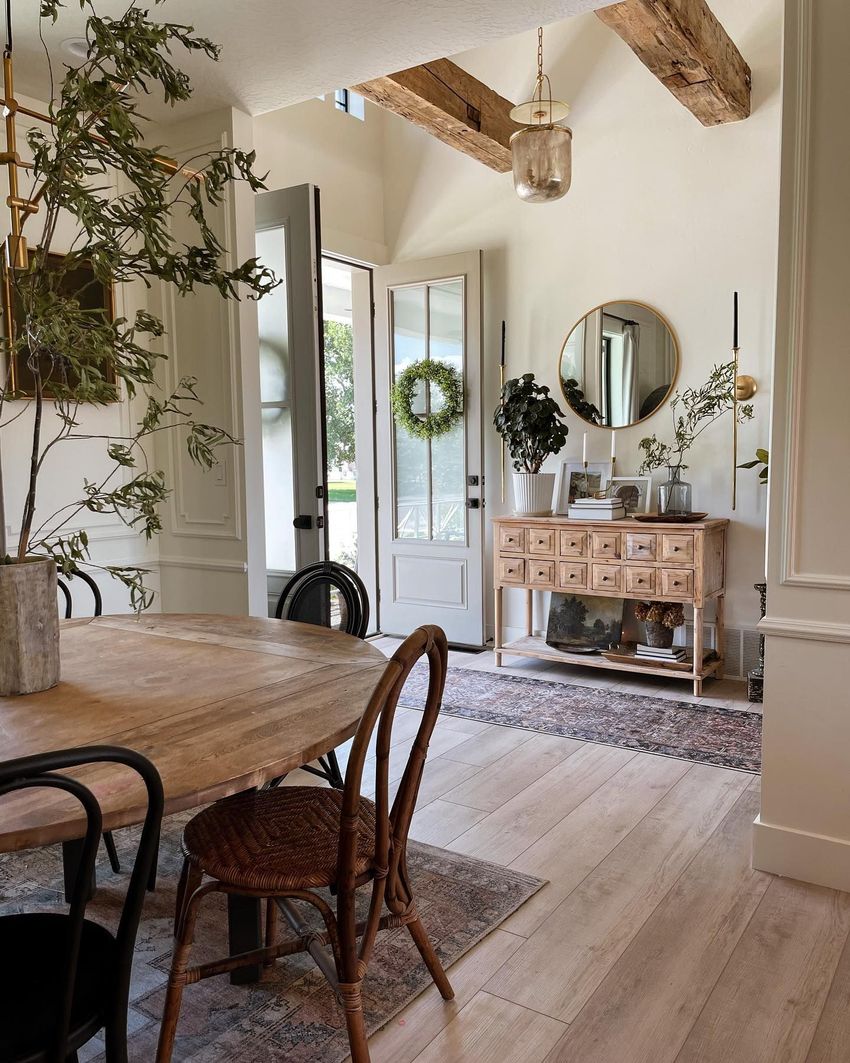 8. Magnolia Stems
You need to add some greenery to your Fixer Upper house to make it complete. Add some Magnolia leaves to make a wreath or stick some Magnolia stems into a glass vase to make a coffee table arrangement.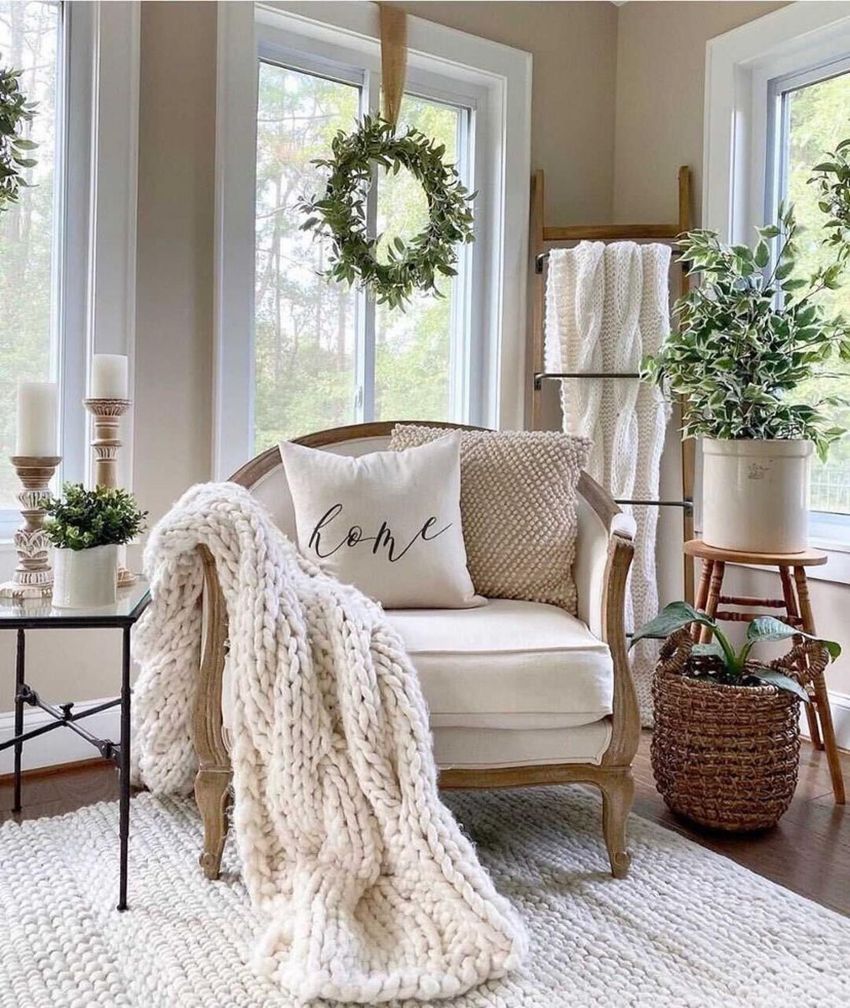 9. White Slipcovered Sofas
Many Fixer Upper living rooms have white slipcovered sofas with plush cushions for long hours spent on the couch with family chatting. Lots of throw pillows and blankets are added for extra comfort.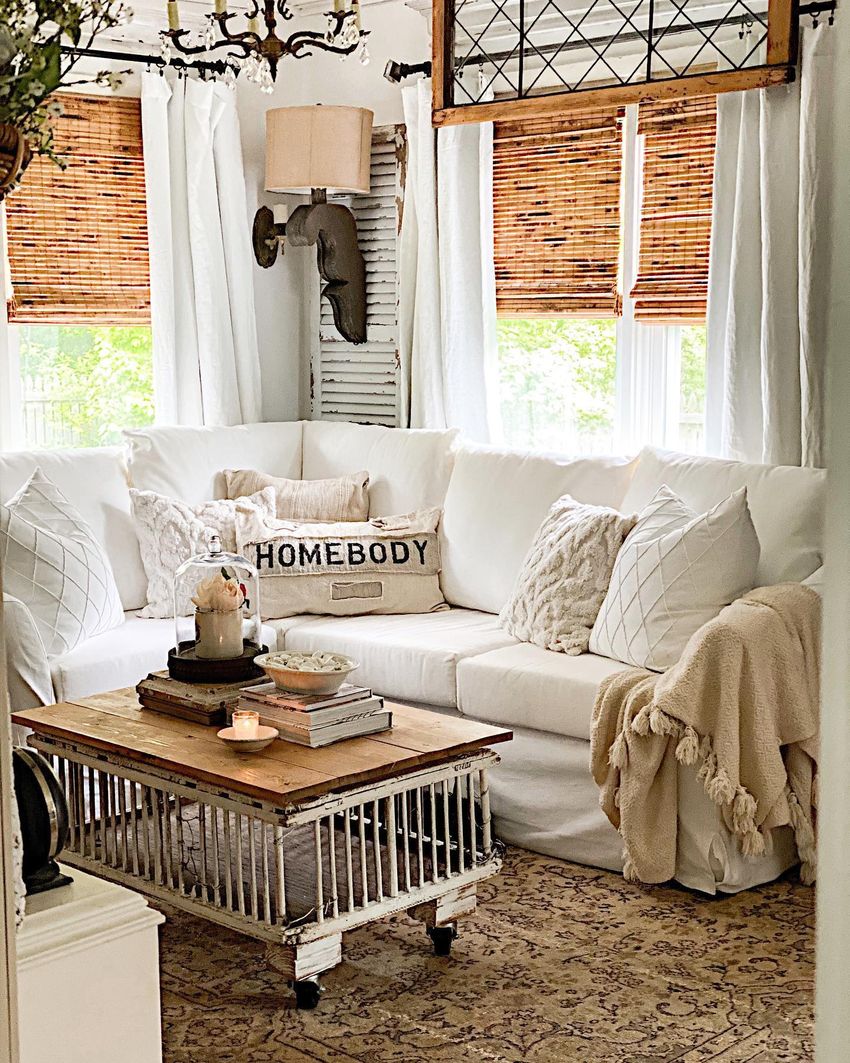 10. Exposed Wood Ceiling Beams
An interesting architectural element of Fixer Upper homes is their wood ceiling beams which have been finished in a honey tone and left exposed for all to see. They really make the interior design feel warm and welcoming.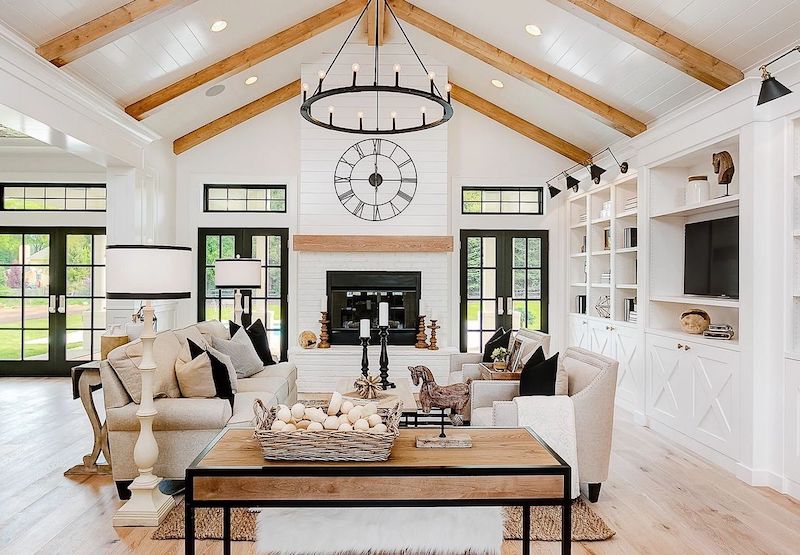 11. Open Shelving
Open shelving with rustic wood shelves is a common feature of Fixer Upper style kitchens. These allow for your pretty plates and ceramics to be shown off, visible to all, and easily within reach!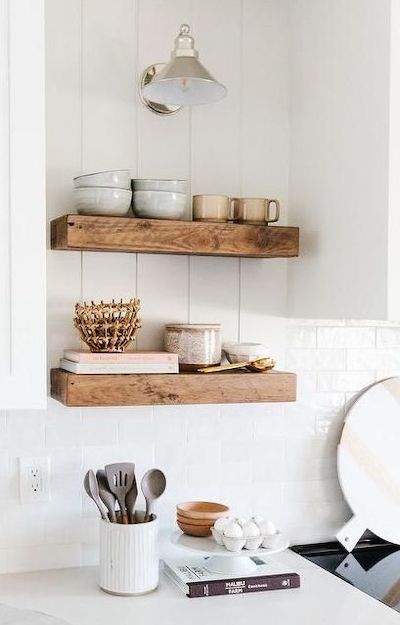 12. Sliding Barn Doors
Every Fixer Upper home needs at least one set of sliding barn doors! You have to stay true to the country roots after all. Barn doors are a classic symbol of southern homes and farm life, so incorporating a barn door to either your bathroom door or your home office is a great idea. Anywhere that needs extra privacy could be useful to install a sliding barn door.
13. Farmhouse Sink
An extra large Farmhouse sink is a Fixer Upper kitchen staple! These big and wide sinks allow you to do dishes for all the family.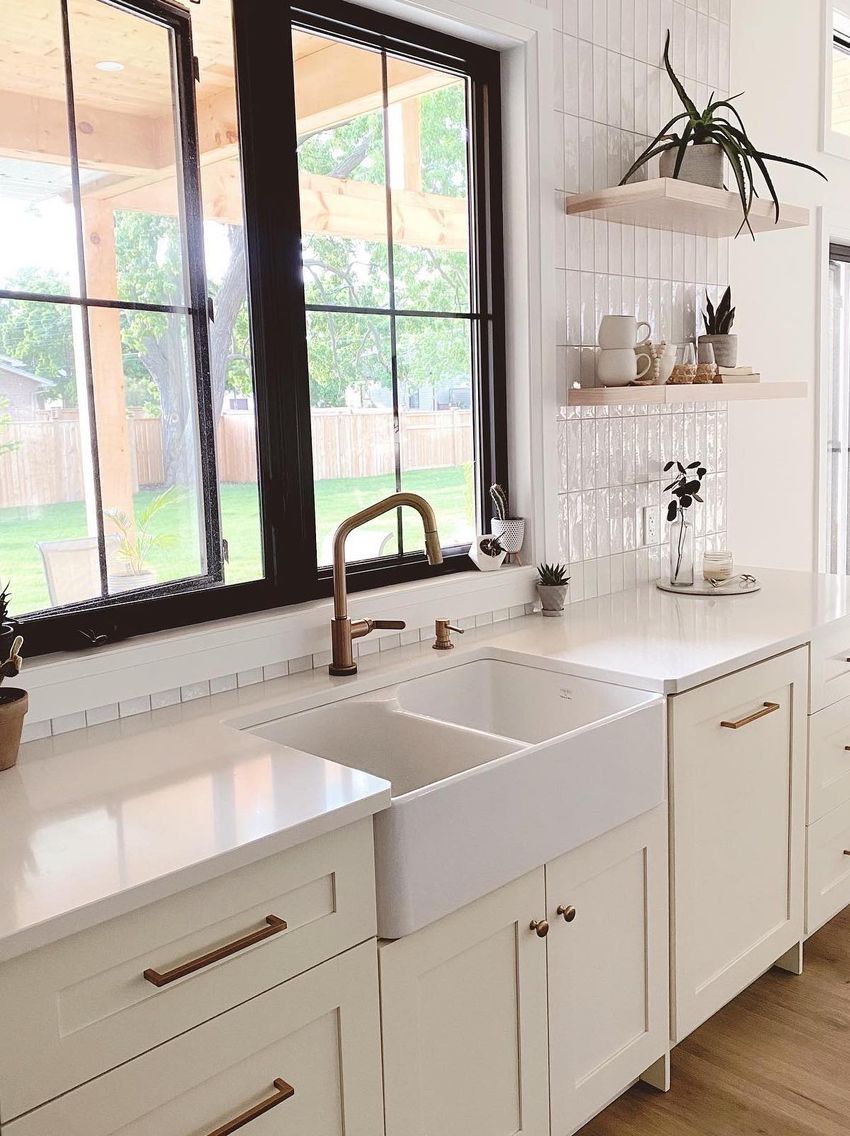 14. Concrete Countertops
Joanna Gaines stated many times on her show how much she loved gray concrete kitchen countertops! This Fixer Upper kitchen countertop surface is truly a classic. They are durable and can withstand lots of use without cracking.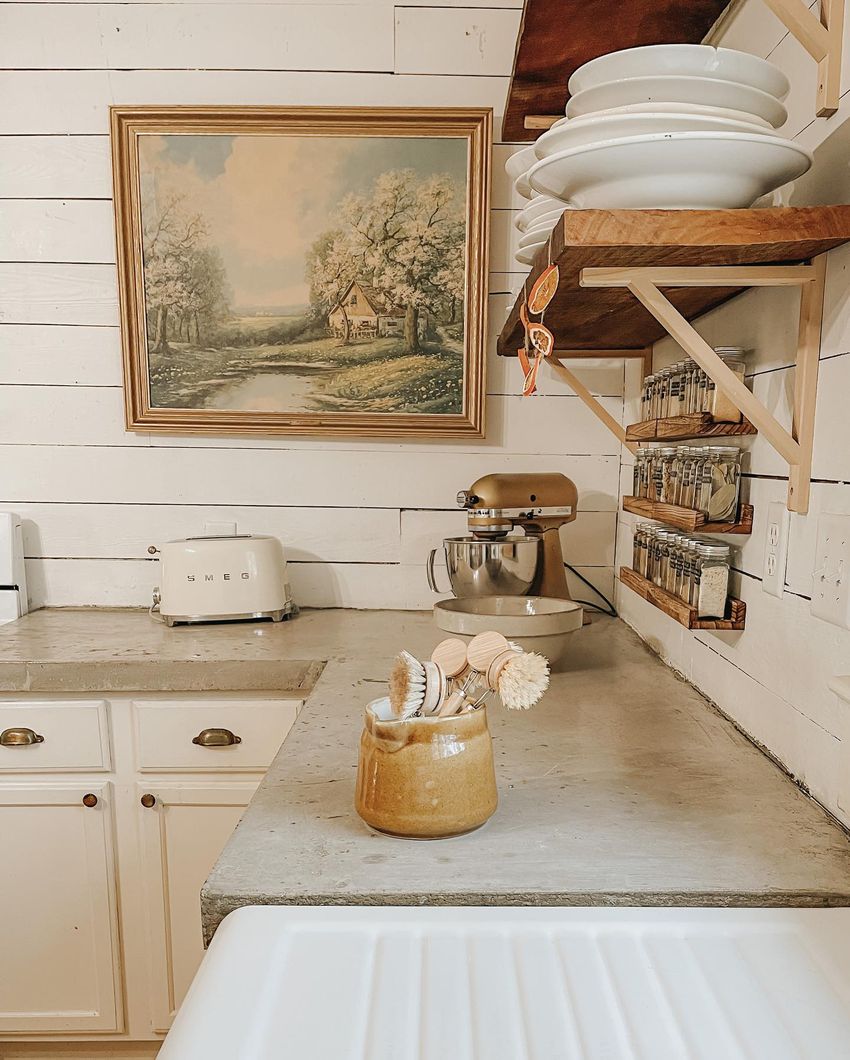 15. Subway Tiles
You can use white subway tiles with dark grout in both the kitchen and the bathroom to get the Fixer Upper look for any backsplash in your home. Subway tiles, either horizontal or vertical, have really become a popular Farmhouse style design element for country homes.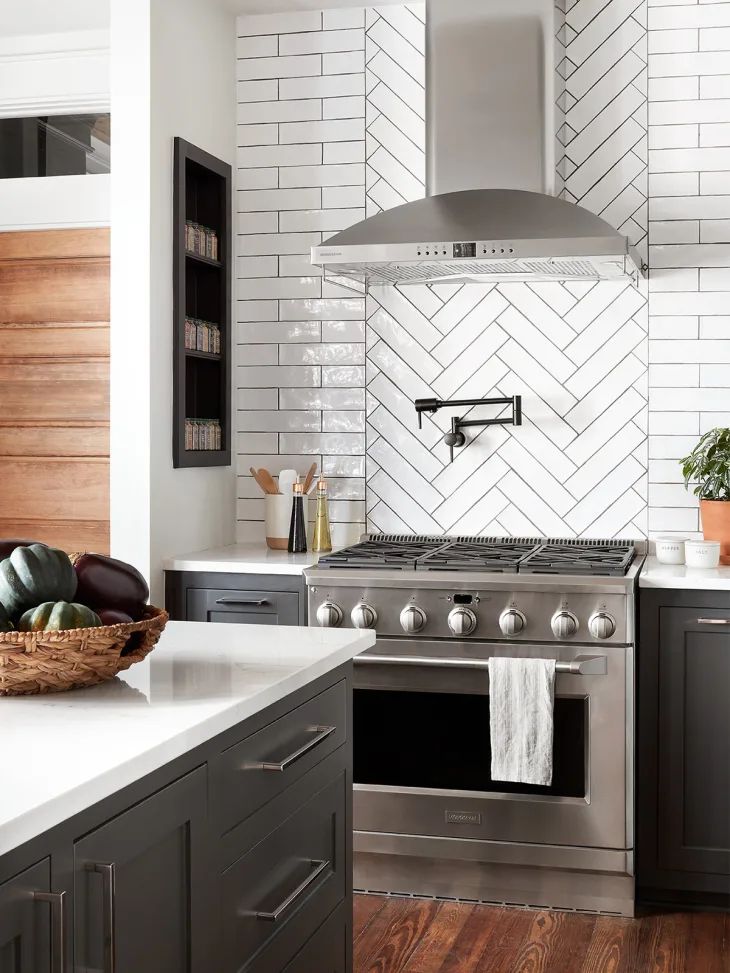 These are just a few of the best Fixer Upper decor ideas. With a little bit of creativity, you can easily copy Joanna Gaines' farmhouse style in your own home, even on a tight budget.
Stay tuned for more Fixer Upper decorating tips coming soon!