Farmhouse ottomans can function as a comfy stool or as a casual coffee table in your living room. You can pop your feet on them and stretch out your legs, or you can use them as extra seating in a pinch. Some can even open up for extra hidden storage, or have a flat base for storing items. Their versatility is what makes ottomans such popular pieces of furniture!
We're going to share a few beautiful modern Farmhouse style ottomans with you today. These pieces of furniture are the perfect addition to any Farmhouse style living room. From beige to linen, to gingham, there are lots of Farmhouse decor motifs to choose from. Leather and cowhide are two more materials to consider.
Farmhouse Ottomans
If you love Farmhouse decor, then definitely consider an ottoman for your living room. We're here to help guide you! Each of these ottomans will get that perfect country vibe in your home. Here is our selection.
You'll find ottomans with storage, drawers, open bottom storage, tufted ottomans, uphostered ottomans, round ottomans, skirted ottomans, cubed ottomans, and many more styles to suit your tastes.

I just love the beige tufted ottoman in this Farmhouse living room, designed by blogger Savvy Southern Style! It almost spans the width of her pretty beige sofa, but doesn't feel overpowering at all. She decorated with a small wood tray, a white Farmhouse pitcher, and some beautiful dried flower stems. As you can see, both someone sitting on the sofa and the accent chair nearby could use the ottoman as a footrest. It softens the space and makes it more relaxed, elegant and light than a bulky, heavy coffee table would have.
This is one design trick we certainly approve of!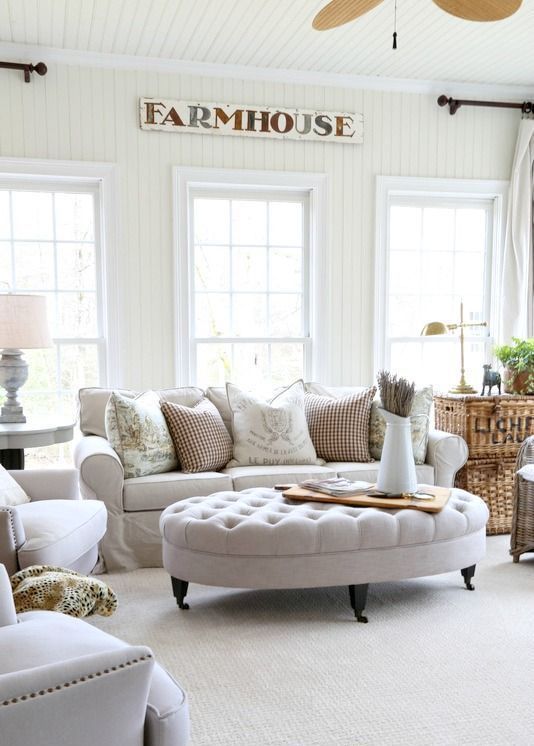 I hope this post helped you find the perfect modern Farmhouse style ottoman for your home. If you have another one to share, don't hesitate to leave a link in the comments.
More Farmhouse Decor Ideas
We love Farmhouse decorating for its family friendly style and comfort. We've written quite a few articles on this decor style, so please feel free to browse some of the most recent ones below!
You can also visit Curated Interior on Pinterest for more decor inspiration.
Happy curating!