When it comes to furnishing a farmhouse style bedroom, there are some key pieces of furniture that you will need. These include a bed, dresser, nightstand, and mirror. Here's an overview of the most typical Farmhouse style bedroom furniture found in modern farmhouse bedrooms!
Many people love the farmhouse style of decorating. Modern farmhouse style is a blend of the traditional with the contemporary. Farmhouse style furniture is usually made of wood, with simple lines and a rustic finish. It celebrates family life and incorporates elements of rustic country aesthetics.
The farmhouse style bedroom furniture pieces that you will need to create this look in your own bedroom include the following!
Be sure to check our farmhouse bedroom decor ideas for more arrangement inspiration.
Farmhouse Style Bed
The bed is the centerpiece of any bedroom, and a farmhouse style bed should be no different. Look for a bed with a simple, yet stylish design. A metal or wood frame with clean lines would be perfect.
Black Iron Bed: Many farmhouse style bedrooms have a simple black iron bed front and center. It's a quintessential and affordable piece of farmhouse furniture for the bedroom!
Wood Canopy Bed: Wood canopy beds are often found in the master bedroom of a farmhouse home.
Upholstered Linen Bed: For a relaxed look, go with a farmhouse bed with a cozy upholstered headboard.

Farmhouse Style Dressers
A farmhouse dresser is another essential piece of furniture for a farmhouse bedroom. Again, look for something with a simple design. A dresser with plenty of storage space is also a must.
Country style wood dresser: Every farmhouse bedroom needs a country style dresser made out of solid wood. It should be finished in a neutral beige – not too dark, not too light.

Farmhouse Style Nightstands
A nightstand is another key piece of furniture for a farmhouse style bedroom. A farmhouse nightstand with a drawer or two is perfect for storing bedside items.
Country style nightstand: Farmhouse nightstands resemble country style furniture.

Farmhouse Style Bedroom Mirrors
Finally, a mirror is a great way to add a touch of style to a farmhouse bedroom. A black frame or antique farmhouse mirror are great choices. Mirrors are great for making any room look bigger!
Black Frame Mirror: Farmhouse bedrooms often feature black framed mirrors.
Gold Antique Frame Mirror: Another elegant mirror style that fits in well with farmhouse bedrooms is the gold or brass antique framed mirror.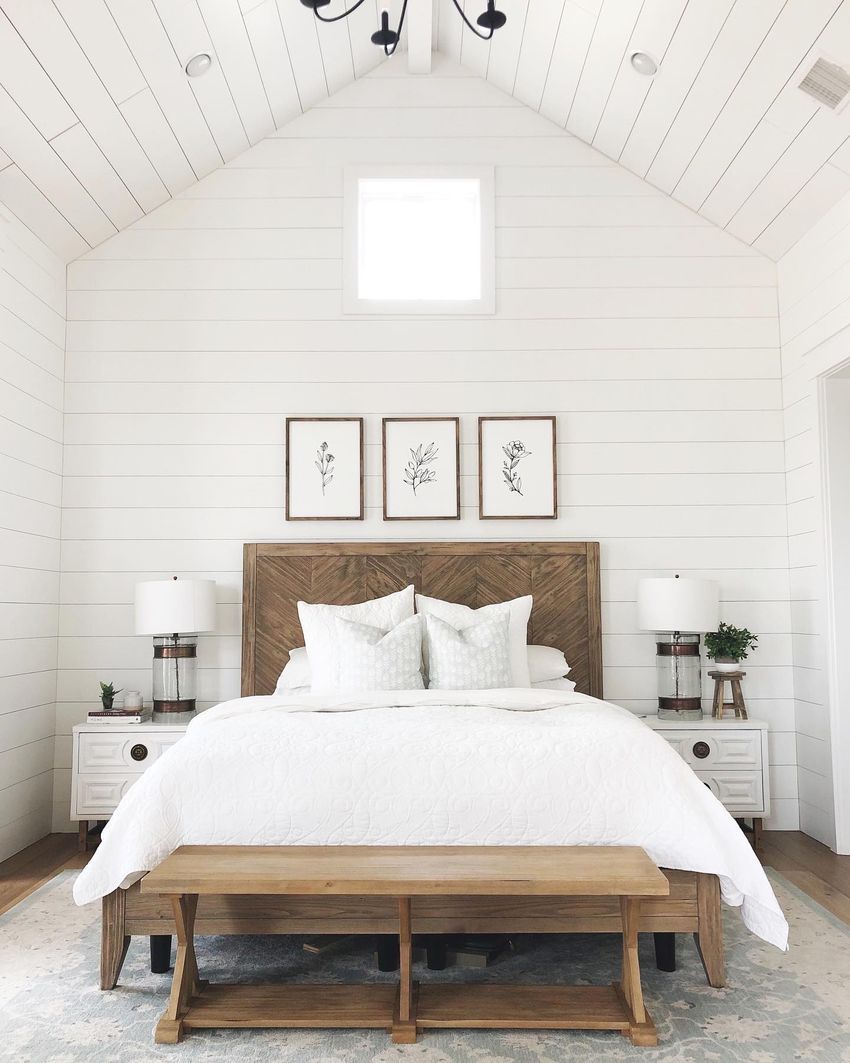 Where to Shop for Farmhouse Bedroom Furniture
Now that you know what pieces of furniture you need for a farmhouse bedroom, you may be wondering where to shop for them. Luckily, there are plenty of great places to find farmhouse style bedroom furniture online.
Some of the best places to look for farmhouse style bedroom furniture include:
Wayfair: Wayfair has a huge selection of farmhouse style bedroom furniture that you can get for an affordable price.
Target: Target has a partnership with Magnolia's Joanna Gaines herself, so they regularly produce affordable Farmhouse style furniture.
Pottery Barn: Pottery Barn is a great place to find Farmhouse style furniture that is both stylish and well-made.
Etsy: Etsy is a great place to find reclaimed wood and handmade farmhouse furniture for the bedroom.