Finding the perfect sofa for your home can be an exciting yet overwhelming task, especially if you're a first-time buyer. With countless styles, sizes, materials, and features available, selecting the right sofa that suits your preferences and lifestyle can feel like a daunting challenge.
However, fear not! This comprehensive guide is here to assist you in navigating the world of sofa shopping, helping you make an informed decision, and ensuring that your investment is both comfortable and long-lasting.
Whether you're furnishing a new space or looking to upgrade your current seating arrangement, understanding the key factors involved in choosing a sofa is essential. From determining the right size and style to considering the material and construction, this guide will walk you through the process step by step, enabling you to make a well-informed choice that perfectly complements your living area.
We understand that buying a sofa is not merely a matter of aesthetic appeal; it's an investment in your comfort and well-being. After all, the sofa is often the centerpiece of a living room, a place where you unwind, relax, and create lasting memories with loved ones. By following this comprehensive buying guide, you'll be equipped with the knowledge and confidence to select a sofa.
Measure Your Space
The first step before even looking at sofas is to measure your living room or space where the sofa will go. The last thing you want is to find your dream sofa only to realize it would be way too cramped in your living room!
Measure the length and width of your living room, and mark where any windows are. Also, measure any existing pieces of furniture that you know will be in the space. That way you can draw a properly scaled model of your space in case you need to.
If you live in an older home or apartment building, measure the doorway and hallway openings too! You may have trouble getting your sofa into its intended space if you find the openings aren't wide enough.
Sofas for Small Spaces
If you live in a small space, your sofa options may be limited, but we still have some recommendations for you! Sofas come in smaller sizes, and sites like Wayfair make it easy to input a maximum width for a sofa that can fit in your space. Just click Sort & Filter, scroll down to Overall Dimensions, and slide your Overall Width to the maximum inches that will fit in your space.
Avoid purchasing a loveseat and repurposing it as your main sofa. Loveseats can be extremely tight and aren't meant to function as the main sofa! If your heart is set on a sectional, then choose from this list of sectionals for small living rooms.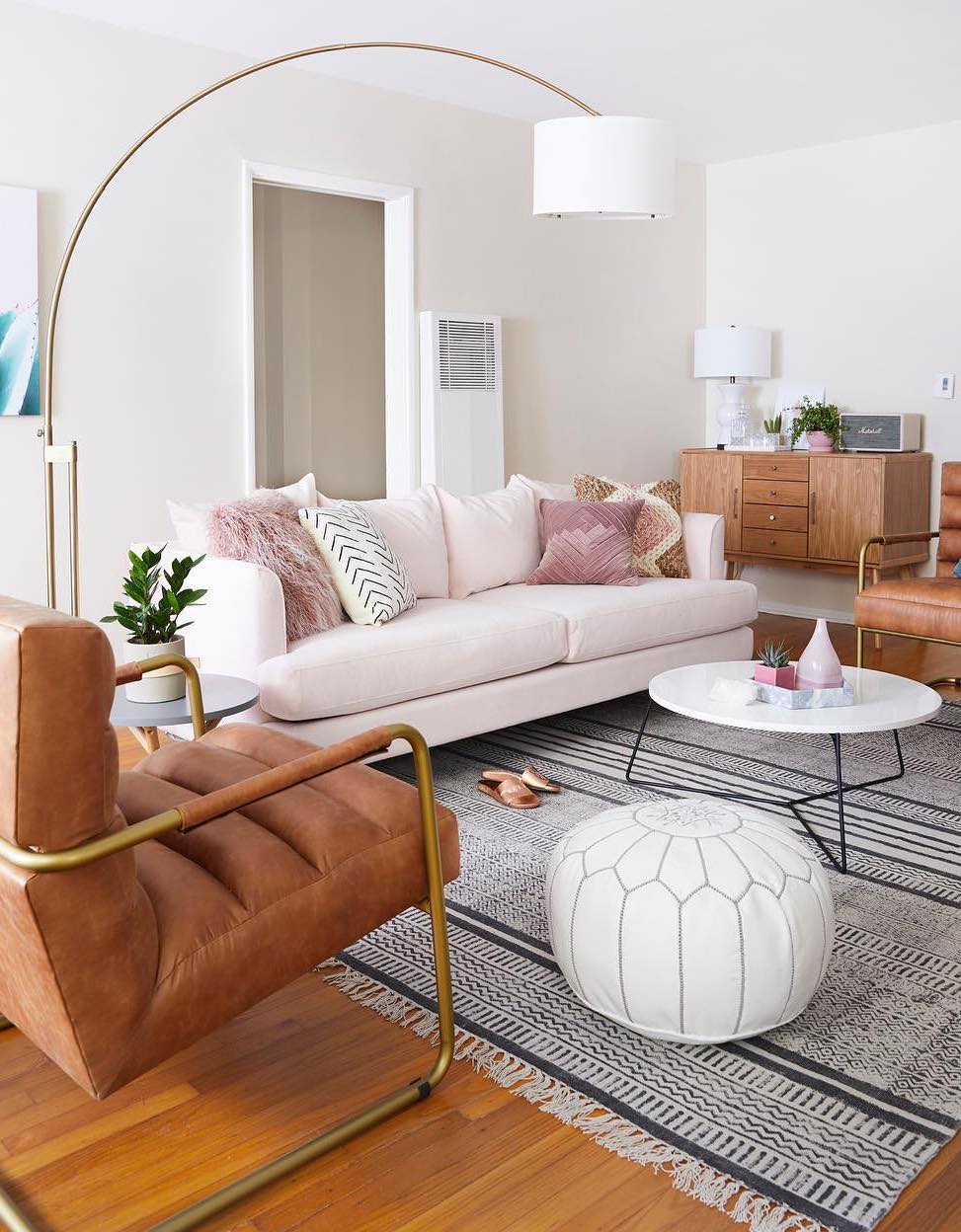 Consider All Types of Sofas
There are several major types of sofas, each designed to suit different preferences and room layouts:
Sectional Sofa: Sectionals are large sofas that are typically composed of multiple sections, allowing for versatile seating arrangements. They are ideal for spacious living rooms and can often serve as a room divider.
Sofa Bed: Sofa beds, also known as sleeper sofas, have a fold-out mattress hidden within the frame. They are perfect for guest rooms or small apartments, providing both seating and sleeping options.
Chesterfield Sofa: Chesterfields are known for their iconic deep button-tufted upholstery, rolled arms, and often made of leather. They exude a classic and sophisticated look, making them a timeless choice.
Mid-Century Sofa: Inspired by the designs of the mid-20th century, these sofas feature clean lines, minimalistic forms, and often come with wooden legs. They are popular for adding a retro and trendy touch to contemporary spaces.
Loveseat: Loveseats are compact two-seater sofas that are perfect for smaller living rooms, bedrooms, or as an addition to a larger seating arrangement.
Chaise Lounge: Chaise lounges are elongated sofas with a backrest on one side and an extended seat on the other. They are ideal for lounging and relaxation, often found in bedrooms or as an accent piece in living rooms.
Lawson Sofa: Lawson sofas are comfortable and casual, with loose back cushions and deep seats. They are versatile and fit well in various room styles.
Camelback Sofa: Camelback sofas are characterized by their distinctive curved backrest with a central peak. They often feature intricate wood detailing and are considered classic and elegant.
Tuxedo Sofa: Tuxedo sofas have arms and backrests that are the same height, creating clean, geometric lines. They offer a modern and tailored look that works well in both formal and informal settings.
Convertible Sofa: Similar to sofa beds, convertible sofas can transform into different configurations, such as a sofa, lounger, or bed. They are versatile and space-saving.
Reclining Sofa: Reclining sofas have seats that recline, allowing you to put your feet up and relax. They are popular for home theaters and spaces dedicated to leisure.
Modular Sofa: Modular sofas consist of individual pieces that can be rearranged to create various seating arrangements. They are highly customizable and adaptable to changing needs.
When choosing a sofa type, consider factors such as the room's size, layout, style, and the intended use of the sofa to find the perfect fit for your space and lifestyle.
Sofa Parts
Next up, you should consider the type of sofa you think would work best in your room. There are lots of different sofa shapes and fabrics to choose from.
Sofa Shapes
First, you should decide between a traditional long sofa and a sectional, which offers an extended chaise lounge for relaxing. Long rectangular sofas tend to work best in normal or formal living rooms. Sectionals or L-shaped sofas work better in family rooms or casual living spaces. A chaise lounge is great for lounging, watching TV, napping, or seating extra guests.
Sofa Frame
The sofa frame is the foundation of a durable and long-lasting couch. Your sofa's frame should be made of sturdy materials like hardwood or metal. Ensure that the frame is well-constructed and reinforced for stability. A quality frame will contribute to the durability and lifespan of the sofa.
Sofa Arms
There are several types of sofa arm styles. Round arms tend to be found on traditional sofas, while square arms are characteristic of modern and contemporary sofas.
Sofa Cushions
The comfort of a sofa largely depends on its cushioning. Determine your preference for cushion firmness and support. Sofas usually come with different cushioning options such as foam, down, or a combination of both. Test the cushions to find the level of comfort that suits your needs.
A mix of foam and feather filling is always a good choice when it comes to sofa cushion filling. Down feathers can be pricey, and foam sofas tend to be uncomfortable, so a mix strikes the perfect balance between comfort and affordability.
Sofa cushions can also come with a number of embellishments like tufts which can totally change the look of your living room. Tufted sofas give a room a traditional look with class.
Sofa Seat Depth
Don't forget to test out which seat depth you prefer when buying a sofa. The longer the depth (space between the edge of the cushion and the front of the seat back cushion), the more room you'll have to relax and recline. You can also opt for a sleeper sofa, meant for hosting guests!
Sofa Legs
Sofa legs serve both functional and aesthetic purposes in a sofa's design. Functionally, they provide support and stability to the sofa, elevating it off the ground to allow for airflow underneath and making it easier to clean beneath the sofa.
Different leg designs, such as sleek and tapered legs for a modern appearance or ornate and curved legs for a more traditional look, can help define the sofa's aesthetic and complement the room's decor.
When considering sofa legs in your sofa buying journey, focus on both style and functionality. Sleek, tapered legs can lend a mid-century modern vibe, while chunky, wooden legs can evoke a more traditional or rustic look. Assess the durability of the legs and how they attach to the frame, as sturdy legs are a must when it comes to selecting the perfect sofa.
Sofas Materials and Upholstery
Sofas come in nearly every fabric under the sun. If you have kids or are prone to spills, then consider a slipcovered sofa, which can be easily removed and washed as needed. Otherwise, cotton velvet is always a safe bet as it can be spot-cleaned fairly effortlessly.
Common sofa materials include:
Fabric: Fabric or upholstered sofas are popular for their comfort and wide range of colors and patterns. They can be made from natural fibers like cotton or synthetic materials like polyester. Fabric sofas are cozy and versatile but may require more maintenance to keep clean.
Leather: Leather sofas are known for their timeless elegance and durability. They develop a rich patina over time and are relatively easy to clean. However, they can be expensive and may not be ideal for households with pets, as leather can scratch or tear. Brown leather sofas are a popular choice for industrial homes.
Microfiber: Microfiber sofas are a synthetic alternative to fabric. They don't stain quickly and are easy to clean, making them a practical choice for families with children or pets. Microfiber sofas can mimic the look and feel of suede or velvet.
Velvet: Velvet sofas have a luxurious and soft texture that adds a touch of sophistication to a room. They are available in various colors and are best suited for formal or elegant living spaces. Velvet can be prone to staining and may require careful maintenance.
Suede: Suede sofas have a plush, napped surface that feels comfortable and looks stylish. However, suede is sensitive to moisture and can be challenging to clean, making it a less practical choice for some households.
Vinyl: Vinyl or faux leather sofas are a budget-friendly alternative to genuine leather. They are easy to clean and maintain but may not have the same durability or premium feel as real leather.
Linen: Linen sofas have a natural, breathable feel and a casual appearance. They can wrinkle easily but add a relaxed and airy atmosphere to a room. Linen sofas are best suited for less formal living spaces.
Chenille: Chenille sofas have a textured and plush surface that is cozy and inviting. They are comfortable but can be prone to snagging due to their loose weave.
Silk: Silk sofas are rare and luxurious. They have a delicate and lustrous appearance but are highly susceptible to damage from spills and sunlight, making them suitable for decorative rather than everyday use.
Wool: Wool sofas offer warmth and durability. They are resistant to stains and easy to maintain but may not be as soft as other materials.
When choosing a sofa material, consider your lifestyle, budget, and the room's style. Additionally, it's important to take into account factors such as maintenance, comfort, and how well the material complements your overall decor.
Sofa Design Styles
We've written about quite a few different sofa styles for numerous interior design styles. Check out a few of our favorite sofa styling guides below.
Choosing a Sofa by Color
Should the sofa match the wall color? No, not necessarily! There is no hard and fast rule that requires the sofa to match the wall color, and in fact, many interior designers encourage mixing colors and creating contrast for visual interest.
Sofa colors can indeed influence the mood and ambiance of a room. Different colors evoke different emotions and create distinct atmospheres.
Here are some common sofa colors and the moods they can set:
Neutral Colors (Beige, Gray, White): Neutral sofa colors are versatile and create a calm and serene atmosphere. They can promote a sense of relaxation and act as a blank canvas, allowing you to experiment with other elements in the room. Neutral and beige sofas provide a timeless and classic look, making them suitable for various design styles.
Blue sofas: Blue is known for its calming and soothing effect. Lighter shades of blue can create a serene and tranquil ambiance, reminiscent of a beach or coastal setting. Darker shades of blue, like navy, can add depth and create a more sophisticated and formal atmosphere.
Green sofas: Green is associated with nature and can bring a refreshing and rejuvenating vibe to a room. Lighter shades of green, such as mint or sage, can create a tranquil and harmonious atmosphere. Darker shades, like emerald or forest green, add richness and create a cozy and inviting feel.
Brown sofas: Brown is often associated with warmth and comfort. Earthy tones like chocolate brown or tan make the space feel grounded and connected to nature. Brown sofas can be versatile and work well with design styles in rustic or traditional settings.
Pink sofas: Decorating a living room with a pink sofa, especially softer blush pink sofas, can bring a sense of playfulness and elegance to the space. To create a well-balanced design, consider incorporating neutral tones like whites, grays, or soft pastels for the walls and accessories, allowing the pink sofa to serve as the focal point and adding a touch of whimsy to the room's overall ambiance.
Red sofas: Red is a bold and vibrant color that can create a dramatic and energetic atmosphere. It is often associated with passion, excitement, and intensity in a room. Red sofas can act as a focal point and bring a bold statement to the space.
Yellow sofas: Yellow is a cheerful and uplifting color for a bright and sunny atmosphere. It is often associated with happiness and adds optimism to a room. Lighter shades of yellow can make the space feel more spacious and airy, while deeper shades like mustard yellow sofas can add warmth and vibrancy.
Gray sofas: Gray is a versatile and sophisticated color associated with a modern and contemporary atmosphere. Lighter shades of gray can provide a sleek and minimalist look, while darker shades add depth and deliver a moody and elegant feel.
Black sofas: A living room with a black sofa makes for a sleek and modern aesthetic. To balance the boldness of the black sofa, consider incorporating contrasting elements like white or light-colored walls, vibrant throw pillows, and metallic accents to add depth and sophistication to the space.
Burnt orange sofas: Burnt orange sofa materials can infuse warmth and vibrancy into the living room space. Complement the sofa with earthy tones like deep browns, muted greens, and warm neutrals to highlights the sofa's bold color while maintaining a harmonious balance.
Sofa color is important, and we've narrowed down some of the hottest sofa trends by color for you here!
Best Places to Buy a Couch
We created a list of the best sofa brands to shop for to make it easier to find your dream couch! You can also find sofas at most of the major home decor and furniture stores in the United States.
Wayfair, West Elm, and Pottery Barn are some of the top American sofa retailers.
Living Room Sofas and Accent Chairs
Here are some tips for designing a living room with a sofa.
Should the sofa and accent chairs match? Matching your sofa and accent chairs is not necessary, and it often depends on the desired style and design aesthetic of the room. While matching sets can create a cohesive and coordinated look, mixing and contrasting different color furniture pieces can make for a better living room design when done right.
Consider factors such as the overall color scheme, fabric patterns, and the desired level of visual harmony or contrast. The key is to strike a balance between cohesion and diversity, ensuring that the couch and accent chairs complement each other while contributing to the overall aesthetic appeal and functionality of the room!