These nautical living room ideas will help you design the dream family room for any homeowner who is obsessed with all things ships and oceans. The nautical living room decor style allows us to bring the feel of the ocean into our homes. Not only that, nautical living rooms incorporate very light colors that are both trendy and pleasant to the eye.
The first appearance of the nautical home decor style happened in the 19th century – thanks to Queen Victoria and her son, whom she'd been dressing into sailor suits. The style was usually related to clothing with white and navy stripes. Moreover, as the years went by, the nautical style grew so much in popularity that people started using it as decor for their rooms (a very modern trend that has never gone out of style and exists even today).
Nautical Living Room Decorating Tips
The nautical interior design goes way beyond navy fashion. It encompasses almost everything that reminds us of seafaring, ships, and sailors. Also, it is a complimentary industrial style, which doesn't exclude metal, and it perfectly corresponds with objects and things like anchors, lighthouses, driftwood, ropes, and shells. Its primary color tones are white and navy. But it can also include pops of red, pastel blue, or even sandy beige, which really depends on your own personal taste.
We took inspiration and found the best nautical living room ideas from homes in Nantucket, Martha's Vineyard, and Naples to create this post on nautical interior design.
Here are our top nautical living room decor ideas for a dreamy coastal family room!
Vintage Nautical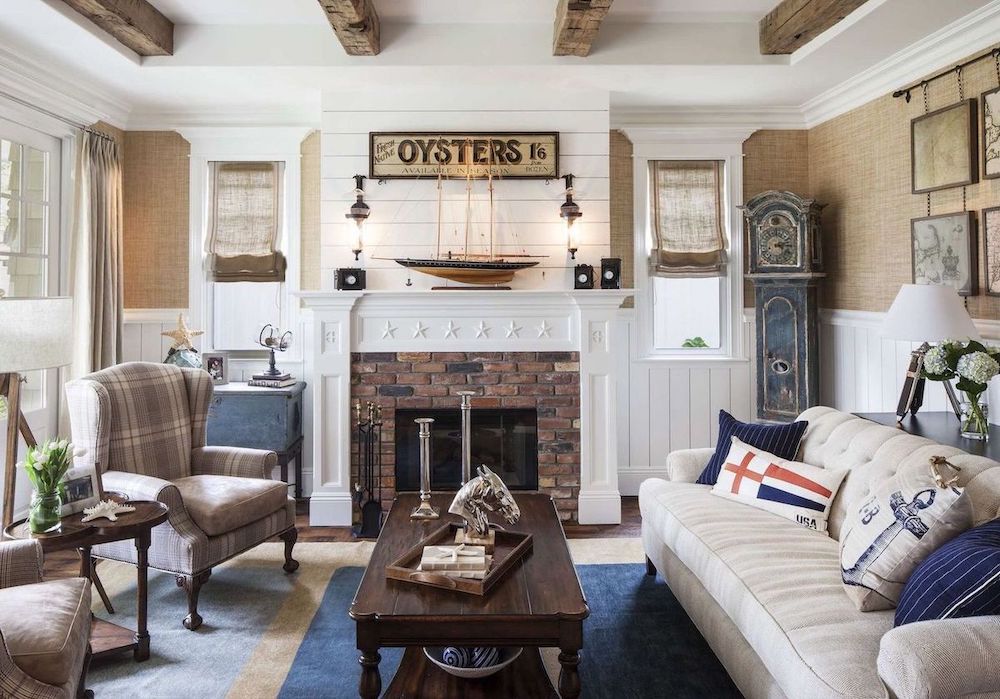 Sailboat Painting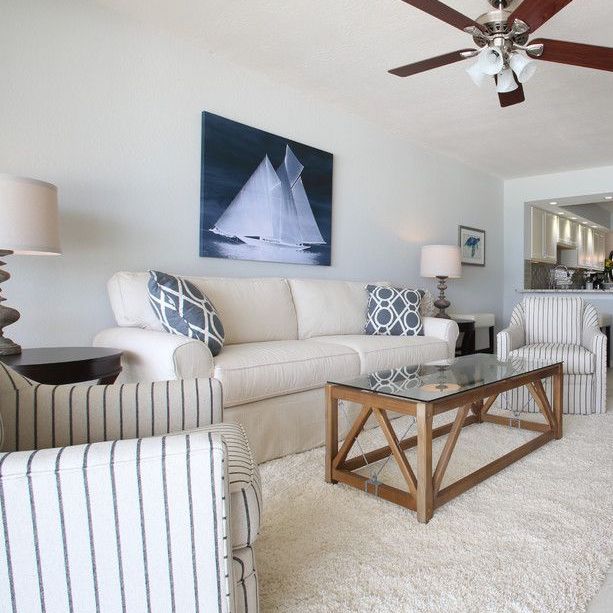 Navy Sofas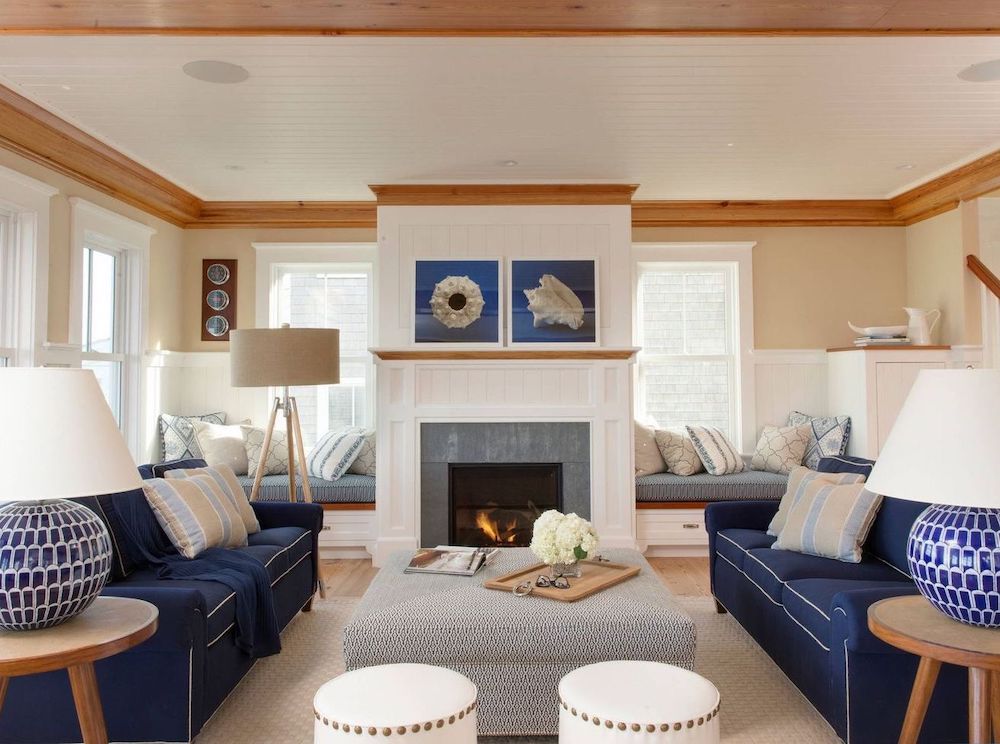 Wood Ceiling Beams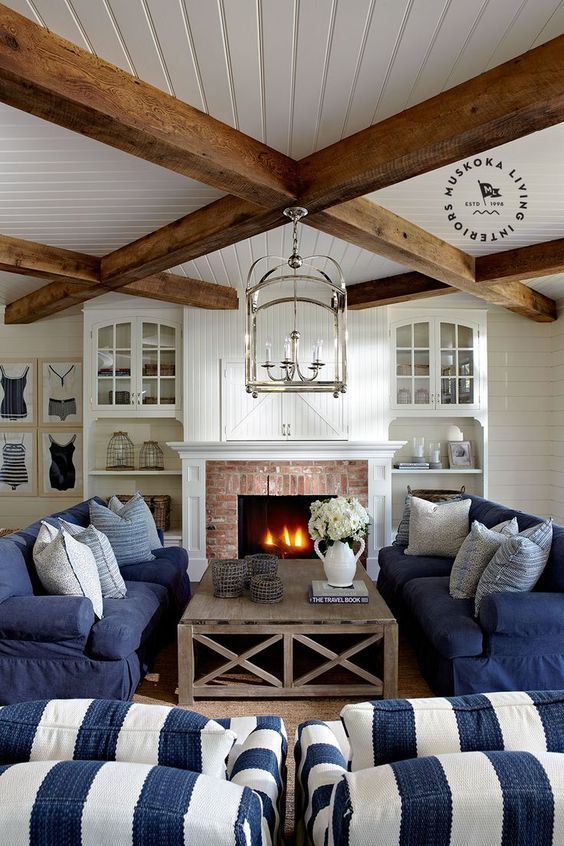 Modern Nautical
Incorporating modern decorating elements is best nautical living room ideas to keep your home from looking too outdated.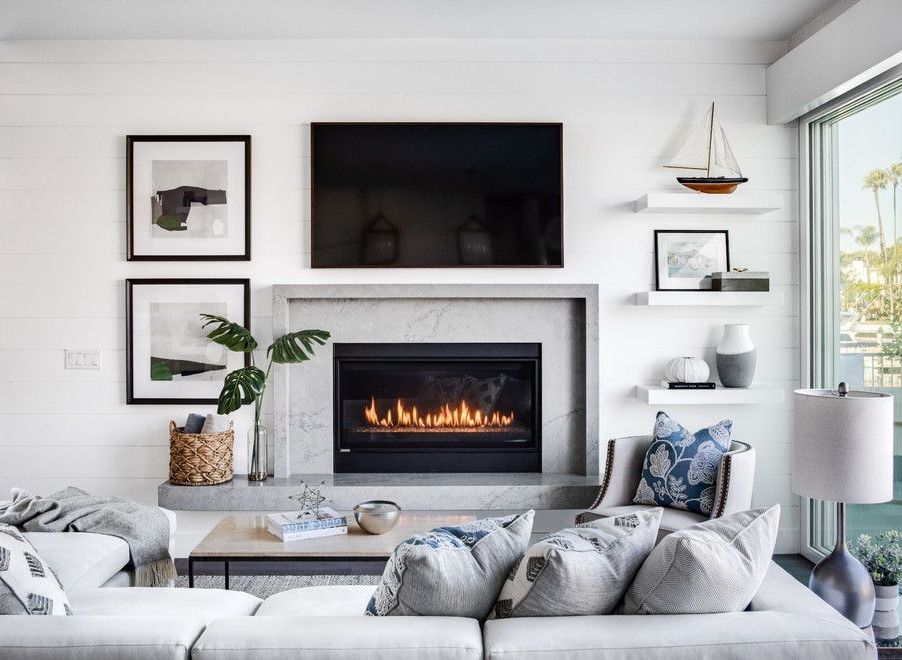 Faded Blue Built-in Bookshelves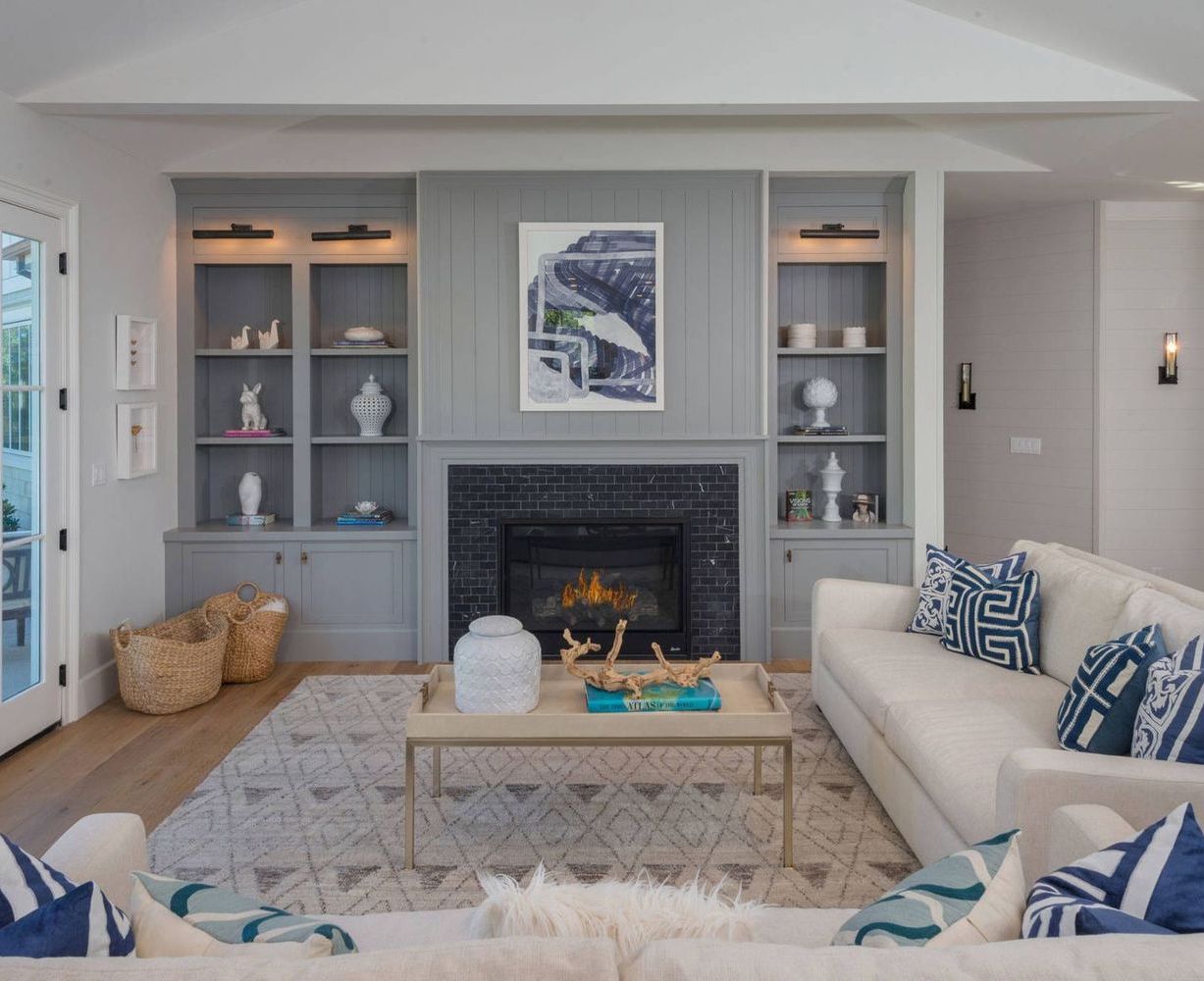 Fish Sculptures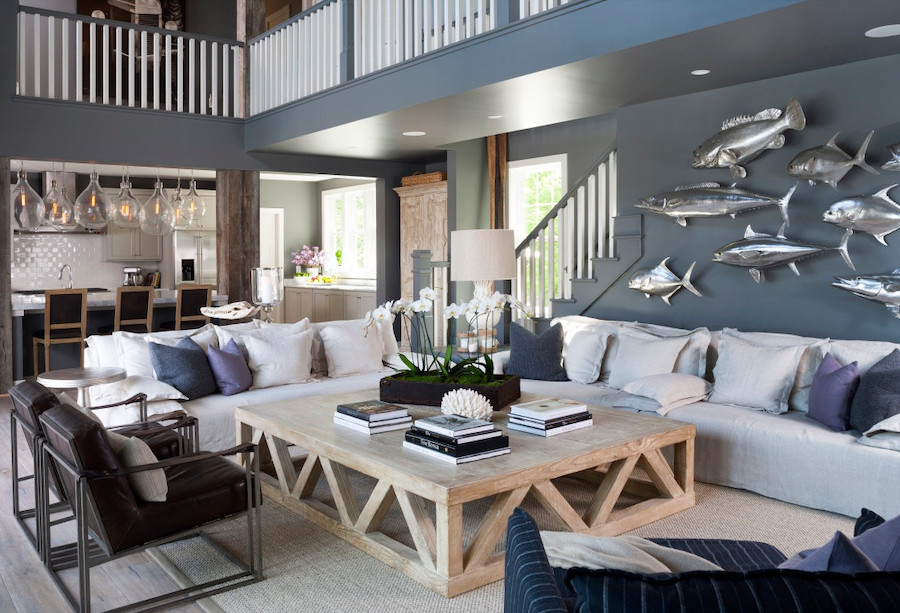 Crisp White Sofas
A crisp white sofa is a key piece in a nautical-designed home. Nautical sofas often come in white!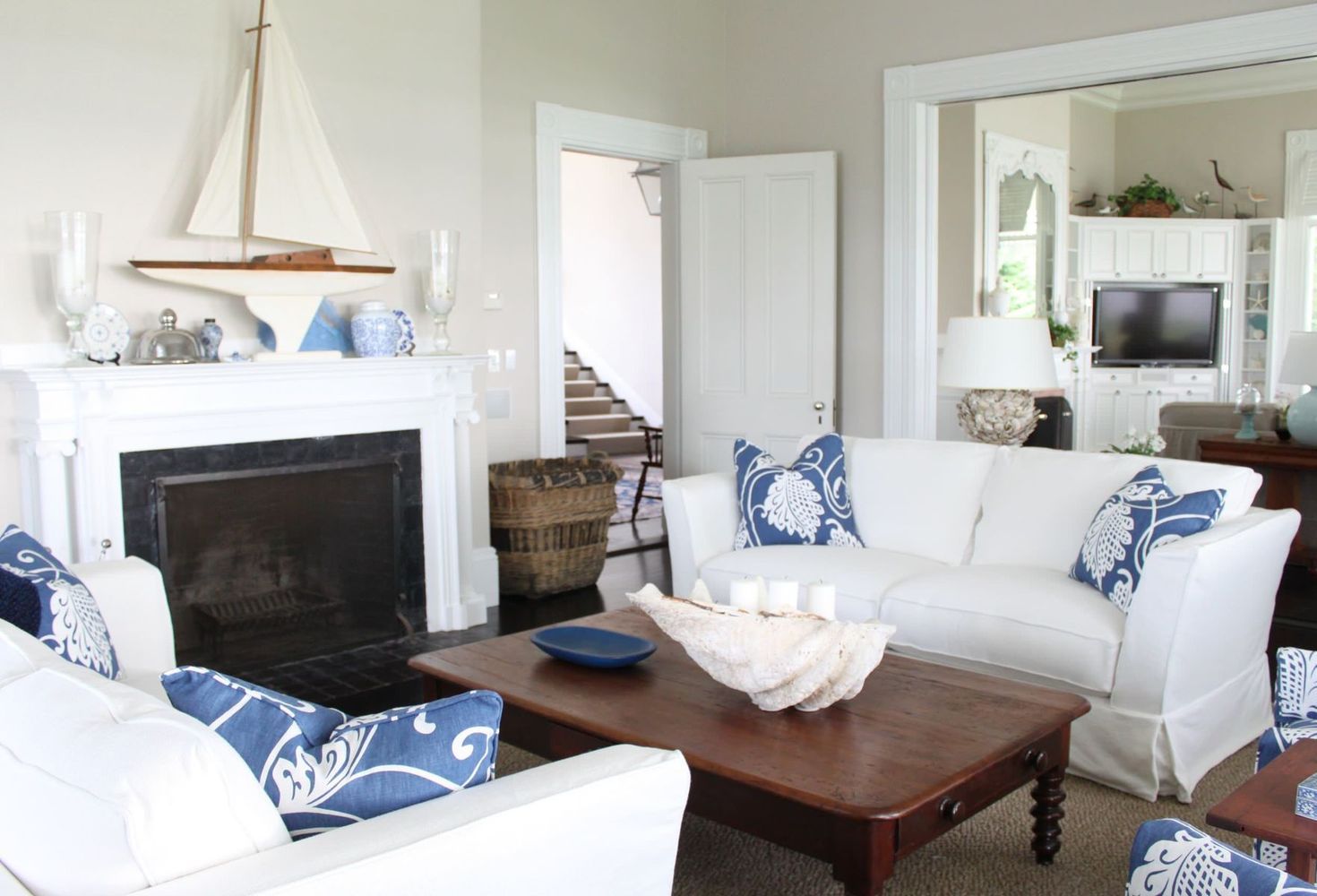 Sailboat Models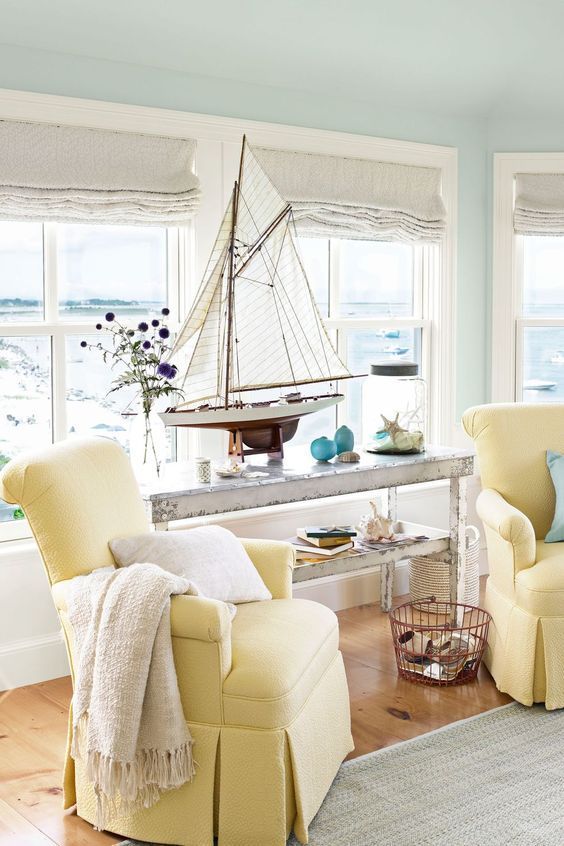 Anchor Pillows
Anchor pillows are a must for any nautical-style living room design. Pair these classic nautical throw pillows with a navy blue sofa and you've got a great nautical family room! The rustic wood nautical coffee table completes this stunning space!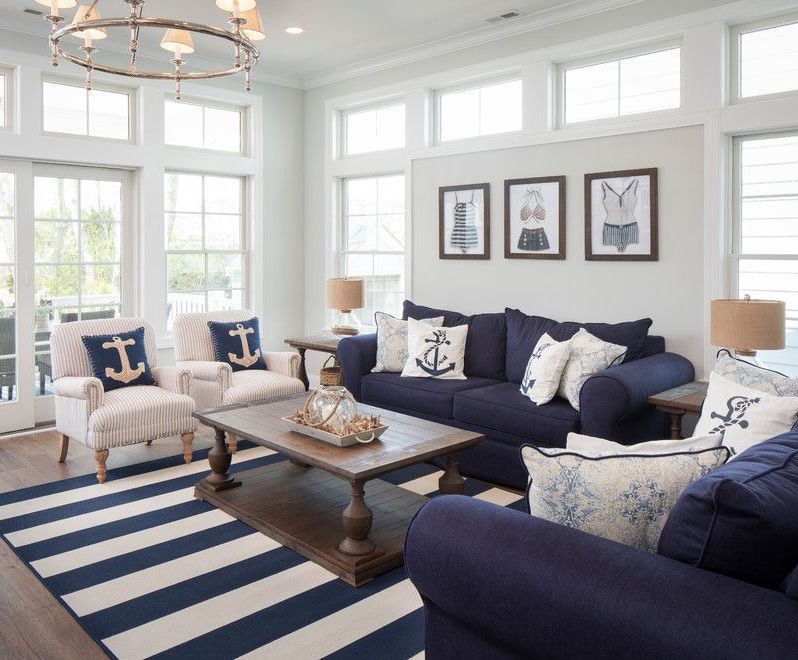 Marine Blue
If you want to live in a marine blue and nautical living room, the first thing you need to do is use a mixture of navy blue colors to create many shades of blue and paint the walls. These sea colors will breathe life into your room. Also, parts of your furniture can be deep blue, which won't mismatch the light blue walls. On the contrary, their shade will be in harmony with them by giving your room a beautiful layered look.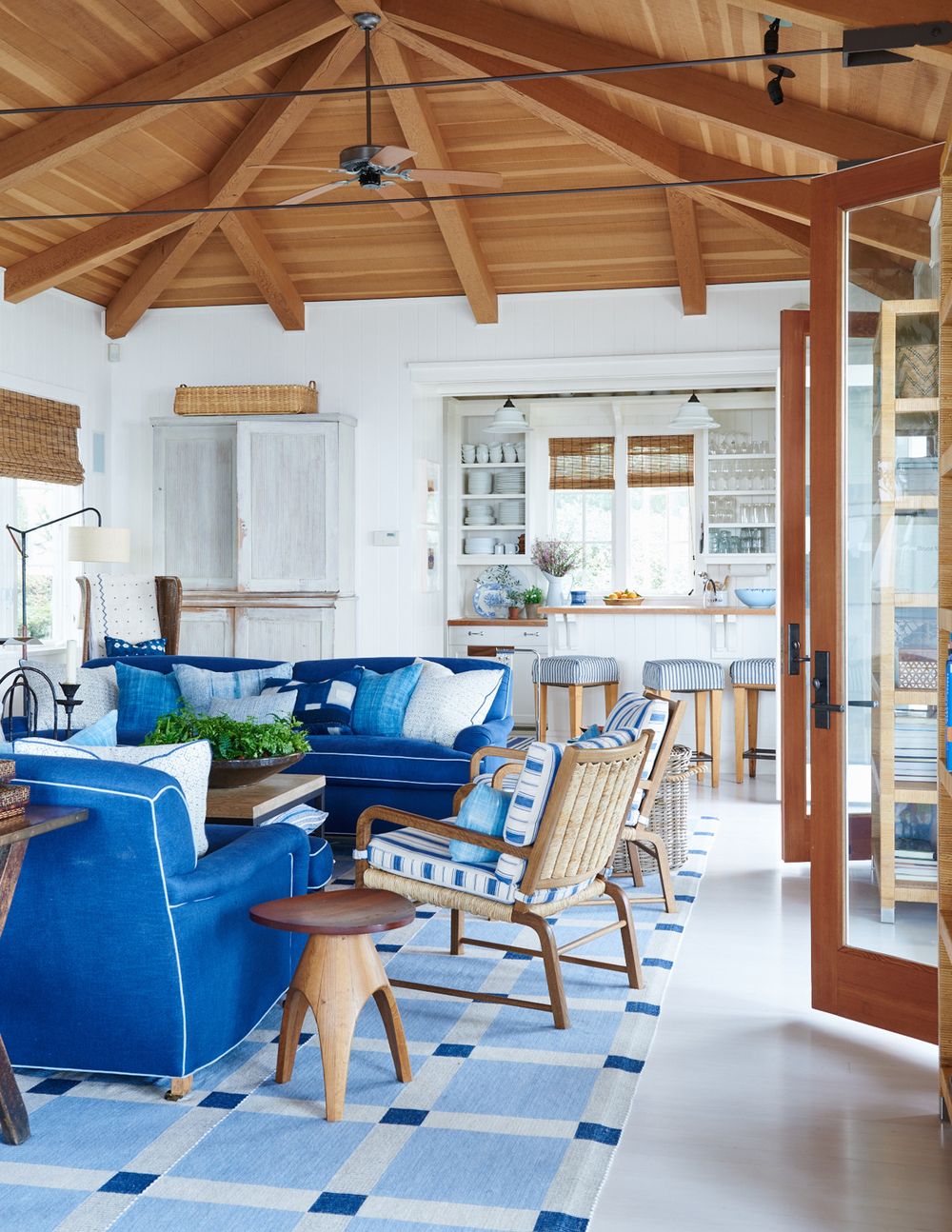 Traditional Nautical Decor
This Miami living room has a French Caribbean flair to it. The traditional nautical decor such as the sailboat on the mantel keeps it looking sharp and elegant.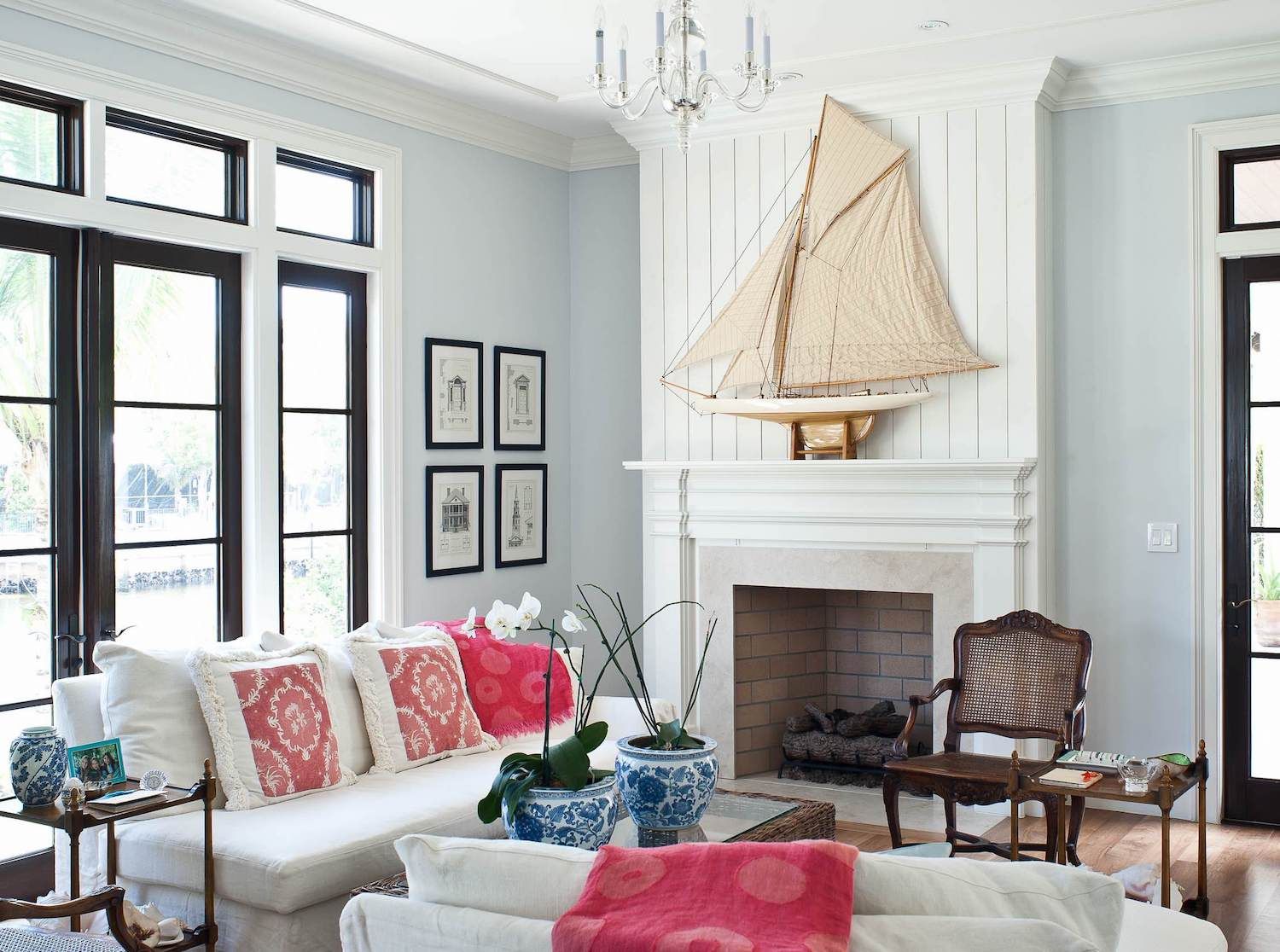 Hamptons Cool
The Hamptons nautical look will provide a relaxed atmosphere to your nautical living room. Forget about grayness and fill your room with nautical-blue colors that emanate elegance and put your mind at ease. Also, you can use cube shelves, round tables, and tuxedo furniture style.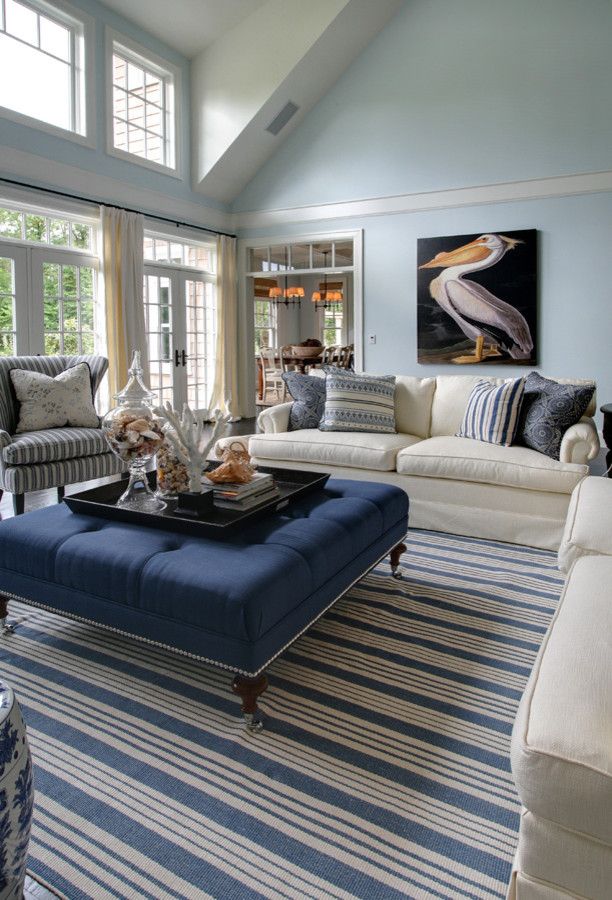 Wood Coffee Table
Rustic wood is a great material for a coastal coffee table in a nautical living room. The beaded chandelier and sailboat painting add some nice seaside touches to this space!
Ship Wheels and Anchors
Despite their simplistic look, ship wheels and anchors are very stylish objects that can give you the most authentic seafaring look. Basically, they are a great addition to your nautical living room walls, and they come in many shapes and sizes too. What's better than drinking a coffee while looking at a ship wheel on the opposite wall and an anchor resting below? It feels like you're sailing into your home.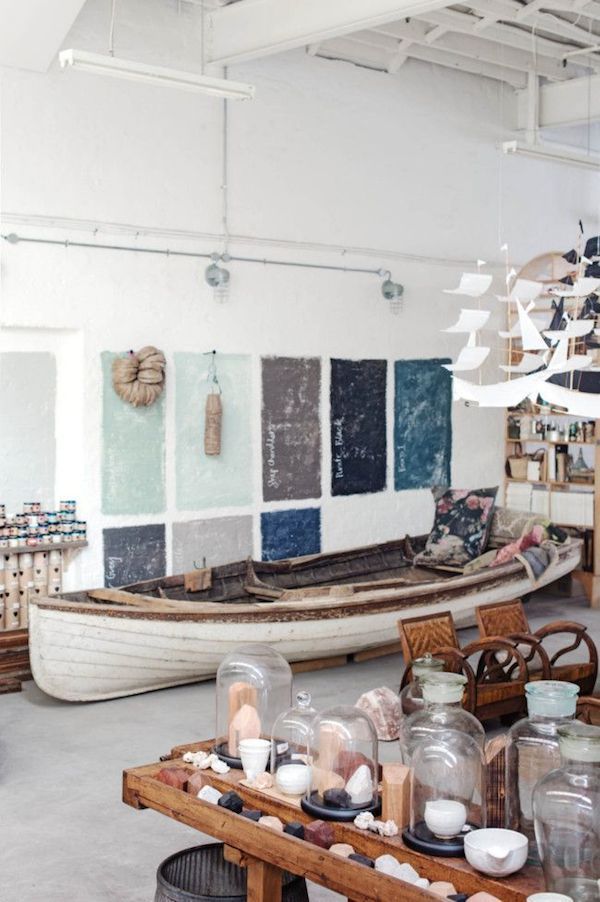 Coastal Flooring
Do you love walking on the beach? If you do, coastal flooring is the thing you need. Nautical living rooms that have coastal floorings remind us of a warm sunny beach every time we cross the room. Typical coastal flooring is made of whitewashed laminate flooring, which has a sandy beige color that gives it a super-airy look. Coastal flooring can be used in any house, where the owner wants to experience an ocean feel, even though the ocean is many, many miles away.
---
I hope these coastal living room decor ideas inspired you! Stay tuned for many more posts on how to decorate in the nautical style at home.