These tropical living room decor ideas will breathe new life into you. A new year for us means a fresh start. A new beginning, a transformation, a change in habit, a more positive outlook, and the chance to adopt a healthier and better lifestyle.
Some of us want to jumpstart the change by redesigning and re-decorating our home or living room spaces. If you are searching for a calm and relaxing vibe in your living space, tropical decor could be the right style that you are looking for. Tropical decor is grounded in nature and is the epitome of the interior design phrase you hear all the time: "bringing the outdoors in."
Tropical Style Living Room Decor
To achieve the tropical look, we're going to help you bring the outdoors into your living room space with these beautiful tropical family room decor ideas that never go out of style – as long as you live by the coast!
Let's get started creating the perfect living room where you can spend quality time with family and friends.
Tropical House Plants
No room can be considered tropical without loads of house plants! This is rule number one. With the variety of beautiful indoor plants out there, it's actually quite hard to choose which one would work best for your living room space. Our personal opinion is that palm tree plants really bring out the best of tropical aesthetics in a home. Palms grow well in warm, indoor conditions and they give off that lush green outdoor vibe without bringing a whole garden inside. Examples of these kinds of plants include bamboo palm, areca, and parlor palm.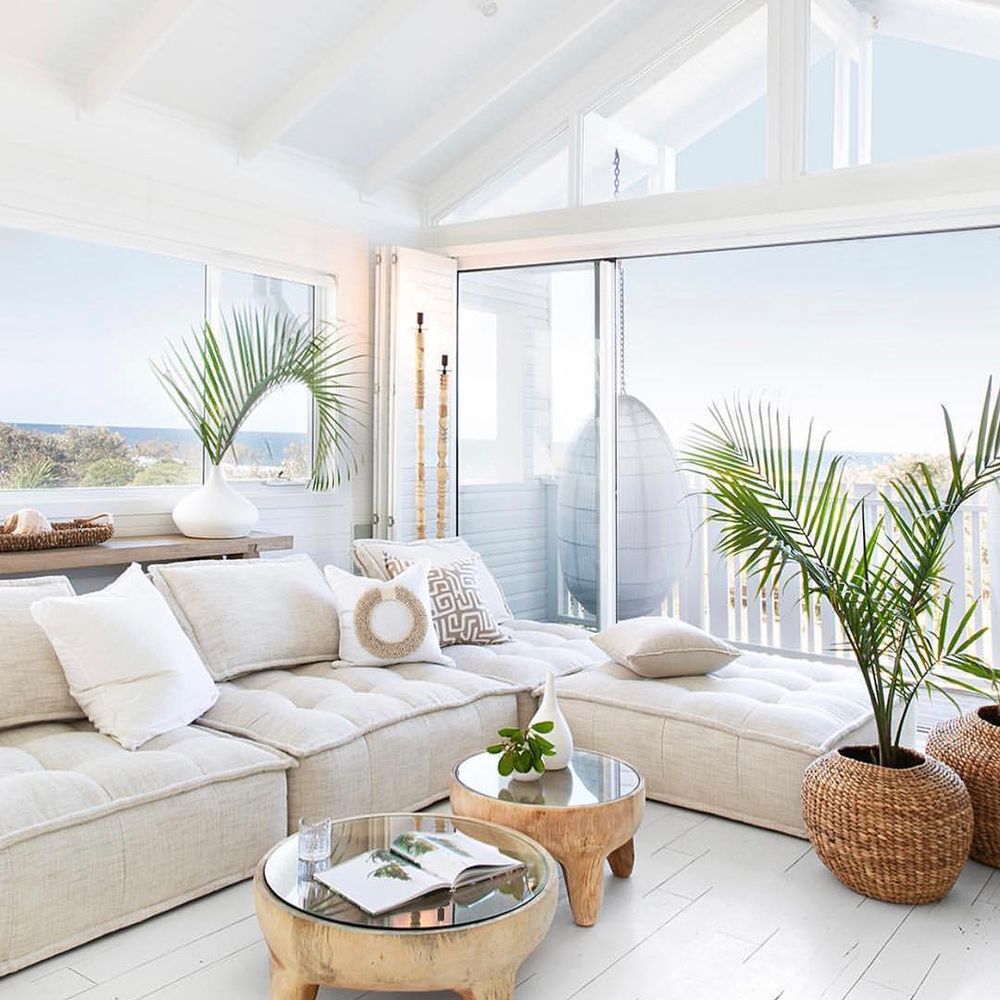 Peacock Chairs
The one accent chair that works perfectly in a tropical living room is the famous peacock chair! This boho style chair is often crafted of natural materials like rattan or bamboo. It's an eye-catching peace that will give off a charming coastal vibe to your space. These types of chairs are light, durable, and flexible. They will surely create a refreshing ambiance in your space. The natural tone and airy texture of the chair make it perfect for sitting in a hot climate.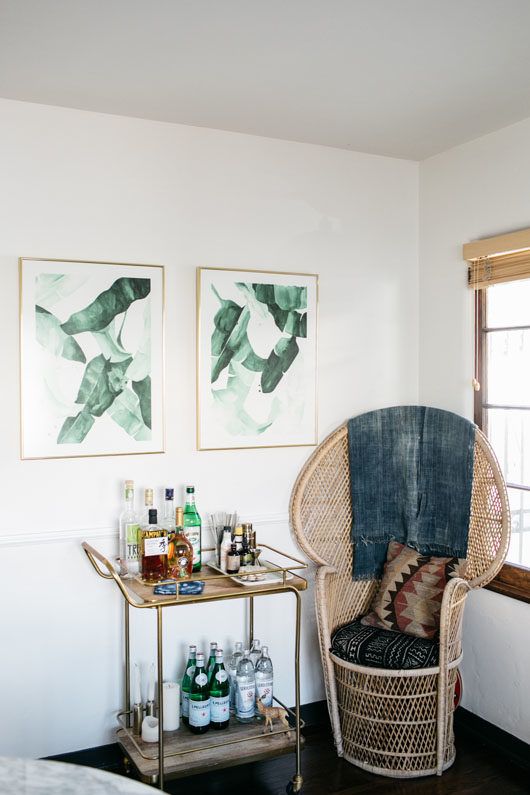 Earthy Color Scheme
Keeping the color scheme of your interior naturally earth-toned is recommended. If you are someone who loves playing with colors, then opt for a khaki green or palm tree green. Experiment with earthy browns or sunny orange and yellow. Accentuating your space with natural earthy tones creates interest and makes your space look refreshing. One important thing to remember though is to pair complementary colors with neutral backdrops to maintain a balance.
Fun, Graphic Prints
Adding prints, artworks and graphic wallpapers with tropical elements such as leaves, tropical patterns, florals and other elements that resemble greeneries is also another way of incorporating a tropical vibe. This will add playfulness and vibrance to your space.
Rattan Accents and Jute Rugs
Everyday items such as rattan baskets used for storage can also be part of your tropical decor. Rattan baskets, for example, can be used as a planter or holding extra pillows. Woven planters can make a room feel more relaxed and calming. Wicker baskets can also be used as storage for your towels, clothes, and other small things. Jute rugs are also another popular rug material that is made from the natural fibers of a plant found in tropical countries. The color of this material matches very well with any type of design scheme. Here is a great minimalist tropical living space that has a white tropical sofa and coffee table surrounded by beige furniture and green palms.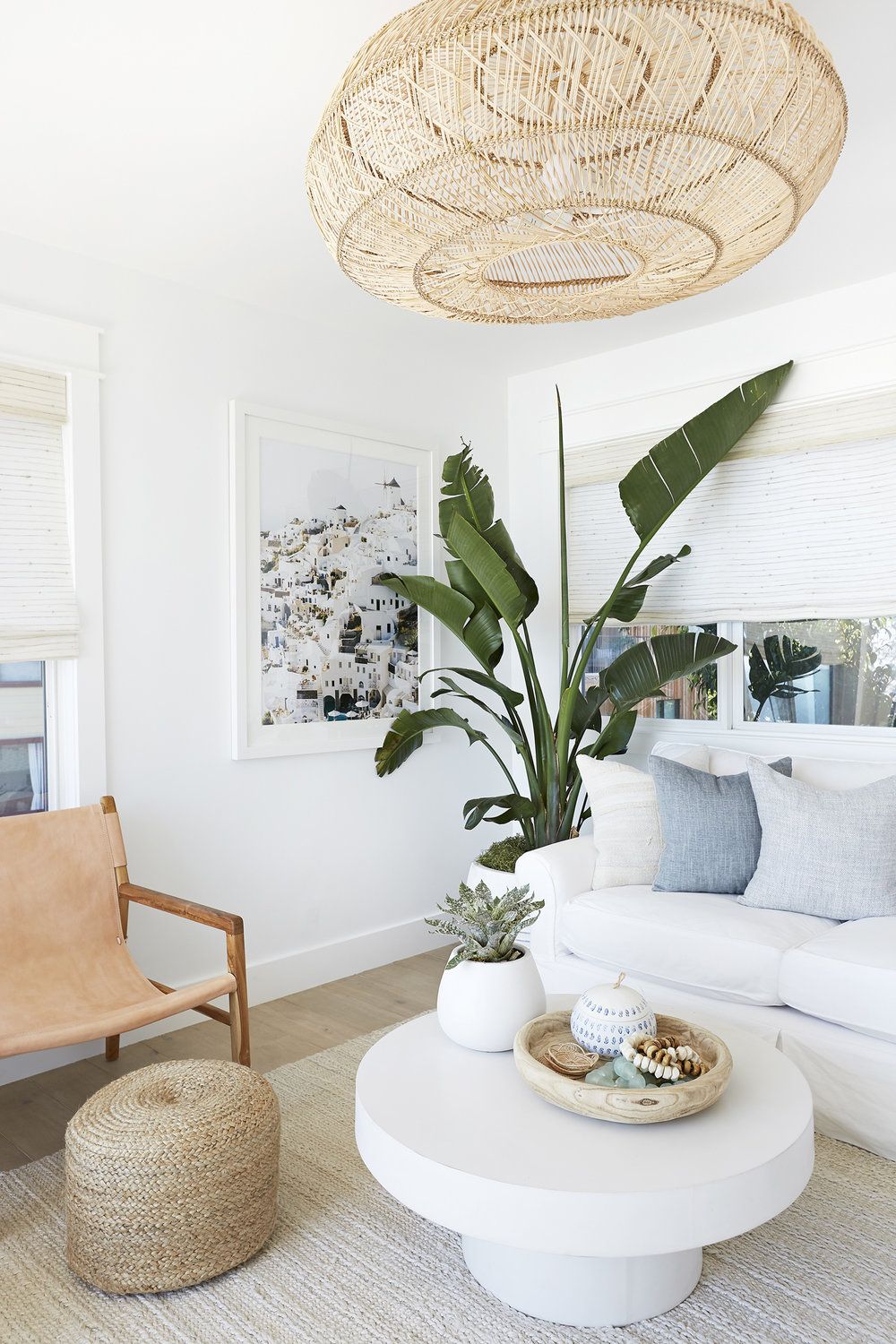 Seashell Furniture
If you can find some seashell embellished decorations or furniture for the room, these can really make a statement. Just take a look at this gorgeous console table outfitted with tiny seashells all over. The matching mirror really gives this space an unmistakable tropic appearance.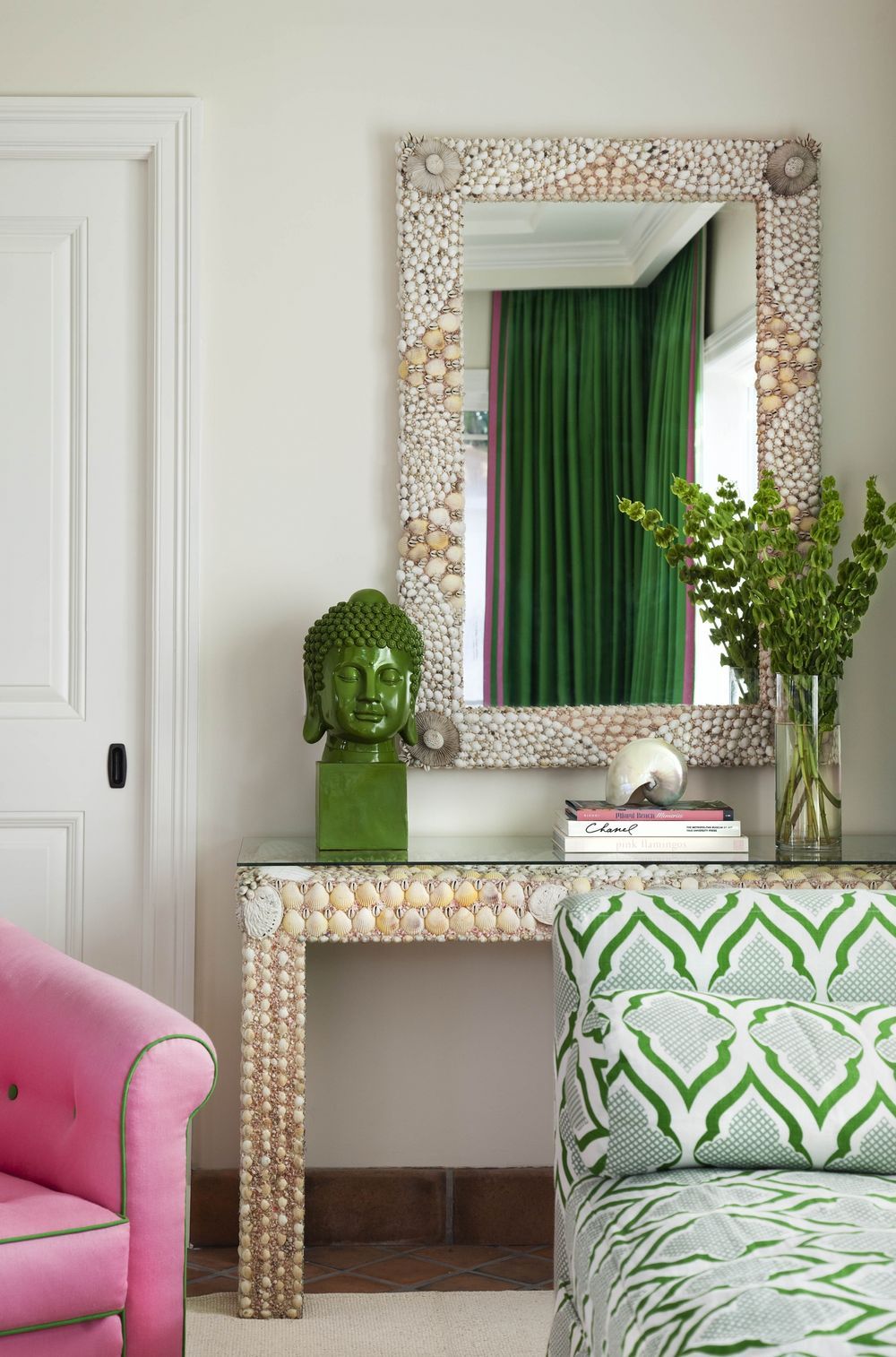 Pink Walls
Tropical decorating involves strategic pops of color, often inspired by the florals of the region. You can channel pretty pink florals by painting the walls a stunning pale pink as seen in this living room. The house tree in the corner and the blue and pink rug really make this room stand out. A rattan accent chair is the finishing touch on this tropical oasis.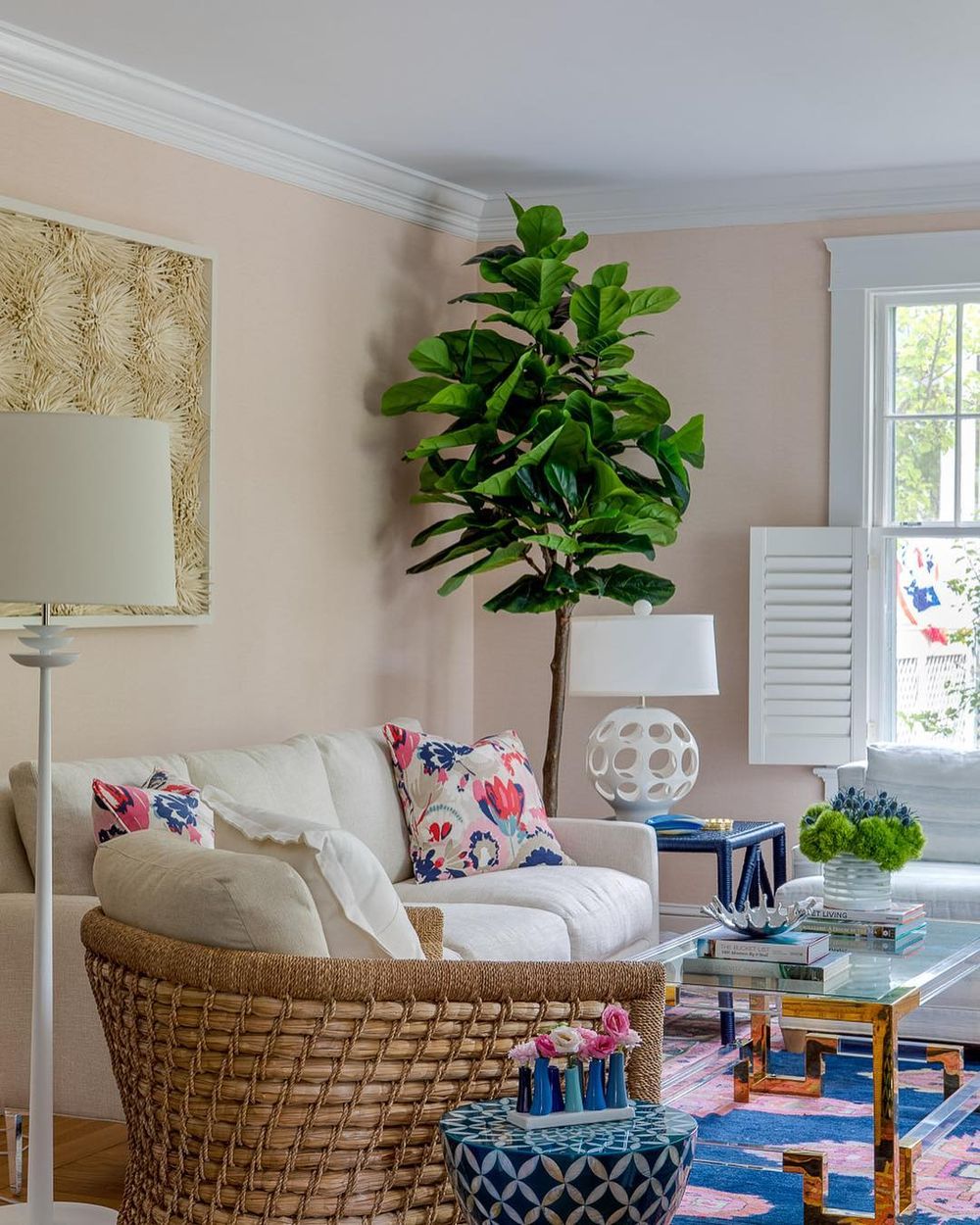 Vintage Travel Destination Posters
See the vintage "Barbados" wall poster on the wall of this tropical living room? It's such a great way to celebrate the joys of traveling to tropical destinations. Vintage travel posters often feature the destination name in large bold uppercase letters and a printed illustration of the most famous landmark or scenery in that place. These can be wonderful additions to your wall. They are definitely one of my personal favorite tropical living room decor ideas.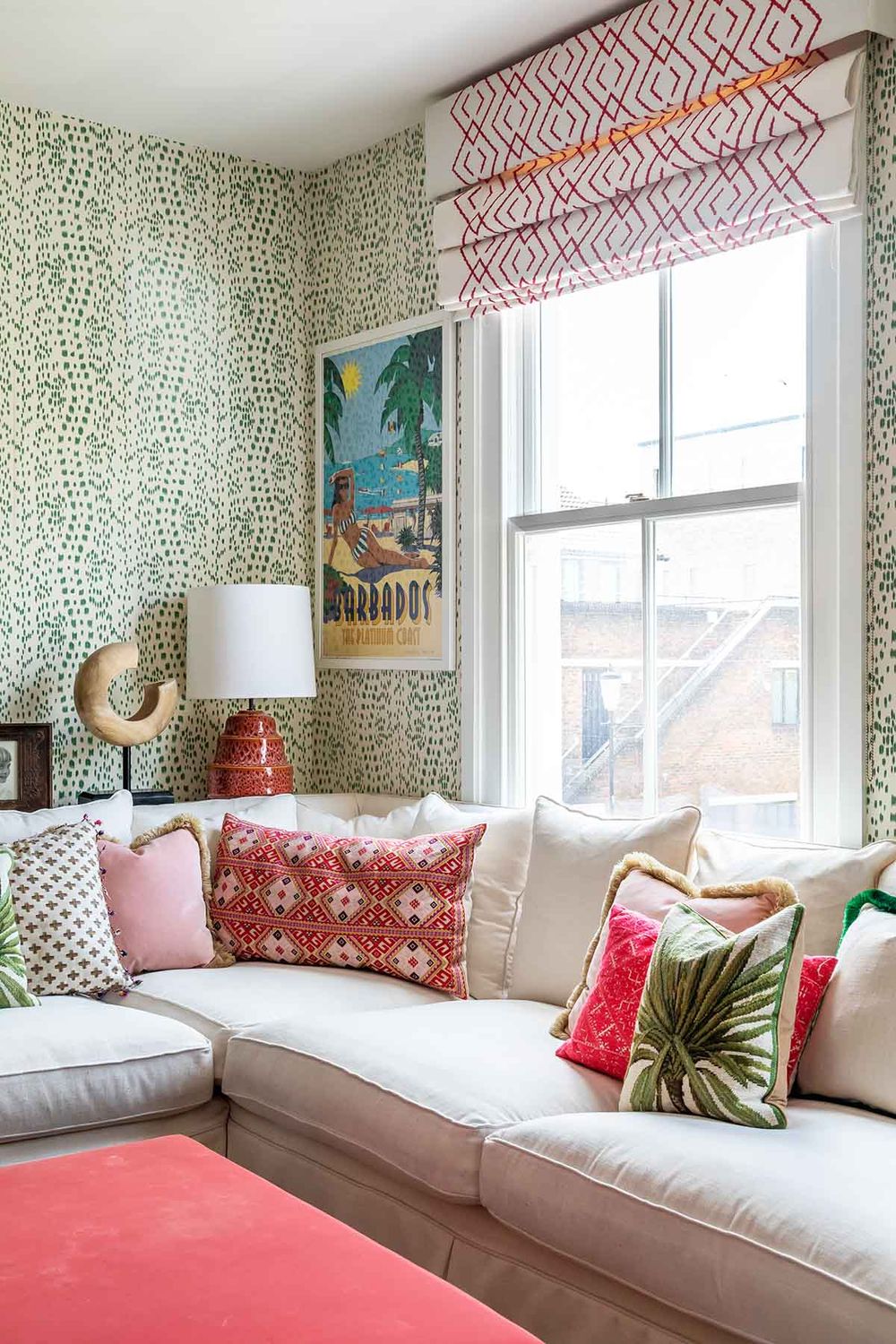 Neon Signs
Neon signs in pink or another bright color are a great idea for getting the tropical vibe in your living room! These kinds of unique lighting fixtures work best in the living room so you can enjoy their presence without disturbing your sleep at night! This space exudes tropical glam with its turquoise sofa, pink flamingo in the corner, and house plants all over!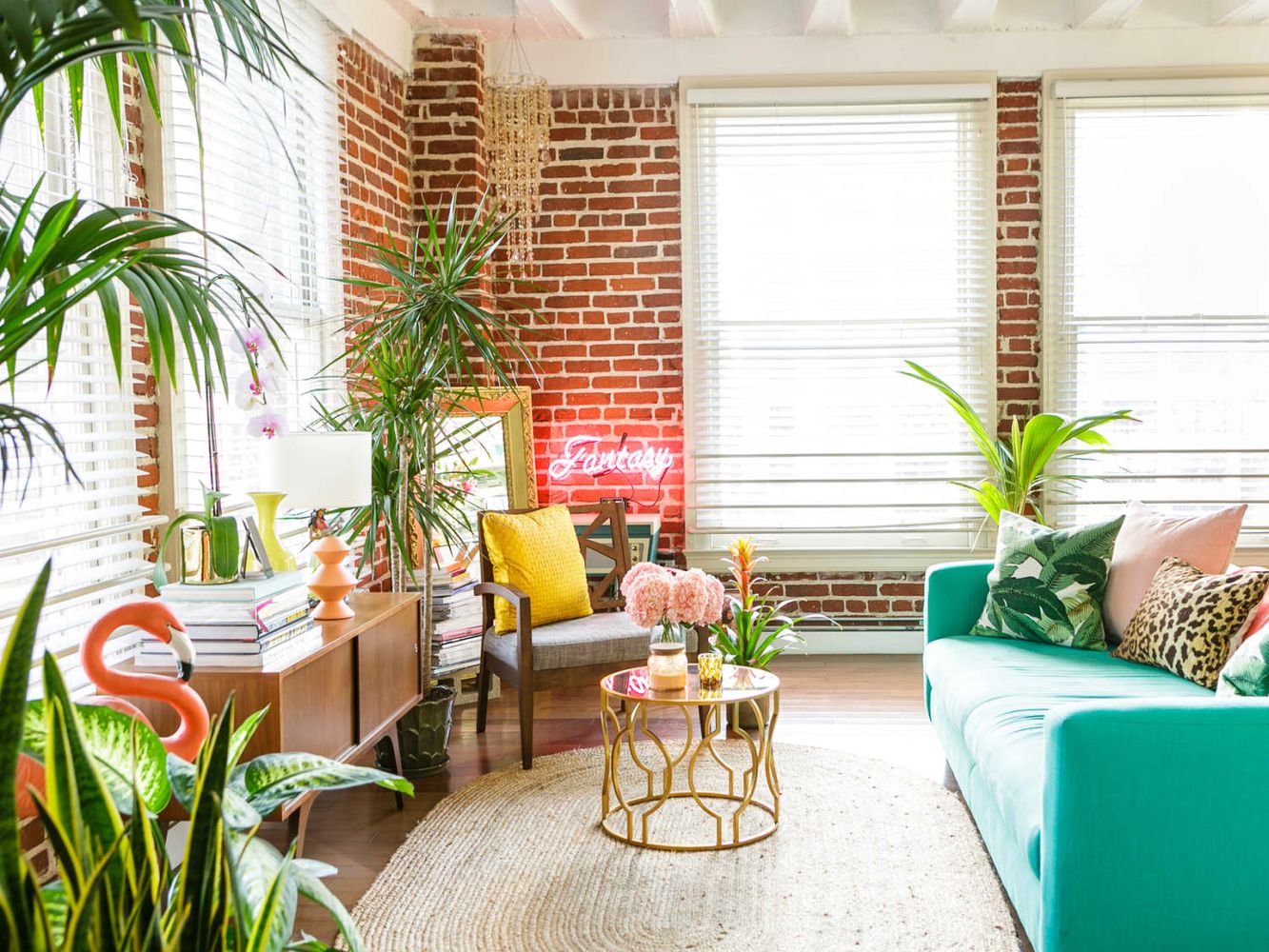 I hope you found these tropical living room decor ideas incredibly inspiring as you go about designing your own family room space. Tropical decor is a great match for anyone who appreciates exotic destinations and beach filled days. Even if you don't live by the coast, you can still decorate your home in the tropical aesthetic with our tips and create your own little at-home paradise.
Tropical Furniture and Decorations for the Living Room
Here is a little selection of tropical furniture and decorations you can use in your living room. From palm tree print accent chairs to pineapple table lamps, there are lots of great tropical motifs to use in your space! We hope you will find something you like here.
More Tropical Decorating Ideas
We will soon share with you many more ideas for decorating your house like a tropical paradise! Subscribe to our newsletter below and let us know what you'd like to see first on the site by using the comments box below!