Designs come and go, especially when it comes to decorating your living room. But the one thing that has stood the test of time when it comes to living room decor is the use of Chesterfield sofas. These days, it is hardly possible for you to open an interior design magazine without seeing at least one Chesterfield sofa. Find out more about these quintessential sofas and why they are so popular in many chic living rooms.
What Are Chesterfield Sofas?
Chesterfield sofas are a classic style of sofa characterized by their tufted, buttoned leather upholstery. Some key features of Chesterfield sofas include:
Tufted back and arms – The back and arm rests have deep button tufting, which gives them a quilted appearance. This tufting is a hallmark of the Chesterfield style.
Rolled arms and back – The arms and back are usually rounded with continuous "rolls" from the arm to the back. This rounded shape gives them a smooth, curved look.
Low seat and high back – Chesterfields tend to have a low seat height and a high back. This gives them a sunk-in, enveloping feel when sitting down.
Turned wood feet – The feet are usually made of turned (shaped on a lathe) wood and are often quite ornate. Bun feet or claw feet are common.
Upholstered in leather – Traditionally, Chesterfields were upholstered in leather, often a deep brown leather. Leather gives them a luxurious, masculine vibe.
Multi-cushioned – The seat, back, and arms consist of multiple cushions tied together. Two or three seat cushions are common.
Nailhead trim – Rows of nailheads often trim the edges and arms of the sofa as decoration.
The Chesterfield remains a popular style that lends a traditional, sophisticated touch to living rooms and studies. Brand new Chesterfields can be quite expensive, but vintage and leather-bound Chesterfield sofas are still prevalent.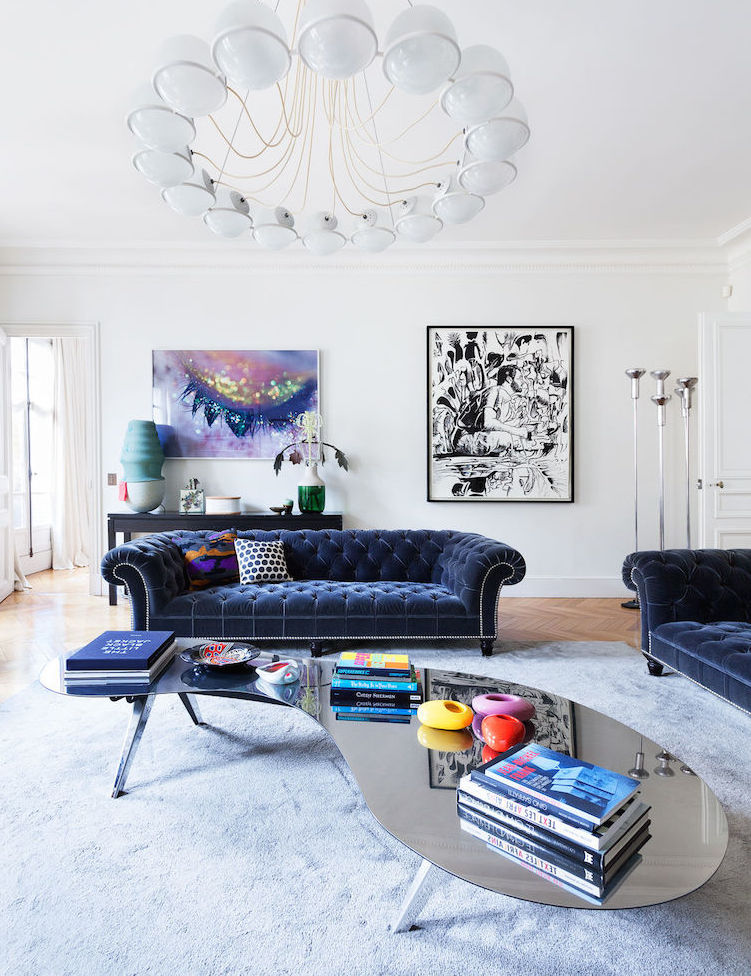 History of the Chesterfield Sofa
The Chesterfield sofa has a history dating back to the 18th century. It originated in England and was commonly found in Victorian-style homes. The sofa is named after Philip Stanhope, the 4th Earl of Chesterfield, who commissioned the first such piece of furniture.
According to the legend, when he was on his deathbed, Lord Stanhope godson Mr. Dayrollers visited him. The lord Stanhope called his butler and asked him to give Mr. Dayrollers a chair. The butler was not sure what Stanhope meant.
Some people believe that Stanhope was asking his butler to welcome his godson by offering him a seat. But the butler thought that his master's last request was for him to give a chair to Mr. Dayrolles. So, to fulfill the last wishes of his master, the butler made a prototype of Chesterfield and gave it to Mr. Dayrollers.
Upon getting the Chesterfield sofa, Mr. Dayrollers showed off the design to most of his guests, and that is where the Chesterfield trend and sofa became popular. Most people made seats using this design. But in the 18th century, the sofa might have been different from how we know it today.
It is believed that during the reign of Queen Victoria, sofas started to evolve, and they were made with comfort as a priority. Queen Victoria is said to have her own pair of plaid covers in the castle drawing-room. The coiled spring was invented in the mid-1800; this invention helped to ensure that the seat was more comfortable. Come the 19th-century; cushioning was invented, thus giving Chesterfield a whole new look and feel.
The Chesterfield sofa is characterized by its deep button tufting, rolled arms, and use of leather. It was originally designed to allow gentlemen to sit comfortably without wrinkling their clothes. Over time, the Chesterfield sofa has become a symbol of British craftsmanship and traditional style.
The couch was mainly made using brown leather, but today, you can find these seats in different fabrics and colors. Today, it is popular worldwide and made using a variety of materials, though the core design elements remain consistent.
The Best Chesterfield Sofas
Depending on your needs, there is surely a great Chesterfield sofa out there for you. We've rounded up several of the best couches we think you'll be super happy with!
How to Style a Chesterfield Sofa in a Living Room
Styling a Chesterfield sofa in a living room involves a few key considerations. First, think about placement. The Chesterfield is often the focal point, so position it centrally. Next, consider color. If the sofa is in a bold hue, keep surrounding elements neutral. For a classic look, you might choose a Chesterfield in dark leather and pair it with light-colored walls and wooden elements.
In terms of accessories, textured rugs and antique coffee tables complement the Chesterfield's traditional feel. When it comes to cushions and throws, choose fabrics that contrast with the sofa's material to add visual interest. For example, velvet cushions can look striking on a leather Chesterfield.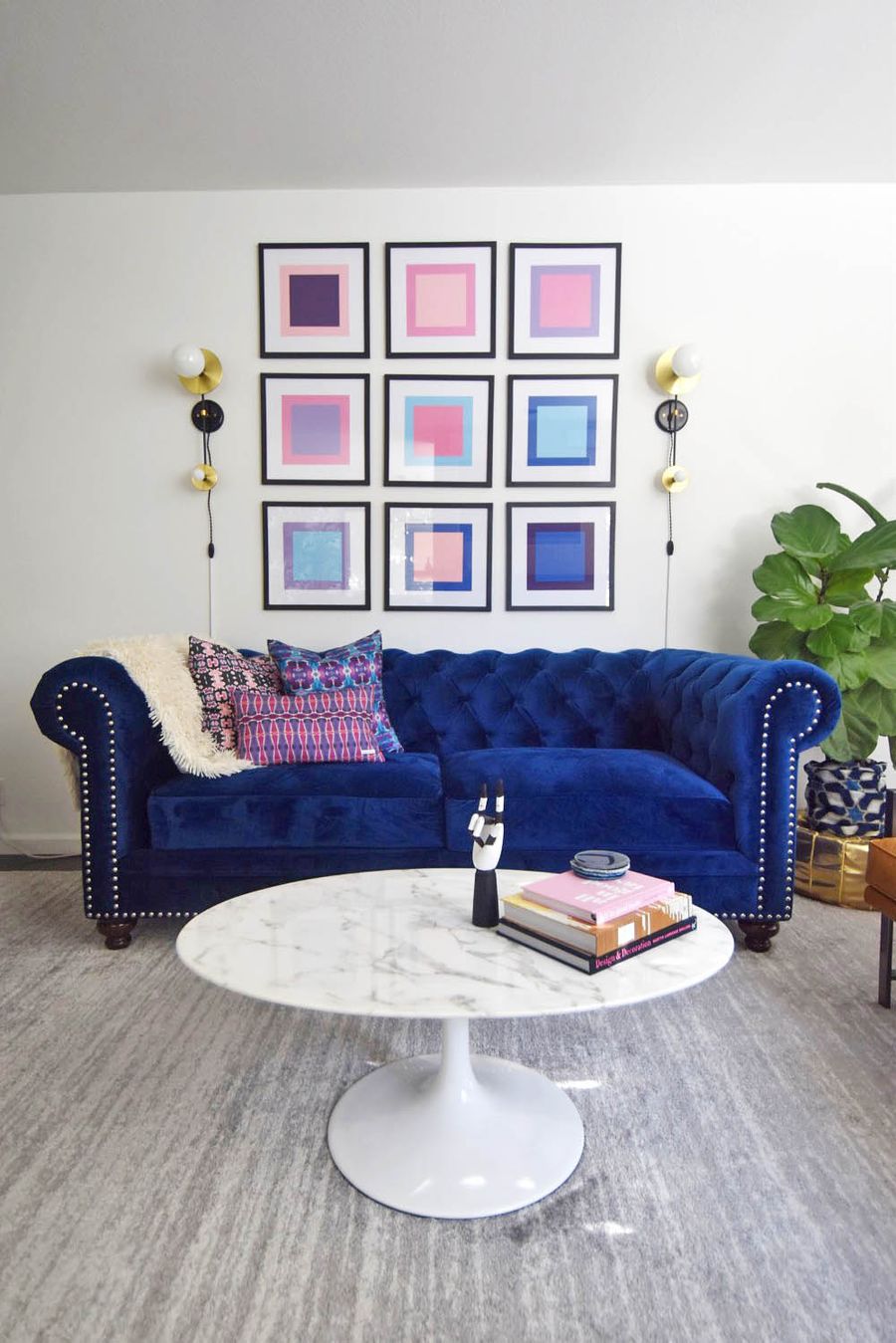 Lighting is another crucial element. Soft, ambient lighting highlights the sofa's details and creates a cozy atmosphere. Finally, wall art can enhance the room's overall aesthetic. Choose pieces that either complement or contrast with the sofa, depending on the look you're going for.
Remember, the Chesterfield is versatile. Whether you're aiming for a modern, classic, or eclectic style, the sofa can be the centerpiece that ties your living room together.
Sofas are essential in the living room since they give you space to sit and relax after a long day at work or running errands. They also offer family members a place where they can sit and converse. In addition, sofas offer spaces where you can entertain your guests as they offer them a comfortable place to sit. Take your time with this design decision!