Designs come and go, especially when it comes to decorating your living room. But the one thing that has stood the test of time when it comes to living room decor is the use of Chesterfield sofas. These days, it is hardly possible for you to open an interior design magazine without seeing at least one Chesterfield sofa. Find out more about these quintessential sofas and why they are so popular in many living rooms.
What Are Chesterfield Sofas?
Chesterfield sofas have a unique design, which makes them stand out from the rest.
The couch is also slightly lower than other sofas, and it has the height of the armchair and the back is even. Thus, offering you more comfort compared to other seats. It also has folded arms, and the fabric used to cover the seat is buttoned, which makes it tighter and firmer. The chesterfield couches are classy, beautiful, and a great addition to any home. They give your house a timeless feel, and they also increase the overall appeal.
Upholstery
The classically tufted seat of a traditional Chesterfield sofa was made using warm brown leather. Recently, you can purchase Chesterfield sofas in a diverse range of fabrics. Linen, velvet, cotton, and synthetic fibers are just a few of the materials that can be used to upholster your Chesterfield sofa.
Whatever upholstery you choose, the design of these sofas will make them easily stand out and serve as excellent centerpieces for any living room space.
The Best Chesterfield Sofas
Depending on your needs, there is surely a great chesterfield sofa out there for you. We've rounded up twelve of the best we think you'll be super happy with!
Find our quick Chesterfield recommendations here:
Since these sofas are so popular and have been around for a long time, you might be asking yourself the origin of these couches.
Chesterfield Sofa History and Origins
The Chesterfield sofa originated from Britain. The couch was mainly made using brown leather, but today, you can find these seats in different fabrics and colors. However, the fact that they can be customized has made these sofas trendy now more than ever.
There are no proper documents that give the history of the Chesterfield sofa. But the seat is speculated to have been first designed in the mid-1700. The seat was built for Lord Philip Stanhope, a great writer, politician, and trendsetter. He was the one who commissioned the making of the first Chesterfield sofa. He came up with this design because he needed a seat that would allow him to sit upright without causing his clothes to wrinkle.
According to the legend, when he was on his deathbed, Lord Stanhope godson Mr. Dayrollers visited him. The lord Stanhope called his butler and asked him to give Mr. Dayrollers a chair. The butler was not sure what Stanhope meant. Some people believe that Stanhope was asking his butler to welcome his godson by offering him a seat. But the butler thought that his master's last request was for him to give a chair to Mr. Dayrolles. So, to fulfill the last wishes of his master, the butler made a prototype of Chesterfield and gave it to Mr. Dayrollers.
Upon getting the Chesterfield sofa, Mr. Dayrollers showed off the design to most of his guests, and that is where the Chesterfield trend and sofa became popular. Most people made seats using this design. But in the 18th century, the sofa might have been different from how we know it today.
It is believed that during the reign of Queen Victoria, sofas started to evolve, and they were made with comfort as a priority. Queen Victoria is said to have her own pair of plaid covers in the castle drawing-room. The coiled spring was invented in the mid-1800; this invention helped to ensure that the seat was more comfortable. Come the 19th-century; cushioning was invented, thus giving Chesterfield a whole new look and feel.
Today Chesterfield sofas offer luxury and comfort. And that is the reason that these seats have become popular in most homes. Since these sofas have been around for over 200 years, it is safe to say that they are truly timeless. The best part is that these sofas have evolved significantly to ensure that they offer you the comfort you need. So, if you are looking for a sofa that looks great and is bound to make your home look great, this is the sofa for you to get.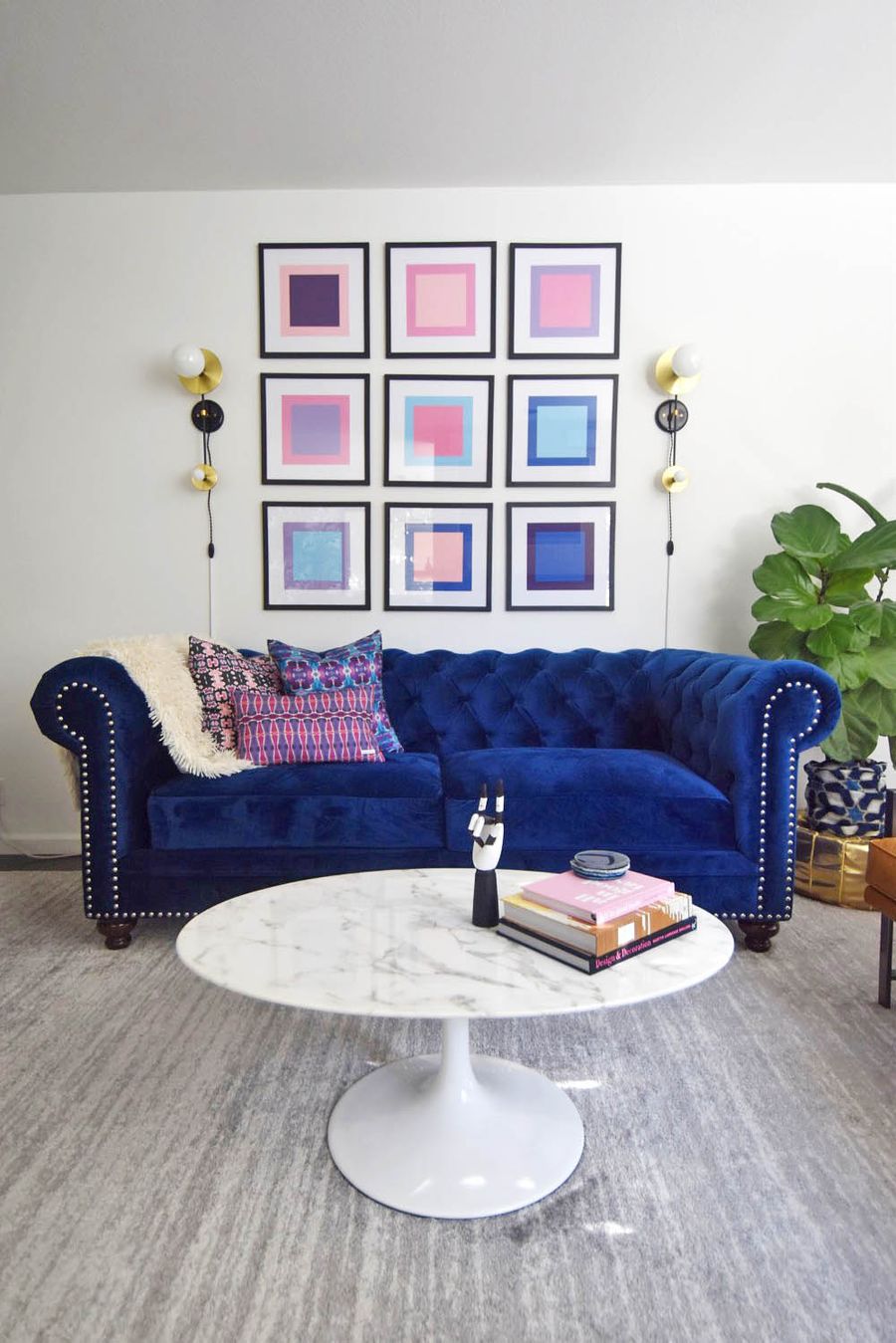 Sofas Are a Key Piece of the Living Room
Sofas are essential in the living room since they give you space to sit and relax after a long day at work or running errands. They also offer family members a place where they can sit and converse. In addition, sofas offer spaces where you can entertain your guests as they offer them a comfortable place to sit. This makes them very important in the living room. Take your time with this design decision!
More Living Room Decor Ideas
You may enjoy these related posts on living room design below: