Ceilings are often overlooked when we look at the interior design of a space. However, ceilings determine how wide and airy or how cramped and small a space can look and feel. Ceilings come in all designs, heights, and shapes but the right choice of a ceiling can help homeowners create the ideal look that they want for their homes. Read on for a quick introduction to the different types of ceilings that may be ideal for your home. They play a key role in the insulation of your home, but that doesn't mean they can't look beautiful, too!
Standard Flat Ceiling
The conventional flat ceiling is the most common type you see in many homes. This type of ceiling is often just a flat panel that is covered with plaster or drywall, similar to how any wall in the house is constructed. Standard ceilings are often eight feet high but they could be higher for those who are going for airy, brighter spaces. Standard flat ceilings are easy to install and cost-effective because they don't have the flourishes that make them an interesting focal point. This type of ceiling can be decorated by using crown molding along the edges.
Vaulted Ceiling
Vaulted ceilings are designed to 'lift' small rooms and give the illusion of more height and space. They usually follow the roofline and can have sloping angles that may or not be uniform. One characteristic of vaulted ceilings is exposed rafters which help add personality to any room.
Cathedral Ceilings
Cathedral ceilings are directly attached to roof trusses and give rooms a very spacious and open feel. They are characterized by equally sloping sides that meet at a point in the middle. Cathedral ceilings help give any room the illusion of more space because of the added volume but can be tricky to clean and will require specific structural features to ensure integrity.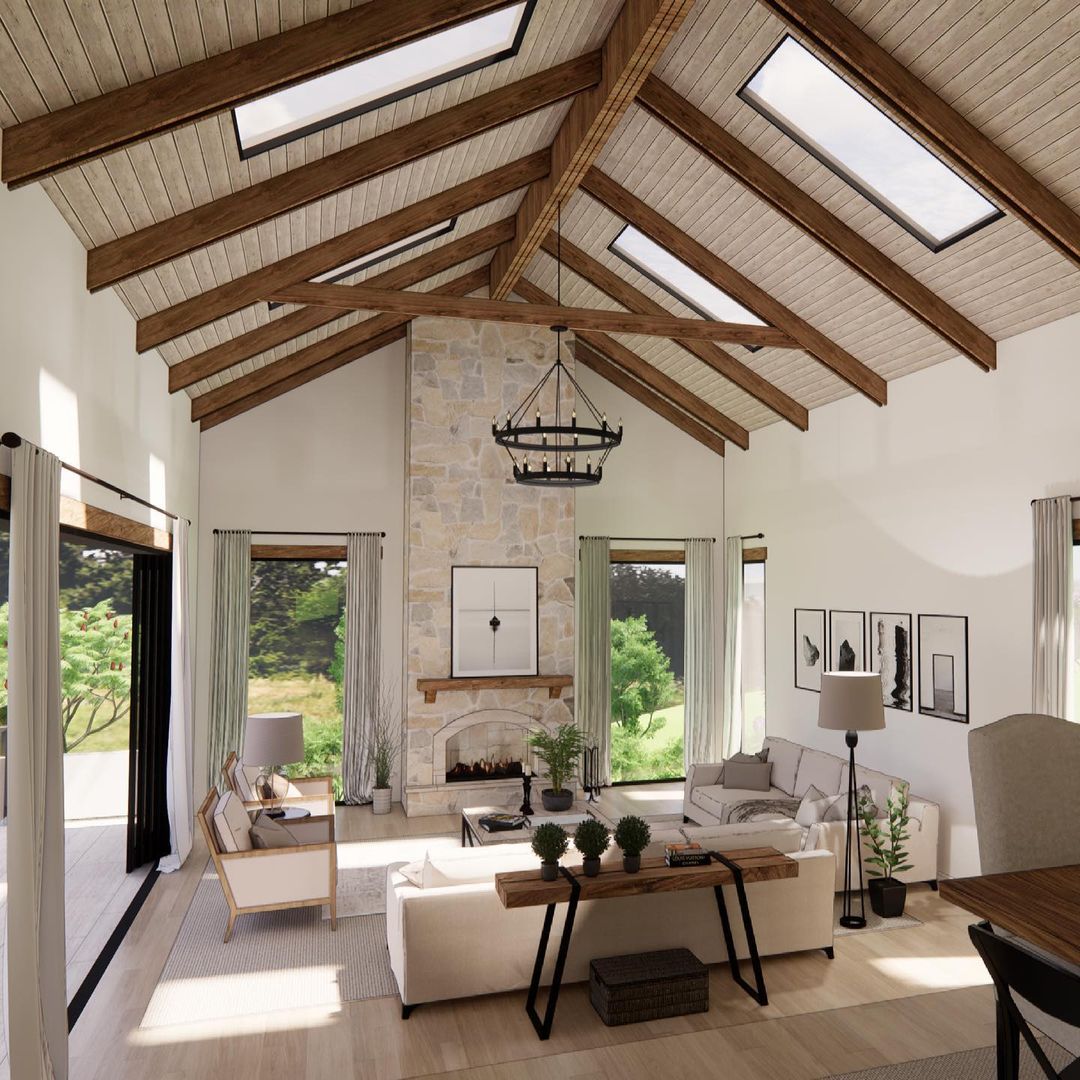 Shed Ceilings
Shed ceilings are a modification of vaulted ceilings. These ceilings rise upward from one side to create a slope that meets the wall. For shed ceilings that are high enough, windows are placed on top of the wall to let light in and create a very bright and airy space. Shed ceilings are a modern take on vaulted ceilings and are often easier to construct as well.
Cove Ceilings
Cove ceilings are characterized by curved edges where the ceiling meets the walls that create a domelike design as a focal point. This creates a dome-like design reminiscent of the interiors in Middle Eastern classic architecture. While not a popular ceiling design, coved designs can help visually expand a room. They can also help visually soften a room for an interior that feels softer and more feminine. Cove ceilings can be an ideal option for renovations that require a change in the crown molding without the need to rip out and replace the existing hardware. Ideally, cove ceilings should be painted to match the existing trim color in the room.
Beam Ceilings
Beam ceilings feature exposed joists or beams for character and visual interest. These beams can be made from any type of wood or timber, metal, or a combination of materials. Beam ceilings are commonly found with vaulted ceiling designs but they can also be incorporated into conventional flat ceilings for a more interesting take on an otherwise boring ceiling.
Barrel Vault Ceiling
A barrel vault ceiling features an upside-down curve resembling the half of a barrel to create a tunnel-like atmosphere. Barrel vault designs are ideal for high ceilings and when done correctly can lend an air of airy brightness to any room. Barrel-vaulted ceilings are created by melding a series of arches together for a visually-arresting ceiling surface and work best when incorporated into an entryway, foyer, or long hallway.
Two-Flight Ceiling
Two flight ceilings are characterized by their height. These ceilings may be tall enough for two flights of windows and can be as high as 10 feet. Spaces with these ceilings get more light and ventilation and sport various designs from conventional flat surfaces, coffered or beamed to vaulted designs.
Tray Ceiling
A tray ceiling is exactly what it sounds like, a tray suspended upside down to create a recessed look. This starts with a conventional flat ceiling added with a recessed inset that is at least 6 inches deep. This is another way to add dimension and the illusion of more space to a ceiling and can be embellished with the use of decorative molding and mood lighting.
Coffered Ceiling
The coffered ceiling is a more upscale version of the tray ceiling and is basically just a grid of small, recessed squares. Coffered ceilings are often ornate and work best for lofty and wide ceilings. They tend to be expensive due to the need for intricate molding designs.
Dome Ceiling
Dome ceilings resemble inverted bowls that can help create the illusion of height and space. Like barrel vault ceilings they can be found in spaces that can use a focal interest such as entryways. They may be built with skylights to let more light in and can come in different materials, such as stained glass for a more interesting effect.
Groin Vault Ceiling
Groin vault ceilings resemble the underground cavern of old churches and are often reminiscent of Gothic interior styles. This type of ceiling is a hybrid of the vaulted and barrel-vaulted ceiling and is characterized by the accurate use of angles and curves that join at the center to create a ceiling that is not only visually but also structurally sound.
Raw Ceiling
Raw ceilings are also called exposed ceilings and are characterized by exposed industrial elements that are typically hidden by conventional ceilings. With raw ceilings, pipes and ducts are often exposed for an industrial look. Exposed ceilings add more height to any room for a spacious feel especially if the exposed elements are organized well enough that they do not create any visual clutter. In raw or exposed ceilings mechanical and construction elements left exposed can also double as decorative elements with the right aesthetic treatments.
---
Ceiling designs range from classic to ultra-modern, with some a good blend of the two. All these varieties in ceiling types and designs mean that homeowners can pick and choose what type best suits their personal styles and the atmosphere that they want to create in the home.