Parisian living rooms can bring elegance and sophistication to one of the most important rooms in your home! Parisian style living rooms tend to take one of two different approaches: they can be traditional and classic (reminiscent of France from centuries past, for example) or they can be modern and updated (think: mid-century modern, and warm hues).
Whatever the style, it's clear that Parisians love to take inspiration from the past when designing their living rooms. They could easily opt for a vintage-style sofa to take center stage, and pair it with other pre-loved furniture that could have even been passed down through the family.
If you just want to get the Parisian vibe in your home without going full-blown vintage, then you'll still find some charming ideas for decorating your home, too! Take a look at some of our favorite Parisian living room design and decor ideas below!
See Also: The Ultimate Parisian Apartment Decor Guide
Parisian Living Rooms
Here are the Parisian style living rooms that inspire us the most! Get the look with a few decorations like these ones too:
1. Blue velvet tufted sofa and crystal chandelier
This is a great example of the characteristics of a Haussmannian apartment in Paris!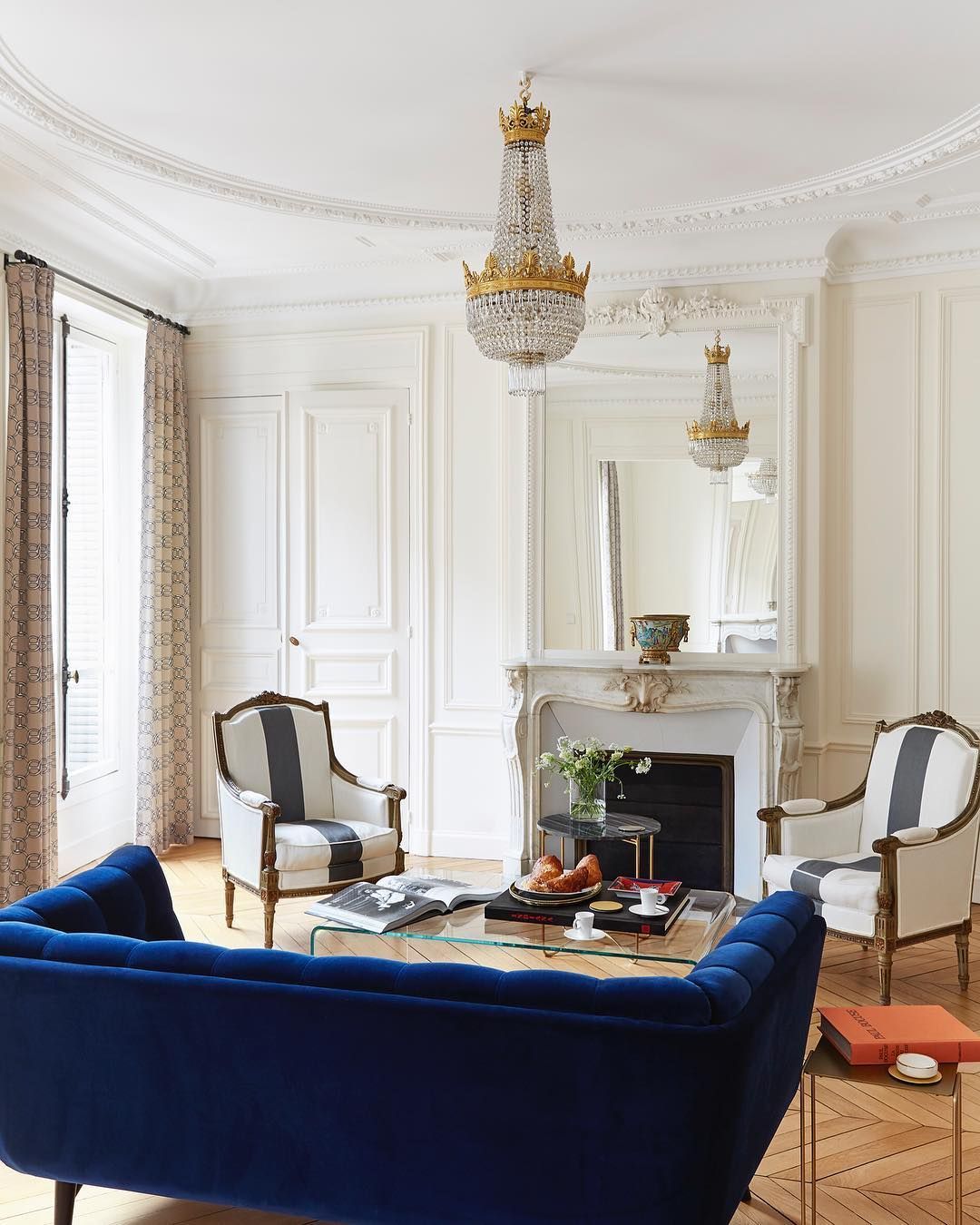 2. Parisian living room in the mid-century modern style with a burgundy sofa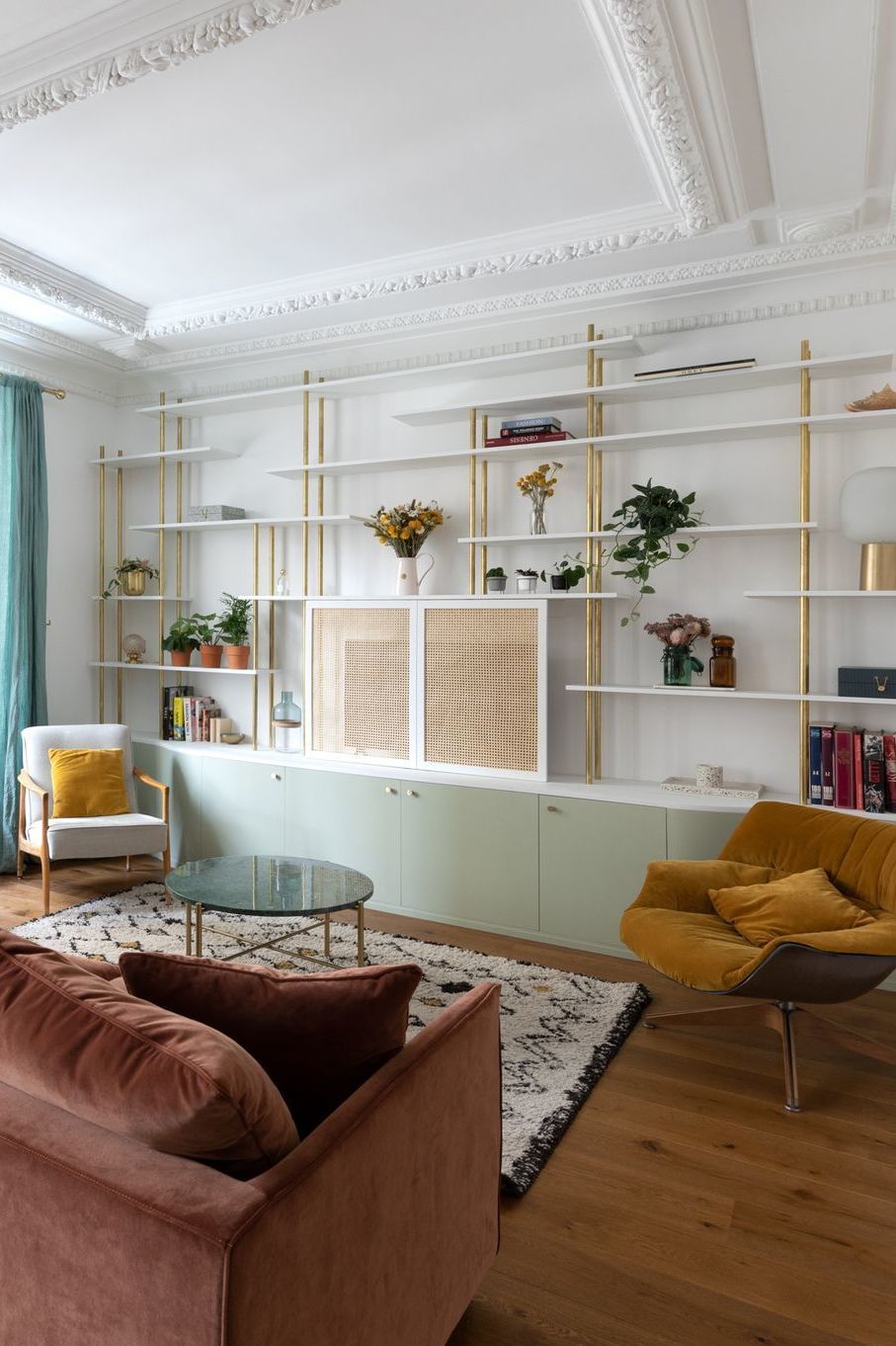 3. Brown leather sofa, pink and yellow accent chairs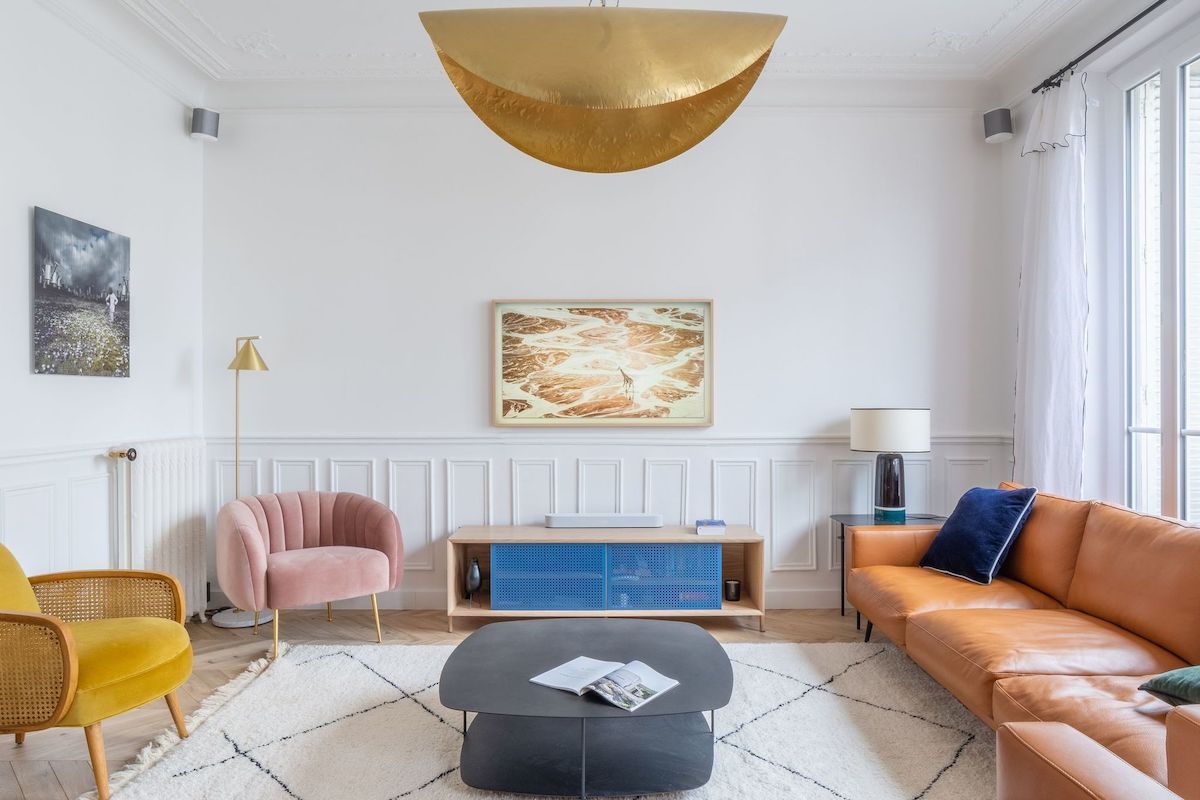 4. Burgundy velvet sofa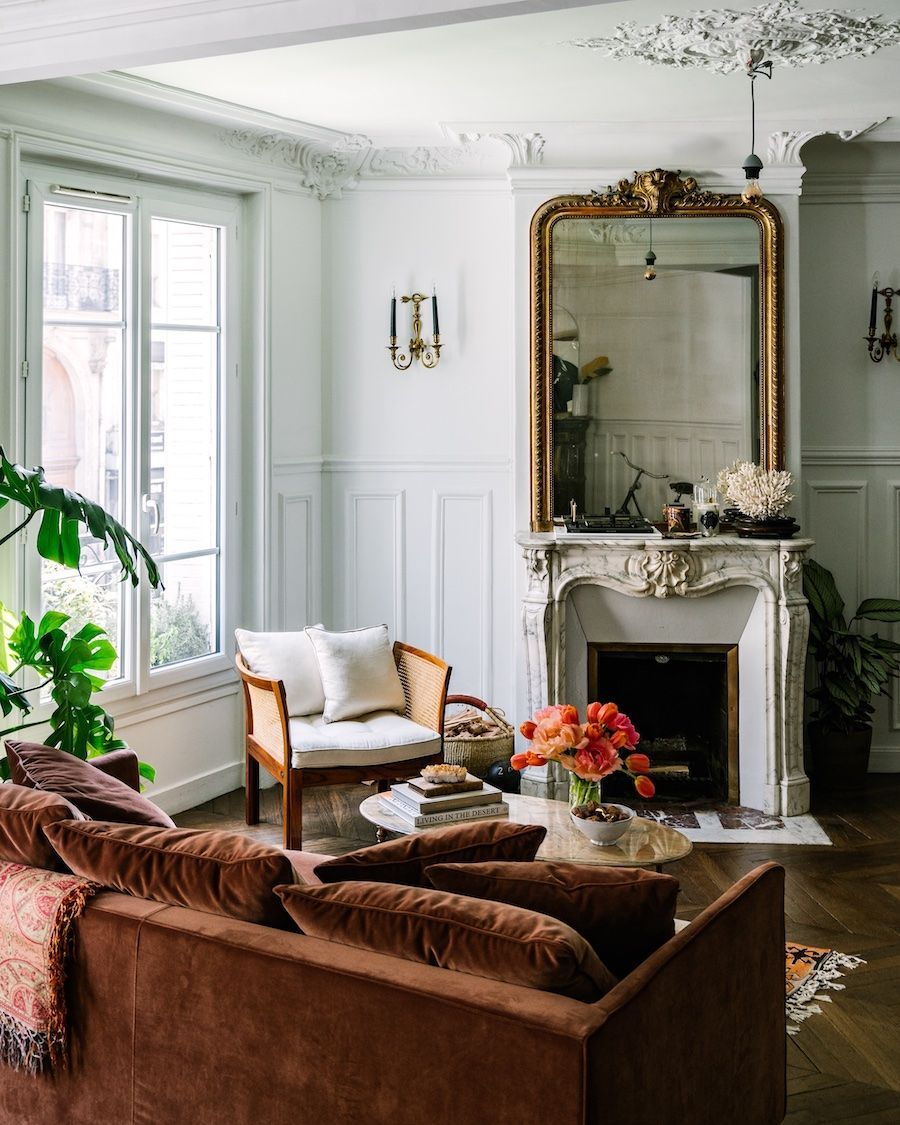 5. Faded blue velvet sofa
Check out more blue velvet sofas.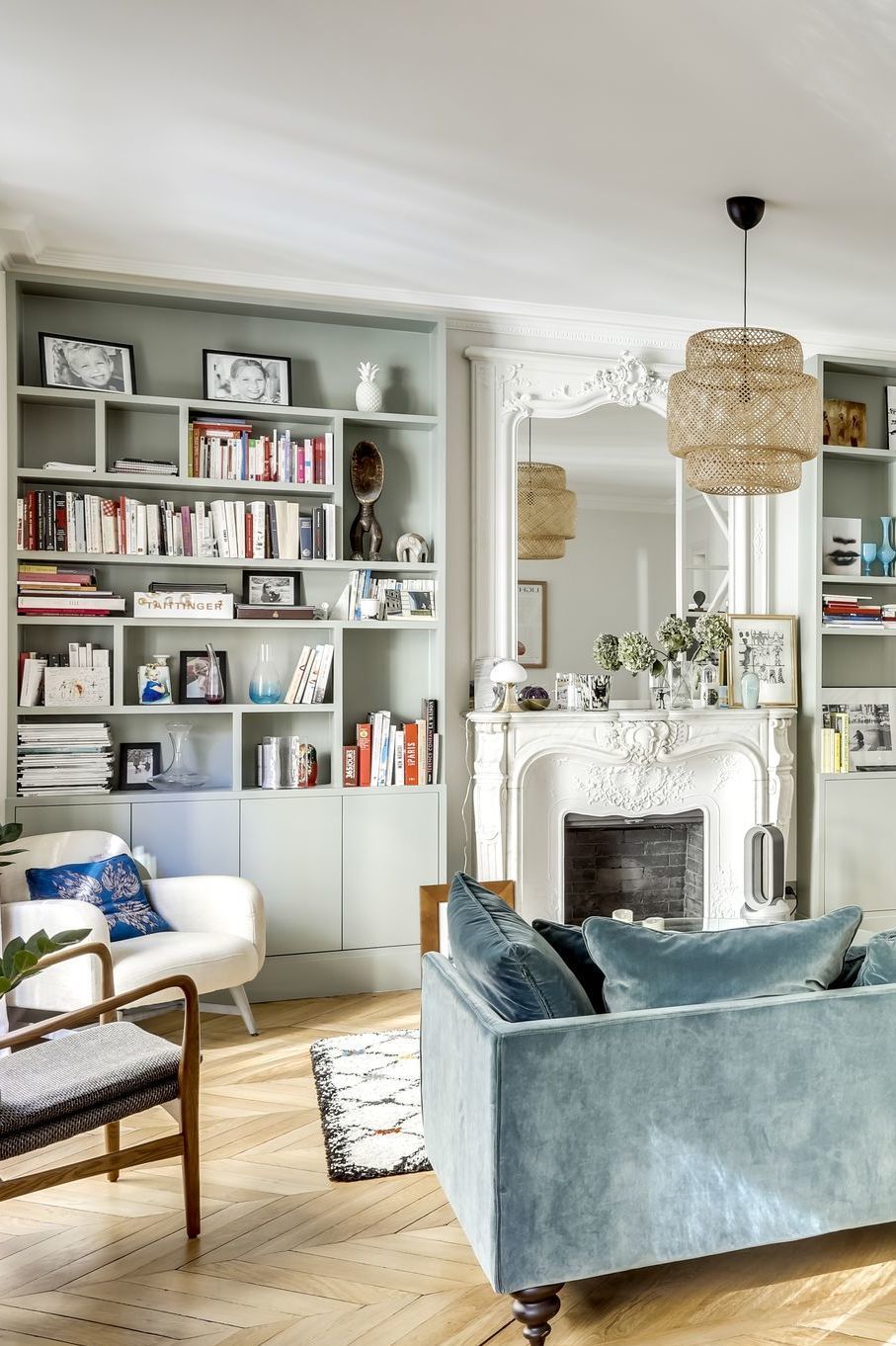 6. Parisian Brown Leather Sofa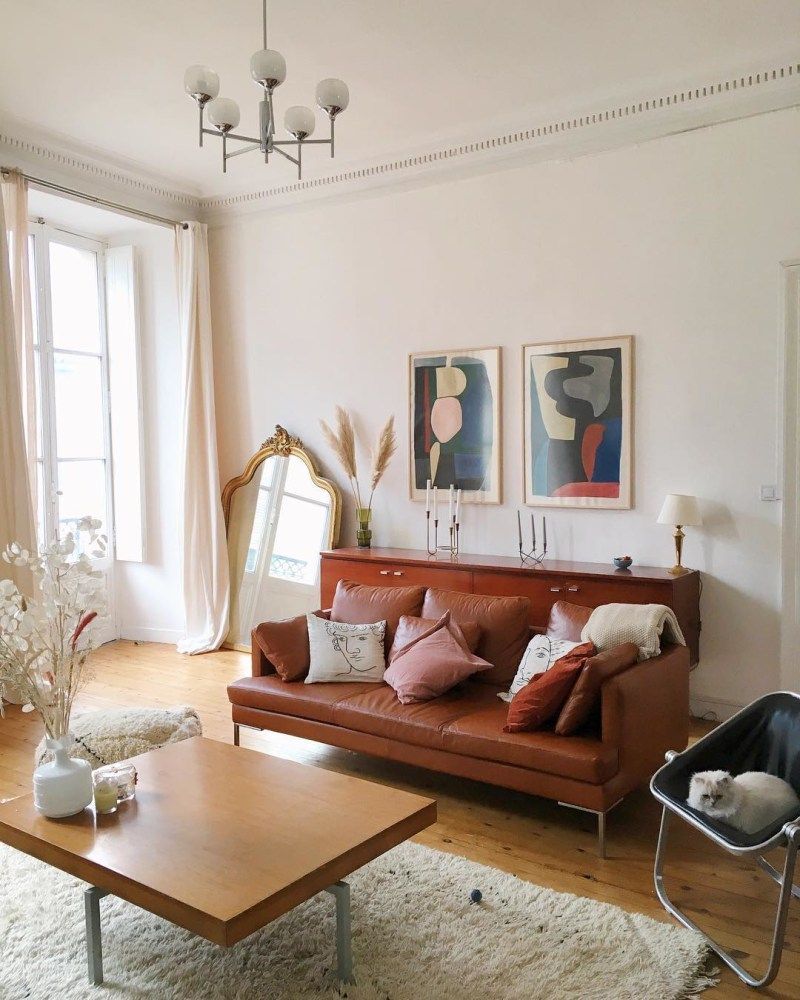 7. Marble fireplace and green velvet ottoman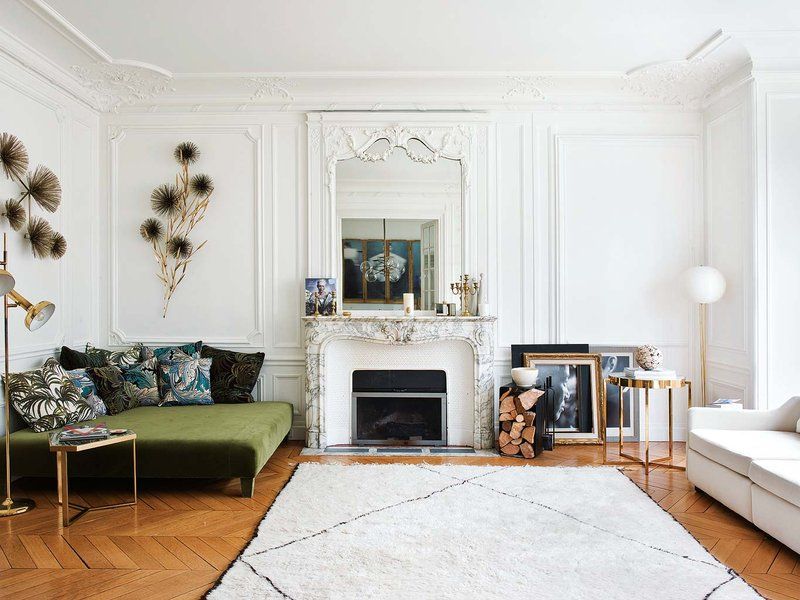 8. Mustard yellow sofa and cane accent chairs
9. Pink Louis fauteuil accent chairs and marble fireplace
10. Parisian living with turquoise accent chairs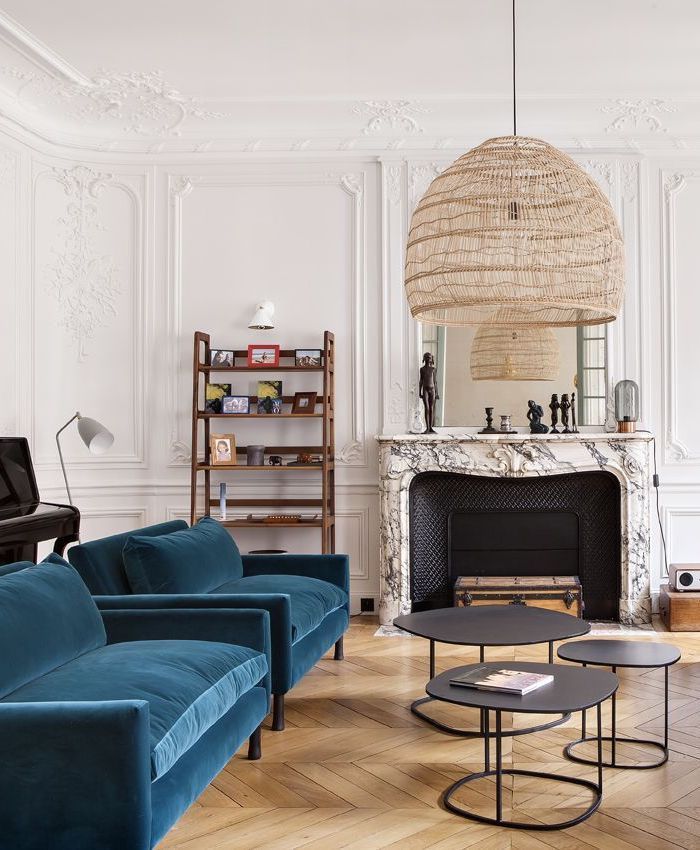 11. Blue velvet sofa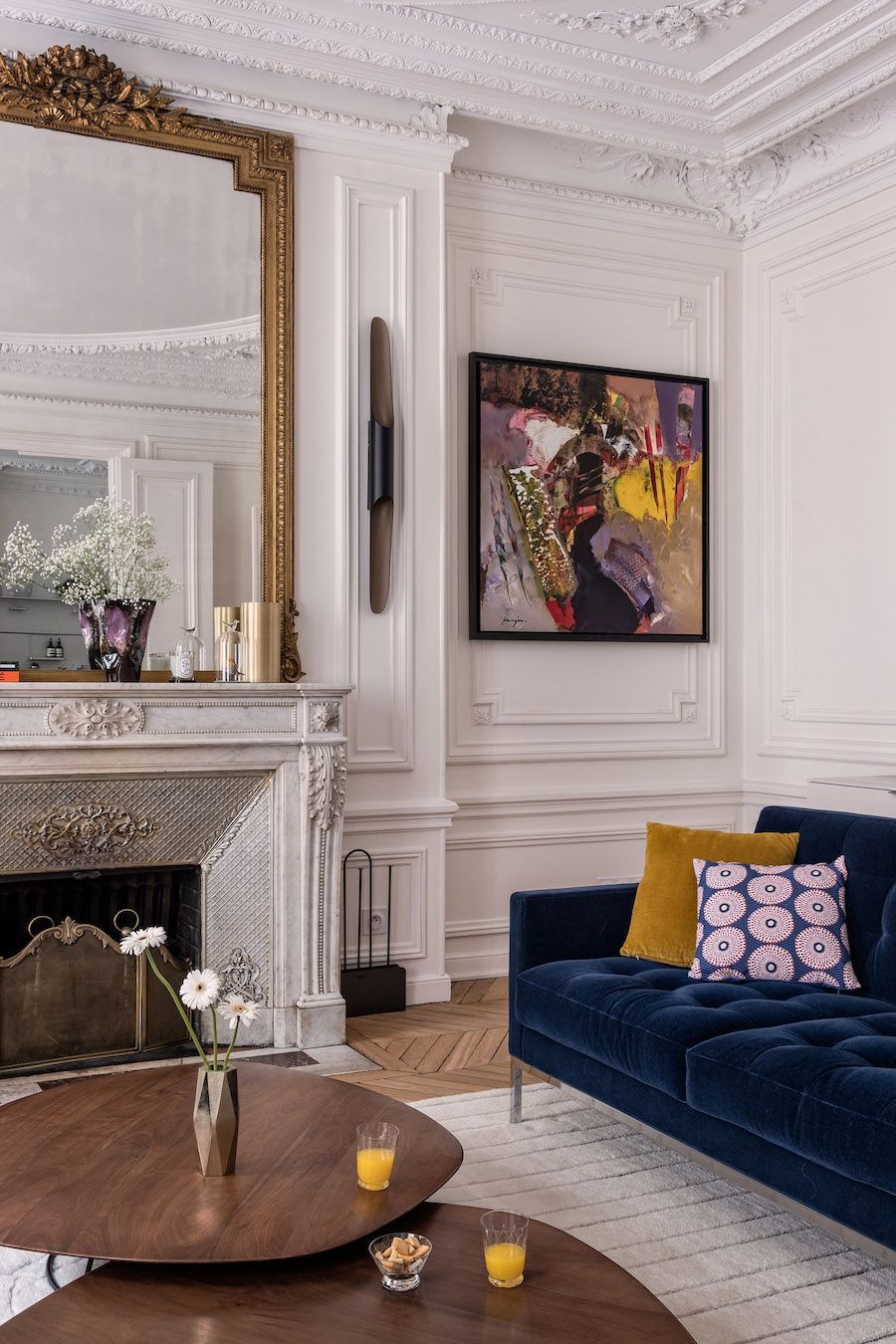 12. Beige sofa and leaning wall mirror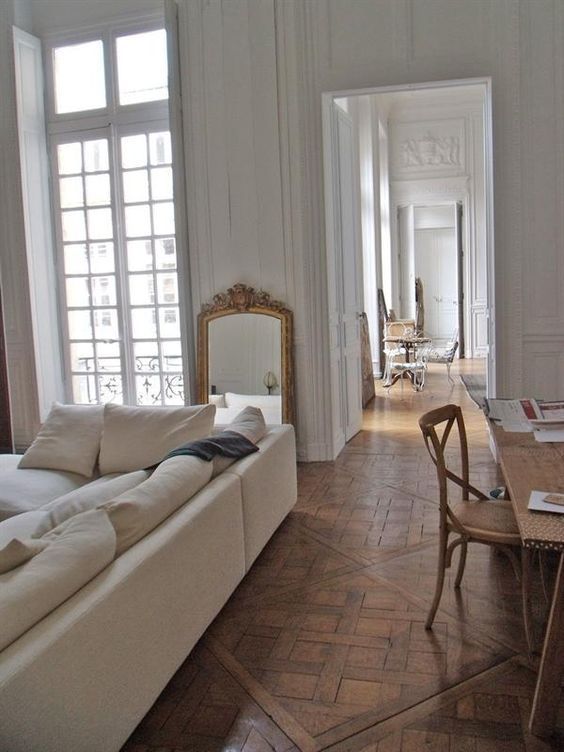 13. Traditional design with oriental rug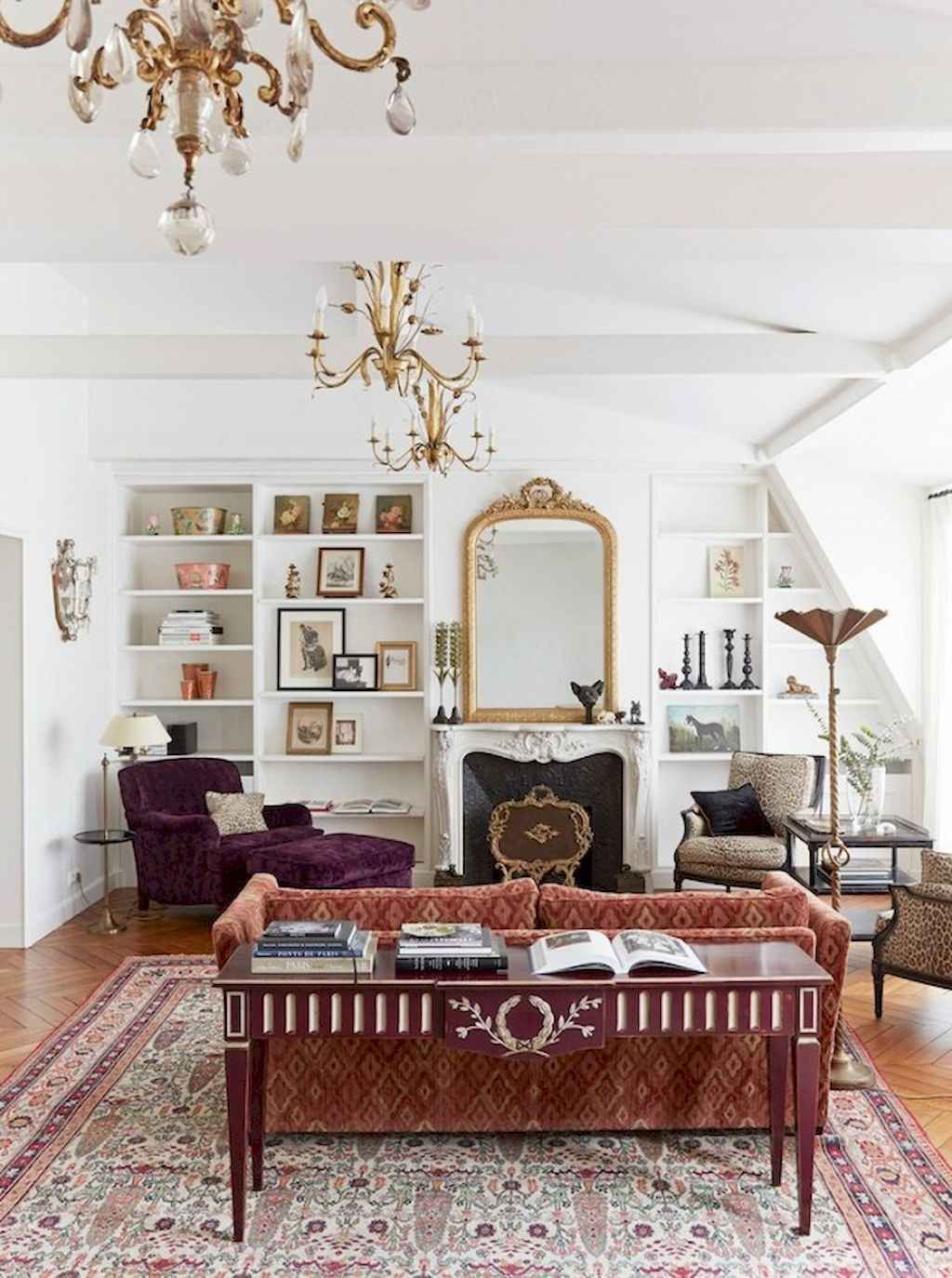 14. Leaning wall mirror and gray sofa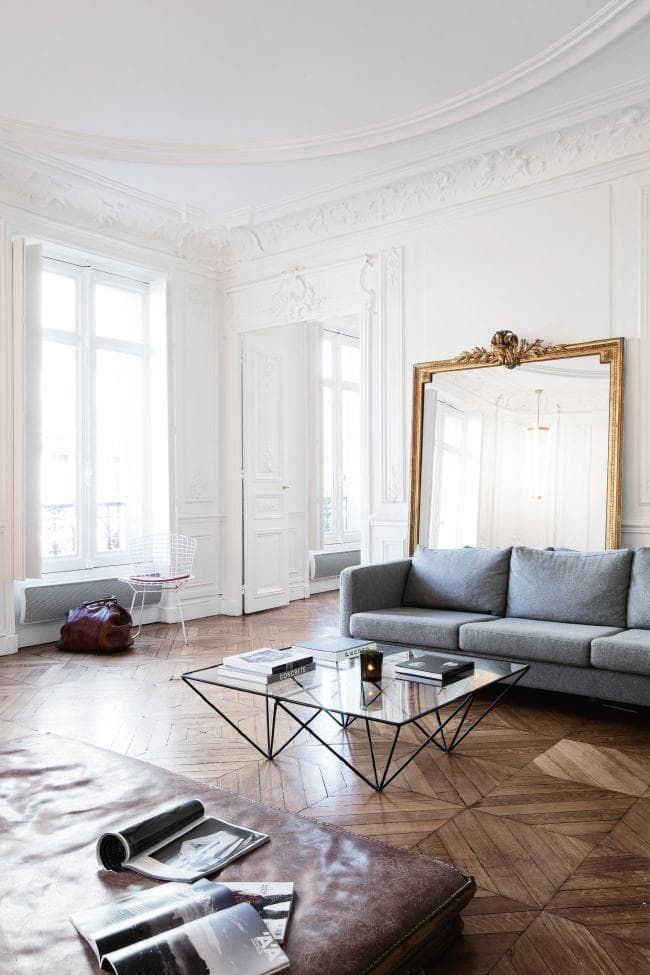 15. Beige furniture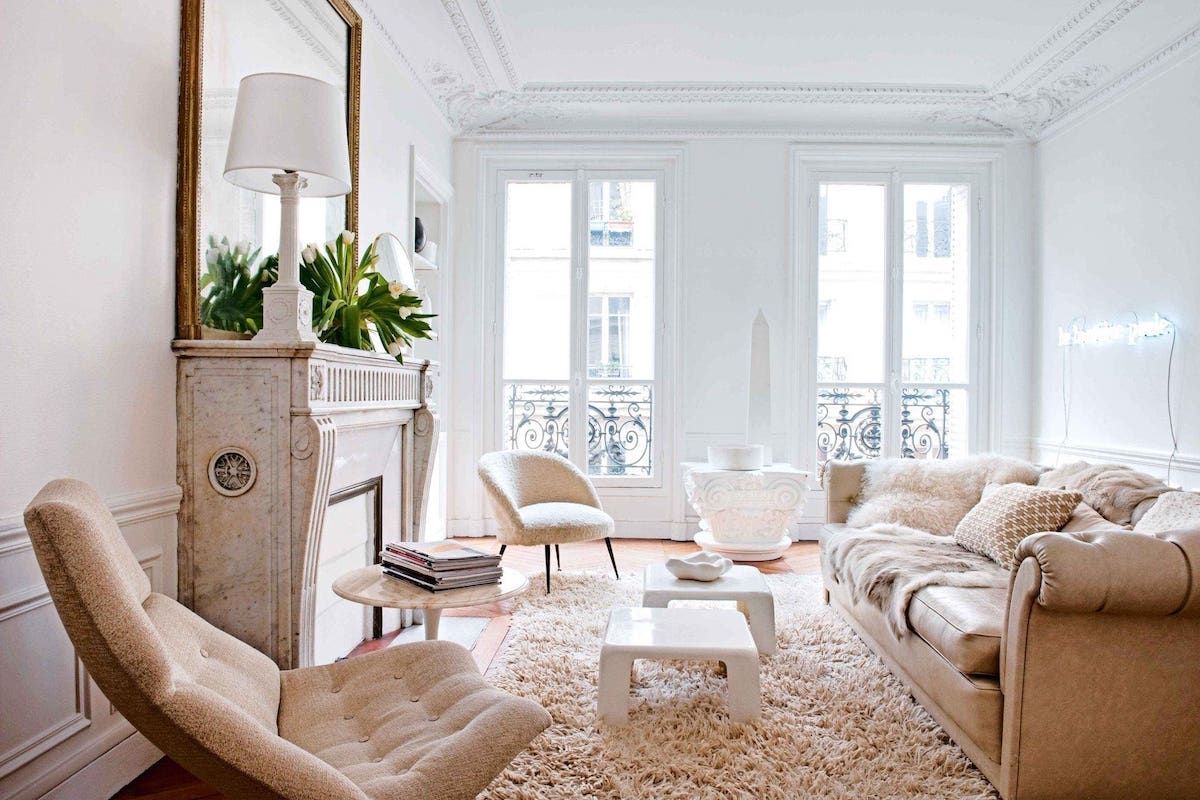 16. Beige sofa and herringbone wood floors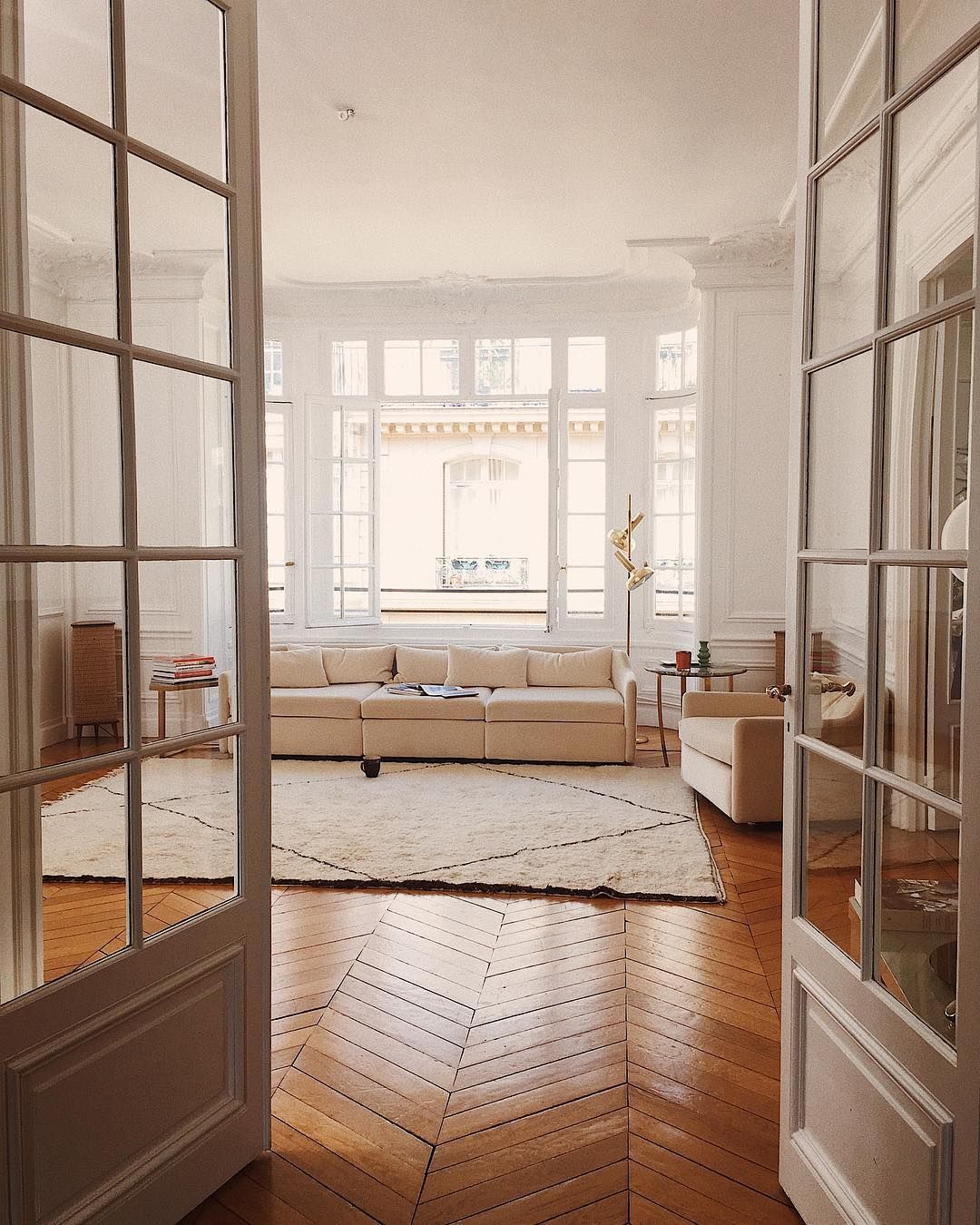 17. Black accent chairs, black accent table, and black fireplace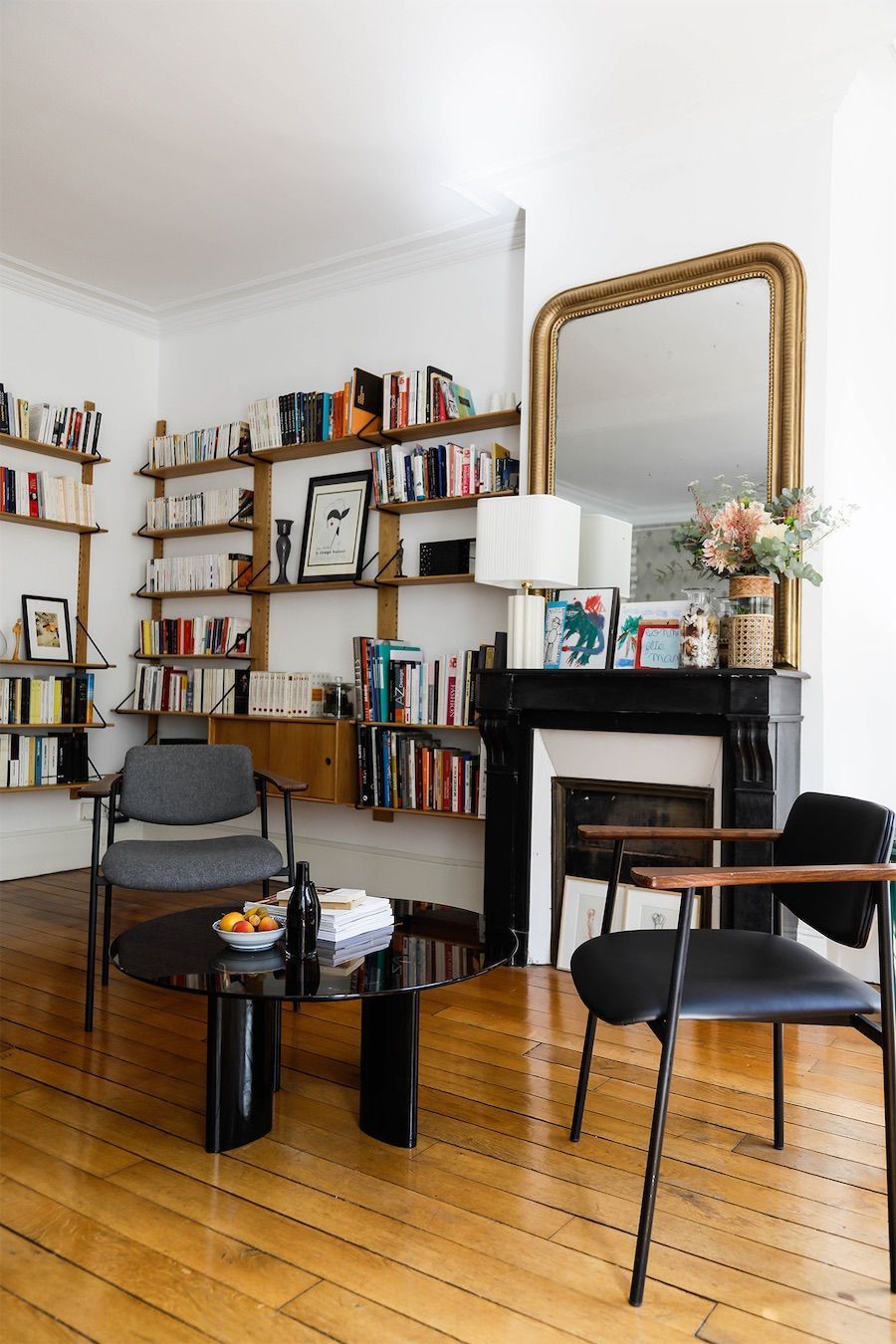 18. Beige sofa and white marble coffee table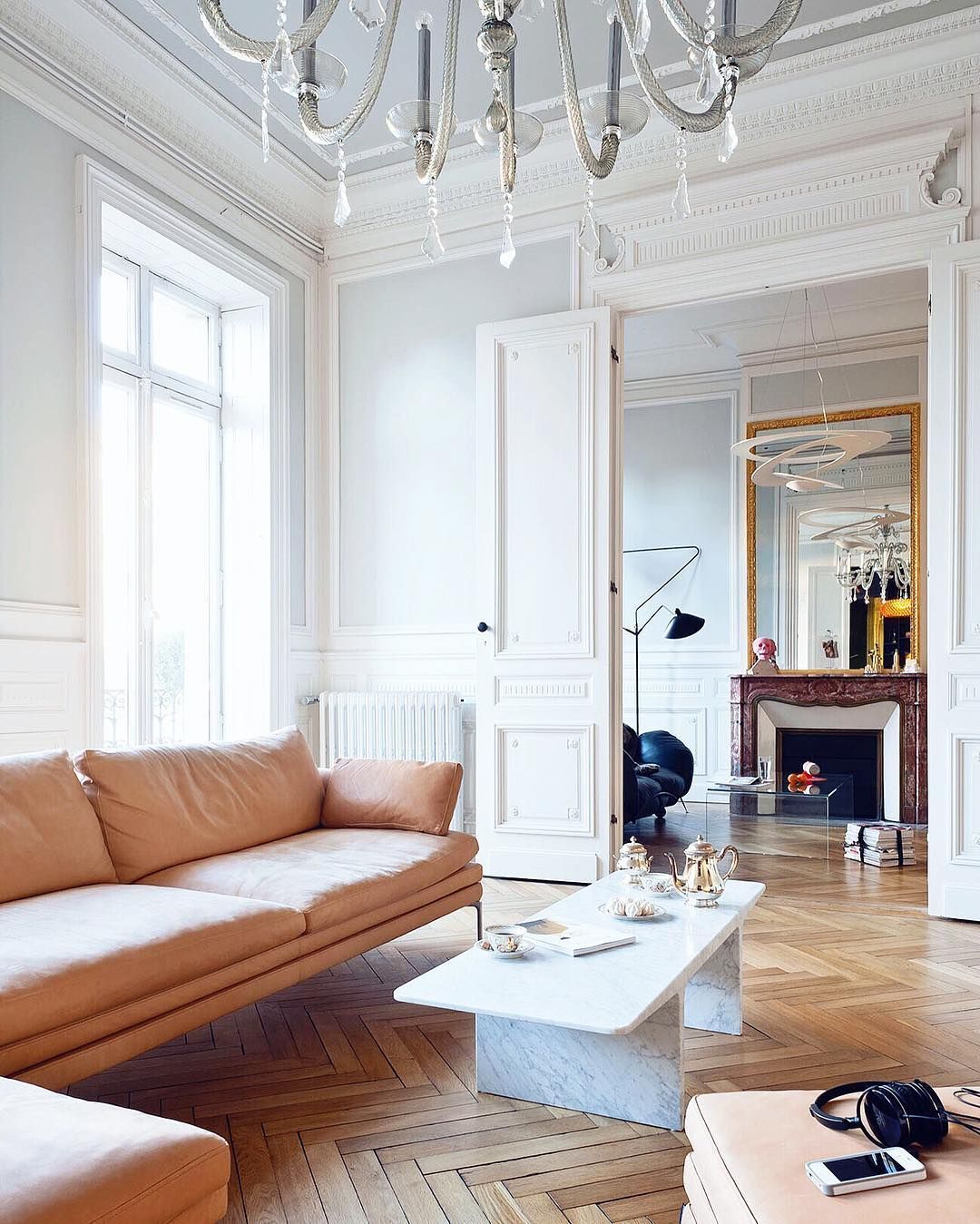 19. Blue velvet accent chair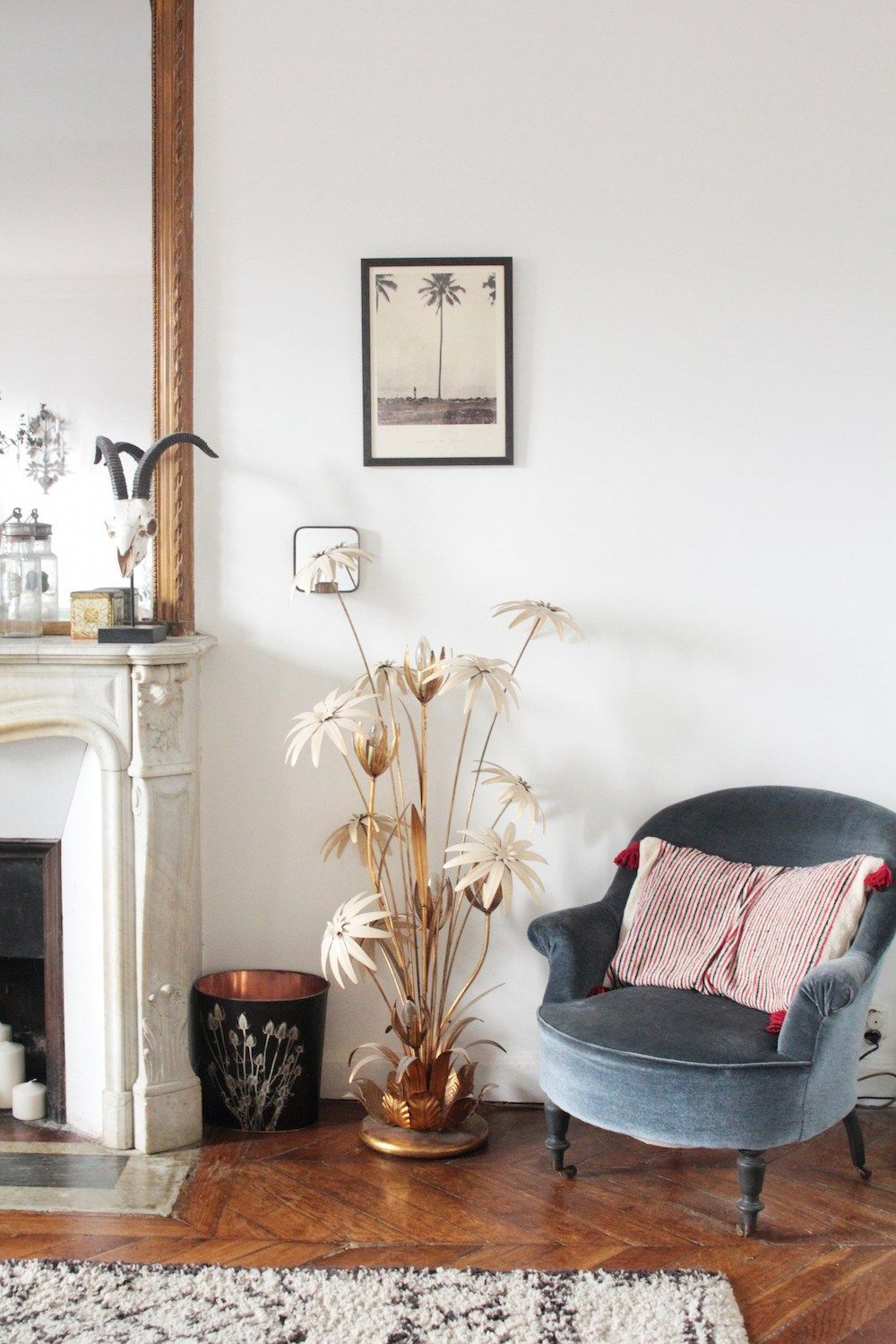 20. Blush sofa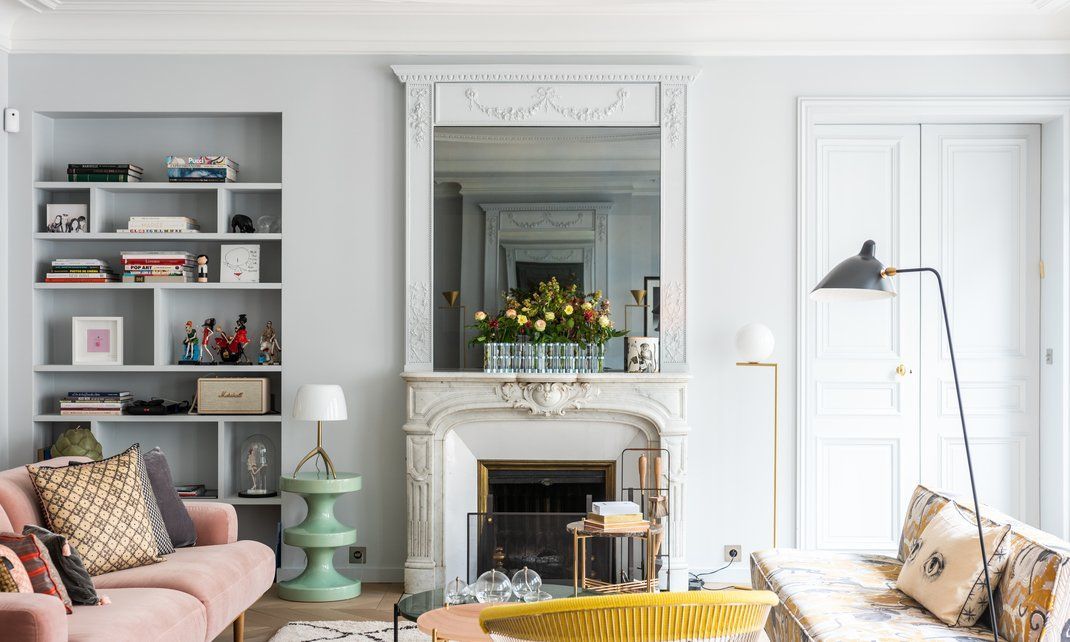 21. Breuer cane chair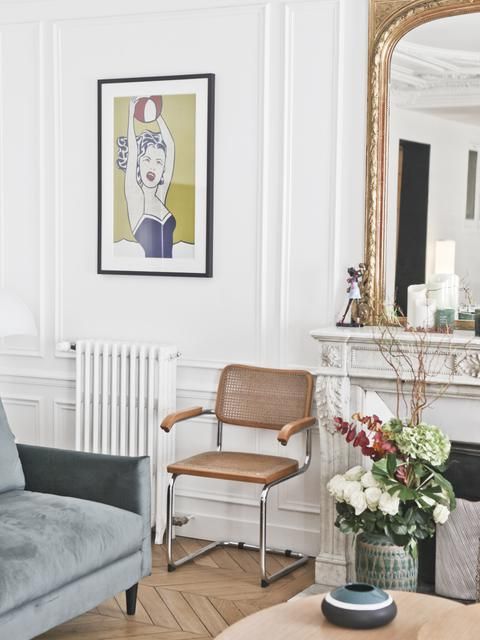 22. Brown leather accent chairs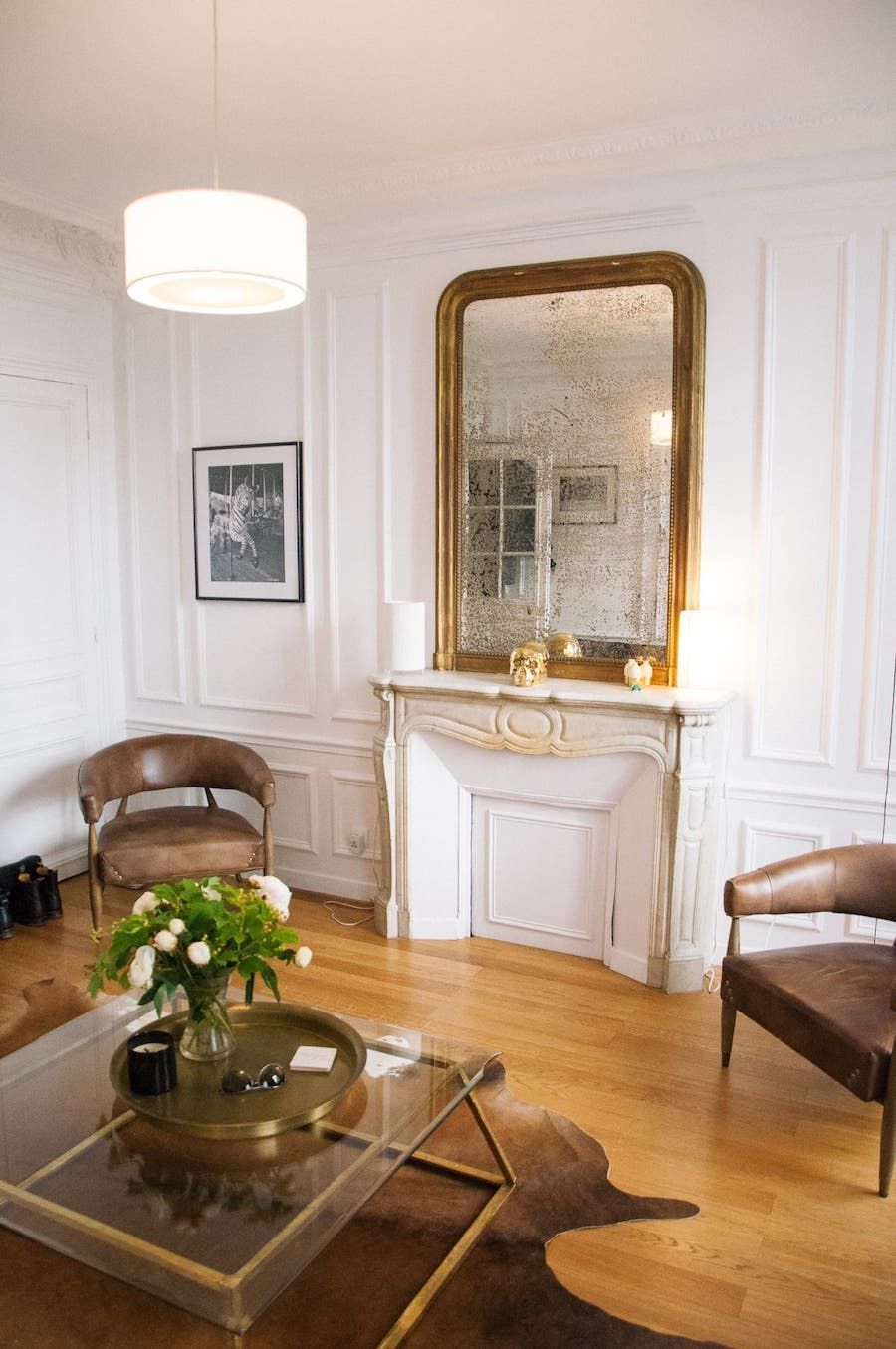 23. Brown leather butterfly chair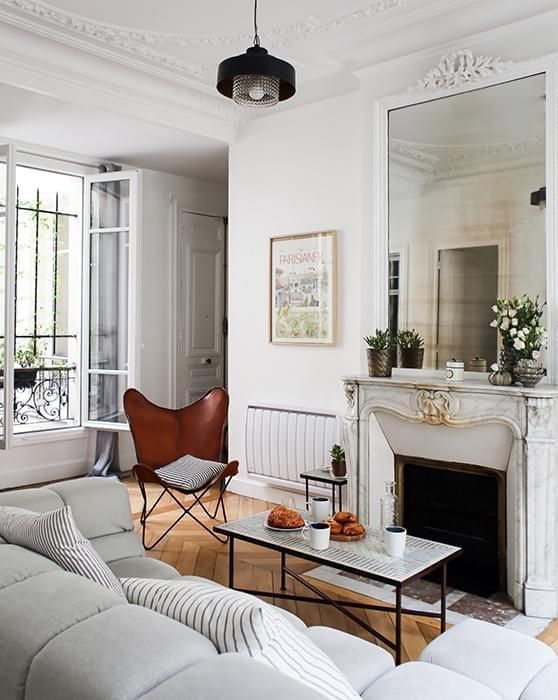 24. Brown leather sofa and gold leaning wall mirror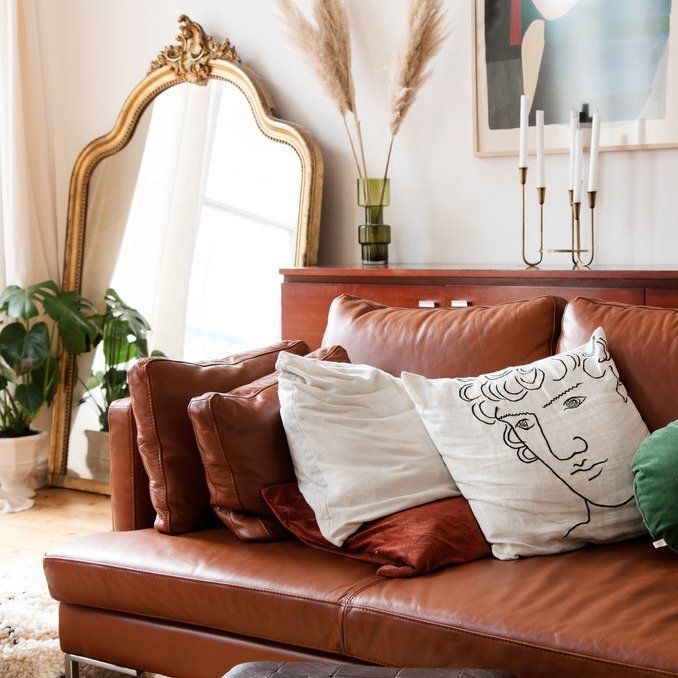 25. Bust on fireplace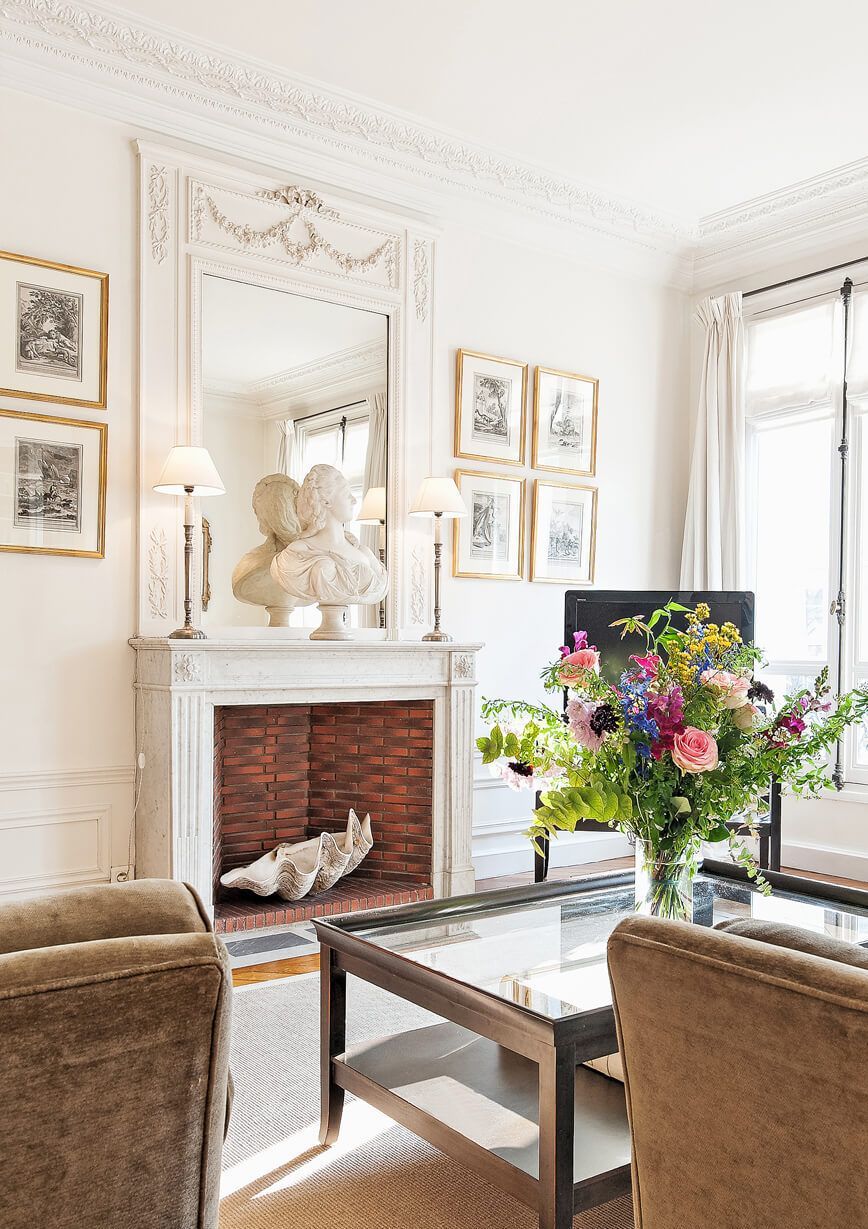 26. Cane paneled sofa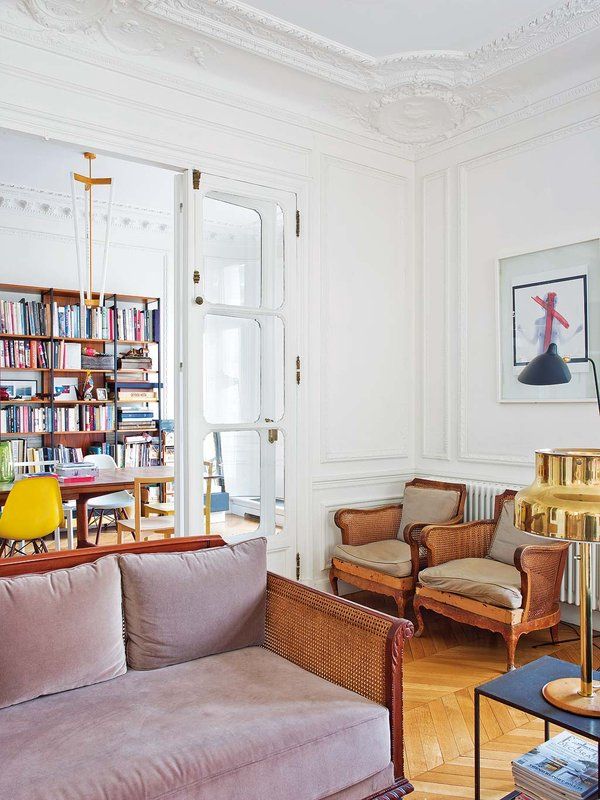 27. Cowhide rug, rattan chair and brown round coffee table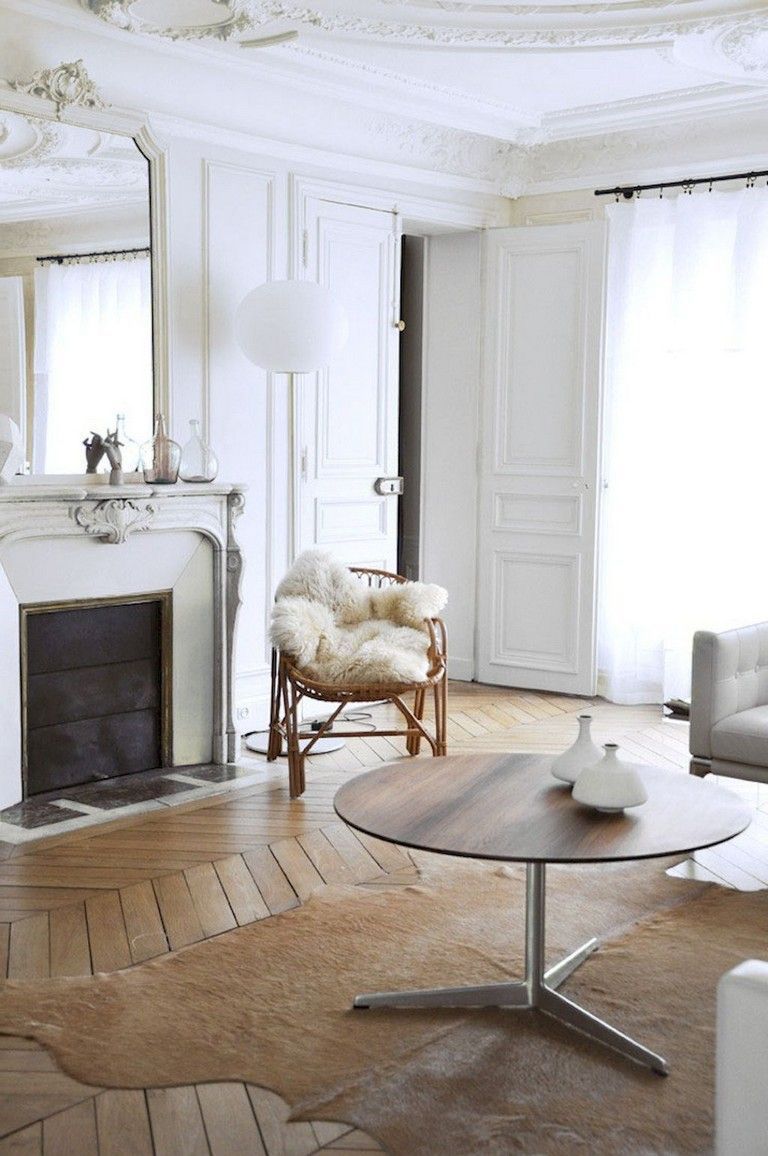 28. Crystal chandelier and ottoman as coffee table
This living room has been thoughtfully designed by one of Paris' best interior designers, Kasha.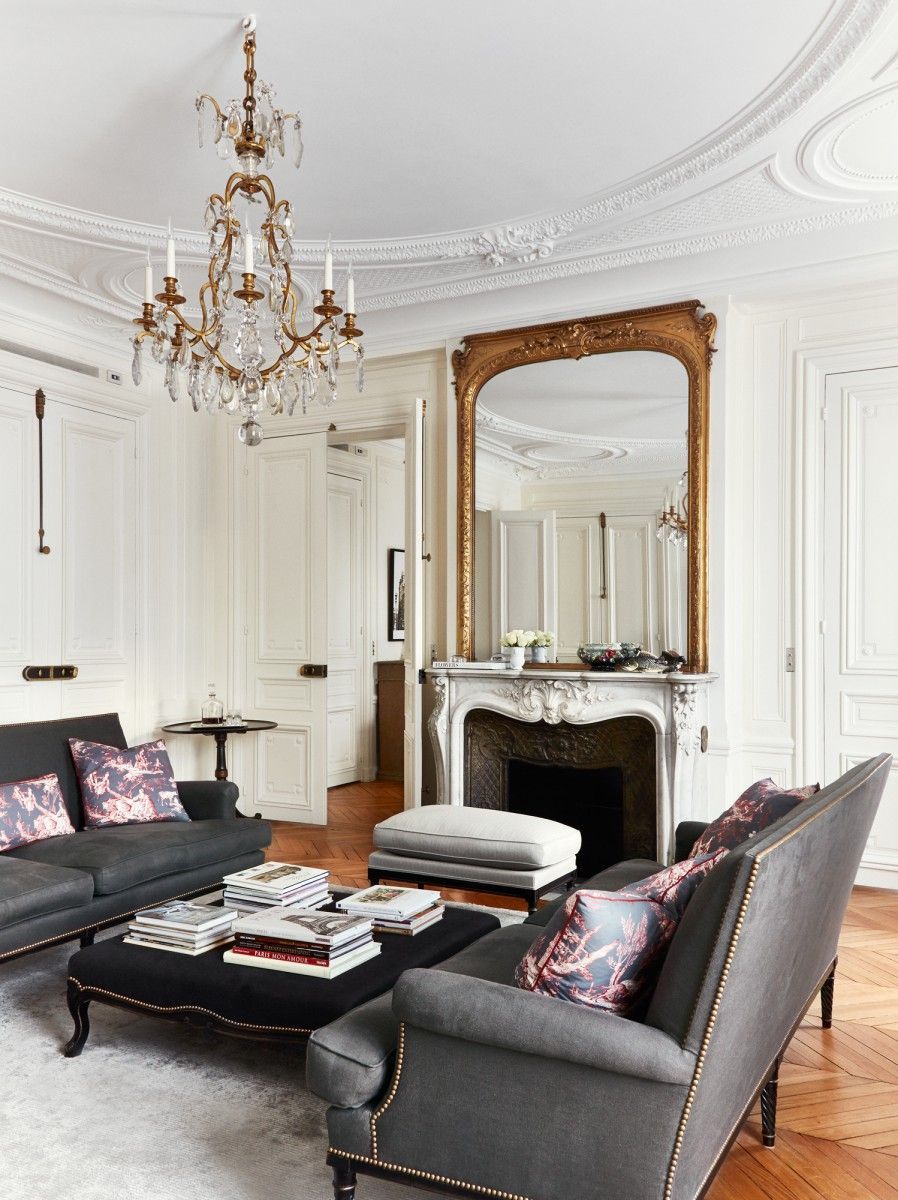 29. Cane Sofa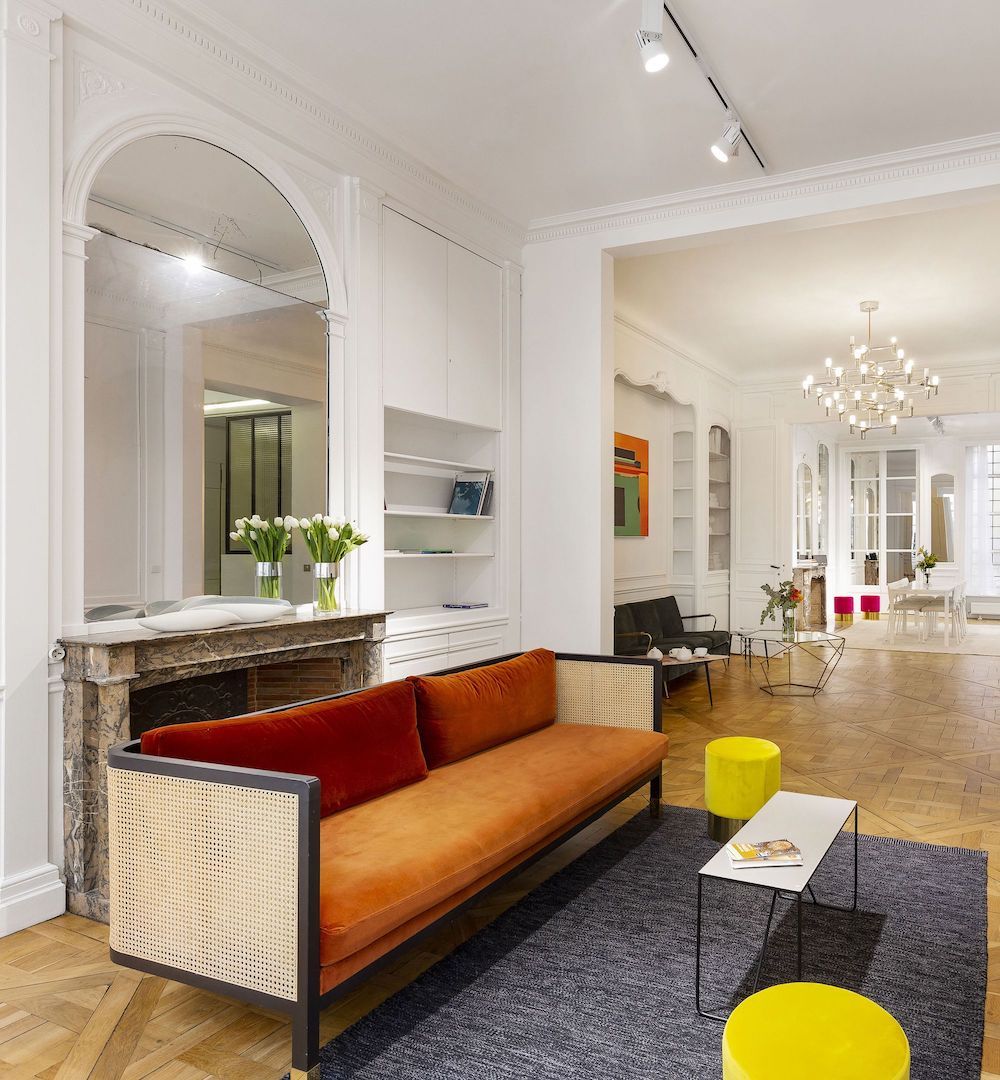 30. Dark blue velvet sofa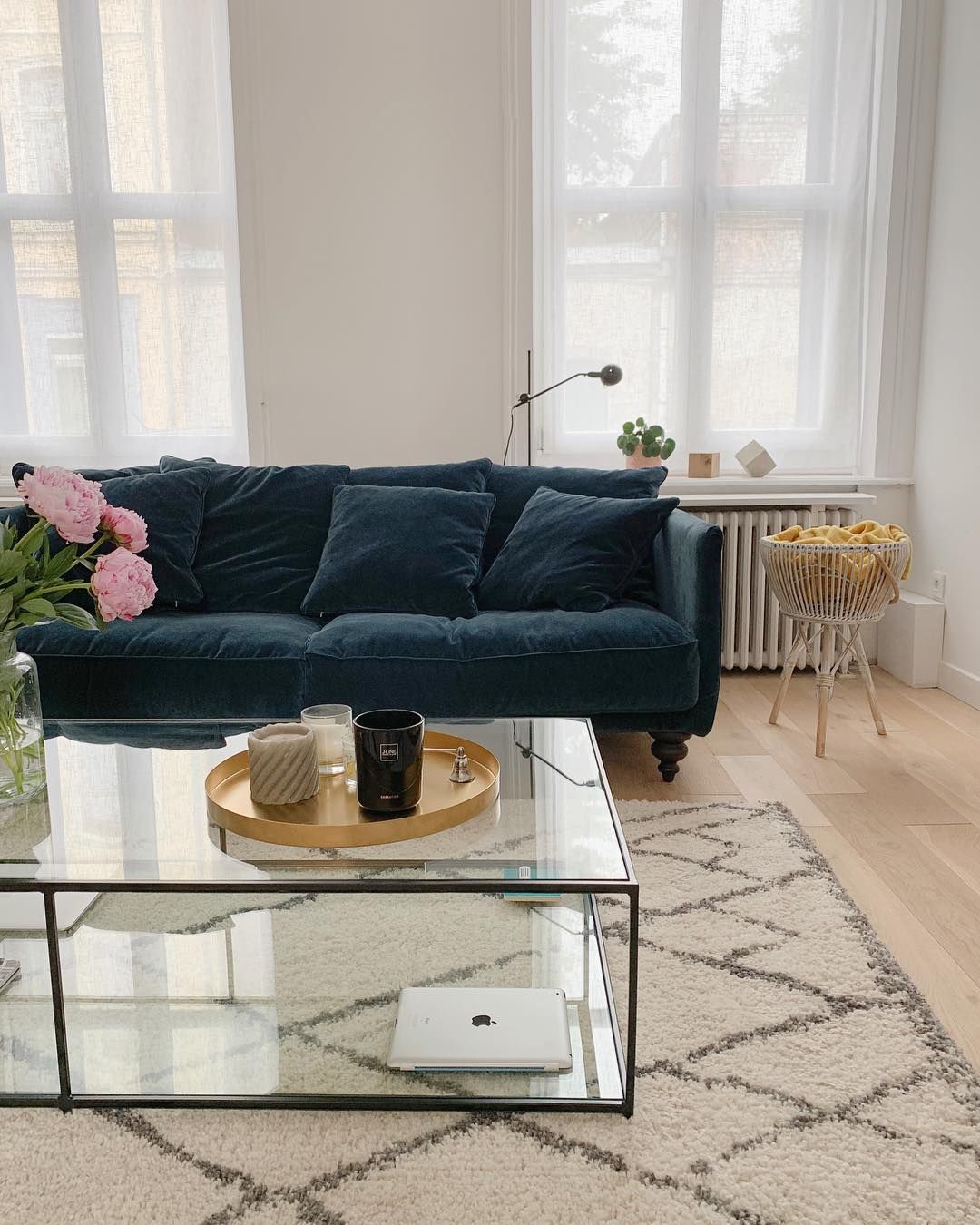 31. Gold mirror and glass coffee table
Check out more chic Parisian coffee tables.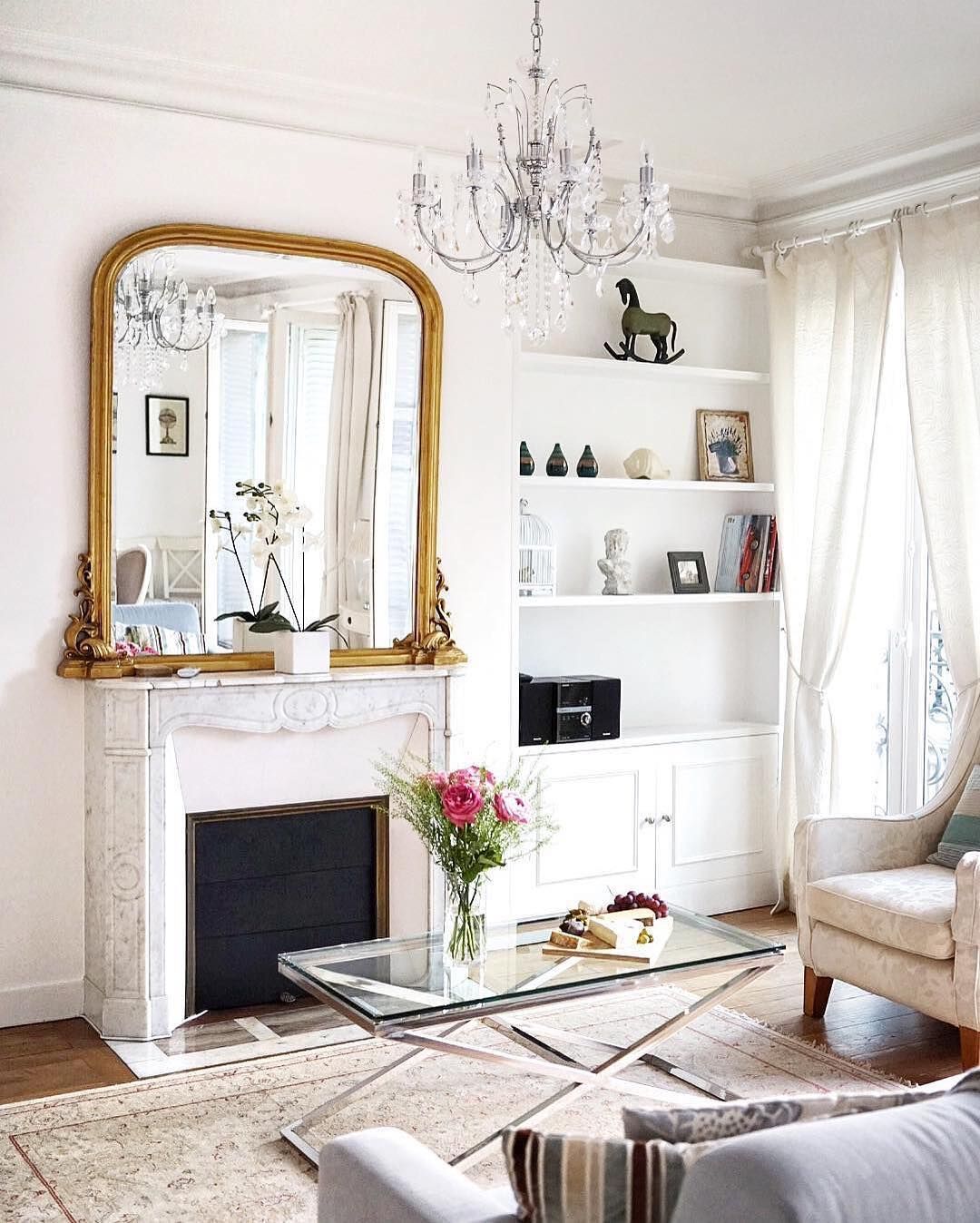 32. Gold molding on the wall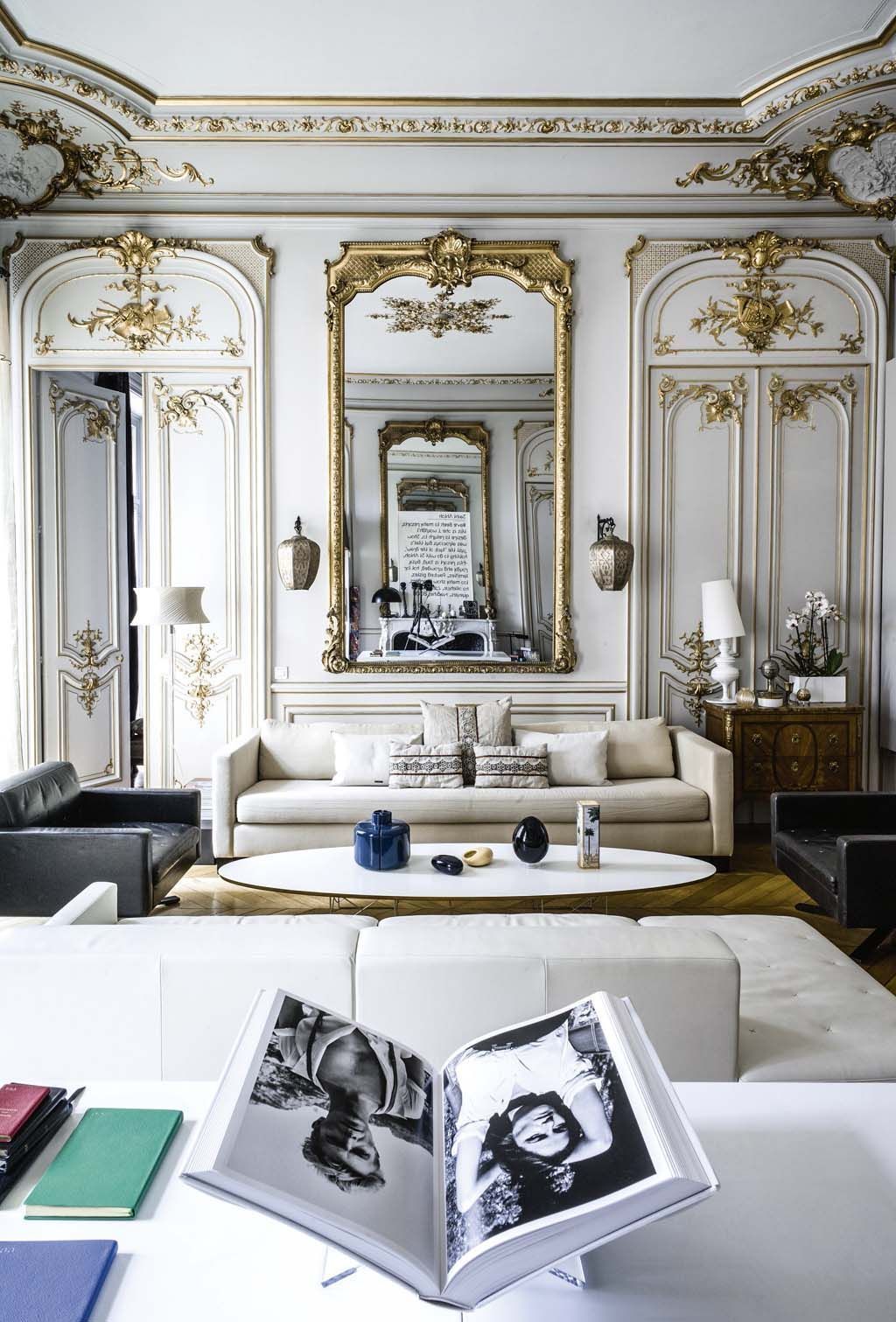 33. Gray sectional sofa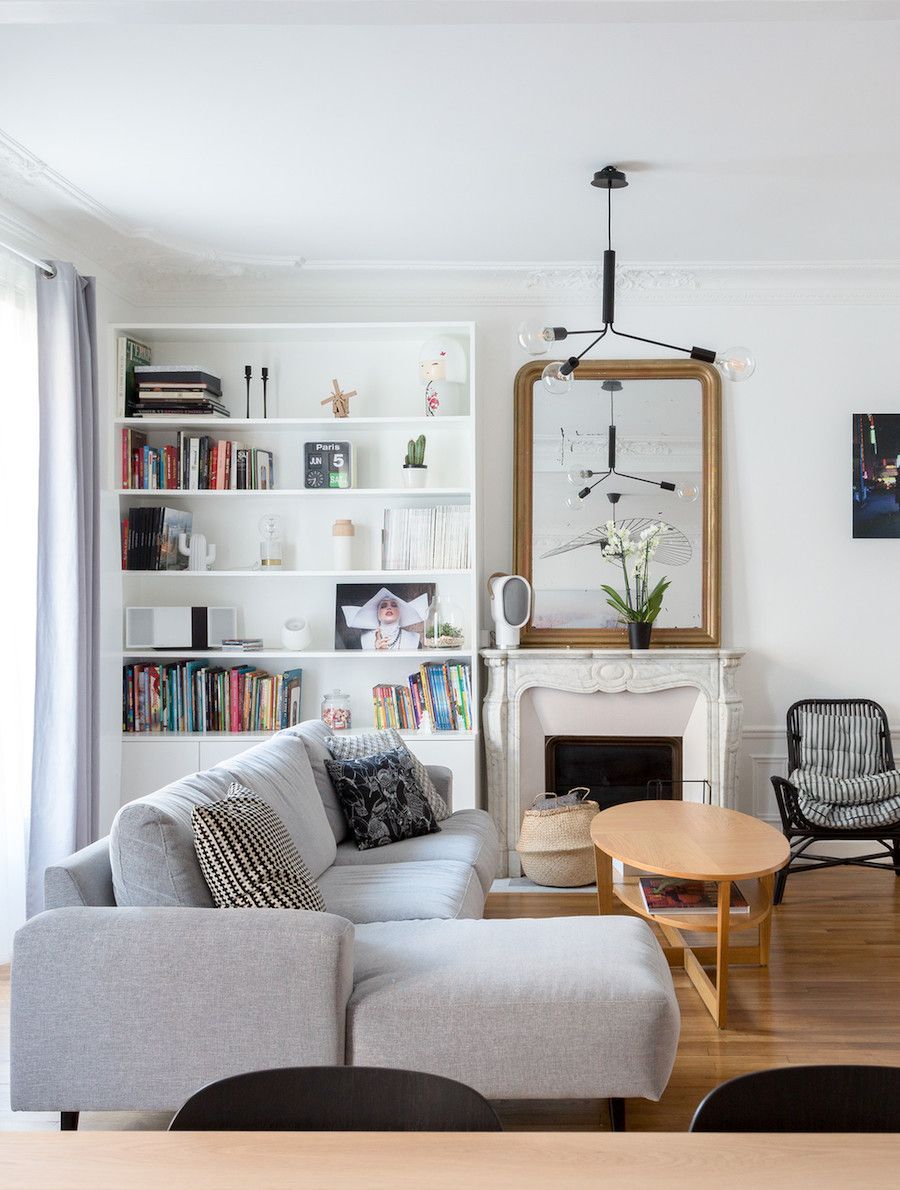 34. Velvet burgundy sofa
35. Green velvet sofa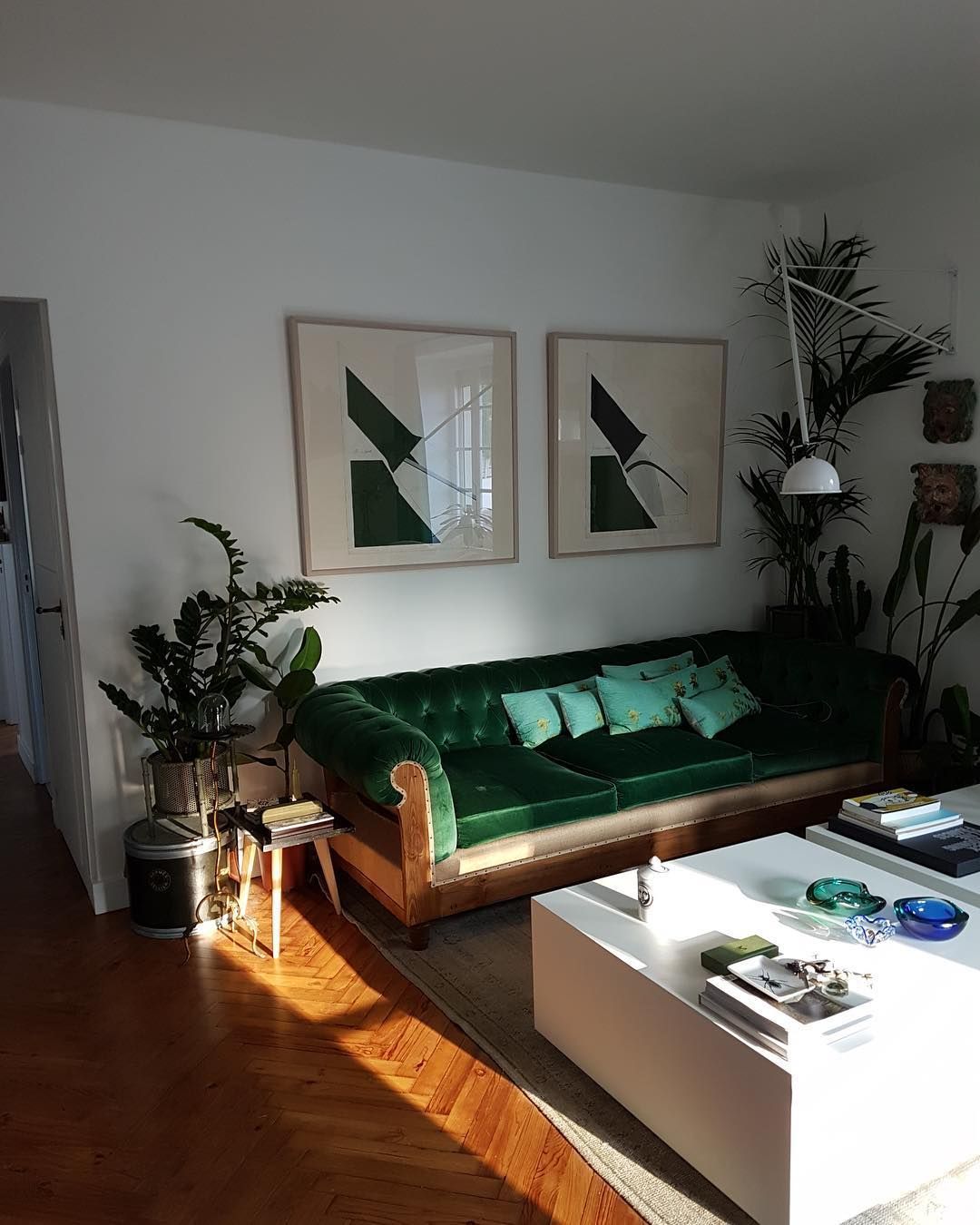 36. Mid-century modern furniture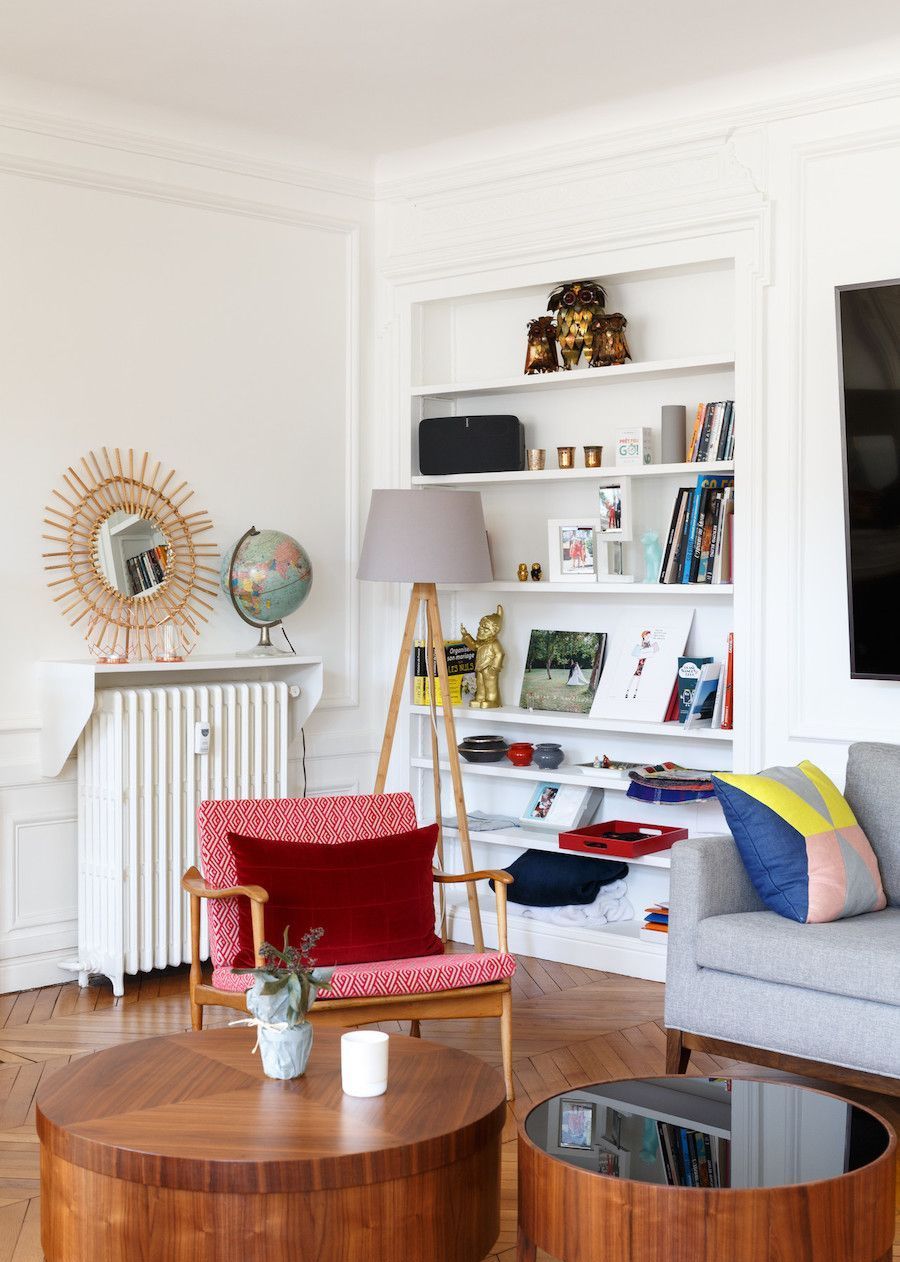 37. Brown leather butterfly chair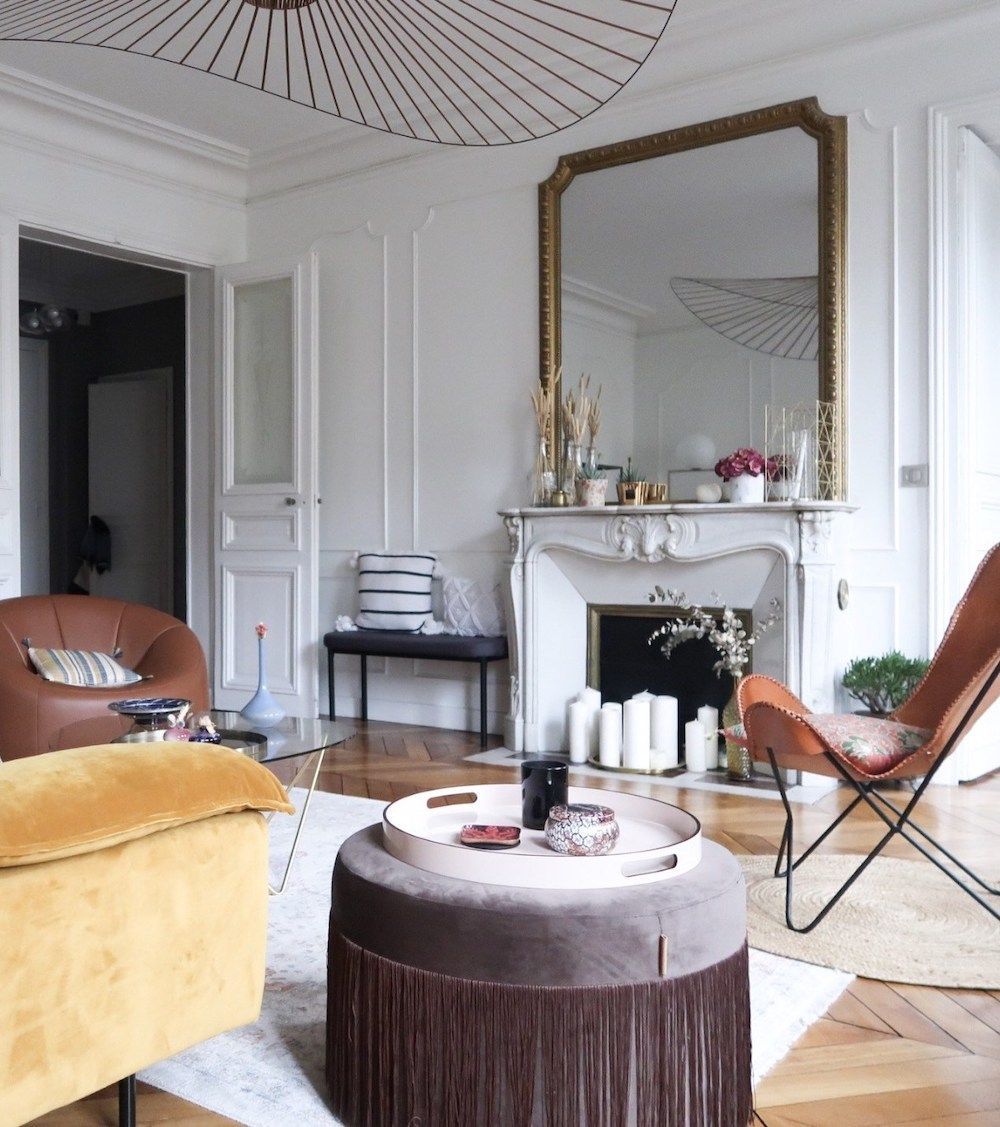 38. Simple gray sofa and Ornate gold wall mirrors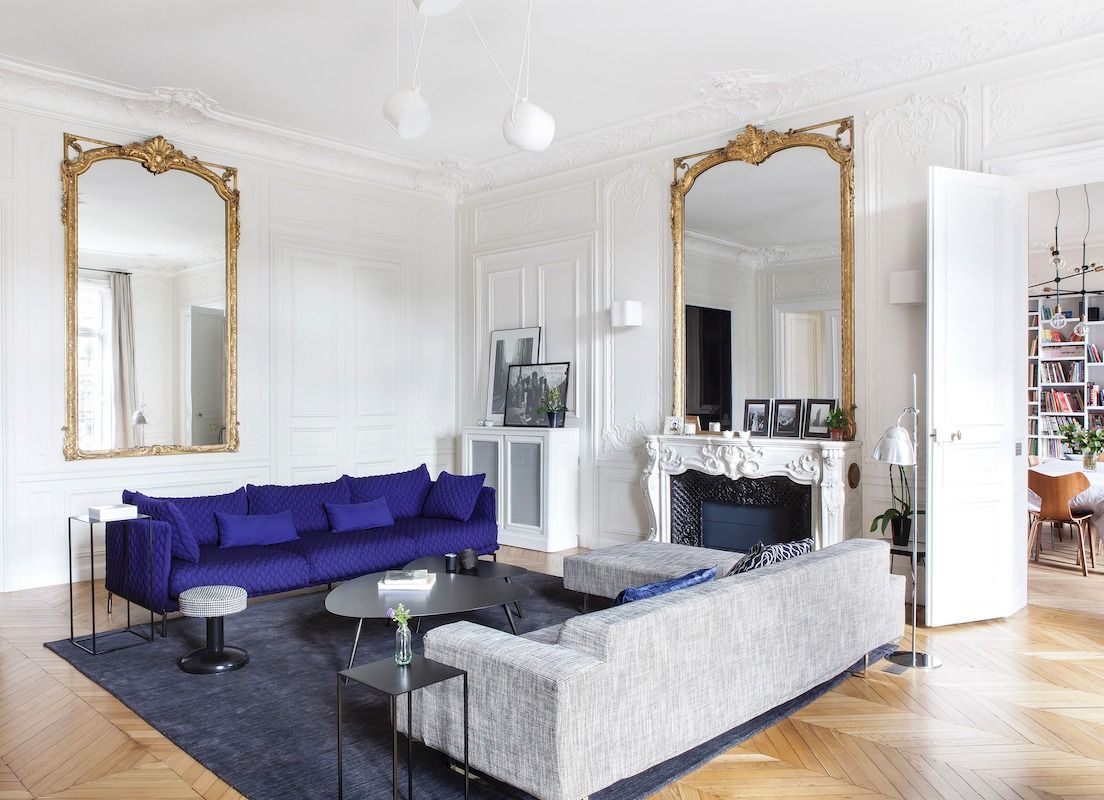 39. Marble coffee table and white slipcovered accent chair
The oversized slipcovered accent chair looks so cozy!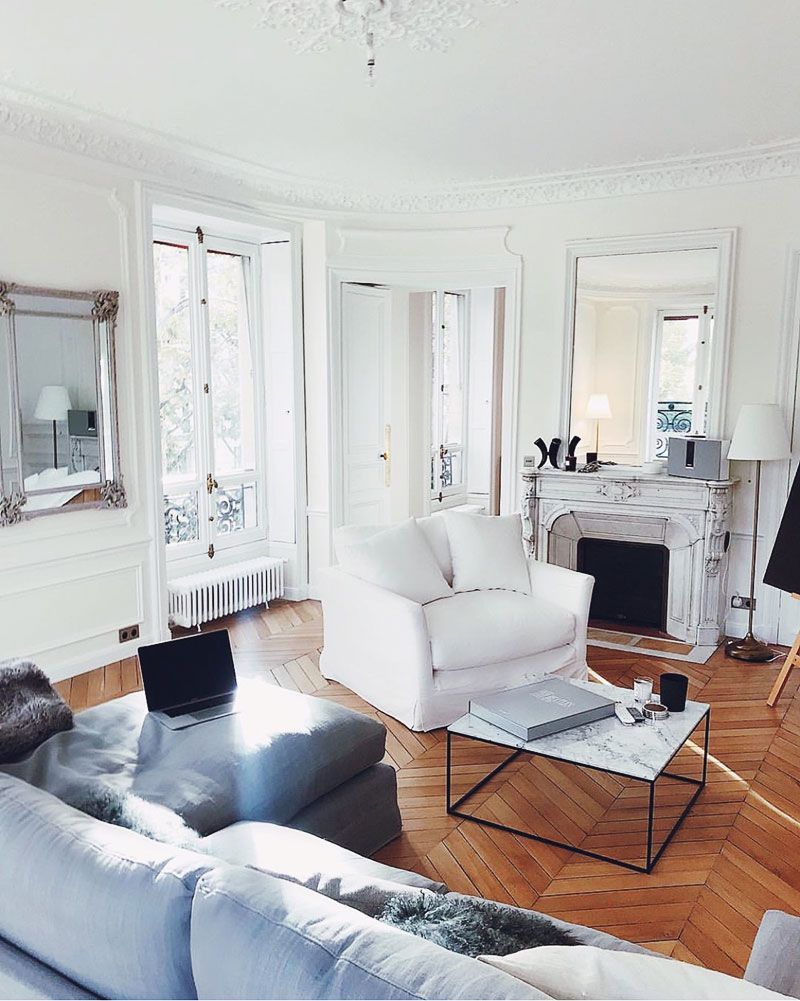 40. Modern mustard yellow sofa
Mustard yellow sofas are a bold design choice that reminds me of the retro style!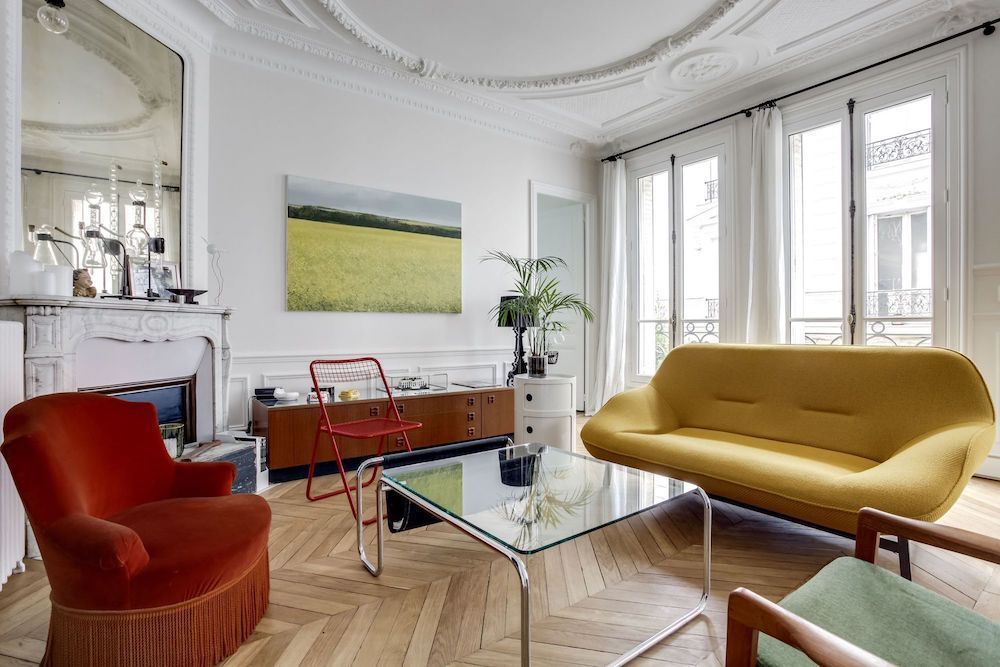 41. Mid-century cabinet storage and sofa
42. Gray sofa
43. Mirror coffee table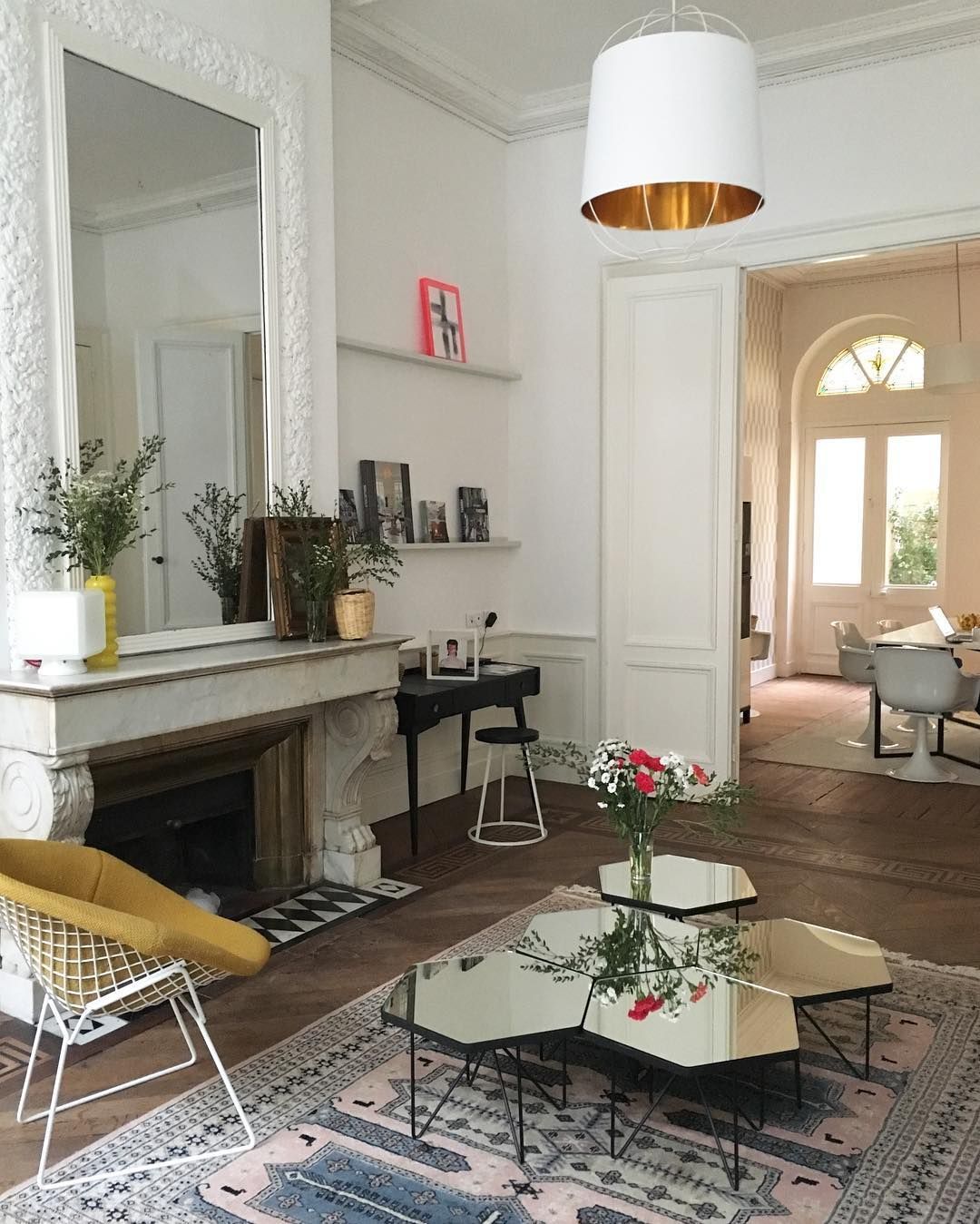 44. Modern accent chairs and marble fireplace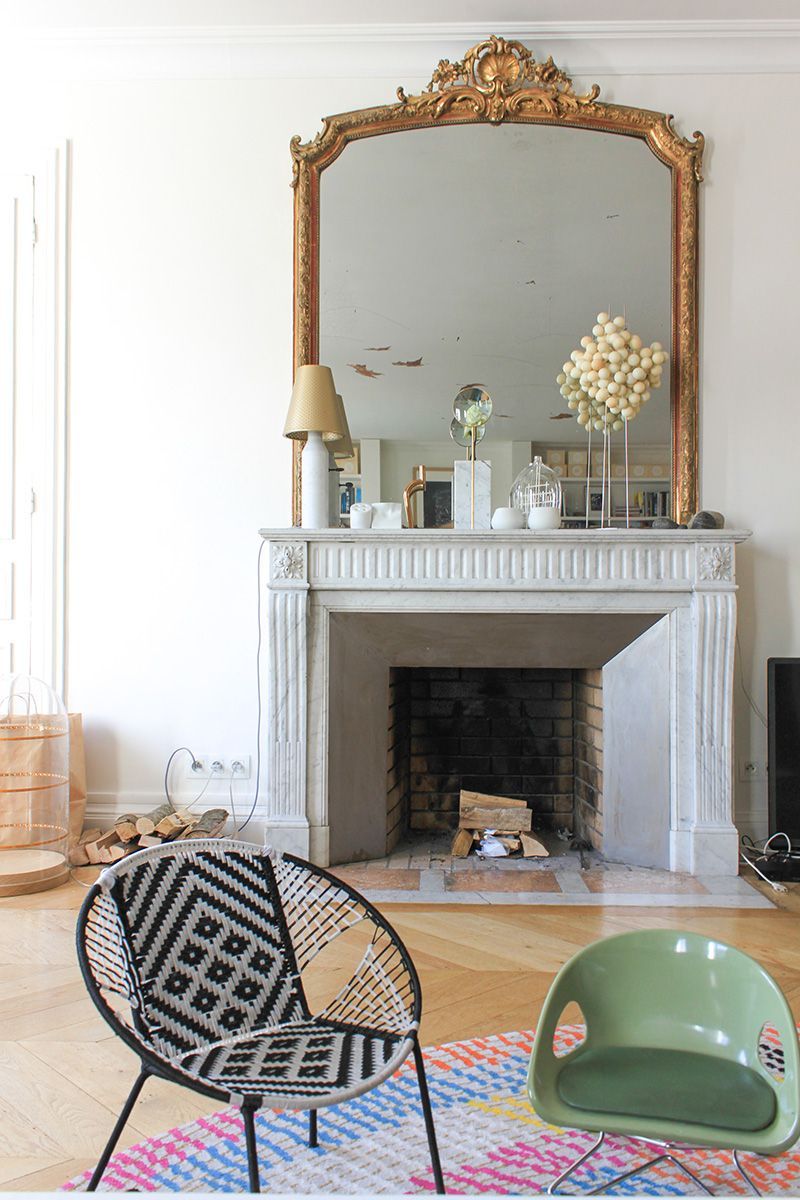 45. Modern black pendant light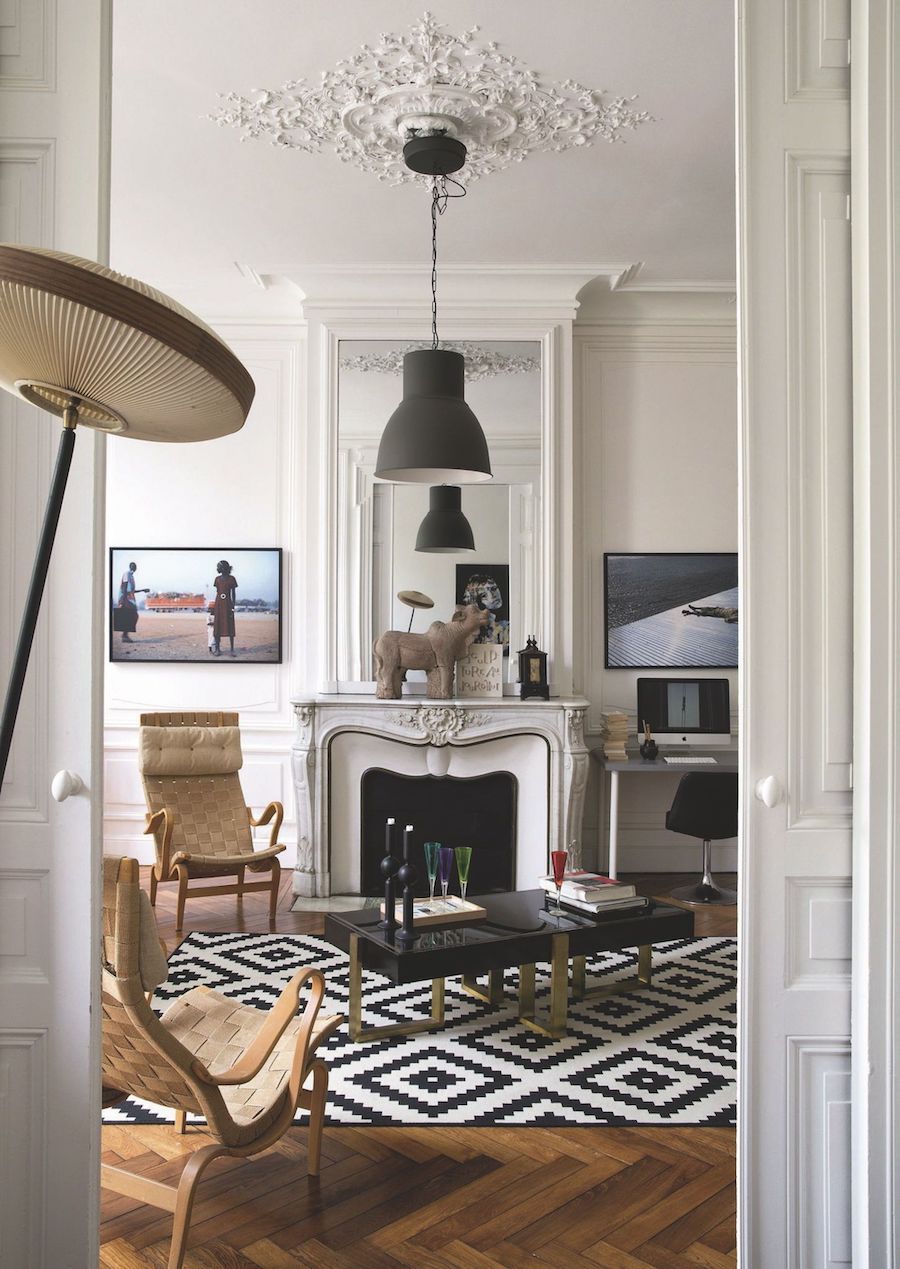 46. Mid-century modern rug and furniture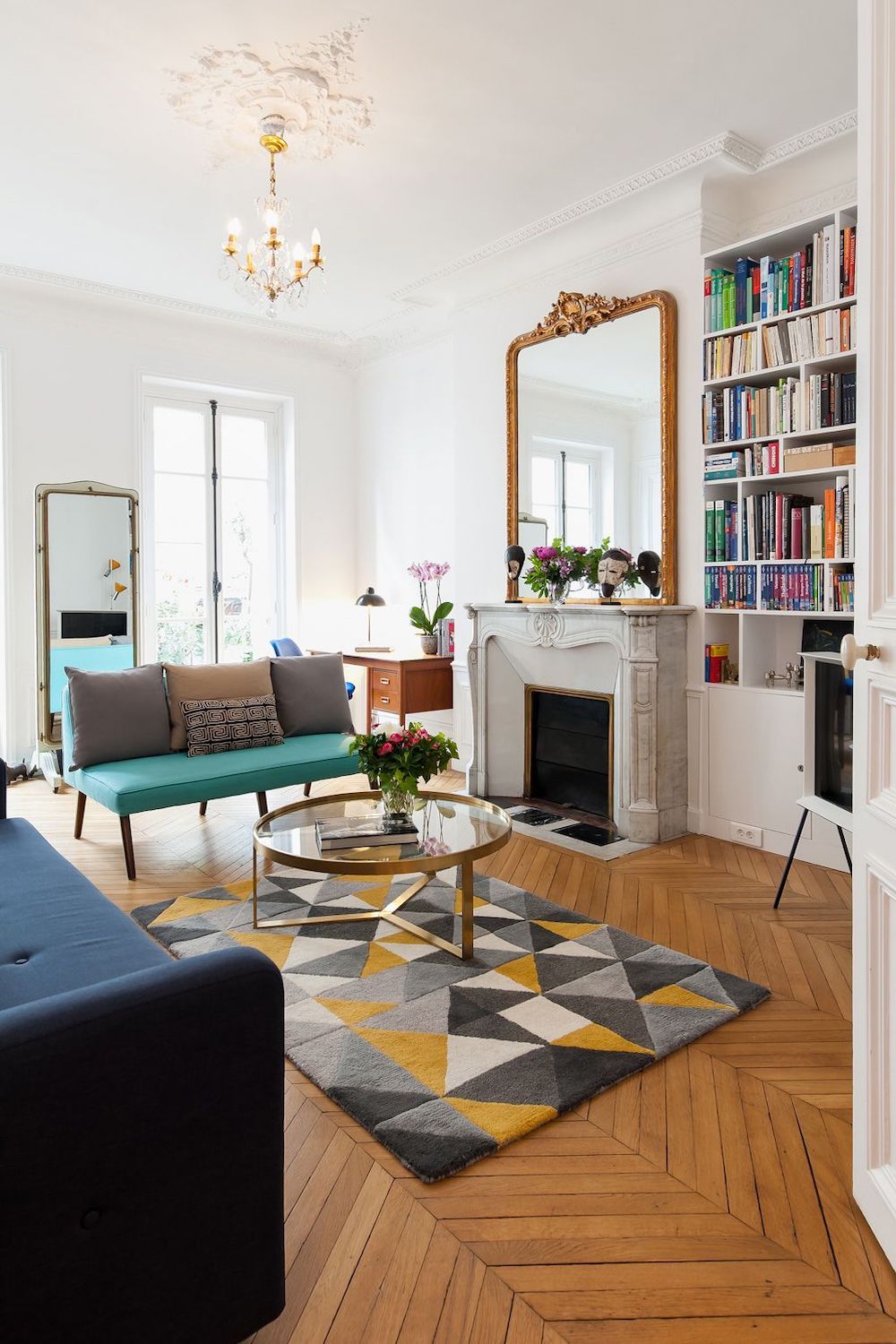 47. Mustard yellow sofa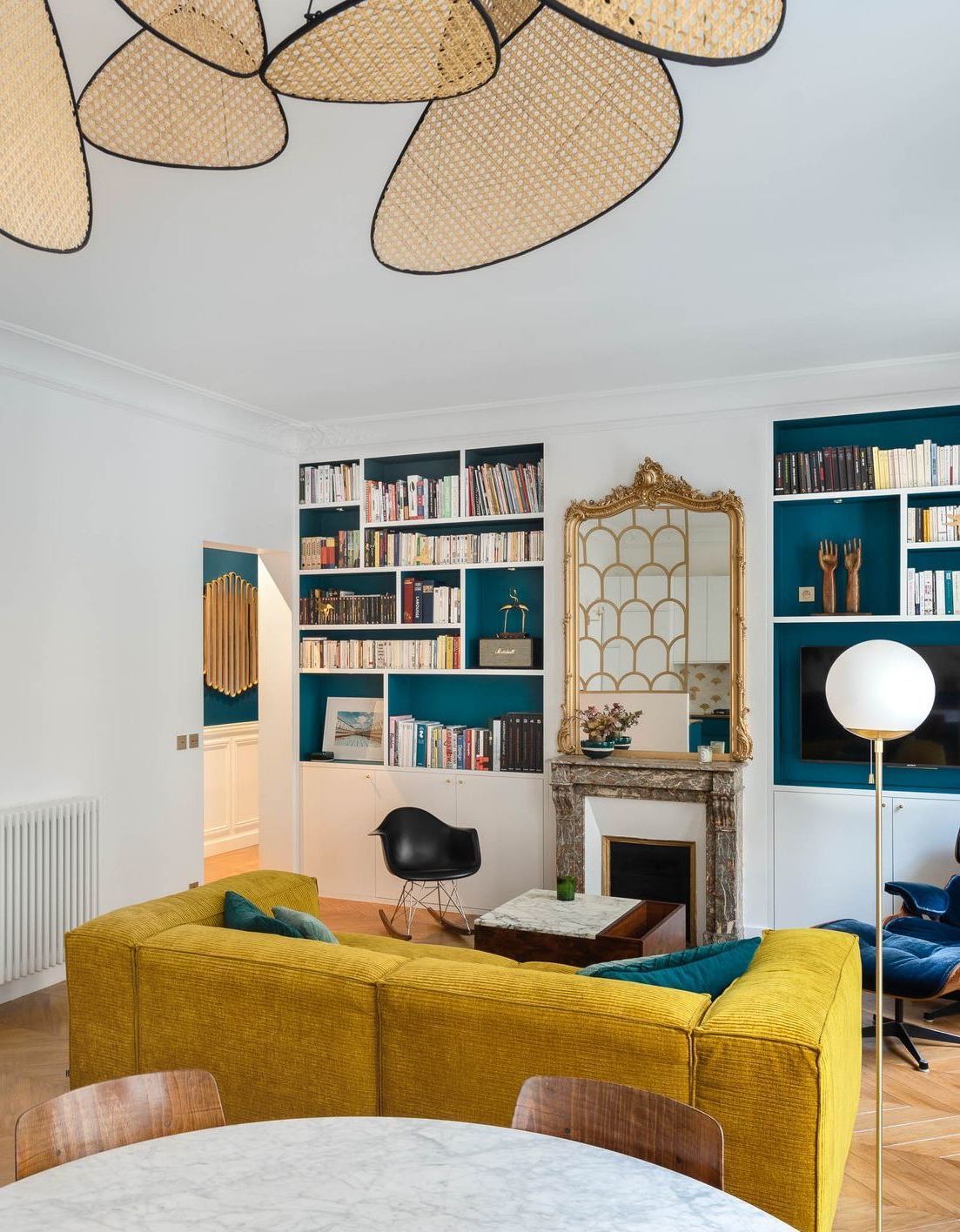 48. Green walls and mustard yellow sofa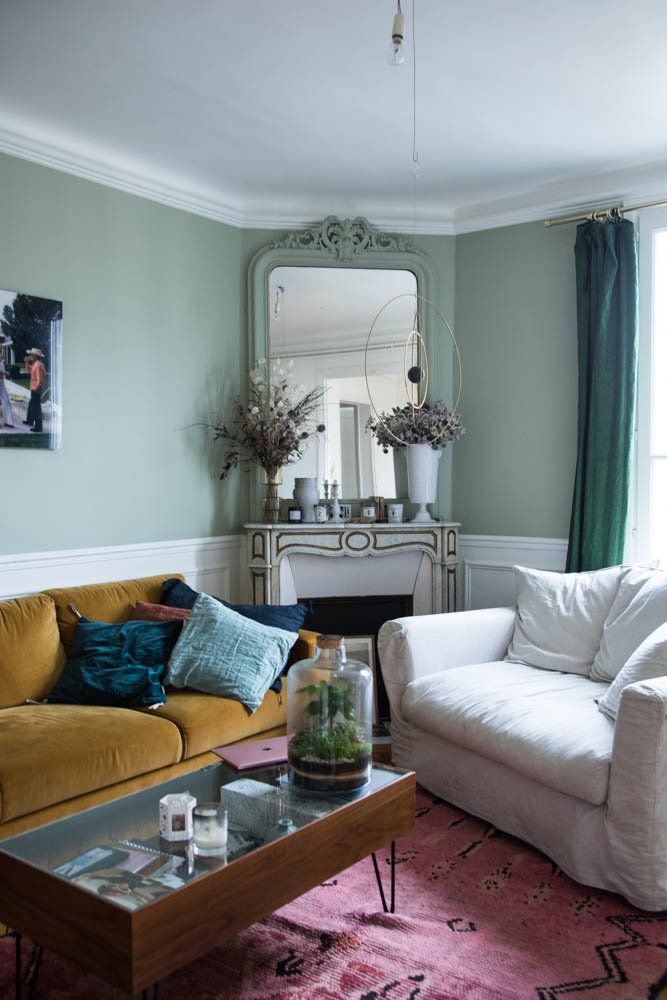 49. Marble coffee table in the living room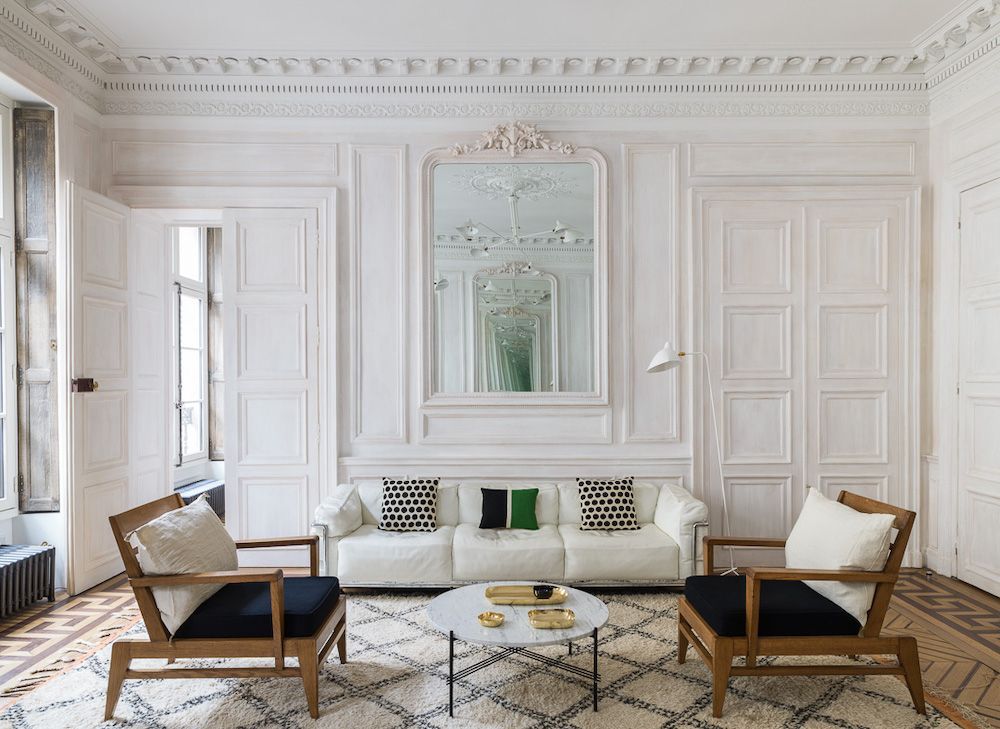 50. Red leather accent chair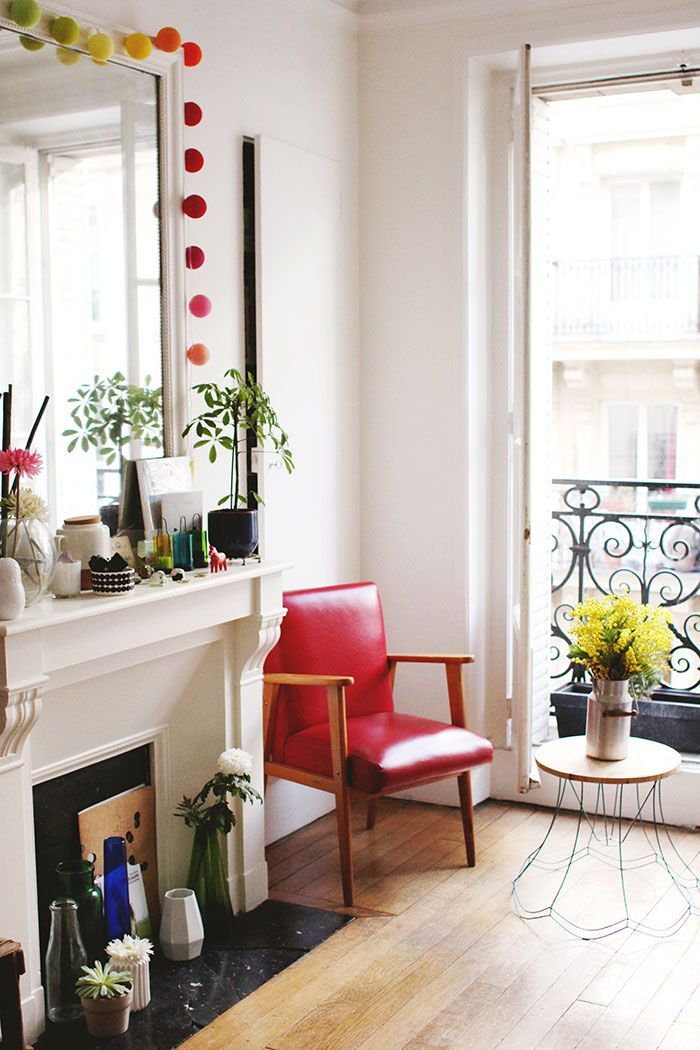 51. Turquoise walls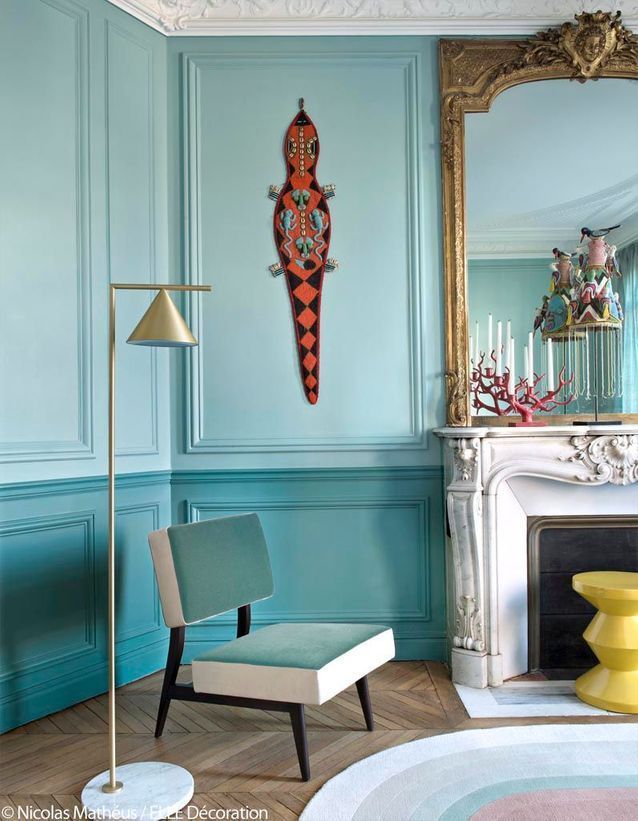 52. Mid-century modern style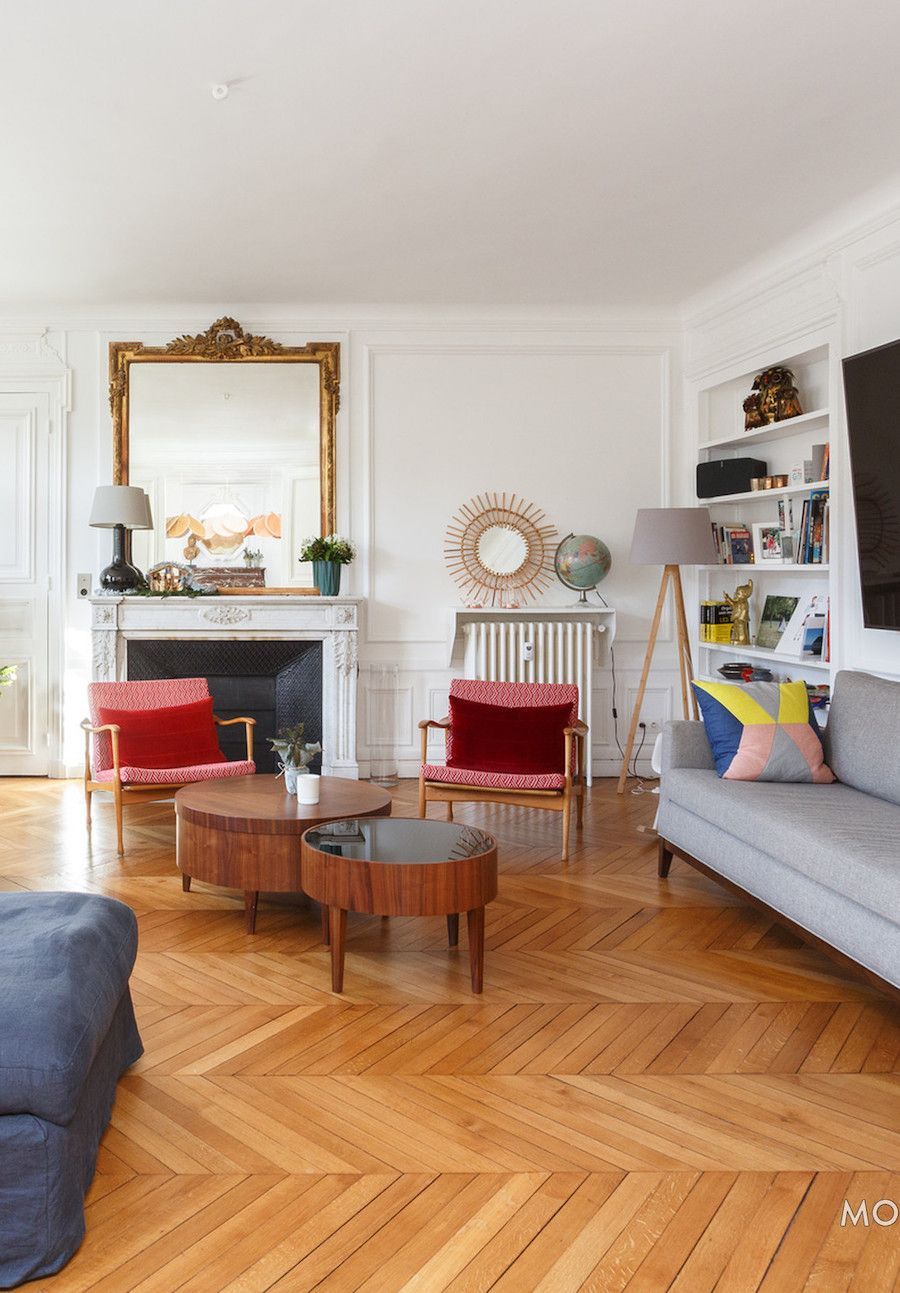 53. TV on Easel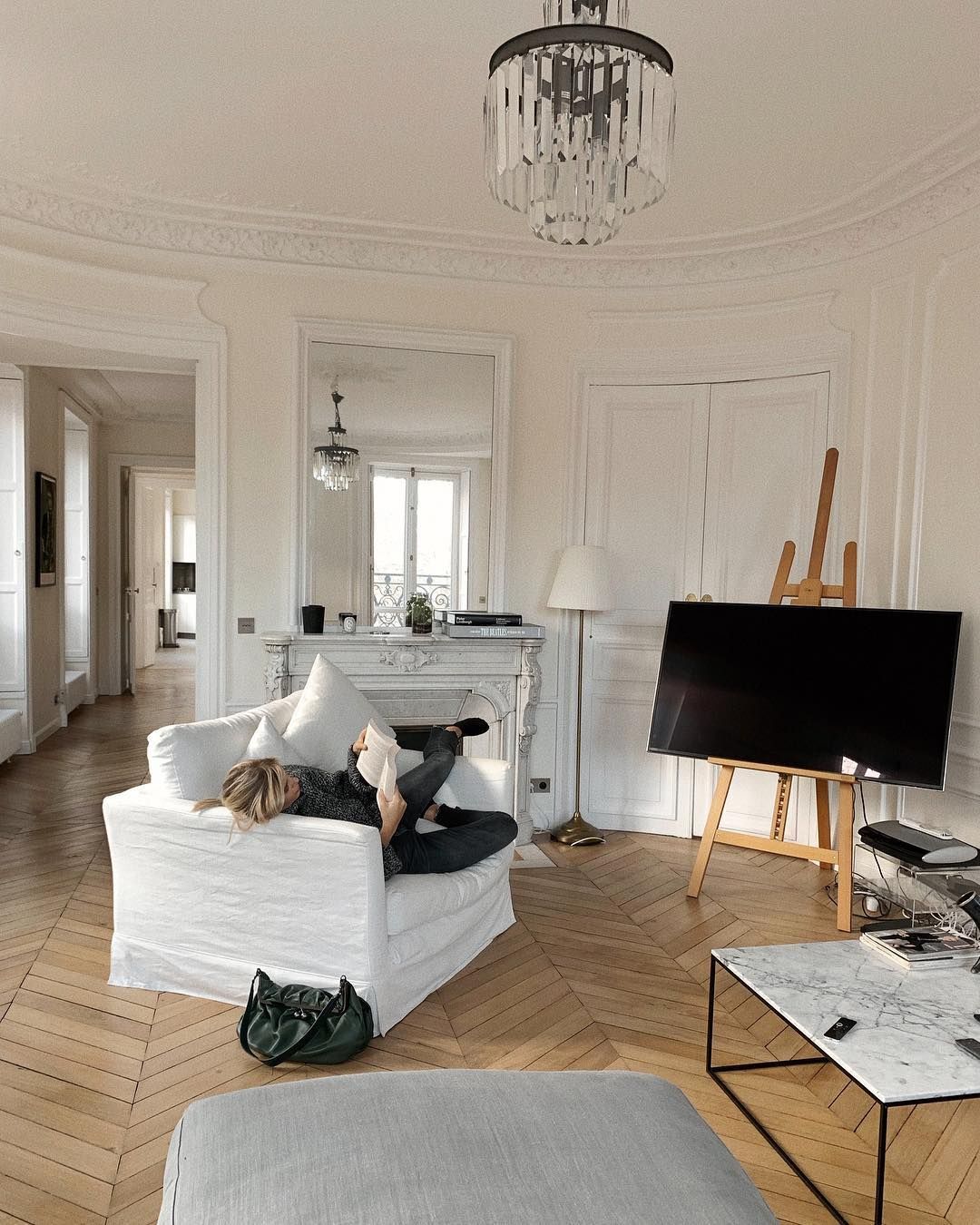 54. Two white accent chairs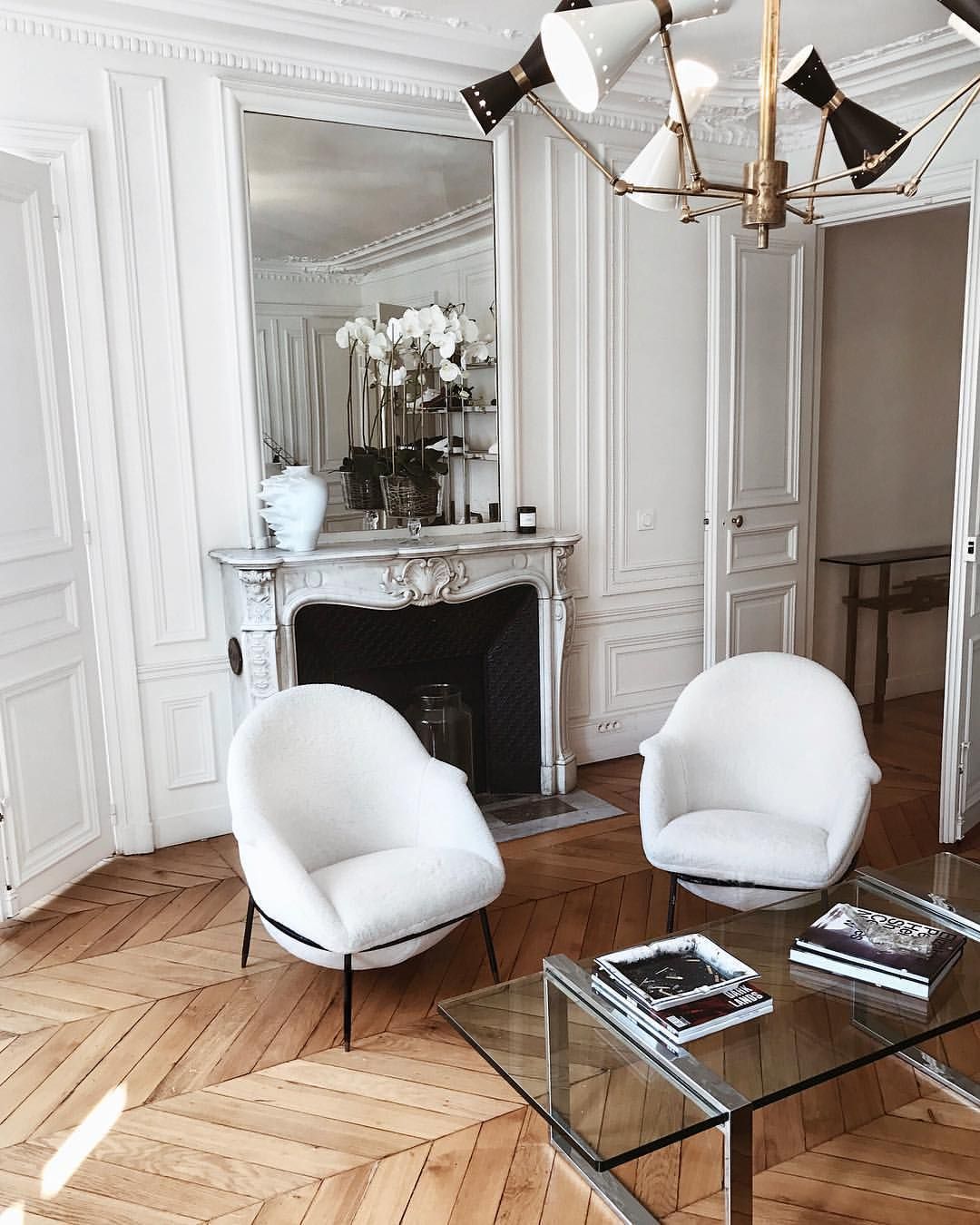 55. Velvet sofa and mid-century rug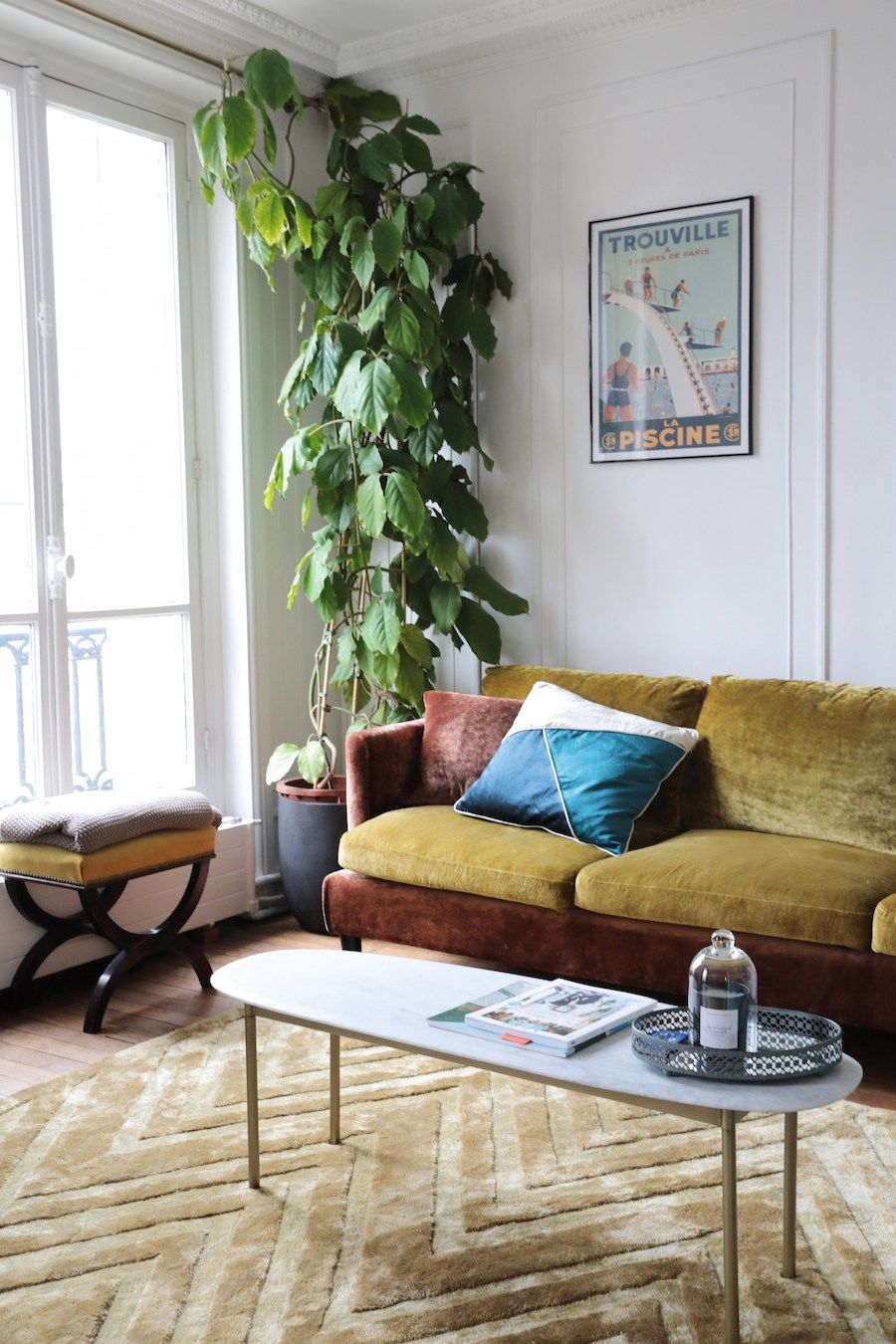 56. Mid-century modern purple accent chair
A statement living room chair is always very Parisian.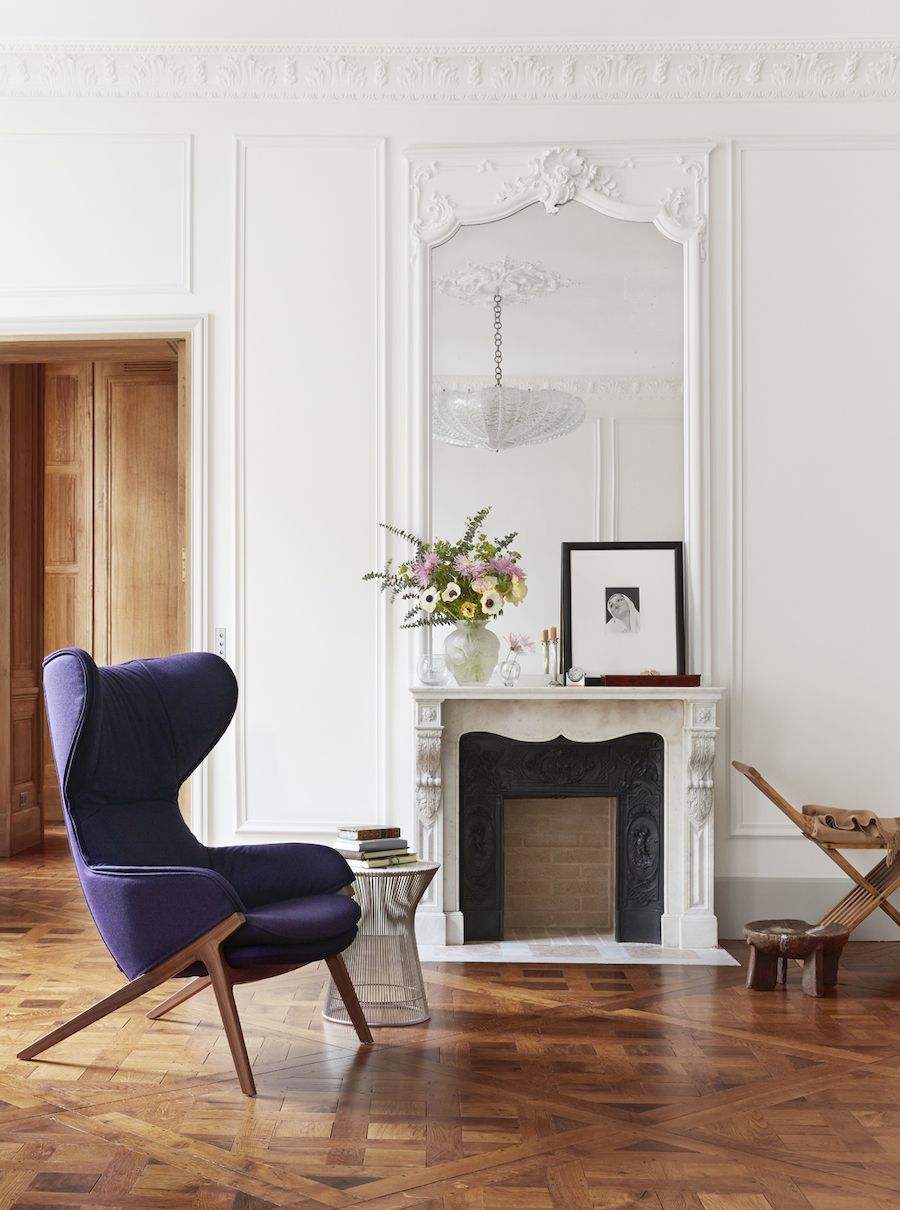 57. Parisian White Sofa
White keeps the design simple and chic.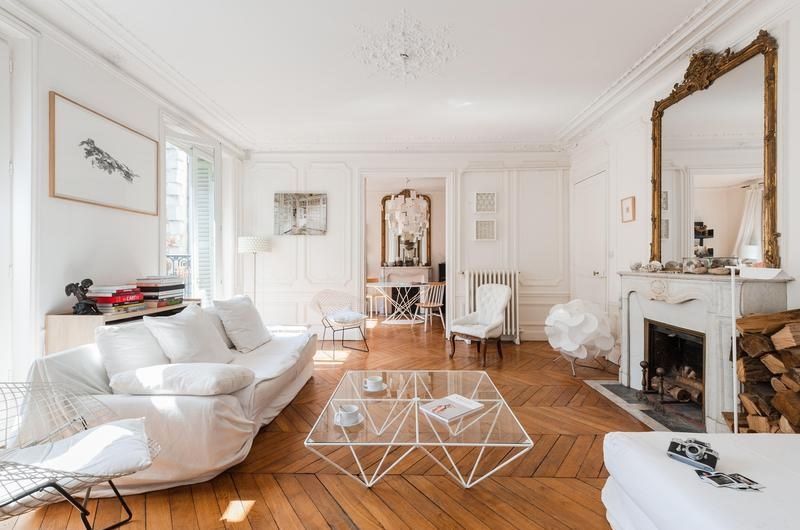 58. Mustard yellow sofa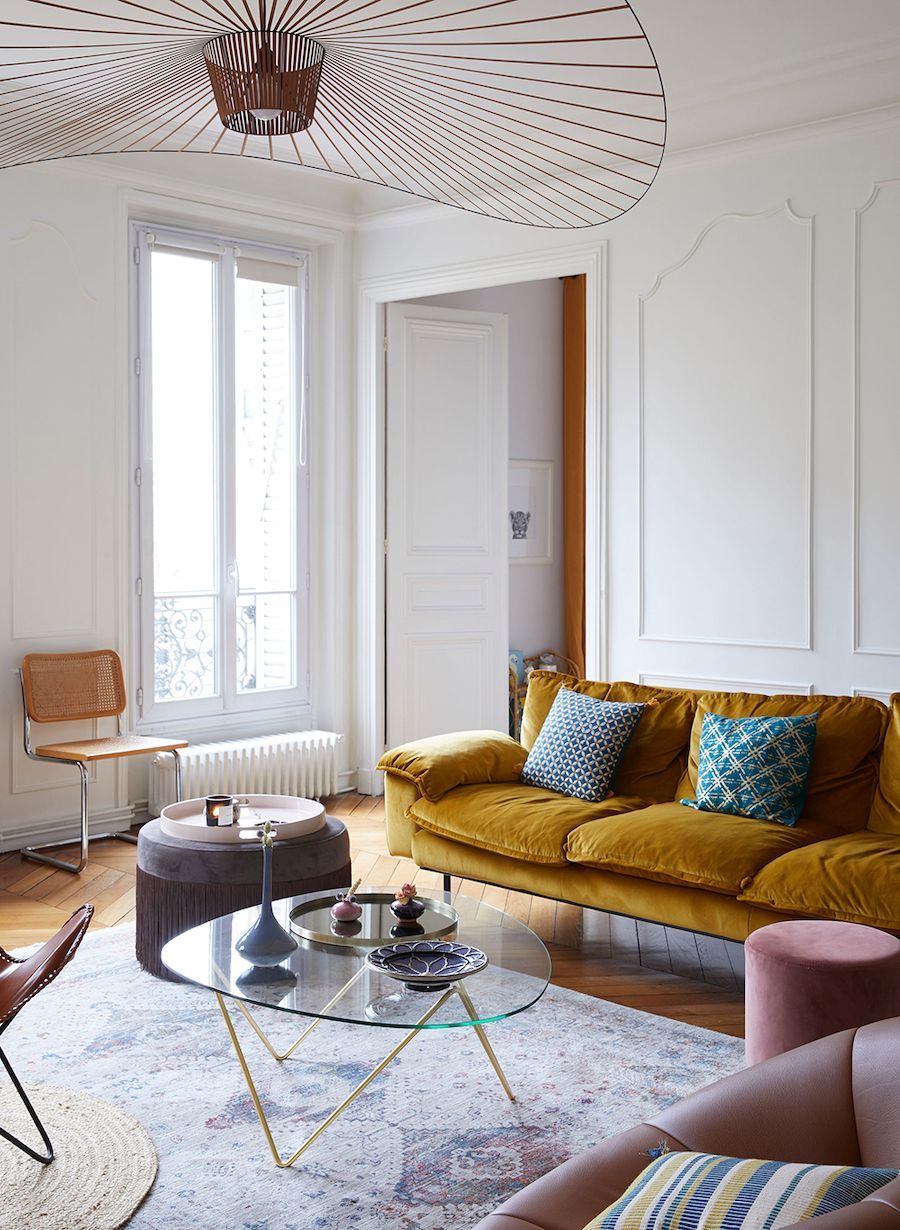 59. Wood coffee table and bohemian floor poofs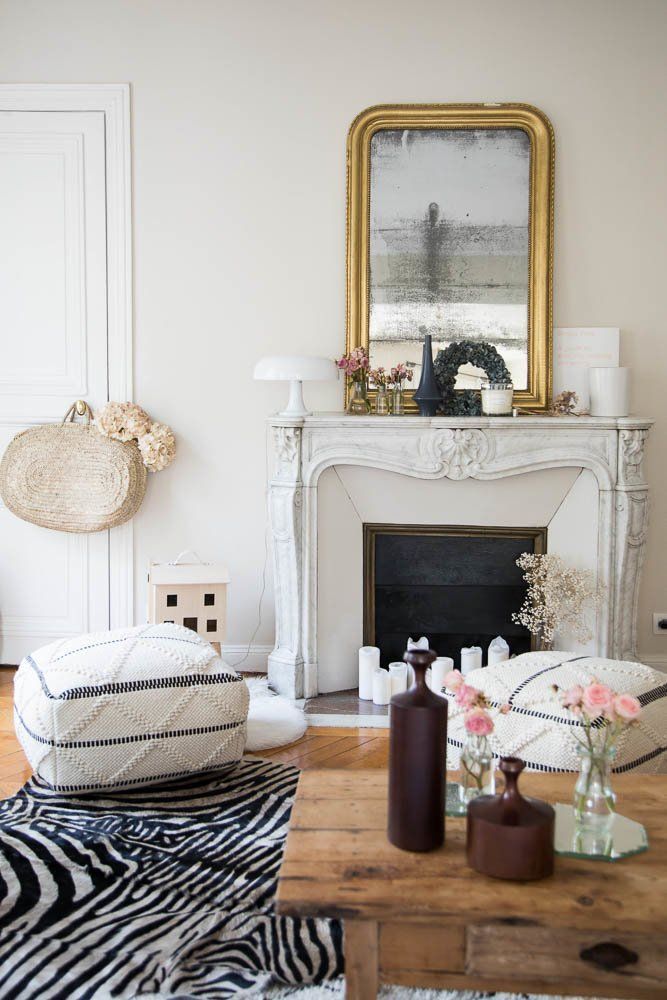 As you can see there are quite a few common themes in these living rooms even though they are quite different in style! Parisians love to decorate with crystal chandeliers, dried flowers, and solid-colored sofas, often in burgundy or mustard yellow and upholstered in velvet.
They love mid-century modern furniture and can't resist a gold mirror! We have a lot to learn from the Parisian style, don't we? Stay tuned for more Parisian room tours like this one by subscribing to our mailing list below!
What is your favorite element of these French living rooms?