Moving into your first apartment is tough. From moving your stuff to finding new furniture, there seems to be an endless list of things to do. While furnishing a living room seems easy – couch, coffee table, lighting, etc. – it takes a little TLC to get your living room to exactly where you want it. That's why we've taken the liberty to write up a living room essentials guide to help ensure you've got your bases covered when it comes to your new living room.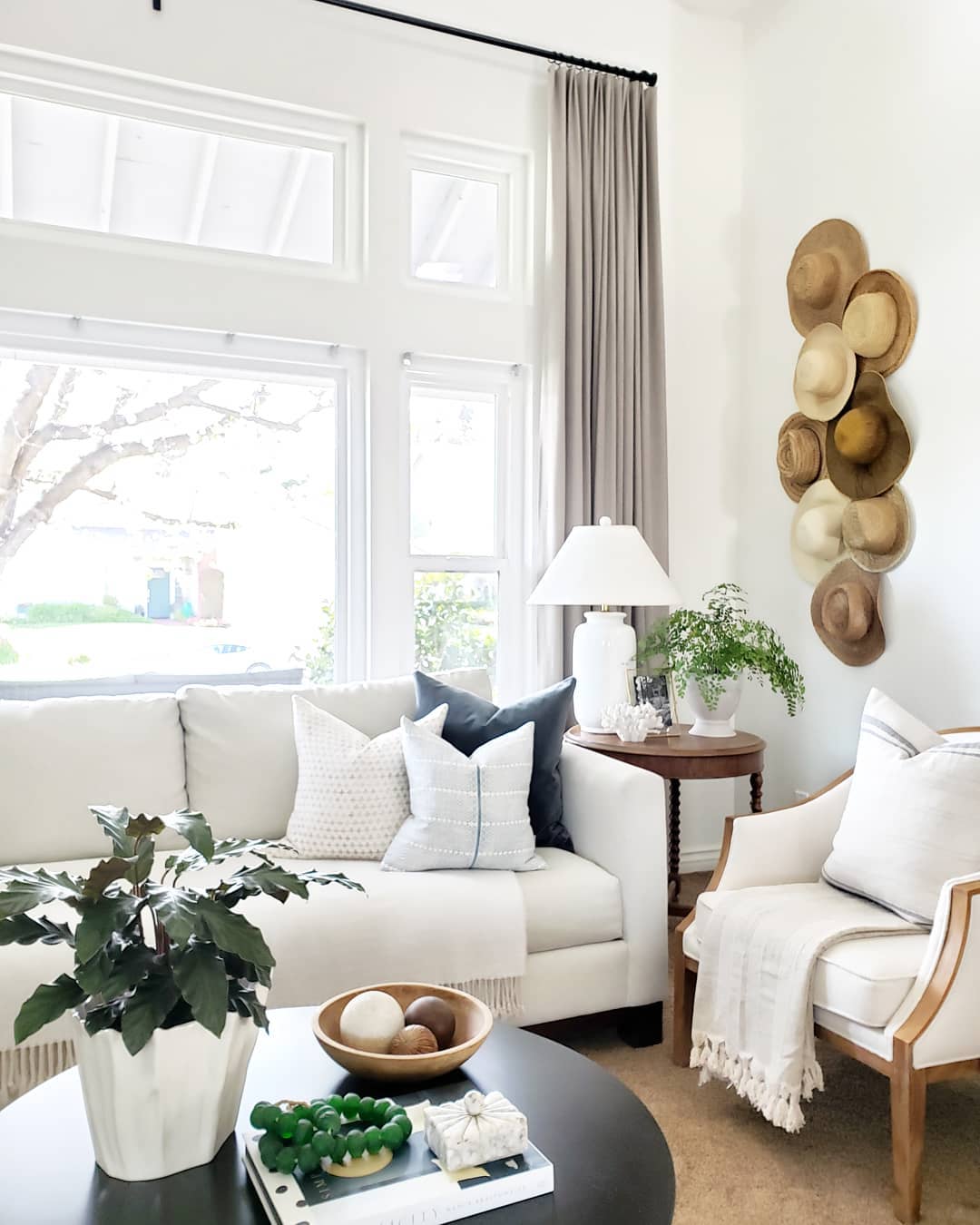 Living Room Furniture
Here are the five main pieces of living room furniture you'll need to furnish your space and make it cozy. You don't need all of these pieces, but they're definitely all nice to have and serve a specific purpose!
1. Sofa
The first living room essential you should nail down first is the sofa. As the largest piece of furniture in the room, the couch is paramount to setting the right tone of your space. Head to our sofa buying guide for detailed information on what to consider before buying a sofa for your space. Here are a few of our favorite affordable sofas!

2. Coffee Table
Next up, you should purchase a coffee table for your living room. The coffee table will hold your coffee in the morning, your food in the afternoon and your personal items throughout the day!

3. Media Stand
If you watch TV or Netflix, then you'll need a media stand or media console to hold your television. Make sure the style you choose fits in with the rest of the room.

4. Side Tables
Side tables are great for holding table lamps and even the remote control.

5. Accent Chairs
You should have at least one accent chair in your living room to balance out the space and provide extra seating. Accent chairs, when placed next to the sofa help create a cozy corner for chatting with guests.

Living Room Decor & Products
This is an overview of the living room decoration, lighting, and other products you may need to complete the design of your living room. These living room essentials will be dictated by your taste, character, and style!
6. Area Rug
I love the feeling of a soft area rug beneath my toes when walking in the living room.

7. Overhead Lighting
I definitely recommend selecting an overhead chandelier that has at least 4-5 light bulbs to ensure your living room is well-lit! If you have low ceilings, you're better off going with a flush mount.

8. Table Lamps
Adding table lamps to the sides of your sofa can offer targeted lighting when you want to read a book or magazine, for example.

9. Throw Pillows
Pretty throw pillows are a great way to add some personal style to your space. They also help with back support. It's super easy to switch the cover out each season, too.

10. Coffee Table Books
Coffee table books are great for browsing on lazy Sunday afternoons. The bigger the better when it comes to coffee table books!

11. Decor Accents
Objects that show off your personality can be a great way to infuse some character into a boring living room. Here are a few ideas!

12. Blanket or Throw
You know that person who is always cold no matter what the temperature is? Well, that person is me! Even if you're not freezing all the time, have a throw blanket handy for any guests that may be. Don't overlook this one – it's one of the best living room essentials you can have!

13. Wall Decor & Art
A bare wall can make a room feel heavy. Add an interesting wall decoration or piece of art to break up the large, blank space and add character.

14. Curtain Rod
An essential piece for hanging curtains that match your space!
15. Curtains
An essential to controlling the natural light that enters your living room.

16. Television
Having a flat screen TV is a must these days. In the age of Netflix, who wants to miss out on the latest show everyone is talking about? Both Best Buy and Amazon are great places to find a TV that fits your needs.
17. Sound System
Lastly, a small but powerful sound system is a must for listening to music when you have friends over!

Those are the essential living room furniture and decorations we recommend to get you started. As time goes by, your living room will evolve and that is totally normal! You will add items and take some away as needed, until you are fully comfortable with your family room. We hope this guide helped you create a functional and practical living room space!