If you're looking for modern living room decor ideas, then you've come to the right place. These days, there are more and more people opting for a more modern look in their homes, and the living room is often one of the first places they start.
How to Decorate a Modern Living Room
There are plenty of ways to achieve a modern look in your living room, but it's important to choose the right modern furniture and accessories to really pull the whole look together. Here are some of our favorite modern living room decor ideas to get you started.
One of the most popular ways to achieve a modern look in your living room is to opt for clean, simple lines in your furniture. This could mean choosing pieces that are more angular, or that have very few curves or embellishments.
These are the best modern home furniture and decor stores to shop from.
Another way to create a modern look is to choose furniture and accessories in a limited color palette. Black, white, and grey are always popular choices, but you could also go for a monochromatic look with shades of one color.
Textures are also important in creating a modern look. Consider adding some glass, metal, or even concrete elements to your living room design to really give it a contemporary feel.
No modern living room would be complete without the right lighting. Choose lamps and light fixtures that are simple and sleek to really complete the look.
Finally, don't forget the finishing touches! Adding some greenery or a few well-chosen modern art pieces can really make your living room feel complete.
Here are some examples of modern living rooms.
Modern Accent Chairs
Modern living room designs always have great modern accent chairs and ample seating. Here are two beautiful Marco Zanuso Lady chairs in this stylish living space.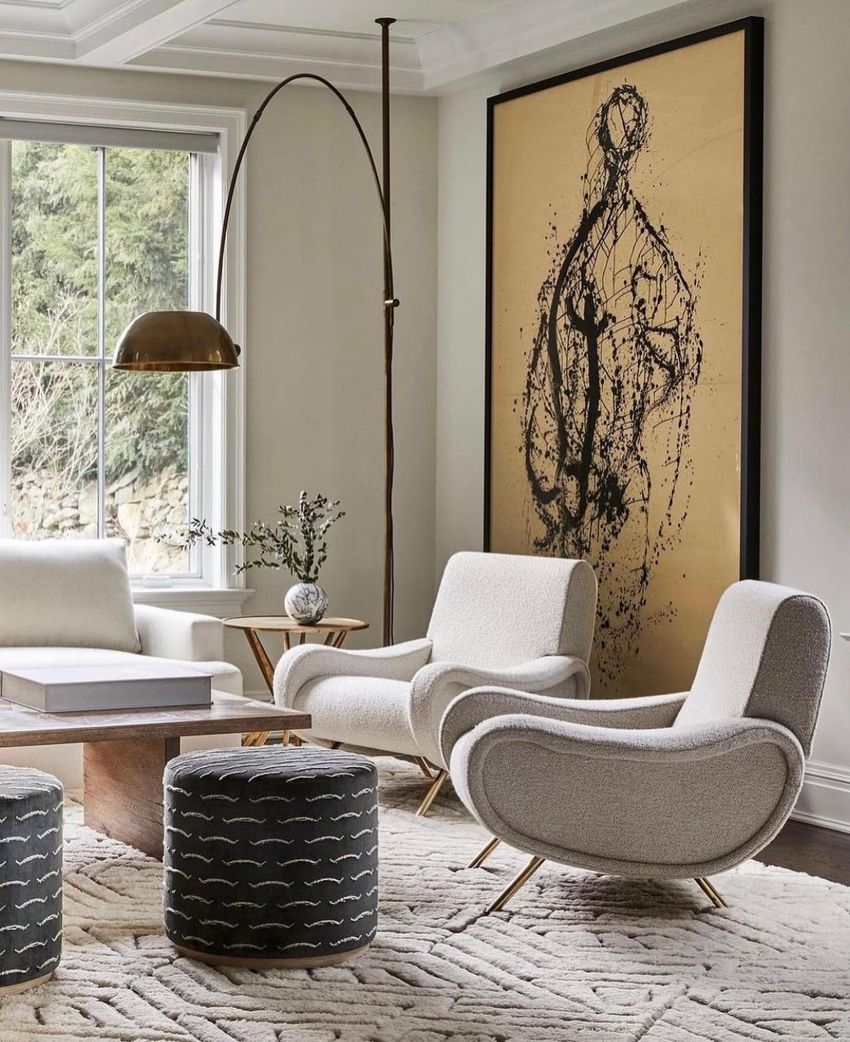 Mid-Century Furniture
Most modern living rooms have at least a couple of pieces of mid-century furniture like this tufted chaise lounge or Platner chairs (replica here). Mid-century modern pieces are popular choices due to their sleek design. Avoid overly ornate or traditionally styled furniture. Opt for quality over quantity to avoid clutter.
Scandinavian Influence
Scandinavian design is a great source of inspiration for modern-day living room designs. Sleek, slim, and modern tech items such as a flat-screen TV or sound system can add to the modern aesthetic. However, be sure to keep wires and cables out of sight to maintain a clean, uncluttered appearance.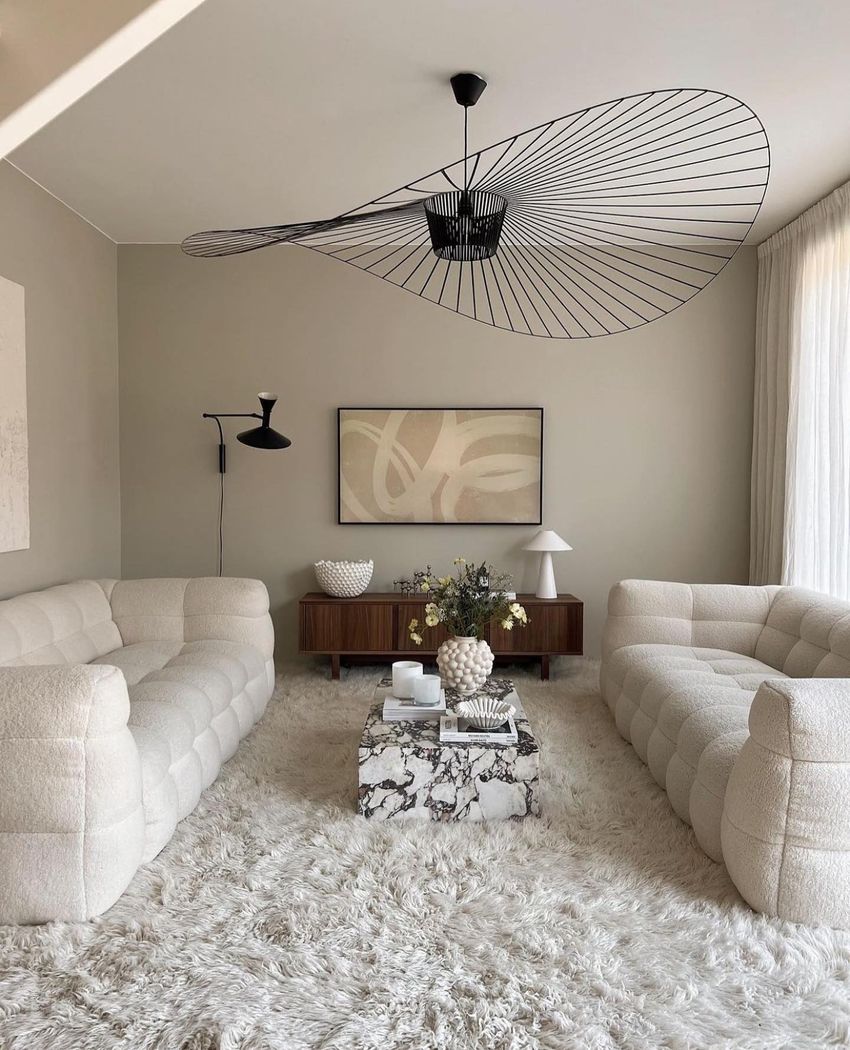 Layered Textures
From paneled and slatted walls to blankets and rugs, there's no shortage of strategic layering in modern living room decor. Incorporate some indoor plants to bring in a touch of nature. This can also help improve air quality. Choose modern-looking planters and position the plants strategically in the room to add depth and interest.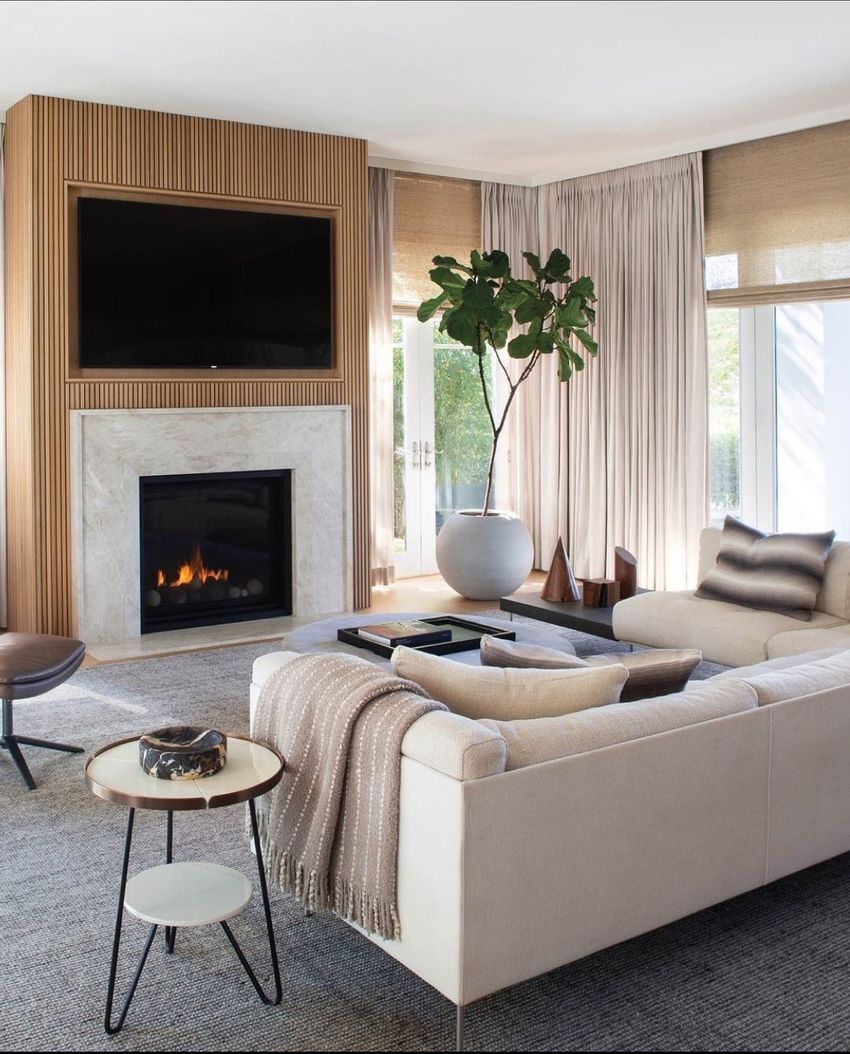 Gray Palette
For an upscale look, go with a gray palette in your modern living room design. Always use a neutral color palette as the base. Shades of white, gray, black, or beige are good choices. You can add some color with a statement wall or with small accessories, but it's best to stick to one or two bold colors to avoid a cluttered look.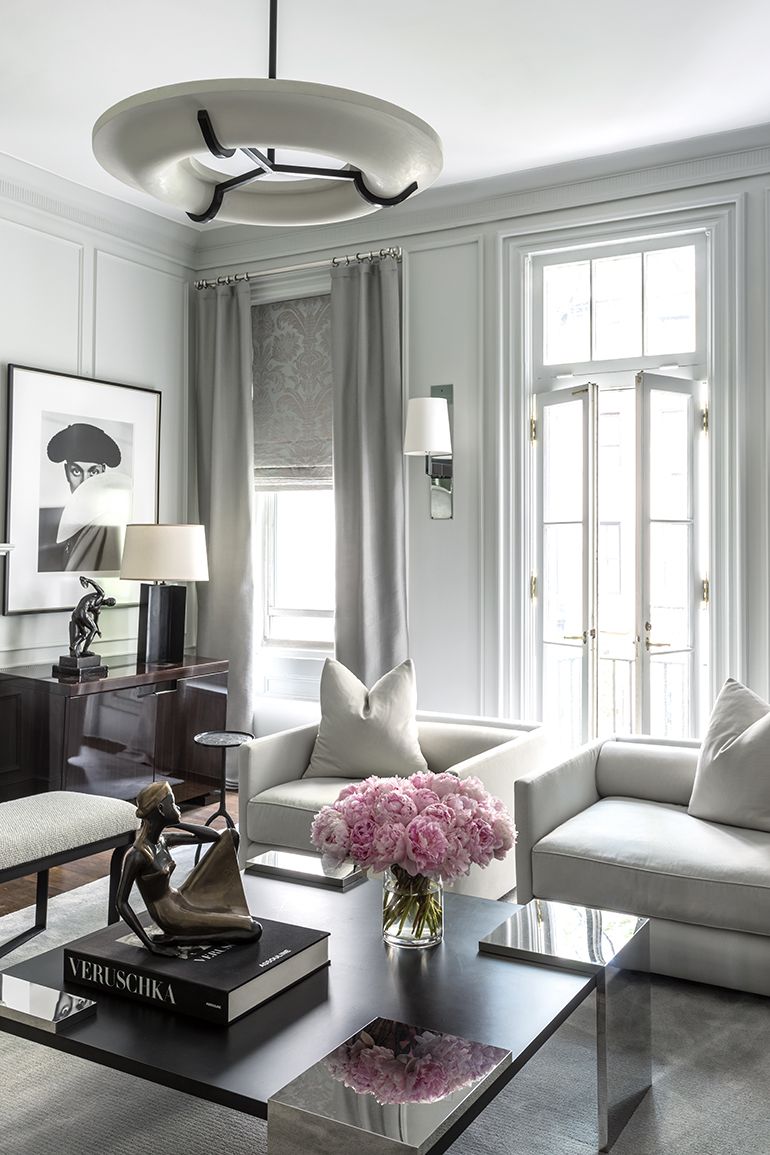 Modern Materials like Marble
Marble is often used in modern living room decor, such as the white marble coffee table seen here. Use a mix of modern materials to create an interesting look. This could include wood, metal, glass, and leather.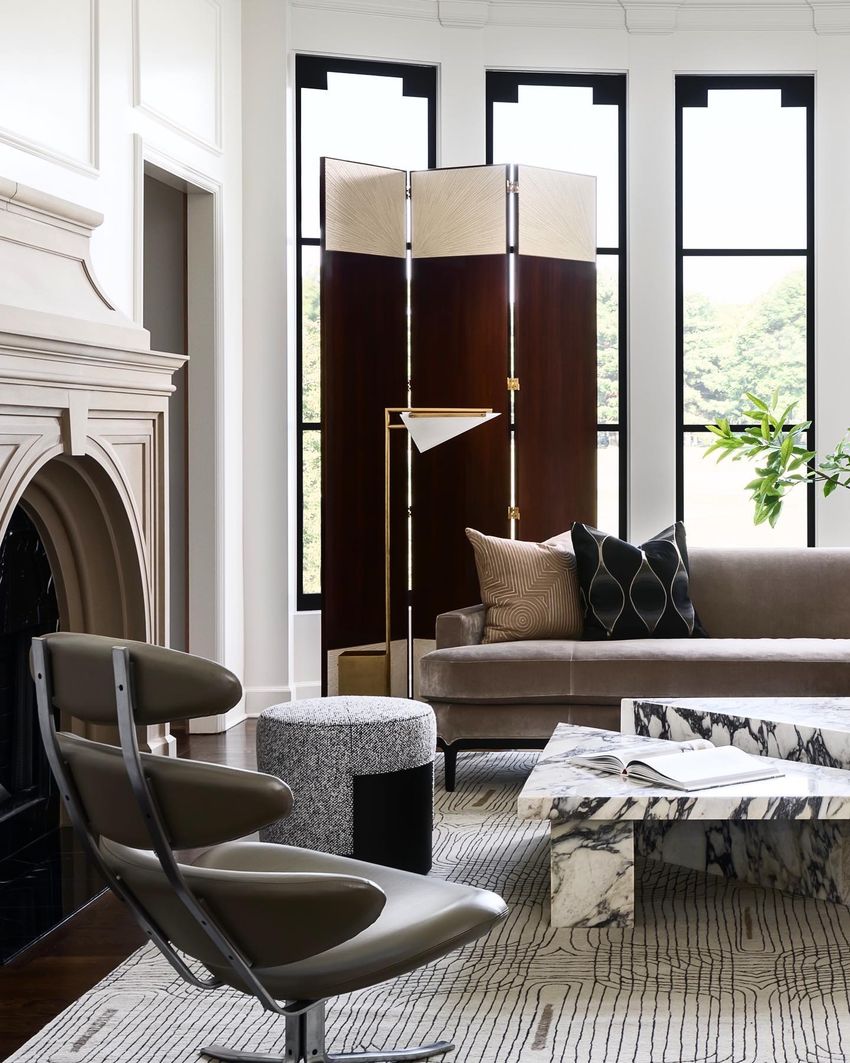 Sheer Curtains
Sheer floor-length curtains are a common element of modern living room design. Let in as much natural light as possible. Use simple window coverings like blinds or shades, rather than heavy curtains. If you have the option, floor-to-ceiling windows are a hallmark of modern design.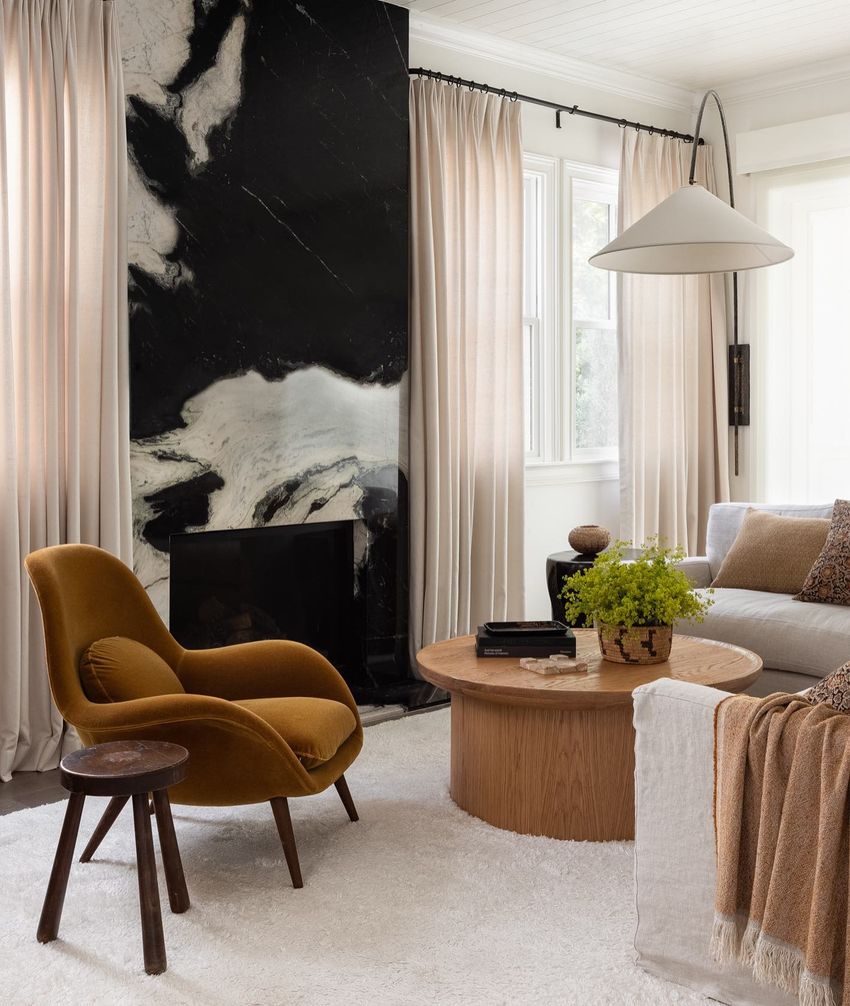 Modern Artwork
Colorful modern artwork is often found in modern homes, on the walls, and on the tables. Choose contemporary art pieces that reflect your personal style. Large pieces can make a statement and become a focal point in your living room. Remember, less is more in modern design.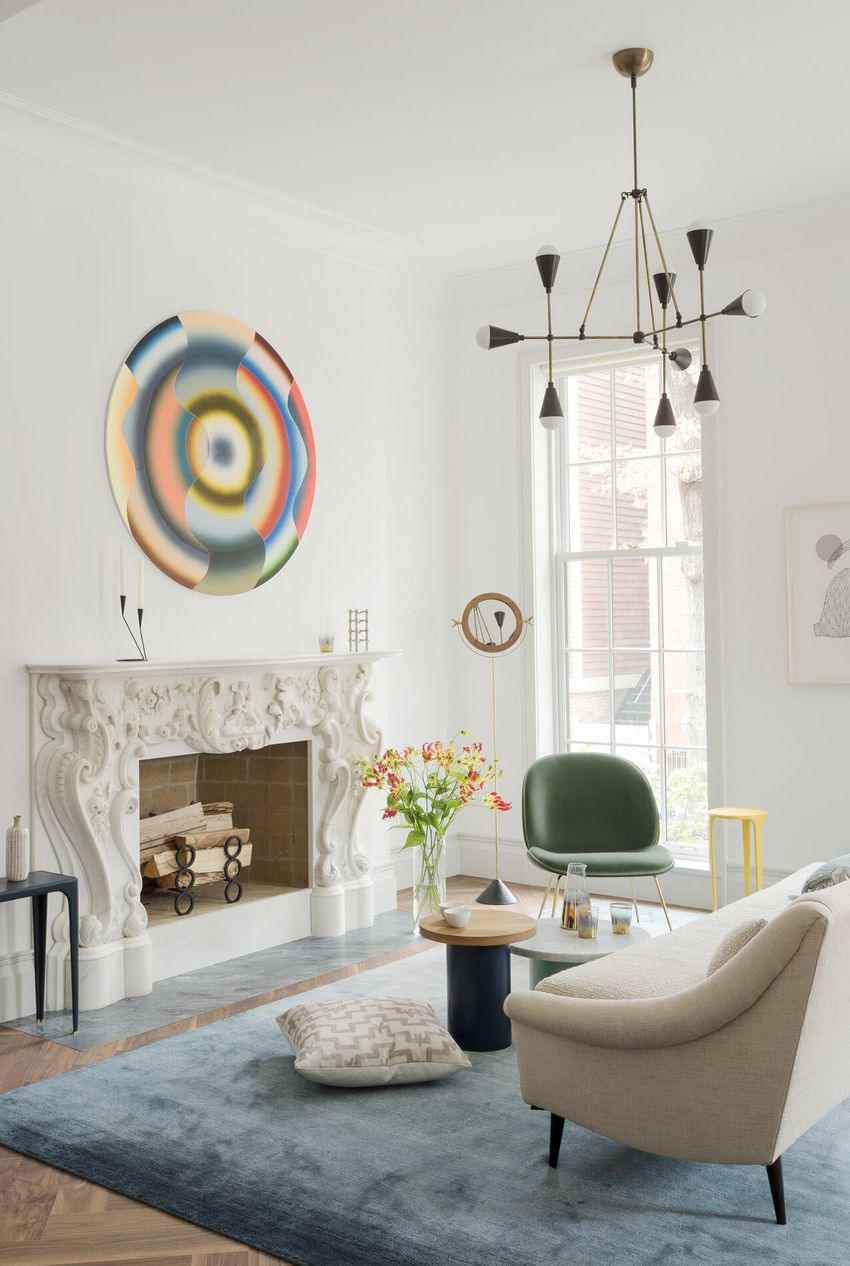 Sleek Storage Solutions
The sideboard against the wall of this living room provides ample storage to keep the space clutter-free! Modern design thrives on simplicity and minimalism, so declutter as much as possible. Use smart storage solutions to keep clutter to a minimum and let your design elements shine.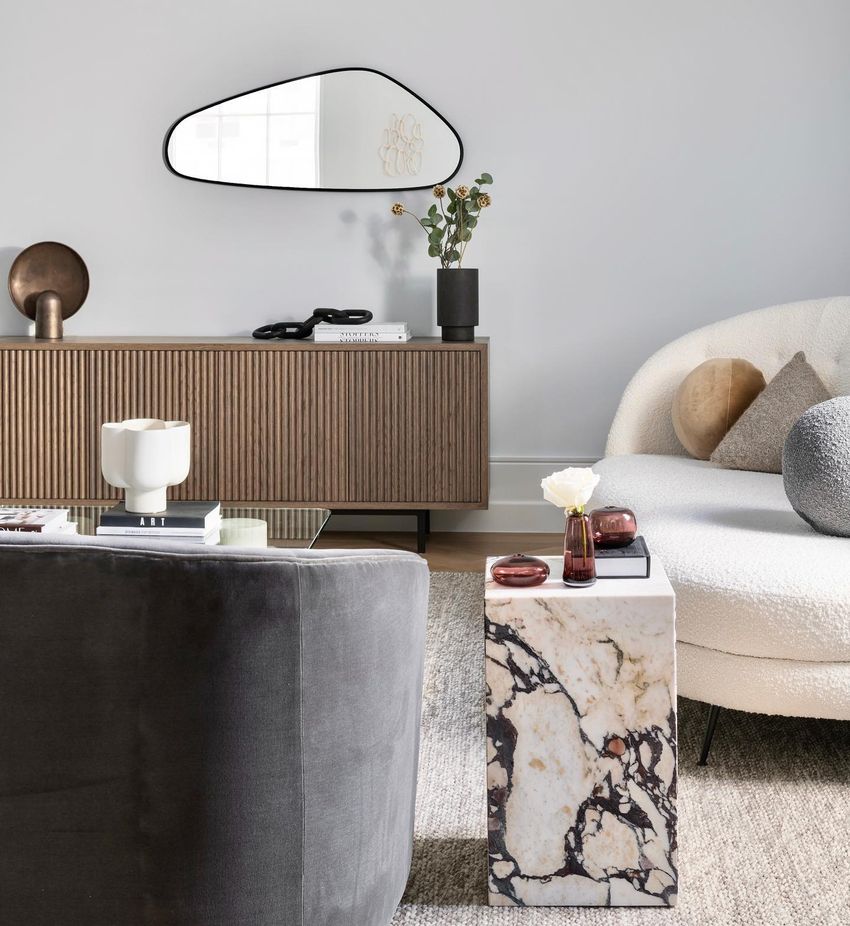 Airy Spaces
Modern living rooms never feel cramped or cluttered. Instead, they have an airy feeling to them that makes you feel at ease. Lighting is crucial in a modern living room. Choose fixtures that are both functional and stylish. Recessed lighting, pendant lights, or modern floor lamps can all work well.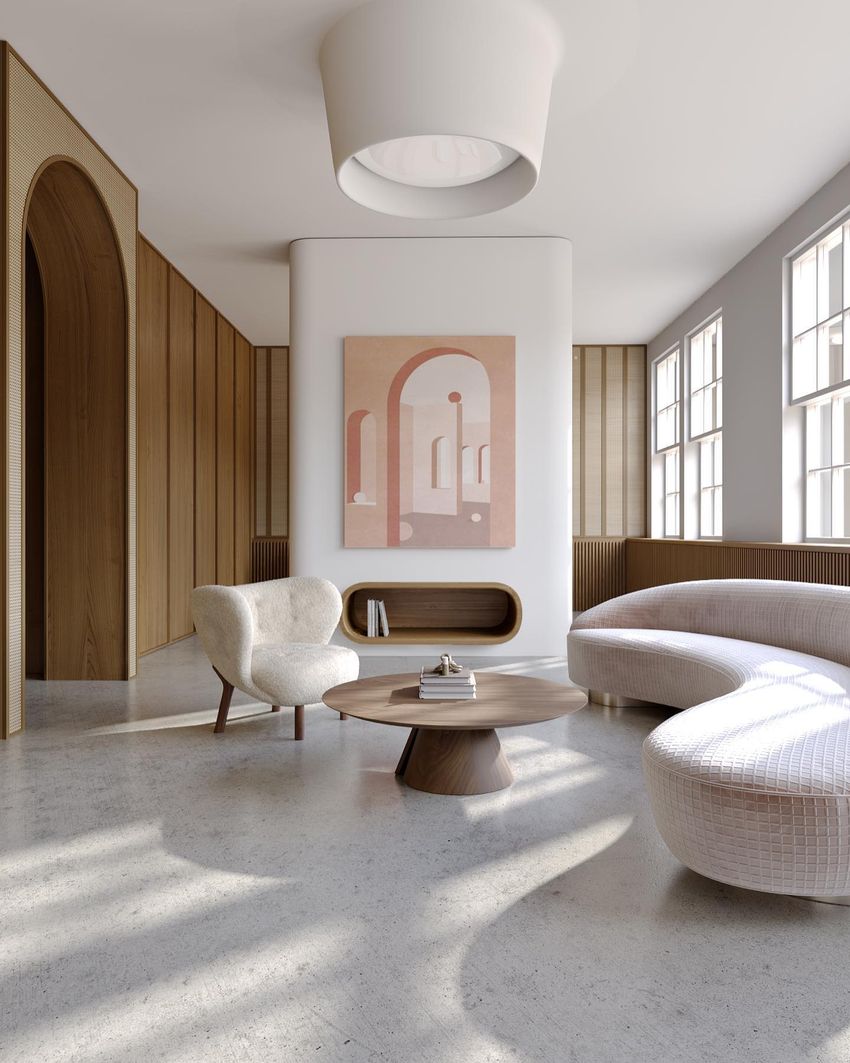 Neutral Palette
Don't be afraid to layer different shades of neutrals and beiges when decorating a modern living room.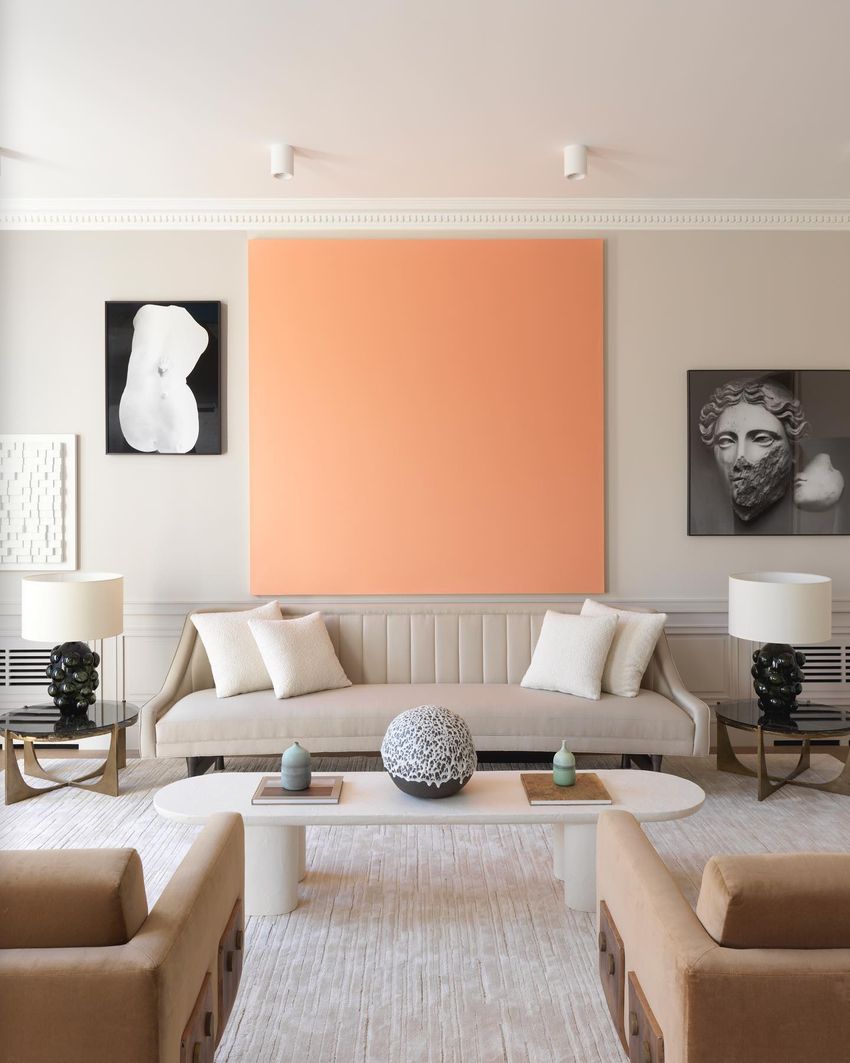 Built-in Bookshelves
Incorporating built-in bookshelves is one of the smartest modern living room decor ideas to steal! You can store things and show off your decorating style!
So there you have it, our top modern living room decor ideas. With these in mind, you're sure to create a stylish and contemporary space that you'll love spending time in.