Thinking about redecorating the living room of your beach home? These beautiful coastal living room ideas will inspire you and give you plenty of ideas for decorating the perfect family room. Whether you prefer a feminine seaside look or a bold nautical style, these gorgeous living rooms are sure to spark your creativity. We love coastal decor for its breezy style and cool ocean tones.
Modern Coastal Living Room Decor Ideas
When it comes to decorating a living room, there are certain pieces of furniture that you must have! Be sure to pick out the right coastal sofa as this is likely going to be the highlight of your room.
You'll also need to consider picking out some cozy coastal accent chairs so that your guests have a place to sit. Lastly, the perfect coastal coffee table will help to center your room.
Those are the major design decisions you'll have to make regarding curating the perfect coastal style living room your family will love!

Let's take a peek at some of the most inspiring coastal living rooms designed for beach homes by the best coastal interior designers!
Blue and White Striped Rug
This light-filled living room has a blue and white striped rug which makes it one of the best coastal living room ideas that really stands out. Two beige slipcovered sofas are sitting across from each other with a wood coffee table in between. The fireplace is decorated with a cool blue beach framed photograph.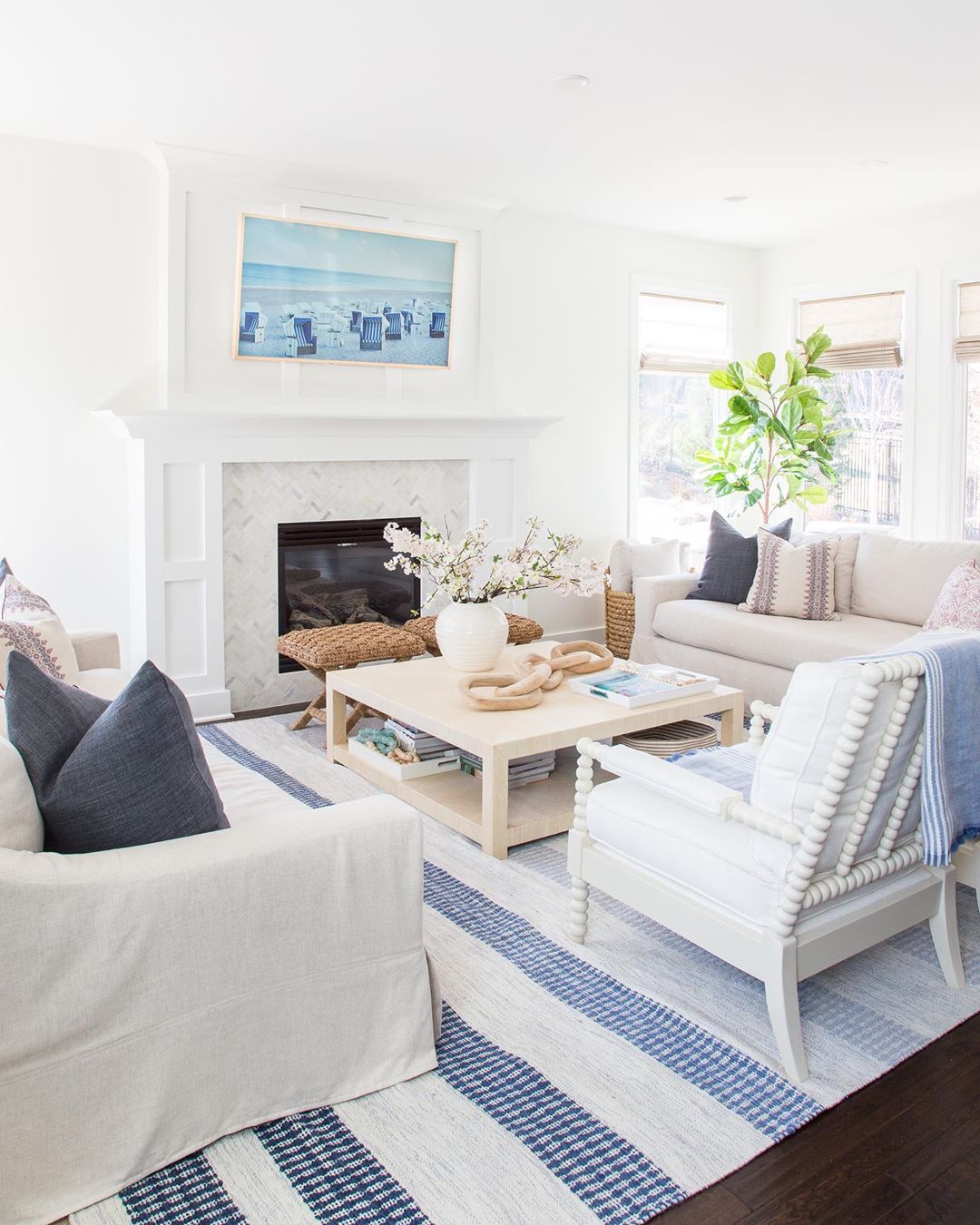 Rope Chandelier
A cool, inviting living room that features a stunning floor-to-ceiling marble accent fireplace. The mantle is just a group of free-floating natural wood shelves. An open pillared rope chandelier hangs above a clean framed glass-top coffee table. The plush, soft blue chairs fill out the space with a blonde oak table between them.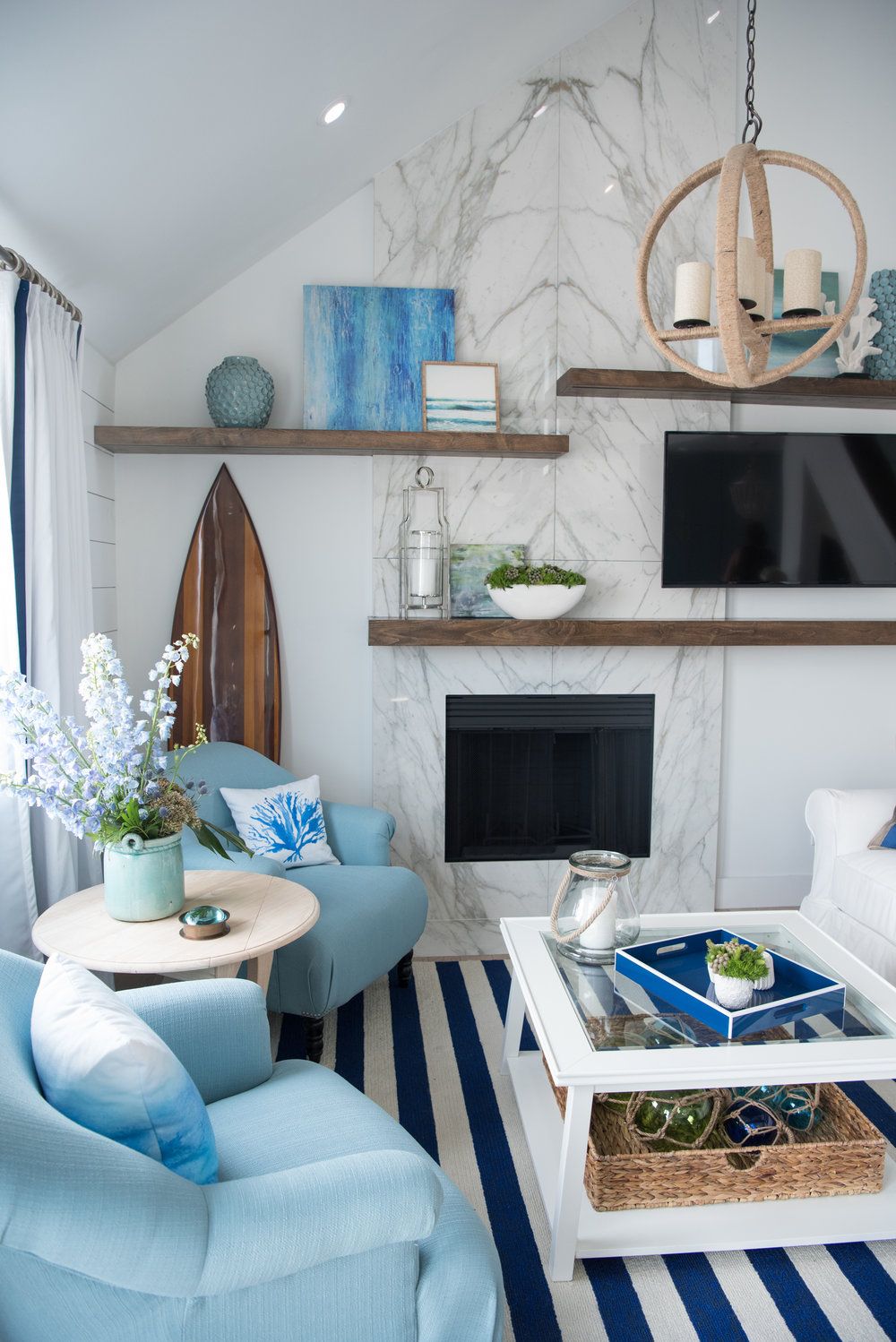 Marlin Fish Wall Decor
A black and white pinstriped coastal sectional provides a creative contrast to the brilliantly blue Marlin Fish hanging on the back wall. A natural driftwood chandelier hangs above dual rattan end tables. A green potted plant completes the space with a natural element.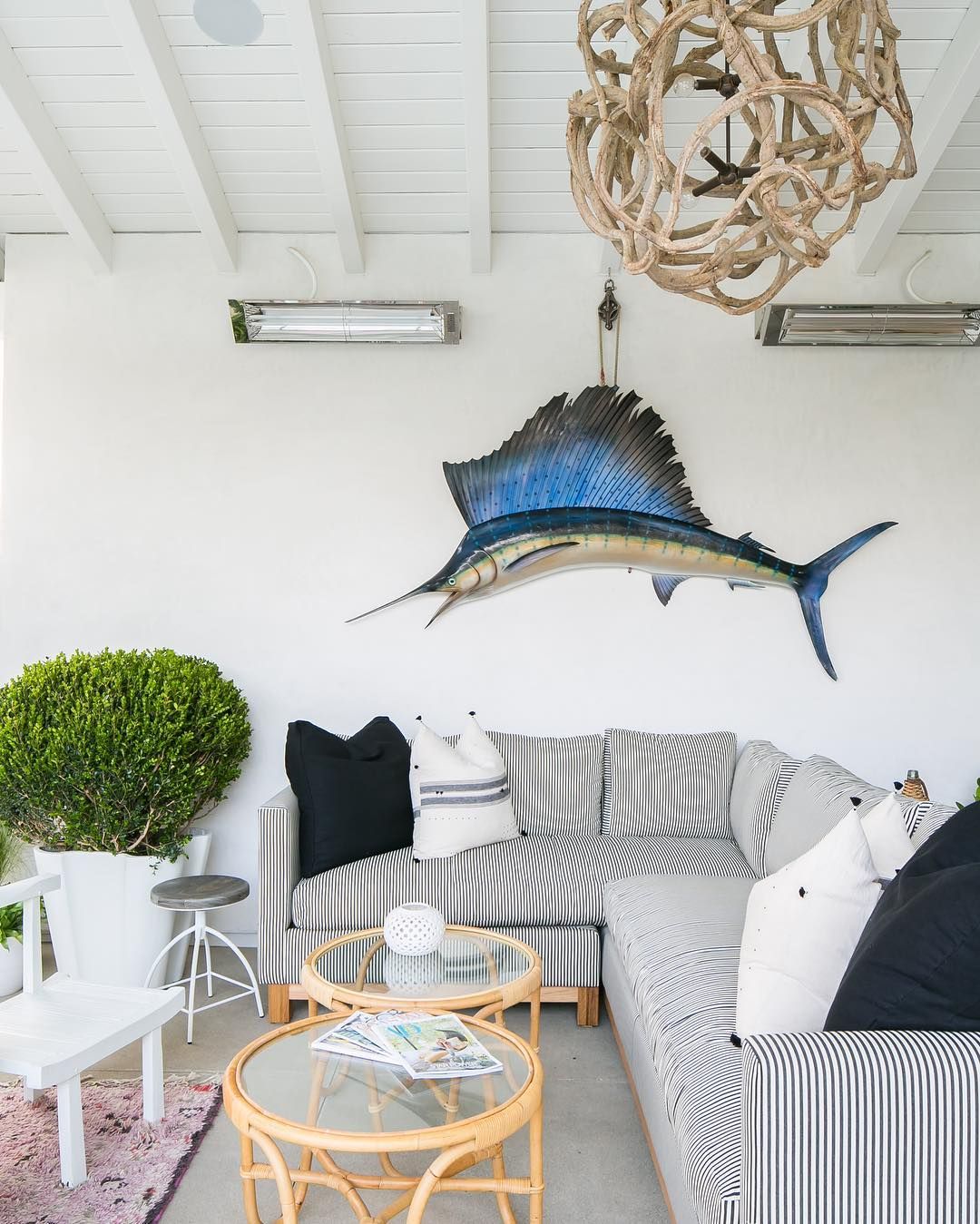 Surfboard Wall Decor
This bright living room features a full-length white brick fireplace with wicker basket accents. A polished natural wood surfboard sits off center from the black fireplace framing on the wall. Soft gray couches, natural wood seating chairs, and coffee tables sit atop of a rough-hewn brown rug.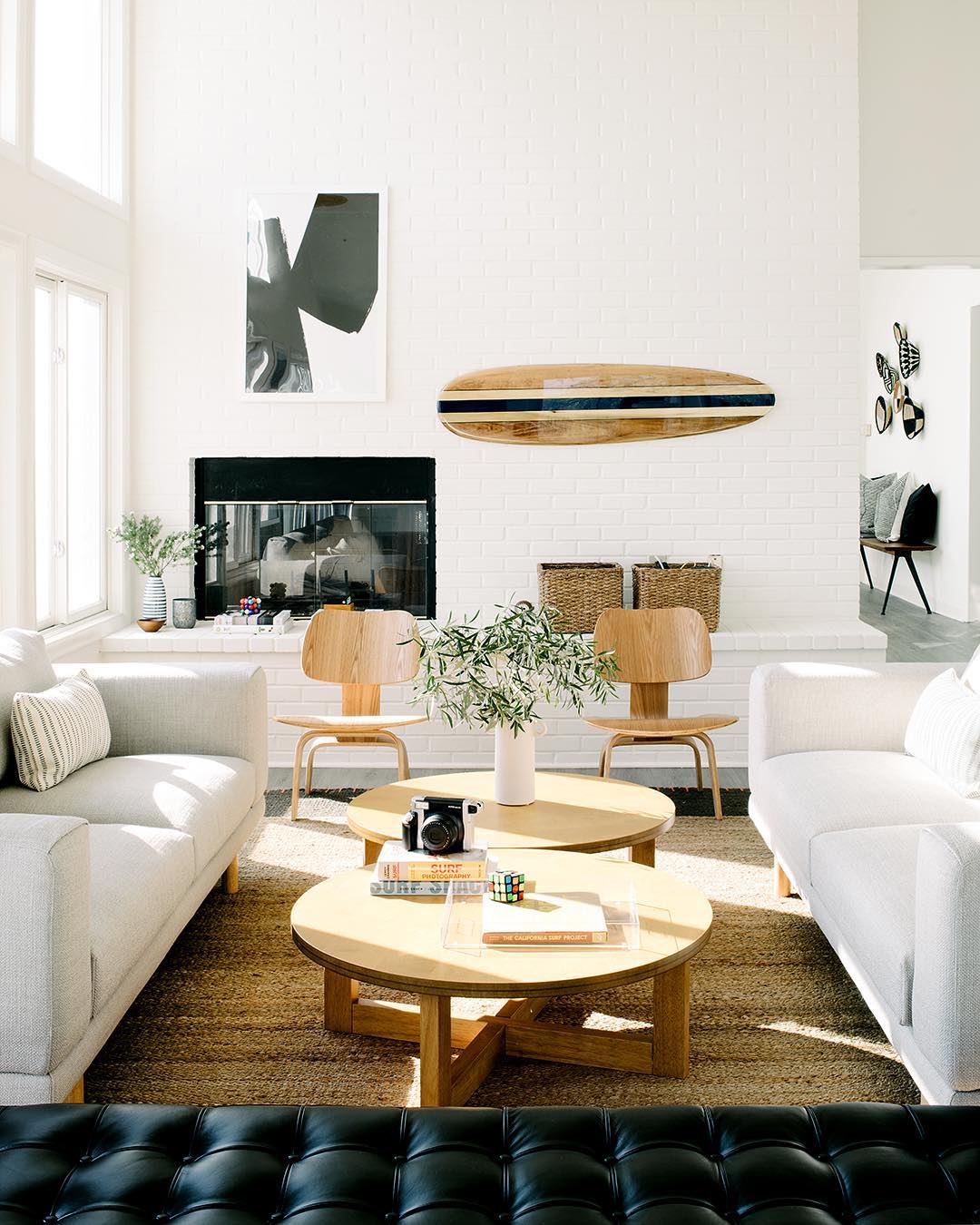 Wicker Furniture
Here is a beachside bungalow living room that features white wicker furniture with grey and white striped cushions. A glass-topped wicker coffee table centers the room. Two wicker pom-style seats are placed next to large potted palms. Coastal living rooms almost always have at least one piece of wicker furniture or decor!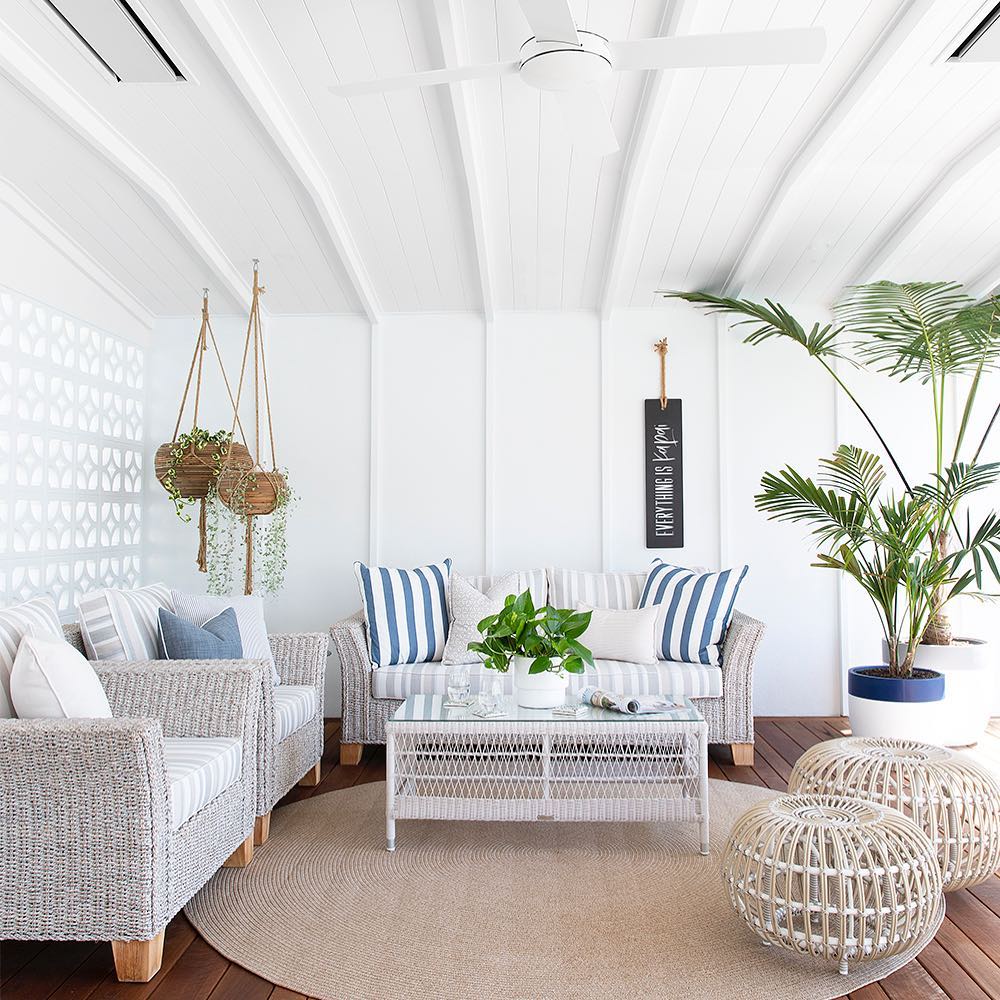 Large Coral Photo Art
This cozy living room is softened with blues, yellows, and beige tones. The large coral photo art is offset by a white frame. The blue patterned curtains tie together the blues from the art with the pillows on the sofa.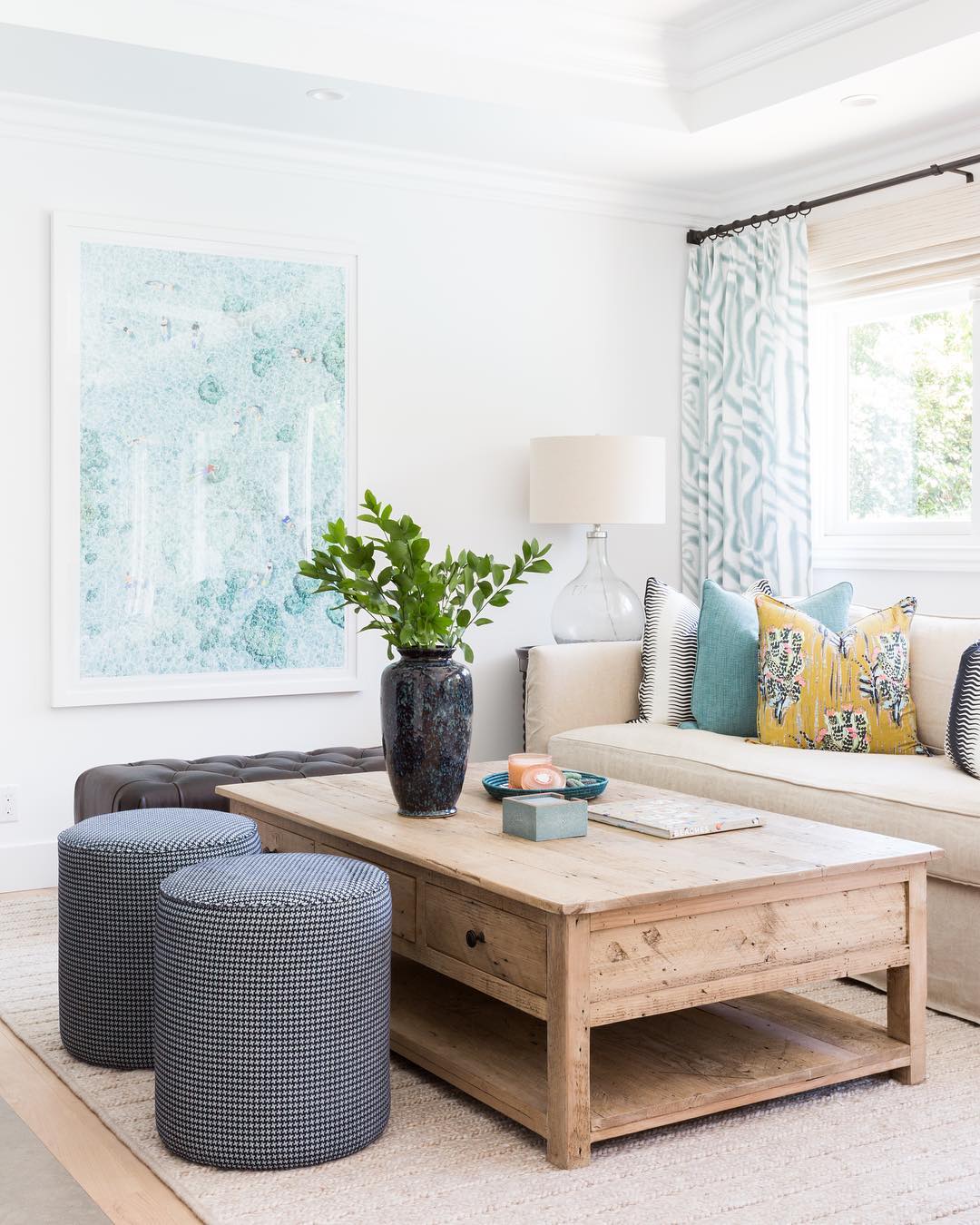 Lifebuoys on the Mantel
A classic white fireplace sits below a white framed mirror. Two buoys tied with natural rope sit atop the mantle next to potted greenery. The bookshelves frame either side of the fireplace with additional coastal decorations.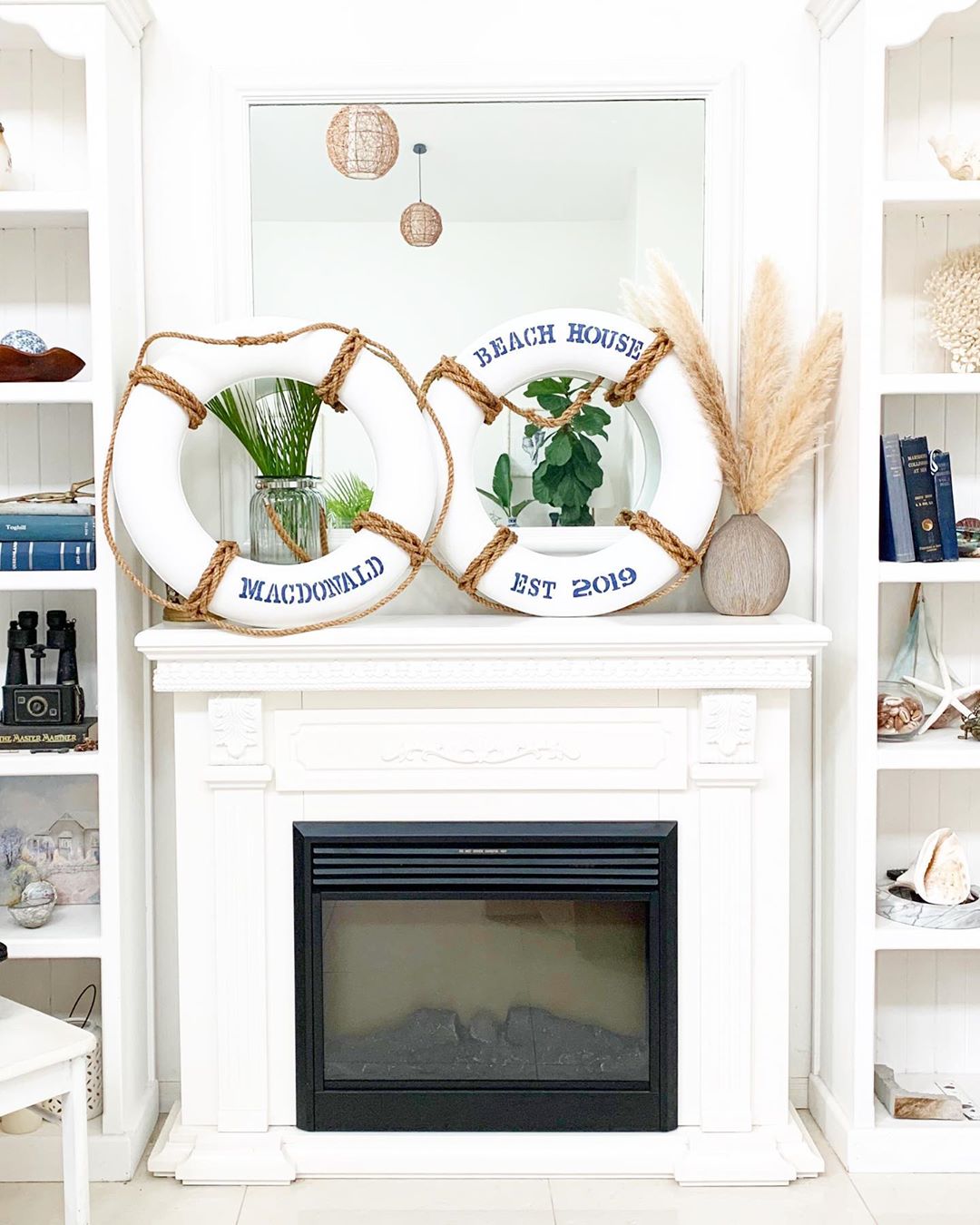 Painted Blue Ceiling
Exposed white beams accent a sea-foam blue shiplap ceiling. A framed painting sits above a dark wood accent table. An ivory coastal ottoman is placed in the center of the room to serve as a coffee table with a navy blue tray on top.
Palm Centerpiece Decor
Palms in a clear vase sit atop a wicker ottoman in the center of the room. A white fireplace with a herringbone tile accent is topped with a natural wood mantle. An array of greenery, both print and physical, is on the shelves.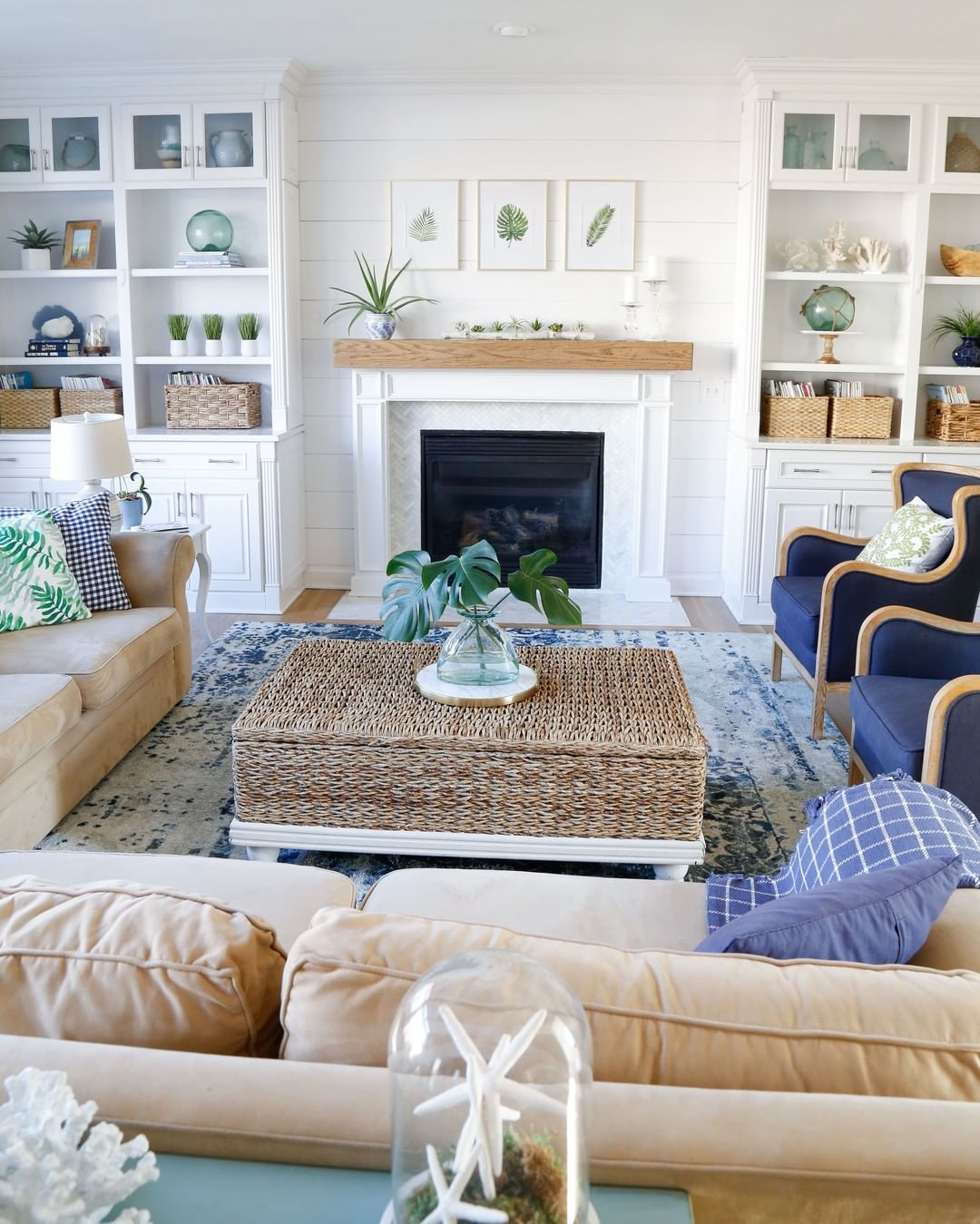 Tropical Print Accent Chairs
Bright blue throw pillows accent a plush white sofa. A navy and white herringbone rug is placed in the center of the room. Two bold tropical print accent chairs add character and depth to the coastal decor.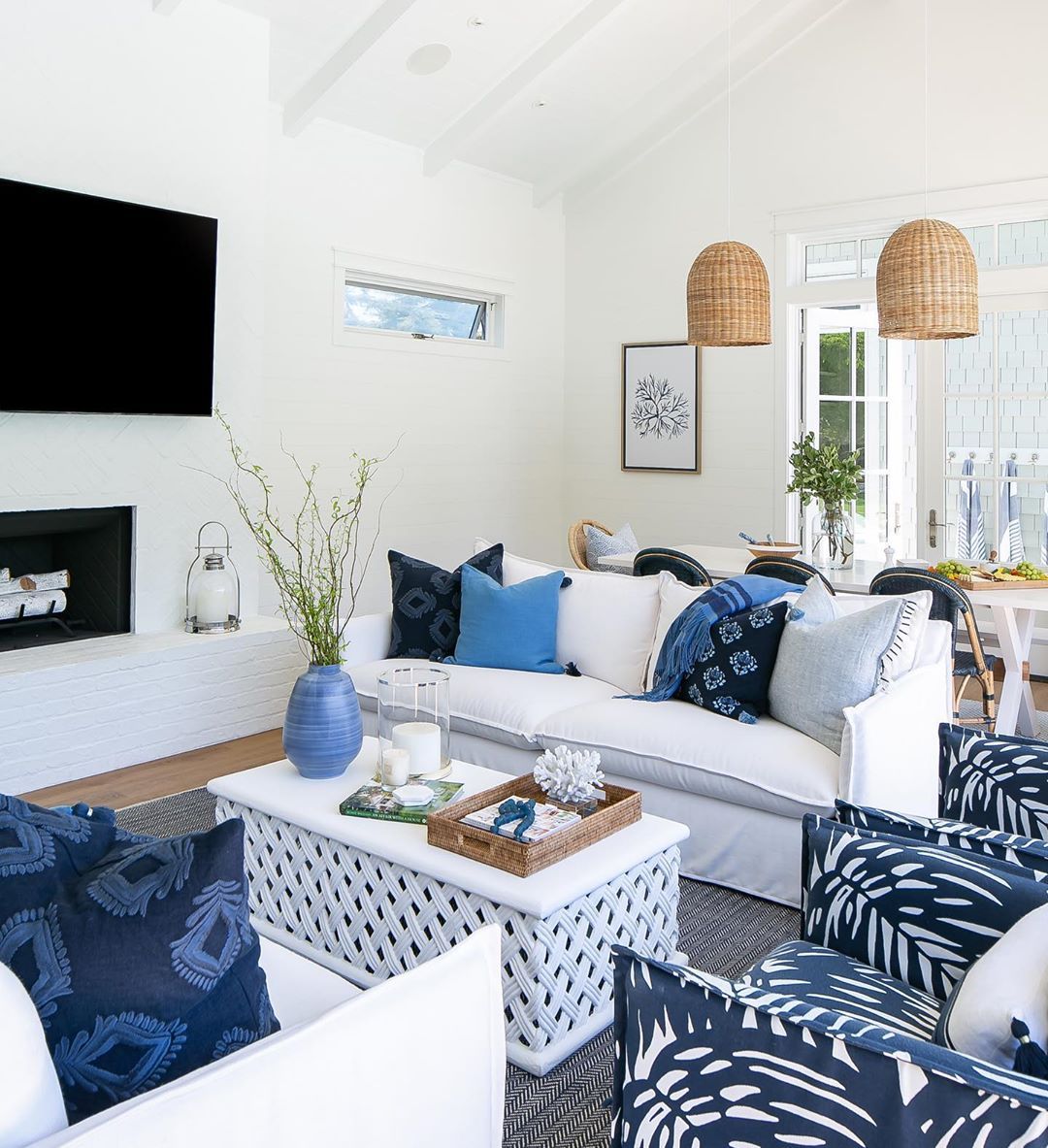 Blue and White Striped Sofa
The blue and white awning striped sofa has two cream throw pillows with beige trim. The sofa is placed in front of a wall of bright, white trimmed windows. A chair with an ivory slipcover sits underneath a blue and white print poster in a frame. Stripes certainly give coastal living rooms a more preppy and traditional feeling!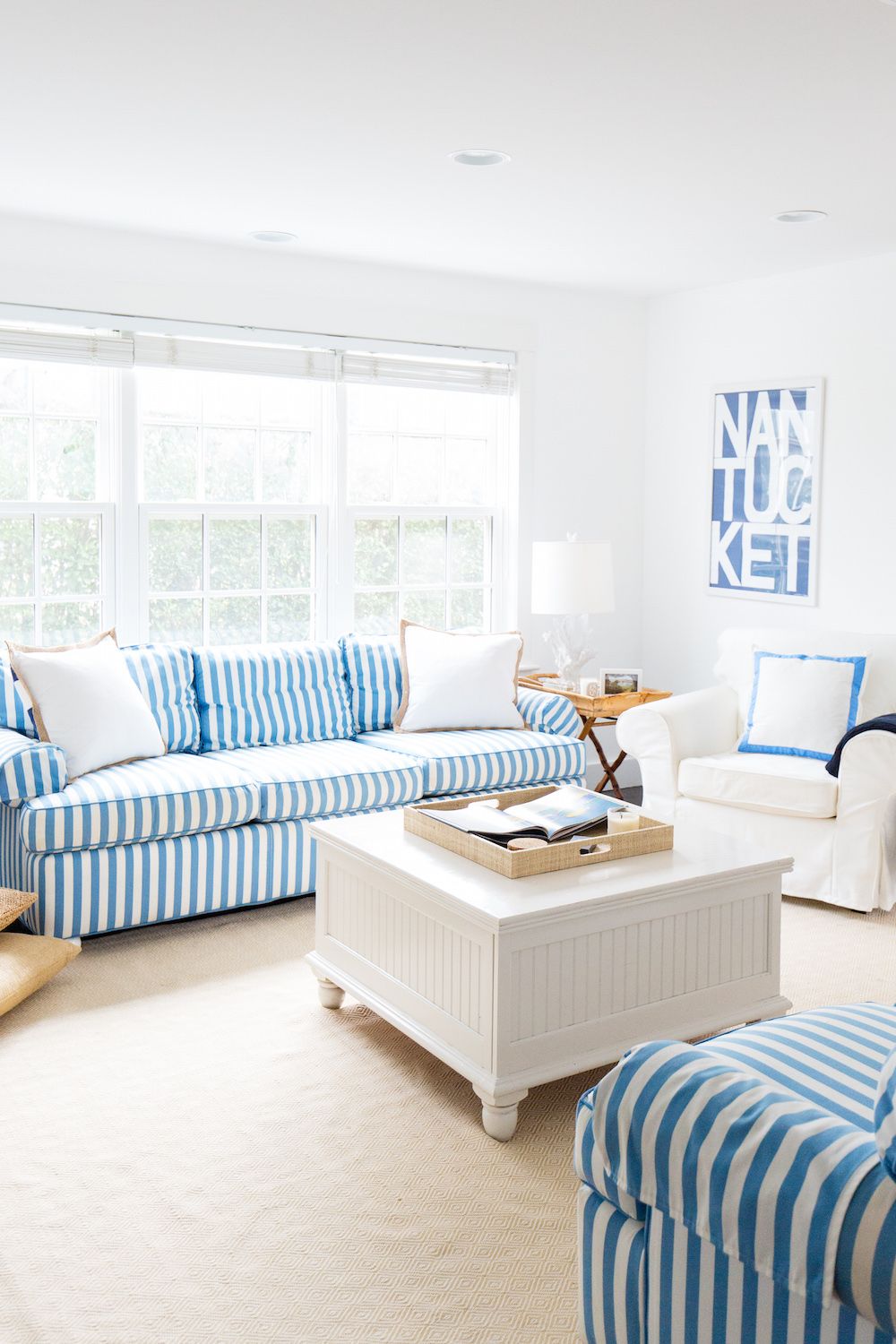 Blue Console Table
A tan rug with navy trim centers the living room. Against the back of a clean, white sofa is against a sky blue console table. Using blue furniture is one of the top coastal living room ideas. A damask patterned blue and white sitting chair completes the sitting space. White built-in bookcases with blue backing frame either side of the fireplace and TV.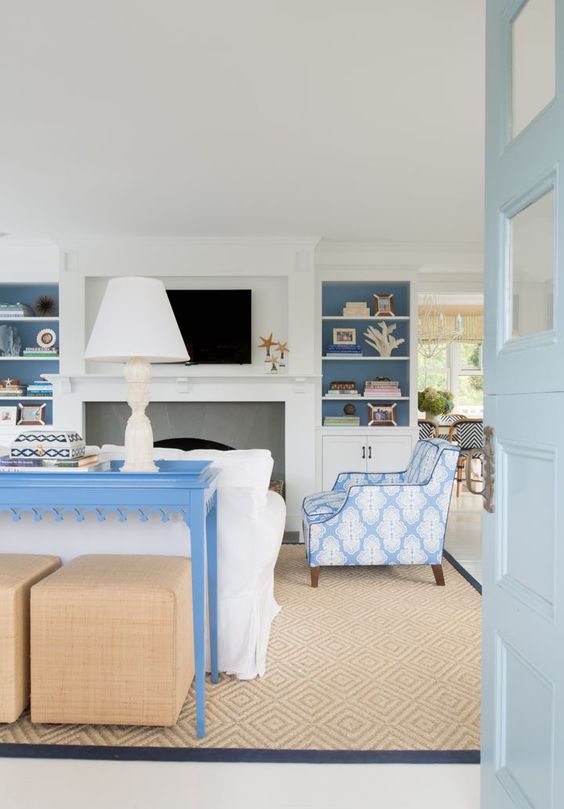 Pineapple Chandelier
Coastal living rooms can be tropical, too! A shell-framed mirror is on the center of a white shiplap wall with four gold plant frames in this Palm Beach living room. The blush pink sofa has two tropical print throw pillows. A solid white pineapple chandelier is mounted above a wicker storage chest.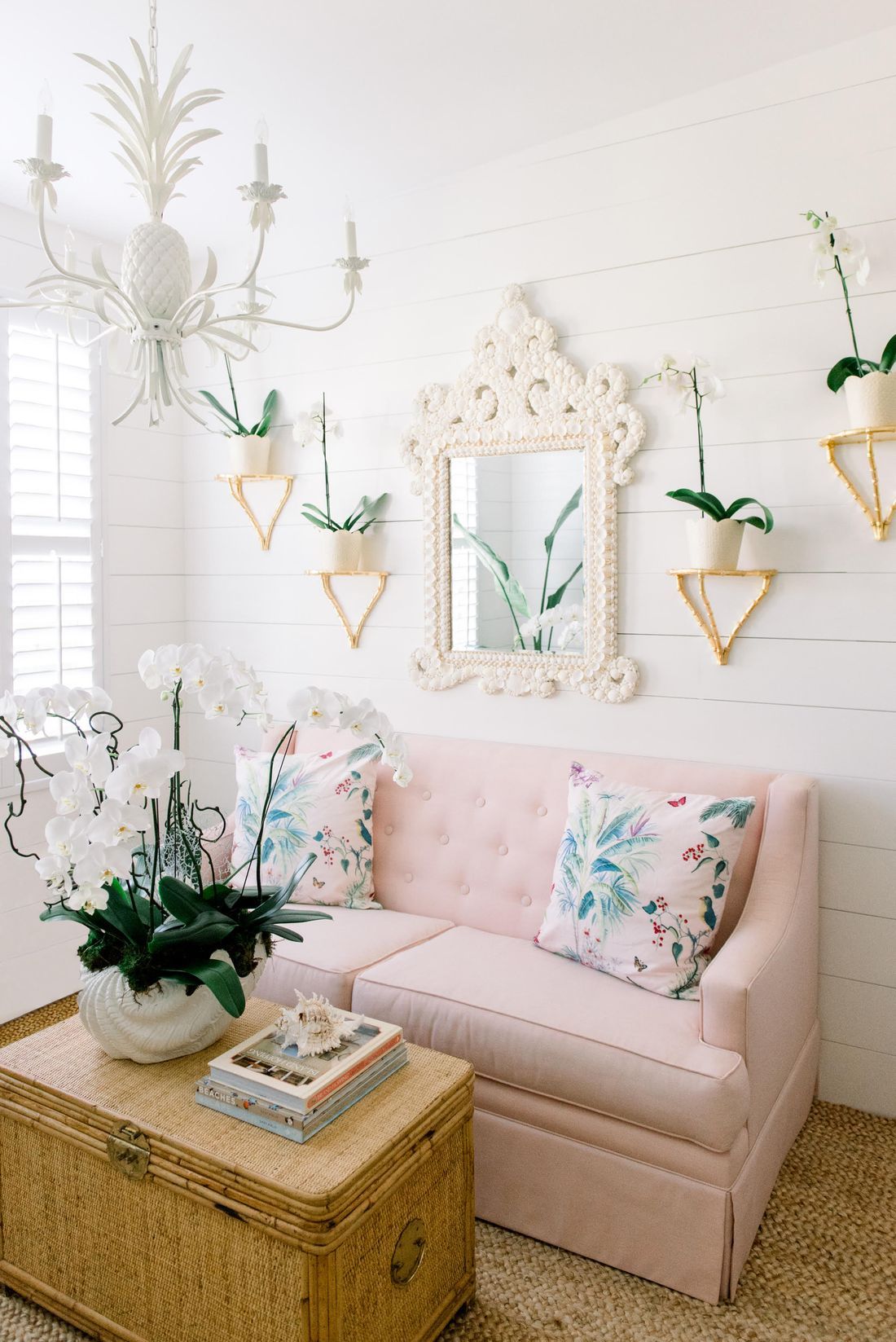 Boho Coastal Pillows
Boho coastal pillows in navy and white accent a cream-colored sofa in this modern coastal living room. A geometric print wraps the bottom of a live plant. The window is partially covered by a boho and geometric-inspired hanging.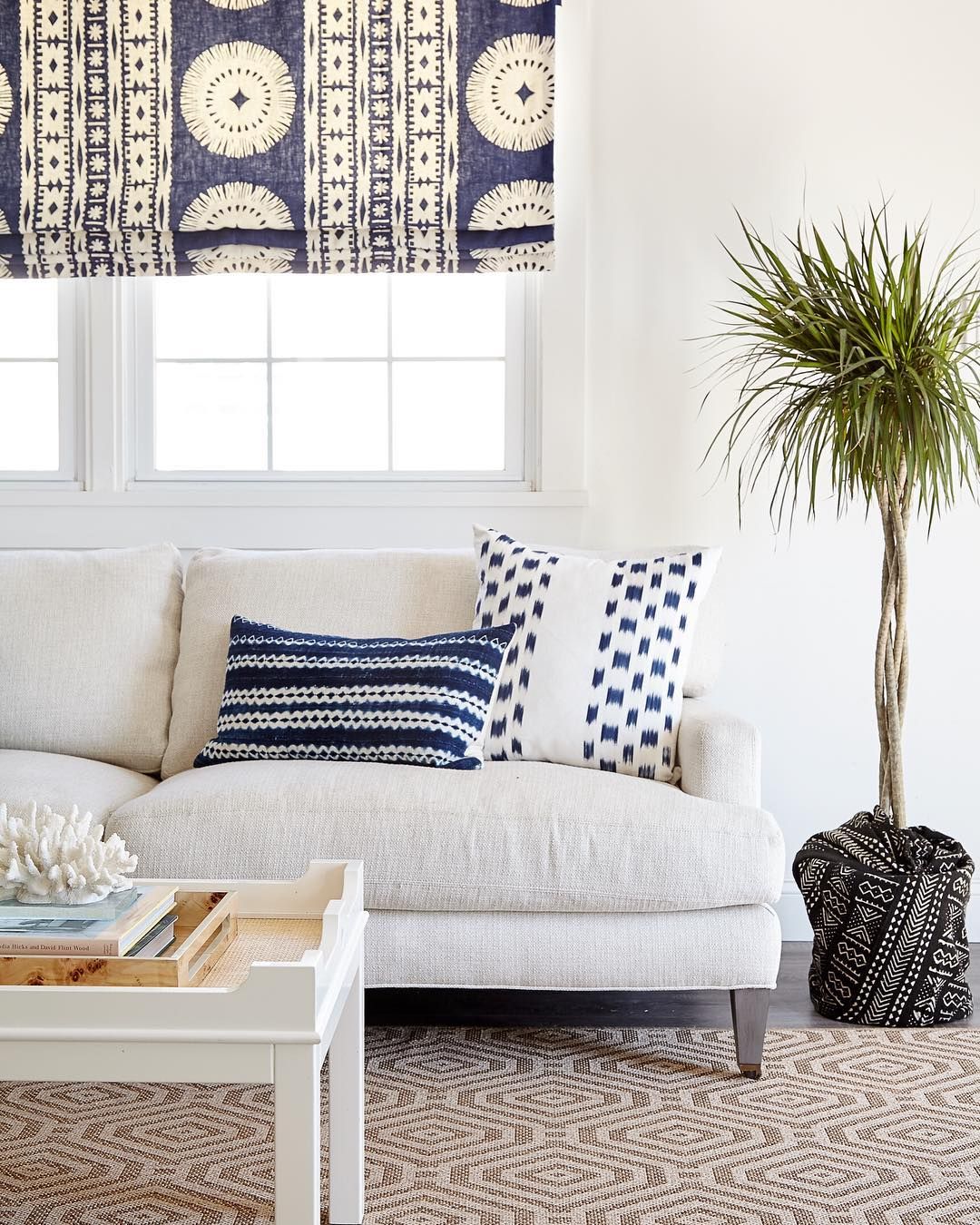 Sailboat Pillow
The driftwood mirror centers this sitting space. A white sectional with a variety of blue throw pillows is sat next to a wicker rug. The pillows are a mix of stripe patterns, geometric patterns, a sailboat pillow and buttons.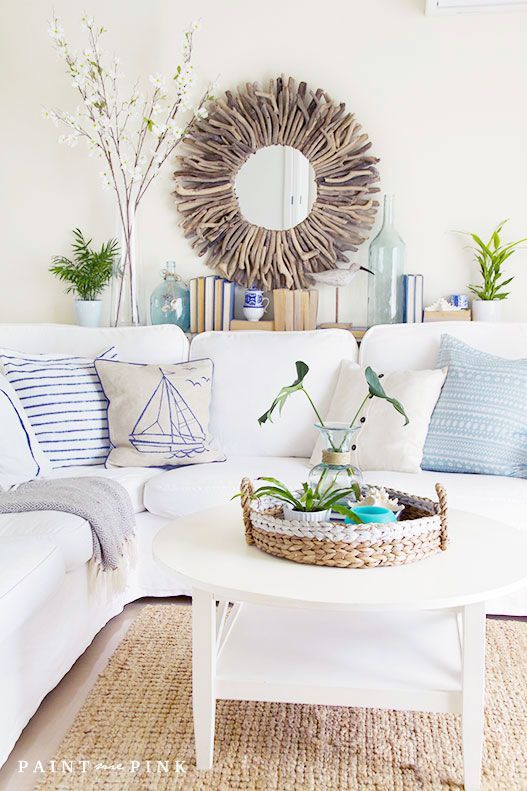 Beige Sofas
This bright, bright living room has two long beige sofas on either side of a blonde wood coffee table. The sofas are adorned with cozy throw pillows and have a seamless bottom cushion. A tall ficus in the corner adds greenery to the space.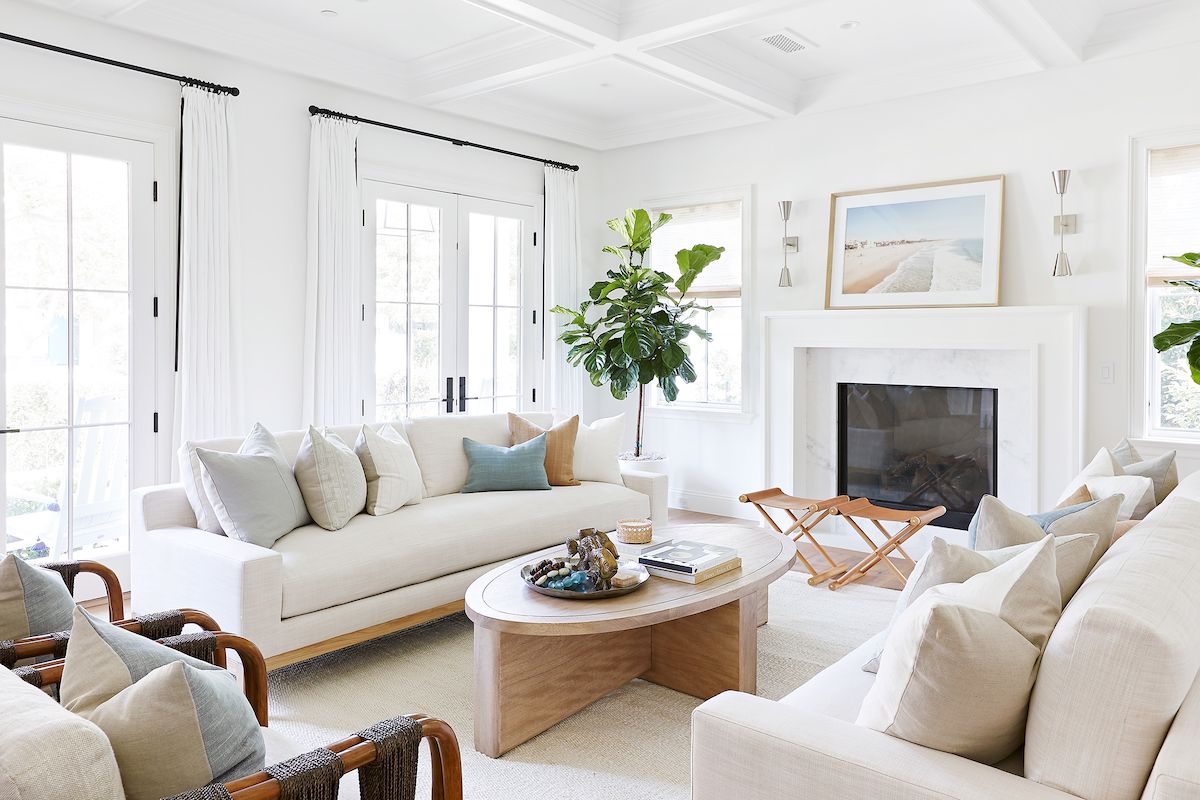 Blue Accent Chair and White Garden Stool
A seersucker print chair with dark wood legs is placed next to a white garden stool with geometric cutouts. Built-in bookcases are on either side of the cozy window. There is a small, cream-colored bench beneath the window with blue striped pillows. A white garden stool is always a handy sidekick.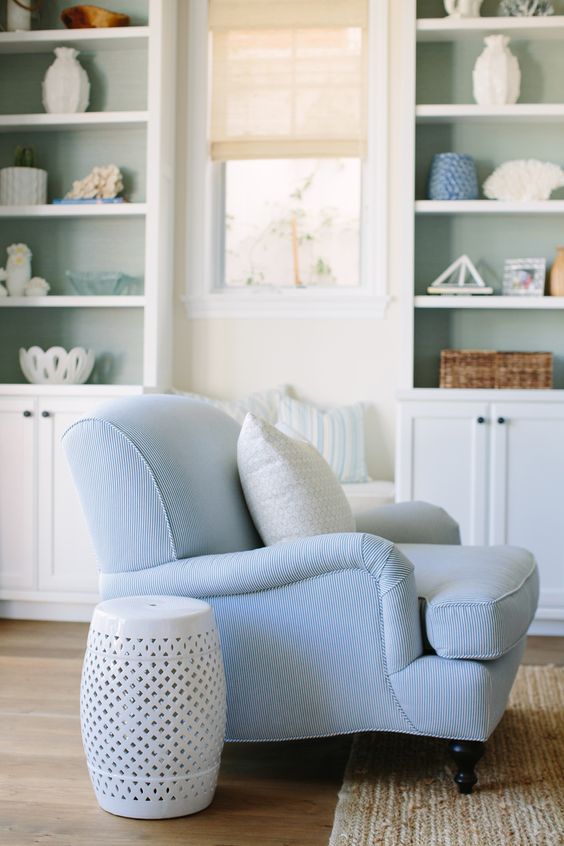 Seashell Mirror
The solid white seashell mirror is above the mantle, against a solid white beadboard above the fireplace. The flooring is a rich, warm wood. The sofa is a coastal blue with white piping for the trim. An easygoing space for relaxing!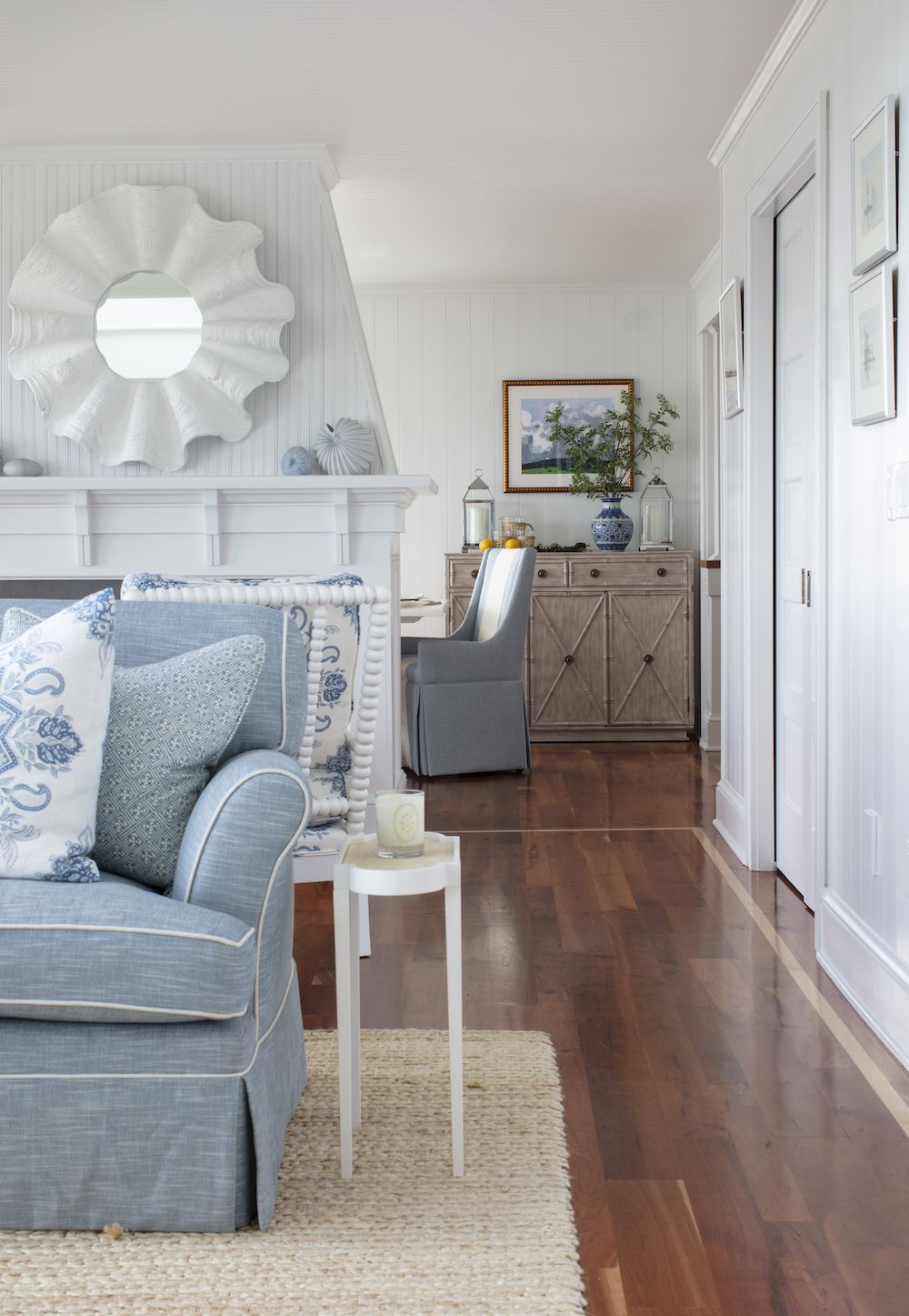 Surfer Decor
This whimsical seating room has two earth green stools around a coffee table next to a cozy blue sofa. The photo above the sofa features a surfer with a bright yellow surfboard. A quaint bench by the window has a navy blue cover throw with some pillows.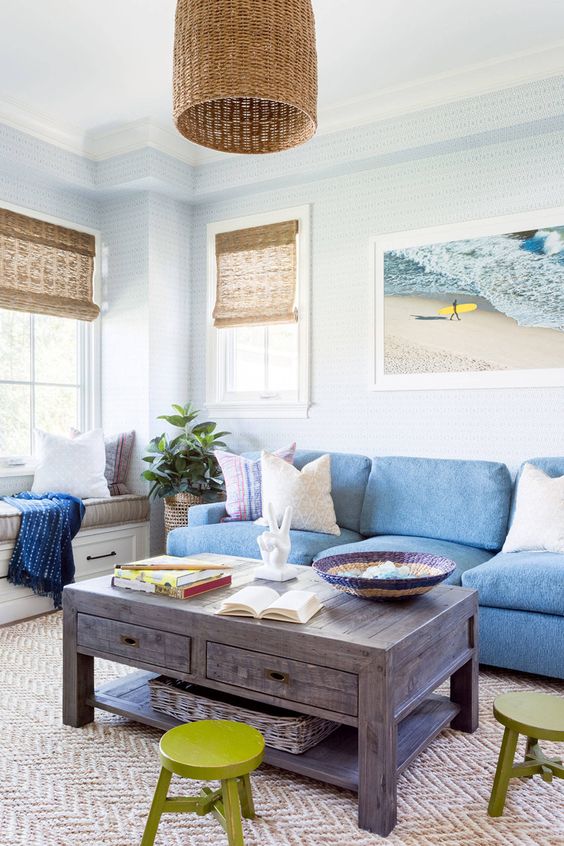 Blue Plaid Chair
Broad built-in bookshelves frame a black framed fireplace. A blue plaid chair and ottoman sit askew to the cedar chest coffee table. Green plants are on the shelves, end table, and by the patio door windows.
Blue Rug
There is a floral patterned blue rug on top of a cool wood floor. The couches are coordinating with their shades of cream and gray blue. A natural wood table sits against the back wall with a square, serene framed photo above.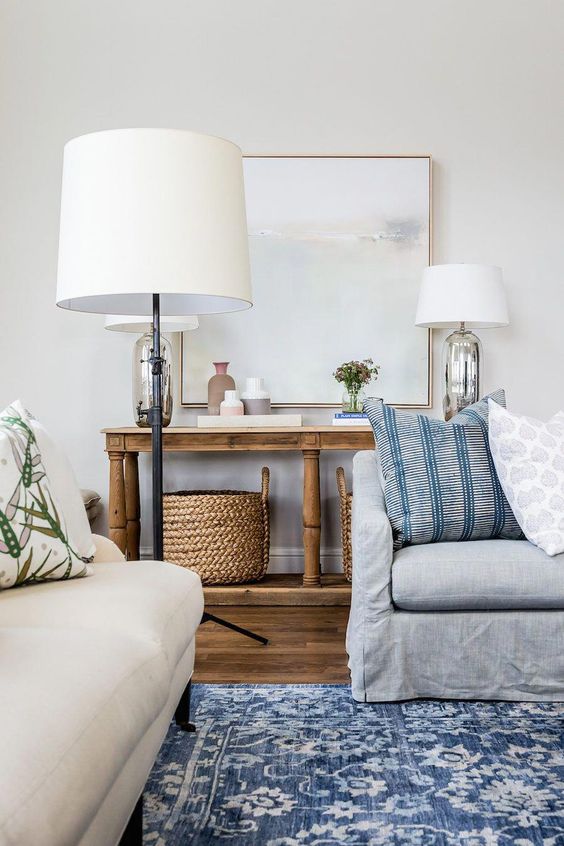 Coral Throw Pillows
This sunny space has a wicker side chair and a cream-colored sofa. The coastal throw pillows are a variety of coral with geometric patterns. A side table has a white statement piece of faux sea life. Coral is a color I wish I saw more often in coastal living rooms and interiors!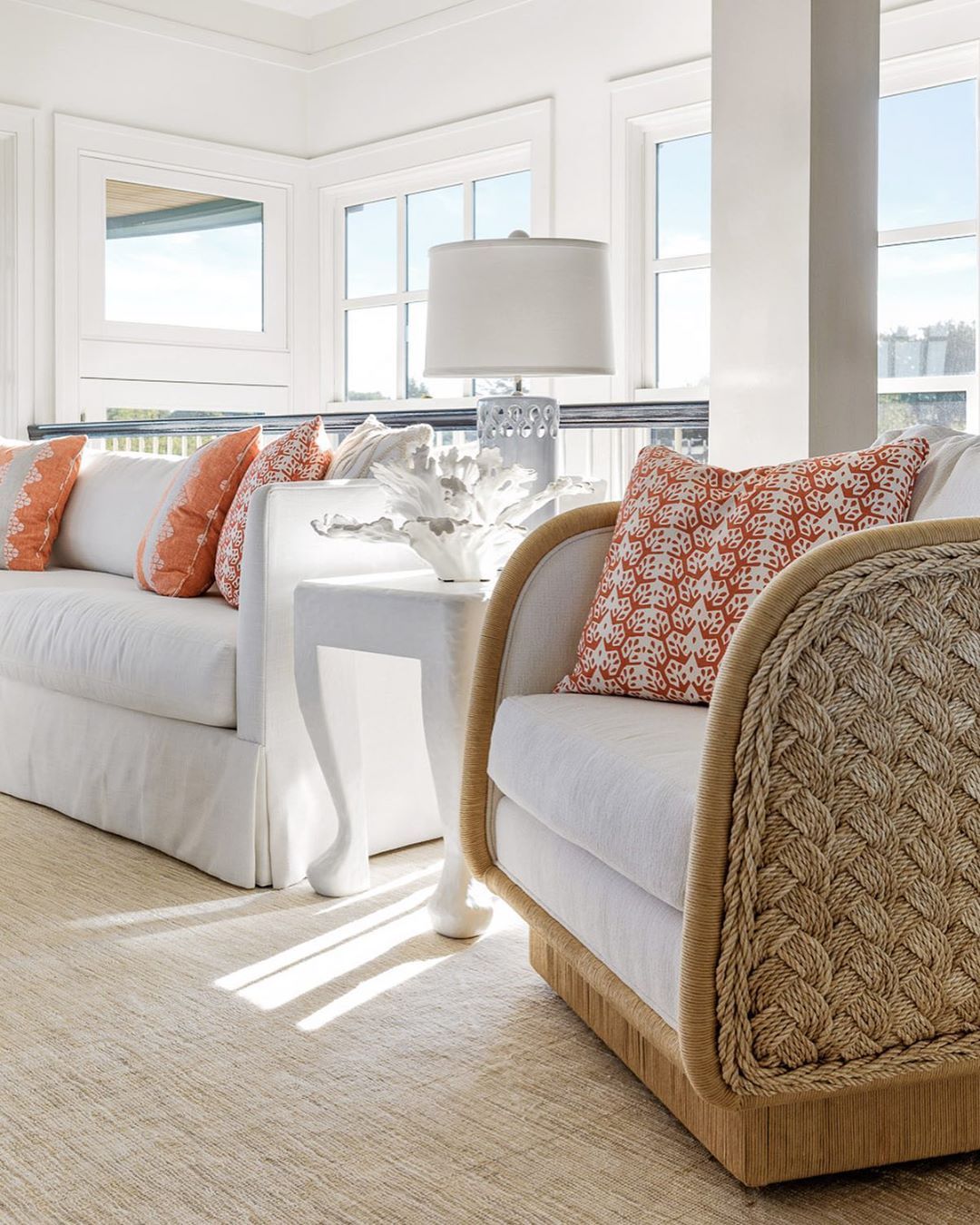 Ladder to Loft
This vaulted ceiling living space features exposed wooden beams on the ceiling. A distressed wood ladder is placed next to the loft. A chicken wire-framed chandelier hangs above a sleek grey sofa.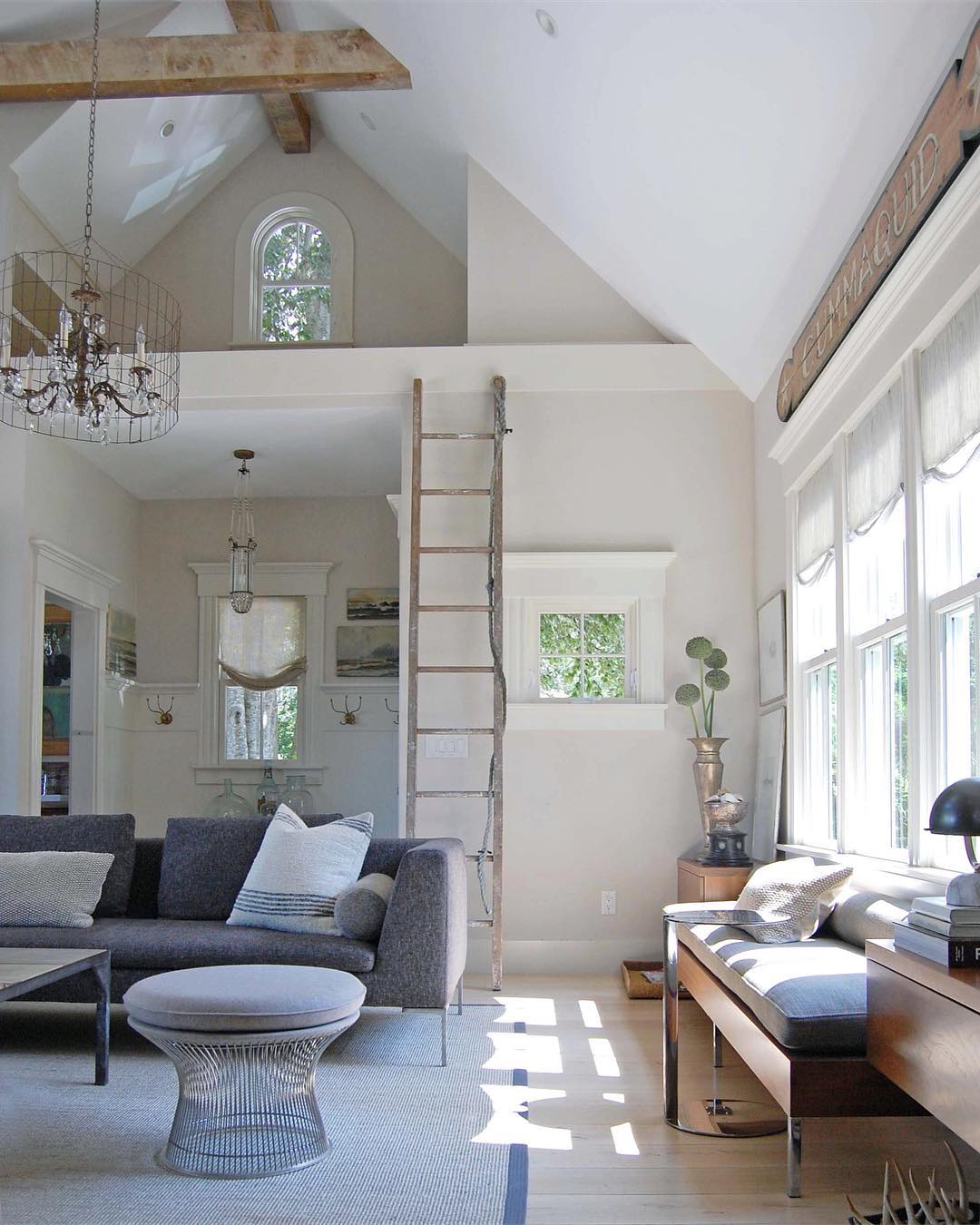 Navy Accent Chairs
Here is an example of an open concept living room that has a variety of comfortable seating. The two navy accent chairs with natural wood arms and legs complement the black and tan patterned rug. The oil painting on the wall adds a nice coastal art touch.
Layered Rugs
This seaside living room has two wicker chairs around a sand colored sofa with navy throw pillows. A low hardwood coffee table is in the center of two layered rugs. Fresh flowers on the center and side tables warm the space. The best coastal living room ideas always integrate nature into the space.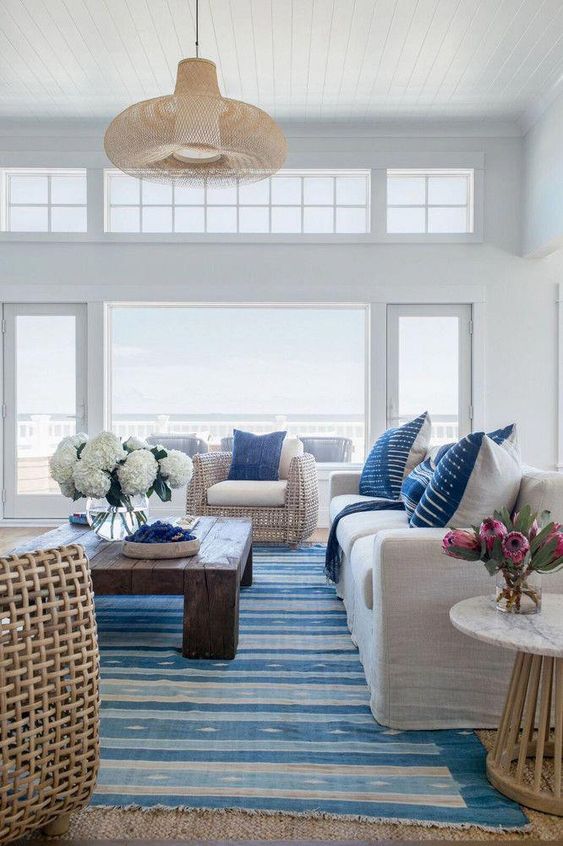 Navy Blue Walls
Several monochromatic framed photos of seashells are hung on navy blue walls. A soft grey slipcover is on the couch. The throw pillows are patterned with damask, geometric, and crab designs in a variety of blues. Since coastal living rooms tend to be bright, you can proceed with confidence in going with a bold wall color like this!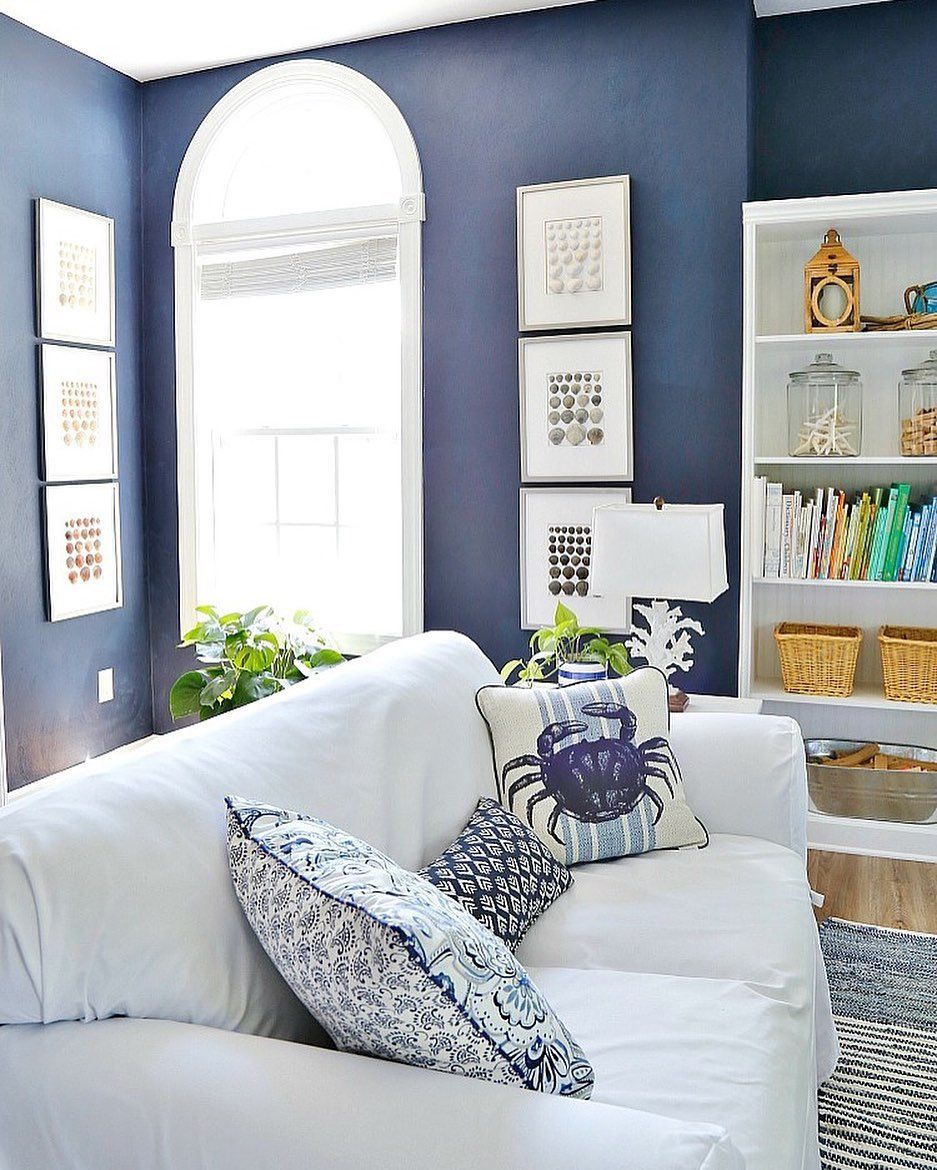 Lots of Indoor Plants
A wicker couch with cream sofa cushions and bright pastel throw pillows sits on top of a beige rug. The photos behind the sofa are in a variety of sizes and frames. There are plenty of indoor plants to add freshness and greenery to this space.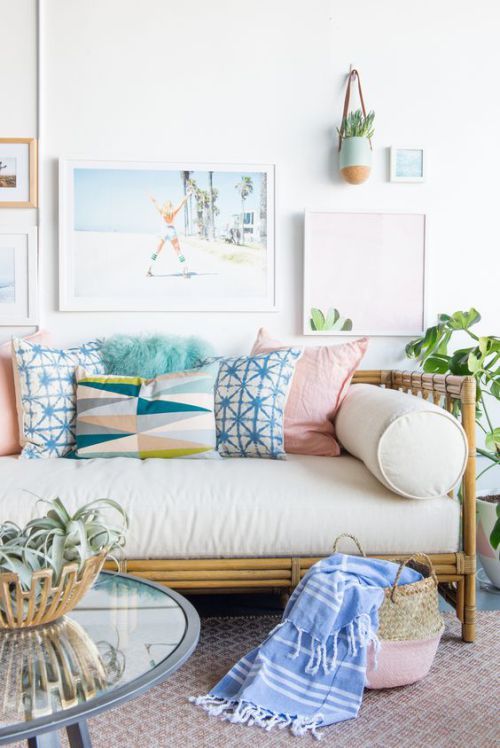 Neutral Rug and Table
The oversize oat colored sectional sits atop a tan and white colored rug. The walls have a square paneling detail as an accent feature. The center table is wicker with a white ceramic indented top.
Rattan Accent Chairs
Two geometric inspired rattan accent chairs with cream cushions frame this seating space. An open patio door leads to a water feature outside. Soft blue print sofas with white legs are on either side of a white table.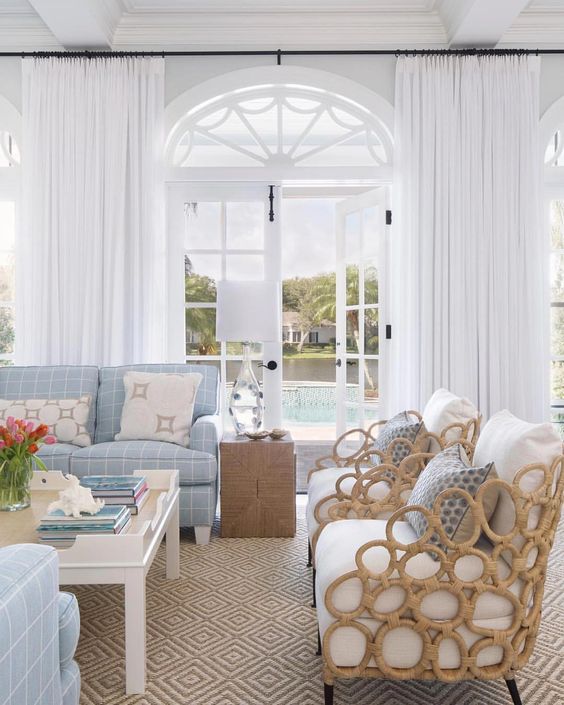 Sea Green Tropical Accents
A bold blue lamp sits atop a cream colored side table with drawers. Bright green plants warm up the white walls and blonde wood floors. The throw pillows on the couch are patterned to add interest to the space.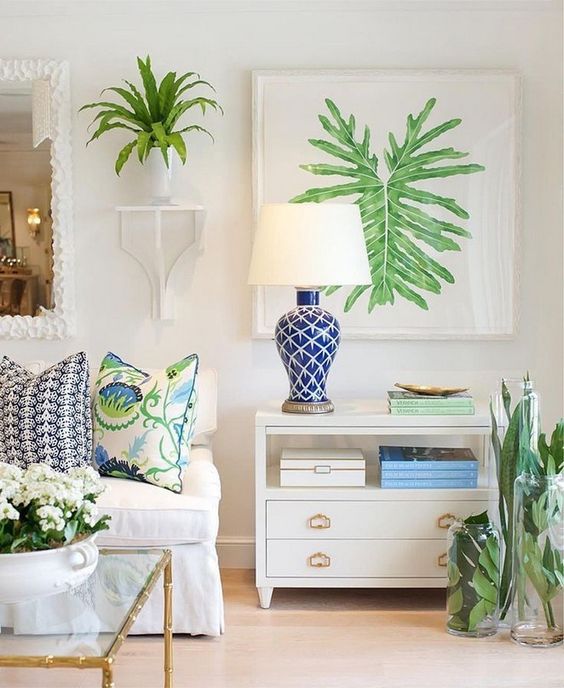 Sectional Sofa and Stripe Rug
This large cream-colored sectional sits atop a blue and white striped rug. A natural wood coffee table is in the center of the space with two blue pouf seats. A bright, sunny outdoor space is outside of the white curtains.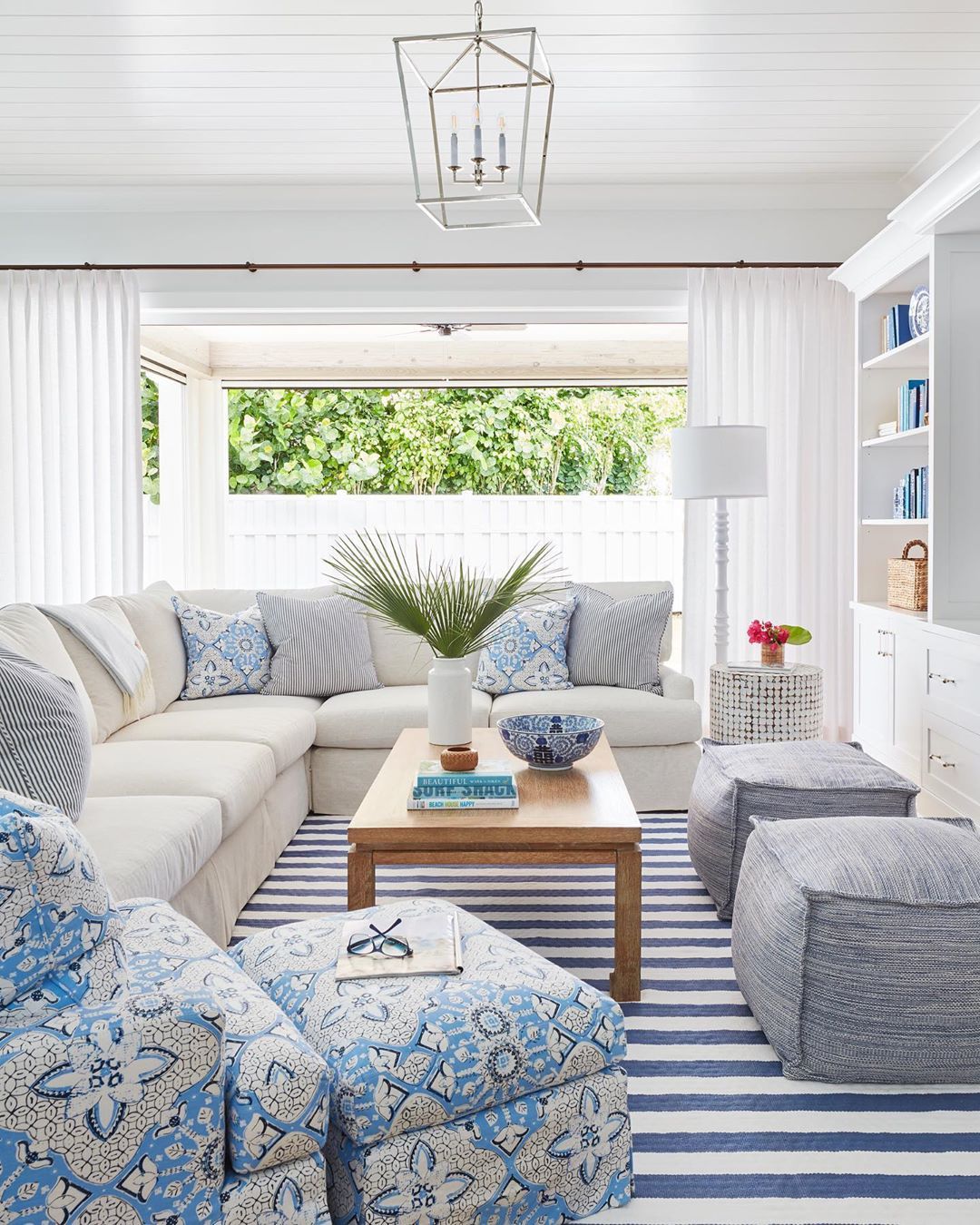 Soft Blue Sofa
A neutral patterned berber rug centers this space. A large, plus soft blue sectional sofa with wooden legs is set against a large wall of windows. The best modern coastal living room ideas involve using natural light where you can. A white coffee table with creative side cutouts is next to the sofa.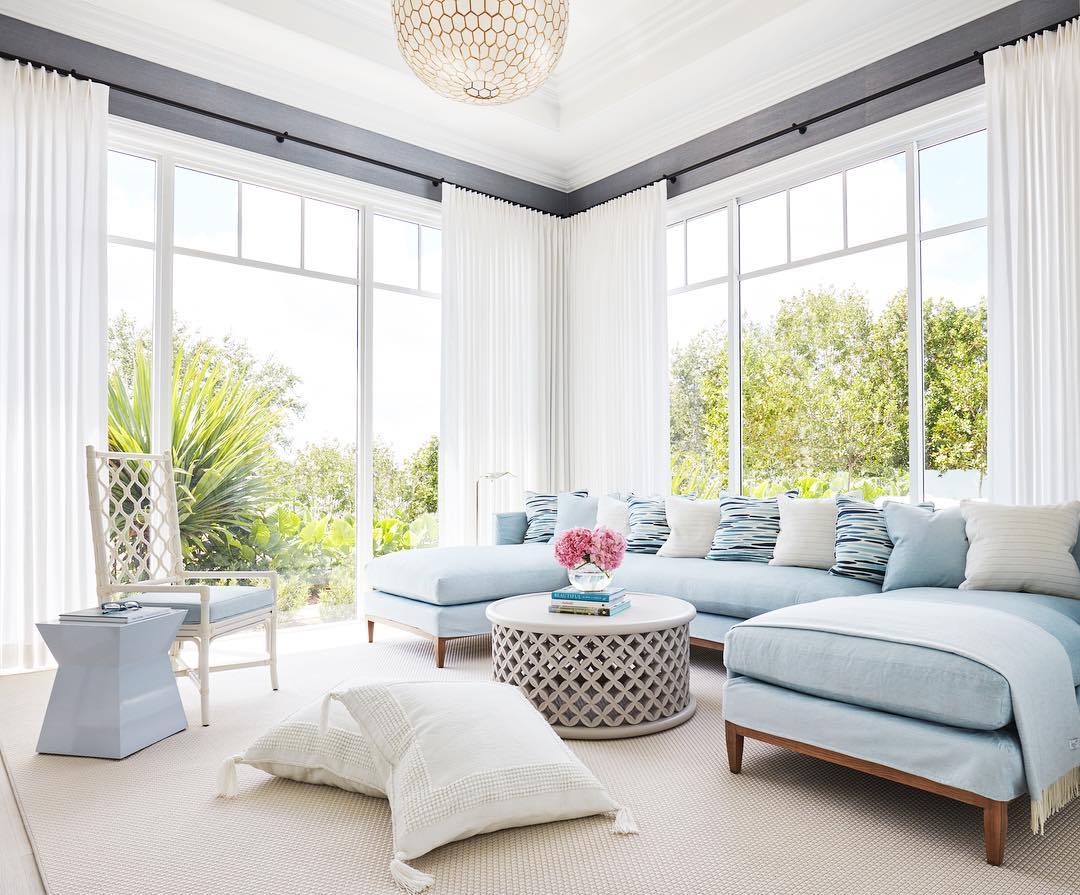 Striped Poofs
Natural wood trimmed stairs lead up against a shiplap wall. Two navy striped poufs are in front of chairs with white slipcovers. A rattan rug with beige trim brings the room together. What do you think about this coastal family room?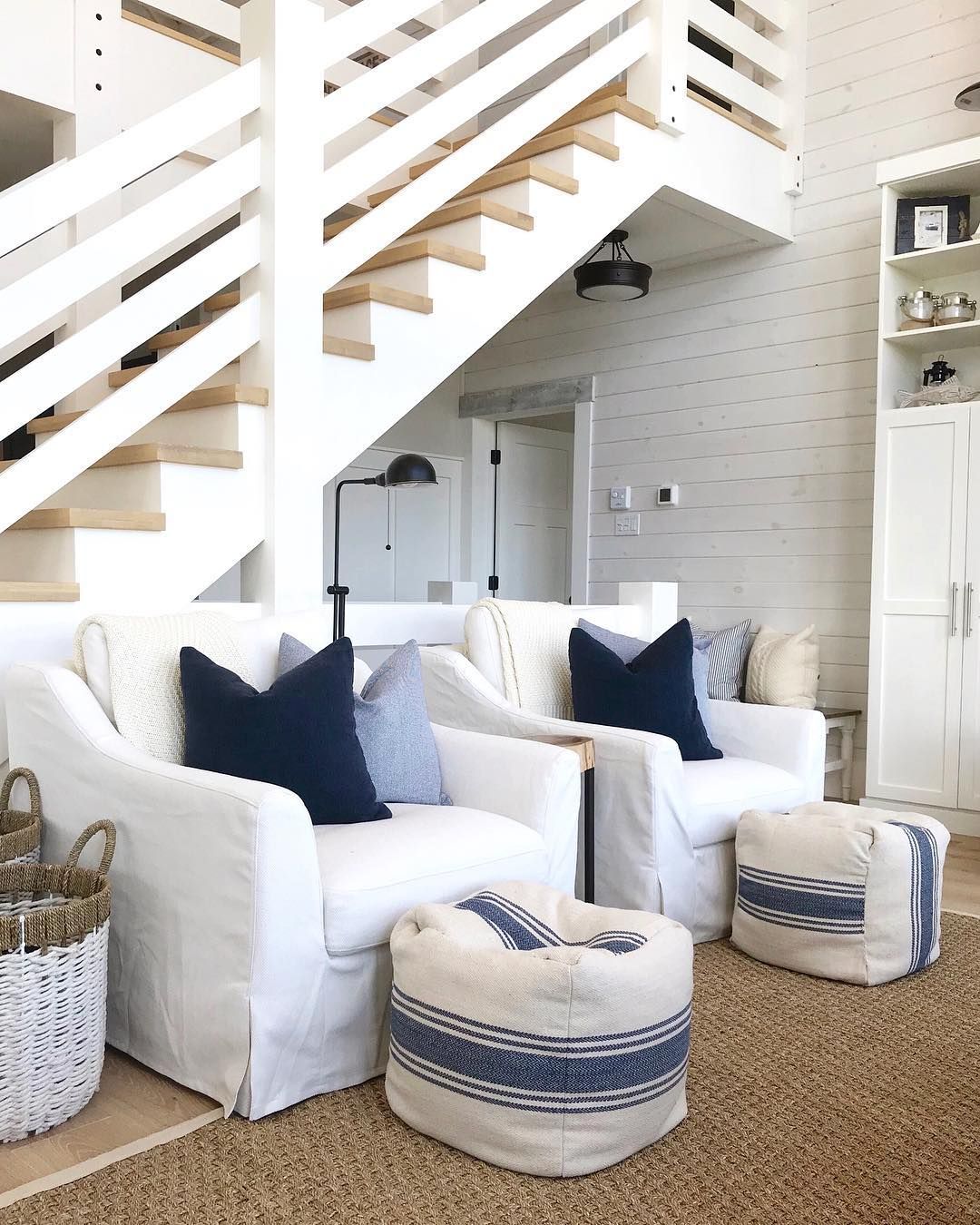 Teal Paint Behind Built-in Shelves
Clean, white lines of built in shelves contrast brightly with the teal paint on the back of the shelves. The bottom cabinets have dark door pulls with rattan door insets. Two wooden fish on blocks sit atop the shelf center of the TV.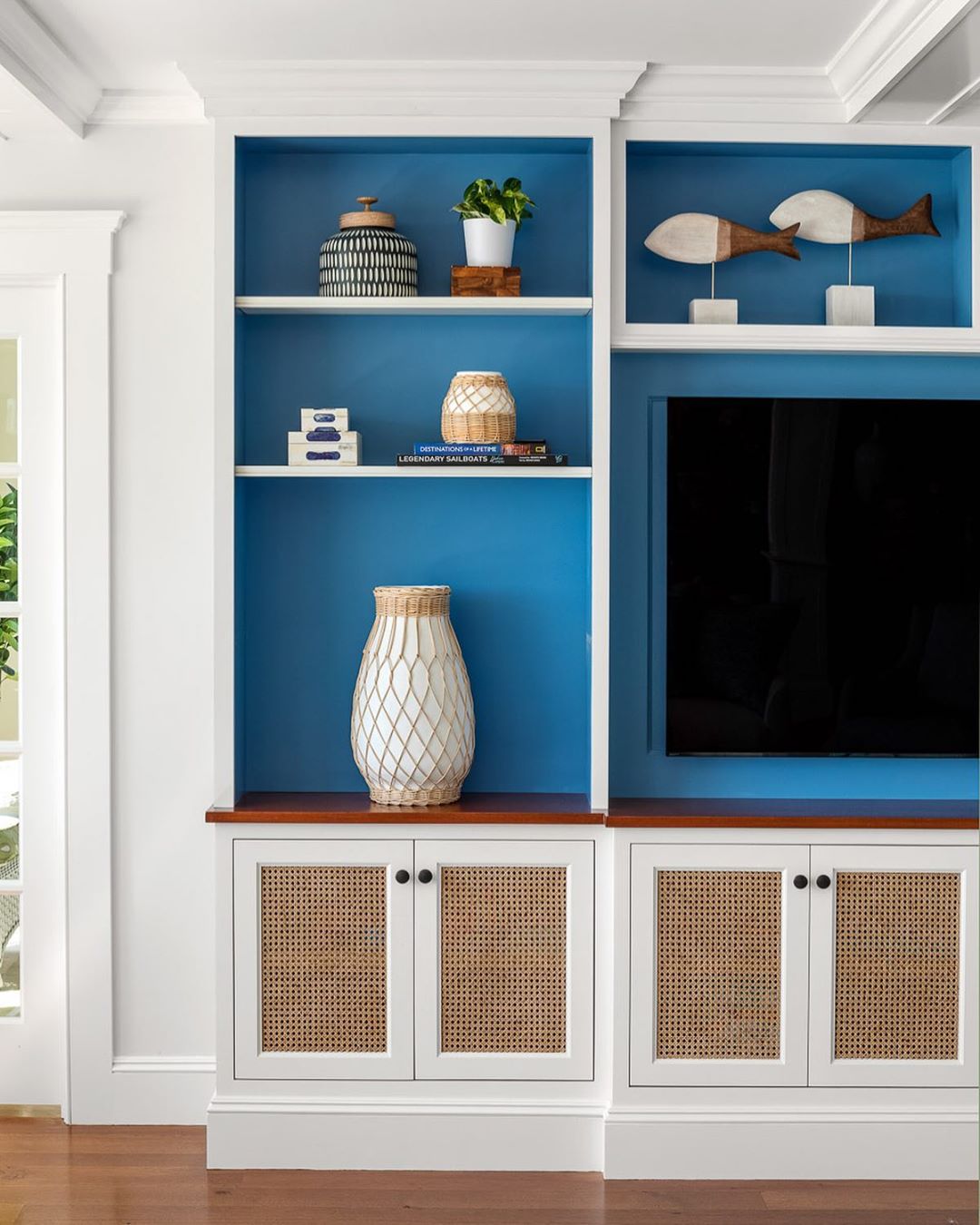 White Sofa and Brown Rattan Side Table
A cozy, white sofa with unique shades of blue throw pillows sits in front of a bright window. A brown rattan side table is next to the couch with a white sea anemone sculpture on the bottom shelf. A white and pale blue lamp is on top of the side table next to fresh flowers in water.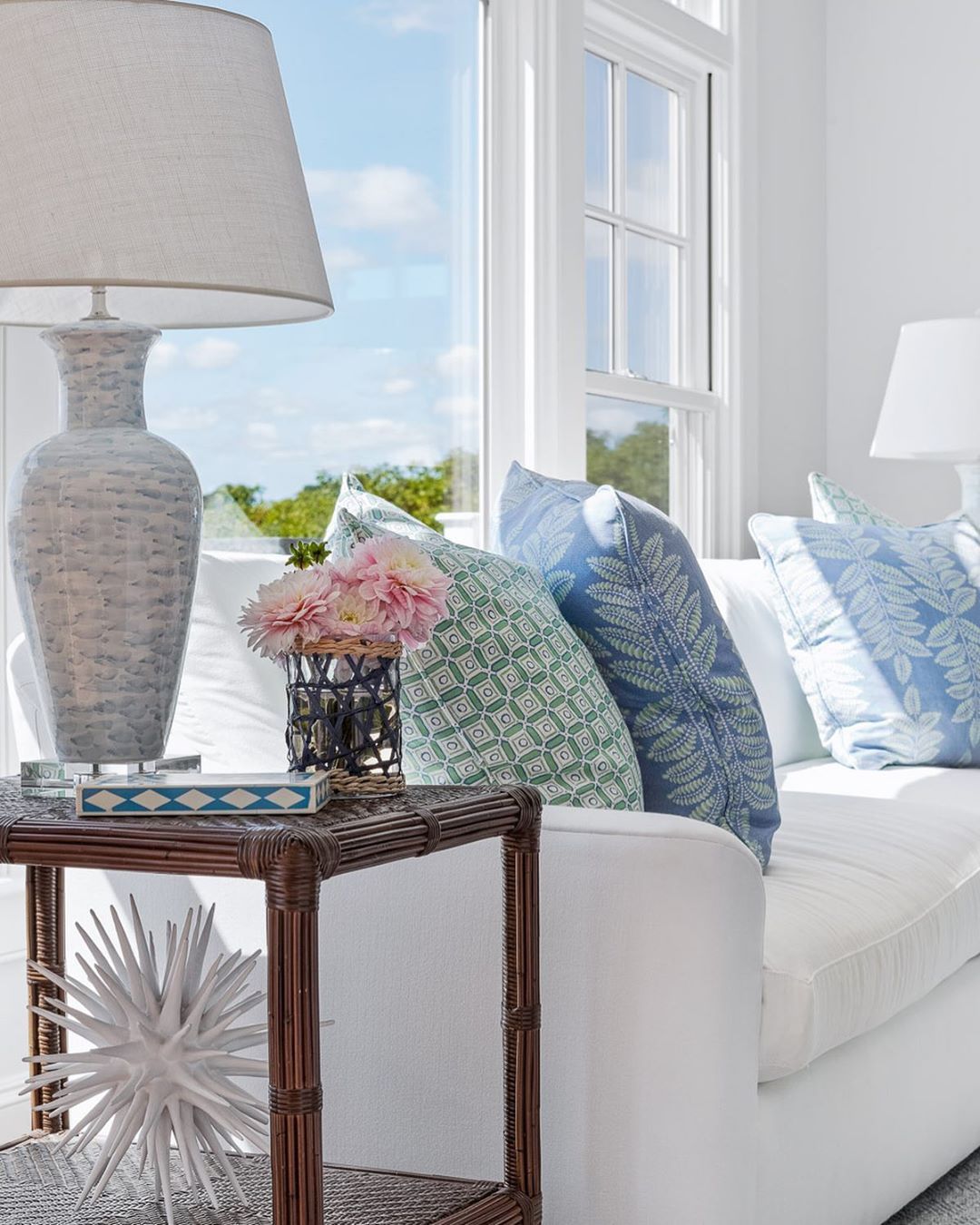 Large Sailboat Replica Decor
These white beadboard walls with an upper navy accent wall have wicker shades in the windows. A distressed blue trunk is the center coffee table in front of a bold striped pattern couch. The large sailboat replica sits against the corner wall with ships on decorative plates along the trim of the beadboard.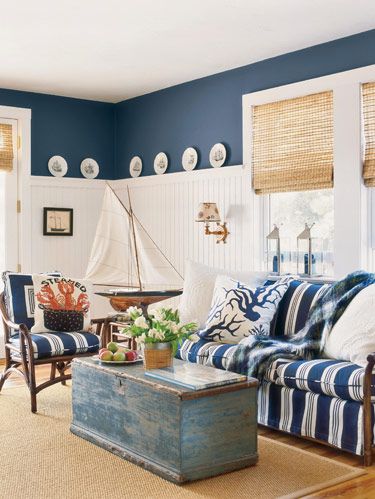 Turquoise Coffee Table
This quaint living space has a cream and grey vertical striped sofa. The turquoise coffee table with a natural wood top has wicker baskets for style and storage. A round, distressed white wood mirror sits above the couch on a pale blue wall.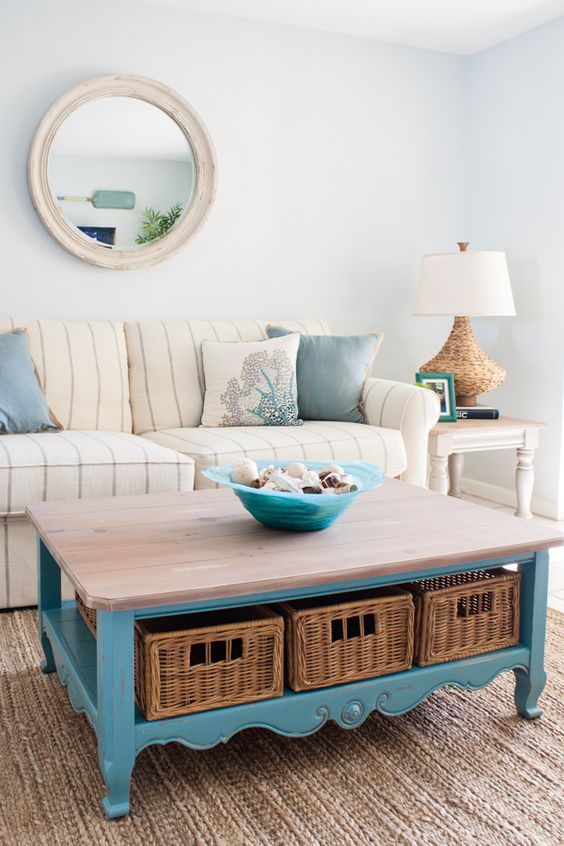 Vintage Rattan Chairs Painted in Krylon Catalina Mist
This aqua, white and natural brown living room has a classic, clean lined fireplace. A painted rattan chair with white cushions sits across from a seafoam blue center table. The brown rug along with the soft light wicker blinds add earthiness to the room.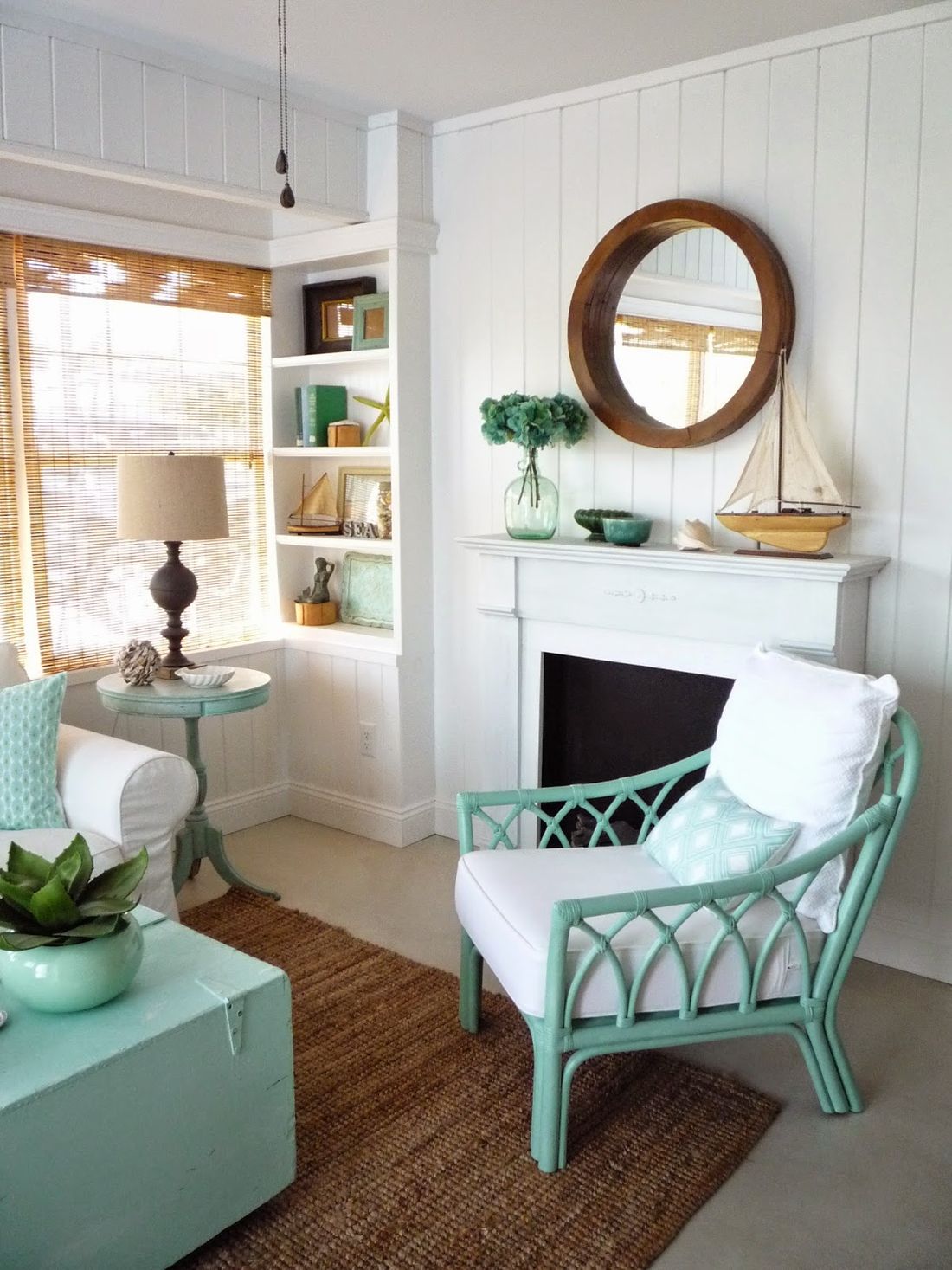 White Sofa and Coffee Table
A farmhouse accented solid white coffee table compliments a cozy white sofa on top of a sturdy natural rug with navy trim. A collection of wooden framed tree prints sits behind the sofa in a grid pattern. Navy blue throw pillows and end tables add depth of color to the seating space.
That's all for now!
More Coastal Decor Ideas for the Home
What did you think of these modern coastal living room decor ideas? Don't miss our guides to decorating other rooms in your coastal beach home! Here are a few recent articles that may interest you:
Happy curating!