Is there anything more calming than looking at these neutral living rooms? I don't think so! If you love warm browns, beige tones, and creamy whites, then this post is for you! We just love the neutral decor look in homes big and small.
Neutral Living Rooms
These neutral colored living rooms will inspire you to create a soft beige color palette inside your home. The living room is an important place for your friends and family to gather, so why not make it special? These decorating ideas with warm tones will spark lots of design ideas. From a brown sofa to a beige rug, there's a neutral piece of furniture or decorative accent for everyone! Take a peek at our neutral family room selection below!
1. Antique Gold Wall Mirror
The cute antique gold mirror really helps to warm up this space!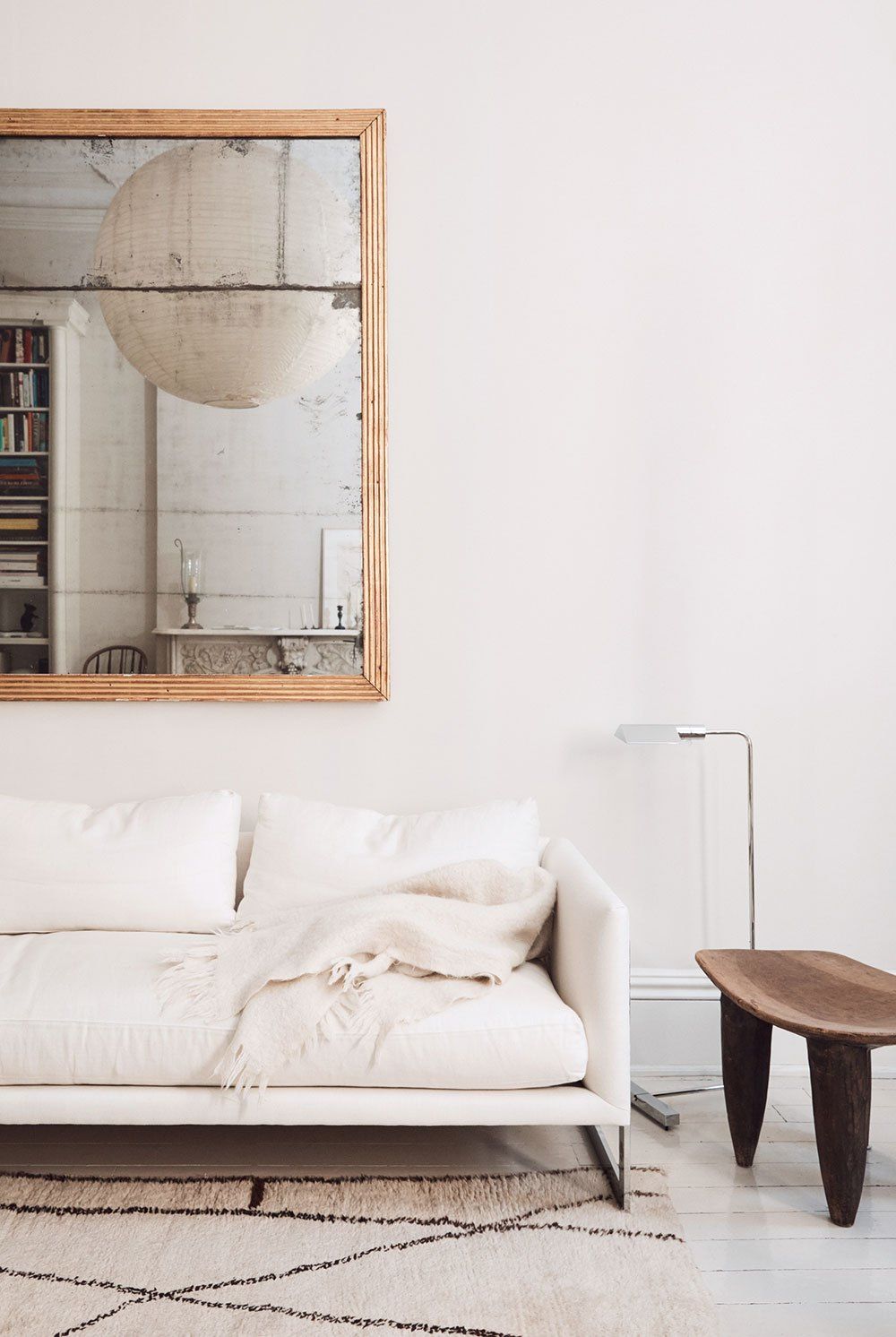 2. Brass Metal Accents
I love brass metal decorative accents like the amazing dome pendant light in this living room. The tufted beige sofa, marble coffee table, and gold leaning floor mirror really help to give this space character.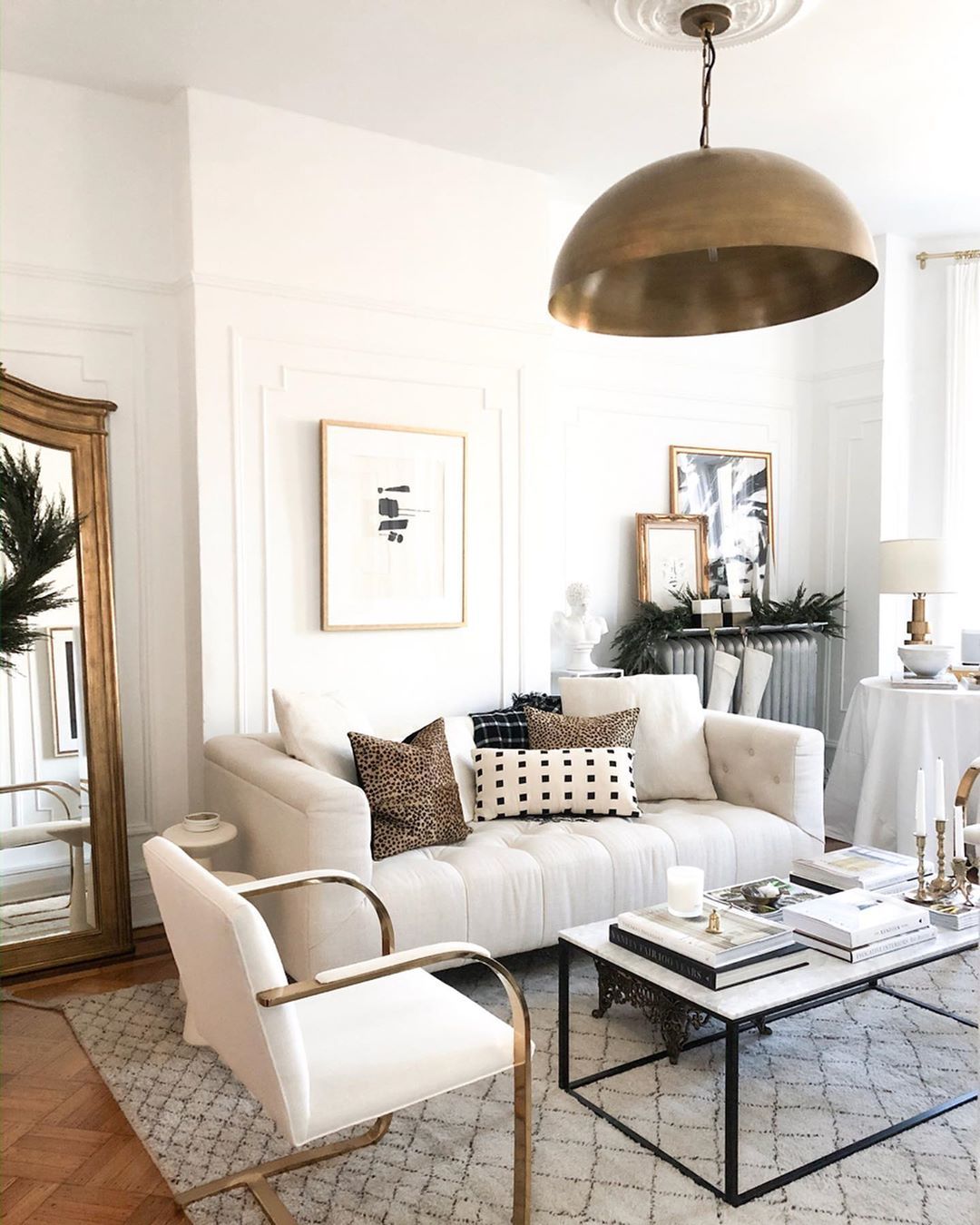 3. Brown and Beige Ceramics and Accents
I love the minimalist decorative accents in this cute neutral living area!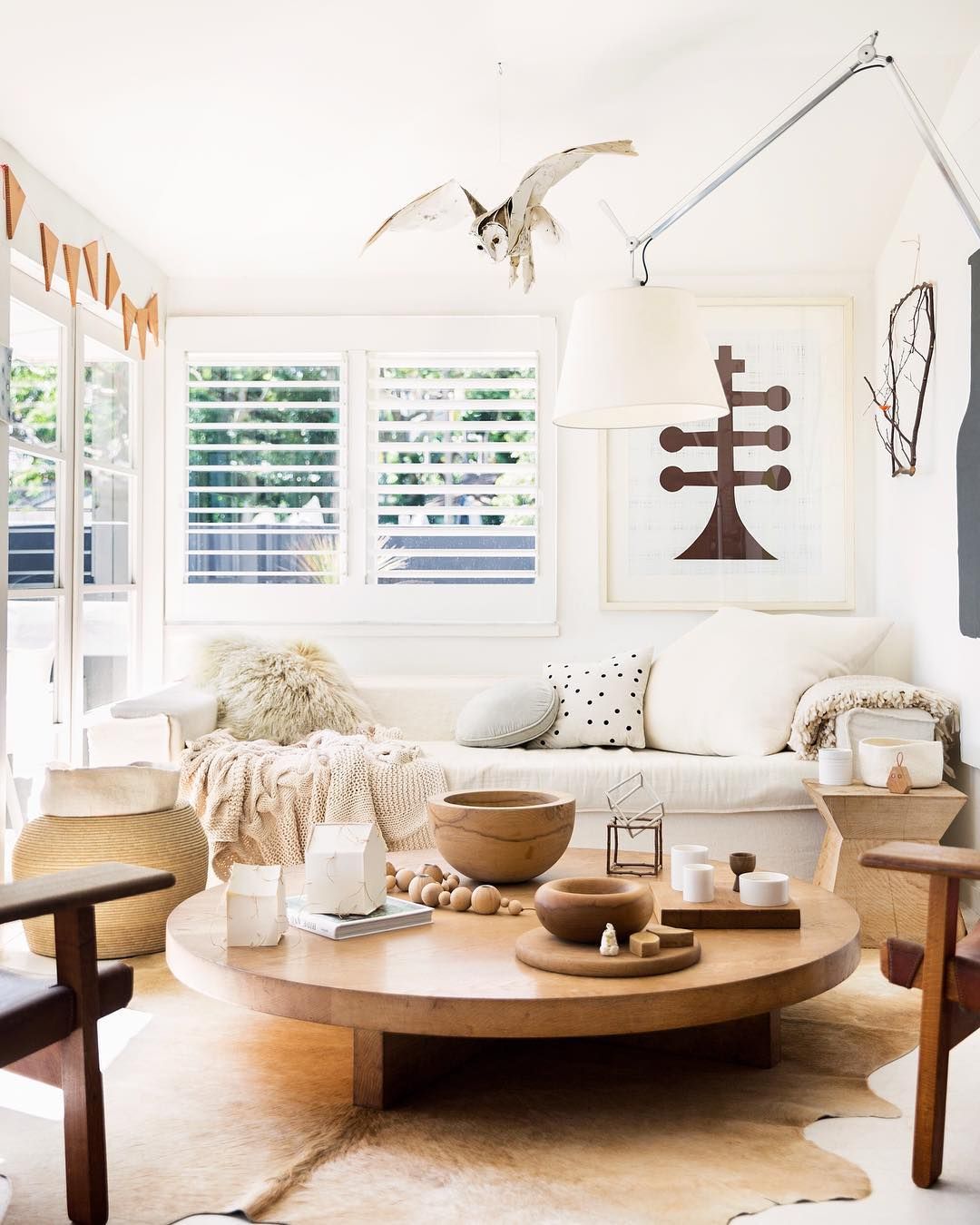 4. Earth and Clay Tones
Earthy and clay tones are a must to give your space a bohemian, natural vibe. This gorgeous neutral sectional sofa provides so much room for relaxing!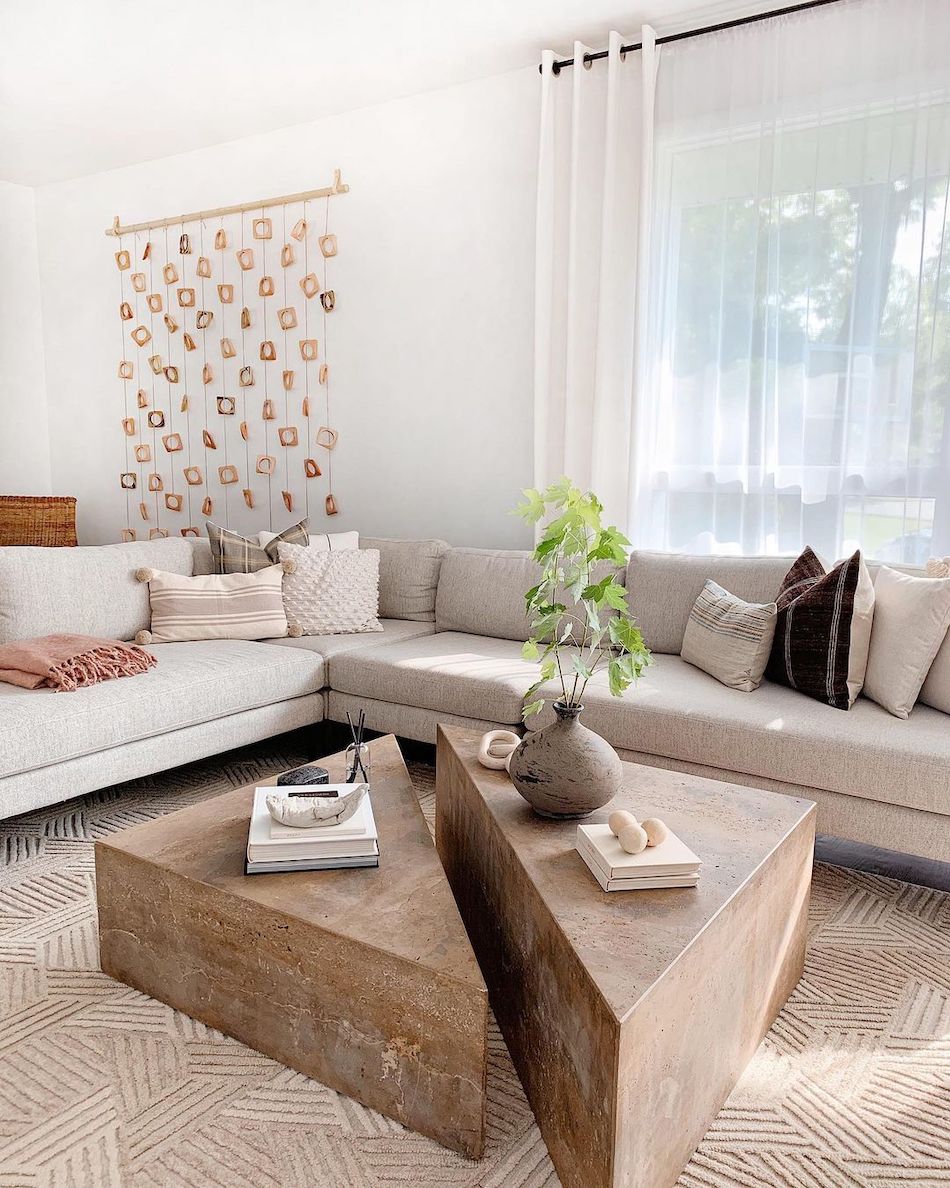 5. Exposed Wood Ceiling Beams
Blond wood ceiling beams help to give this space contrast. I also admire the design of a single sofa paried with 4 accent chairs around a coffee table! Such a unique and fun design.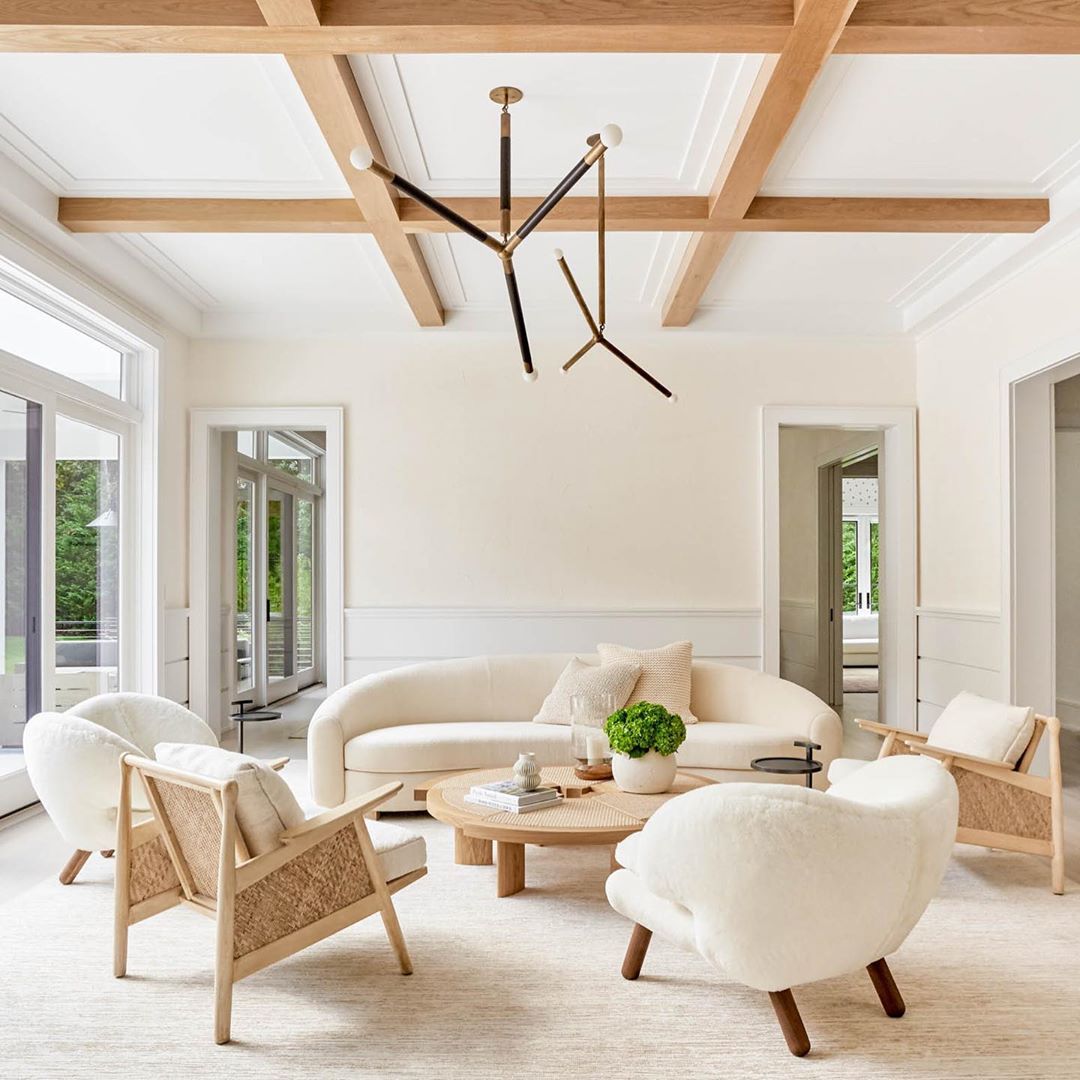 6. Faded Blue Throw Pillows
This farmhouse style neutral family room was balanced out with a few faded blue throw pillows.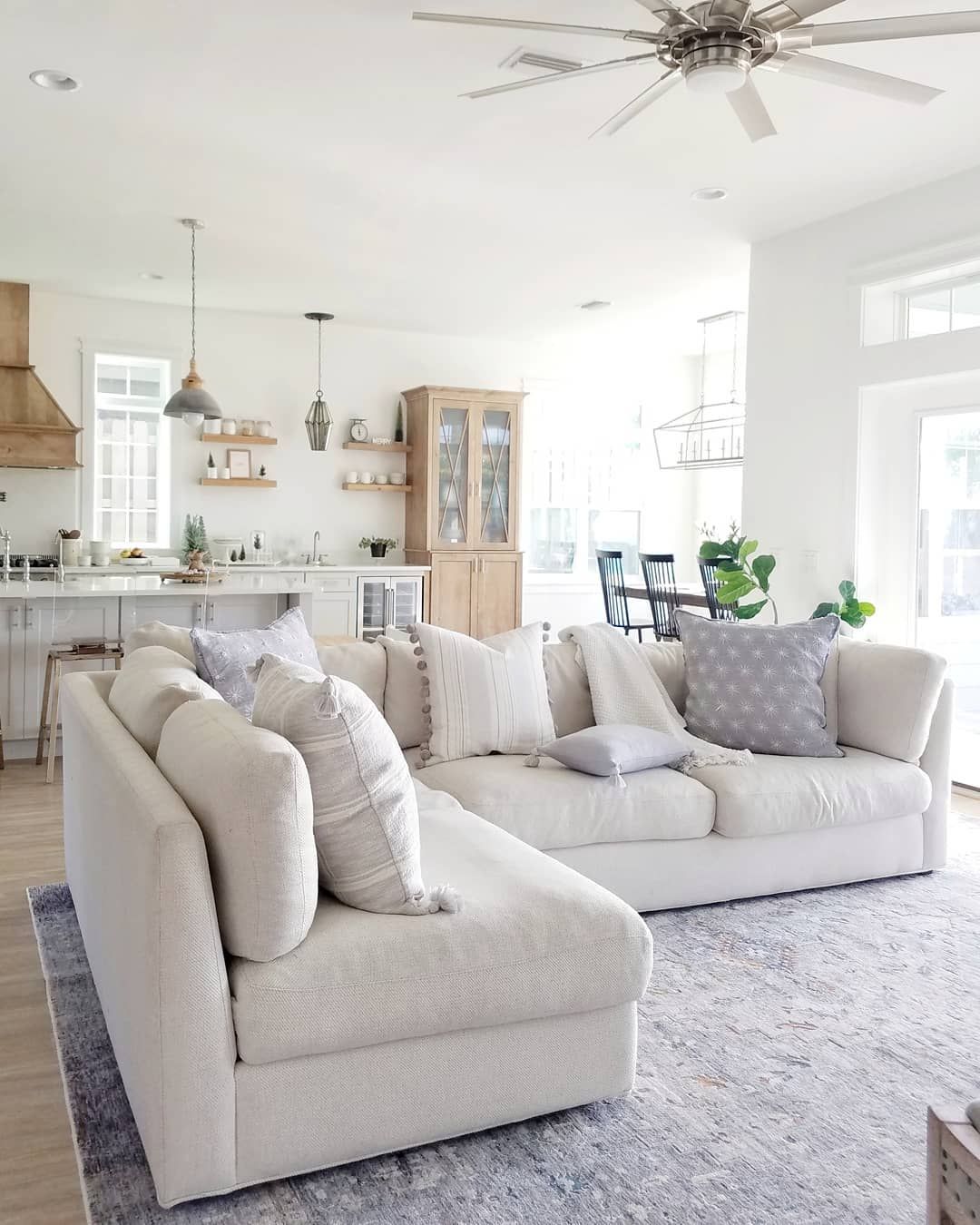 7. Live Edge Coffee Table
Live edge rustic wood is very much in style these days. Choose a raw, live edge coffee table that gives your home a natural wood touch.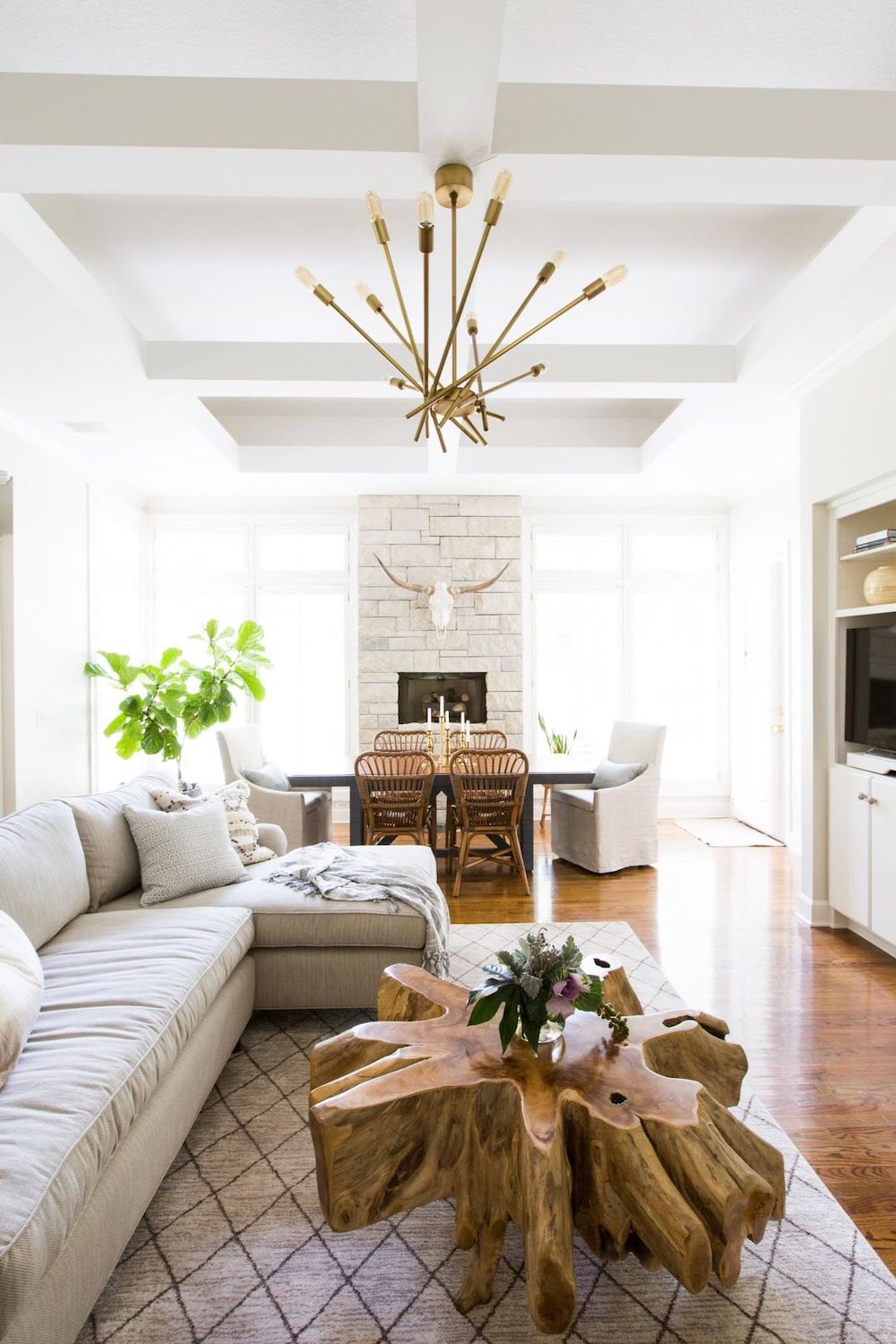 8. Pampas Grass Decor
This Scandi style space was decorated beautifully with a glass vase full of light beige pampas grass!
9. Pops of Faded Colors
This is a great example of a living room that added color in a natural way. Going with faded colors that blend in nicely is the way to go! It gives the space a bit of color and a lot of character.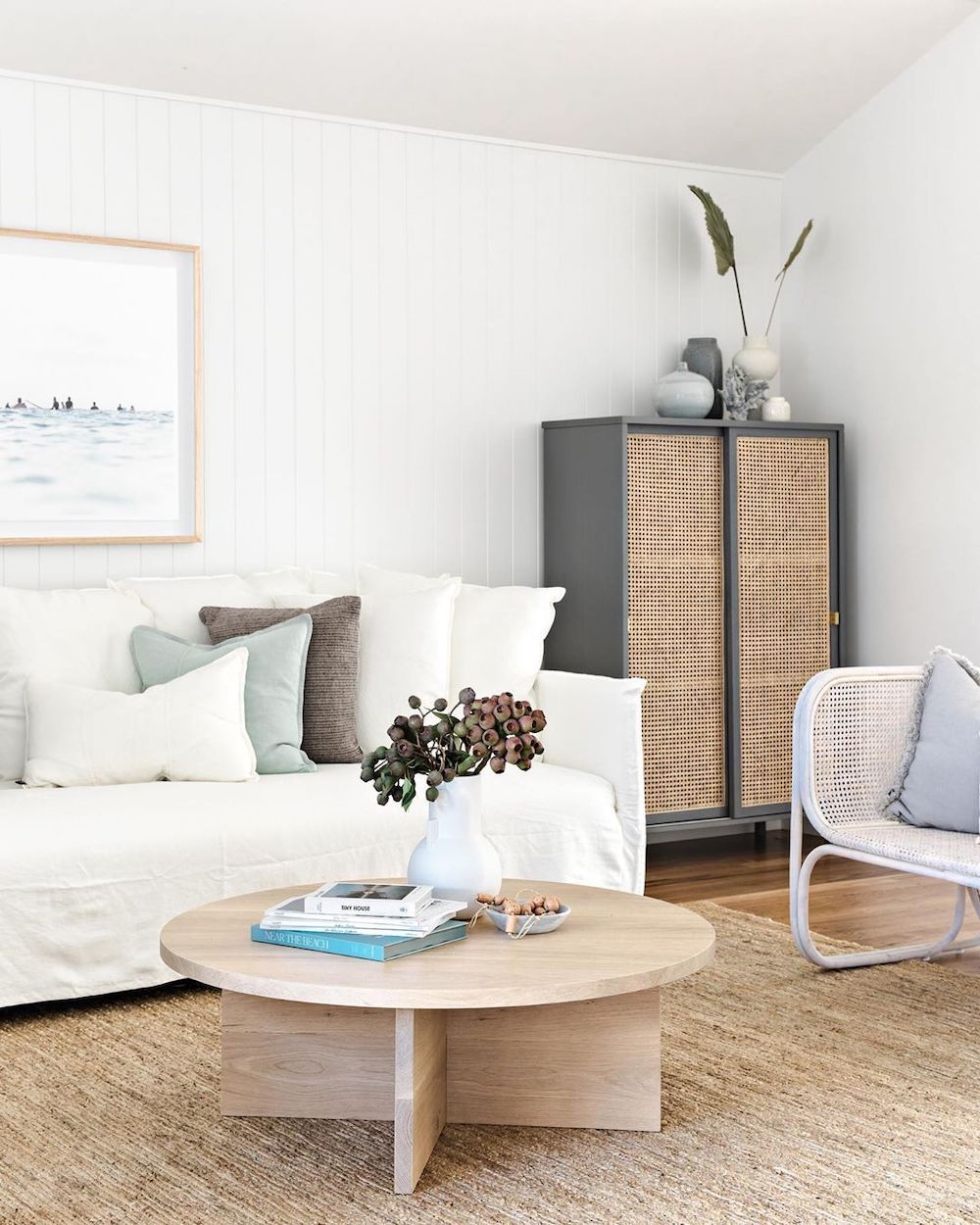 10. Twin Woven Leather Accent Chairs
Matching accent chairs are always pleasant to look at!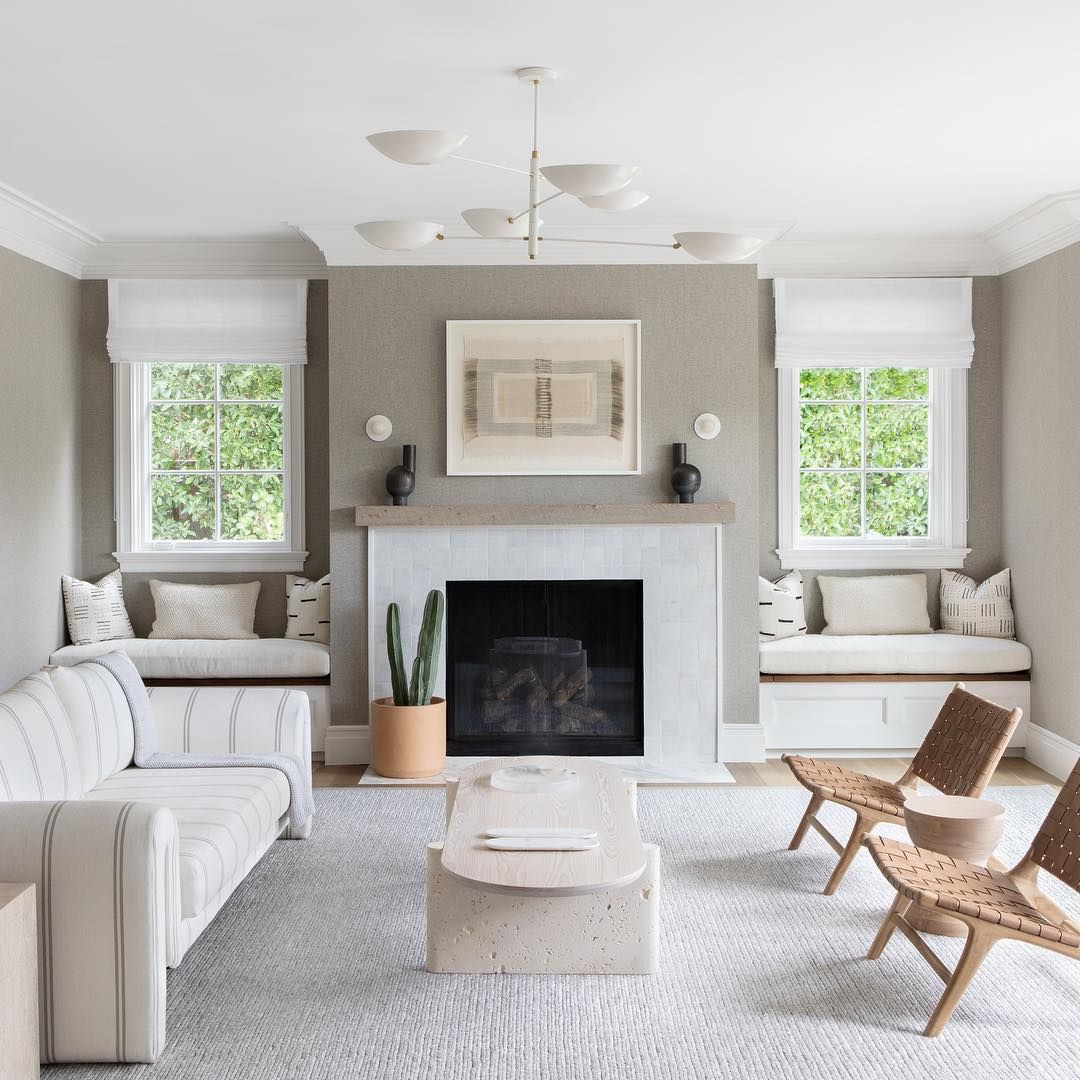 11. Wood Cane Accent Chairs
The wood cane accent chair in this living room helps warm up the room. The minimalist artwork on the wall is a daring choice.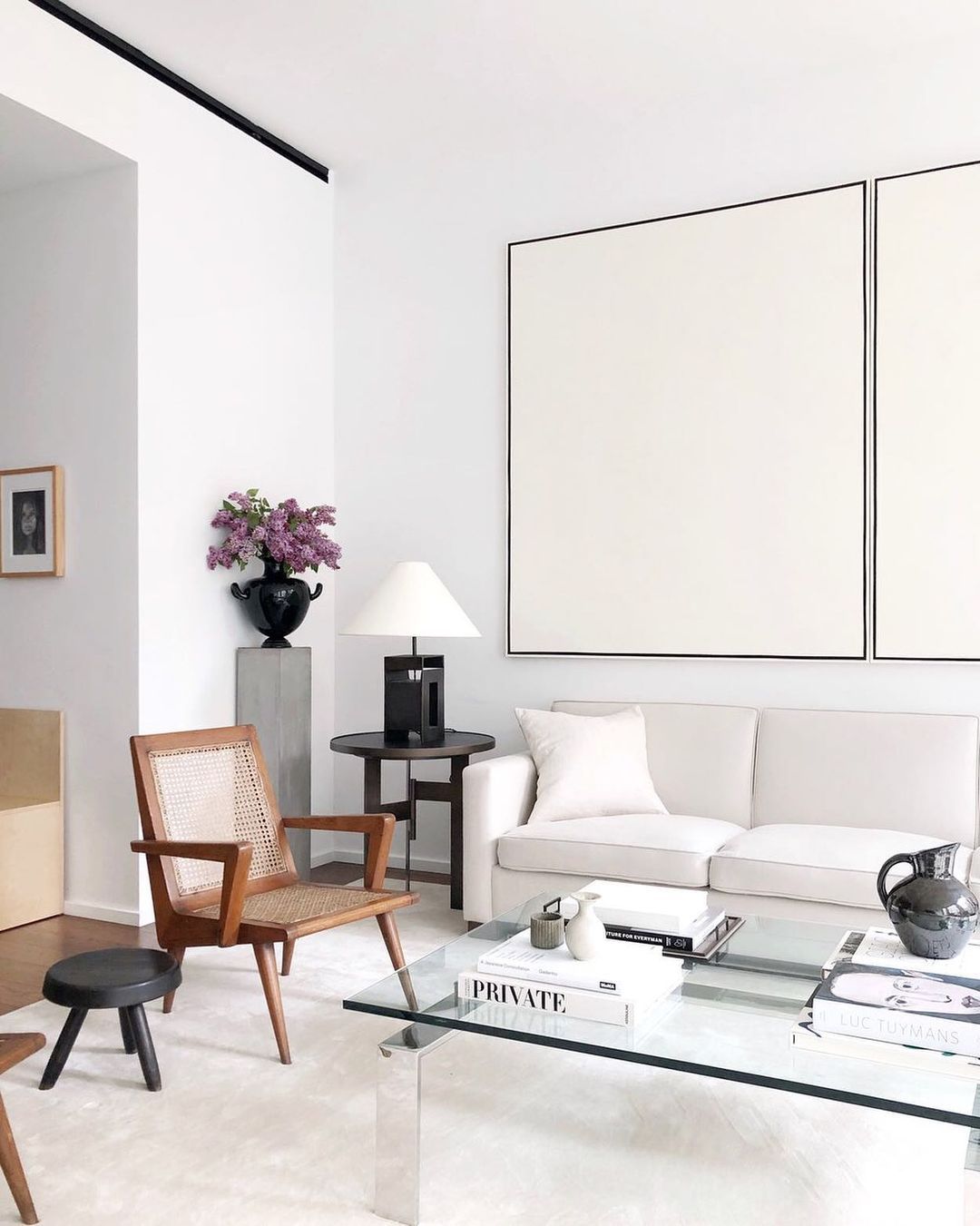 12. Neutral Decor for a Small Space
A gallery wall filled with beige Parisian city photos is the perfect way to decorate the walls of your neutral living room.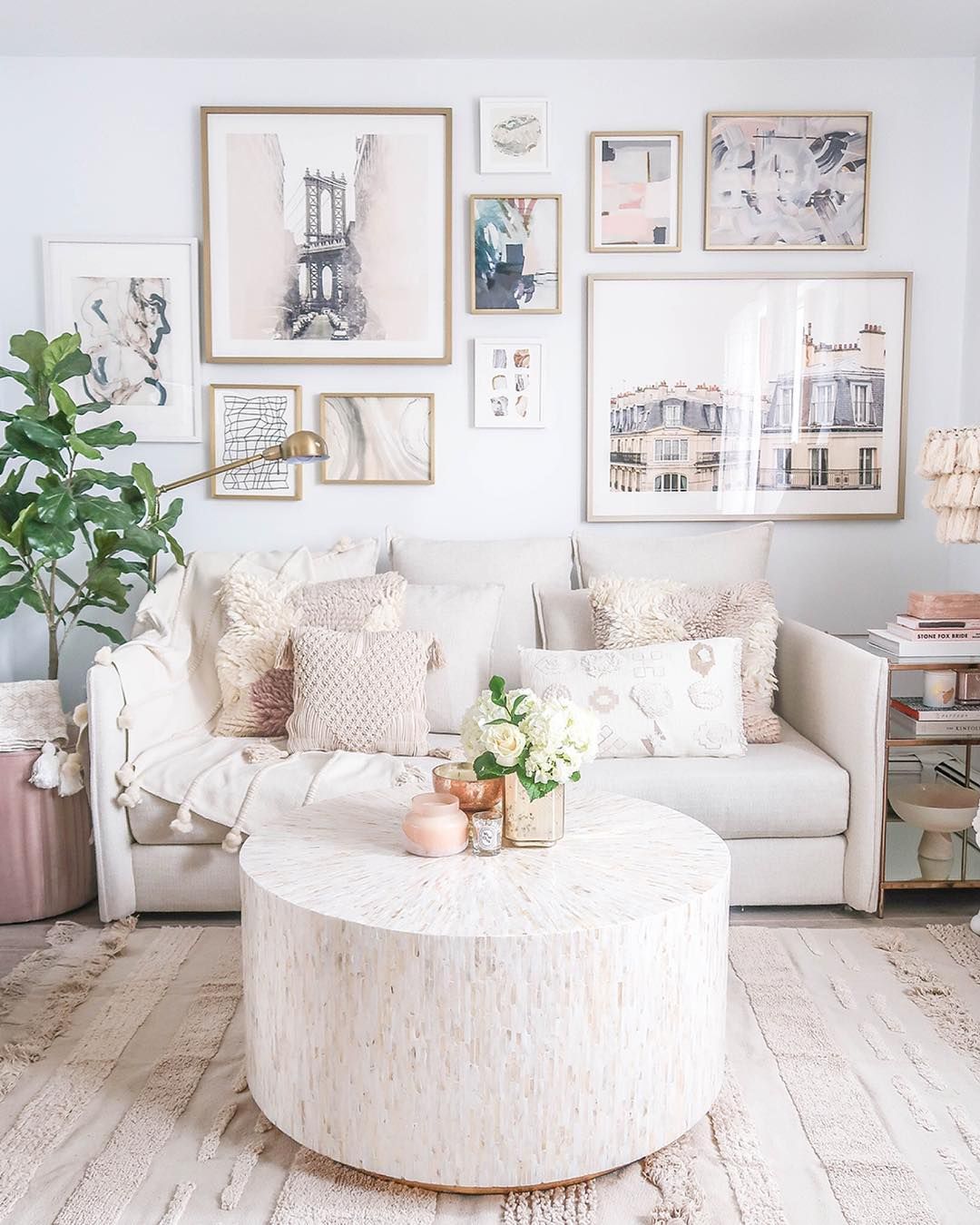 13. Beige Sofa
A beige chaise lounge across from a comfortable sofa is the right piece of furniture for this gorgeous stone fireplace.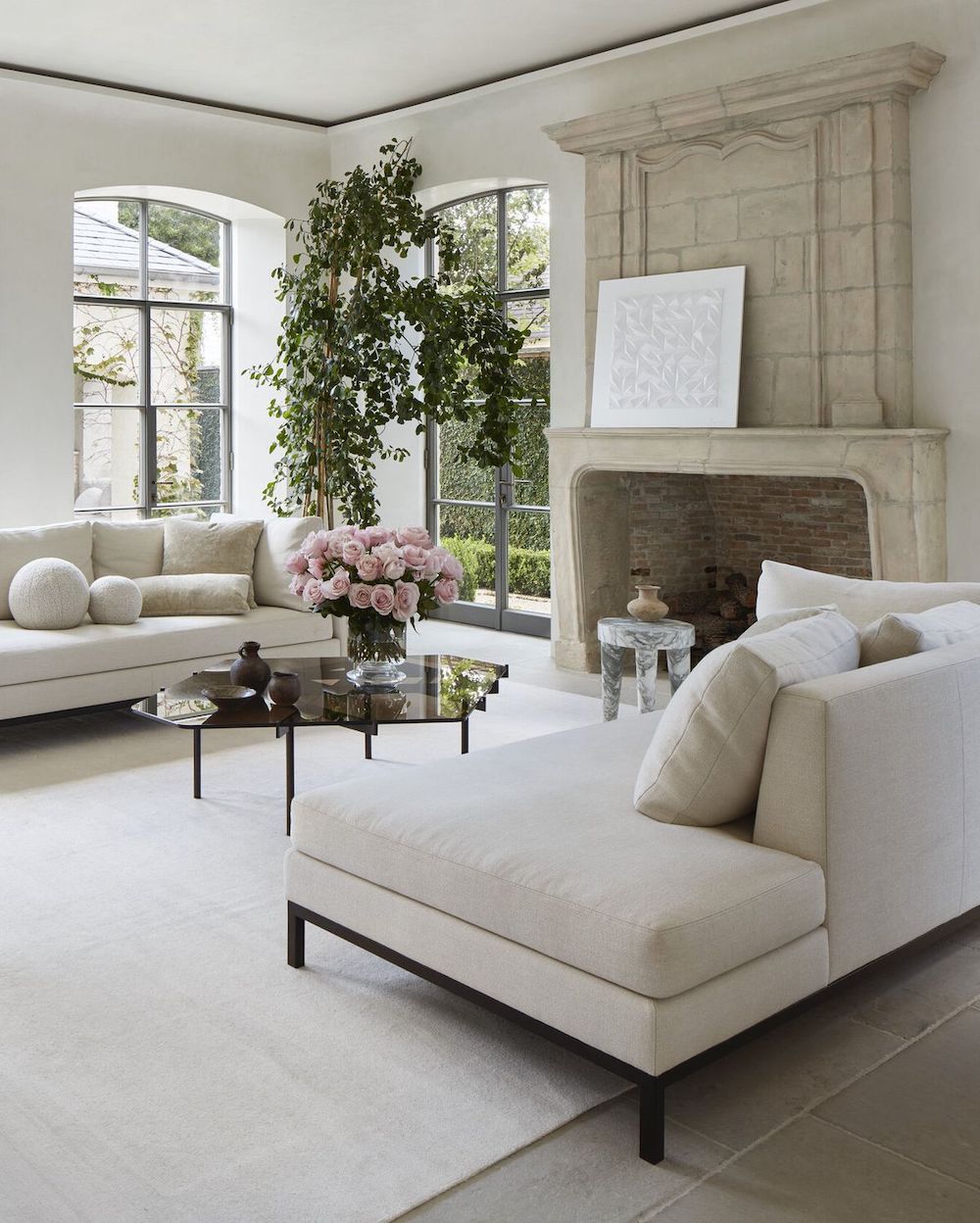 14. Brown Leather Sectional Sofa
Brown leather sofas are a timeless choice for a warm living room.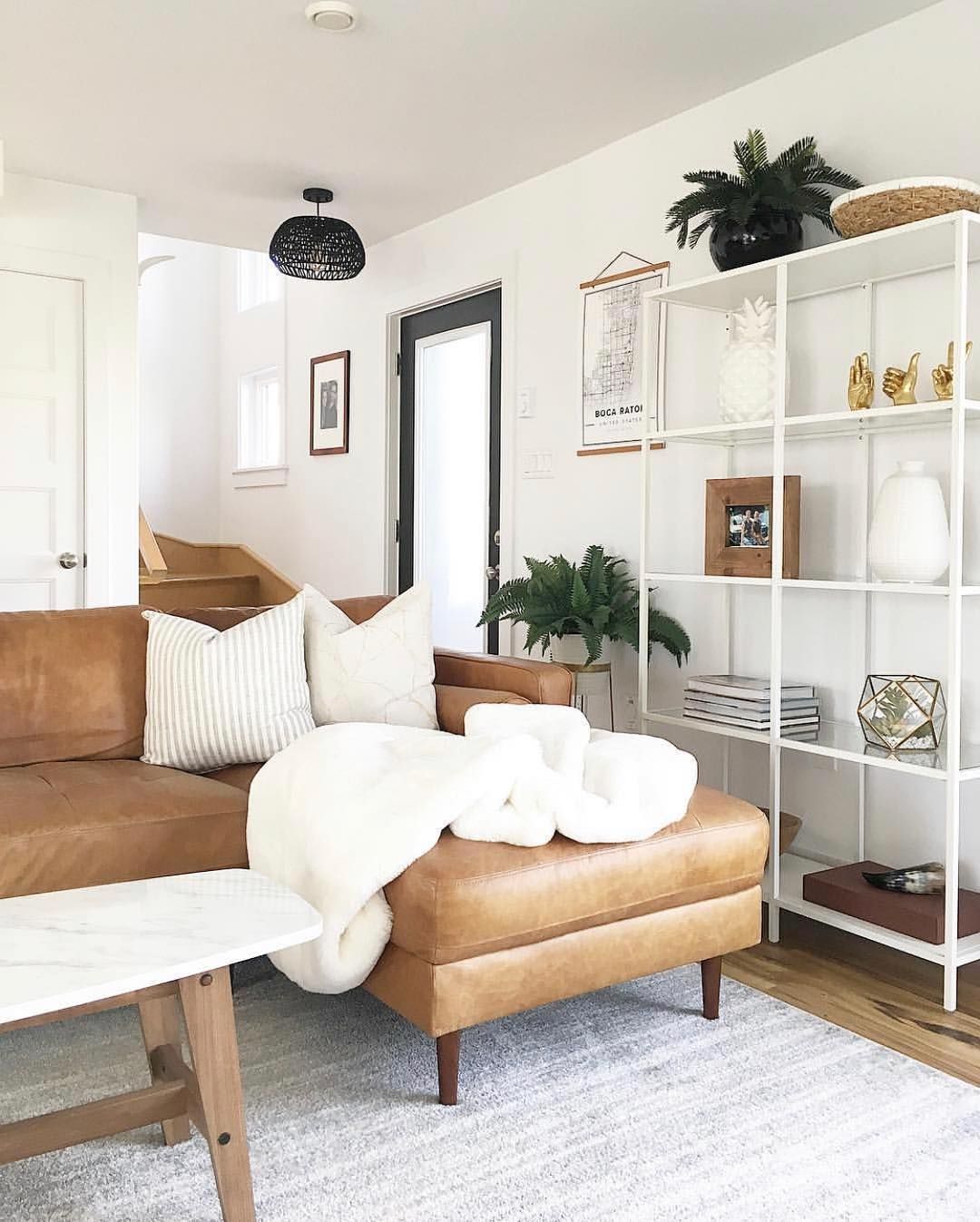 15. Jute Rug and Pampas Grass
Jute strikes again with its practicality!
We hope these neutral living spaces inspired you as you go about decorating your own home! As you can see there are many interesting ways to get the neutral look in your home.
More Neutral Decorating Ideas
If you love decorating with neutrals, then you've come to the right place! Here at Curated Interior, we adore neutral tones when it comes to furniture and home decor. We've written extensively on how to get this look in your home. Here are a few more popular recent guides:
Happy curating!
Pin this for later: