Are you thinking about improving or redesigning your home decor and making it look more modern and coastal-like? If that's the case, then you've come to the right place! Here we'll be sharing with you some ideas on how you can transform your old beach house living room, bedroom, dining room, or even your bathroom to a chic modern coastal vibe you will love!
While the Coastal grandmother is having her moment, an updated modern coastal design is a much smarter move for most beach homeowners.
What is the Modern Coastal Decor Style?
When you first look at it, a modern and coastal design might seem like an odd mix. Elegant simplicity and clean lines are hallmarks of contemporary design. It's because of this that it's so enticing. Instead of bright colors, beachy motifs, and cliché coastal decor, go with the reverse for a modern coastal design. Modern coastal decor is mixed with contemporary design to create a sleeker kind of setup. In a nutshell, the modern coastal decor is about creating a space with clean lines, ocean hues, and subtle connections to the surrounding natural environment.
Modern Coastal Home Elements
Here are the key modern coastal home decorating elements to consider. Time to get rid of your old and worn-out furniture. Instead, we're going to make some modern design updates to keep a coastal home feeling fresh!
Driftwood Accents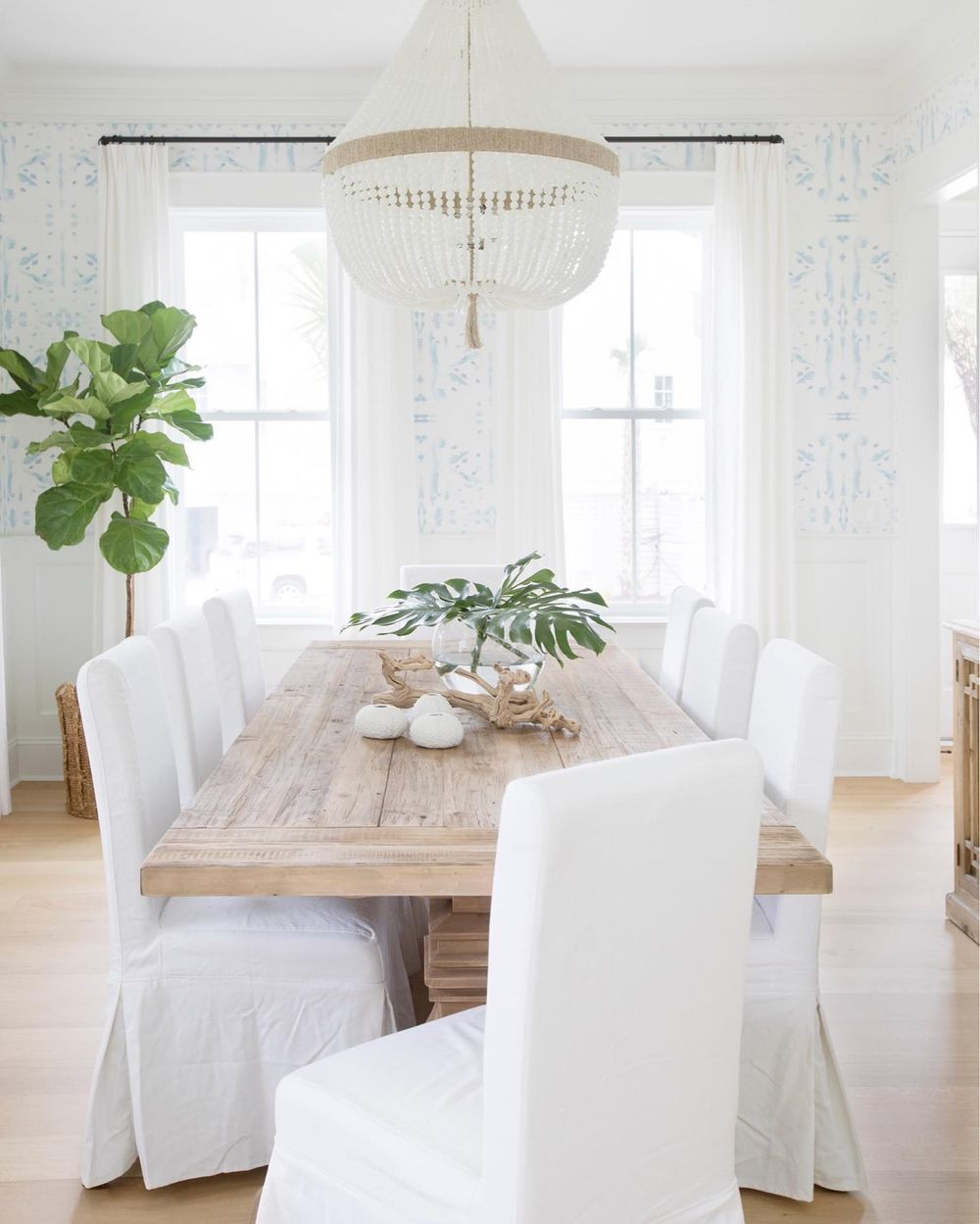 When it comes to driftwood (also known as grape wood), we've recently been intrigued by its versatility and ability to make a place seem natural and unique as modern coastal decor. Driftwood is no longer restricted to the seaside. You can display it on a coastal coffee table or on your built-in bookshelves.
Minimalist Wood Furniture
Wood furniture is a popular choice for many beach homes. There is something warm and cozy about having wood furniture in your house. There is a lot of demand for wooden furniture since it is very sturdy. When picking wood furniture for a modern coastal home, go with minimalist forms and shapes.
Coastal wood furniture is often painted white or baby blue. The minimalist quality makes wood furniture much simpler to create attractive and beautiful vignettes using classic coastal decorations. Wood furniture is undoubtedly more durable and more aesthetically pleasing because of its natural beauty.
Beachy Blue Tones
Are you a big fan of blue? If this is the case, then using beachy blue tones in your modern coastal home design would be a good idea for you. It's almost impossible to go wrong with a blue color palette in a contemporary coastal home. Blue is a versatile color that fits well with a broad variety of other hues and design aesthetics. Start with a dark gray wall and add cool blues and maybe even a soft coral to it to make your living space more vibrant.
Light Wash Wood Flooring
Hardwood flooring is very popular because it is both beautiful and simple to maintain. You should consider first, however, whether or not light-washed wood flooring is the best option for your home. Light-washed wood floors seem more like actual wood and are better at hiding dirt and other light-colored debris than dark-washed wood floors. They really look beautiful in a sun-kissed coastal interior. Thicker floorboards seem to be in style in modern homes right now too. A stain or finish of light hardwood floors is a smart coastal flooring decision.
Capiz Chandeliers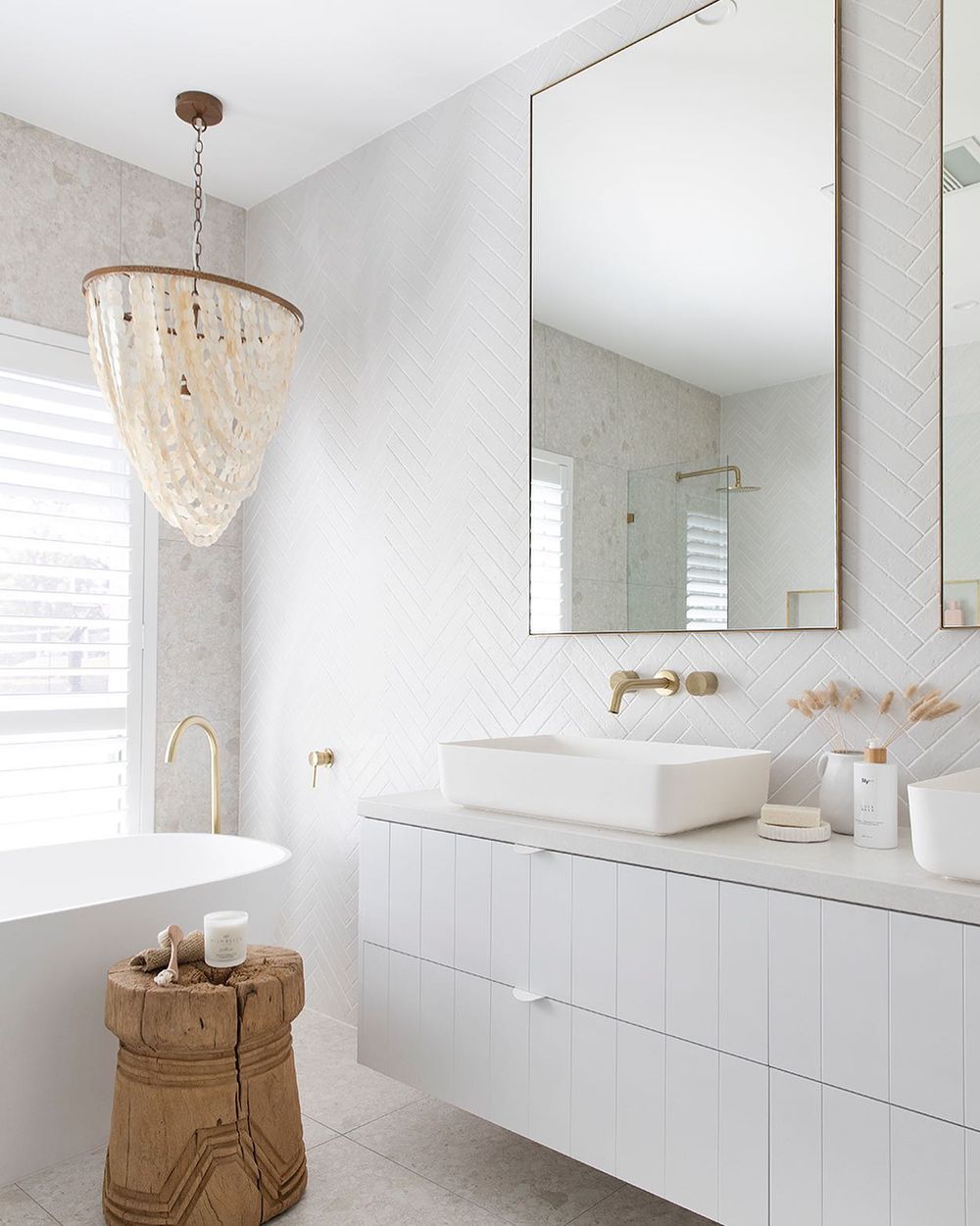 Buying a chandelier is a good idea if you're looking to illuminate your space and complement your modern coastal decor. Chandeliers constructed out of capiz shells are fantastic for a coastal vibe. Capiz shells have long been used as a decorative accent in many seaside houses. They are most often found in shallow water. In addition to being transparent and long-lasting, these shells are impressive. They make for a lovely chandelier because of the gentle way the light passes through them. Capiz shell chandeliers let the light shine through them because of their unusual texture.
Creamy White Walls
As a starting point, consider painting the walls of your modern coastal house a creamy or ivory white color. Make your white-themed room seem cozier and brighter by allowing the sunlight to reflect off the walls. Cream white walls are beautiful and understated, but they also have a timeless quality about them. You can easily shift the mood of the room depending on your taste. Neutrality doesn't have to be boring in order to be considered aesthetically pleasing. When the colors and textures of a space are well-balanced, the result is pure bliss! A white wall palette is definitely the way to go.
Woven Accent Chairs
Woven accent chairs are becoming more popular as furniture additions because of how fast they can transform the aesthetic of your house. Even if you're just perusing the internet or strolling through your local mall, you may stumble into one. Another reason why accent chairs can be so beneficial to your house is that they can be used in a variety of ways. Simply said, you don't have to worry about how it will go with your other furnishings in terms of style or color.
Indoor House Plants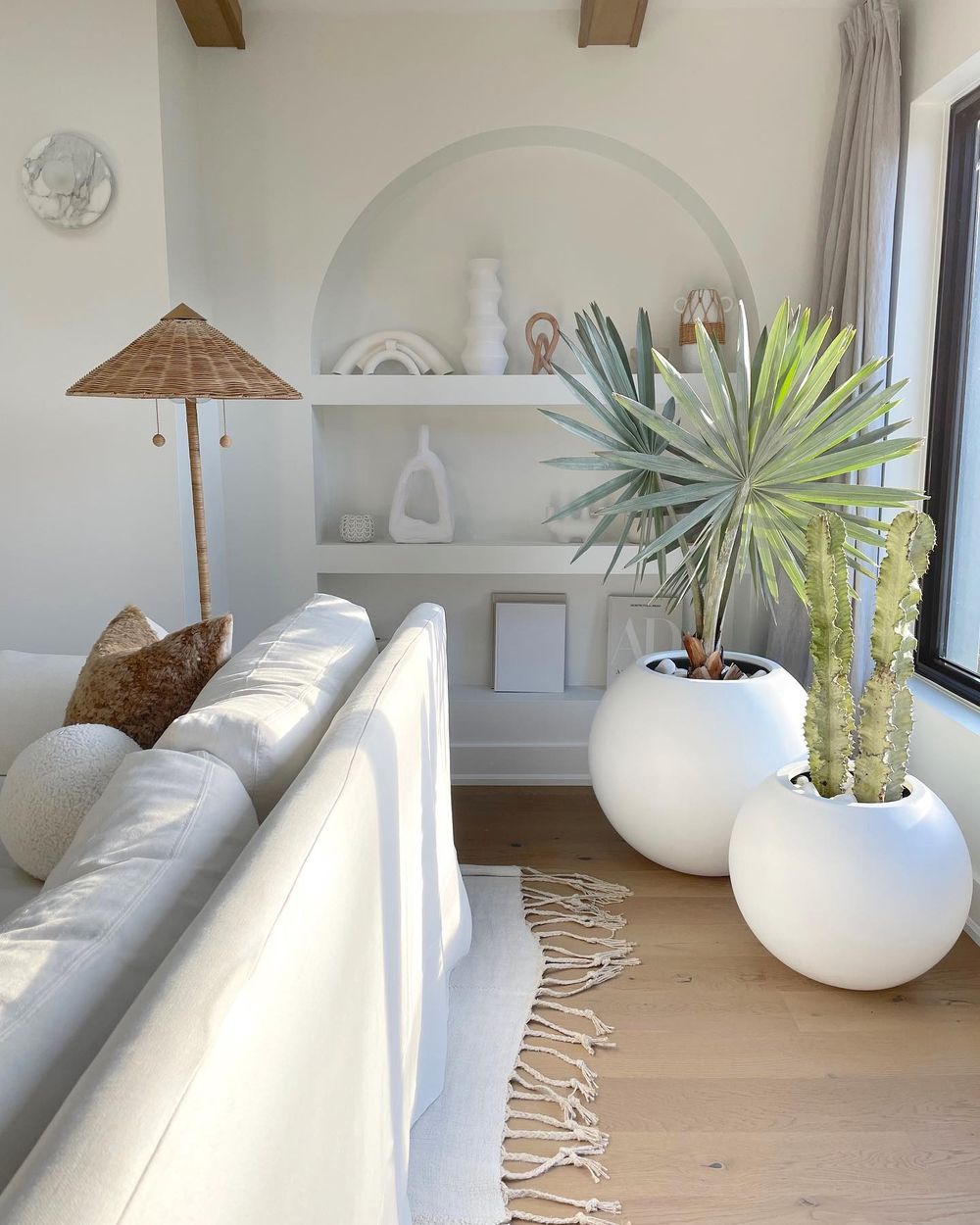 From indoor palm trees to cactus, modern coastal homes always have lots of indoor house plants and house trees! Place them in large white pots for a beautiful modern look.
Simple Slipcovered Sofas
It seems like slipcovered sofas are making a comeback in the world of modern coastal decor. Many people are familiar with the usage of this style of sofa in farmhouse homes and Instagram living rooms. We believe you'll be the next person to be featuring this home-style decor someday! There's no better way to begin your contemporary coastal decorating than with slipcover sofas in the living room. Beyond its simplicity, you can also change the cover whenever you want to add new colors to your room. Slipcovers can be thrown in the wash easily!
Linen Bedding
Using linen bedding in your modern coastal decor is a popular trend on social media and in glossy publications, and for a good reason. This impact of linen sheets can be attributed to the fact that this antique fabric has been treasured by American families for so long. Linen is a must-have for bedding because of its aesthetic appeal as well as its practicality. Aside from getting the finest night's sleep, linen bed sheets are the perfect element to complete a coastal bedroom decor style.
Modern Coastal Furniture
Here are some modern coastal furniture ideas for different rooms of your home.

Modern Coastal Living Room Decor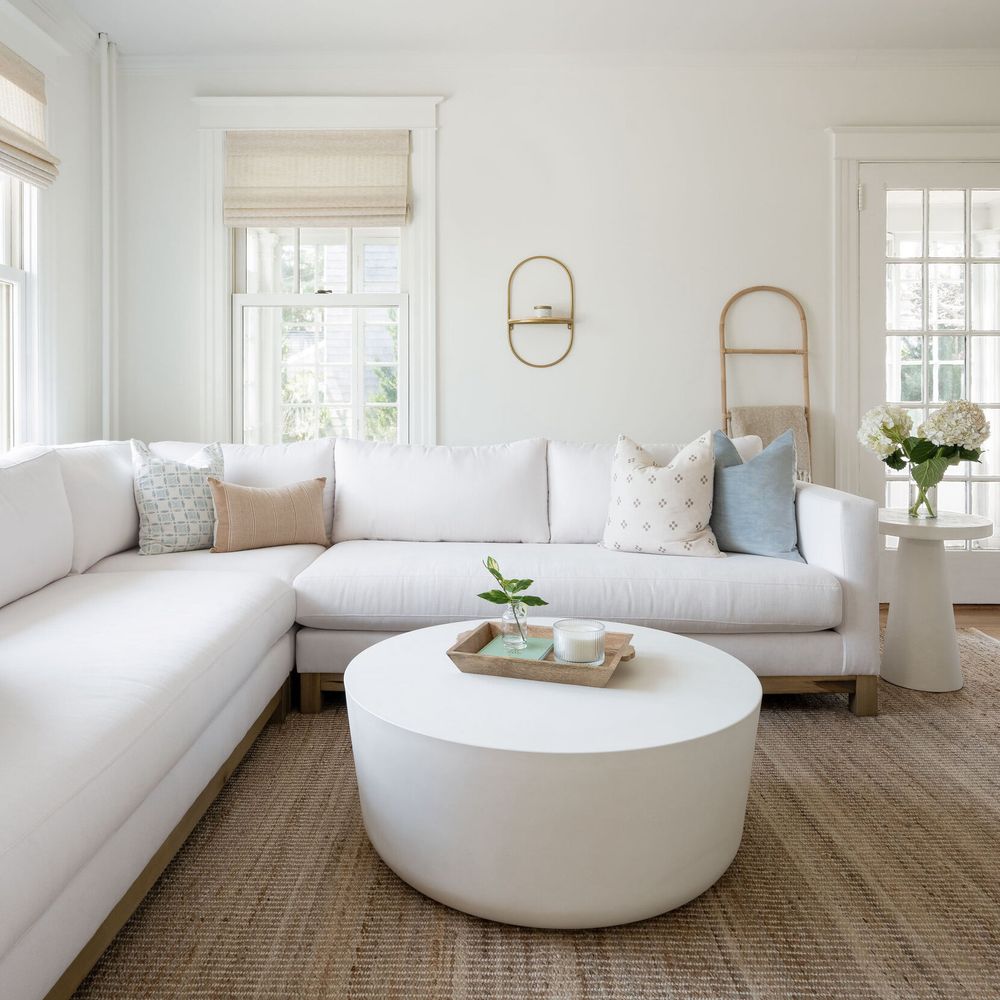 Modern coastal living room home decor usually has a soft, natural color scheme that includes a lot of sandy, white, or ivory neutrals. For pops of color, add coastal blues and greens throughout the space. Earthy colors are used to make your living room design more calming. Add blue and white striped accent chairs near the sofa. Striped rugs are popular on the floor. Oversized ocean photography might be hanging on the wall. The key to getting minimalist coastal decor right is to not use too many decorations in the space!
Modern Coastal Kitchen Decor
No matter where you live, an ocean-inspired kitchen design may work for you. Modern coastal kitchen decor is often inspired by water, serenity, and calmness. Seashells or marine life motifs may be featured on curtains, tablecloths, and other kitchen decorations. The rest of the room's color palette might be soft and calm using pastel colors or neutral tones. After deciding on your beach kitchen's design, you'll have several coastal cabinets to choose from. Popular modern coastal cabinet styles include blonde wood, natural clear stain, warm chestnut, and golden honey, with different wood and laminate finishes.
Modern Coastal Dining Room Decor
There are various ways to decorate your modern coastal dining room, from rattan dining chairs to wooden tables. If you want a seaside atmosphere in your home, you don't have to cover it with photographs of sea life and beaches. It is simple to incorporate modern coastal design into your home in subtle ways. This is a straightforward approach to improving your home's look. To make a significant effect in the dining and kitchen rooms without breaking the bank, mix blues in various ways. If you live in a tropical country, try redecorating your dining room like a beach house or cottage.
Modern Coastal Bedroom Decor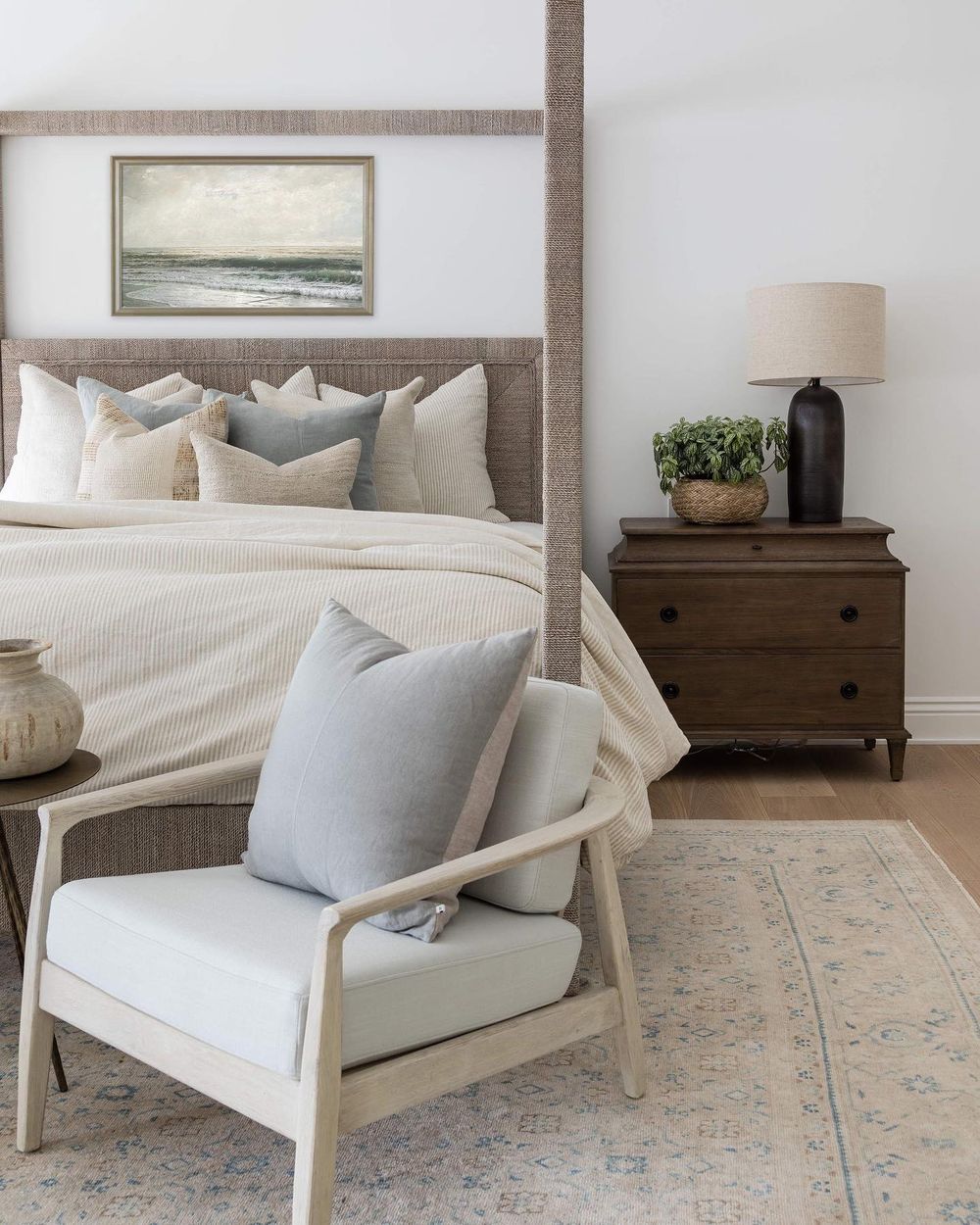 Assume you're laying on a comfortable bed in a serene setting, such as a beach home. It doesn't matter whether they're sleek and contemporary or earthy and rustic; they all have a lot of natural materials, a light and airy appearance, and a lot of windows. It's not uncommon for folks to desire to get up and go to sleep in the same way they would on a beach vacation. Natural materials and vivid colors fill coastal bedrooms, which may be beachy or beach-themed to your heart's content. Make sure that the colors you chose for your seaside design likewise have a laid-back vibe to them!
Modern Coastal Bathroom Decor
In a beach-themed bathroom, the colors and textures of the water create a more relaxed and pleasant atmosphere. Use natural materials and neutral hues in your coastal bathroom design if you want it to seem modern. You can use oval and circular white basins and bathtubs with chrome or brushed nickel faucets in your bathroom design.
Aside from that, the bathroom has wood vanities with stone bench-tops as well as white walls and ceilings. If you want to add some depth to the space but keep the rest of the decor basic, you may do it by using textured tiles. Add warmth and texture in a variety of ways. Use jute rugs and woven baskets as well as draped greenery such as devil's ivy and pothos plants. In many modern seaside bathrooms, the walls are painted white, the fixtures are chrome, and the furniture is made of whitewashed wood. This is what a modern beach bathroom looks like!
Modern Coastal Entryway Decor
Considering how you want to use your beach entry before making any changes to your property is very important. You could remove your shoes at a coastline gate on your way home from the beach.
When designing the doorway to your beach property, consider how your guests will get in and out. Will it rain and get muddy? A vacuum cleaner may be a better investment than a high-quality rug. This may not be necessary if you have a dedicated mudroom.
In any case, there are a lot of modern coastal decor ideas that may help you make the space appear beachy and enjoyable!
Contemporary Coastal Charm
Here are a few decorating ideas for modern coastal decor and accents in every room of your house.

I hope this guide gave you a better idea of how to decorate a modern coastal home!