If you love the idea of spending the summer in an old house in the south of France, surrounded by lavender fields and not far from a world-class antique market, then French country decor may be the right choice for your home! French country decor is characterized by its understated elegance and use of rustic elements with an old-world European charm. Today I'm excited to give you a quick overview of how to get French country style in your home.
Luckily, you don't need to book a ticket to Paris to get the French country look in your home. There are so many online sources for beautiful French furniture and decorations.
The color palette for your French country home will be mostly neutral with a few desaturated accent colors mixed in. It's best to stay with warm colors like beige, white and ivory. Soft yellow, baby blue and pale pink are great choices for accent colors.
Let's go ahead and look at some French country decor basics in terms of furniture and decorative accents!
French Country Furniture
Traditional French furniture designs from centuries past are a must when furnishing a French farmhouse home. French furniture is often crafted from wood. Sometimes it is left its natural color and other times it's painted. Over time, the paint will peel, giving furniture a nice distressed look. You can also find beautiful whitewashed wood furniture pieces in the French country style. The "shabby chic" look is often associated with French country decor.
Some French furniture ideas include beige tufted sofas, cane back beds, vintage wood beds, Louis arm chairs, Bergère chairs, French bistro chairs, and round pedestal tables.
French Country Decor
There are so many different French country style decorations to choose from. Buying decorative accents is a simple and affordable way to introduce the French country style to your home. Toile is a popular decorative upholstery material so you can look for curtains, sheets and throw pillows with this style fabric. Aside from that, you can look for blue or red striped throw pillows, large vintage wall clocks, white farmhouse pitchers, gold framed mirrors, crystal chandeliers, vintage gold trays and Diptyque candles.
French Country Style by Room
Here are a few examples of different French farmhouse style rooms!
Living Room
This gorgeous living room has been furnished with two accent bergère chairs, a gray sofa, a round coffee table, a gold framed mirror, and a crystal chandelier. The brown, gray and white tones are right on trend!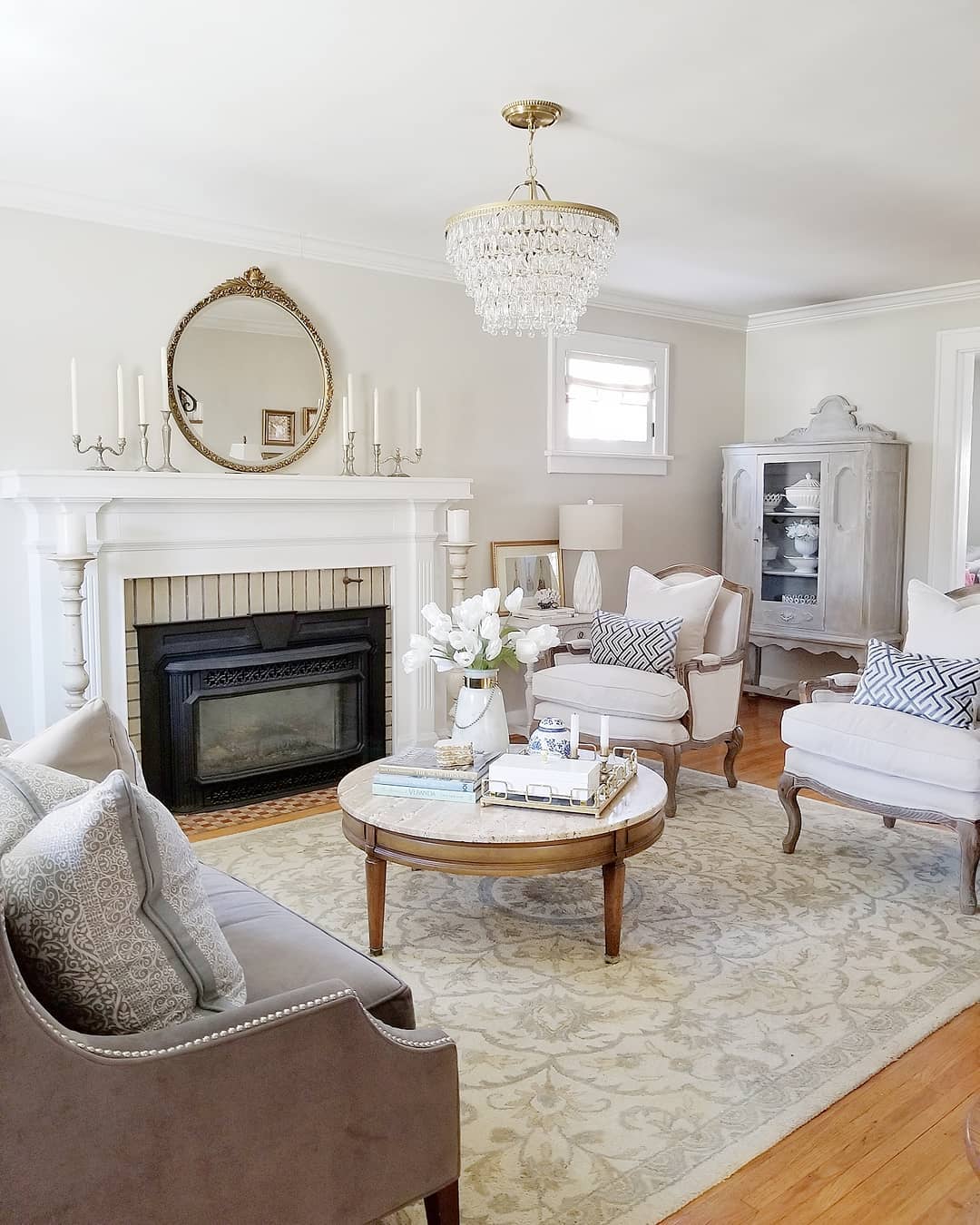 @liz_seefeldt
More French Style Living Room Articles
To read more about furnishing the perfect French country living room, check out these articles:
Dining Room
This dining room features lots of furniture with aged wood – from the table to the hutch and even the French chandelier!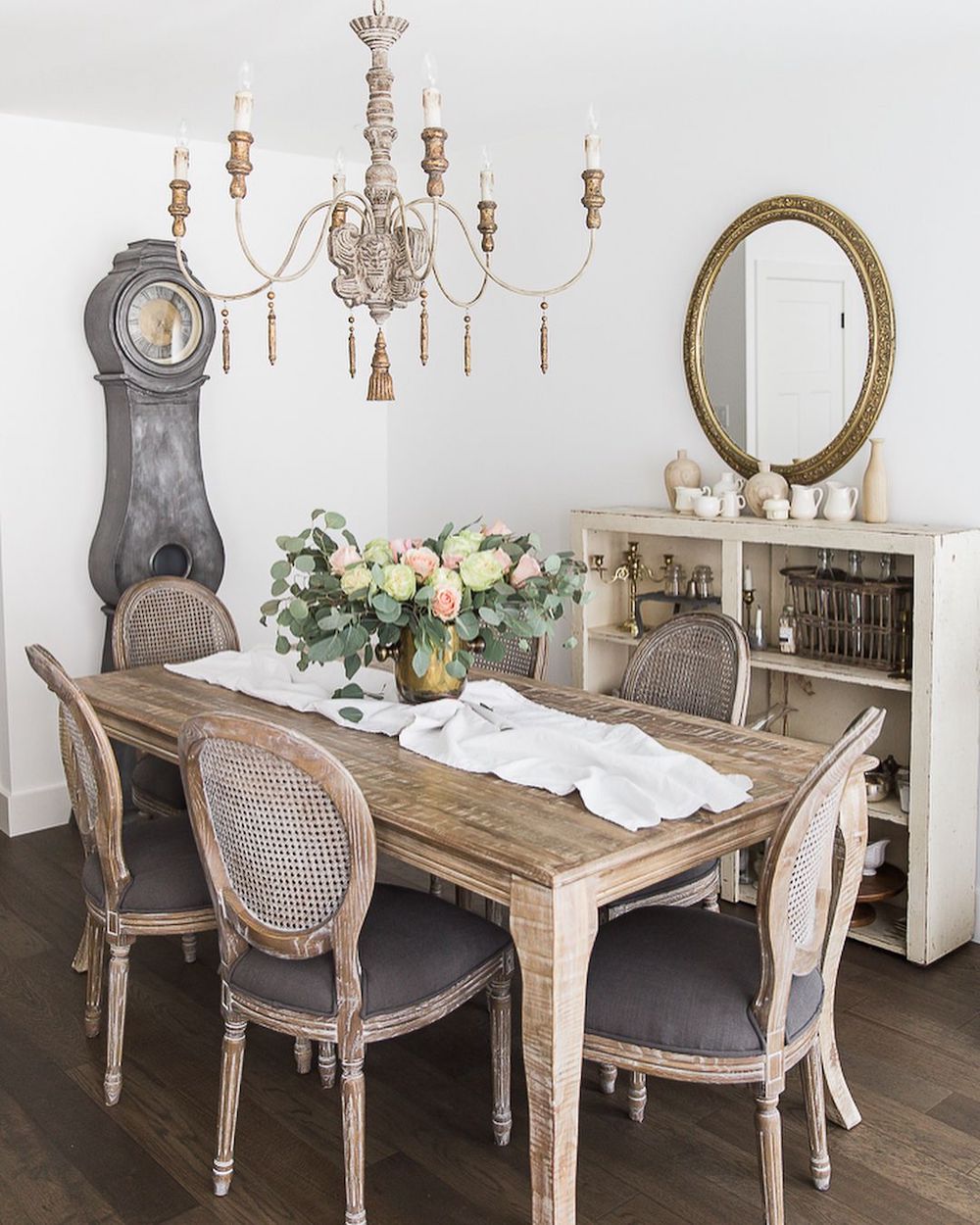 @somuchbetterwithage
Bathroom
This double vanity bathroom features a natural wood vanity, two white vessel sinks, a painted white mirror, and two vintage white wall sconces.
@frenchcountrycottage
Kitchen
French country kitchens often feature lots of white marble and natural wood, like this one.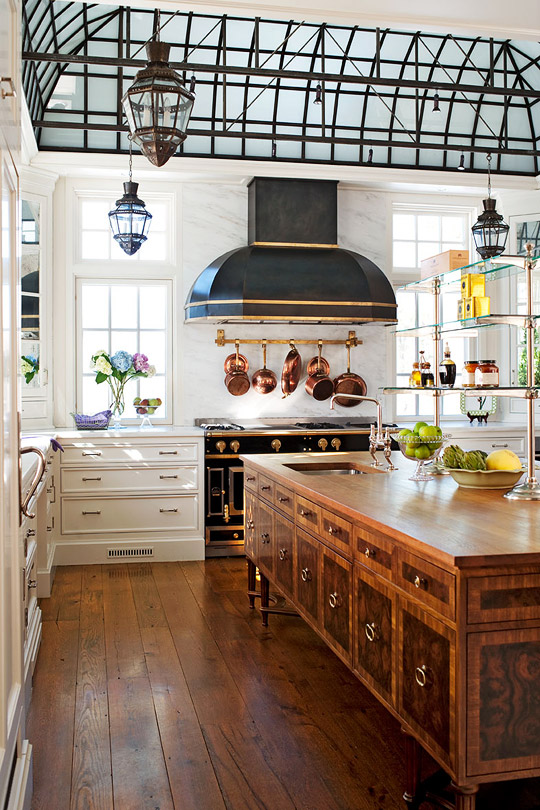 More French Kitchen Articles
To read more about French kitchens, don't miss these articles:
Bedroom
When it comes to the bedroom, go for a vintage style wood bed, add a classic crystal chandelier and you're good to go!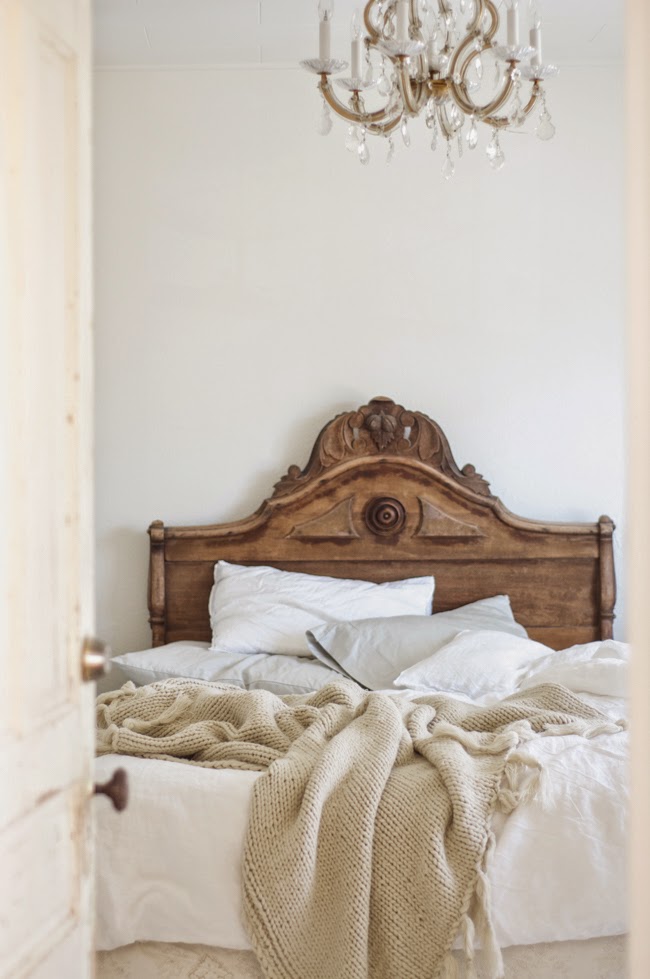 More French Bedroom Articles
To read more about French bedrooms, check out these articles:
Where to Shop French Country Home Furniture & Decor
A few of my favorite specialty retailers for French Country furniture are:
Eloquence
The French Bedroom Company
The Bella Cottage
French Country Decor Bloggers
Lots of bloggers share their own take on French country style in their homes. A few of my favorite French country style bloggers to go to for inspiration are:
Designthusiasm
French Country Cottage
Maison de Pax
Maison de Cinq
I hope this little guide to French country furniture and decor was useful in curating the perfect French country farmhouse look. As you can see, it's entirely possible to make your home look like it came from a beautiful French cottage!