Today I want to talk about a French decorating theme known as the French provincial style. This home decorating style is very popular in the countryside of France. While it's closely associated with French country decorating, I think this style is much more feminine and country chic.
French Provincial Style Decor
The essence of French provincial decor lies in its embracing different genuine French themes that fall between comfortable and homely and outrageously luxury styles. The features common to this style include decorative elements, captivating symmetrical designs, and classic colors.
While it is a mix of the country lifestyle with opulent panache, today's French provincial aesthetic comes with lighter colors, the latest touches, and polished designs. Find out more about this elegant European decorating style below.
What is the French Provincial Style?
This style is famous for being able to complement both informal and formal spaces. The casual forms of this decor style can be seen in present-day French farmhouse-style homes. These homes feature a perfect balance of comfy elegant fabrics, dominance of whites, and unsophisticated country textures. Stones, raw wood, bricks, and exposed beams are accents commonly found on the exterior and interiors of these homes.
The origin of the French provincial decor dates back to the 17th-18th century when such decor was common in the southern side of France. During this period the furniture makers living outside Paris would work to reproduce the embellished furniture found in Paris. However, due to the lack of proper materials and tools, these furniture makers could not recreate the same output. That is the reason why furniture belonging to the French provinces missed out on the minute details and provided a more rustic and distressed look instead of thorough elegance.
Here are some characteristics common to the French provincial decor that you can use for getting innovative with your home interior style.

French Country Armoires
Armoires can be described as enormous storage furniture pieces used for storing away anything that you don't want to be seen including linen, clothes, old TV set, etc. French country armoires are a great example of French country style furniture, and superbly blend function and form in a pleasing way.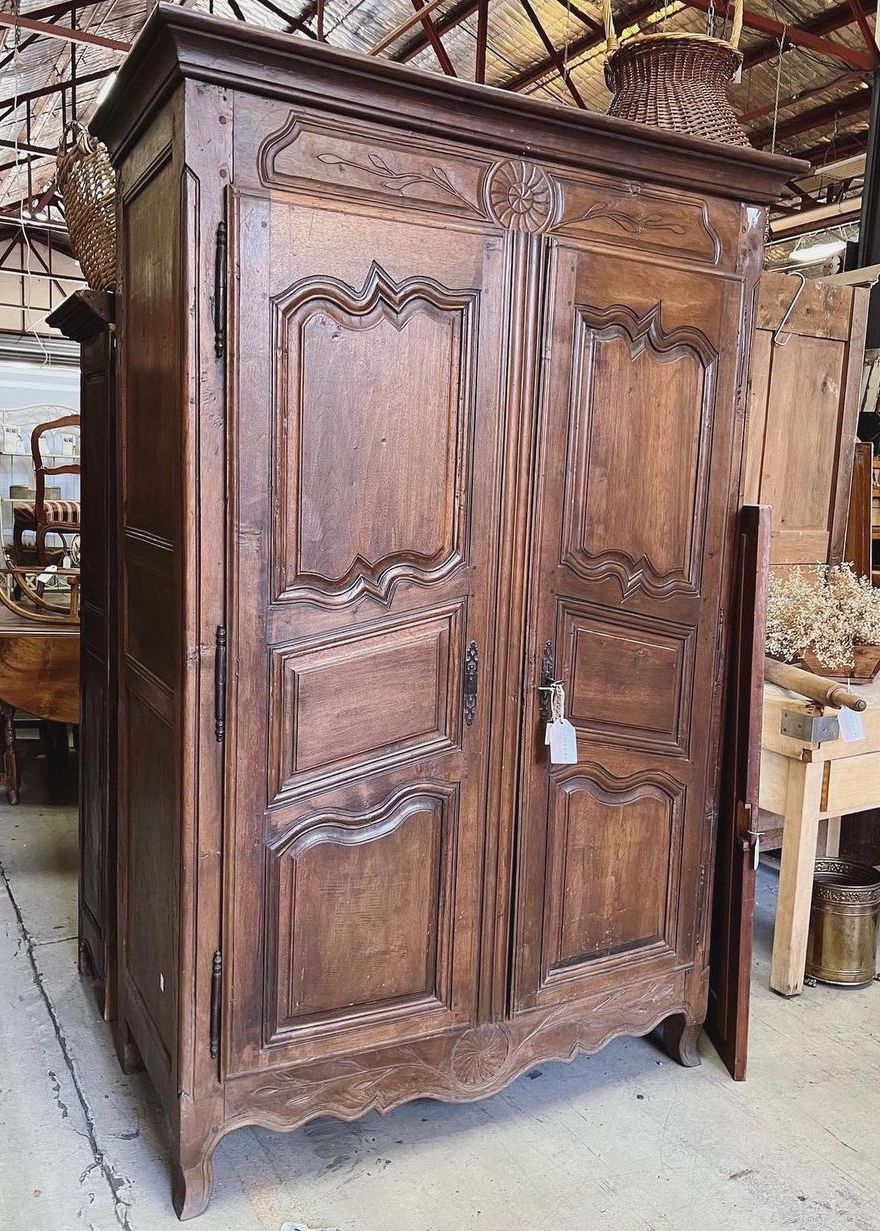 These look of large furniture pieces are mellowed down by the sophisticated French touch. Armoires used in French farmhouse decor are made using natural wood with intricate carvings that embalm a personality in them. Other armoires are painted over time, and when the paint peels off, these pieces reflect a pleasing distressed look. Another option is to go for whitewashed wooden furniture pieces that feature French country decor.
Furniture ideas would include beds with cane back, sofas that are beige tufted, vintage wooden beds, Louis armchairs, pedestal tables that are round in shape, and wooden wardrobes with large mirrors.
Vintage Gold Mirrors
Mirrors are significant in the French provincial decor because they (apart from reflecting your image) come in frames to reinforce the French provincial style, and because they magnify the airy and breezy aspects of provincial homes.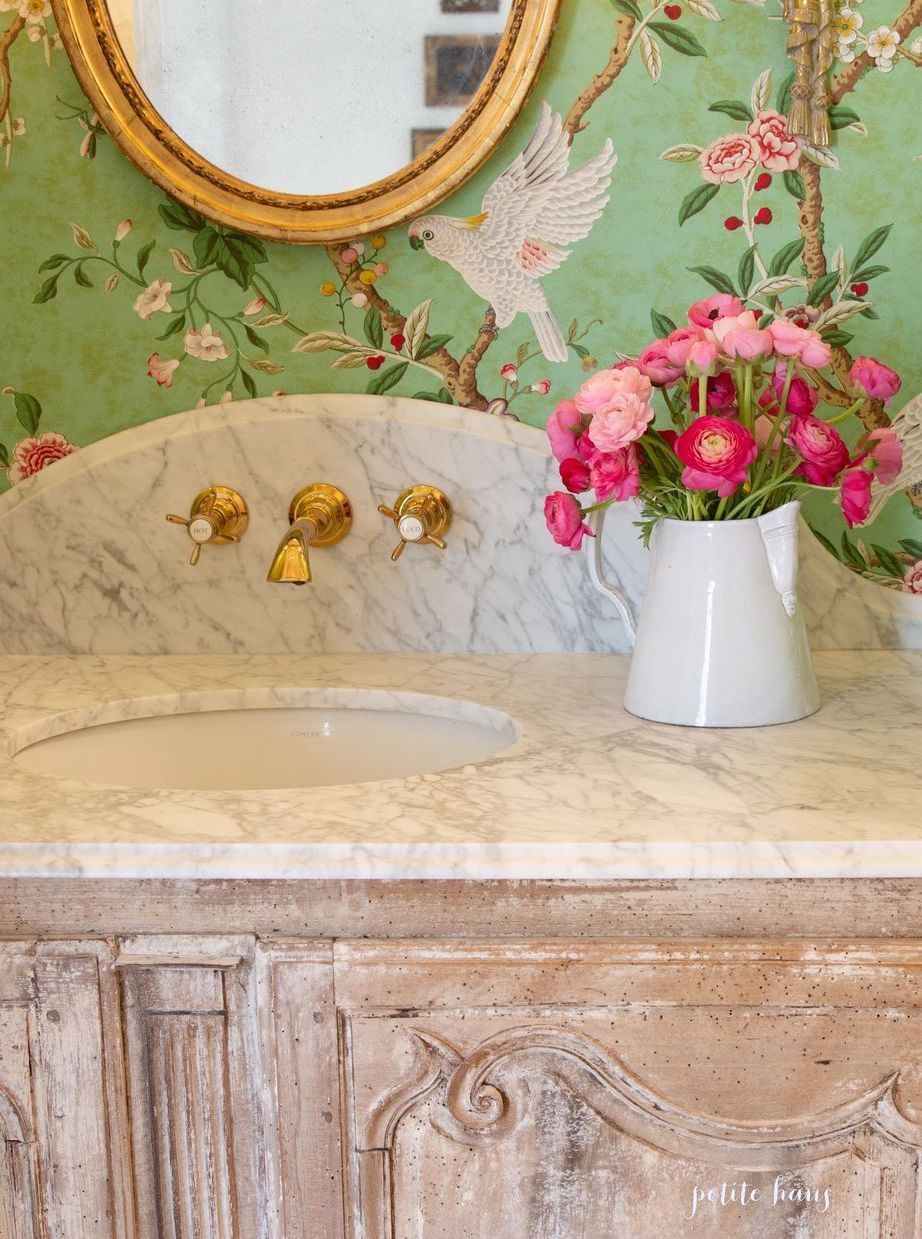 Your focus should be on ornate gold-edge French mirrors with eye-catching accents like vintage metallic mirrors. The aim is to make the mirror more of an artwork than a piece with a reflective surface. Additionally, you may include a number of small-sized mirrors to accentuate the overall look, but a big gold mirror with a vintage look will do the job for you. Place them elegantly in locations like drawer chests, headboards, or even tables to create a classy but simple look.
Embroidery Fabrics
One important feature of French provincial decor is the use of embroidery. This skill was taught to female members of society at that time so that every household would include some unique, intricate, and captivating patterns. To keep in line with this theme you must opt for heavily embroidered fabrics. Everything from your curtains and pillows to linens and bed sheets needs to be embroidered. To accentuate this feature, you can opt for lacework on your fabrics. This too was commonly found during the 17th-18th century.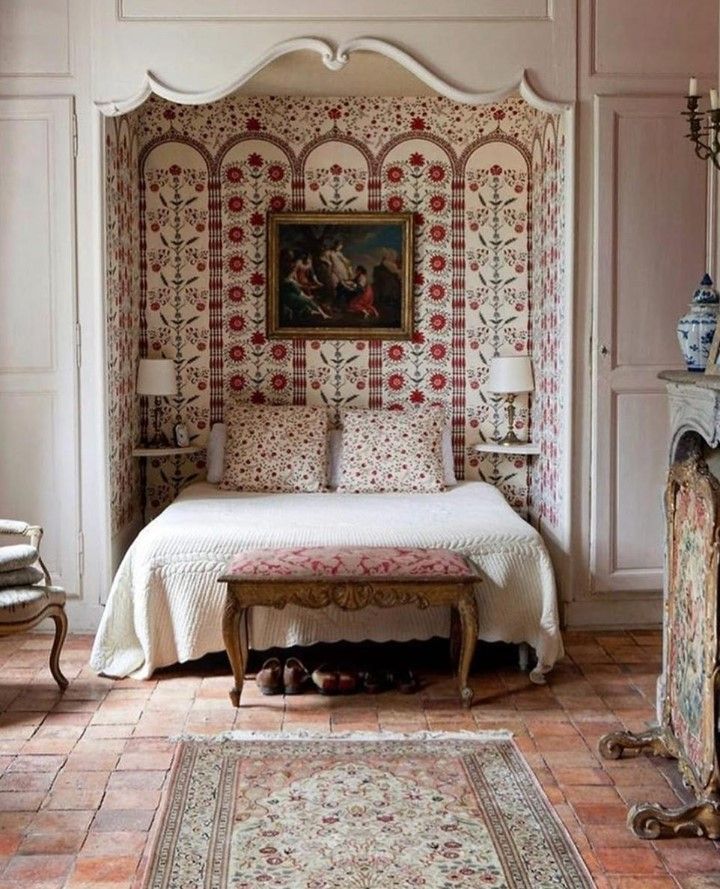 Gray Blue Wall Paint
When speaking of colors, this style finds its inspiration in the French countryside decoration. The provincials were unable to afford colorful articles found all over the continent, most of the colors they adopted were from what they saw around them. That is the reason why pastel and soft shades are common to this theme.
In French provincial decor, the walls must be painted in pastel and soft shades of colors like beige, gray and blue. An interesting twist to add both these colors would be to split the wall coloring into two parts, with the upper half painted in either white or gray, and the lower half (that measures up to the height of the chair rail) painted in dark blue or red. If you go for white instead of gray, you can opt for tones like stone, cream, or ivory. For the blue, go for midnight blue, aqua, or cornflower.
Wicker and Cane Furniture
The use of cane furniture is casual but elegant in this theme. Since the French provincial decor focuses on a welcoming, rustic and natural, and soft color palette, white-colored cane furniture blends perfectly with this style. White-colored cane furniture pieces provide sophistication and charm to the French interior style, boosting the aesthetic appeal of the overall decor.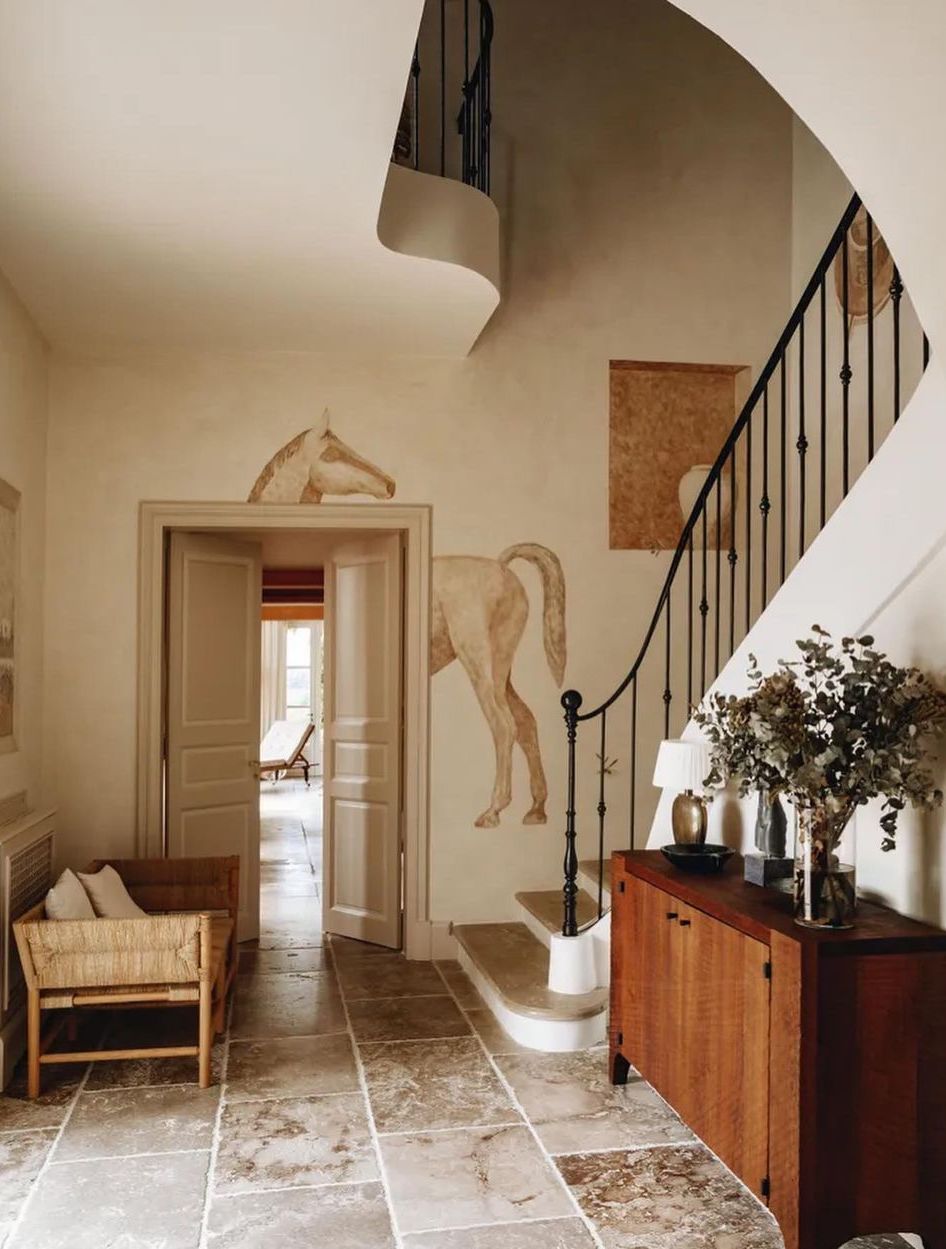 A white Louis-style side chair works to imbue simplified elegance and glamour into your room. This is how you can balance function and style perfectly, which is a trait of this decor theme. Other ideas include distressed white cane chairs for the dining room or kitchen (with a neutral palette and colorful accents around these furniture pieces), and a white-colored cane bed to add period style and opulence to your bedroom.
Toile Wallpaper
The French provincial style decor always includes some toile wallpaper which gives a room a fanciful feeling. From De Gournay to reproductions, you can find some stylish toile wallpaper to decorate the walls of your French provincial home.
Linen Textiles
The trend of French provincial decor is rooted in natural and countryside environments, which is why linen is commonly used on furniture and textiles for this particular theme. The French have been proudly producing quality linen for centuries to supply to the entire world.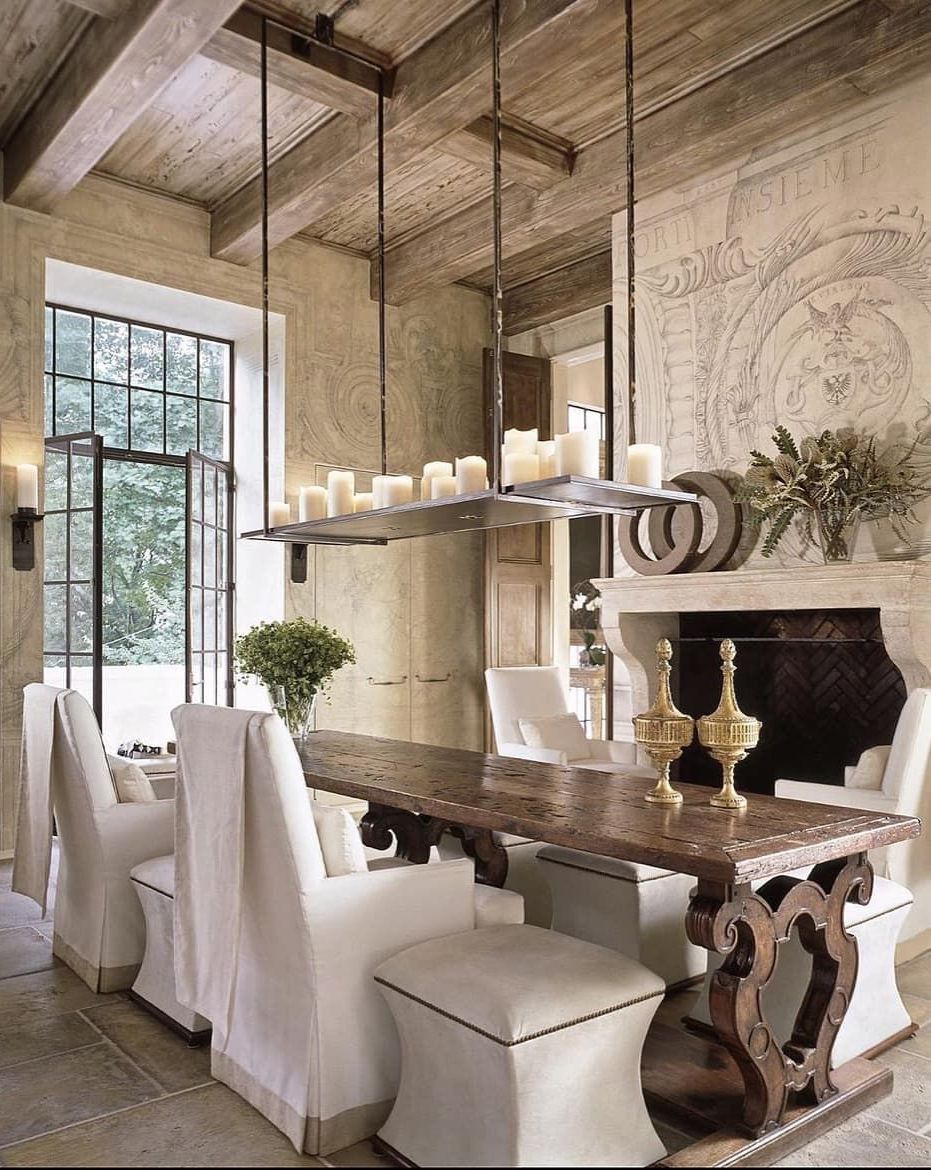 Linen slipcovered furniture and linen bedding are great ways to infuse the French provincial style element into the decor of your house. Consider opting for linen bed sheets with textured and natural crumples to complement your weathered timber. Go for natural, softer shades of bright colors to contrast the dark wood color of the surrounding furniture.
Crystal Chandeliers
There's no better way to illuminate a French provincial home than by using an antique crystal chandelier. These vintage lighting fixtures give a touch of elegance to any room they appear in.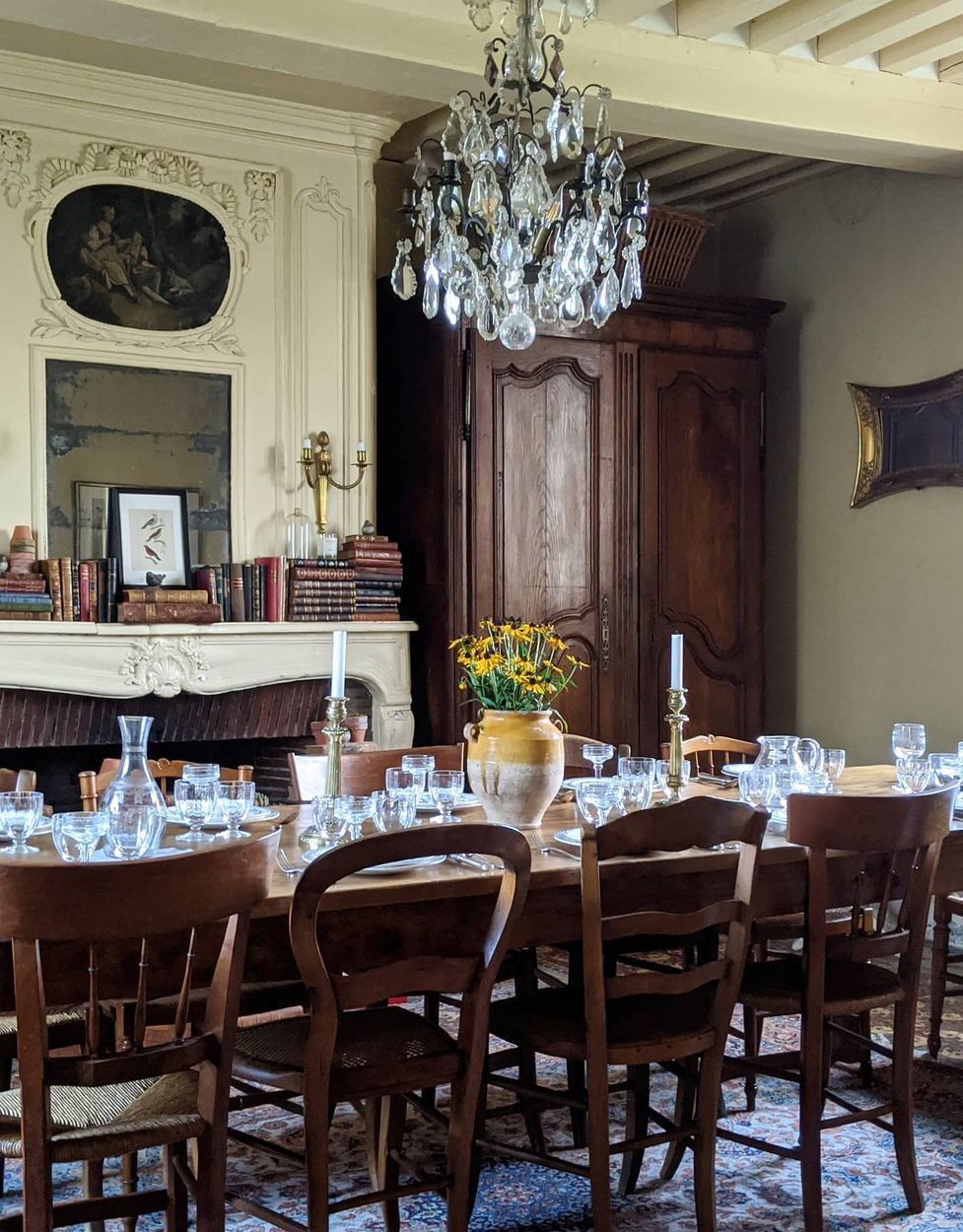 French Country Decorations
Choosing the most appropriate decorations can accessorize your French provincial decor the right way. Think of beautiful French rugs to cover the floor space while providing warmth to the space. Light colors are great for combination with the rest of your home decor. Flowers are amazing decorations that perfectly suit the French provincial style. Either opt for fresh flowers or top-notch dried flowers to keep your home decorated all year round.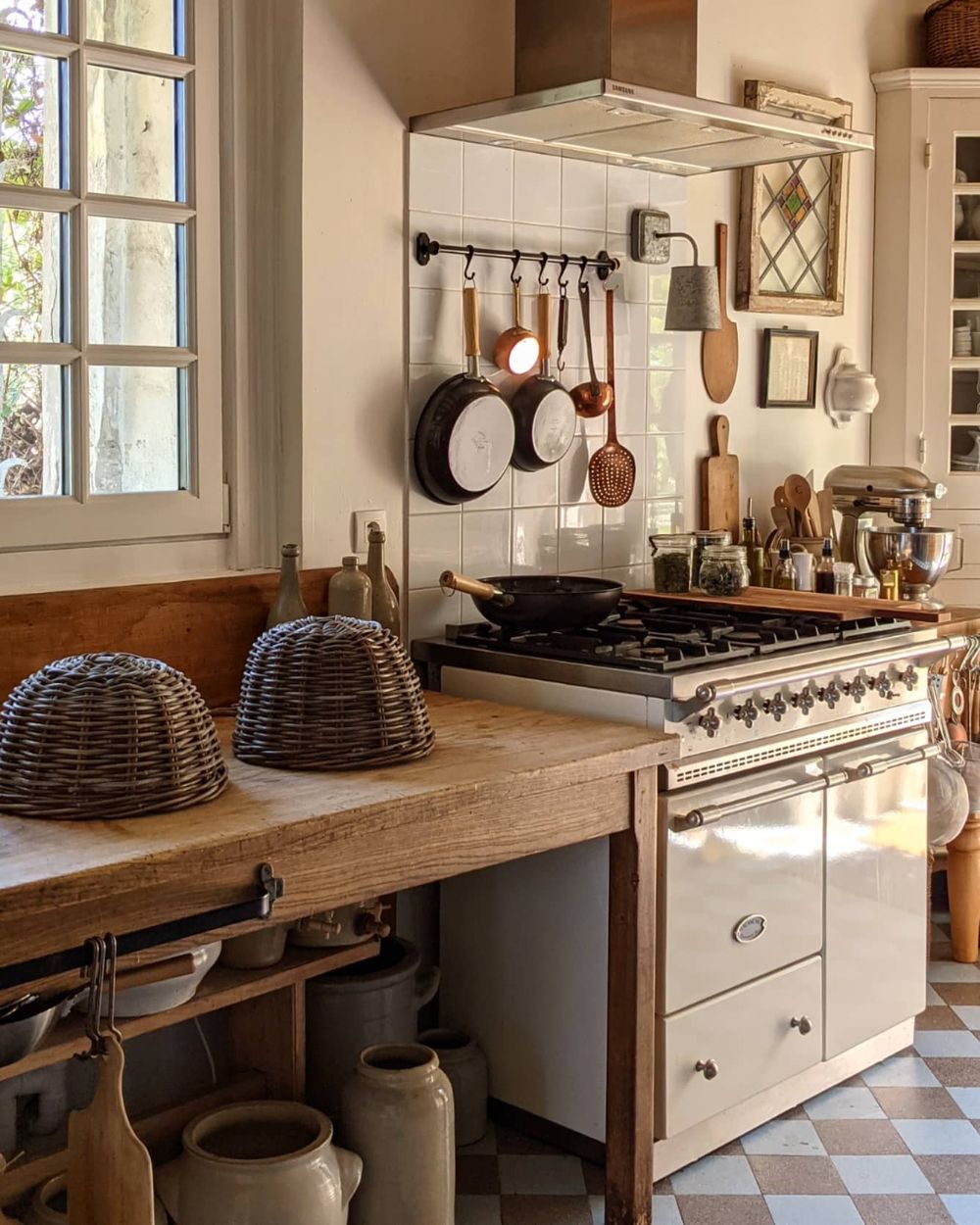 Opulence can be showcased with the addition of family pieces and heirlooms, or antiques to reflect the history of your home. Other decorative accessories that you can add are wall clocks (large), small clocks for the cabinets or table, candlesticks, chandeliers, fruit bowls, etc. However, remember that no matter what decorations you use to accessorize your home, it should include the distressed look signature of the French provincial decor.
---
Hopefully, now you have a better understanding of the classy French provincial style for home decor. All you have to do is prioritize a distressed and weathered look, specific furniture type, and a natural, soft palette that is key to this theme.