The European decor style is a combination of classic and modern design, combining a variety of design influences from all over the continent. This style emphasizes the use of natural materials, earth tones, and textures. It also often incorporates classical details such as ornate moldings and antique furniture. The focus is on creating a sophisticated and well-designed home interior with a blend of traditional and current design elements.
Here are some decorating tips for getting the European aesthetic in your home!
European Decor History
The classic European interior design style originated in the 17th century when European countries began to develop their own unique styles of interior architecture and design. At this time, the French and Italian styles of interior design were very popular, and these styles served as the foundation for most modern European interior design.
Other countries also developed their own distinct styles, such as the traditional English style, the German baroque style, and the Dutch Colonial style. Today, European interior design incorporates elements from all of these styles, bringing together the best of European design to create a distinctive neoclassical style that is refined and graceful.
Types of European Decor
There are several types and styles of European Decor. The most popular European decorating styles include:
Tuscan Style: The Tuscan style of decor is popular in the Italian region of Tuscany.
French Country: this is the French answer to the American Farmhouse style. It's often found in French countryside homes. You can get the French farmhouse decor style by using antique furniture, gingham fabric, and toile wallpaper.
Parisian Apartment Style: Parisian apartments have an upscale elegant design that includes white walls, molding and millwork, and warm wood herringbone floors.
Neoclassical: The neoclassical decorating style is commonly seen in American homes that want to channel the old-world European style.
European Style Decor Elements
Timeless Style
The European decor style is characterized by classic and timeless elegance. Key pieces should be of quality materials and designed to last, creating a cozy and inviting atmosphere.
The European interior design style is one that has stood the test of time, with its elegant lines and sophisticated materials. Its classic look and feel make it timeless, and its versatility allows it to fit into any space. The European interior design style will never go out of style.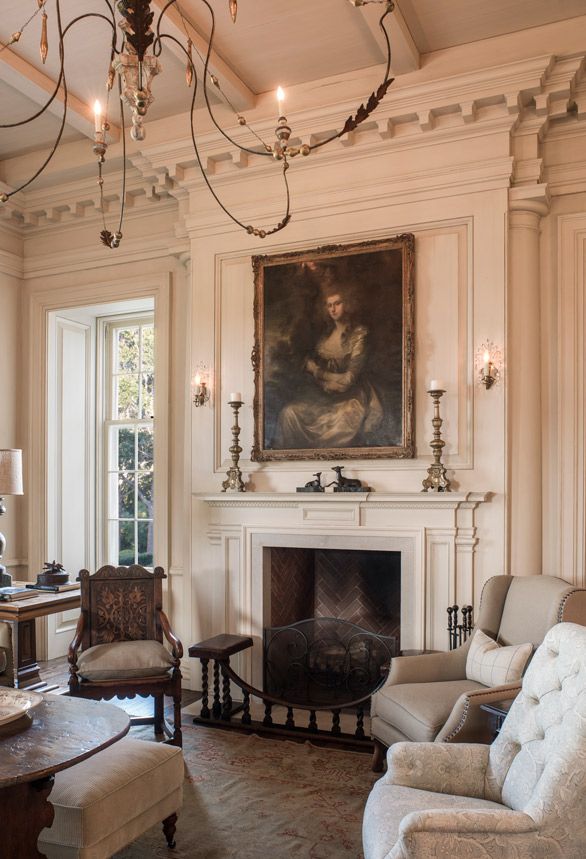 Choose Subtle and Natural Colors
To create a European home aesthetic, start with neutral colors on the walls and floors. Use earth tones like beige, taupe, and gray, and add bold pops of color with accessories like throw pillows, rugs, and art.
European home decor often incorporates neutral colors to create a calming atmosphere, free of distraction. Neutral colors such as white, grey, beige, and taupe create a sense of balance and harmony in the space.
This is especially important in open-plan rooms, where neutral colors can help to make the area feel more spacious and easier to decorate. Neutral colors also provide a canvas for layering in patterns, artwork, and other accents, while still ensuring that the overall look remains cohesive and timeless.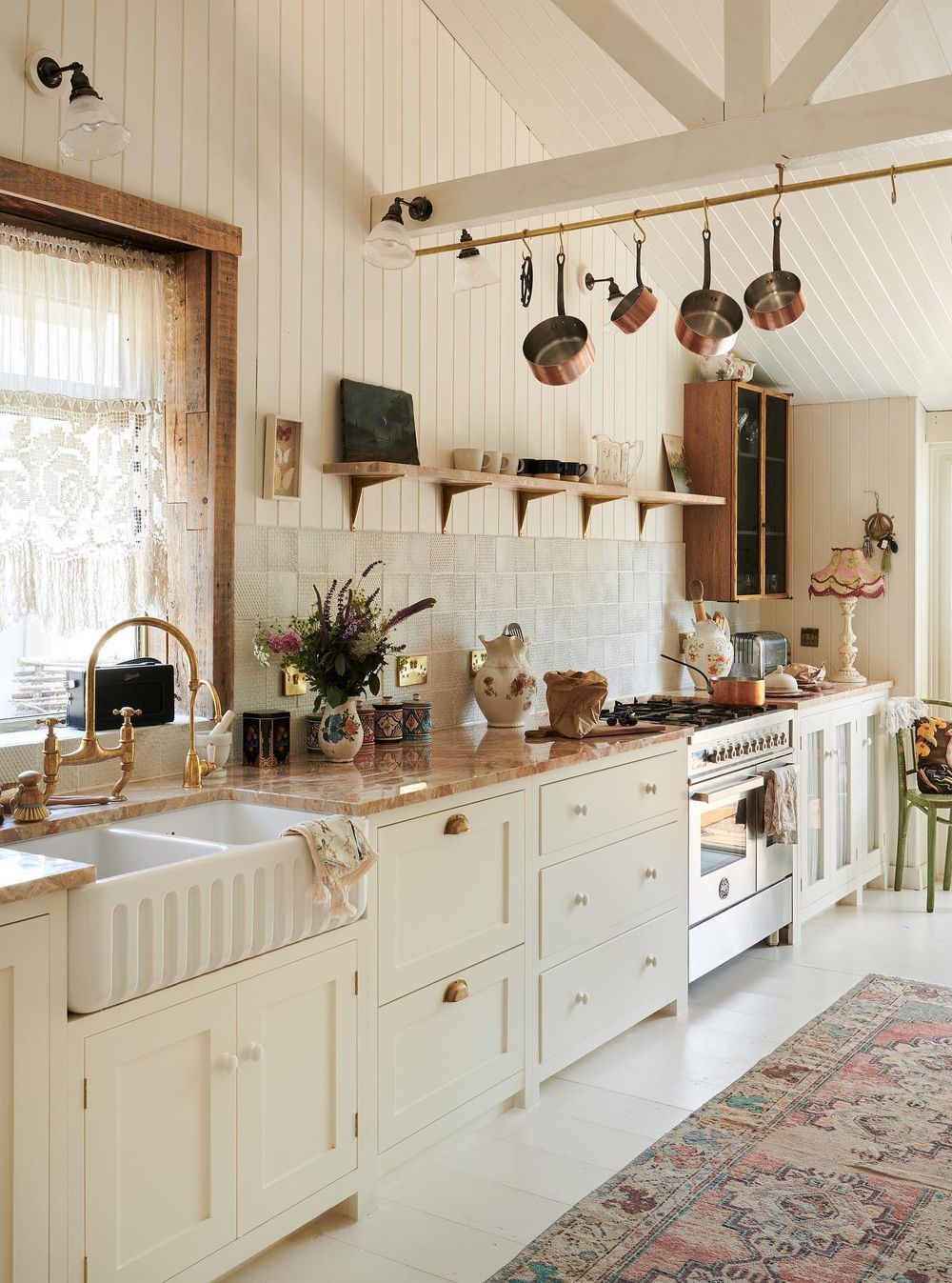 This is a classic English country kitchen design.
Opt for furniture upholstery in light colors like cream, beige, and gray. Vintage furniture pieces can also fit in. Accessories should be limited to family heirlooms. Natural elements like wood, leather, and brass take center stage.
Swathe Furnishings in Luxe Fabrics
When selecting fabrics, go for luxurious materials like velvet and Egyptian cotton. Sheer curtains can be hung to add a touch of softness, while bright accent pillows in bold colors or prints can provide an eye-catching contrast.
The European interior design style is renowned for its cozy, romantic feel, and the inclusion of floral upholstered headboards is a key part of creating this atmosphere. Floral upholstered headboards offer a softer, more inviting look than traditional wooden headboards, and the bright colors and patterns are a great way to inject personality and style into a room.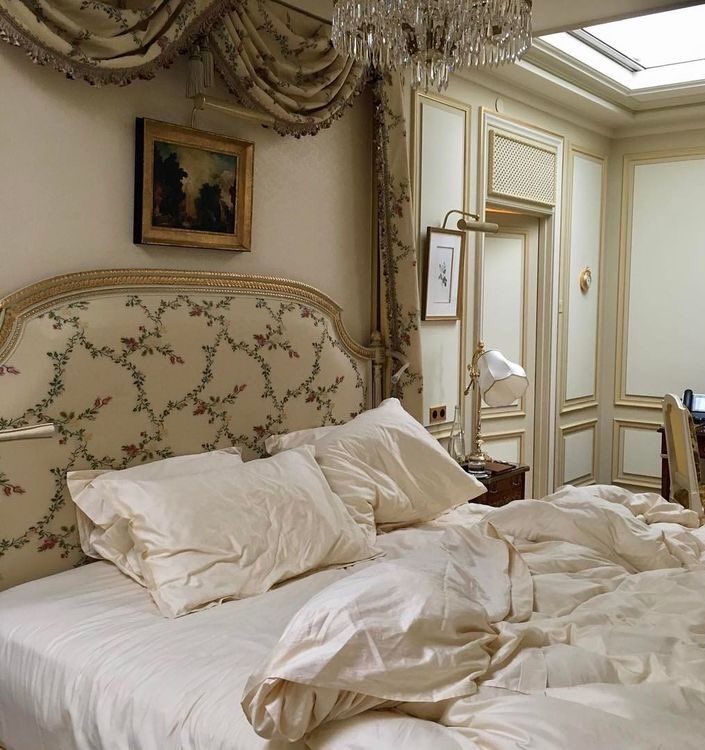 The fabric can provide gentle cushioning against the wall, making it a comfortable place to rest while still being supportive. The floral motifs often found in the fabrics of European headboards are a timeless classic that can easily be matched to existing decor, making it easy to create a cohesive look.
Embrace Traditional Elements
To truly embrace the European decor style, incorporate timeless design elements like ornate molding, antique furniture pieces, and classic chandeliers. These elements will give the room a luxurious and inviting atmosphere.
This sophisticated style is characterized by traditional elements like doorway molding and checkered entryway floors. These features are a nod to the Old World, where they were a mainstay of traditional European architecture.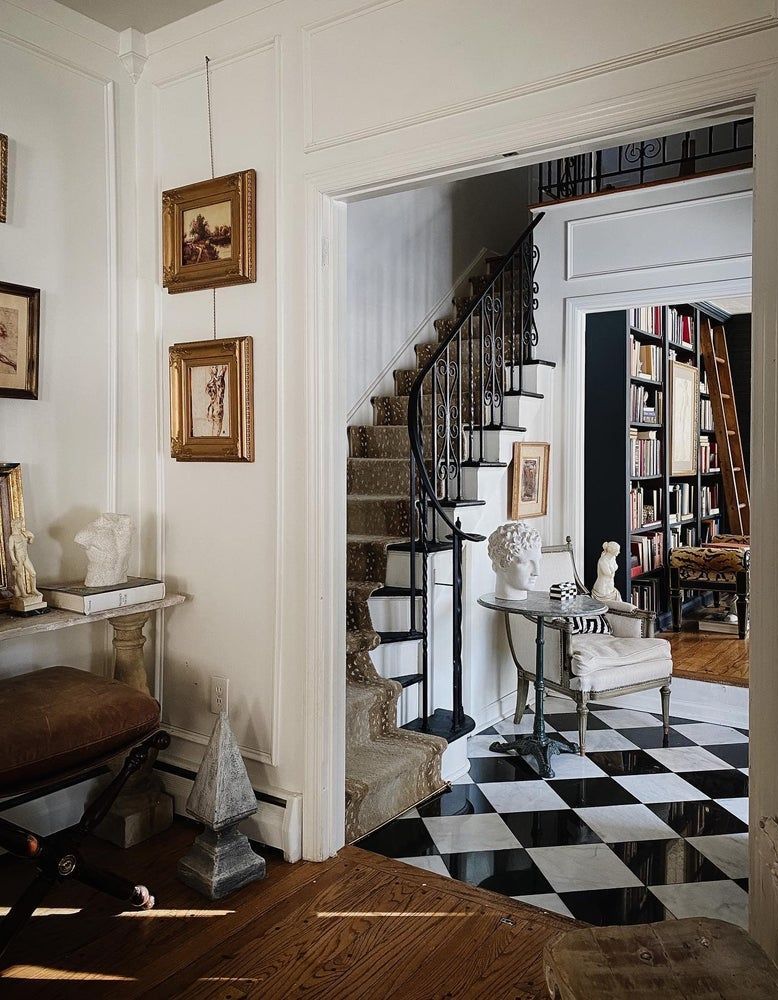 Doorway molding can be traced back to the Baroque and Rococo periods in Europe, while checkerboard entrance floors have been used to add visual interest to spaces since the Renaissance. The inclusion of traditional elements celebrates history and gives spaces a timeless quality. The combination of these traditional elements with modern touches creates an atmosphere of class and sophistication.
Chandeliers & Millwork
Chandeliers can be used to add unique character and personality to the space. Choose a focal point with a striking aesthetic and balance the room out with non-competing furniture.
Chandeliers are a classic choice for European-style interiors, with their intricate details and elegant sparkle that can instantly transform the atmosphere of any room.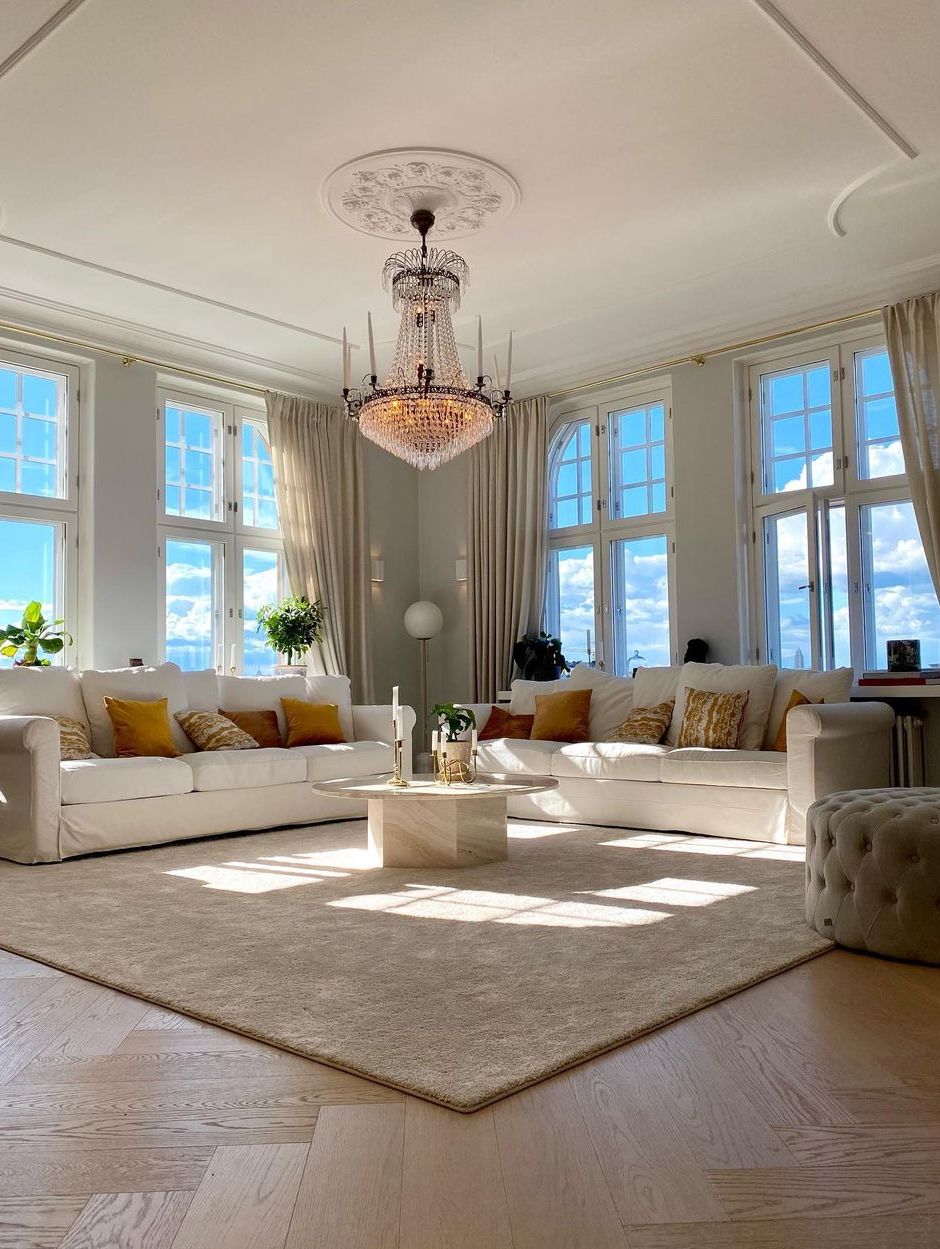 Here is a Scandinavian style living room design found in Finland.
Subtle yet striking, millwork can be used to create architectural elements such as crown moulding and wainscoting, as well as decorative accents like shelves and cabinetry. Millwork and moulding can also be used to create elegance and charm in a room by drawing attention to certain areas while adding texture.
Utilize Textured Elements
Textures are essential in creating a European decor style home. Incorporate various textures by using velvet throws on furniture pieces, woven rugs on the floor, and patterned wallpaper and pillows.
This is a Tuscany window with a chaise lounge.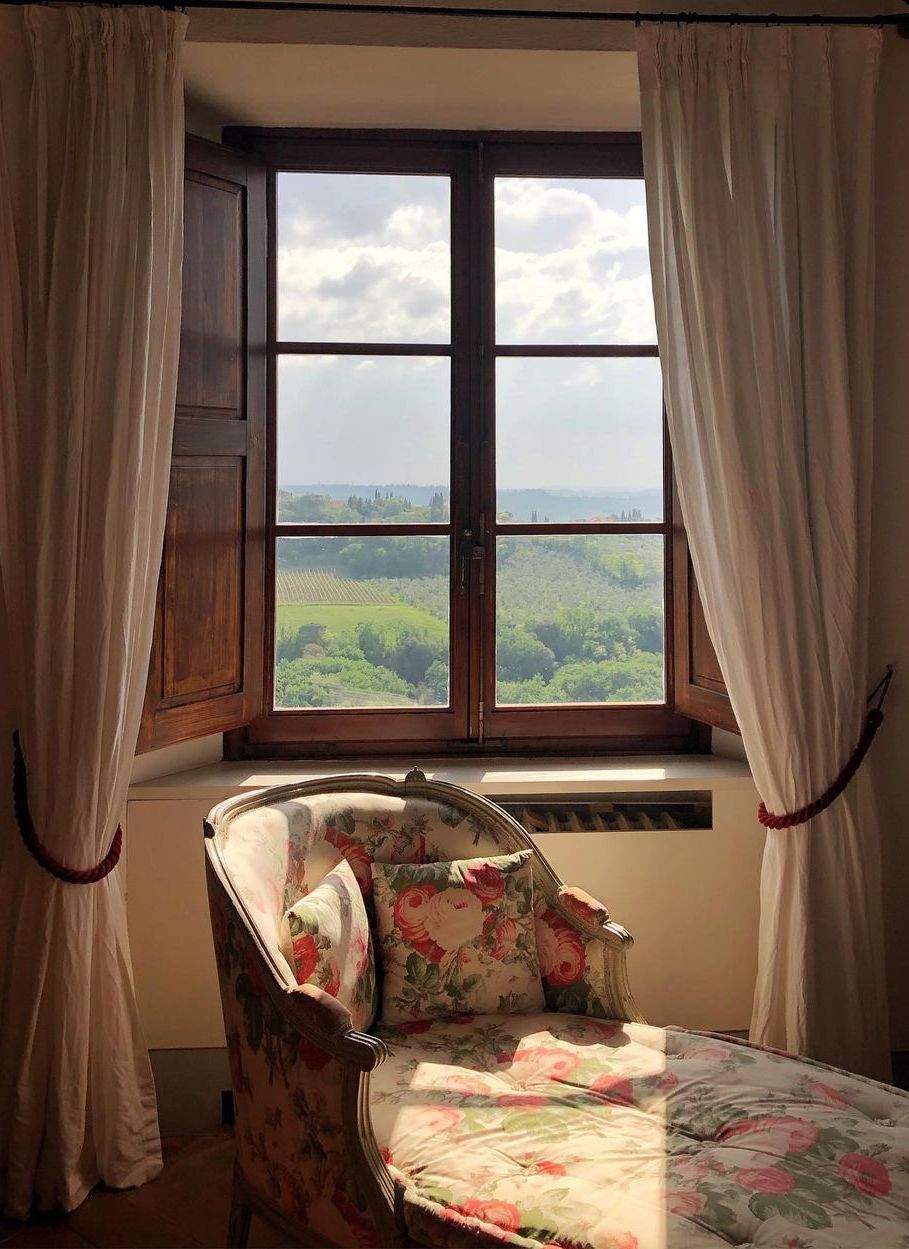 Hang Vintage Paintings
Hang vintage paintings and antique sculptures passed down through the family. Accent pieces like sculptures, mirrors, and clocks should be ornate and decorative. Window treatments should be light and airy in white or neutral colors, and incorporate sheer fabrics for a touch of romance. This is a French chateau bathroom design, done in a very upscale French country style.
Vintage wall paintings can help to evoke a sense of nostalgia and bring a sense of history and culture to the room. They are often passed down from generation to generation within old noble families in Europe.
Take Advantage of Natural Light Sources
Accessorize with traditional pieces like wall tapestries, vases, and candelabras. With this classic, timeless style, you can create a comfortable and pleasant home.
---
The European decor style creates a timeless and elegant atmosphere that is inviting and cozy. Incorporating classic design elements, natural materials, and luxurious fabrics brings this style to life. With an undeniably elegant atmosphere, it's no wonder why the European decor style has captivated our hearts!