Give your home a French touch with these fantastic French home goods brands. From linens to ceramics, there are tons of amazing companies creating beautiful pieces to decorate your home like a Parisian.
If you're shopping for your home furniture and decoration in France, these are the major brands and stores you need to check out! If you don't live in France, then you'll still be interested to learn about the best French home goods brands to shop on your next trip to Paris! Many of them even sell their products in the US, which you can buy online.
Unfortunately, most of the French home goods brands are high-end and quite expensive. In order to launch abroad, a brand must have a strong customer base and be willing to pay the import fees associated with imported goods. That's why French home decor tends to be expensive.
These luxury home decor items will come at a high price, but you'll be pleased with the quality. Some of these French home goods brands have been around for centuries! Many of them are great for French country style decorating.
Baccarat
Baccarat was founded in 1764 in Baccarat, France, in the northeast Grand Est region. The company is best known for its luxury crystal glassware, which has been used in some of the most prestigious hotels and restaurants worldwide. It's a true symbol of the French art de vivre. Baccarat sells a wide range of products including vases, stemware, candelabras, barware, and home decor. You can shop for Baccarat homeware products online or at select retailers in the USA like Nordstrom, Saks, Bloomingdale's, Scully & Scully, Horchow, Bergdorf Goodman, and Neiman Marcus. They even have a hotel you can stay at in New York.
Christofle
Christofle was founded in 1830 by Charles Christofle in Paris, France. The company is best known for its luxury silverware and flatware, which have been used in some of the most prestigious hotels, restaurants, and residences worldwide. Today, Christofle sells a wide range of products including tableware, stemware, candelabras, barware, and home decor. You can shop for Christofle products online or at select retailers in the USA like Saks, Bergdorf Goodman, and Neiman Marcus. Christofle has a flagship store on Madison Avenue in New York City.
Yves Delorme
Yves Delorme was founded in 1859 by Yves Delorme in the town of Lille, France. The French home goods company is best known for its luxury bed linens, which are made from the finest materials and craftsmanship. Yves Delorme sells a wide range of products including bedding, towels, robes, table linens, and home decor. You can shop for Yves Delorme products online or at select retailers in the USA like Bloomingdale's. Yves Delorme has stores in Midtown East and the West Village in New York City.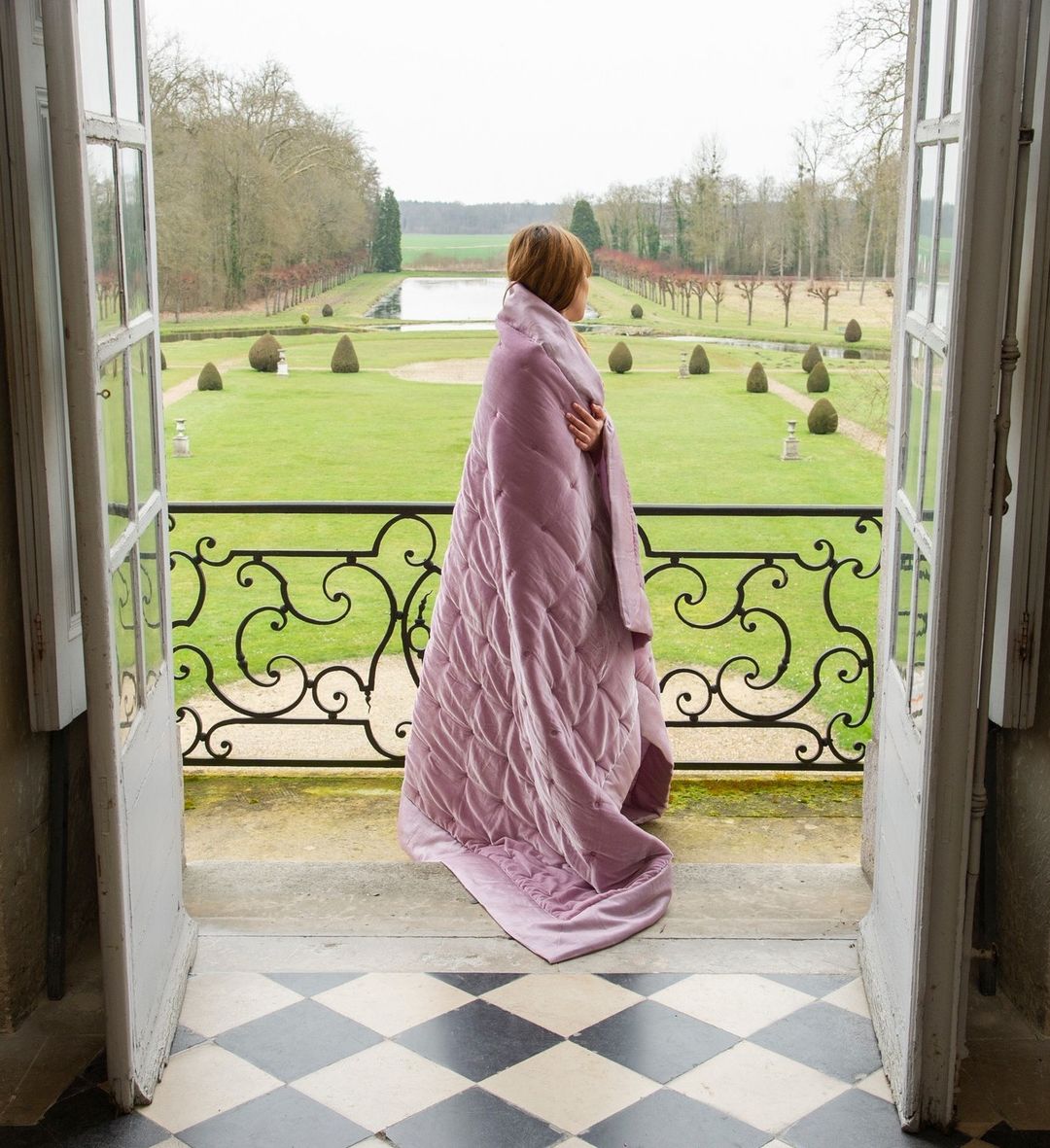 Saint-Louis
Saint-Louis is a luxury French glassware brand you must know. Officially called the Compagnie des Cristalleries de Saint Louis, it was founded all the way back in 1586 in the Lorraine region. Saint-Louis is the oldest glass manufacturer in France as well as the first crystal glass manufacturer in continental Europe, with production dating back to 1781. Saint-Louis has provided glassware for France's most important historical official ceremonies, including in the famous Hall of Mirrors in Versailles Palace.
Madura
Madura is known for their high-quality curtains, blinds, bed linens, pillows, lampshades, and cushions. The master French home textile maker is sought after around the world. Founded in 1971, you can shop their products from Wayfair and Perigold.
Hermès
Hermès is well known for its luxury handbags, but did you know this iconic French company makes beautiful homeware, as well? "La Table" is the Hermès collection of dinnerware and entertaining sets that you can purchase for your home. Shop the Hermès homeware collections from Neiman Marcus and Saks.
Astier De Villatte
These Parisian ceramic makers don't have an enormous production, but they have captured the hearts of home goods collectors worldwide. The founders Benoît Astier de Villatte and Ivan Pericoli met at a top Fine Arts school in Paris in the 1990s. Astier de Villatte is one French home goods brand that has succeeded in developing an international brand while maintaining an aura of scarcity. With whimsical designs including botanical flowers and cute animals, all on a creamy white backdrop, the designs of Astier de Villatte will enchant you. Shop from Liberty, John Darian, and Bergdorf Goodman.
Diptyque
Diptyque has been a beloved French homeware brand for decades. As a luxury perfumer that was launched in 1961 in the heart of the artists' neighborhood of Saint-Germain, Paris, where three longtime friends opened a boutique. The Diptyque spirit and taste seduced Parisian clientele, turning it into the upscale perfume house it is today. Diptyque offers tasteful scents in a vast collection of wistful candles, dreamy home fragrances, and recently body care.
Every Christmas Diptyque releases holiday-themed candles like "Sapin" which smells like a lovely pine forest. You can shop Diptyque in the US from Nordstrom, Bloomingdale's, Neiman Marcus, and Bergdorf Goodman.
Duralex
These classic French glasses are found in just about every sidewalk terrace and corner bistro in Paris. Used for serving water and other beverages, you can now buy them for your own home! Made in Picardie since 1945, they are shatter-resistant and twice as strong as normal glass. You can easily serve both hot and cold liquids inside them. You can shop Duralex from Williams-Sonoma, Crate & Barrel, and Amazon.
Laetitia Rouget
Laetitia Rouget is a French ceramics artisan who has family roots in the porcelain business. Celebrating nature and the human body with fun colors, adding a candle holder or vase by Laetitia Rouget will give your home a whimsical feeling. You can shop Laetitia Rouget from Anthropologie, Net-a-Porter, Shopbop, The Webster, and Moda Operandi.