You probably know how much different decor trends go in and out of style at all times – and how easily vintage items come back and are loved even more than ever before.
Shabby chic decor is exactly that – but it comes with a twist. It's all about classic vintage furniture that is worn out (or, at least, looks worn out). To put it more simply, shabby chic is when soft colors and a more feminine essence meet a rugged, boho look.
What is Shabby Chic Decor?
Picture an old chair that looks decades old, next to a rugged table with pastel-colored napkins on top of it. Both the table and chair are made of wood and the chair is painted white (or, at least, with a neutral, light color).
Can you see it? That's a picture-perfect vision of what shabby chic is!
We're talking about fair, light colors, vintage-looking items, and an interesting mixture of different eras all put together. The best part is, there's no one defining time frame in history for this decor trend – so you may see items from the 30s mixed up with things from the late 60s. As long as it's vintage, rugged-yet-gentle looking, it works!
Now, you can't just throw any old chair in your room and call it shabby chic. There are some defining characteristics: elegance, former glamour, curvy style, and pastoral features.
That's right. While there's plenty of room to play with, this style has a certain defining aura that permeates every item.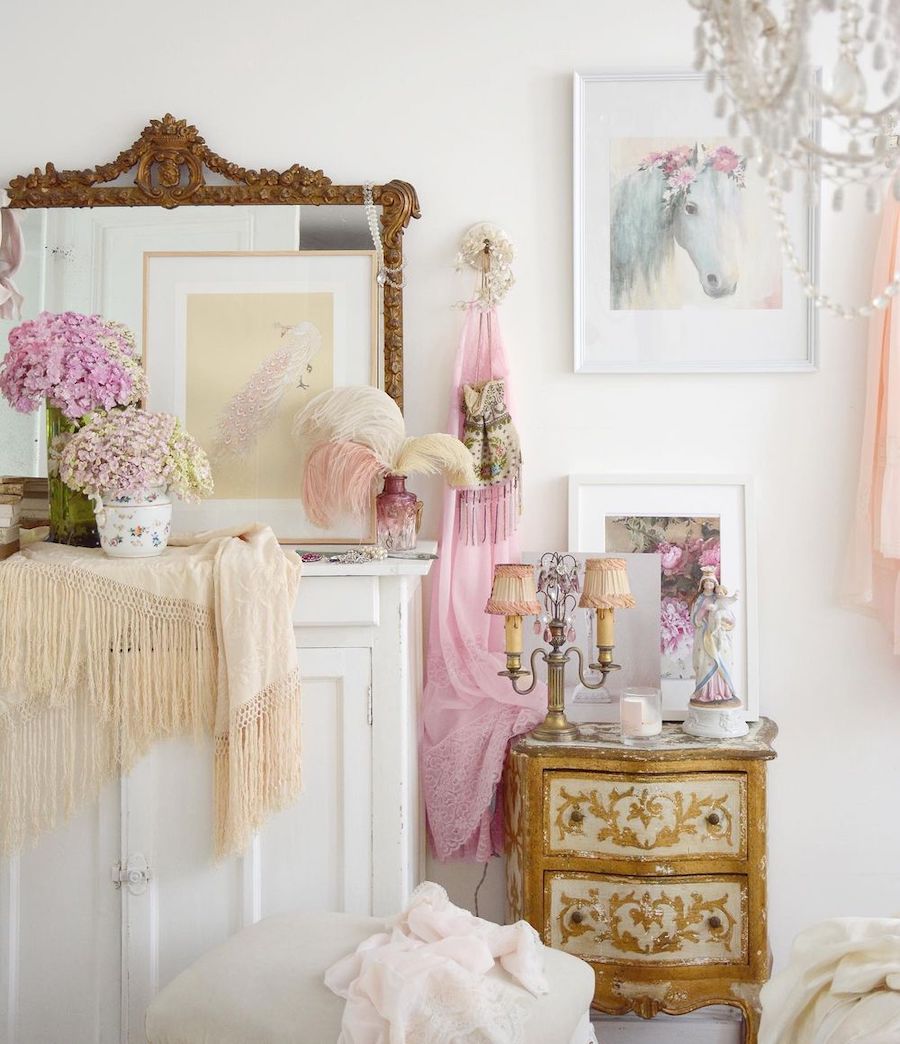 Where does Shabby Chic Decor come from?
While the many items that are all about Shabby chic decor may be from the late 1800s and early 1900s, this trend started sometime after World War II. It became incredibly popular during the 1980s.
It all began in Great Britain, where a lot of people were looking for a way to relive the glory from yesteryear. The antique furniture alongside other vintage items perfectly captured that essence. No matter whether it came from Sweden, America, France, or Britain itself – as long as it looked classically elegant and worn out, it worked.
A couple of years later, during the 1990s, Rachel Ashwell gave birth to her Shabby Chic chain stores, wrote a book on the subject, and defined this trend as a mixture of vintage, cozy, and comfortable.
Rachel Ashwell's Shabby Chic Couture
While not the creator herself, Rachel Ashwell helped make Shabby chic decor what it is today. Her furniture chain stores, books, and influence shaped this decor style, making it an interior design landmark.
Her definition of shabby chic as cozy, comfortable, and vintage is the perfect description – and also the perfect way to figure out whether a piece of furniture is shabby chic or not.
Even though her business had its ups and downs throughout the year, Ashwell's famous Shabby Chic Couture brand is still going strong, and if you want to see what the definitive authority on this area thinks, you can check her body of work.
Shabby Chic Decor Elements
Distressed Furniture
Whether we're talking about an old piece of furniture or doing some work to make a piece of furniture look older, distressed furniture is what you want for your room – as long as you want it to be shabby chic.
Weathered Wood
A perfect way to have a piece of shabby chic furniture is to look for weathered wood. There's nothing that says rugged more than old wood, maybe a little chipped, maybe with a little discoloration on the side. Think about a table that you'd find on an old cabin that's been there for more than 50 years. That's it!
Neutral Colors
One of the defining characteristics of the shabby chic decorating style is neutral colors. You should have nothing too bright, nothing too fancy. Shabby chic is all about glamour and glory, not excess and luxury. Think about it in the lines of indigo, ivory, white, and pearl. Sometimes, black can play in there as well. Pink and blue may work – as long as they are in an opaque palette.
Bright green, orange, yellow, and similar colors are a no-no when it comes to this style in particular. If you do decide to bring something other than a neutral color to the room, make sure it's in the little things.
Vintage Style
Vintage is the perfect way to describe Shabby chic decor. There's no way around it. It's all about capturing the essence of old glory, the glamour of yesteryear, and the way older, better people lived. Anything from before the 1950s does the trick. And, of course, the older, the better! You don't have to go all the way to the 1500s to find something that screams shabby chic, though. The time from the late 1800s and early 1900s produced great pieces of furniture that can fill your room with the elegance of another era.
Antique Collectibles
An old set of cups, old toys, or an old mirror could be the final touch in your shabby chic styled room. Remember, this decor trend is all about cozy and rugged – that's the key here!
White Linen Slipcovered Furniture
Few things in decor say vintage more than slipcovered furniture. There's a certain elegant element that has been long gone from rooms that can be recovered and reused (which is what shabby chic is all about) when you have white linen over your shabby chic sofa.
Flea Market Finds
You can probably guess a flea market is the one-stop-shop for all your shabby chic needs. It's where old furniture goes to find a new owner – and for almost no money at all! Now, does that mean that everything that you'll find in a flea market is shabby chic? Not at all! You'll have a better chance of finding something like that there, though. When you're at the flea market, remember: it's about cozy, comfortable, vintage items. You'll know it when you see it. And if you don't get to find one, you can make your own!
DIY Shabby Chic Decor
You don't have to break your bank to go shabby chic. In fact, rolling up your sleeves and doing a little work is more than enough to get what you want. One of the most remarkable characteristics of this trend is a rugged, time-has-passed look. The best way to replicate that look is to have furniture that has more than one coat of paint.
If you have old pieces of furniture, grabbing a can of light-colored paint may be more than enough to get that look that Rachel Ashwell has praised time and time again.
Shabby Chic FAQs
Here are some common questions about shabby chic decorating.
Is shabby chic always white?
Not necessarily! Shabby chic has more of a neutral color palette than an all-white look. Of course, you can always choose an off-white alternative like cream or ivory if you're not too sure about whether to go white or something else. A big part of shabby chic is the vintage, rugged look that you will not get with an all-white room. So, you have to mix it up a little bit!
What are the colors of shabby chic?
As we've talked about before, shabby chic is about neutral colors. White and ivory are great; indigo and pastel work as well; you may get away with red and blue – as long as they are opaque and not too shiny. When in doubt, go for soft and feminine colors. Keep in mind you don't always have to play it by the book! If you're thinking about redecorating your house, make it your own by adding a little of your personality to the style of your choice.
How can I make my house shabby chic?
The perfect way to turn your house into a shabby chic is to look for old furniture, play around with neutral color themes, and find the balance between simple femininity and rugged strength. You can either figure out how to make your own furniture, maybe paint a few old pieces you have lying around, or buy a few pieces yourself.
Where can I get shabby chic furniture?
There are a lot of places where you can get shabby chic furniture. As you know, Rachel Ashwell's store is the go-to place for your shabby chic needs – but it's not the only one. Antique stores, flea markets, and similar places will help you scratch that shabby chic itch that's been bothering you. Garage sales are also great places to find rugged furniture that will fit your house's new look!
Is Shabby Chic out of style?
Not at all! Shabby chic gained popularity back in the 1980s and has been going strong ever since. As with every decor style, it comes and goes every once in a while – but that's the thing about shabby chic: it's a decor style that tries to capture vintage and classic settings which means, it's all about a timeless aesthetic. Will shabby chic stay strong forever? There's no way to tell! Might as well enjoy it while it lasts, though.