Using toile wallpaper in the home can add a beautiful and classic look. Toile wallpaper is often characterized by a repeated pattern that features a scene or motif. It is usually printed in a single color on a light background, although variations can be found.
Toile wallpaper can be used in different styles of homes, but it's typically found in French country style homes. It can be used to create a cozy atmosphere while also giving a traditional, formal look. This type of wallpaper is especially suited for a traditional or country-style home. This popular wallpaper can be used to add worldly elegance or to create a unique and interesting backdrop to any room.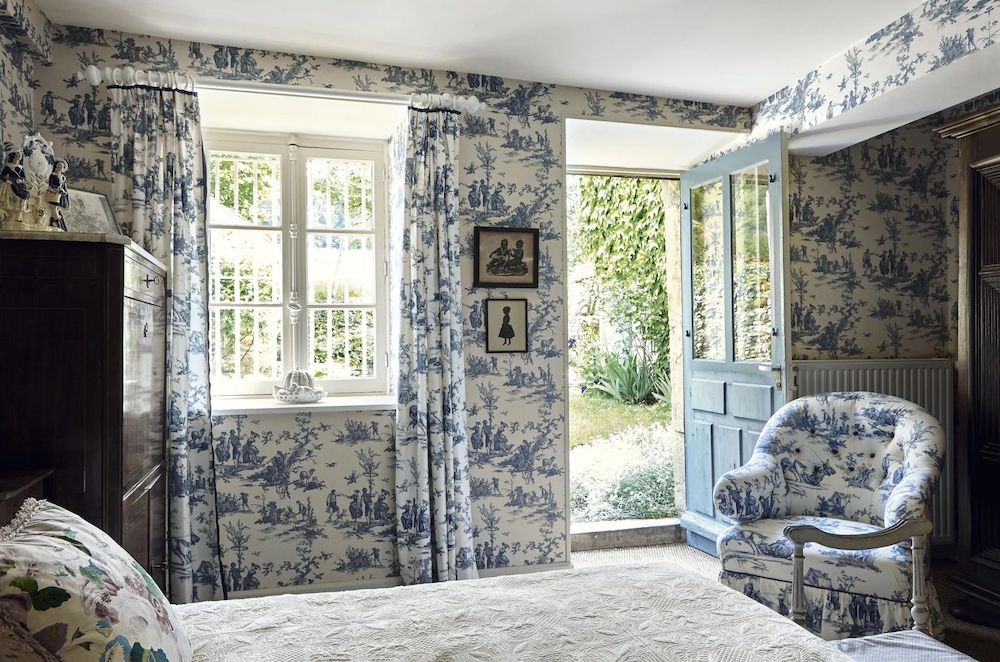 What is the history of toile?
The use of toile fabrics dates back to the 1700s when it was used for drapery and bedding in France. Toile was originally created to imitate hand-painted fabrics, which were the norm before the invention of the printing press. The fabric was printed in a single color on a white or off-white background. The most popular colors were blue, green, black, and red. Toile was also used to create clothing, upholstery, tablecloths, and curtains.
In the 19th century, toile began to be printed in multiple colors, and it was often used to depict scenes of rural life, historic stories, and even political events. It was particularly popular in the English countryside, where it was used to decorate walls and furniture. Toile remained popular throughout the 20th century and is still used today to create décor including bedding, curtains, and clothing.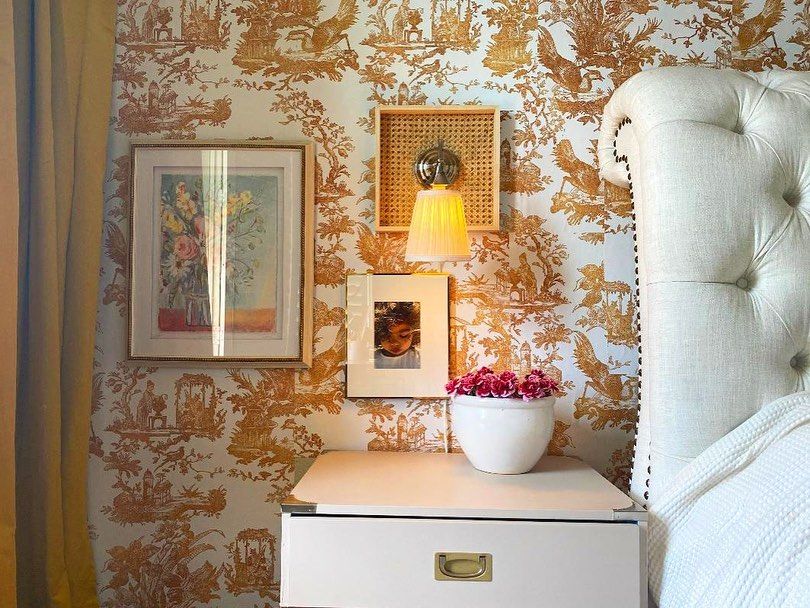 Toile de Jouy
Toile de Jouy is a popular type of decorative toile fabric that originated in Jouy, France in the 18th century. The name literally means "cloth from Jouy," where the fabric was first produced at a factory called Manufacture de Toiles de Jouy in 1760. Toile de Jouy features repeated patterns of rural scenes, such as farms, gardens, and idyllic country landscapes, which are printed in one or two colors on a white or off-white background.
The fabric was originally intended for curtains, bed linens, and upholstery, but it has since been used in a variety of other applications, including clothing and accessories. Toile de Jouy is known for its timeless and classic look.
Toile Wallpaper Decorating Ideas
The first thing to know about decorating with toile is that it's almost exclusively used in the bedroom and bathroom. Start with a neutral background when working with toile wallpaper for the first time. Toile can look busy, so it's important to start with a muted backdrop in order to let the toile design stand out. You don't want to overpower the room.
Here are some design ideas so you can see toile in action!
Give the Attic Charm
This attic bedroom has been brought to life with all-over green toile wallpaper covering the slanted walls and ceilings.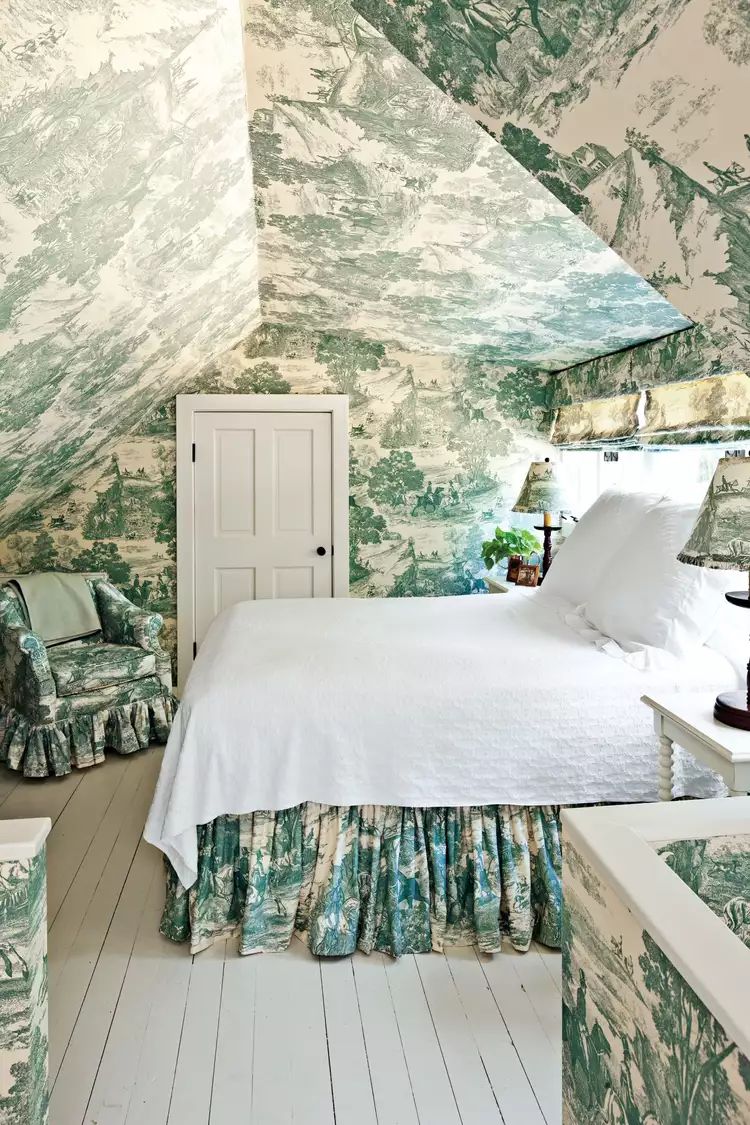 Be Bold with a Black Vanity
Create a focal point. Use toile to create a focal point in your room to draw the eye and give the room character.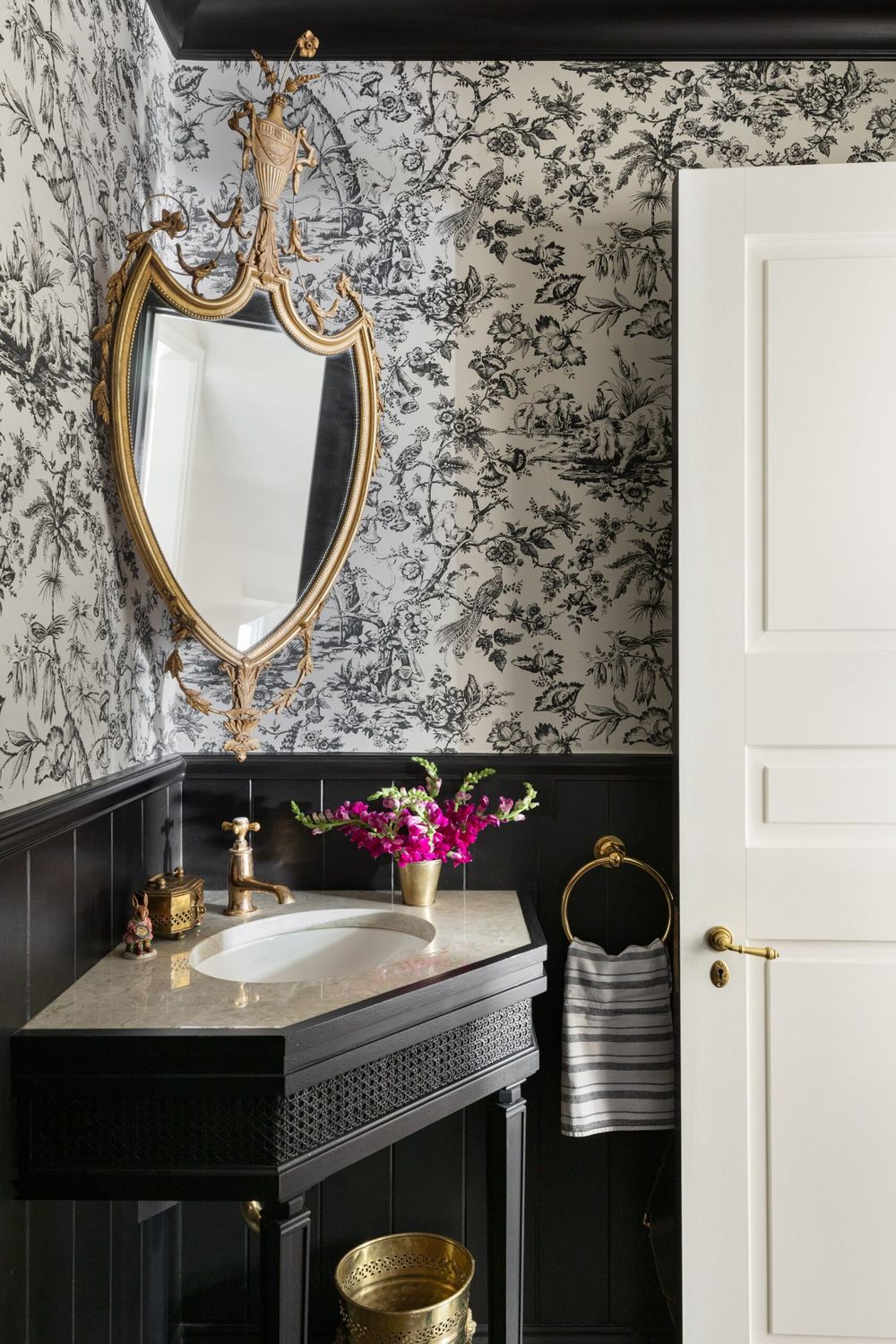 Experiment with Colors
Toile comes in a variety of colors and shades, so pick the ones that work best with your taste.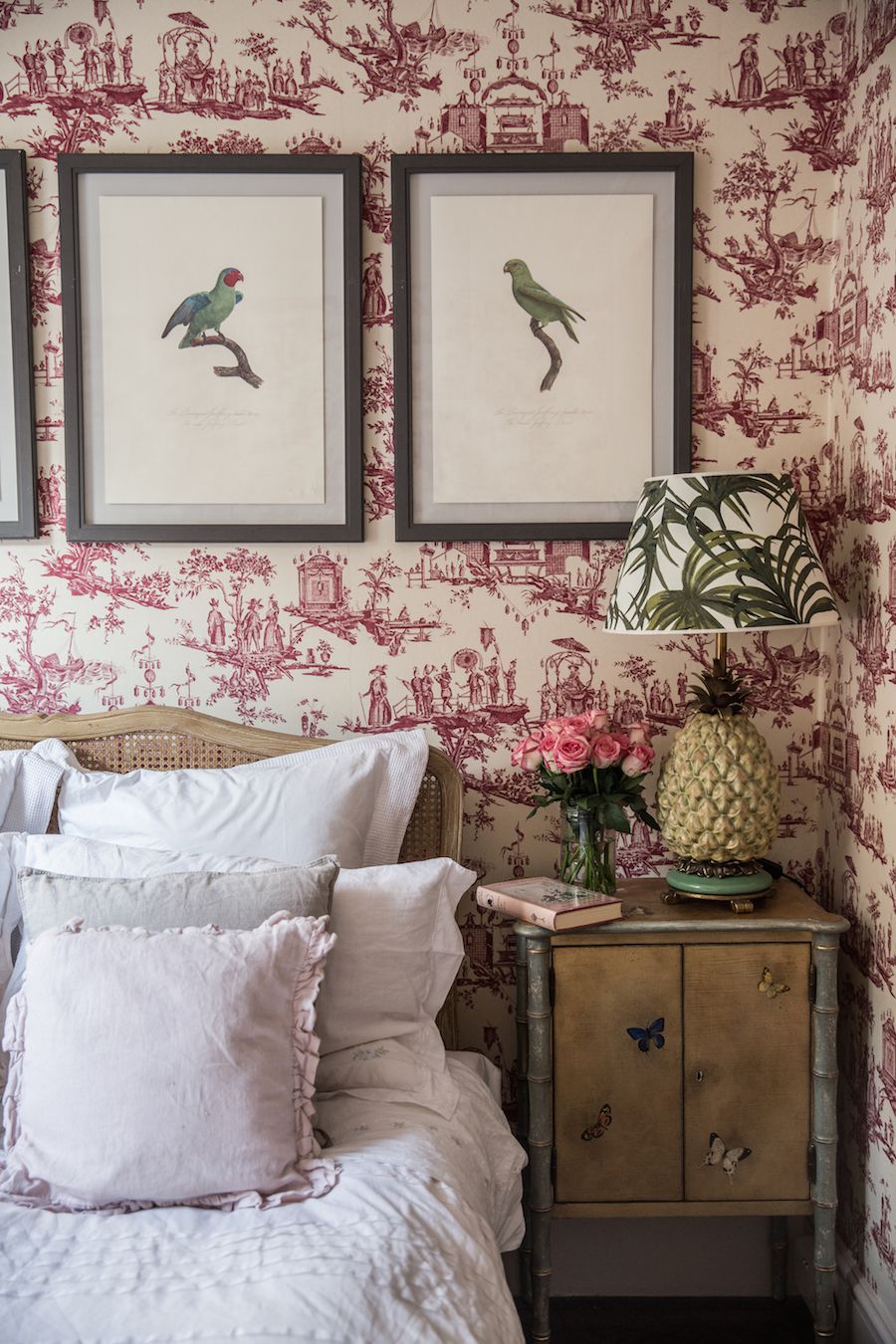 Match the Bed Sheets
Add small touches of toile to accentuate the pattern and add texture. Pillows, curtains, and throws work well.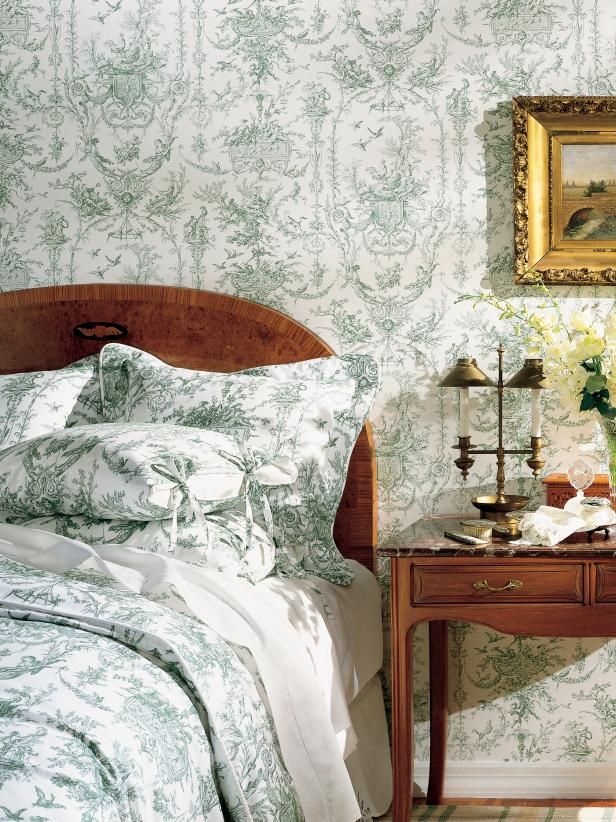 Blue Toile Bedroom
This formal bedroom is decorated with blue toile wallpaper on the walls.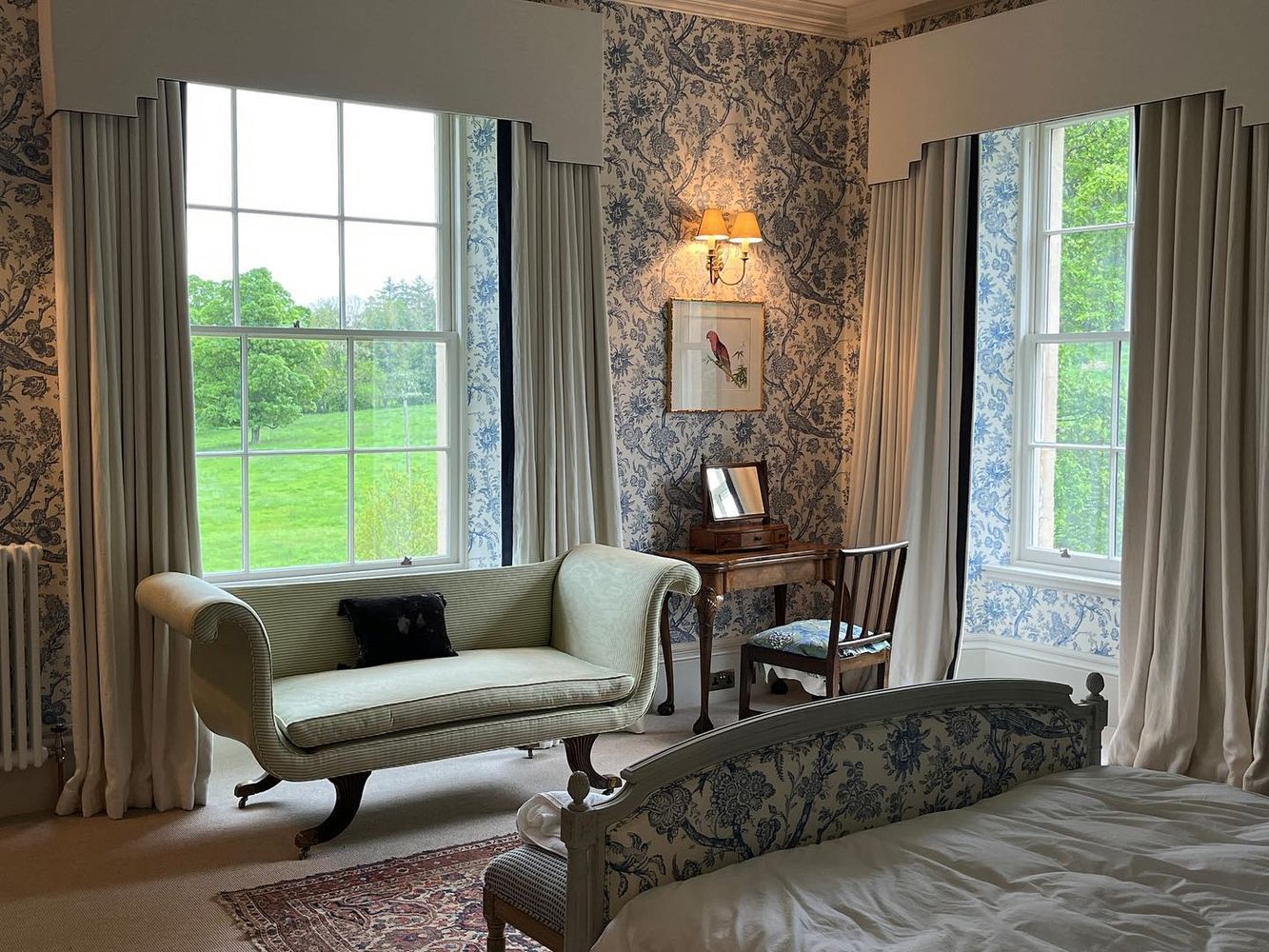 Subway Tile Bathroom
White subway tile is the perfect match for this black on white toile bathroom wallpaper.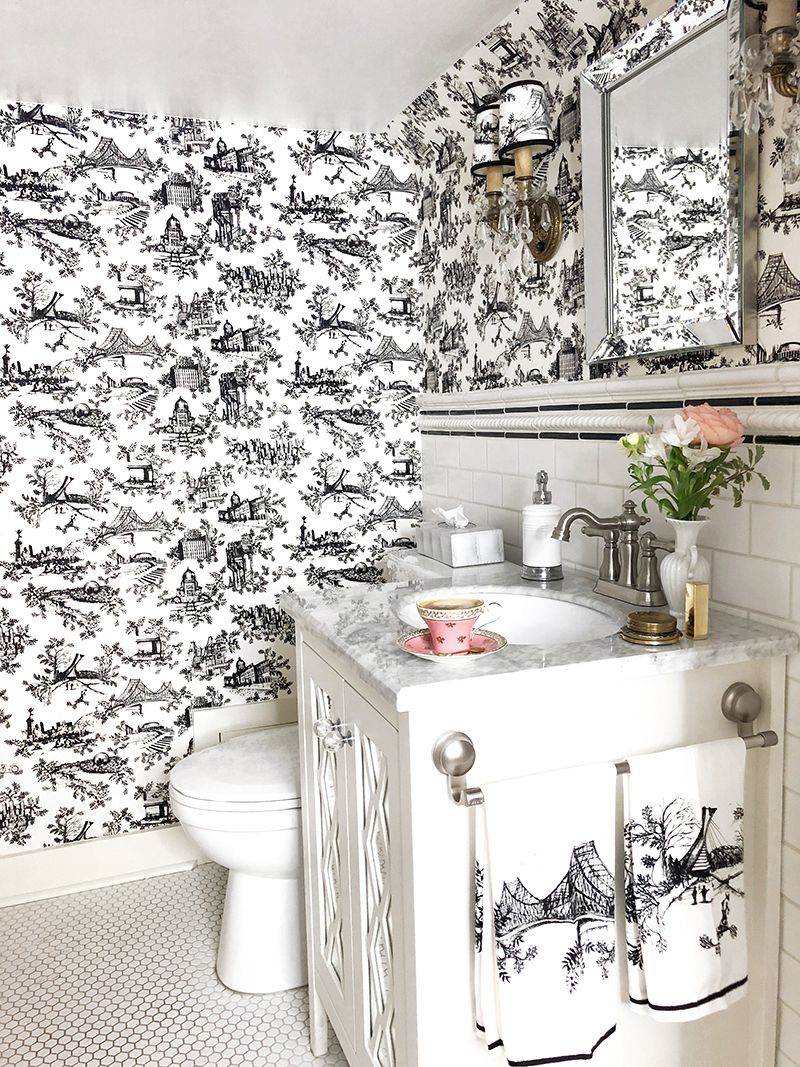 Pair it With Beadboard
This lavender toile wallpaper looks lovely above a half-beadboard wall. The bathtub looks so luxurious!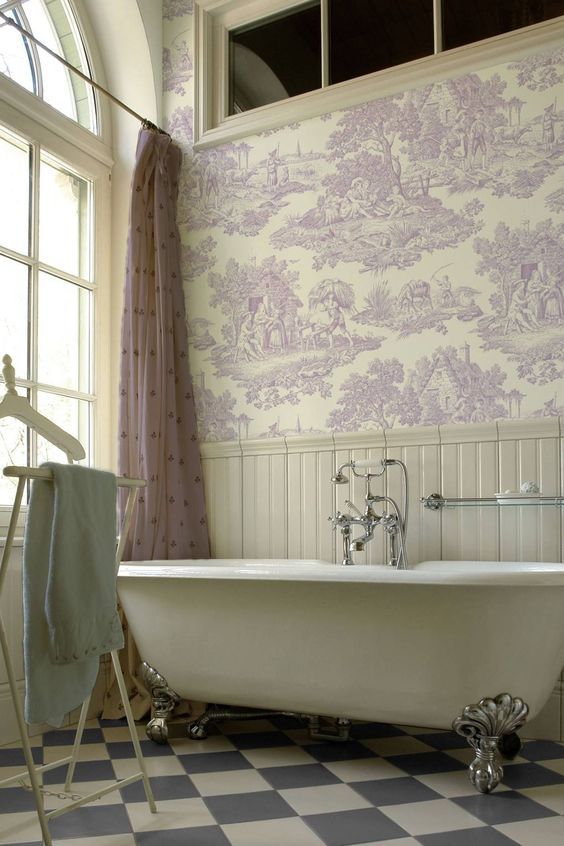 Romantic Bathroom
Pink toile wallpaper is great for a dreamy, romantic bathroom design. Another point for beadboard walls!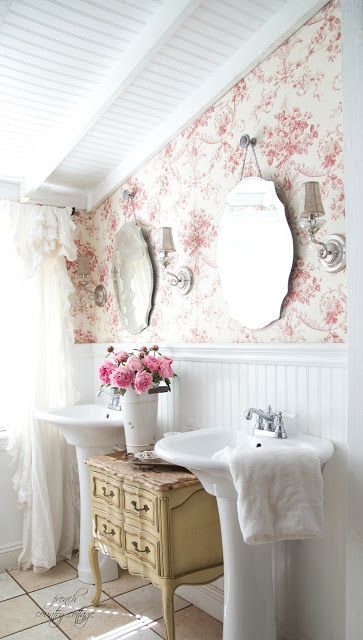 Celebrate Traditional Aesthetics
Embrace the classic style of toile. Using a traditional toile pattern will give your room a timeless look.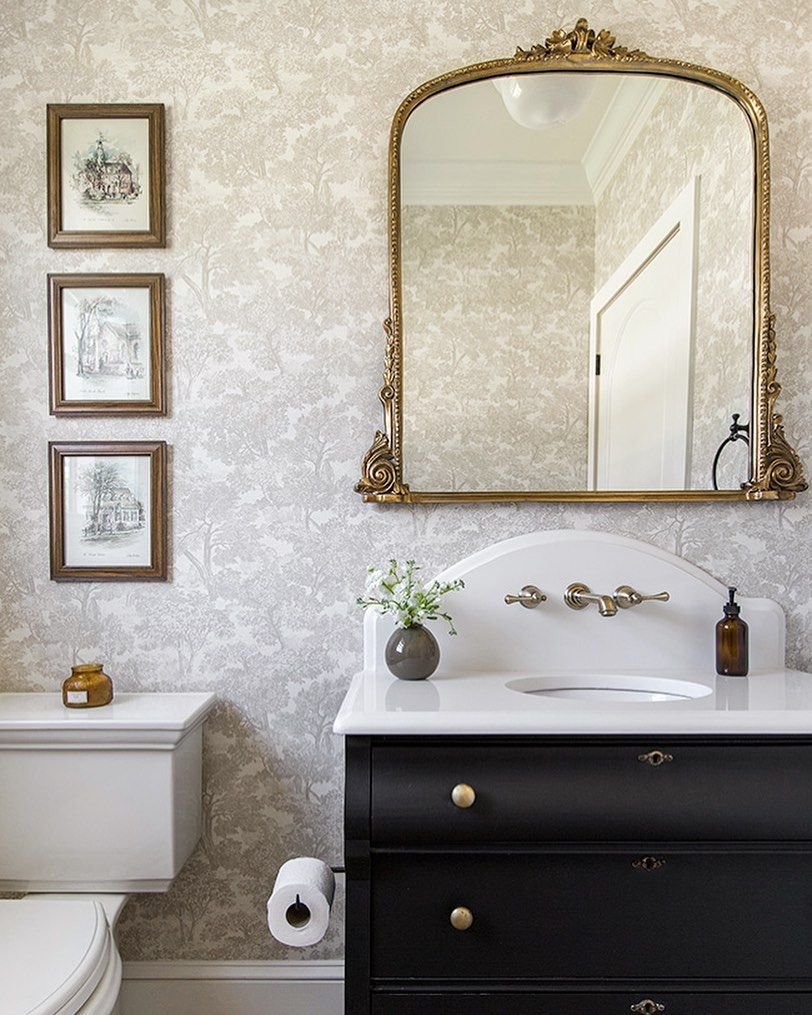 Half Wall
Toile is great for slanted walls because it distracts from the odd architecture of this interior space.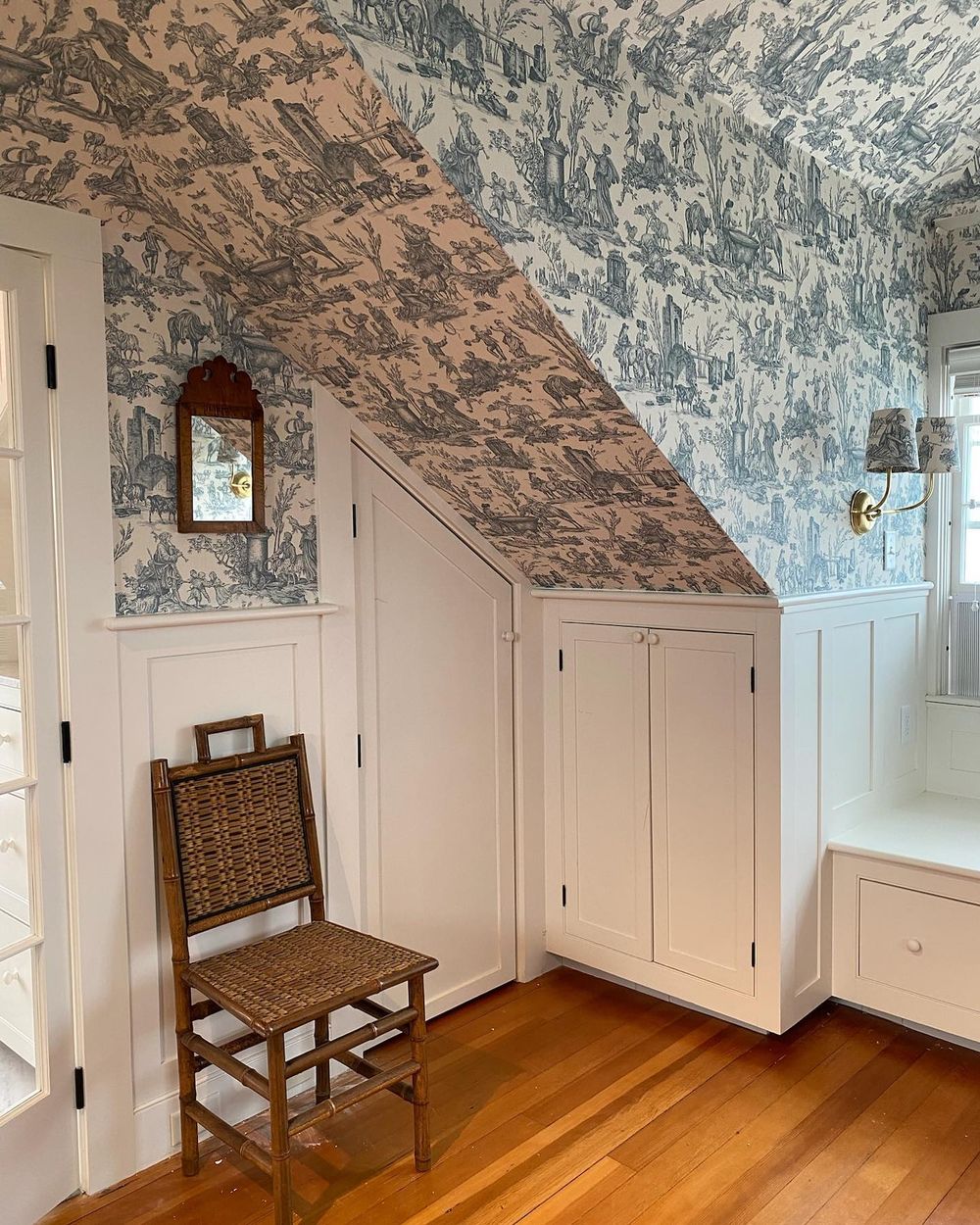 I hope you are inspired to decorate with toile wallpaper!