These French country bedrooms are as dreamy as they sound. Can you imagine sleeping in a beautiful French farmhouse, perhaps a winery not far from your home? That's exactly the feeling that the design of these French country quarters aims to convey. From country motifs to French elegance, there is something truly charming and comforting about a bedroom designed in the French country style.
French Country Bedroom Decor Ideas
We have several examples of how to decorate a bedroom in the French country style. There are loads of beautiful French country bedroom decor ideas online, but we wanted to share the very best ones with you today that inspired us the most. I hope these bedrooms will inspire you, too!
1. Antique iron bed and red floral bedspread
The red color in this floral bedspread is bright and just so French! The antique iron bed is slightly distressed giving it that countryside charm.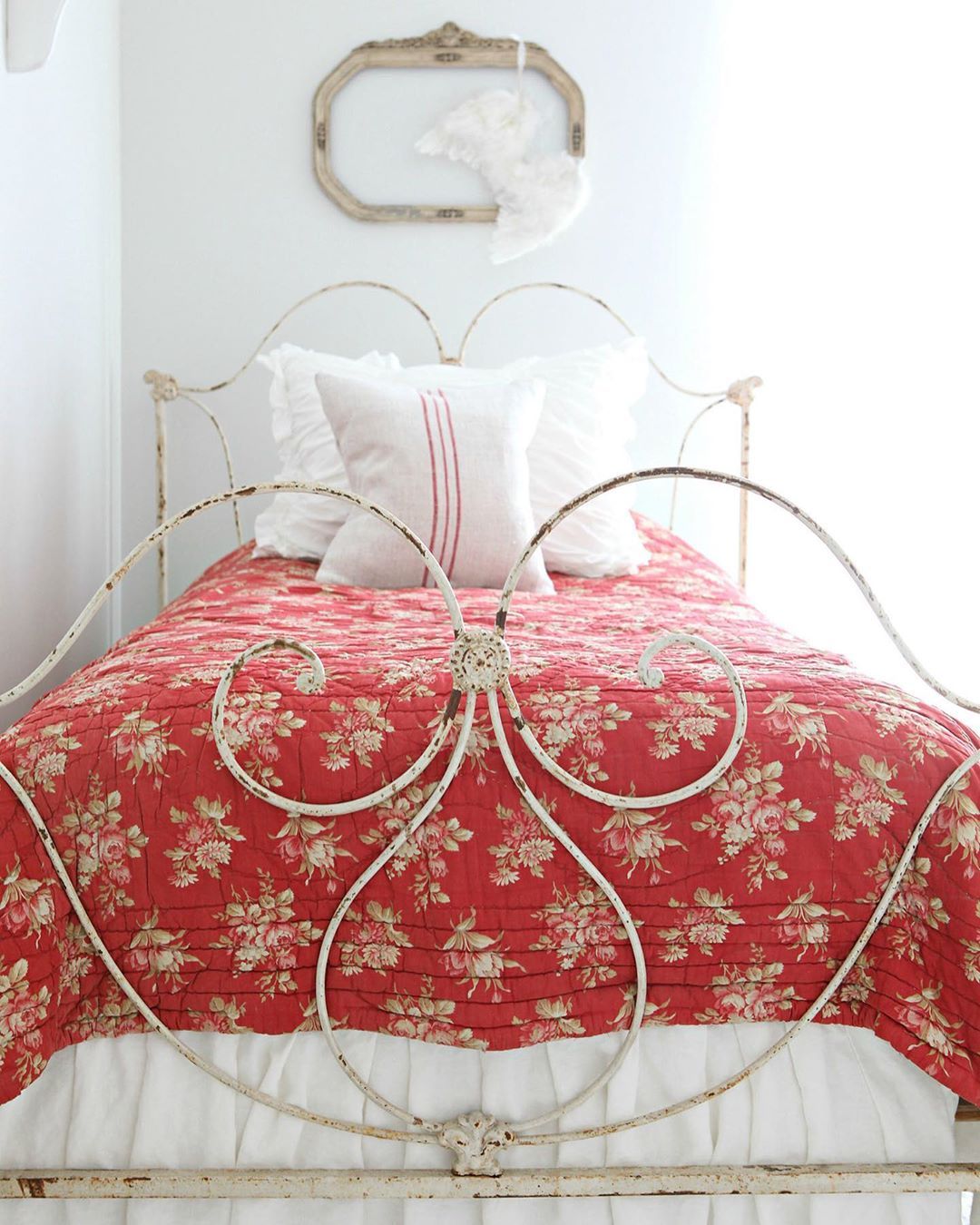 2. Antique Iron Chandelier
3. Belgian bench and rustic accents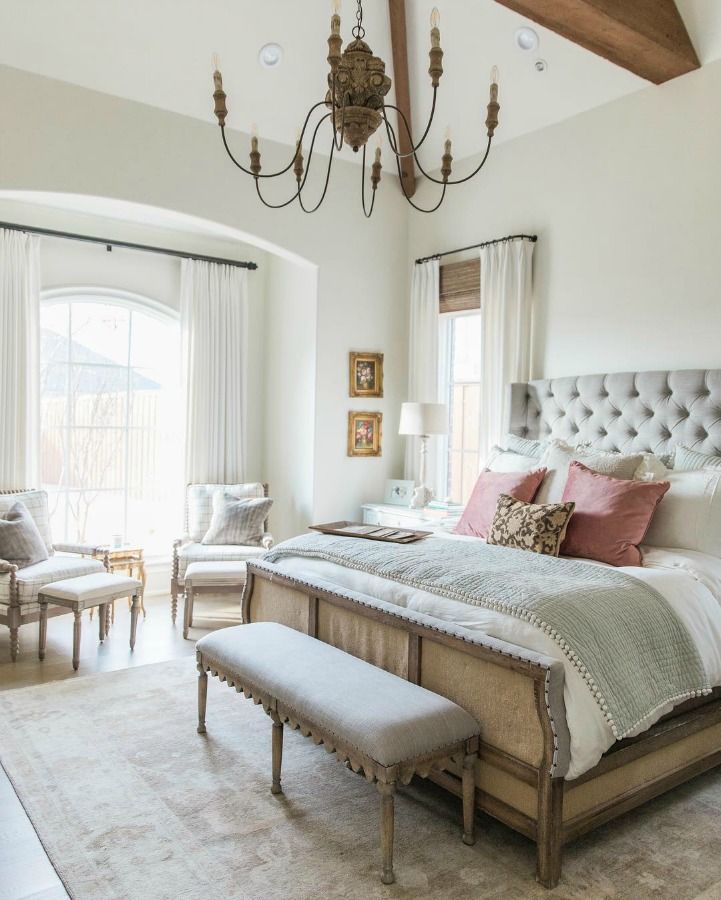 4. Blue Toile Comforter
You can't miss out on toile when it comes to French bedroom linens. Pick a soft color like blue or gray and select your favorite toile pattern. Voila! You have a beautiful French style bed.
5. Gray and White Decor
The gray and white decor palette is always a classic French decorating choice!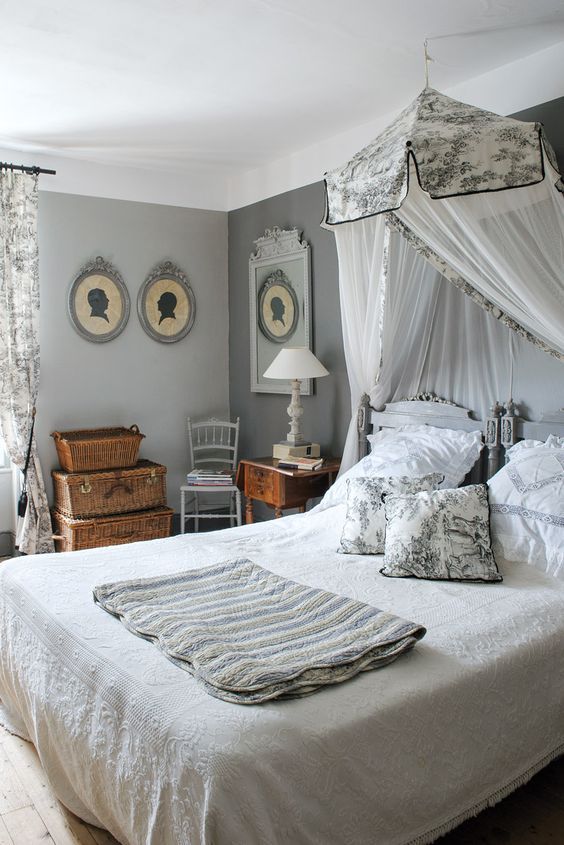 6. Rustic Wood Side Cabinet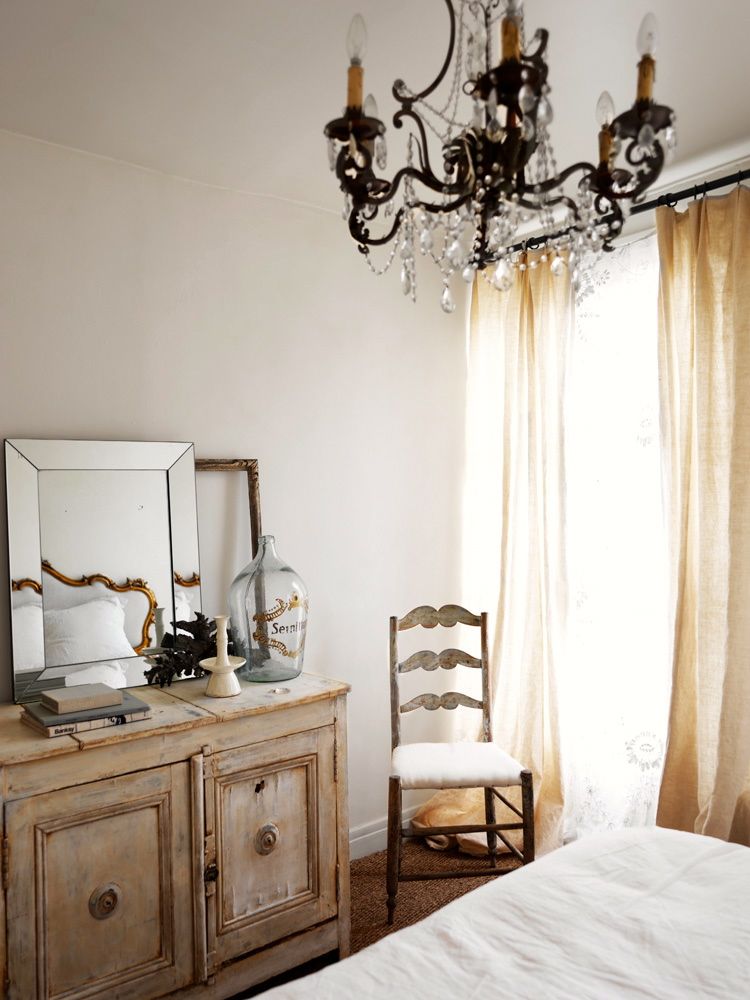 7. Floral Upholstered Canopy Bed
8. Gold mirrors on the wall
When decorating your walls, consider creating a gallery wall of small to medium gold framed mirrors!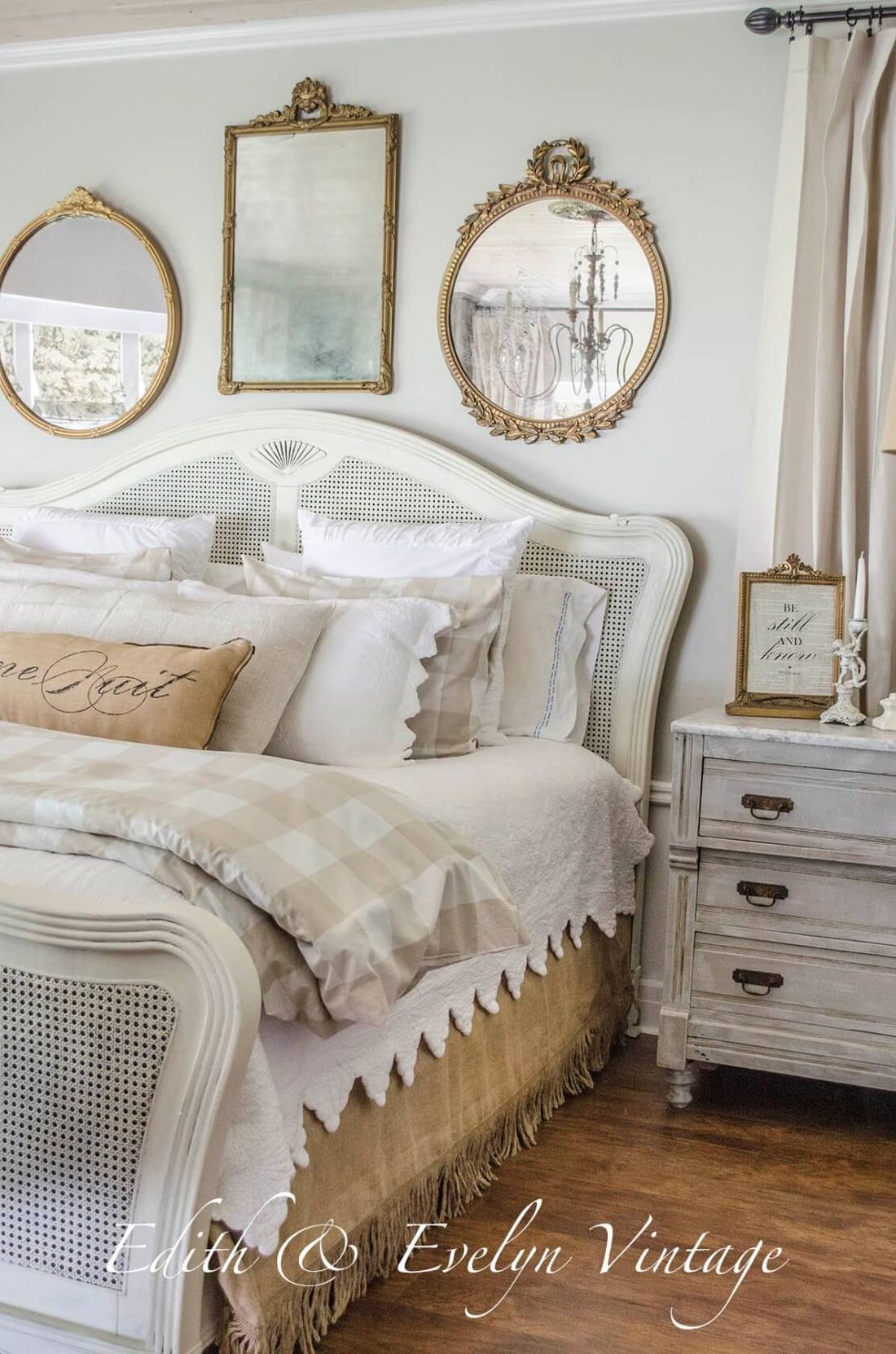 9. Gray and turquoise tones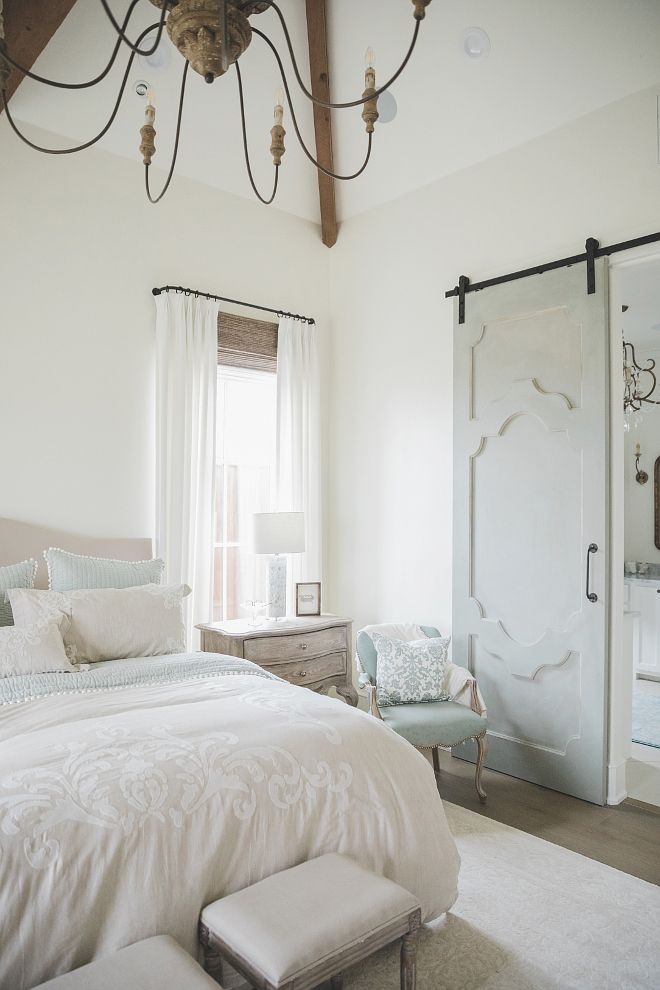 10. Inset floral wallpaper
I love how the wall behind the bed in this bedroom is inset and covered in a beautiful floral wallpaper. It gives the room a very French cottage feel!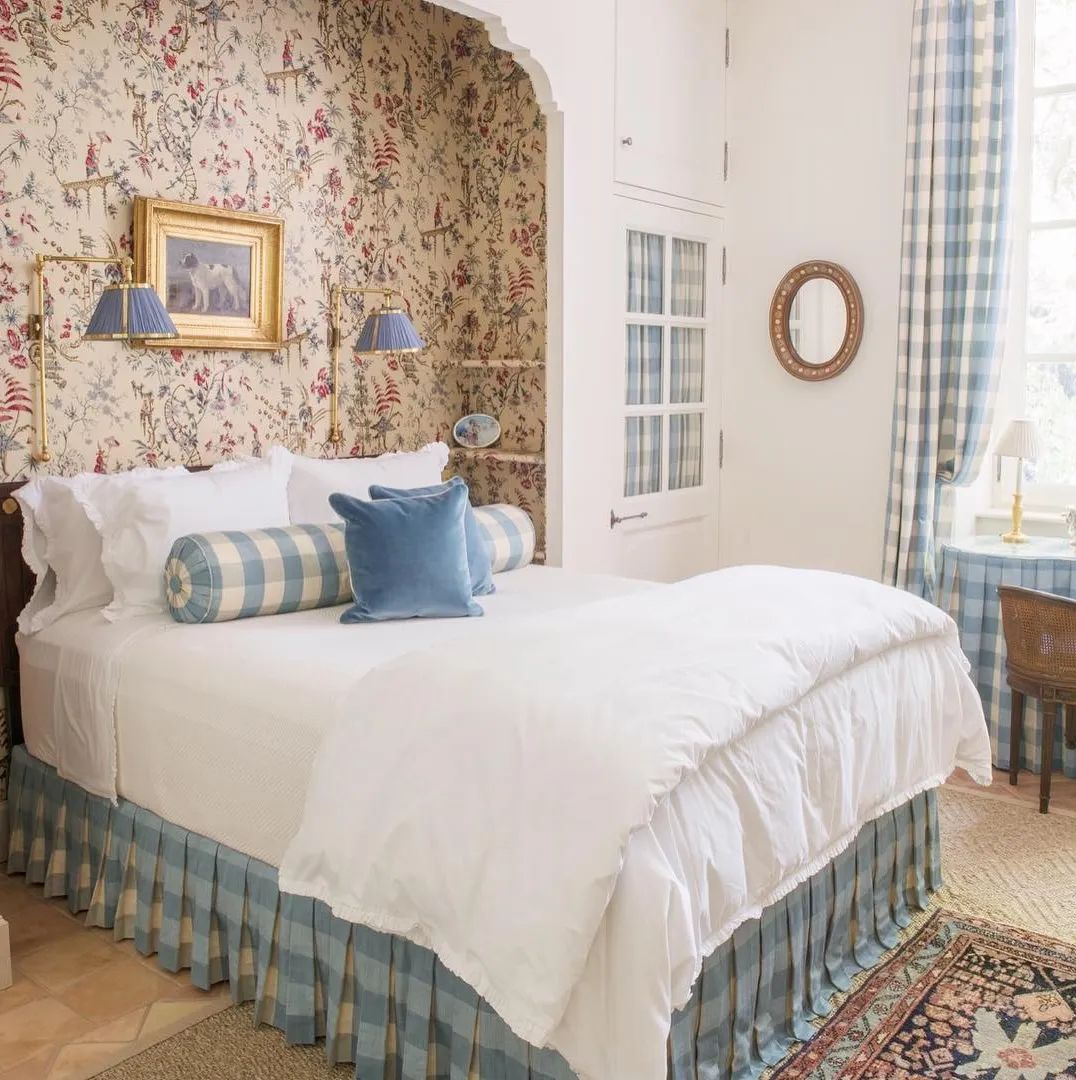 11. Floral Upholstery Headboard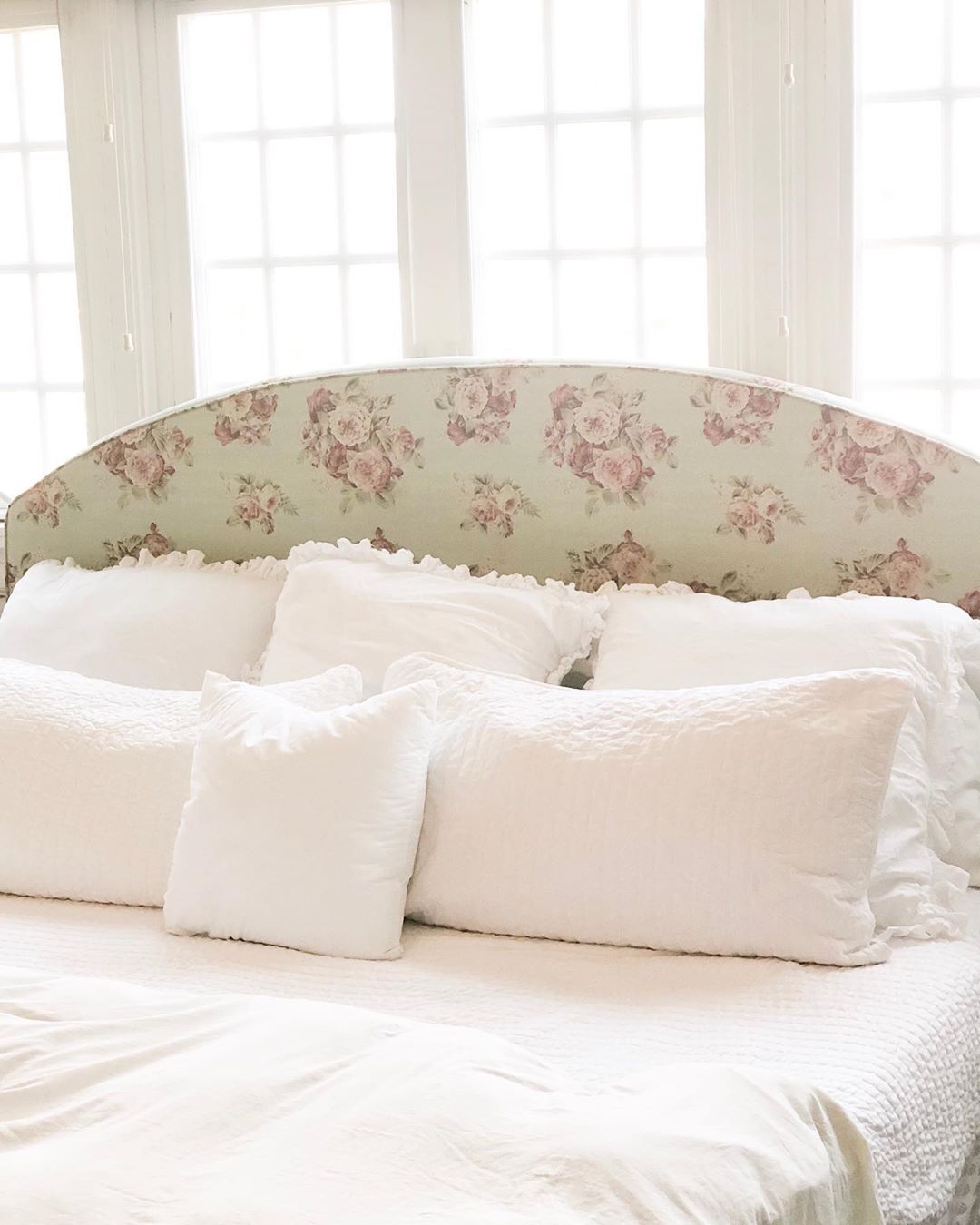 12. Gray and White Decor
Gray and off-white are a very popular color scheme when it comes to French country decorating. The soft gray hue creates a relaxing atmosphere that isn't overwhelming to the eye.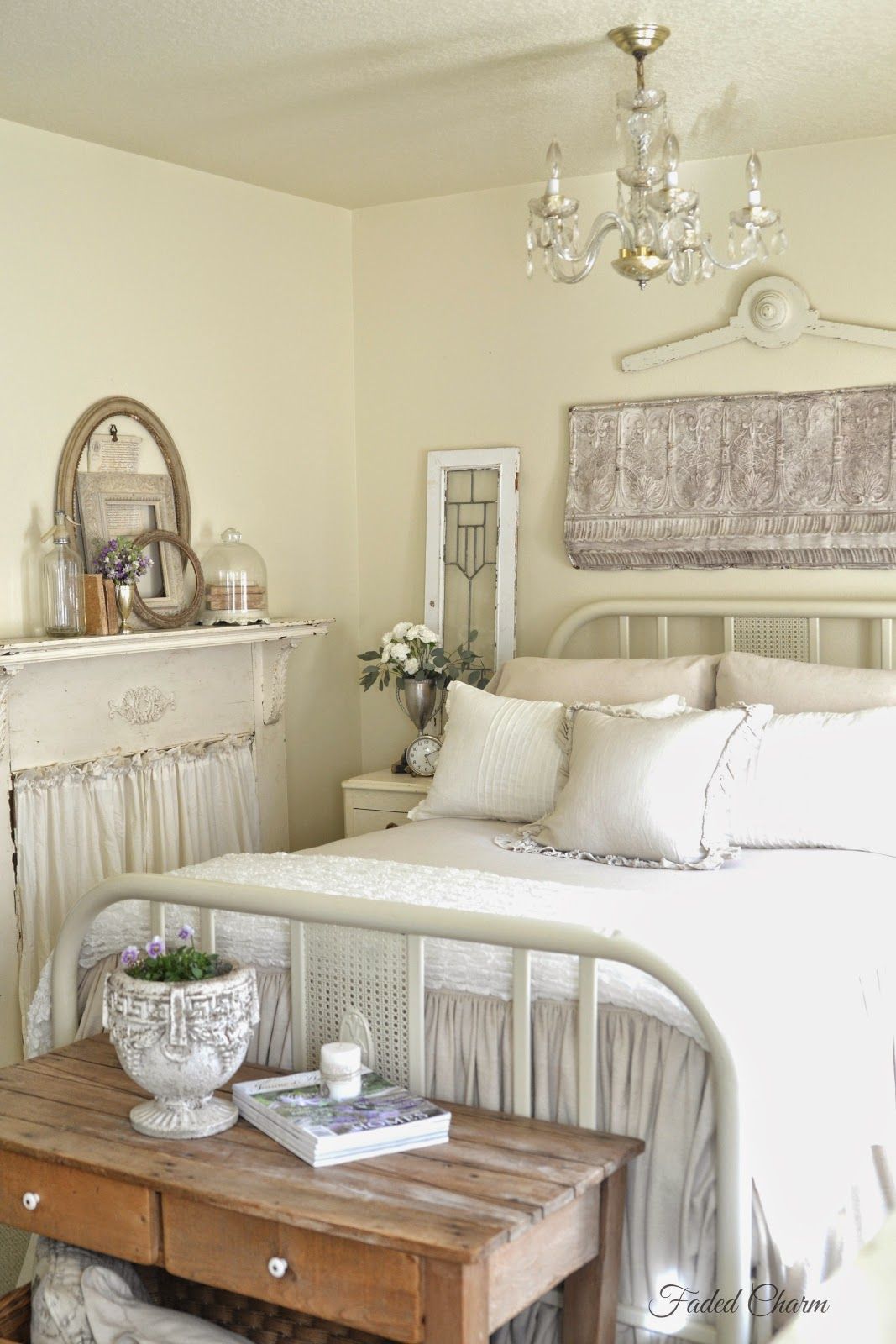 13. Large Wood Armoire and Tufted Bench
A large wooden armoire is a must inside your French bedroom. Many French homes don't even have closets which is why the French armoire is still a popular piece of furniture today! You can use it for storing linens or clothings as you prefer!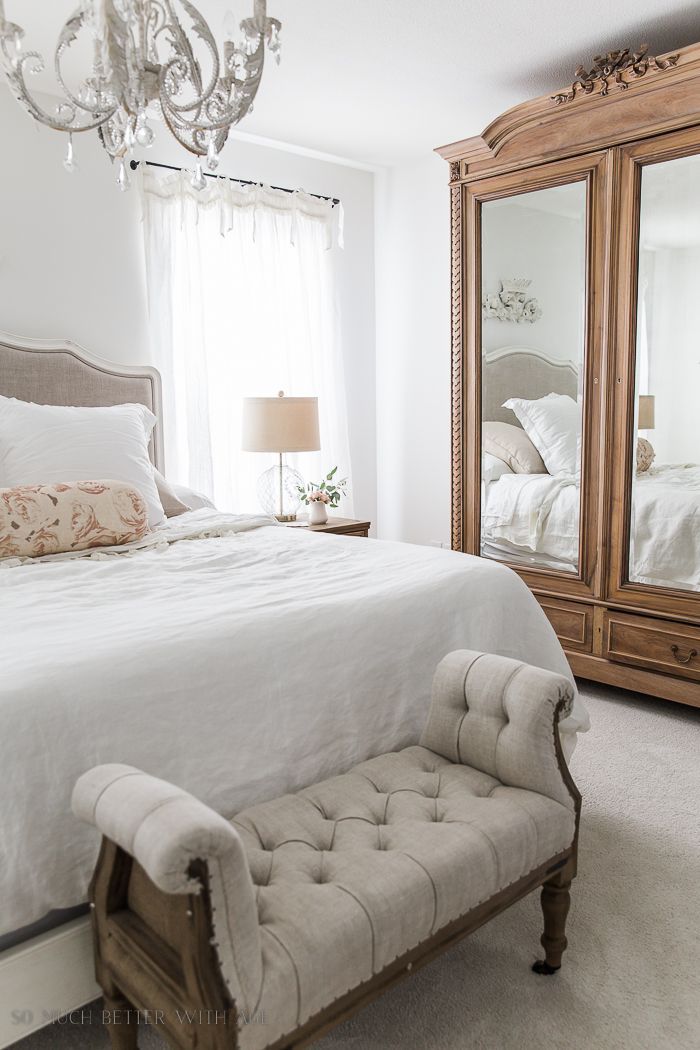 14. Pastel Green Accent Wall
Pastel colors are your friend when decorating your French farmhouse bedroom.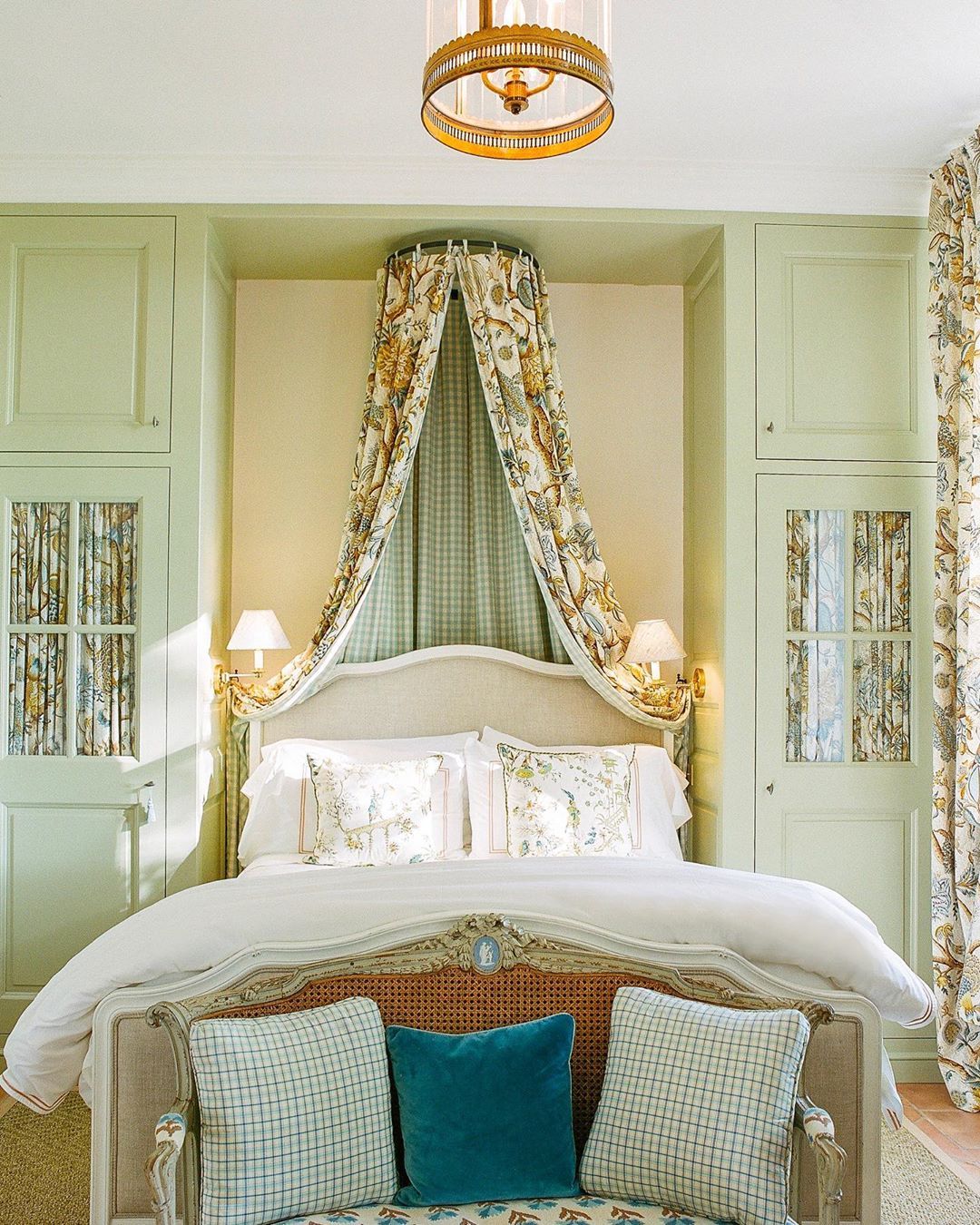 15. Simple White Linens
You can't go wrong with white when it comes to French country bedroom decorating.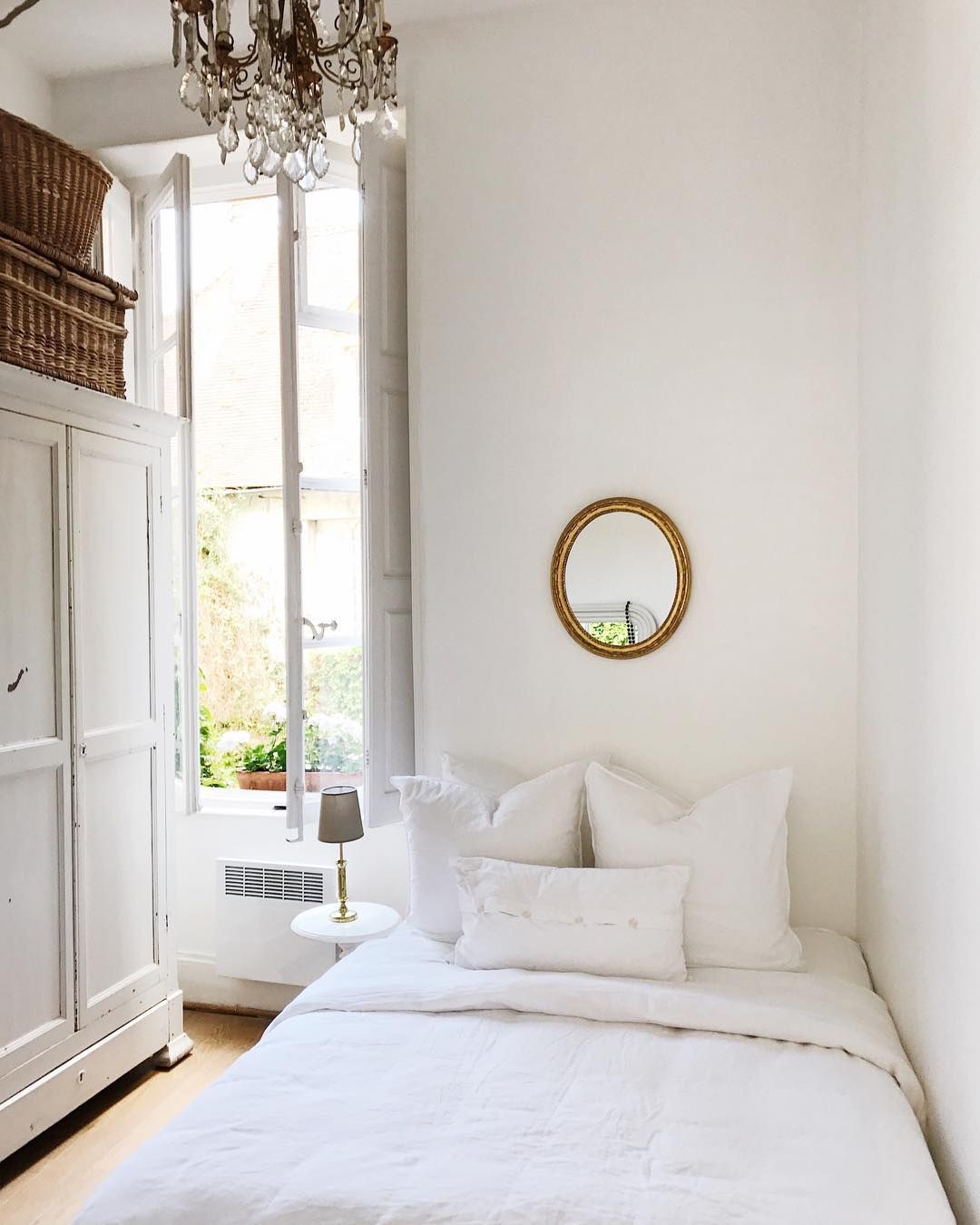 16. White bedspread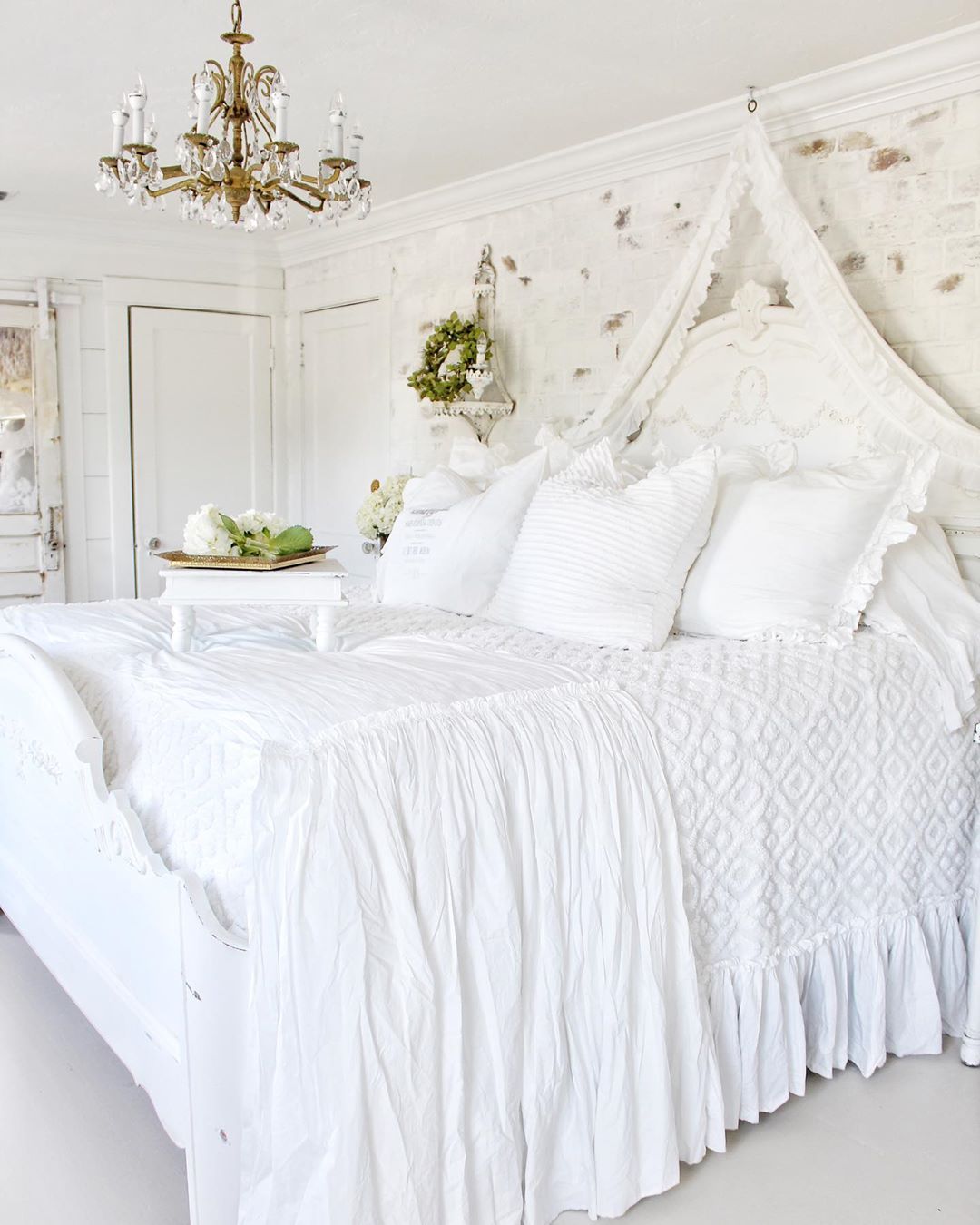 17. Barn Wood Headboard
18. Black Iron Bed
A black iron bed frame is a common French country theme.
19. White Canopy Bed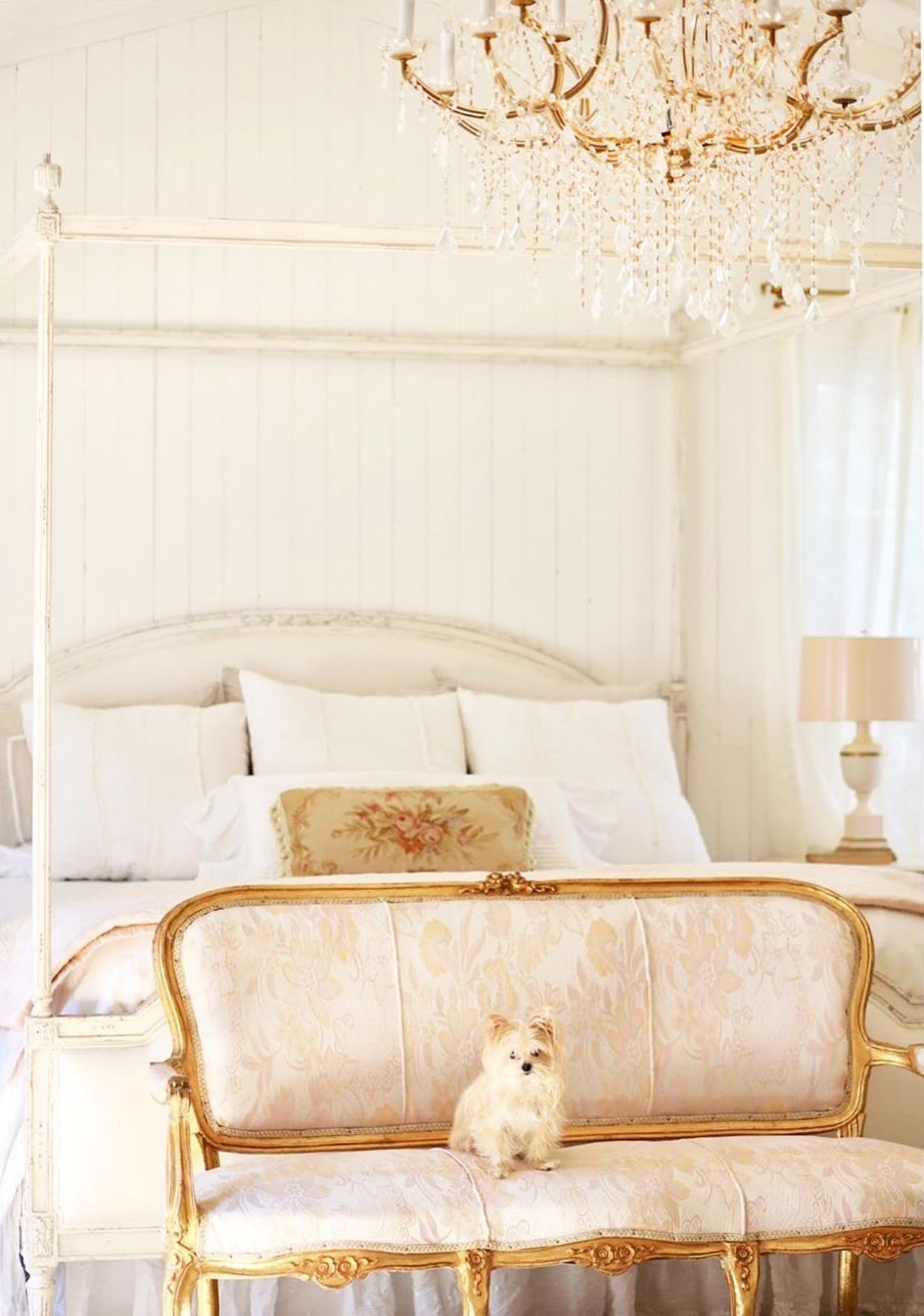 20. Portrait Above Bed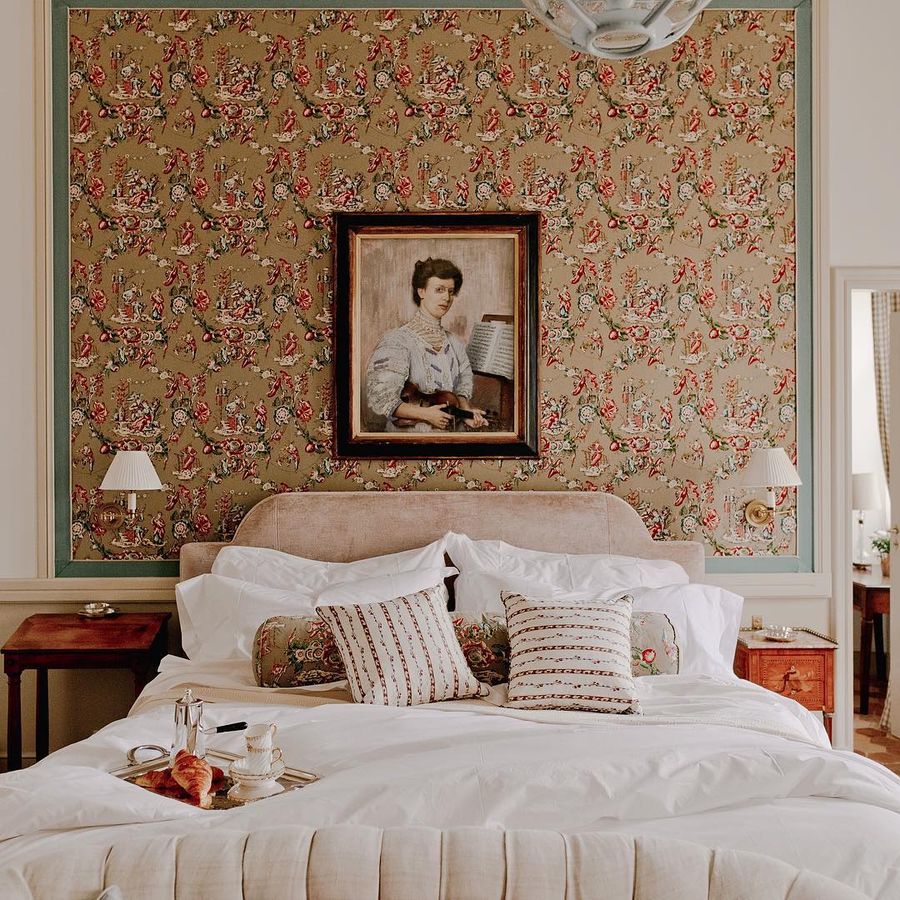 21. Gingham Throw Pillows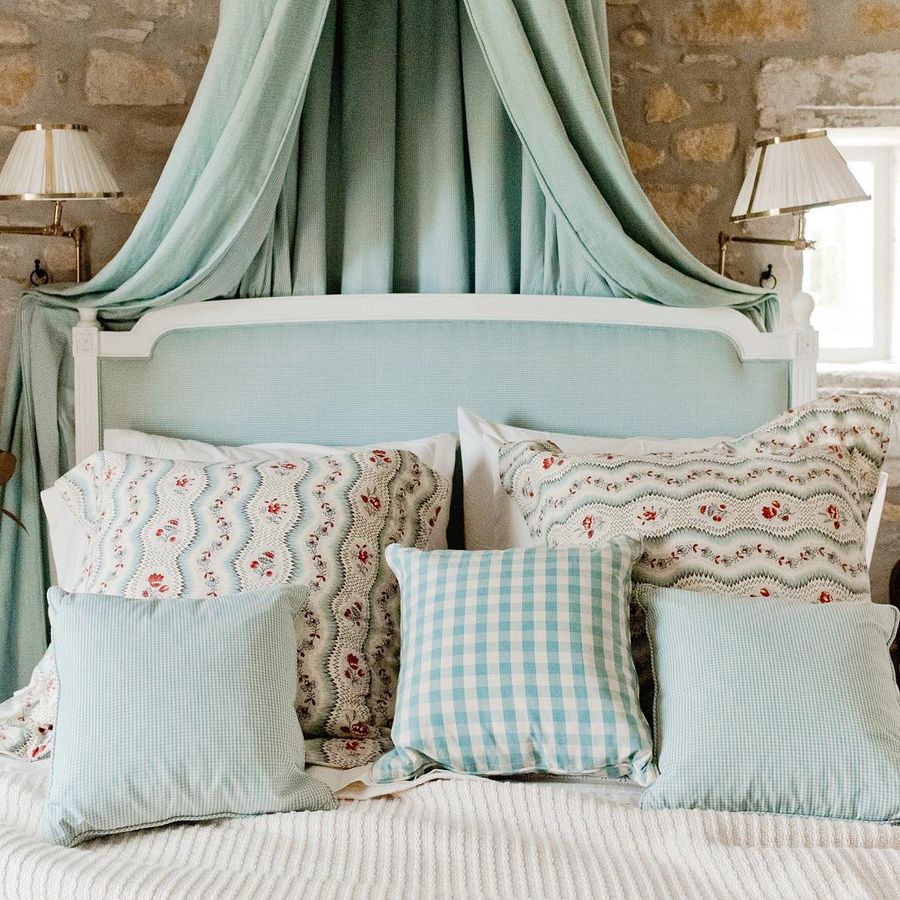 22. Tufted Bed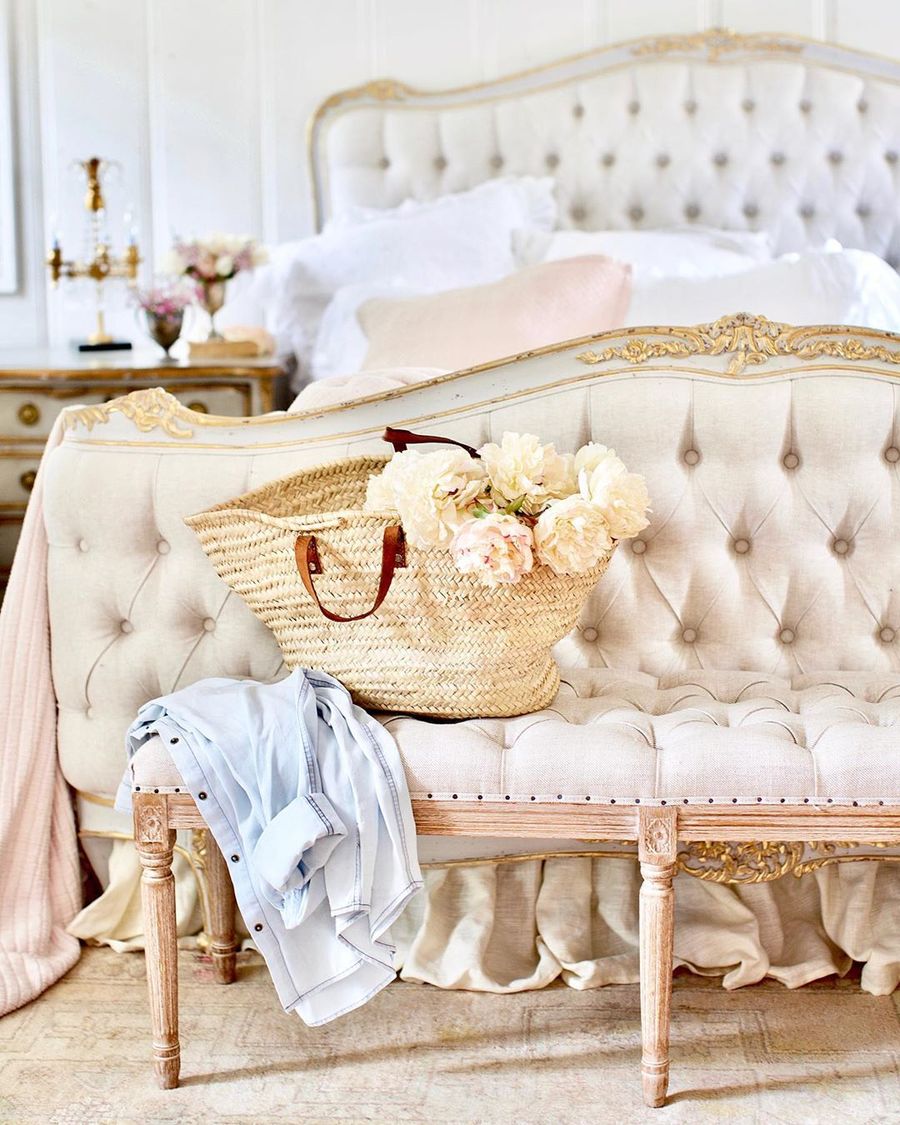 23. Shiplap walls and faux florals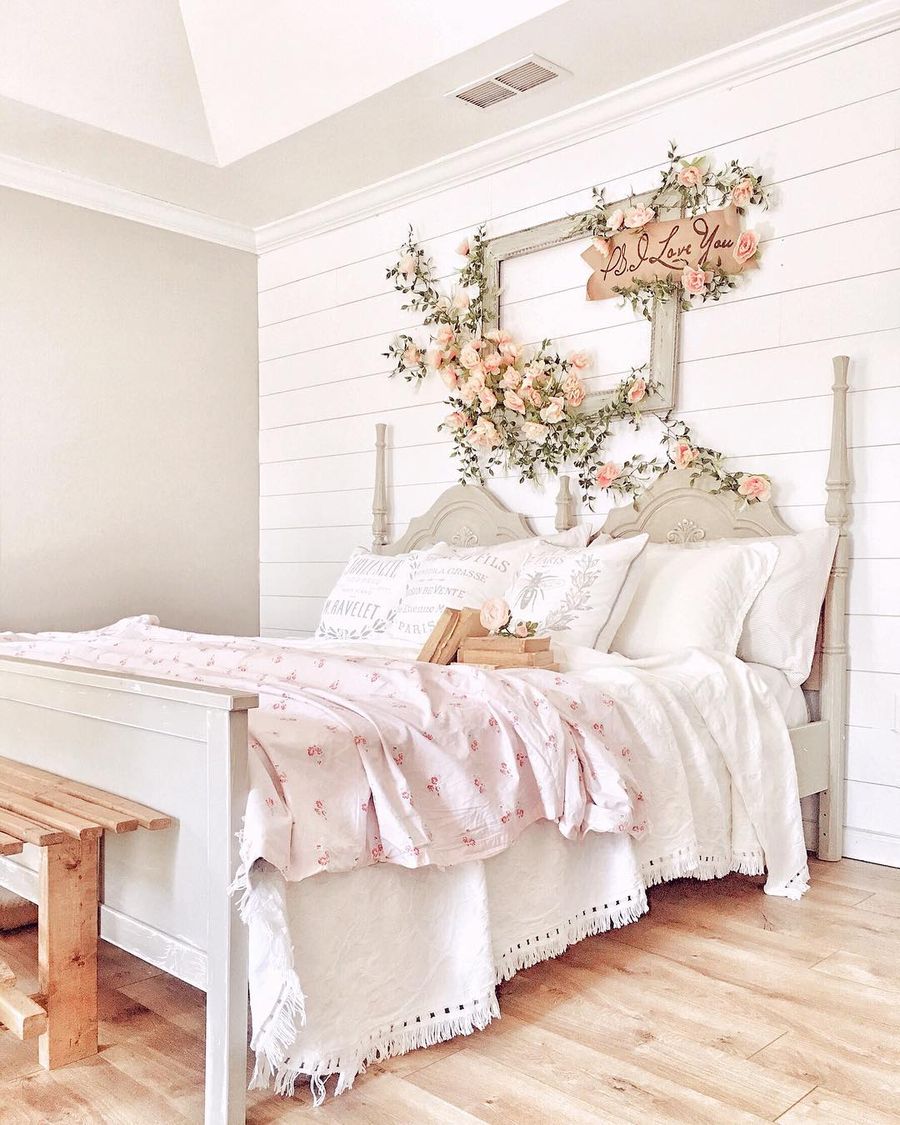 24. White fireplace mantel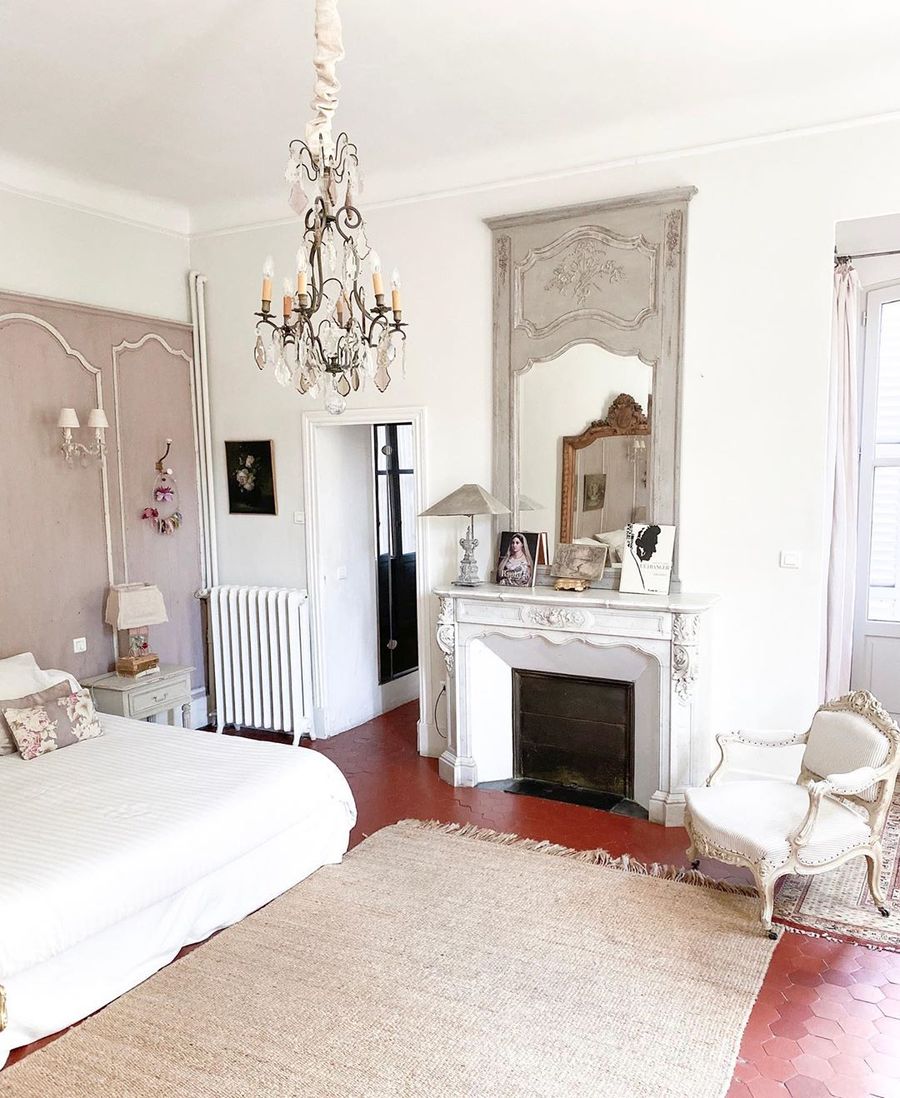 25. White Iron Bed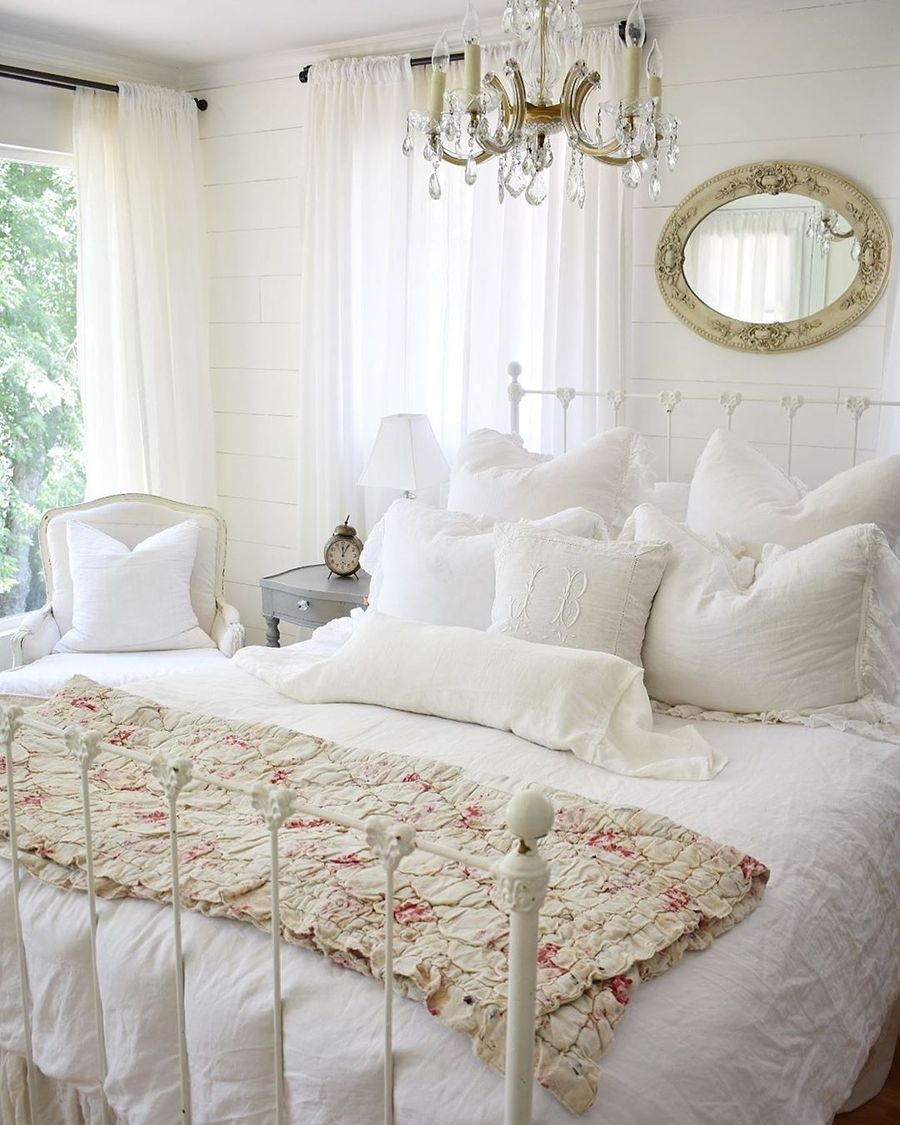 26. Gingham Upholstery Headboard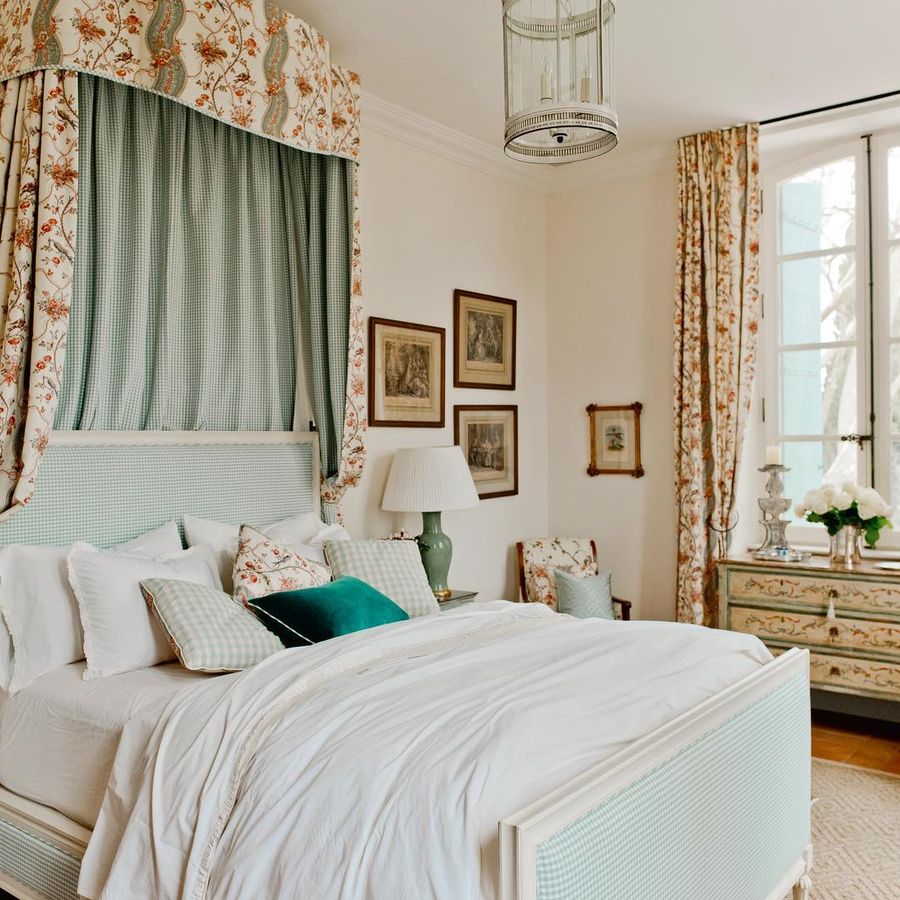 27. Rustic white wood bed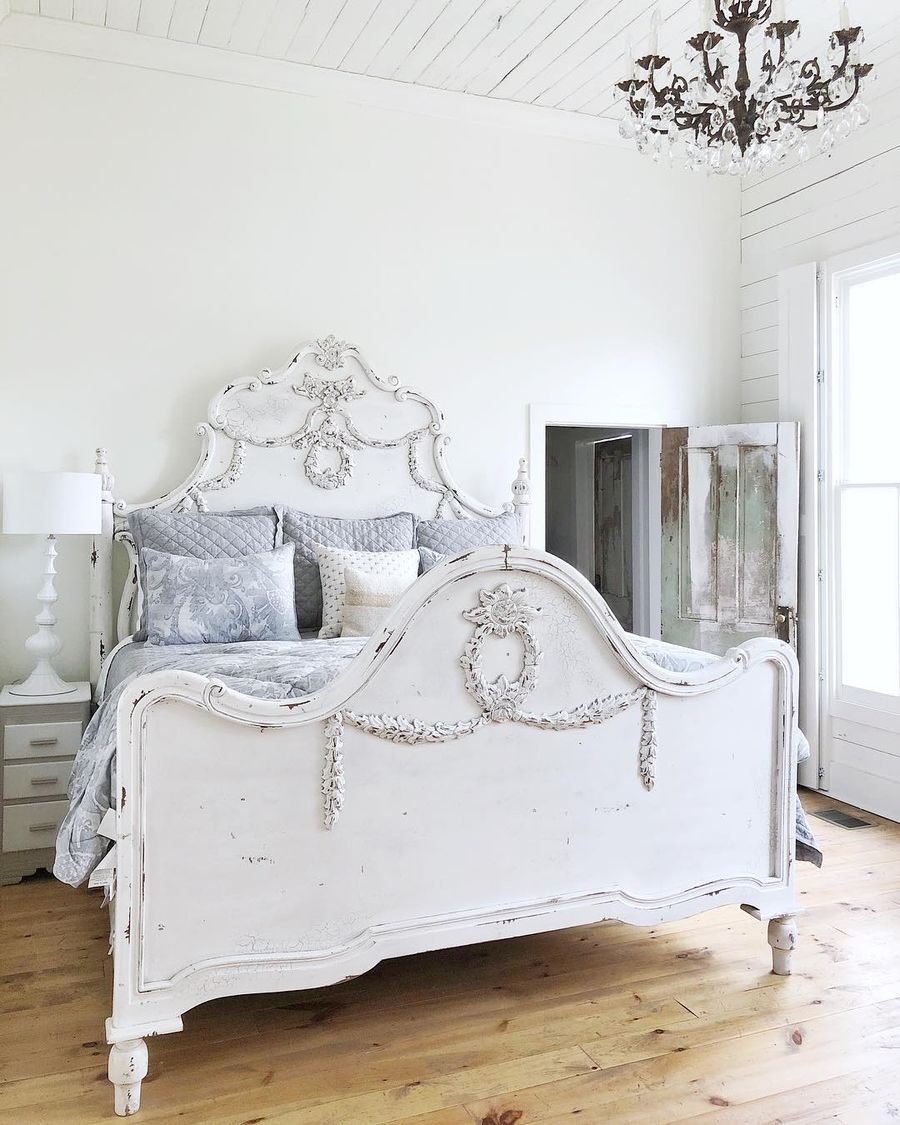 28. Red and Blue Striped Paint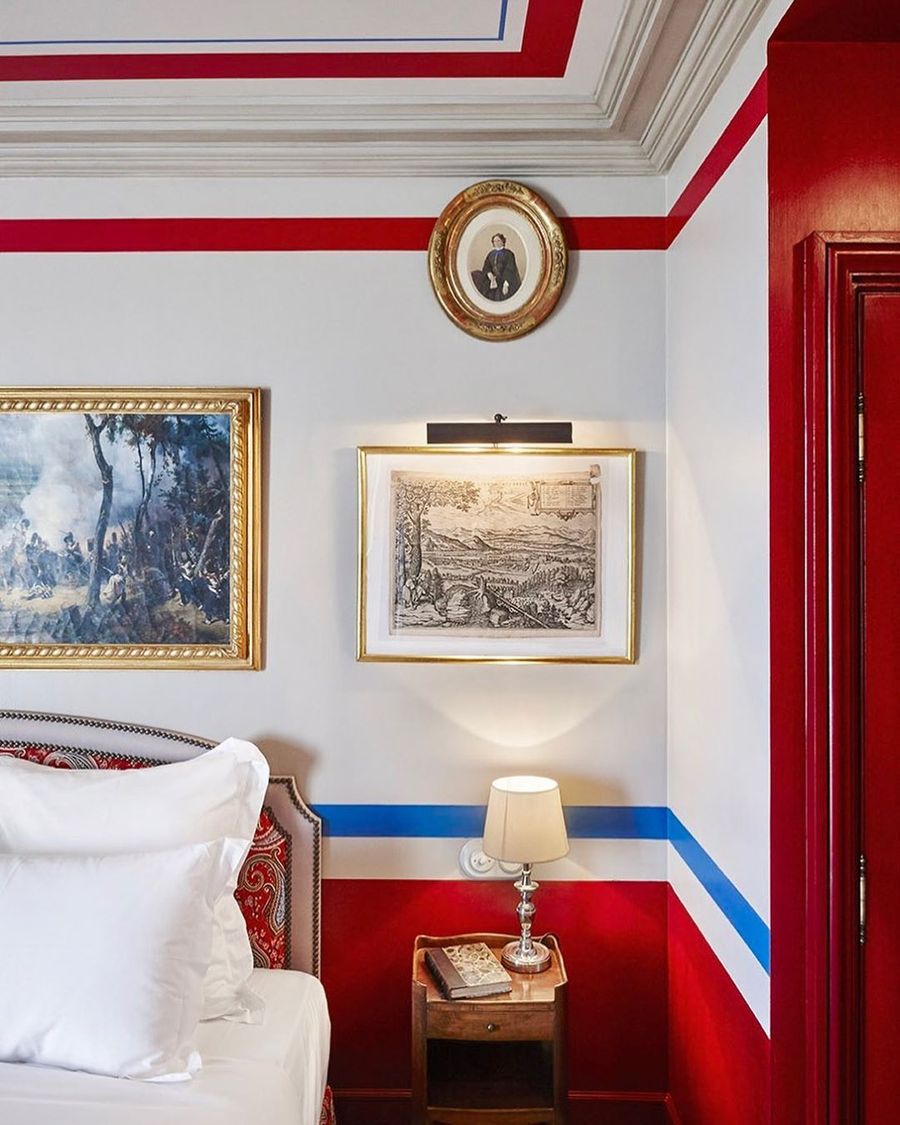 29. Gray linen bed sheets
Layer on the best linen bedding for the perfect French country farmhouse look.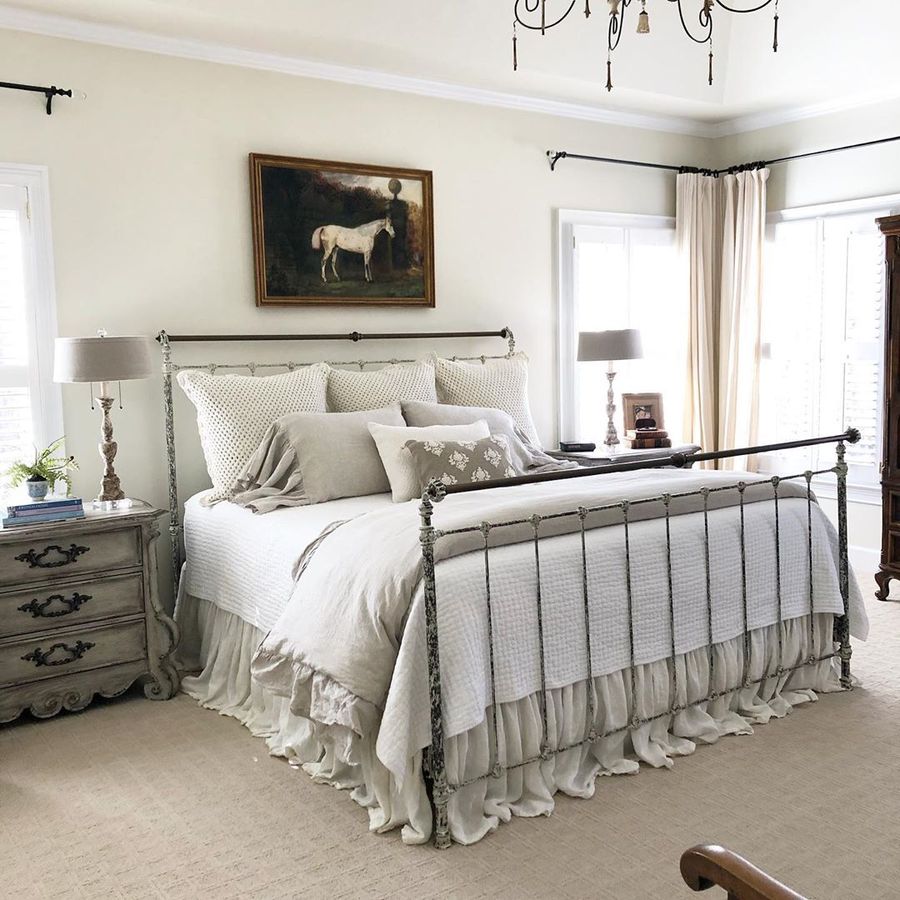 30. Crystal Ceiling Chandelier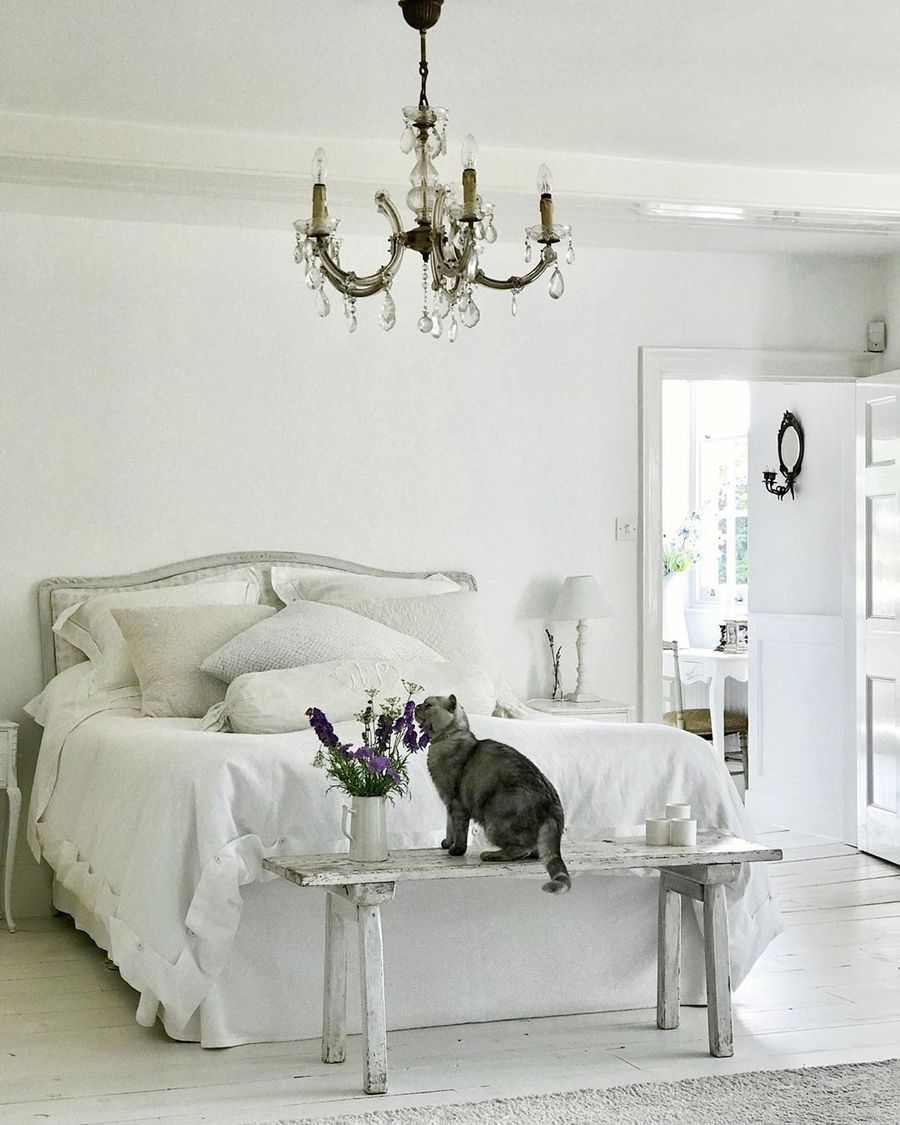 31. Gold Mirror above Beige Tufted Headboard and French bench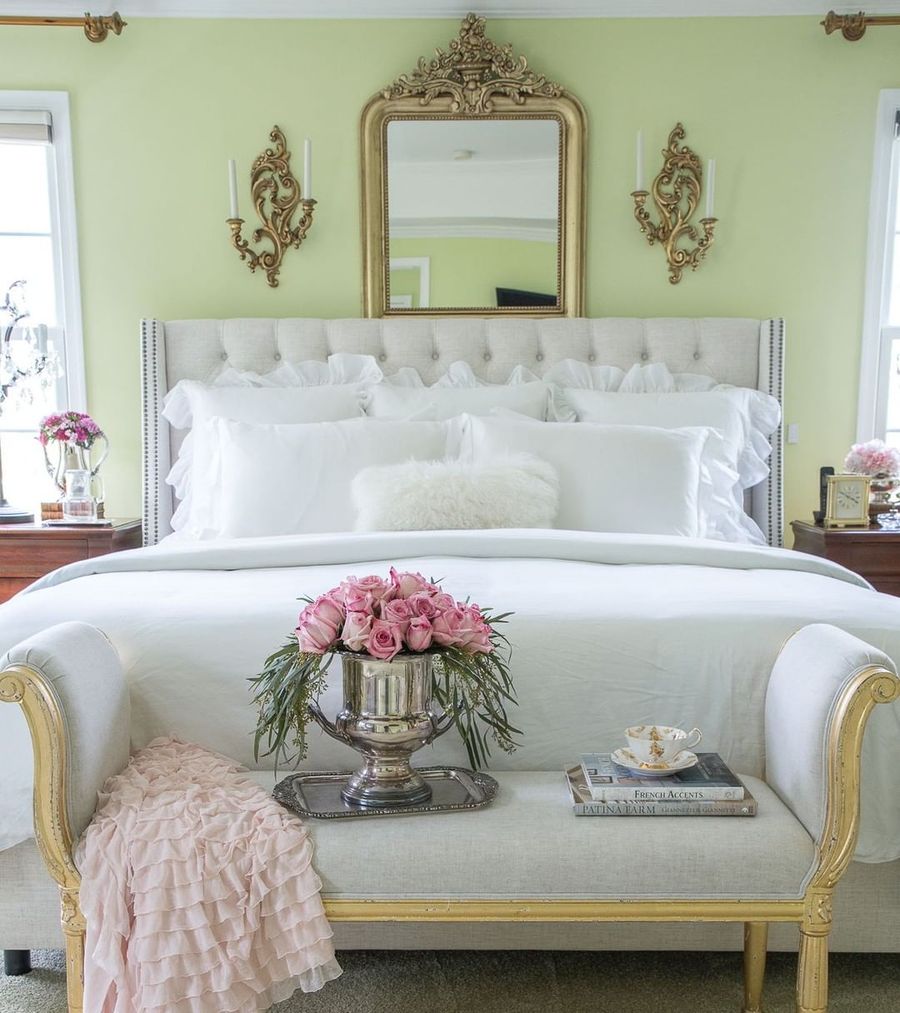 32. Floral Wallpaper
33. Red Paint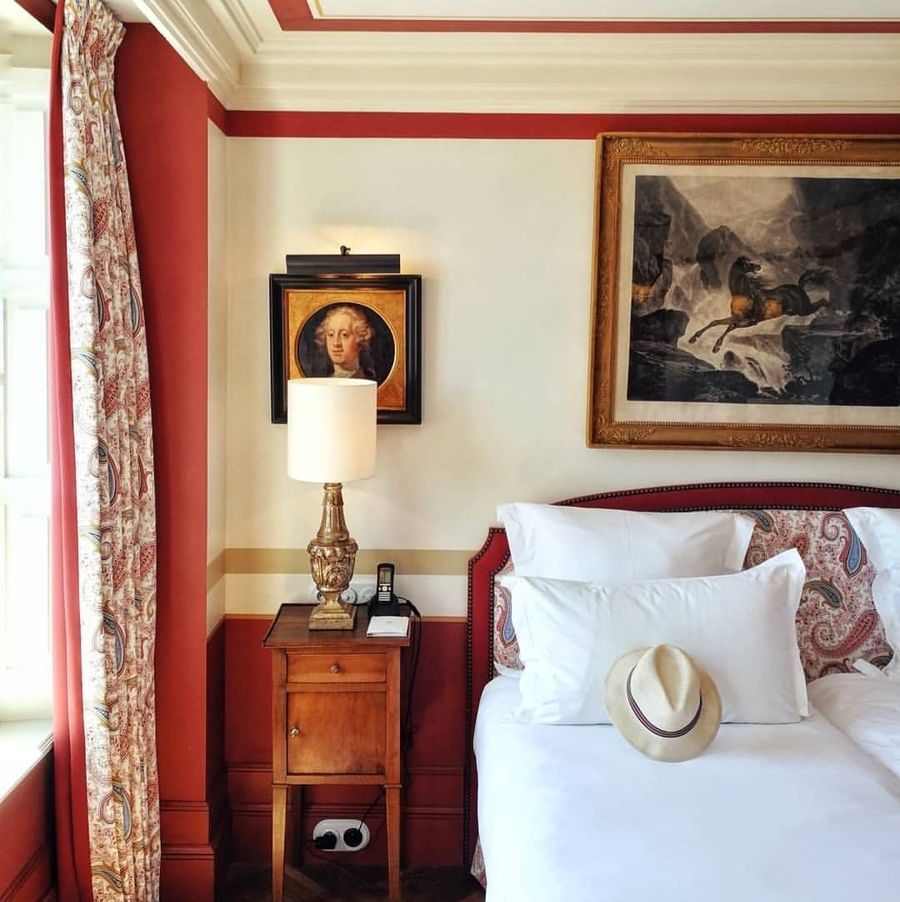 34. Canopy Bed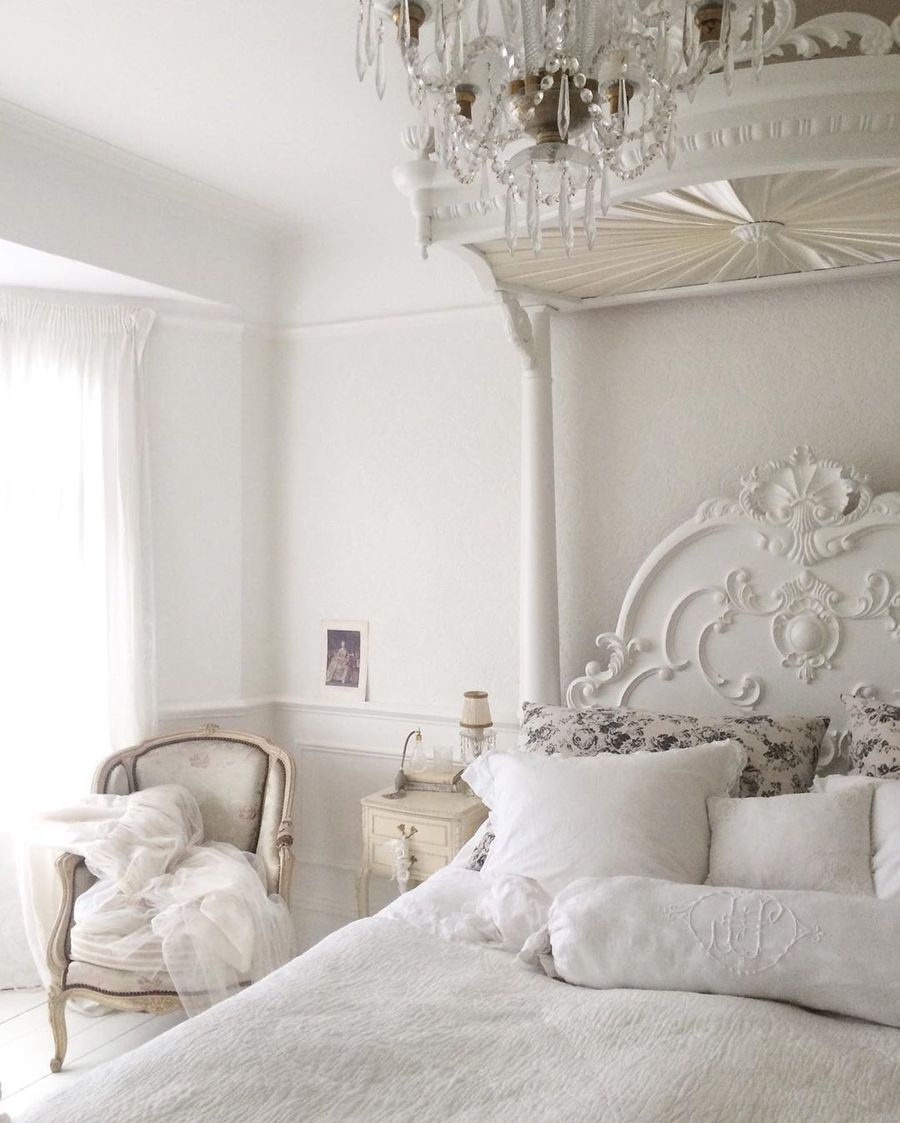 35. Cream tufted headboard and rustic pitcher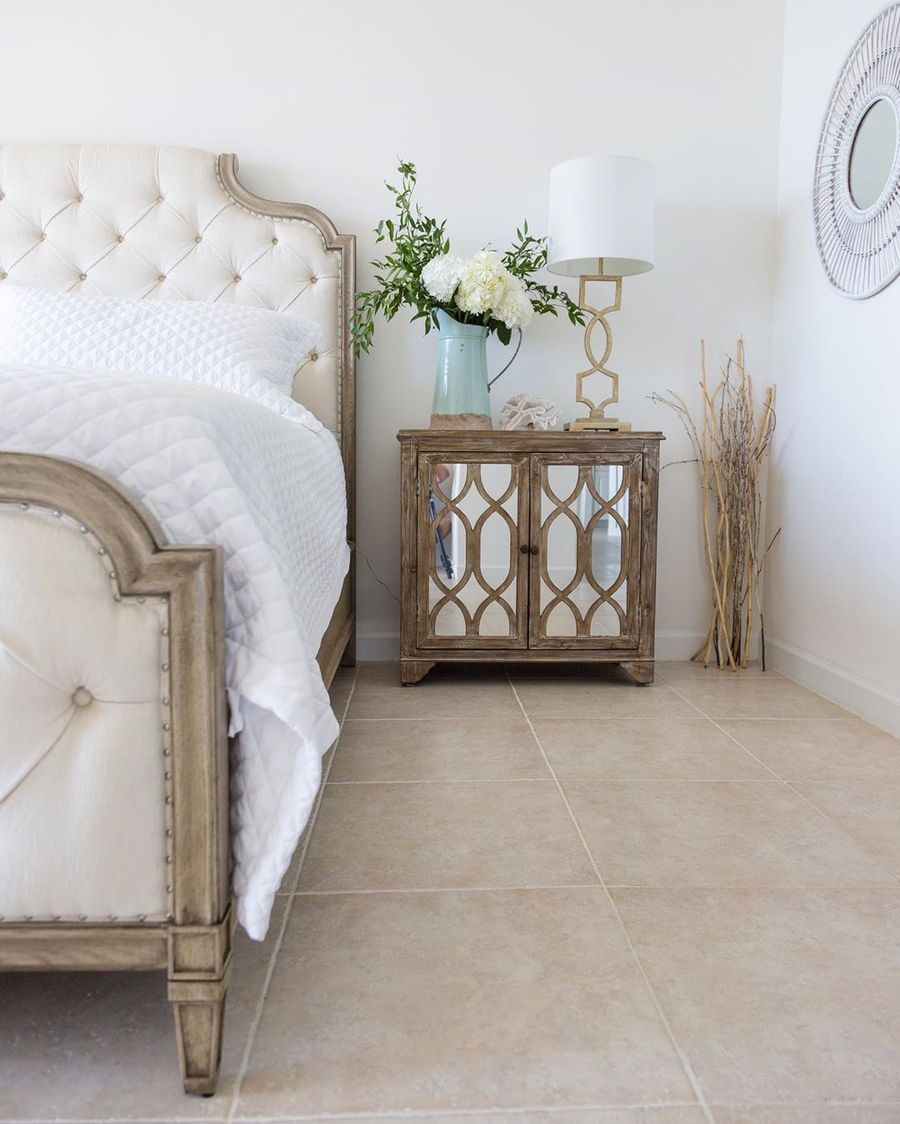 36. Faded Blue Nightstand with Drawers
Every practical French bedroom has at least one good French country table lamp, too!
37. Vintage Iron Bed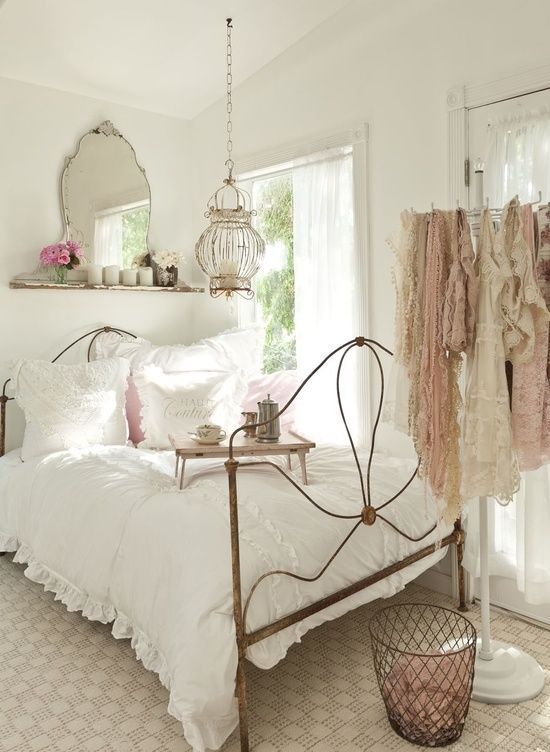 38. Vintage Paintings
39. Fireplace and Crystal Chandelier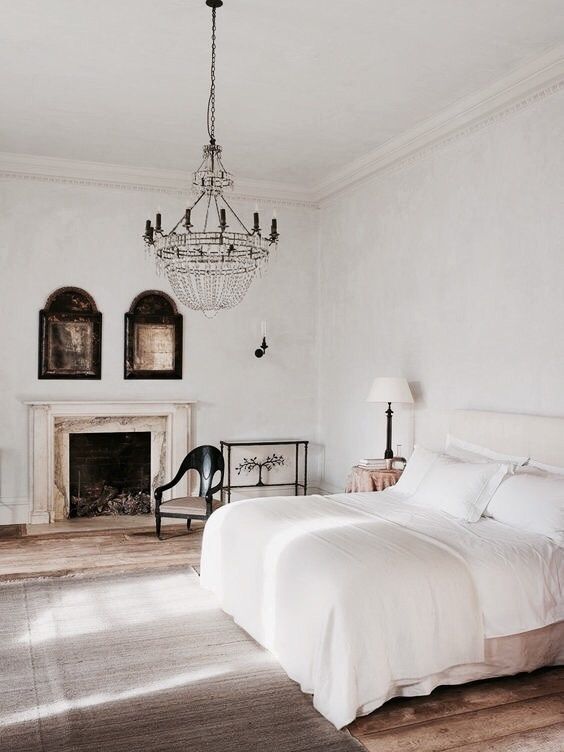 40. Rustic Wood Nightstand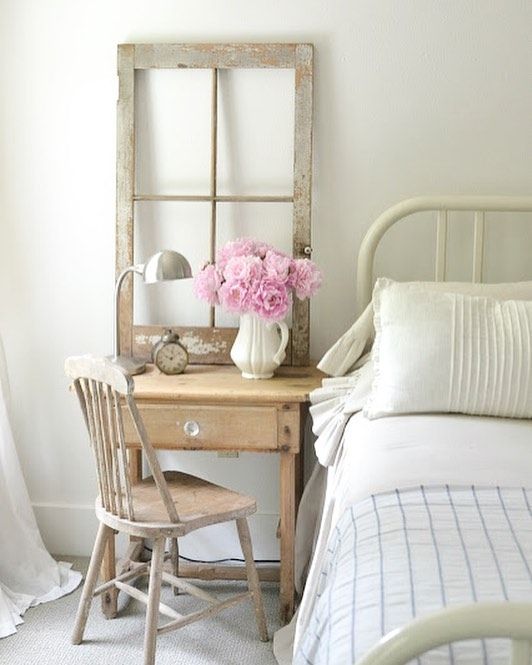 More French Country Home Decor Inspiration
We really love the European charm of French country decor and French farmhouse home style. Don't miss our other articles on French country decorating around the house! Here are some related guides that may interest you:
Room Guides
Furniture Ideas
I hope these French cottage bedroom ideas inspired you to decorate your own French country home! As you can see, it's not so difficult to create a beautiful French bedroom according to your tastes.