The dining room is one of the easier rooms in the house to decorate. It's generally a straightforward design process with fewer pieces of furniture needed. We all know the purpose of a dining room so as long as you have some chairs and a table, it's hard to screw up your dining room design!
In any case, if you want to make sure everyone is comfortable in your dining room space, then keep reading to learn about the essentials when it comes to dining room decorating, styling, and design.
Dining Room Furniture
Your first consideration will likely be the furniture. Here are the main pieces of furniture most often found in dining rooms:
Dining Table – Can't dine without the table, right?
Dining Chairs – Can be as simple or stylish as you want
Buffet – A low to the ground piece of furniture used for storage
Hutch – A large, tall piece of furniture with open shelves or cabinets for storing china
Not too much, right? At a minimum, the first two pieces of furniture are clearly necessary, but the last two are optional depending on the size of your space. Buffets and hutches are great for storing additional plates and cutlery. You can also keep extra food on top of a buffet if you're hosting a large dinner party. Never underestimate the benefits of having extra storage in any room of your house!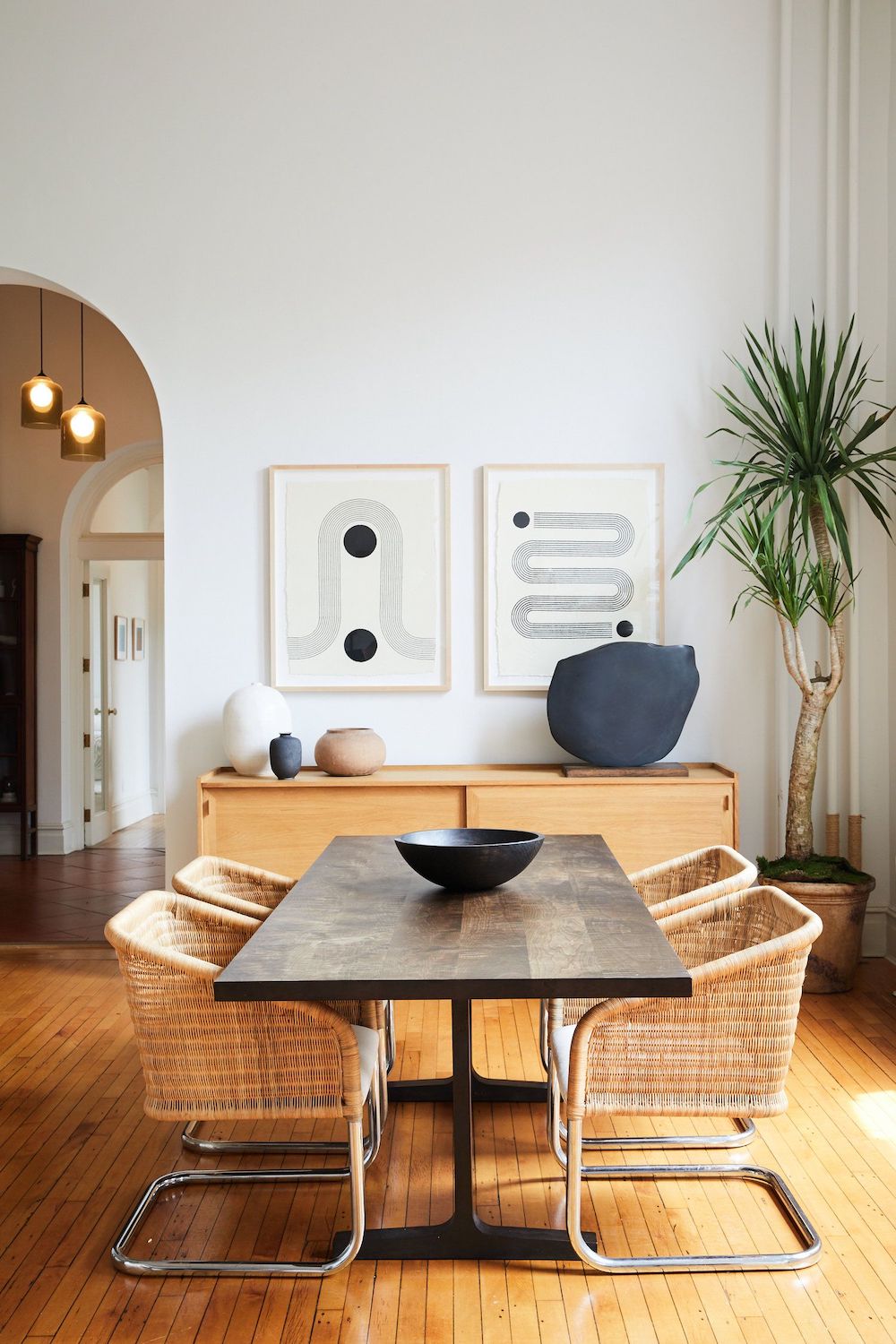 spaceexplorationdesign
Decor Tips
Decorating your dining room doesn't have to be complicated or stressful. With a few simple touches, you can quickly transform your dining room into a cozy place for dinner parties and delicious meals at home. Here are a few ideas to consider to give your dining room some personality:
Hang art on the wall
Display china in a hutch
Keep extra utensils in the buffet cabinets
Place a centerpiece or seasonal flowers on dining room table
Add a dining table runner or tablecloth
Put twin table lamps on the buffet
The decorations you choose should express your personality, and the theme you choose should be consistent throughout your home. That being said, don't be afraid to play around and give the room a unique twist.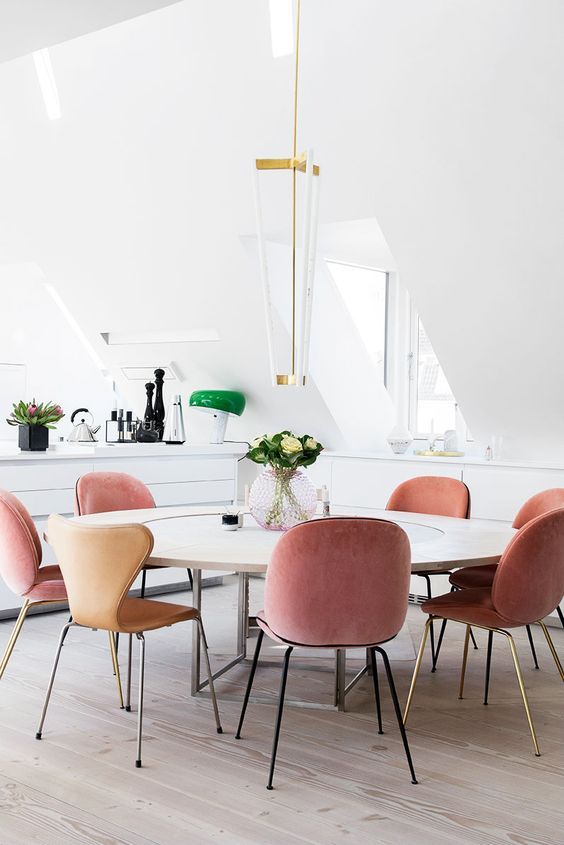 Unknown
Design Tips
Try to leave at least 2 feet of space between your dining chairs (pushed out of course) and the walls of your dining room.
2 feet is also the amount of table space needed (lengthwise) per guest to ensure everyone will have enough room to eat at the table comfortably!
If you have dining chairs with arms, the arms should fit easily under the dining table itself when the chairs are pushed in. This will ensure your guests can rest their arms comfortably and ensure that your dining chairs can be properly stored under the table when not in use.
Dining room rugs should be large enough to rest under all the chairs' feet when the chairs are occupied or pulled out. You don't want guests to be partially on the rug while sitting in their chairs. A good rule of thumb is to allow at least 3 feet between the edge of your dining table and the edge of your rug.
Go for a thin, easy to clean rug in the dining room. Stay away from thick or shag rugs which may hide anything that falls from the table.
Pay attention to proportions. Your dining chairs should be proportional to your dining table. Nothing too large or too small. Your dining room chandelier should not be more than half the width of your dining table. The larger the table, the larger the light fixture!
Art in the dining room should never be larger than the dining room table. We all know why we're in this room to begin with, so don't distract from the main attraction with a too-large piece of art on the wall!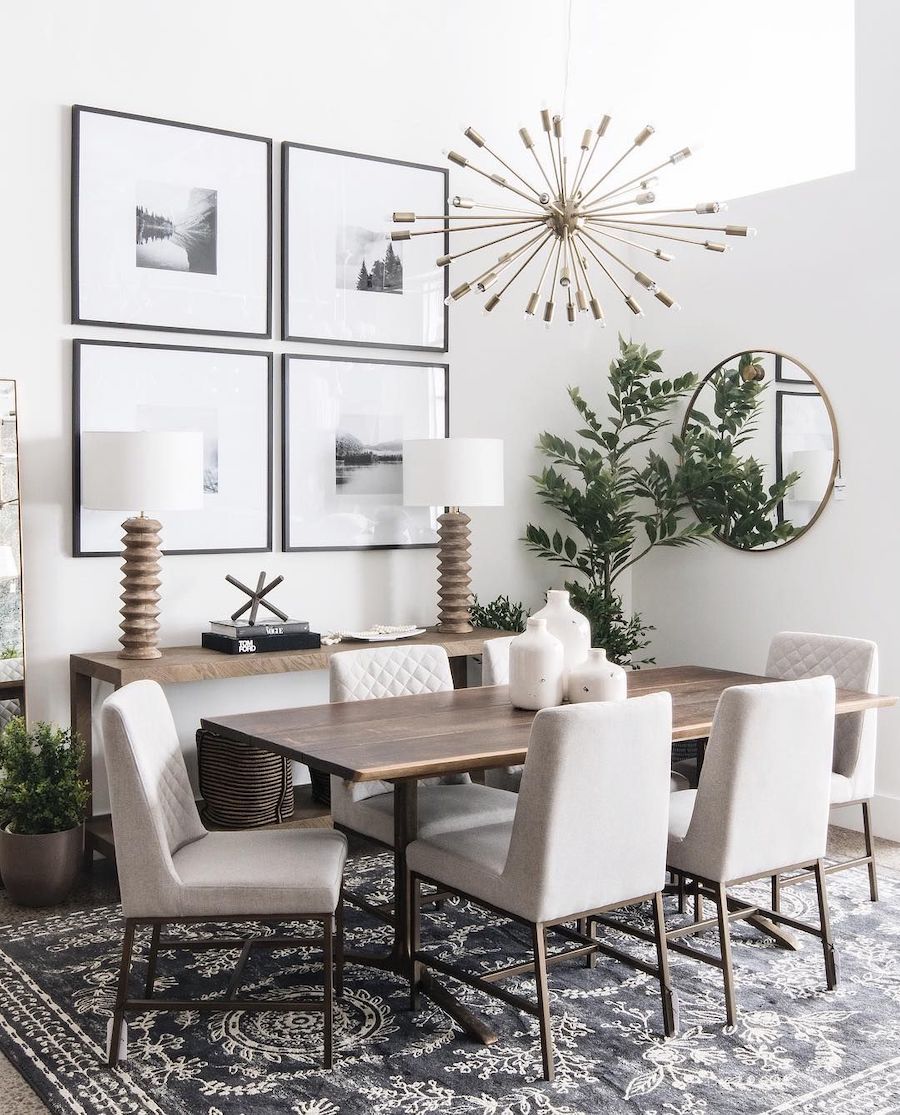 @leclairdecor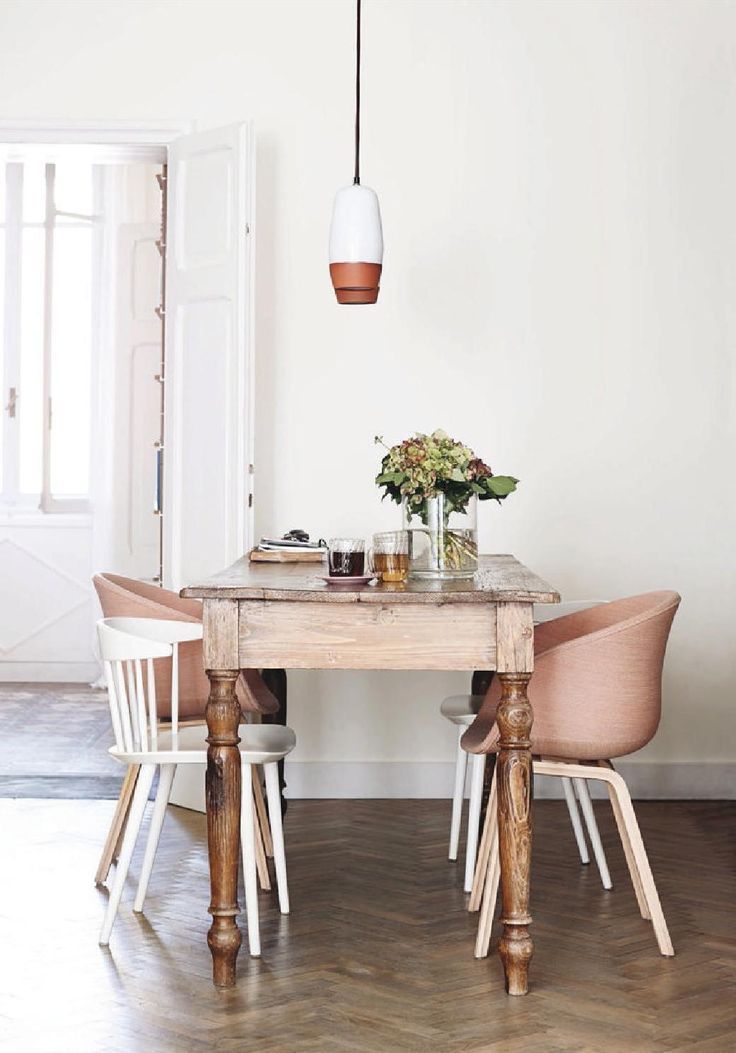 Unknown