If you are looking for the best mid-century modern dining room decor ideas, you don't need a time machine. We've scoured the internet for the most inspiring retro dining rooms with mid-century modern furniture and decorations.
Decorating your dining room doesn't have to be complicated. A sturdy dining table, a set of dining chairs and a good lighting source are all you really need. Of course, giving the room some personality is ideal. You can choose retro rugs, wall decorations and centerpieces to decorate the space according to your taste.
Mid-Century Dining Rooms
So what are some of the most inspiring mid-century modern dining room decor ideas? Well, many mid-century dining rooms have a chestnut wood table for starters. They often have simple side chairs that are designed according to the minimalist style of the 1950s and 60s. Beyond that, you can play with colors associated with mid-century modern decor like teal, mustard yellow, and deep orange or red.
Let's take a peek at some of the best examples of mid-century modern dining rooms with style.
Black Serge Mouille 6 Arm Ceiling Light
From his iconic 1958 collection, this black rod MCL-R6 6-arm ceiling light by Serge Mouille is one of the most practical mid-century modern lighting fixtures you can buy. Spreading light across the room it's the perfect choice for a dining room with multiple seats. A thick wood dining table and bordeaux velvet side chairs complete this dining room. Buy this ceiling light here.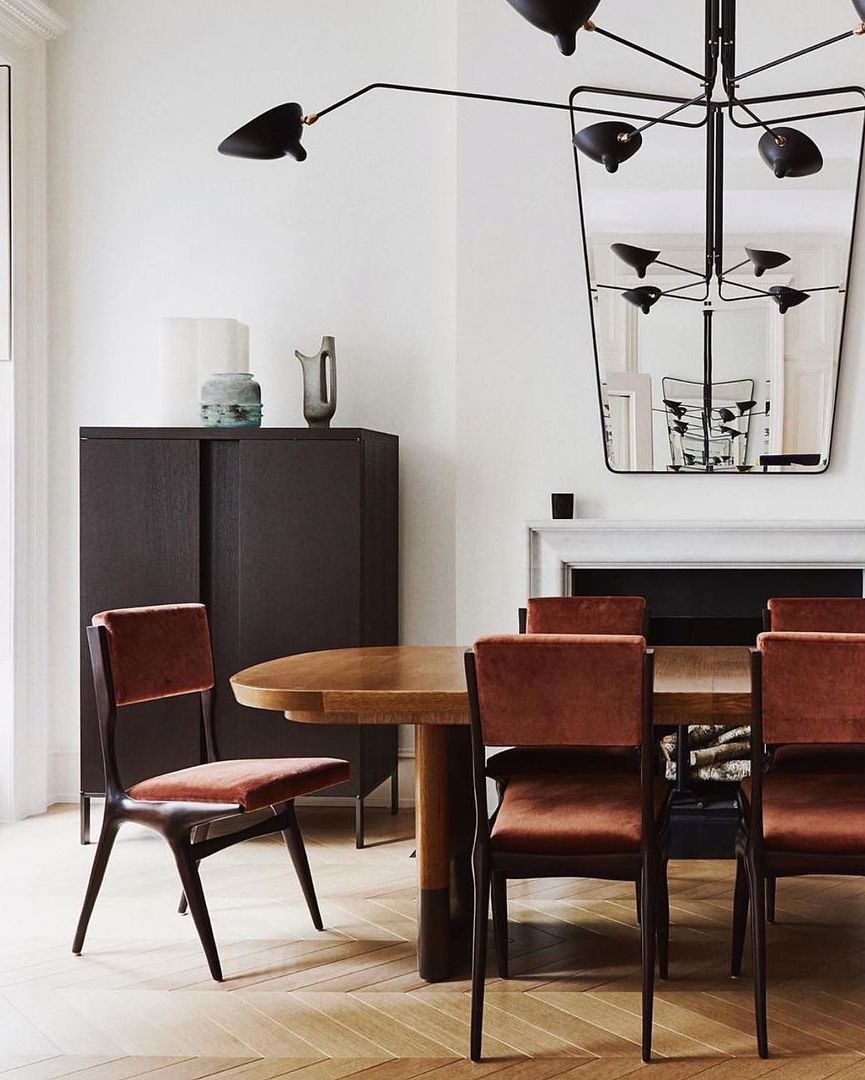 Cesca Chairs
The Marcel Breuer Cesca Chair is a common mid century chair found in many homes and apartments. It's an S-shaped chair formed from a silver metal frame and a cane seat and back. The original will set you back nearly a thousand dollars, but you can get a great dupe here for a fraction of that price.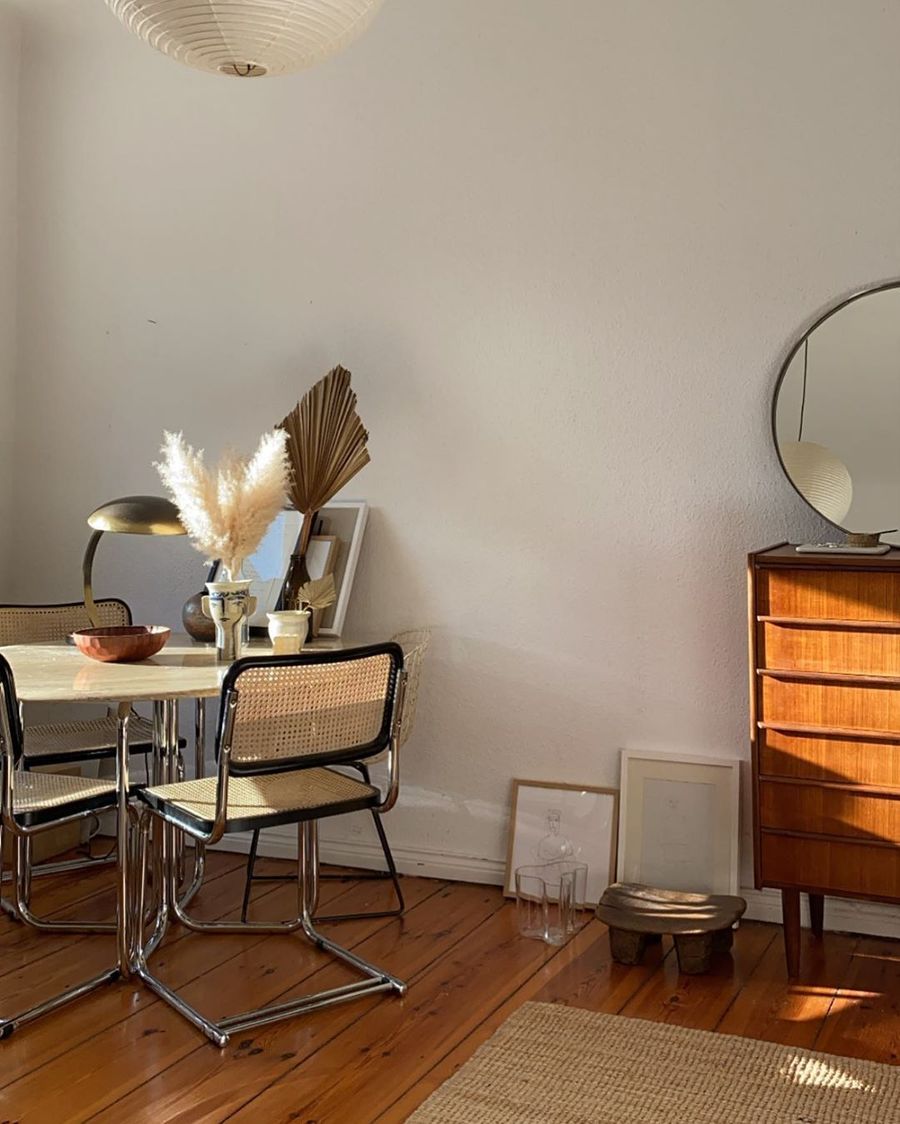 Sputnik Chandelier
A popular lighting fixture in mid-century homes is the sputnik chandelier which looks like an exploding atom. The starburst chandelier is often made of a brass sphere which has many different rods jetting out in all different directions. A bulb rests at the end of each rod. This mid-century dining nook has a white tulip table and four tulip chairs with orange seat cushions. A white and orange geometric rug sits below.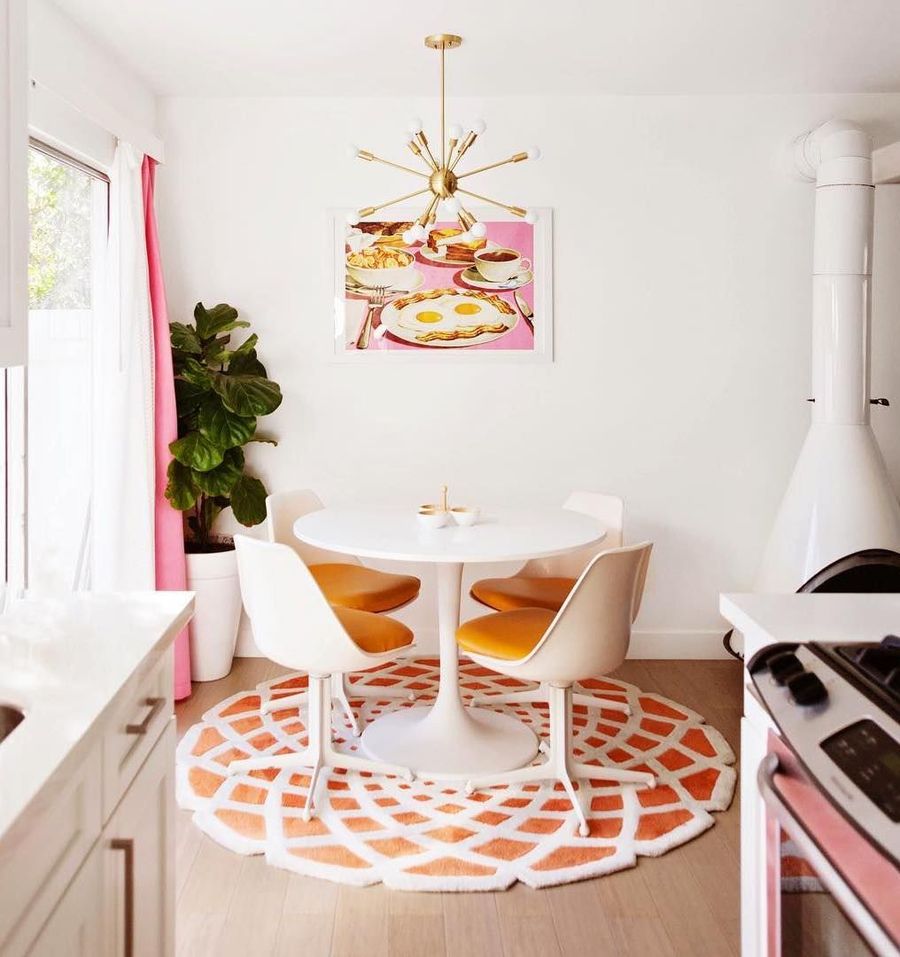 Buffet
This mid-century modern buffet looks great against the wall of the mid-century modern dining room design. Buffets and credenzas are heavily associated with mid-century decorating so it's no surprise that this piece was included in the room. It even has a glass hutch above it for showing off jars and ceramics. You can store serving platters and more inside a buffet like this!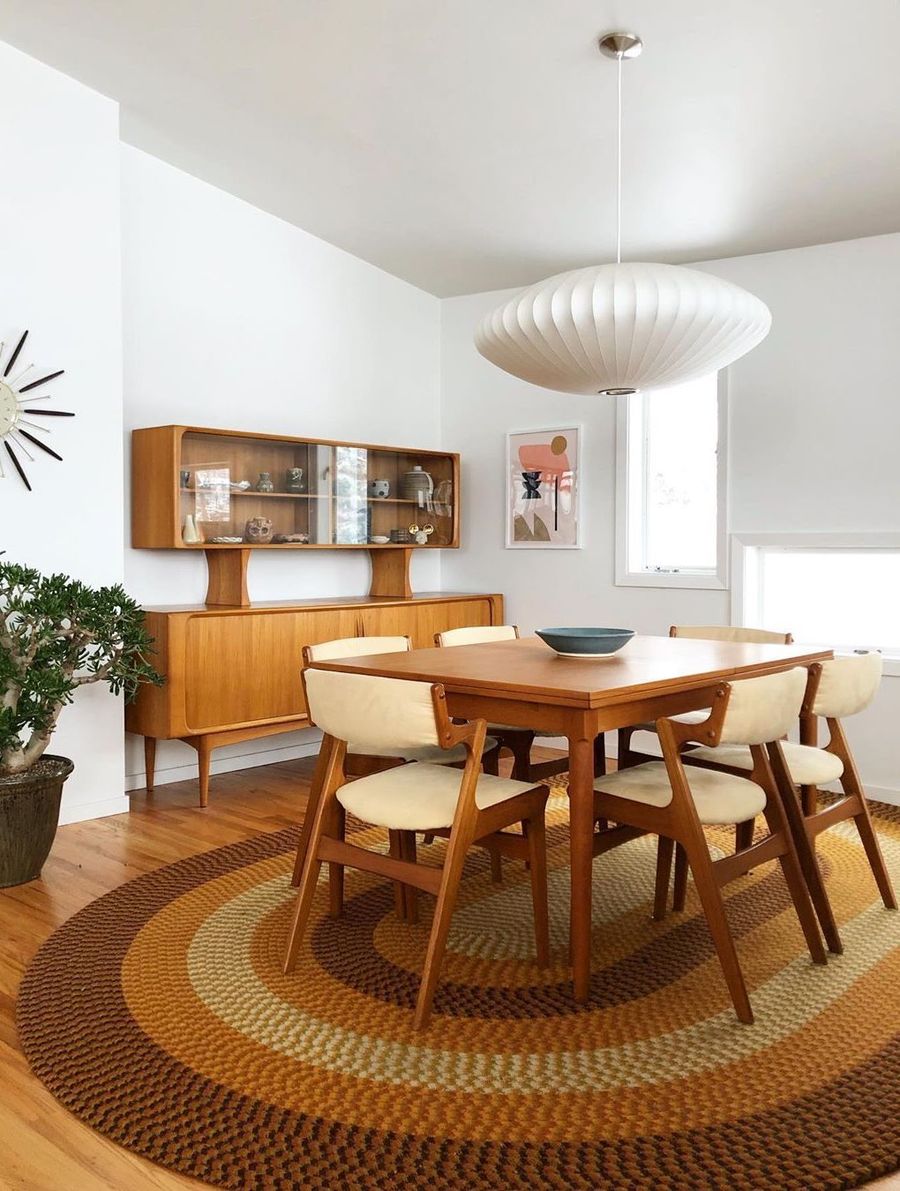 Eero Saarinen Tulip Dining Table
The white marble tulip table designed by Eero Saarinen is a fabulous choice for your mid-century modern dining room decor. This is a classic retro table that has successfully integrated into contemporary interior design. The tulip table design is attractive because it is held up by a single central pedestal base. This means that you can have several people around the table who can fit their legs underneath without bumping into the table legs. Here is a great affordable dupe of this classic dining table.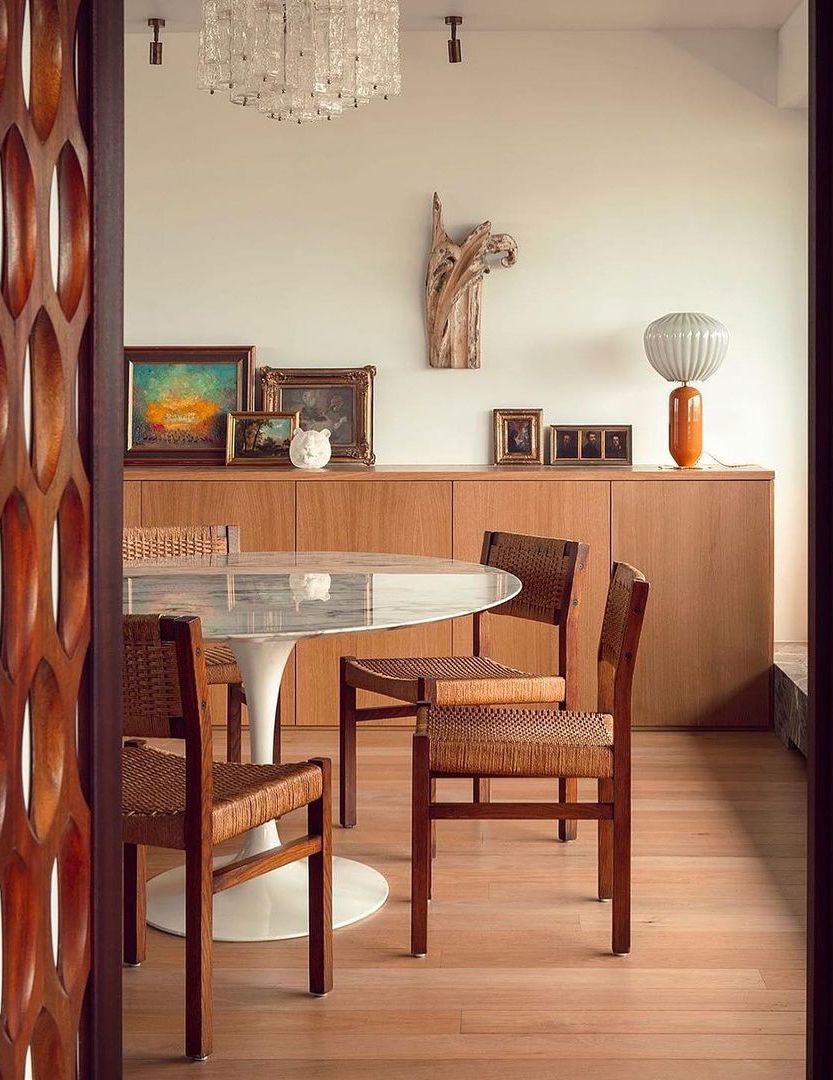 Room Dividers
Open air room dividers were a popular architectural element of mid-century interior design. Here, you can see a wood room divider with geometrical cut-out wood planks which help separate two rooms of the home.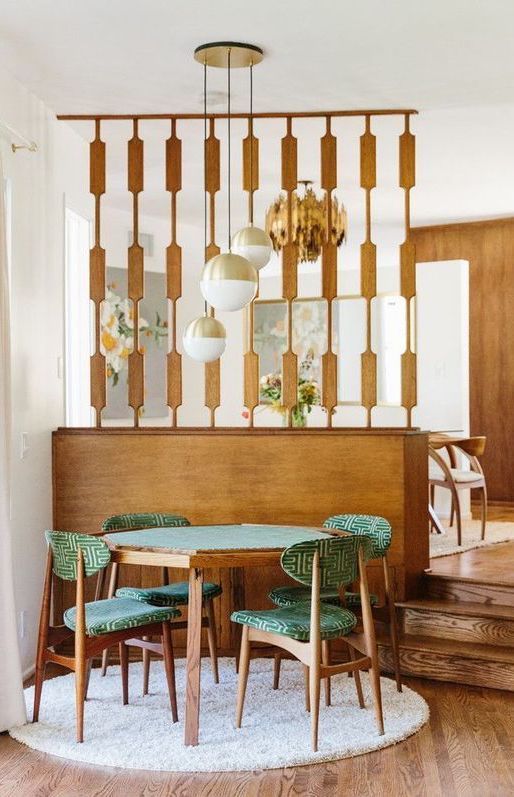 Retro Wall Art
This dining room shows you the style of wall art that came to define the mid-century time period. Graphic elements and flat depictions of objects were in style. Geometrical patterns and dark colors help form this artwork that shows forks, wine, spoons, and more dining motifs.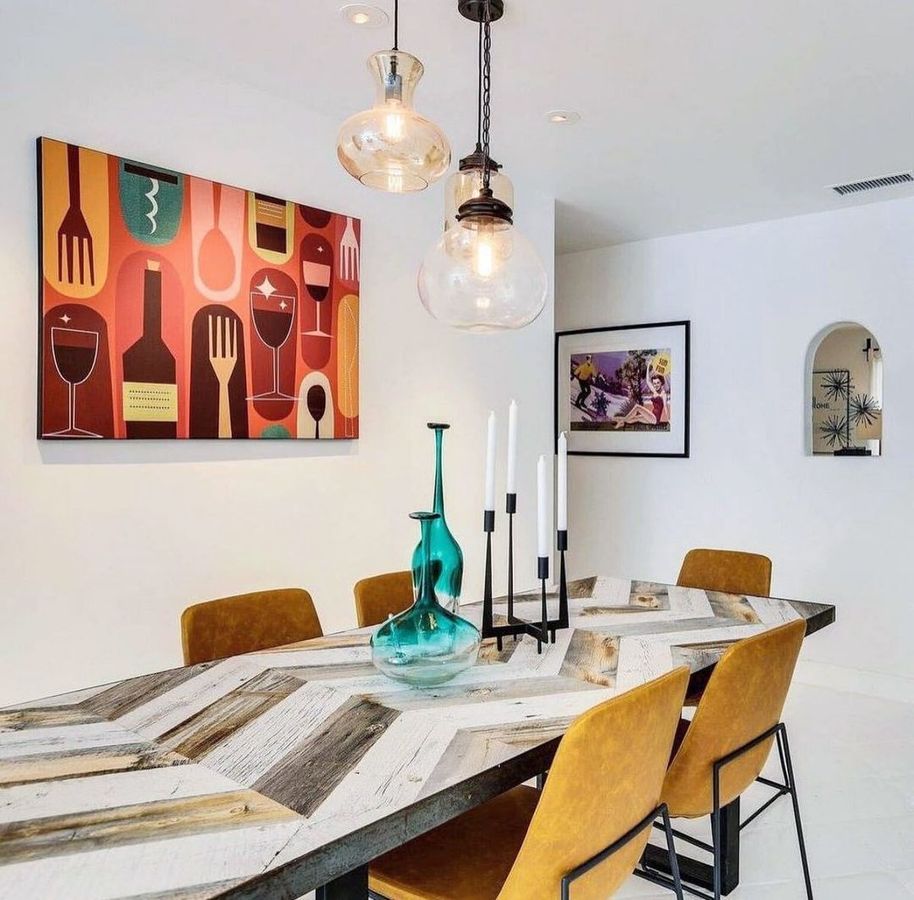 White Wool Dining Chairs
Surprisingly, white wool was a common material for upholstering mid-mod chairs.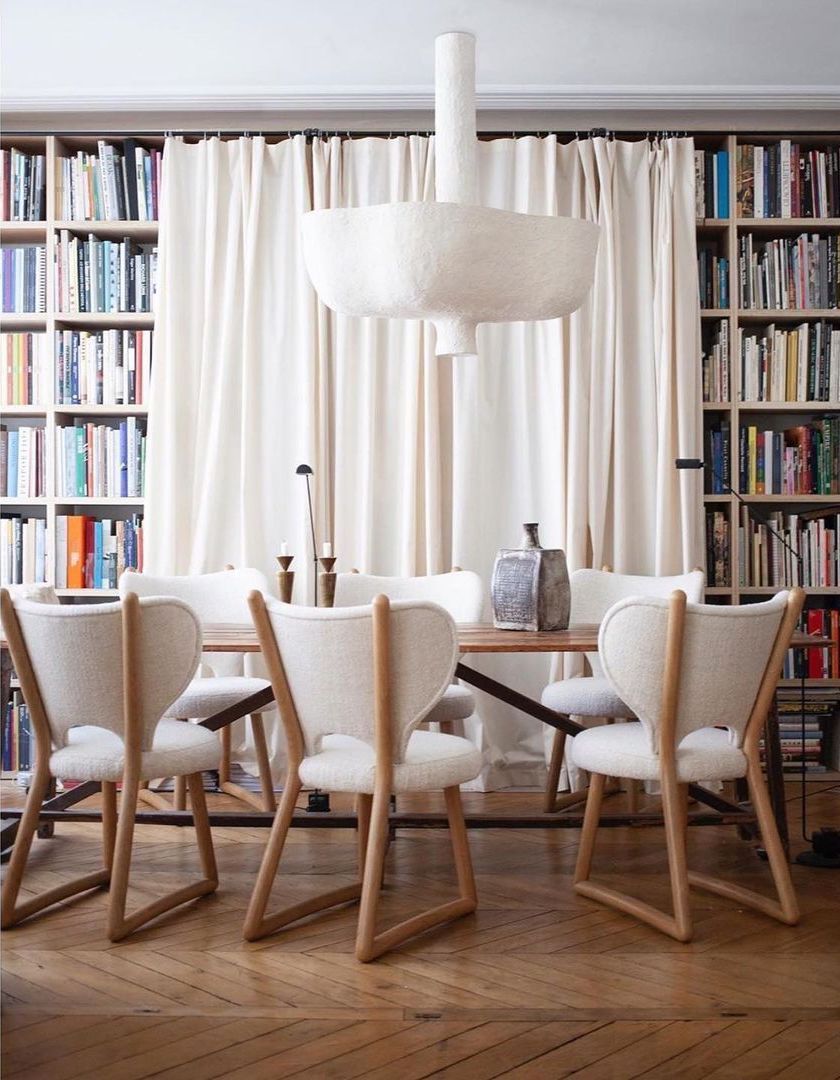 Ceramic Vases
Ceramic vases in geometrical shapes are great decorations for your mid-century dining room.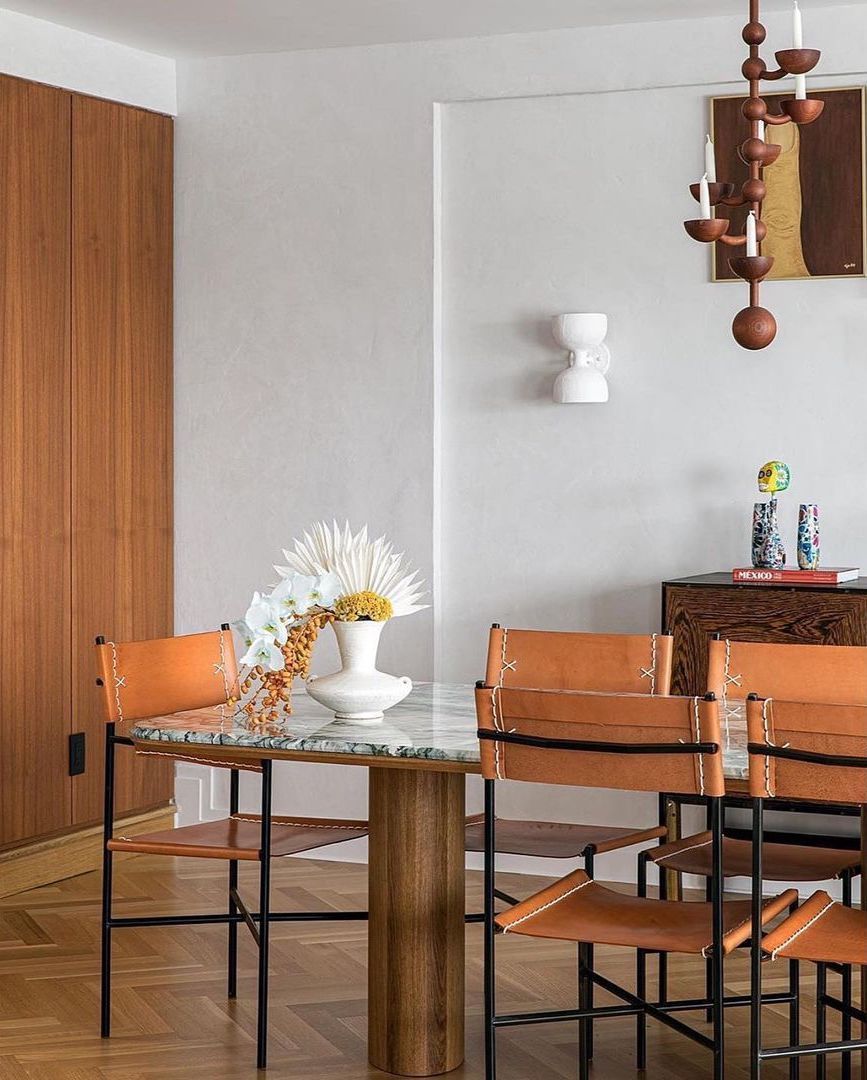 Cane Chairs
Chairs with cane backs and seats are great for getting a mid-mod look. Here are several beautiful cane dining chairs to buy online.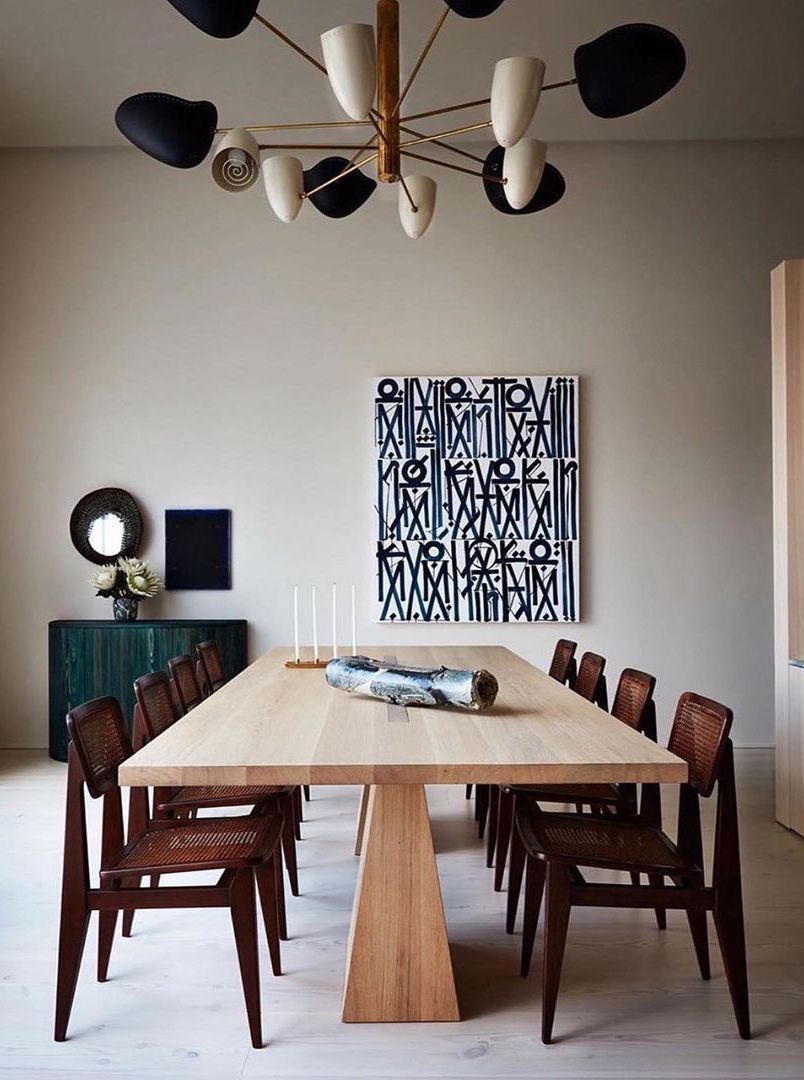 Wood Wall Paneling
Wood wall panels were often used to cover the walls of mid-century homes. While today this might create too dark of a space for contemporary tastes, I think you can brighten this look up with white furniture as seen here. The white marble tulip table and tulip chairs help keep this room light and airy.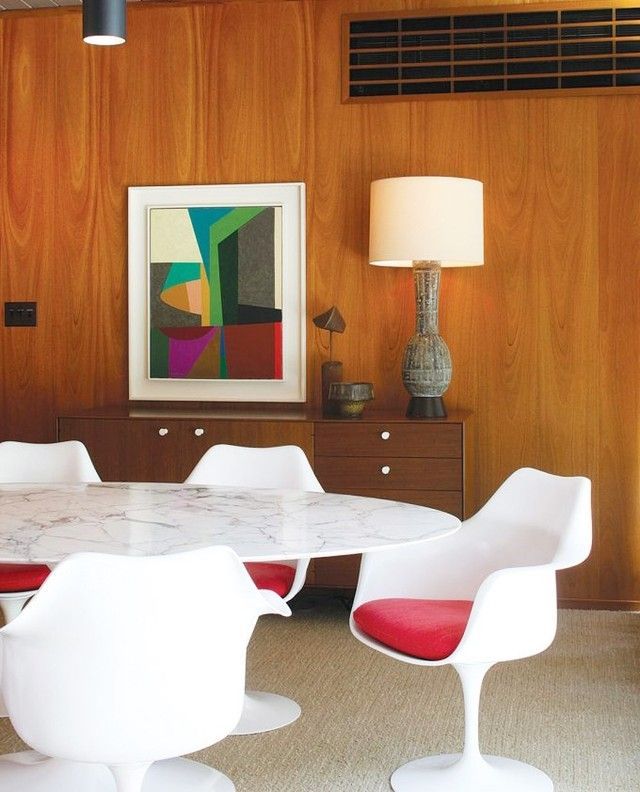 Teal Geometric Accent Wall
This space has a lot of great mid-century modern dining room decor ideas. The key feature is that beautiful teal geometric pattern accent wall in the back. A round circular mirror is hung on the wall which makes it feel bigger. A rod chandelier is hung from the ceiling. Two molded plastic chairs sit at a chestnut wood dining table with a dining bench. This is a great retro space!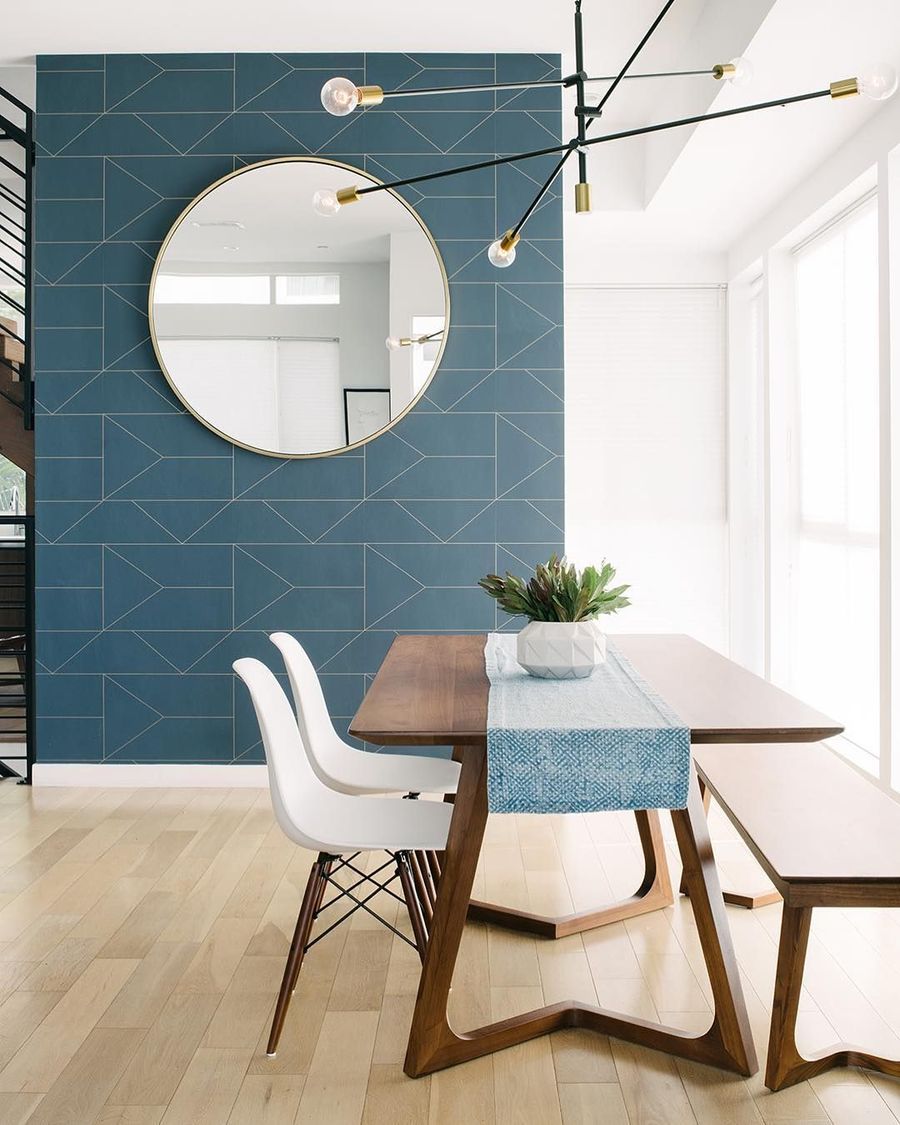 Eero Saarinen Tulip Chairs
The Eero Saarinen Tulip Chairs are timeless dining chairs. These swivel base chairs were designed in 1956 for Knoll by Eero Saarinen, who was inspired by a drop of high-viscosity liquid when he created them! Since then, they've graced the homes of countless individuals. Here is an affordable version of this gorgeous chair.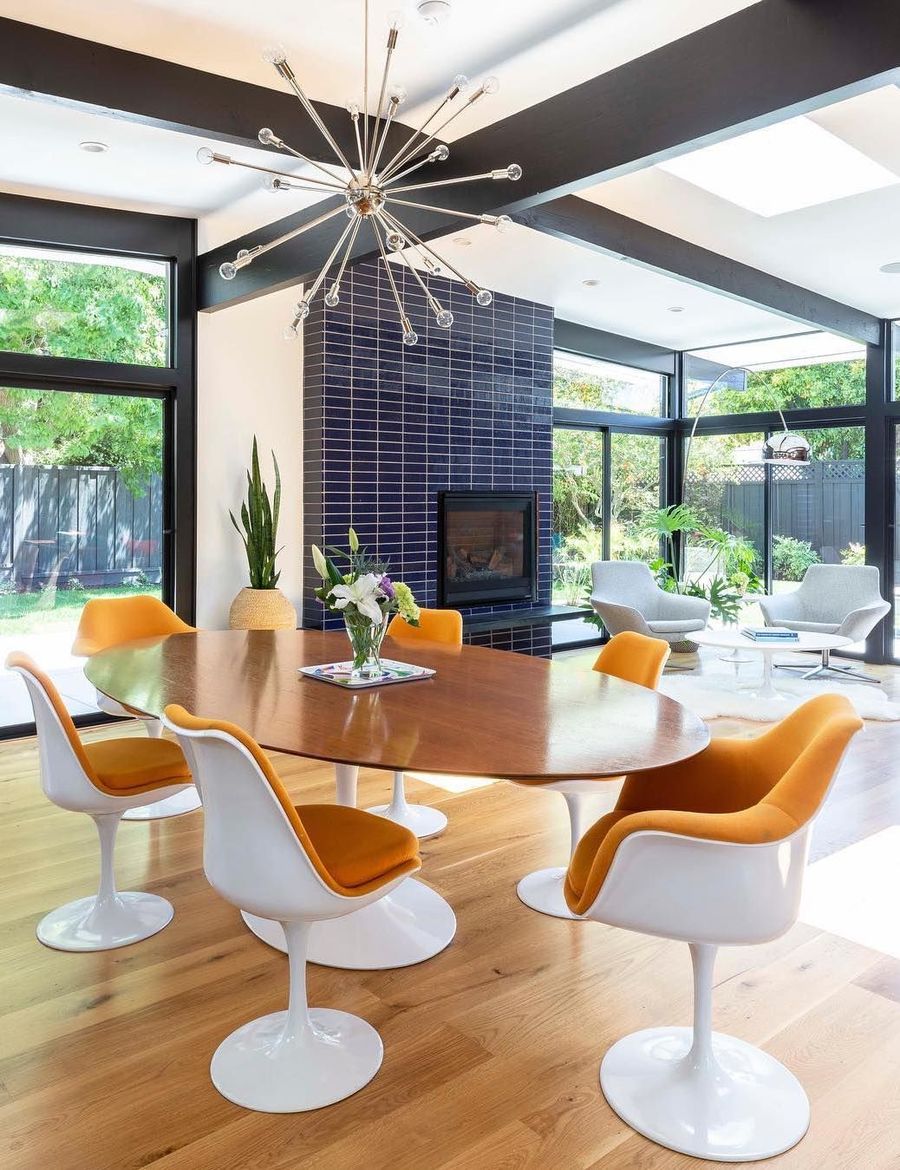 Minimalist Line Artwork
Another trend that emerged during the mid-century period was modernist artwork. Here is an example of minimalist line artwork, similar to the ultra simple creations of artists such as Ellsworth Kelly.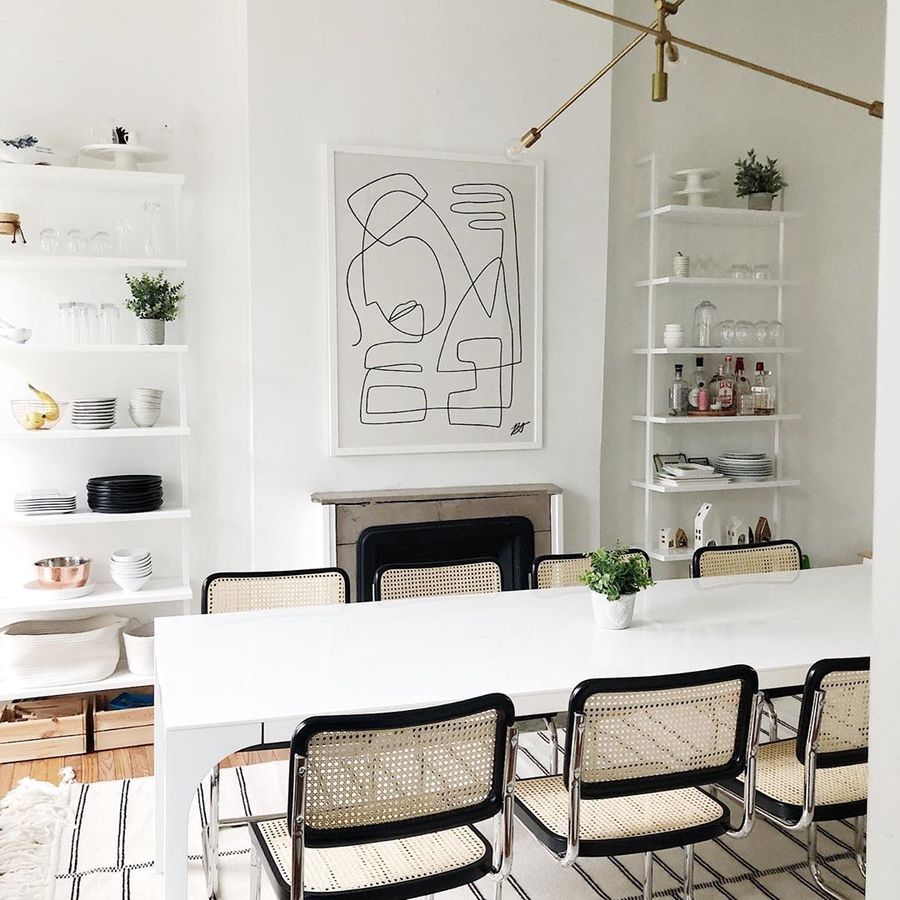 Mixed Dining Chairs
Why not mix up your dining room chairs? You can use mismatched dining chairs to create an interesting interior. Here, upholstered fabric chairs are paired with wood dining chairs to create a gorgeous mid-mod vibe.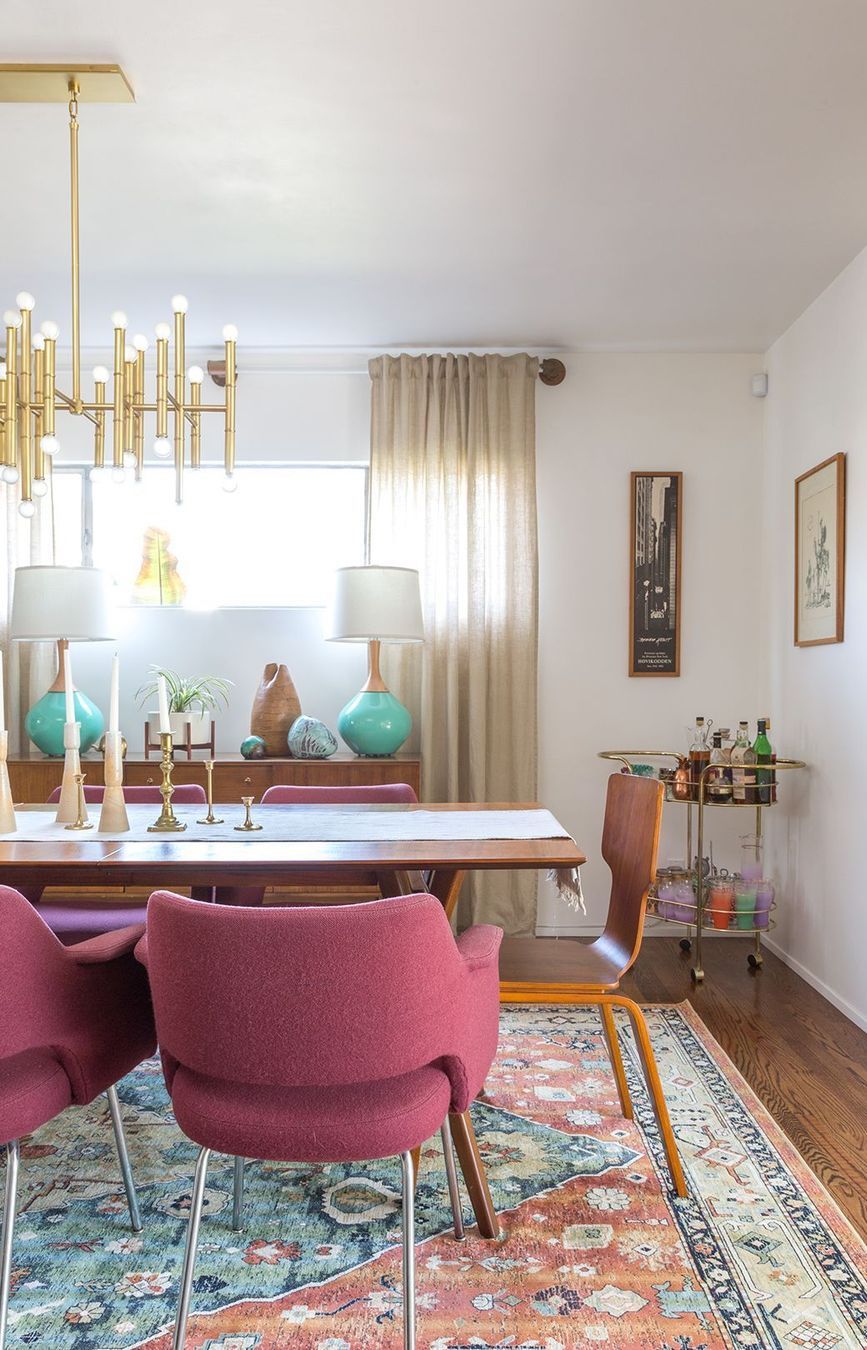 Warm Palette
If there's one palette you can't go wrong with, it's those warm browns which have come to define mid-century modern style. Warm chestnut browns in different shades are always on trend.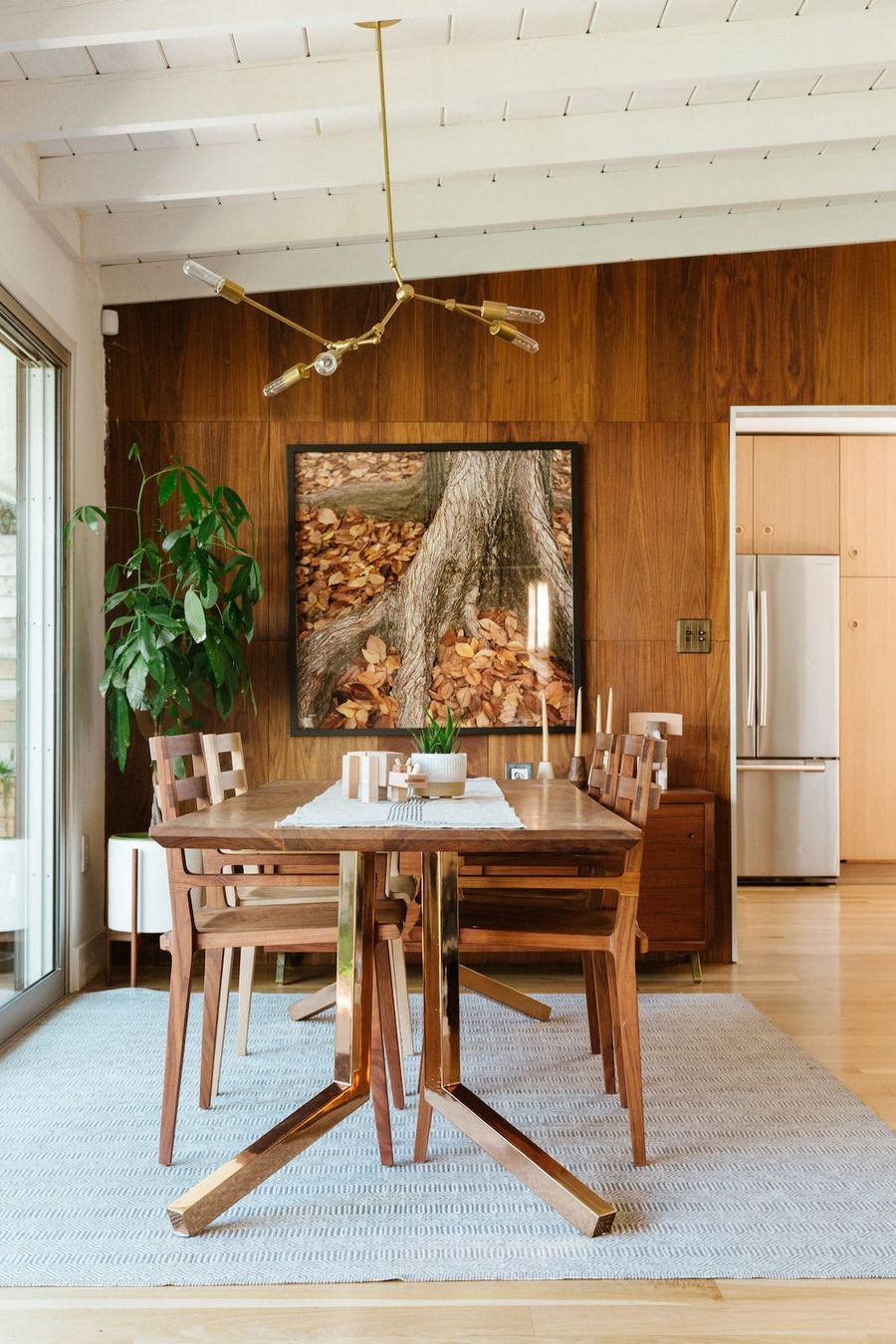 Geometric Wallpaper
Play with geometric patterns on the wallpaper. This dining room has a pretty blue diamond pattern wallpaper which creates a retro vibe in the space.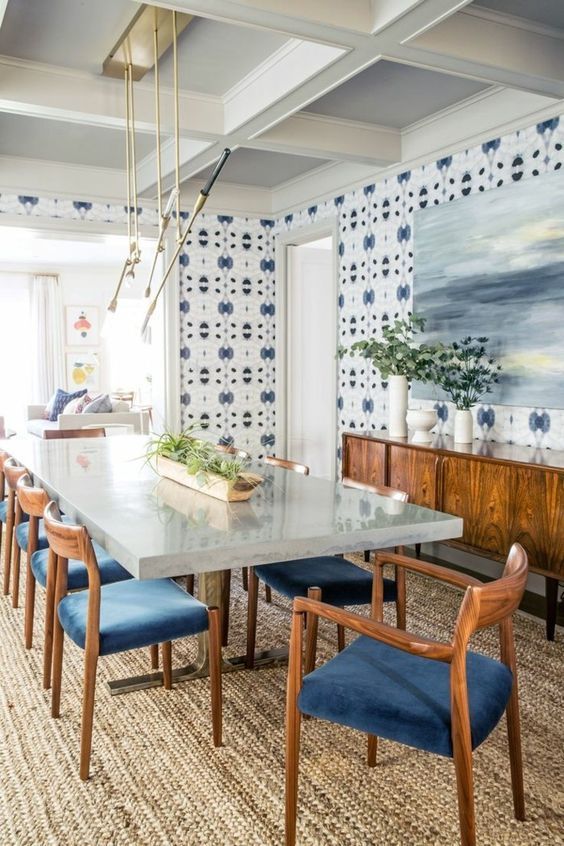 Glass Dining Table
A rectangular glass dining table with wood legs is always a great mid-century furniture piece.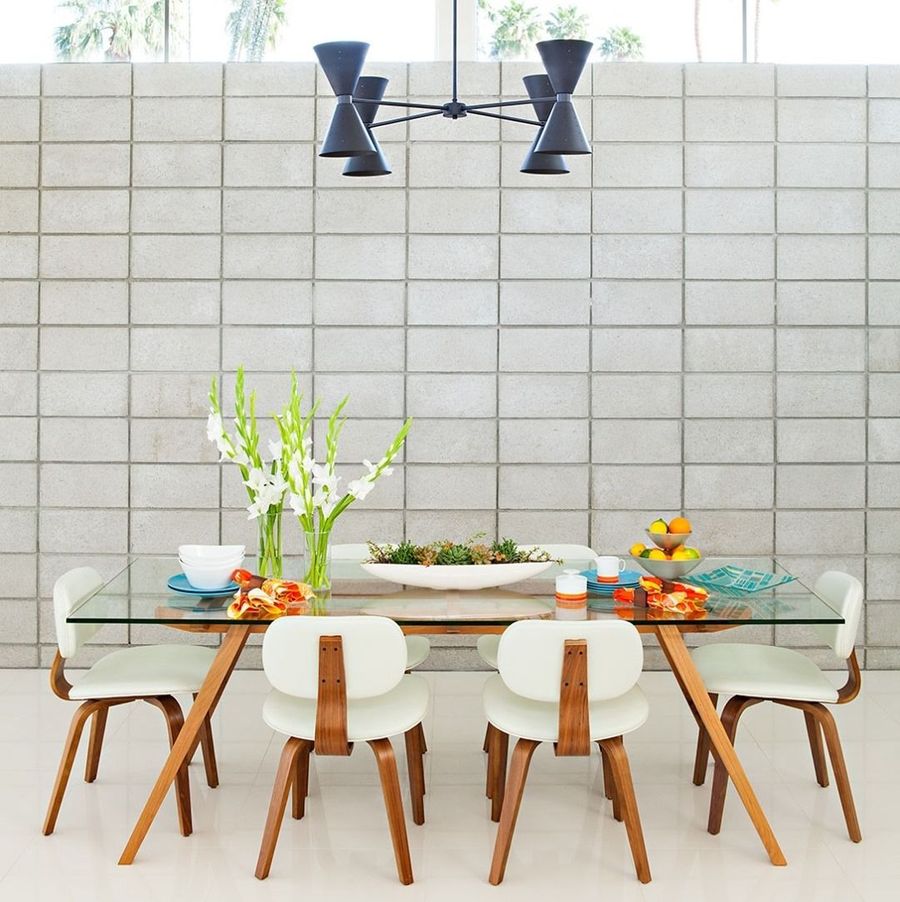 Color Block Chairs
Color blocking was a popular trend in the mid-century period. Do you remember YSL's famous Mondrian-inspired color block dress? You can take this same trend and apply it to your dining room chairs. Picking a few different colors and placing the chairs around a wood table can give you that retro color block effect.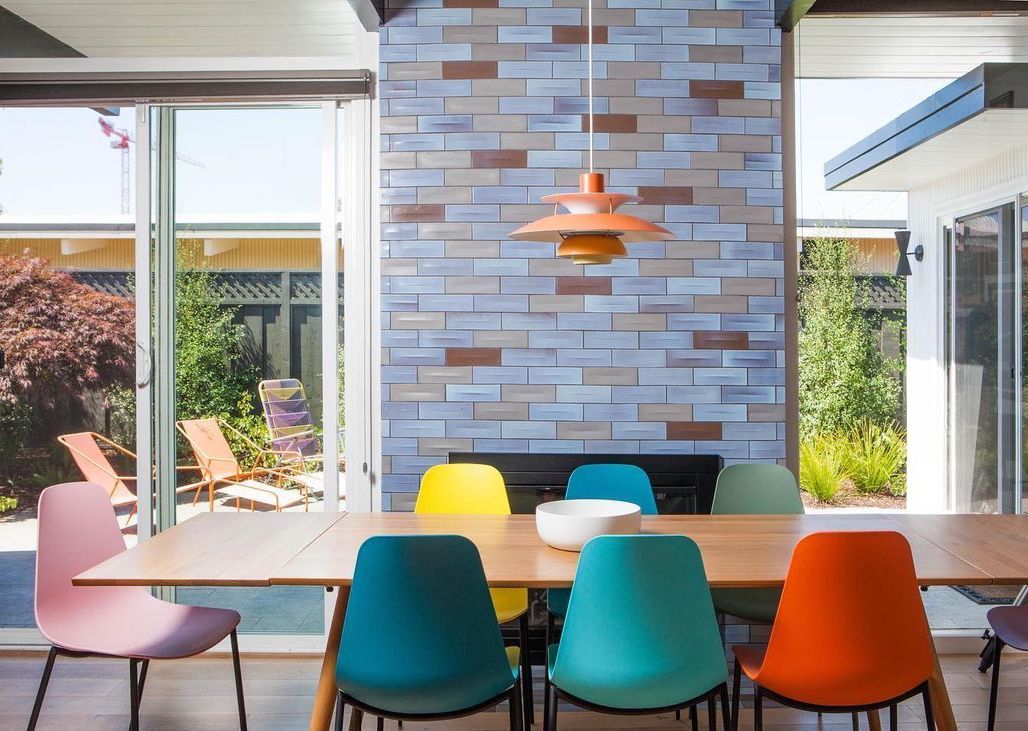 Hot Pink Dining Chairs
This is one of my favorite mid-century modern dining room decor ideas. These hot pink dining chairs look great around the wood dining room table.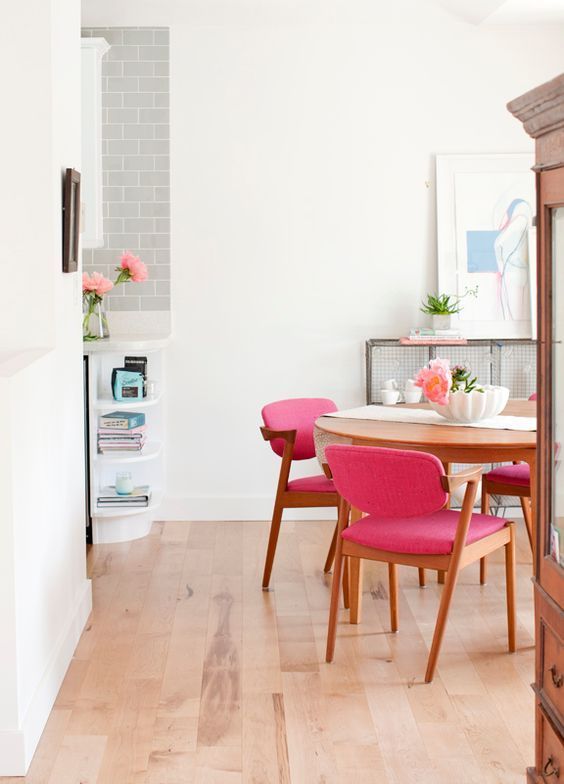 Branching Chandelier
There is so much to love about this mid-century modern dining room. The branching chandelier (shop it here) is especially noteworthy. It has brass rods which branch out and have glass spheres which protect the light bulbs at the end. Below, a rectangular marble table sits in front of a window built-in bench and several wood dining chairs.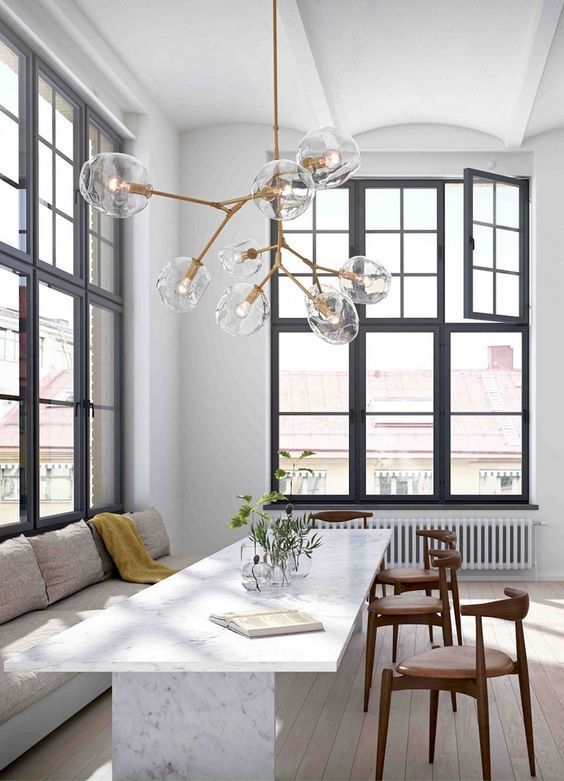 Eames Molded Plastic Chairs
These comfortable single-shell form chairs have been reproduced countless times over the years. Their staying power is certainly evident since their original creation by Charles and Ray Eames over 80 years ago. Originally crafted in 1950 from fiberglass, they have since been crafted using more sustainable materials like recyclable polypropylene by Herman Miller. These are some of the most iconic mid-century modern dining chairs you can buy! Get the affordable version here.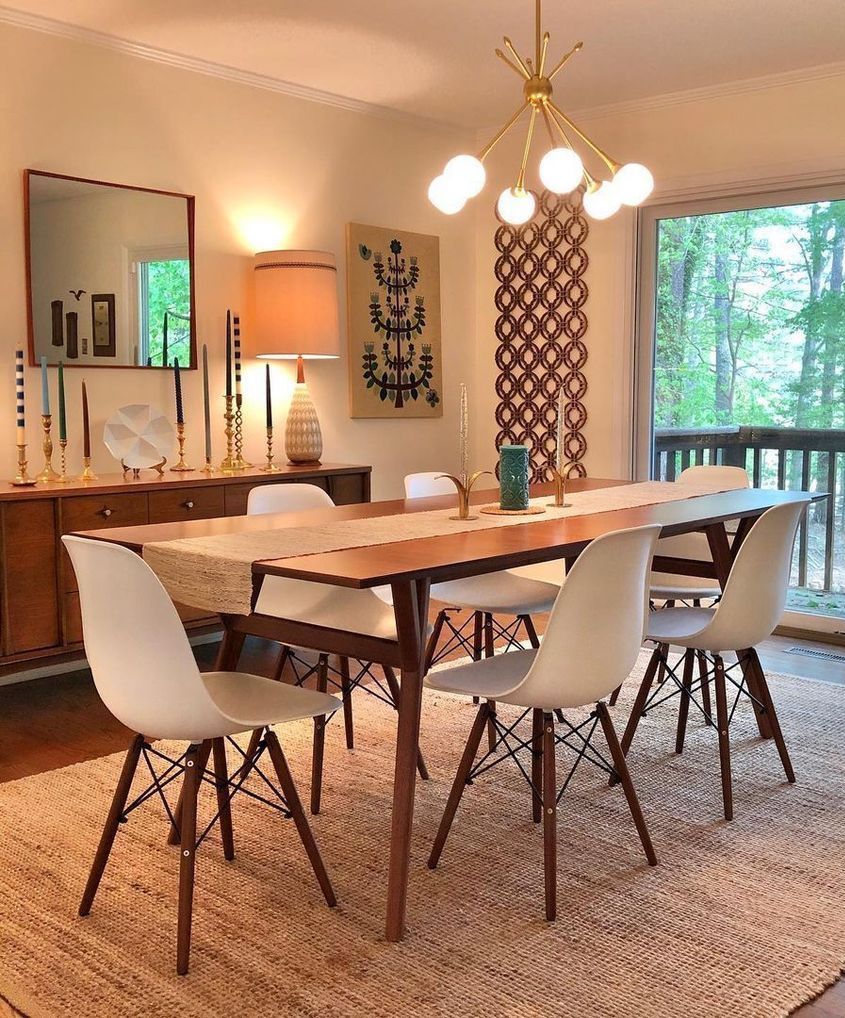 Orange Dining Chairs
Pick one of your favorite mid-century colors and go for it. These orange dining chairs really steal the show in this mid-century dining room.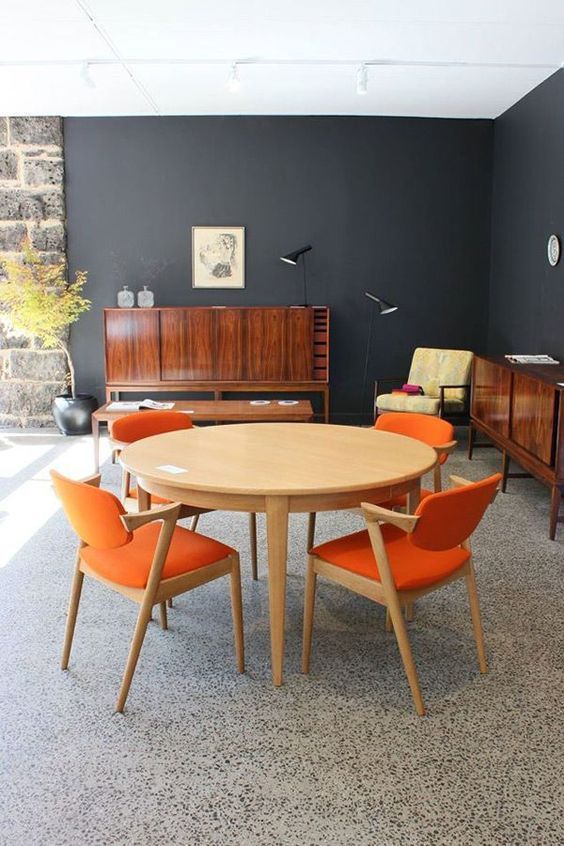 Black and White
You can do black and white mid-century style by using black leather dining chairs and placing them around a white tulip table. The cowhide rug beneath really gives this space a Scandinavian feel.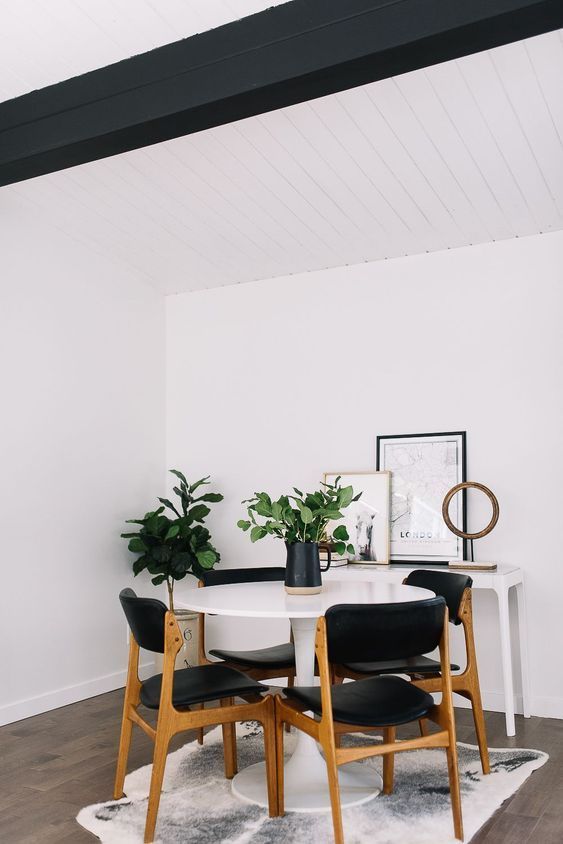 Natural Wood Dining Table
The most classic dining table for mid-century modern dining rooms is a natural wood dining table like the one seen here. You can't go wrong!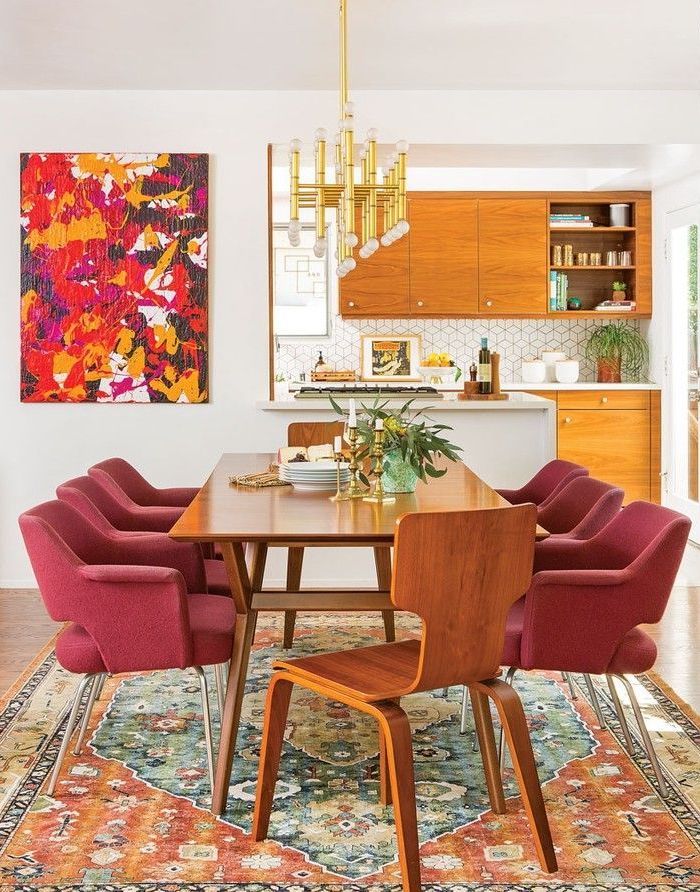 Simplicity
When in doubt, mid-century modern dining rooms celebrate simplicity. Go with basic teal dining chairs and a classic round wood dining table and you're good to go!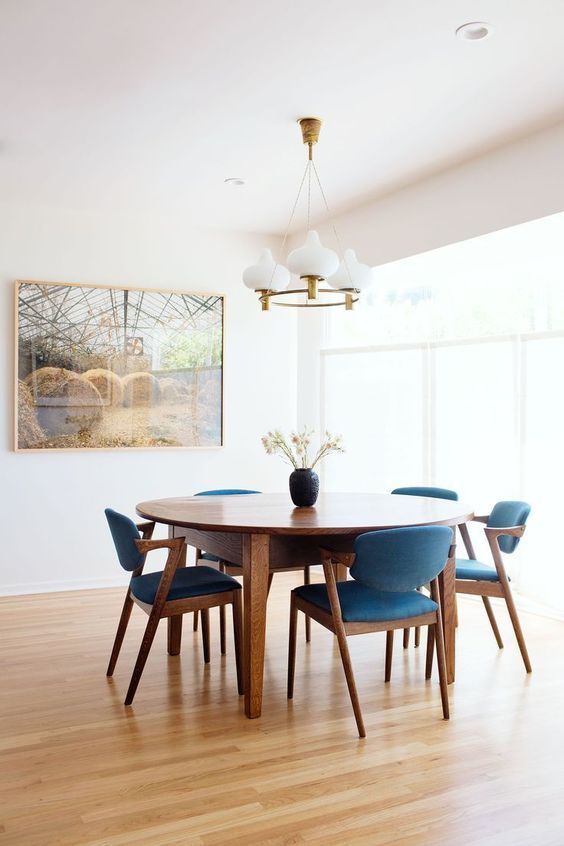 Geometric Table Lamps on Buffet
I love the buffet decor in this dining room. The geometric table lamps are the perfect lighting choice for this room!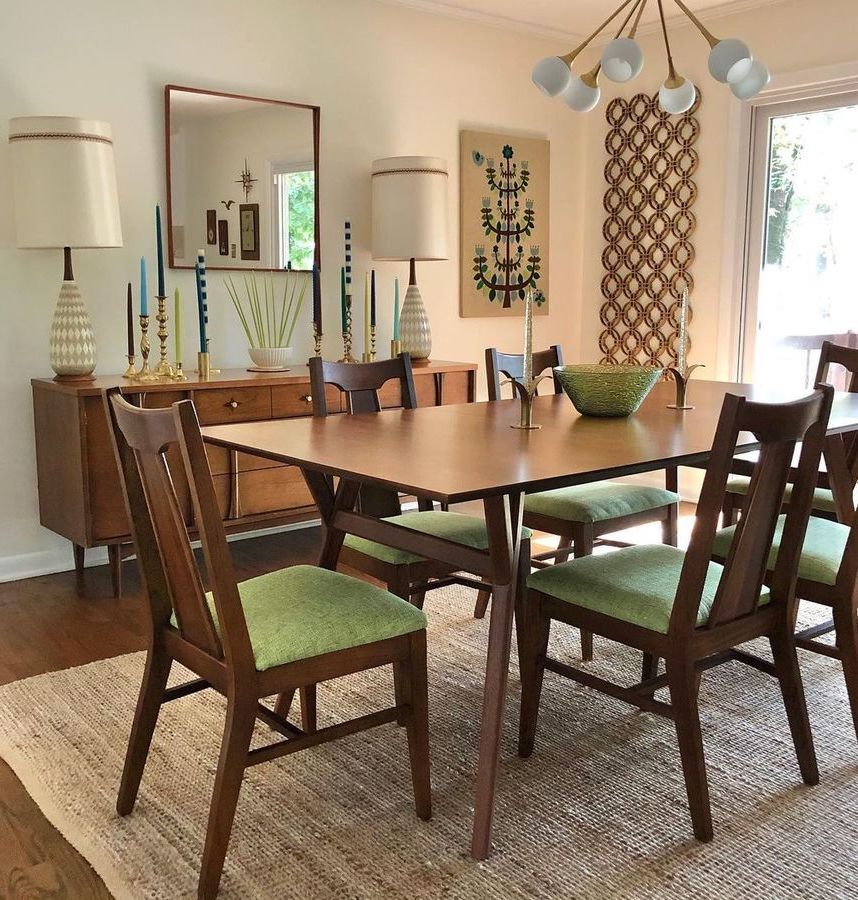 Andy Warhol Art
If you can, go for some Andy Warhol flower art to create that artsy vibe! This mid-century artist really came to define the time period and shift the definition of art itself.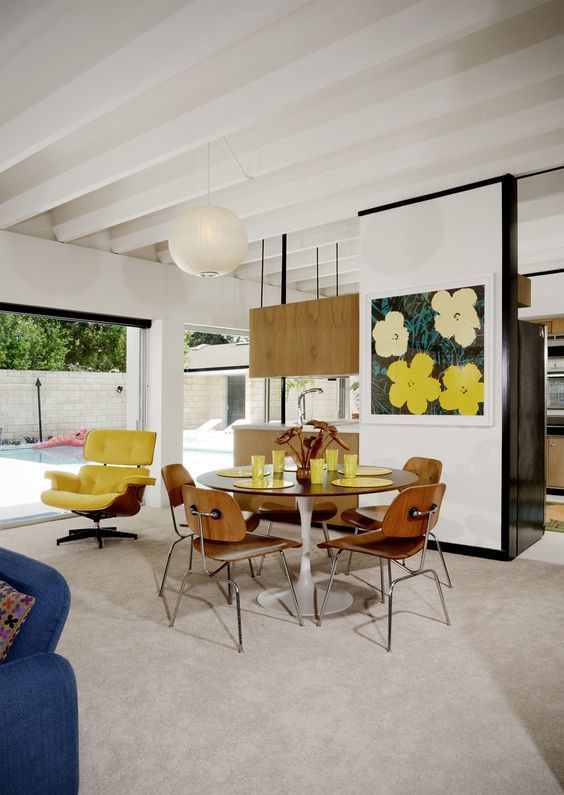 Glam Mid-Century Modern Decor
Our last mid-century modern dining room decor idea is to infuse your space with some glamour. This glam dining room has mid-century modern elements but it's been made feminine and elegant with black dining room chairs. This room goes to show that you can absolutely blend two different decorating styles and create a home that is truly your own!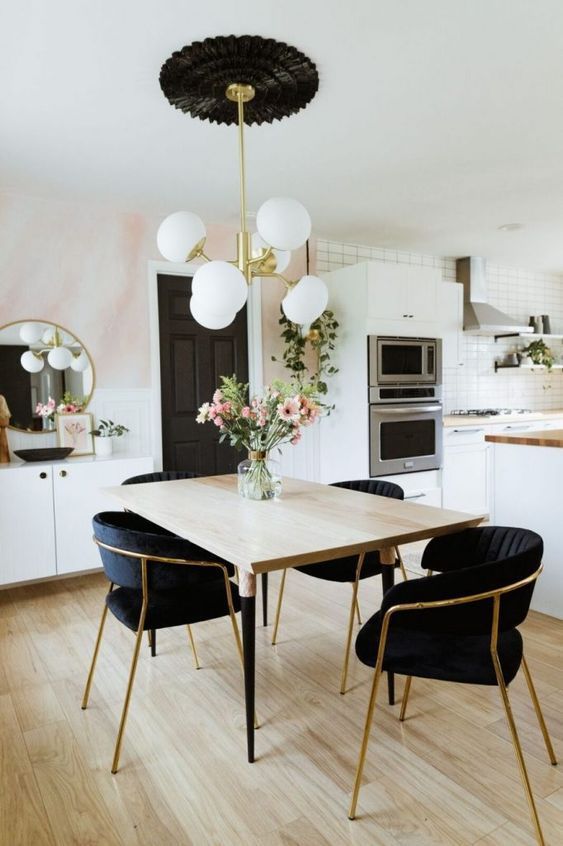 ---
I hope these mid-century modern dining room decor ideas inspired you during your design process! There are so many amazing retro inspired dining rooms to get inspiration from. I hope you'll check back for more ideas on our website. You can also subscribe via email using the form below!
More Mid-Century Modern Decorating Ideas
If you are decorating a home in the mid-century style, then don't miss our other guides to getting this retro look in other rooms in your home. We also have a few guides on mid-century modern furniture, decorations, and lighting. Here are a few recent posts that may interest you:
Happy curating!