Today we're sharing 31 gorgeous Parisian dining rooms for your inspiration. Parisian dining rooms often feature mid-century modern furniture, white walls with 19th century moulding, brightly colored artwork, and an eye-catching lighting fixture. Parisians opt for credenzas or buffets rather than tall hutches in their dining rooms.
Parisian Dining Rooms
Check out these beautiful Parisian style dining rooms and tell us which one is your favorite in the comments below!
1. Vintage travel posters and mid-century modern furniture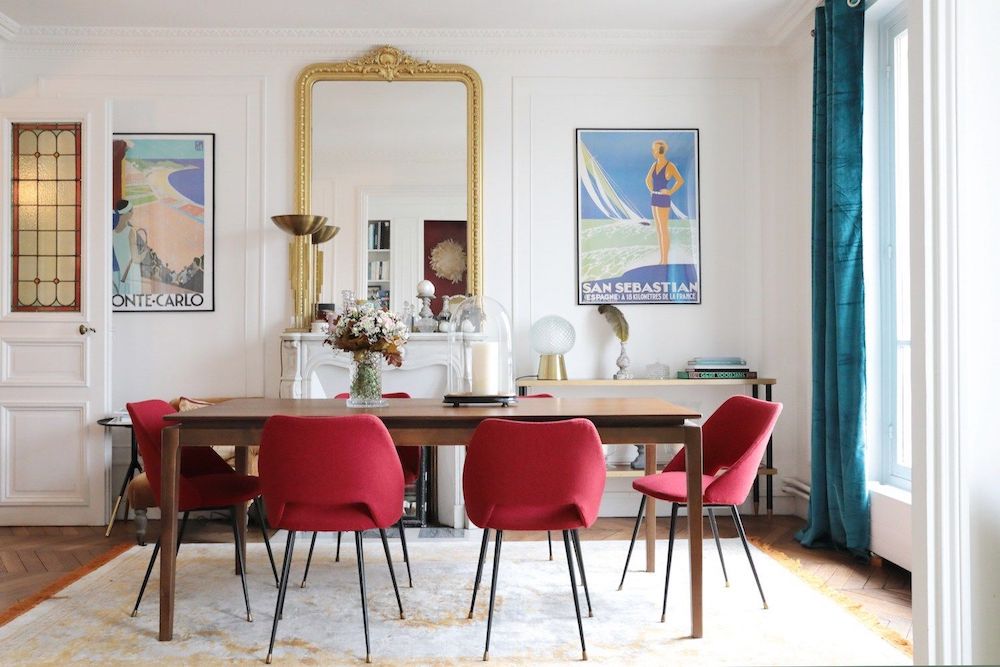 Hello-hello Camille Omerin
2. Wood cabinet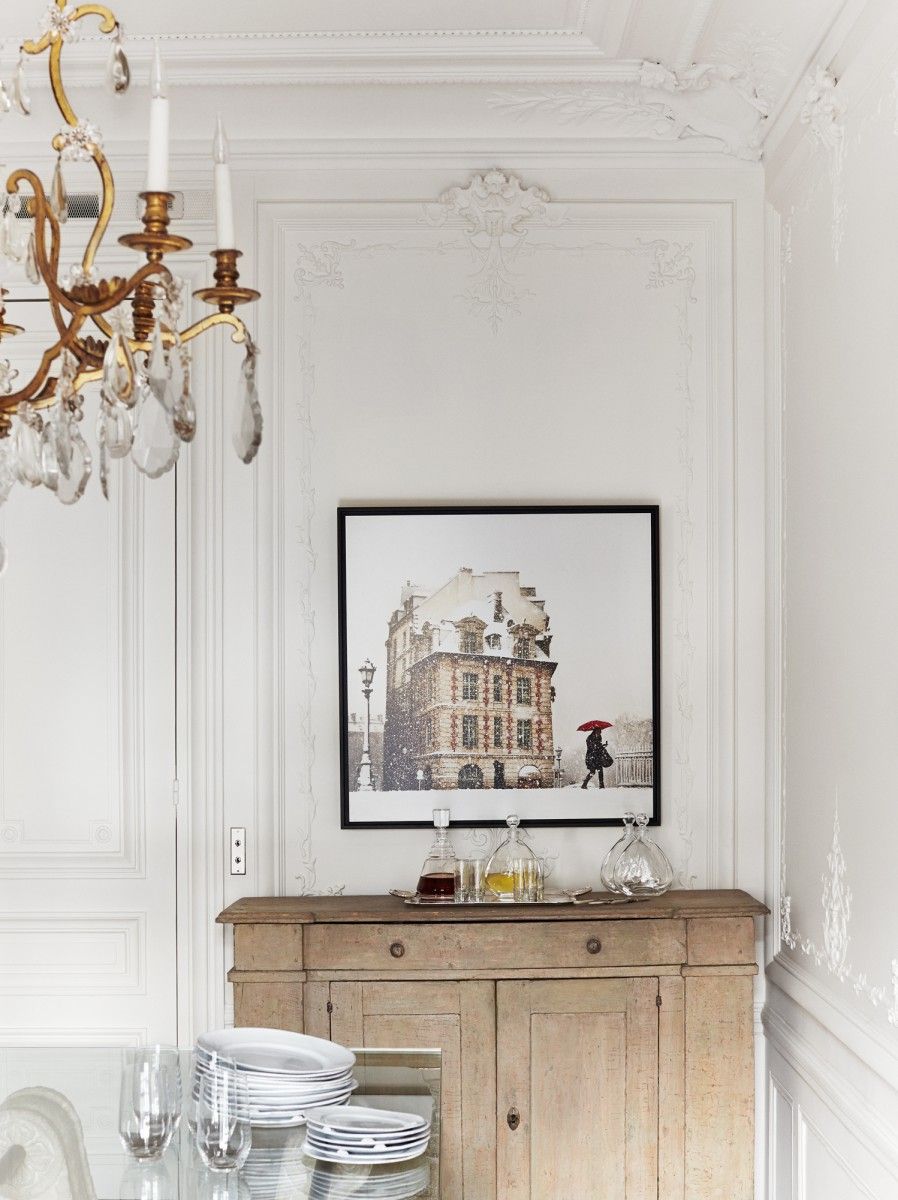 A+B Kasha
3. White wishbone chairs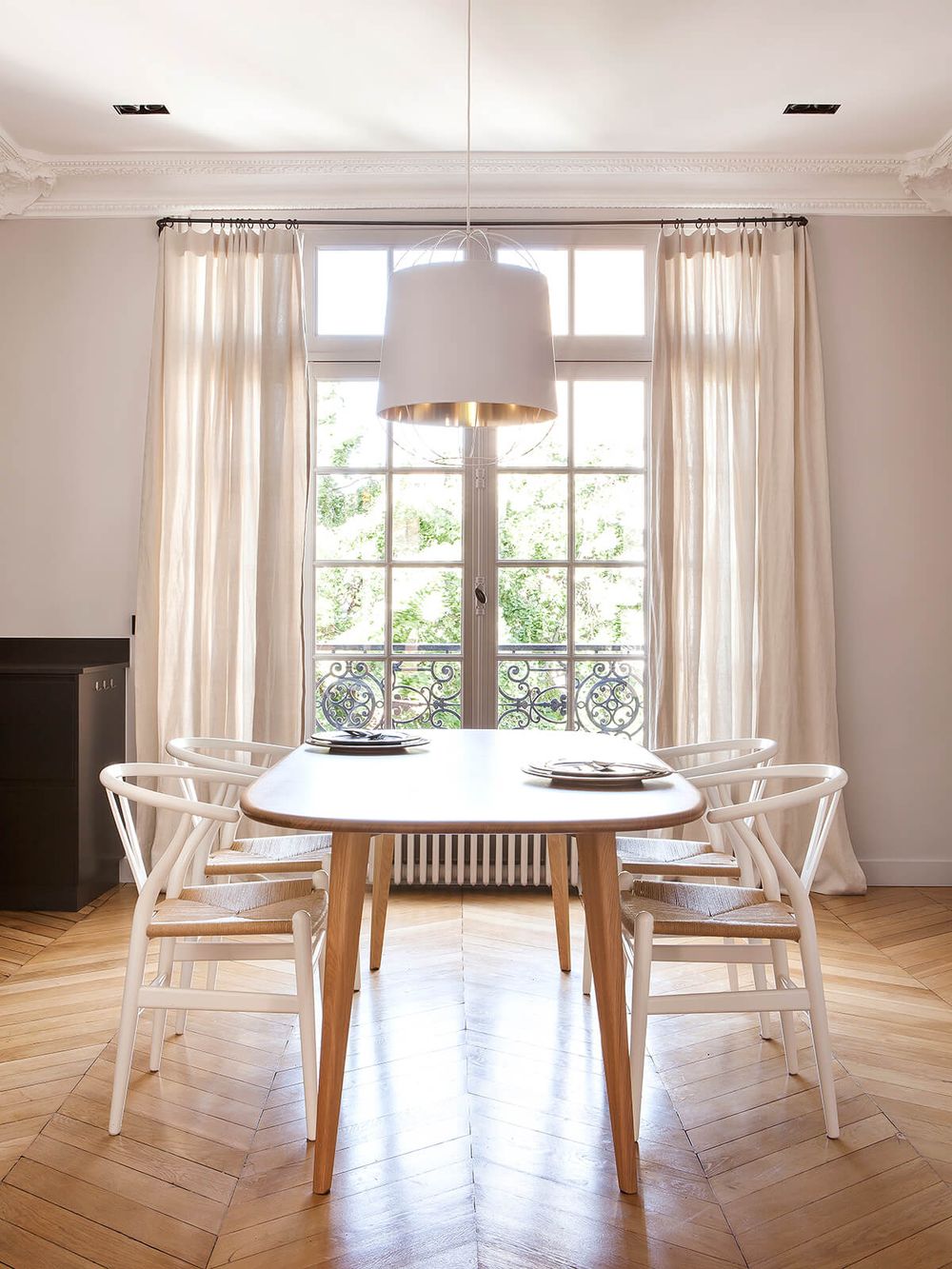 Camille Hermand
4. Marble table and Breuer chairs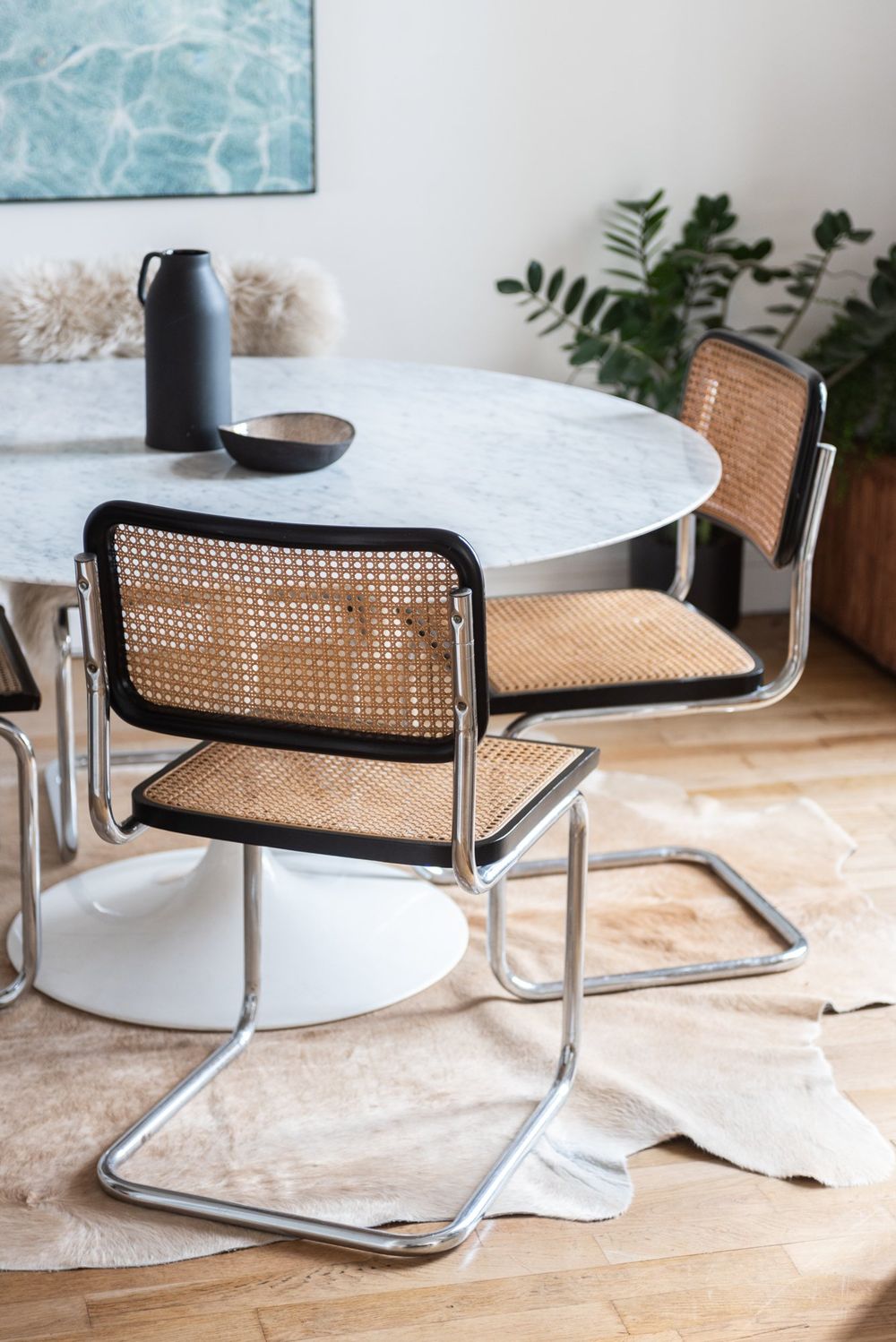 Charlotte Cade / Maxime Brousse
5. White Marble Tulip Table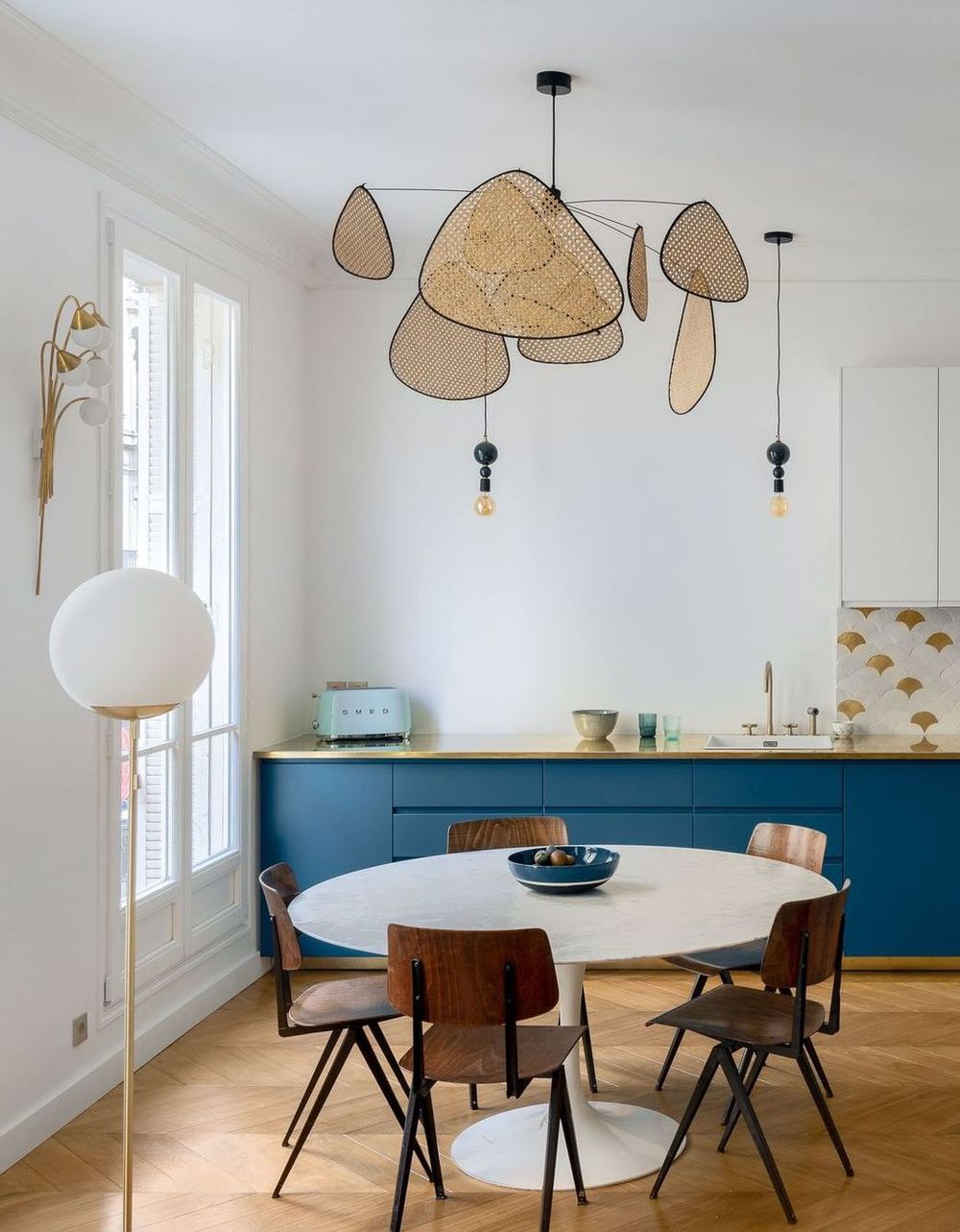 Charlotte Fequet
6. Mismatched chairs and paper chandelier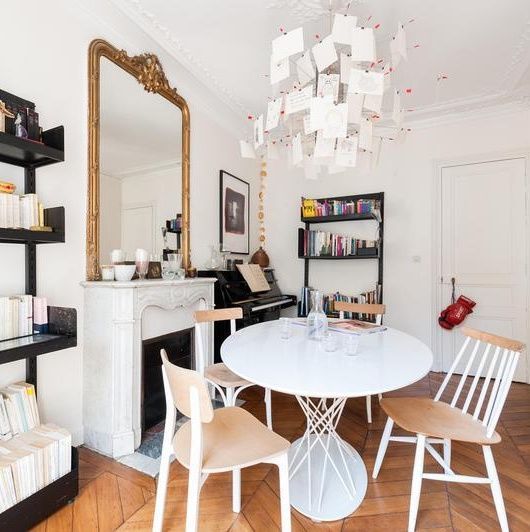 FrenchyFancy
7. Brown dining chair and pink velvet chairs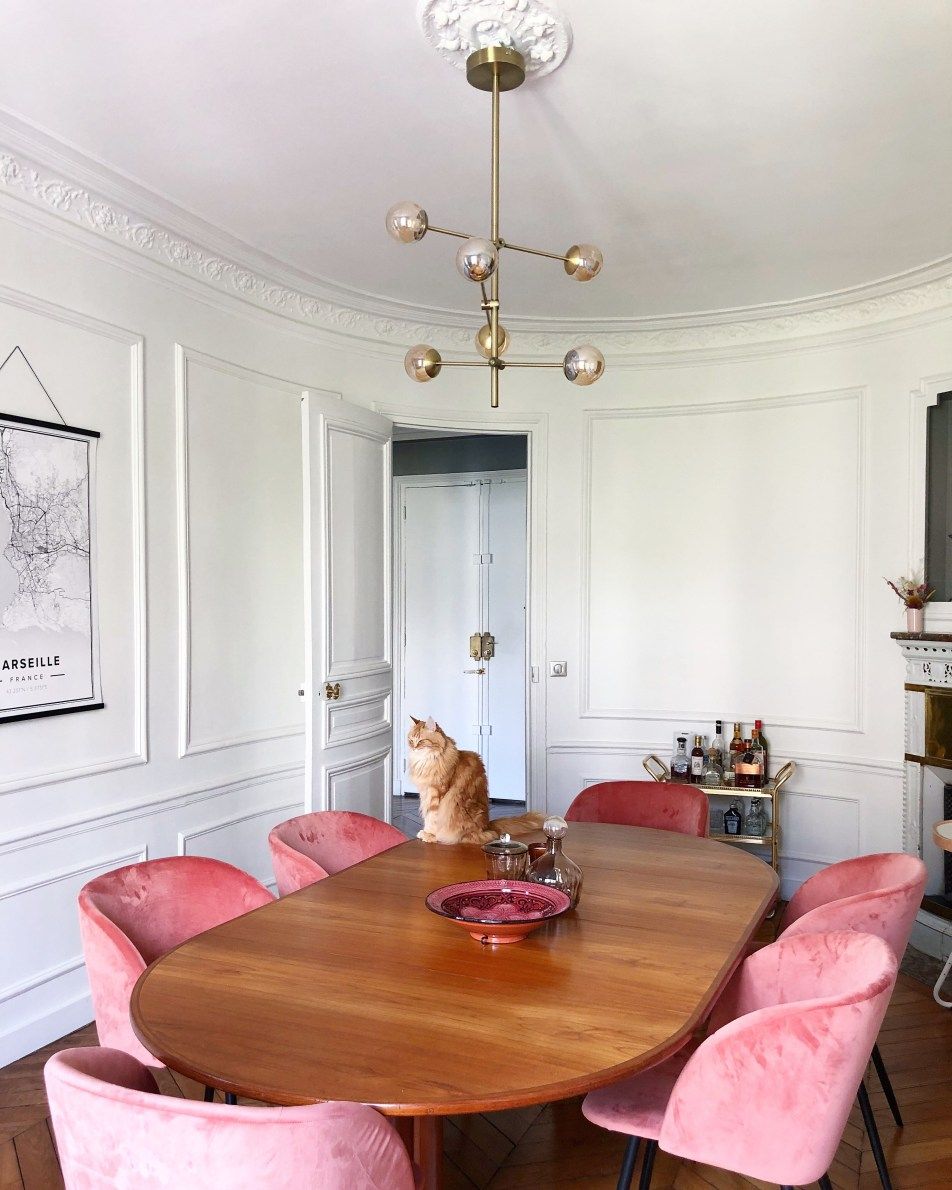 hello-hello / darya kopp
8. Pink velvet dining chairs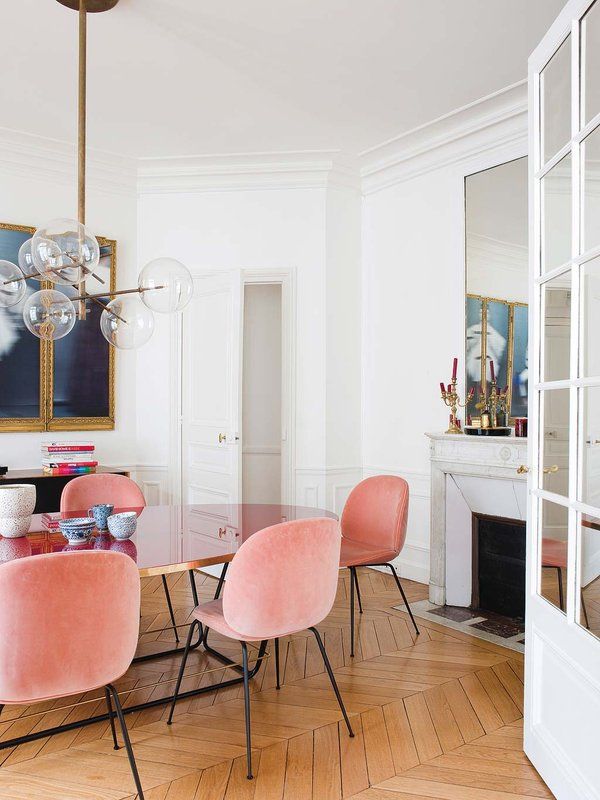 Nuevo Estilo / Aroussia Chamakh
9. Color block dining chairs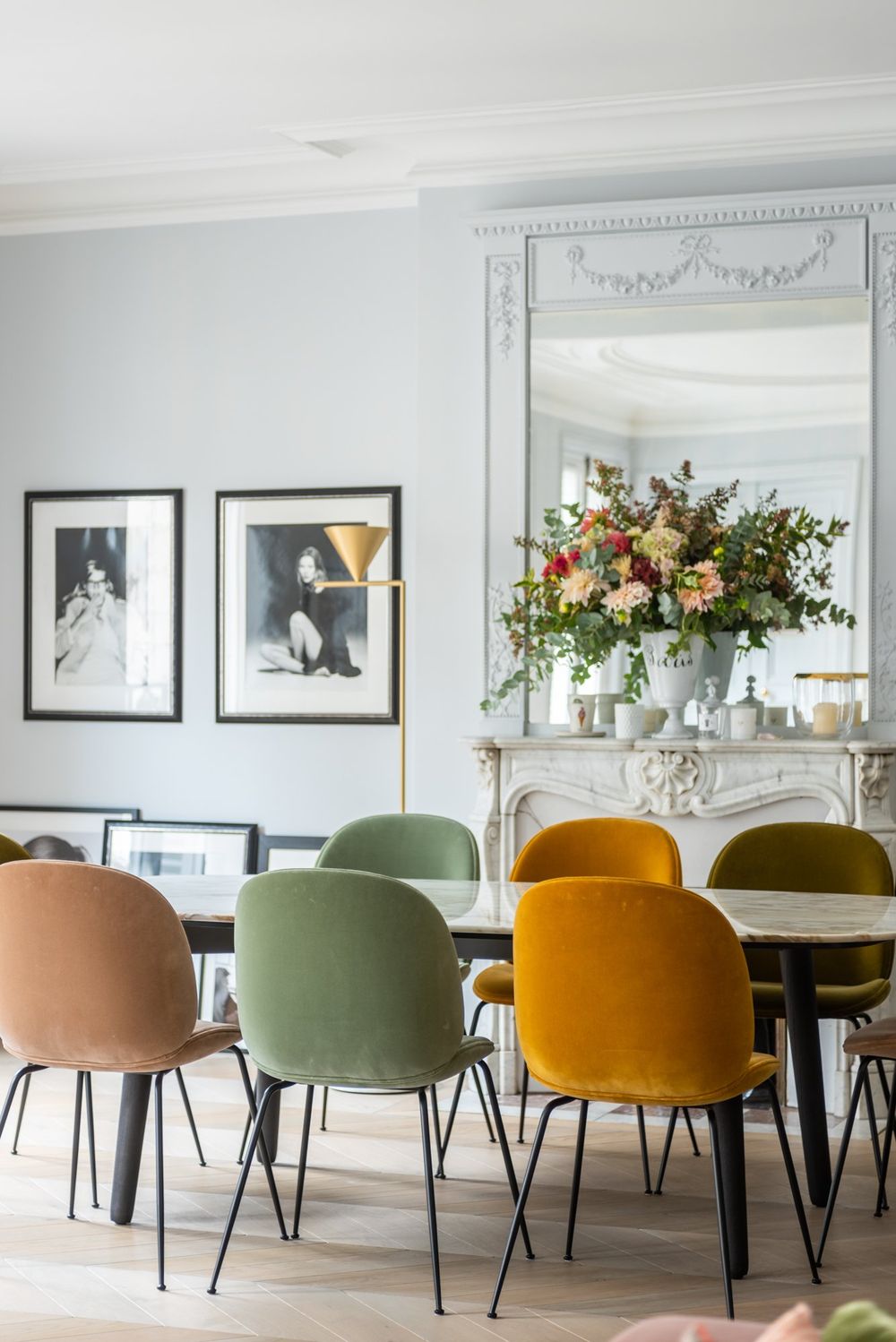 The Socialite Family / Florence Elkouby
10. Black table and chairs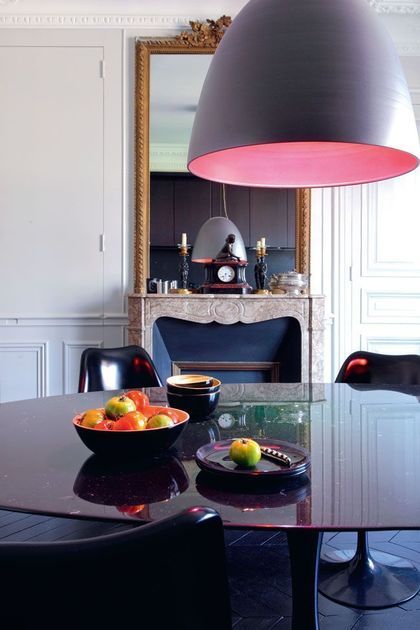 CoteMaison
11. Multi-color velvet chairs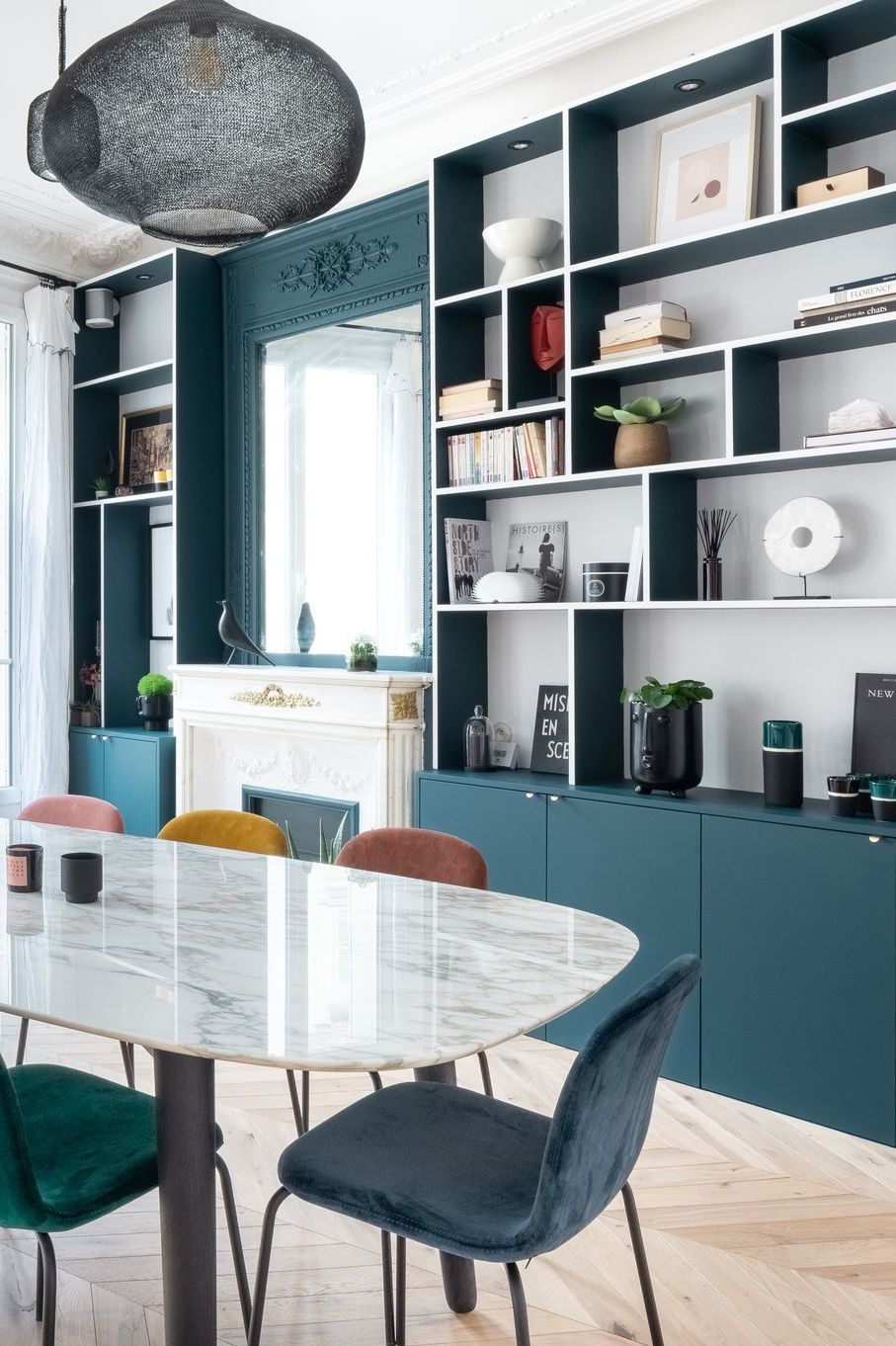 Quitterie de Pascal
12. Mid-century modern furniture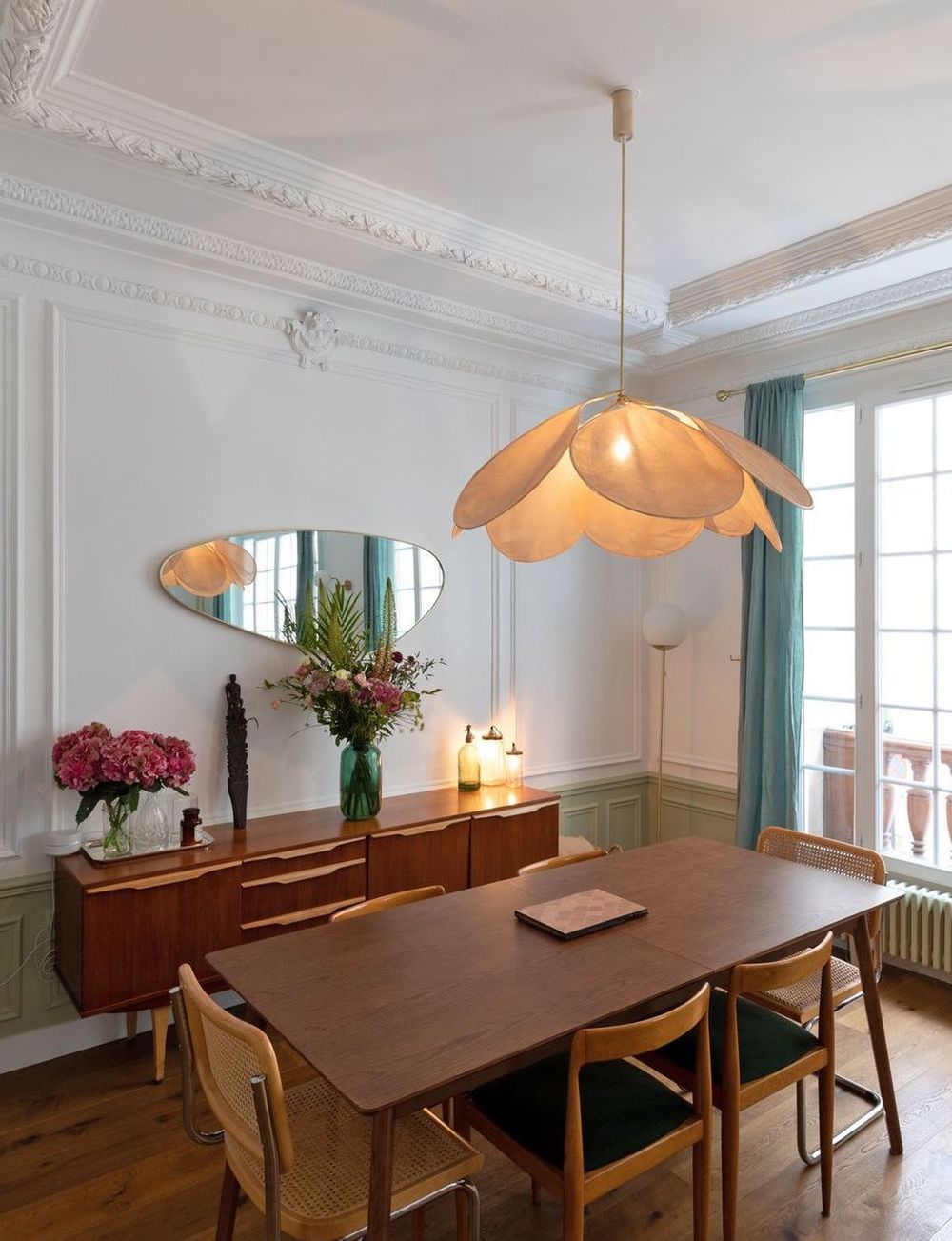 Charlotte Fequet / CoteMaison
13. White Scandinavian furniture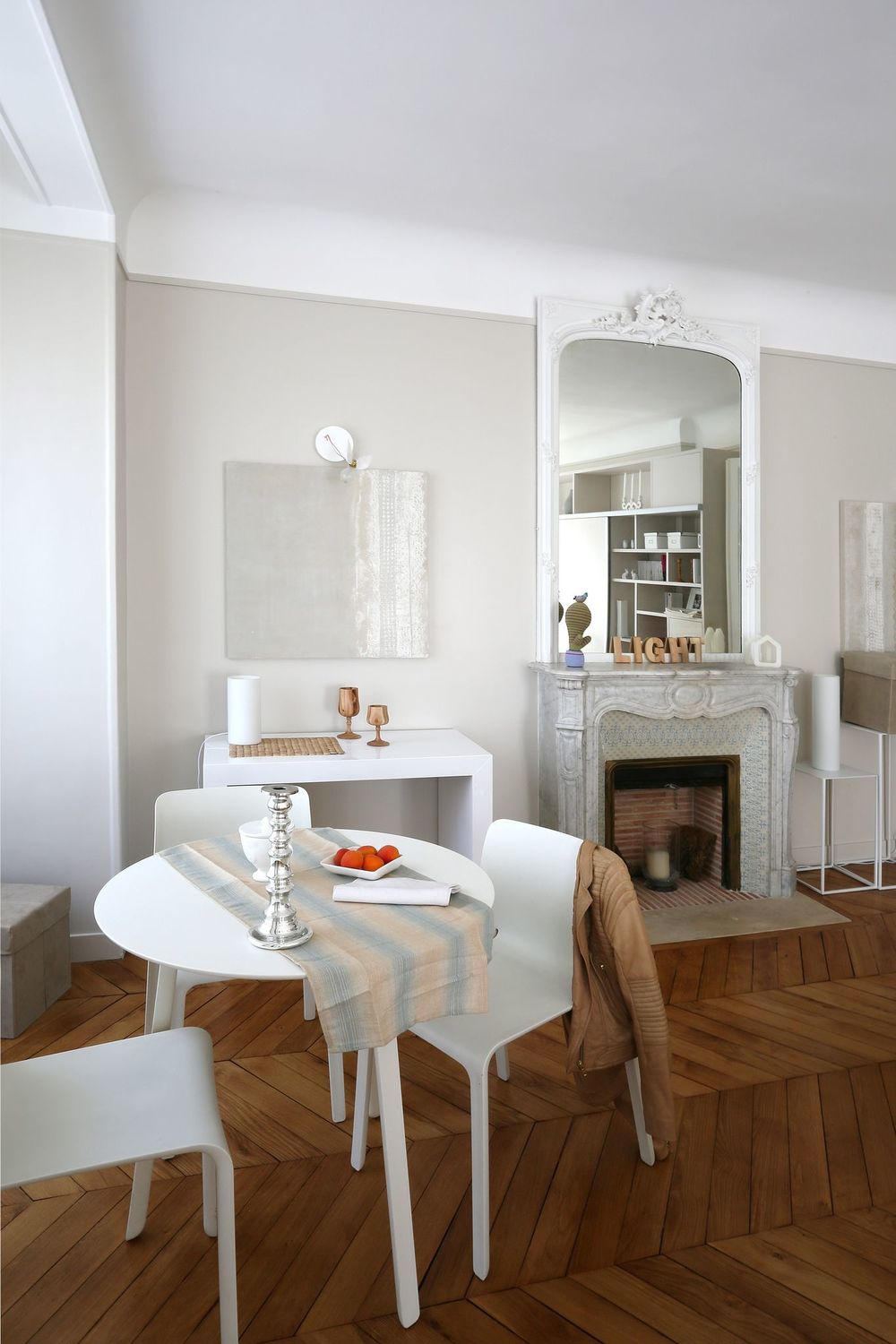 CoteMaison Charlotte Soissons Lenormand
14. Cane back dining chairs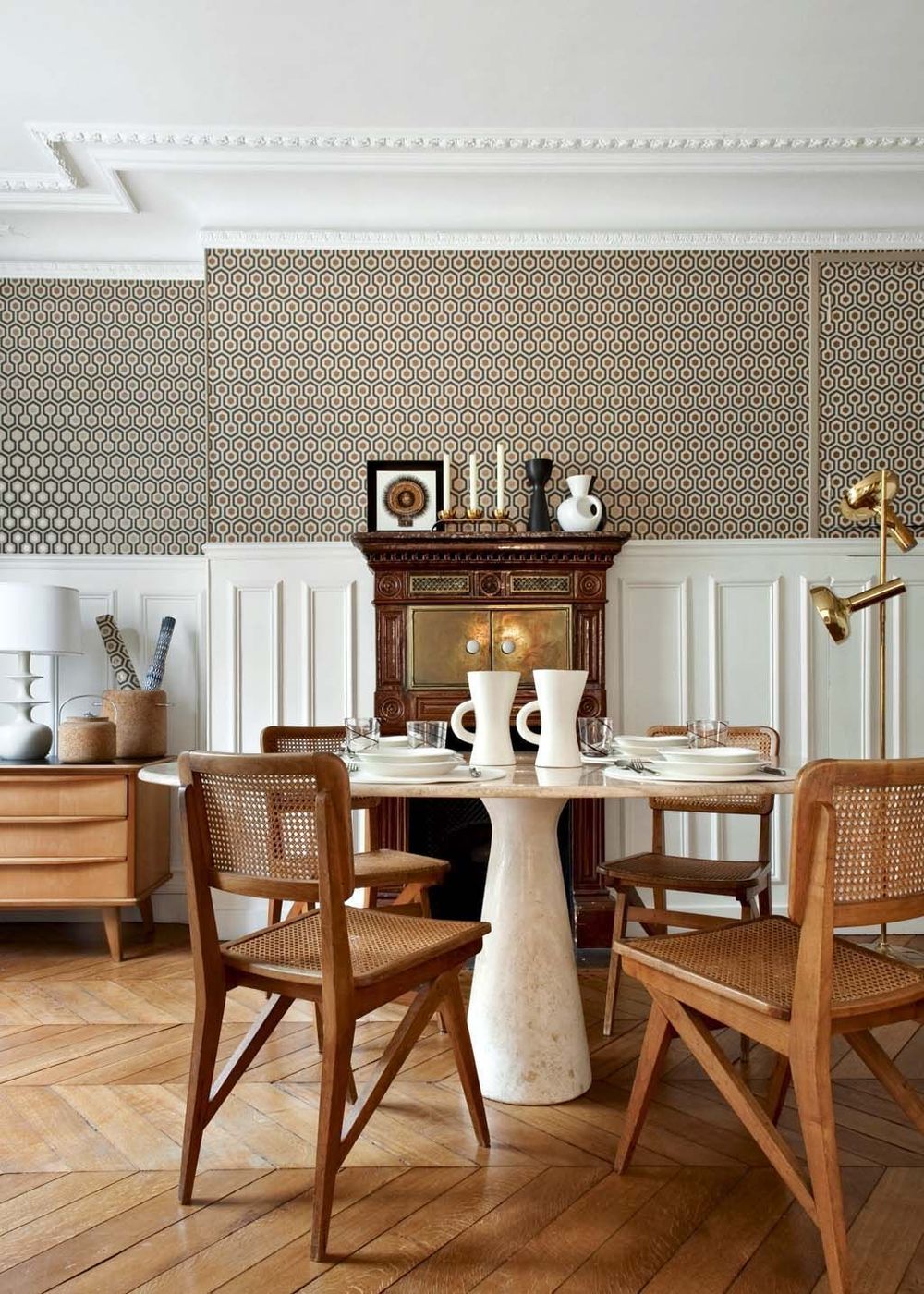 CoteMaison / Emilie Bonaventure
15. Blue bookshelf and neutral wood buffet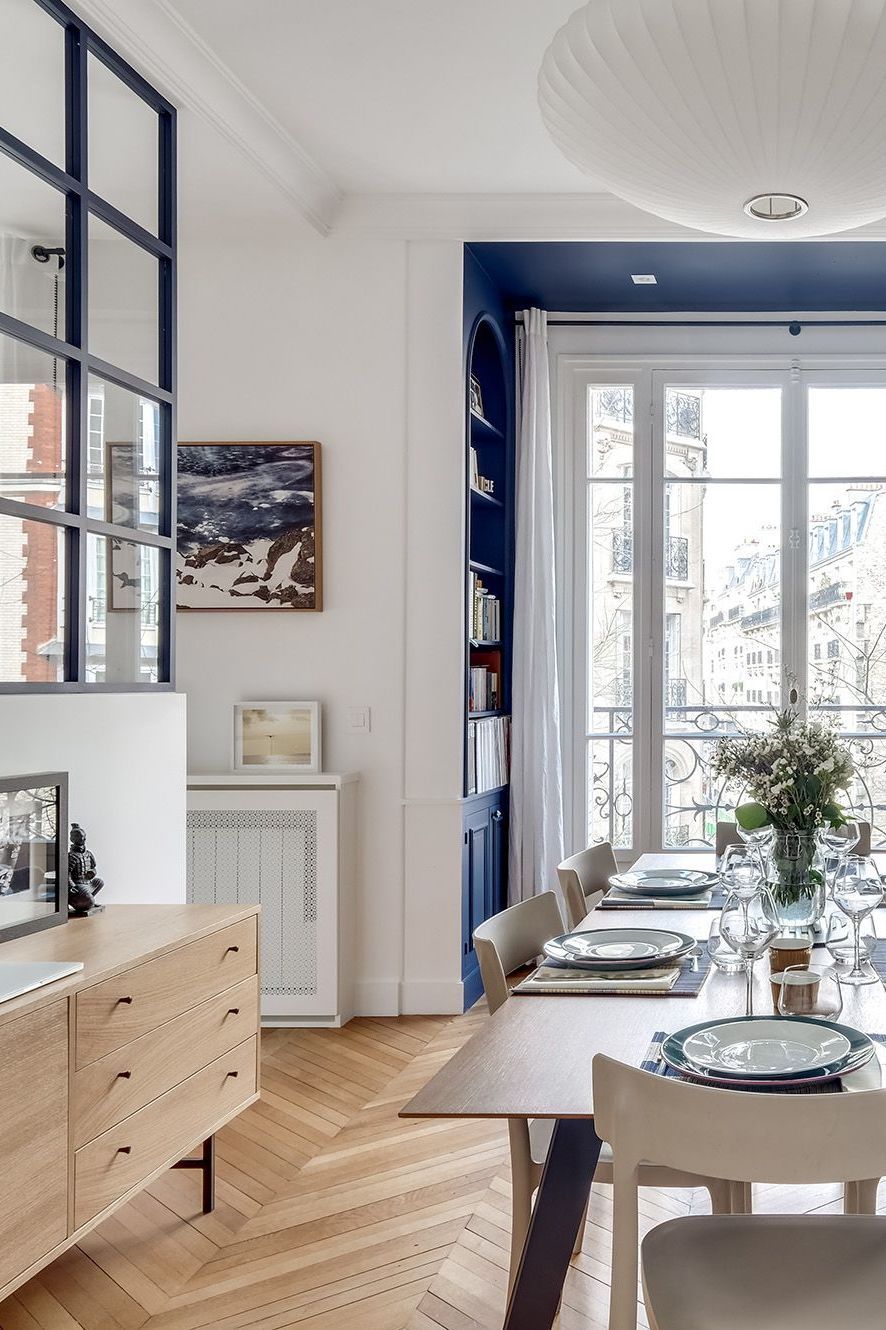 Elodie Cottin / CoteMaison
16. Cowhide rug and mismatched dining chairs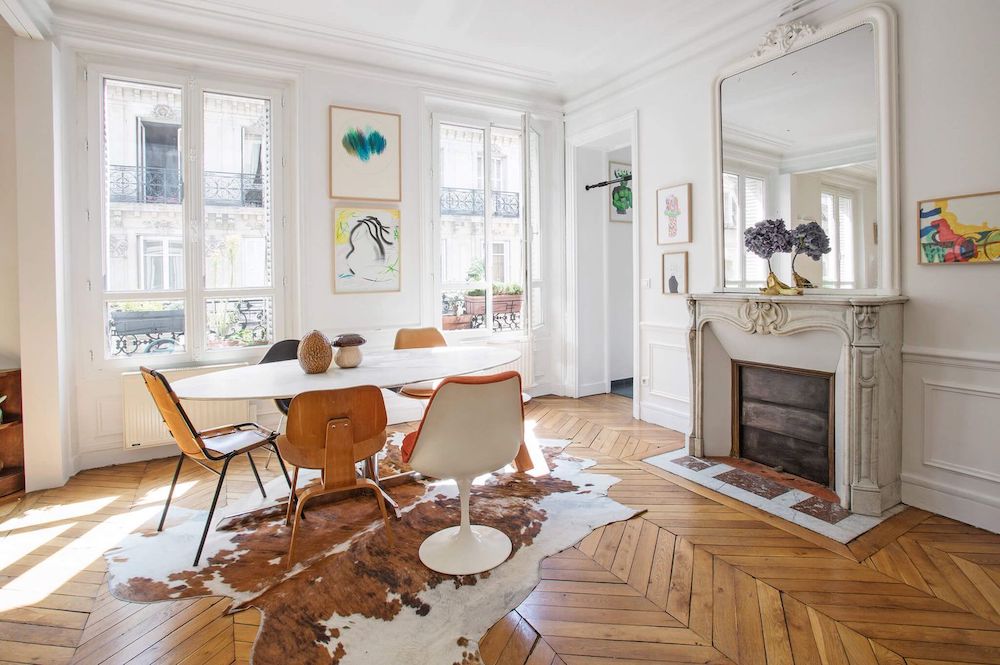 Havenin Saint Germain
17. Off-white rug and white furniture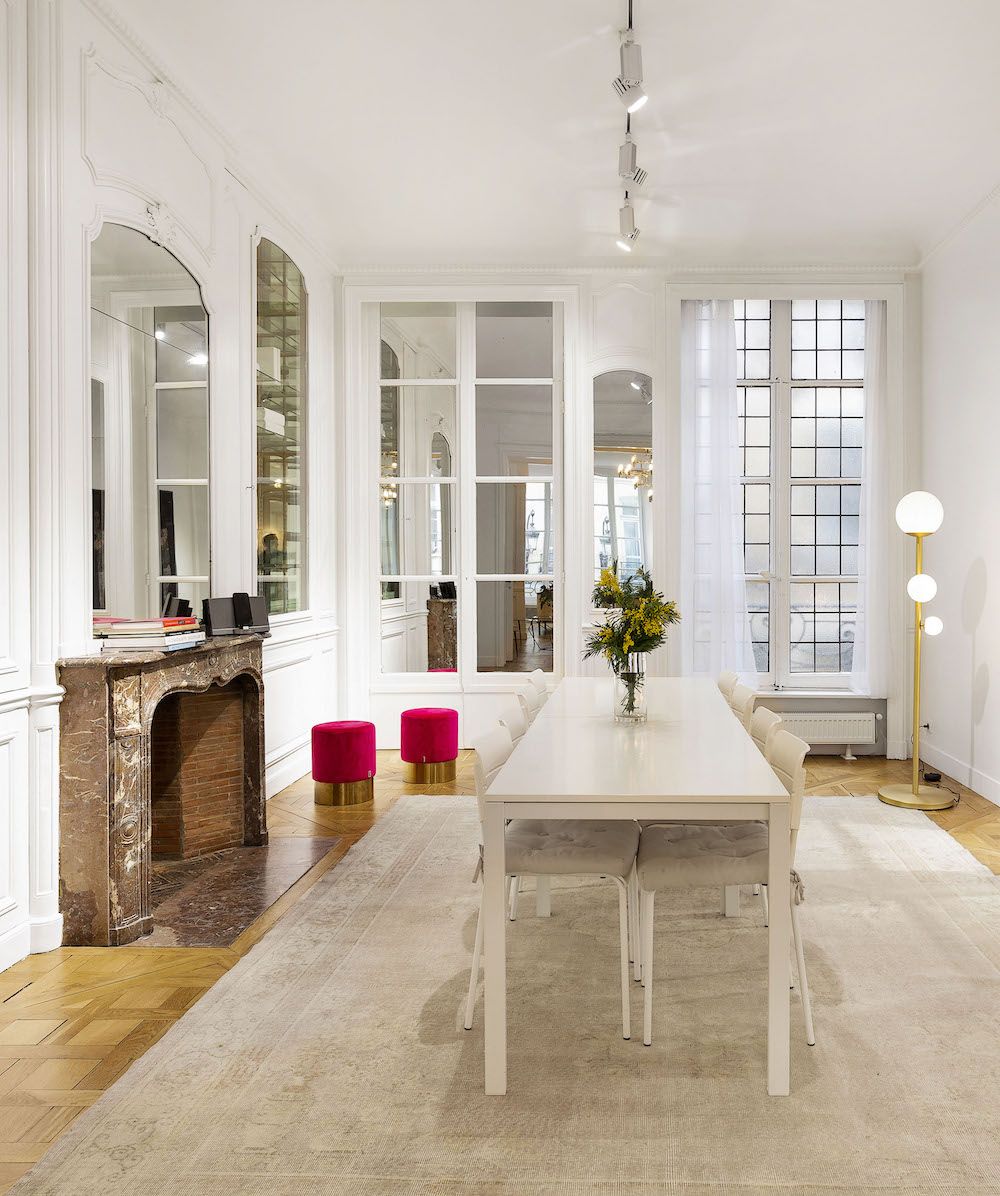 Havenin Saint Honore
18. Turquoise curtains and pink chairs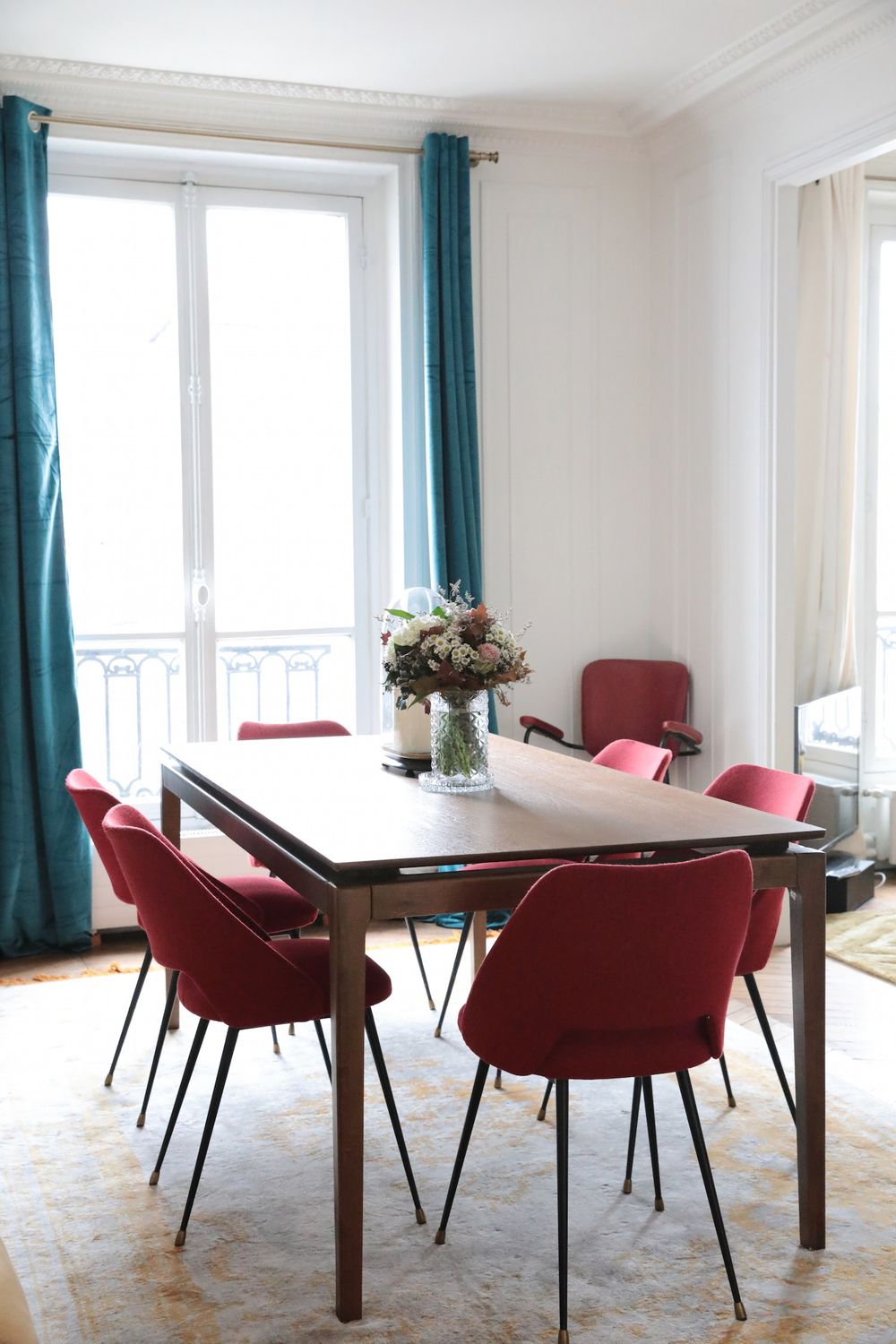 Hello-hello / Camille Omerin
19. Black wishbone chairs and crystal chandelier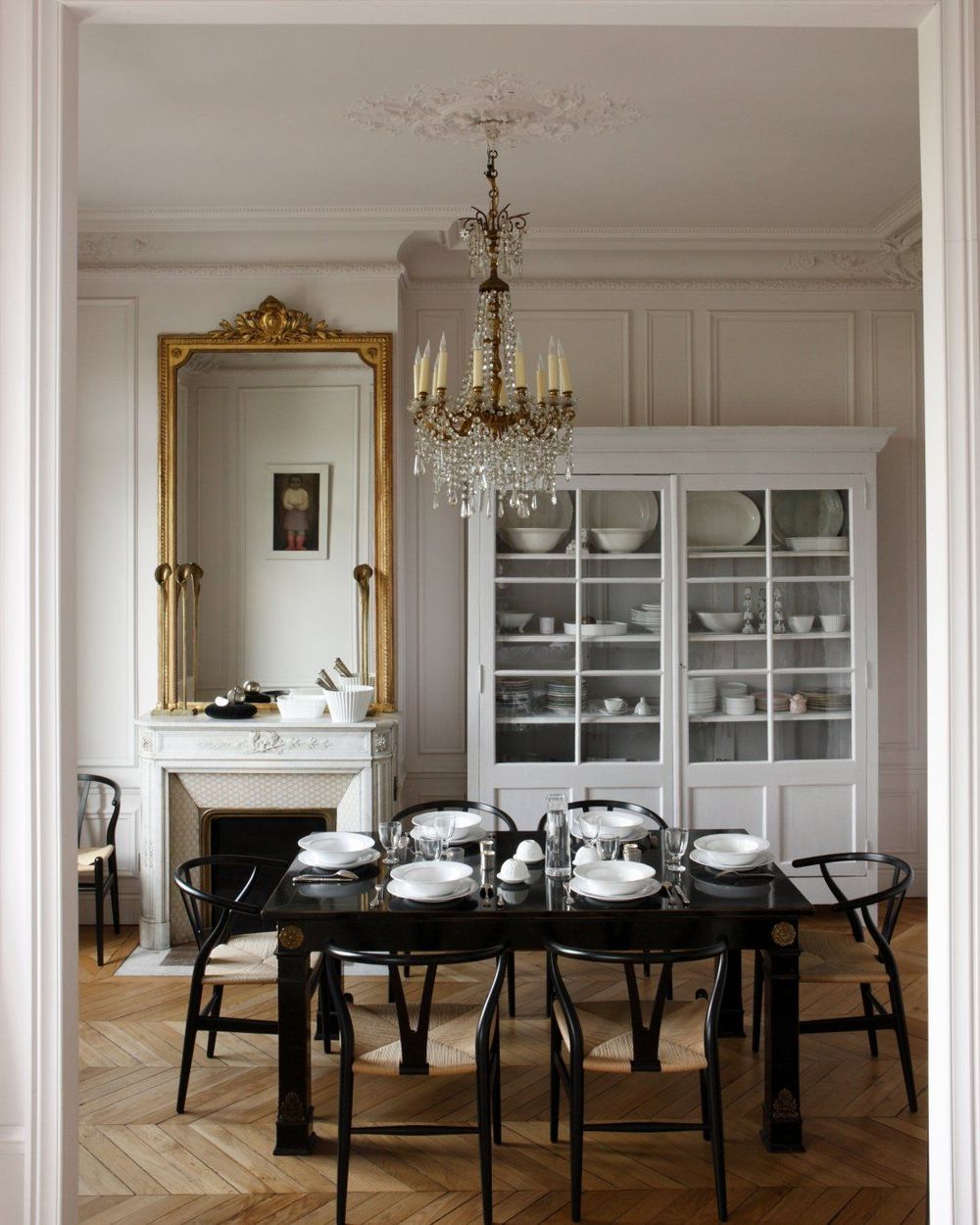 Jean-Marc Palisse / CoteMaison
20. Breuer chairs and oval marble dining table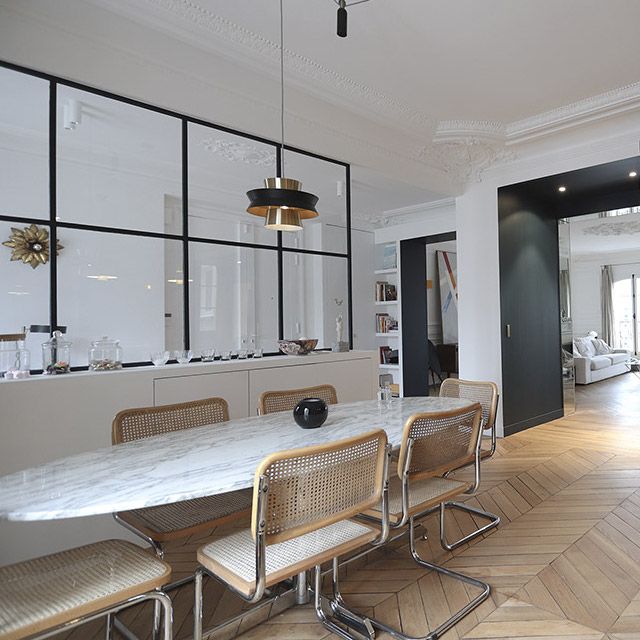 miresparis
21. Mid-century modern chairs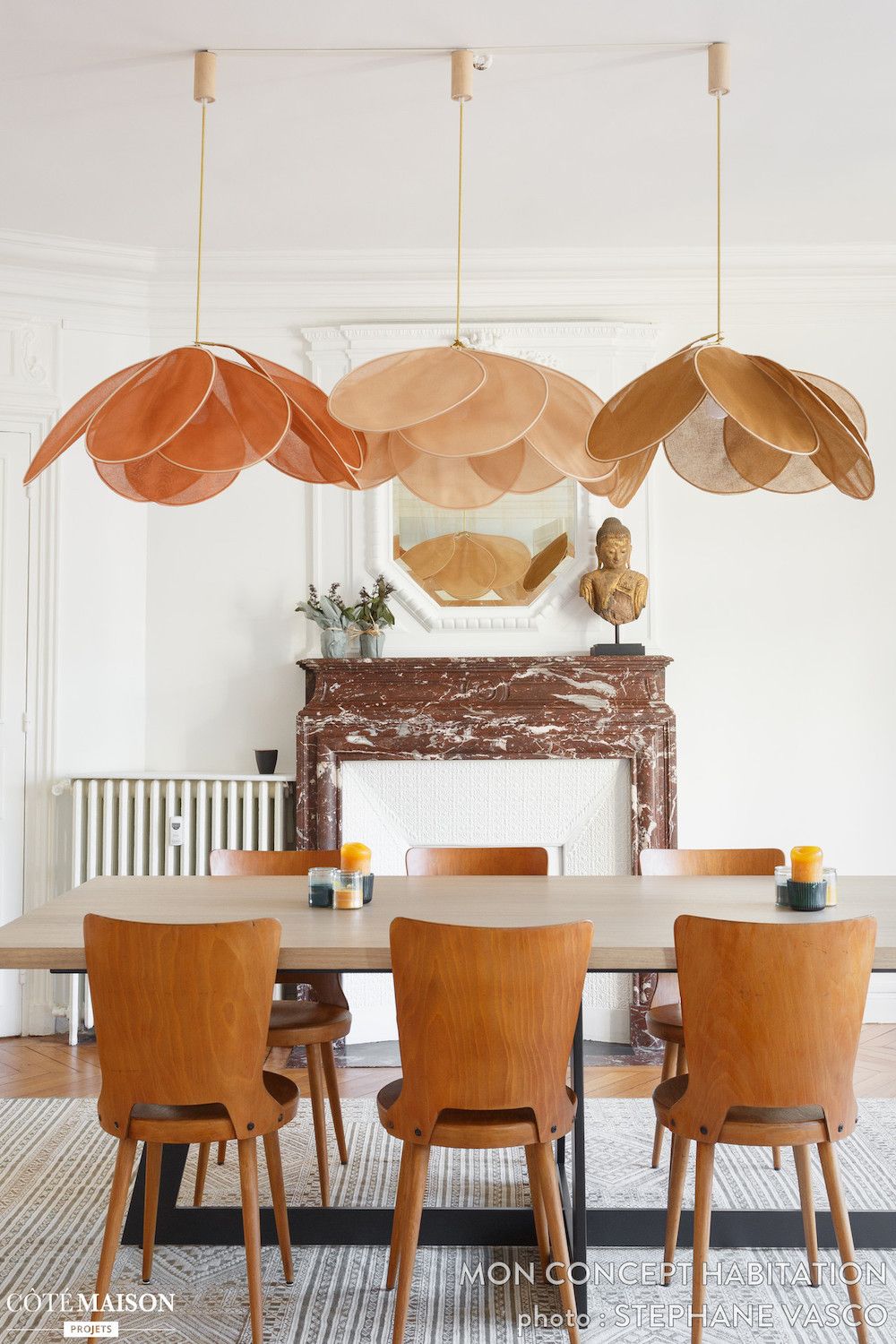 Mon Concept Habitation CoteMaison
22. Bookshelf wall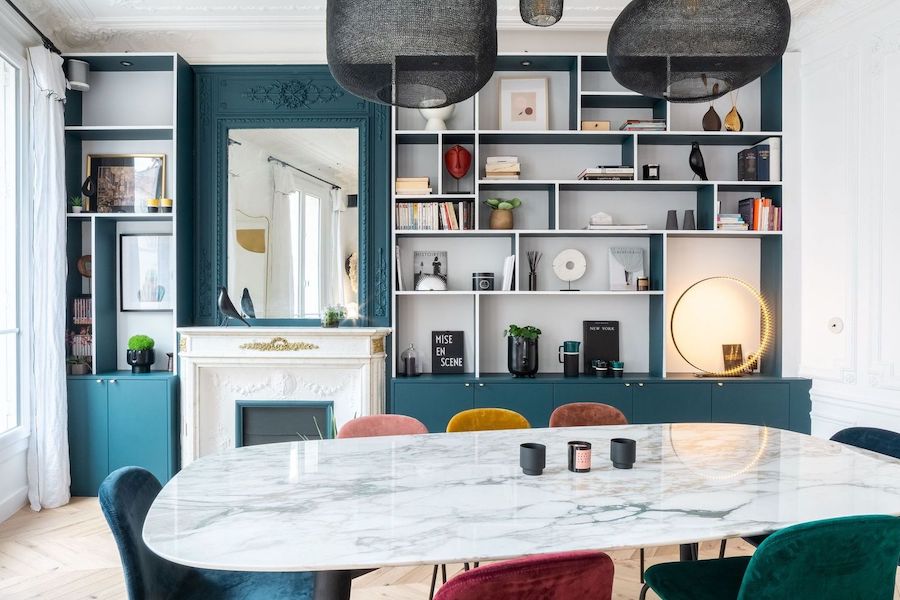 Quitterie de Pascal
23. Brown table, black chairs, and white rug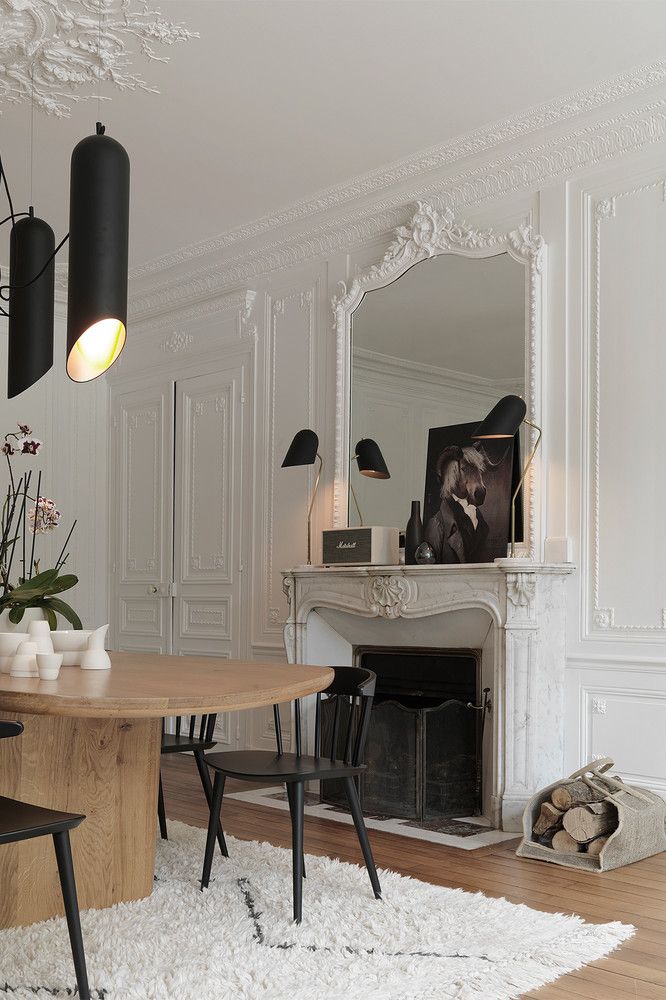 Revistaad.es
24. White tablecloth and minimal black dining chairs
Stephan Julliard
25. Mismatched chairs and sheepskin seat cushions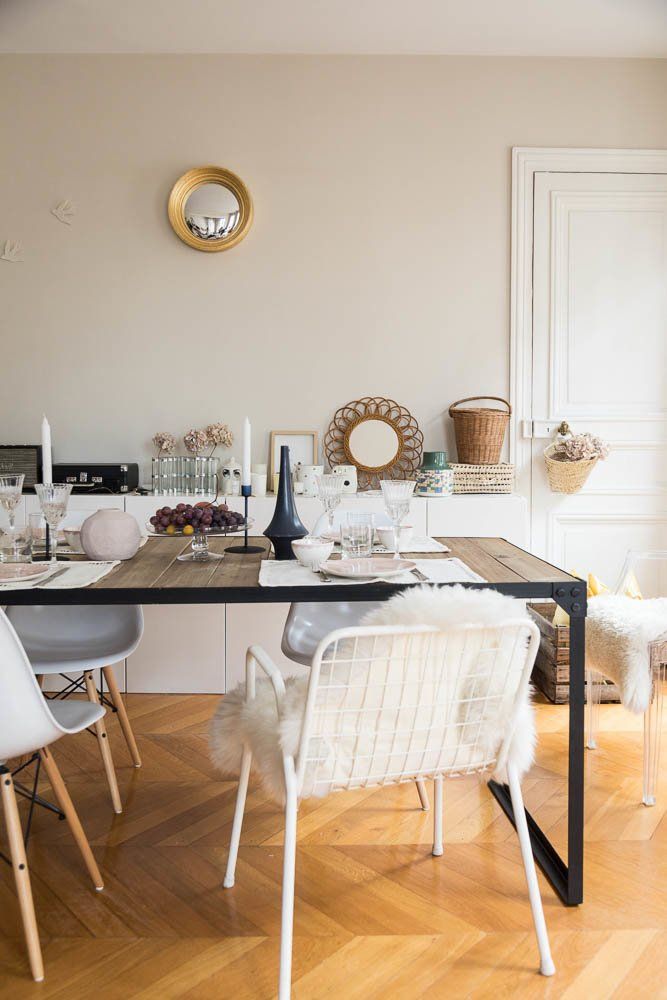 The Socialite Family / Audrey Borrego
26. Mid-century glass ball chandelier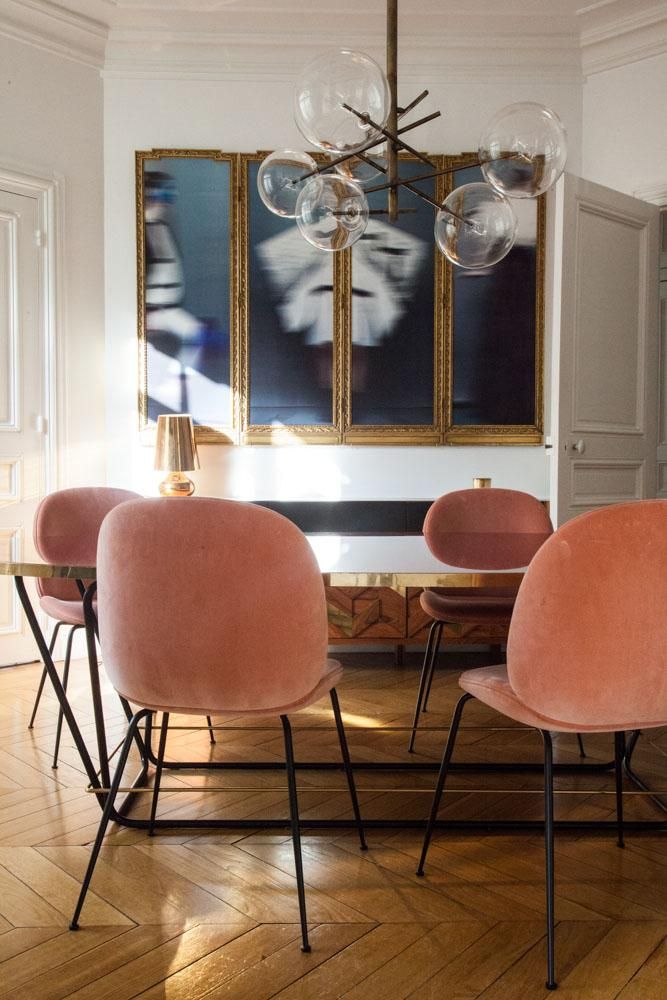 The Socialite Family / Aroussia Chamakh
27. Mid-century modern chairs and bookshelf
The Socialite Family Sabina Socol
28. Jean Prouvé chairs and Serge Mouille lamp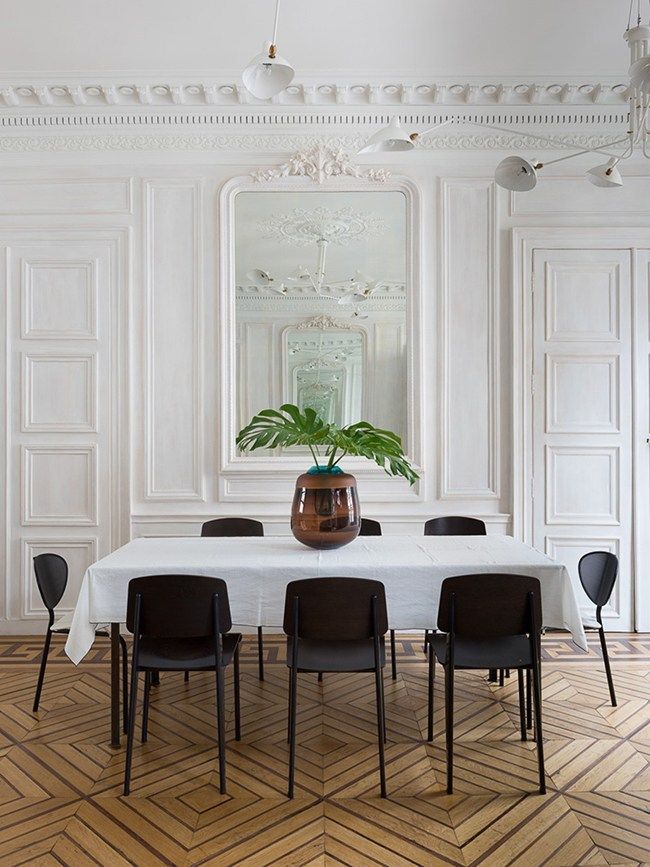 Stephan Julliard / le Studio Razavi
29. Mint walls and thrifted dining chairs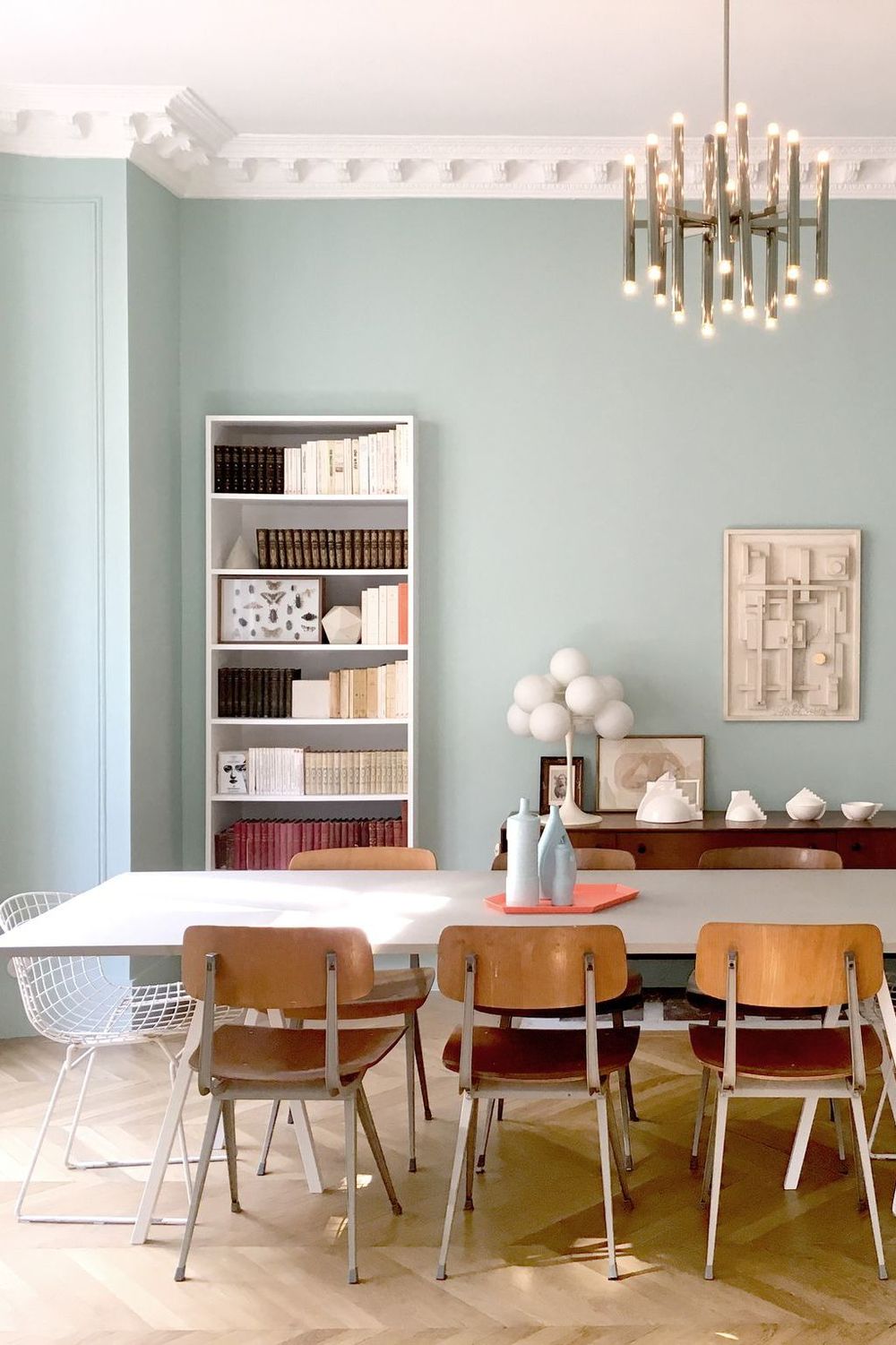 DPLG Suzanne Tanascaux
30. Turquoise velvet dining chairs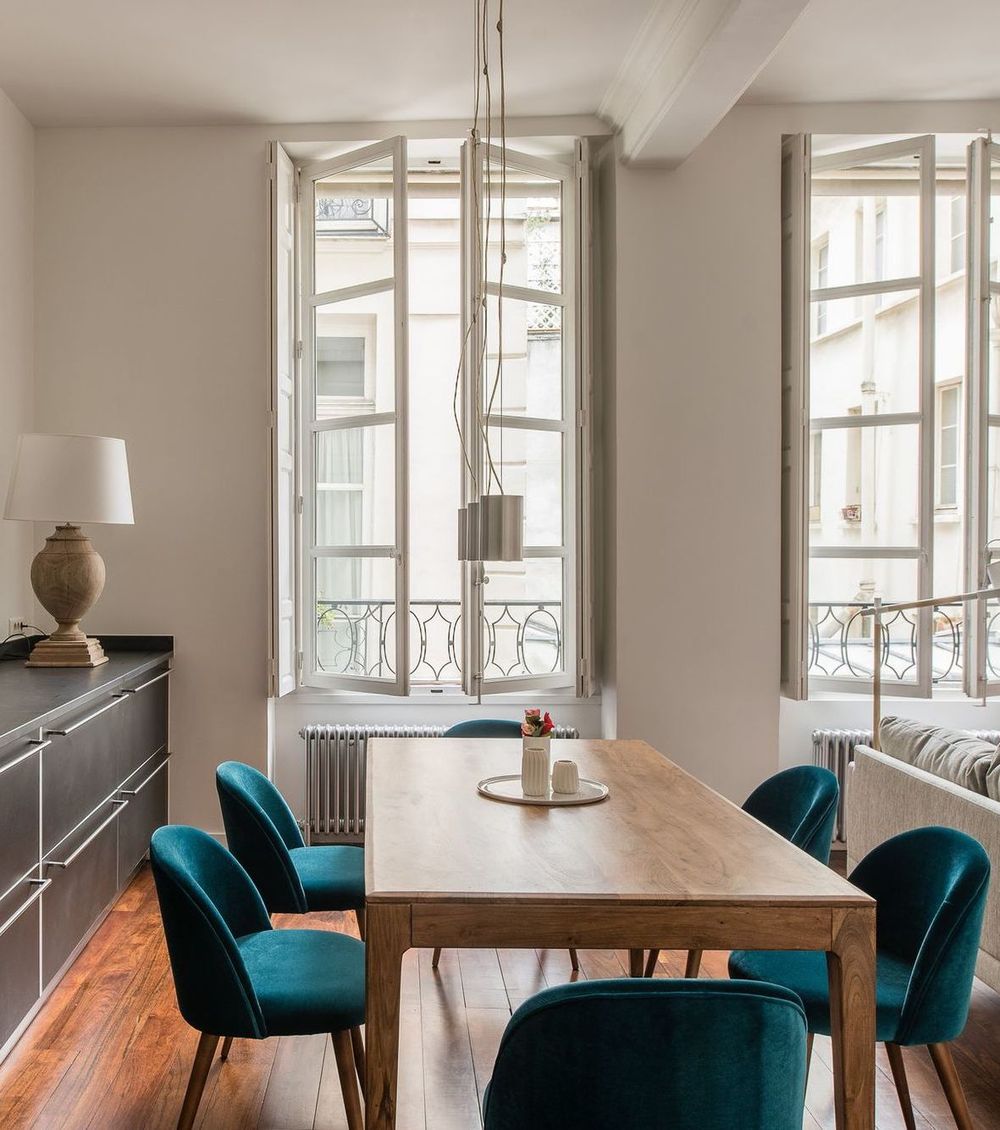 CoteMaison
31. White tulip chairs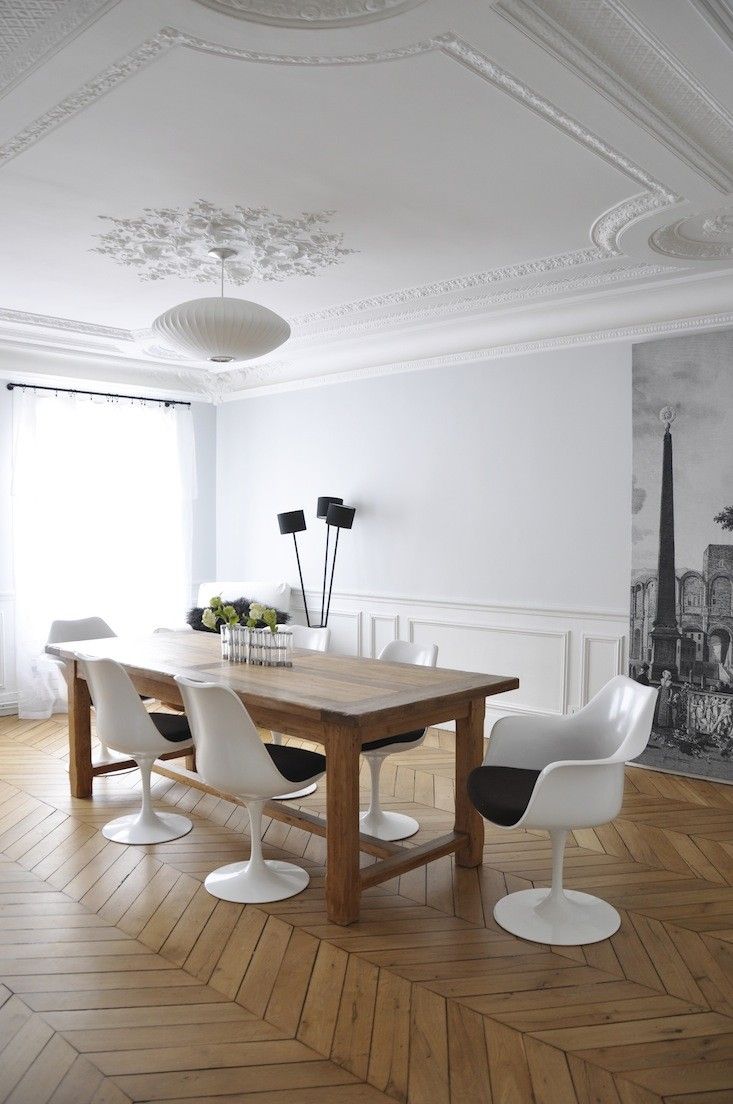 Stephanie Ross
More Parisian Apartment Inspiration
Looking for more Parisian apartment decorating ideas? We've got plenty for you!