Neutral dining rooms are very much in style as people look to simplify their lives in the 2020s. Gone are the decades of complicated, fussy interiors. Simple and practical decor that is pleasing to the eye is here to stay, thankfully!
Some people like to go bold when it comes to interior design, but personally, there's nothing I love more than the look of a neutral interior design. It's calming, and relaxing and sets a serene atmosphere in the home. Lighter tones help to reflect light making the space feel warm and bright. There's just so much to love about neutral decor!
Neutral Dining Rooms
Now, if you're planning on re-doing your dining room, you may wish to be inspired by the many neutral decor ideas for the space where we eat our meals amongst friends and family. From the dining table to the hutch, there are endless ways to refresh your dining room in a neutral tone. I've scoured the internet to find the best ideas for neutral dining rooms and shared them all with you here.
I looked at some of my favorite interior designers' portfolios, browsed through Pinterest, and explored the hashtags on Instagram. You won't find a better source for neutral dining inspiration than what's found in this post!
Mod Furniture
Our first dining room shows a gorgeous dining room with 60s-style mod furniture. A round beige wood dining table sits in the center of the room with a pot of dried flowers. For seating, a plush cream sofa bench sits on one side and three pale pink mod dining chairs sit on the other. A faded beige oriental rug sits over the hardwood floors. The walls are gray with white crown molding.
This dining room shows us that neutral decor doesn't mean you have to stick to white and beige. You can definitely incorporate subtle, faded colors into your homes like sage green, pale pink, unsaturated blue, and dark brown. The key is to use these colors sparingly and one at a time.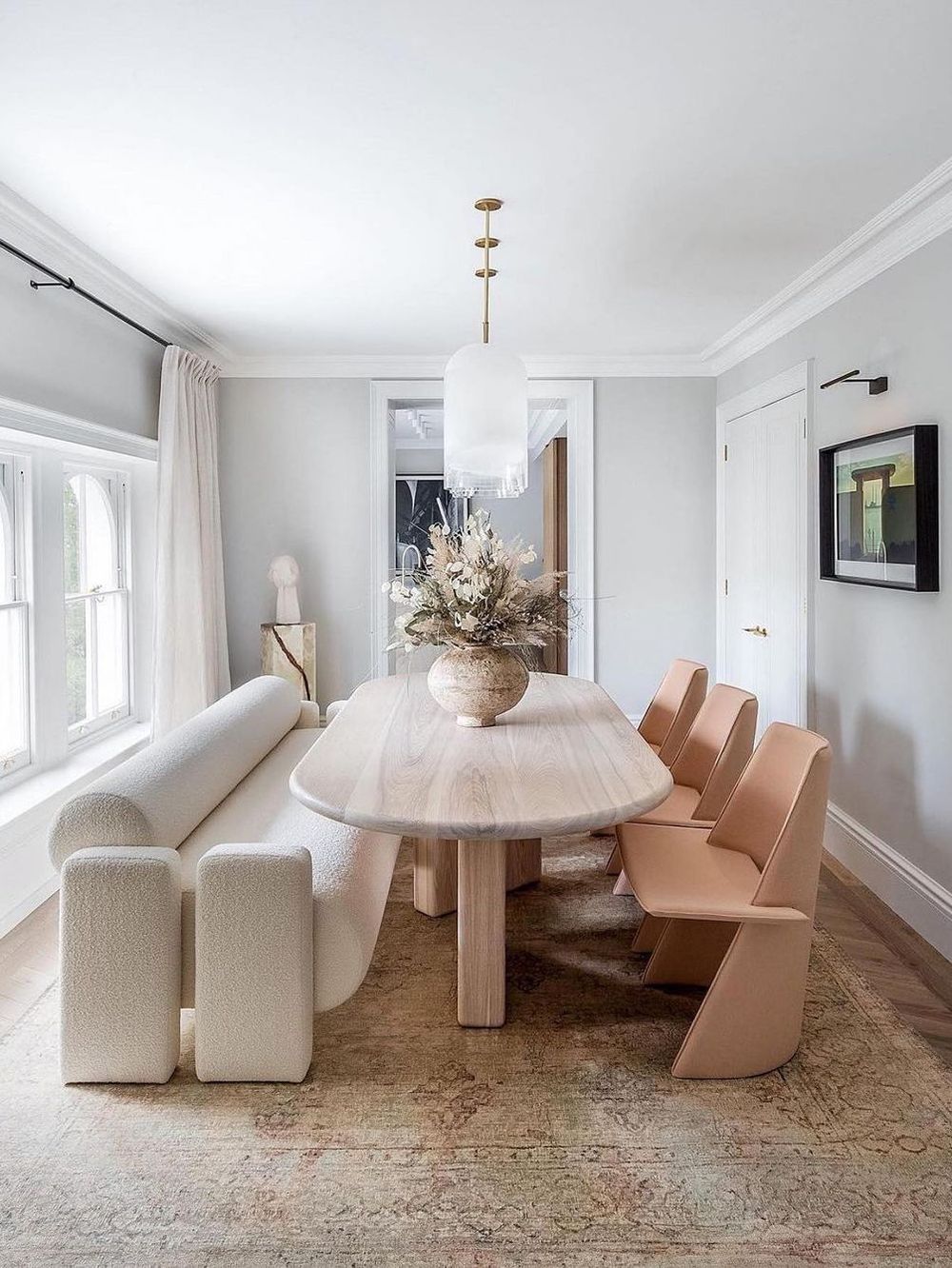 Matching Dining Hutches
I love the symmetry of this neutral dining room space. With two matching wood hutches and two identical beaded chandeliers, this room feels very balanced. An abstract gray painting hangs on the wall. Eight beige linen slipcovered dining chairs sit around a dark wood dining table. The patterned floor rug adds character.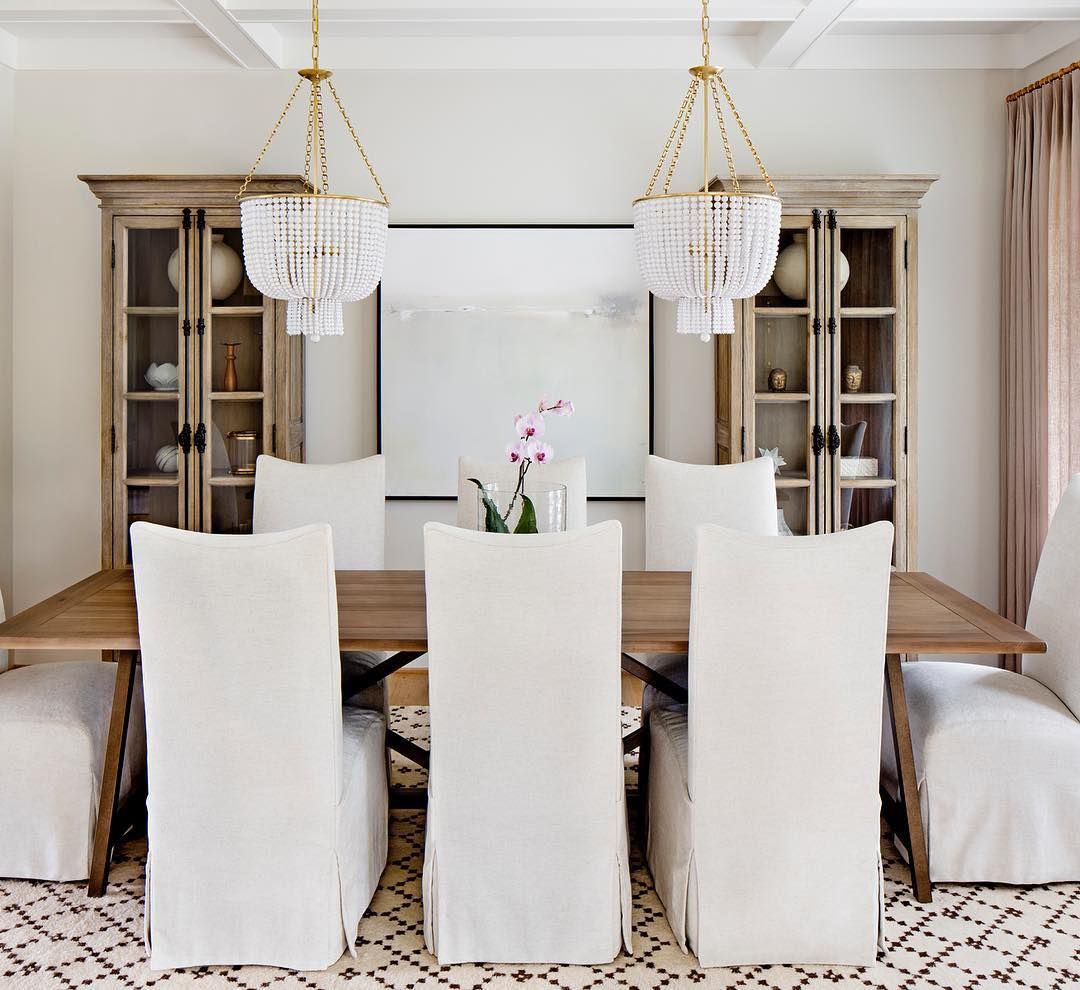 Wishbone Dining Chairs
White wishbone dining chairs are a great minimalist option for a neutral dining room design. These Scandinavian style chairs are timeless. Here, they are paired with a dark wood dining table, jute placemats, and a caged ceiling pendant. This bright and airy dining room across from French doors shows that minimalism works great with neutral dining rooms.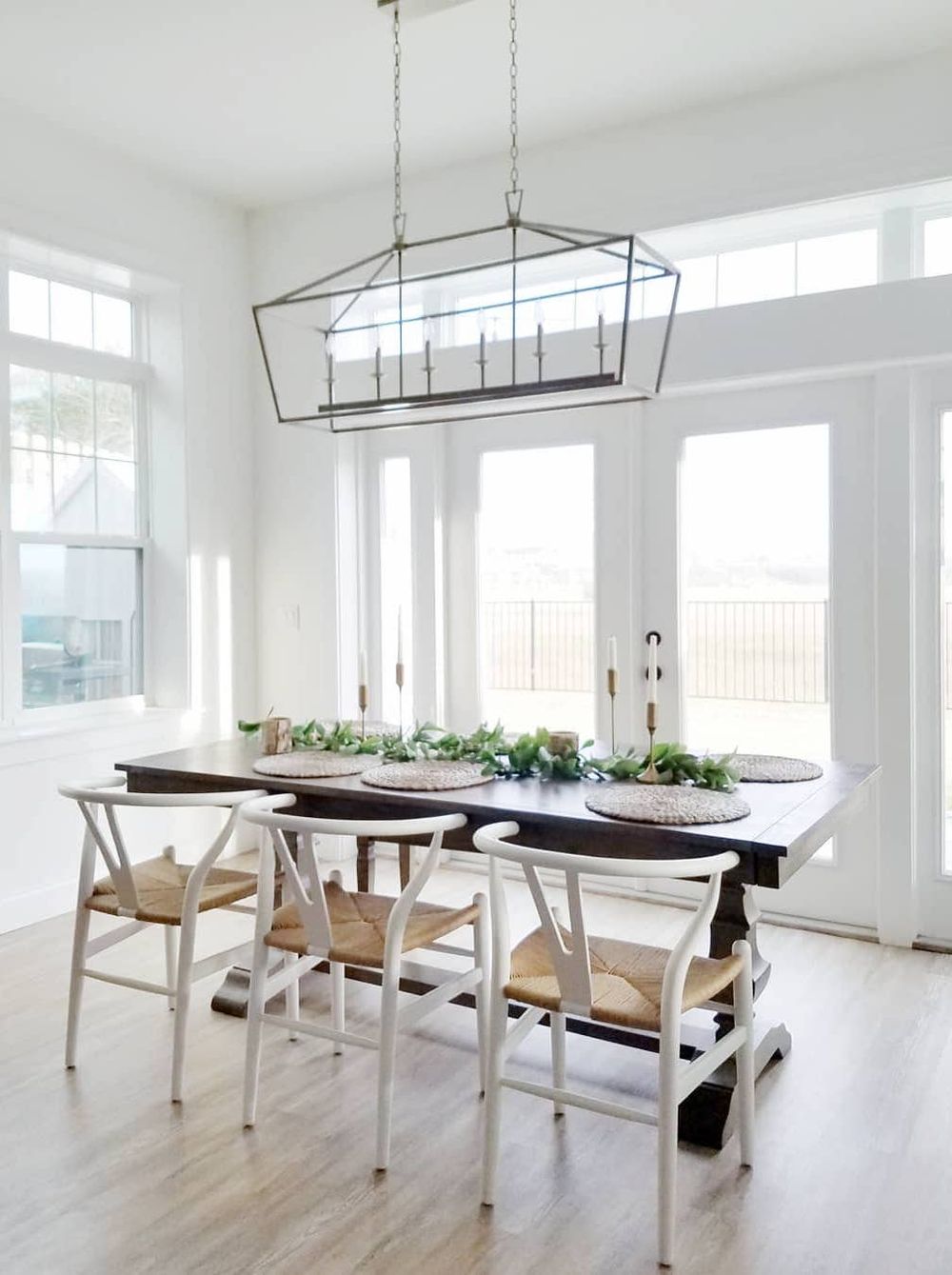 Beaded Chandelier
There are lots of options when it comes to neutral lighting fixtures. I love the look of a beige beaded chandelier, as seen here. This is definitely a statement fixture, but it works beautifully with the white country turned wood table and rattan dining chairs. A woven jute rug centers the pieces in the room which is an open-layout dining room, actually! The rug definitely helps to define the area and separate it from the kitchen behind it.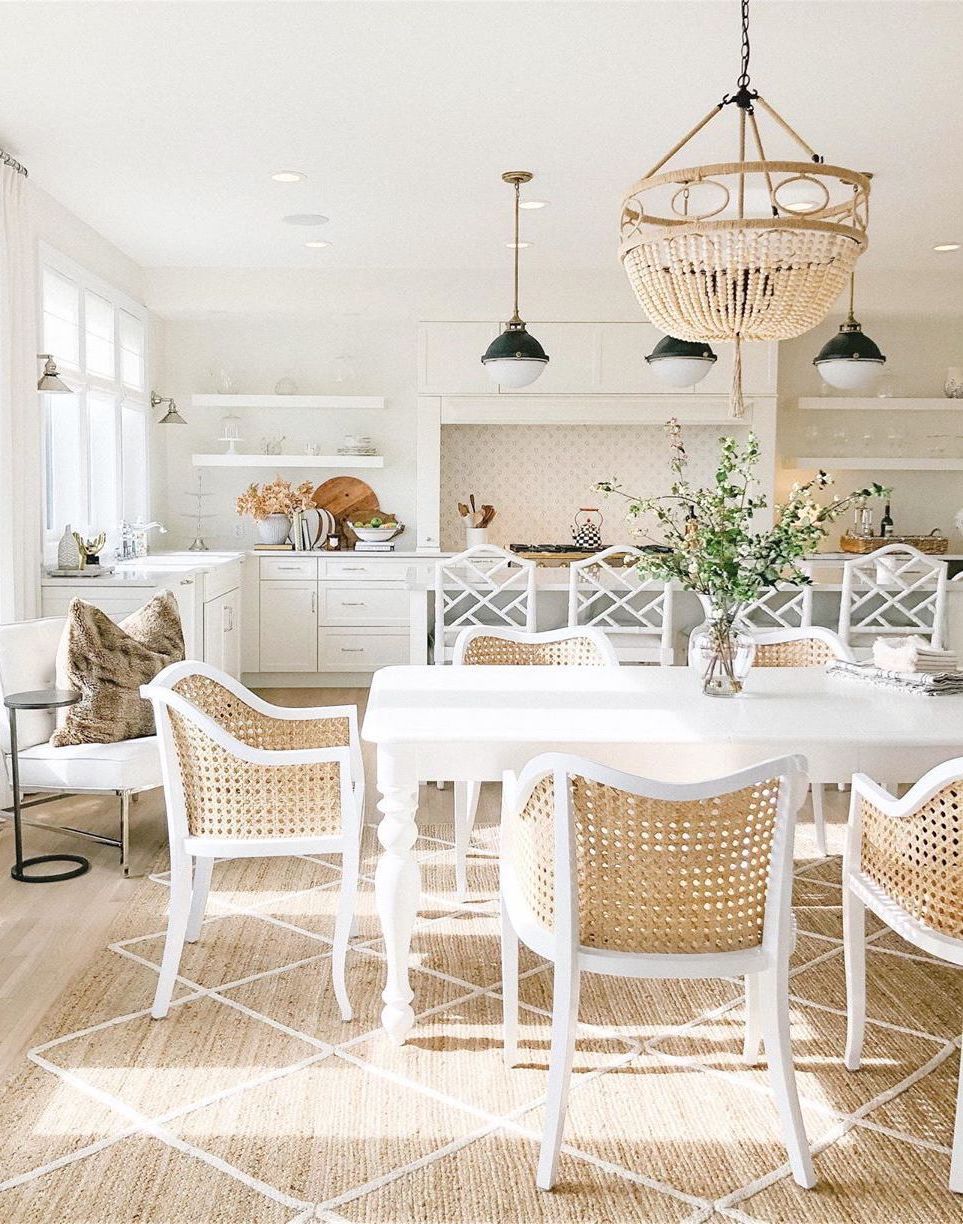 Bentwood Dining Chairs
This is a great Scandi-style neutral dining room design. With a sleek minimalist white dining table and black bentwood dining chairs, this is a minimalist dream! I love the white accent cabinet and frameless round mirror against the wall. A black swing arm sconce is attached to the wall. Lastly, a white paper lantern hanging from the ceiling lights up the space. This is a great lesson in minimalist neutral decorating!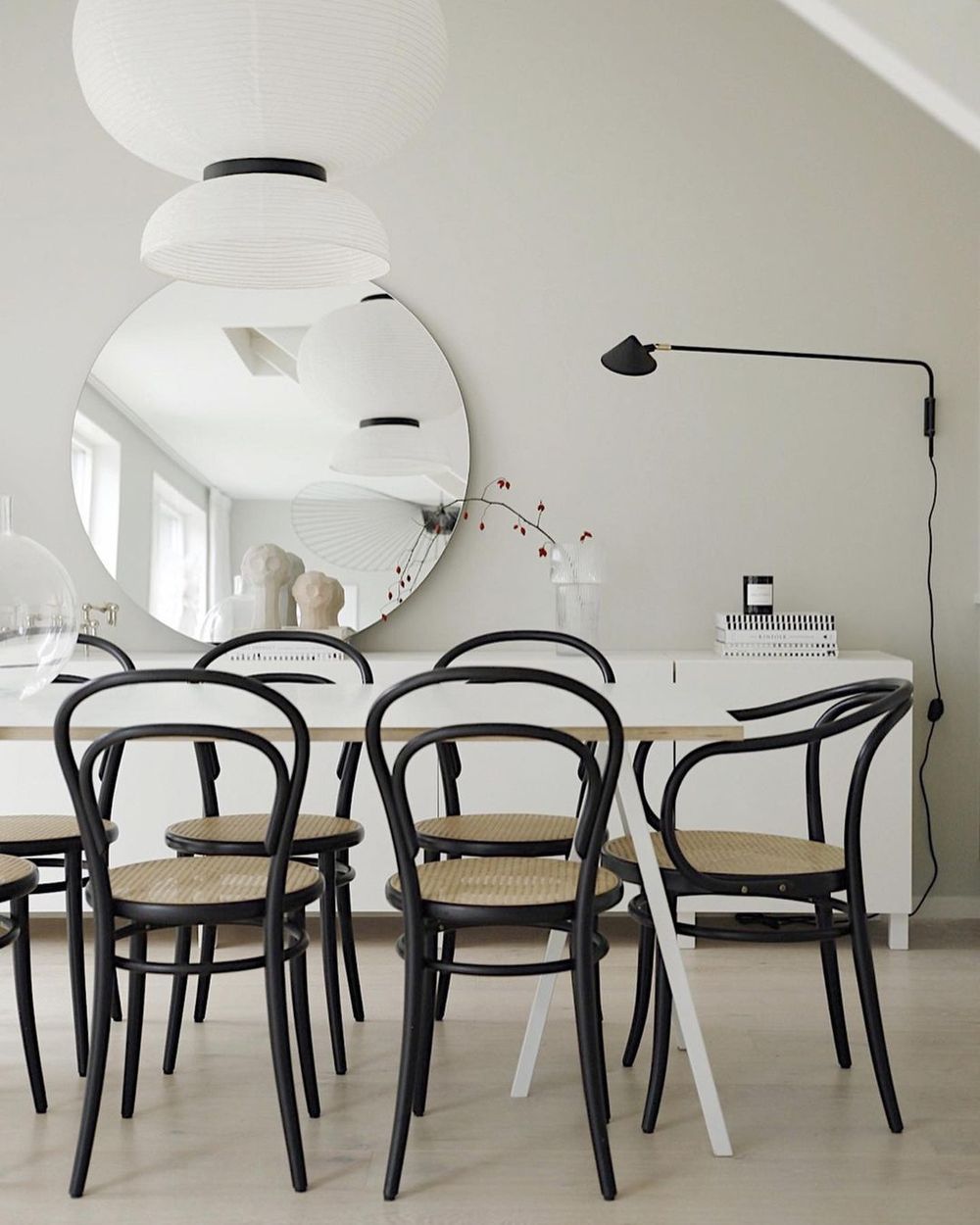 Jute Rug and Green House Plants
Another great jute rug shows that this rug is a fabulous choice for neutral dining room decor. Here, it's paired with a dark wood dining table and white dining chairs. I like how a lot of these spaces show the importance of contrast between your dining chairs and dining table! This room has great decorations, too. There are neutral artworks on the wall like abstract prints and Parisian architectural photography. In the corner, a greenhouse plant adds a burst of muted color.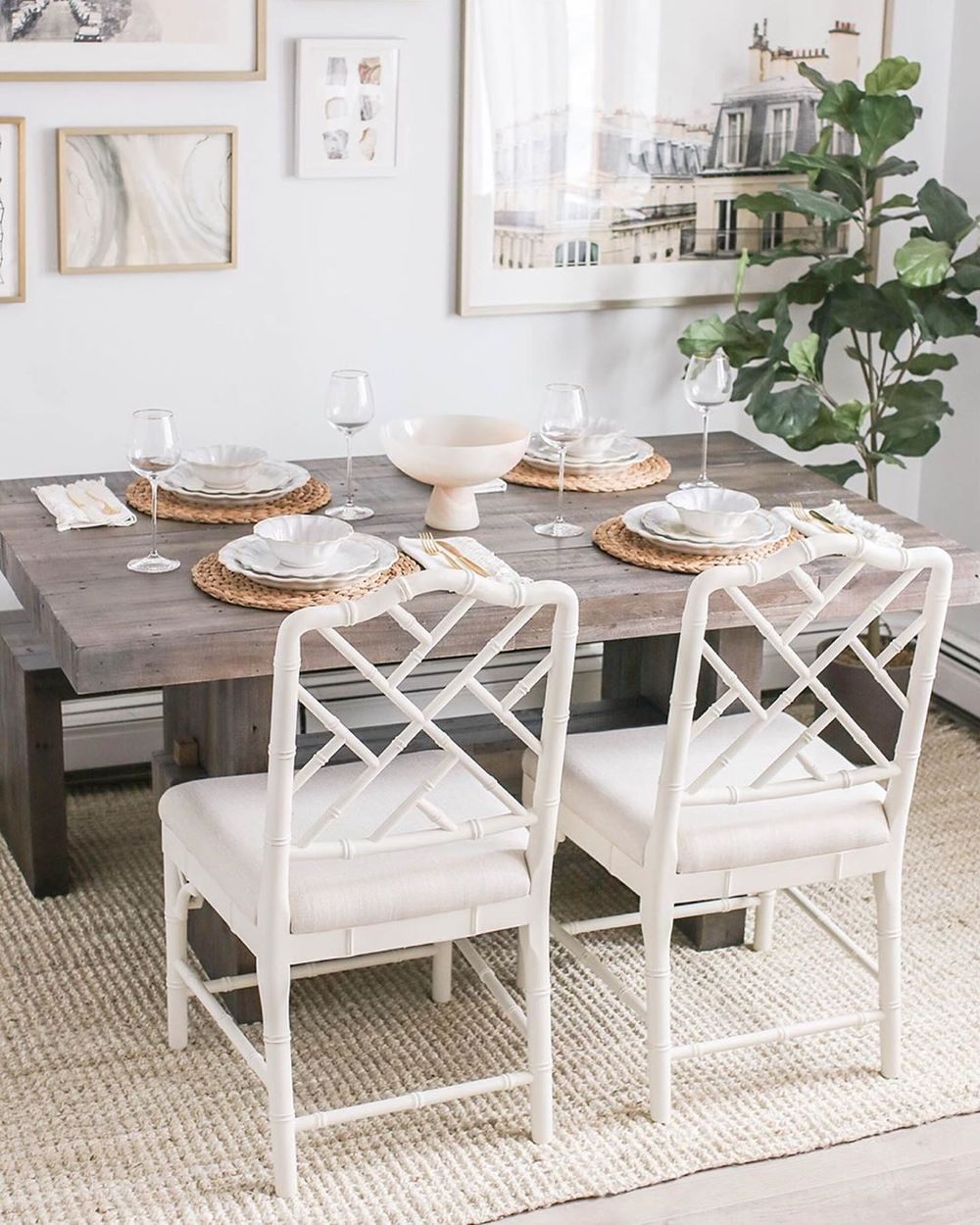 Leather Woven Chairs
This is a much warmer dining room than the previous one. Surprisingly, there is no rug! Most of the decorative elements in this room are beige or natural wood color, so there is not much variety in terms of neutral shades. That's ok – it still looks great if you ask me! The brown leather woven dining chairs are really gems in my opinion. It looks like the side chairs are smooth wood, while the head chairs are woven. The dining wood table is simple and sleek. A round jute tray serves as a centerpiece for this room, holding a white vase of house plants. Above, a group of three ceiling pendants hangs down. It looks like they are rattan spherical pendants! This is another open layout dining room that overlooks the white kitchen behind it.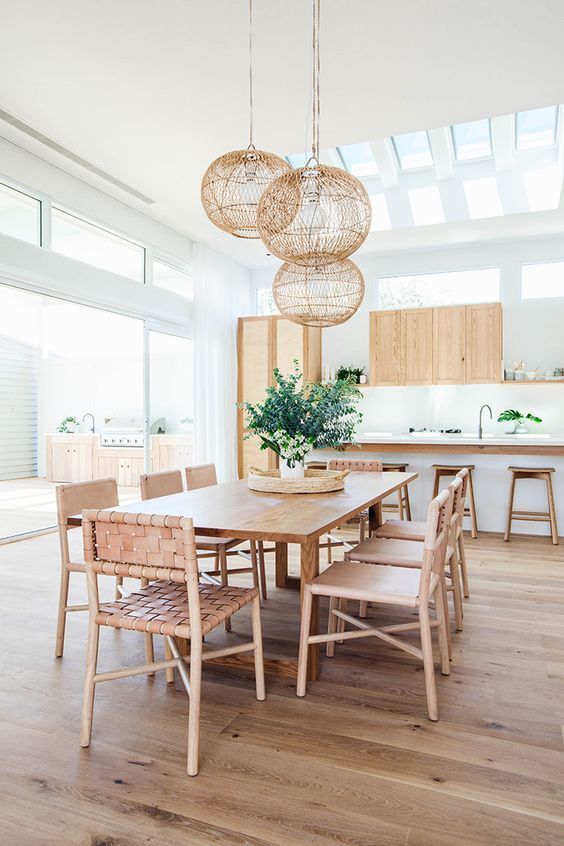 Mid-Century Chairs
This dining room is much more darker and traditional than the previous ones I shared. It featured upholstered mid-century modern side chairs around a blond wood dining table. A muted bordeaux red colored area rug frames the space. A modernist ceiling pendant with multiple arms hangs from above. This room overlooks a contemporary glass staircase leading to the second floor. I would love to have such high ceilings in my dining room!
White Marble Tulip Table
This is one of the smaller neutral dining rooms we've shared so far. It features a small white marble tulip table surrounded by blond wood dining chairs. Tulip tables are great because they only have a central leg that doesn't get in anybody's way. You can sit more people around this table than you could with a square table, so that's why it's great for small spaces! The downside is that you have less tabletop surface to work with. This one features a large white ceramic vase with eucalyptus flowing out of it. A rattan ceiling pendant light illuminates the neutral space. A round jute rug sits beautifully below.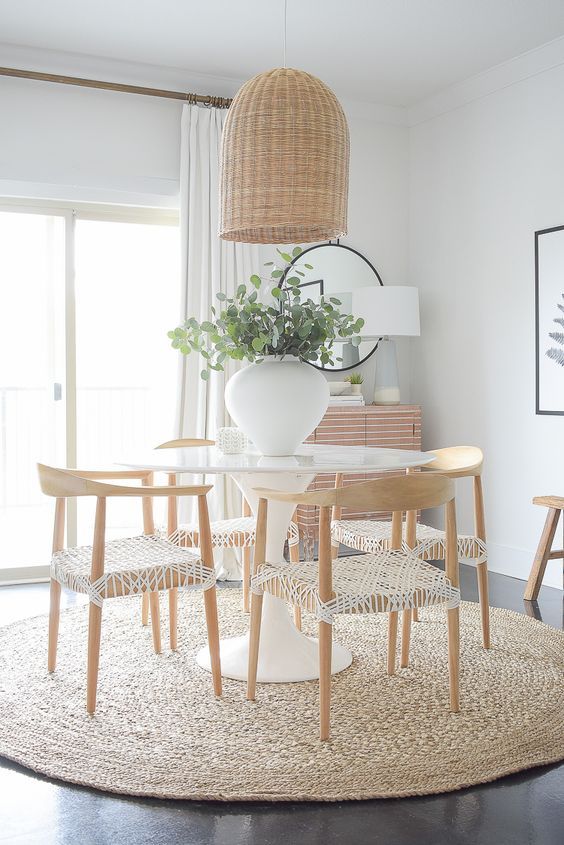 ---
As you can see, there are so many ways to decorate a neutral-toned dining room. We hope that at least one of our neutral dining room decor ideas inspired you as you design your own dining space! As always, please do let us know your thoughts in the comments below.
More Neutral Home Decor Ideas
If you adore neutral decorating as much as we do, then please continue reading our guides to get a calming neutral look in your home. We have written about rooms, furniture, and decorations that will help you design the neutral home of your dreams!
Happy curating!