Our best English country dining room decor ideas will give you plenty of ideas for decorating your dining room in the rural English cottage style. Country homes tend to have larger dining rooms which give you lots of room to design with larger pieces of furniture than you normally would in the city. This means there's more square footage to work with and more to think about!
English country decor is a style that many people want to adopt for their homes, even if they don't live in an 18th century castle in the rural hills of England! This charming cottage style can fit in appropriately in a wide variety of homes. No matter where you live, we have tips for you to learn how to decorate in this popular English decorative style.
English Country Dining Room Decor
The dining room is primarily a place to share meals with our friends and family. It must be welcoming, open, and easy to access. Everyone should feel comfortable in their seat at the dining room table. Aside from the obvious table and chairs, you'll need a good lighting source, a place for storage, and perhaps an area rug to make your dining room complete. Wall art and curtains are a good idea, too.
Let's go over some of the best English country dining room decor ideas to inspire you!
Floral wallpaper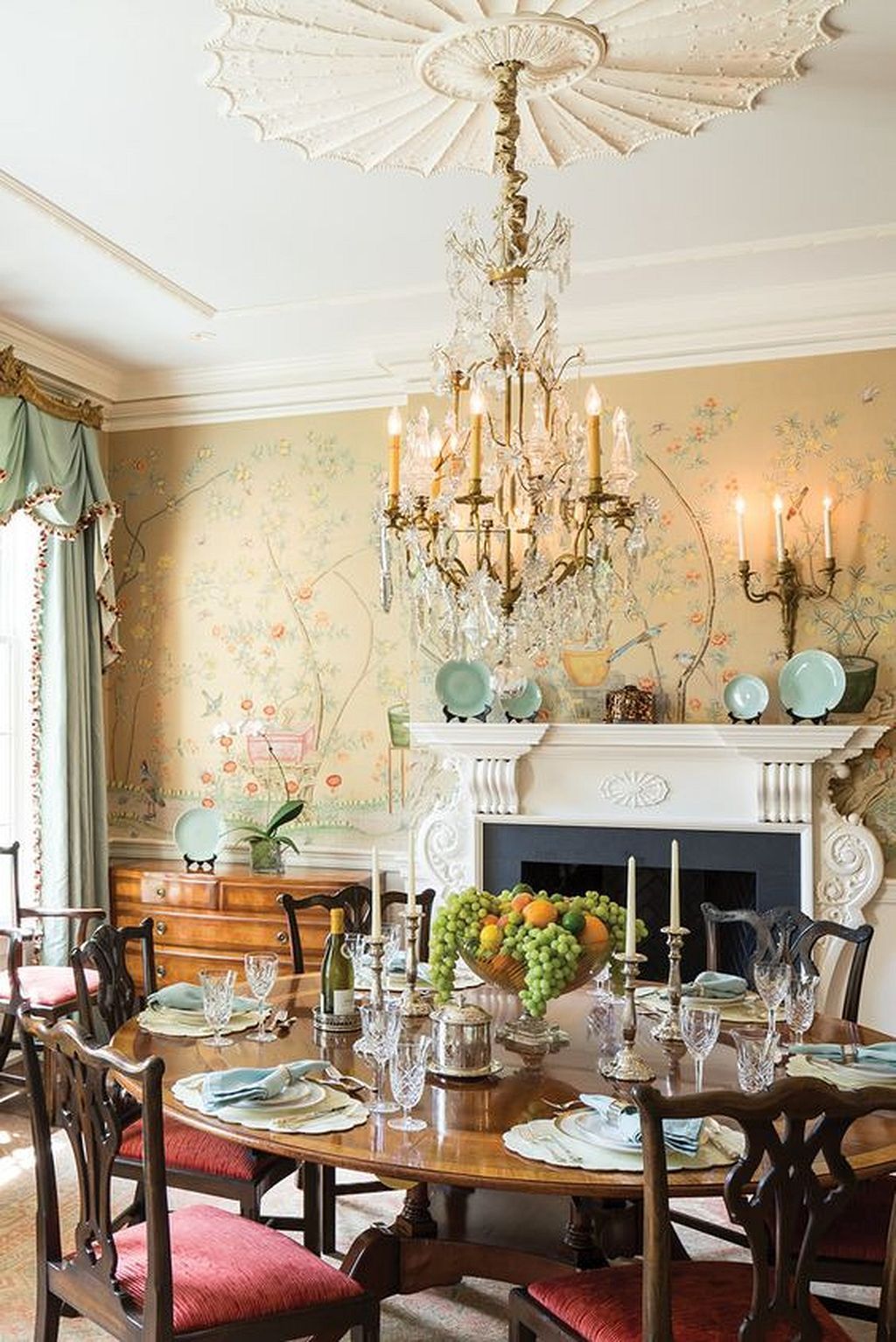 An Interesting Painting
Every great English country home has a beautiful art collection. You should display a large, interesting painting in your dining room which makes for a great conversation piece!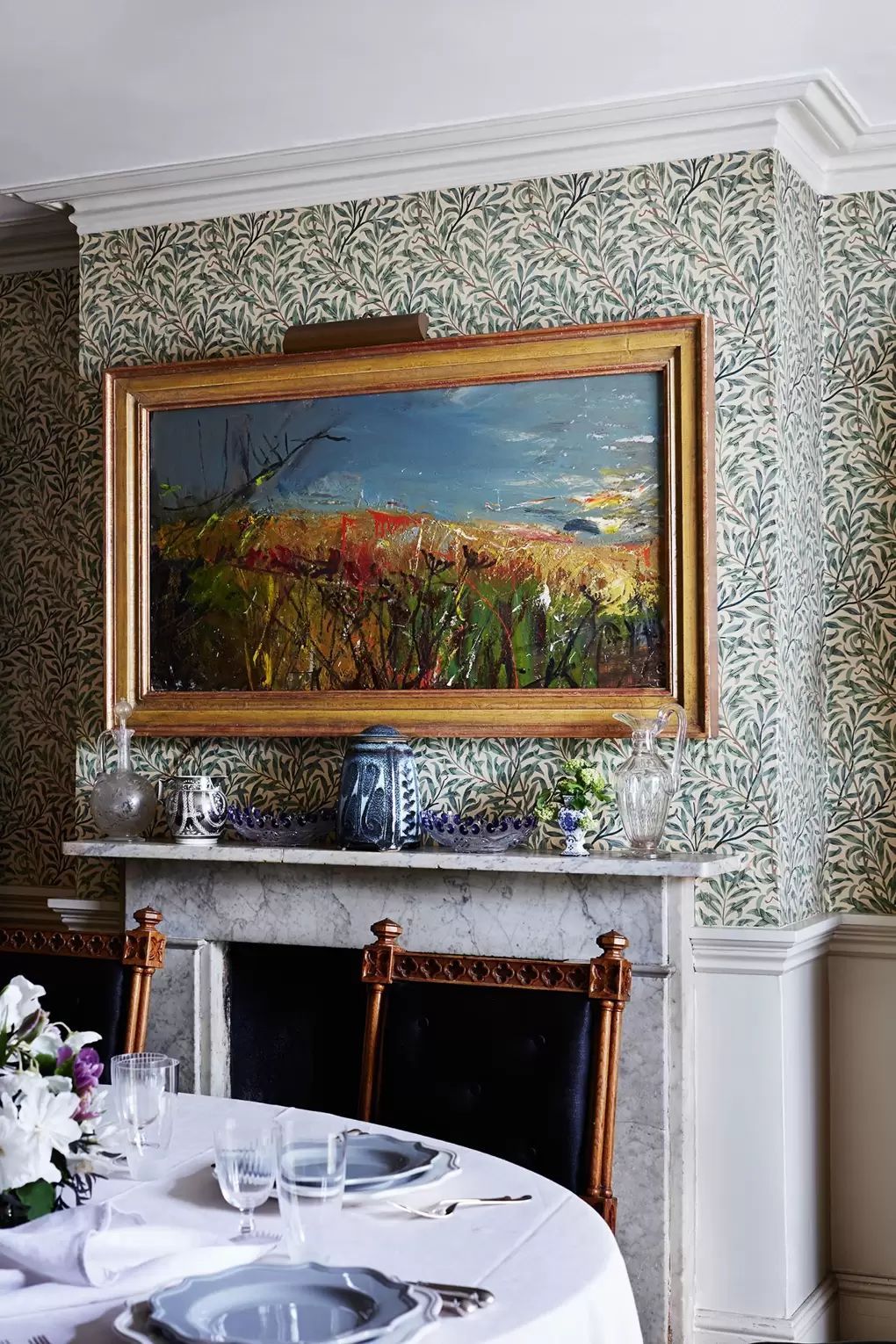 Black and white ceramic tile floor
This rustic dining room has a gorgeous wrought iron base dining table. Above, the rustic wood ceiling beams are exposed and a concrete fireplace warms the space.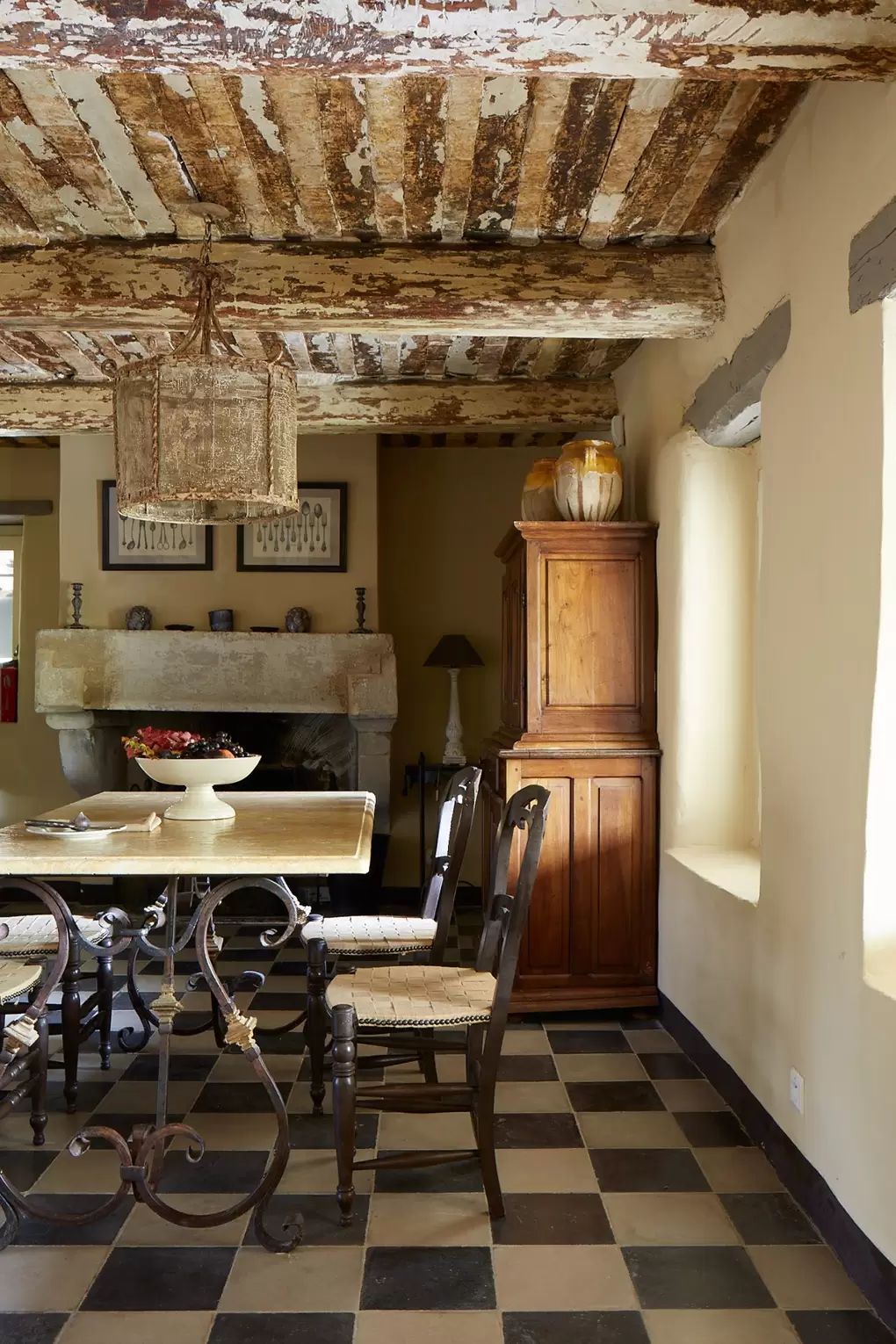 Built-in Bookshelves
This dining room fireplace is flanked by two open shelved built-in bookcases directly installed into the wall. A large pottery and serving platter collection is on full display.
Chippendale Chairs
Solid mahogany wood dining chairs are a great addition to an English country dining room!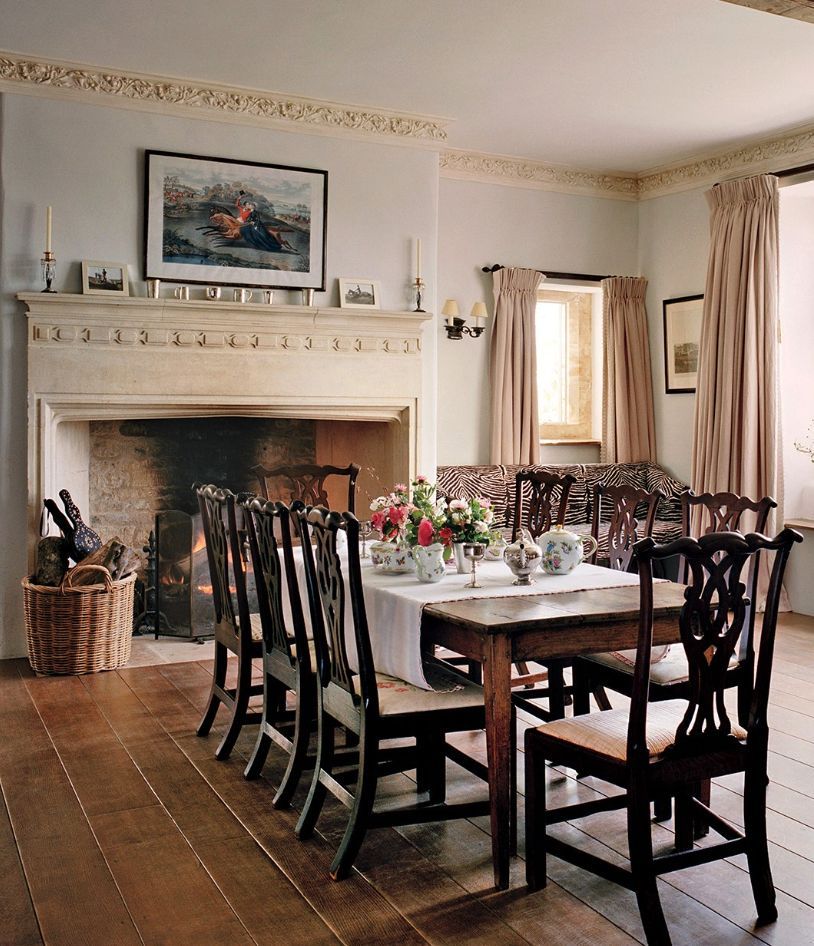 Country Dining Chairs
Simple country style dining chairs can help set the right mood for your relaxed English country home.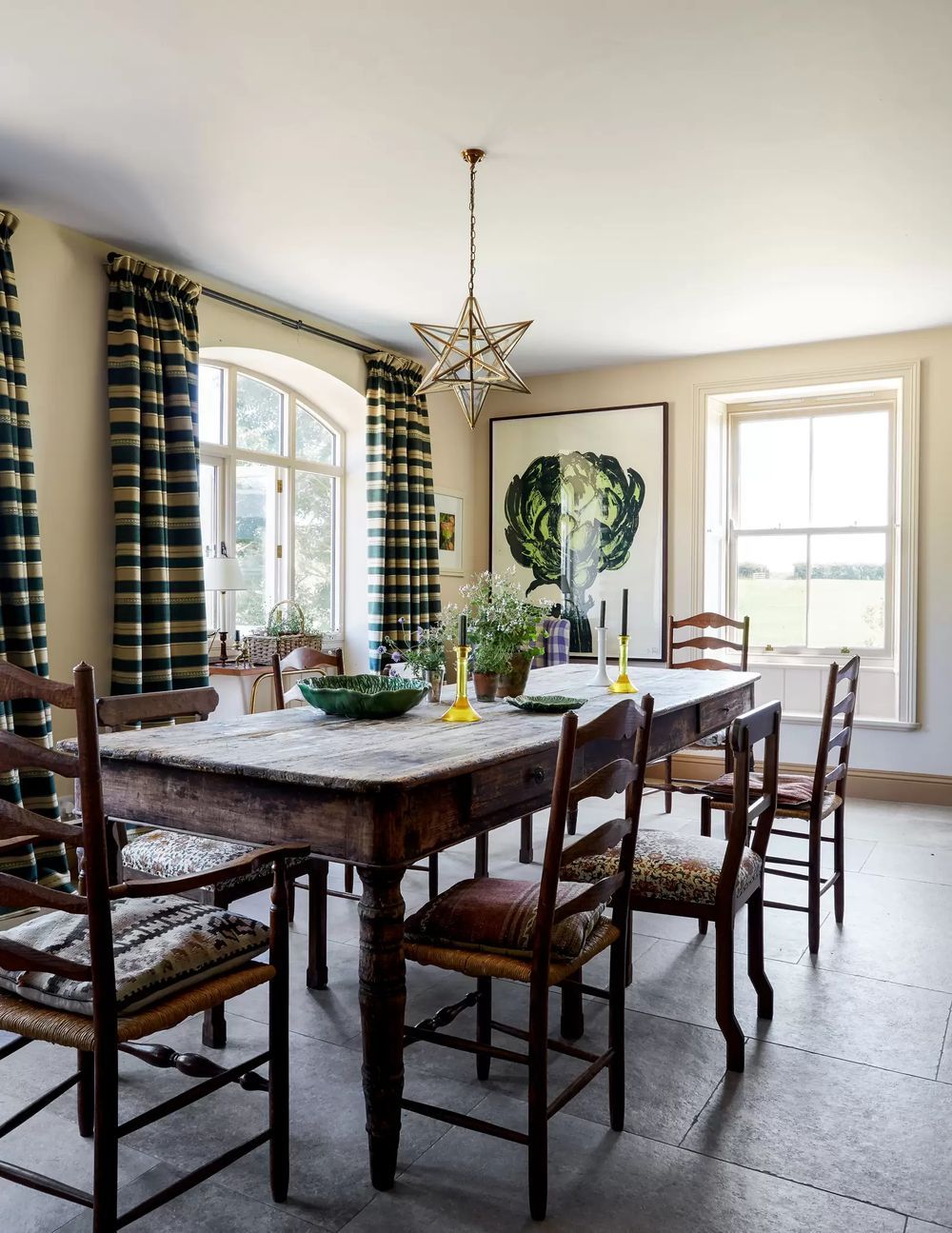 Wooden Hutch
A wooden hutch is one of the most classic English country dining room decor ideas for your home.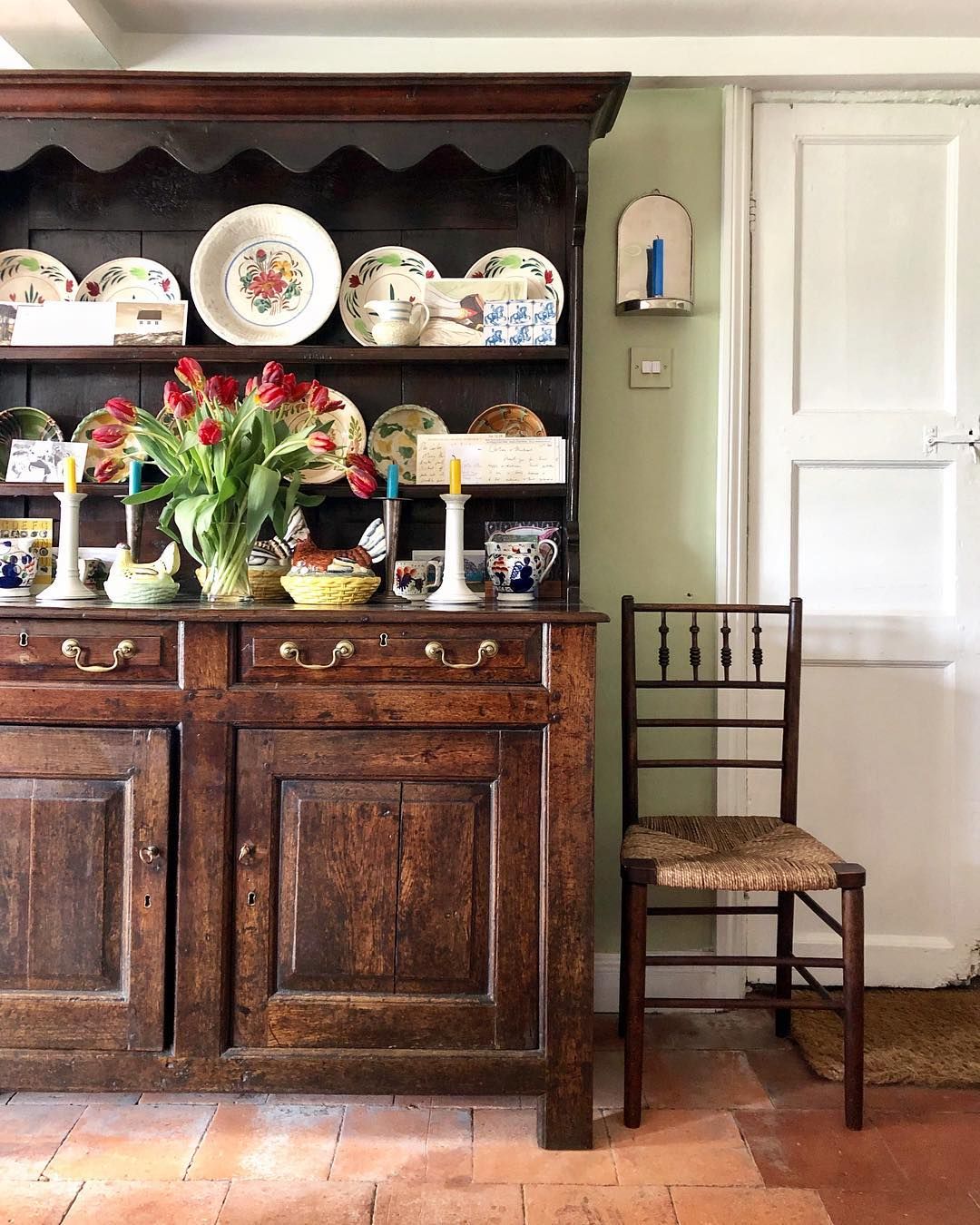 Floral Tablecloth
Placing a traditional English country dining room table in front of a large sunny window will let in plenty of light to your space. This dining room is decorated with a pink floral tablecloth.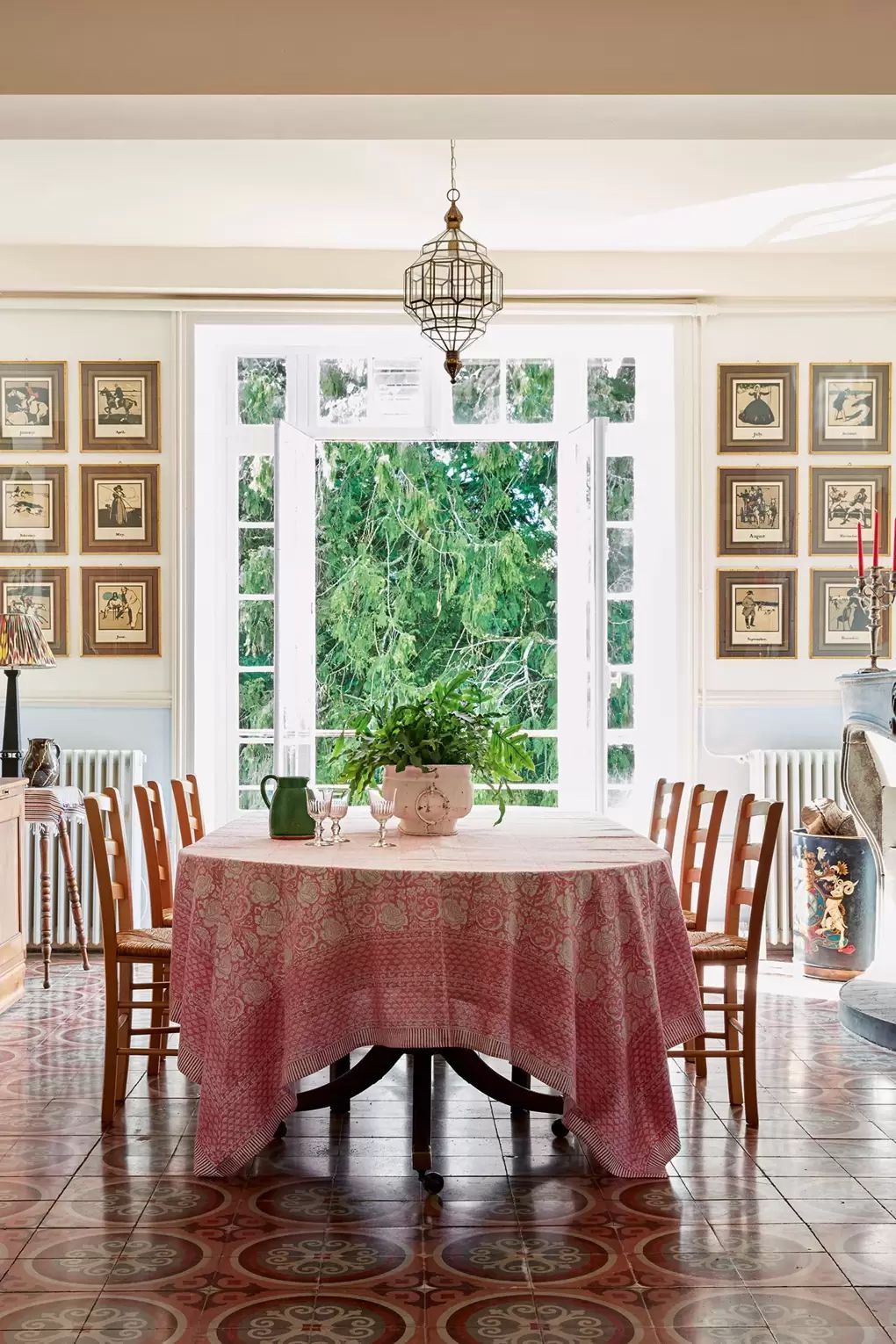 Pastel Blue
English country interiors include much more color than you might think. These pale blue dining chairs are a great accent to this space! They reference the blue and green floral curtains in the back.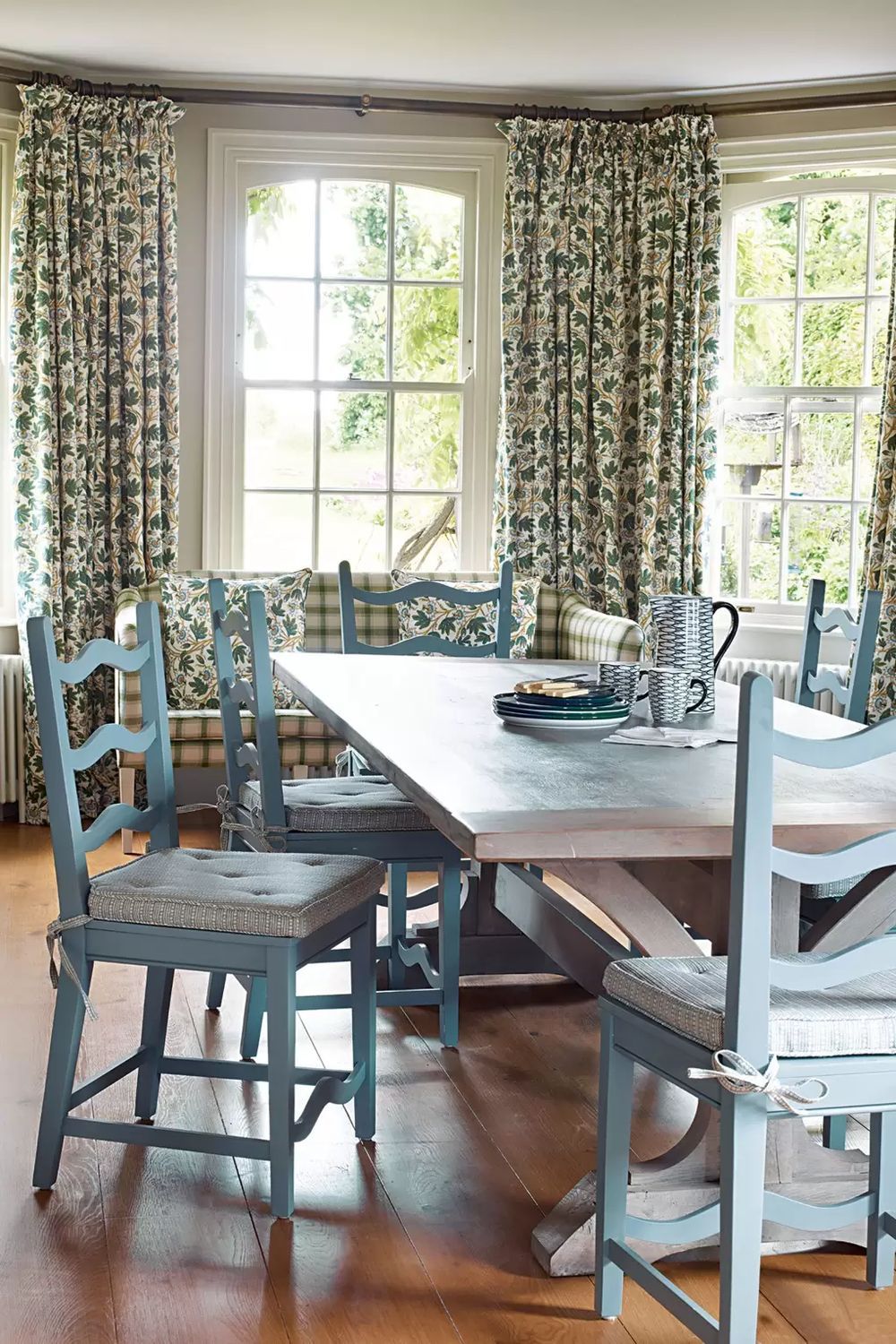 Pompadour toile curtains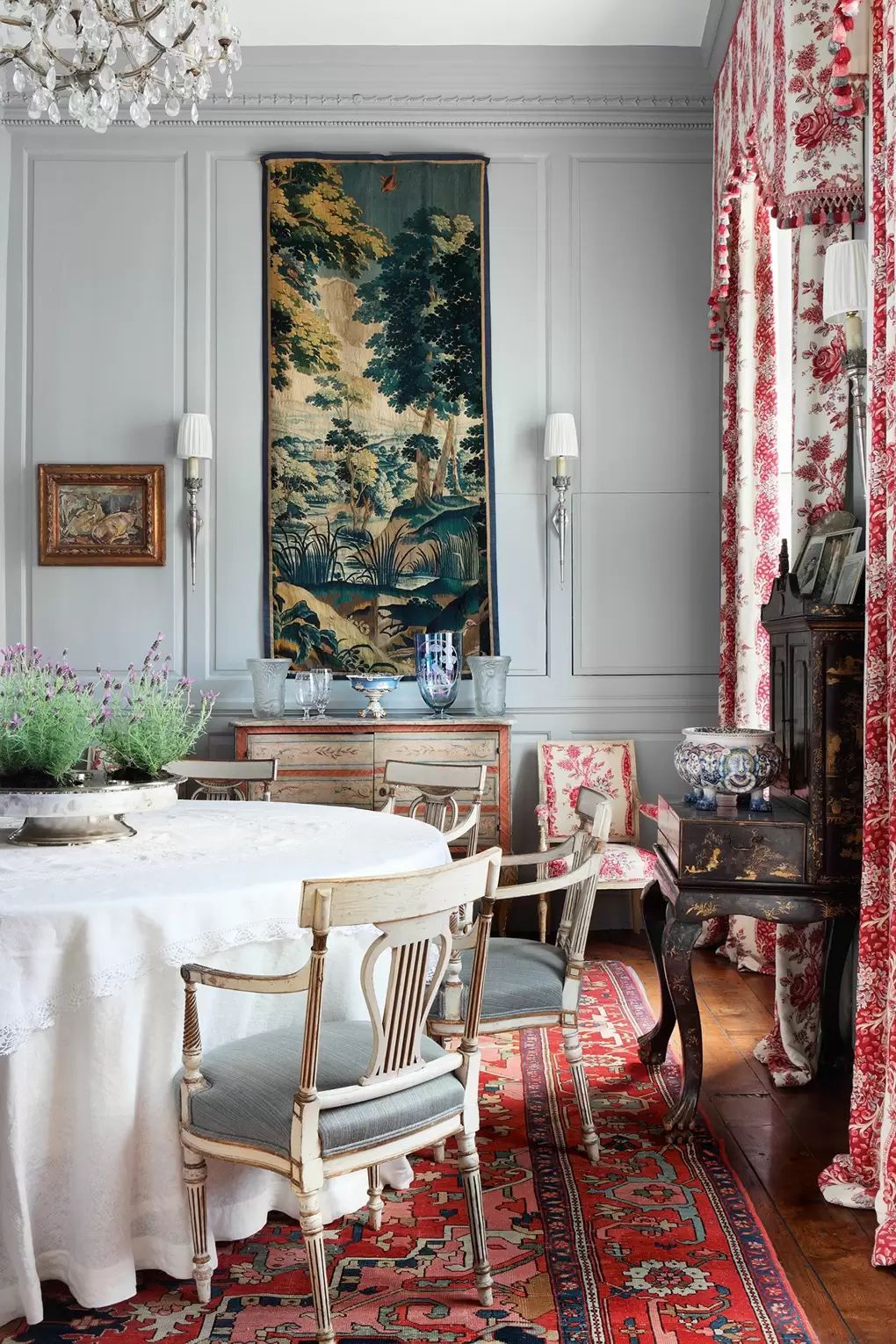 Rustic Table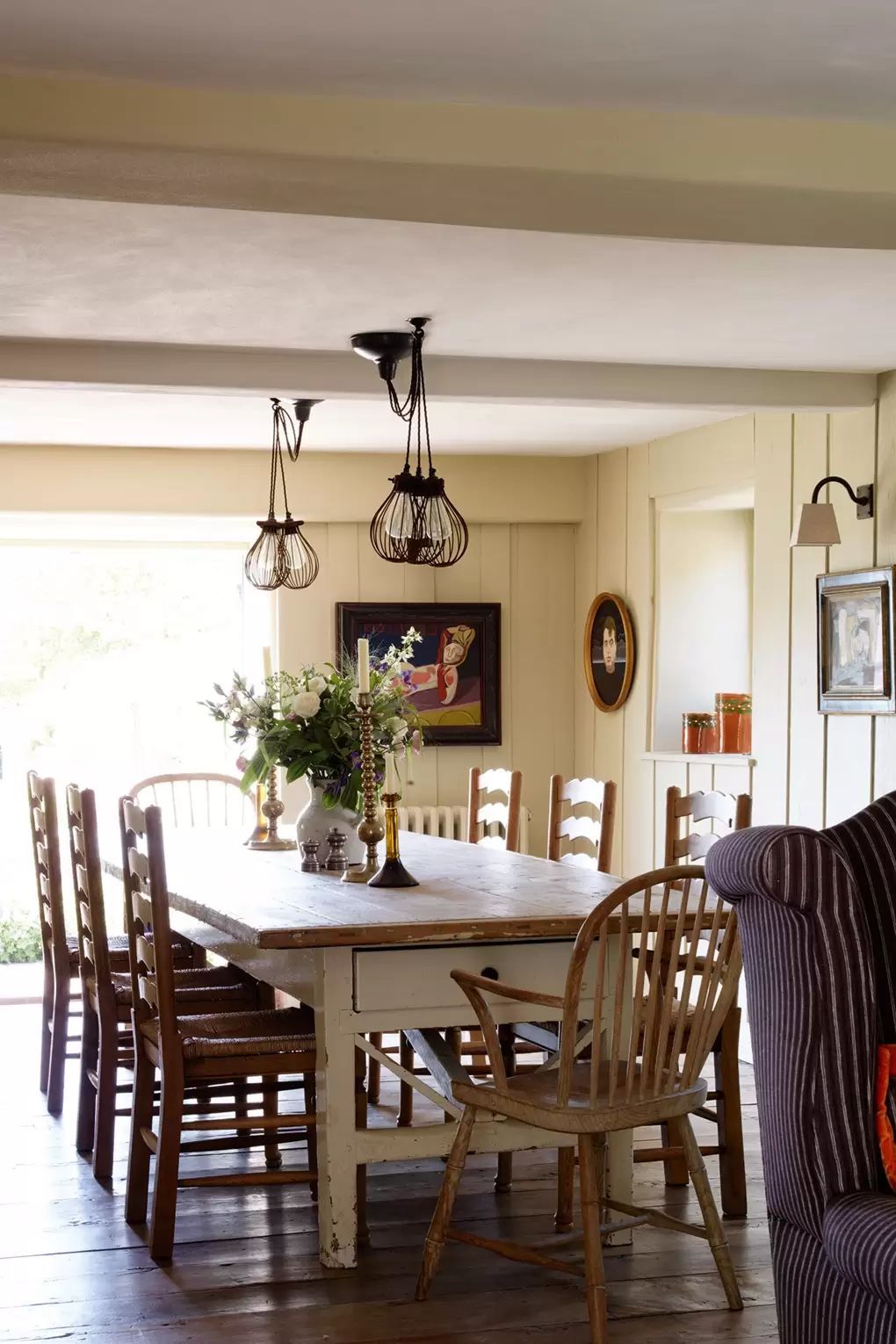 Unfinished floor boards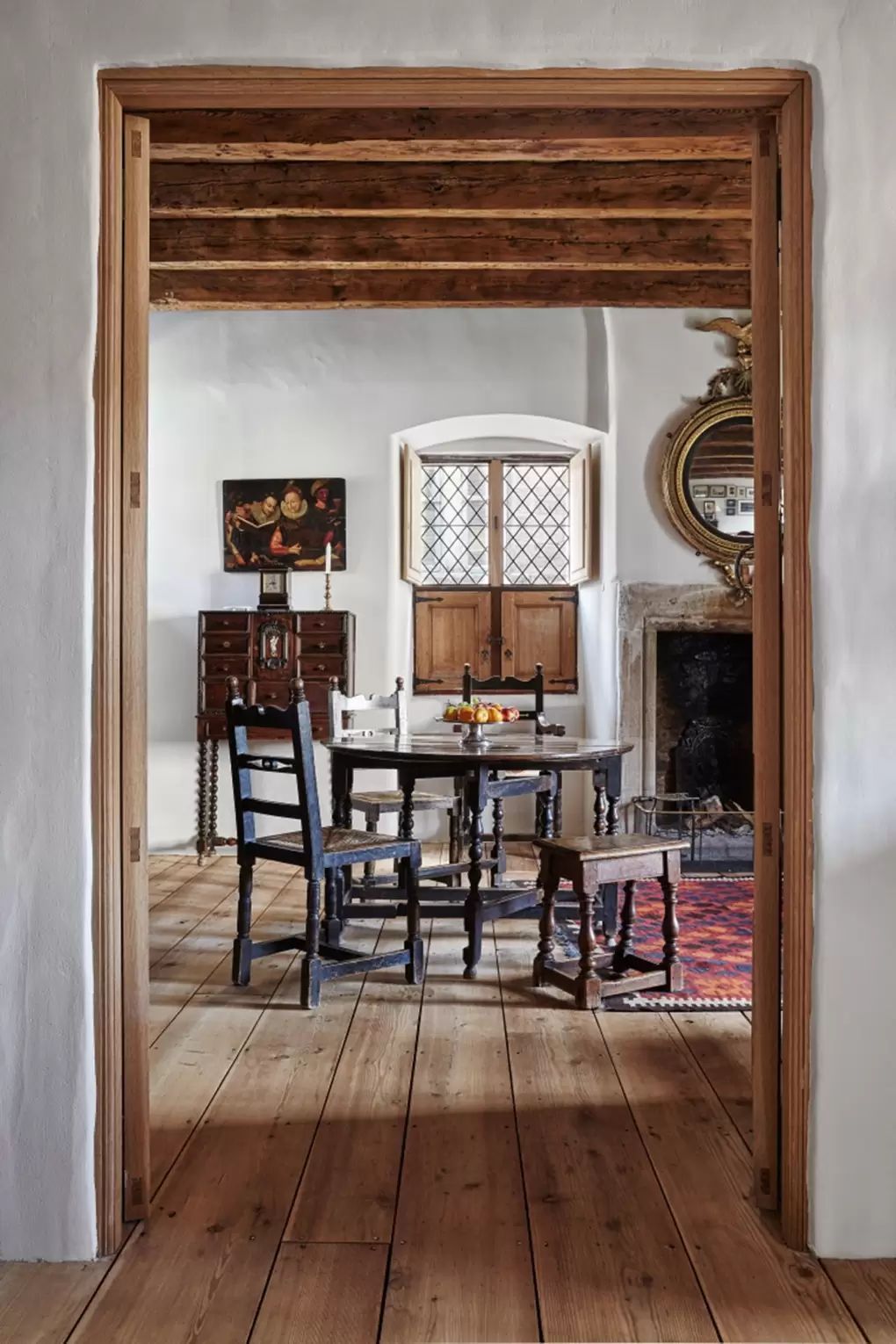 Monochrome Decor
You can go full monochrome in your dining room as seen here, with turquoise walls, ginger jars, and a blue and white tablecloth.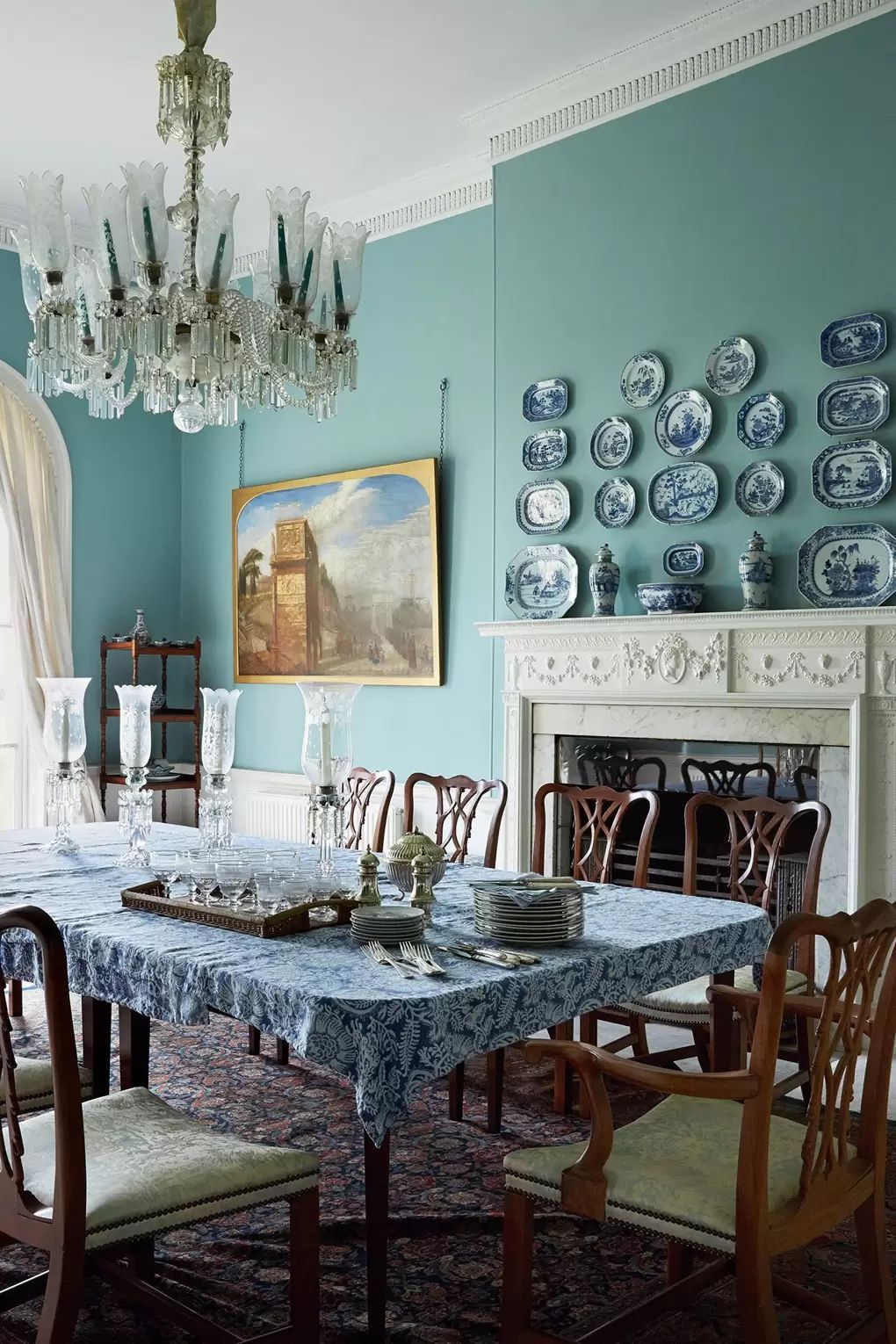 Oversized Tablecloth
This dining room features a beautiful tablecloth that touches the grund on all sides.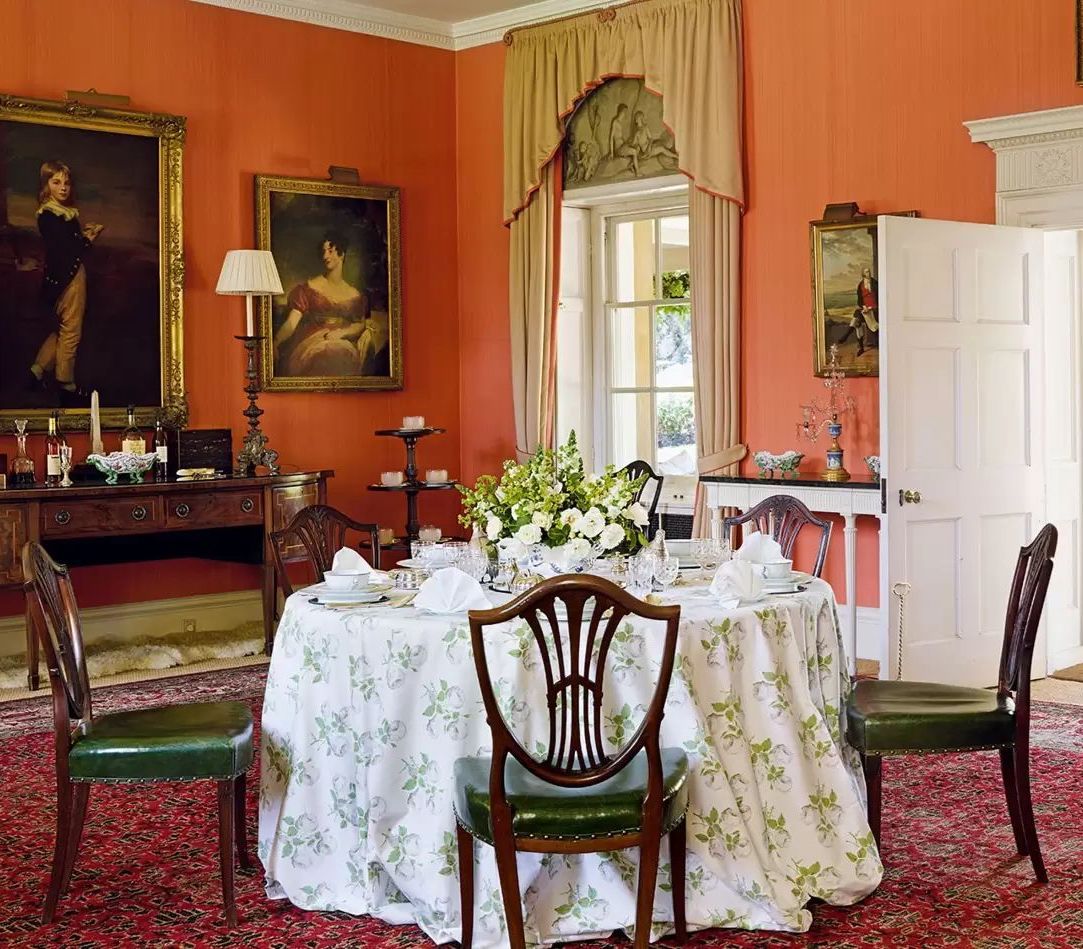 Wishbone Chairs
This rustic English country dining room has neutral wood tones.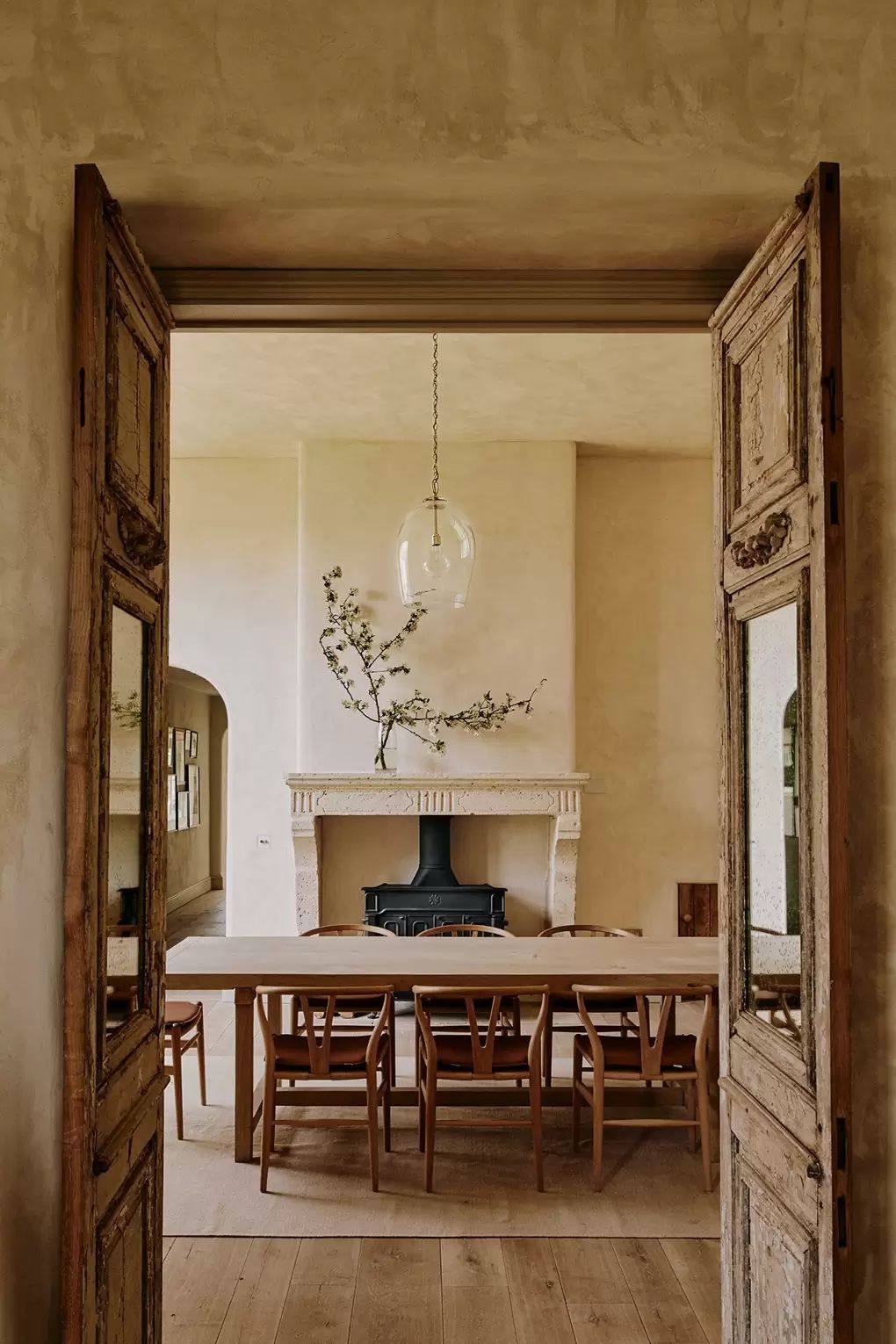 So, what did you think of our English country dining room decor ideas? I'm pretty sure the Queen of England would happily accept an invitation to dine in these authentic dining rooms!
More English Country Decor Ideas
As you can see, there are lots of ways to get the English country decor look in your dining room. We are so in love with this style of decorating that we've written a few more guides to help you get this look in your home. Don't miss our other related articles that have been published recently right here: