Industrial dining rooms are commonly found in loft apartments and urban interiors. Even if you don't live in a metropolitan area home, you can still take inspiration from these beautiful interior style dining rooms for your home.
Industrial decor takes its cues from old factories, abandoned warehouses, old manufacturing plants, and other spaces from decades past. From brick walls to metal beams and exposed pipes, there are lots of ways to spot an industrial style interior!
Industrial Dining Room Ideas
Let's take a peek at some industrial dining rooms we found online. Many interior designers have mastered the look of the modern industrial home – complete with many of the contemporary comforts we all expect. The dining room is a place for gathering to share a meal, not for working after all! From rustic dining tables to metal dining chairs and raw lighting fixtures, each of these dining rooms has an industrial charm of its own.
Here are our favorite industrial dining room decor ideas. These are the topics that will be covered: industrial dining room ceilings, walls and floors, dining tables and dining chairs for the space, buffets, overhead lighting, and decorations!
I hope this guide on how to decorate an industrial dining room helps you out!
Industrial Interior Architecture
Let's start off by talking about common industrial style interior architecture elements that are found in these types of homes. You'll need to think about how you want the walls, ceilings, and floors of your industrial dining room to look. Industrial dining rooms have several key features that give them a quintessential look. Here are some examples of the 'bones' of an industrial home.
Open Layout
Our first industrial style dining room shows the open layout concept commonly seen in industrial style lofts and apartments. One room flows effortlessly into the next, and walls tend to be exterior facing. This industrial dining room has gorgeous leather chairs around a rustic dining table. A brown leather sofa sits perpendicular to the dining table. A large wall of windows lets the natural light flood in the raw space.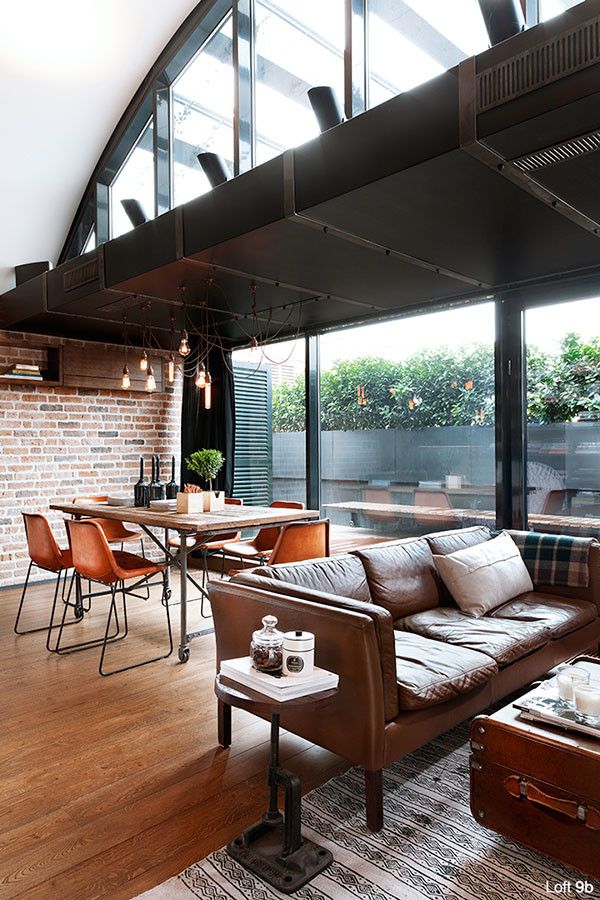 Brick Walls
Red brick walls are another popular architectural feature of industrial residences. This brick wall has white paint slowly peeling down from the ceiling, giving it an unfinished, distressed look. A white ladder leans against the wall holding reading material. A coat rack hangs on the other end.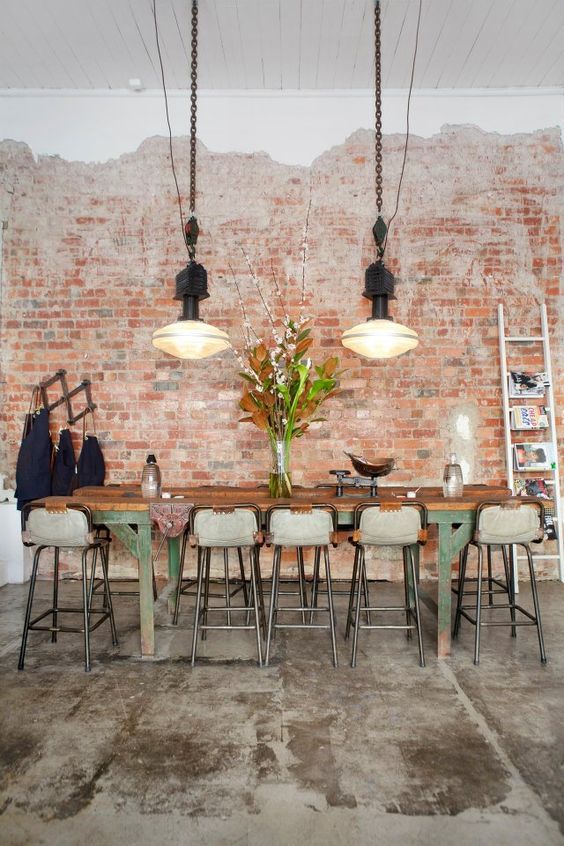 Concrete Floors and Tin Walls
I love how unique this dining room is. It has gray concrete floors that have been smoothed over and a silver tin wall. The brick wall has been painted white. A silver metal dining table and metal dining chairs make up the dining room furniture.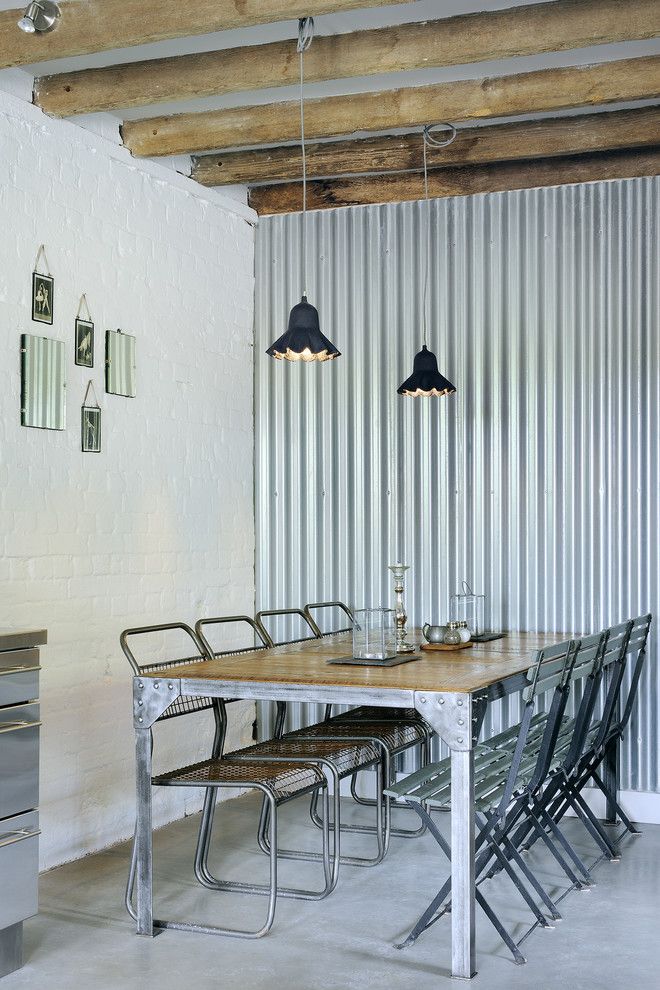 Black Metal Frame Glass Panes
This dining room has been separated by black metal framed glass panes. There is even a sliding door that can be opened and closed as needed. I like how this dining room door doesn't hinder light, but still creates a barrier.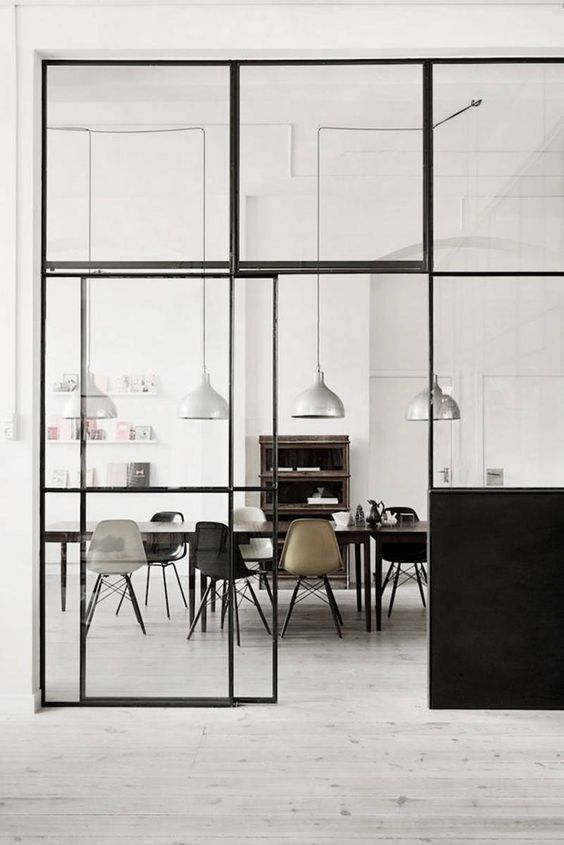 Exposed Metal Beams
Many industrial homes feature exposed metal beams and pipes. Here you can see the black metal ceiling beams which support the roof above the dining room.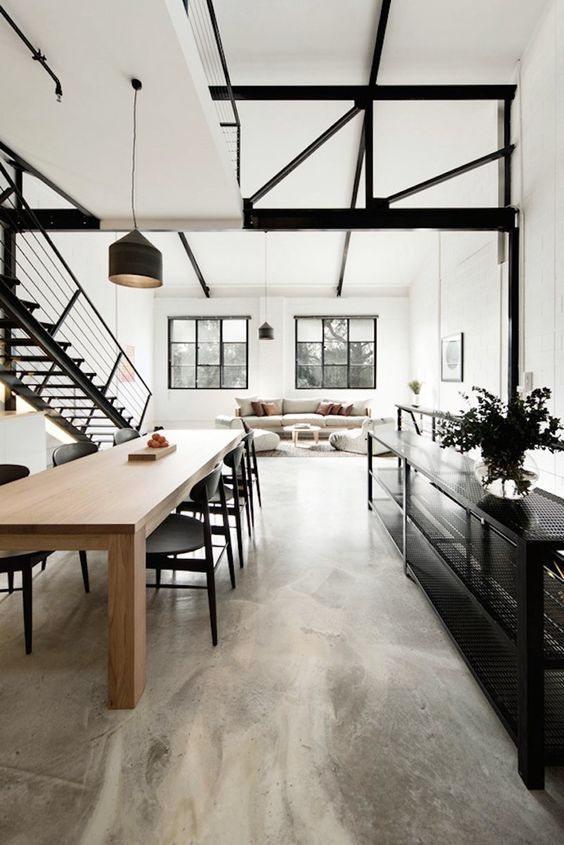 Copper Ceiling
For a warm and unique look, consider covering your ceiling with copper tiles, as seen in this gorgeous vintage industrial dining room. They look beautiful next to the red brick wall and painted white wall. The dining table below has eye-catching turquoise dining chairs.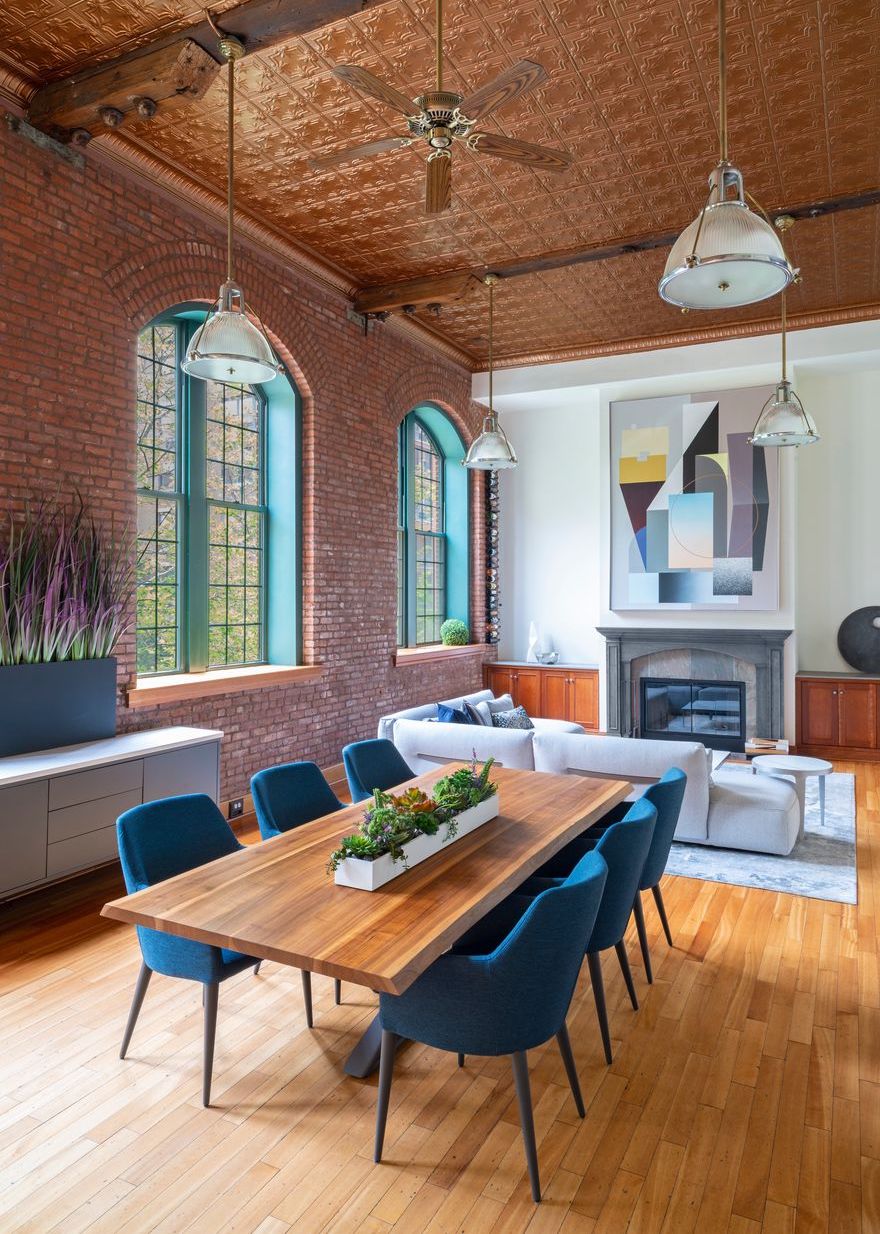 Gray Tiled Floor
For a unique dining room floor, try these black and gray diamond floor tiles which bring out the industrial colors of this dining room. I also admire the metal room divider on the left of this room!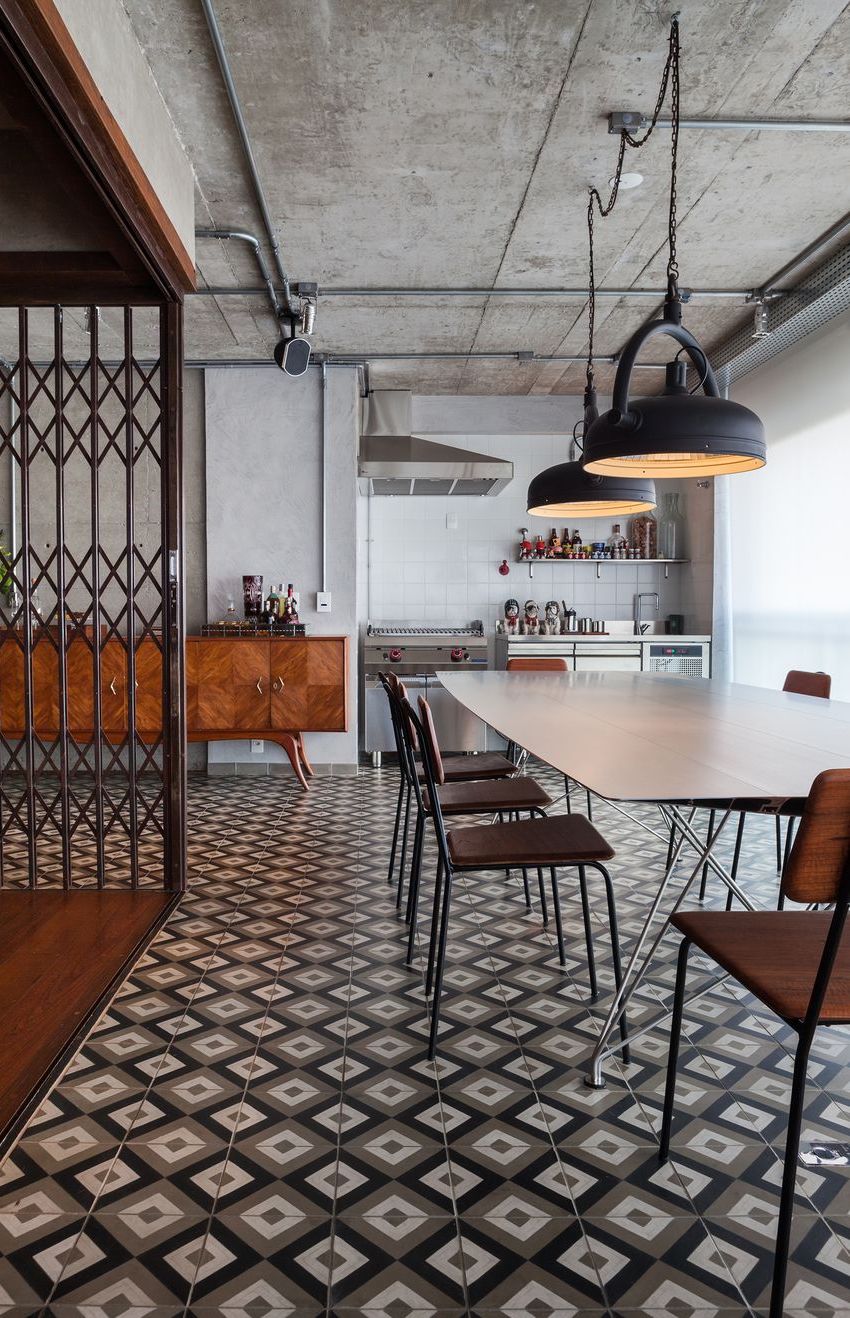 Industrial Dining Room Table Ideas
Every dining room needs a dining table first and foremost so this is a good place to start as you go about choosing your industrial dining room furniture. Here are several industrial dining table ideas. This is one of the most important industrial dining room decor ideas to pay attention to!
Rustic Dining Table
A solid plan for your industrial style dining room is to go with a rustic wood dining table. This industrial dining room has a beautiful warm wood table which gives it a welcoming feel. Black tolix chairs sit around it for sitting down to enjoy a meal!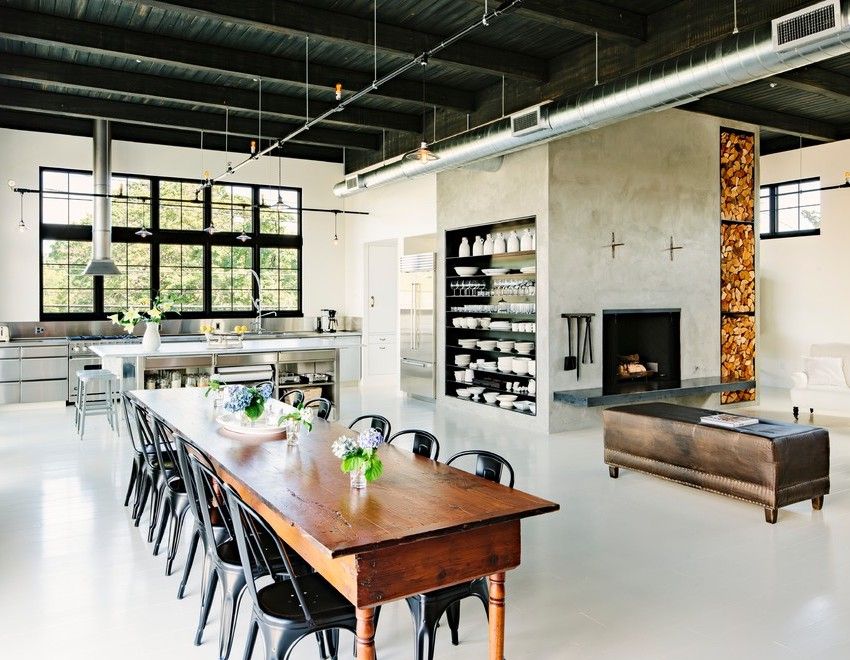 Wood and Metal Dining Table
This wood and metal dining table fits in perfectly with the industrial interior design. The table has a rustic wood surface with solid black metal legs on wheels. Several wood dining chairs with metal legs sit around the table. A copper pendant light hangs from the ceiling above.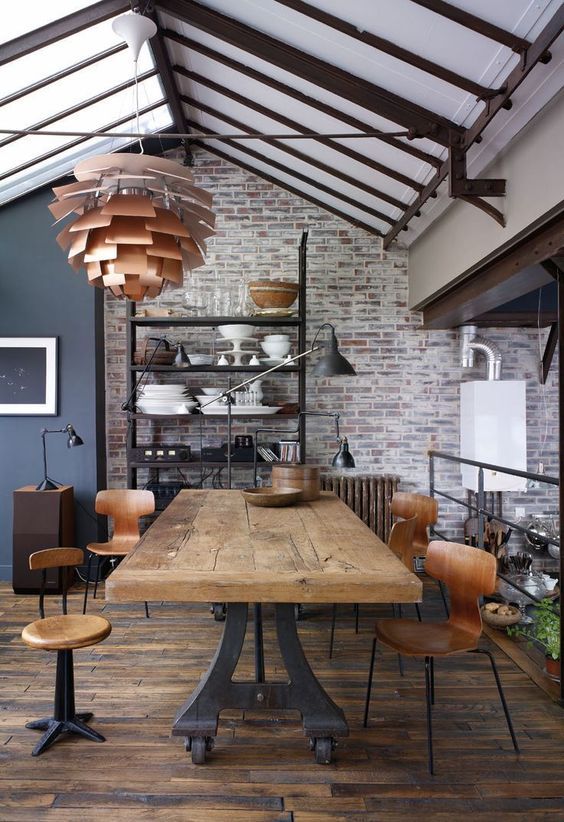 Custom Geometric Dining Furniture
This industrial dining room design is totally unique, with custom geometric dining furniture installed in the space. The sharp edges of these tables and chairs surely aren't kid friendly, but their design does make for some striking pieces of furniture!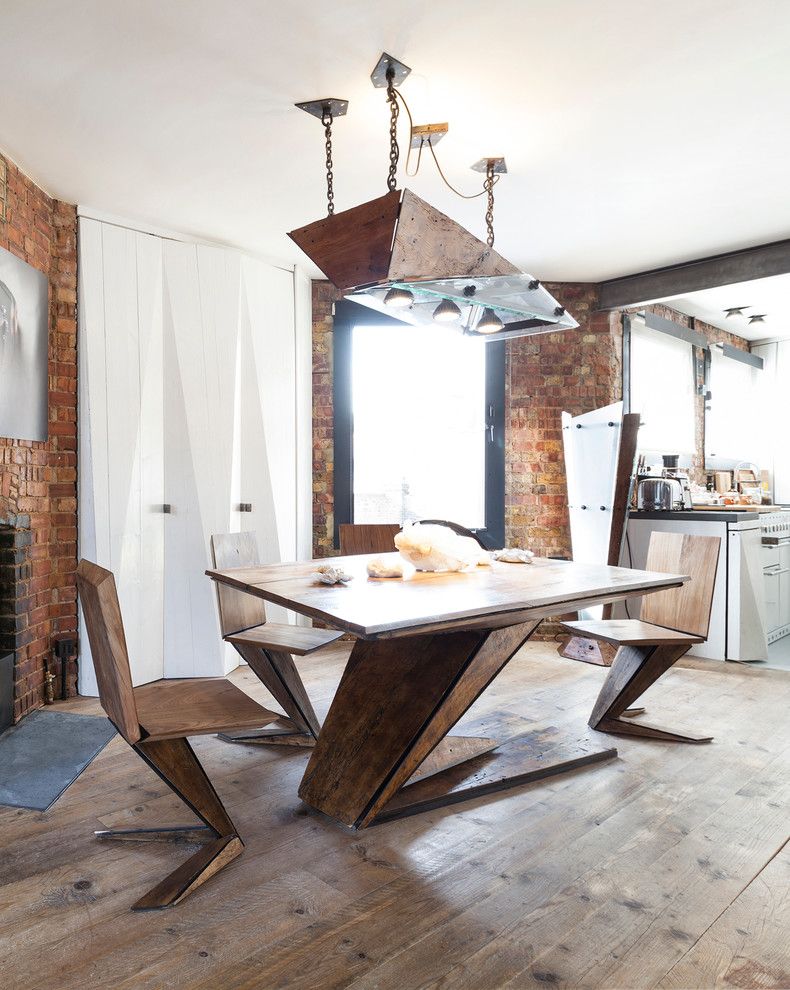 Industrial Dining Room Dining Chair Ideas
Once you have a better idea of the dining table you'd like to use, it's time to find some great dining chairs for you and your family and guests to sit in! You'll want to pick chairs that fit in well with your aesthetic, but are comfortable at the same time. Don't be afraid to mix several different styles of dining chairs.
Leather Dining Chairs with Wood Legs
Our first example of industrial dining chairs is this beautiful leather chair with wood legs and studded edges. The chairs have been upholstered with plush seat cushions so they are clearly good for long sitting sessions.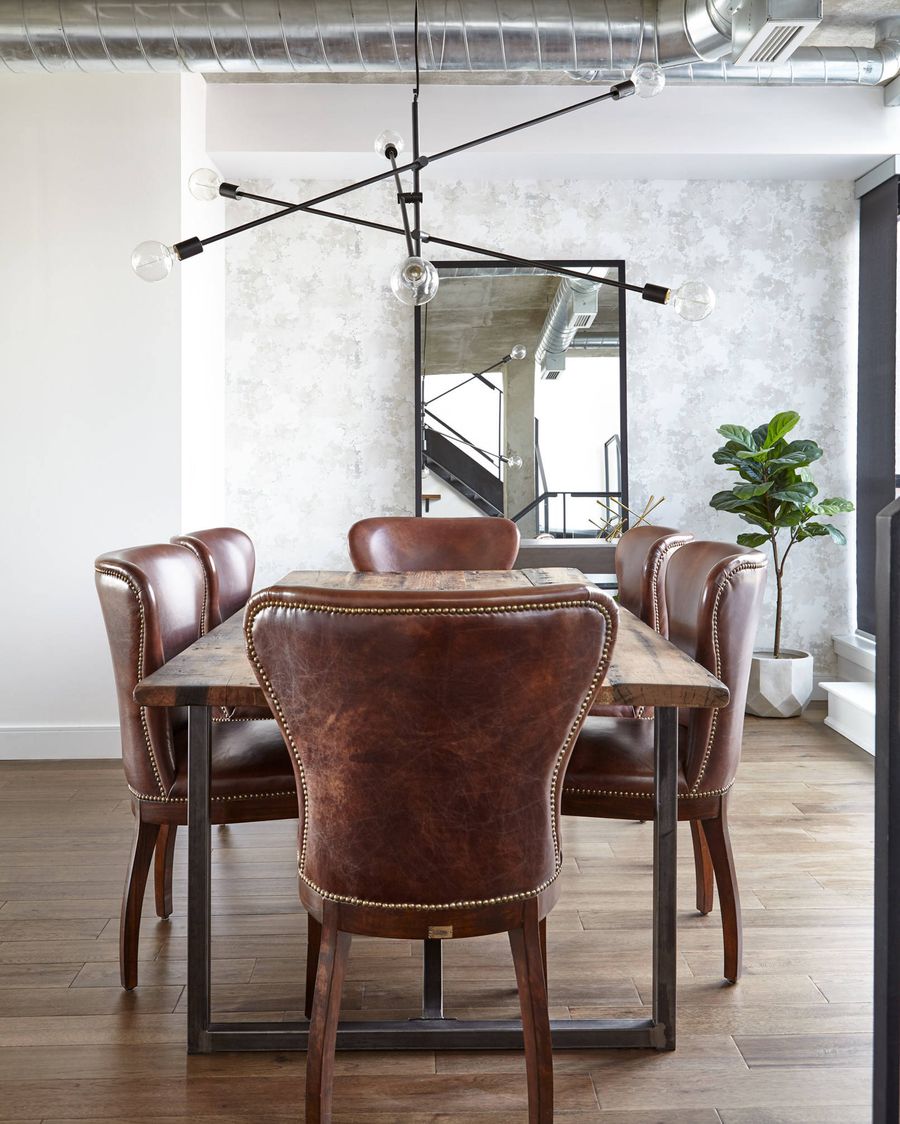 Silver Metal Tolix Chairs
The tolix chair is one of the most quintessential industrial chairs you can buy. Here is an example of a dining room furnished with 10 tolix chairs around a rustic table. These metal chairs are slightly distressed and painted a faded gray color.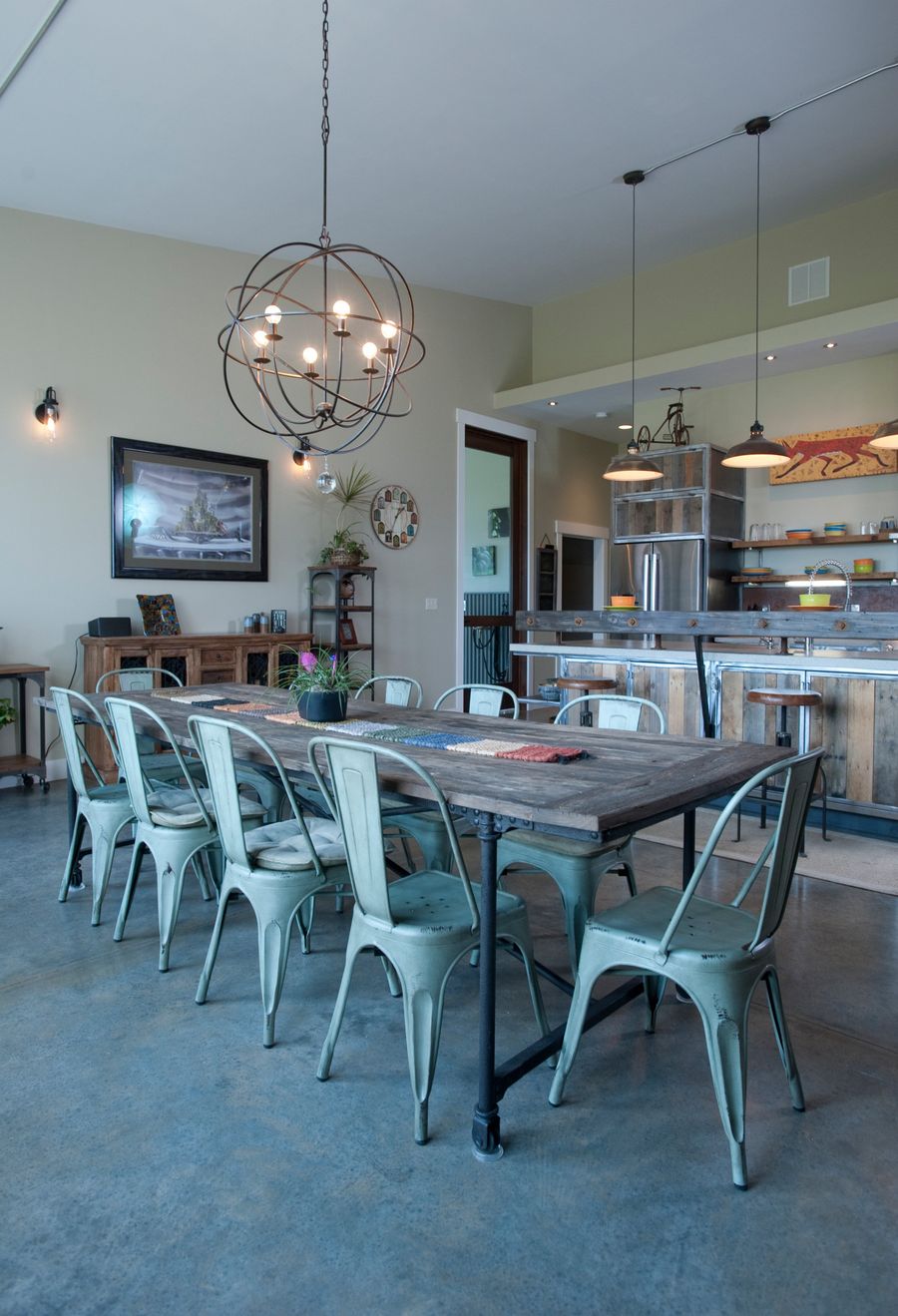 Eames Molded Plastic Dining Chairs
This is definitely a brighter industrial dining room than what we've seen so far. I like how this room takes advantage of the natural light streaming in from the ceiling window, giving it life. The white Eames molded plastic dining chairs help reflect that light into the space. A light wood dining table keeps this room very warm and welcoming. Overall, it's a great dining room design!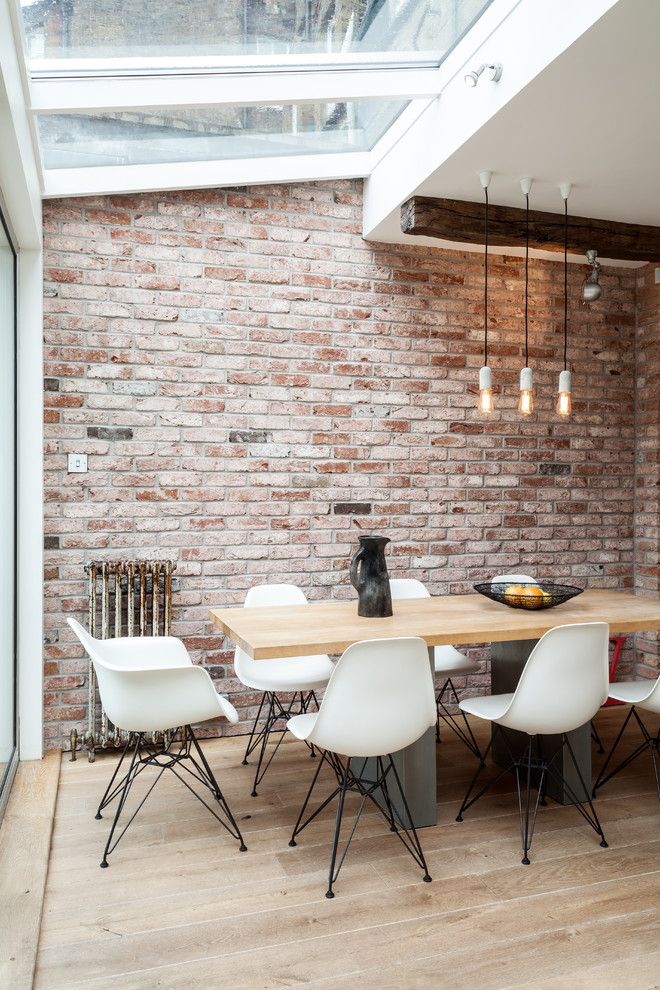 Black Tolix Dining Chairs
You can also find tolix chairs in a sleek black finish, as seen here. This is a dining room that has a lot more indoor house plants to balance out the dark tones and shades of brown.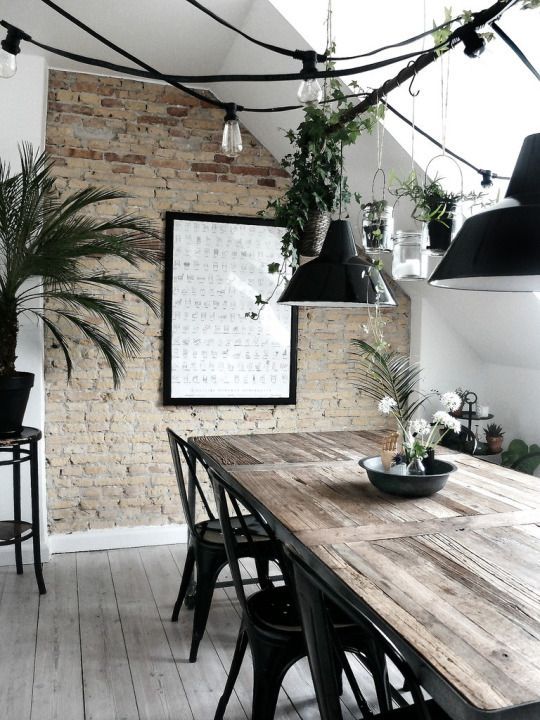 Leather Dining Chair with Metal Legs
Another great idea for dining chairs is to go for these leather dining chairs with black metal legs. This minimalist industrial dining room has six of them around a simple wood table. A black metal cage pendant hangs centered above the table, almost like a work of art!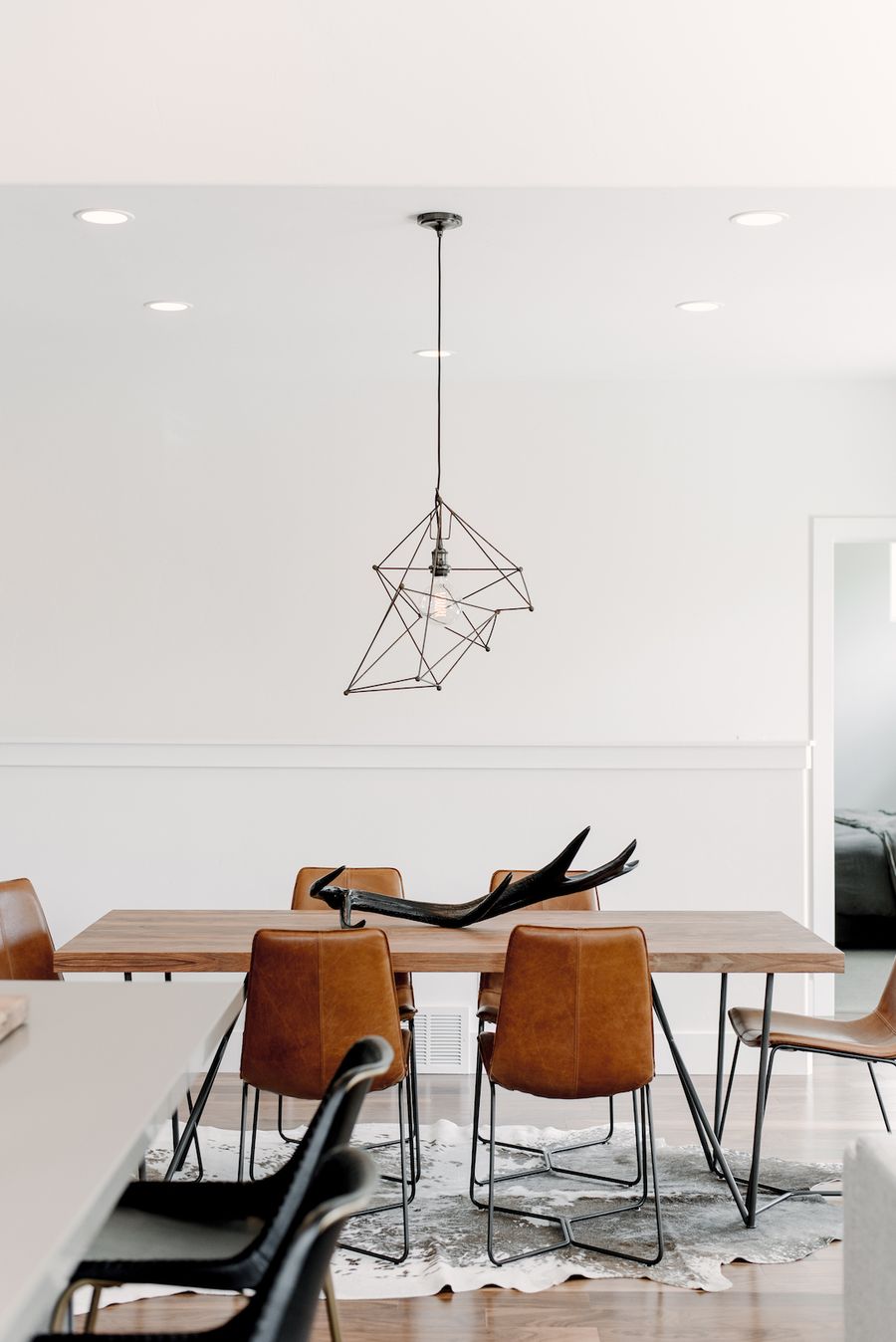 Black Pantone Chairs
Black Pantone chairs can make for a unique industrial dining room design. These sleek black dining chairs sit peacefully around a dining table in a rustic, open layout apartment.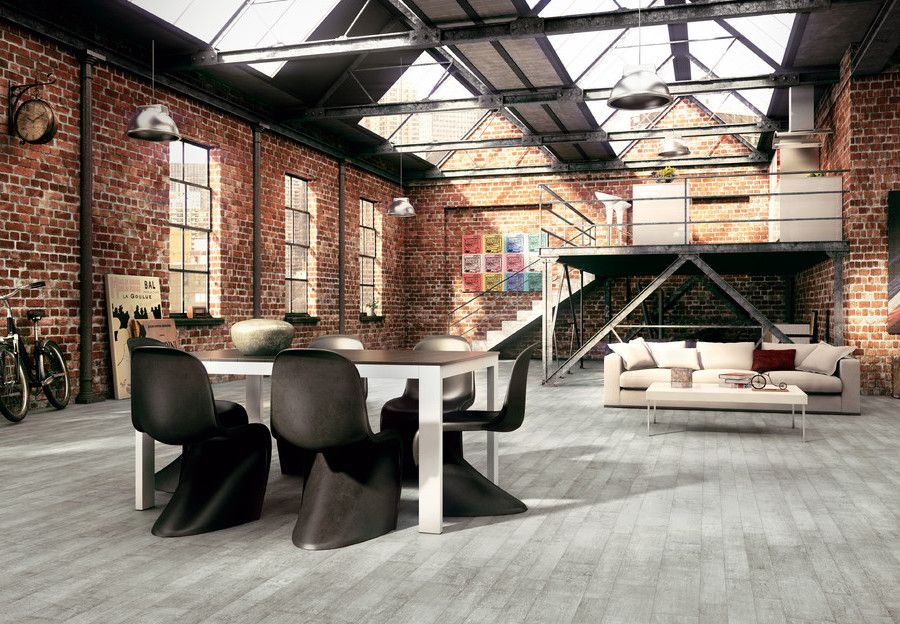 Industrial Dining Room Buffet Ideas
The buffet is a great piece of furniture to add to any dining room. Here are a few industrial dining room decor ideas that allow you to incorporate a buffet into your home. Buffets can be used for storing serving platters, large bowls, plates, flatware and more!
Metal Buffet with 16 Filing Drawers
This metal buffet has 16 separate drawers for storage! It has a rustic wood surface and looks great in this industrial dining room with mismatched dining chairs. It's been decorated with a large graphic print that says "Milan Paris New York London" in a black frame.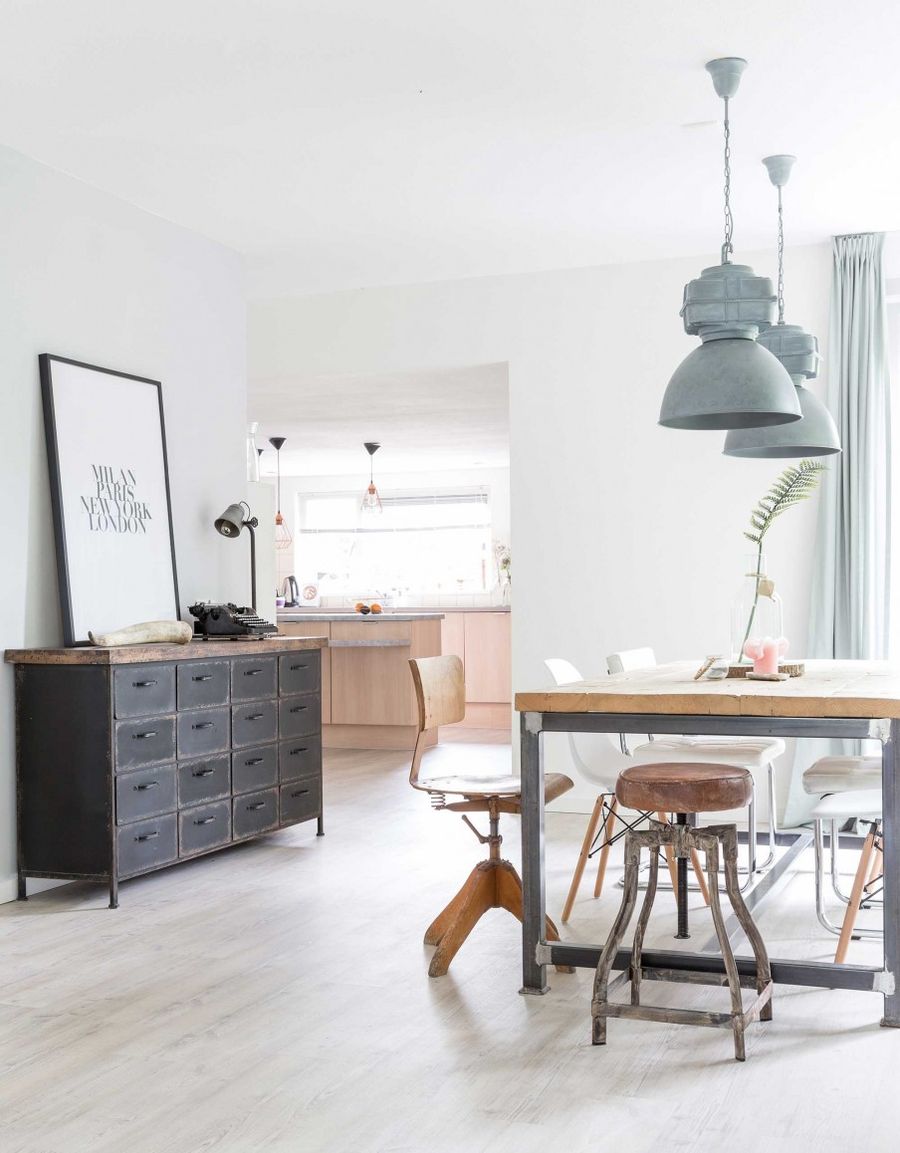 Wood Buffet and Gritty Rolling Car Buffet
I love this industrial chic dining room which looks like it belongs to a Scandinavian home. It has several beautiful mismatched dining chairs around a wood dining table. Three silver dome pendant lights hanging above the dining table. A few faux fur throws have been tossed over some of the dining chairs. Of course, the buffets in this dining room really steal the show! There is a white wood buffet to the left with some open shelving and several drawers. To the right is a rustic wood and metal buffet on wheels. There is certainly plenty of storage in this dining room!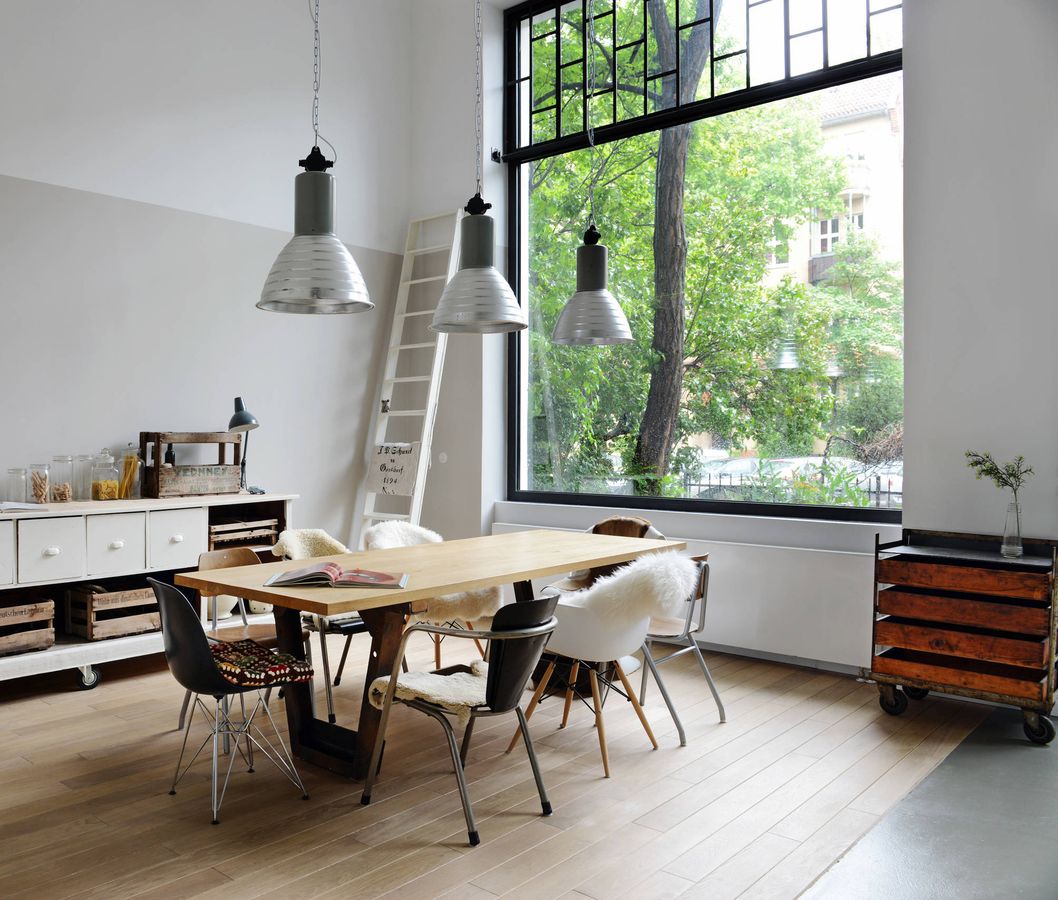 Industrial Dining Room Lighting Ideas
A good source of overhead lighting is necessary to create a cozy and practical dining room. These industrial dining rooms have beautiful lighting fixtures that are not only useful, but give the room character!
Iron Pendant Dome Lights
These unique lighting fixtures are very industrial in design. Two iron domes serve as a shade for the light and they have down by chain link cords. The concrete dining table and black dining chairs complete this industrial dining room design.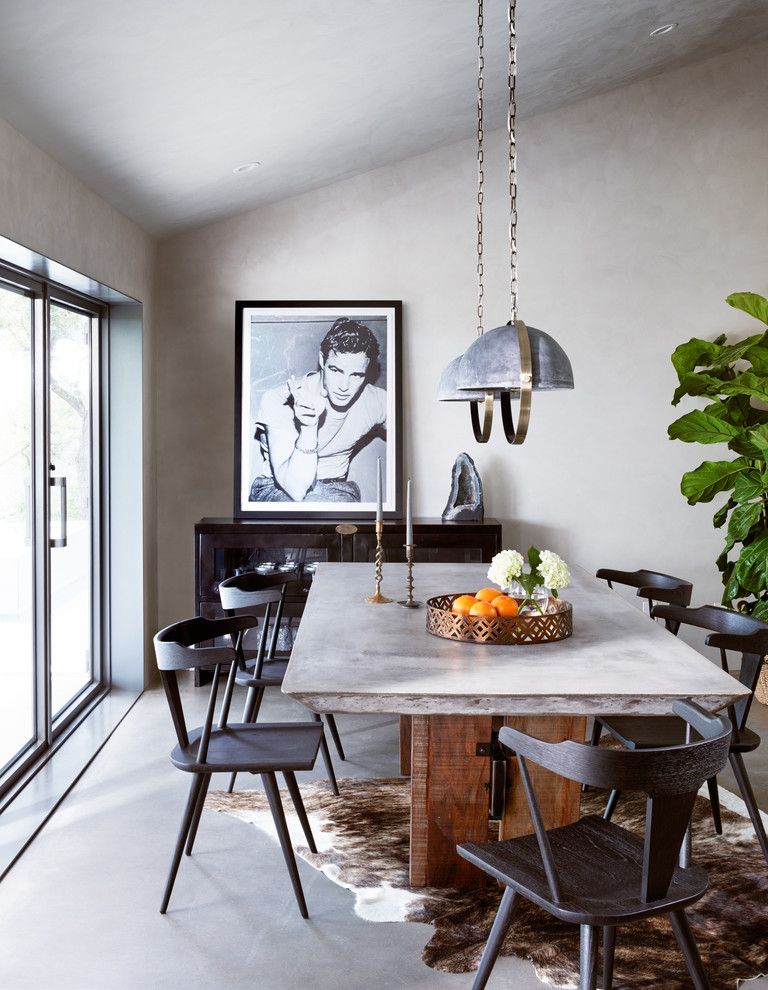 Bare Light Bulbs
Many industrial interiors have lighting that consists of a group of bare light bulbs hanging down by a thin black cord. Here you can see the lovely effect this gives to the dining space.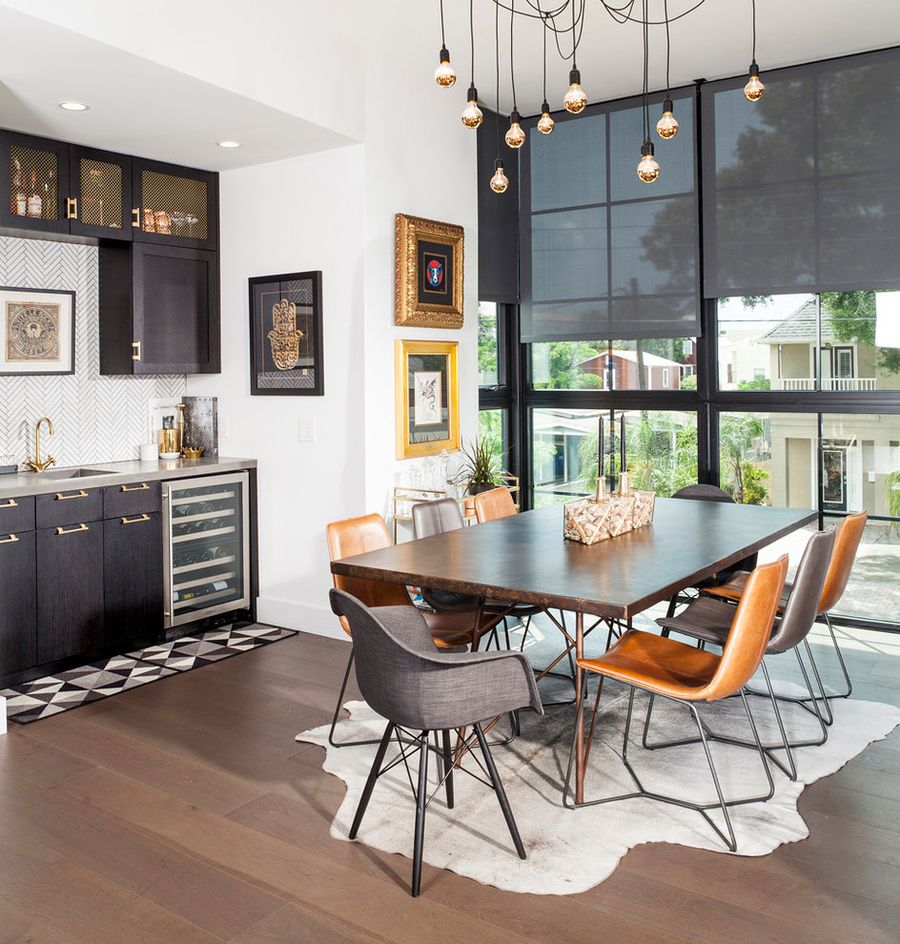 Large Dome Pendant Lights
These large silver dome pendant lights are adjustable in height. They are certainly bulky but can give a very raw appearance if you love that factory inspired interior look.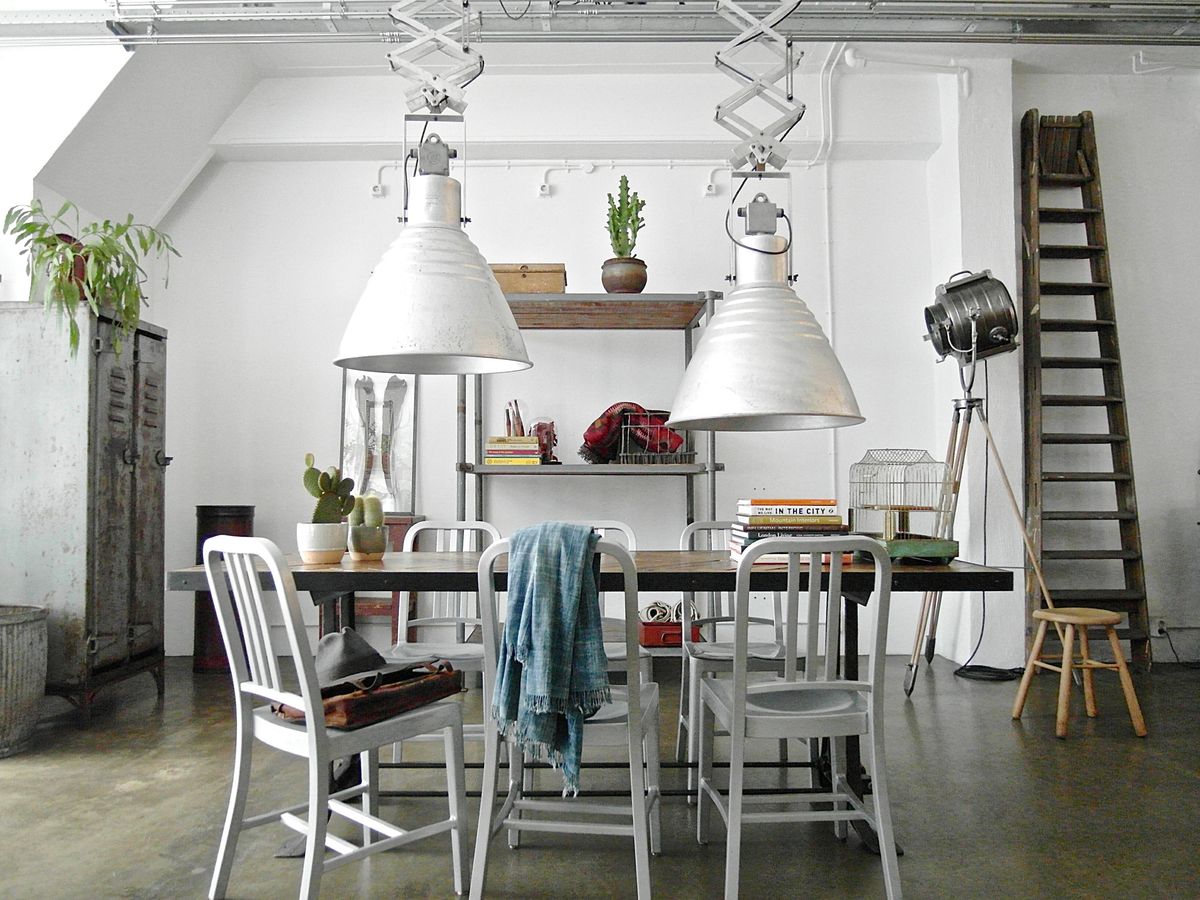 Copper Dome Pendant Lights
Two copper dome pendant lights hang above this industrial dining table, giving the room warmth. Using copper and brown wood can instantly warm up any interior space as these are welcoming colors. I'm definitely a fan of using copper in an industrial interior as it's more unexpected than a silver gray material.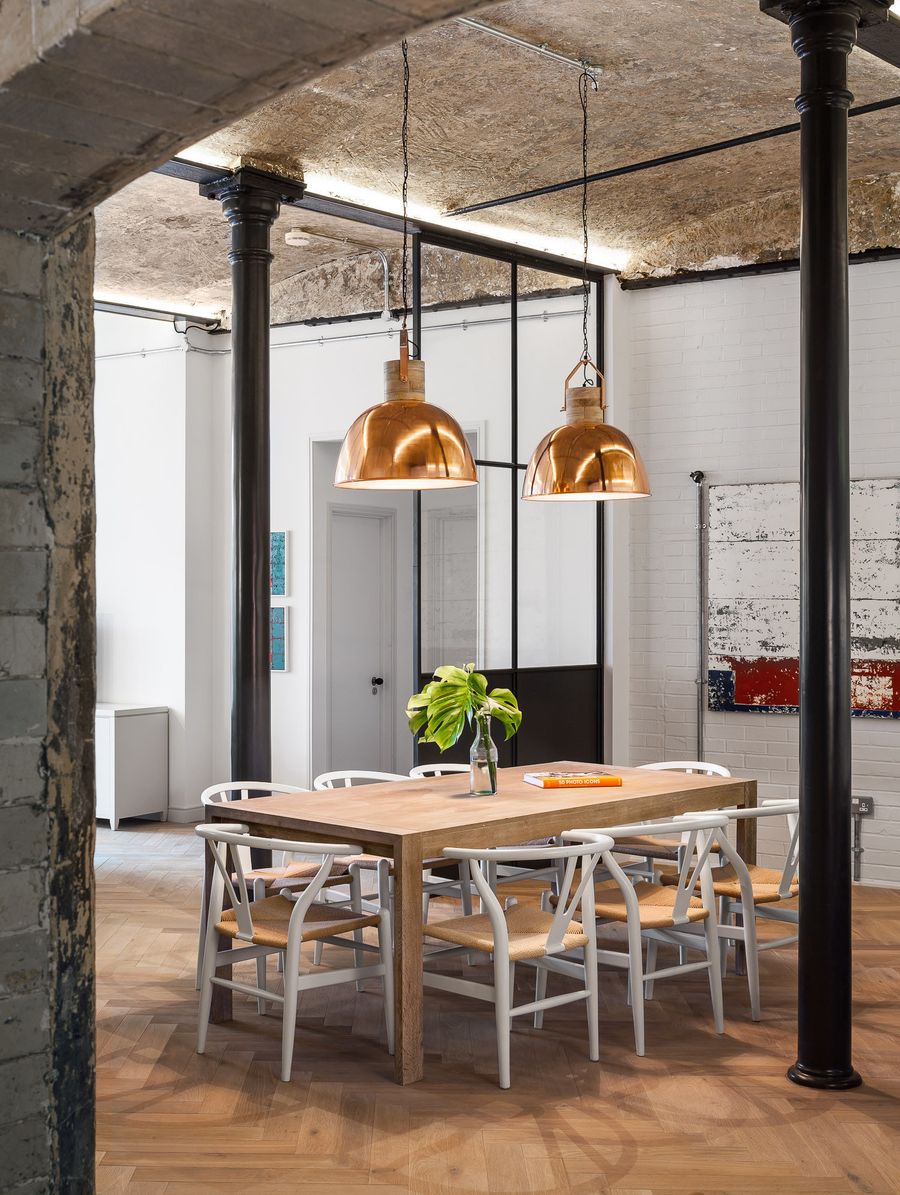 Industrial Dining Room Decorations
Once you have the furniture set up, it's time to add some decorations to your dining room and make it feel like home. From the walls to the centerpiece, there are lots of ways to decorate your dining room in the industrial style. Here are a few ideas to jumpstart your creativity. These industrial dining room decor ideas tend to be the most affordable and easy!
Cowhide Rug
A cowhide rug is the perfect addition to this industrial style dining room with black metal dome lights and a rustic wood dining table.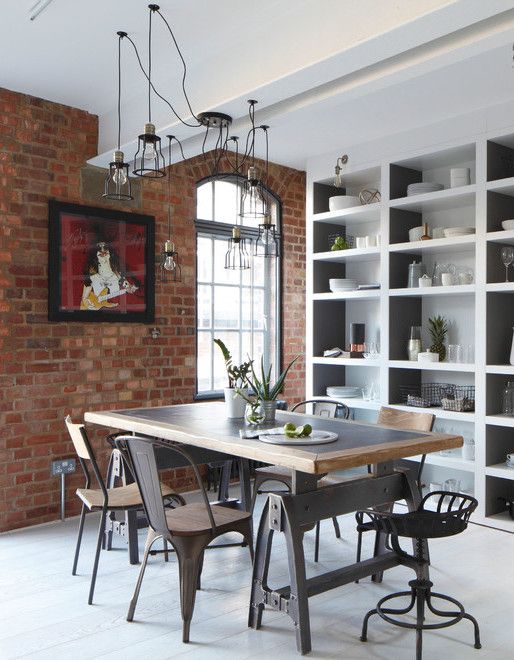 Black Metal Bar Cart
If you like to serve drinks and entertain, then having a black metal bar cart stocked with alcohol and glasses can come in handy! 
Jute Woven Rug
This modern industrial dining room looks so cozy with a beige jute woven rug on the floor, centering the dining area, which is open to the kitchen. A built-in bench sits across from the dining table against the painted white brick wall.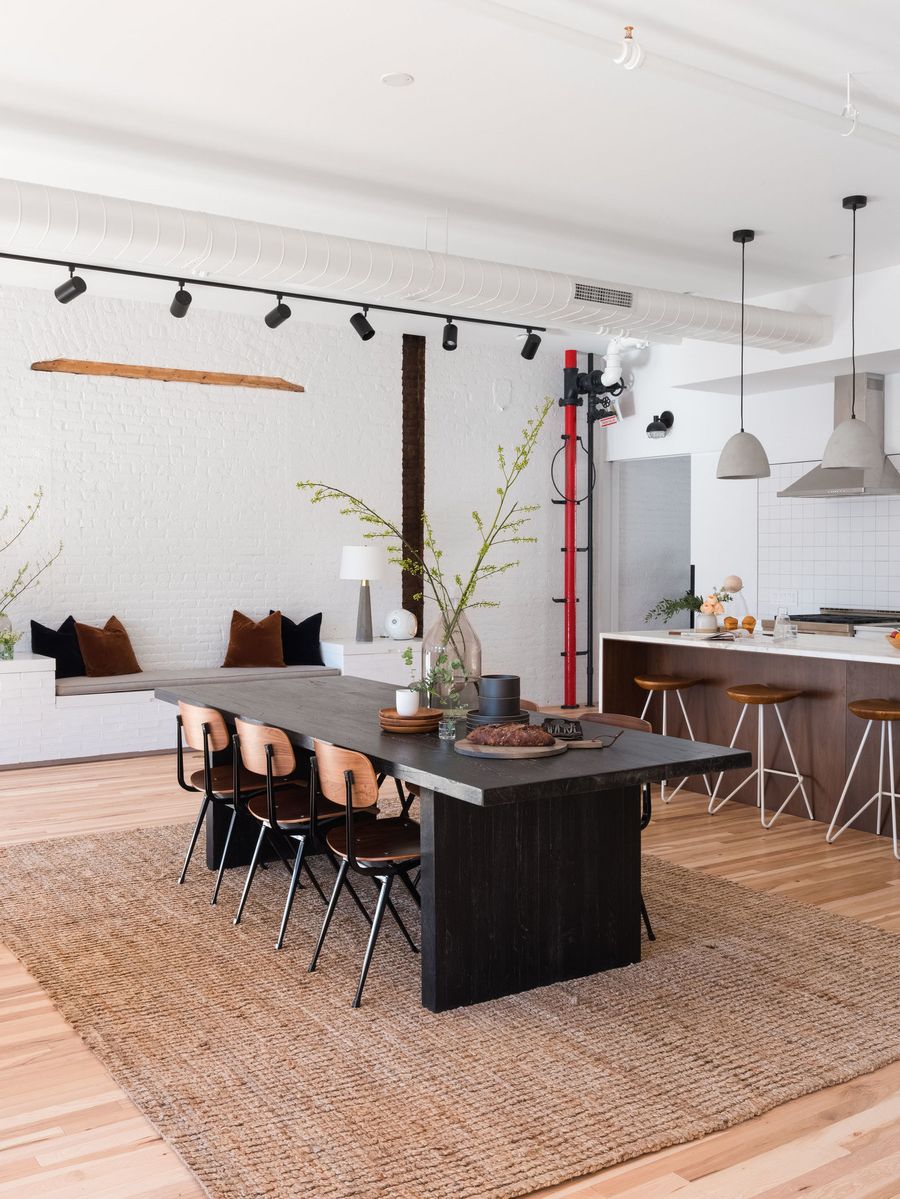 Black and White Art
If you love art, then consider some abstract black and white art or prints to hang on the walls of your dining room. This gray dining room looks beautiful with art installed on the wall.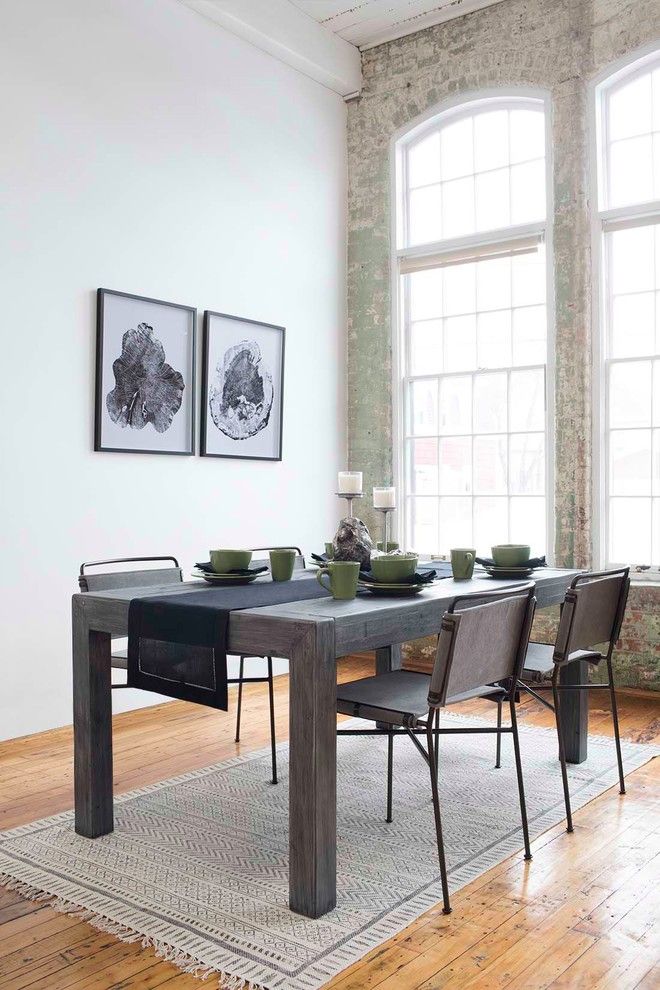 Open Wall Shelving
For extra storage, consider installing some built-in open wall shelving against one of the walls in your dining room. These gray shelves hold lots of ceramics, vases, plates and jugs for serving meals and drinks.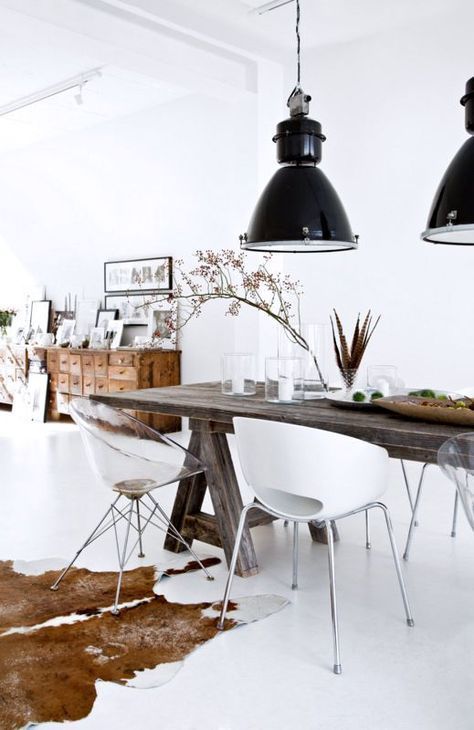 Gallery Wall with Black Frames
A small gallery wall with black frames is one of the best industrial dining room decor ideas we have to share with you. Gallery walls work in so many interiors and work together to create one beautiful wall decoration.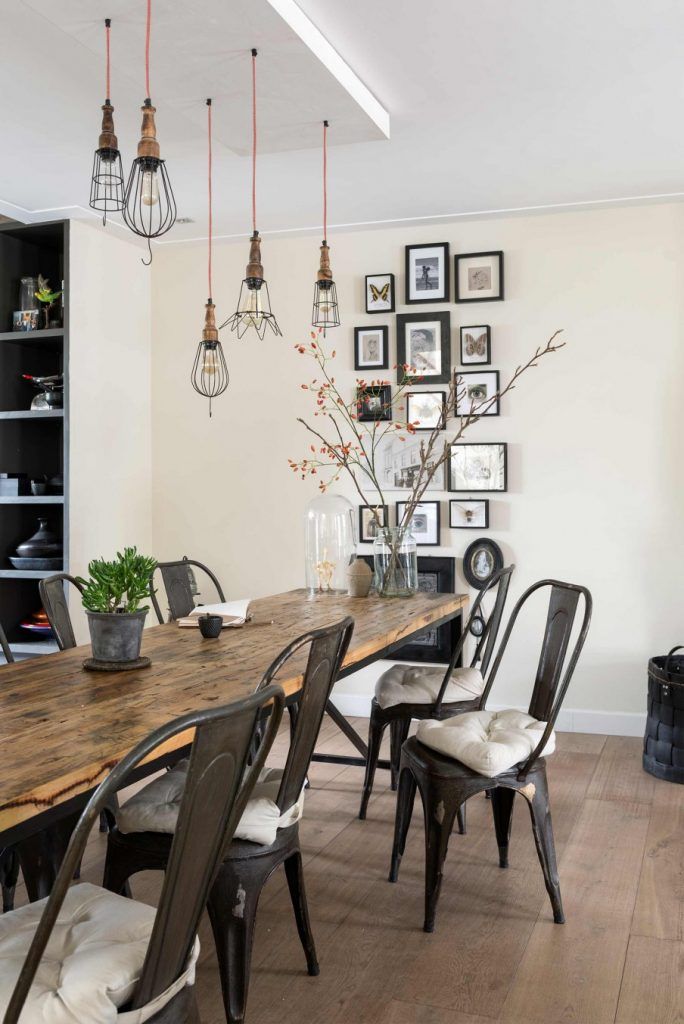 Black Smeg Fridge
For easy access to the refrigerator, why not install one in your dining room? This black vintage refrigerator design looks beautiful in this raw industrial interior.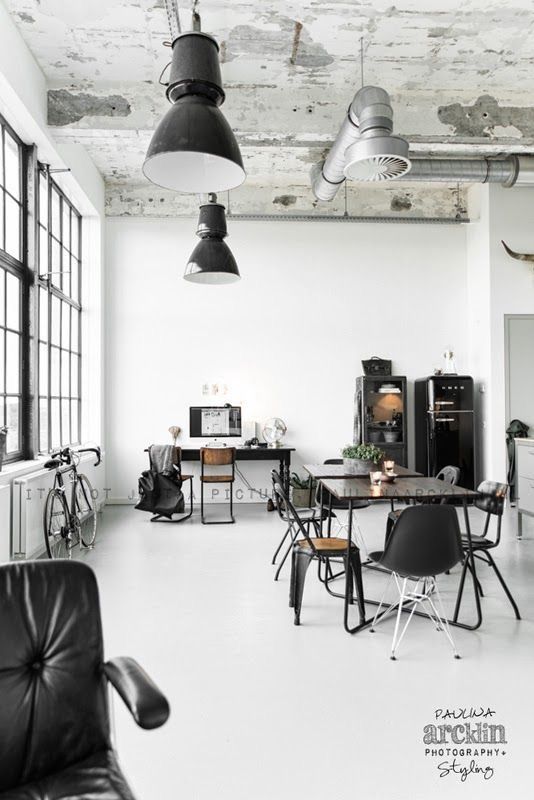 I hope these industrial dining rooms inspired you. Let us know which one you liked the most in the comments below!
More Industrial Interior Design Guides
Looking for more industrial interior design inspiration? Check out these related posts on how to decorate an industrial home residence below: