Let's talk about the beauty of Scandinavian dining rooms. If you are thinking about re-doing your dining room, and you love Scandi decor, then we hope this post will inspire you along the way. From minimalist decor to practical and functional furniture, a Scandi style dining room is a smart choice for many people.
Dining rooms are often overlooked but they are quite an important room to design for. You need to think about purchasing a solid dining room table, comfortable dining chairs and create a functional environment for consuming meals.
Scandinavian Dining Rooms
Scandinavian decor has become extremely popular around the world for its practical mix of functional design and beautiful form. Scandinavian dining rooms often feature neutral-colored dining tables in hues like light brown, white or black.
The design of the furniture is often very simple and practical.
For the dining chairs, you could find wishbone chairs or even mid-century modern side chairs present. To the side, you may see a simple minimalist console table or buffet.
Let's take a peek at some of the most beautifully decorated Scandinavian dining rooms we found online!
1. Black Mid-Mod Chairs
This airy and bright dining room features a warm, natural wood table with a black frame. The coordinating seating is black or black with wicker seats. A statement hutch next to a patio door matches the natural wood and back trim.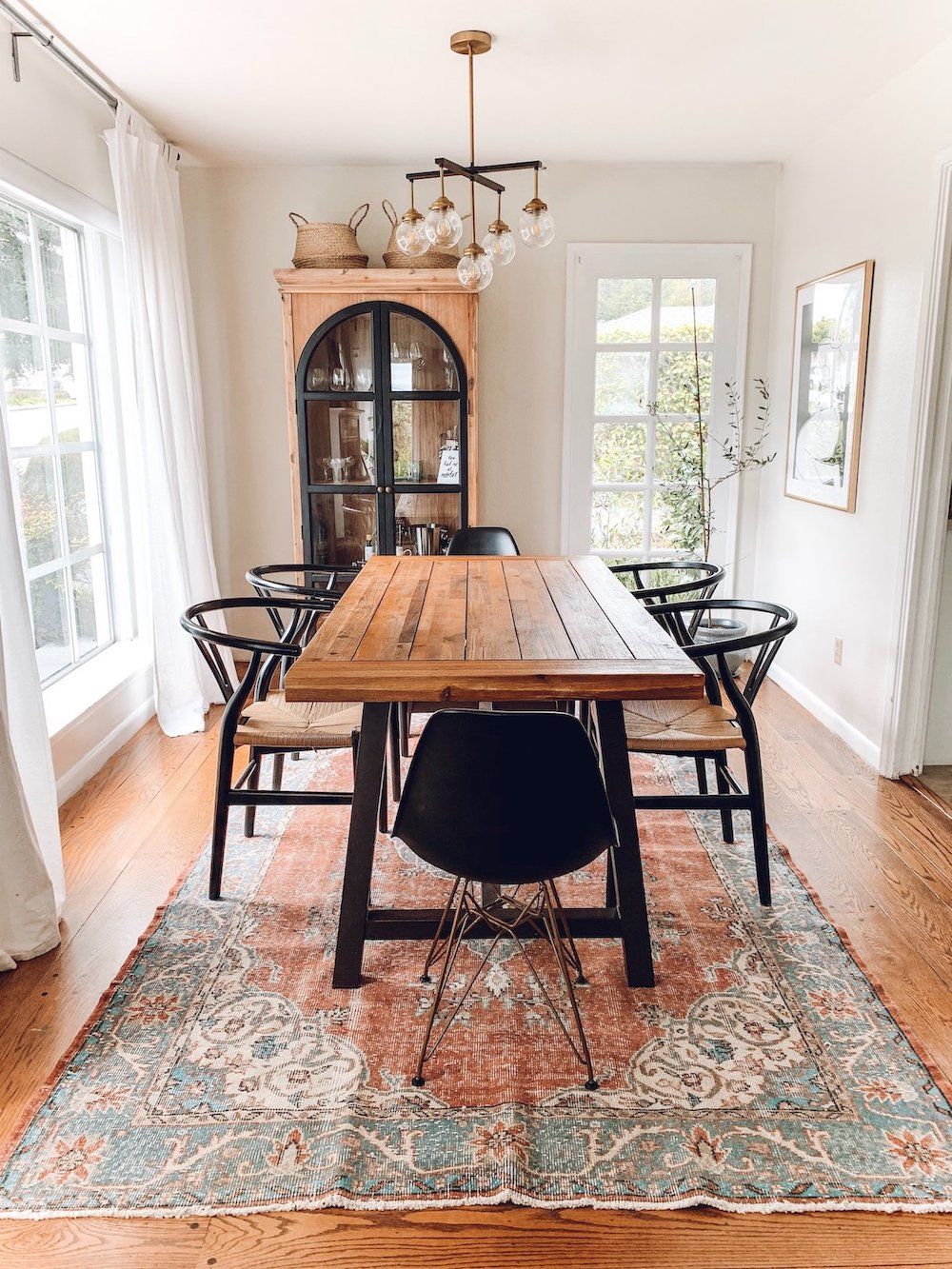 2. White tulip table and white Eames plastic dining chairs
This four-season seating area has a tulip table with a marble-designed top. White Eames chairs surround the table. A statement chandelier hangs from the ceiling which has fabric shading.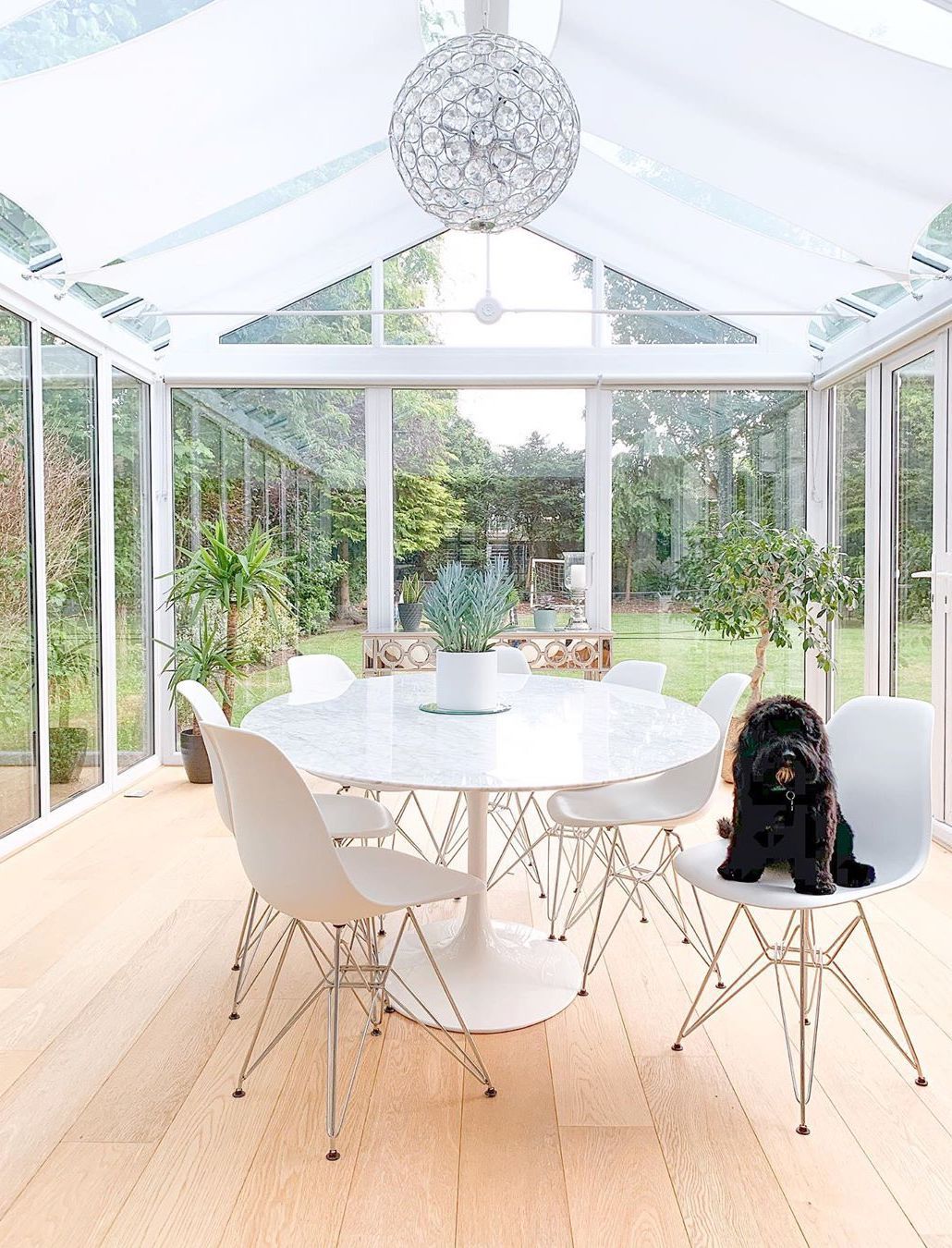 3. Marble Dining Table and Caneback Chairs
A bold marble dining table centers the herringbone patterned wood floors. Two narrow, minimalist light fixtures hang above the table. A variety of cozy cushioned seating surrounds the table.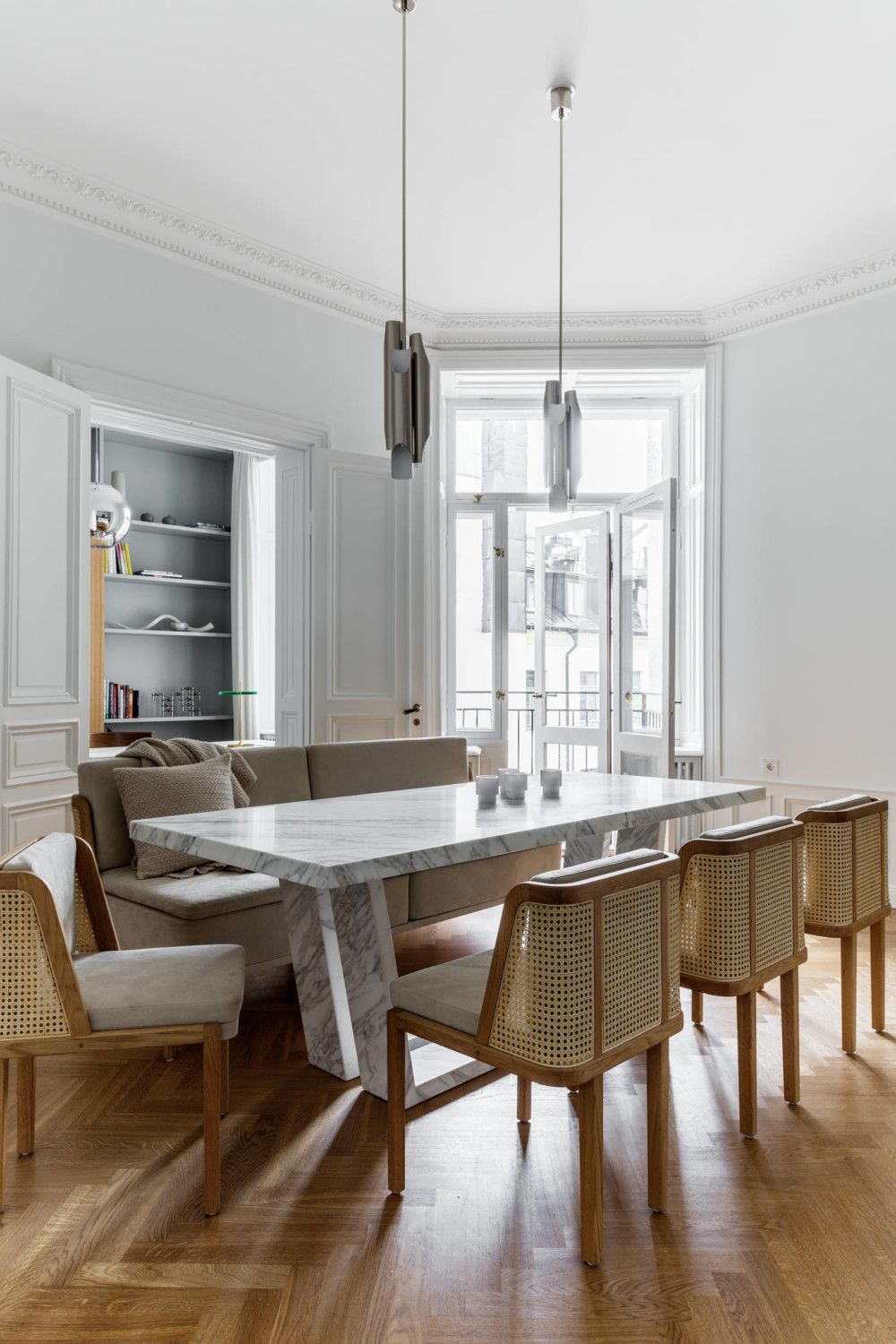 4. Beige Wishbone Chairs
Beige wishbone chairs with wicker seats are gathered around a matching beige desk table. A minimalist analog clock is on the wall. A unique desk lamp with individual teardrop bulbs sits askew on top of the desk next to the galvanized metal drinkware.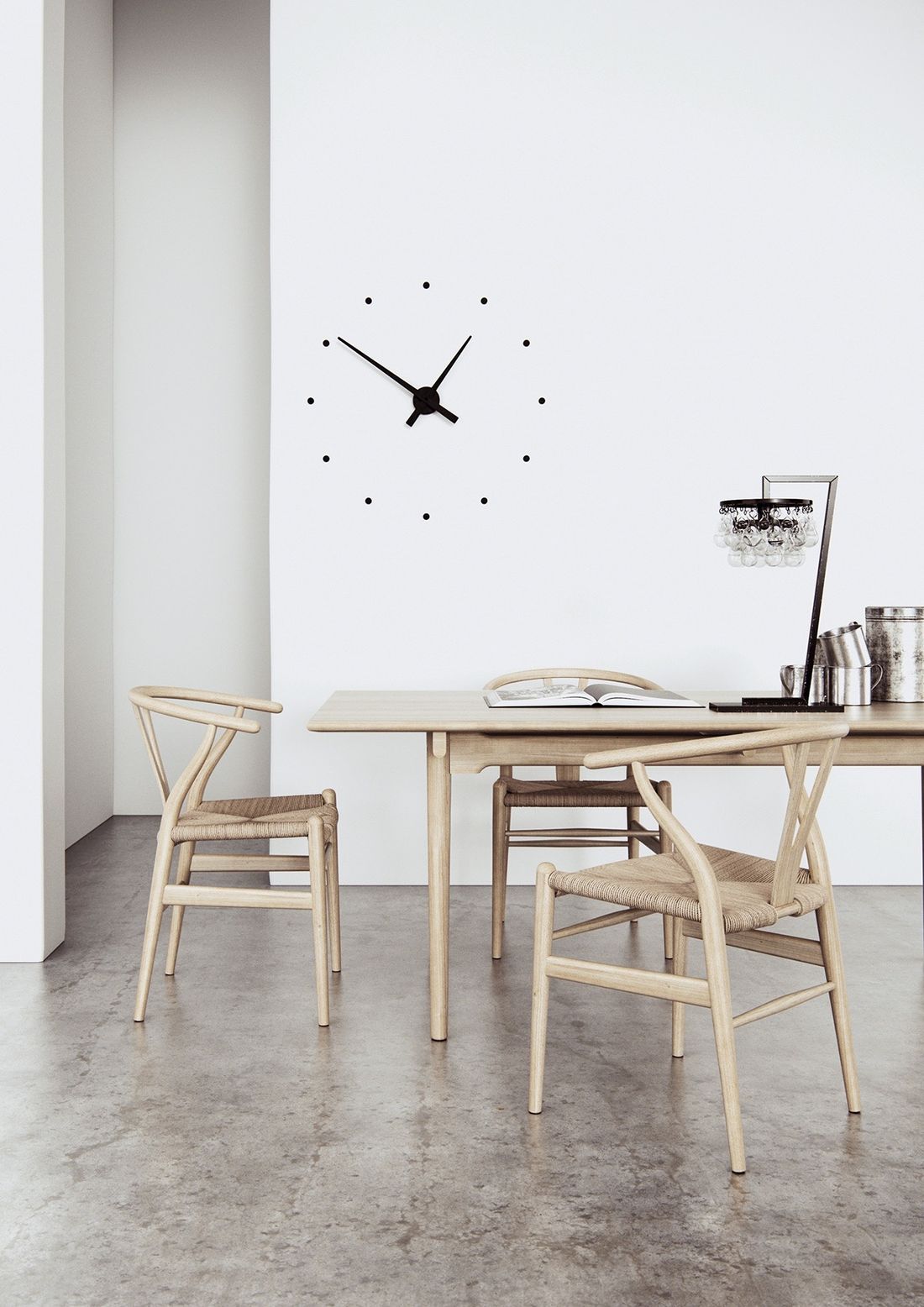 5. Black Bentwood Dining Chairs
This minimalist white dining room table is accented by bold black bentwood chairs. A statement chandelier sits atop the table with exposed black wires connecting to a brass-finished center post. A round mirror on the back wall adds dimension to the space.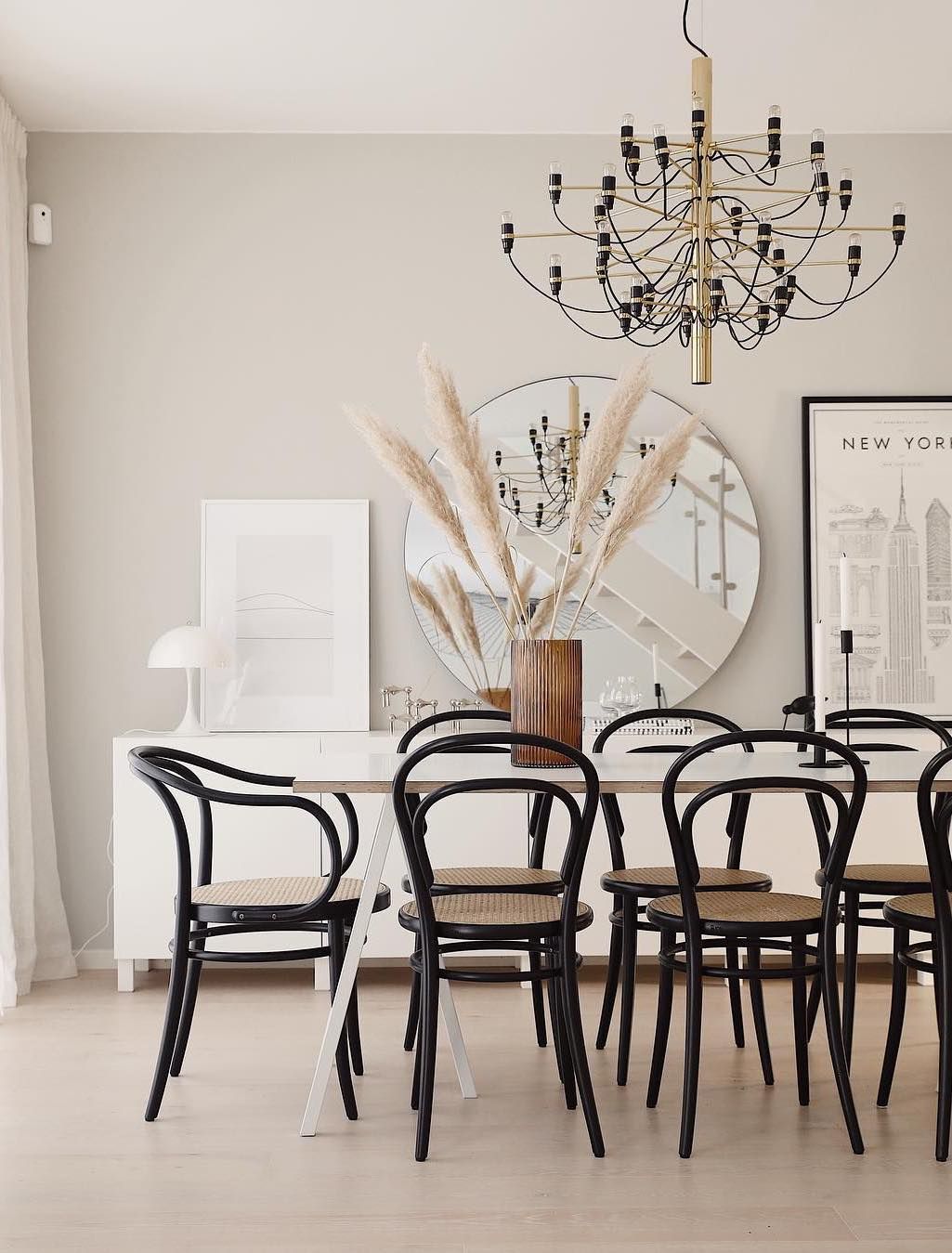 6. Black Dining Chairs
A simple vase of fresh-cut flowers sit atop a round black table. The solid black chairs of coordinating, though not matching, design surround the table. The molding along the ceiling adds character to this space.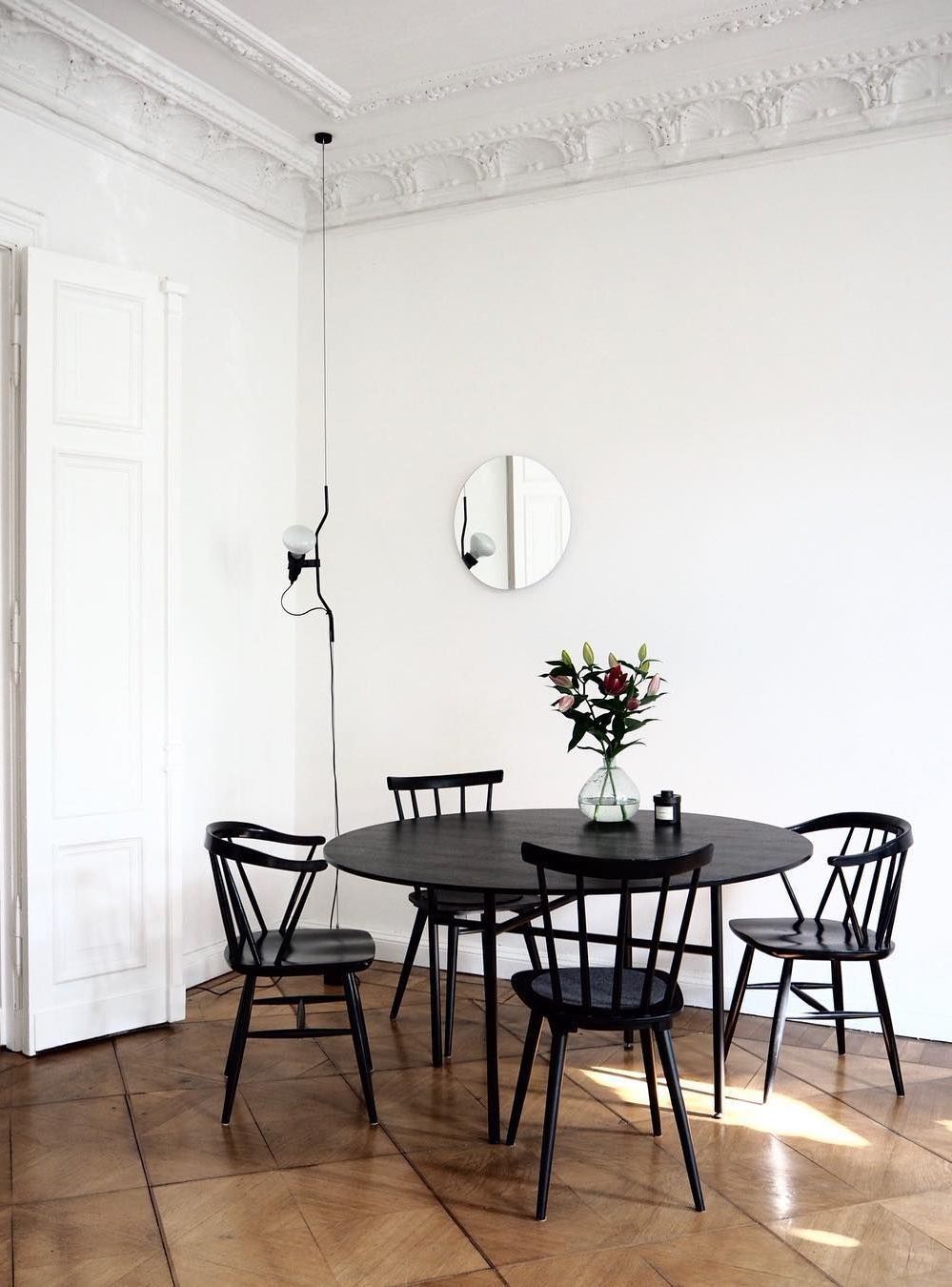 7. Black Sheer Chandelier
This statement black sheer fabric chandelier hangs above a modern white dining room table. The floors are narrow, with grey planks formed in a herringbone pattern. The white walls are accented by a piece of black and white art. 
8. White Wishbone Chairs
The white wishbone chairs sit around a natural wood table on top of a round, rattan rug. A striped potted plant in the corner adds interest with its greenery and pattern.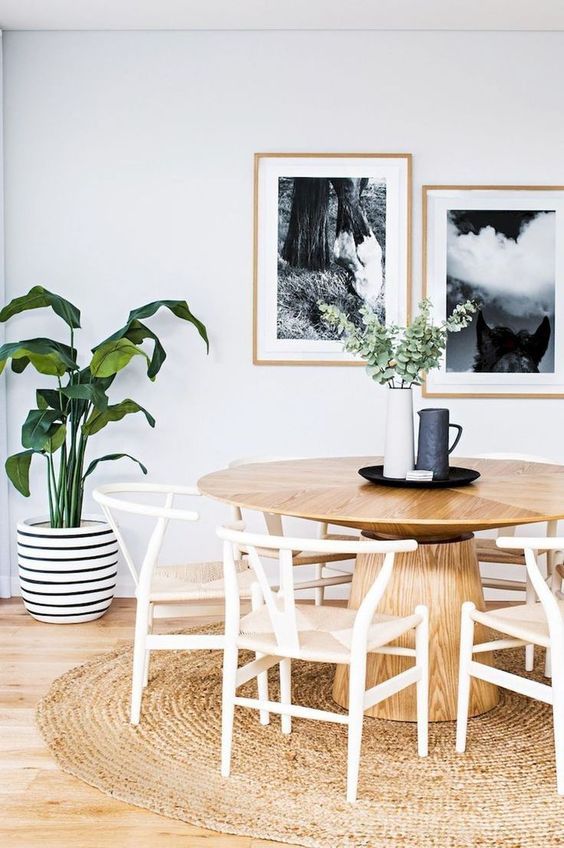 9. Gray Velvet Chairs
Four grey, velvet chairs sit around a white round-top table. A pop punk skull with dollar sign eyes art print makes a statement against the wall. Intentionally mismatched candlesticks sit on top of the table. 
10. White Tulip Table
A white tulip table is surrounded by unique seats in a variety of styles, colors and fabric finishes. White drinkware and bowls sit on top of the table. A framed photo is on the back wall.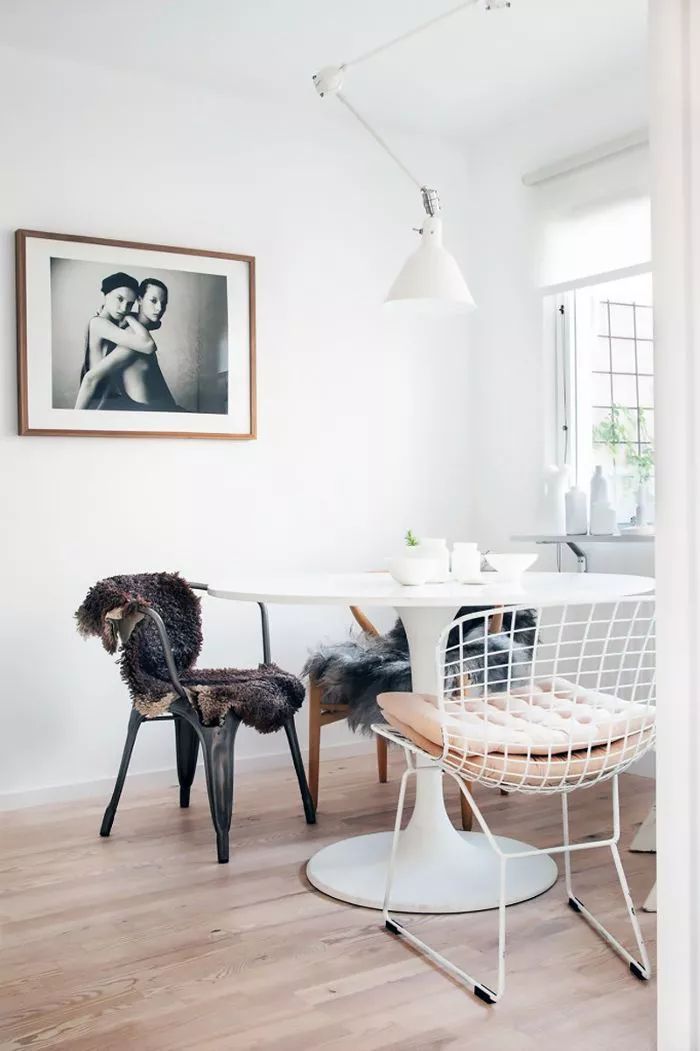 11. Eames Dining Chairs
A cozy corner seating arrangement with varying representations of white, black, and natural wood. A variety of mismatched brass pieces serve as a unique tablescape. A blanket is effortlessly tossed along the back of a chair.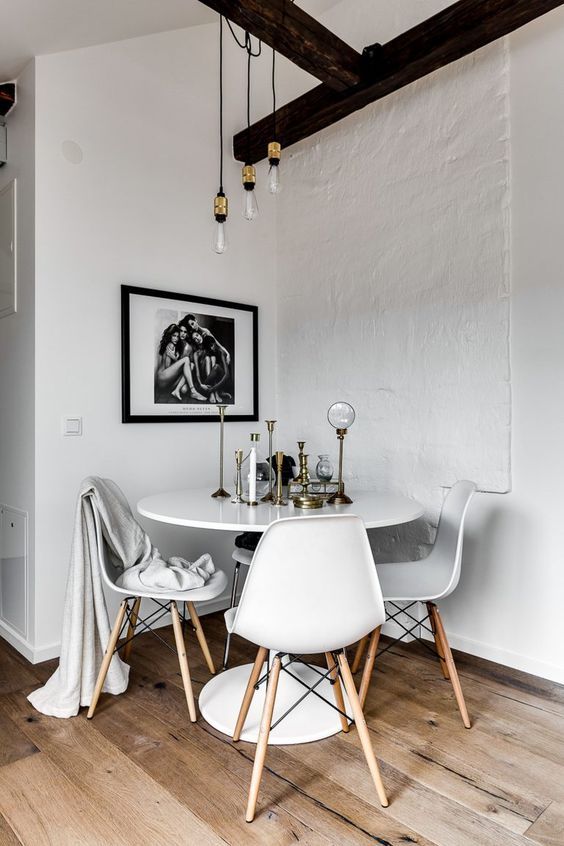 12. Marble Dining Table and Mid-Century Chandelier
An oval shaped marble topped dining room table sits beneath a unique, globe shaped chandelier. The black chairs with brass legs sit around the edge. A black cabinet sits along a white brick wall.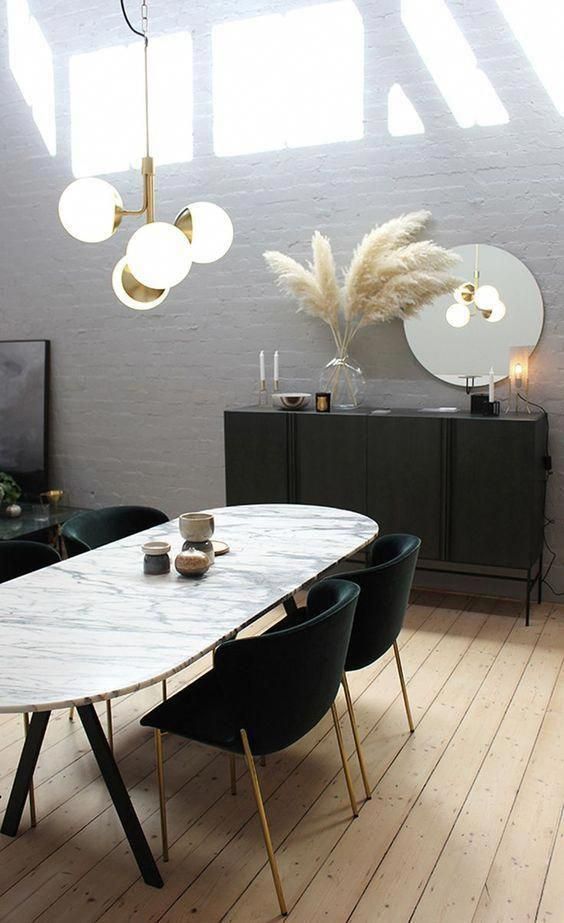 13. Blue Wall
A natural wood herringbone floor draws your eye toward the center of this blue-walled room. A white table with square legs sits under a white fabric chandelier. A variety of art adorns the back wall at just below eye level.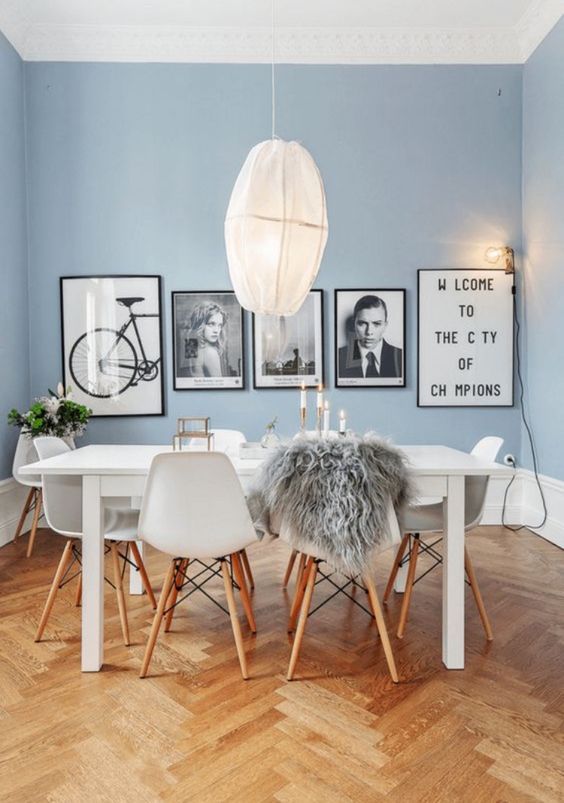 14. White Built-in Cabinets
Floor to ceiling built-in shelves set this space apart in terms of look and function. Exposed cabinets and closed cabinets add to the overall look of interest in an otherwise solid white piece.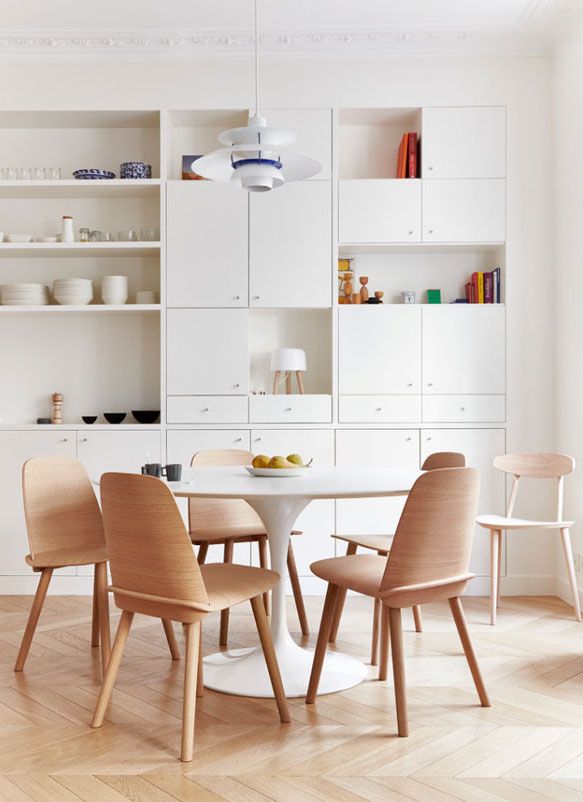 15. Eero Saarinen Table and Charles and Ray Eames molded chairs
The white, oval Saarinen tulip dining table has a high gloss finish. The geometric wooden accent piece on the wall compliments the natural wood legs. A sprig of fresh lavender sits atop the table.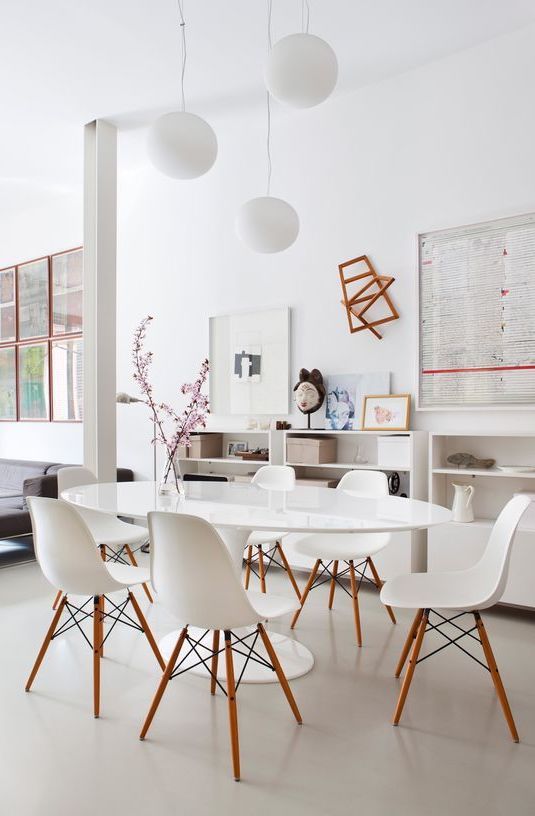 16. Bertoia Side Chairs
Metal mesh Bertoia chairs with wicker seats add industrial flair to this otherwise modern room. Two art pieces are designed to look like windows to other rooms. A low-hanging geometric brass chandelier hangs above a eucalyptus bouquet.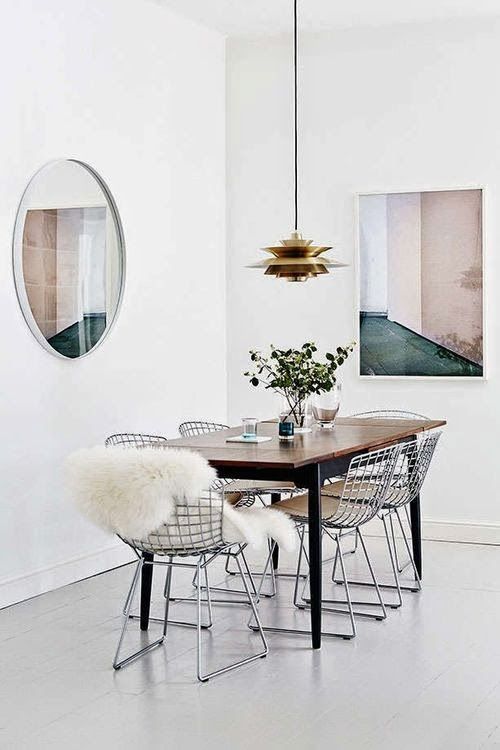 17. Faux Fur Seat Cushion
A grey runner accents this white, square-framed dining room table. The bench seating against the wall is made cozy and inviting with a variety of throw pillows. The movable bench is adorned with a grey faux fur rug for sitting comfortably.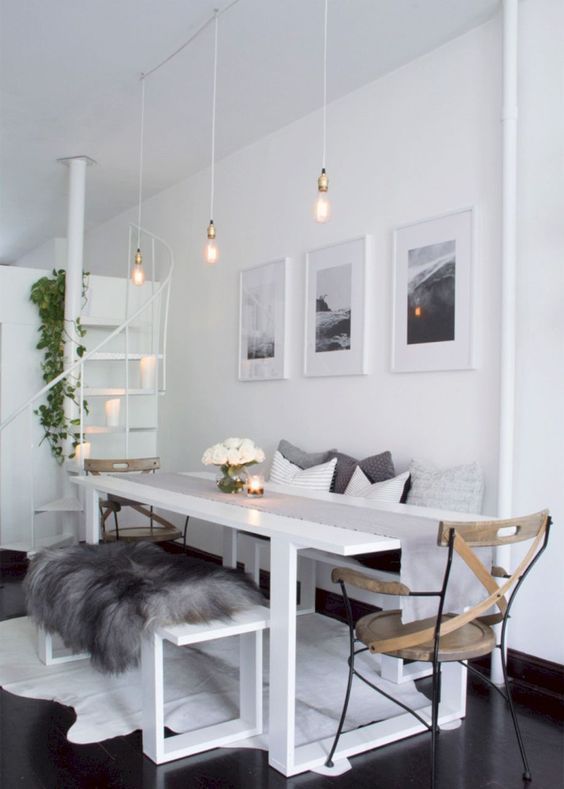 As you can see, there is so much to admire about the Scandinavian interior design characteristics when applied to the dining room!
If you love Nordic decor and homes with hygge style, then don't miss our other Scandi decorating guides!
Happy curating!