The dining room is where friends gather, meals are hosted, homework is done, conversations are had and memories are made. The dining room is definitely one of the many important parts of your home or apartment and deserves special love and care with getting all the essentials to make the space memorable, inviting, and functional. Today I want to share a list of dining room essentials you should be sure to pick up at some point for your home!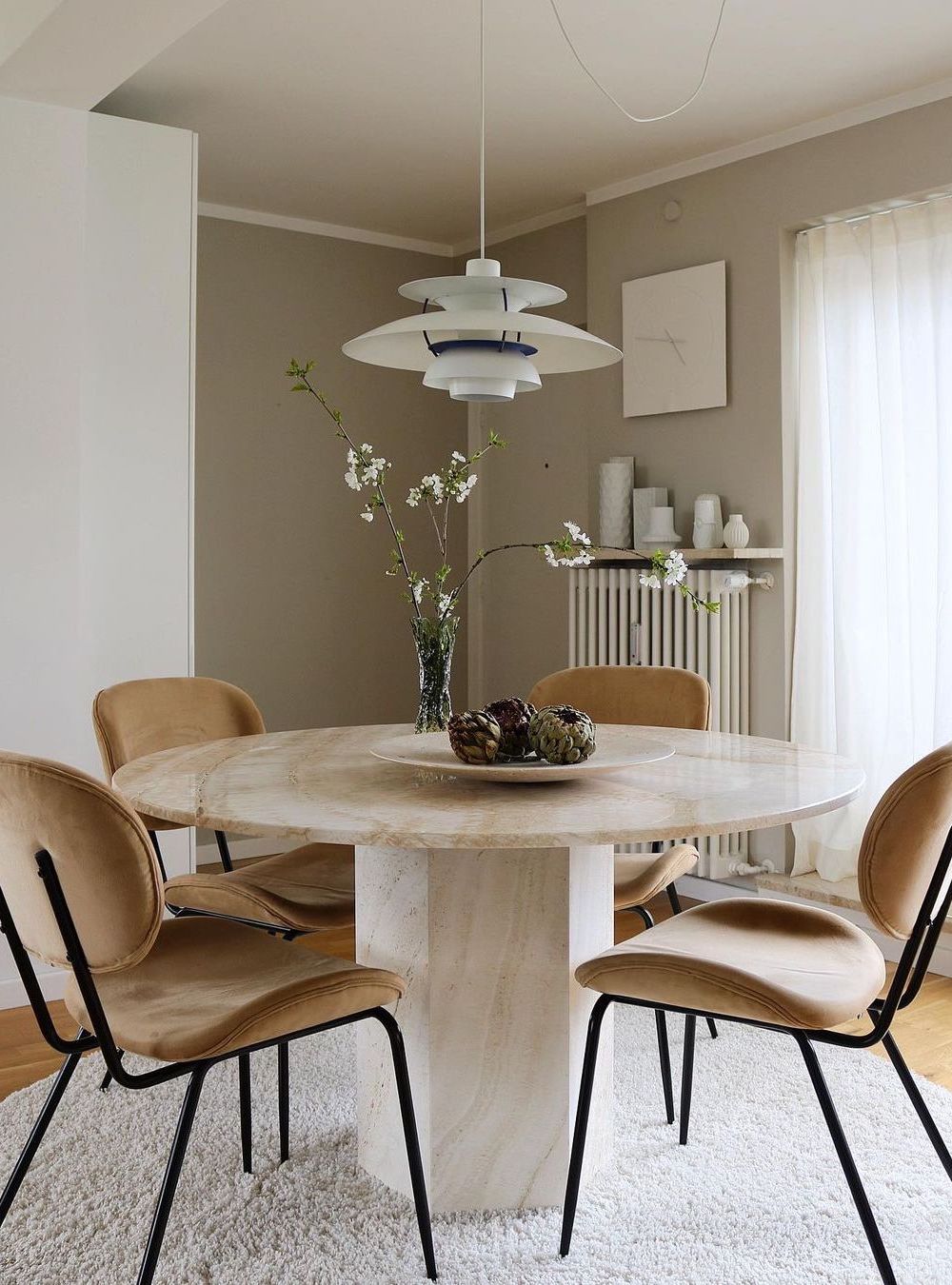 Dining Room Furniture
Let's first talk about the essential dining room furniture you'll need to complete the space.
Dining Table
First up is the central piece of the dining room: the dining table! This will be the space where people gather to talk, laugh, work, eat, and more! Depending on your space and decor style, you could go for a classic rectangular wooden dining table for form and function. If you're in a smaller space, a drop side table would be a great addition to your dining room essentials because it gives you versatility for your space!
Dining Chairs
The dining chairs are a dining room essential that can be used both for the dining room seating as well as versatile seating for the rest of your living space! When you have a large group gathering, dining chairs are a great way to add additional seating. You can look for chairs that are folding for smaller spaces, or traditional 4 legged chairs as well. Wooden, plastic, wicker, or metal framed dining chairs can set a style for your space.
Buffet
An often overlooked dining room essential, the buffet serves for storage, serving space, and decor! Open shelved buffets keep smaller rooms feeling more open and spacious. Closed buffets or glass door buffets are also an option for more private and discreet storage options.
Hutch
A hutch is similar to a buffet in the sense that it is for storage of dining room materials, but unlike a buffet it is taller like a cabinet rather than wider like a table. This is a great idea for smaller spaces as you get additional storage out of negative space.
Dining Room Accessories
Here are a few key dining room accessories you'll need to make the space as functional as possible.
Tablecloth
Whether you want to use a tablecloth all the time or just for special occasions, this is definitely a dining room essential you want to have on hand! You can transform your dining room table with a mere covering to be dressed up, dressed down, or cover up any blemishes or stains.
Serving Platters
A variety of serving platters will always, always, always come in handy! Even for small gatherings or get-togethers, a serving platter is a great and easy way to serve food or use for decoration elements.
Lazy Susan
A Lazy Susan is an awesome dining room gadget. It is just a large slab of wood that rotates on the base – perfect for serving meals that allow everyone to access the food without reaching across the table or standing up. You can buy a simple version of a tiered-version! Whether you go one, two, or three tiers with your lazy susan, I can't recommend this dining room essential enough! The functionality you get with it in the space is ideal for large families and guests gathered around the table.
Centerpiece
No matter the size, shape, or style of your table, a centerpiece remains a dining room essential. It can be something as simple as a candle, art piece, flowers, or small decor. A centerpiece is a great way to add some personality to your space.
Napkins
Paper napkins are definitely a popular option and a very, very necessary essential for your dining room! Cloth napkins are more eco-friendly and add a design element to your space as well.
Dinnerware
Dinner plates, salad plates, and bowls are the bare minimum for your dining room and guests. You could also get pasta bowls, smaller side dish bowls, or other small dishes for a variety of needs.
Glassware
Drinking glasses, wine glasses, cocktail glasses – whatever your needs might be, you'll for sure need at least some basic glassware for yourself and your guests to enjoy drinks!
Silverware
At a bare minimum, you'll need forks, knives and spoons for your dining room. Other dining room essentials for silverware could include steak knives and cocktail forks for more specific needs.
Trays
Trays have a great versatility in that they can be used to bus dishes to and from the dining space, used as a serving tray, or used to bring food and drinks from one room to another with a little flair.
Bowls
It is my personal opinion that you can never, ever have too many bowls. Chips, dips, soups, salads, small sides, snacks – you name it, you can put it in a bowl! Snack bowls are great for everyday use and larger bowls are fantastic for crowds.
Serving Utensils
I cannot stress enough how necessary tongs and serving spoons are for your dining room. You use them way more than you probably realize and they aren't easily replaced or substituted with anything else, besides using your hands!
Dining Room Decor
Don't forget that some dining room decoration is essential to creating a lively and jovial atmosphere at home!
Ceiling Lighting
Ceiling lights are a great and natural way to incorporate style into your dining room as well. A simple chandelier or a rustic industrial farmhouse with exposed Edison bulbs give vastly different, yet beautiful, spins on your dining room.
Side Lighting
Just because you have a ceiling light doesn't mean it has to do all of the heavy lifting! Some decorative wall sconces or table lamps are dining room essentials for the ambient light they provide. 
Art or Photography
Bare walls can make a space feel unfinished. Art or photography can range anywhere from a huge collage of photos to a simple, understated framed photo and add personality to your dining room.
Wall Shelves
Always, always, always go for more storage. Wall shelves are great for this in that they can store useful materials or decorative items.
Rug
A rug warms and completes a dining room space. This is a comfortable element for your feet, protects the floor from your table and chairs, and catches spills while looking fashionable doing so!
Curtain & Rods
Decorative curtain rods or simple rods are essential for privacy and decor. Curtains can range from sheer to room darkening and in just about any fabric and finish you could ask for!