These coastal dining rooms are the perfect place to enjoy a summertime seafood meal. If you have a beautiful beach home or a seaside cottage, then every room must celebrate the water nearby.
This post will cover dining room design inspiration with a beachy flair. We hope these modern coastal dining room designs will inspire you as you go about curating this important room in your home.
Coastal Dining Rooms
From wooden dining tables to sea blue dining chairs and decor accents, there are so many ways to decorate your coastal dining room according to your taste. Coastal decor doesn't have to mean cheesy sea life and beach motifs everywhere. You can subtly incorporate modern coastal design into your space to give it a tasteful look.
Let's take a peek at some of the most common decorating themes when it comes to coastal style dining rooms. I hope several of these coastal dining room decor ideas will inspire you!
1. Sea Green and Pink Accents
This dining room looks like a catalog from Lily Pulitzer! I love the coastal combination of sea green and pink, as seen here. It really brings out the feminine side to coastal decorating. The woven jute rug on the floor almost looks like sand. Pastel glasses and a small blue ginger jar add pops of color to the sleek white dining hutch against the wall in this beautiful space.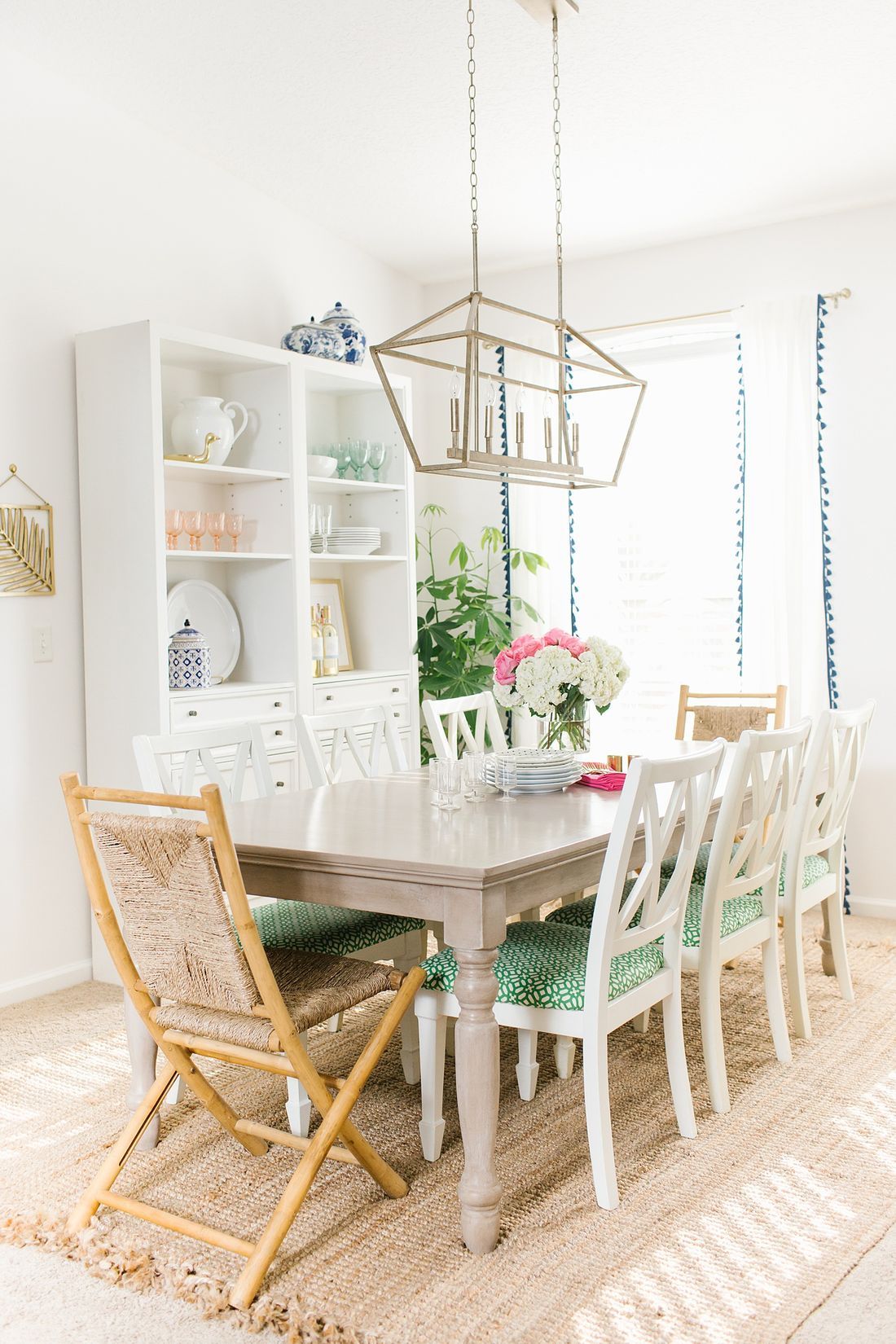 2. Cane Back Chairs
Even though the corner palm plant and giant palm leaf centerpiece certainly take the cake in the visual appearance of this room, I wanted to highlight the beautiful cane back dining chairs that were chosen. Cane is a popular material used to craft coastal furniture. It offers ventilation so you don't feel too warm while sitting in one. They're the perfect choice for seating in warmer coastal climates.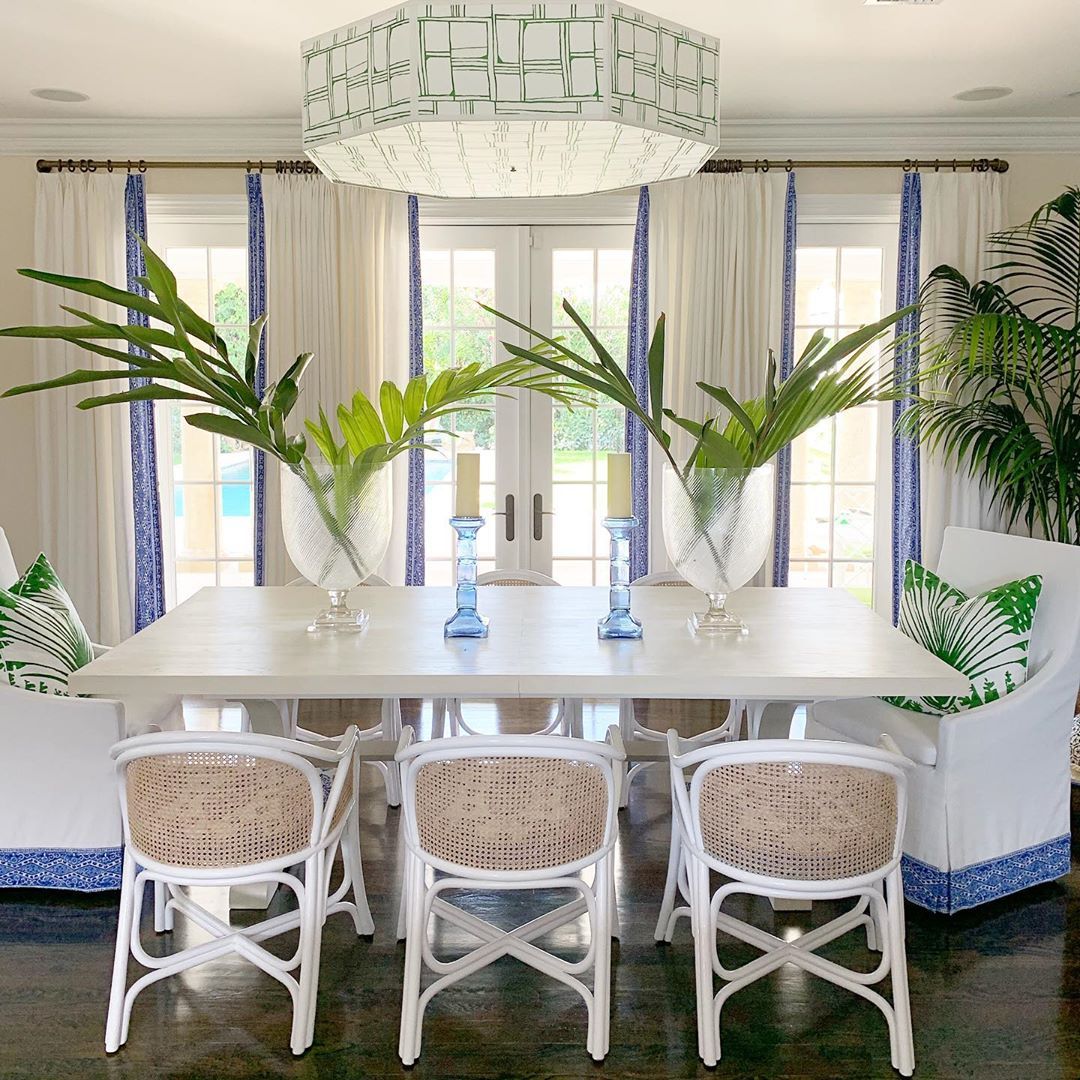 3. Linen Slipcovered Chairs
Linen is a light and airy coastal fabric that is often worn by many people during the summer months. It makes sense that this breathable fabric would be used as slipcovered dining chairs in a coastal climate, too! This room has been expertly designed with a wooden dining hutch, rustic wood table, blue abstract art, and blue striped throw pillows for a coastal look.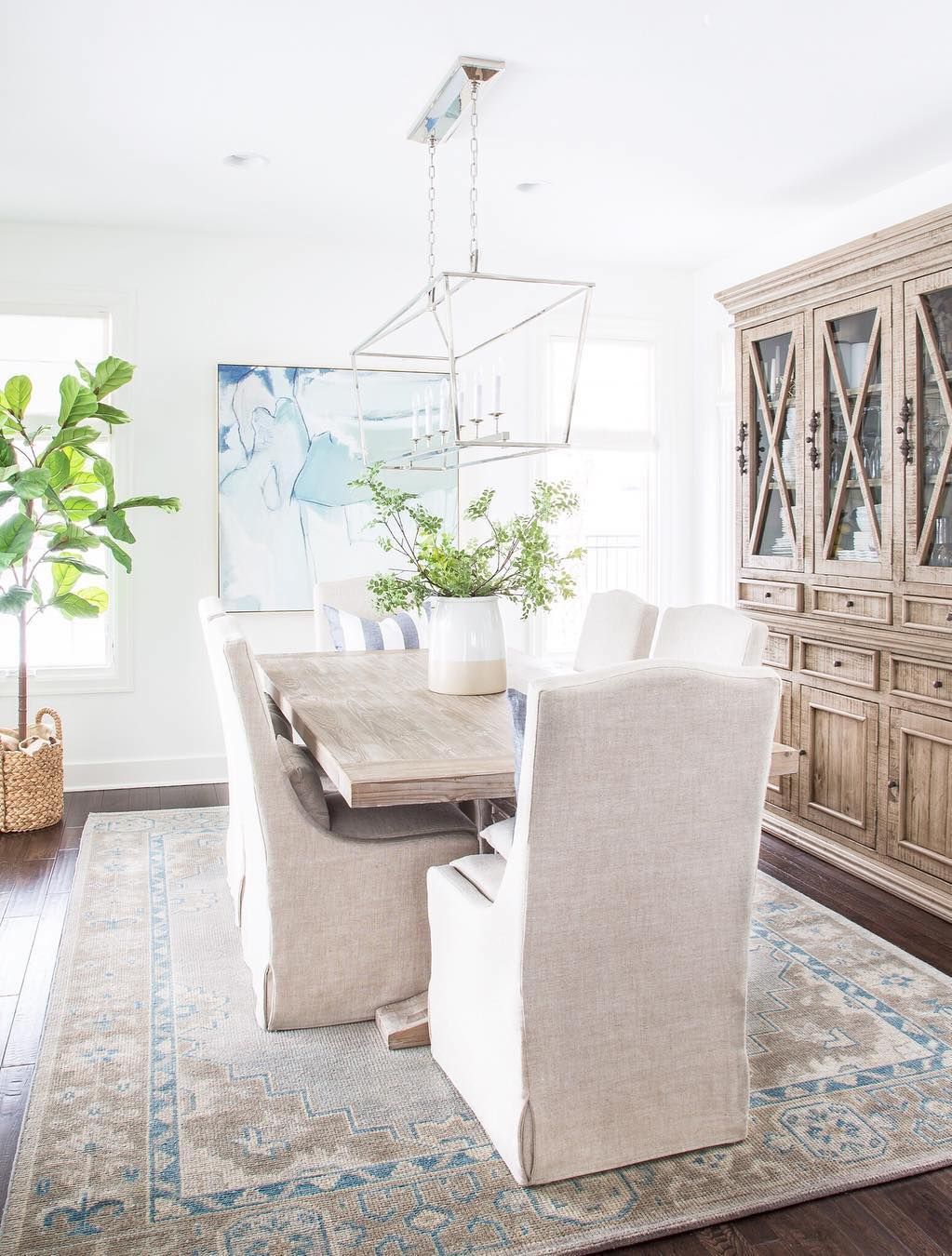 4. Blue Vases
The ocean blue accents of this space provide a nice contrast from the typical baby blue coastal interiors we often see. Using dark blue is often appropriate for decorating lake houses and homes located in the northern part of the country as opposed to the Caribbean. Darker blue accents like the vases on this dining table can be associated with nautical decor and colder waters. The dark blue painted dining hutch against the wall is brightened up with several white Farmhouse-style pitchers, serving platters, urns, and ceramic vases.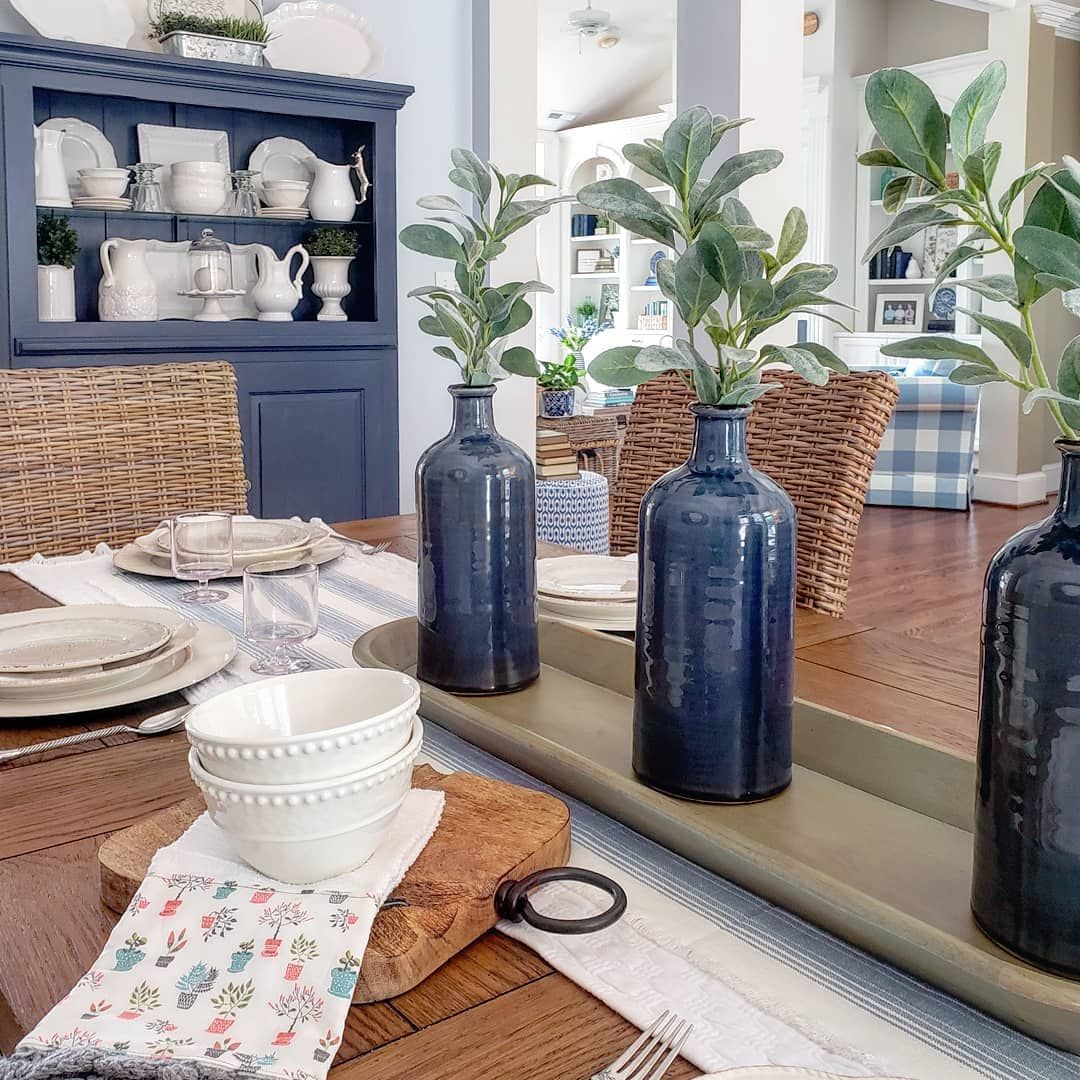 5. Palm Leaves Centerpiece
Palm leaves make more great centerpieces in coastal dining rooms. This is such an easy idea to recreate. Simply choose several stems of palm leaves and dunk them in a large glass jar filled about a third of water. Display either one or three jars to keep the space looking fresh and balanced.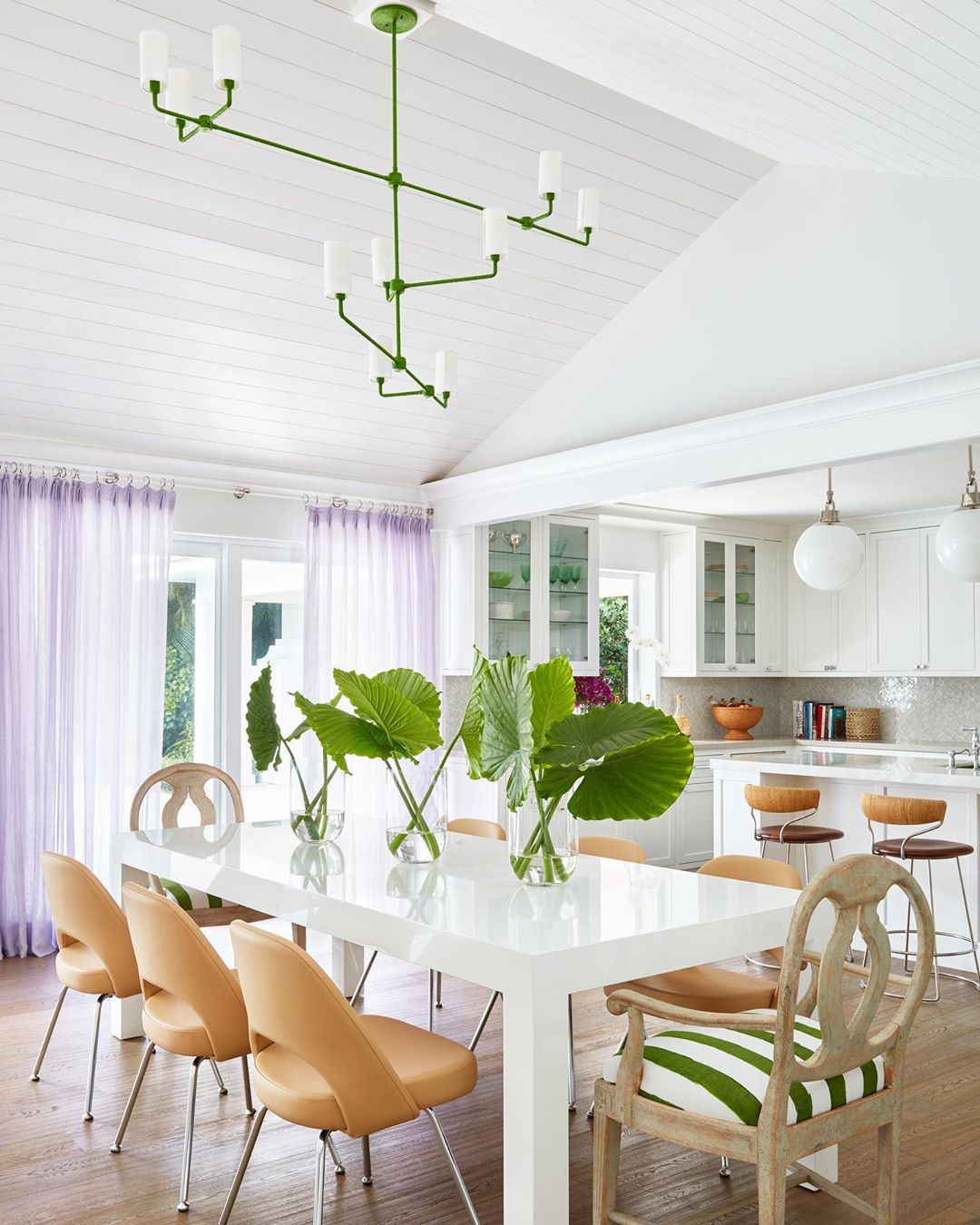 6. Beach Art and Crossback Chairs
I love the abstract wall painting in this dining room. It appears abstract at first, but upon closer inspection, it's actually depicting an aerial view of a beach, with the sand on the top portion! The white cross-back dining chairs brighten this space. I think that is a sea-glass beaded chandelier hanging from the ceiling, too!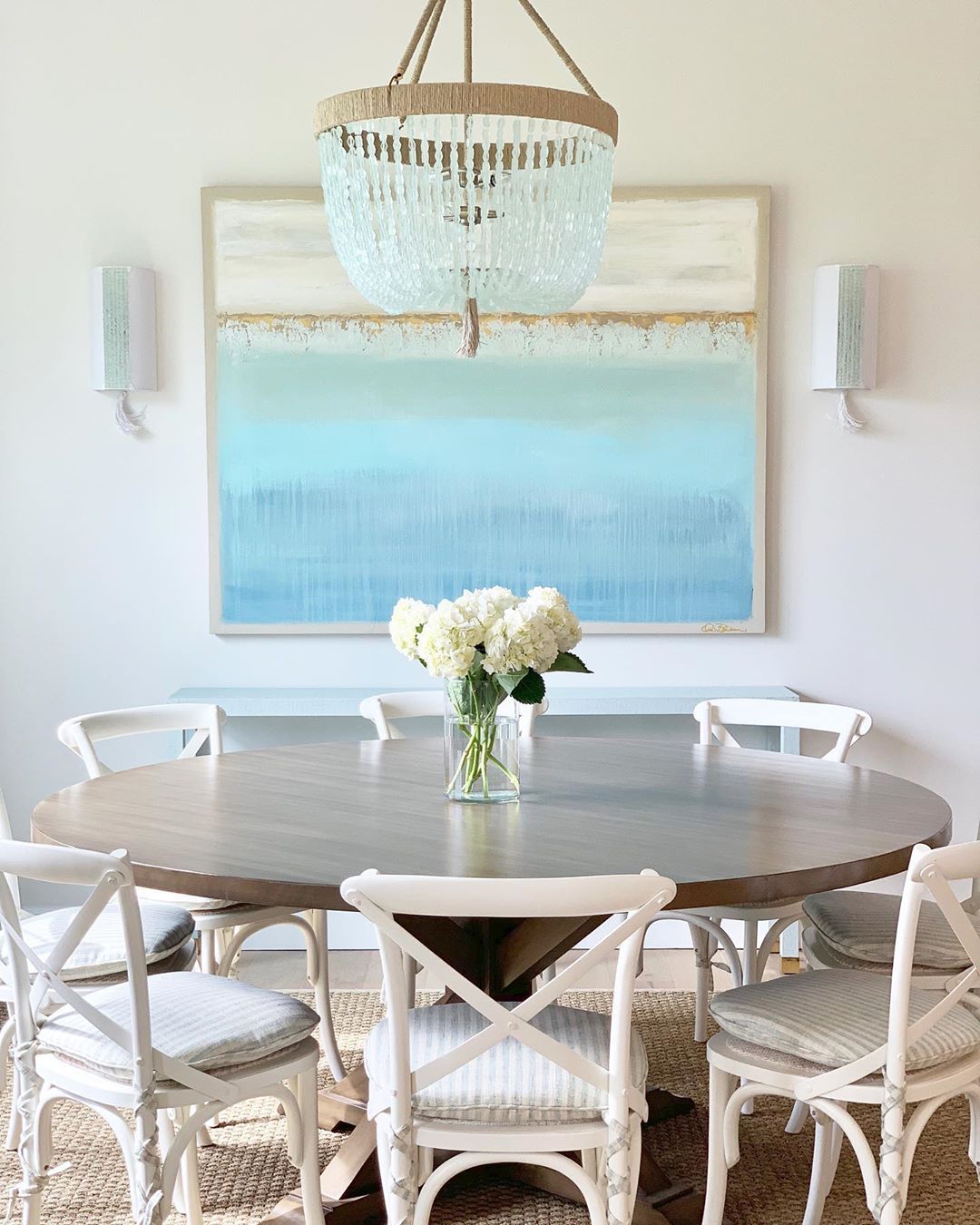 7. Shell Chairs and Coral Art
Blue can be very overdone in coastal interiors, so I like that this coastal dining room went with coral and green accents instead. The shell backs of the dining chairs are so beautiful, too.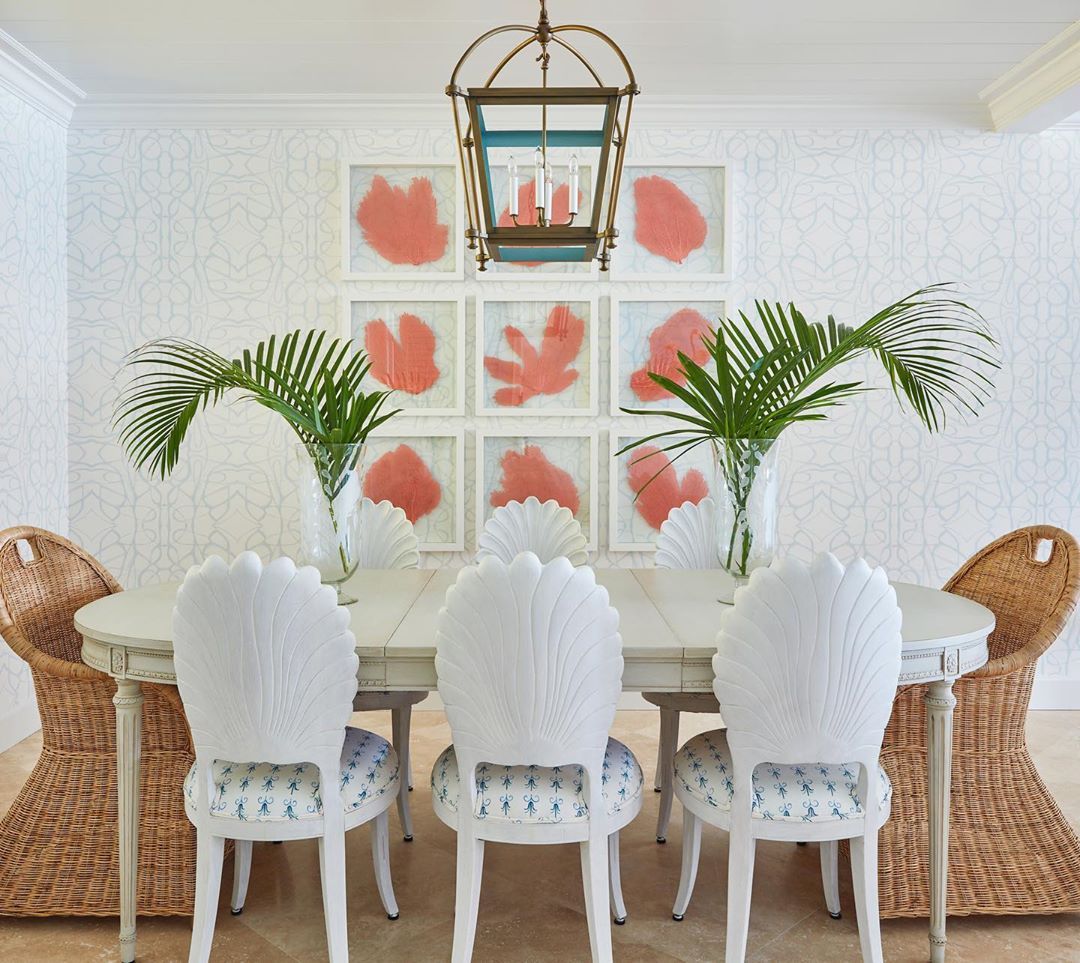 8. Minimal White Tulip Dining Table
When in doubt, a good white tulip table is a great place to start when decorating your dining room. This neutral coastal dining room has a rattan pendant light and wood wishbone chairs for a simple coastal vibe.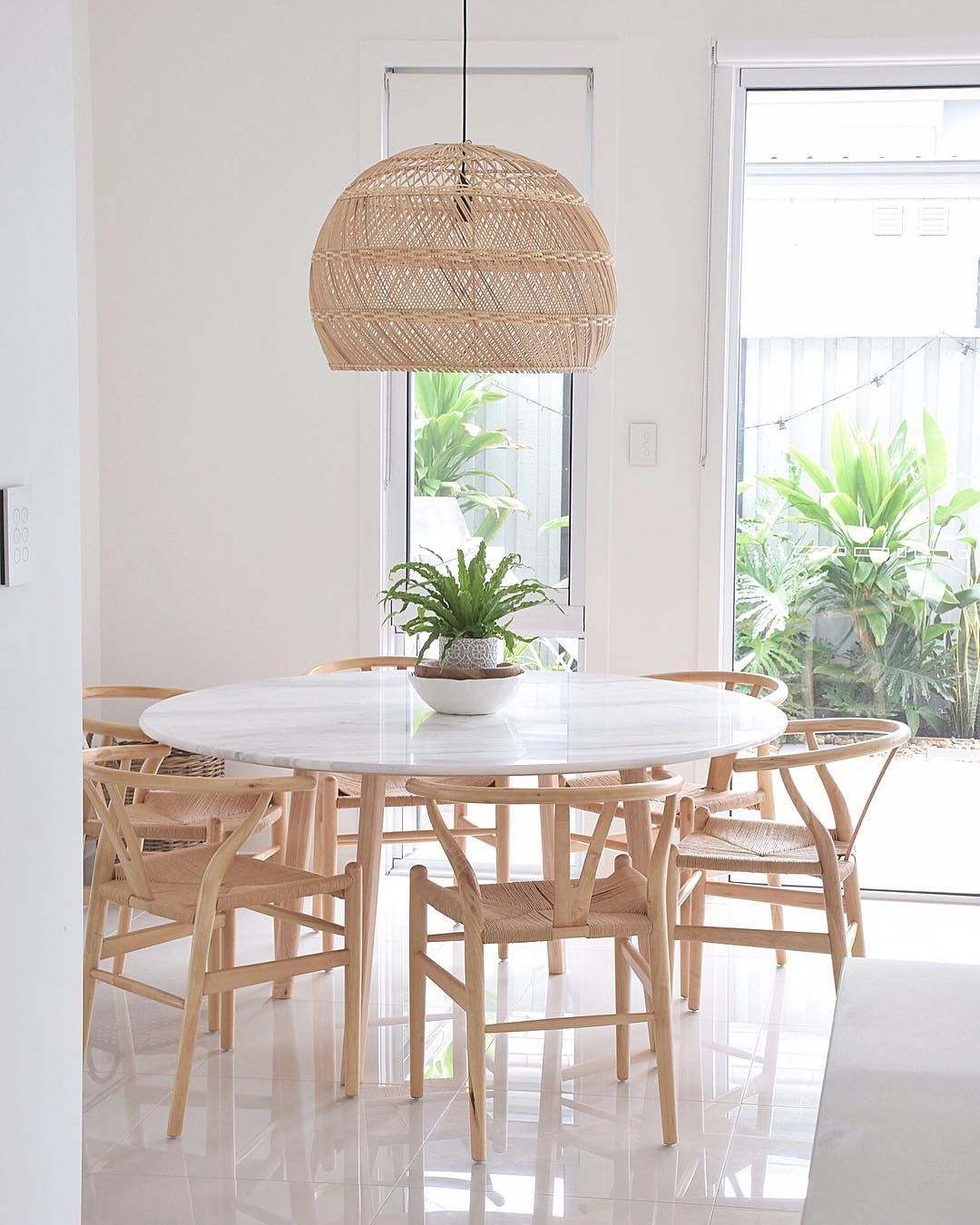 9. White Wishbone Chairs
The wishbone dining chair is such a great choice for any dining room style. Here they are in a white finish. This airy dining room has sky high ceilings and a gorgeous ocean view!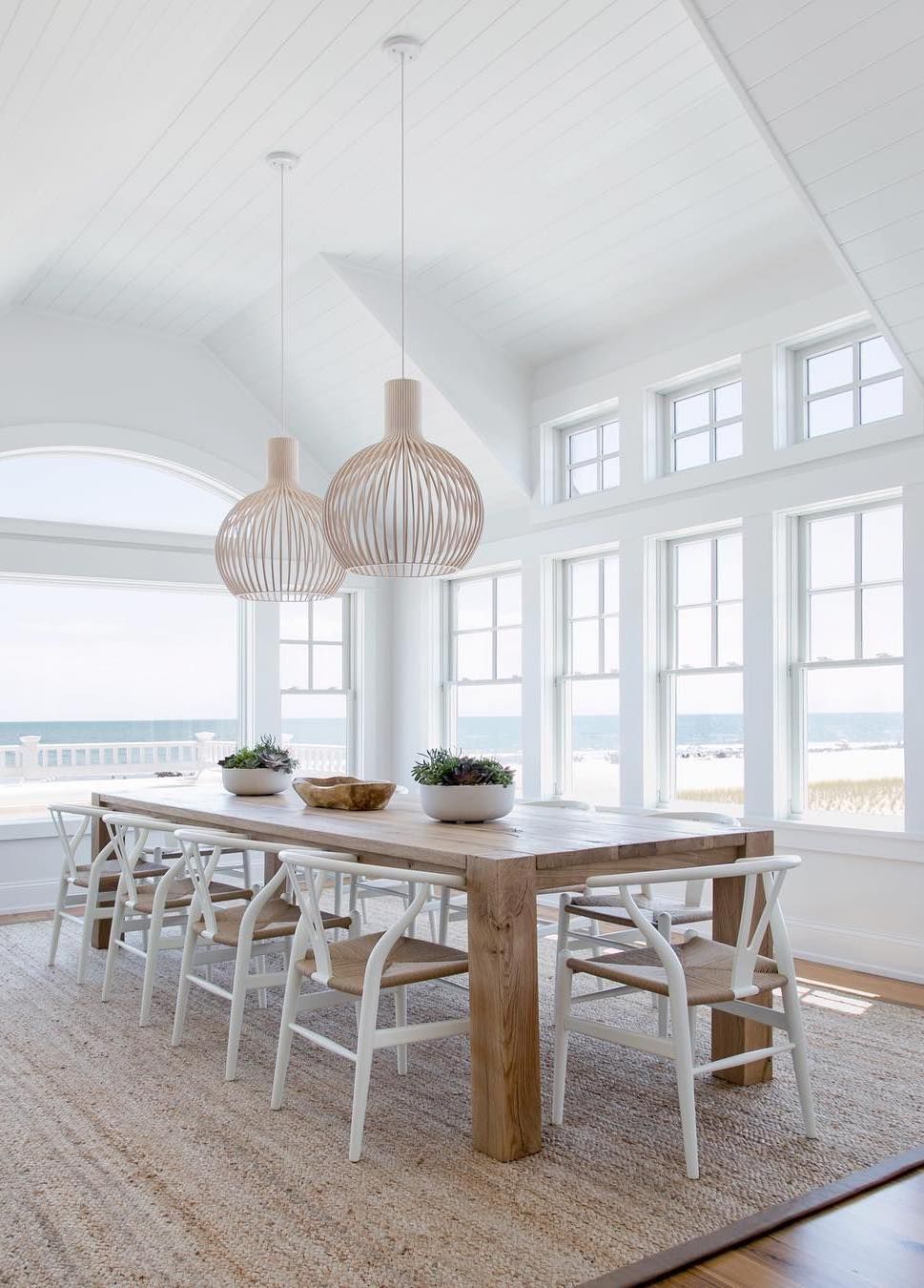 10. Blue and White Striped Rug
A proper coastal rug is a must to create a cozy coastal dining room at home!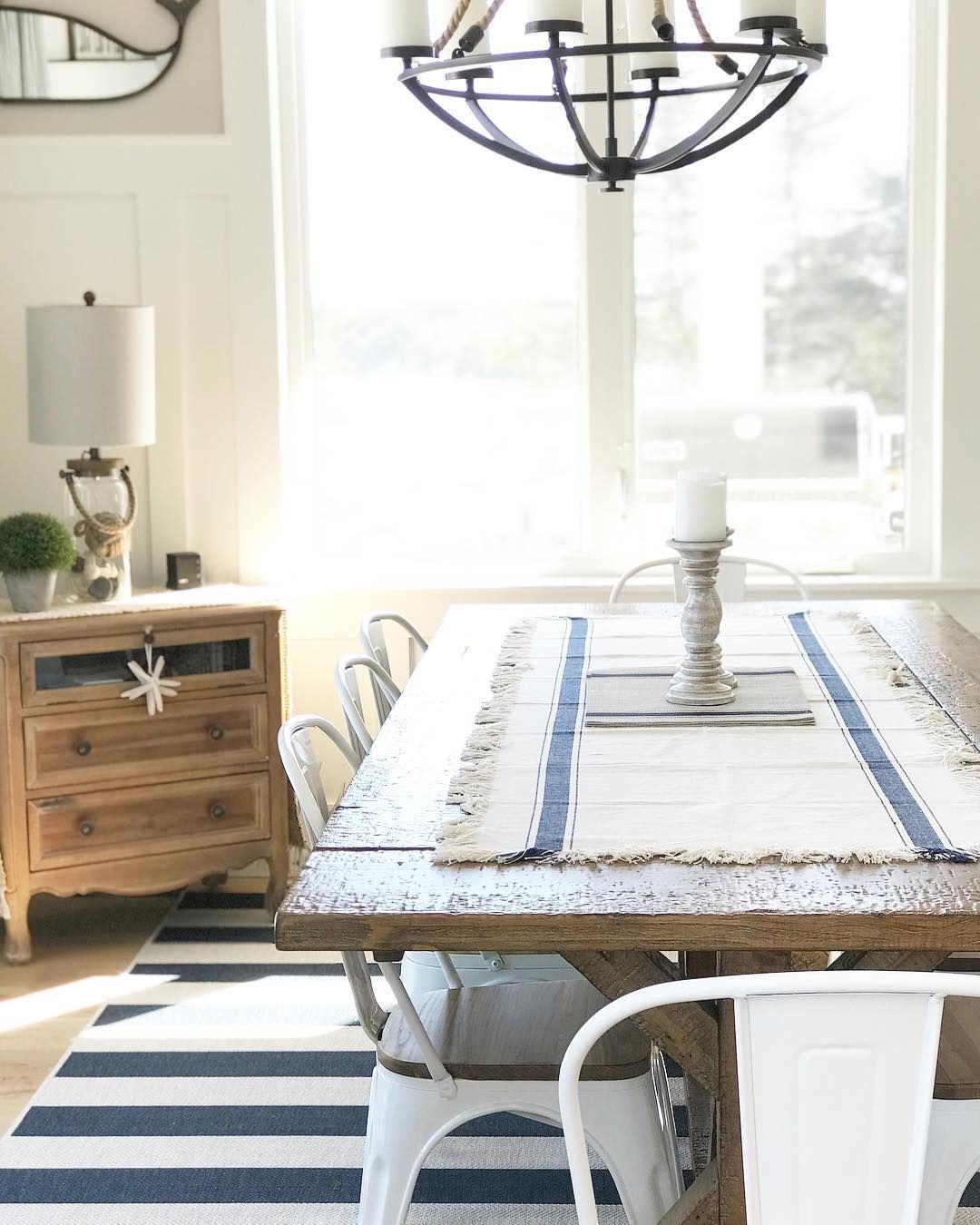 11. Sea Blue Plateware
A good set of coastal plates can spruce up your coastal dining room table.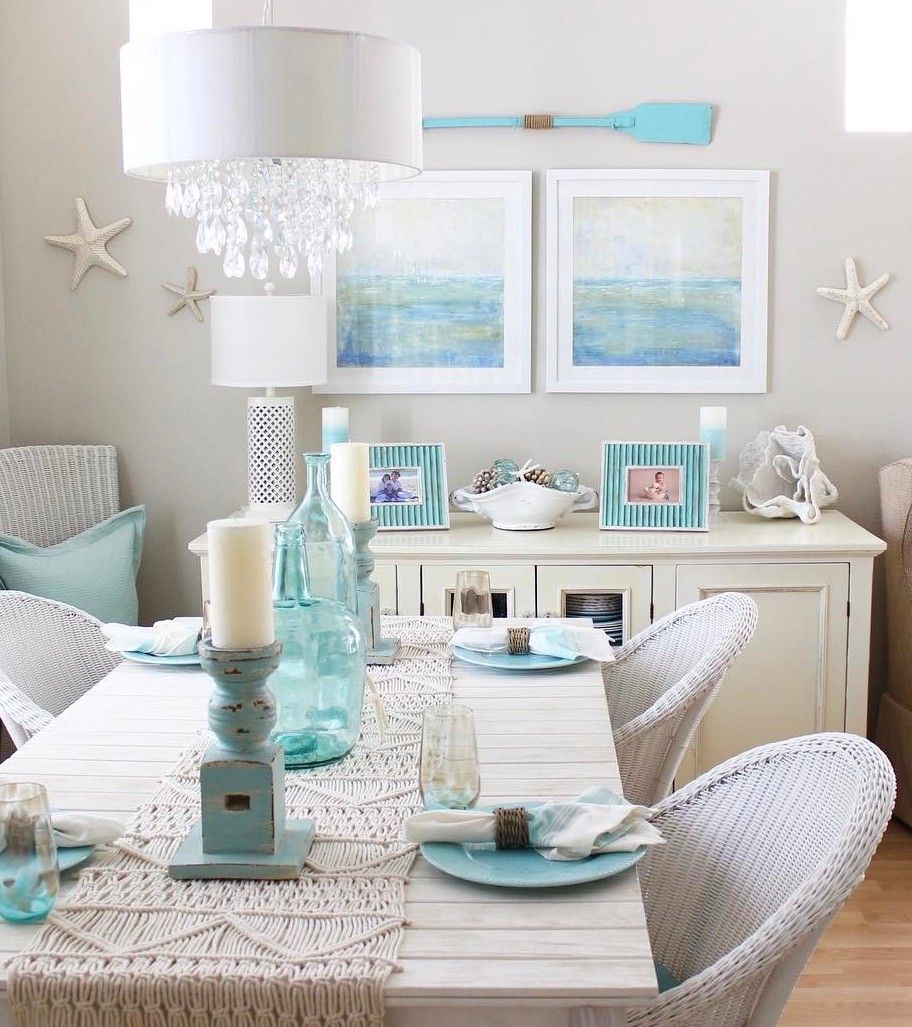 12. Half Wallpaper Wall
This is an interesting design choice for the dining room. The upper half of the wall has been covered in a blue and green wallpaper, while the lower half has solid white wood panels. A rustic wood dining table has four turquoise rattan dining chairs and two white slipcovered chairs around it.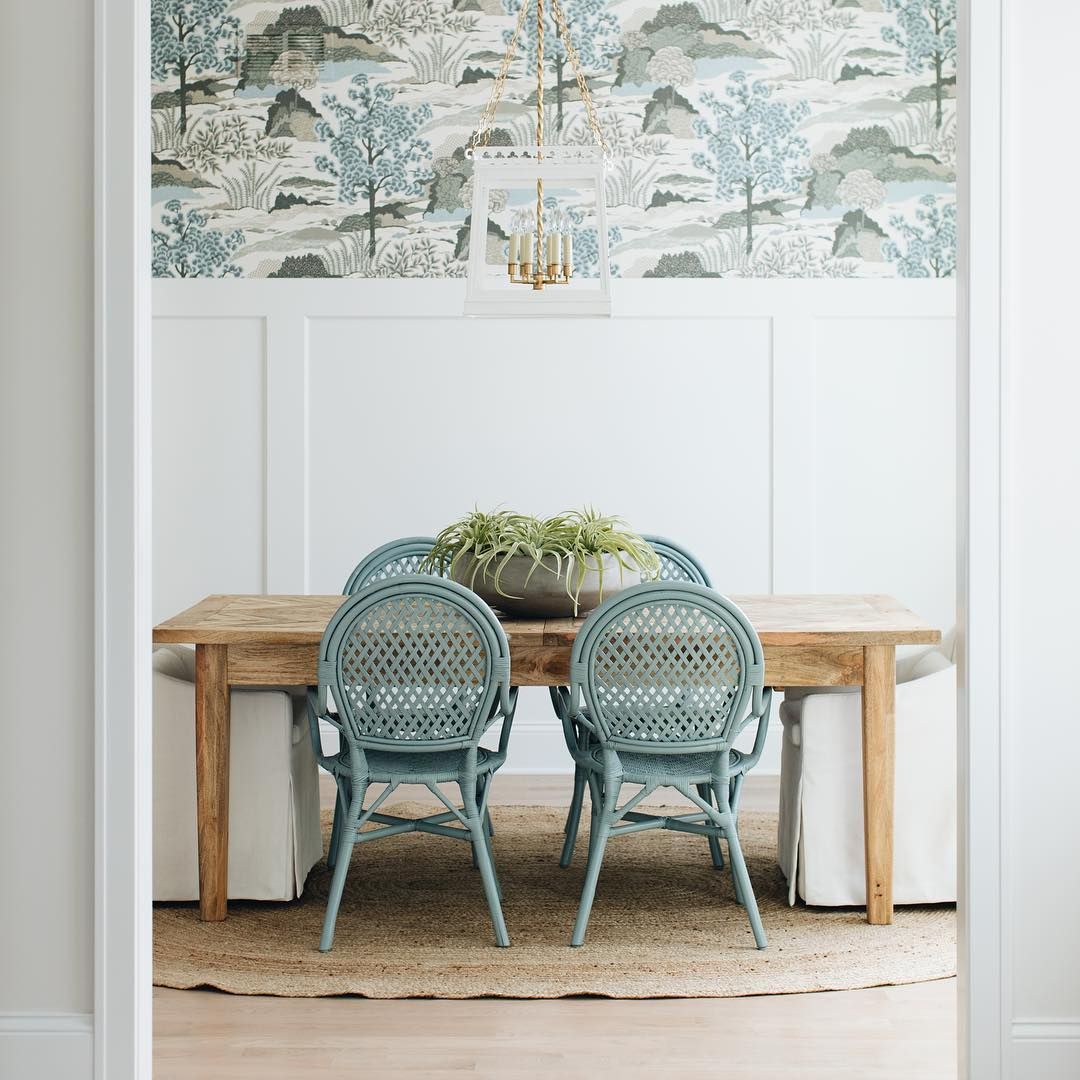 13. Surfboard on the wall
I love this California style dining room design with a wood surfboard hanging horizontally against the back wall!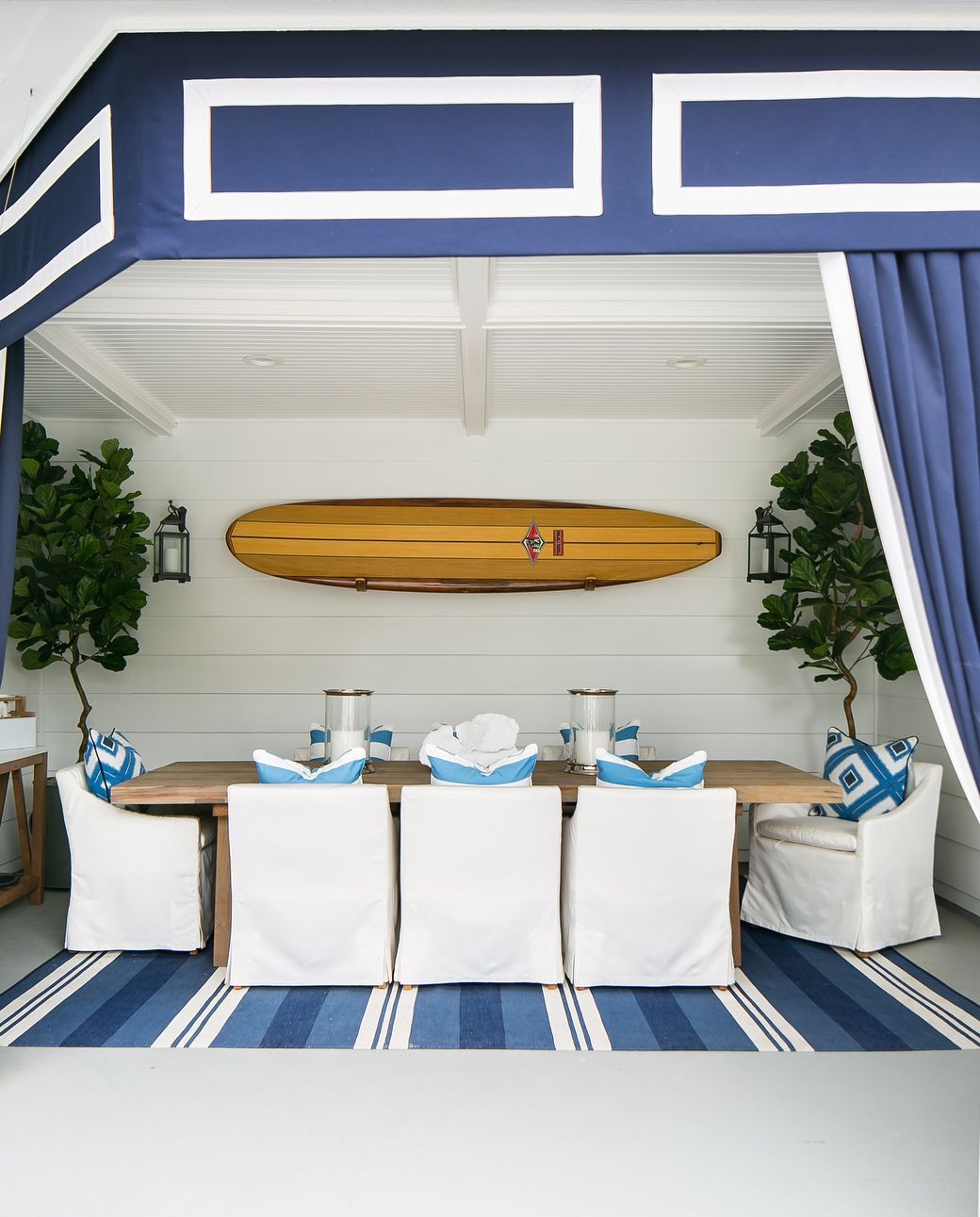 14. Blue Stripe Chair
This is a unique take on the slipcovered dining chair.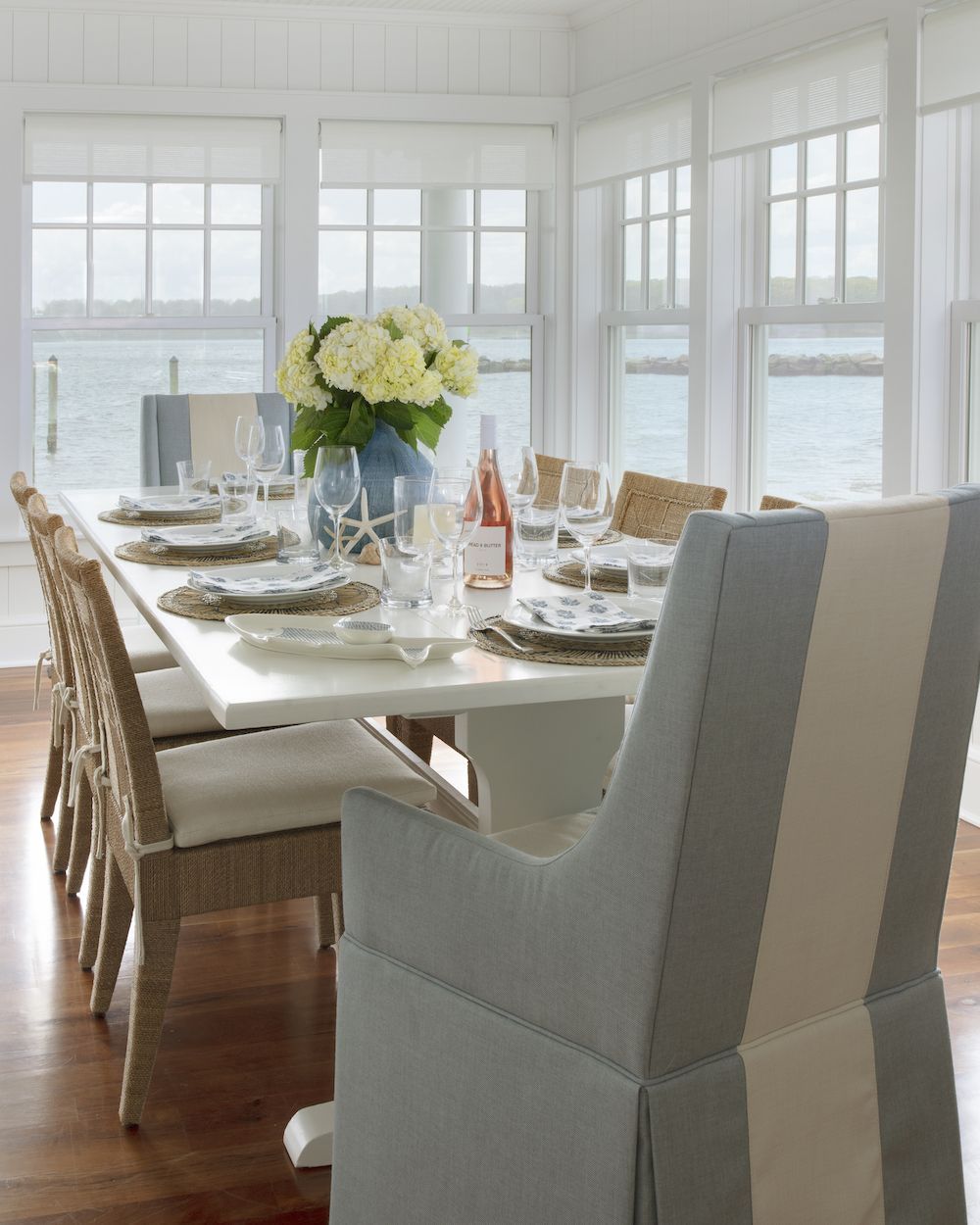 15. Driftwood Chandelier
This coastal lighting fixture brings the driftwood in from outdoors!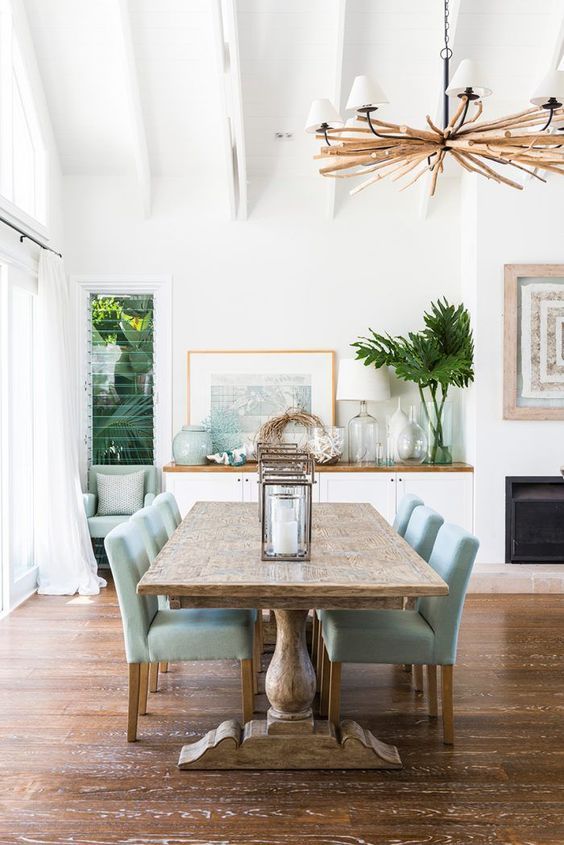 16. Pastel Hues
Pastel hues are commonly found in coastal homes. You'll rarely see lots of bold or darker colors in beach homes. Instead, go for soft, neutral pastel hues as seen here.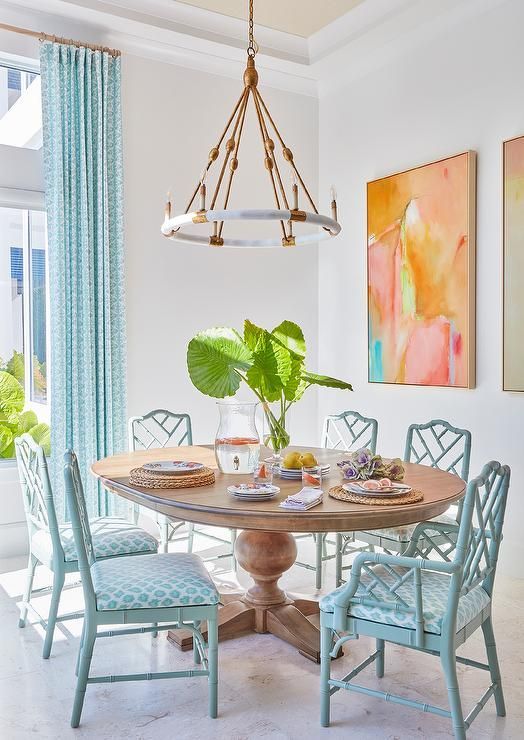 17. Whale Wall Art
This whale wood artwork is a great choice for coastal wall decorating! You can probably find something like this from Etsy.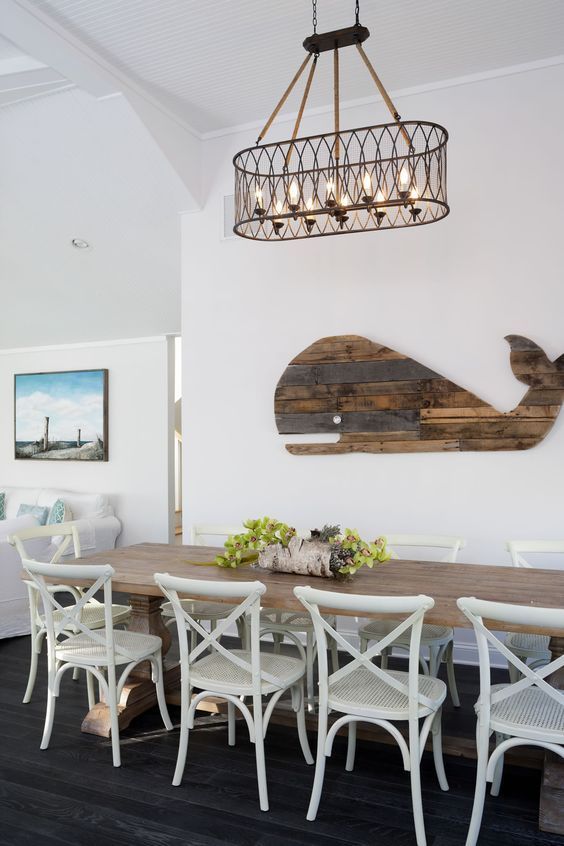 I hope you found theses coastal dining room decor ideas useful and inspiring! Which one was your favorite? As always, we'd love to hear your feedback in the comments below.
More Coastal Decor Ideas
If you love coastal decorating, then we've got you covered with decor guides for every room in your home! Check out our other room inspiration posts below. We hope these posts will help you curate your dream coastal home!
Happy curating!