Mid-century modern home decor is quickly becoming a popular decorating style. On the heels of successful mid-century television shows like Mad Men, people across the country are opting for a 1960s style interior, or at least a few elements that represent the style! Mid-century modern decor is great for anyone who loves minimalistic design and warm brown hues.
If you'd like to learn more about decorating in the mid-century modern style, then keep reading as this post will give you a basic overview of the mid-century decor core elements!
Mid-Century Modern Design
The most popular and well-known elements of mid-century style come from the 1950s and 1960s when straight lines and smooth curves formed the basis of much mid-century furniture. Mid-century modern design was partially influenced by the Bauhaus style – a minimalist rejection of the intricate and ornate decorative elements that were popular during the very early 20th century.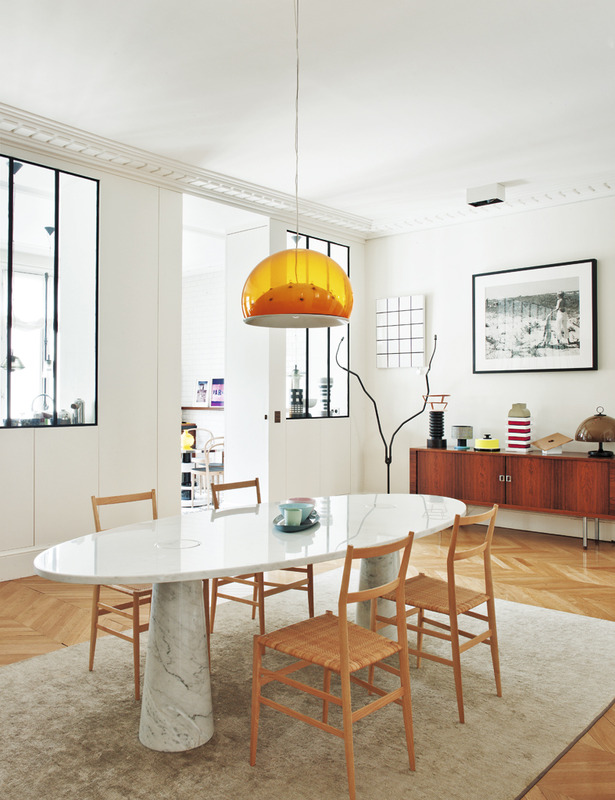 Where to Buy Mid-Century Modern
Finding original mid-century modern furniture is easy thanks to the popularity of this style. If you want new furniture designed in this style, there are loads of retailers who will sell you some.
This style is still very much in fashion and you can find affordable furniture and decorative elements in the mid-century modern style, even if they are not authentically vintage. Check out our recommendations for the best mid-century modern furniture stores to buy new mid-century modern furniture.
West Elm is probably the furniture retailer most closely associated with contemporary mid-century furniture and decor. With West Elm, you'll get a great combination of style, quality, and price.
On the other hand, finding original mid-century furniture in good condition can be a challenge, like most period-piece shopping. If you want actual mid-century furniture, then please read about these authentic mid-century furniture design shops, which sell either genuine originals or authorized replicas.
If you're looking to shop for mid-century modern furniture and home decor, then I recommend these retailers:
Today I'd like to share some core mid-century modern design elements that you can keep an eye out for when designing your home.
Mid-Century Modern Structural Elements
Let's start off by sharing some common structural elements of mid-century modern home design.
Geometric Forms
The mid-century mod look was characterized by geometric forms, often repeating themselves into patterns. From rugs to light fixtures, there are always interesting minimalist shapes present in a mid-mod home.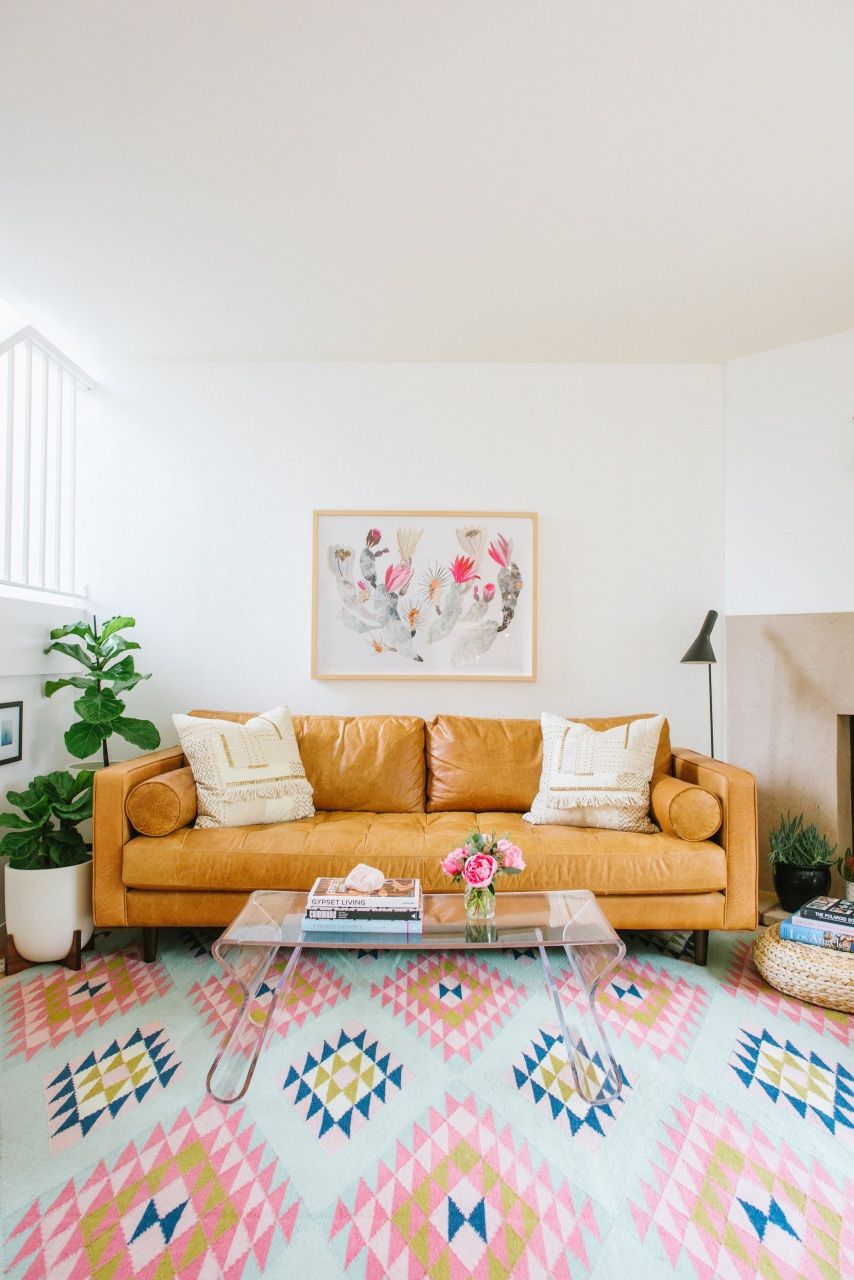 Wood Paneling
On the walls of a mid-mod home, you'll often find vertical knotty wood paneling in a dark brown finish. Sometimes the paneling is vertical and other times, it's horizontal!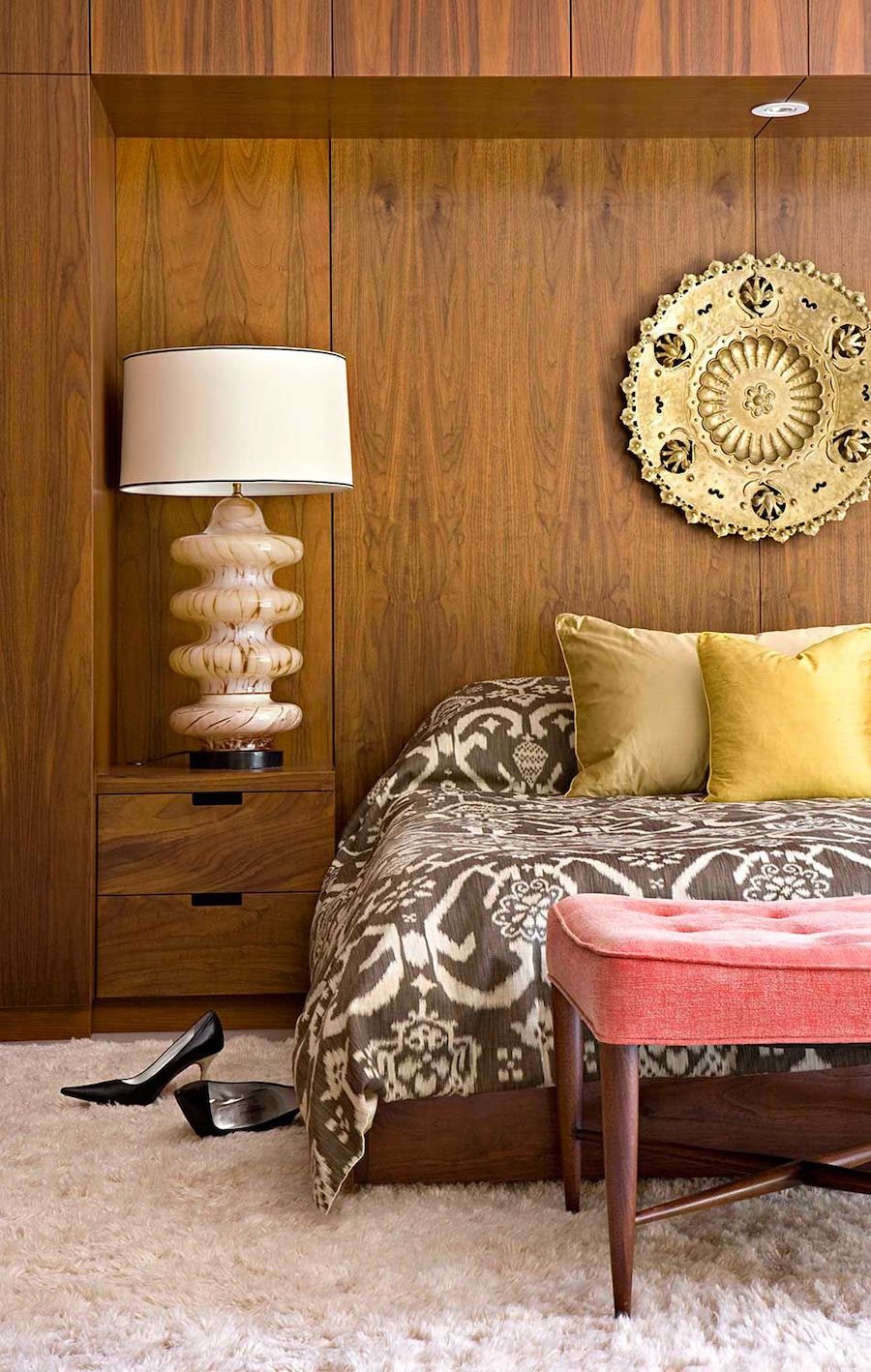 Mamie Pink Tile in the Bathroom
Perhaps the most whimsical mid-century modern design element is the Mamie pink tile bathroom. "Mamie" is a reference to the former first lady of the United States, Mamie Eisenhower, of course. During the 1950s, Mamie's love for pink was well publicized. Everything from her pink inauguration dress to her pink Gettysburg home bathroom caught the attention of women across the country. A love for pink bathrooms was thus ignited.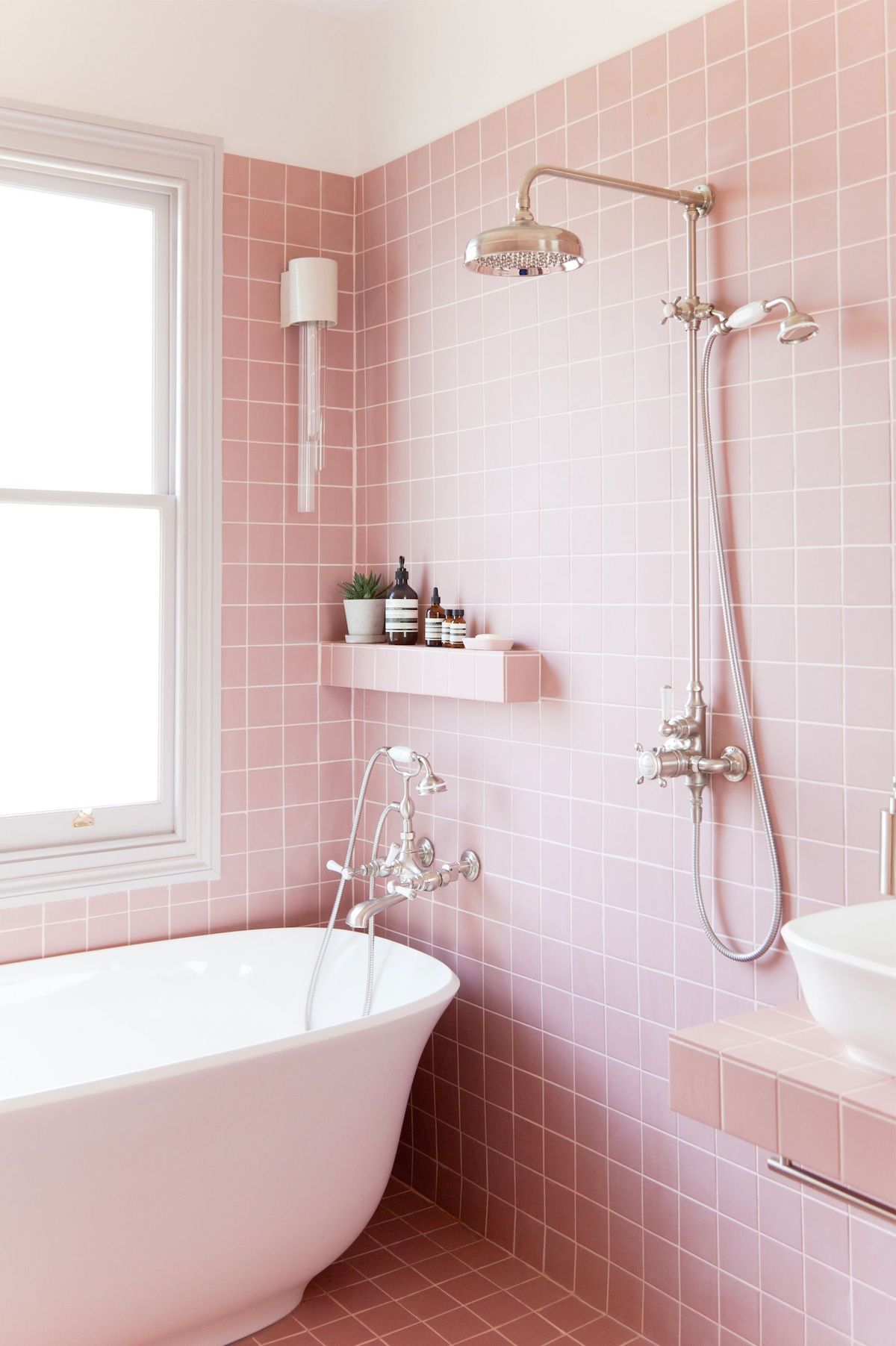 Pops of Color: Orange, aqua, mustard yellow and red
Desaturated fall colors seemed to be everywhere in mid-century modern decor. Keep an eye out for pumpkin oranges, mustard yellows, deep reds and even some popping aquas!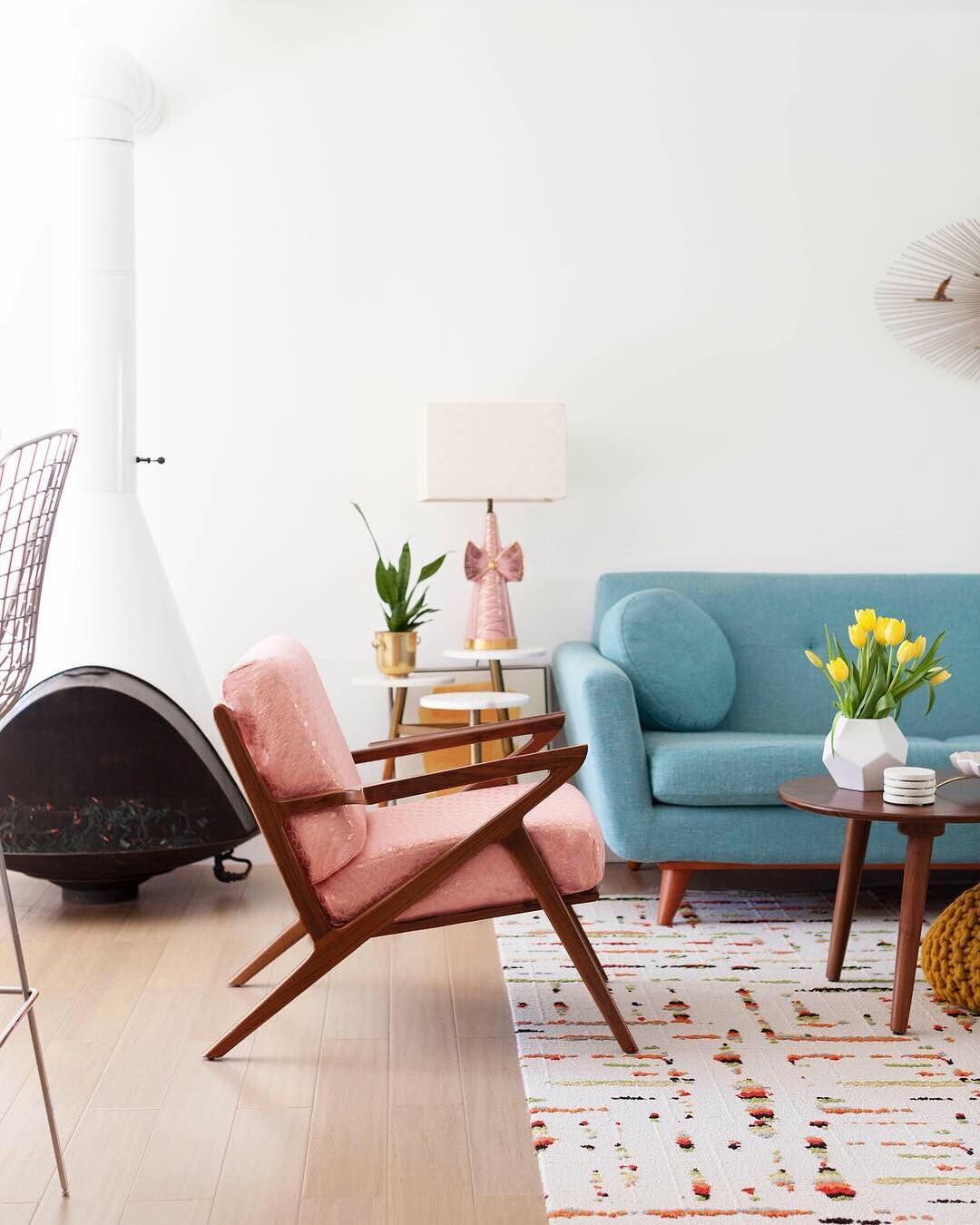 Open Shelf Room Dividers
Open shelf dividers in various geometric forms are often found in mid-century style homes. These room dividers are practical and help break up large spaces. You can store books, objects, and photo frames in the various small shelves.
Glass Walls and Large Glass Windows
Glass walls are a quintessential element of mid-century home structures. These large walls let in a ton of light, and are most often found in rural, remote homes. Obviously, you wouldn't want your home open for the neighbors to see!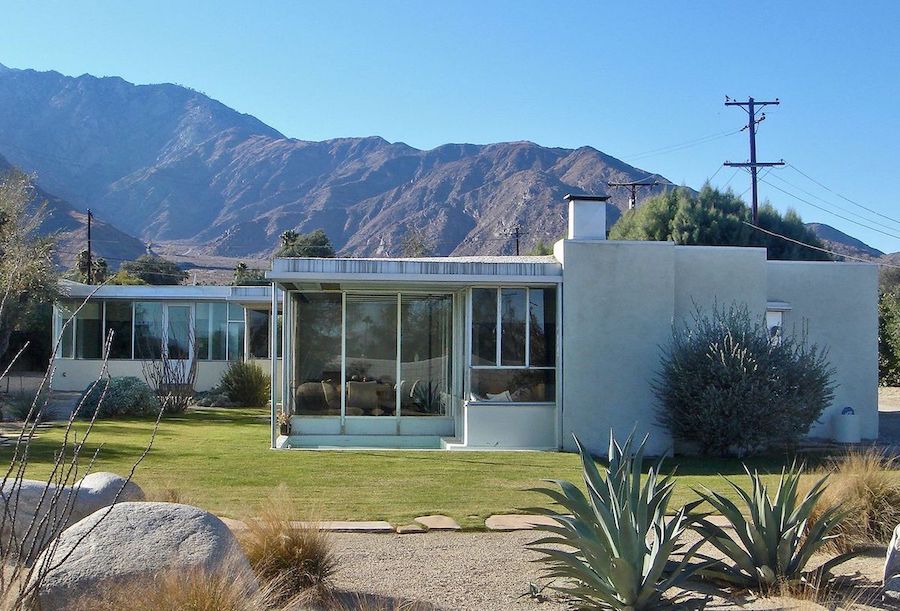 Mid-Mod Color Palette
Here is a visual representation of the colors most associated with mid-century design.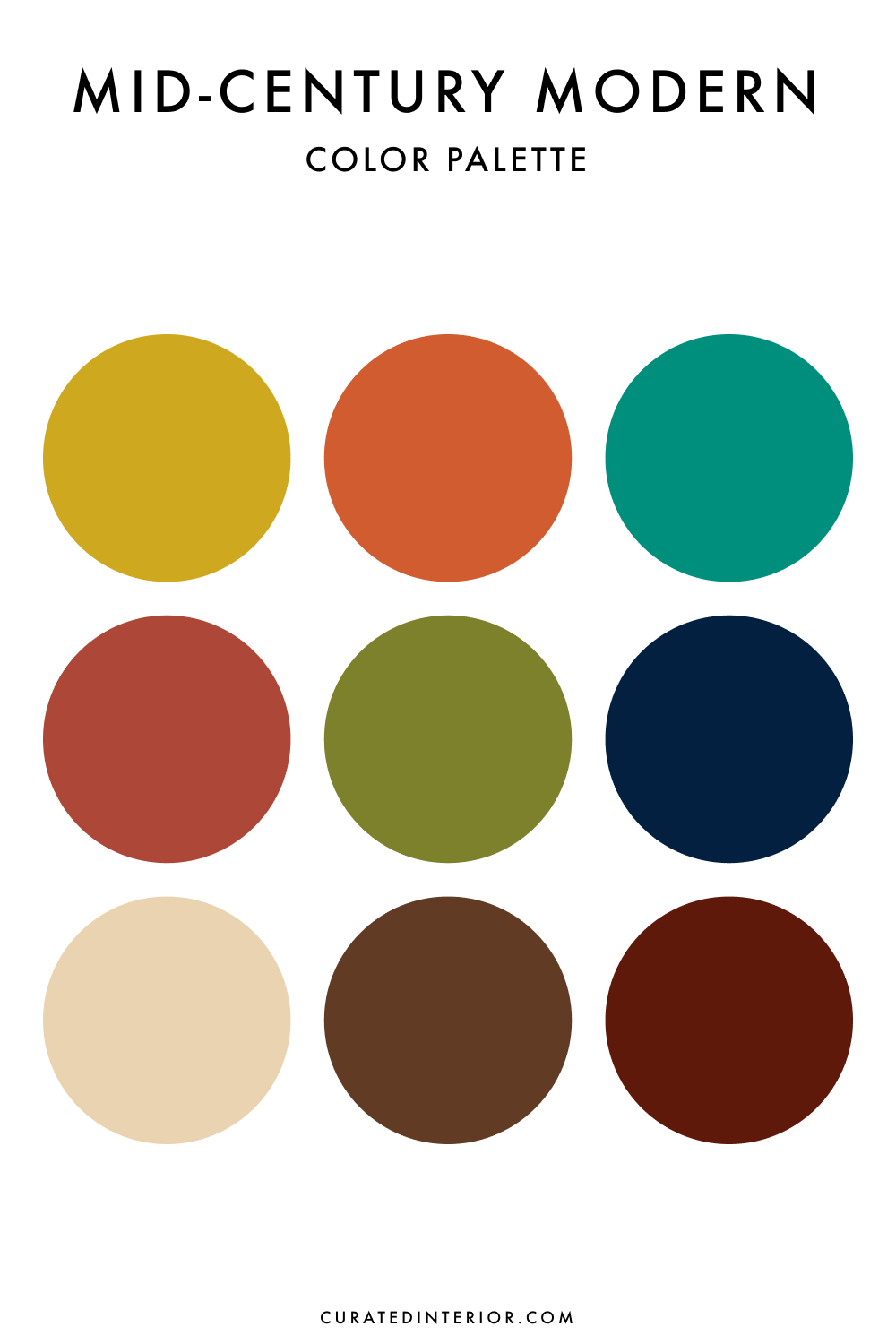 Mid-Century Modern Furniture
There are so many beautiful mid-century modern furniture pieces, some of which held lasting power and are found in modern-day homes, too.
These are the most popular mid-century furniture pieces:
Dark Brown Wood Furniture
Two-Tier Coffee Table
Credenza
Eames Lounge Chair
Hairpin legs
Eames Molded Plastic Armchair
Pastoe wire chair
Tulip Chairs
Womb Chair
Be sure to read about the most iconic mid-century modern chair designs for an overview of the most quintessential chair styles of the time period.
Mid-Century Modern Decorations
Here are a few common mid-century modern home decorations:
Starburst Clock / Sunburst Clock
Pop Art or Abstract Expressionist Art
Artichoke Pendant Lamp
Circular shag rug
Geometric Pillows & Rugs
Famous Mid-Century Modern Designers
These are the most famous mid-century modern designers to know. With a few exceptions, the majority of these designers came from the Scandinavian and northern European regions.
Herman Miller
George Nelson
Eero Saarinen
Harry Bertoia
Arne Jacobsen
Charles Eames and Ray Eames
Isamu Noguchi
Verner Panton
Ludwig Mies van der Rohe
Marcel Breuer
Mid-Century Modern Room Decor Inspiration
Here are a few examples of amazing mid-century modern interior design.
Living Room
This gorgeous mid-mod living room was designed by @melodrama, a woman who is truly living the mid-century modern dream! She purchased a mid-century house in Palm Springs, California (the epicenter of American mid-century design) and is slowly restoring it and decorating it with furniture and decorations from the mid-century period. Check out the best retro Mid-Century Modern Living Room ideas.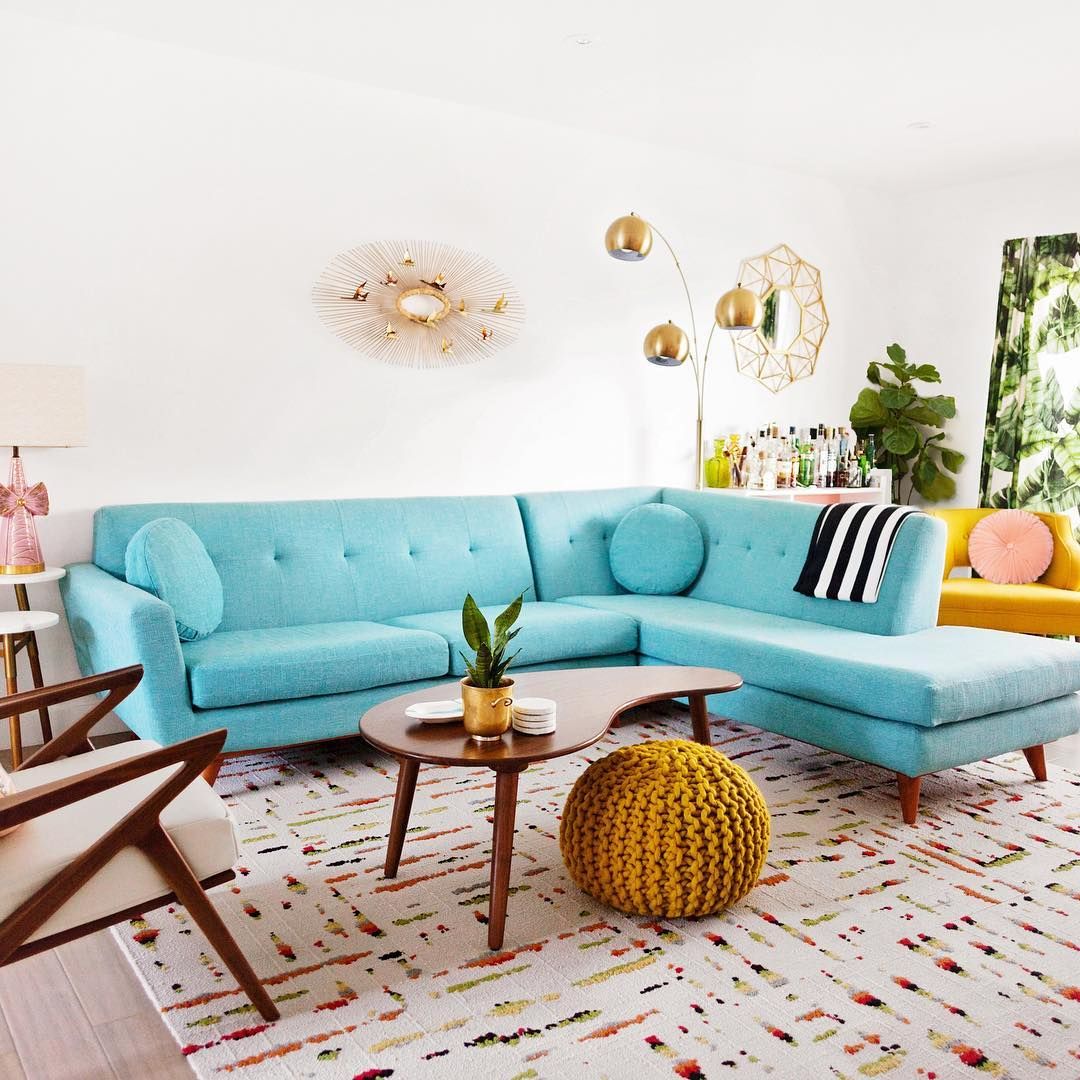 Bedroom
We have shared the best Mid-Century Modern Bedroom Decor Ideas.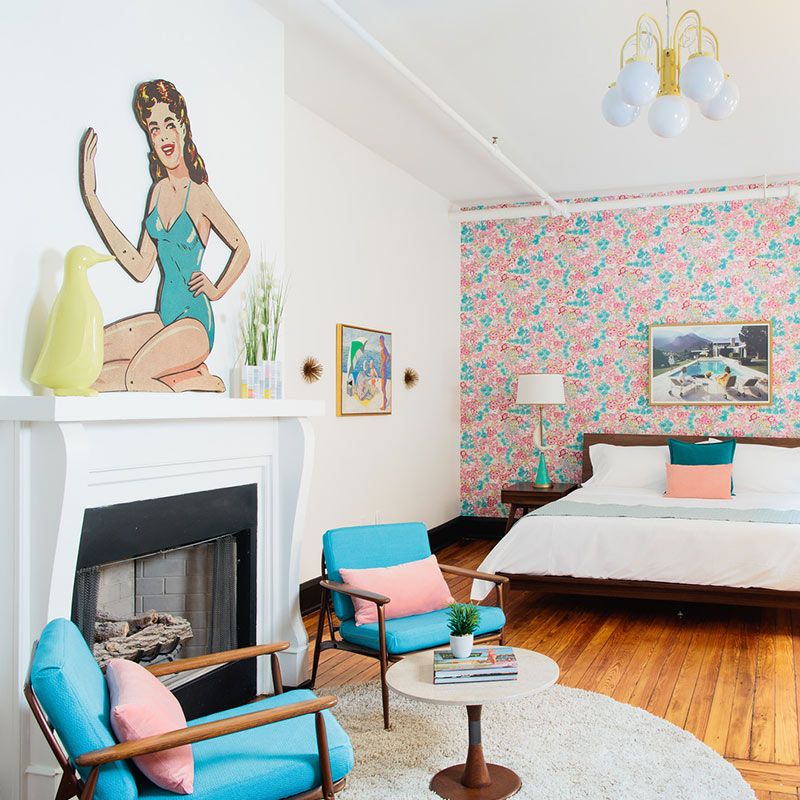 Bathroom
Look at the most inspiring mid-century modern bathroom ideas.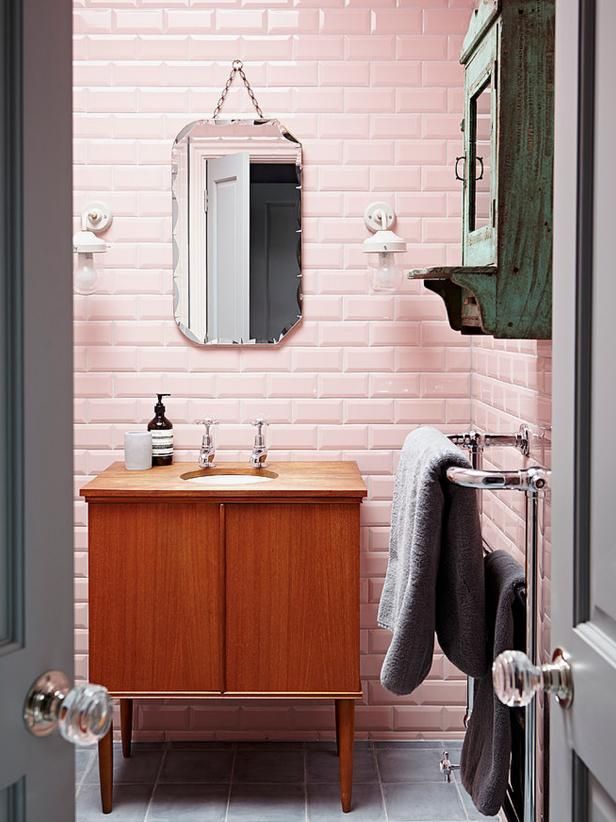 Kitchen
There are lots of different mid-century modern kitchens to get inspired by.
Dining Room
Read about the best Mid-Century Modern Dining Room Decor Ideas.
Office
Be sure to check out our 12 Brilliant Mid-Century Modern Office Decor Ideas.
Breakfast Nook
These are the best Mid-Century Modern Breakfast Nooks for a retro-chic breakfast meal.
---
Follow the Mid-Century Modern Pinterest board here. Pin this for later:
I hope this post inspired you to decorate in the mid-century modern style! Share know your thoughts in the comments below.