If you are curious what mid-century modern bathroom designs look like, then these examples will show you. If you're going about a bathroom redesign, then you may be searching for inspirational images of how to decorate a mid-century bathroom with modern features.
Mid-century modern interior style has certainly made a comeback in contemporary interior design. Many homes are inspired by the simple design of mid-century furniture, the warm wood tones, and the general practicality of mid century spaces.
The bathroom is an intimate place generally meant to prepare ourselves for the day ahead. It's not a place we spend a ton of time in, but it still deserves to be a comfortable room. You may even enjoy a relaxing bath in your bathroom at the end of the day, if it's equipped with a bathtub!
Mid-Century Bathroom Design
Today we're going to look at some mid-century modern bathroom design ideas to help guide you in your own bathroom renovation.
Mustard Yellow Vase
I love the cute mustard yellow vase sitting on the wood bathroom vanity of this mid-century bathroom!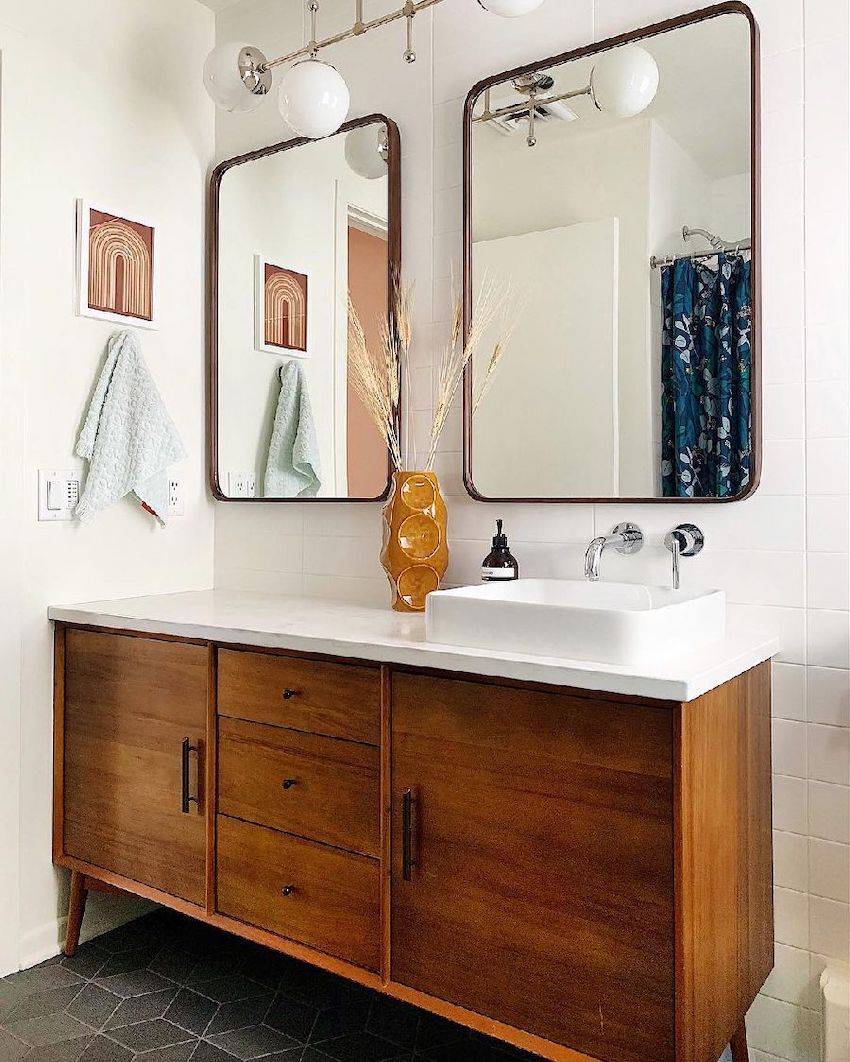 Warm Wood Vanity
Warm brown wood is commonly found throughout mid-century homes.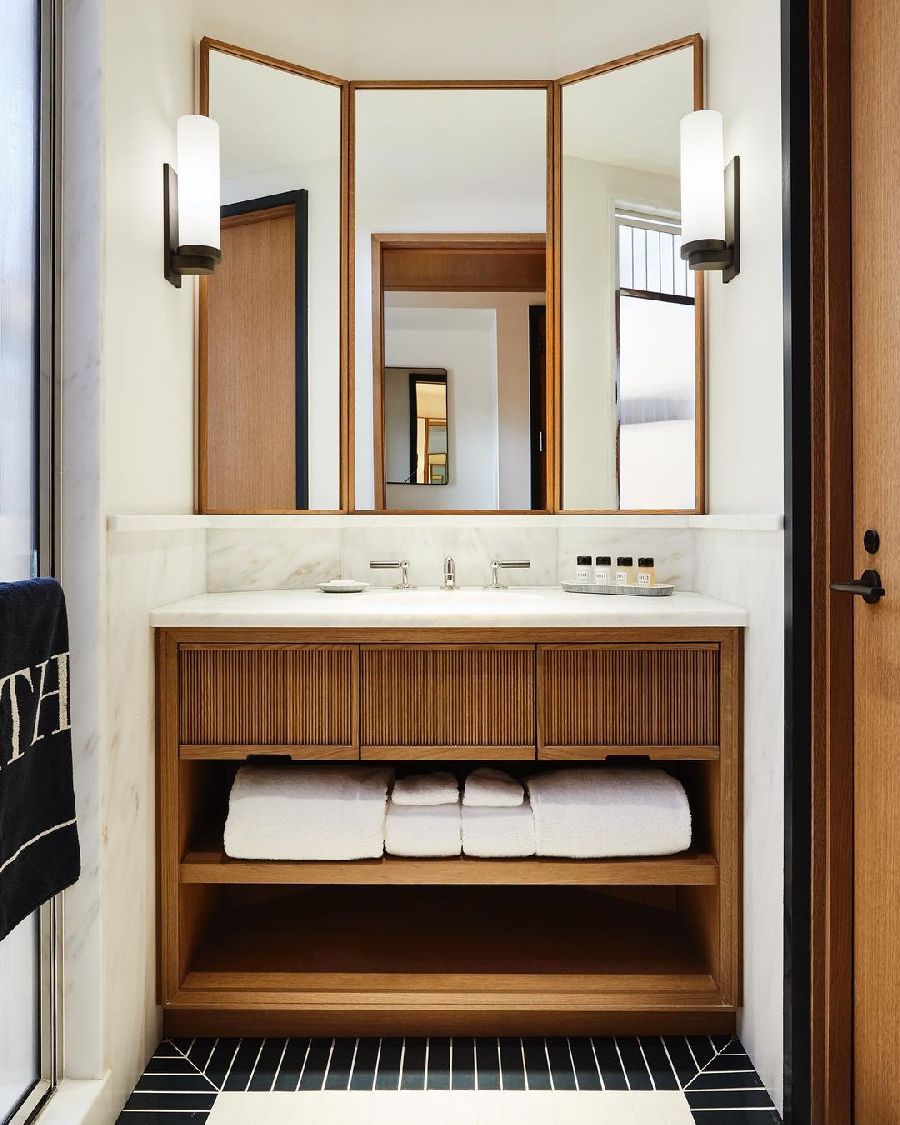 Pale Green Cubic Shower Tiling
The pale green cubic shower tiling of this mid-mod bathroom gives it a super retro vibe.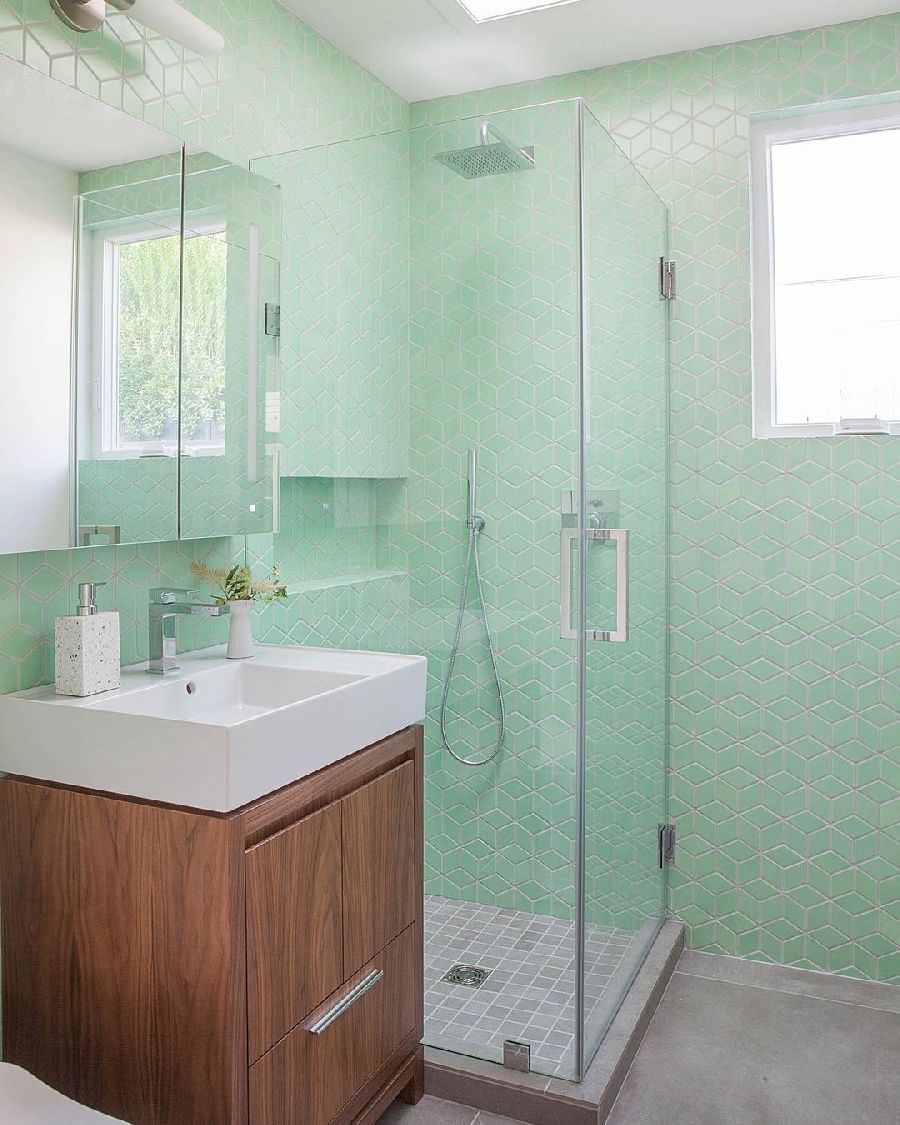 Wood Rectangular Mirrors
Simple wood framed rectangular mirrors create a very mid-century modern aesthetic in this home.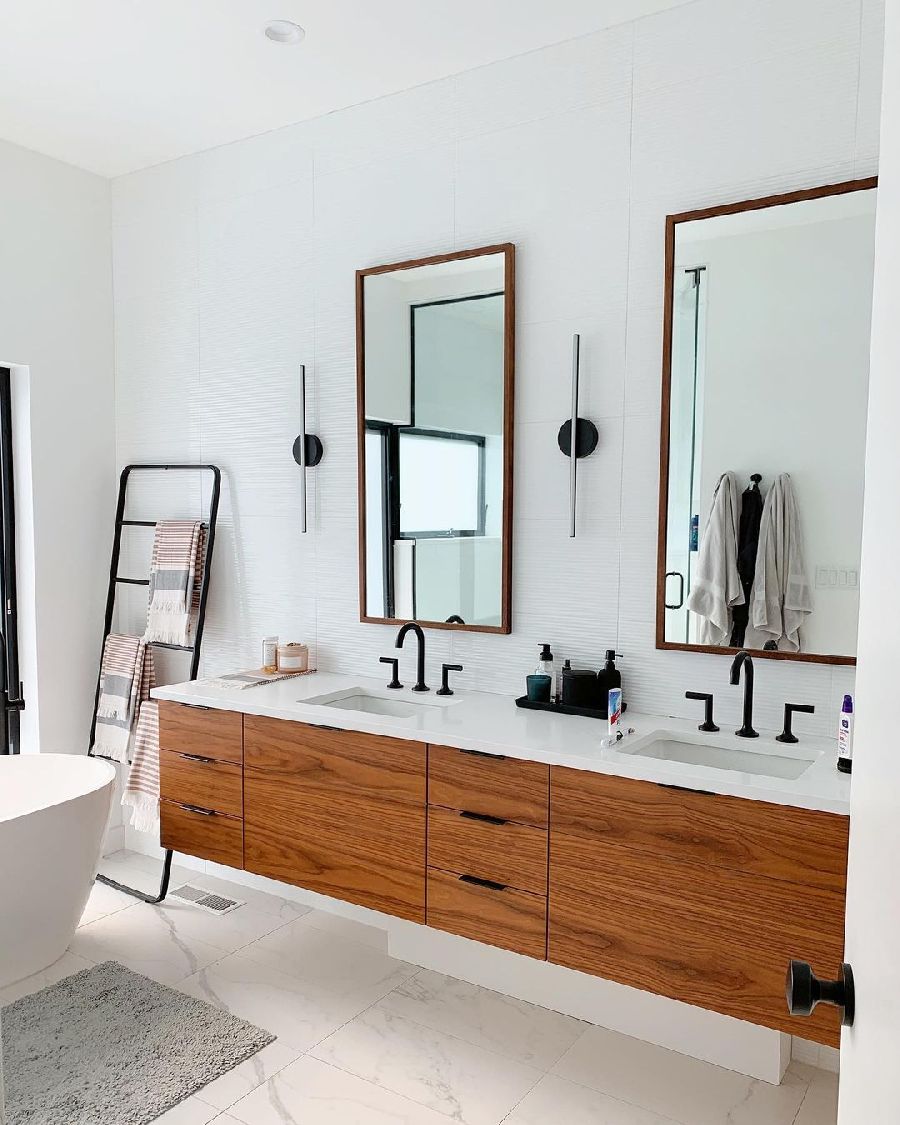 Green Floral Wallpaper
How cute is mid-century modern green floral wallpaper? It looks great with a simple white bathroom vanity.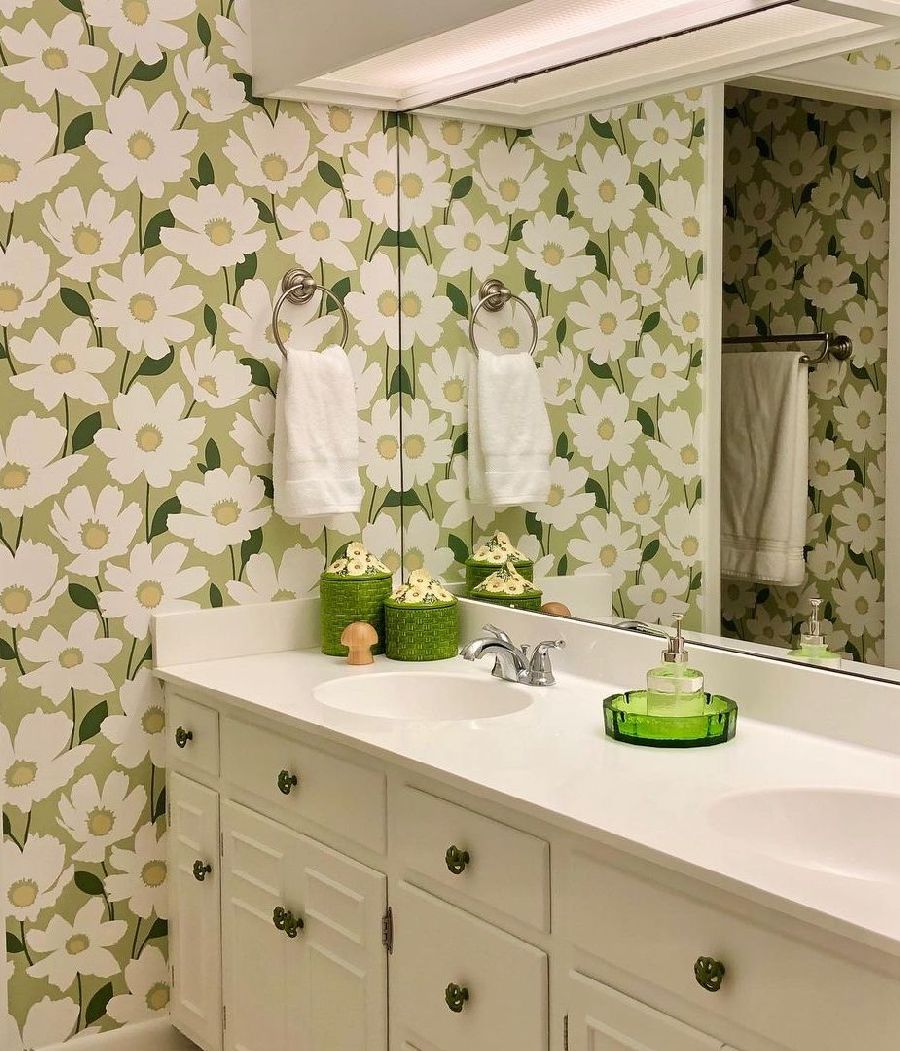 Tropical Shower Curtain
The banana leaf tropical shower curtain in this bathroom give it a very Palm Springs vibe!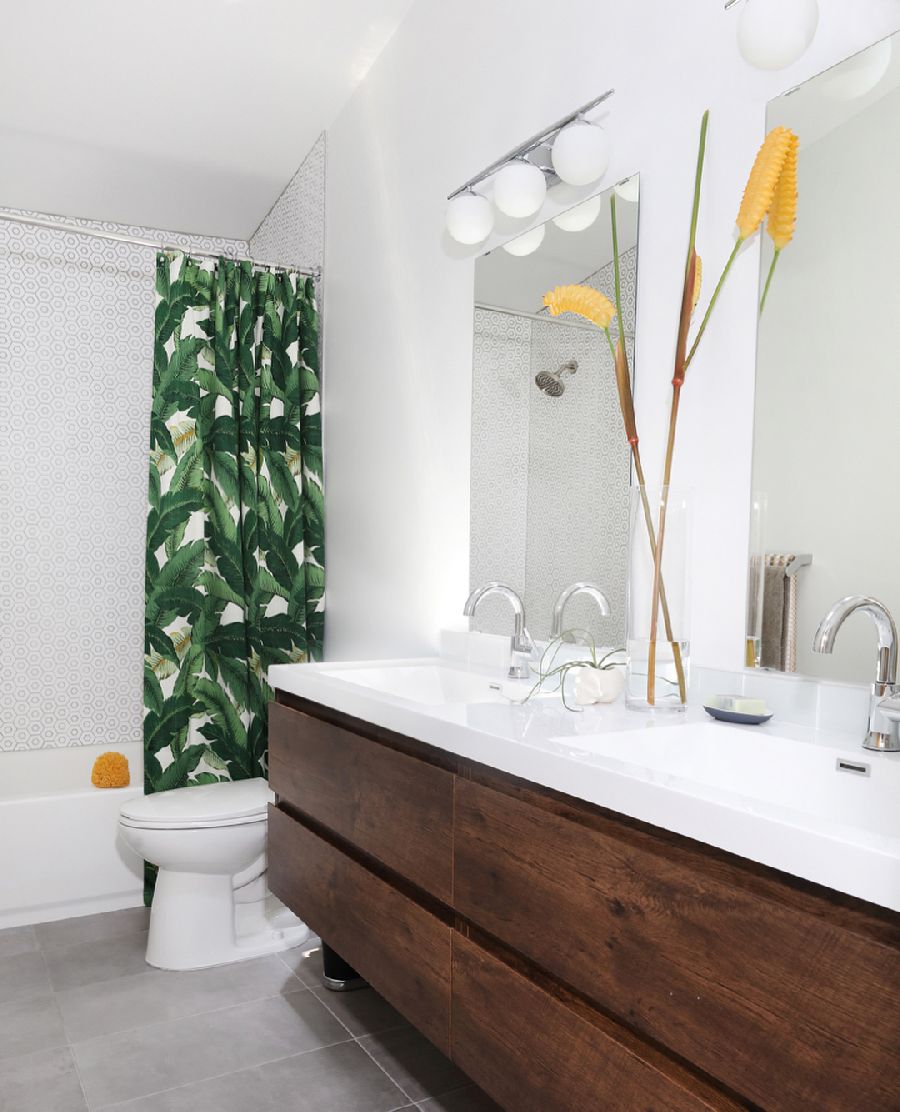 Pink Flamingo Wallpaper
Here is another great example of tropical mid-century style. This gorgeous pink flamingo wallpaper makes a pop in the bathroom! It's very fit for a Palm Springs, California home. The pink toilet paper is a must, too.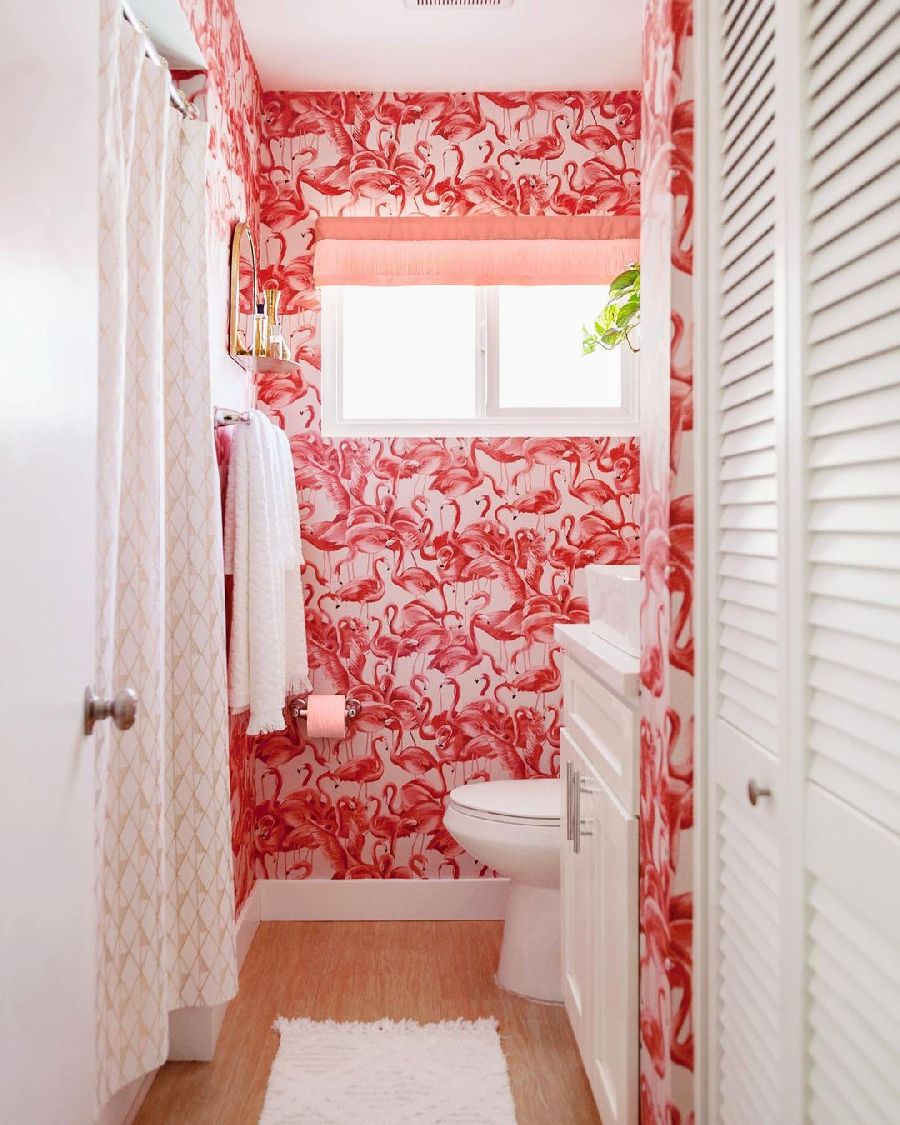 Gray Geometric Floor Tile
Gray and black geometric floor tile give this room a trendy mid-mod look. White subway wall tiles balance out the space.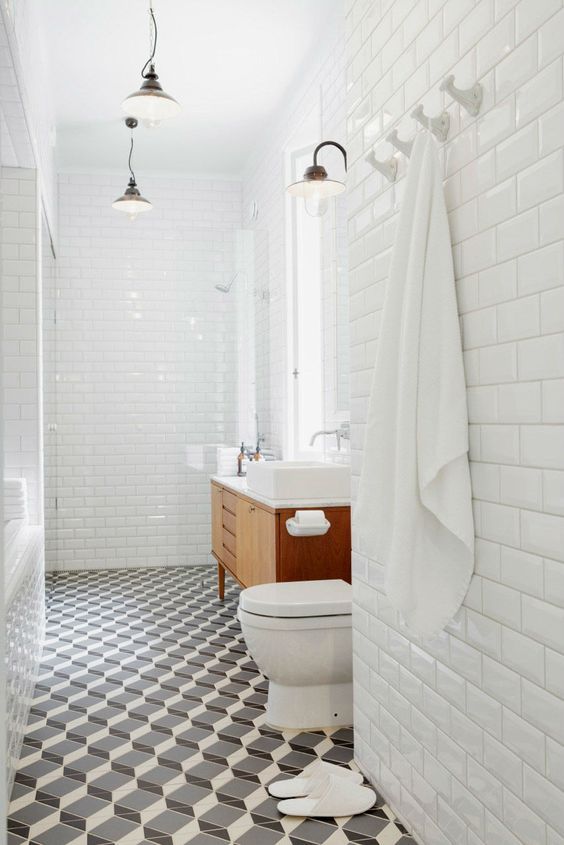 Gray Geometric Tile and Brown Wood Cabinets
The pebbled effect of this gray backsplash tile create an interesting texture in this bathroom. The warm brown wood cabinets create a welcoming environment.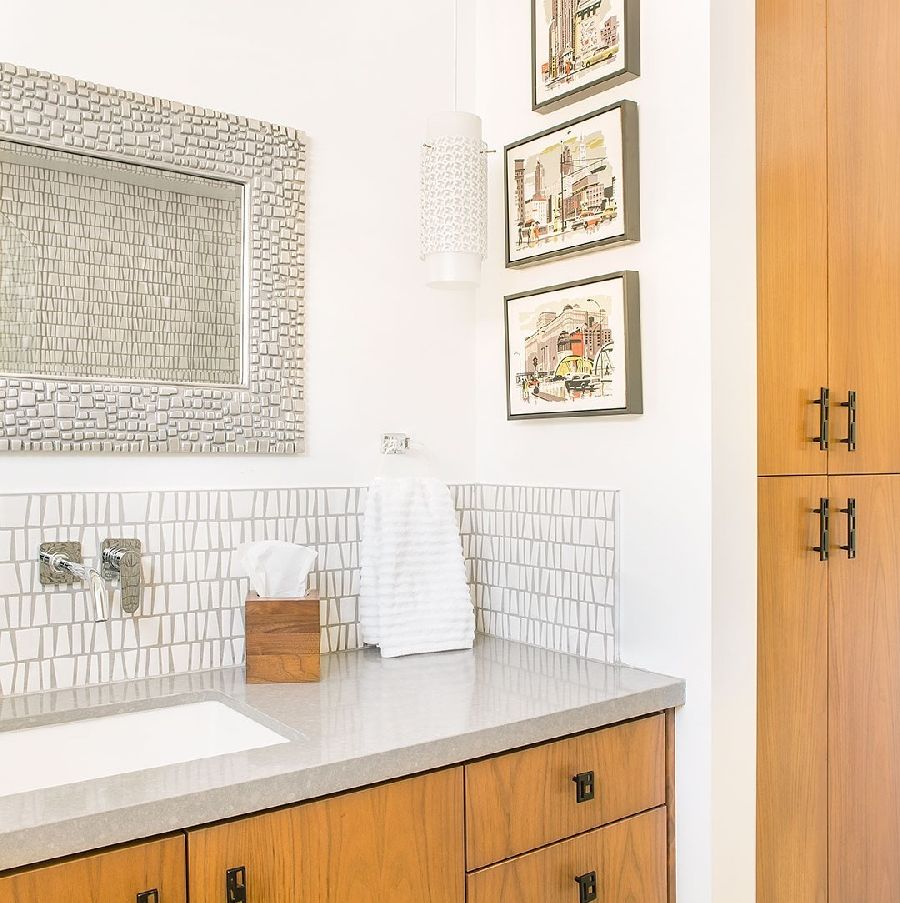 Turquoise Walls and Hexagon Tile Floors
This bold bathroom design features turquoise walls and hexagon tile floors.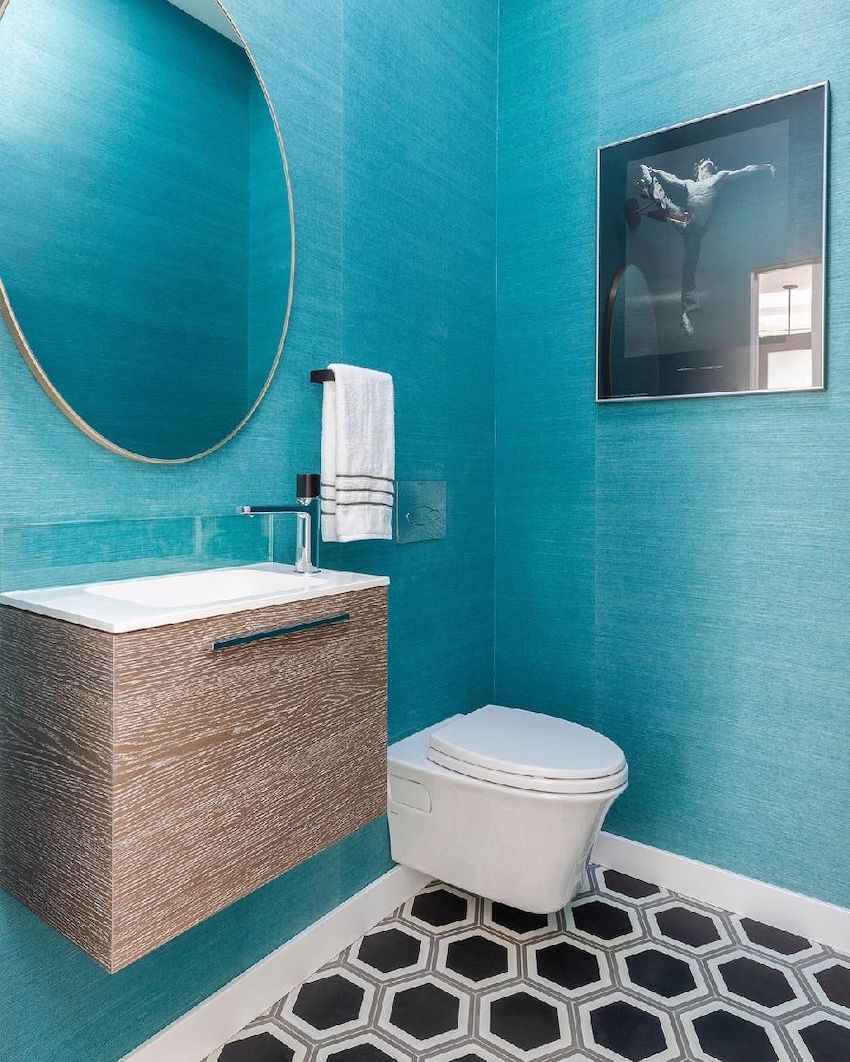 White Vessel Sink
A white vessel sink is a popular choice for a mid-century bathroom. I also like the black grout in between the white subway tiles.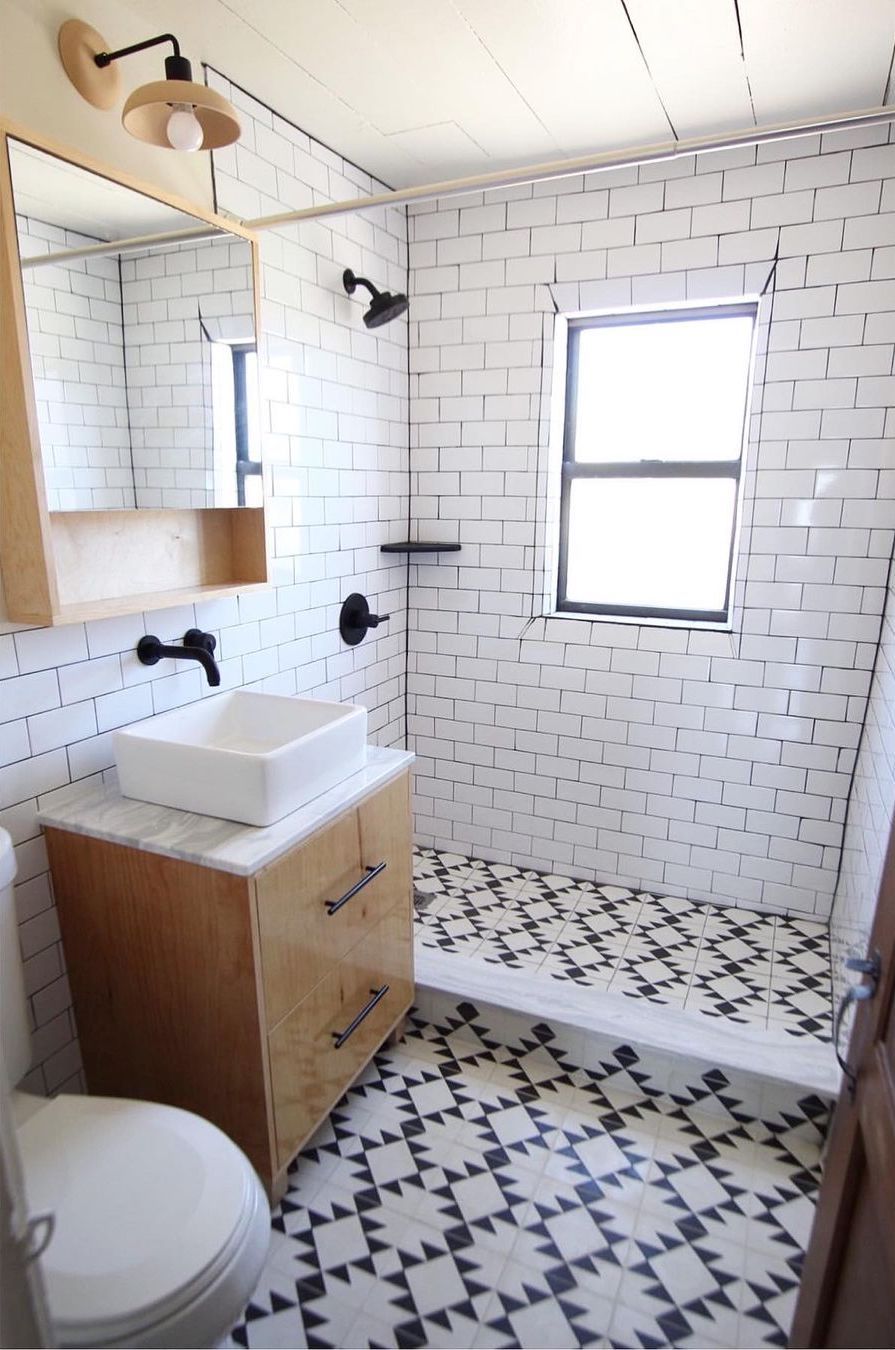 Pale Green Square Tile
Another pastel green accent color for the bathroom.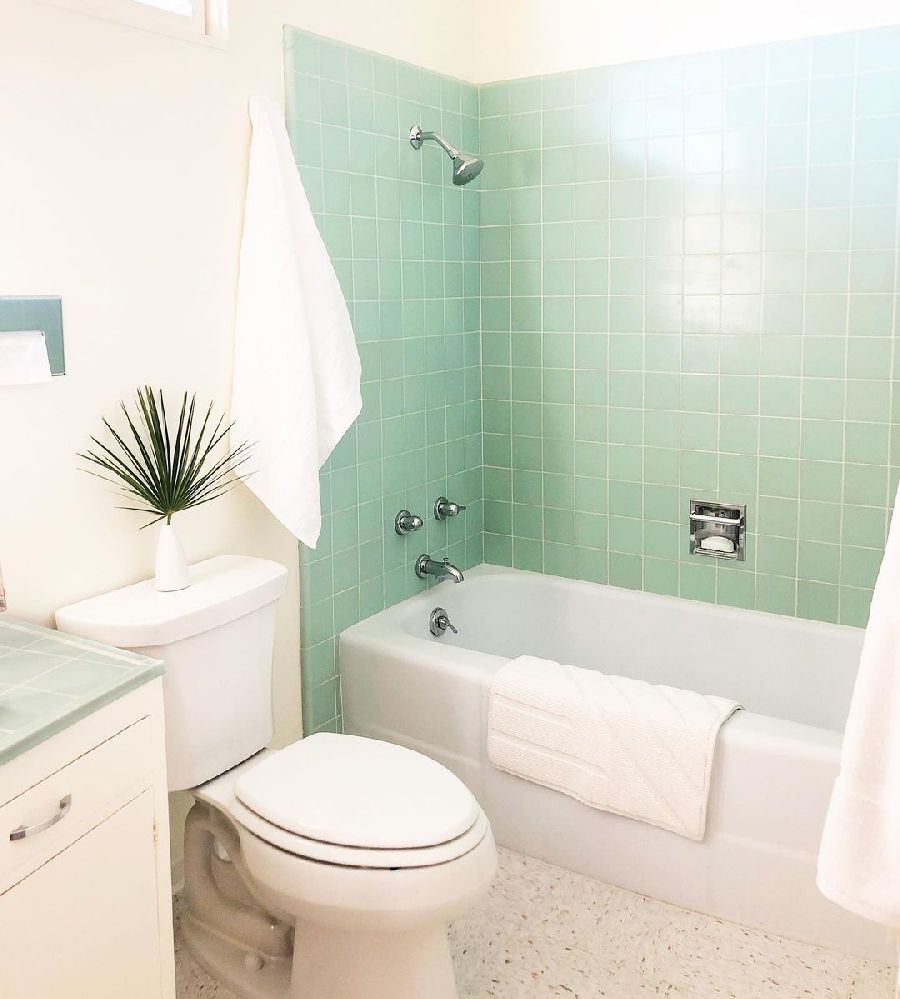 Brass Rod Lighting Fixtures
Brass rod lighting is a great choice for your mid-mod bathroom lighting. Whether you go for a sputnik chandelier or starburst one, brass is a great retro lighting choice.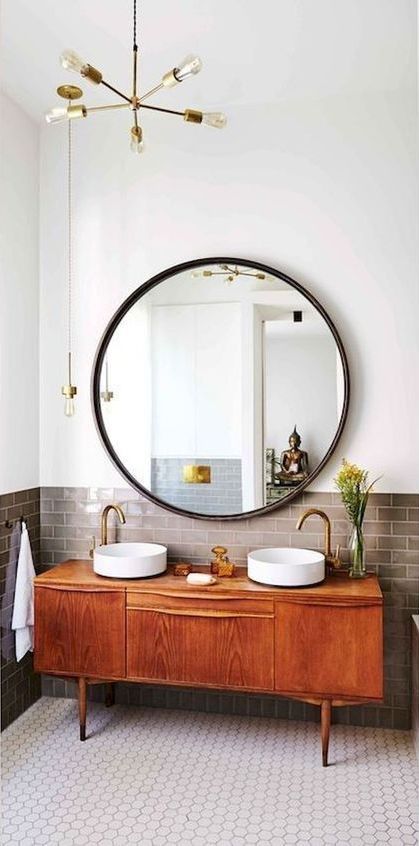 Pink Ceiling
Create a pink pop on the ceiling of your mid-century modern bathroom. This bathroom has a pink marble vanity countertop and curved wall mirror.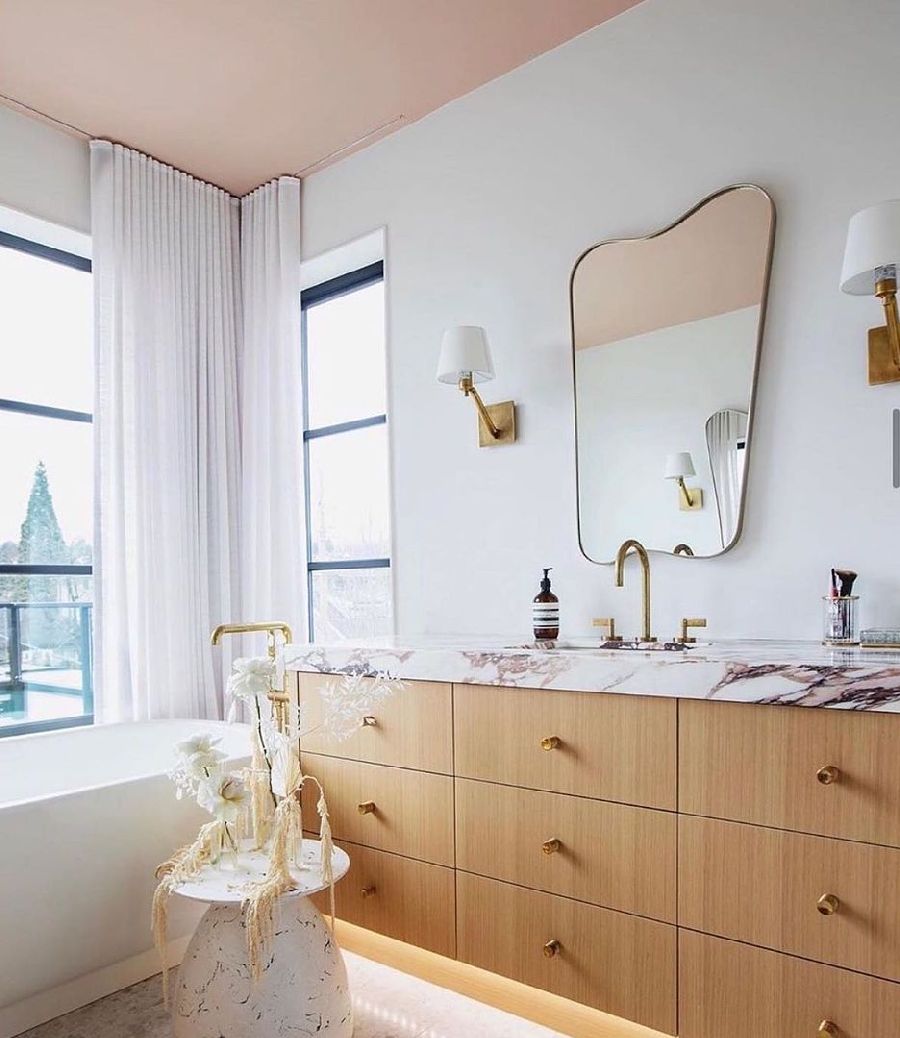 Marble Countertops on Double Vanity
I love the marble countertops and tiling of this bathroom with a double vanity.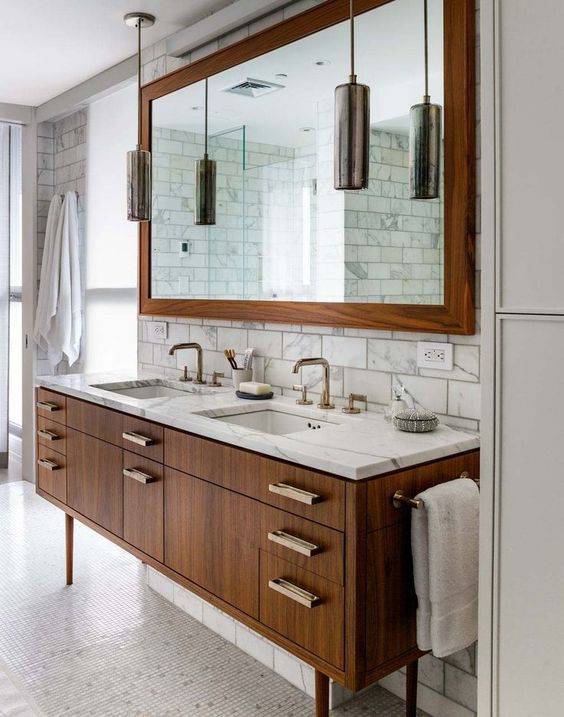 Vertical Geometric Tile Design
This vertical geometric wall tile is quintessentially mid-century modern! The different shades of turquoise blue make it look stunning.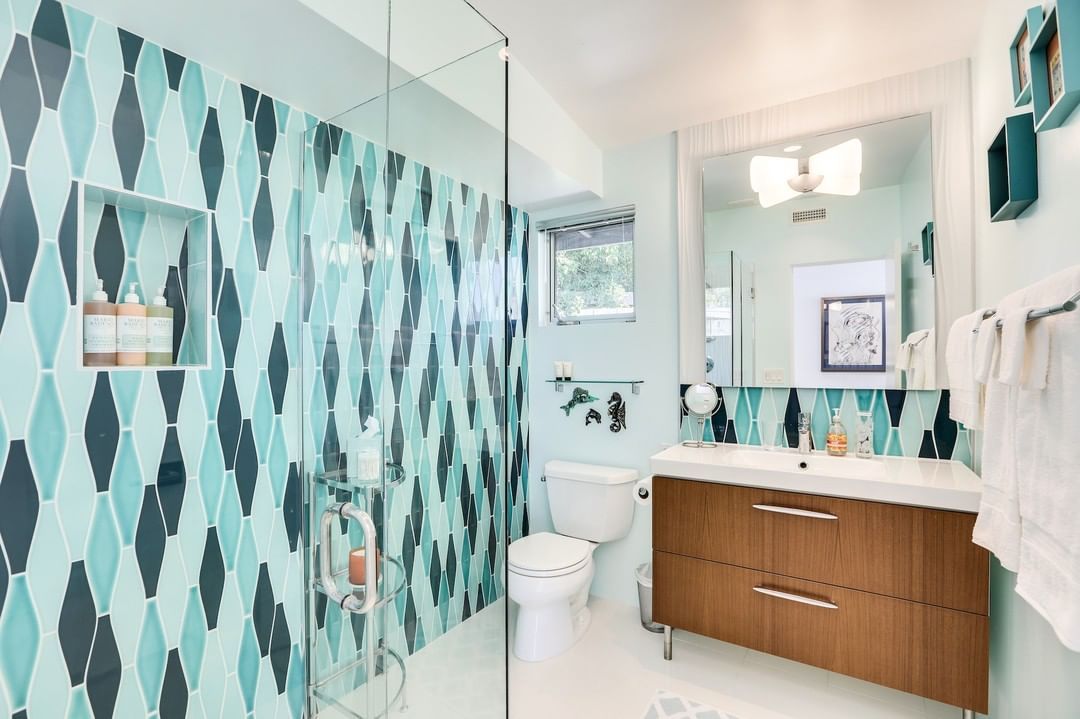 Wood Vanity and Vessel Sink
A very simple and practical mid-century modern bathroom look.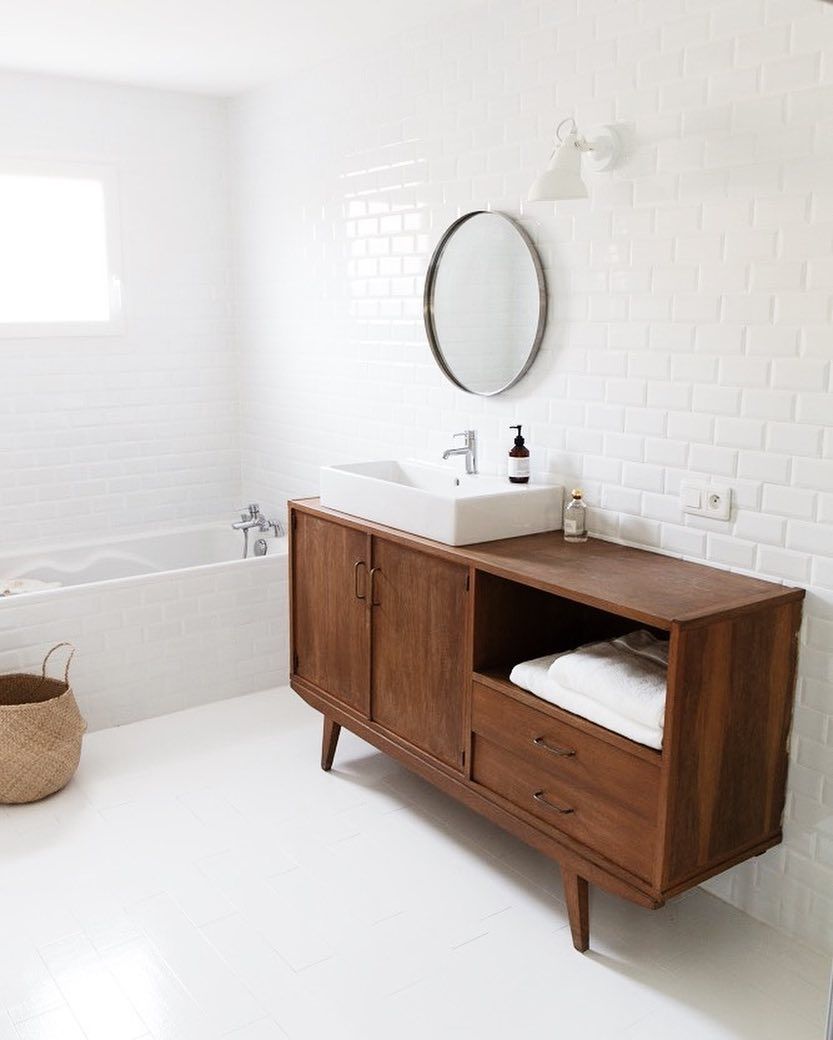 I hope these mid-century modern bathroom design ideas gave you lots of inspiration for creating a beautiful mid-century aesthetic in your bathroom. Let us know your thoughts in the comments below!
More Mid-Century Modern Decor Ideas
Keep getting inspired by more mid-century modern decorating ideas with these related posts:
Happy curating!