Many people recognize the arc lamp design in modern interiors. The original mid-century arc lamp was created by Flos, an Italian lighting design company in 1962. The founders, Achille and Pier Giacomo Castiglioni, called it the Arco floor lamp. This lamp can be seen in famous vintage movies like Diamonds Are Forever and The Italian Job.
You can get many replicas and arc lamps inspired by the original design from various retailers today.
Mid-Century Modern Arc Lamps
Here are a few mid-century modern arc lamp styles to shop!
Mid-century modern arc floor lamps mirror the tenets of this style with their sleek, minimalist design. The only weight in their appearance comes from the base and head. Made of metal and single-color, often timeless tones like black, silver, or copper, they can be integrated into any color scheme. Elegant and unobtrusive they go with any room and provide spaces with overhead light without the added hassle of installing a ceiling lamp.
These mid-century floor lamps come in different sizes and materials and are sometimes adjustable so that their light can be directed to wherever it is needed. Whether they are seen as a statement piece or simply the most functional way to illuminate a room or area, arc lamps fulfill their task without drawing attention from the composition of the room as a whole.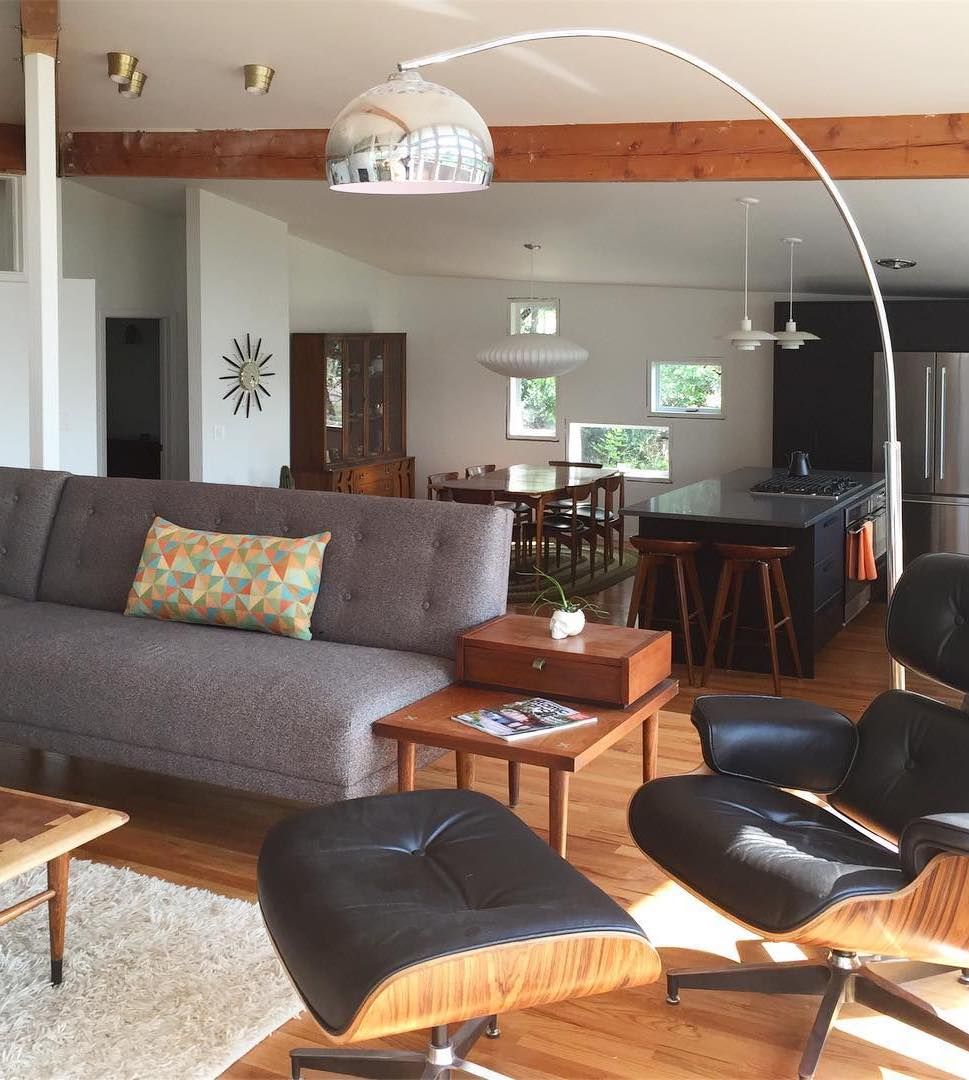 Floor Lamp Home Lighting
Lighting and the placement of lamps is a central element to interior design, rather than just an afterthought. The atmosphere of a room is made by balancing light and shade and making the most of the interplay between natural and artificial light.
Well-placed lighting changes the perceived size of a room, it can add more space, depth, and height. Light is functional when it is focused on one area where an activity like reading or cooking takes place, but ambient lighting also changes the mood of a room and adds coziness. Lamps can also be used to draw attention to decorative accents like artworks or potted plants.
Floor lamps are not only functional but also stylish and decorative objects. Since they are often light and portable they can be used in a variety of functions at different times of the day, as accent lighting, ambient lighting, or task lighting.
Mid-Century Modern Design History
To understand the popularity of arc lamps you must understand the history of the mid-century modern movement.
The mid-century modern style of interior decoration goes back to the Bauhaus architects that migrated from Germany to America after the Second World War. Their functional, geometric-inspired style transformed into the so-called International style in America, which was informed by the challenges and opportunities that were to be met in post-war America.
Due to the expansion of the cities and the suburbs in the States, there was a need for modern furniture to equip the new, modern homes that had to be erected everywhere. New technological advances made the use of new materials like plastic, vinyl, plexiglass, and plywood possible. Since many of these new materials are very malleable, this opened up opportunities for experimenting with new and interesting shapes.
The mid-century modern style of interior design adheres to the idea that "form follows function" meaning that furniture and other design pieces are first and foremost simple and functional with clean lines and gentle organic curves as well as geometric forms. Interesting elements are added via the juxtaposition of different materials, especially with the contrast between traditional materials like wood and modern ones like plastic.
The original period of this style roughly lasted from the mid-1940s to the mid-1950s and has been in a constant state of revival since the 1980s. It remains attractive due to its minimalist, straightforward character, which, in contrast to excessive over-the-top styles, has a timeless quality to it.
More Mid-Century Modern Decor Ideas
Keep reading for more mid-century modern ideas: