You've probably heard of mid-century modern furniture, but do you know what the design style actually includes? In this article, we'll explore the history of the mid-mod style, examine its design elements, and discuss how to buy mid-century modern furniture that fits your taste and budget.
This guide will help you take your first steps into the world of mid-century design with confidence!
Mid-Century Modern Decor Style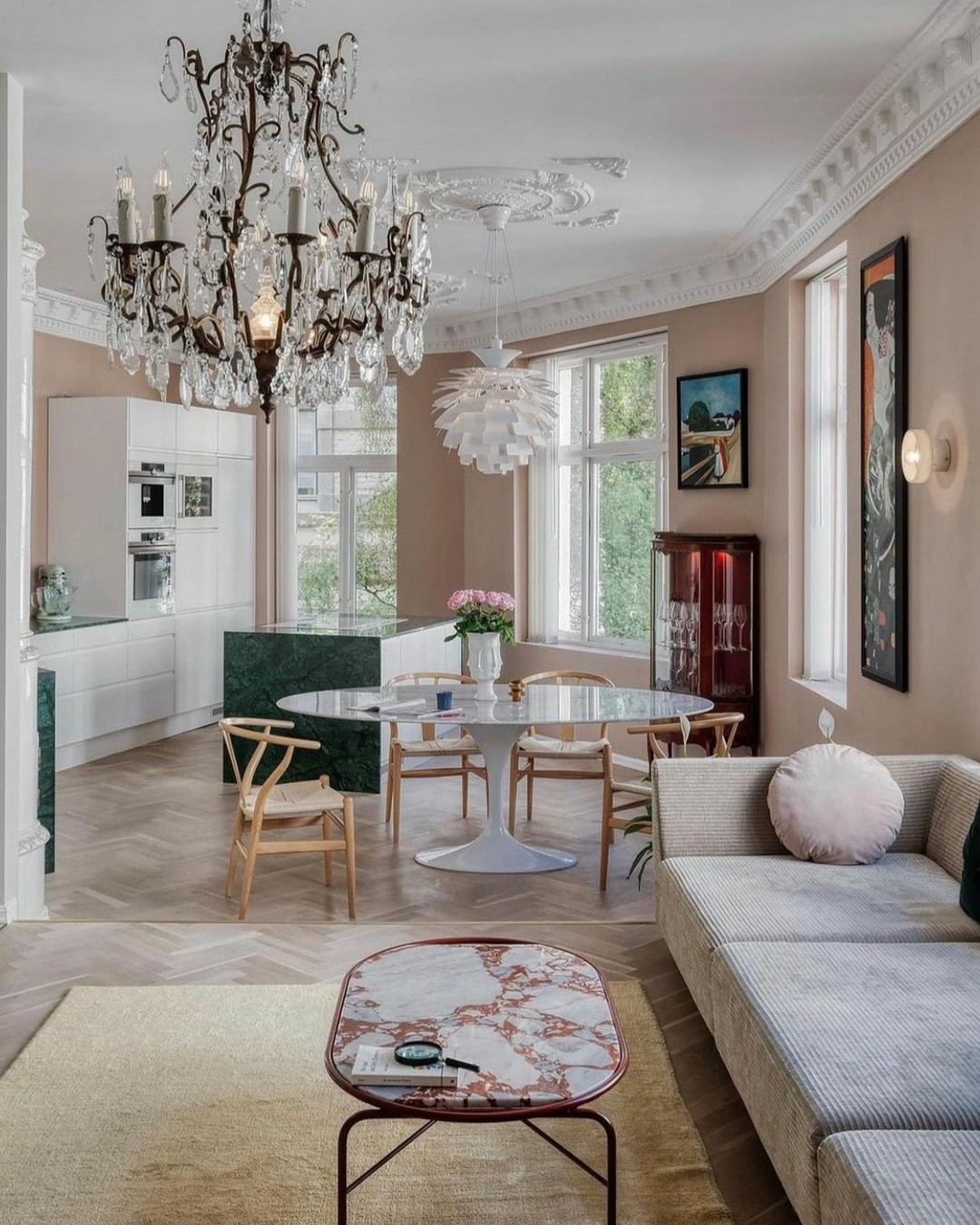 Designing a home with exquisite mid-century modern decor is something that can be intimidating to novice designers. The look tends to be a bit more upscale and eclectic than what most people are used to, which can be confusing if you don't know where to start or what pieces work well together.
Thankfully, there are some tips and tricks out there that can help you understand how mid-century modern decor works so you can create a functional space without sacrificing your sense of style. Here are a few pointers on how to use mid-century furniture and decor in your home.
Classic Mid-Century Modern Furniture Ideas
It's important to note that mid-century modern design has its own distinct styles, but they all revolve around a common aesthetic. Many pieces will feature organic lines and sharp angles, often accompanied by sleek surfaces like metal or glass. The overall design adheres to a 'form follows function' mentality, espoused in the Bauhaus decor movement.
If you're looking for furniture in a mid-century modern style then here are some examples of classic looks.
Mid-century modern furniture has been greatly influenced by Scandinavian furniture. The Nordic countries of Sweden, Finland, and Denmark produced several of the best interior and furniture designers of the mid-century period. Scandinavian designs often feature simple yet elegant lines coupled with muted colors.
Italy was also a noteworthy country for mid-century design. Mid-century Italian designs also tend toward clean lines but favor heavy wood tones over brighter colors.
Pieces from these regions have been featured prominently in homes throughout history because they blend function and aesthetics into each piece very effectively.
One of the most important things to remember when decorating a mid-century home is balance. The look is more eclectic than many other styles, so it can be easy to go overboard if you don't know what you're doing.
Wood Sideboard
Once you have a piece of mid-century modern furniture in your home, it's easy to see why they can be so versatile. They feature clean lines, and are largely simple and free of unnecessary details, making them perfect for both small apartments and large houses alike. West Elm has a wide selection of mid-century modern sideboards available online at their website.
Sideboards aren't just sideboards. They can be beds, desks, storage cabinets, and much more. Sideboards are a great way to add storage and a pop of color to any room. There are plenty of colors and styles available from brands such as Industry West as well, ranging from bold colors to marble tops and sleek metal handles, giving you plenty of options to choose from for your home.
Noguchi Coffee Table
The Noguchi coffee table, designed by Isamu Noguchi in 1945, is one of the mid-century modern furniture's most iconic pieces. It has been called the epitome of elegance and the Rolls Royce of coffee tables.
These are versatile pieces that can be used to hold drinks or magazines while also serving as a stylish decorative element. They're ideal for small spaces, as they don't take up much room and can easily fit in with any decor. If you're looking for mid-century modern furniture, it's hard to go wrong with Noguchi coffee tables!
You'll find Noguchi coffee tables in all shapes and sizes, but there are three main types: end tables, low coffee tables, and high coffee tables. They're also available in materials like glass, metal, and wood. If you're looking for a mid-century modern furniture piece that will last for years to come, wood is your best bet—it's easy to clean and stands up well over time.
In fact, mid-century modern furniture has been gaining popularity in recent years; as such items become more sought after (and valuable), now is a great time to pick one up!
Tulip Tables
I find this table to be one of my favorites. Tulip tables feature a central column that is narrower than it is wide, which also tends to be very thick in comparison with other legs. Often, there will be curved legs attached to either side of this column, creating an effect similar to a tulip's petals.
As with most mid-century modern furniture, tulips come in a variety of finishes and sizes (small and large), but they're never small enough to be considered side tables. They tend to have large platforms and work well as end tables or even desks because they have plenty of room for trays and laptops.
Cesca Chair
The classic look of a caned seat and back is matched with fluid, mid-century lines. When you're shopping for a vintage piece of furniture, it's important to consider how much you like its look versus how well it will work with your room's design. The Cesca chair is one of the most versatile chairs you can pick!
Designed by Marcel Breuer, the Cesca chair has become a quintessential piece of mid-century furniture. Breuer was influenced by the Bauhaus design principles and was quite revolutionary at the time of its release. The simple, yet practical design still resonates with furniture lovers today, despite its creation almost a century ago!
A mid-century modern chair with clean lines and no-frills may be more valuable than an ornate antique chair that doesn't fit in with your existing decor.
Most iconic mid-century chairs have four legs and are constructed out of wood or plastic materials. Most also feature simple designs without excessive adornments or embellishments.
Eames Lounge Chair
One of the most iconic pieces of mid-century furniture is the Eames Lounge Chair. It ushered in the dawn of a new age of furniture design. Sleek and simple, it was one of the first molded plastic chairs produced on an assembly line at a price that was affordable to most people.
This lounge chair was one of their first large-scale projects that used an injection molding process. The original plan by its creators was to make only 300 chairs, but it quickly became clear that there would be strong demand for more than that so they ramped up production as soon as possible.
Where to Buy Mid-Century Modern Furniture
Mid-century modern furniture isn't always easy to find, but there are some places that have a wide selection. If you have the budget, Design Within Reach and 2Modern are two reputable furniture stores that sell authentic mid-century pieces and offer high-quality original productions.
Large, well-known American online furniture retailers like West Elm and AllModern have mid-century furniture available at great prices.
You can also check out newer players such as Industry West and Interior Icons for unique pieces that may not be available elsewhere.
Check out all our favorite resources for the best mid-century modern furniture stores for new furniture in this style.
If you prefer to shop authentic, or close to authentic, then these mid-century furniture design shops will sell you genuine vintage pieces and authorized replications.
Remember, if you're looking for something specific make sure to do your research first—this will help ensure that you get exactly what you want without overpaying on shipping costs or having to wait weeks before receiving your order. Mid-century furniture is in high demand which means there's a lot of supply and price points and quality vary widely.
---
While style is subjective, there are some commonalities among mid-century pieces that everyone agrees are timeless, no matter the setting! Next, check out our list of iconic mid-century lounge chairs.