The starburst chandelier, also known as the Sputnik chandelier, is a mid-century modern lighting fixture that is characterized by its distinctive shape, which resembles a burst of stars or a satellite in orbit. The design is often attributed to the Italian designer Gino Sarfatti, although other designers have also been credited with creating similar designs.
The starburst chandelier became popular in the 1950s and 1960s, during the height of the space race between the United States and the Soviet Union. The design was seen as a symbol of the optimism and excitement of the era, as well as a nod to the futuristic aesthetics of science fiction films and television shows.
The original starburst chandeliers were often made from brass or other metals and featured a series of arms or spikes that radiated outwards from a central point. The spikes were often capped with light bulbs or other light sources, creating a dramatic and visually striking effect.
The starburst chandelier was a popular choice for mid-century modern interiors, and it remains a sought-after mid-century lighting fixture today. Modern reproductions of the chandelier are available in a wide range of sizes and materials, and the design continues to be popular among interior designers and homeowners who are looking to add a touch of retro style to their spaces.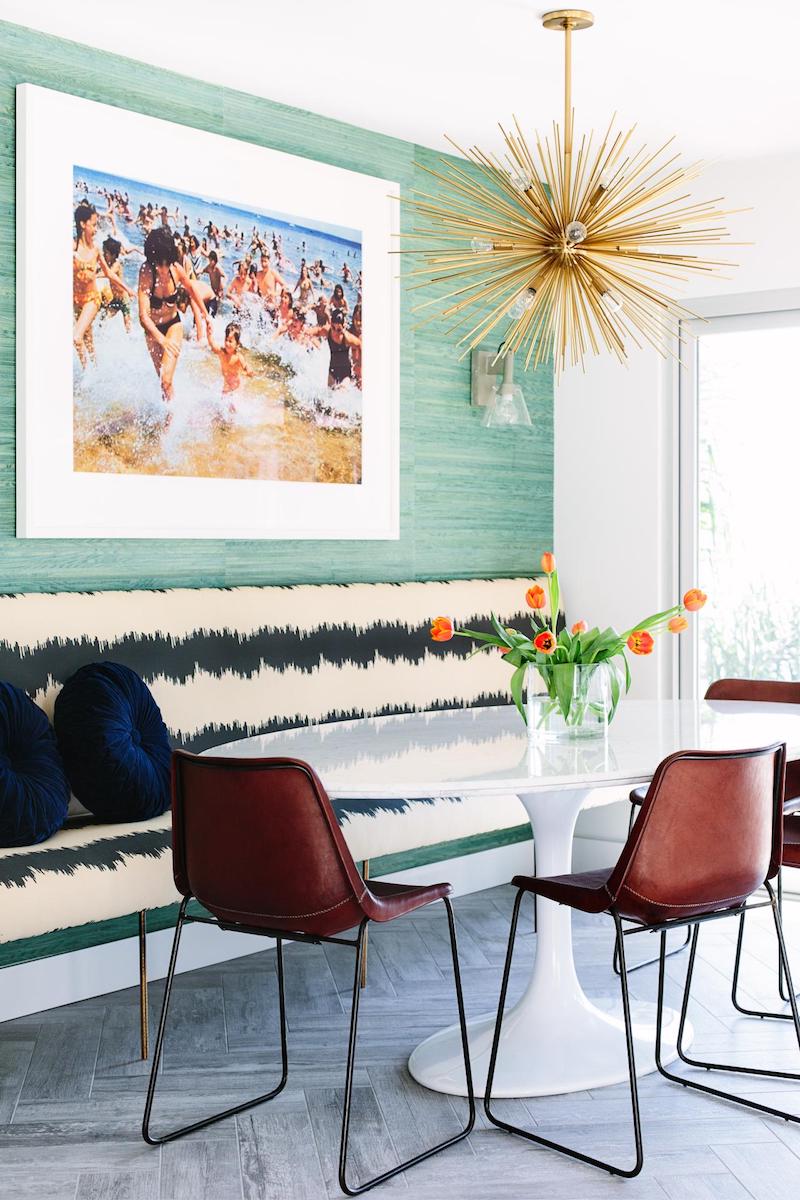 Starburst Chandeliers
Starburst chandeliers are made of a finished metal center from which stem lightbulbs at the end of rods. The effect is amplified with additional rods that may have metal bubbles at the ends. Starburst chandeliers come in finishes from gold to brass to black. The lightbulbs are generally bare though some are surrounded by glass spheres.
The more intricate the design, the higher you'll pay, but I've managed to find a few gorgeous and relatively affordable starburst chandeliers to help you out!
1. Auge Chrome Ten-Light Starburst Chandelier with Clear Glass and Iron Mesh Shades – 2. Violet 20 Light Sputnik Chandelier – 3. Starburst Sputnik 20-Light Pendant – 4. Dainolite Dark Bronze Steel/Frosted Glass 6-light Chandelier – 5. Kendall 24-Light Sputnik Chandelier – 6. Starburst 3 Light Pendant In Gold – 7. Astrid Chandelier Finish: Polished Nickel – 8. Kosas Home Aislinn Starburst Chandelier 33″ – 9. Starburst 20-Light Sputnik Chandelier – 10. OKL Delphine Chandelier, Bronze – 11. Delphine Polished Chrome 27-Inch 12 Chandelier – 12. Armstrong Natural Brass Eight-Light Starburst Pendant – 13. Quoizel Limelight 12-Light Chandelier in Palladian Bronze – 14. LBL Lighting Photon 12-Light LED Sputnik Chandelier
Chandeliers are fabulous lighting choices for many homes. The more bulbs, the brighter your space will be. You can find chandeliers in many different sizes from miniature to oversized! Choose wisely according to the size of your space.
How to Style a Starburst Chandelier
Here are some ideas for styling this gorgeous and eye-catching chandelier! This lighting is often associated with mid-century modern decor and interior design.
The starburst chandelier is a great addition to any home; it works best in large rooms like a dining room or a living room as it commands attention.