Looking for the best mid-century modern offices and decor inspiration?
Mid-century modern office decorating is an exciting project to tackle. With more and more of us working from home, the home office is becoming a very important part of the house!
Not only do you want a home office that is functional and practical, but it also must be visually appealing and comfortable. Otherwise, you'll quickly become bored in your own home. Or worse, you won't be as productive at work as you could be.
Let's avoid all that by creating a beautiful, stylish, and functional home office inspired by the golden age of the 1950s and 60s!
When it comes to mid-century modern decor and furniture, there are a few key elements you must get right. Things like a dark brown desk and a modernist office chair are important when creating that retro mood you're going for.
Warm caramel-colored wood is a key feature of mid-century modern furniture. Keep this in mind as you browse potential desks and office chairs.
Mid-Century Modern Offices Decor
Mid-century modern design is clearly a timeless choice. Mid-mod offices from hit TV shows like "Mad Men" have further engrained the glamour that is associated with the 1950s and 1960s time period. I think this style of interior, especially in the office, is here to stay for a while. We believe you can feel good about investing in this type of interior design as it will certainly be appealing for decades to come.
You may not even realize it, but many modern and contemporary furniture designs are inspired by original pieces from this retro time period! Mid-century modern harmoniously combines form and function in many ways. From the shape of the chair back to the storage in a desk, there's much to appreciate about mid-century furniture and decor.
Wood Desk
The solid wood desk is key to getting your mid-century office look just right. Built to last, these warm honey desks are great investment pieces. They often have several drawers for storage and a simple design. Here is a great design for a small space.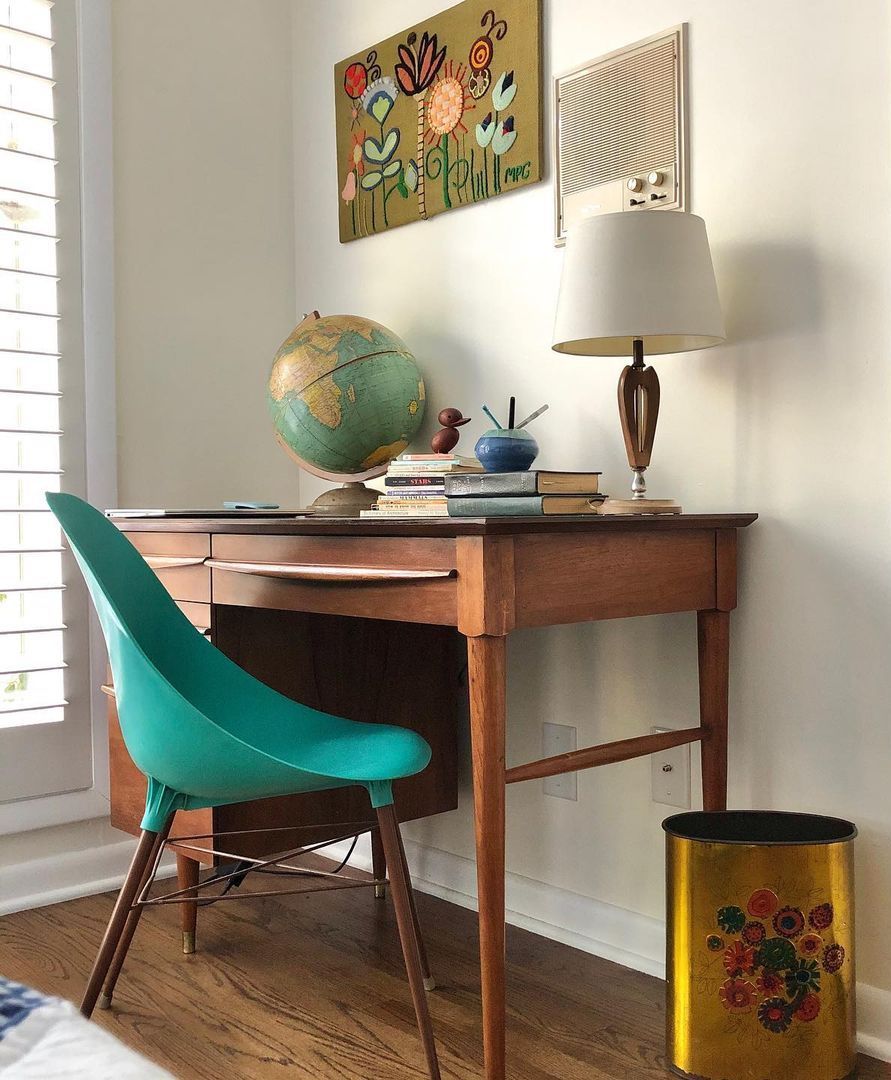 Colors
While mid-mod style is known for its warm brown tones, you can often find pops of desaturated colors like teal, mustard yellow, and dark red in small doses. This office plays with color very well without going overboard. A warm and sunny palette was chosen. From the orange office chair to the yellow table lamp, this room is welcoming and attractive. As you can see, mid-century modern offices are always very practical and full of storage.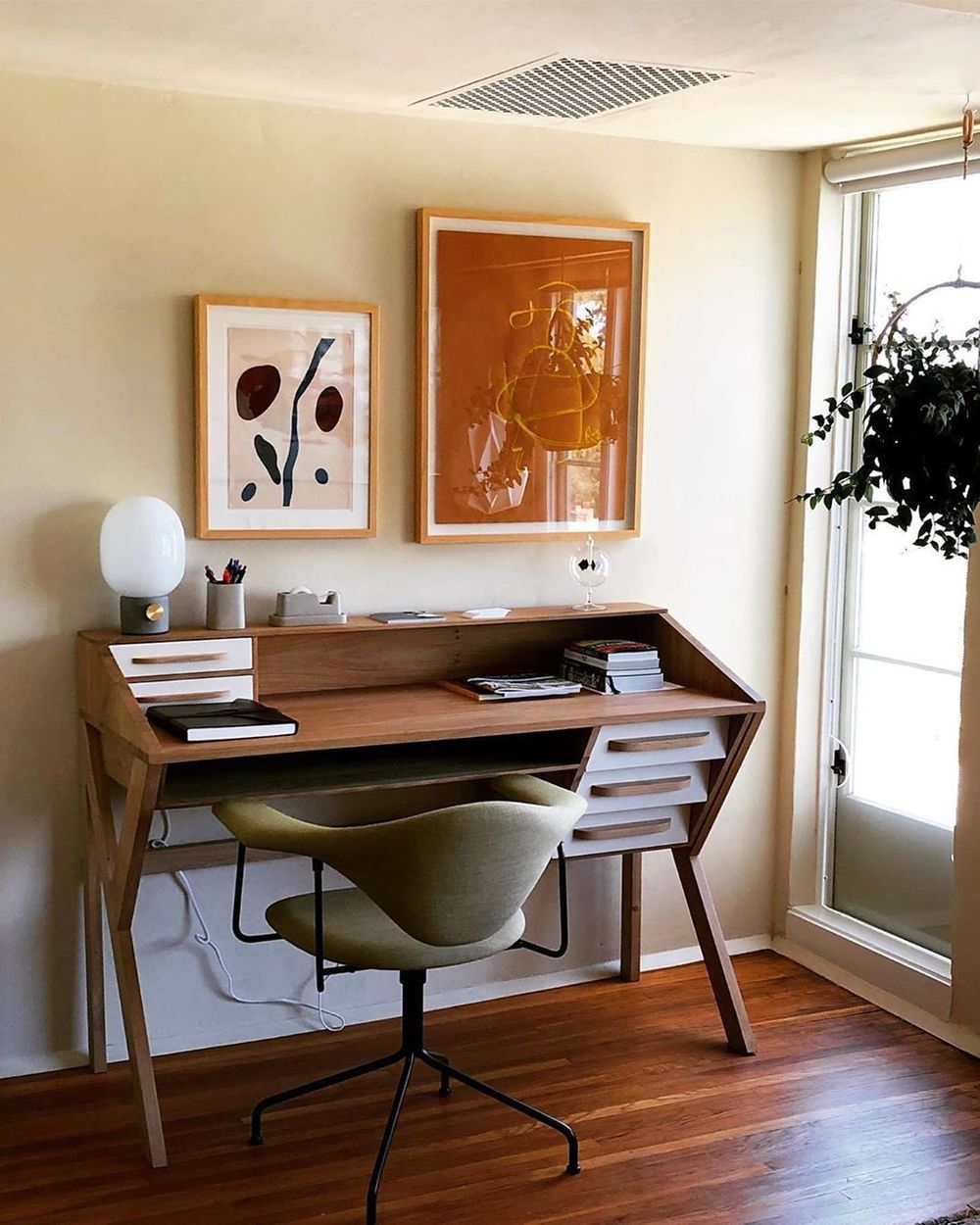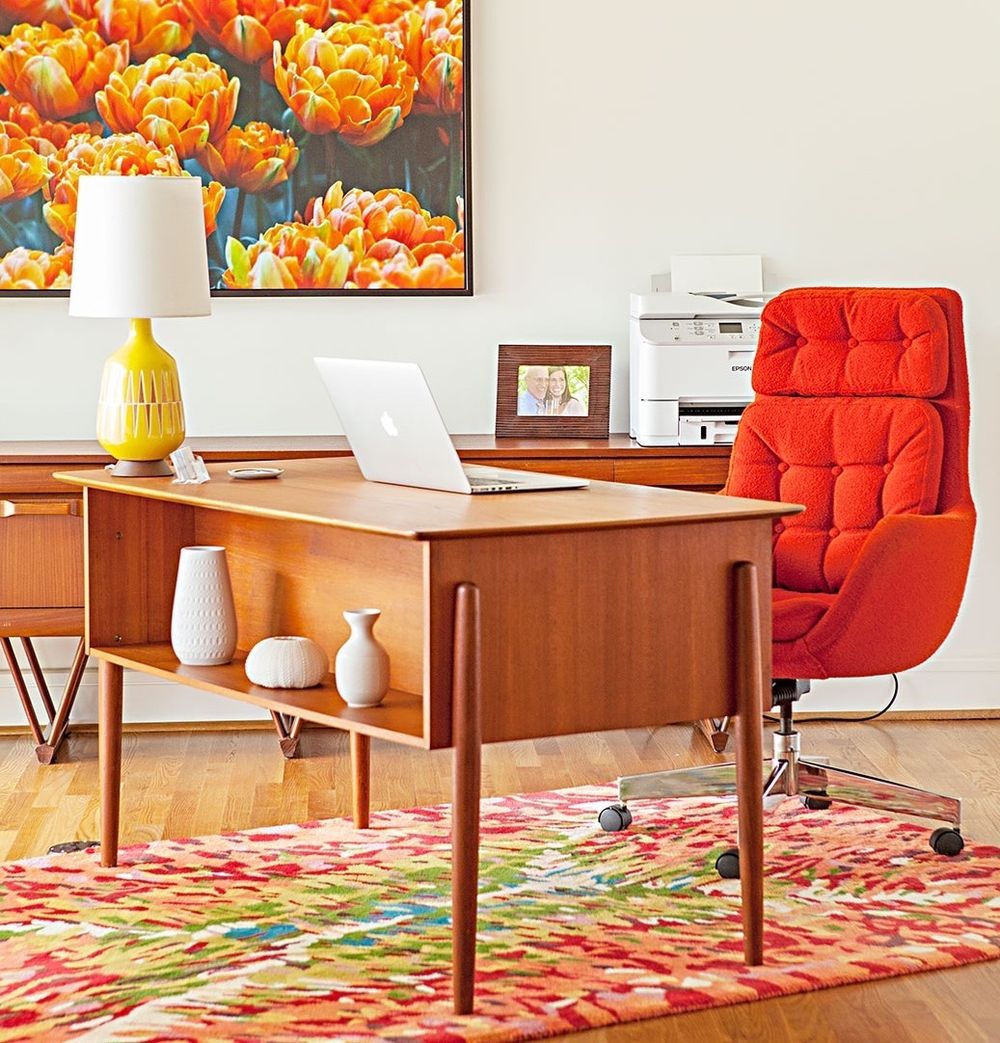 Eames Lounge Chair
The famous Eames lounge chair was a key feature in many mid-mod offices. Meant for relaxing or working, this leather lounge chair and matching footrest was a mainstay in mid-century offices. This iconic mid-century modern chair design endures today and is often found in many homes across the world.
As Don Draper showed us during his days at the Mad Men advertising agency, the key to a good office meant you had to make it comfortable – a home away from home, if you will. From plush sofas to leather chairs you could sink into, bar carts, and even televisions, mid-mod offices were meant for entertaining just as much as they were meant for working!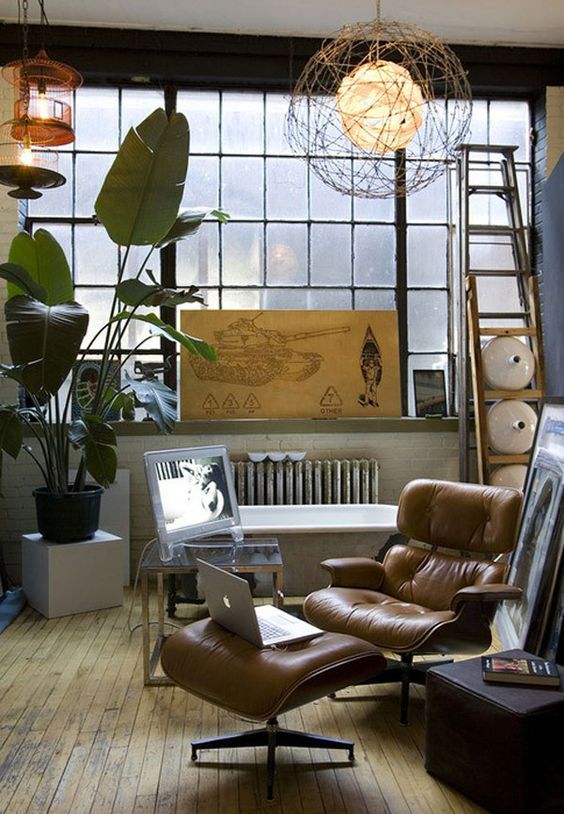 Abstract Art
From Henri Matisse to Mark Rothko, there was no shortage of abstract art in the mid-century period. Interior designers loved the newfound appreciation for simplicity in color and form, something that had never been seen before. It was refreshing to find a conceptual painting on the wall instead of a stuffy portrait from the 19th century.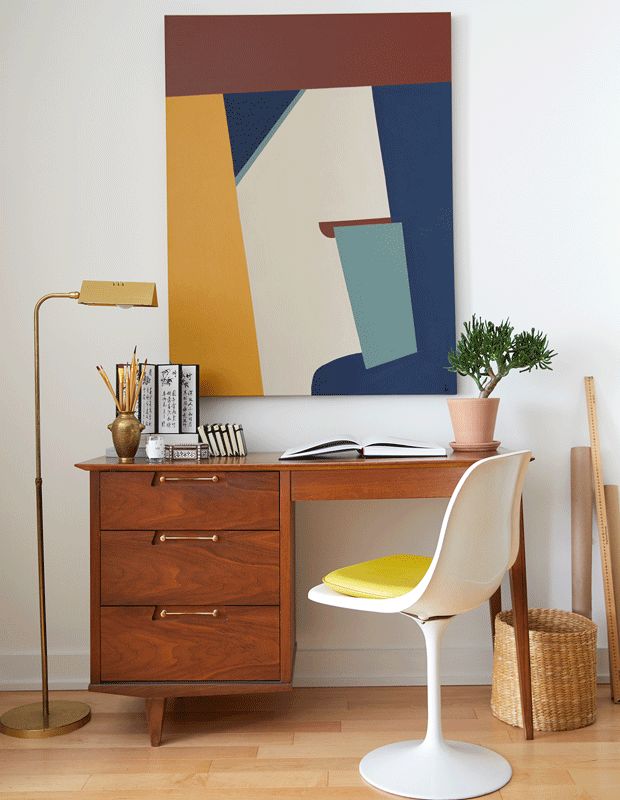 Modular Wall Unit
Modular wall units and shelving systems have come to symbolize mid-century wall shelving. These pieces are great for storage. The look of the unit can be adjusted by lifting the case or shelf and moving it to a different spot on the upright.
The original shelving system was designed by Danish inventor Paul Cadovius. The unique hanging system became an iconic piece of his work. From far away, each unit appears to float mid-air, but they are in fact securely locked in place. This eye-catching storage system could make for a great place to store files and supplies in your office.
Panton S Chair
The Panton S Chair was designed by Danish furniture designer Verner Panton and quickly became a mainstay in homes during the time period. Here, a white S chair with a faux fur throw sits in front of a simple white lacquer office desk. This is one of the most iconic mid-century modern chair designs!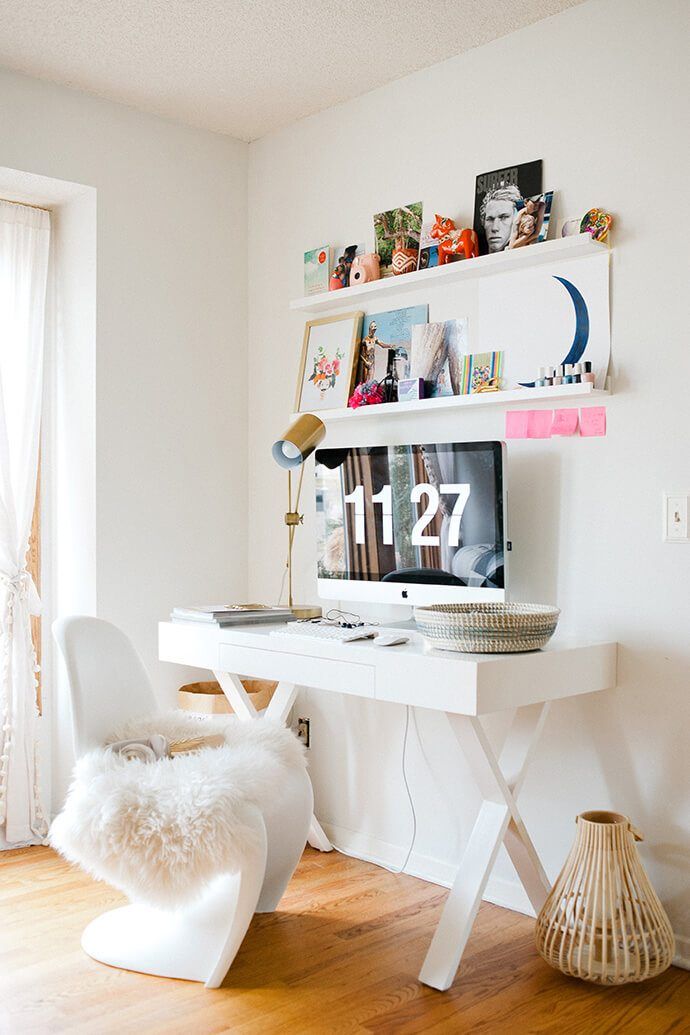 Minimalism
Minimalist design was a big element of mid-century design, especially when it came to offices. From abstract wall art to simple forms of chairs and desks, nothing in an office should be too complicated or attention-grabbing. Keep it simple and appreciate minimalism.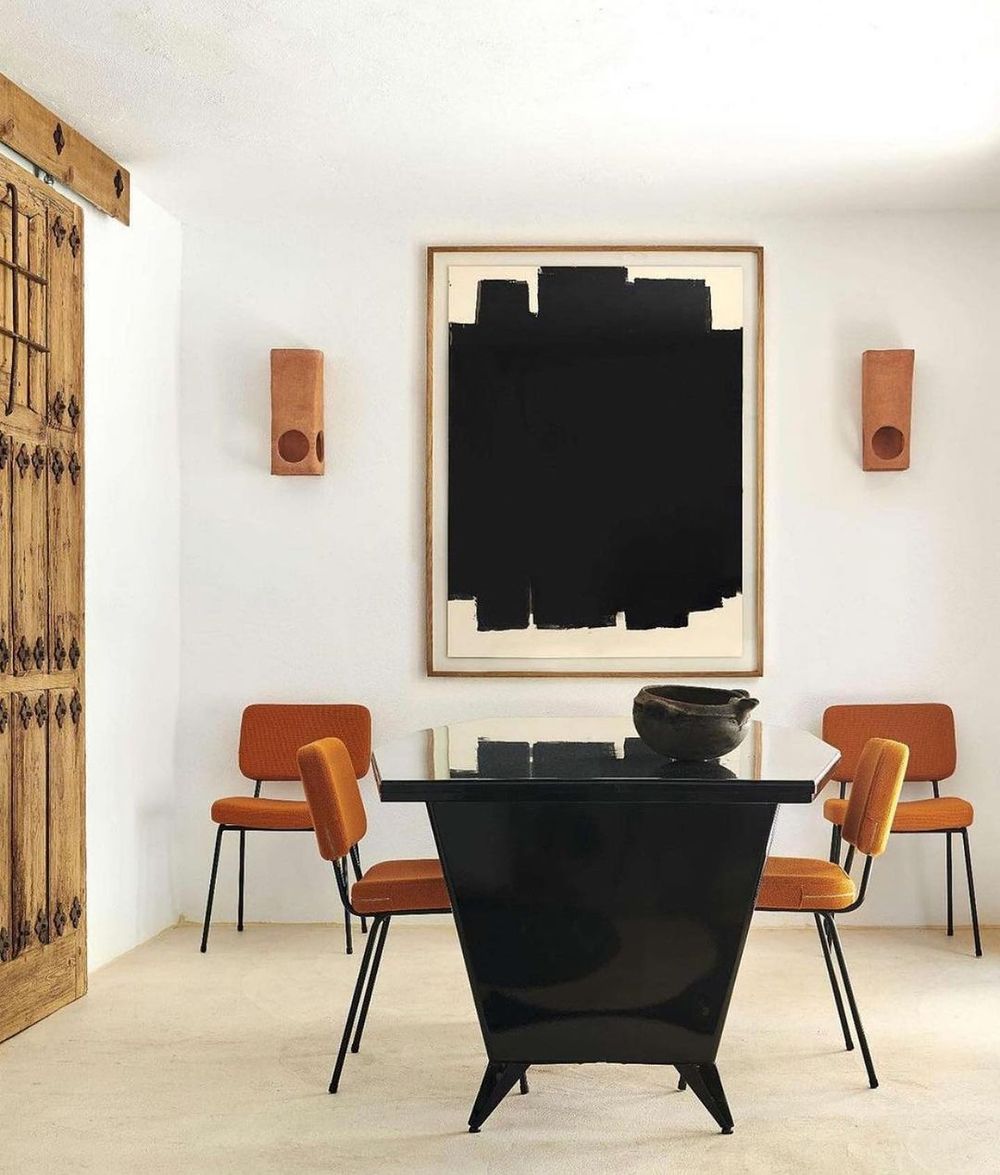 Tech Upgrades
Technology was quite limited during this time period, so many desks didn't have space for wires or charging stations. Luckily, modern desks will have these features so you can ensure that your technology stays fully charged without getting in the way. Don't let a modern computer hold you back from retro decorating however. You can do both very well, as seen below!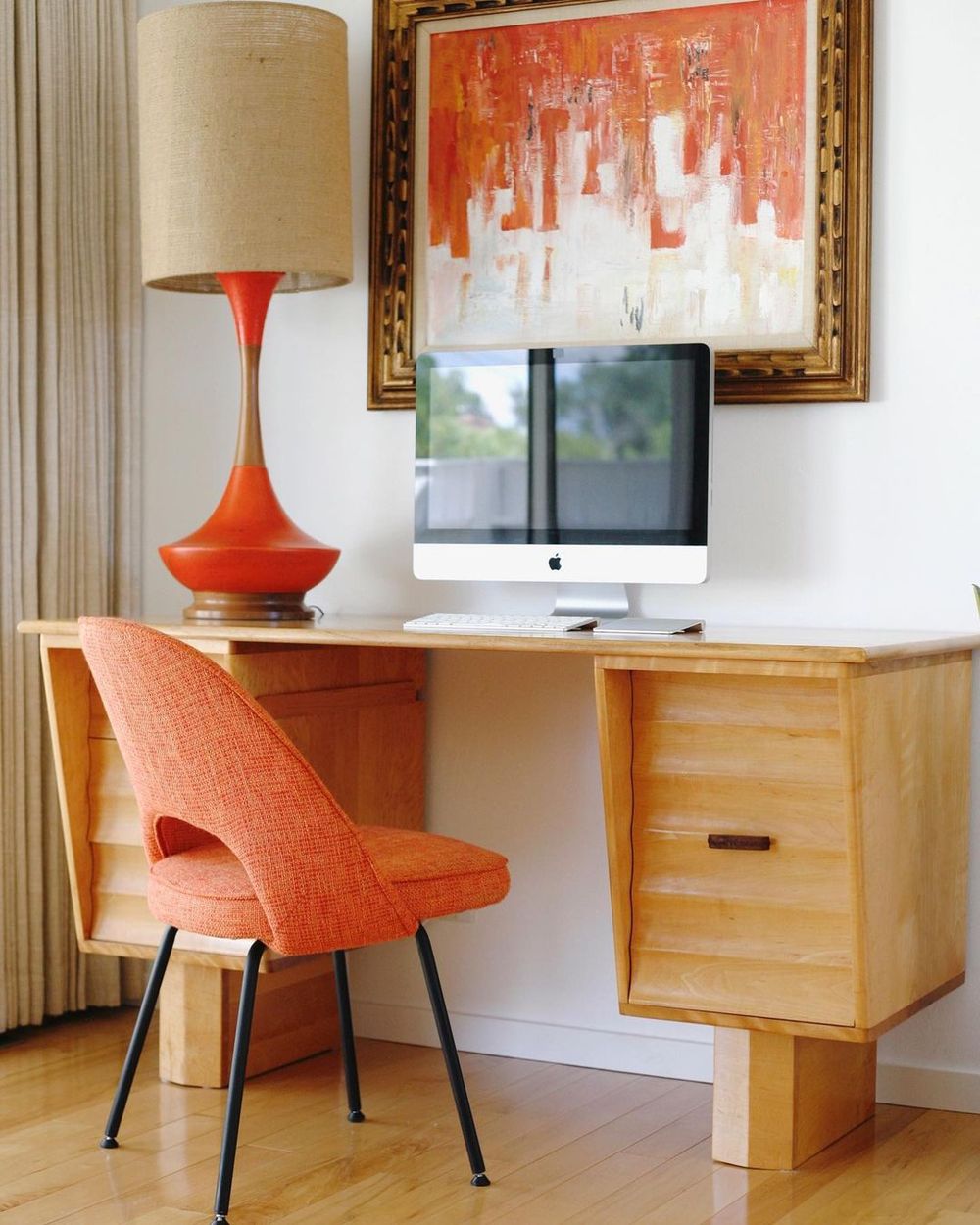 Vintage Touches
Consider decorating with a few retro relics like fountain pens, vintage staplers or vintage office accessories to give your office a bit of mid-century character. This office features a miniature Matisse Blue Nude poster on the shelf, a nod to the popular minimalist artwork of the time period.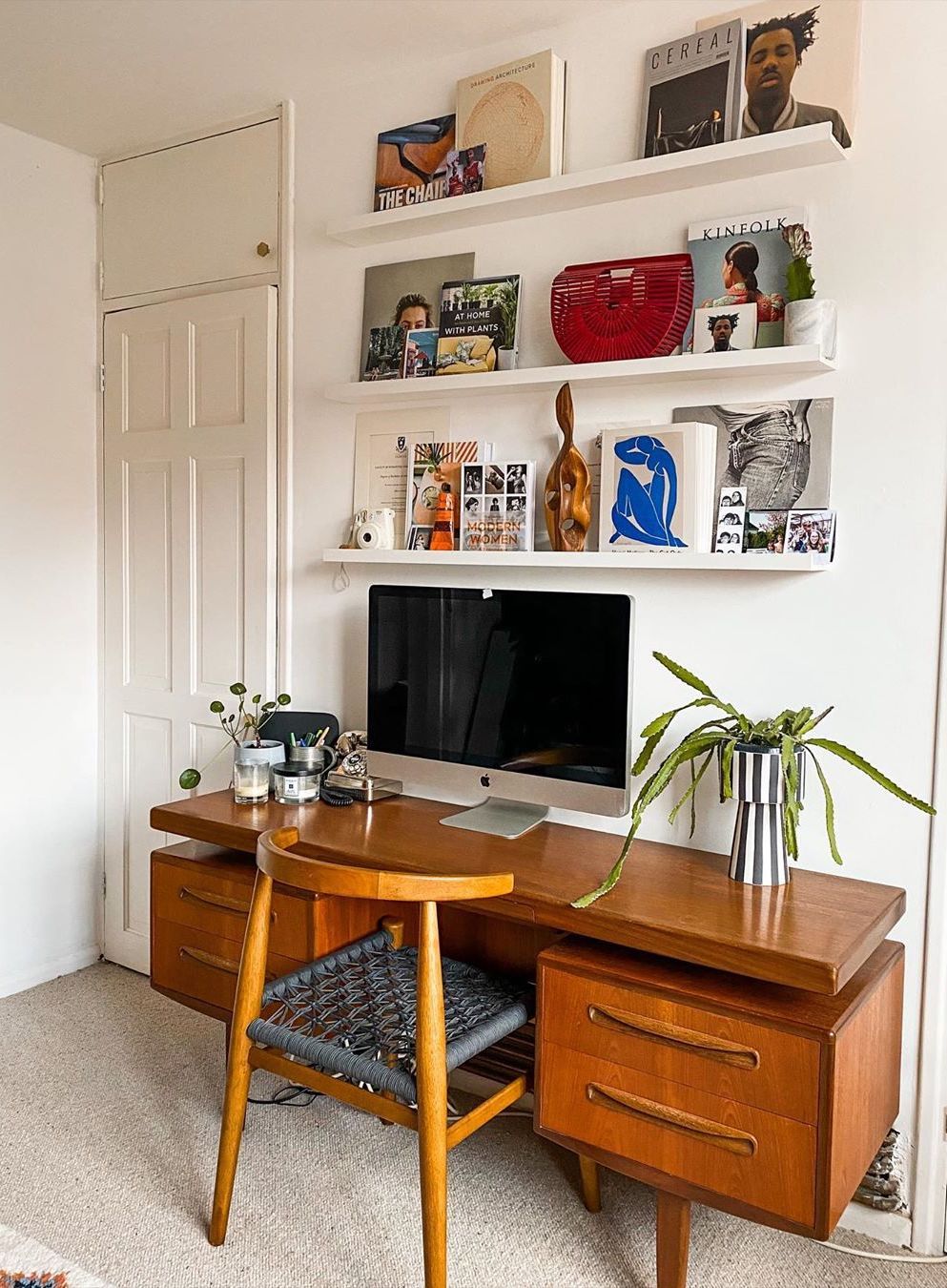 Geometric Patterns
Textile designers were obsessed with geometric patterns and prints during the mid-century period. This look became known as the "mod" look, short for modern – because it was very new at the time. Previously, designs featured soft curves and intricate drawings. The shift to simple circles, triangles, and rectangles ushered in a brand new visual of simplicity in design that had not been seen prior. You can see an example in this office which has a spherical drawing on the desk. Mid-century modern offices are always full of books, I've noticed!
Dark and Moody
Mid-century offices can be dark and moody too, as seen in this black walled office space. The clipboards on the wall provide an element of industrial design. The leather side chair and dark brown wood desk are probably real vintage pieces.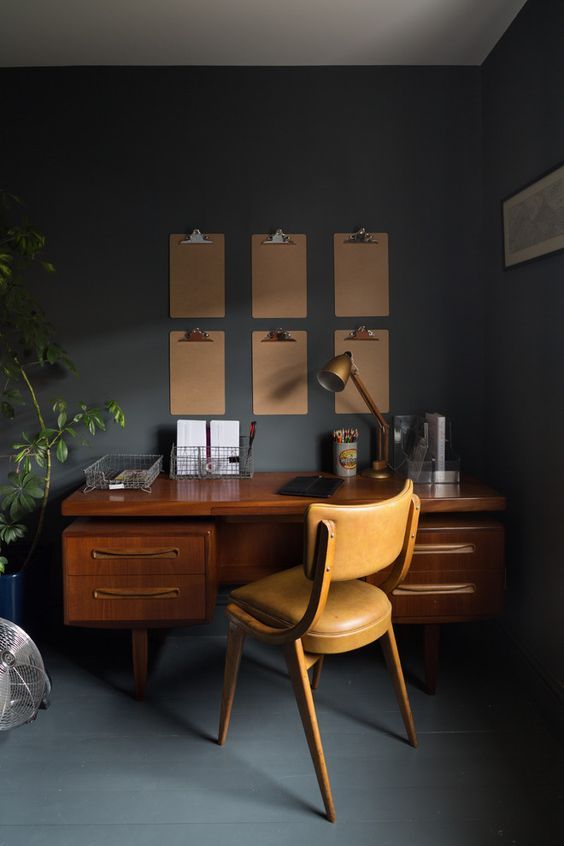 Versatility
If you're working with a small space, don't be afraid to double up the usage of your mid-century desk. Here, a roll top secretary desk doubles as a makeup vanity. The skirted slipcovered side chair keeps the room fresh.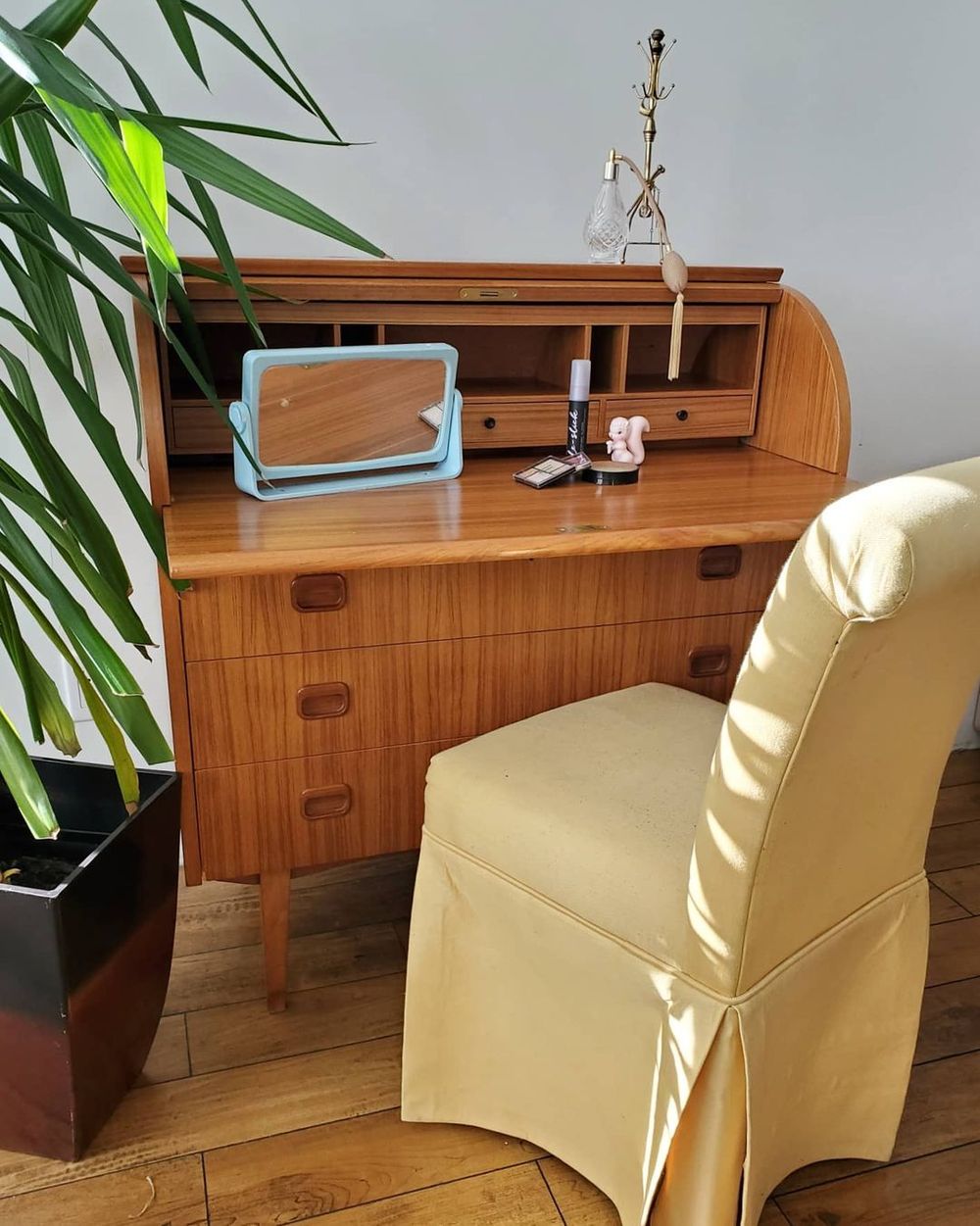 ---
We're all looking for ways to make our interiors as close as possible to our favorite aesthetic. Some women dream of interiors all day long and can't wait to tackle their next home improvement project. We're here for you with myriad interior design guides and furniture recommendations to help you get the look you want – no matter your budget. Stay tuned for more articles on mid-century modern interior design!
Mid-Century Modern Design Ideas
If you want to keep reading about mid-mod interior design, then don't miss out on these related articles below:
For updates of our mid-century decor ideas, subscribe to the newsletter.