The mid-century period (roughly the years between 1940 and 1975) was one of the most prolific and impactful time periods in furniture design history. In looking at the most iconic mid-century modern chair designs from history, it's clear that they have inspired many of the furniture pieces we use today.
Mid-century furniture rejected the detailed and extravagant designs that had been popular for centuries prior. A new air of minimalism captured the minds of furniture designers in Europe and the United States. Suddenly, it was no longer in fashion to have older chairs in the house. As the post-war period saw an increase in mass production of household goods, many furniture pieces were able to be produced at lightning speeds compared to the past.
Related: Mid-Century Modern Home Decor
Many mid-century designers preferred to create chairs that blended form and function. Previously visual appearance was valued above all. The modernist furniture movement ushered in a new wave of simplistic, functional design married with a striking, sleek appearance.
Let's take a look at some of the most iconic mid-century modern chairs that continue to be adored today. Even though most of these original designs are quite expensive, it's clear that Ikea was greatly influenced by these chairs in their mass-market furniture retail business.
Shopping for Mid-Century Modern Chair Designs
If you are shopping for MCM chair designs, I recommend these mid-century design retailers:
A quick word to the wise: there are several more small online mid-century furniture retailers that offer very low prices. Proceed with caution because in my research I discovered many of them have very poor customer reviews and some did not ship the item as promised.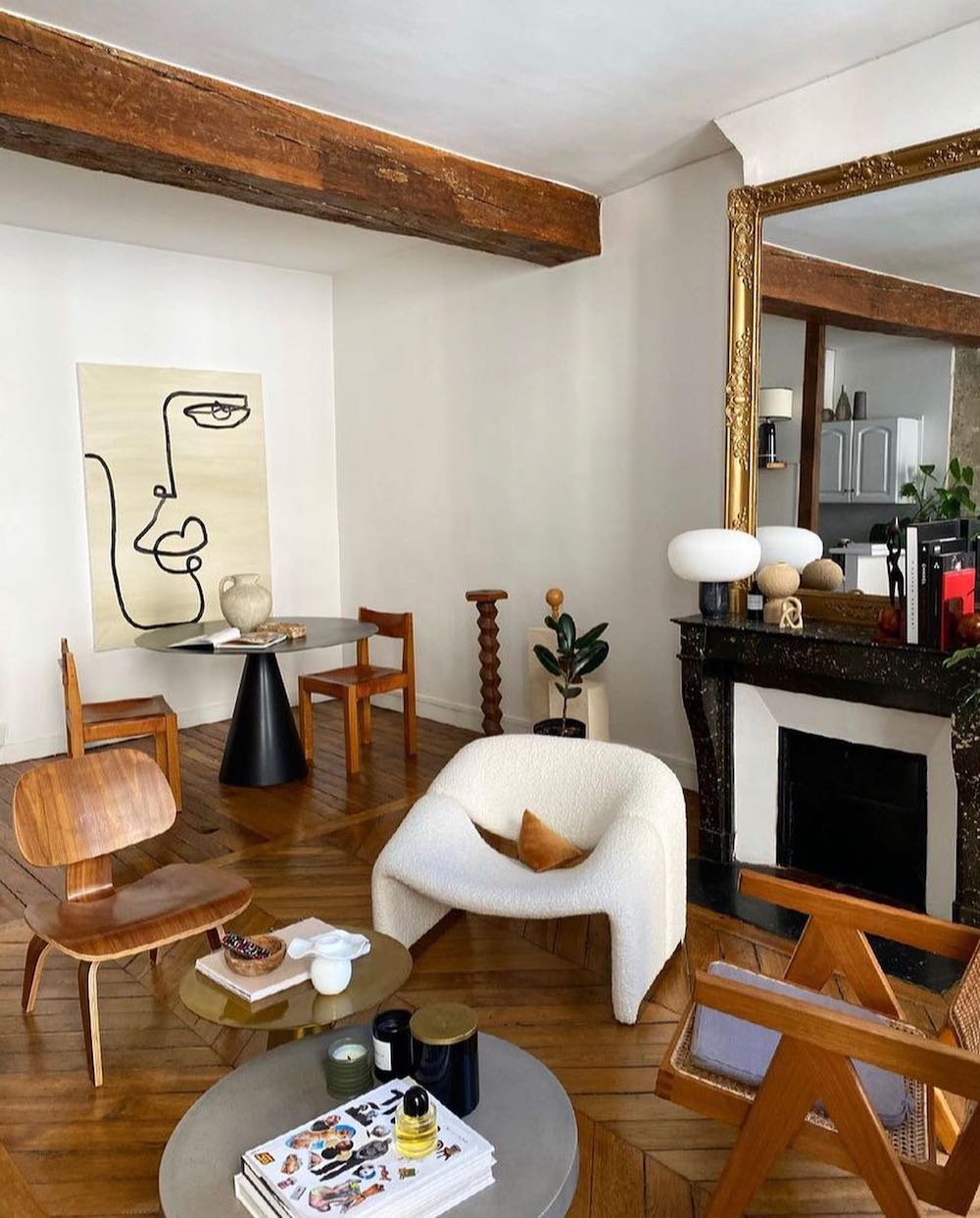 Iconic MCM Chairs
Here are the most successful mid-century chairs in my humble opinion. I've linked to the original, authentic chair in many of the captions as well as some more affordable dupes, when possible.
Wassily Chair
Although it was designed in 1925, the Wassily chair by Marcel Breuer became symbolic of mid-century times. Its design was inspired by the metal frame of a bicycle and Breuer imagined this unique form while studying at the famed art and design school, Bauhaus which operated from 1919 to 1933 in Weimar, Germany. A cool fun fact is that the chair was named after his classmate, the famous 20th-century painter Wassily Kandinsky!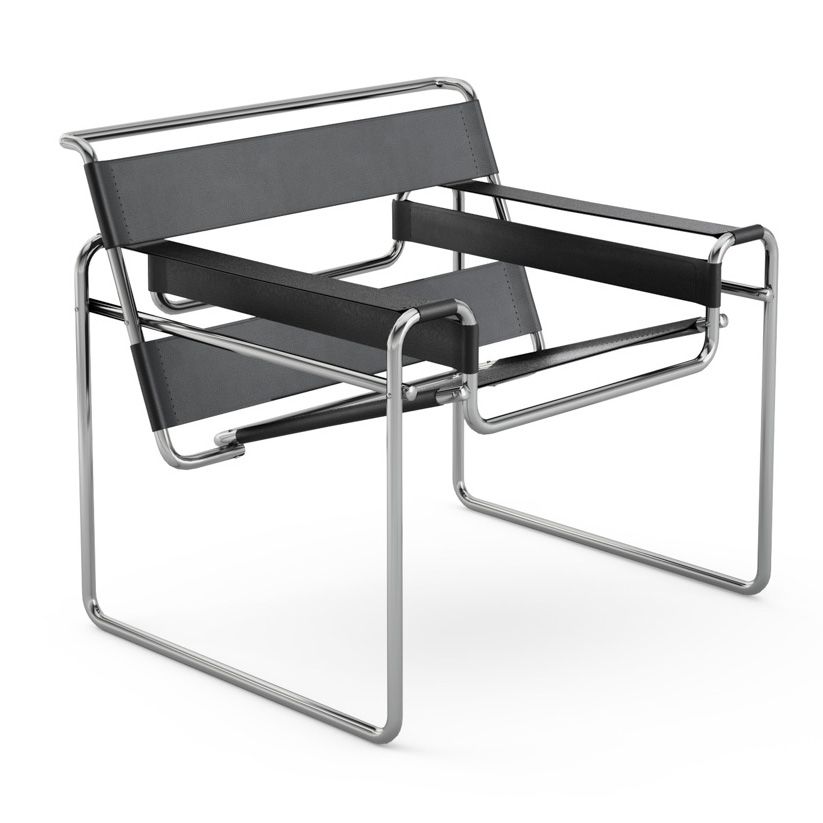 Tulip Chair
Next on our list of classic mid-century modern chair designs is the tulip chair. This chair was included in the Pedestal Collection of Eero Saarinen because of the single leg underneath the base of the seat. Tulip chairs typically swivel with an aluminum base and molded fiberglass shell. The tulip chair is most often white with an accent color for the seat cushion. The curved lines can make this chair feel space-age and futuristic.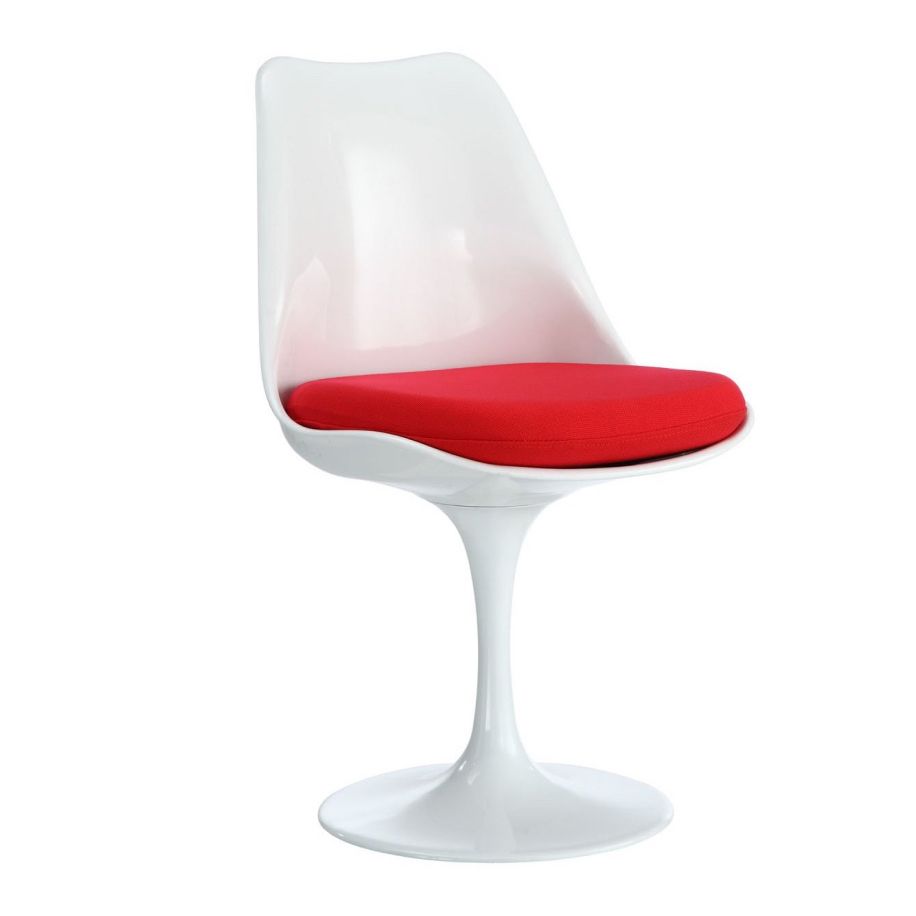 Womb Chair
Eero Saarinen designed the Womb chair on the theory that many people have never really felt security and comfort since they left the womb. The chair is designed to be curled up in. The high back, wrap around edges and arm indentations are meant to help the occupant feel safe and secure. This chair is often paired with a matching foot rest. You can buy an affordable replica here.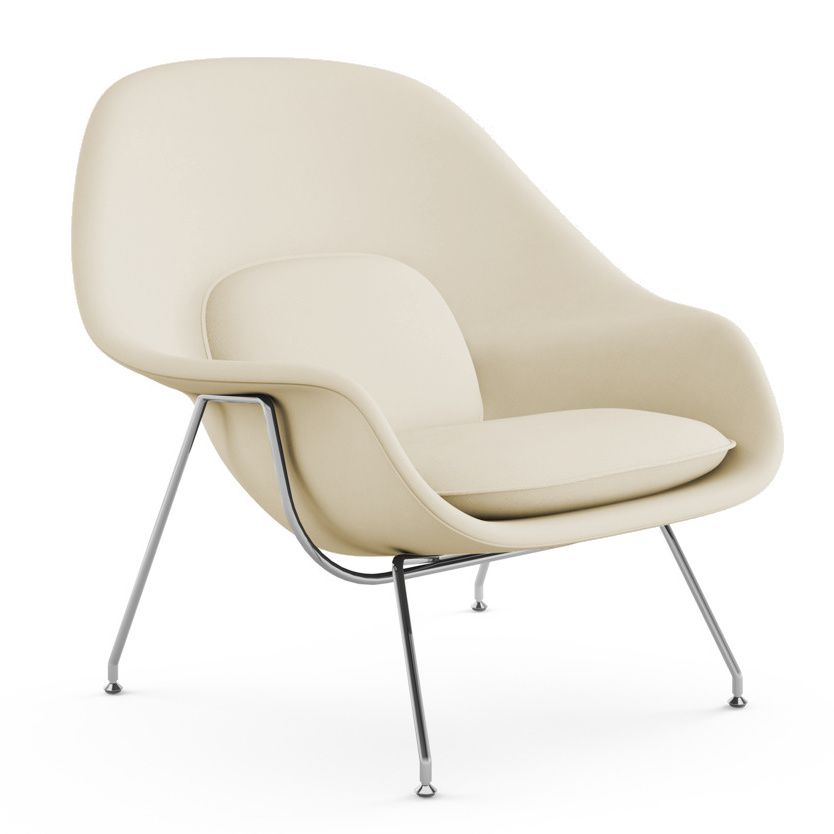 Cesca Chair
The Cesca chair is an icon of modern furniture design. This chair was designed in 1928, making it the first tube steel framed style of seat that could be mass-produced. Traditionally, there are no arms on this chair, though you can get them with arms. The back is low and at a slight angle for ergonomic support. Designed by Marcel Breuer in Germany and named after his daughter Francesca, the chair offers a fun bounce and appears to "float" a sitting person on air. It comes in a natural wood color and a black framed version.
Panton Chair
Also called the "Stacking Chair," the Panton chair was the first chair to be made completely out of plastic in one single piece. The shape of the chair is definitely unique and eye-catching. The design is an S-shape and was designed by Danish designer Verner Panton in the 1960s. It is rumored that Panton was originally inspired by a neatly stacked pile of plastic buckets. These chairs are available in just about any color you can imagine, even a shiny silver chrome. Get the affordable dupe here. They are certainly a very retro furniture piece!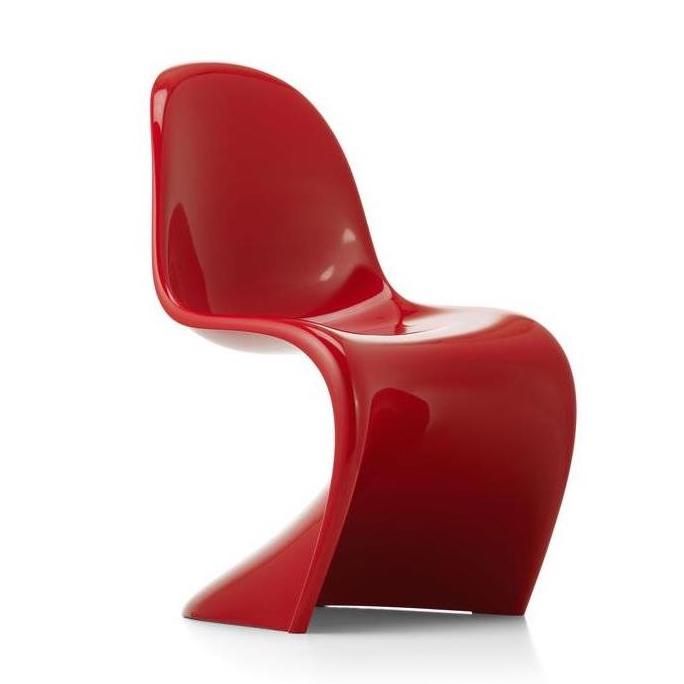 Wishbone Chair
The Wishbone chair, also known as the CH24 chair or Y chair, has a woven rope seat and bent wooden armrests. The name for this chair is because of the wishbone-shaped backrest. It was designed by Hans Wegner in 1949. The graceful shape of the wishbone chair is inspired by East Asian design and modernist ideals. You can buy the official chair manufacture at DWR.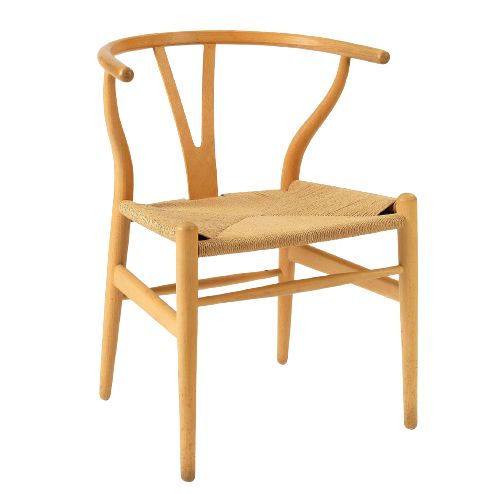 Eames Lounge Chair
Eames lounge chairs are made of molded plywood and leather. Charles and Ray Eames designed their famous lounge style of chair in 1956. The style is said to be inspired by a first baseman's baseball mitt. While this chair was introduced over 50 years ago, the style remains timeless and iconic today.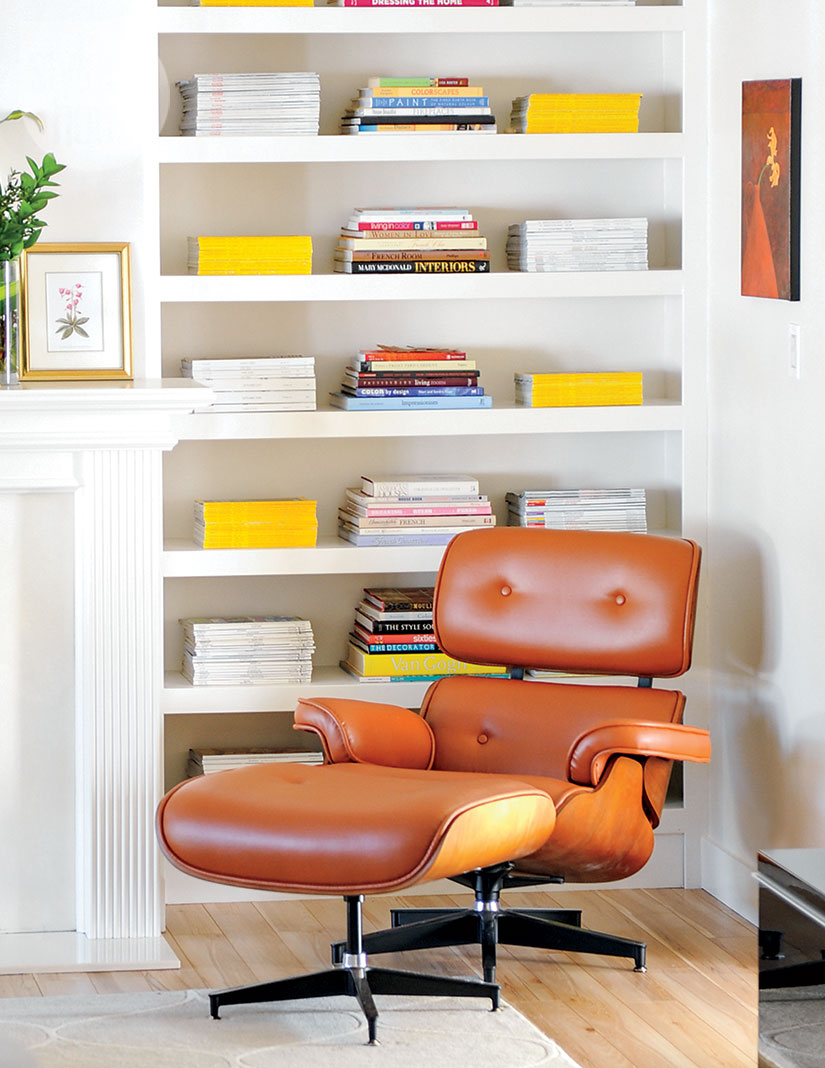 Barcelona Chair
Ludwig Mies van der Rohe created the iconic Barcelona chair in 1929 – and I'm sure that most people would recognize this chair in their favorite film from the 50s or 60s. The chair was created for the 1929 Barcelona International Exhibition. In 1948, Knoll received exclusive rights to manufacture the coveted chair design. It comes in classic black, warm caramel, and creamy white.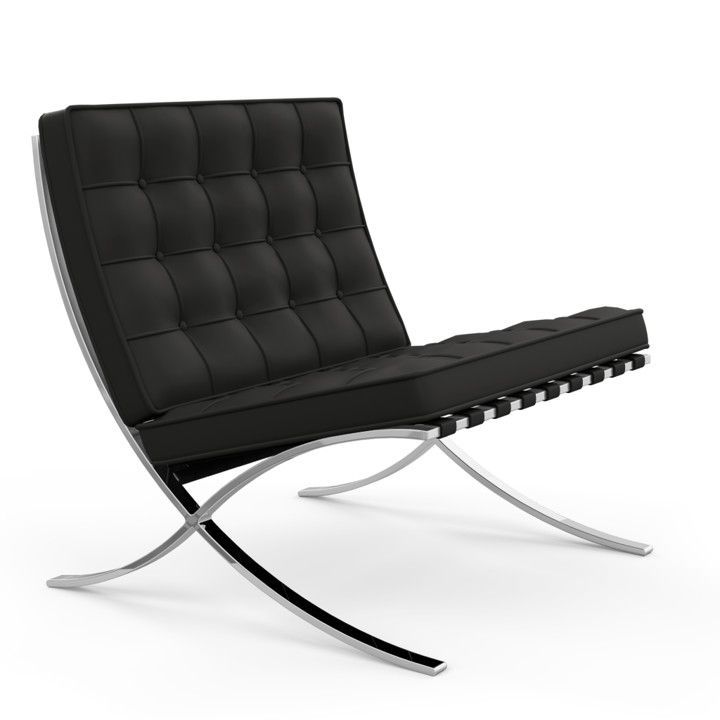 "Less is more."

Mies van der Rohe
Eames Molded Plastic/Fiberglass Chair
The Eames Molded plastic/fiberglass chair has a design that seems to be inspired by a shell shape. The solid piece of fiberglass with a rounded back and high edges provides adaptability and variety to many settings. The legs can feature two pieces of bent steel or four individual legs. This chair comes in two versions: plastic armless and fiberglass armchair. You can shop a cheap replica here.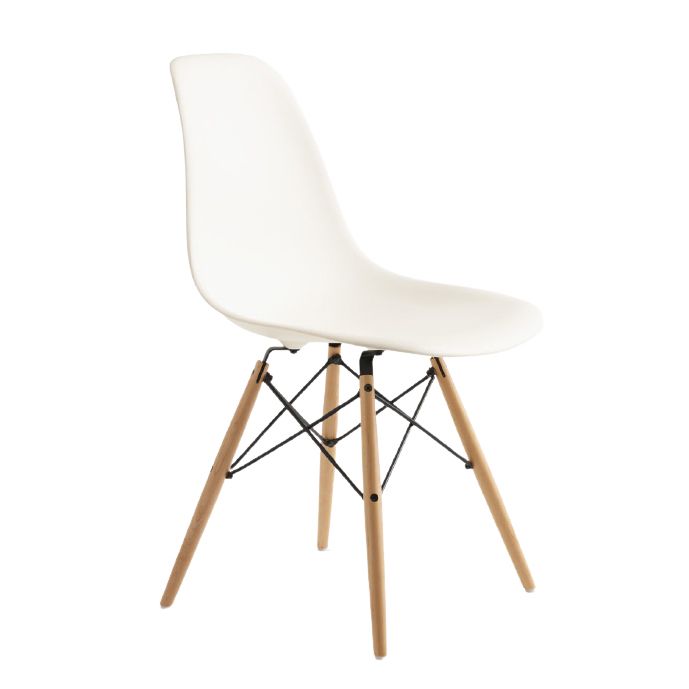 Egg Chair
The very mod 1958 Egg chair was designed by Danish furniture creator Arne Jacobsen in 1958. Jacobsen believed his chairs were sculpture. I can see why! His intention was to create a flattering background for the occupant – particularly women. Jacobsen was a key figure in the Danish modernism design movement. This is one of the mid-century modern chairs I hope to own one day!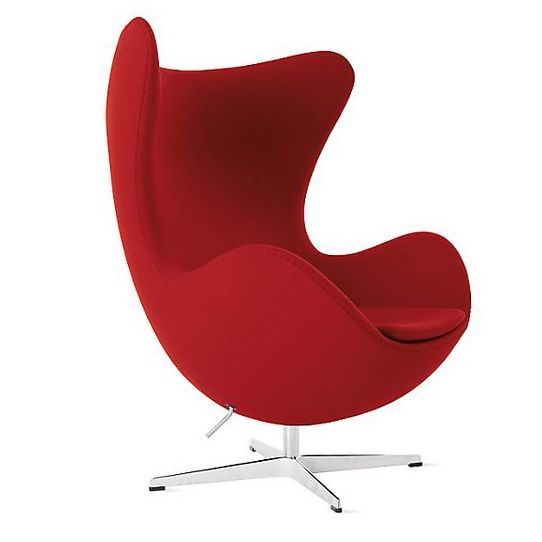 Bertoia Chair
Also called the Diamond chair, this 1952 chair by Harry Bertoia is an open form and metal style chair which is inspired by sculptures. The chair is a diamond wire seat and back with bent steel leg frames. There can be a seat made out of a different material, or just the continuation of the grid wire. It's ergonomic for sure, but if you're looking for premium comfort, include a cushion. It has also been adapted into a more practical side chair without the side wings.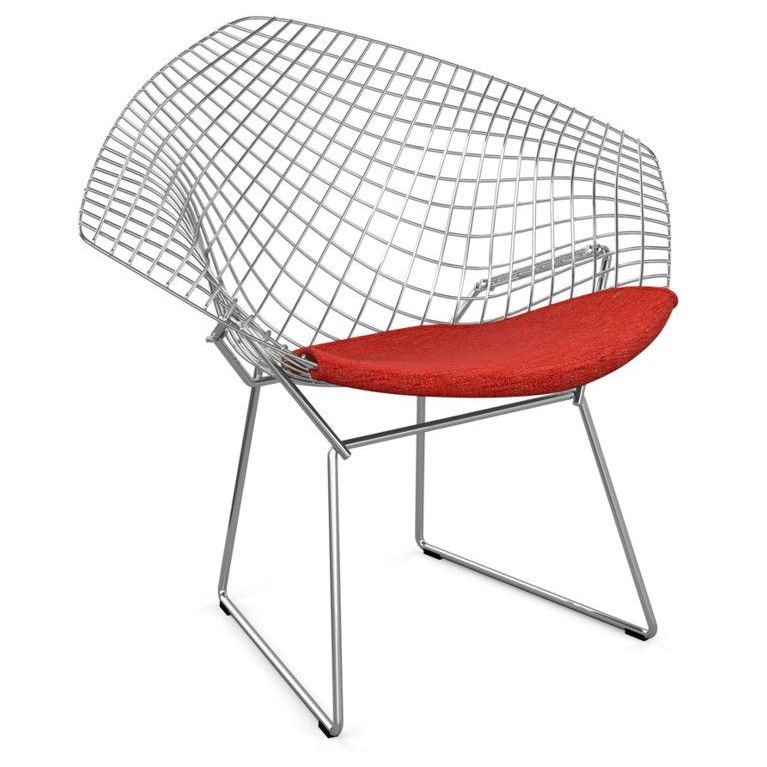 Jeanneret Chair
The Swiss also contributed to some of the best mid-century modern chair designs and Pierre Jeanneret was one of the most well-known. His "Chandigarh" armchair is a block style chair made of wood and cane with a flat seat base and v-shaped supports. The back and base of the seat are a braided cane material. There is a slight angle at the back of the chair and the armrests are parallel to the seat. The designer was inspired by the blending of modern European ideals and the traditional Indian spirit after his India trip in 1967.
Read about Pierre Jeanneret chairs and where to find replicas!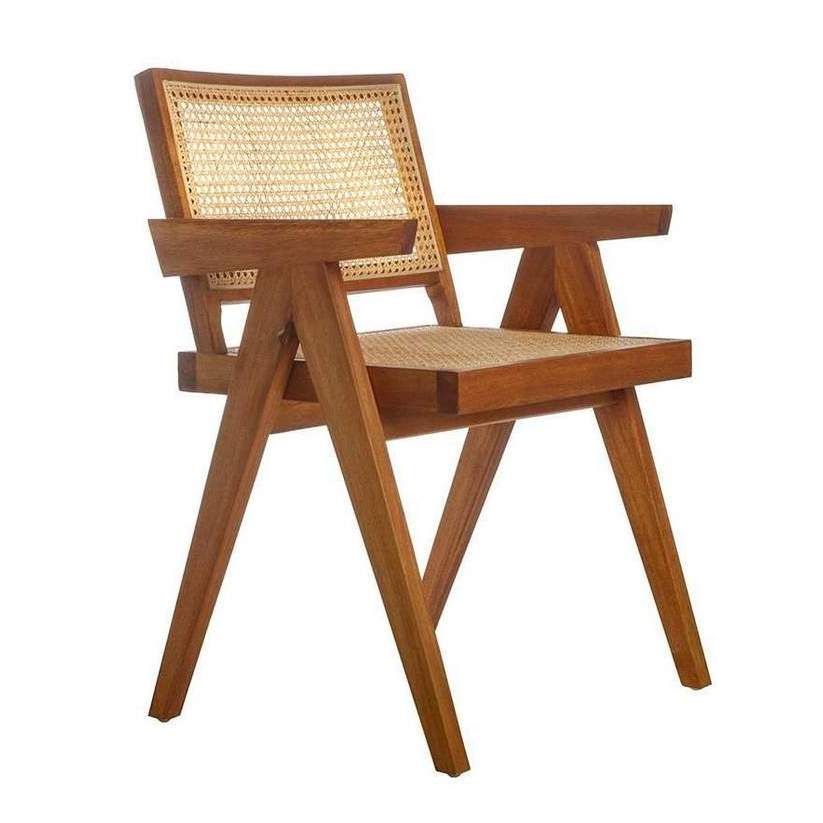 Platner Armchair
A unique blend of angles and curves make up the Platner Armchair, one of my favorite mid-century modern chair designs. Designed by Warren Platner in 1966, this chair is composed of dozens of metal rods which angle upwards to support the seat cushion, back rest, and arms of the chair. Pick up a less expensive dupe here. The seat is a perfect blend between the armchair and relaxing chair, which makes it ideal for a dining room. It comes in a gold, black, or silver nickel metal base and a plethora of cushion shades made of velvet, leather, or boucle.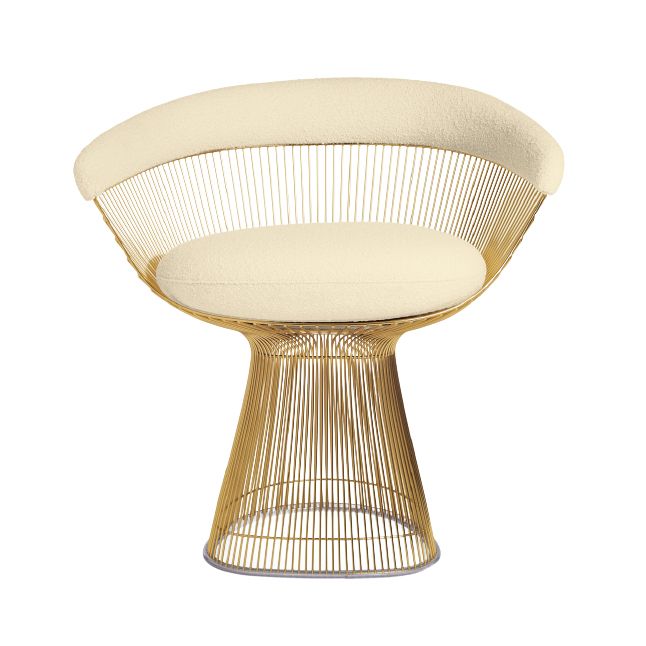 Paulistano Chair
The Paulistano lounge chair offers the ultimate in mid-century comfort and features a leather bucket-style seat. The frame is made of a single continuous bent steel bar of 17 feet and has a leather or cloth fabric. This was designed by Paulo Mendes da Rocha. This chair is sturdy and flexes with the sitter for maximum relaxation.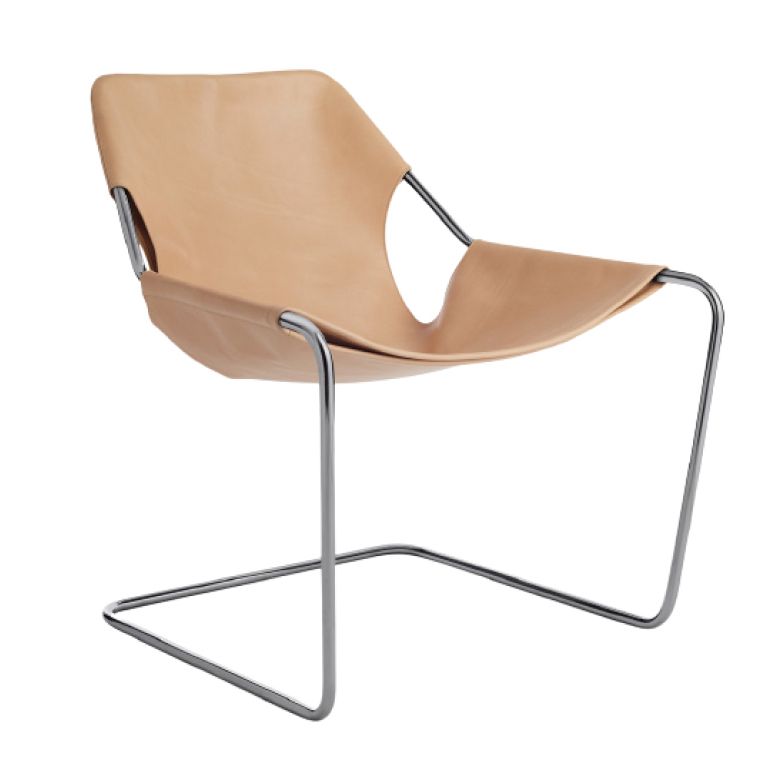 Ball Chair
The Ball chair was designed in 1963 by Eero Aarnio, a Finnish interior designer who studied at the Institute of Industrial Arts in Helsinki. It is a spherical chair that has been cut in half to provide room for someone to sit inside it comfortably, while being wrapped in the cocoon of the chair. Aarnio was inspired to create a chair that he and his wife could sit in comfortably together. The chair sits on the floor, but another similar version called the Bubble can be suspended from the ceiling.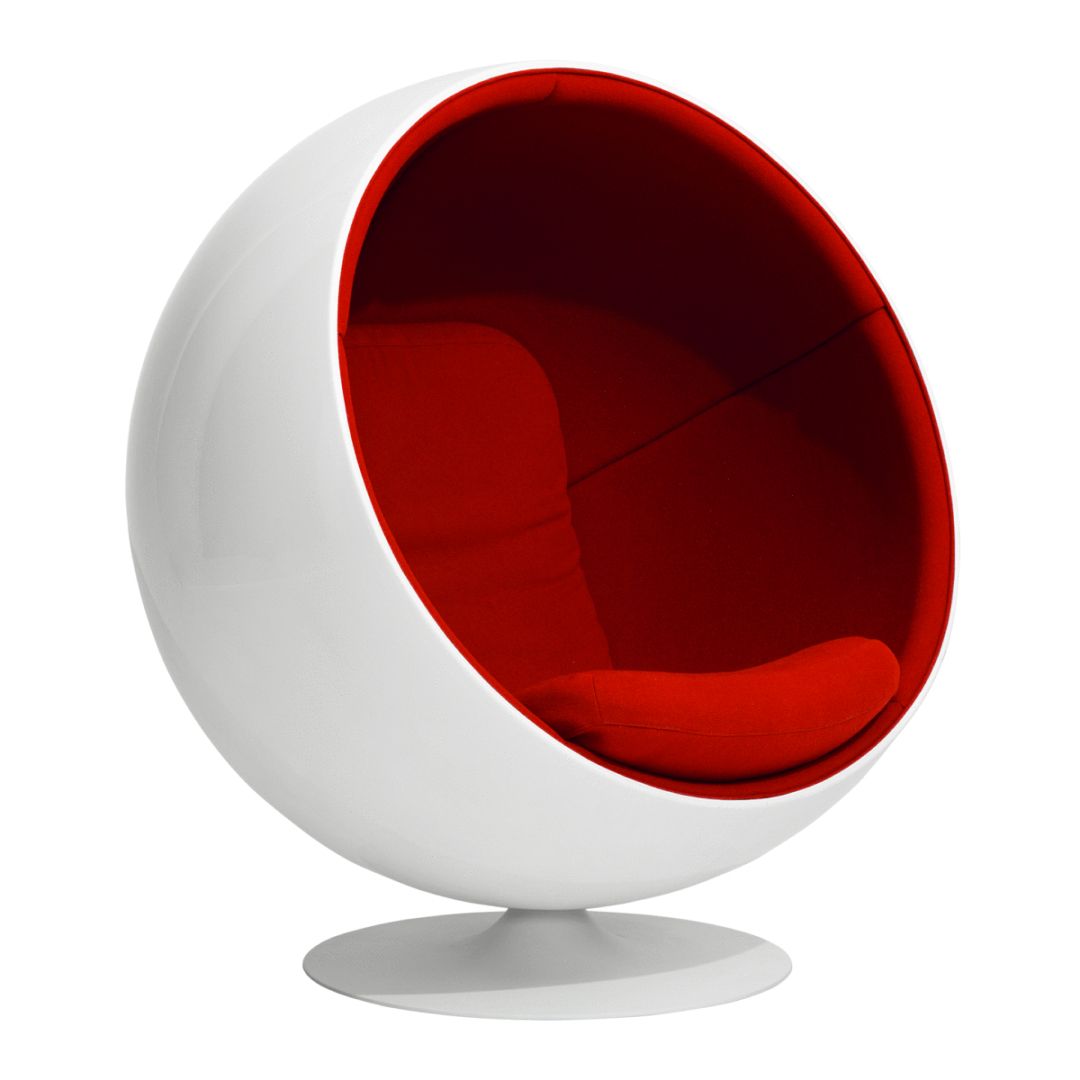 "I will make a chair that when it is put in a shop window, no one will just walk past it."

Eero Aarnio
Shell Chair
One of the coolest mid-century chairs is the Shell chair. Designed by Hans Wegner in 1963, this chair is the ultimate blend of comfort and style. It's seat is made of a gently curved piece of wood and it's sometimes called the "Smiling chair" for that reason! It has three legs and a simple back for support. It was initially rejected by the Copenhagen public for its three legs, but over time it became iconic of Wegner's genius.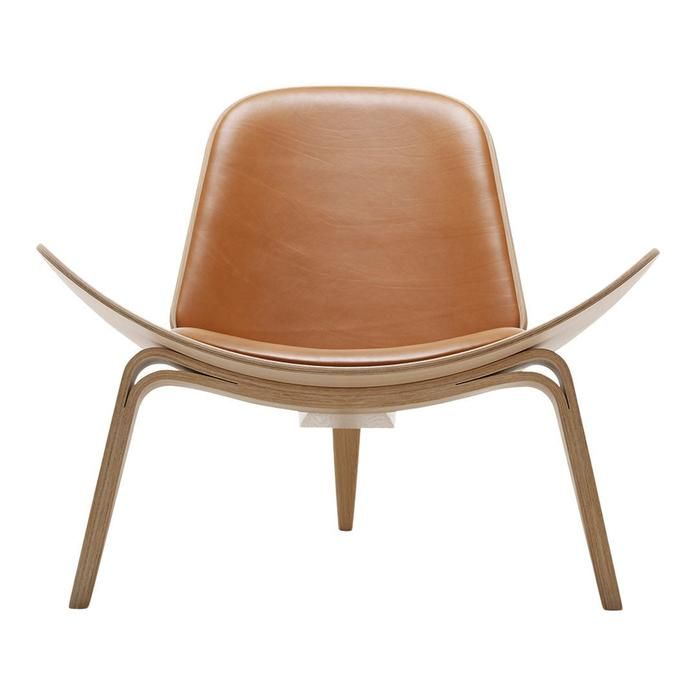 Jetty Chair
The Jetty chair is an inclusive style of seating that features a variety of fully upholstered seats and back. Legs on this chair can be straight or a bent frame. The arms have a slight curve that extends to the end of the base of the seat. This is a common chair found in modern offices today.
Easy Chair
This 1950s Hans Wegner CH25 design is a timeless example of functionalism for which the designer is famous. The lines of the chair are naturally elegant. The seating can be woven or padded, depending on style and aesthetic. The chair is clean and simple in it's signature shape. It's aptly called the "Easy Chair."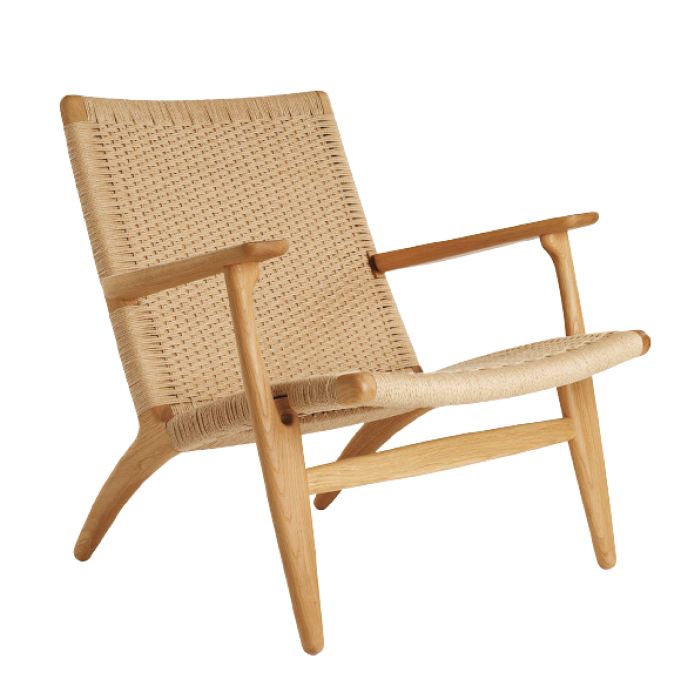 Kangaroo Chair
The Kangaroo chair is a warm wood cane chair also by Pierre Jeanneret. With a geometric design and a slightly reclining back, this is one chair you'll adore in your home. It was crafted in the Chandigarh design making it a timeless statement chair.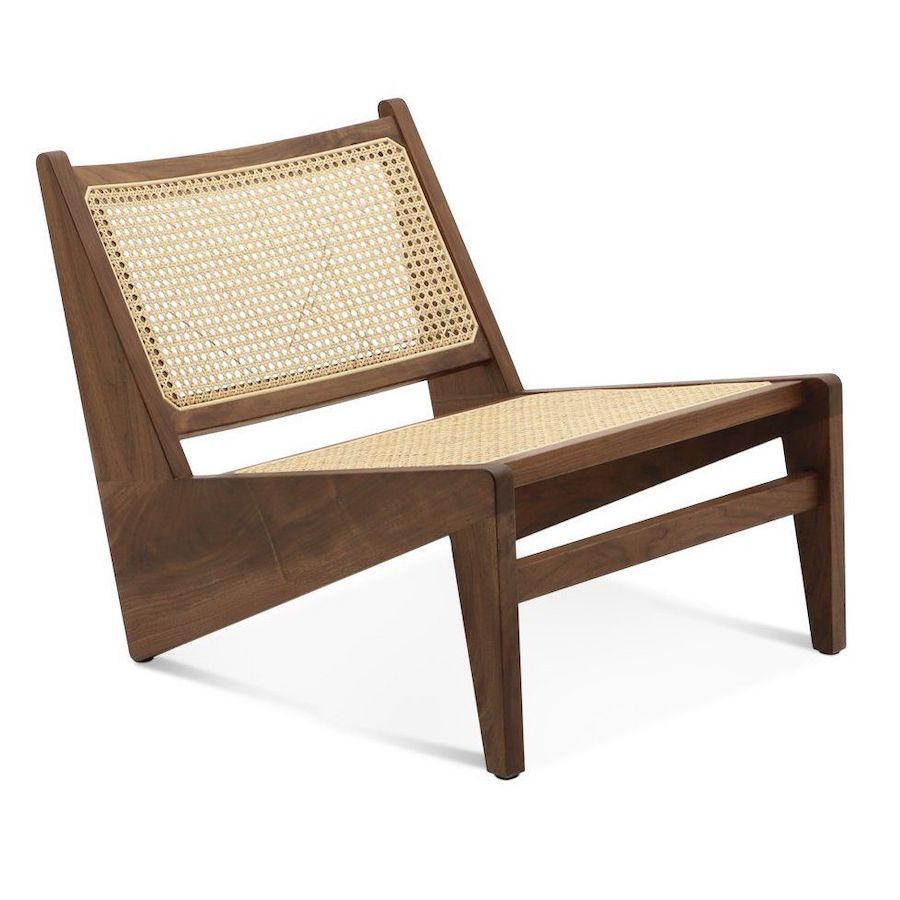 Swan Chair
The Swan chair is an elegant piece that most will recognize. Whether in vivid colors or a classic leather upholstery, this is one mid-century chair that endures. It was designed in 1958 by Arne Jacobsen and was created for the Royal Hotel in Copenhagen, along with the Egg chair. Guests could spin around using the swivel base or sit still using the comfortable arm rests. This chair exemplifies the Danish modern style of furniture. The chair itself does not have any straight lines, making it a unique design feat in and of itself.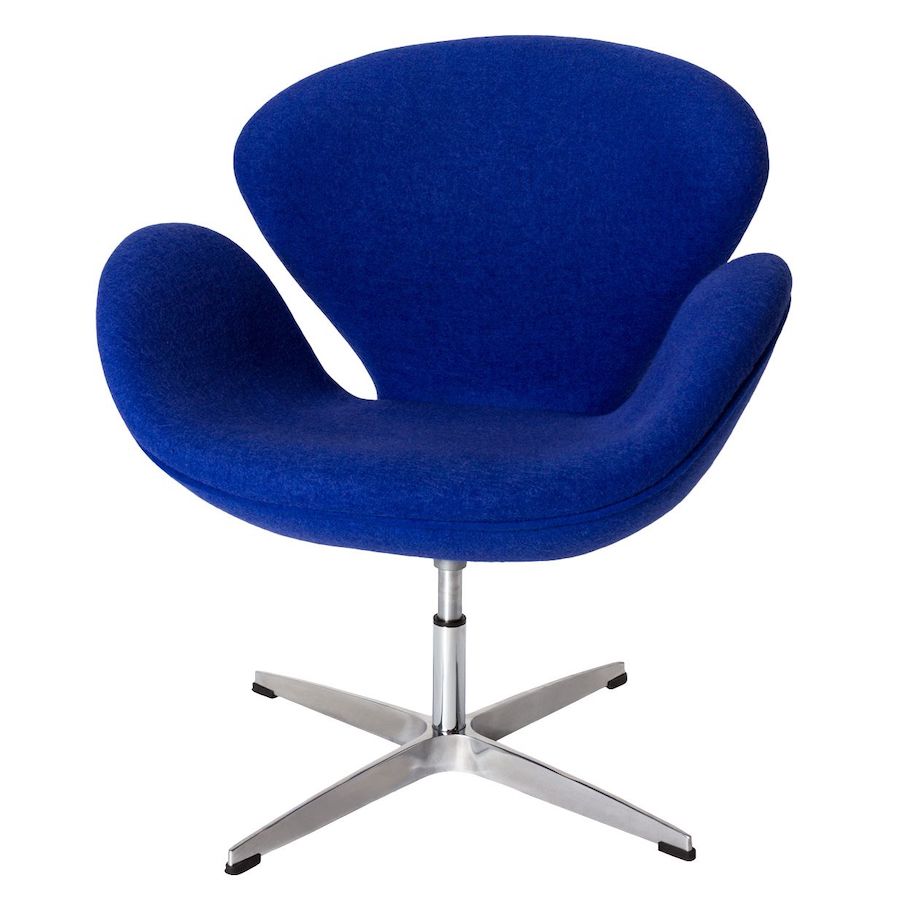 Palermo Chair
This design is also known as a "Butterfly" chair or BKF chair due to the way the frame and fabric connect and open with one another. There are four corner pockets for the frame to slip into to create a bucket style seat. This was designed in 1938 by Argentine architects working with Le Corbusier's studio. It's certainly one of the mid-century modern chair designs associated with boho style today!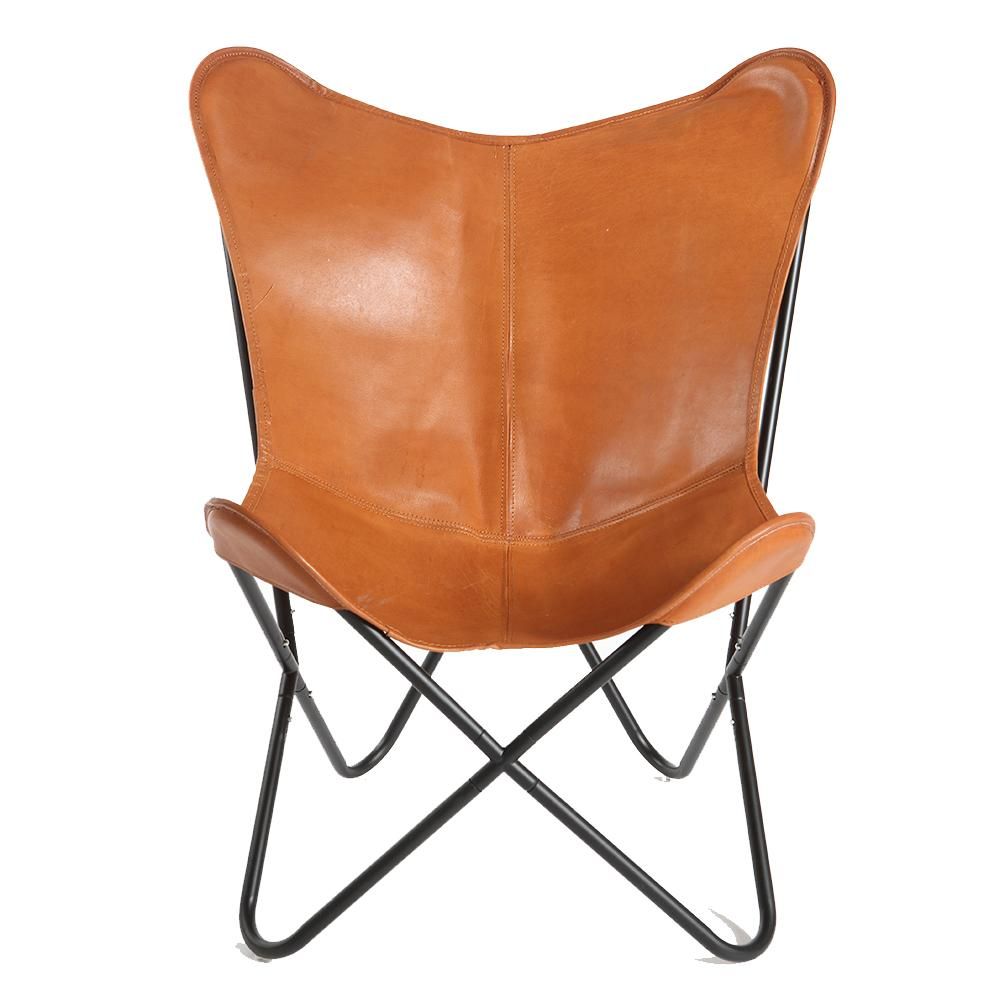 The Lady Chair
The Lady Chair by Marco Zanuso was created in 1950 for Arflex. The chair is composed of a metal frame and a padded seat and backrest, upholstered in leather or fabric. The legs are slightly splayed and have non-slip rubber tips. Zanuso was one of the first Italian designers to use industrial techniques and materials, such as steel tubing and plastic, in his furniture. This helped make his designs more affordable and mass-produced. The lady chair is a classic example of Zanuso's style, which combines functionality with an elegant, understated design. The chair was originally designed for Arflex but is now manufactured by several different companies. It is available in a variety of materials for a chic living room.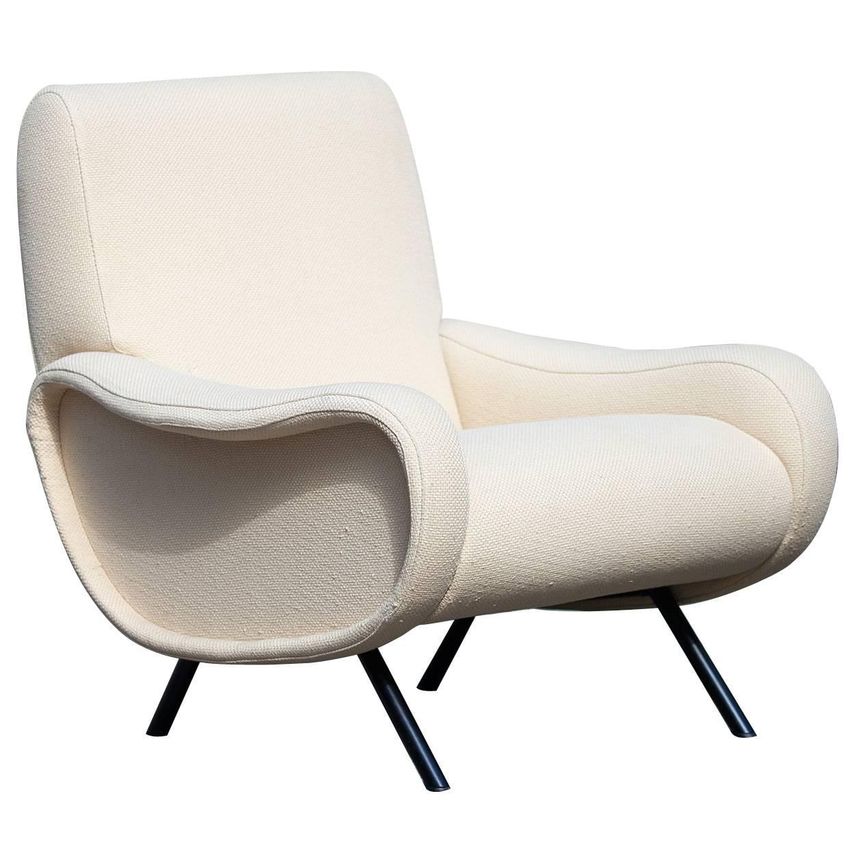 ---
As you can see, these mid-century chair designs were revolutionary for their time period. No one had ever created such futuristic designs before and these chairs made a lasting impact on the way we think about furniture design today!
Pin this for later: