Looking for the best traditional sofas for your living room that will make it refined and chic without feeling dated? You're in the right place! We love traditional interior design and the grace that comes with this time-tested interior look.
Traditional Living Room Decor
Having traditional living room decor will give your home a sense of elegance and sophistication. Traditional decorating combines the essence of formal furniture pieces, like traditional sofas, with a classic layout, and vice versa. Because of this, you can expect to end up with a timeless living room since it's very unlikely to go out of style.
A traditional living room also guarantees an aesthetically pleasing design to the eyes, considering that you choose the right furniture pieces to come with it.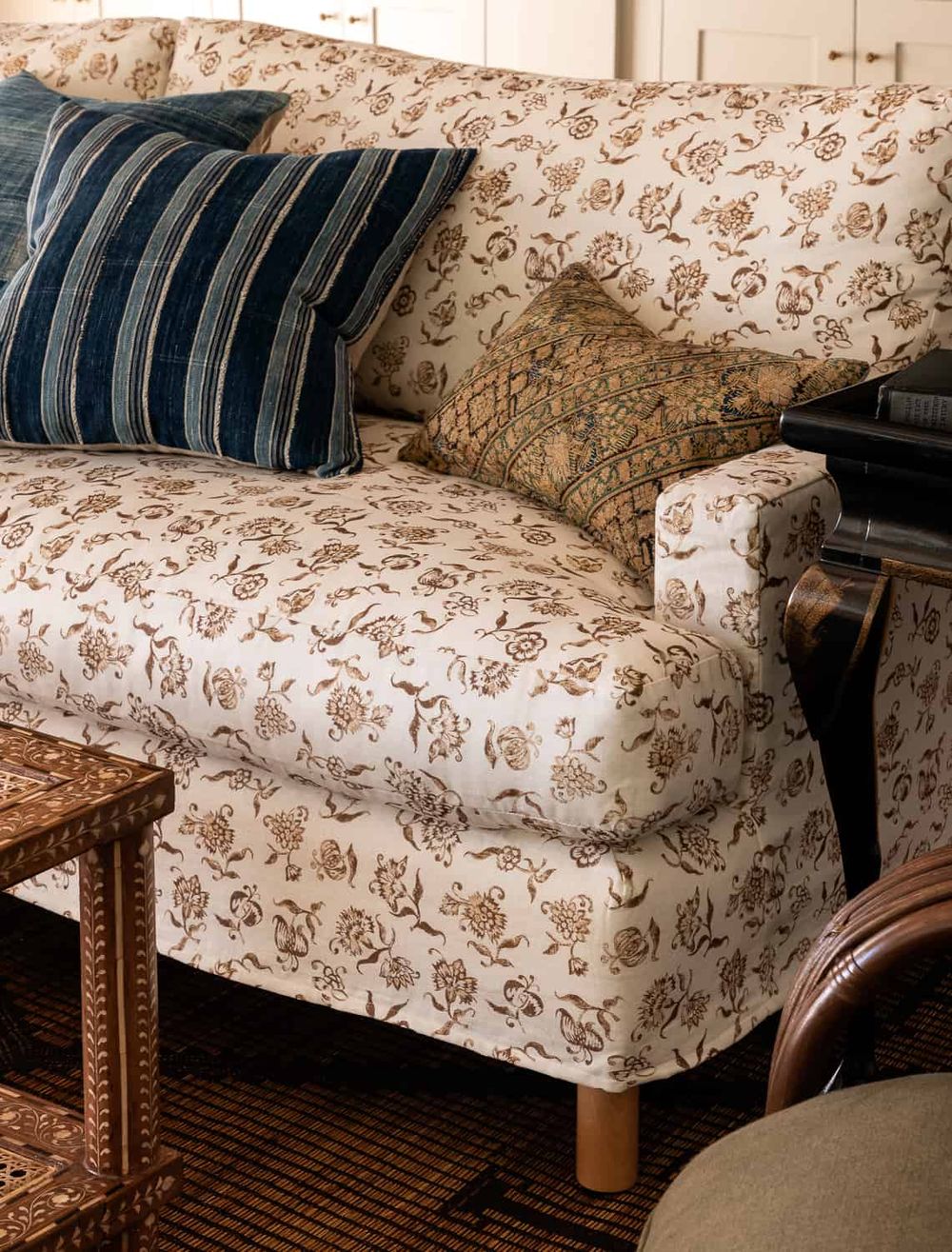 What is a Traditional Style Sofa?
A traditional style sofa includes sofa designs that are inspired from certain early eras like Victorian sofas, English roll arm sofas, Christopher Knight sofas, and the classic tufted Chesterfield sofas.
Traditional style sofas are usually wide-set, even if you opt for a two-seater couch. The backs are either camel-like or curved, but either way, you should expect that the sofa has a low height. There are also high-back traditional sofas, but this is not as common in regular households.
The colors of traditional sofas, on the other hand, are usually dark or neutral. The sofa might come in shades of dark gray, brown, white, black, and sometimes deep green or red. Neo-traditional homes might have more colorful furniture.
Best Traditional Sofas
Here are the best traditional sofas to shop for your living room design. One Kings Lane has one of the best selections of traditional style sofas.

Traditional Sofas with Skirts
If you are not satisfied with the traditional style that old-fashioned sofas bring, then you should definitely consider looking into traditional sofas with skirts. These have the same style in terms of the body, but what makes it different is the fabric fringe hanging to the end of the floor, hence the skirt.
Right now, you can buy just a couch skirt if you already have a sofa you want to work with. Since this can easily be installed and removed even without professional help, you can expect to give your living room versatility in terms of the overall design.
Luxury Traditional Sofas
For homeowners going for a high-end yet still traditionally classic style for their living rooms, luxury traditional sofas are the way to go. These usually have an elegant touch and come with a wide and long space for seats. The color palettes also revolve around gold, white, and brown.
Traditional Rolled Arm Sofas
Traditional rolled arm sofas are not as antique as other types, but it's also considered old-fashioned since the design took its peak during the late 80s up to the 90s. What made this couch distinct is its slightly slanted rolled arms on each side. The rolls can either be visible, especially if it's pure wood or hidden for cloth-covered sofas.
What Are Old-Fashioned Sofas Called?
Old-fashioned sofas are known by many terms, starting with traditional sofas. You can also hear them called antique sofas, settees, and camelback sofas.
A "settee" is considered a general term for couches with an old-fashioned design. It came from "seti," a word from Old English that pertains to an oak wooden bench with a curved back.
Truthfully, some people also call old-fashioned sofas "Chesterfield" in general, which can be a little misleading since some designs are not from the said era. Even so, you can expect to come up with several results if you look up the said keyword.
Classic Interior Design
If you're a minimalist who wants to have a timeless interior so you won't have to constantly change it to keep up with the trends, a classic interior design is an answer. You can have this by looking for equally classic furniture pieces and the background that comes with them. Accessorizing your interior to go with the pieces is also essential to get the results you want.