Want to find the best English country sofas for your home? English country style, also known as English country interior design, is a decorating theme from England that places a strong emphasis on a relationship to nature and functional coziness. A natural element you'll see quite often in the homes found in the English countryside is fresh, or faux, greenery. This can be in the form of potted plants or flowers in a vase. The greenery may also be present in the artwork adorning the walls or the accent pieces such as English throw pillow fabric designs.
English Country Sofa Ideas
So, what do English sofas look like? English country sofas are long, plush pieces of furniture that often have the ability to seat 2-3 people comfortably. A notable feature is that they often feature a "rolled arm" design – meaning the fabric is pulled across a round arm to create a cozy armrest. The rolled arm is a traditional design element that gives the sofa a casual, inviting feel. The edges of the sofa where the sitter would put their arm have a natural, soft curve to its edge instead of a track arm, which is a clean and straight line, or an overly plush end.
English country sofas can also feature a diamond tufting upholstered backseat. This gives the appearance that the back of the sofa has buttons sewn into it. The legs of an English sofa are often visible, which adds another opportunity for design! The legs can be wooden, or metal. They are often stationary, though having either the front legs or the back legs on casters is a great feature to aid with moving the sofa around to where you want to place it. At the end of the day, English country sofas are a classic design staple that provides comfort and functionality, exactly as the English country style intends.
Floral patterned wallpaper is often used as decor and mood-setting elements in the English interior style. The English country style appreciates the close-knit, cozy feel by having items clustered together on surfaces to maximize any available space. The lack of white space, either on shelves, tables, or walls, is a prevalent feature in the English country style.
While definitely cozy and clean, there is a time-honored elegance to English country decor style that keeps this aesthetic timeless and traditional. There are plenty of inviting places to sit in an English country living room, and those places are often central to the room for gathering and entertaining.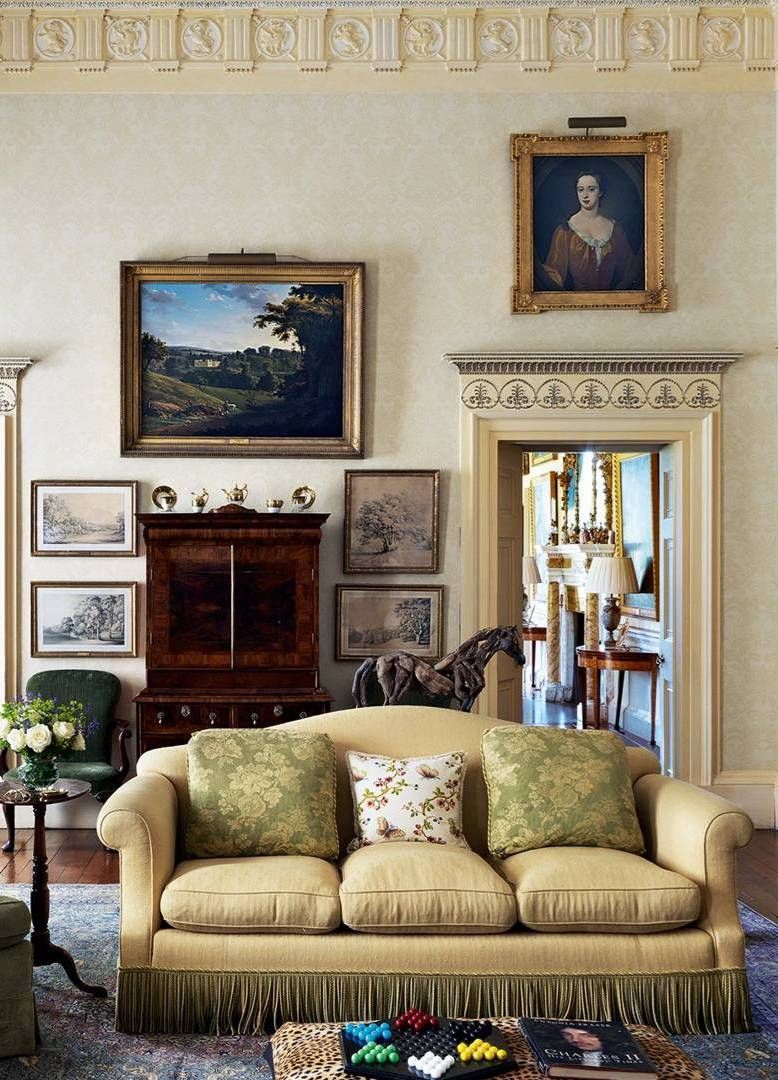 Choosing the right sofa for your living room that fits the English aesthetic you have in mind can be tough. There are endless designs, fabrics, functions, styles, bells, and whistles to be found on English sofas today. Fabrics can include leather, velvet, chenille, damask, plush, tweed, tartan, corduroy, velour, and more. Typically, you want to get a fabric that feels good to the touch but also has the durability to last, because this is a piece that will be getting a lot of use in a home that entertains company.
The vast majority of sofas are filled with foam, though they will have additional padding or layers based on brand and style. The foam for sofas come in different density, depending on your preference and frequency of use. Sofas can come with arms or without arms. High backs or no backs. Deep seats or high seats. Reclining or stationary. Plush or firm. The options are varied and suit any taste and decor aesthetic.
If you have a large family, consider these English country sectionals for extra seating.
More English Country Decor Ideas
I hope you found some great inspiration among the English sofas listed in this article! Check out some related posts on the English home style here:
Happy curating!