Let's talk about tropical accent chairs for the home.
There is something wonderful about walking into a room and being transcended to another place. Tropical decor in any space can make the room feel bright and exciting.
There are many ways to bring a tropical theme into your home. You can place wall art with beautiful beaches and jungles, vases with tropical flowers or shrubbery, little palm trees, and tropical furniture in your home.
Tropical Accent Chairs
Tropical accent chairs come in many different sizes, materials, and designs so finding the right one is half of the fun. You can look for something with a colorful design upholstered with a soft fabric or you can go with a natural wood or rattan chair. Pick an upholstery that is different from your tropical style sofa!
There are also tropical-themed bungalow chairs that will make you feel like you are sitting out in front of your beach house. These chairs can be made in any material. You can find them in a variety of natural woods accompanied, most of the time, with light- or cream-colored cushions. They also come in wicker and rattan, which can also come in many different shades and colors.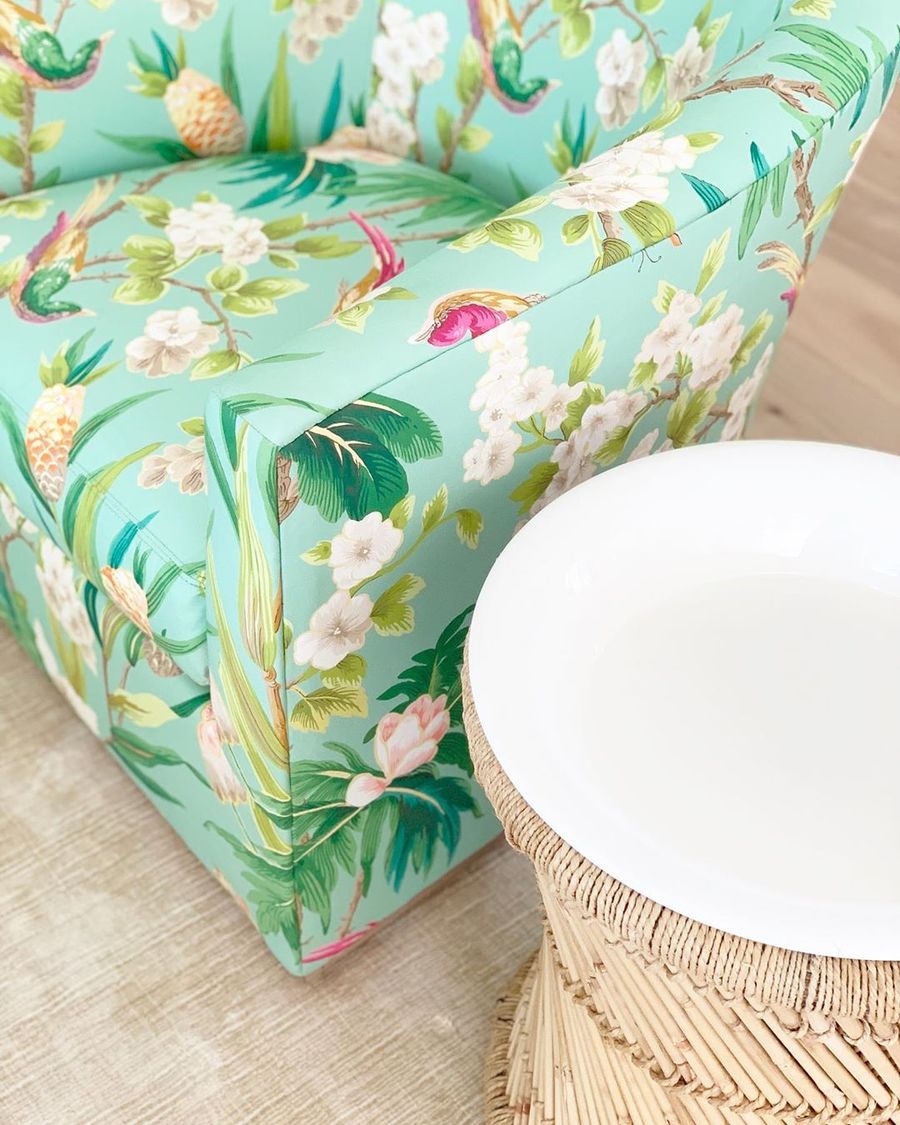 You can find tropical accent chairs in the traditional square shape, a round shape, and rectangular shapes. Tropical accent chairs often have wood legs in either a medium or dark finish.
Another option is a standard lounge chair with a beautiful tropical pattern sewn all around it. Tropical upholstery is usually very colorful and bright and strays away from the natural wood-colored theme of the other materials.

A fun idea is to have a tropical chair that swings by a chain in the ceiling! Hanging chairs fit in great with tropical interiors.
For a casual boho tropical vibe, try sitting directly on the floor using brightly colored floor cushions.
The very popular Papasan lounge chairs can also be used as accent chairs in different spaces, they can be bought in tropical patterns, as well as various wickers and woods.
No matter the color palette for any room, a tropical accent chair can almost always enhance the space. These chairs come in a wide range of pricing, and even though some can be quite expensive, you can almost always find another one similar for a better deal, making these chairs perfect for any design budget.
If you are working on a space with a tropical theme, consider adding tropical-style accent and lounge chairs. These chairs will be just what you need to complete the perfect tropical look!
Why You Need Accent Chairs
Accent chairs in any space can bring an extra seating element to the room. Accent chairs are also very versatile and can be placed virtually anywhere, but they're most often found in living rooms and bedrooms. They can be a single piece in the corner of a room with a side table and a tasteful lamp. They can also be placed at the focal point of a room as a set with a coffee table between them.
If you have an empty corner space somewhere, add an accent chair and see how the space changes. There are also accent chairs that can be placed outside on a patio or in a greenery room.
Shopping for accent chairs can be exciting and a bit overwhelming. They are sold in a variety of stores from furniture stores to places that sell a little bit of everything.
More Tropical Decor Ideas
I hope you found the perfect tropical lounge chairs for your home! Keep reading about how to decorate in the tropical style with these recent related posts: