Looking for the best coastal kitchen decor ideas and inspiration? Decorating the kitchen in your beach or summer home can be tricky. Some people just paint the cabinets blue in their kitchen and call it a day, but there are so many different ways to decorate a kitchen in the coastal style that it's worth taking a closer look at what you can do.
We've rounded up several modern coastal kitchen images to show you the variety of decorating styles you can be inspired by. From sea-glass backsplash to white rattan chairs, there are lots of unique decorating ideas in this post. Coastal decor doesn't have to be complicated and these modern kitchens are a testament to that.
Coastal Kitchens
Let's get started with some of our favorite beach home kitchen designs.
1. Blue Open Shelving
Open shelving can help kitchens feel light and airy – just the feeling you want in a summer home kitchen.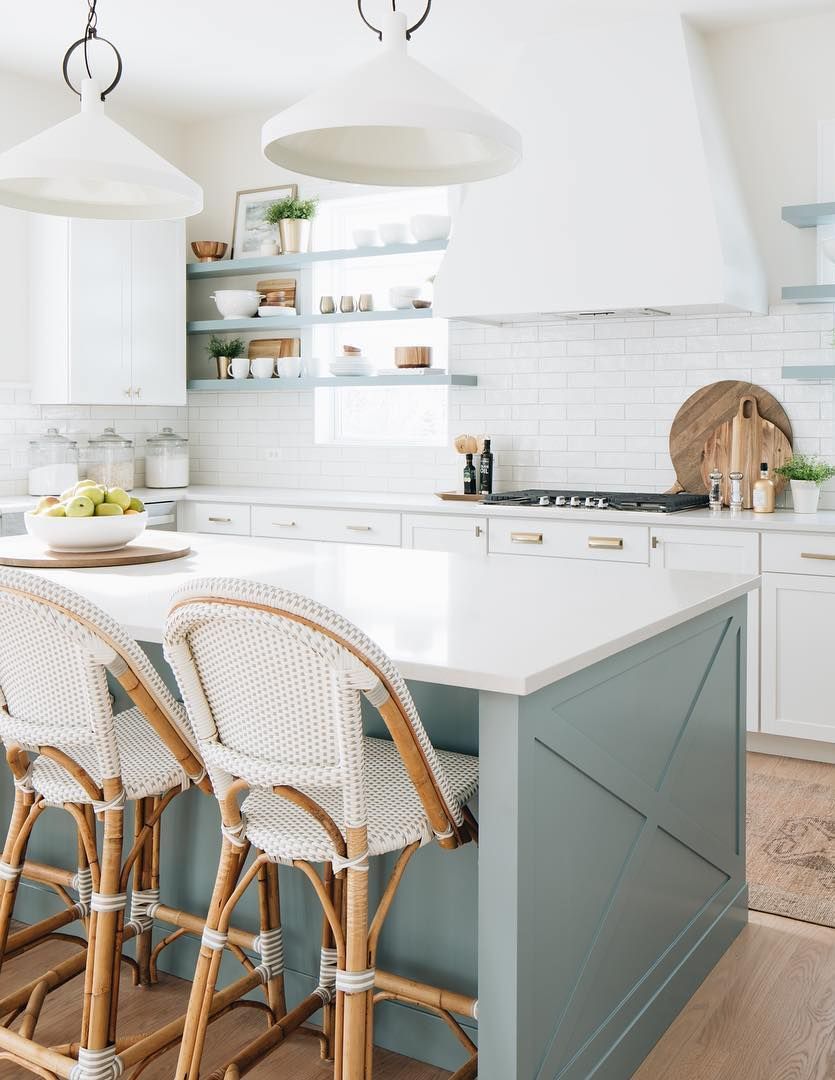 2. Modern Minimalist Vibe
Keep it simple with blue-gray cabinets and a pretty pearl backsplash.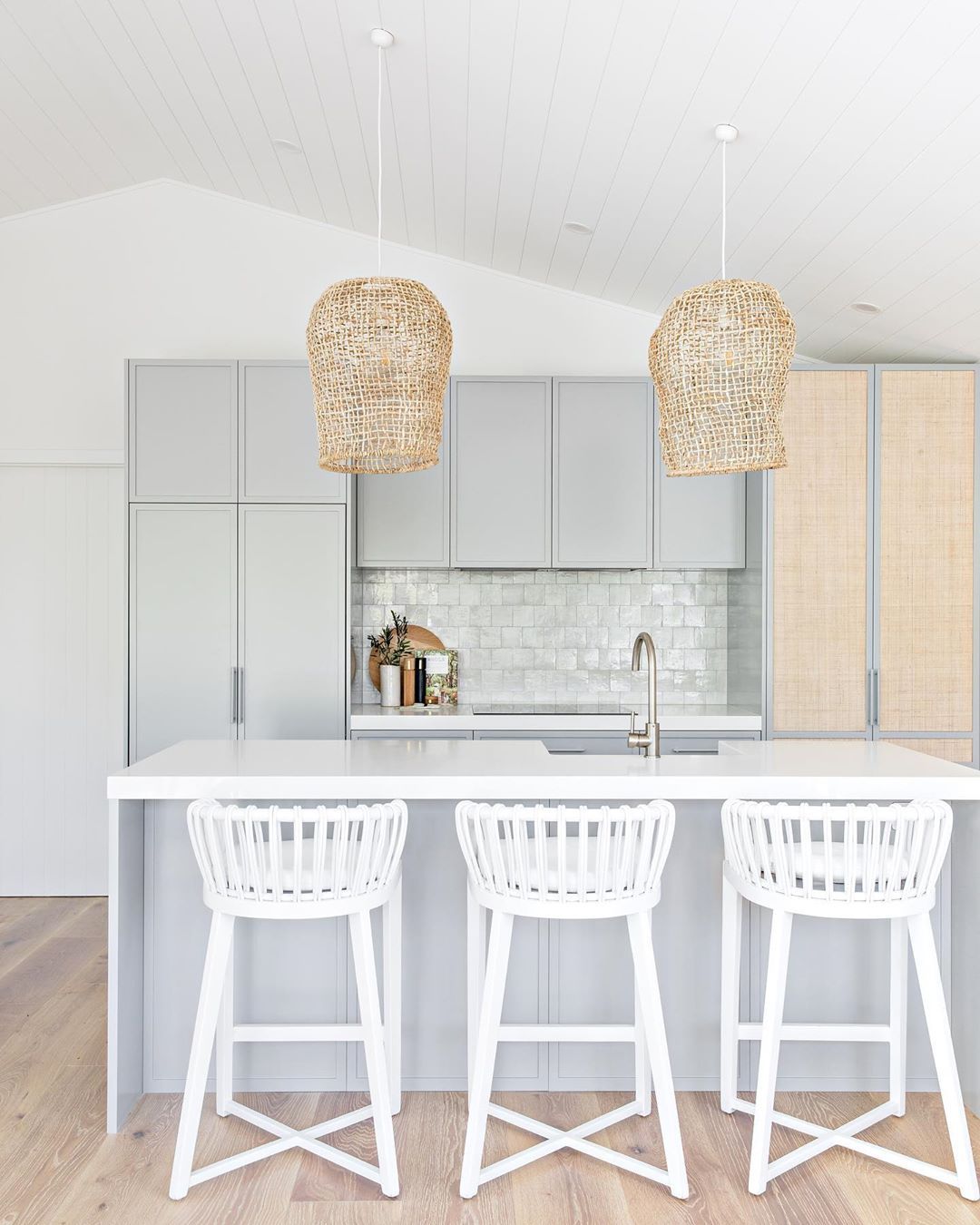 3. Rattan Pendant Lights and Palm Decor
Rattan pendant lights are a huge trend in coastal decor right now!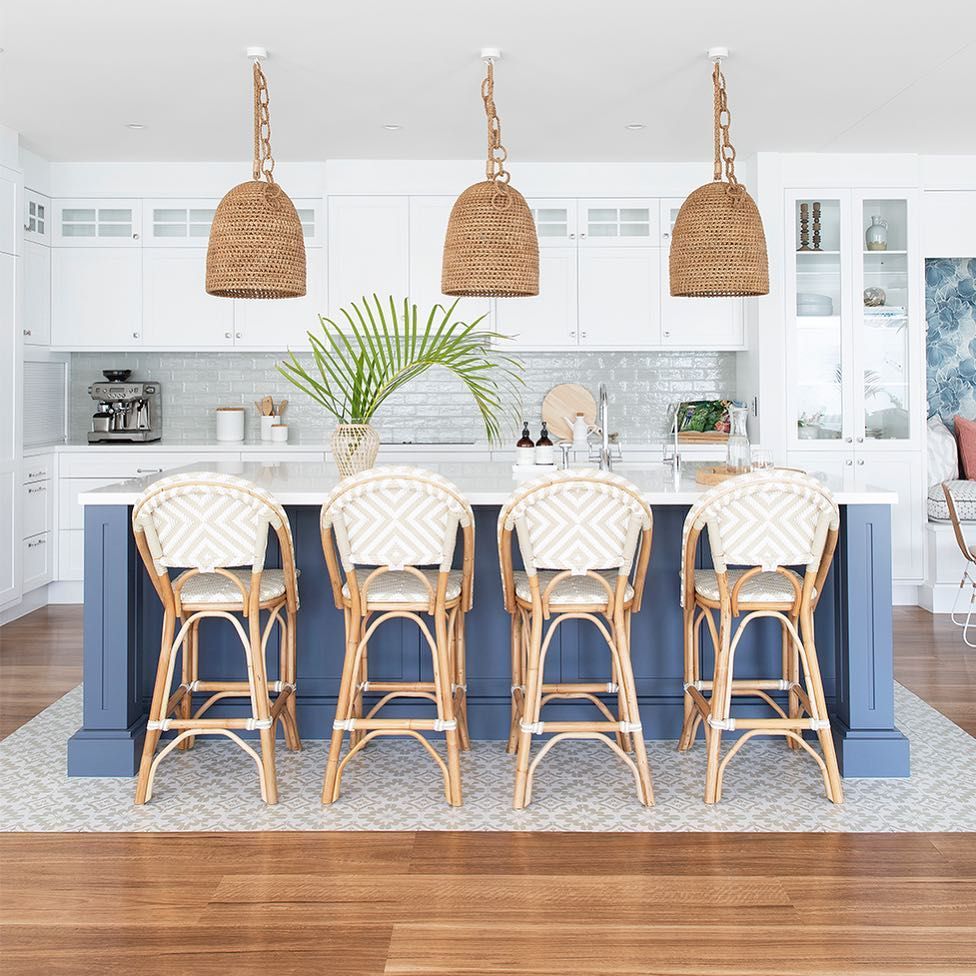 4. Navy Apron Sink
Most sinks are silver or white. Why not have some fun by picking a navy apron sink like this one?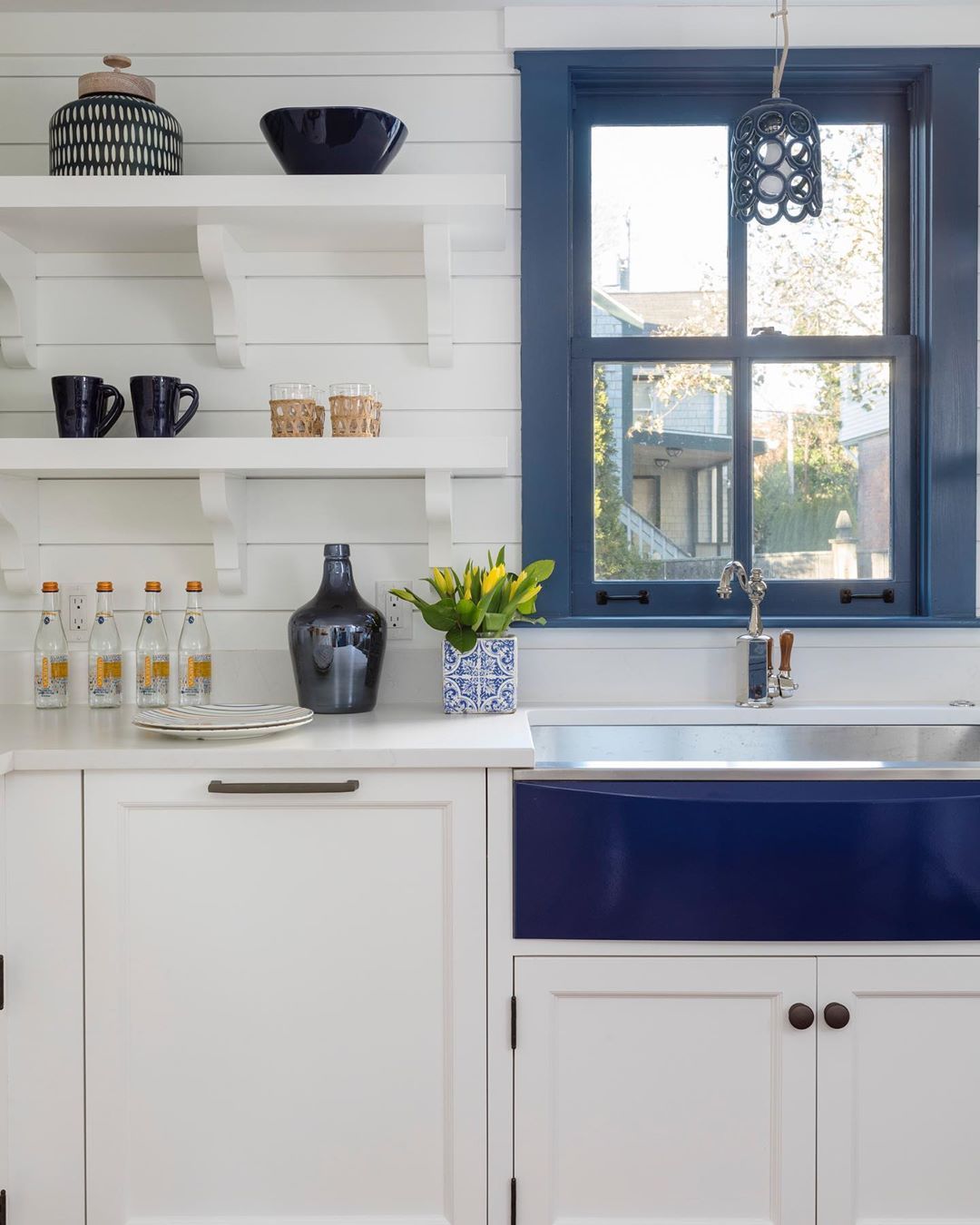 5. Sea Blue Kitchen Island, Stripe Rug and French Bistro Counter Chairs
I love the various shades of blue in this kitchen. Don't be afraid to play with light and dark shades. The counter chairs from Serena & Lily are just divine, too. Check out more of the best French bistro counter chairs, too.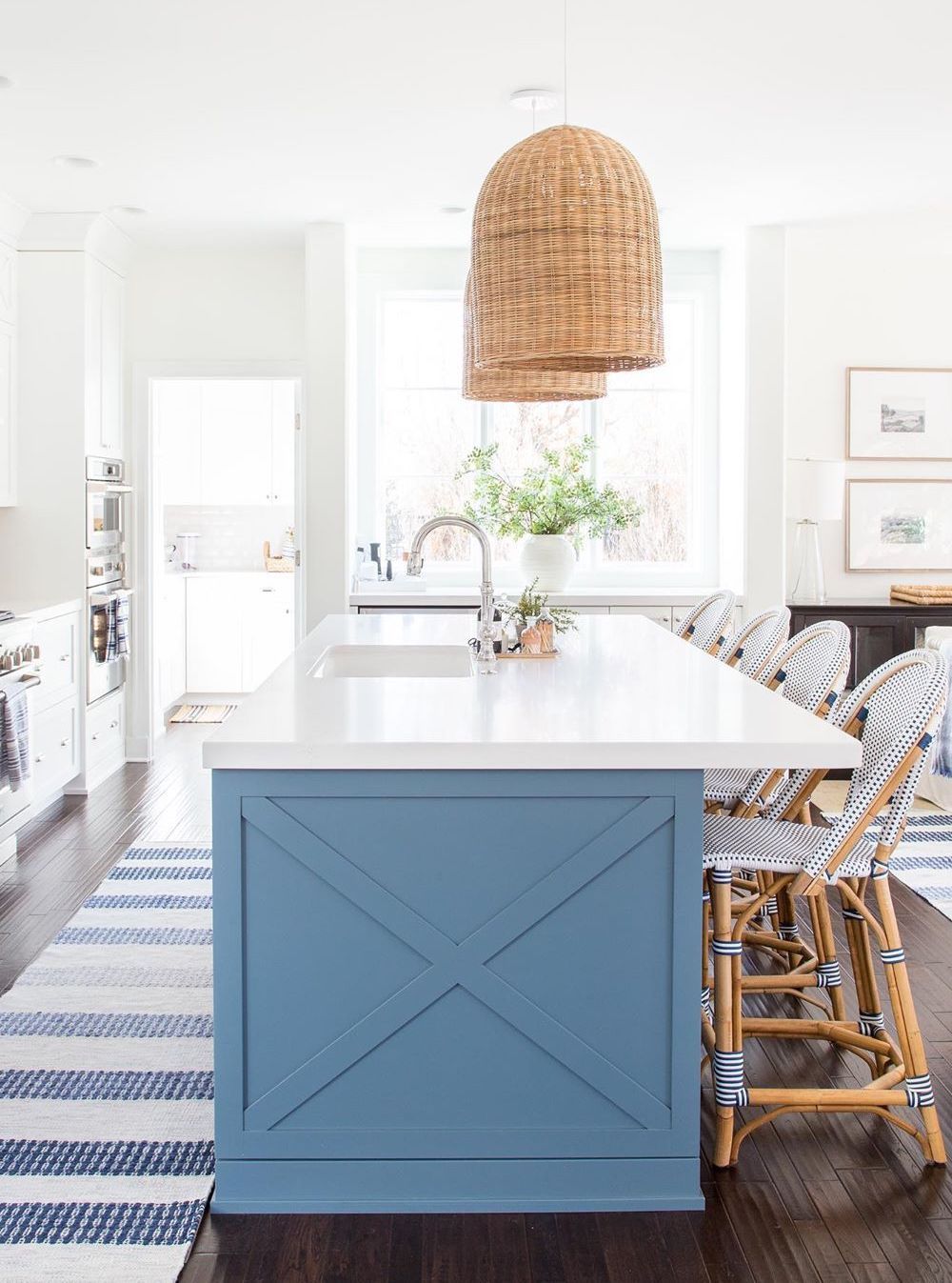 6. Striped Folding Beach Counter Chairs
I just love these unique modern coastal striped counter chairs.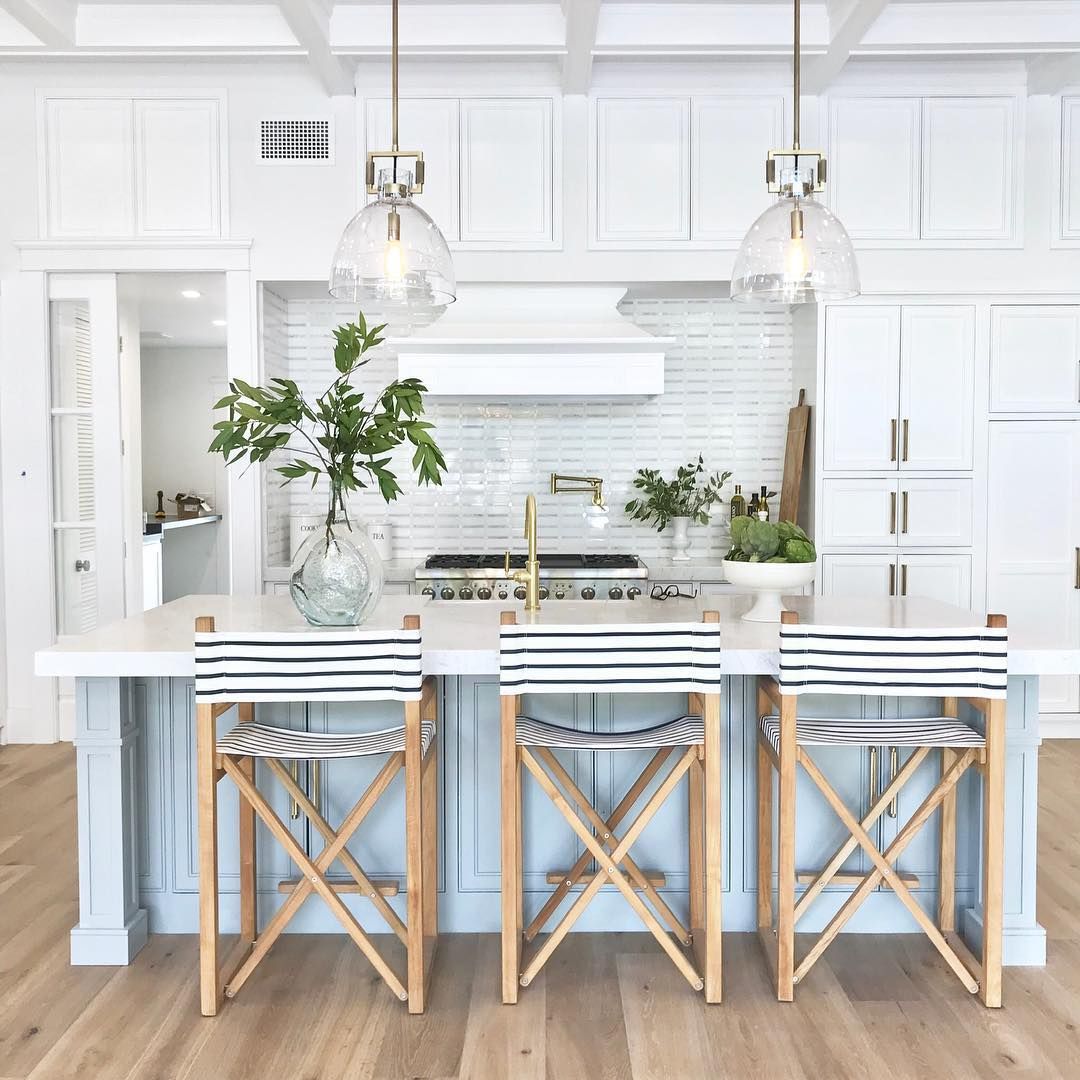 7. Bistro Counter Chairs and White Shiplap Backsplash
White shiplap is the perfect backsplash for this kitchen!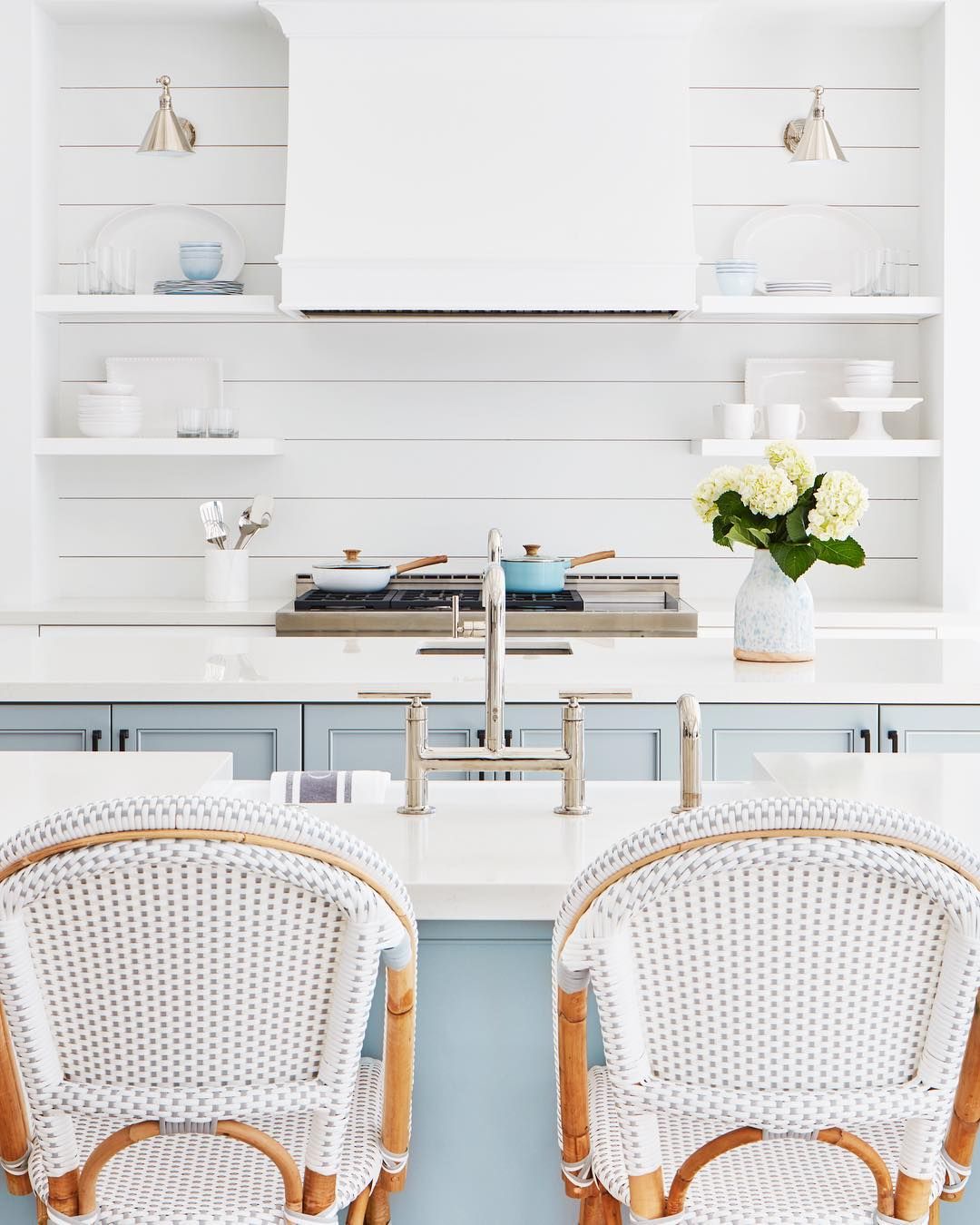 8. Fish Scale Tiles
I love the look of fish scale tiles (also called scallop tiles) and they are so subtle in this kitchen.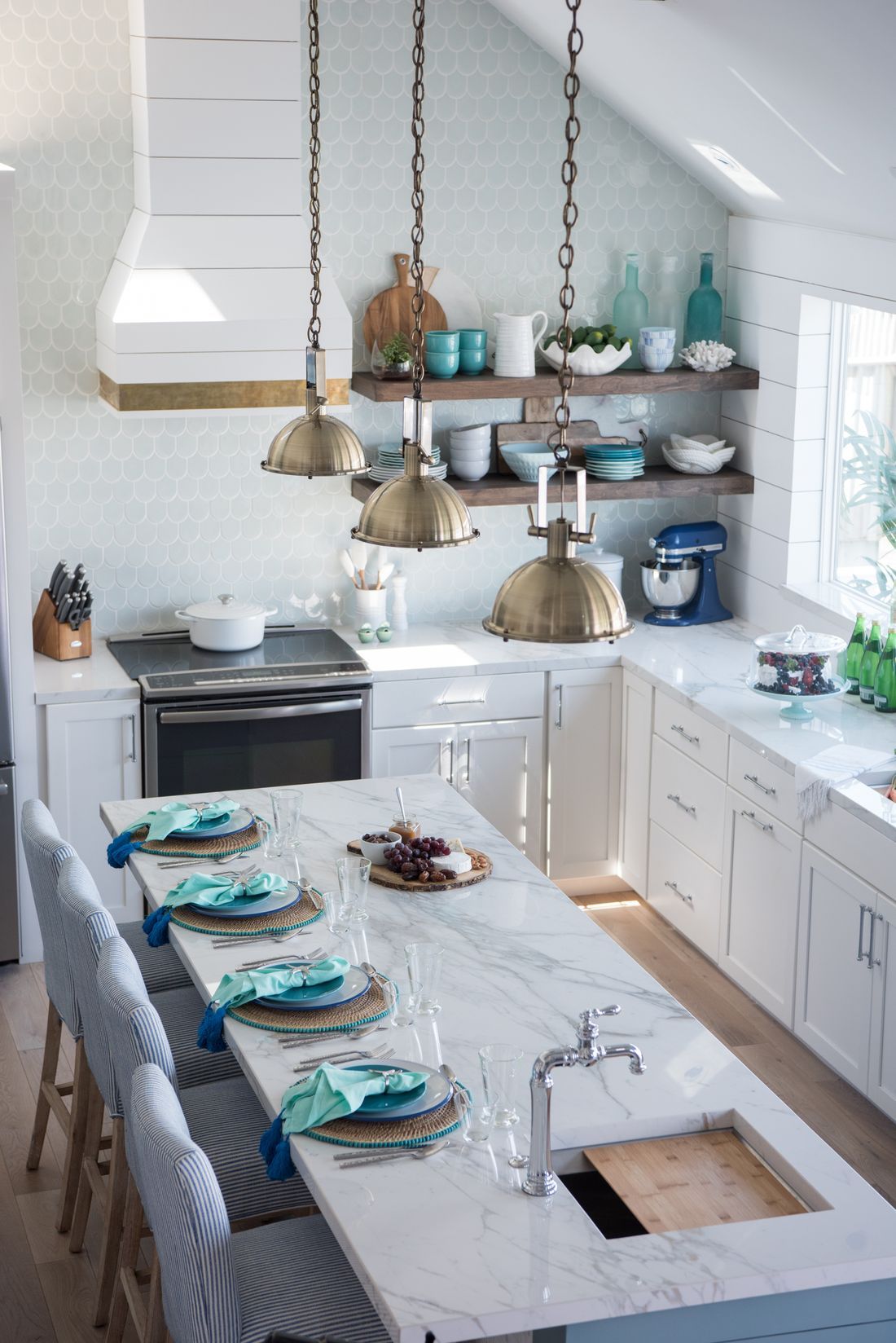 9. Navy Cabinets
Since dark cabinets can make a room feel heavy, I'd recommend going with navy cabinets for your coastal kitchen only if it is very well lit by plenty of windows!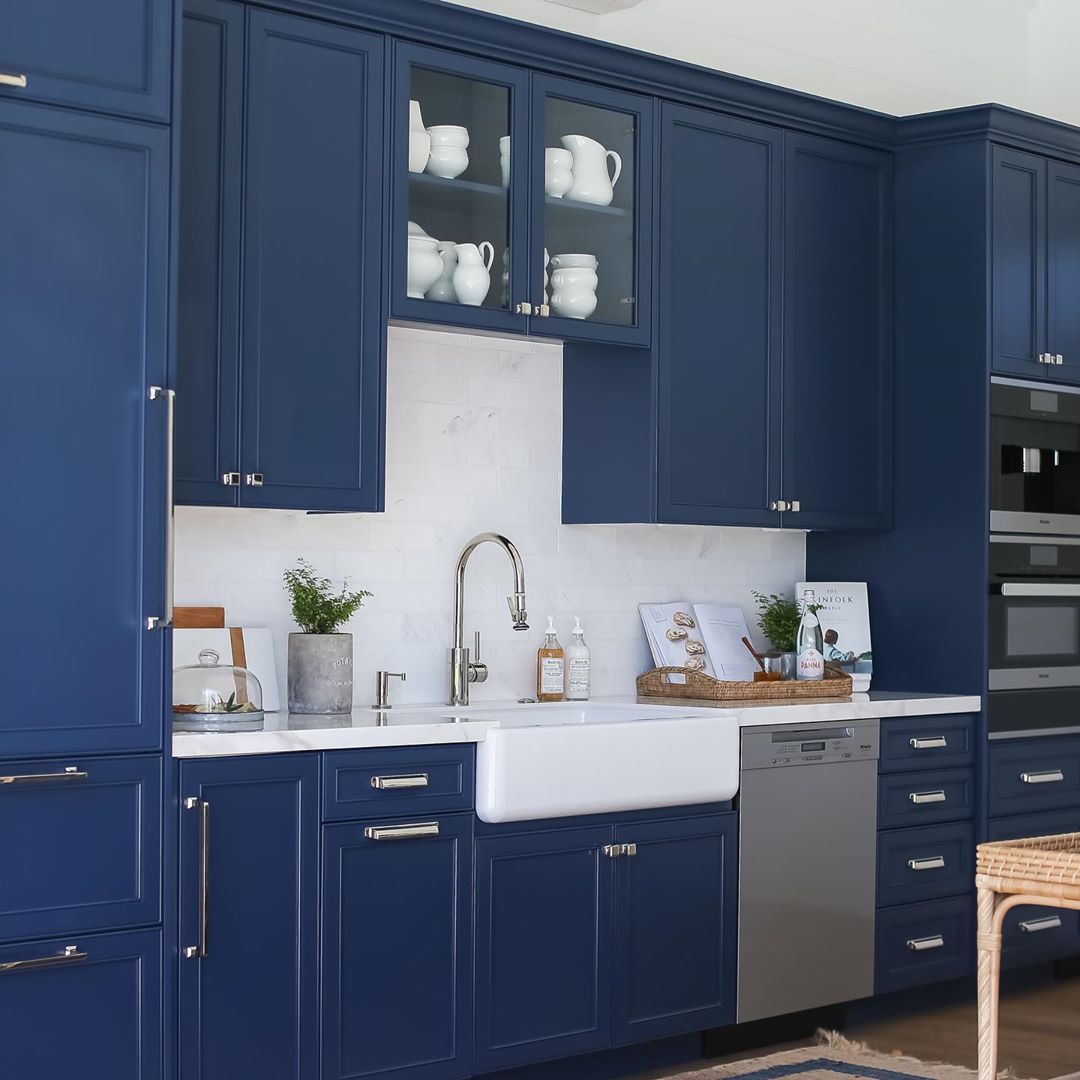 10. Blue Patterned Tile Backsplash
If you have a white kitchen, then adding a fun patterned backsplash tile can give it some character.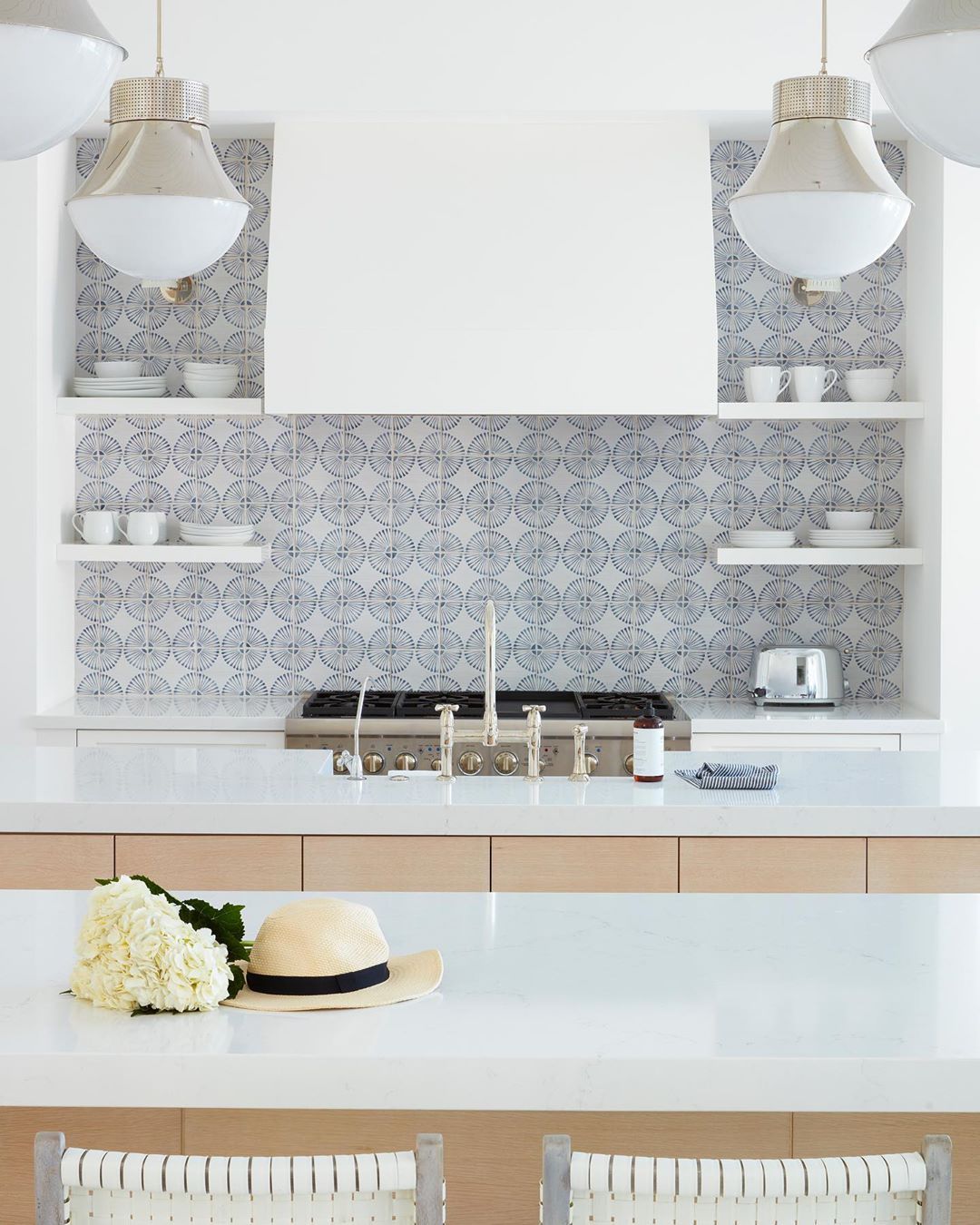 11. Glass Cabinets and Colorful Tableware
I love the idea of displaying blue and green tableware in glass kitchen cabinets.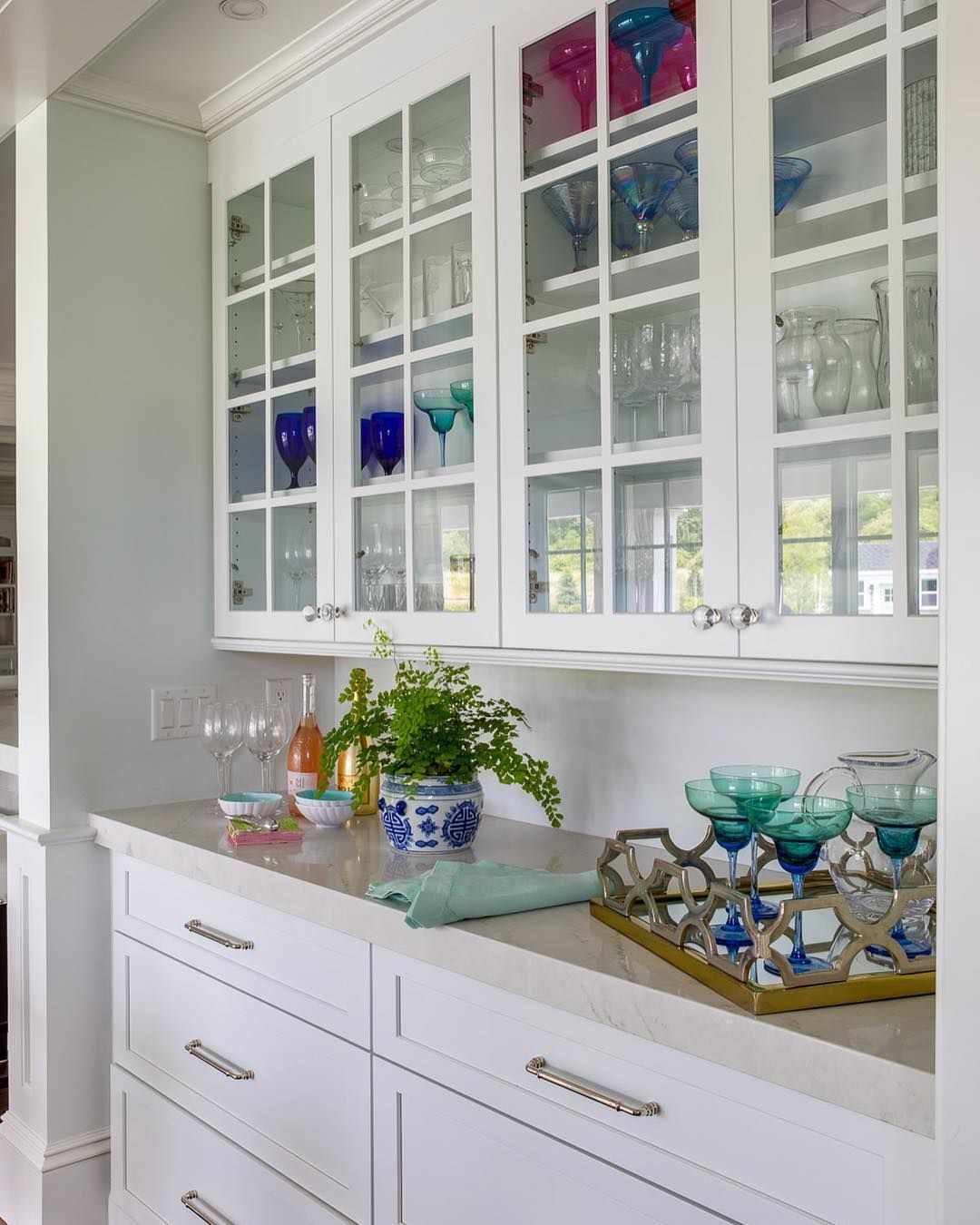 12. Sea-glass blues, greens, and gold backsplash
This backsplash gives a sea-glass effect in all the pastel beach colors!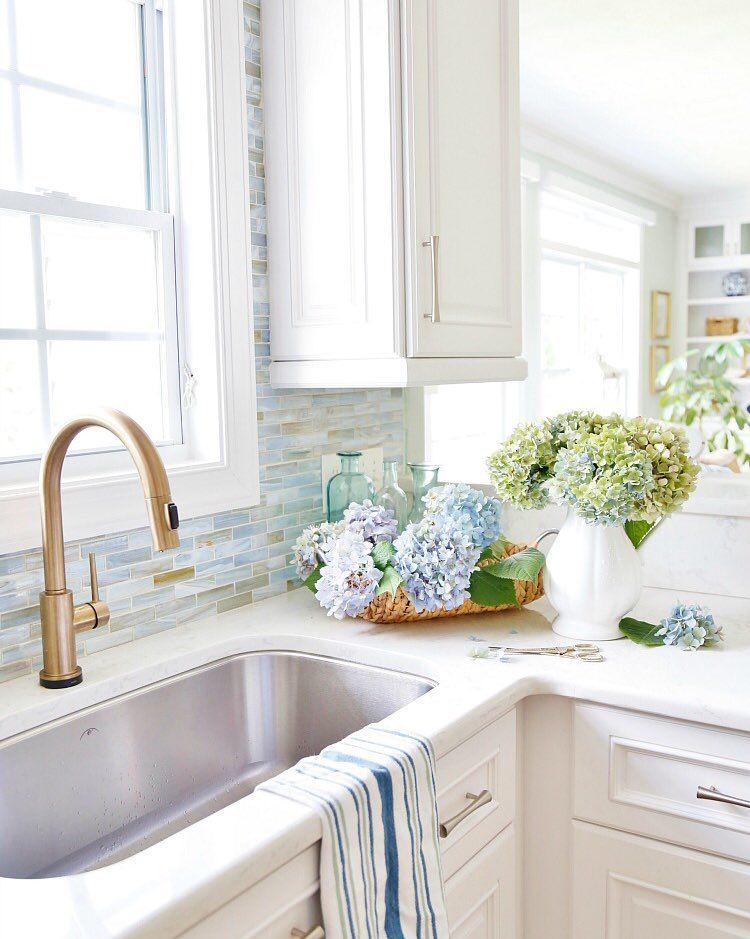 13. White Bistro Counter Chairs
Simple white bistro counter chairs are a solid seating choice.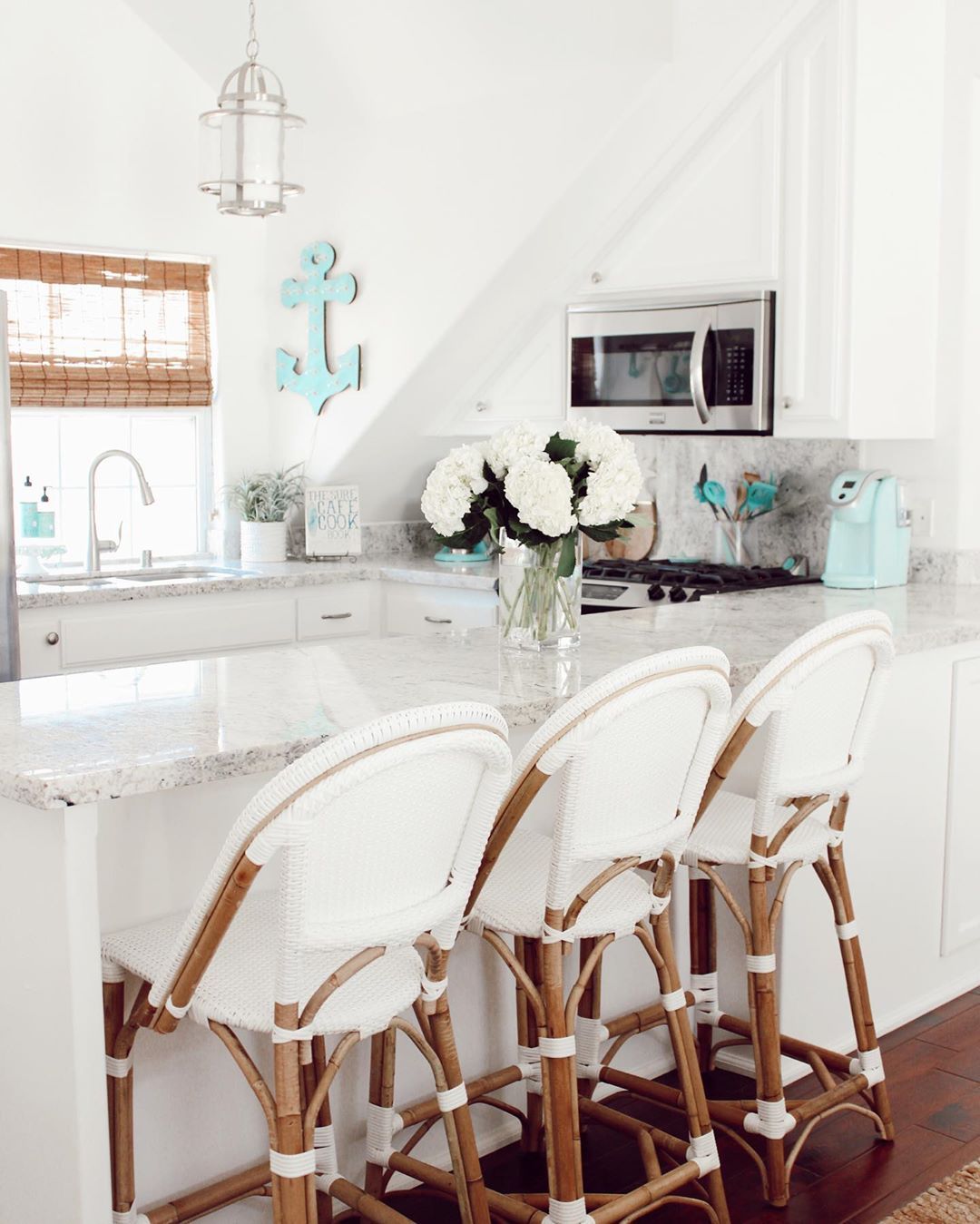 14. Pastel Blue Counter Chairs
Blue counter chairs for the win.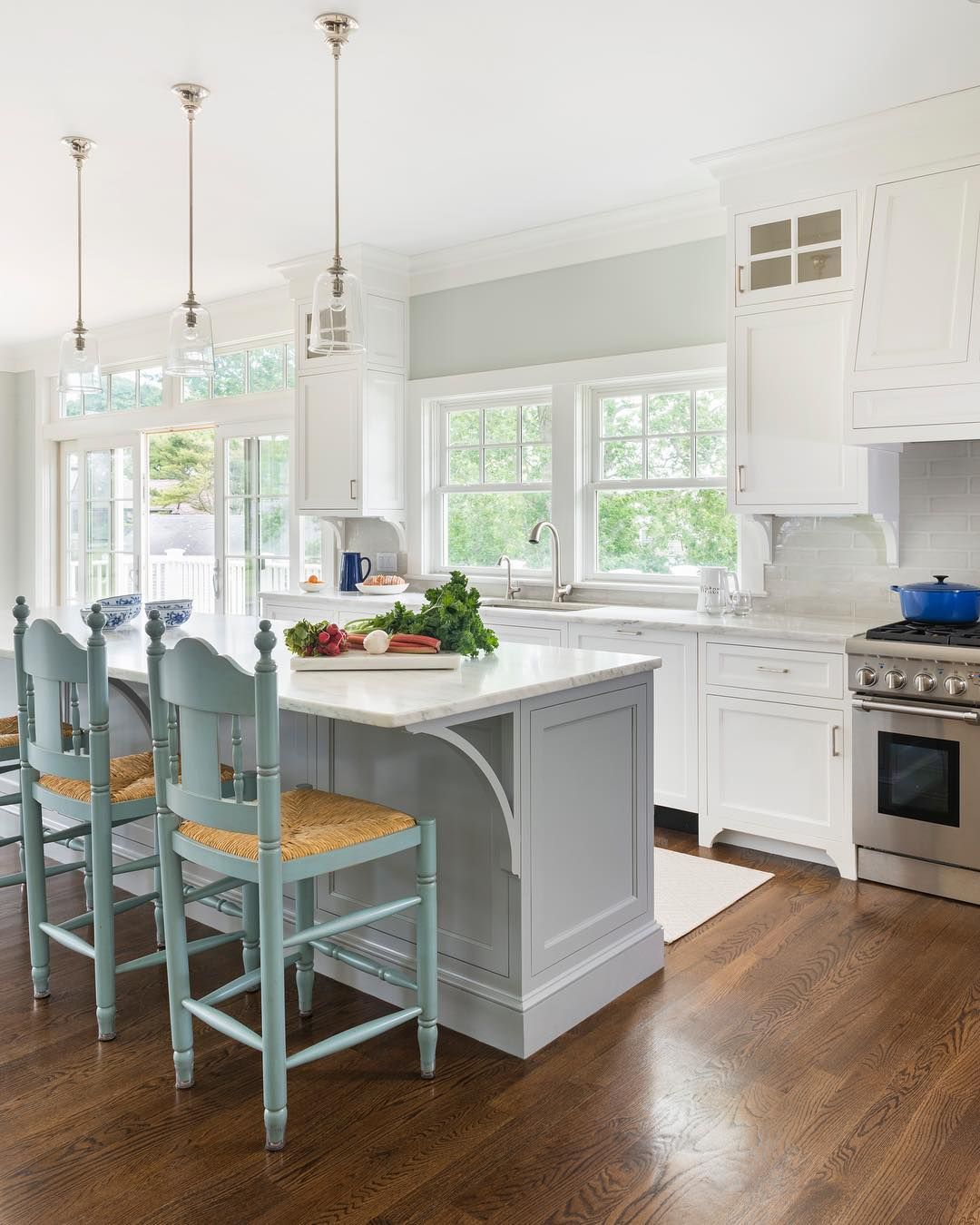 15. Sea Blue Subway Backsplash Tile
Subway tile is a versatile choice that everyone is sure to love.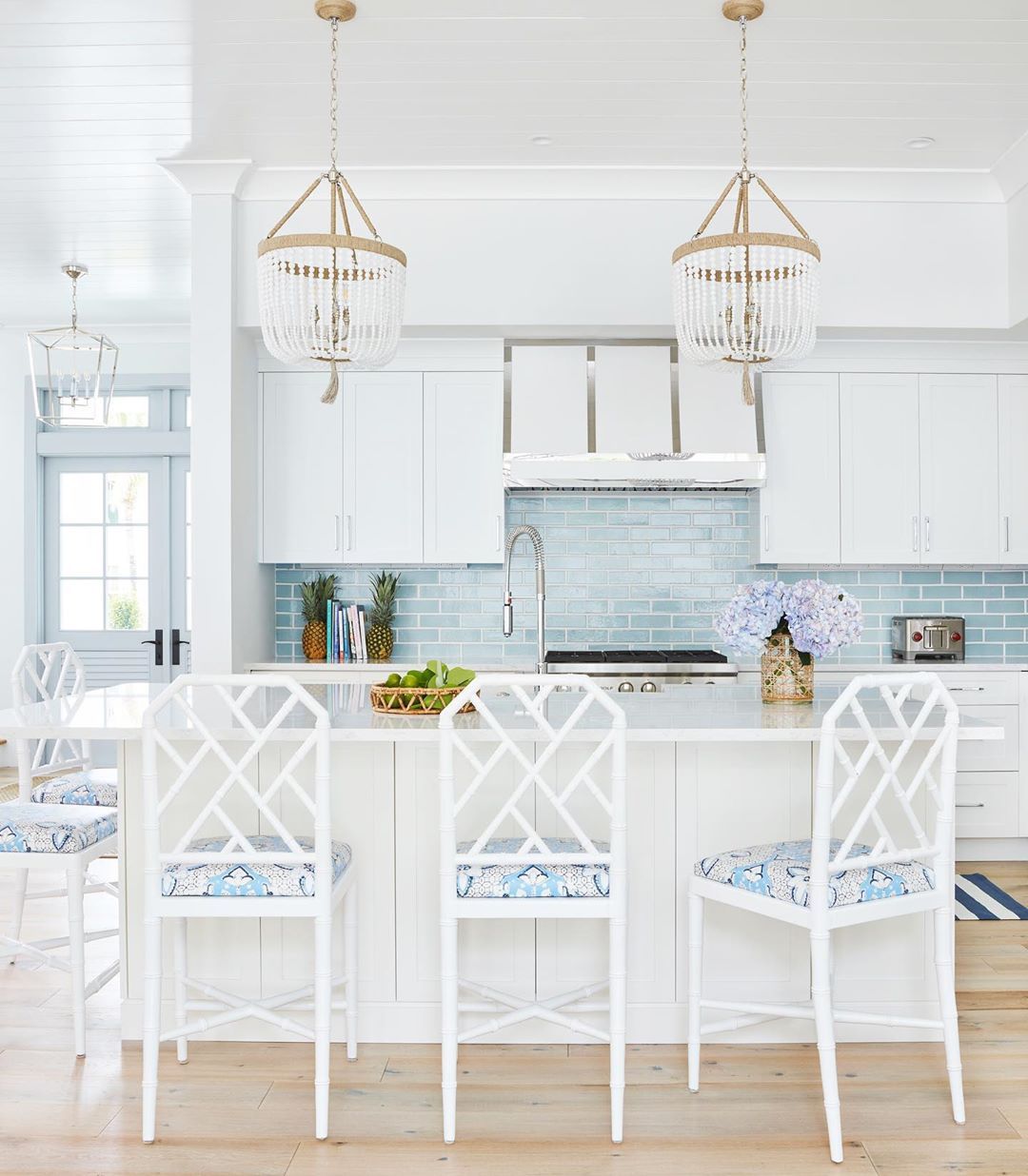 16. Blue Island
When in doubt, go with a blue kitchen island!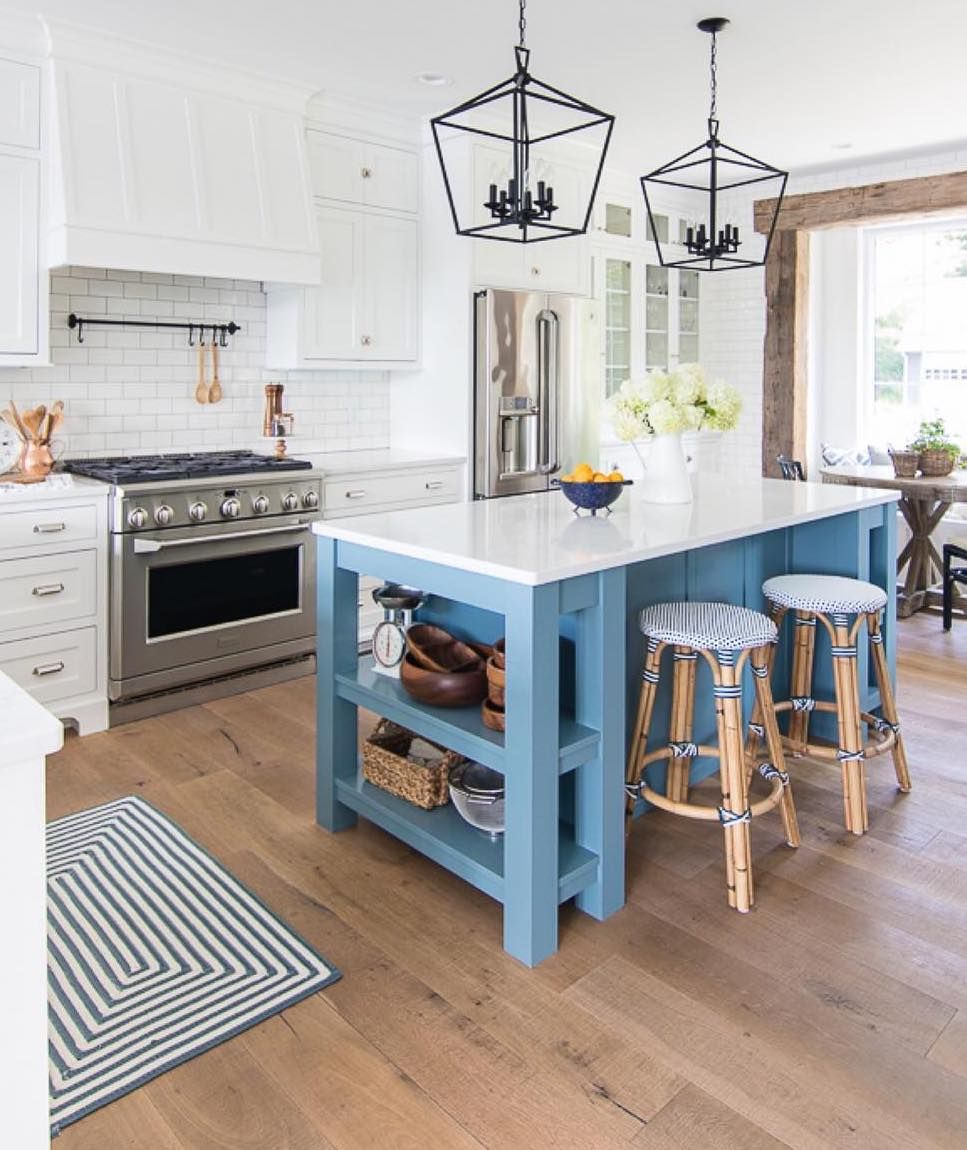 17. Soft Blue Gray Cabinet Color
Not everything has to be bright blue. This soft blue-gray cabinet color is relaxing on the eyes.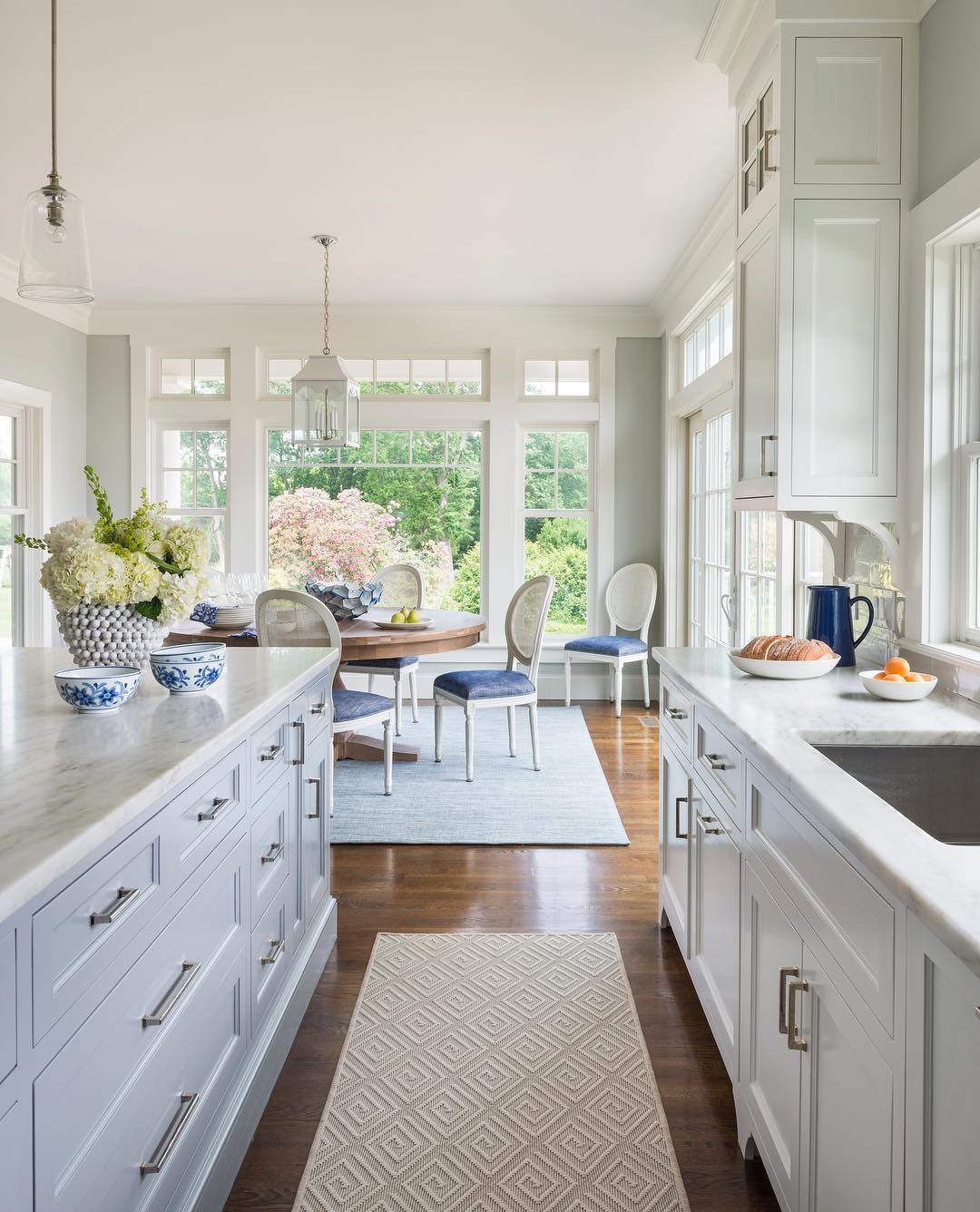 I hope these coastal kitchen decorating ideas inspired you to design the kitchen of your dreams!
More Coastal Decorating
Here are a few useful articles you may wish to read. A few of these types of products were mentioned in this article so I thought I'd link them below!
We also have decorating guides to other rooms in your beach home! Check them out here:
Happy coastal curating!
Pin this for later: