Looking for the best coastal kitchen decor ideas and inspiration? Decorating the kitchen in your beach or summer home can be tricky. Some people just paint the cabinets blue in their kitchen and call it a day, but there are so many different ways to decorate a kitchen in the coastal style that it's worth taking a closer look at what you can do.
We've rounded up several modern coastal kitchen ideas to show you decorating styles you can be inspired by. From sea-glass backsplash to white rattan chairs, there are lots of unique decorating ideas in this post. Coastal decor doesn't have to be complicated and these modern kitchens are a testament to that.
Modern Coastal Kitchens
Let's get started with some of our favorite beach home kitchen designs for modern homes.
Blue Open Kitchen Shelving
Open shelving can help kitchens feel light and airy – just the feeling you want in a summer home kitchen. This kitchen island has been painted a beachy, sea green color to make it stand out from the white cabinets. White subway tile has been chosen as the backsplash. The Serena & Lily rattan counter chairs are perfect for getting the coastal kitchen style just right!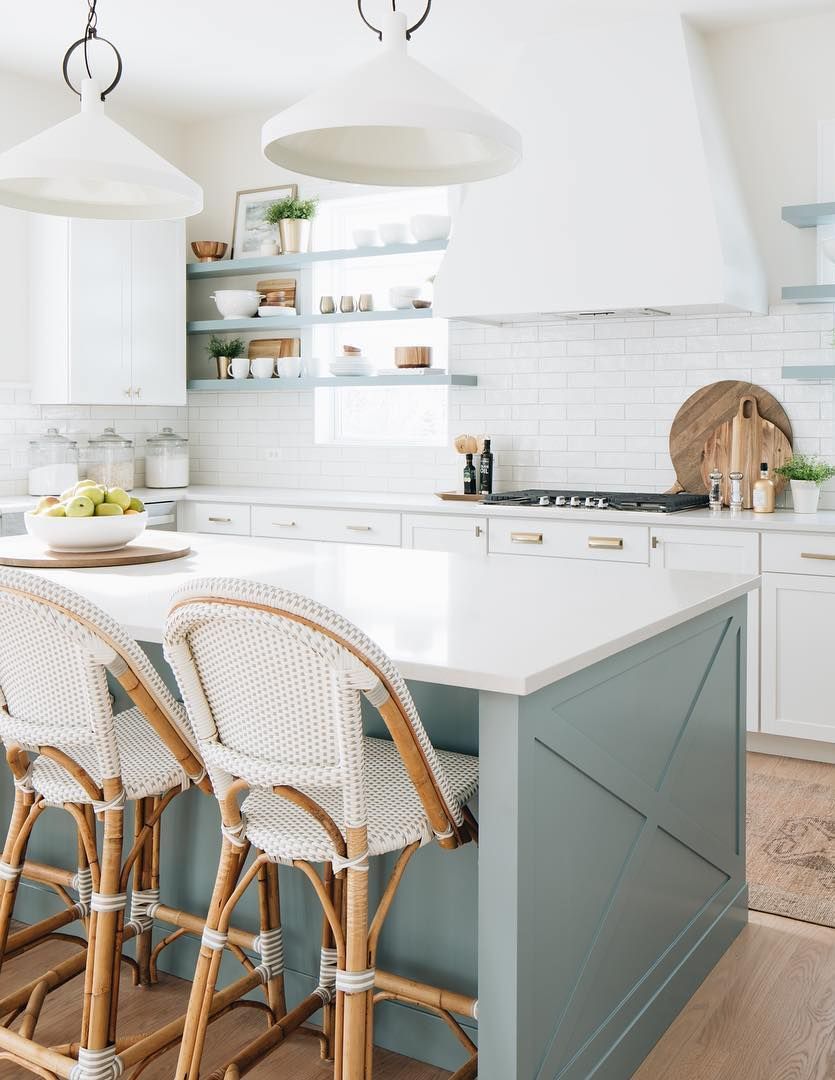 Modern Minimalist Coastal Kitchen
Keep it simple with blue-gray cabinets and a pretty pearl backsplash. Rattan pendant lights are always a winner in coastal homes. I'd also like to take a moment to appreciate the shiplap on the ceiling! That's a great way to add texture to a minimalist space.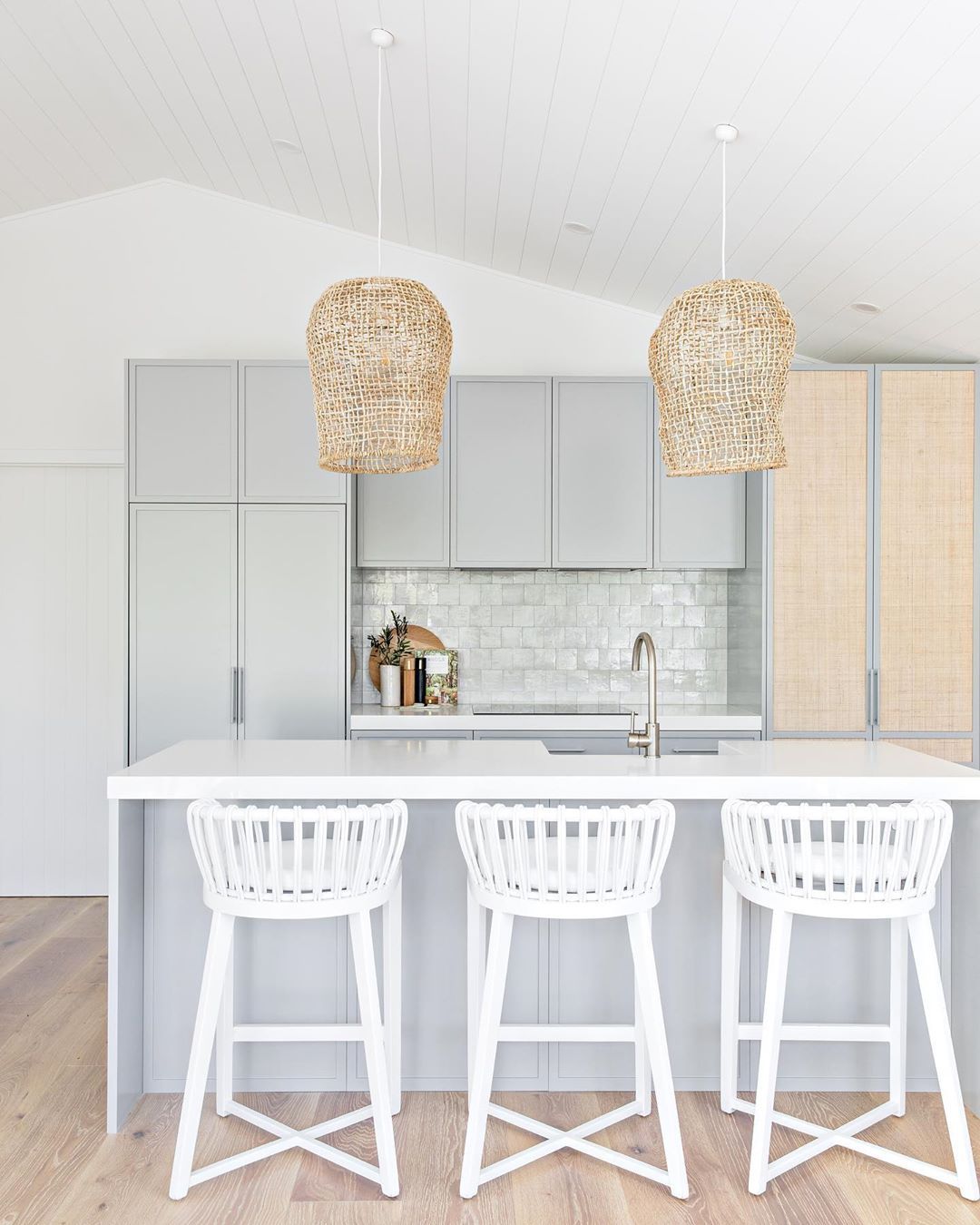 Rattan Pendant Lights and Palm Decor
Rattan pendant lights are a huge aspect of coastal decorating.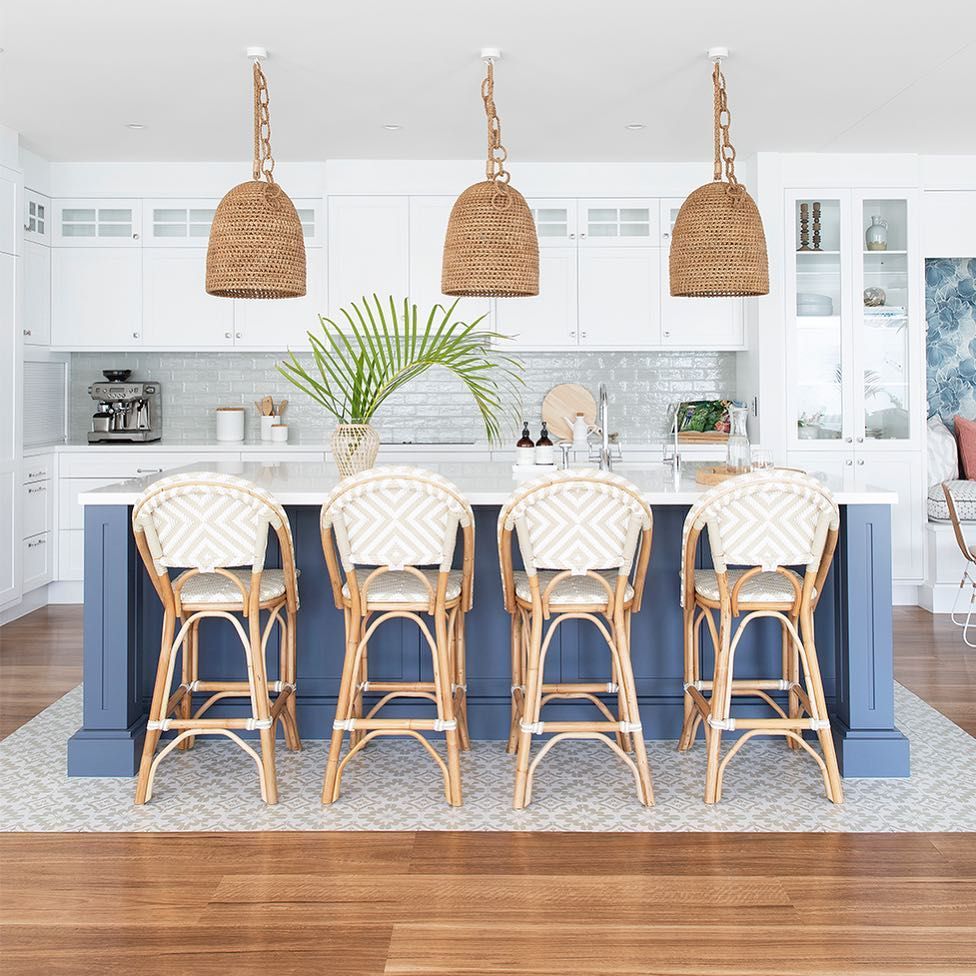 Navy Apron Sink
Most sinks are silver or white. Why not have some fun by picking a navy apron sink like this one?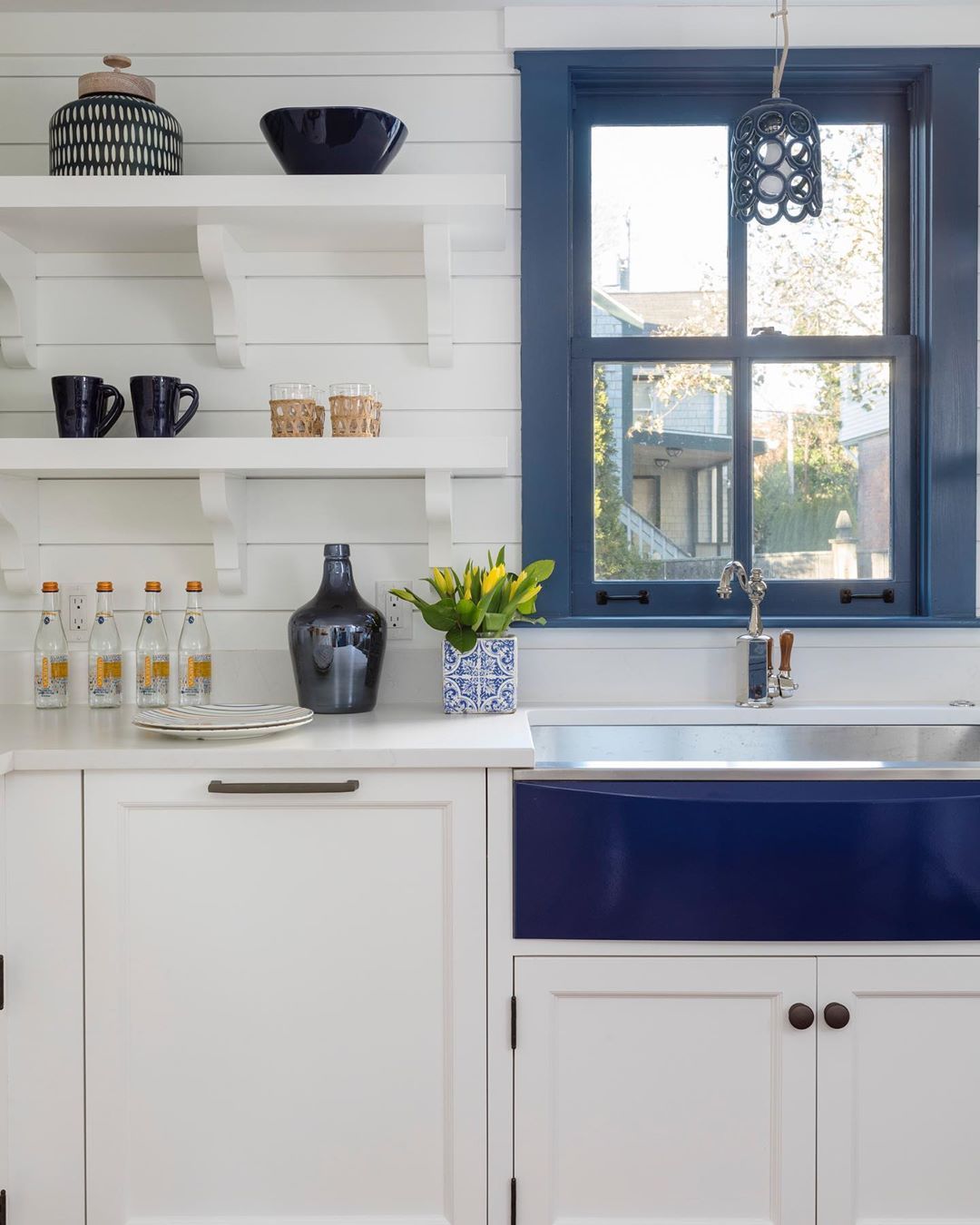 Sea Blue Kitchen Island With Striped Rug
I love the various shades of blue in this kitchen. Don't be afraid to play with light and dark shades. Mix different tones of blue to create the perfect coastal kitchen color scheme. The counter chairs from Serena & Lily are just divine.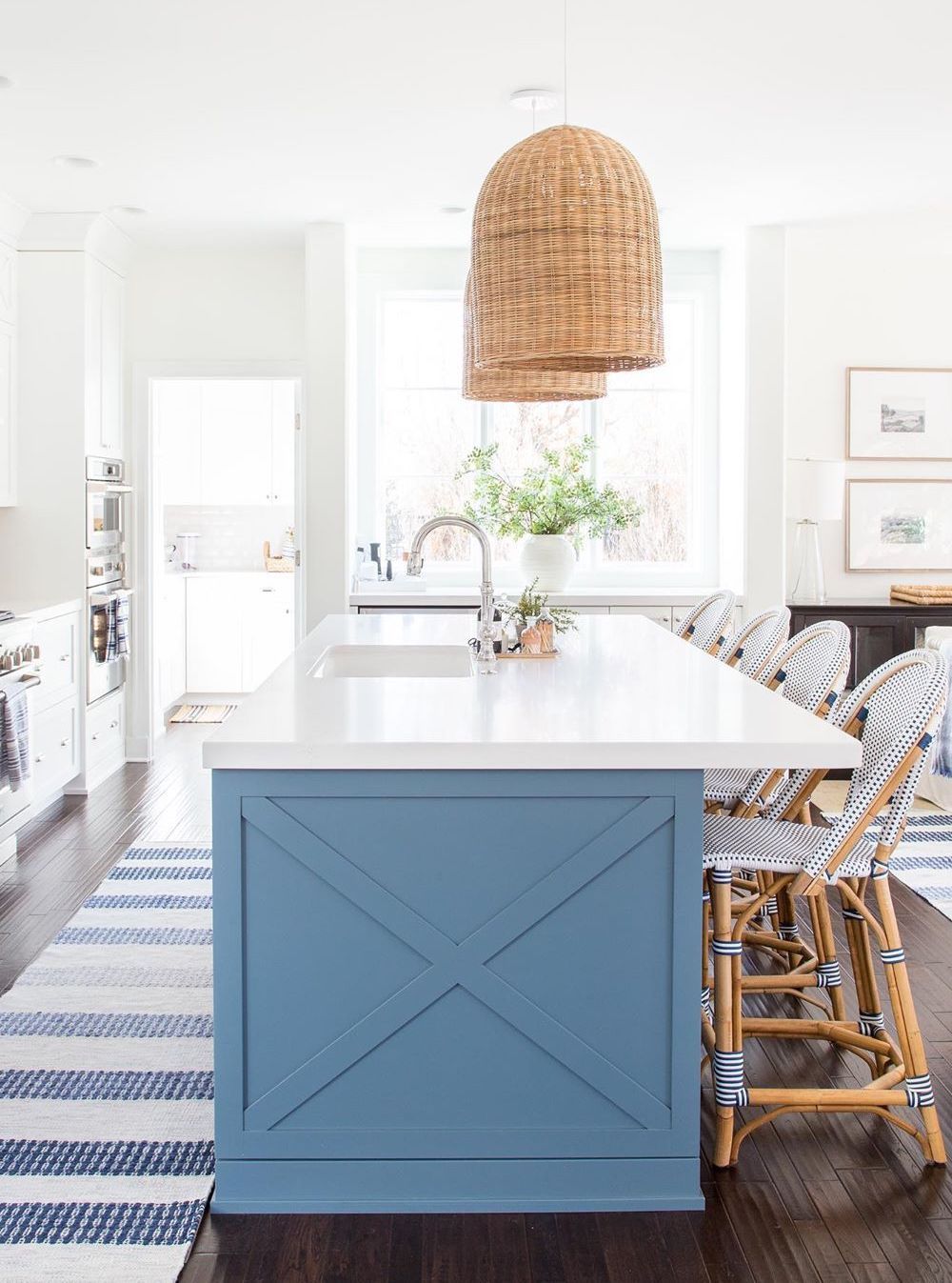 Check out more of the best French bistro counter chairs we recommend.
Mid-Century Modern Coastal Kitchen
This is a great example of how to fuse mid-century modern style into a coastal kitchen design. The light oak cabinets are a tod to retro style. The vertical blue backsplash tiling is very mid-century approved!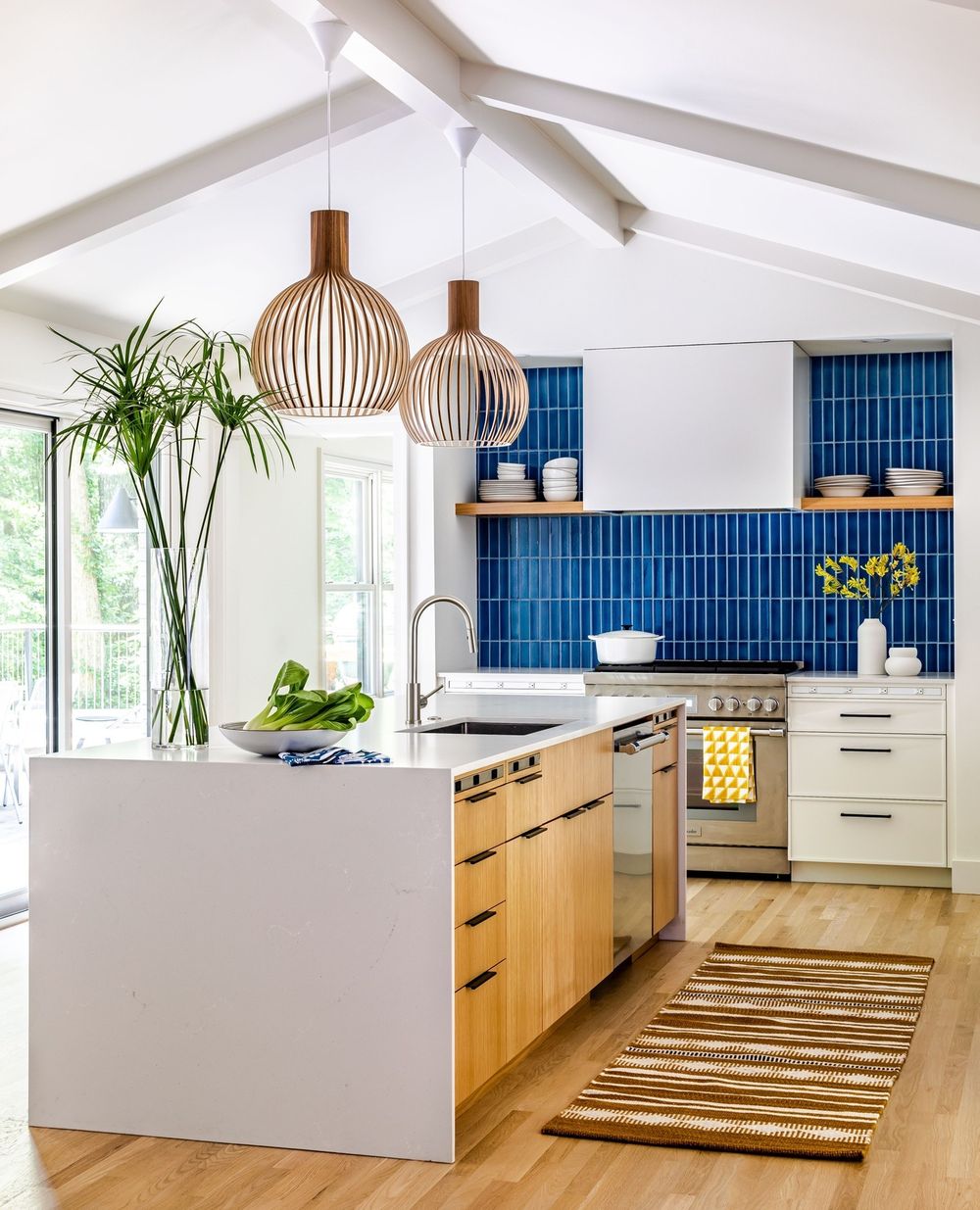 Bold Navy Blue Kitchen Island
This kitchen island makes a bold statement with cobalt blue paint.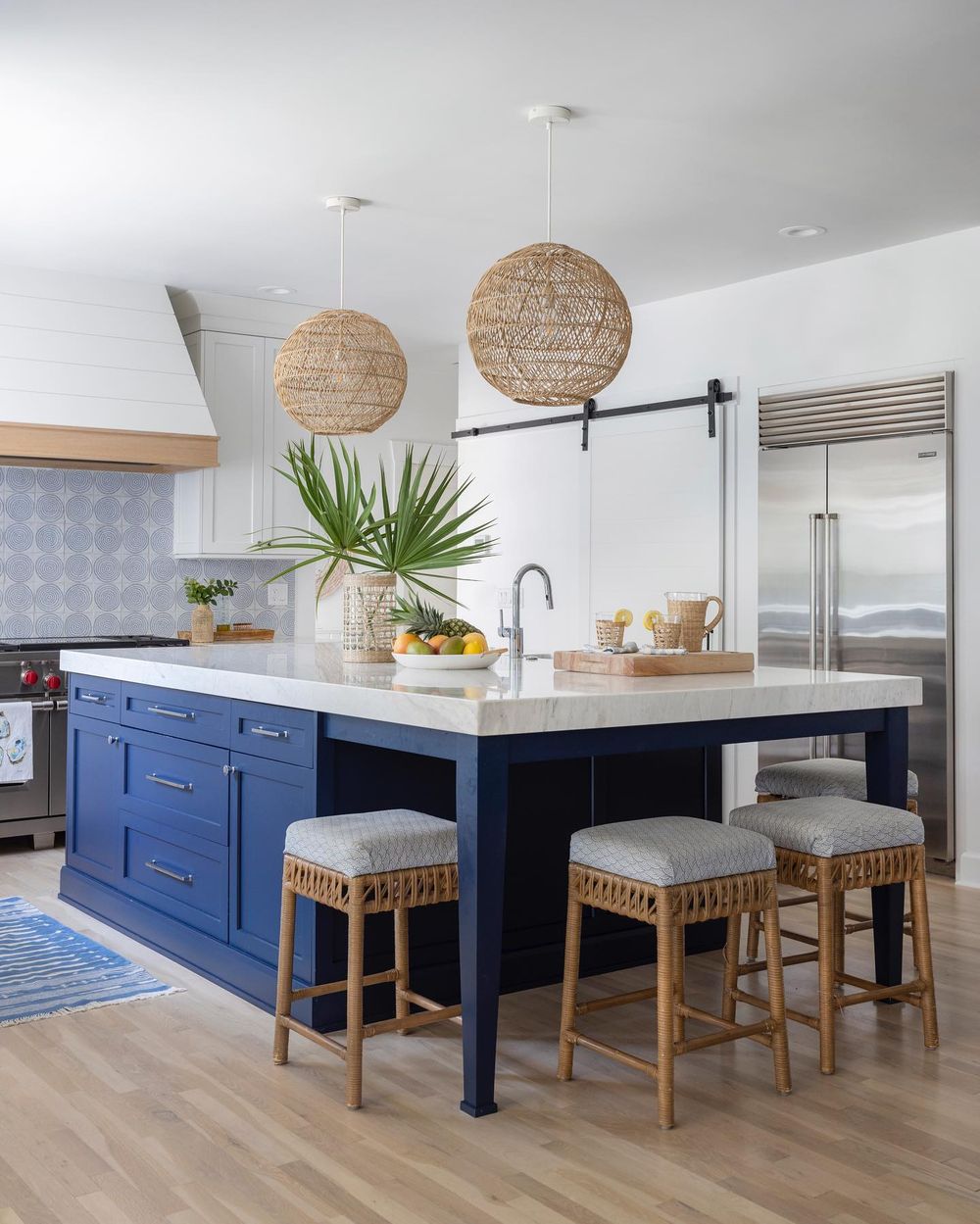 Brown Wood Tones
Using beige and brown tones to warm up this white kitchen was the right move here. A wicker pendant light illuminates the island and the open shelving on the wall keeps this kitchen fresh and airy.
Sea Green Kitchen Color Palette
This kitchen is a great example of how to decorate coastal style without using blue! The designer went with a stunning coastal color palette of sea green, white, and warm brown wood. How refreshing!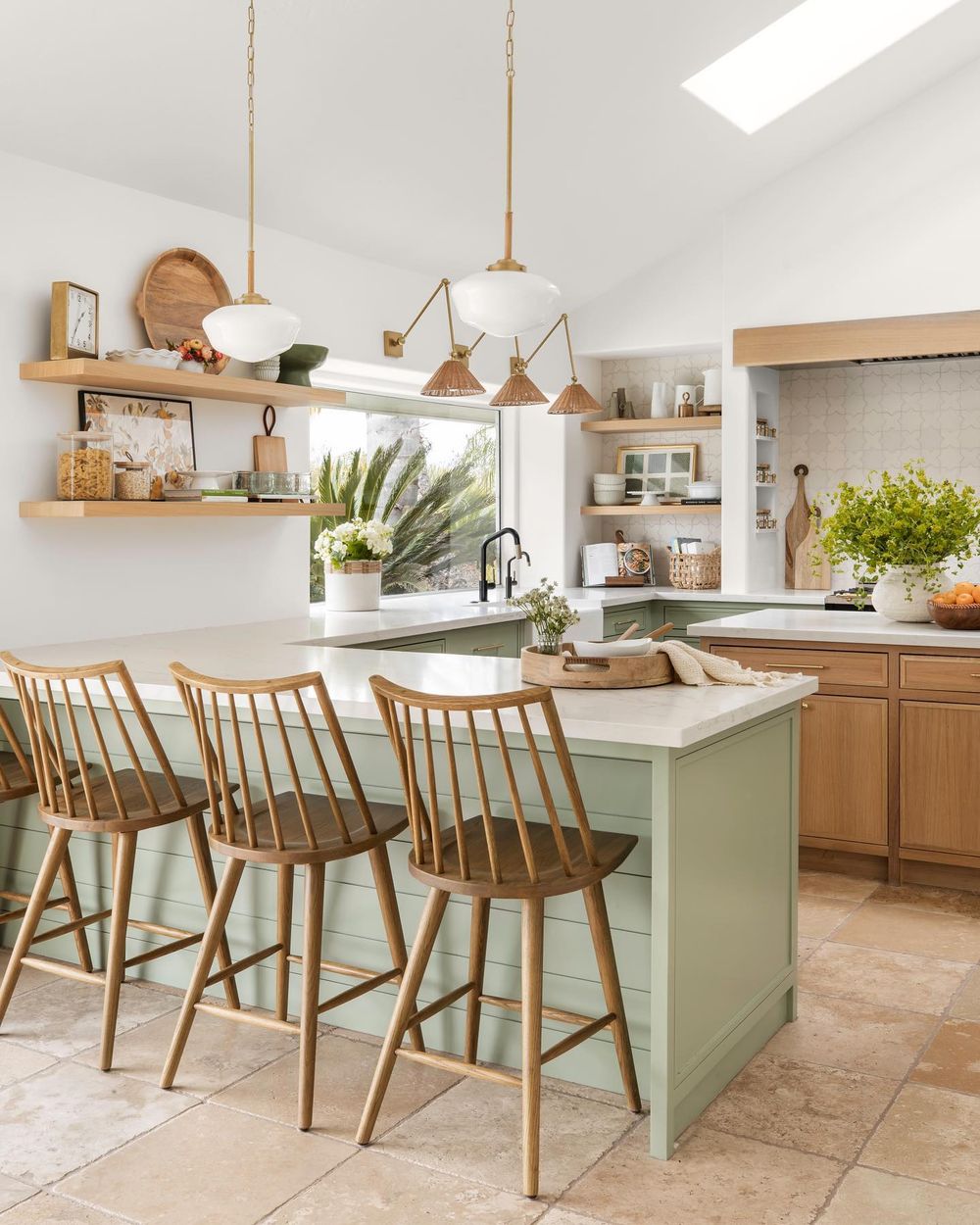 Wood Slat Kitchen Island
I've noticed that slatted wood has become a popular texture for adding new dimensions to walls and kitchen islands. This kitchen design makes great use of the trend! There are also lovely pale green upper cabinets installed in this kitchen, above a long and wide kitchen window.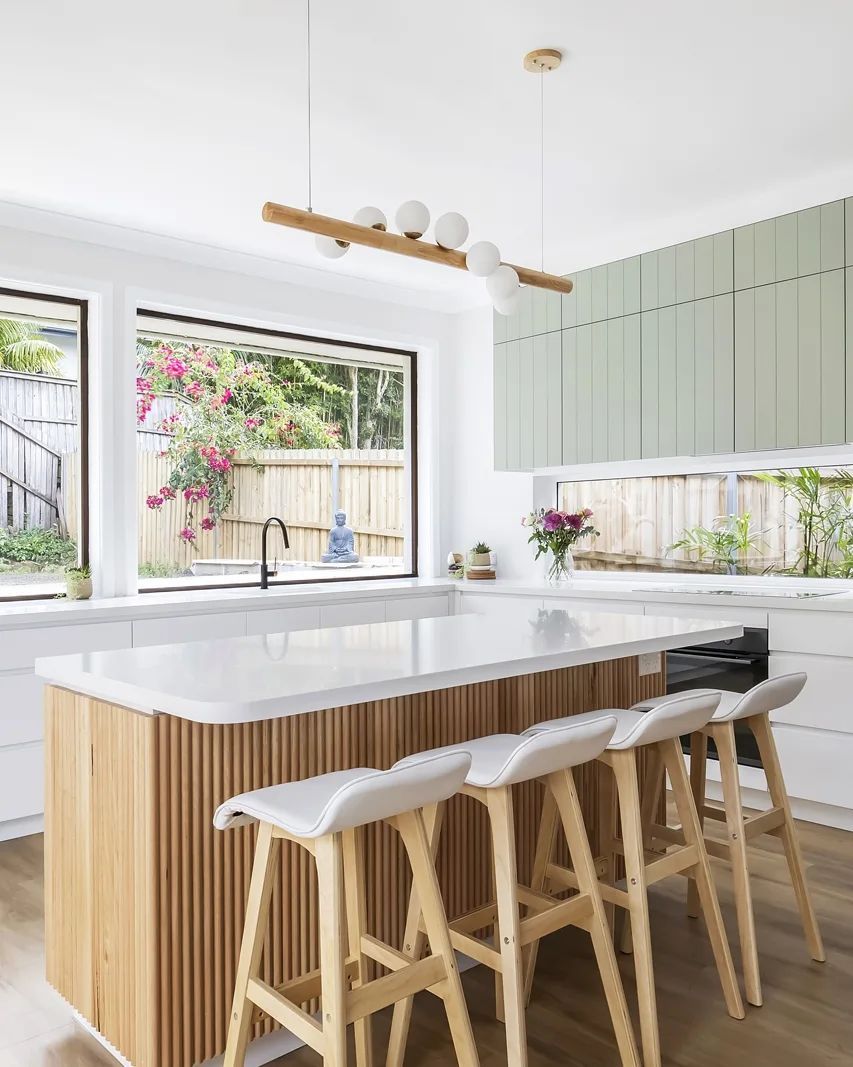 Striped Folding Beach Counter Chairs
I just love these unique modern coastal striped counter chairs.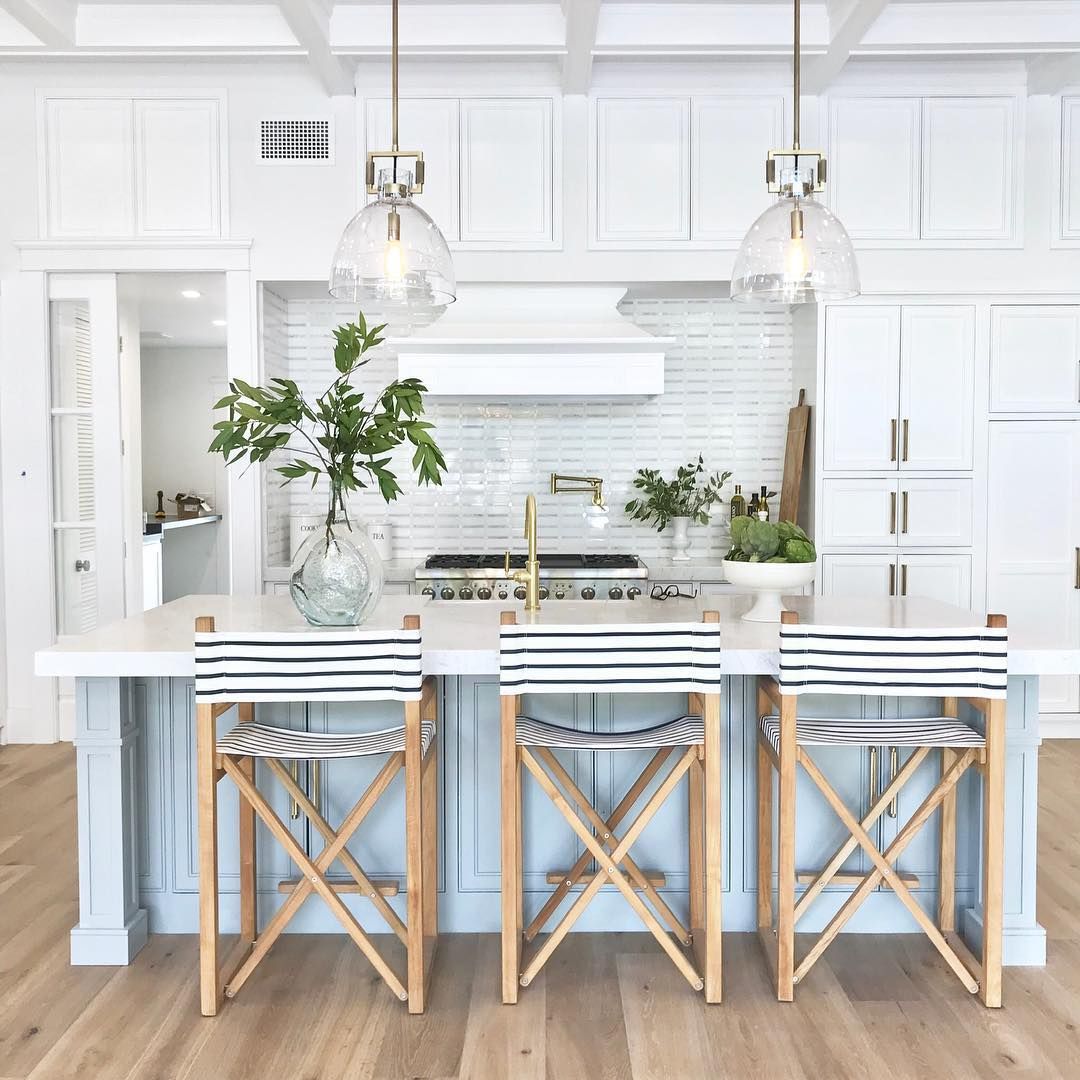 White Shiplap Backsplash
White shiplap is the perfect backsplash for this modern coastal kitchen! The open shelving adds to the simplicity and airy feeling of the space.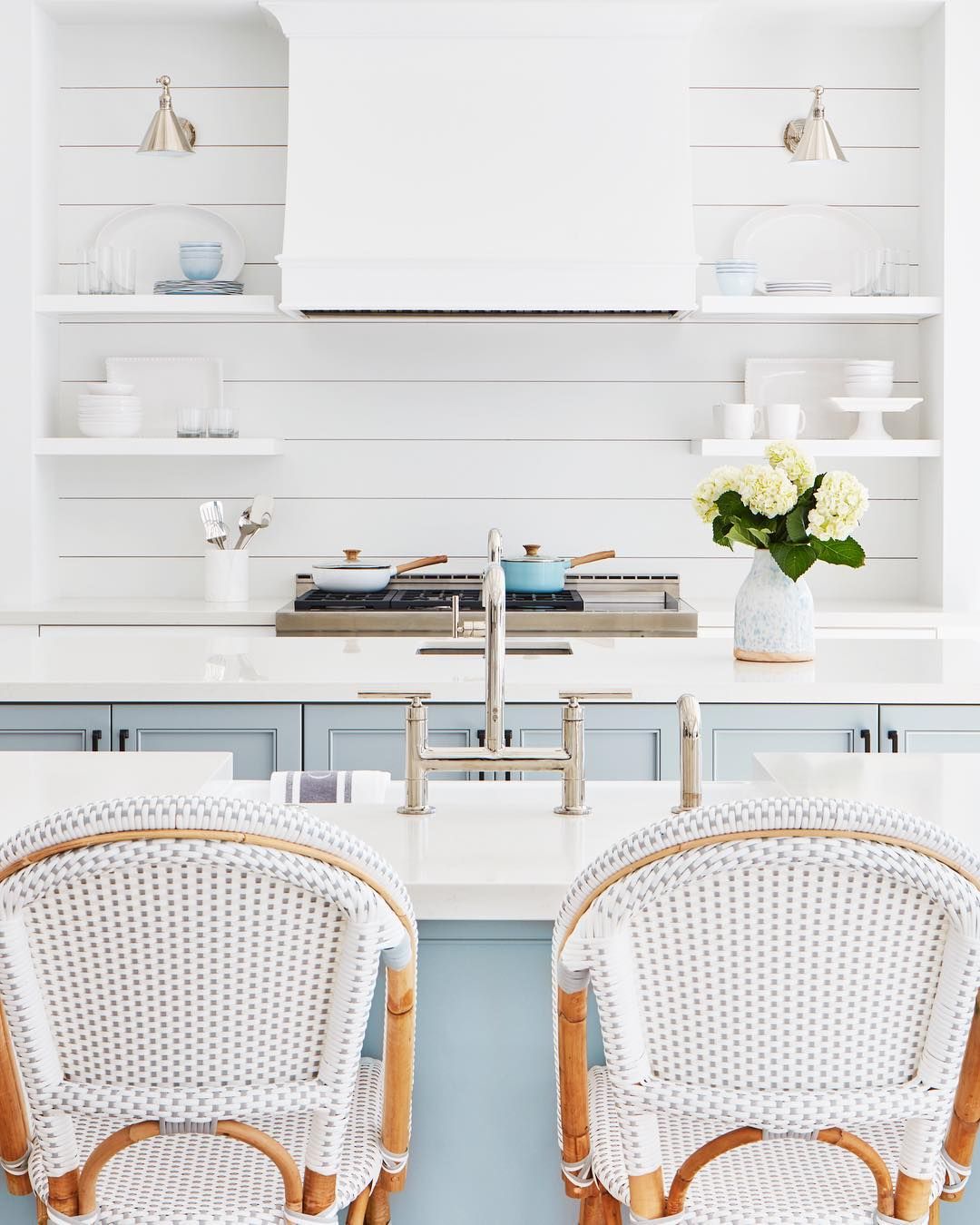 Fish Scale Tiles
I love the look of fish scale tiles (also called scallop tiles) and they are so subtle in this kitchen.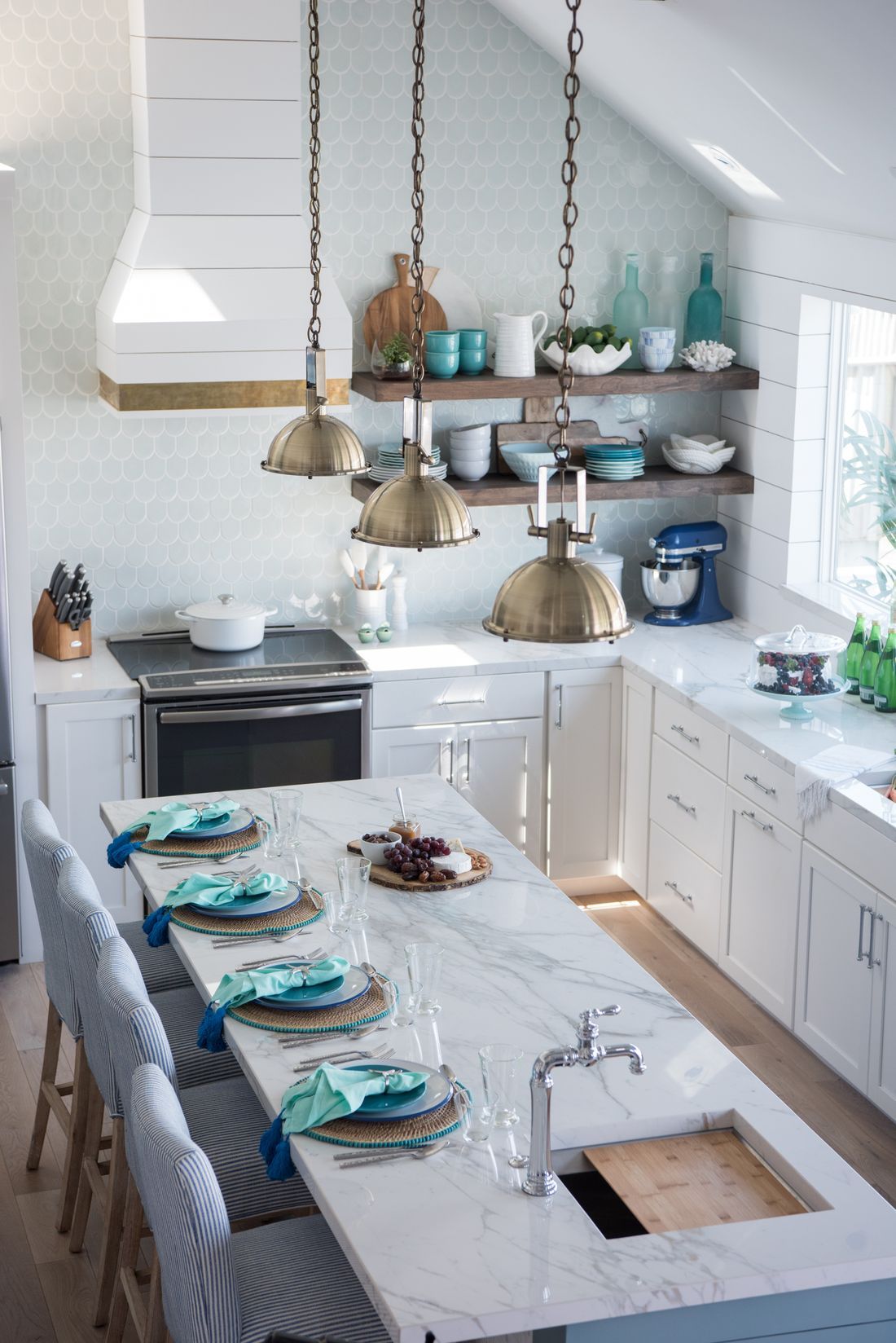 Navy Kitchen Cabinets
Since dark cabinets can make a room feel heavy, I'd recommend going with navy cabinets for your coastal kitchen only if it is very well-lit by plenty of windows!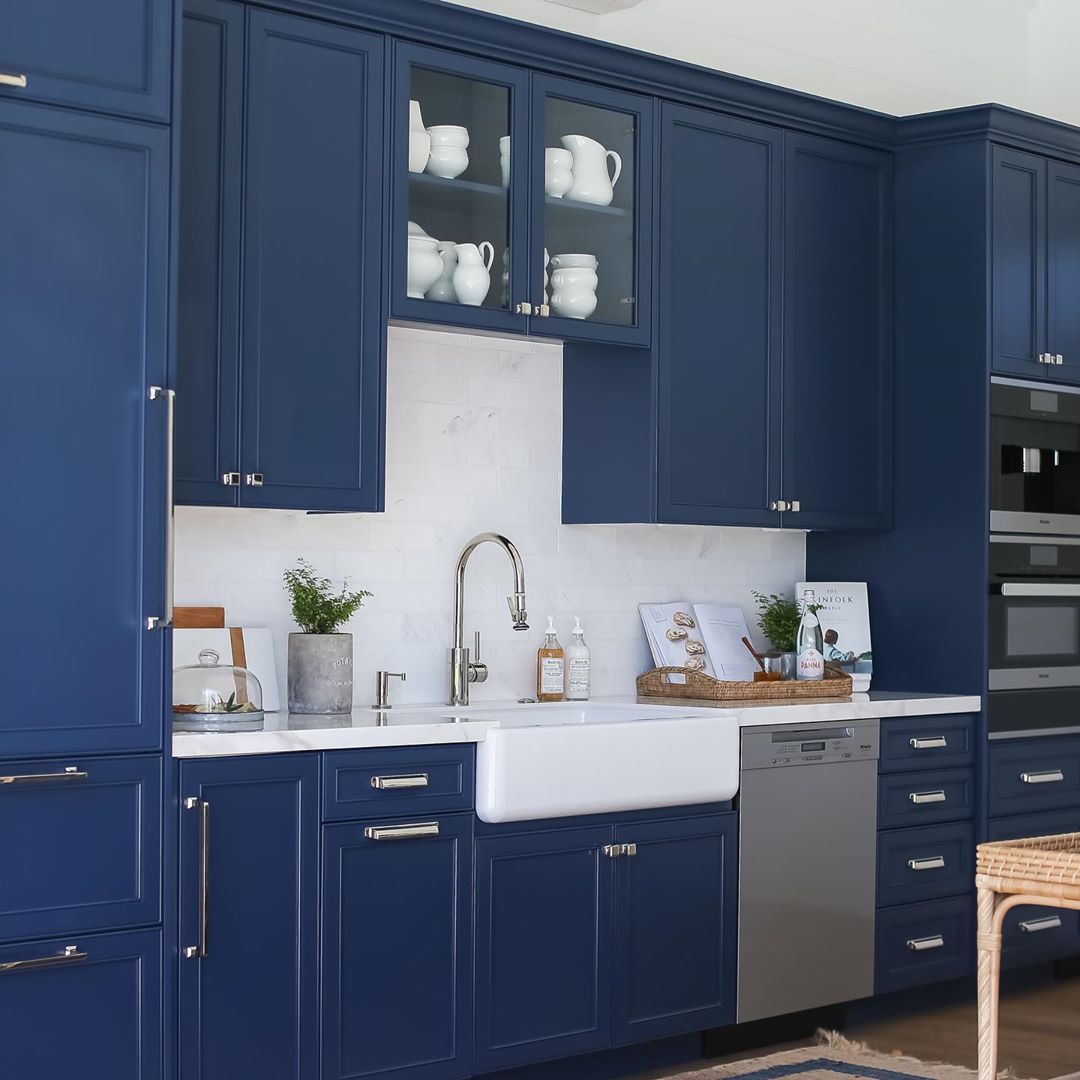 Blue Patterned Tile Backsplash
If you have a white kitchen, then adding a fun patterned backsplash tile can give it some character.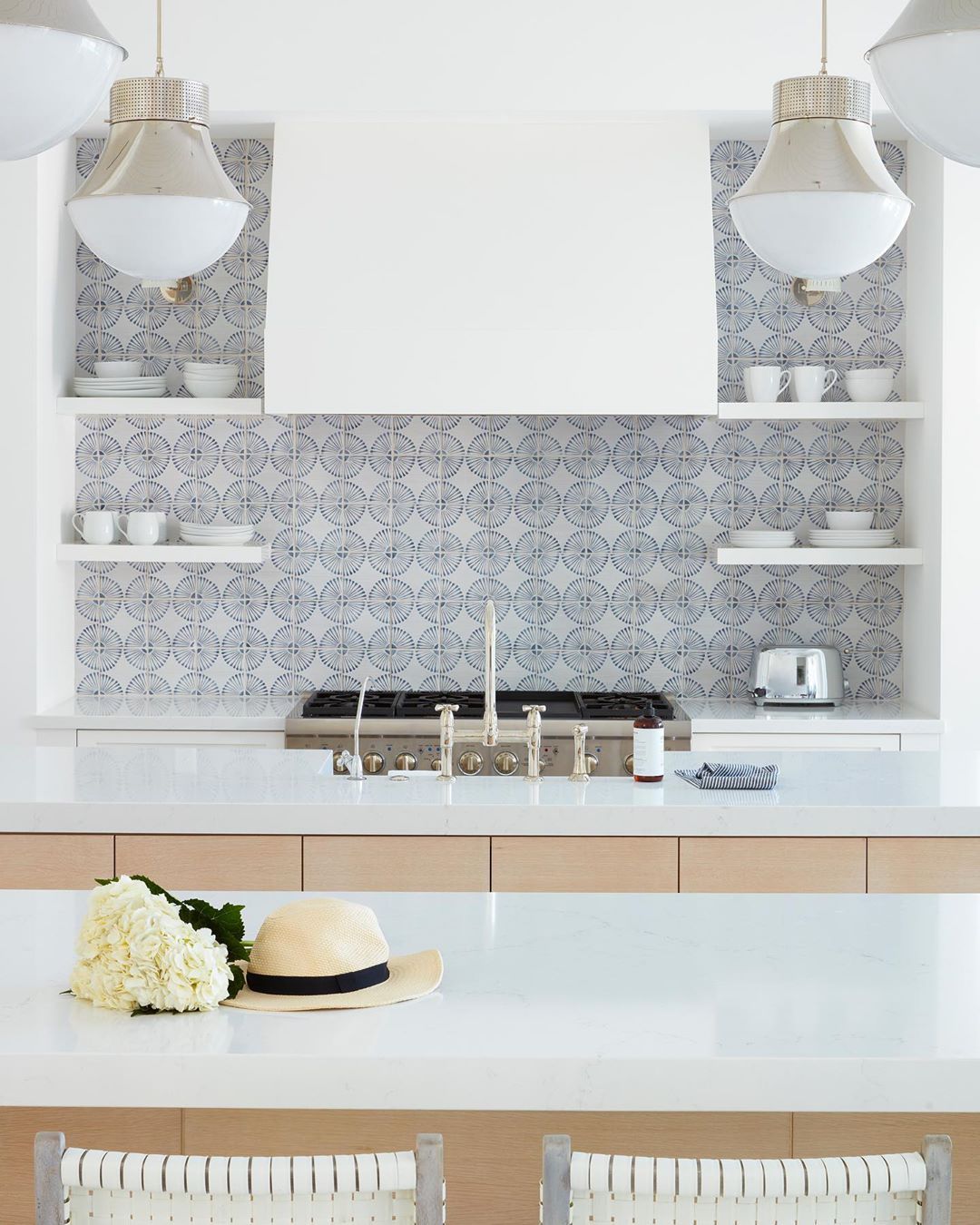 Glass-Front Cabinets
I love the idea of displaying blue and green tableware in glass-front kitchen cabinets.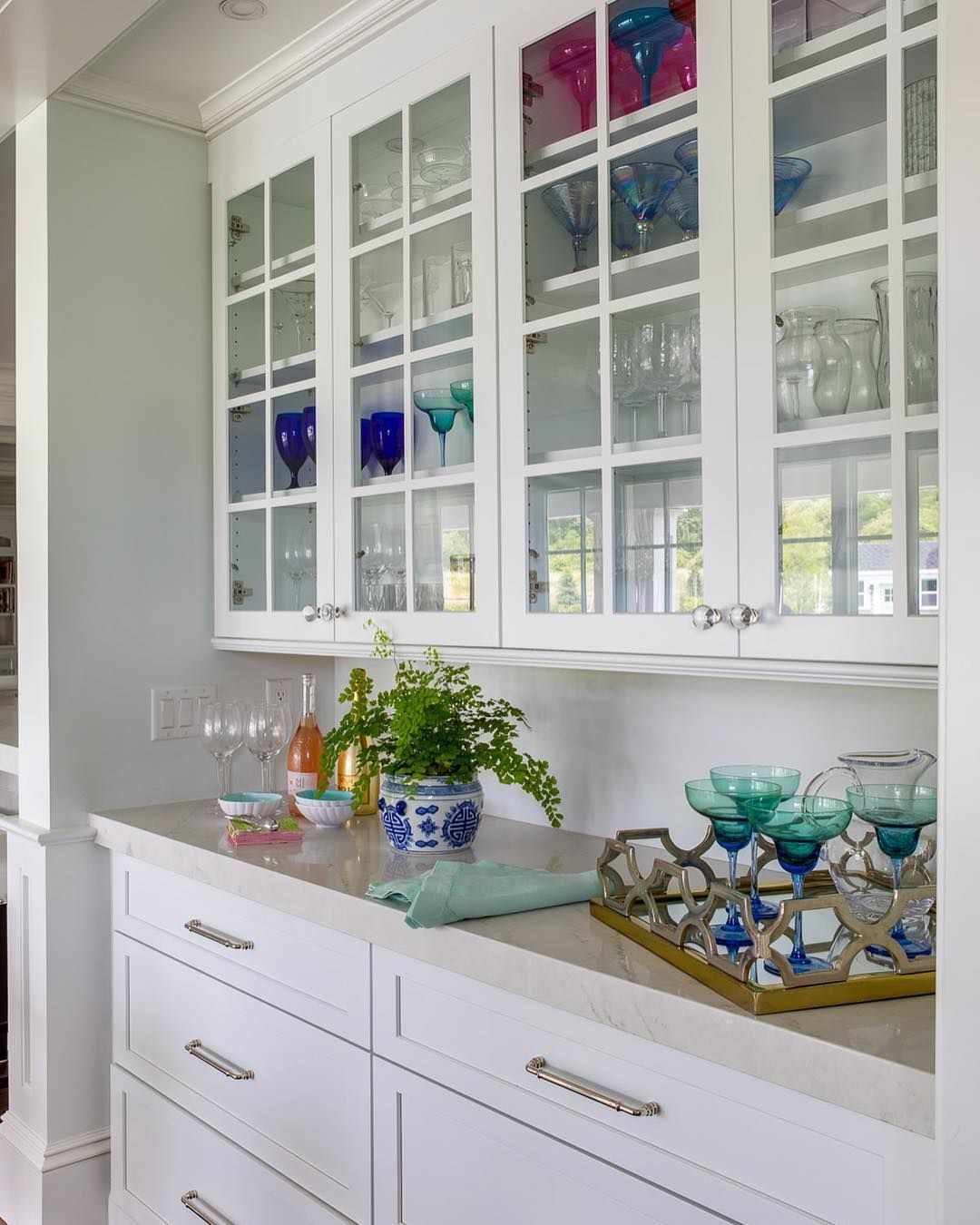 Sea-Glass Backsplash
This backsplash gives a sea-glass effect in all the pastel beach colors!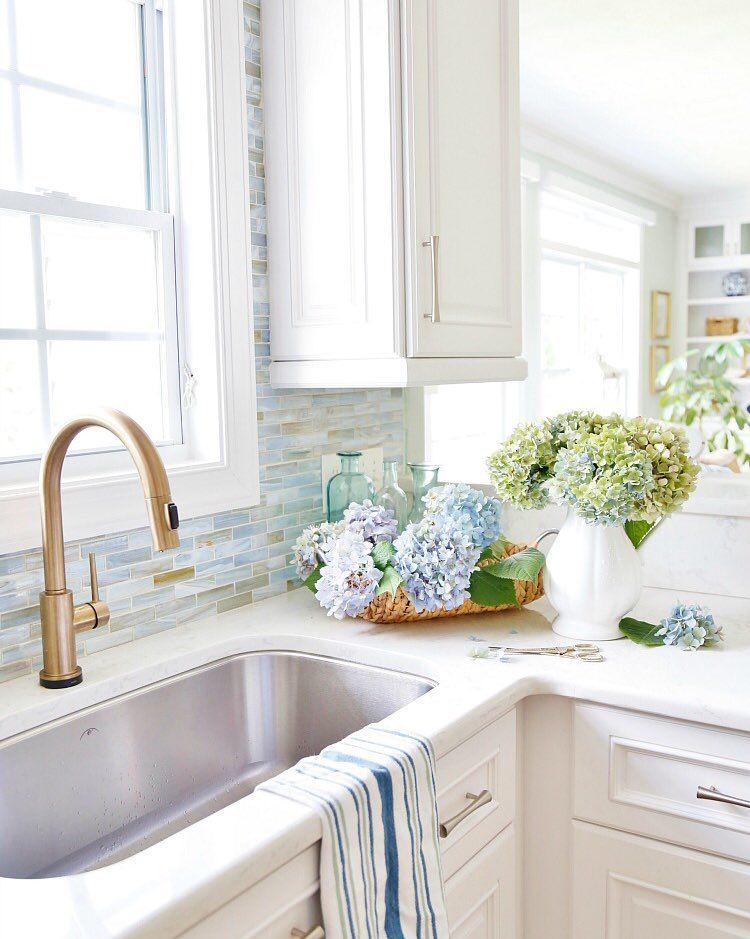 White Bistro Counter Chairs
Simple white bistro counter chairs are a solid seating choice.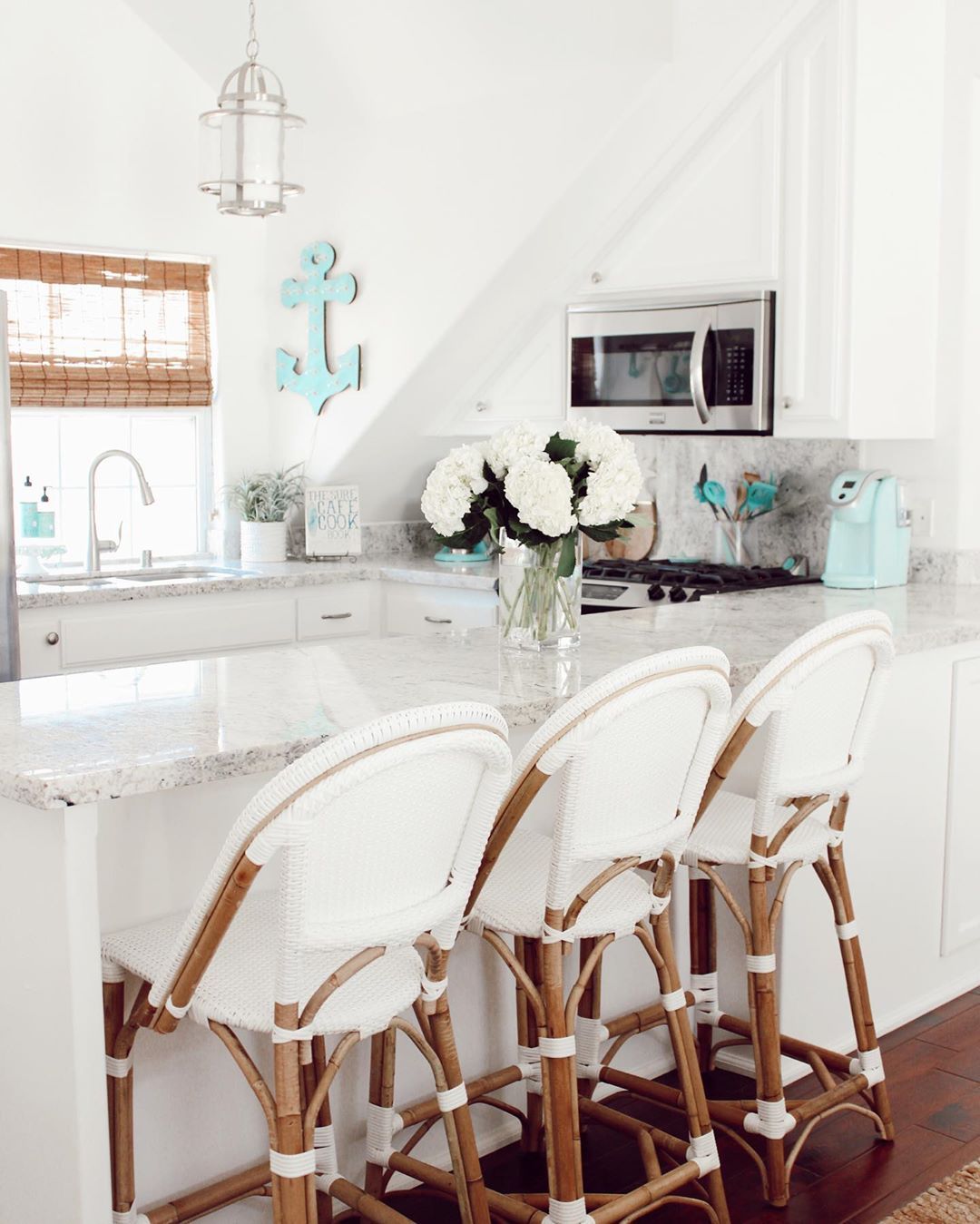 Cottage Coastal Kitchen
These pale teal blue counter chairs add a nice touch of country charm to this cottage coastal kitchen design. They contrast with the pale blue kitchen island. White marble countertops complete this easygoing look!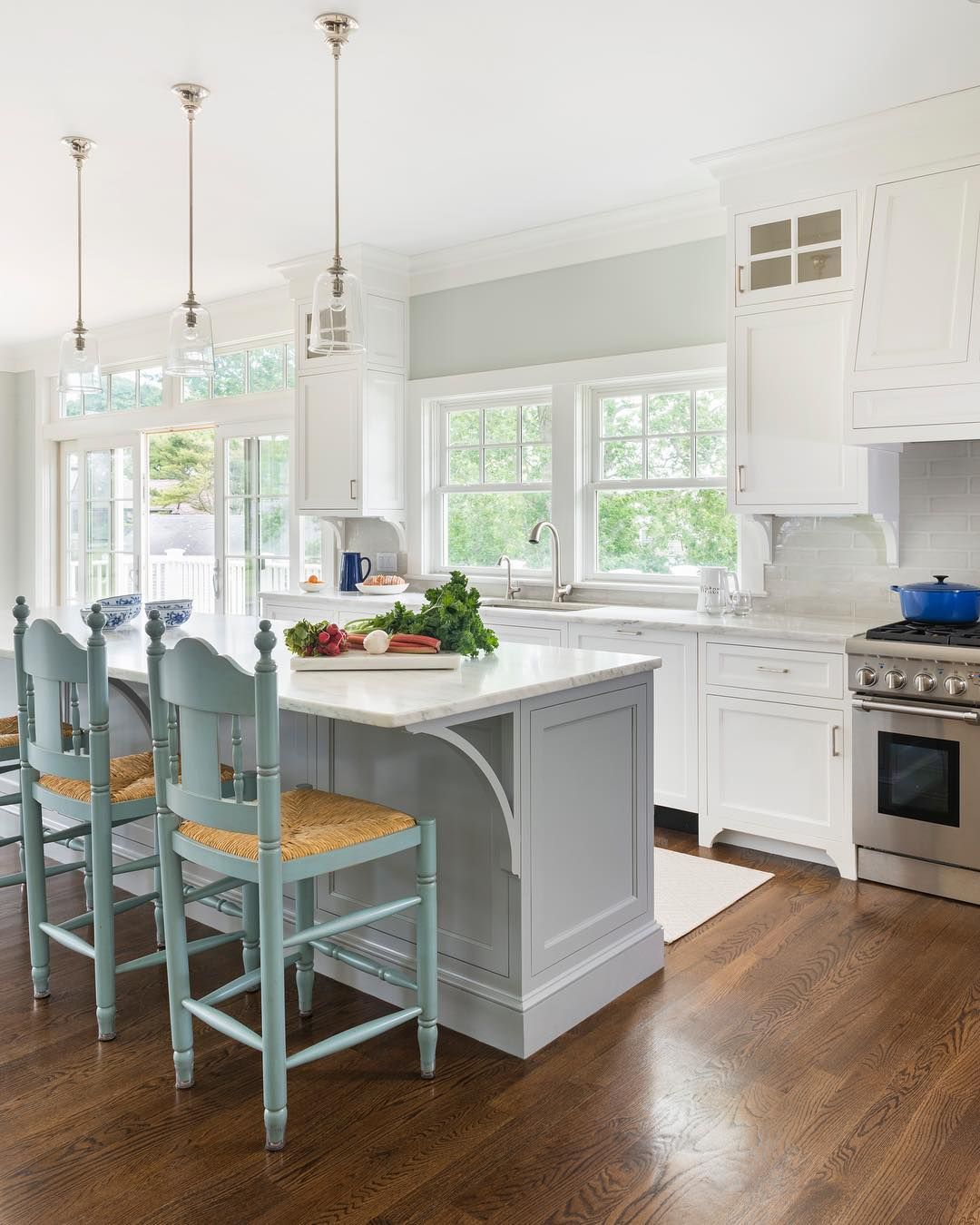 Sea Blue Subway Backsplash Tile
Blue subway tile with white grout is a versatile choice that everyone is sure to love. The backsplash adds the perfect pop of color to this white coastal kitchen. The patterned counter chair cushions also add the right amount of colorful pop to the kitchen design.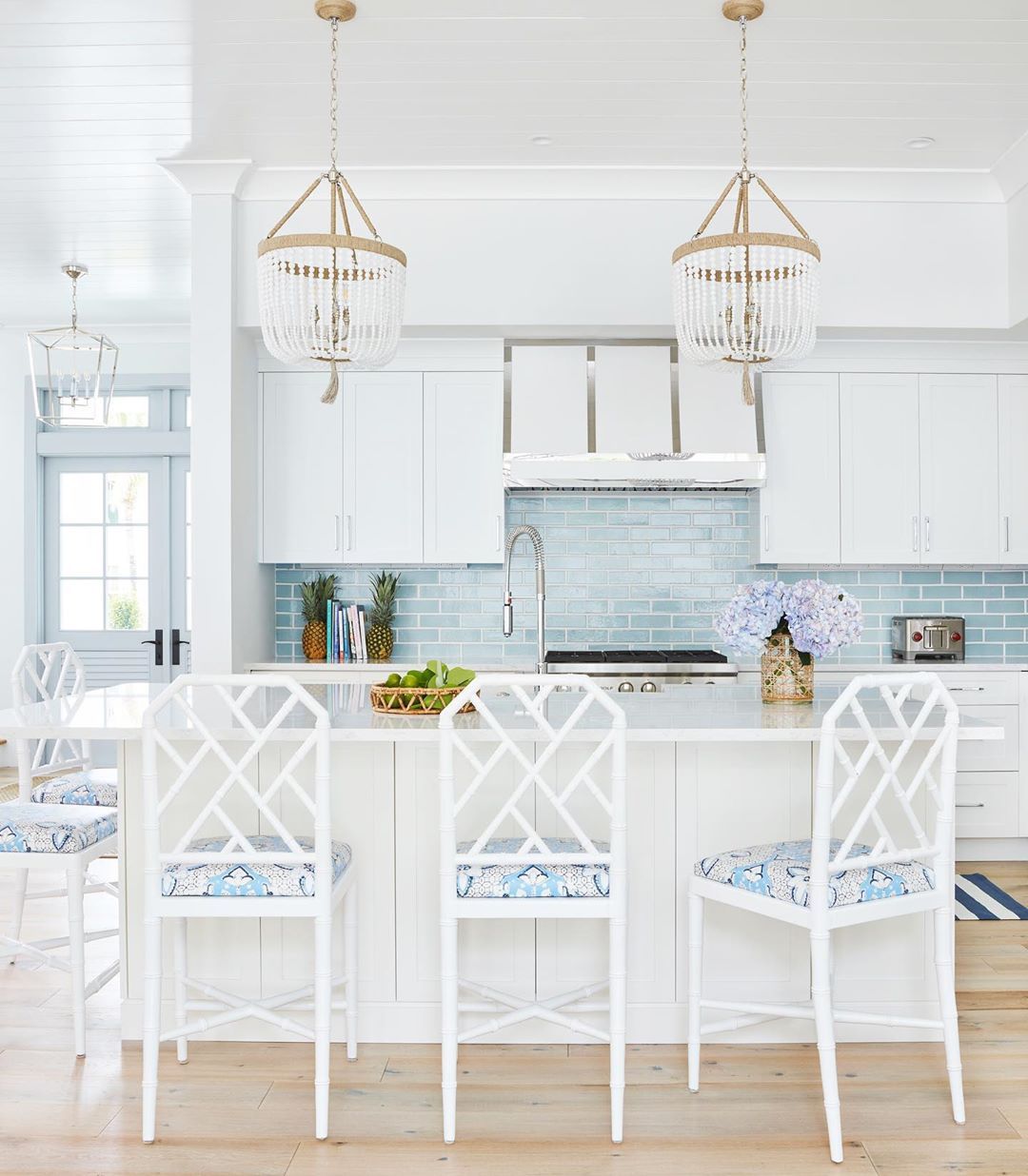 Blue Kitchen Island
When in doubt, go with a blue kitchen island! As you can see, it's a great way to add a pop of color to a white kitchen. Plus, it's easy to paint it and change the color without doing a full kitchen remodel. Black cage pendant lights above the island also add a nice bit of contrast against the white.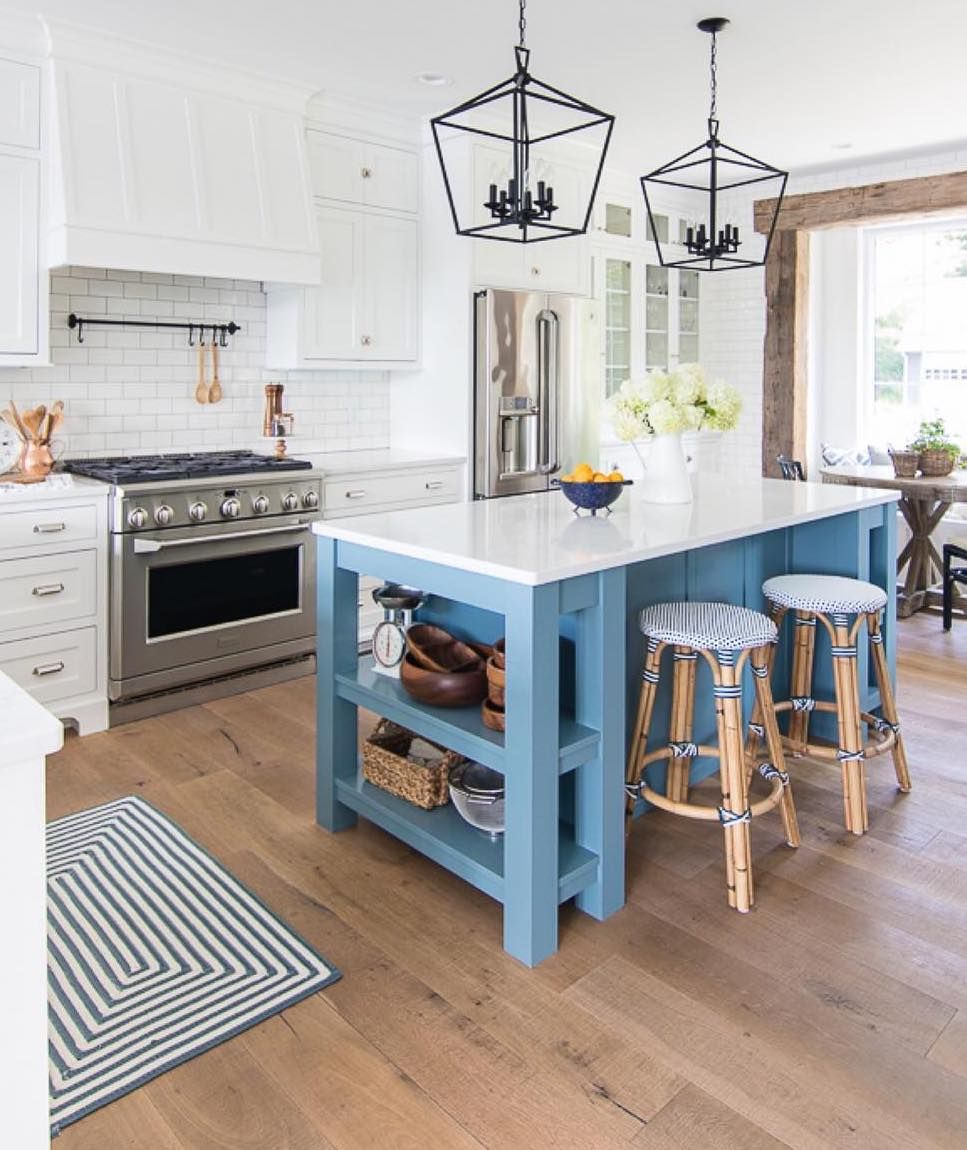 Traditional Coastal Kitchen
Here's a great example of traditional coastal kitchen design. Not everything in your seaside kitchen has to be bright blue. This soft blue-gray cabinet color is relaxing on the eyes.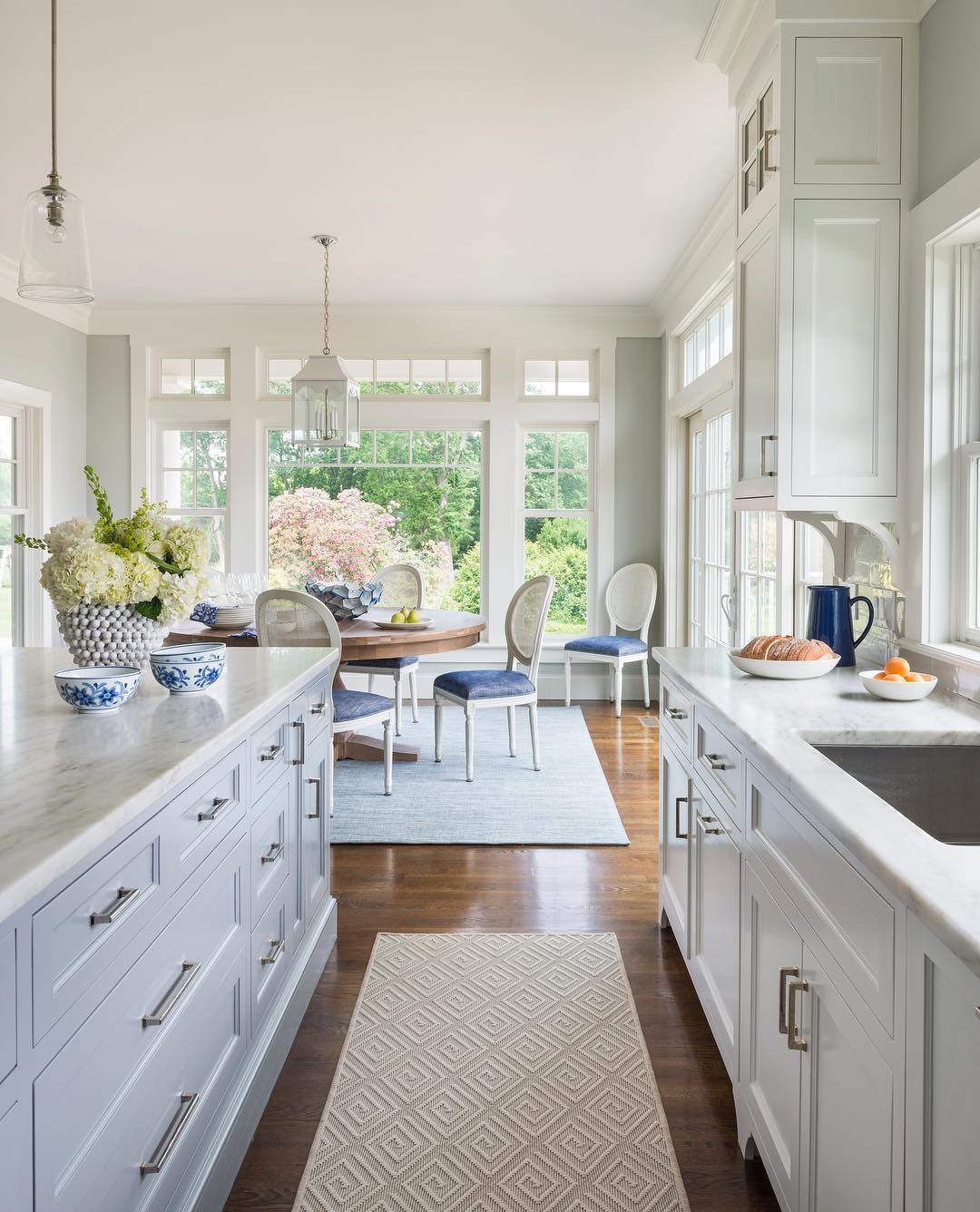 Retro Kitchen Appliances
I love the throwback this old-fashioned kitchen makes with its aqua-colored retro kitchen appliances like the Frigidaire style refrigerator!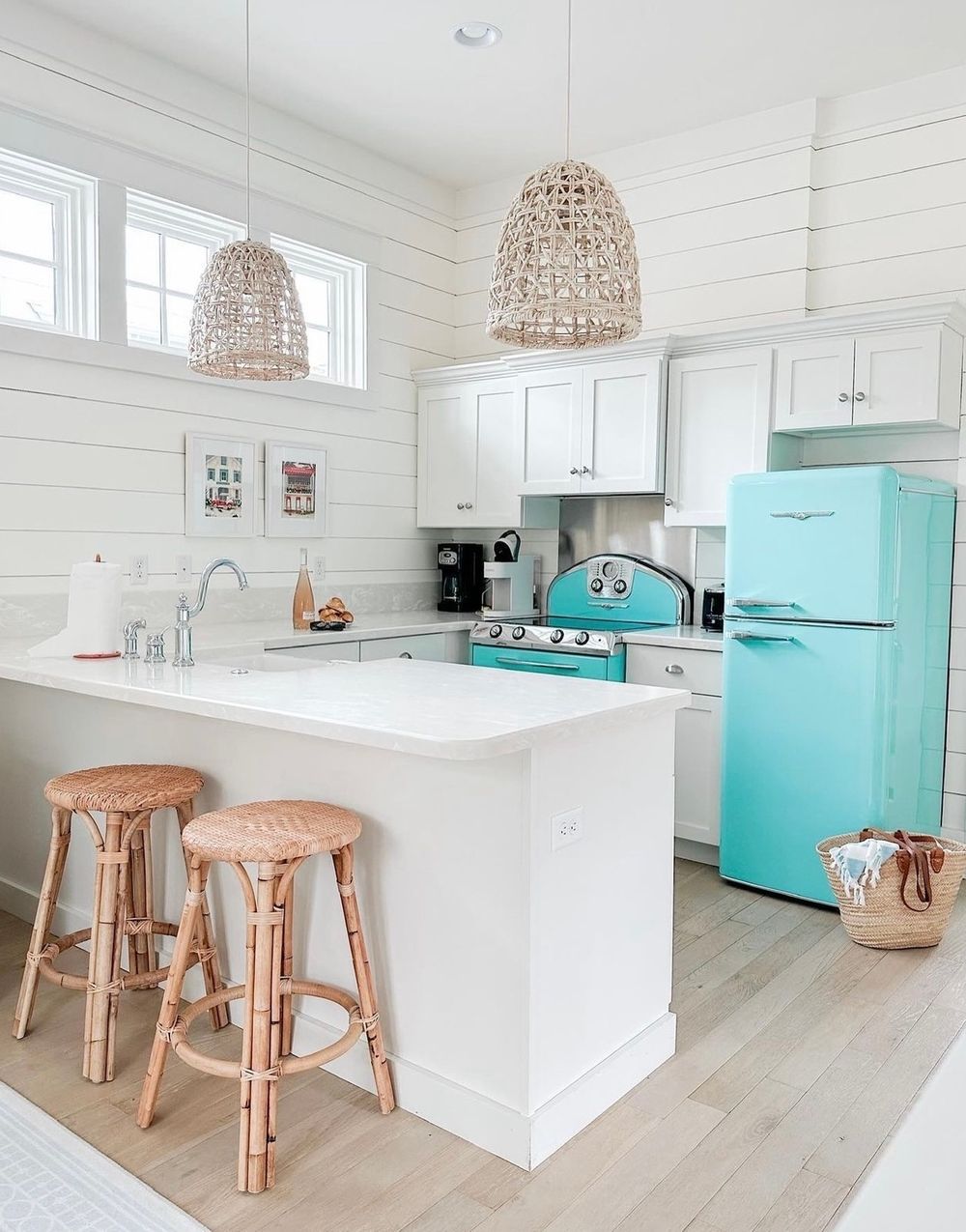 I hope these coastal kitchen decorating ideas inspired you to design the kitchen of your dreams!
Coastal Kitchen Design Tips
How do you decorate a modern coastal kitchen? There are certain decorative elements that define coastal kitchen style.
What is coastal kitchen style? The coastal kitchen style is inspired by the beach and sea, incorporating elements that reflect the serene and airy feel of coastal areas. This design typically utilizes a soft color palette dominated by whites, blues, and sandy neutrals, and includes natural materials like driftwood, seashells, or woven textures. Accessories and decorations often mirror nautical themes, with open shelving, natural light, and simple lines enhancing the feeling of spaciousness, reflecting the open and breezy nature of the coast.
Build a Coastal Kitchen
How to build a coastal kitchen? To build a coastal kitchen, start by selecting a color palette that emphasizes soft and light hues, such as whites, blues, and sandy tones, to evoke the feeling of the seaside. Incorporate natural accents like live edge wood, sea glass, or rattan textures for furnishings, and choose simple, clean lines for cabinetry and fixtures to create an open and free-flowing atmosphere. Enhance the coastal theme with nautical accessories, open shelving, and ample natural light through large windows or skylights, tying together the space with an overall relaxed and beach-inspired aesthetic.
Sea Colors for Kitchens
What are the sea colors for kitchens? Sea colors for kitchens are inspired by the various shades found in oceans and coastal landscapes, typically including various tones of blues, from soft pastel blues to deeper turquoise or teal hues. These colors can be paired with sandy neutrals, soft whites, and gentle grays to create a calming and refreshing ambiance reminiscent of the beach. Pops of coral might be found throughout. Incorporating these sea-inspired colors into a kitchen design can help create a serene environment that connects the space with the tranquility and natural beauty of the ocean.
Happy coastal curating!
Pin this for later: